Is gossip good or evil? What to do if you are talked behind your back? Find your answer in these quotes about gossip and rumors.
Gossip is human nature. We all, at some point, talk about others or be talked about. Not all gossip is evil. Some of them are mindless chitchats. But it can hurt someone else and also backfire.
When I was in high school, gossip was a tool to bond. People that were not too close got closer when they discussed people together. "Sam and Melanie were clearly dating." "Allison has a crush on the math teacher."
There was this one girl in our class that always knew better than the others do. We called her the "Antenna." She was the center of attention. People would go to her for the "breaking news," and she enjoyed it until one day.
Back then, mobile phones were not allowed in the classroom. A girl got busted for bringing her phone, and she suspected the Antenna of leaking the information to the teacher.
All of a sudden, rumors started running that the Antenna had been a snitch. And she was doing so to get higher scores from the teacher. This time, she was the victim. The friends she made through gossiping talked about her instead of defending her name. As rumors fade away, she became quiet.
I had been a guilty participant in gossip, and this experience changed me. As the saying goes, "those who gossip with you will gossip about you." And I found that the people that are happy about their lives never talk about others. Instead, they focus on themselves and see good in others. From then on, I walked away from meaningless conversations that may hurt others.
Gossip is for small-minded people. These quotes about gossip and rumors will help you deal with them with ease and walk away from drama.
Why do people gossip?
To feel accepted and on the same page with others.
Many people gossip not because they want to hurt someone intentionally but to please the person they talk with. Some say gossip brings people closer. It forms a secret union and makes those who gossip feel like they are part of a group.
To share something concerning.
Not all gossips are ill-intentional. Some share unverified information out of concern. For example, they may point out suspicious cheaters to warn others. Gossips like that come from a place of care. But if the accusations are wrong, the word turns into rumors and potentially destroys reputations.
To make themselves look good.
As people, we want to be in the know. It's human nature to want to be with someone savvy that adds value to the conversation. That's why gossipers may spread rumors to pretend to be informational. They don't stand behind their words, and they use, "I heard that someone say that" to avoid responsibility.
To destroy someone's reputation.
Words are swords. They can hurt people. Once the rumor spreads, the damage is nearly impossible to be undone. That's why spreading rumors is dangerous – you never know the intention of those who start them.
Quotes about gossip and rumors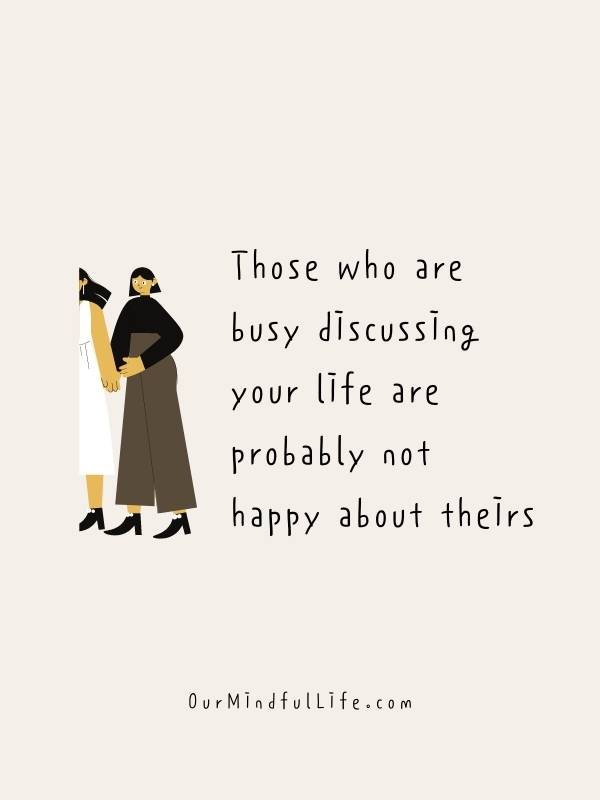 Those who are busy discussing your life are probably not happy about theirs.
Never waste your time trying to explain yourself to people who are committed to misunderstanding you.
Haters are going to hate no matter what you say. Fake people are going to lie no matter what you do. You can't change the mind of them, but you have the choice to cut them off.
Surround yourself with people that talk about visions and ideas, not other people.
Think before you speak
If your foot slips, you may recover your balance, but if your tongue slips, you cannot recall your words.
– Martin Vanbee
Words are powerful. Don't let it be the knife that hurts someone.
Great minds discuss ideas, average minds discuss events, small minds discuss people.
– Henry Thomas Buckle
A reminder
Those who aim to bring you down is already below you.
Don't waste your time with explanations: people only hear what they want to hear.
– Paulo Coelho
We all need to be talked about once to learn how to uncare what others think of us.
Those who gossip with you will later gossip about you.
A quote about why people talk behind your back
A coward talks to everyone but YOU.
– Shannon L. Alder
Be less curious about people and more curious about ideas.
– Marie Curie
Let today be the day you speak only the good you know of other people and encourage – others to do the same.
– Steve Maraboli
What you spread, you attract. Let it be kindness, gratitude, compassion, and positivity.
Often those that criticize others reveal what he himself lacks.
– Shannon L. Alder
You don't need to understand the motives behind those who spread rumors. They don't deserve your time and brainpower.
Most gossip is envy in disguise.
– Matt Haig
No one gossips about other people's secret virtues.
– Bertrand Russell
If you can spread something, let it be kindness and positivity.
Insecure people only eclipse your sun because they're jealous of your daylight and tired of their dark, starless nights.
– Shannon L. Alder
A quote about truth and rumor
Rumor travels faster, but it doesn't stay put as long as truth.
– Will Rogers
If you are a victim of rumors, the best thing you can do is go on with your life. Learn to be undisturbed, and time will do the talking.
Gossip needn't be false to be evil – there's a lot of truth that shouldn't be passed around.
– Frank A. Clark
Gossip is when you hear something you like about someone you don't.
– Earl Wilson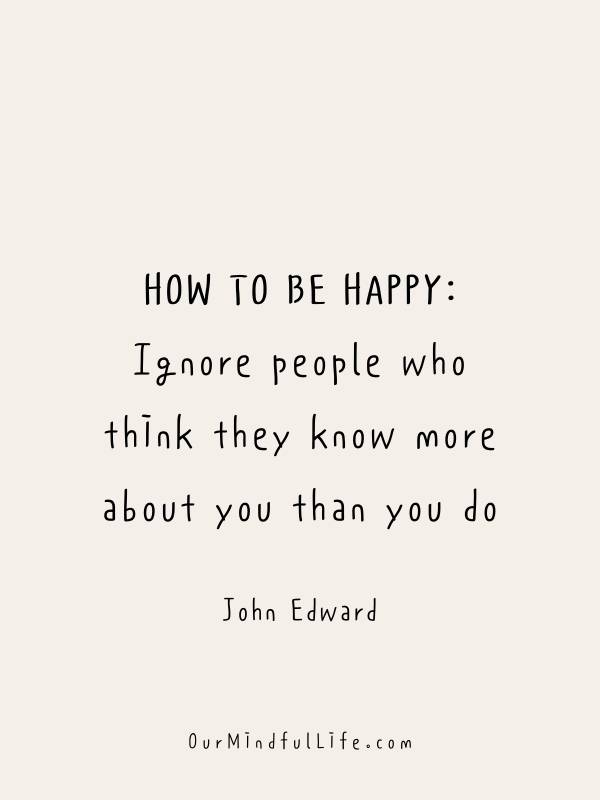 How to be happy: Ignore people who think they know more about you than you do.
– John Edward
Don't feed gossipers your attention. Ignorance is what they deserve.
Gossip is the art of saying nothing in a way that leaves practically nothing unsaid.
– Walter Winchell
Gossip is poison.
– Gisele Bundchen
The only time people dislike gossip is when you gossip about them.
– Will Rogers
If you cannot be positive, then at least be quiet.
– Joel Osteen
Quotes on how to deal with gossip and rumors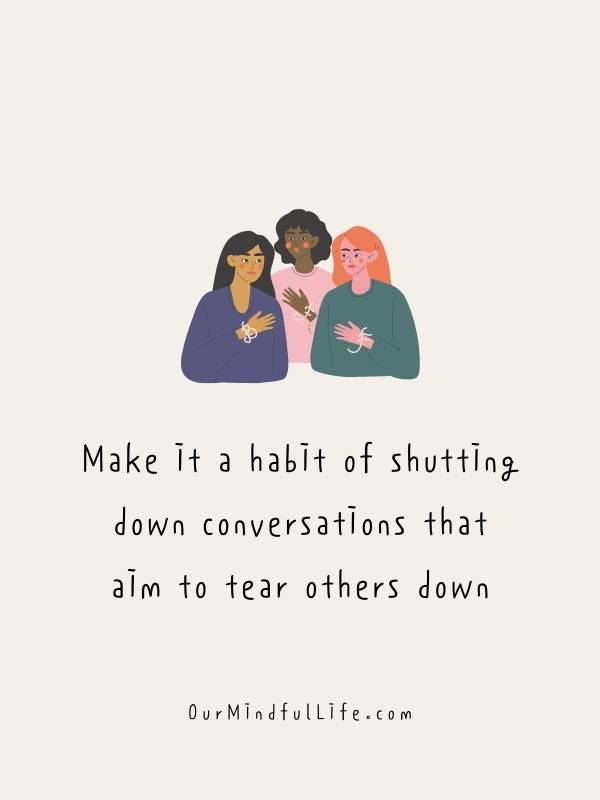 Make it a habit of shutting down conversations that aim to tear others down.
Walk away; you are better than that.
What other people say about you is not the real you but a reflection of them.
Never make negative comments or spread rumors about anyone. It depreciates their reputation and yours.
– Brian Koslow
A gossip quote to rethink your relationship
A friendship built on gossip will end on gossip.
Gossip shouldn't be a tool to bond. If someone connects with you over something bad about others, they will always look for another person to talk about. Gossip is a fragile foundation of the relationship that is meant to tumble down.
Rumors are mostly a projection of the individual who started them.
– Roya R. Rad
Which of these quotes about gossip and rumors relates to you?
Share your experience and tips on how you deal with gossip in the comment. Your words may help someone who is reading this right now.