A list of Aries quotes that will expose the sign
Aries, a sign that I love and hate.
If you are working with Aries, don't be surprised if you get 20 emails from them within an hour. They talk fast, work fast, and don't appreciate the art of taking a break.
They are always at the top of their game, throwing out new ideas and taking on new projects. But once you get to know them better, you'll discover the soft sides and complexity under their tough skin.
If your birthday falls between March 21 and April 19, you are an Aries sun, and this list of Aries quotes may resonate with you.
Table Of Contents
Aries personality traits
Funny and relatable Aries facts quotes
Aries mottos and Instagram captions for Aries
Inspiring quotes from famous Aries
Aries personality traits
Being ruled by Mars, the planet of outward activity, Aries are born with a 200% battery life. If there's something Aries want to do, they will do it, and they will do it now.
Aries don't do things halfway. If they are committed to something or someone, they will give their 100%.
Aries get things done their way. And they don't always explain themselves to others. Explanations take time and that's not Aries sign up for.
Honest and straight-forward
Aries don't hold emotions. They speak their mind with no filter. Yes, sometimes they get a bad rap of being rude and unthoughtful. But if you want brutal honesty, Aries are the ones you can count on.
Aries put themselves first. And that's not a bad thing. They are aware of their needs and know how to recharge.
Funny and relatable Aries facts quotes
If you are an Aries, these quotes about the sign will make you feel exposed and attacked.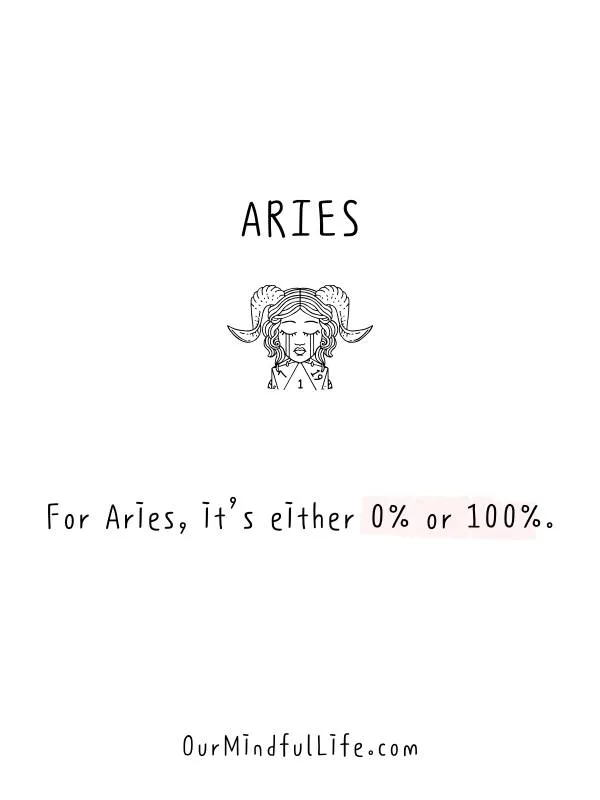 For Aries, it's either 0% or 100%.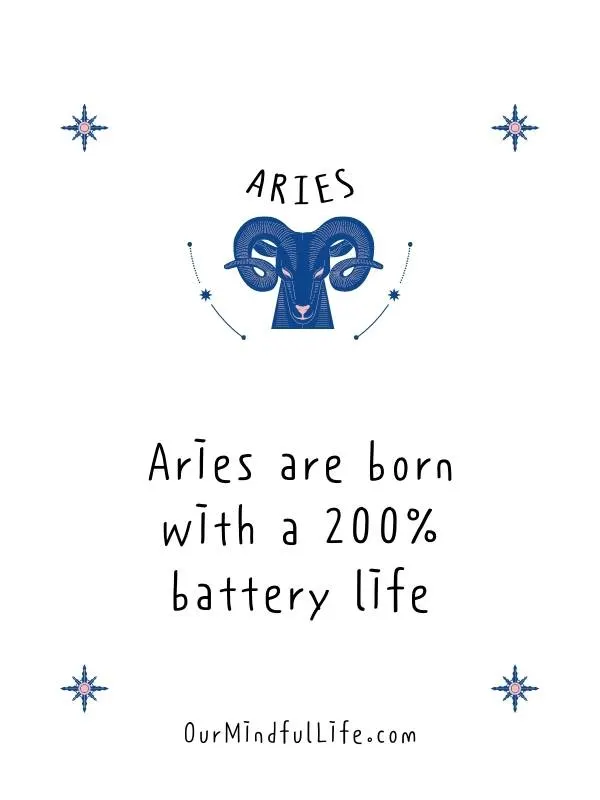 Aries are born with a 200% battery life.
Aries, the first of the 12 zodiac signs, meaning that they are usually initiating. They are energetic and driven. Passion lights the fire in them.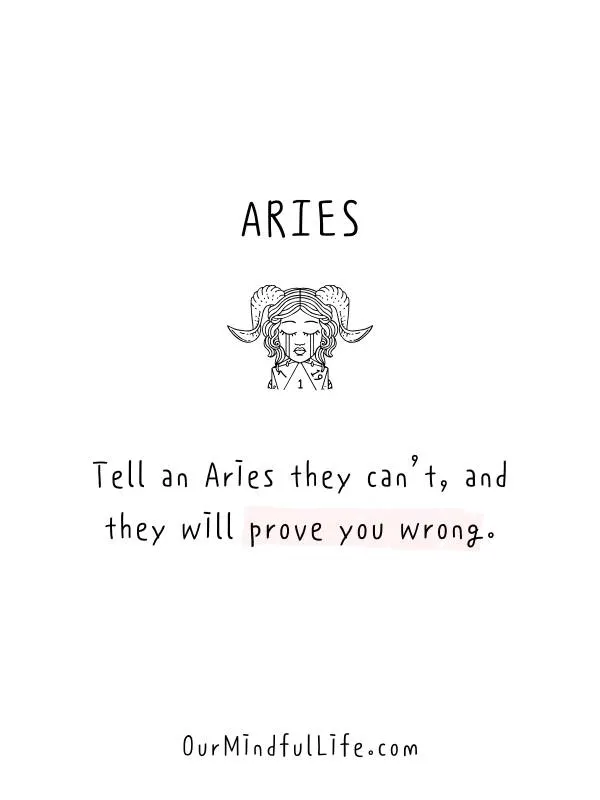 Tell an Aries they can't, and they will prove you wrong.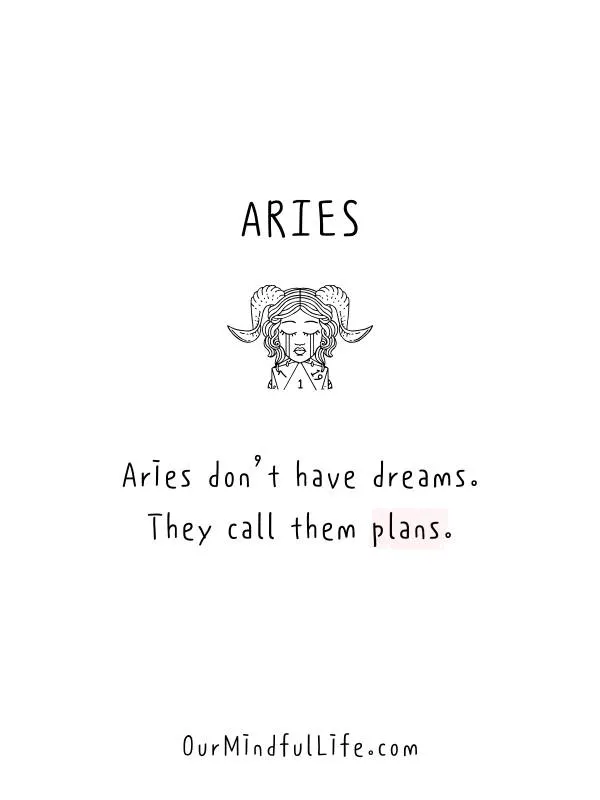 Aries don't have dreams. They call them plans.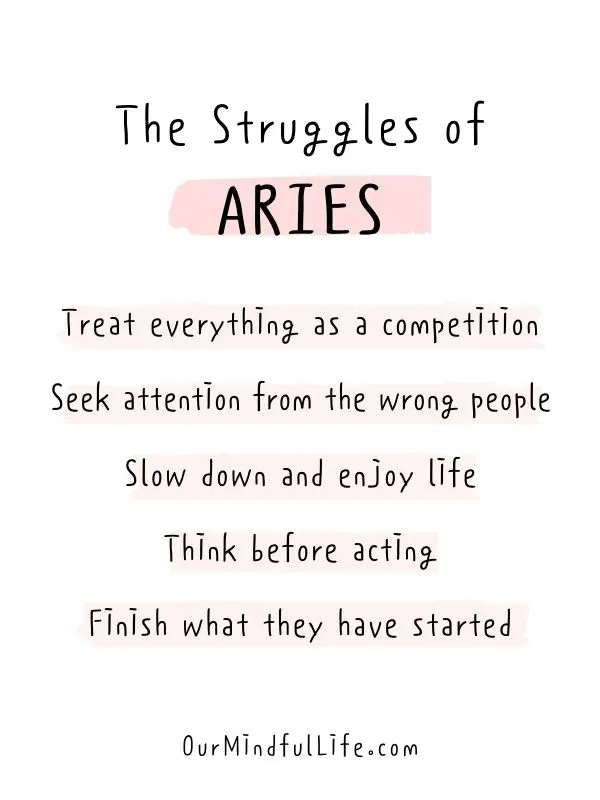 The struggles of Aries:
Treat everything as a competition
Seek attention from the wrong people
Slow down and enjoy life
Think before acting
Finish what they have started
Not everyone is at the same energy level as Aries. And it disappoints them often.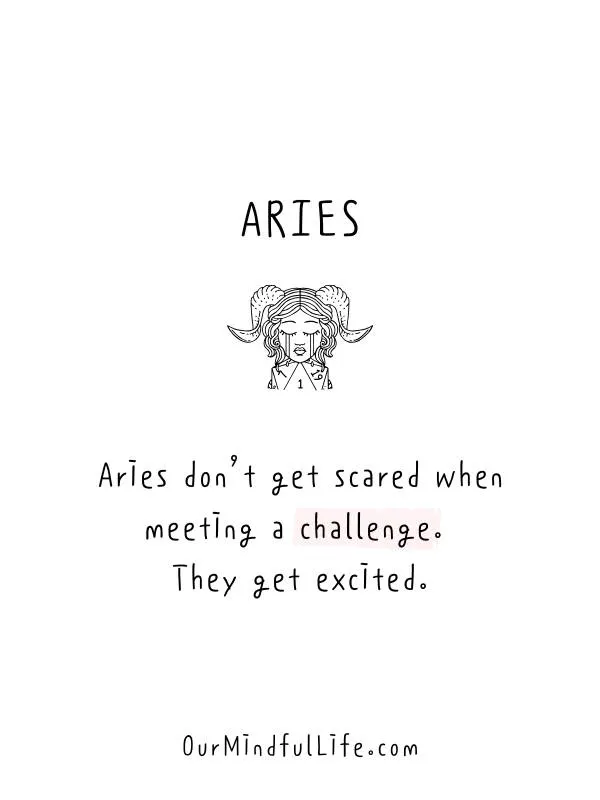 Aries don't get scared when meeting a challenge. They get excited.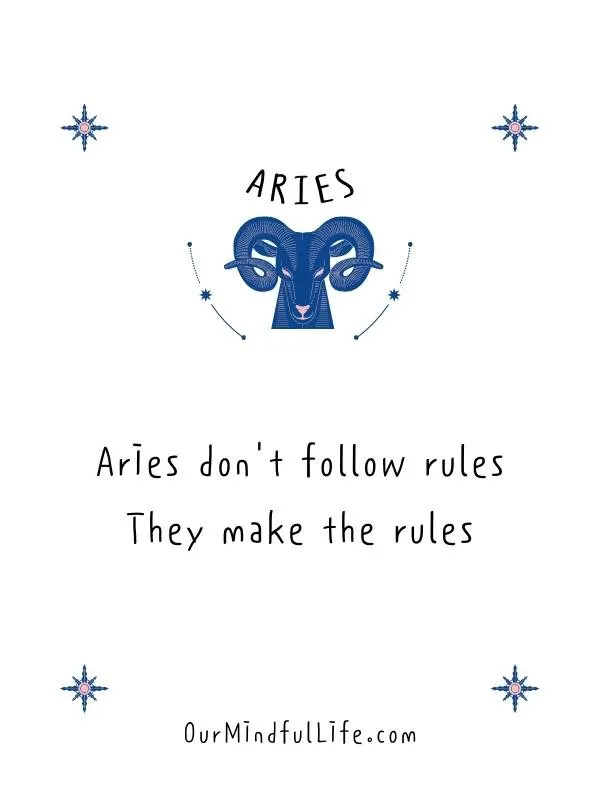 Aries don't follow rules. They make the rules.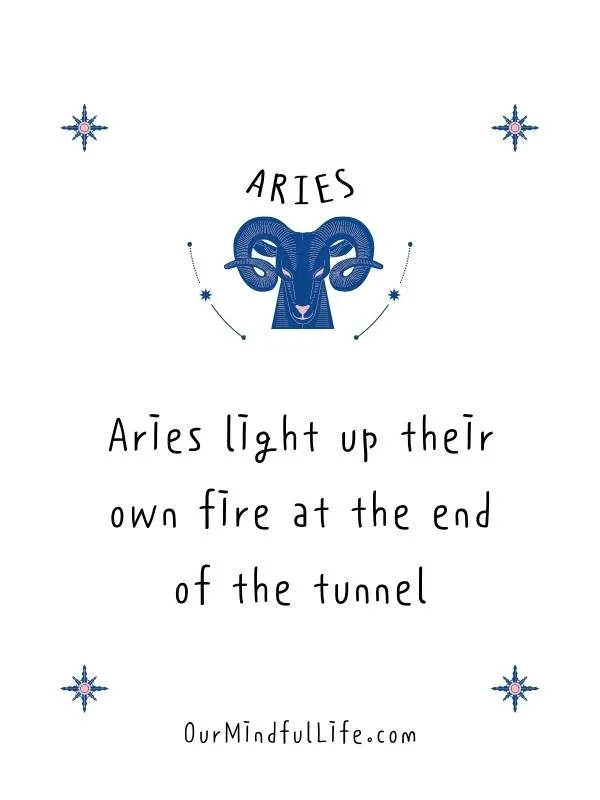 Aries light up their own fire at the end of the tunnel.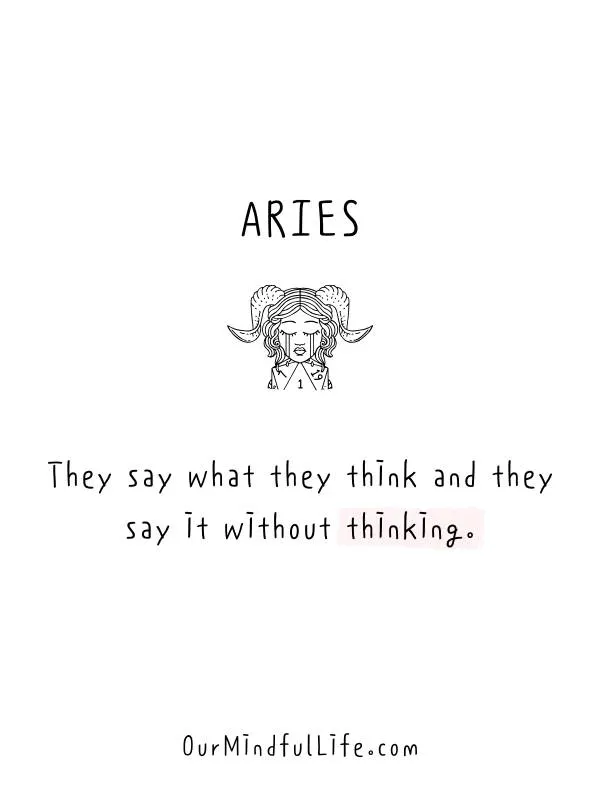 They say what they think and they say it without thinking.
Not everyone can handle the level of honesty of Aries. It's not their intention to offend anyone. But sometimes, words slip out of their mouth. The good thing is, you can also count on Aries for their opinions. They are the ones that stand behind their words.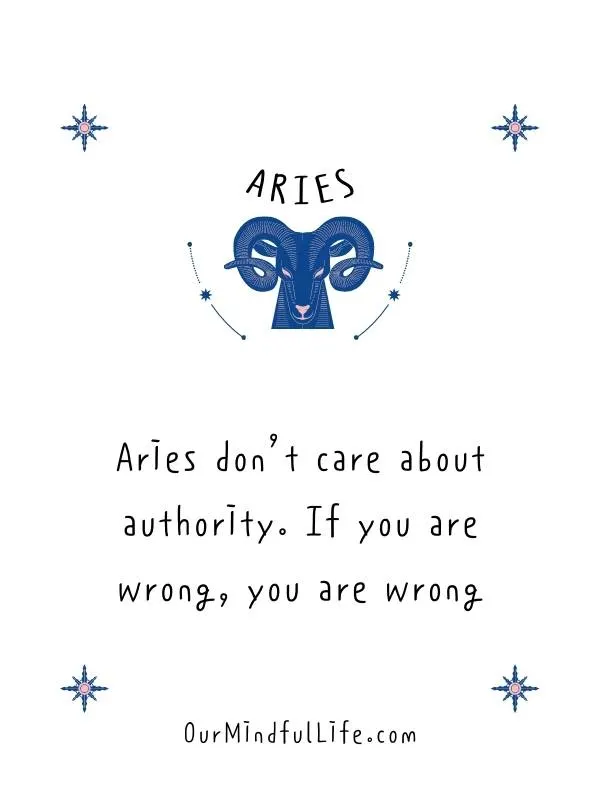 Aries don't care about authority. If you are wrong, you are wrong.
When an Aries is angry, everyone will know about it.
If you love Aries, don't make them wait.
Aries may not be verbal about their feelings, but when Aries is in love, they will spoil their partners with action and attention. Unlike Taurus, who loves to take things slow, Aries dive all in from the beginning of a relationship. And they expect the same level of commitment. Not everyone has the ability to love Aries. But if you love them, love them the right way.
Nothing annoys Aries more than making them do the same thing more than 3 times.
Read also: 6 Toxic Traits Of Aries That Drive People Away
Aries = tough shell + gentle heart
Aries secretly love to be spoiled.
Aries either like you too much or not at all.
How to spoil Aries
Take them on adventures
Treat them like a boss
Don't make them wait
Stock the fridge with their favorites
Value their honesty and directness
Cuddles and back massages
Aries mottos and Instagram captions for Aries
Aries have an attitude and they are not afraid to show it. If you are an Aries, you will find the captions that will speak your mind.
I can't explain and I won't even try.
Aries have their own way of doing things. They know what they want, and they don't seek approval from anyone else. It's not that they don't care about what others think about them. But they prefer to let actions and results do the talking.
Read also: 49 savage quotes to awaken your inner bad bitch
I don't rise from ashes. I am the fire who make them.
When you meet me, you think I am quiet.
When you talk to me, you wish I was quiet.
When you know me, you'll be scared when I am quiet.
Cowards die many times before their deaths;
The valiant never taste of death but once.
– Julius Caesar
Don't get in my way.
"Not everything is a competition."
Aries: "Do you have proof?"
What's the point of fighting if you don't win?
(5 seconds into a conversation)
Aries: "Can you cut to the point?"
A quote that explain why Aries is hard to love
Put me second and I'll make you nonexistent.
When Aries is in love, they don't demand attention. But they will not settle for someone who treats them like an option. When they have enough, they will walk away and not look back.
A.R.I.E.S: Adventurous. Radiant. Independent. Enthralling. Straight-forward
If you don't try, you don't know.
Am I in love or am I just bored?
Act now, think later.
I don't have an attitude problem. I have an attitude. And that's different.
Life shrinks or expands in proportion to one's courage.
– Anaïs Nin
Inspiring quotes from famous Aries
I don't want to make money; I want to make a difference.
– Lady Gaga
Whenever I start something, I will always do everything I can to be the best at it.
– Anne-Marie
I don't like laziness or cutting corners.
– Victoria Beckham
The last thing I want to do is complain; I love what I do and I know every job comes with a downside.
– Jennifer Garner
Waiting makes me restless. When I'm ready, I'm ready.
– Reba McEntire
All I can do is follow my instincts because I'll never please everyone.
– Emma Watson
For me, speaking my mind is a big part of my life, and I encourage other people to do that as well.
– Anne-Marie
Honesty will never break you.
– Kate Hudson
I don't want the fear of failure to stop me from doing what I really care about.
– Emma Watson
You can't just sit there and wait for people to give you that golden dream. You've got to get out there and make it happen for yourself.
– Diana Ross
You have to go out there and make your own mistakes in order to learn.
– Emma Watson
It's OK to be you. It's OK to be not OK.
– Kristen Stewart
Do you agree or disagree with these Aries quotes?
Tell me what you think, Aries. Do these Aries quotes resonate with you? Or do they remind you of someone? If so, don't forget to share with them!
Read also: 31 Aries Tattoos That Are As Fiery As the Sign
12 Zodiac sign quotes:
Aries / Taurus / Gemini / Cancer / Leo / Virgo / Libra / Scorpio / Sagittarius / Capricorn / Aquarius / Pisces