Firefighters are brave and honorable people. If you are a firefighter, these empowering firefighter tattoos will represent your courage.
Describe the job of firefighters in one word; what will it be? Dangerous? Difficult? Risky? If I have to pick a word, it will be honorable.
Firefighters are one of the most common "dream jobs" for children, especially for boys. And it isn't hard to understand why. They are always wearing red suits, wearing helmets, looking cool while saving lives. So who doesn't want to be a firefighter, right?
But the work that they do is far more than the glamorous look. Firefighters fight in the frontline in the most dangerous places. Woods on fire, buildings that are tumbling down, wherever needs them, are at risk of their lives.
That's why firefighters are a group of honorable people. They know clearly about the danger. Yet, they face it with great courage and determination. And if you are a firefighter, you have every reason to be proud of yourself.
Getting firefighter tattoos is one way to honor your profession and passion. And you have plenty of firefighter symbols to choose from. From big to small, from black to colored, you will find a fireman tattoo for males and females that fits your style.
But before diving into the tattoo ideas for firemen, let's answer some important questions.
Can firefighters have tattoos?
If you are a firefighter who's looking to get a tattoo, the good news is, firefighters can have tattoos. It also applies to those who are already wearing a tattoo and want to become a firefighter.
Though firefighters are allowed to have tattoos, there are restrictions.
First, many fire departments will ask their firefighters to cover their tattoos when on duty. But because most uniforms cover a large part of the body, this won't be a big concern.
And just like teacher tattoos, you should avoid tattoos with offensive images or languages and those related to violence and sensitive topics.
What are the placements for firefighter tattoos?
The placement of firefighter tattoos depends on the design. If you aim big, it's better to go for areas like the chest, thigh, or back.
But you can put it anywhere you want if it's a small one.
Because of the display restrictions, you might want to avoid the tattoos you can't hide under a uniform, such as a face tattoo.
Disclaimer: This tattoo collection is for inspiration only. Please do not copy the artwork. If you love these tattoos, follow artists and show them some support.
Firefighter tattoos with meaning
Meaningful firefighter tattoo that tells a story
Many firefighter tattoos have vibrant colors. But this black and grey tattoo stands out with its depth of meaning. The boy reaching for the helmet represents the wearer's childhood dream as a firefighter.
Yet when he actually became a firefighter, he found that it was his job to dance with the devil every day. But the reality doesn't scare him away, as you can tell from the determination of his eyes.
Small ankle tattoo for firefighters
Putting out a fire is a battle against time. Every second can be a matter of life and death. And this ankle tattoo perfectly captures the sense of urgency that is regular in the lives of firefighters.
Stunning flame tattoo above the ankle
Fire can destroy, but it can also enlighten. This beautiful flame tattoo not only represents the link between firefighters and fire. It also signifies their burning desire to save lives.
Cute Lego firefighter tattoo
With the beautiful illustration, this cute Lego fireman tattoo will surely catch eyeballs. The Lego mini figures might be the reason a kid falls in love with the profession. That's why this tattoo also reminds you to never forget why you started.
Read also: 38 super cute cartoon character tattoos
Maltose cross chest tattoo
The Maltese cross is commonly known as the symbol for firefighters. You can see it on the firefighters' badges, clothing, fire trucks, and decorations in the fire departments. But what is the connection between Maltese cross and firefighters?
Named after Malta Island, the cross was a symbol for the Knights of St.John during the 11th and 12th centuries. Those brave knights risked their lives fighting enemies and were often exposed to fire caused by bombs. Many died heroically. Thus the Maltese cross became a symbol for protection and fire service.
In this chest tattoo, the firefighter walks towards us from the fire. The flames filling this Maltese cross burns in the background. They not only highlight the tattoo but also signify his triumph over the battle.
Hero fighting the wildfire
Bush fires can be firefighters' worst nightmares. But instead of backing down, hundreds of thousands of firefighters run into them with great courage. This bushfire tattoo honors their determination to save lives despite the danger and hardship.
Saving the Kaola
Though this tattoo is purely black and grey, the message it sends is astounding.
In 2020, wildfires swept Australia. Animals like koalas and kangaroos faced incredible danger. It was the firefighters who dashed into the burning woods and rescued those precious lives.
This firefighter tattoo not only honors their courage. It's also a reminder that climate change is real, and we should all do our parts to protect Mother Nature.
Black and grey realism tattoo
Whenever firefighters carry on a mission, they always have their equipment with them. Thus they become symbols for firefighters. If you are looking for a tattoo to represent your identity, look around and find an object that relates to you, such as your badge, your ax, or helmet. The more personal, the better.
Small fire symbol tattoo
Fire tattoos have both positive and negative meanings. For firefighters, fire is the most common danger in front of them. But it can also represent the passion for the job.
And it's passion, along with the sense of responsibility, that enables these brave humans to do the impossible.
Realism fire helmet tattoo
Hose tattoo for firefighters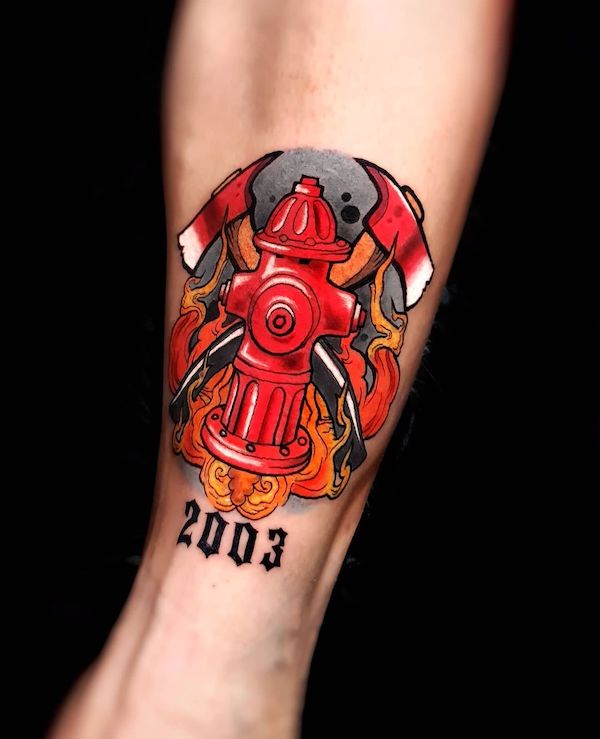 Fire hoses are necessary for putting out fires. And, just like axes, the red color makes the tattoo pop out even more.
Saving lives
From afar, the lines are from an electrocardiogram. It fluctuates with the heartbeats. But it can also be the skylines of a city. Thus it tells the two roles of firefighters – life-saver and protector of the city.
Floral Maltose cross tattoo for female firefighters
Most firefighter tattoos cover a large area with elements like fire helmets and trucks. For men, they are awesome. But they can be too masculine for female firefighters.
This small floral Maltese cross, however, managed to be both meaningful and pretty. The cross symbolizes the profession, and the gorgeous floral pattern elevates its elegance.
Duo-color maltose cross bicep tattoo
"Fire" one-word tattoo
Firefighter and fire truck chest tattoo
Metallic fire department badge tattoo
The fire department badge is another firefighter symbol. For this tattoo, the artist used shading and colors to emphasize the metallic texture. Not only does it look natural, but it will also be a permanent badge of honor.
Black and grey Lego fireman
Blackwork fireman tattoo
Fire truck outline tattoo
Most firefighter tattoos have a lot of details. But this fire truck tattoo is an exception. With minimum lines and shapes, it creates the silhouette of a fire truck. And it will be perfect for minimalists or for female firefighters who want to stay simple.
Breaking through the wall
For people that are trapped in a fire, firefighters are their last hope. This vivid tattoo illustrates the moment when a firefighter breaks through the wall. He brings hope to live on.
It's not only an empowering design. But for those saved by a firefighter, it will be a perfect firefighter appreciation tattoo.
Firefighter gear shoulder blade tattoo
Fighting on the frontline
Helmet and Pulaski tattoo
Firefighters carry axes with them, especially in the case of wildfires. These axes are called Pulaski, named after its inventor, Ed Pulaski. They combine an ax and an adze together.
Because of its practicality, the Pulaski has become a tool and a common element in firefighter tattoos.
Realism firefighter tattoo
Protection, honor and courage
Small black and grey fire extinguisher
Unsung hero firefighter leg tattoo
Under the helmet
Besides the perfect execution of lines and shading, this realism fireman tattoo has something that makes it stand out.
We can see how the vulnerable, exhausted side of the fireman. It reminds us that firefighters are only humans. They will also feel tired and frustrated. And it makes them even more respectable.
Scars and triumph
Minimalist firefighter outline tattoo
Which of these firefighter tattoos relates to you?
Or do you have a tattoo that represents your profession? Share in the comment!