Relive the best childhood moments with these adorable cartoon character tattoos
Cartoons are part of our childhood. We grow up with the characters. We laugh with them, cry with them, and learn to adult with them.
Getting cartoon character tattoos is a bold statement to honor your childhood. But it's also worthy. Cartoon tattoos are not only fun. They will always remind us to stay true to ourselves, just like we do as a kid.
What is your favorite animated series or movie? Pick a character that inspires you, and you may have your next ink for you. If you don't have a clear idea, take a walk down the memory lane of these classic cartoon character tattoos.
Disclaimer: This tattoo collection is for inspiration only. Please do not copy the artwork. If you love these tattoos, follow artists and show them some support.
Classic and adorable cartoon character tattoos
Beauty and the Beast tattoo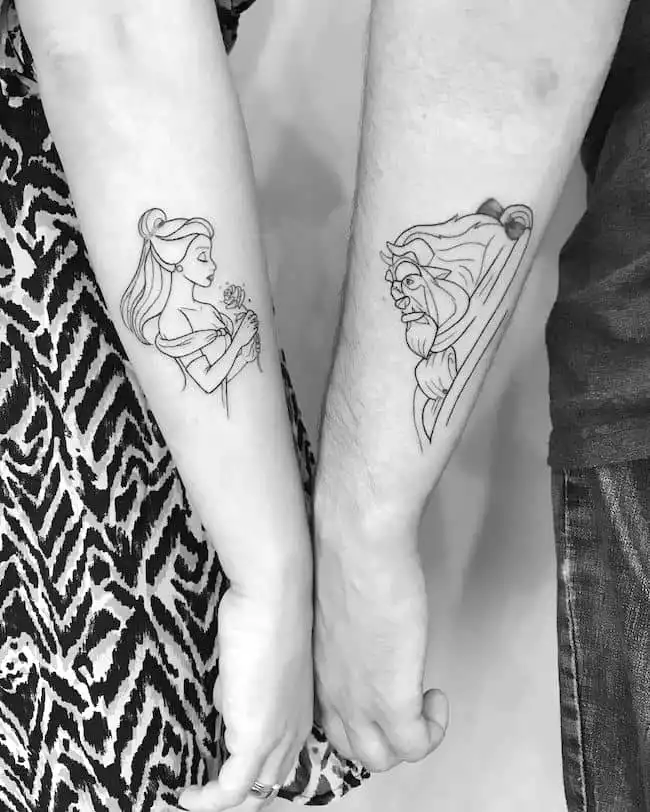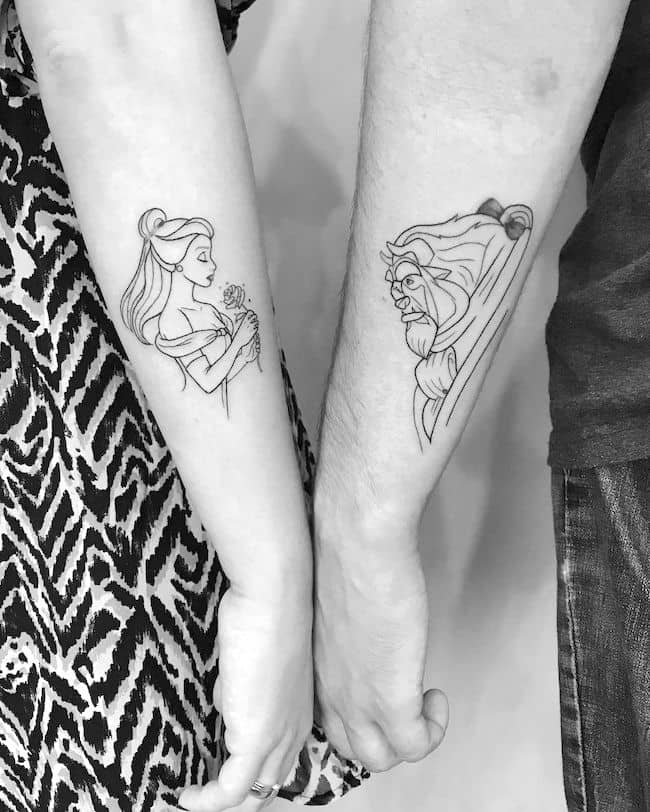 Tale as old as time. Think of the best timeless Disney tattoo ideas for couple, Beauty and the Beast will be on the list.
Bobby from King of the Hill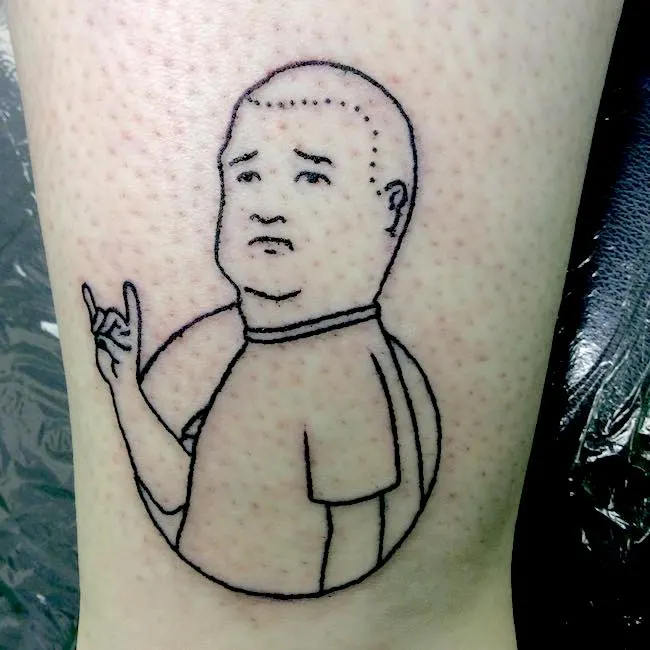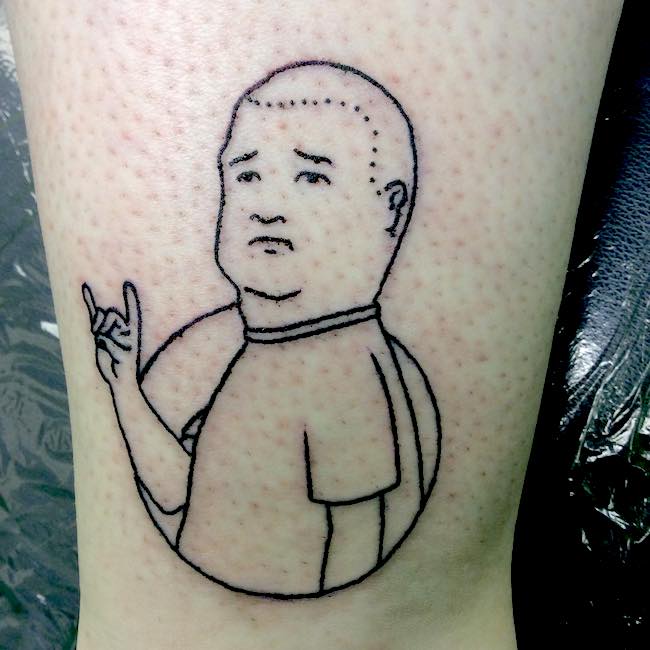 A super laid back Texas boy, often seen with a bag of potato chips, Bobby is a self-love advocate. He is aware of his chubbiness but still loves his body. He knows his family is not perfect but still loves them anyway. He's intelligent but not always showing it. If you share Bobby's philosophy, this tattoo is a good fit for you.
Bugs bunny tattoo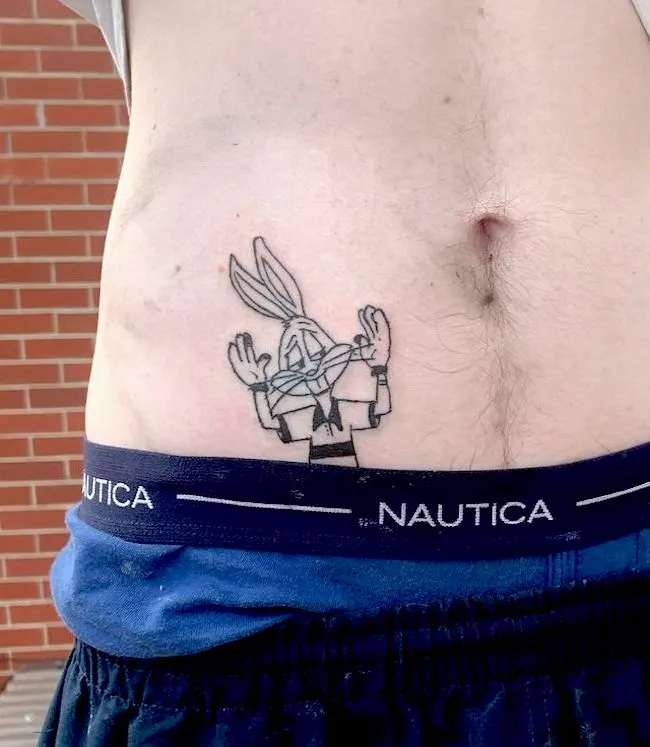 Quick and witted, Bugs Bunny is one of the most beloved cartoon characters of all time. He's smart and always finds his way out of the problems. If you are a rebellious optimistic like him, consider a funny tattoo like this one here.
Ted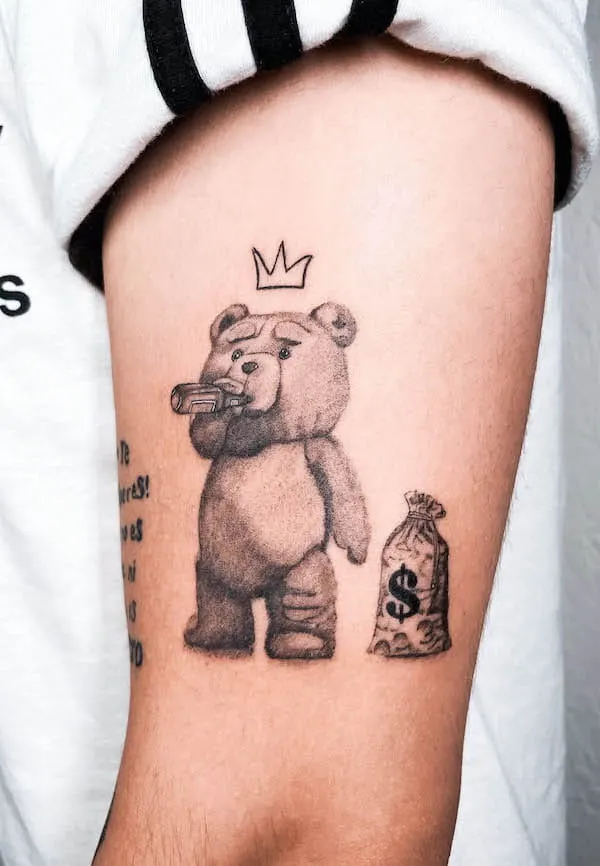 Because who can say no to a witty, savage bear who wants to be your partner in crime instead of a toy?
We are all mad here – Alice in Wonderland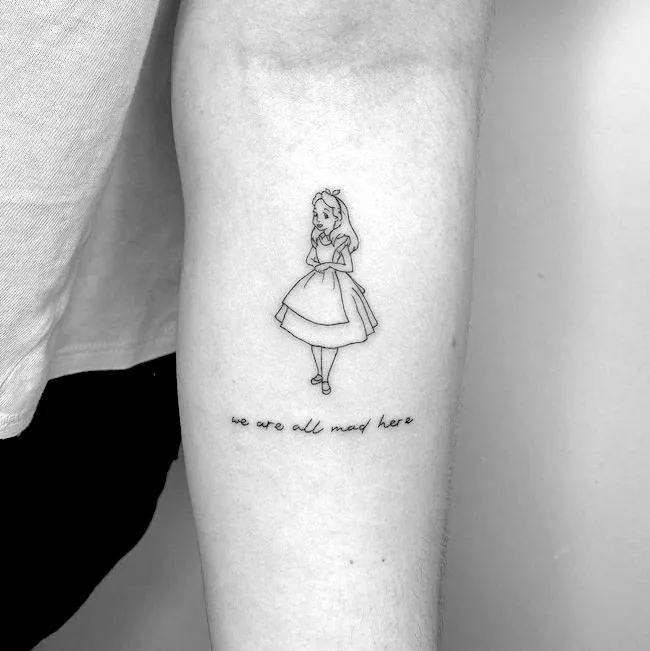 Whether you first saw it on the screen or heard it as a bedtime story, Alice introduced us to a world we proudly called Wonderland. The story left us thoughts to ponder: what if we shrink and grow like Alice? What if Wonderland is real? What if our world isn't real? And this inspiring quote tattoo honors curiosity and imagination, just like the story did.
Daria and Jane from Daria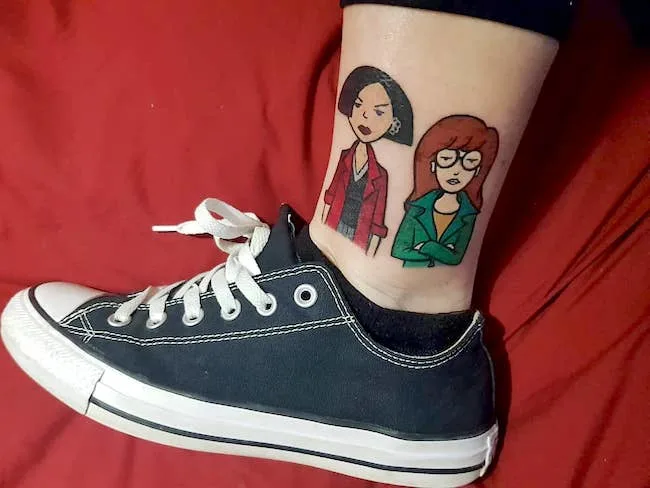 Being a high school outsider can be struggling…and cool. And that's what the MTV animation Daria has told us. Daria and Jane make themselves relatable by staying clear-headed in high school dramas. Endless eye rolls, sarcastic jokes, and dodging the spotlight, they are the new cool.
Disney princesses
Snow White, Cinderella, Jasmine, and Ariel – Can't decide which Disney princess is your favorite? Have them all in one tattoo!
Elsa from Frozen
She's somehow an outcast – insecure and once doubtful about herself, like many of us. But if you look close enough and trust yourself enough, you can free your soul and find your magic powers just like Elsa. And this adorable cartoon tattoo is a token of faith.
Tattooist Ovenlee has created a collection of dainty and sophisticated tattoos. Check out our interview with her to know more about her work.
Emoji mickey mouse tattoo
Can you imagine this adorable little mouse is in his 90s? He has been there throughout our childhood. And what's a better way to rediscover our inner child than getting a Mickey Mouse tattoo?
Studio Ghibli cartoon characters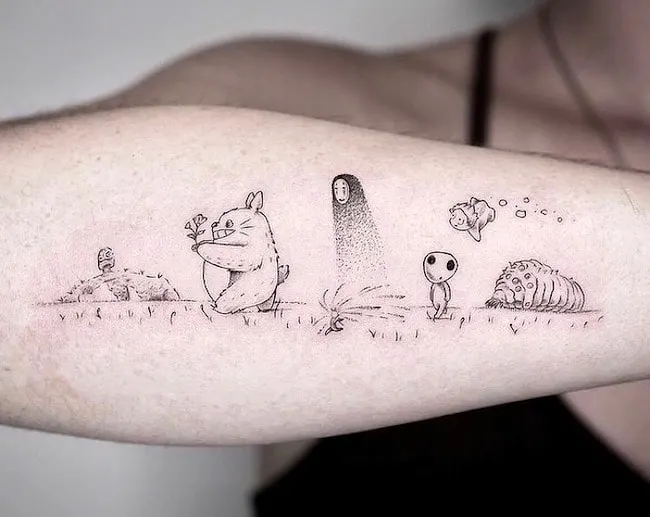 Tororo, No face, Chihiro, Princess Mononoke, Ponyo…Hayao Miyazaki has created a universe of fantasy with all these fantastic fictional characters. They are not always perfect or powerful, like other cartoons. But they take us on a journey of self-discovery and encourage us to do the same. That's why Ghibli characters are loved not only by kids but also by adults.
Jerry from Tom and Jerry
Tom and Jerry are straight-up friendship goals. They irritate each other, tease each other, and inspire each other to be better. Do they remind you of your ride-or-die? Here is a collection of matching best friend tattoos for you.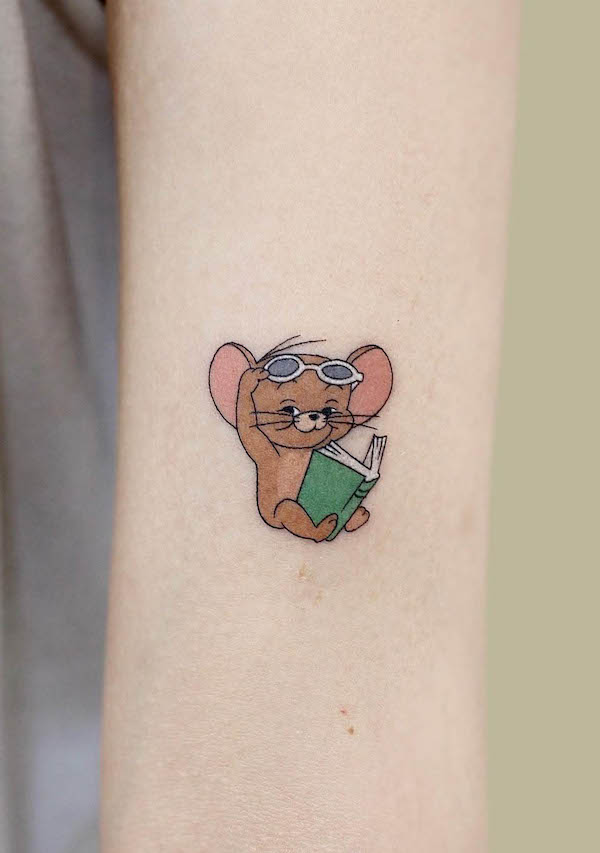 Tiny Snoopy behind-the-ear tattoo
From comic books to TV, Snoopy is probably the most loved dog in pop culture. Throughout his adventures with Charlie Brown, Snoopy also took us on a journey of life, friendship and love. The stories touched millions of souls. And if you are one of them, a cute Snoopy tattoo behind the ear may be a good fit for you.
Marceline from Adventure Time
"I think good people do bad stuff." If you are secretly a maverick, this tattoo of the Vampire Queen will be proof of your wild side.
Spongebob and Patrick Star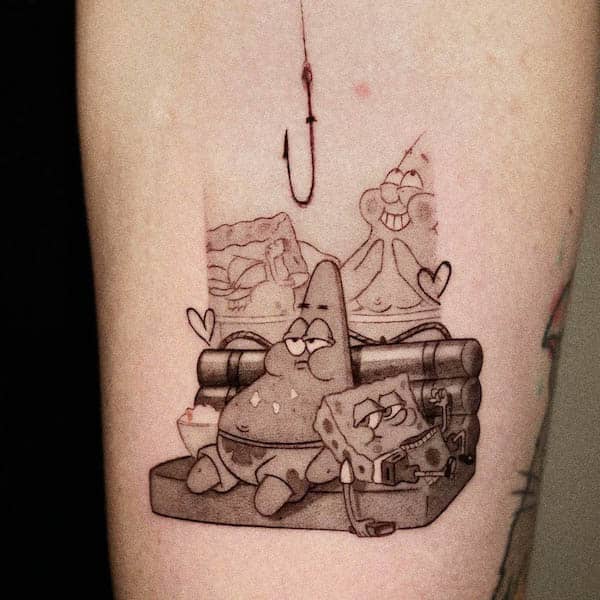 Anpanman cartoon tattoo
Anpan is a Japanese sweet roll filled with red bean paste. And the Anpanman is a Japanese cartoon character whose head is made from an Anpan. Though its upbringing isn't the most heroic, Anpanman symbolizes justice and courage as he fights crime and saves people every day.
The insomnia Stitch tattoo
Read also: 76 Adorable Disney tattoos that will bring back the childhood memory
Ned Flanders from the Simpsons
The Powerpuff Girls matching ankle tattoos
Because who doesn't want to rock a matching outfit and casually save the world?
Rick and Morty tattoo
Call them lunatic and call them absurd, but Rick and Morty never stop shed light on real-life issues. Politics, education, the show addresses the deeper problems in a light-hearty way.
South Park forearm tattoo
Teletubbies
Knowing what this show exposes your age.
The Lion King couple tattoo
Ariel from The Little Mermaid
One thing that makes Ariel a role model for young girls is her authenticity. She knows her beauty but never brags about it. She has a passion for collecting relics just for the fun of it. She goes on land to explore, not to be with a man. That's why so many girls look up to her.
Read also: 38 Stunning and captivating mermaid tattoos
Timon, Pumbaa and Simba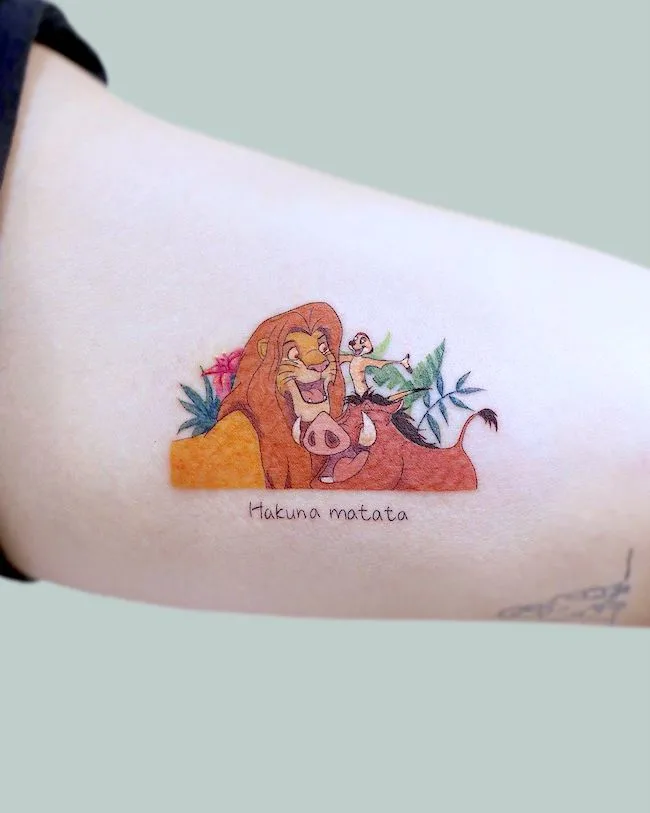 Because we all need some "Hakuna Matata" vibes in life.
A hearty Winnie and Pooh friendship tattoo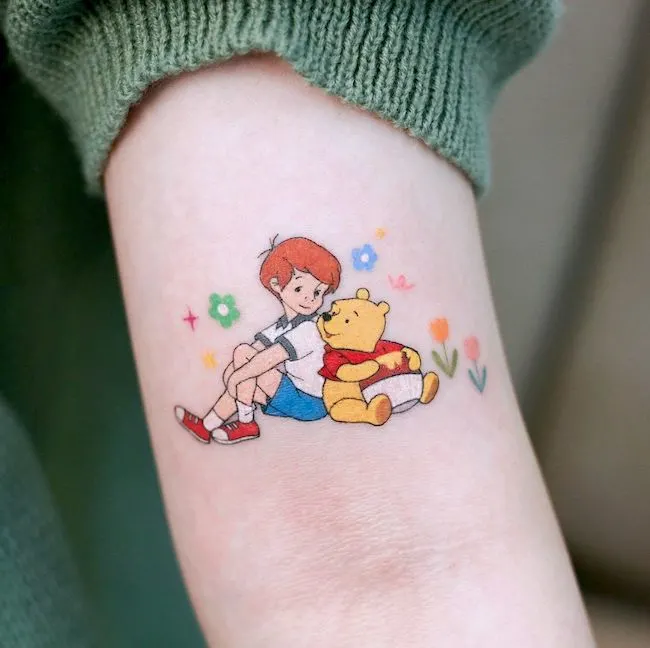 "How lucky am I to have something that makes saying goodbye so hard."
The old chubby bear teaches us the best lessons about friendship and love.
Read also: 43 Inspiring Winnie the Pooh Quotes That Are Words Of Wisdom
Spongebob full sleeve tattoo
Woody from Toys Story
The Astro Boy
Also called the Might Atom, Astro Boy is a robot. Yet, he has a pure heart that radiates love and kindness.
Chopper from One Piece
You can never relate this adorable human-like reindeer with his dangerous powers. Yet, he's the one that is always ready to learn and help.
A Sailor Moon tattoo for Japanese manga lovers
Arale Chan from Dr. Slump
Arale Chan is an android in the Japanese animation series Dr. Slump. She is innocent, somehow goofy with superhuman strength.
Crayon Shin Chan and family
Crayon Shin-chan never fails to make people laugh. Being a Japanese animation icon, this little boy Crayon is a mix of ignorance and maturity. He pisses his mother off regularly, yet shows his attention and love now and then.
A minimalist Crayon Shin-Chan leg tattoo
Doraemon and Tororo tattoo
More than a cute robot cat, Doraemon takes care of everyone and gives sincere advice. He acts like a wise parent but in an adorable shape of form. The contradiction makes him a unique and beloved cartoon character not only in Japan but across cultures.
The crying Ebichu
Goomba from Mario
They are the most common enemies of the Mario Brothers. Watch out; one slip, and you might get yourself goombaed.
Jessie, Meowth and James from Pokémon
Always trying, never winning. But their relentless efforts deserve some respect.
Tororo ramen fantasy tattoo
If you love ramen and Japanese animé, don't miss out on this cute tattoo.
Read also: 48 Whimsical Spirited Away tattoos with meaning
Peko-Chan
Different from other characters, Peko-Chan is more the face of a Japanese candy brand Fujiya. Big round face with her tongue sticking out, she's a symbol of purity and sweetness.
Peppa Pig family tattoo
Pikachu from Pokémon
Pikachu is one of the most powerful Pokémons. But he's more than that.
Growing up, I always want a Pikachu – a loyal friend who listens to you and saves you from danger. And I am not the only one. His friendship with Ash teaches us how to be a friend ourselves.
A cute and delicious Rilakkuma dango tattoo
Which of these cartoon character tattoos is your favorite?
Leave your thoughts in the comment section. If you have a tattoo to share, tag @_ourmindfullife on Instagram to get featured!