A list of best friend tattoos to honor the friendship with your soul sister. Cute, sweet, sacred or fun, you'll find your friendship symbol in this post.
Best friends are the family that we choose.
Getting matching tattoos is a big commitment. That's why it takes time to find the perfect best friend tattoos.
Best friend tattoos should unique, fun, cute and most importantly, meaningful. So if you are on a hunt for matching tattoos that honor your friendship, here is a list of ink-worthy best friend tattoos to choose from.
Disclaimer: This tattoo collection is for inspiration only. Please do not copy the artwork. If you love these tattoos, follow artists and show them some support.
Table of content
What to consider when getting friendship tattoos?
Minimalist and small best friend tattoos
Creative and cute best friend tattoos
Heart-warming quote tattoos for BFF
Matching best friend tattoos for 3
What to consider when getting friendship tattoos?
What speaks to both of you?
Getting a matching tattoo with your best friend or anyone is challenging. You have to take into accounts both of your interests and aesthetics. That's why before getting a friendship tattoo, take time to ask yourself and your friend:
What reminds you of each other?
What experiences bond you together?
Do you share the same passion or hobby?
These questions will help to bring you and your BFFs on the same page. Discuss and come up with options so you can decide later.
Placement and size
Do you want it big or small? Do you want your friendship tattoo to be out loud or hidden? It's great to have identical tattoos. But if your preferences are different, you can find designs that work for different placements or sizes.
Does your friendship tattoo look weird alone?
That's always something to consider when getting matching tattoos with your partner, your best friend, or your mom.
In real life, two individuals are not likely to stay together 24/7, no matter how close you are. A half-butterfly palm tattoo may look great with another half, not so much on its own.
So you may want a tattoo than stands for itself individually. It would be great if the tattoo you are getting is meaningful to you. And if your relationship changes, you will still have a tattoo that you love.
Minimalist and small best friend tattoos
Good ink doesn't have to be complicated. Sometimes simple linework or a friendship symbol tells a lot about a friendship. So here is a list of minimalist matching tattoos for you and your best friend(s).
Simple matching diamond tattoos for besties
When alone, each is a shining diamond. When together, an unbreakable gang.
Paper plane friendship tattoos on the wrist
Being best friends doesn't mean you have to stick together every day. With these matching friendship tattoos, the distance will only make your bond stronger.
F.R.I.E.N.D.S tattoos for besties for life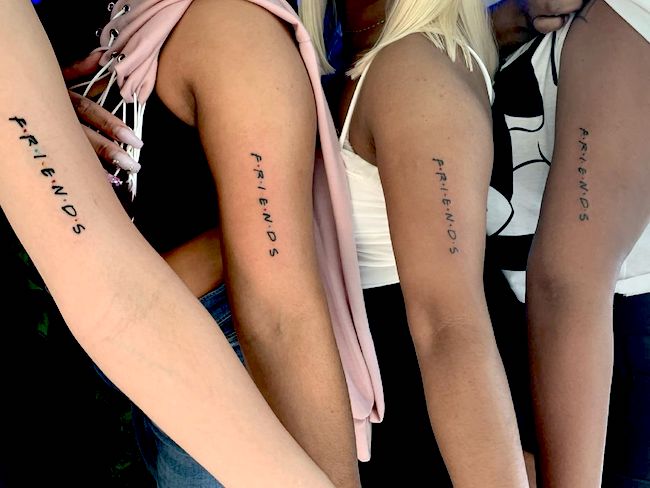 Cute matching smiley faces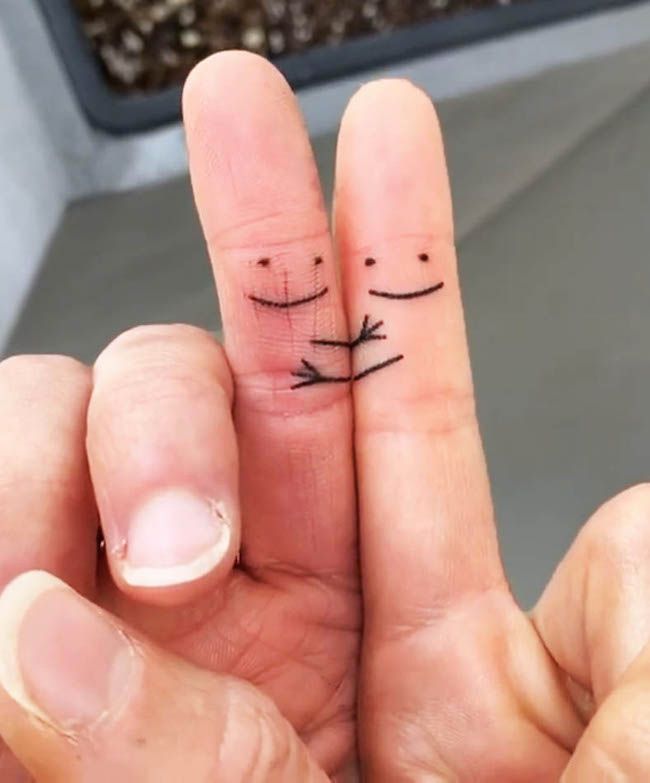 Matching wrist tattoos for long distance best friends
"Wherever we are, we'll always find each other."
Matching legos
Best friends are just like legos that seamlessly click with each other.
Abstract landscape tattoos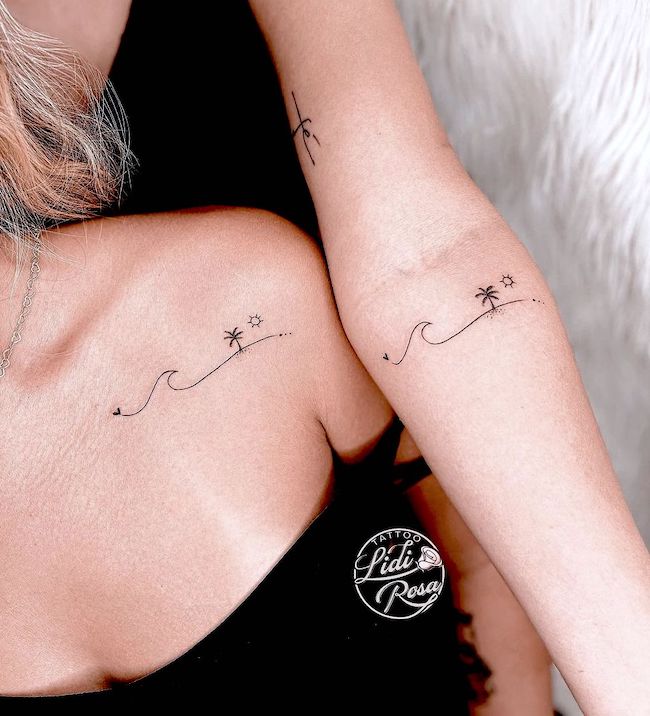 Fake smile arm tattoos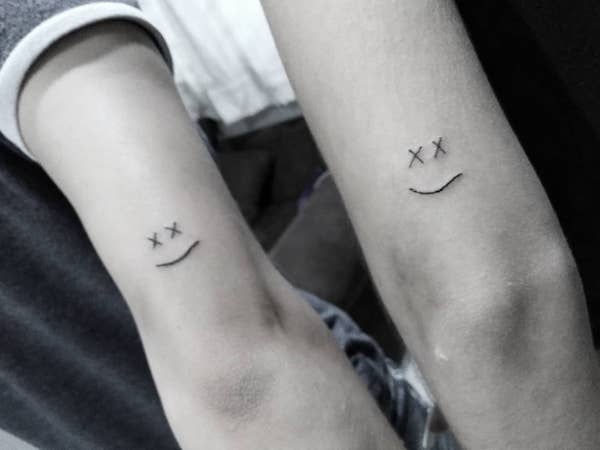 Life is hard. Sometimes you need to keep your chin up despite the challenges. But a real friend will always know if you are actually happy or just trying to keep it together.
This smiley face tattoo may be simple, but it can tell so much about the wearers' bond and mutual understanding.
Shining bright like a diamond
Harry Potter Tattoos for BFFs
The best Harry Potter tattoos for friends that are both a catch.
Minimalist planet tattoos
Herbal matching thumb tattoos
Sunflower tattoos for best friends
Adorable avocado matching tattoos for friends
Best friends are like avocado. They make everything better.
Abstract fine line best friend tattoos
Small friendship tattoos for girls
Elements matching tattoo for BFFs
Matching bee tattoos on the shoulder
Tiny letter tattoos on finger
Date of birth finger tattoos
Good finger tattoos are rare because there's just not so much room to work with. But numbers tattoos are never out of date. They are minimalist and low-pain. If you and your BFF are getting inked for the first time, this birthday tattoo can be a good choice.
Matching wrist tattoos
Space-themed ankle tattoos for besties
Sleek moon and sun line tattoos
Black and grey moon tattoos for girls
Compass tattoos for you and your ride-or-die
"Home is where you are."
Small heart tattoos to honor your friendship
Minimalist matching symbol tattoos
Cute toast tattoos
Rose tattoos above the ankle
Creative and cute best friend tattoos
Pinky promise matching tattoos
As a symbol of friendship, the pinky promise tattoos are the sweetest announcement ever.
Matching wine glass tattoos on the thigh
What makes a best friend date better? A drink (or two).
Elegant shoulder tattoos for the moon child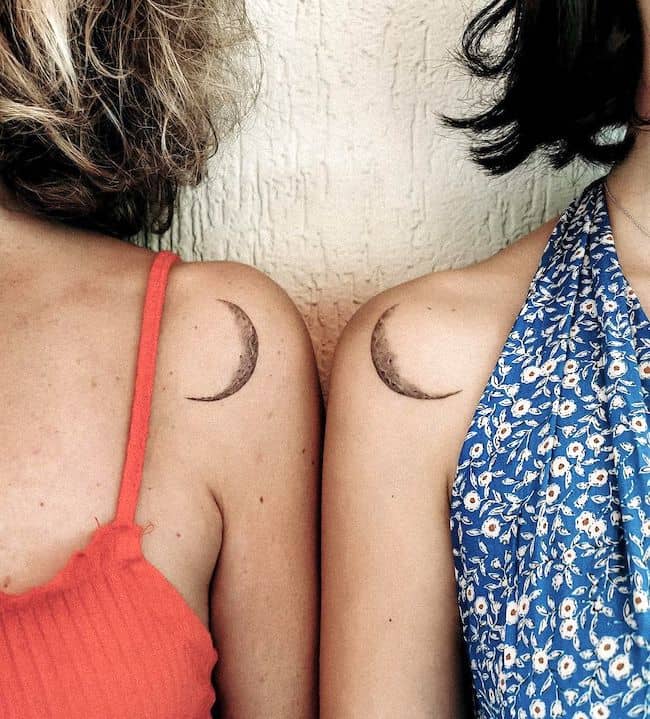 Moon tattoos are evergreen for a reason. The moon represents a quiet and resilient energy. If you and your BFF feel a special connection with the moon, consider getting matching moon tattoos.
Dare to fly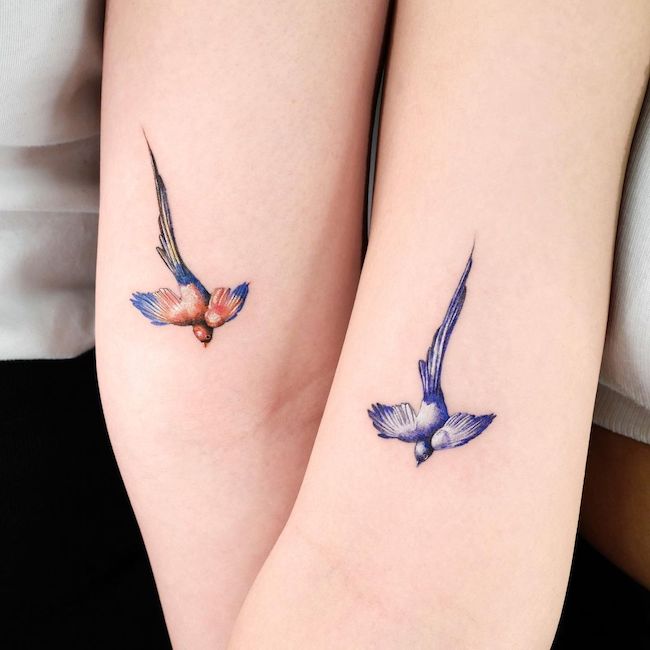 Unique snake tattoos for the badass
Read also: 47 Badass tattoos for women with meaning
The bro fist matching tattoos for best friends
Is it true that guys don't do pinky promise?
A pair of girly comb tattoos for besties
Matching train tattoos for the friendship that never stops
Celebrate the special moments
Graduation is something to remember for a lifetime, especially when you are with your best friend. If this sounds like you, why not turn this unforgettable moment into a permanent ink?
Tin can phone matching tattoos
Remember these adorable crafts? If you and your friend grew up together, you may have made one of these tin can phones. Real friends never grow apart in the heart.
The Yin and Yang
Best friends do not always share the same personalities or passions. They can be the complete opposite. If your BFF is Yin to your Yang, this forearm tattoo will show off your bond.
You are my sunshine
Crossed fingers tattoos for the best luck
Keep the fingers crossed to wish the best luck for your special someone, like 24/7.
Matching daffodil tattoos on arm and leg
Matching tattoos don't have to be exactly the same. We all have preferences on tattoos. These colored and blackwork tattoos are a perfect example that true friends value each other's individuality.
A promise on the heart
A selfie tattoo for besties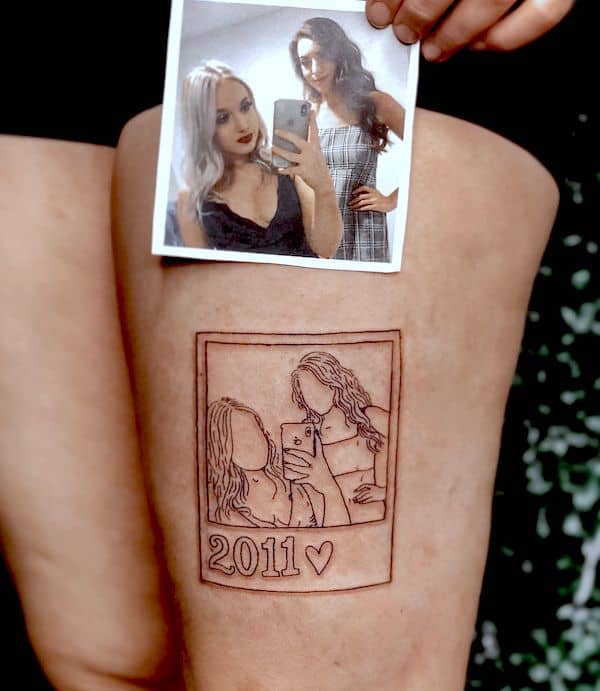 Adorable matching tattoos for girls
If you and your best friend are constantly on the phone talking about everything and anything, consider getting these cute and fun matching tattoos.
Colorful pinky promise snow globe tattoos
To infinity and beyond
Blackwork Dragon Ball tattoos
Yin and Yang fish tattoos on the back of the arm
Sun and moon forearm tattoos
Best friends don't necessarily have similar personalities. They can be completely different, just like the sun and the moon. But they complement each other and let each other shine. If this sounds like you and your BFF, consider these beautiful sun and moon tattoos.
Day and night matching tattoos
The lightnings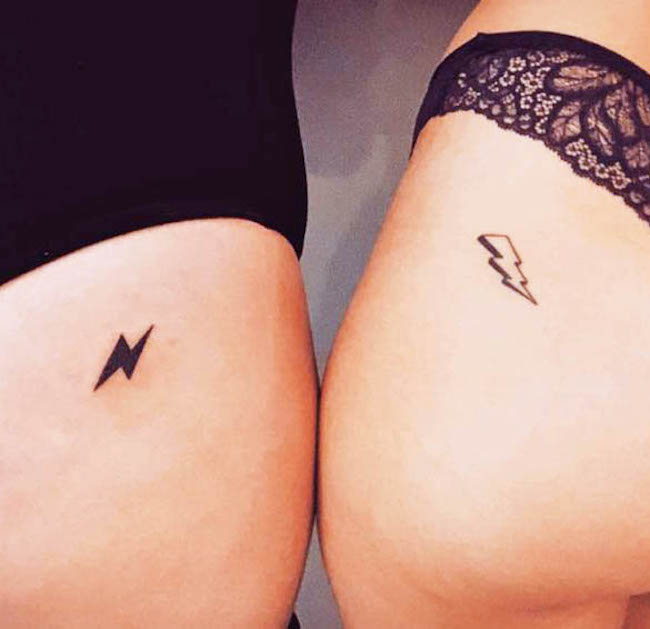 These small lightning tattoos show that best friends can be different but still connected.
Touching fingers
Maybe separated, but never afar.
Matching best friend tattoos for Scorpio
Scorpios may seem distant on the outside, but they are the most loyal friends one can have. If you and your best friends are both under the Scorpio sign, getting matching Scorpio tattoos is the best way to honor your friendship as well as your individuality.
Girly succulent tattoos on the wrist
Matching tattoos never "succ" if you get them with the right person.
Floral bracelet tattoos
Vines are not just an elegant tattoo element, but they also represent an unbreakable bond. These matching vine tattoos are proof that two individuals can sync and connect as one.
Anime tattoos for best friends that share the same geeky aesthetics
Best friends never let you do weird stuff alone.
Woody and Buzz best friend tattoos
Turning a selfie into a permanent memory
A memorial dog tattoo to honor the eternal friendship
Cute Sailor Moon matching friendship tattoos for 2
Funny ketchup friendship tattoos
Black and white matching friendship tattoos
Badass matching tattoos when the friendship is lit
Wayne's World tattoos
Two best friends are a small gang
Swings tattoos for childhood besties
From me to you – cute portal concept tattoos
Stunning "flower in genes" watercolor tattoos
Fern tattoos on the forearm
Adorable Wall-E and Eve tattoos
Bacon and egg best friend tattoos
I'm lovin' it
The little heart-shaped hands just escalate the cuteness level.
Heart-warming quote tattoos for BFF
Whether it's a line from a movie, lyrics or a famous saying, quotes are always a good tattoo option. If you and your BFF share a life motto or an inside joke, a quote tattoo can be a good fit for you.
Floral pinky promise quote tattoos
Eeyore and Piglet friendship tattoos
Real friendship doesn't have an expiry date.
Read also: 43 Winnie the Pooh quotes on friendship, love and life
All the things
Matching colored zodiac sign tattoos with a hearty quote
Read also: 112 funny and hearty best friend quotes that shed light on real friendship
Do all things with love – a reminder on the shoulder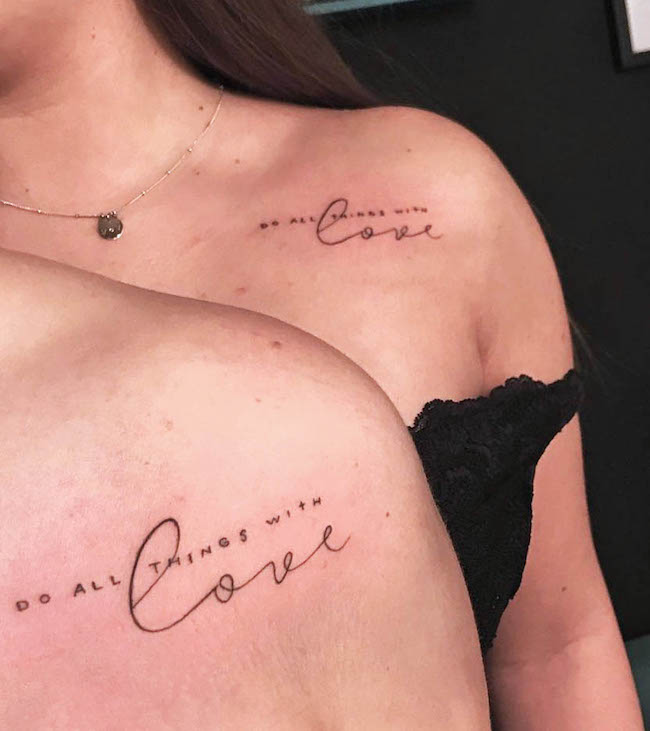 Real is rare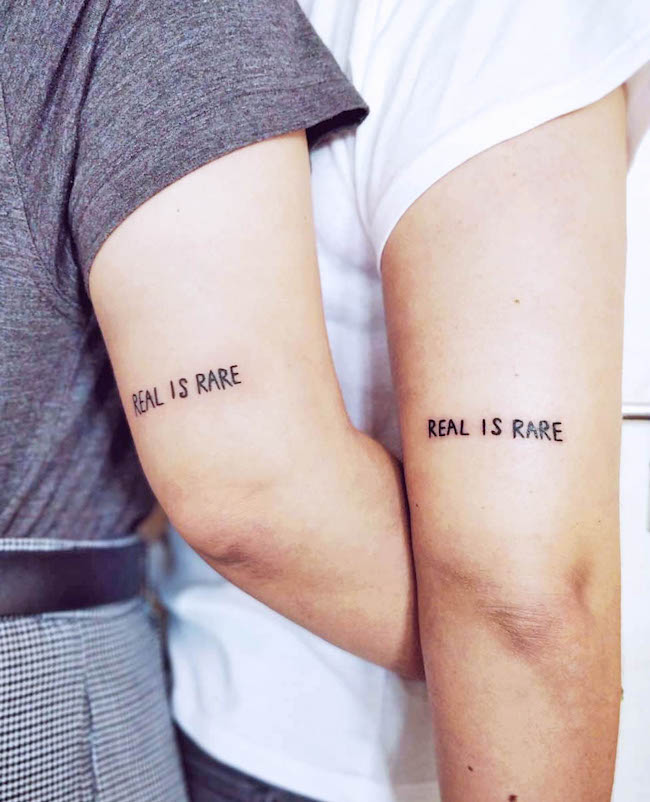 Promise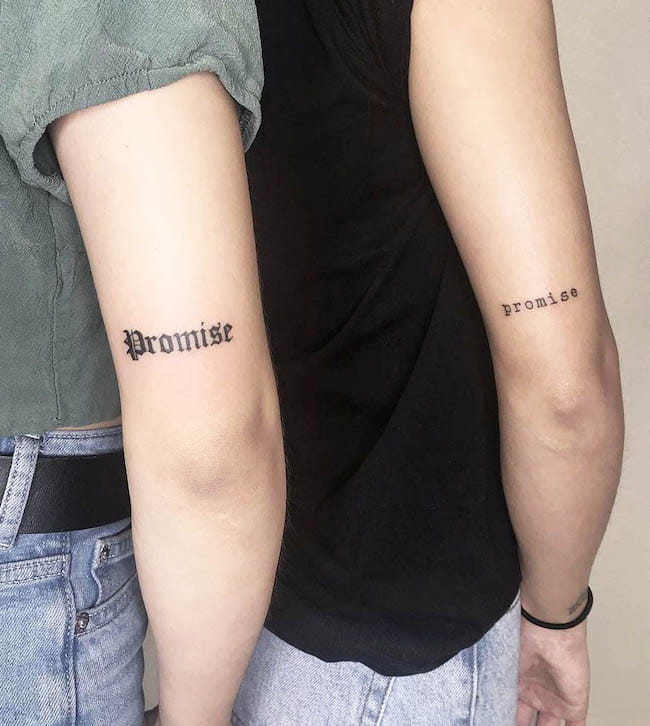 Sometimes a single word says a million things.
To infinity and beyond – elegant script tattoos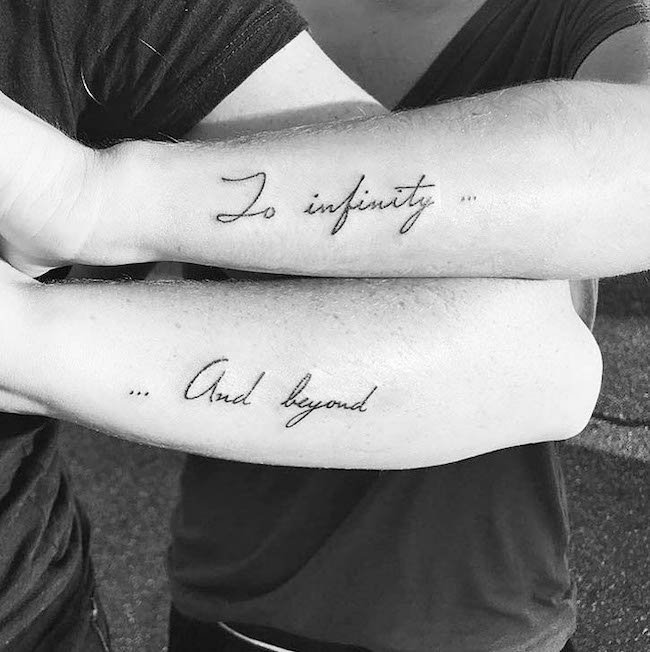 The name of a fan group
Sarina and her best friend are both fans of Robbie Williams and tattooed the name of his fan group on their wrists. These tattoos can be an inspiration for friends that love the same band, artist, movie or song.
Want to see more quote tattoos? Check out this mega list!
Matching best friend tattoos for 3
The Powerpuff Girls friendship tattoos
Small friendship wrist tattoos for 3
Astrology best friend tattoos for 3
Heart friendship tattoos for 3
Triangle tattoos for 3
So there you have it. Have you found the matching best friend tattoo that tells your story? Share it with your bestie!
Read also: 112 Matching couple tattoos that are better than a ring