Moon tattoos are evergreen. Be it in the spotlight or as a background, the moon is often seen in tattoo designs across cultures. In astrology, the moon is regarded as a symbol of femininity, as opposed to the sun. However, it holds a special place in many hearts for various reasons.
I love moon tattoos because it gives me the strength to embrace my authentic self. Despite the imperfections, the moon always glows. It is covered with craters from impacts. But the flaws never dull its shine.
Some people get a moon tattoo because it is a symbol of changes. There is only one moon. But the shape and brightness vary at different times. Similarly, you will have your good days and your bad days. No feelings are final, and no pain is permanent.
Another reason why moon tattoos are so popular is for the representation of long-distance love. Wherever your loved ones are, you will always be looking at the same moon. And it makes the distance in between smaller. If you miss someone from far away, matching moon tattoos may be a token of your unbreakable connection.
Tattoos are all about self-expression. The crescent moon, full moon, or half-moon all have different meanings. And one can always find a moon tattoo that tells his own story. To give you some ideas, here is a collection of creative and meaningful moon tattoos. Keep scrolling for inspiration.
Disclaimer: This tattoo collection is for inspiration only. Please do not copy the artwork. If you love these tattoos, follow artists and show them some support.
Unique moon tattoos with meaning
Table of content
Small and minimalist moon tattoos
Creative tattoos for the moonchild
Elegant sun and moon tattoos
Small and minimalist moon tattoos
A moon tattoo can be intricate. Or it can be as simple as a single line. And these small moon tattoos are proof that simplicity can carry meanings and depths.
One line moon phase on the back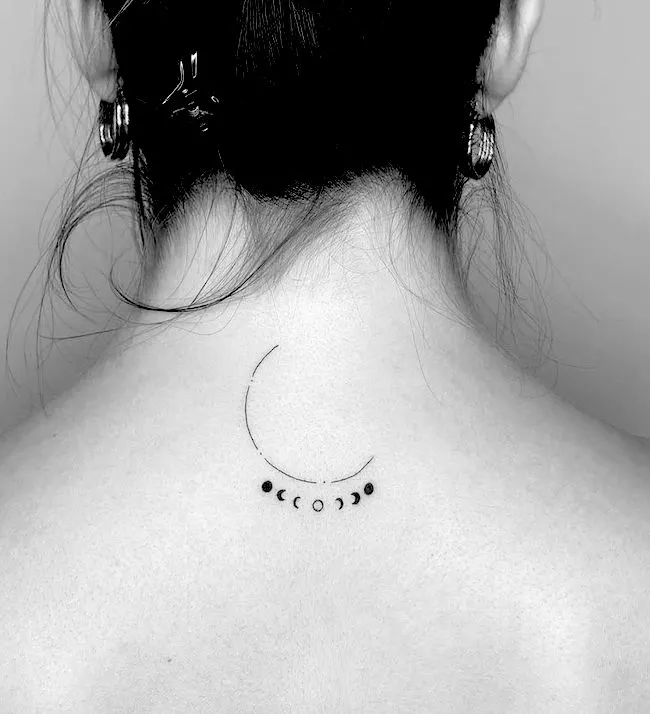 Just like other tattoo elements, moon tattoos come in different shapes, sizes, and placements. This petite nape tattoo is a perfect example of simplicity and elegance. The fine line represents the crescent moon. And it vibes with the feminine energy symbolized by the moon phase. Together, this moon tattoo showcases both strength and serenity.
Minimalist crescent moon tattoo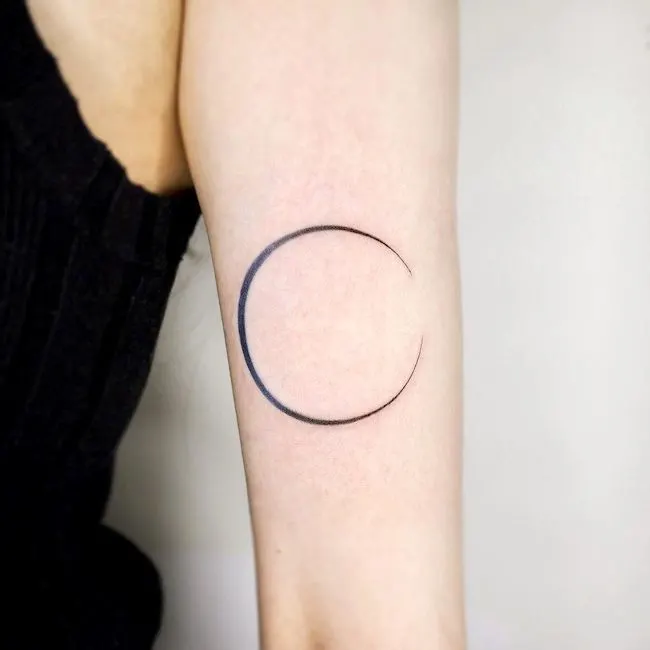 A heavenly starry night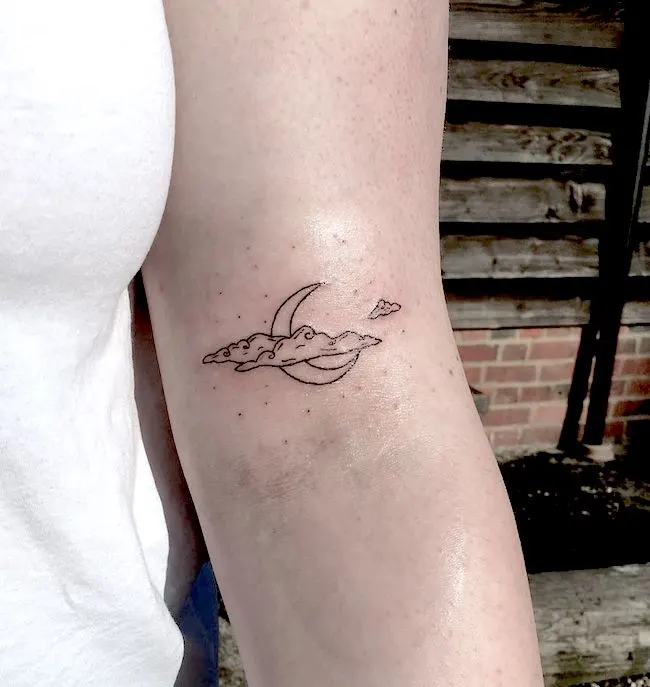 No matter how dark the night is, the light will always shine through.
A deep poetry tattoo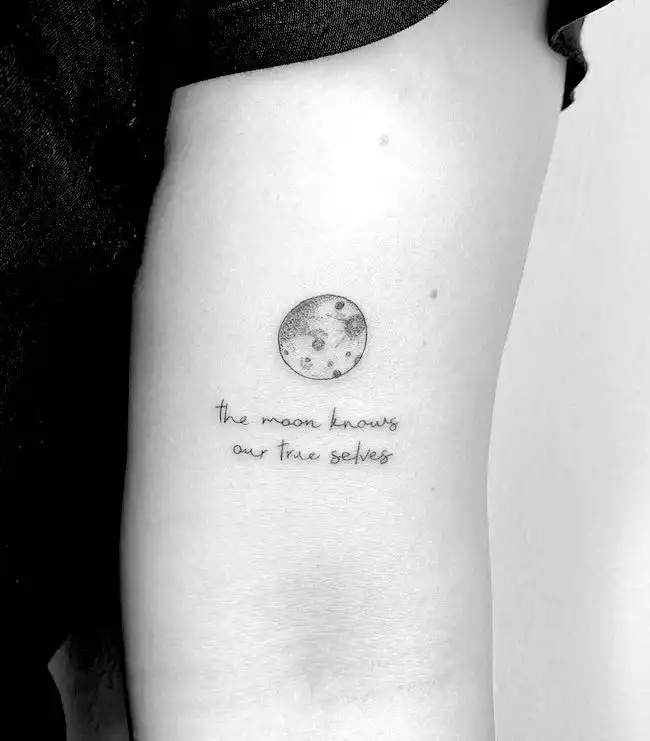 Quote tattoos carry different meanings and stories, and this k.tolnoe's poetry tattoo is no exception.
Maybe we all wear masks, pretending to be someone else in the day. Only when we are alone at night can we truly live as we want. And this is the beauty of solitude.
Watercolor crescent moon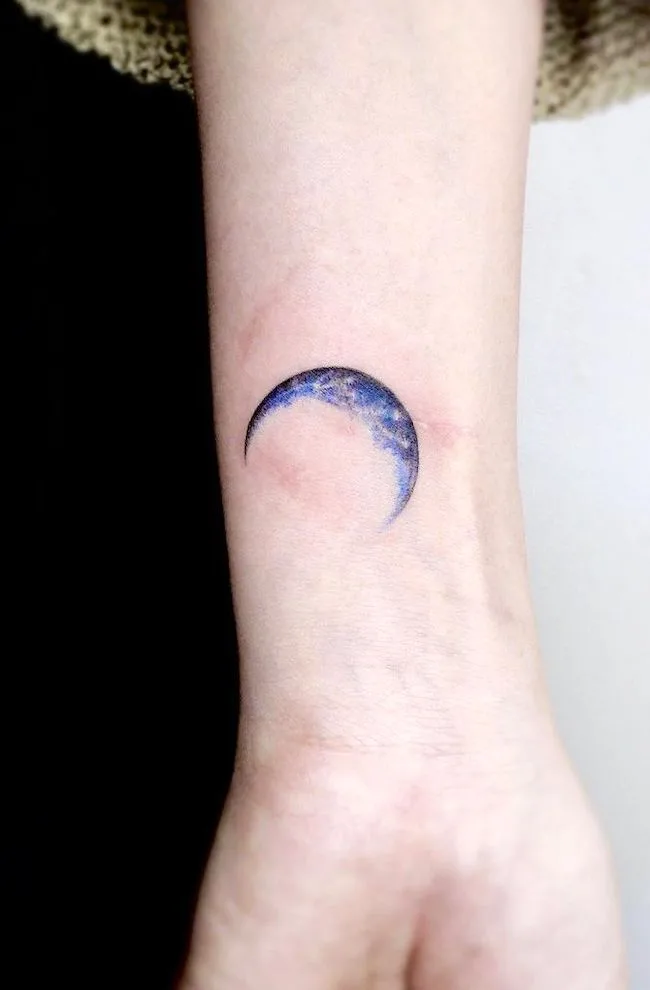 Above the sea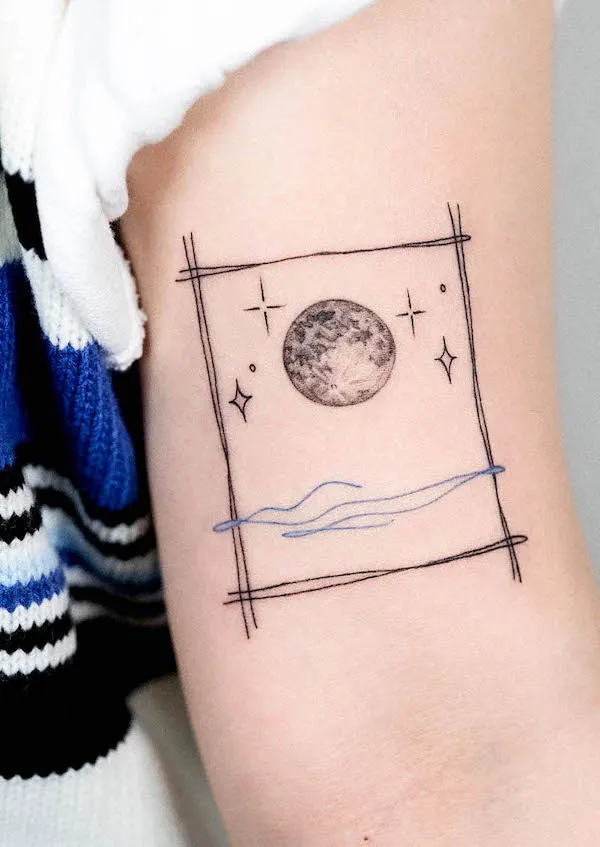 Music in the night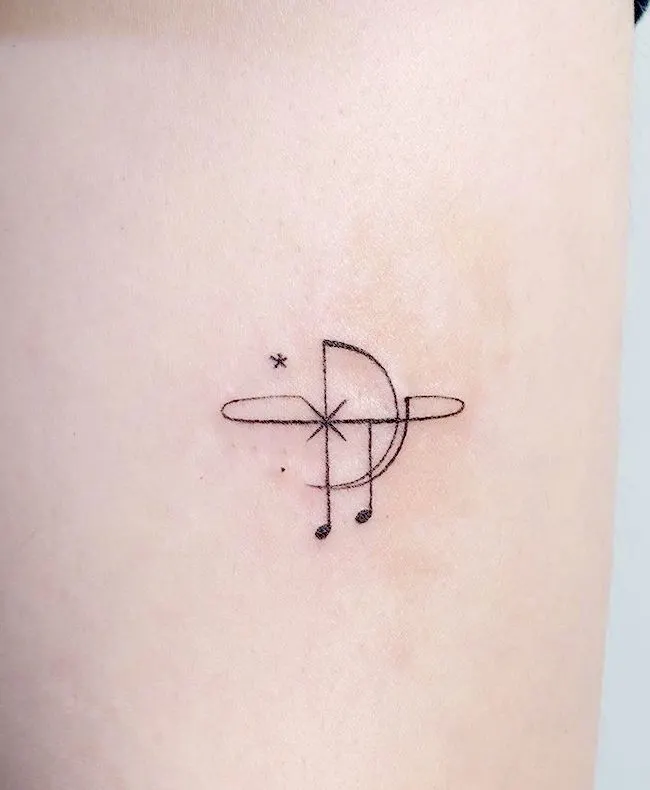 If you are a night owl whose creativity surges at night, this sleek symbol tattoo is a great fit for you.
A small moon and stars shoulder tattoo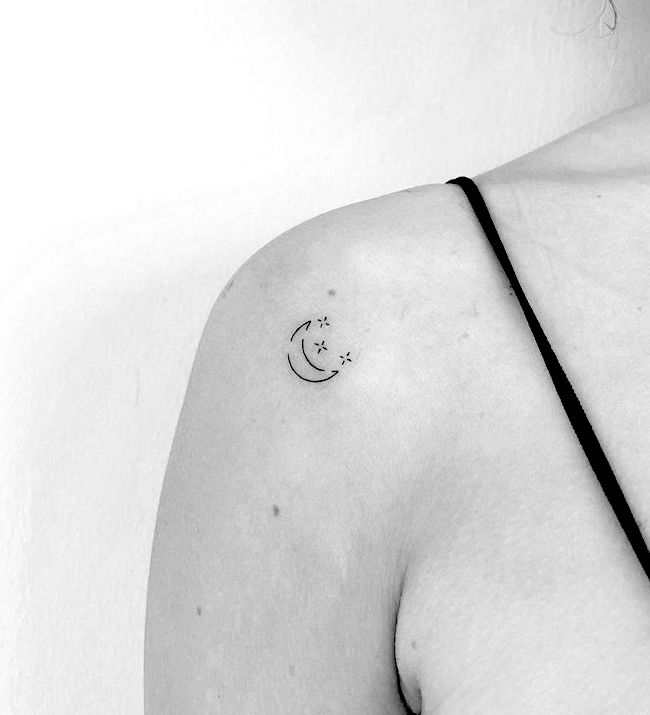 Moon in Aries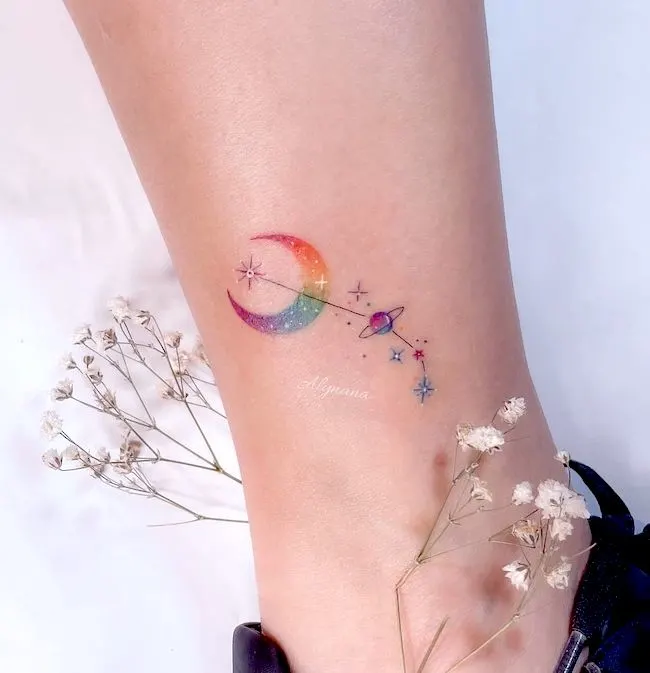 With the sun being the major sign, we also have a moon sign, a rising sign, and more. While our sun sign represents who we become, the moon reflects our true desires.
If your moon sign is Aries, you are an untethered spirit. Independence is essential. But you may not be comfortable showing your vulnerable side as Aries is a sign of strength and action.
Read also: 61 Stunning and fiery Aries zodiac tattoos
Triple moon symbol
The triple moon demonstrates three states of moon phases: waxing, full, and waning. Together, the three moons cover the entire cycle of life: birth, growth, and death. Thus the triple moon becomes a symbol of life and feminine energy, and it's often seen in witchy tattoos.
Waxing crescent on the chest
Not alone
No one is an island. Even a small plant in the desert is accompanied by a full sky of stars and moonlight.
Rose in the moonlight
Beauty is not about being perfect. It lies in the courage to glow despite the loses and wounds. And this elegant arm tattoo is a perfect reminder.
Sunset in the moon – a stunning landscape tattoo
Bunny and the moon – a girly ankle tattoo
Red moon in floral pattern
Creative tattoos for the moonchild
Moonchild doesn't just refer to the Cancer sign. Anyone that feels a connection with the moon can be a moon child.
A moonchild is someone that is out of this world. Moonchildren are blessed with powerful intuitions and wild thoughts. But they also overfeel, overthink, and overlove. If you are one of them, these creative lunar tattoos will illuminate your imagination.
On cloud wine
Sometimes a glass of wine is all the zen we need.
An intricate snake and moon fantasy tattoo
Moon and the little fox
Fly to the moon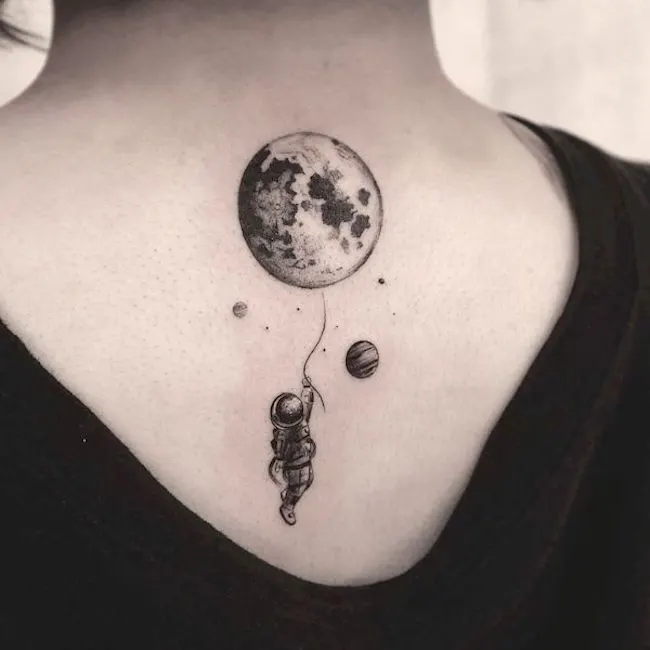 The bright side and the dark side – A waning gibbous moon tattoo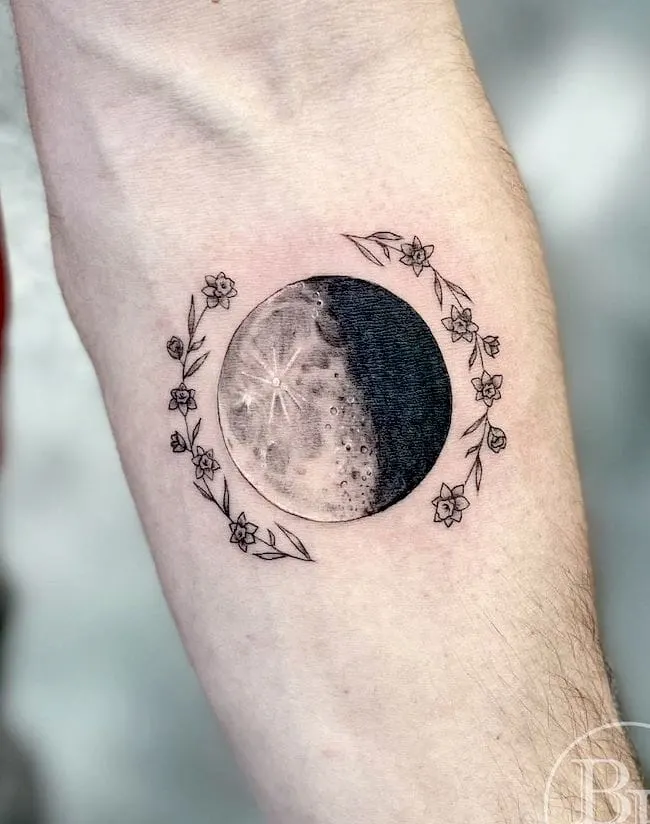 Waning gibbous is found between full and last quarter moon. It rises after sunset and sets after sunrise. Waning means the moon is getting smaller.
Spiritually, the waning gibbous moon phase is the time to reflect on old habits and existing relationships. What was dragging you down? Is there any toxicity in your circle? The waning moon gives us the power to cut off what no longer serves us.
A witch cat tattoo
Black cats and the moon are both commonly seen in witchy tattoos. They are mysterious and you will never know how powerful they truly are.
It will shine again
Moon phase and angels
The night whisperer
Stunning diamond moon tattoo
A realistic moon phase tattoo
Moon phase tattoo on the back of neck
A geometric moon phase nape tattoo
The serenade
This small piano tattoo was created by tattooist Ovenlee and inspired by her passion for music. She has also created a collection of dainty and sophisticated tattoos. Check out our interview with her to know more about her work.
Talking to the moon
A stunning triple moon sleeve tattoo
Because of the light from the sun, the moon may appear in different colors. What looks blue to you may be red to others. This is proof that there is more than one answer to a question. And we can only find our truth when we explore on our own.
Kitty on the moon
Moon and Pisces tattoo
In astrology, the moon child often refers to Cancer. But when it comes to the emotional side, Pisces is a lot like Cancer. Their imagination flows like water and their mood may vary in a day just like the moon phase.
The lunar knight
The moon child
Never let anyone dull you shine.
Guarding serenity
Watercolor moon phase on the ankle
A landscape painting tattoo
Turn on the night
Floral moon tattoo
The blood moon on the chest
Witness of the night
The inspiration for this tattoo comes from Piero Fornasetti, an Italian artist obsessed with Lina Cavalieri. To honor her beauty, he created 1000 plates with her face printed on them. Whether you relate to his passion or not, this tattoo is a perfect example of a personal twitch.
Wild thoughts
Whale and crescent moon
A dreamy thigh tattoo for the moon child
A simple one-word tattoo
Read also: 56 Meaningful one-word tattoos that say a million things
Starry night
Elegant sun and moon tattoos
Night and day, yin and yang, the sun and the moon are two opposites. As different as they are, their energies create a balance of life and completes a cycle. Sounds like you and your person? Then these sun and moon tattoos may relate to you.
A small ankle tattoo
Matching sun and moon tattoos for couples
Think by the day. Feel by the night
Crayon wrist tattoos for the artists
@xin_tattoooo
Day and Night – Matching leg tattoos
Go with the flow
An intricate floral pattern tattoo
Sun and moon tarot card tattoo
Which of these moon tattoos is your favorite?
Leave your thoughts in the comment section. If you have a tattoo to share, tag @_ourmindfullife on Instagram to get featured!