A collection of witchy tattoos and meanings for your dark fantasy
Witch used to be a word associated with evilness and black magic. It has now become a badass identity. Witches are mysterious, and they know how to channel power from natural elements.
Witches are deviant and not accepted by the majority. But it doesn't mean that all of them are evil. They are human with special gifts, and they get to decide how to use that talent. But one thing you can be sure of: they are not to be messed with.
You don't need to practice witchcraft or dark magic to wear a witchy tattoo. If you are drawn to Wicca or Pagan culture, these witchy tattoos may be perfect for you!
Disclaimer: This tattoo collection is for inspiration only. Please do not copy the artwork. If you love these tattoos, follow artists and show them some support.
Table of content
Witch tattoos and meanings
The Familiar animal tattoos
Wicca symbol tattoos
Magic tattoos
Witch tattoos and meanings
Is a witch old and ugly? Absolutely not. Instead, in modern culture, witches are charming, mysterious and powerful.
Here are some gorgeous witch tattoos that will stay in your head.
The witch apprentice forearm tattoo
A moon phase fantasy tattoo on the back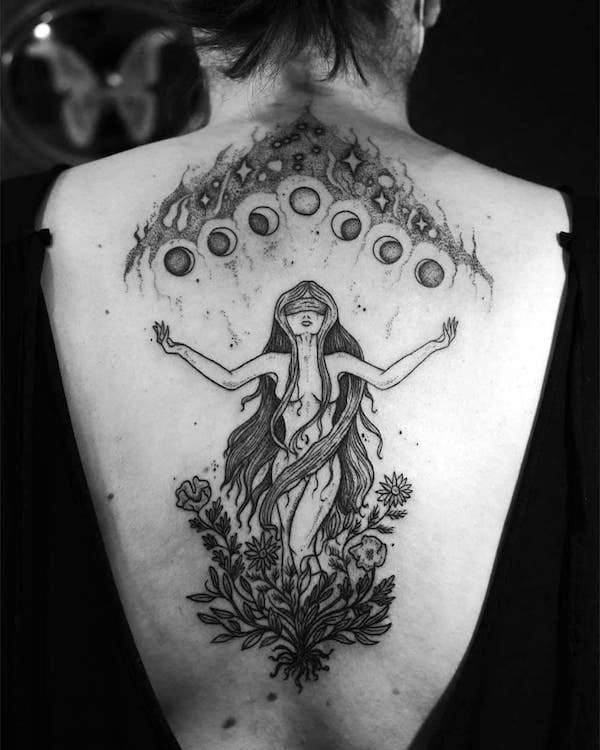 An intricate blackwork witch tattoo
A small witch tattoo to hide or show
Let the magic begin
A thigh tattoo with a stunning witch portrait
Let the magic begin
Dancing on the broomstick sleeve tattoo
The knight of the night – a stunning fantasy forearm tattoo
The heartbreaker – a dark calf tattoo
A witch girl tattoo with owl and wolf
The third-eye witch portrait tattoo
The Nun from hell
A witchy mermaid
Witch queen and her castle
A dark thigh tattoo with stunning details
A chest piece that would put a spell on you
The witch cat – a cute approach to witchy tattoos
Read also: 67 Adorable cat tattoos for the ultimate cat person
The dancing witch forearm tattoo
Witch and crow calf tattoo
The badass witch
Read also: 63 Bad b*tch quotes to awaken your inner savage
The Familiar animal tattoos
In modern Paganism, the Familiars are animals in which demons inhabited. They are the vessel for spirits and are often companions of witches. Black cats, toads, bats, ravens, the devils favor small black creatures.
What animals best represent your spiritual power? Take a look at these stunning witchy tattoos for some ideas.
The black cat tattoos
Black cats are often linked to evil. They are believed to be the devil serving a witch or a witch herself in disguise. Either way, they are badass creatures you want to stay away from.
The bat
Bats and witches are both creatures of the night. What makes them closely related is that they are both scary. In some cultures, witches can transform into bats and fly in the depths of the night.
The black moth tattoos
In Mexico, the black moths are named "the Black Witches". Because moths are fly towards fire despite losing their lives, they sometimes represent death. But they can also be a symbol of spiritual transformation and rebirth.
Wicca symbol tattoos
Wicca symbols are glyphs with different meanings. Because they are small, symbol tattoos are often seen on fingers, wrists, and behind the ear. They are perfect for those who want more flexibility in exposing their tattoos.
Want to know the meaning of these witchy tattoos and potentially find your symbol? Keep scrolling.
Triple goddess/Triple moon tattoos
The triple goddess, or the Tripple moon symbol, consists of three moons in different phases: the Moon waxing, full and waning.
In Wicca, the three moons represent Maiden, Mother & Crone. Together it symbolizes a never-ending life cycle and powerful female energy.
A whimsical triple goddess sleeve tattoo
@ashevans.artist
A Triple moon tattoo with the third-eye in the middle
@ink.and.anna
A symbolic Triple Moon forearm tattoo
@nuriafortunytattoo
A Triple Goddess tattoo on the calf
A detailed Triple Moon wrist tattoo
@relaxandpain
Hamsa tattoos
The Hamsa tattoo, or sometimes called the Hamsa hand, is a protective symbol in various cultures. It is a palm with one eye embedded.
It originates as an amulet in the Middle East. The symbol is believed to bring the owner safety from the evil.
A blackwork Hamsa tattoo
A dark forearm witchy tattoo
A realistic Hamsa sleeve tattoo
The elements tattoos
Witches are not all supernatural. But they are capable of channeling energy from nature. The four elements – Earth, Fire, Water and Air, are not just essential to life, but also to witchcraft.
@blackwork_hubal
@bunny.lucrest
@bertinarens
The Pentagram tattoos
Pentagram has become a symbol of magic. You can sometimes see it on the altar where witchcraft is performed. The five points stands for Fire, Earth, Air, Water and Spirit.
@inksmoke
@redpandameg
Ouroboros tattoos
The Ouroboros symbol is inspired by the skin-sloughing process of a snake. It depicts a snake eating its own tail, closing a circle. The ouroboros thus symbolizes the eternality of life and renewal.
Snake and gemstone
The Celtic knot Triquetra tattoos
There are various Celtic knots in different forms and shapes. The ones below is called the Trinity Knot or the Triquetra. In Wiccans, it is a symbol of the Triple Goddess, and sometimes the Mind, Body, and Spirit.
@lulaland
@omartstudio57
Read also: 112 Matching couple tattoos that are better than a ring
Magic tattoos
If you want a magic tattoo, the possibilities are endless. You can draw inspiration from objects you see on an altar: candles, daggers, crystals, tarot cards and more. Keep scrolling to find the witchy elements that speak to you.
A Wiccan altar tattoo
@ttrenaman_tattoo
The fortune-teller tattoos
@simplypiercingtattoo
The burning candle forearm tattoo
@lecygnenoir_tattooshops
Potion tattoos
@alwinfrank_tattoos
@angeloparente
@panna.lew
A witch hat tattoo
@cliogadea.arts
Tarot tattoos
@lanaferntattoo
@maddyfieldart
@viktoriagolebowska
A gorgeous blackwork sandglass tattoo
@melencolia.tattoo
Broomstick tattoos
@holierthanthoumanchester
@artofwarroy
@myriam.dey.tattoo
@racheltruskotattoos
Dagger and the crescent moon calf tattoo
Light the fire magic tattoo on the thigh
Which one of these witchy tattoos is your favorite?
Comment down below! If you are a tattoo artist and want to get your work featured, please email us at hello@ourmindfullife.com.