However unpredictable cats are, we just can't stop loving them. These cute cat tattoos are the best way to show your love for your feline pal.
Cats, the pets that we humans never own. They can be fur-midably cuddly. But they can also punch you in the face if you rub them the wrong way. However unpredictable they are, we just can't stop loving these mighty fluffy creatures.
That's why cat tattoos are evergreen – they are the ultimate tribute we can give to our feline friends. So we are rounding up a list of cat tattoos from small to bold, from minimalist to intricate. If you are a cat lover, you can't miss these awesome cute cat tattoos.
Disclaimer: This tattoo collection is for inspiration only. Please do not copy the artwork. If you love these tattoos, follow artists and show them some support.
Cat tattoos to put a smile on your face
Table of content
Minimalist cat tattoos
Stunning realistic cat tattoos
Cat outline tattoos
Creative cat tattoos
Minimalist tattoos for cat lovers
Simple is the new black. While everyone seems to have a big, eye-catching ink somewhere on the body, a thoughtful, minimalist cat tattoo stands out. So here is a list of adorable minimalist cat tattoos to show your love for cats.
A stunning odd-eyed cat tattoo on the shoulder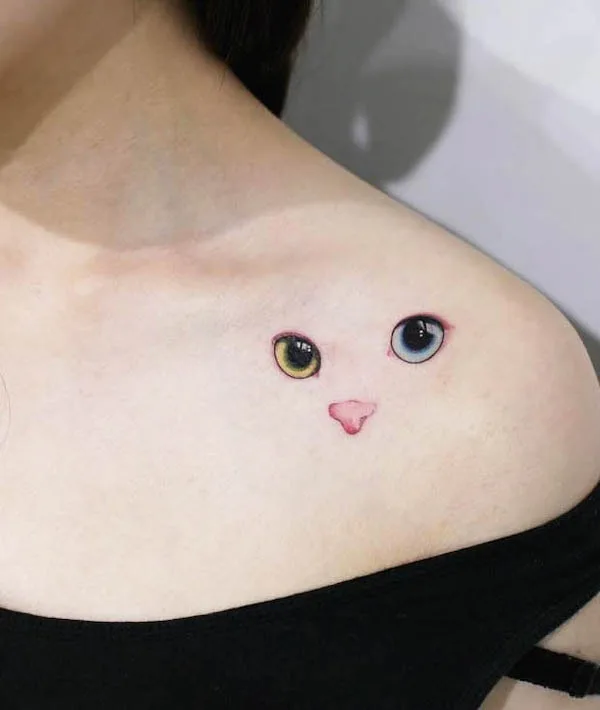 A cute kitten tattoo with an initial
What a cute way to combine the name of the wearer and his beloved little feline friend.
A little cat snout finger tattoo
Finger tattoos tend to age poorly. But with a dainty and adorable design like this one, who cares?
I found home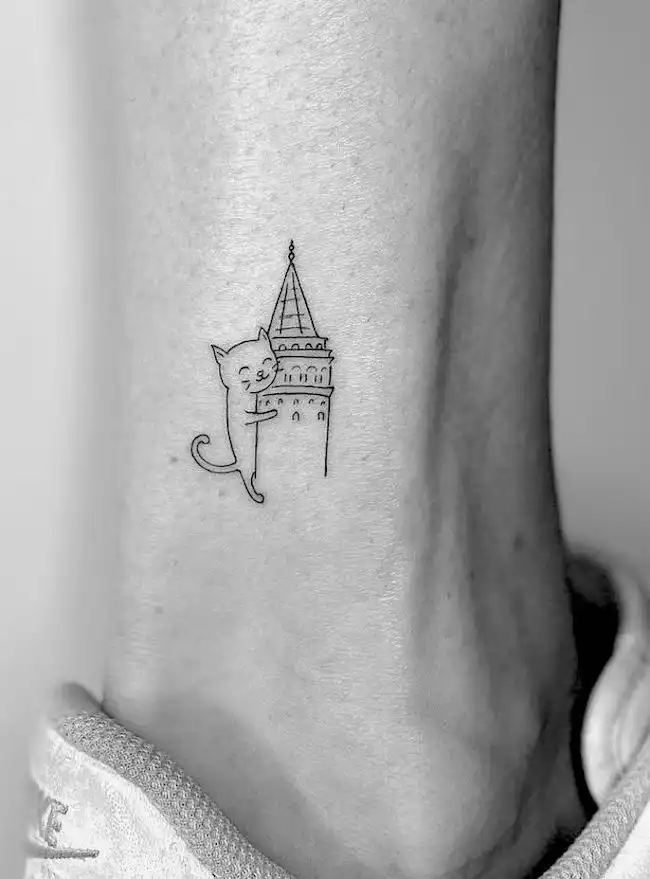 A small black cat ankle tattoo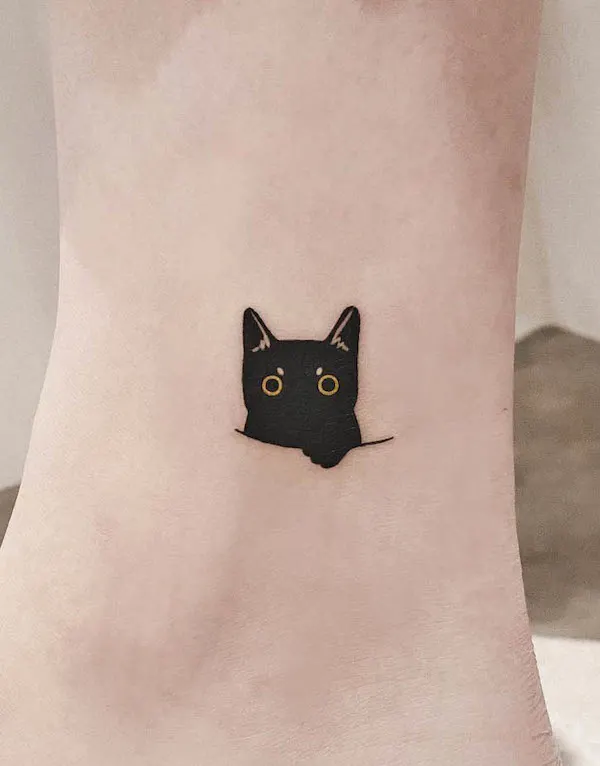 The cat gold digger
The illusion
A watercolor tattoo for music-loving cat owners
The Purr-fessor
Stunning realistic cat tattoos
Realistic tattoos, or realism tattoos, are designed to look as vivid as a photograph. They capture tiny details and require immense work and techniques from a tattooist.
Stunning realistic cat tattoos are not common. And we manage to find the ones that are well-executed and even creative. Get ready for the cuteness attack.
A cute watercolor cat tattoo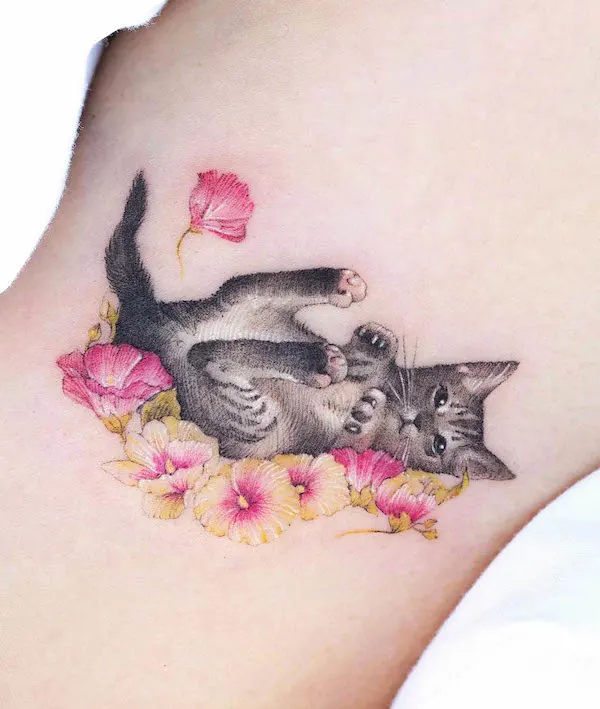 There's nothing more soothing than seeing cats rolling on their back. When they show you their belly – the vulnerable part of their little body, it means they like you and trust you. And they are probably waiting for a gentle massage.
It's Christmas
A paw tattoo on the shoulder blade
Sometimes less is more. While it's great to tattoo a cat, the paws, the tail can also be as meaningful.
Kitty gang
A vivid and intricate cat tattoo
A sleeping cat tattoo with a loving quote
A fluffy kitten on the wrist
A cosmic sensation
The marble-like eyes just take my breath away.
A Purr-fect cat snout on the arm
Realistic tattoos aren't always colorful. With proper shadings and details, a blackwork tattoo can also be lively as the colored ones. And this cute cat snout is the perfect example.
An Aww-some snuggling cat tattoo
Mr Cat and his big house
The cat bunny watercolor tattoo
Yes, they bite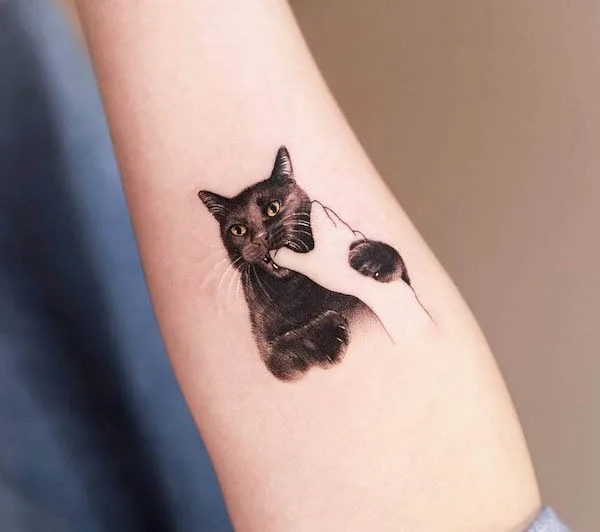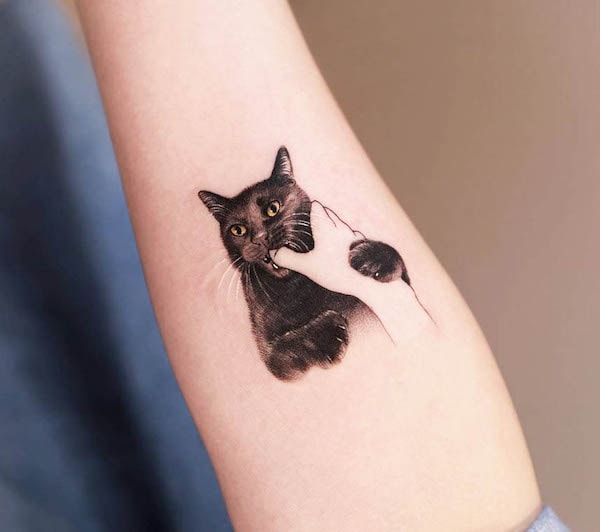 A playful cat-terfly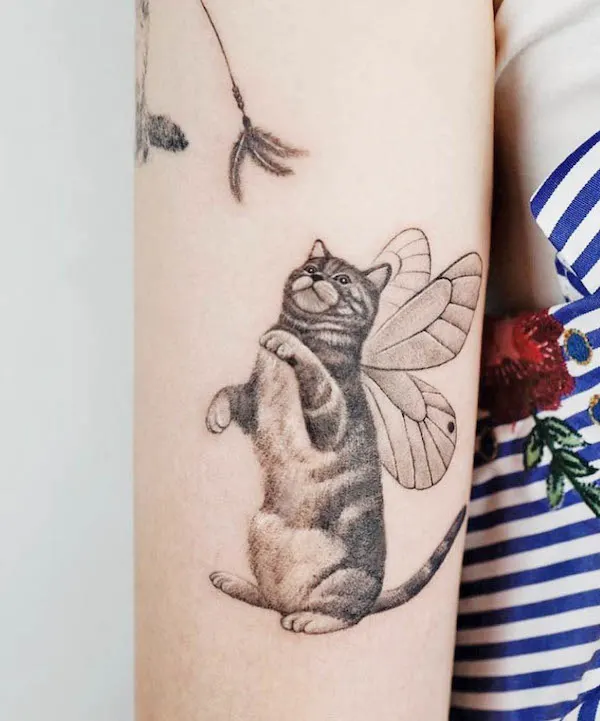 The Cat-pricorn arm tattoo
If you are a Capricorn, this intricate cat tattoo will be a proud statement of a Caps and a cat owner.
Cat outline tattoos
A small but cute cat tattoo
A funny little collarbone cat tattoo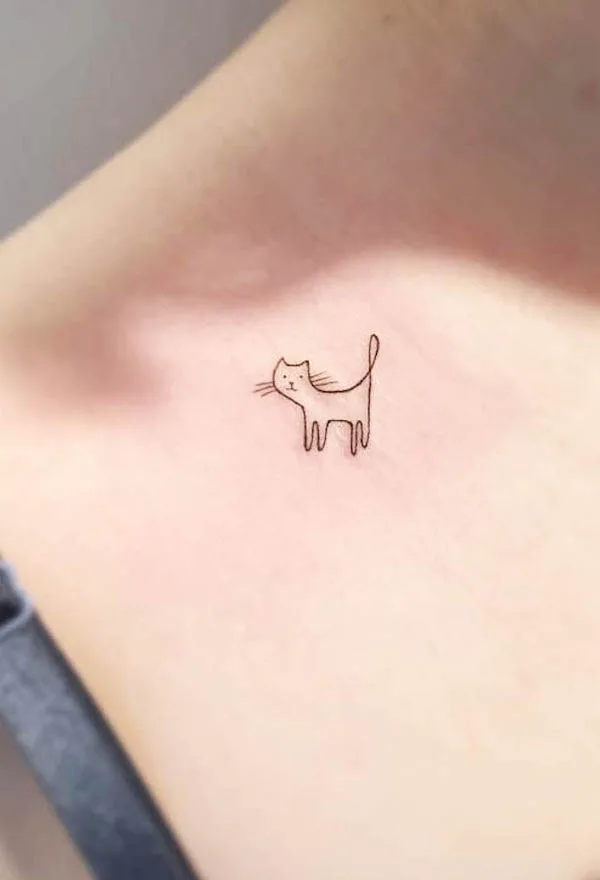 A head-tilting cat outline tattoo
Creative tattoos for cat lovers
Cat-dashian
The scratch
You may have experienced the pain from a cat scratch if you have a cat. This cute back tattoo depicts a cat sliding down the wearer's shoulder, leaving a red scratch mark. Despite the pain you may feel looking at the tattoo, it's a cute design that will resonate with cat lovers
Cat and his pet
Do we own cats, or do cats own us? With the cat standing on the girl's shoulder, this fun arm tattoo will make us rethink their relationship.
The cat demon
The fish catcher
Best friends
Cat sushi
Foodie and a cat person? This cute sushi tattoo might fit your taste.
Read also: 43 Cute food tattoos that will make you drool
The peeking cat
Cat or tiger?
Puss in hoodie
The surfing cat sleeve tattoo
This cat tattoo is full of Hawaiian vibes, and will bring the vacation to the skin.
A big unicorn cat sleeve tattoo
Every cat is a one-of-a-kind. If you feel the same with your kitty, this unicorn tattoo may speak with you.
An intimidating witchy cat
An adorable abs tattoo for cat lovers
That's the spirit
The photographer
An uncommon tattoo design
A family tattoo for cat lovers
A cute bubble bath cat tattoo for girls
Flamingo and the cat
Cat on the crescent moon tattoo
Is he leaving earth intentionally or is he kidnapped?
Cat With A Pearl Earring
An artistic tattoo with a funny twist. For cat lovers, this version of the classic painting might be better than the original.
Matching inner forearm tattoos for cat lovers
The protector of Sailor Moon
The cat that doesn't quit
Read also: 56 Meaningful Quote Tattoos To Inspire Lifetime Positivity
Moon phase and the cat
"It's not my fault that I'm moody. It's the moon!"
The Cat-stronaut tattoo
A whimsical cosmic cat
Cat-jesty realistic forearm tattoo
The cat tarot that brings good luck
The powerful witch cat that is not to mess with
Cats are witches' best friends. This witchy tattoo will be a warning that the wearer is not to mess with.
Which cat tattoo is your favorite?
Tell us your thoughts in the comment!