A collection of food tattoos so real that they may make you drool
No food is bad food. In a world where cravings are often demonized, It's uncommon and bold to announce your love for food. We label snacks and sugary treats as "bad food." And indulging in your favorite cupcake is called a "guilty pleasure."
For most of us, food is more than fuel. It carries different tastes, colors, and inspirations. The passion for food bonds people together and builds communities. Any food is great as long as we pay attention to portion and balance. It's time to stop beating yourself up about what you eat and actually enjoy the food we love.
Eating is not the only way to celebrate our love for food. We talk about food, we learn how to cook them. And yes, we make it permanent on our skin. If you are a foodie, these delicious food tattoos that will make you drool.
Disclaimer: This tattoo collection is for inspiration only. Please do not copy the artwork. If you love these tattoos, follow artists and show them some support.
Mouth-watering food tattoos to savor anytime
Berry cupcake tattoo on the elbow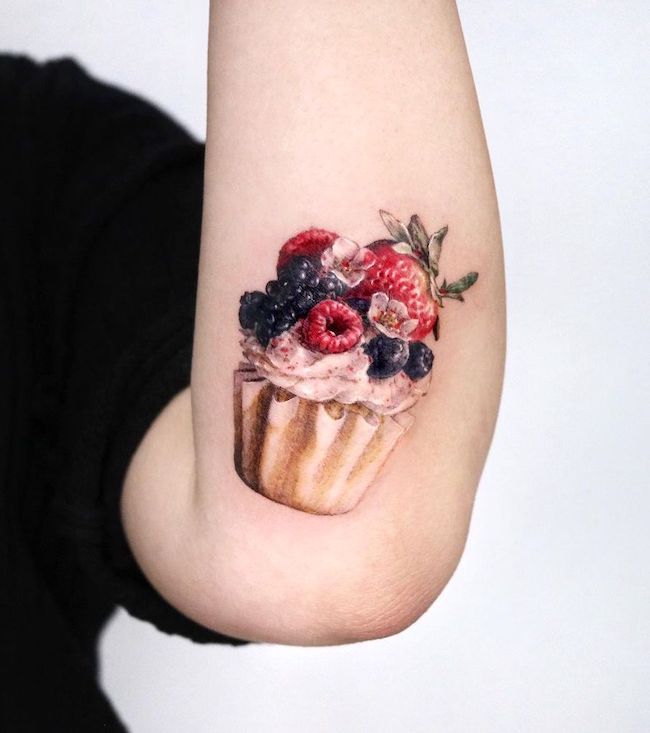 @harry_color
Cupcakes are so popular for a reason. They are visually appealing. You can customize the topping to your taste. And the small portion makes a cupcake guilt-free. What is your favorite cupcake?
Coca Cola tattoo on the back of the arm
These cute coke bottle tattoos are perfect for those who are looking for small, dainty ink. I recently interviewed the tattooist who created this piece, Soosoo. And she shared more about her work with tips to choose and take care of a tattoo. Check out the interview here to learn more.
Diet coke tattoo for the sugar-free babes
Your empanadas are served
Who doesn't love empanadas loaded with tender meat with crispy wraps?
Who wants some Spaghetti?
A dainty sunny-side-up egg tattoo
Shin spicy ramen tattoo for noodle lovers
Smooth and chewy noodles with a spicy kick, Shin ramen is addictive. This food tattoo captures the essence of it. The details in the noodles and the choice of colors make it realistic and tasty. If you love ramen, this tattoo will make you drool.
Homer and donut – super cute matching tattoos for couples
If you love your Significant Other as much as Homer loves donuts, this couple tattoo will honor your relationship.
A bowl of satisfaction – pork ramen tattoo
A glass of wine tattoo for when you need to chill
A tiny realism dragon fruit
Creative banana tattoo
A cute salmon sushi tattoo
White rabbit candy tattoo that brings you back to childhood
White rabbit candy is an iconic treat in China. Most kids in the 80s and 90s grow up eating this creamy goodness. It's the time when carbs are healthy, and sugar is not evil. If you miss the good old times, this candy tattoo may resonate with you.
A bowl of white rice tattoo on the inner arm
Pretzel reindeer brownie tattoo for Christmas
A Japanese rice ball tattoo
Your favorite meal on the skin
Beer and noodle to savor every night
The besties
A pissed-off burger tattoo
Small cake tattoos to satisfy your cravings
Canned fish tattoo that will never expire
A realistic burger tattoo on the wrist
An arm tattoo for cheese lovers
Mars chocolate bar tattoo
Anyone want some fruit punch?
Spoon and fork tattoo for foodies
A mouth-watering donut cupcake tattoo on the sleeve
When in doubt, coffee
A cookie tattoo that is crispy even on the skin
A small coconut wrist tattoo
A skating vegan hotdog
A small ice cream tattoo on the wrist
Strawberry jello pudding that is as sweet as you are
Matching avocado tattoos for best friends and couples
Oasis soda pop tattoo
A slice of macaroni and cheese pizza for foodies
A peachy shoulder tattoo
Takoyaki tattoo on the arm
You may not know Takoyaki, but you have definitely heard of Japanese octopus balls. It's a popular snack made with flour batter and filled with minced octopus. Topped with Takoyaki sauce and mayo, these goodies are irresistible.
An arm tattoo for sushi lovers
Strawberry cheesecake tattoo for dessert lovers
A sleek ramen tattoo on the inner arm
Anyone want some pizza?
Will you get a food tattoo?
Is it a good tattoo idea, or is it too much? Share your thoughts in the comment!