Capricorn have a unique taste for tattoos. From big to small, simple to intricate, these Capricorn tattoos are tailor-made for the sign.
Capricorns are low-key perfectionists. They are willing to spend time and finessing an idea until it's 100% up to their standards. That's why Capricorns sometimes have a hard time picking a tattoo design for themselves.
If you are born between December 22 and January 20, you are a Capricorn sun. Except for the tendency to overstress or restrict themselves, one can find all the desired qualities on Capricorns. They are intelligent, reliable, and loyal. They have crazily accurate instincts and would rise up to challenges.
If you are a Capricorn and are looking to get tattooed, here is a collection of Capricorn tattoos and their meanings for your inspirations.
Note: This post is for inspiration only. Copying is not cool. Go follow these tattoo artists and give them some love:)
Capricorn tattoo ideas
Table of content
Common Capricorn tattoo elements
The Sea-Goat tattoos for Capricorn
Capricorn constellation and glyph tattoos
Common Capricorn tattoo elements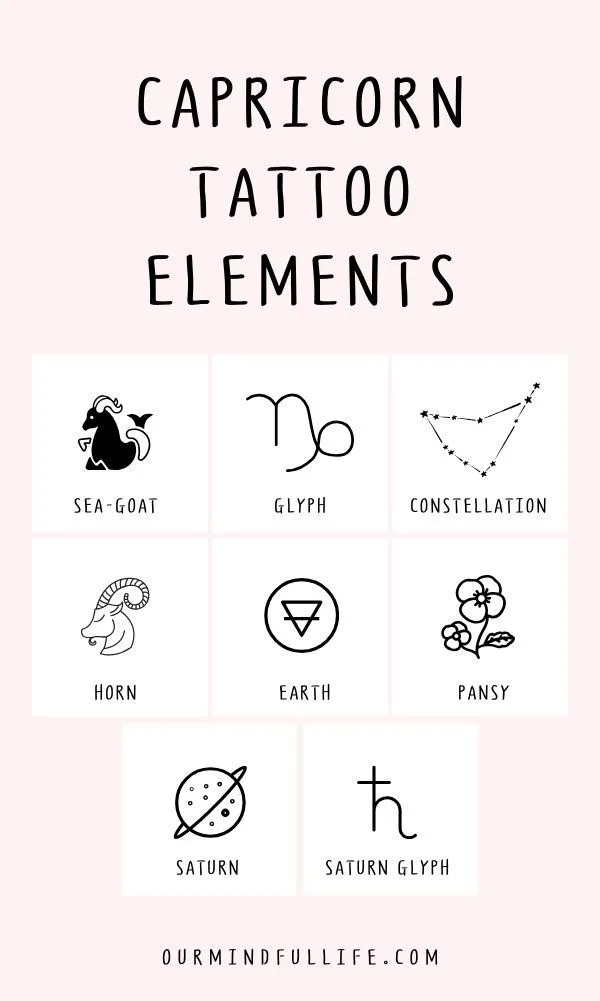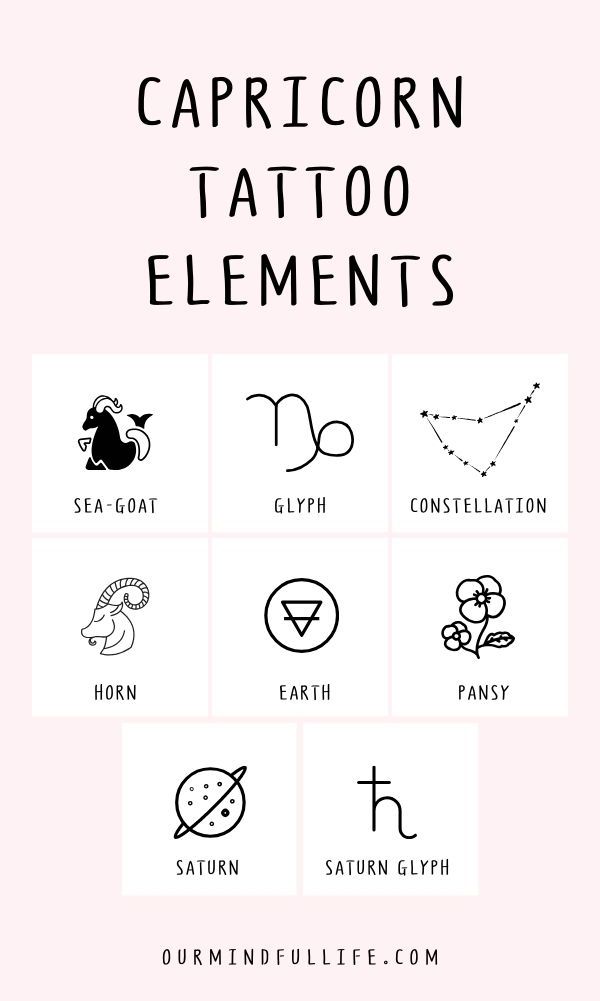 A sea-goat is a half-goat-half-fish animal that existed in Greek mythology. It represents strength, stability, and creativity.
Derived from the Capricorn's symbol – the Sea-Goat, sometimes tattoo artists use horns to represent the sign.
The glyph or symbol of the Capricorn zodiac sign is a weird one. Observe closer, and you'll find that it's consists of the shape of a bear and a tail, indicating the Sea-Goat.
Saturn or the glyph of Saturn
Capricorn is ruled by the planet Saturn. It's in charge of time. Thus Caps tend to walk every step cautiously and patiently. Discipline and consistency are what they live by.
Capricorn is an Earth sign, along with Taurus and Virgo. Earth signs are practical, patient, and low-key. They may not be verbal, but deep down, they have an iron will.
The flower of Capricorn is pansy. Just like the sign, pansy roots deeply into the ground, building up a solid foundation before blossoming.
The Sea-Goat tattoos for Capricorn
A Sea Goat is a mystic creature, just like the unicorns and the centaur. It has the body of a goat and the tail of a fish.
The goat part of the Sea-Goat represents courage and strength. And the fishtail is a symbol of creativity and intuition. Tough and smooth, just like the Capricorn sign.
An elegant Sea-goat back tattoo
Sea-goat or mermaid? I have no idea. But this tattoo is definitely gorgeous. Capricorns are one of the most stunning people. This tattoo will compliment your natural glow.
An elegant Capricorn tattoo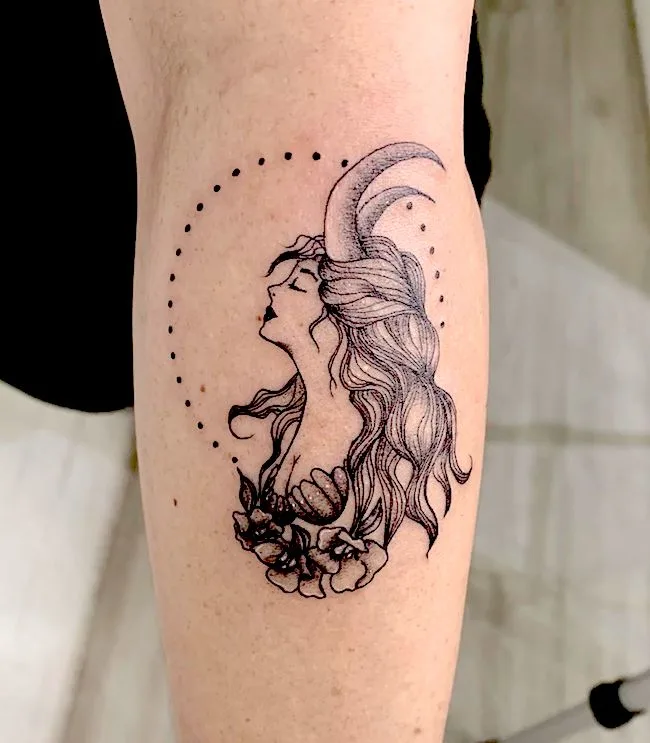 A unique fish-tail goat tattoo between the boobs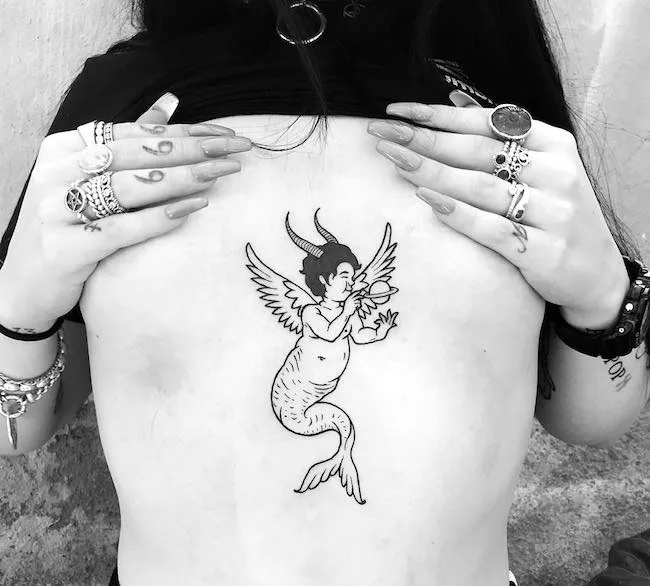 All in the details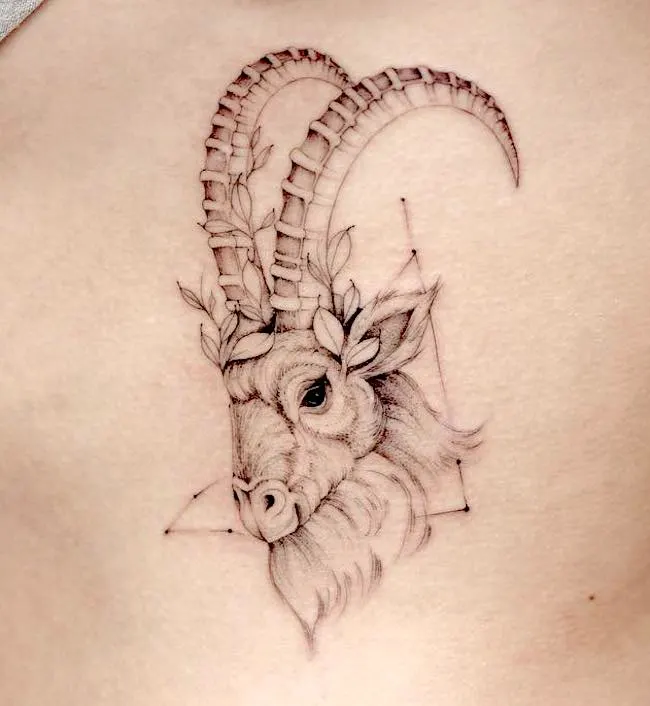 The Capricorn girl sleeve tattoo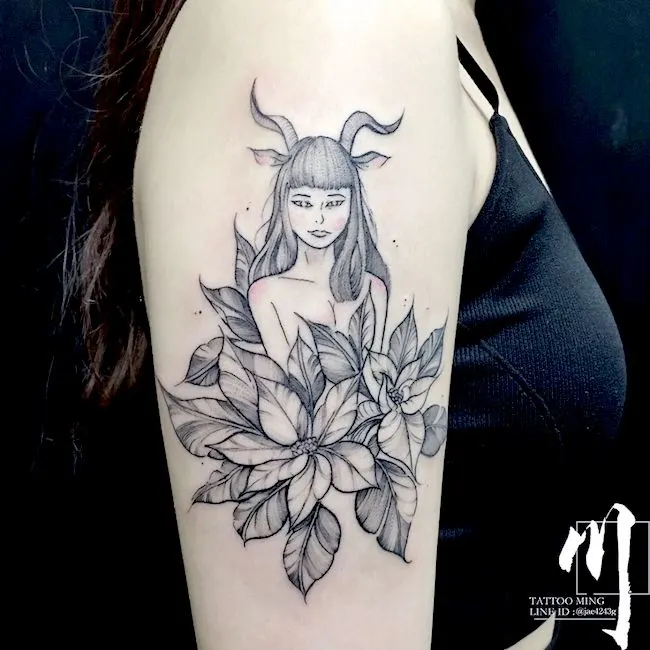 An abstract Sea-Goat leg tattoo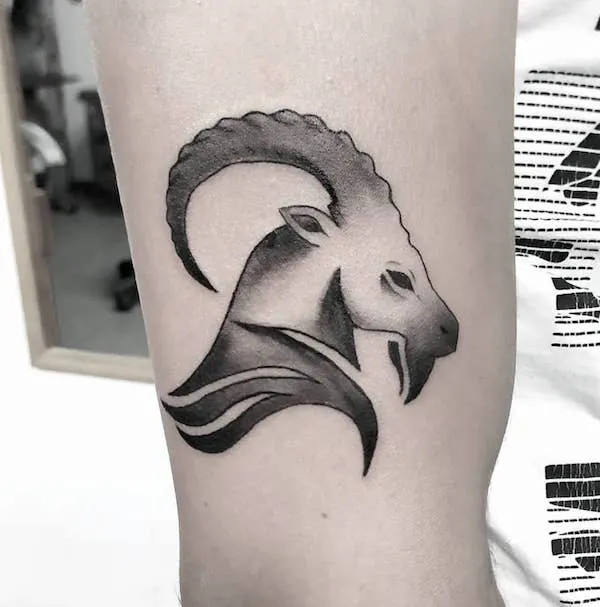 A playful Capricorn girl tattoo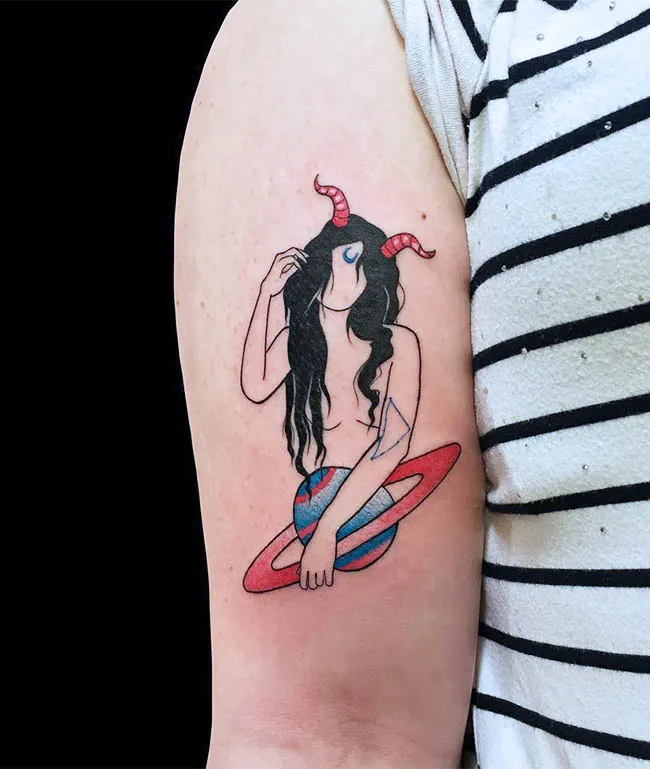 The Thinker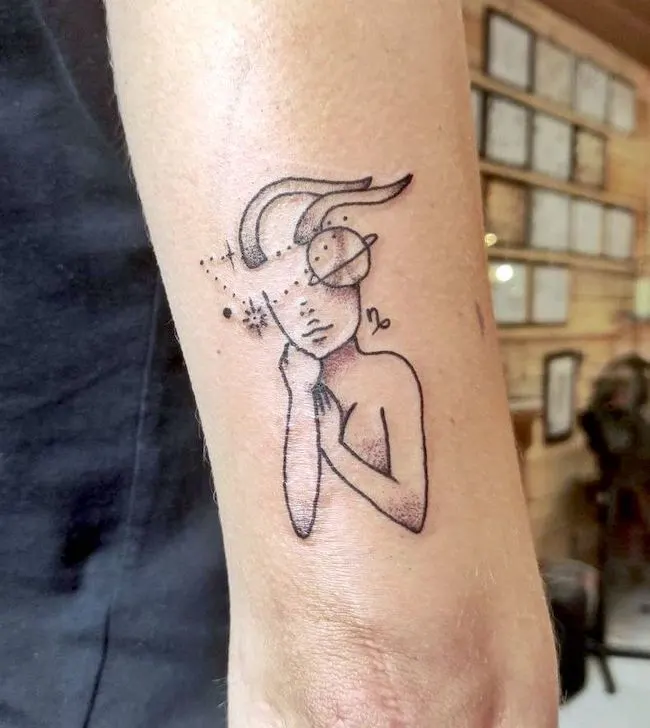 An anime tattoo for Capricorn women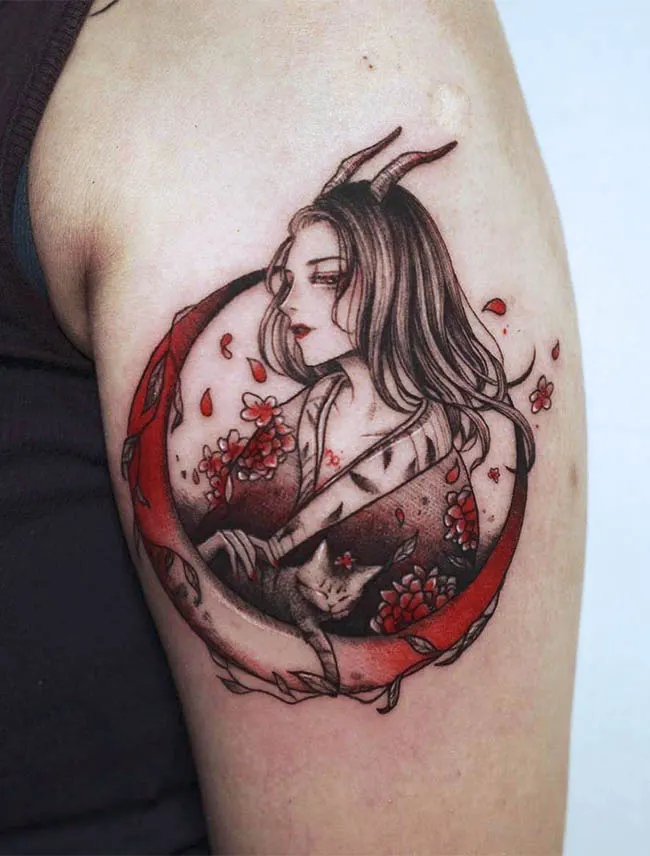 Cute Sea-Goat for Capricorn girls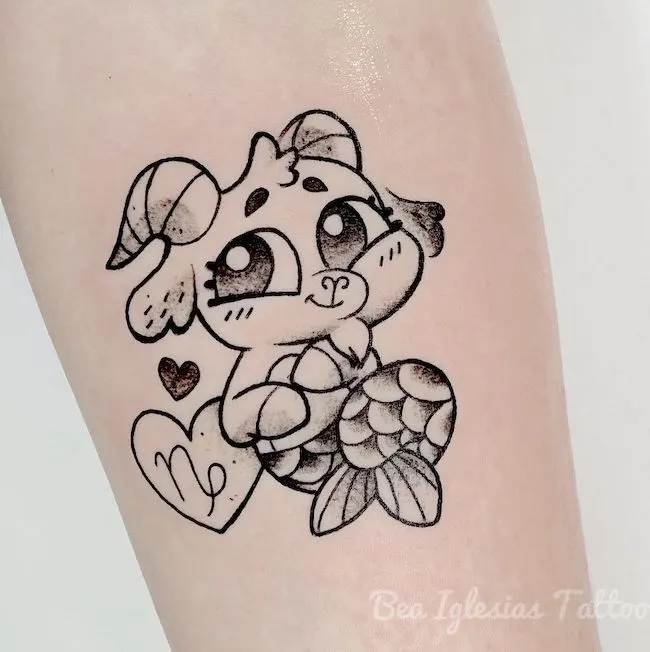 Simple and adorable Sea Goat tattoo for Capricorn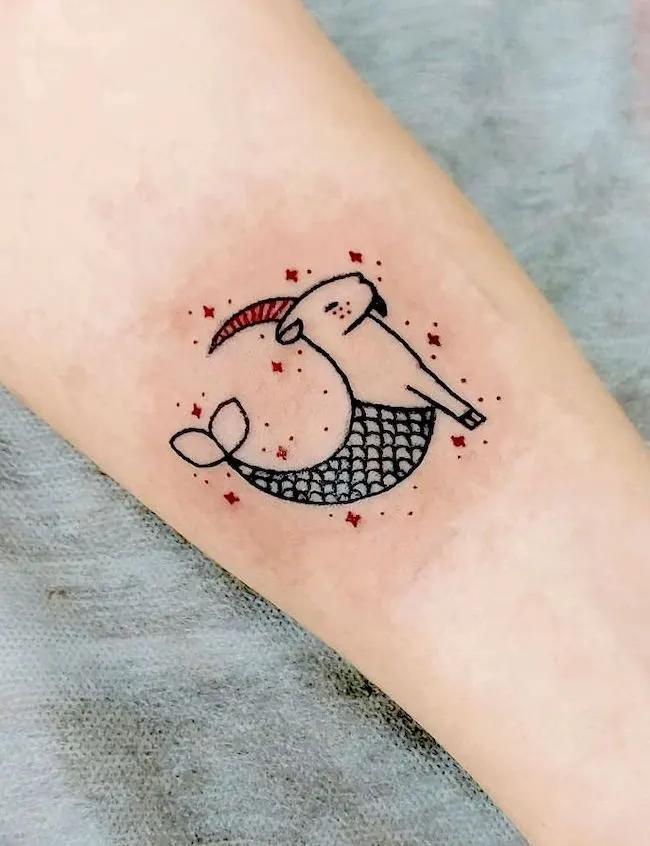 A cute watercolor Sea-Goat sleeve tattoo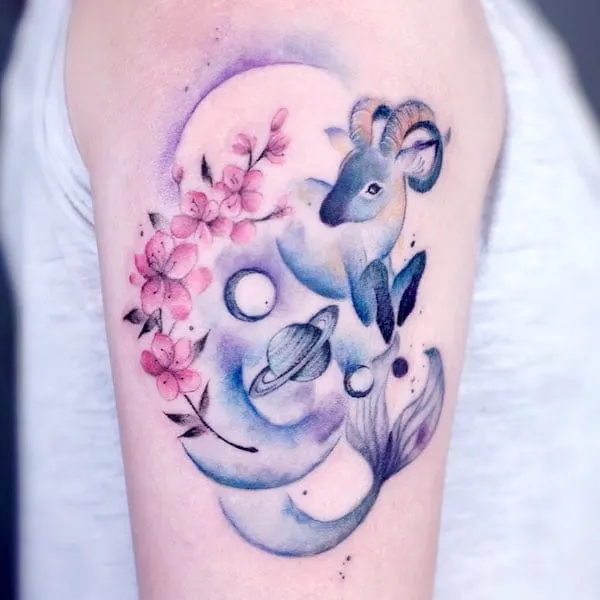 A feminine and original sleeve tattoo for Capricorn women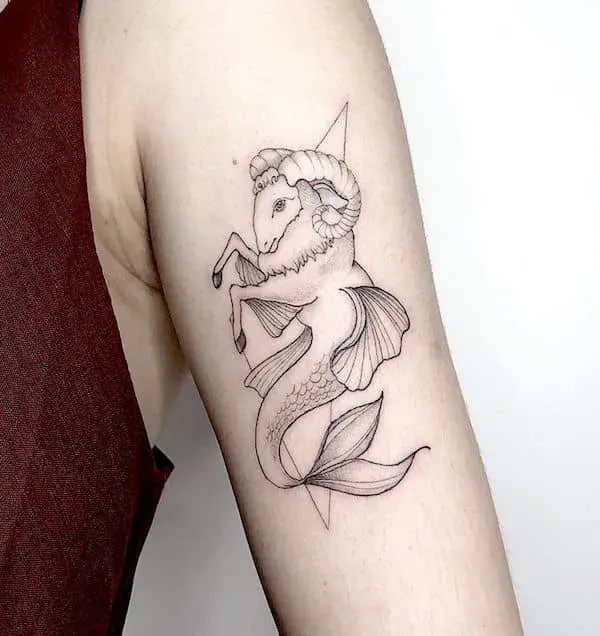 A mysterious and whimsical Capricorn leg tattoo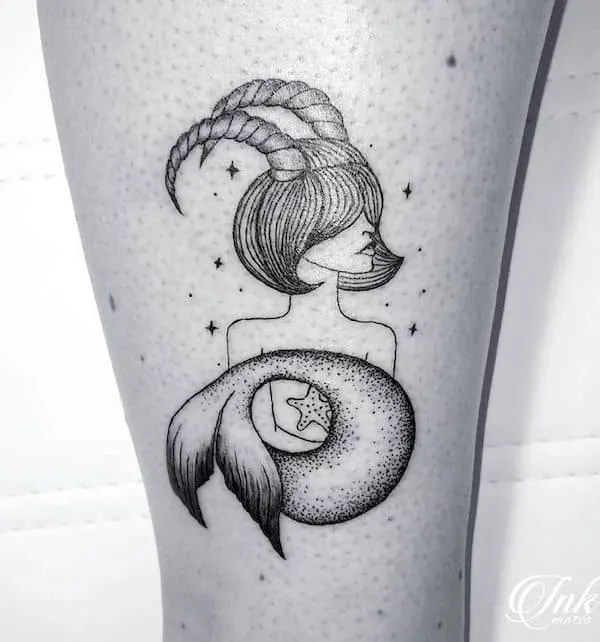 A rib tattoo for Capricorn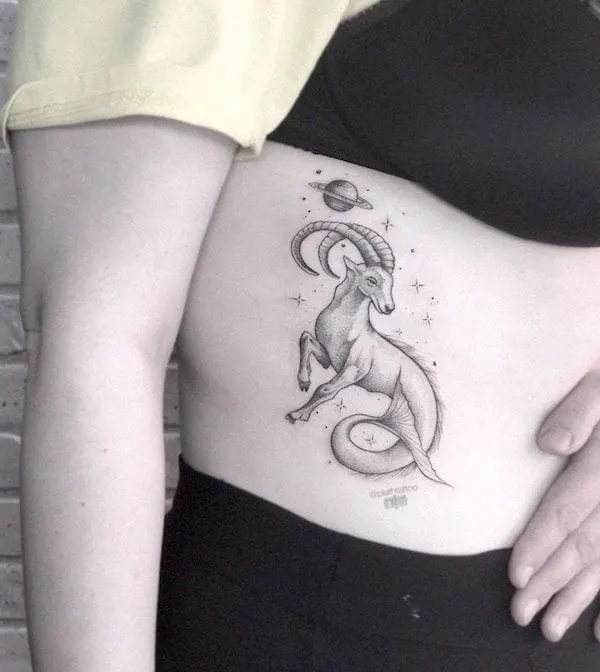 An intricate thigh tattoo for Capricorn witches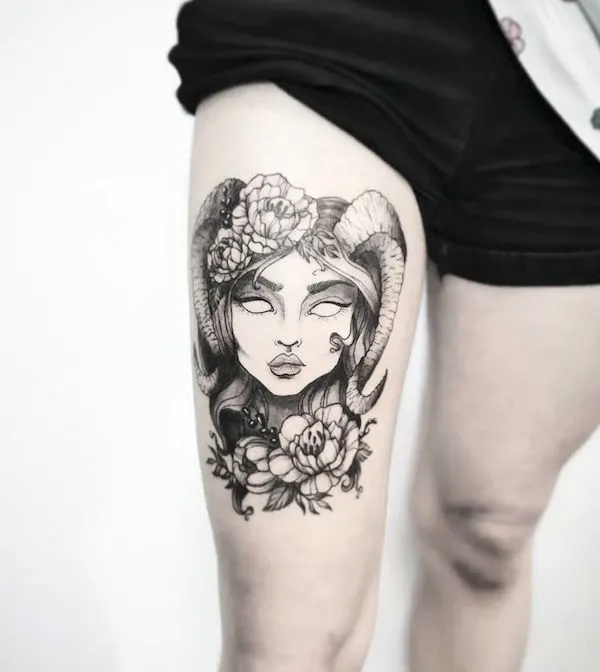 A stunning tarot tattoo with depths and details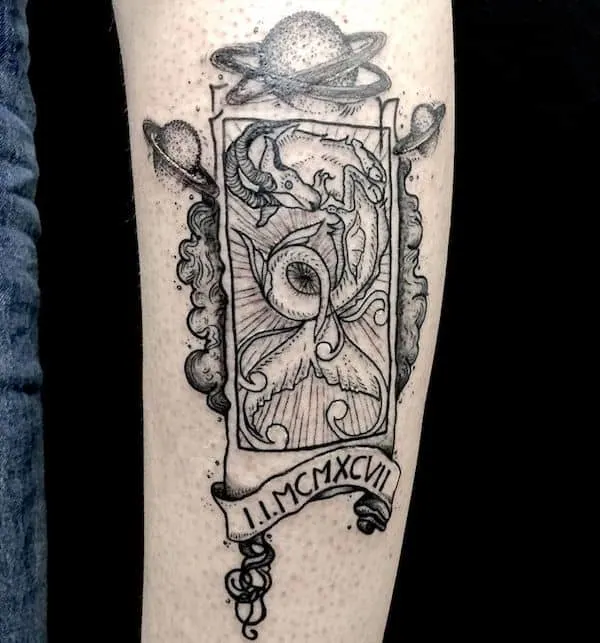 Matching best friend tattoos for Capricorn and Aquarius
If your ride-or-die is into astrology as well, consider getting a cute and girly matching best friend tattoo like this one!
A detailed realistic shoulder blade tattoo
A floral rhombus tattoo
A realistic goat tattoo on the back
A beautiful back tattoo for Capricorn girls
A sea-goat tattoo with lotus pattern
A thigh tattoo of Capricorn goddess and Saturn
A black sea-goat thigh tattoo
A cute horn tattoo for Capricorn girls
A realistic sea-goat sleeve tattoo
A dual-color goat tattoo on the forearm
The Capricorn girl chest tattoo with bold colors
Capricorn constellation and glyph tattoos
Abstract blackwork on the forearm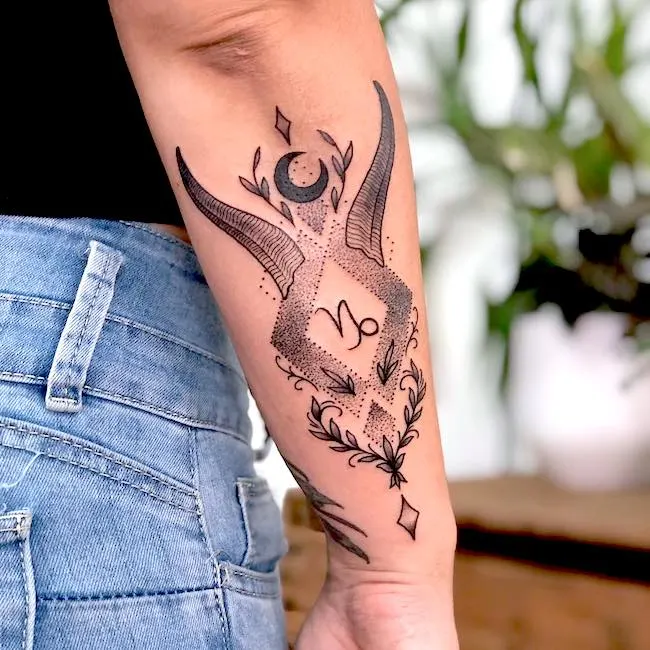 A cute whale upper arm tattoo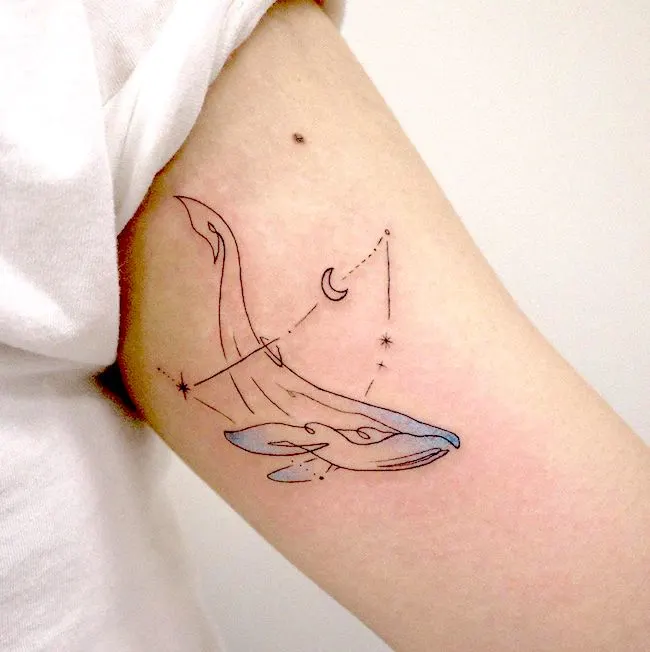 A small wrist Capricorn symbol tattoo
A tattoo doesn't always have to be complicated and bold. If you are one of the Capricorns that prefer keeping a low profile, this small astrology symbol tattoo will be a better choice.
Floral stars tattoo for Capricorn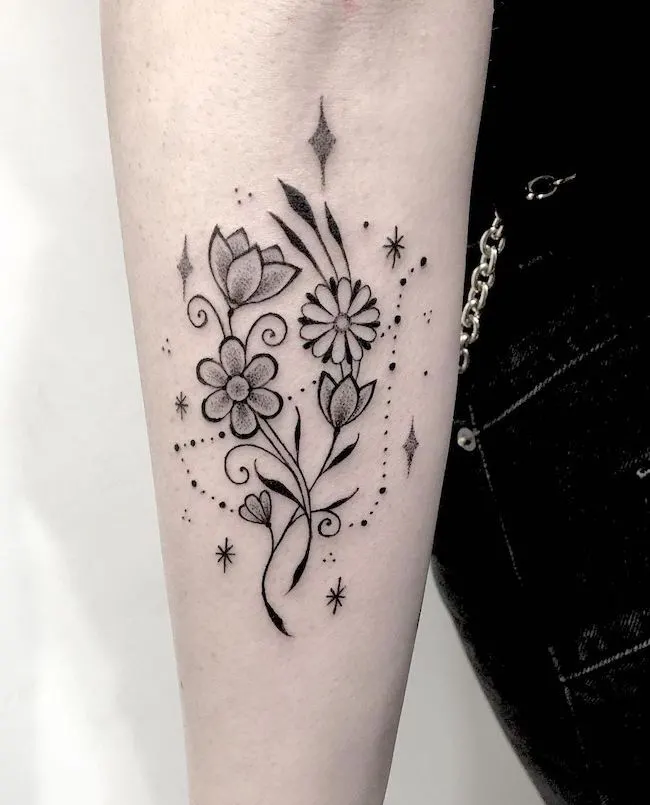 An arrow tattoo with the Capricorn glyph
A blackwork Capricorn constellation tattoo
A glowing Capricorn glyph tattoo
A watercolor ankle tattoo with contrasting colors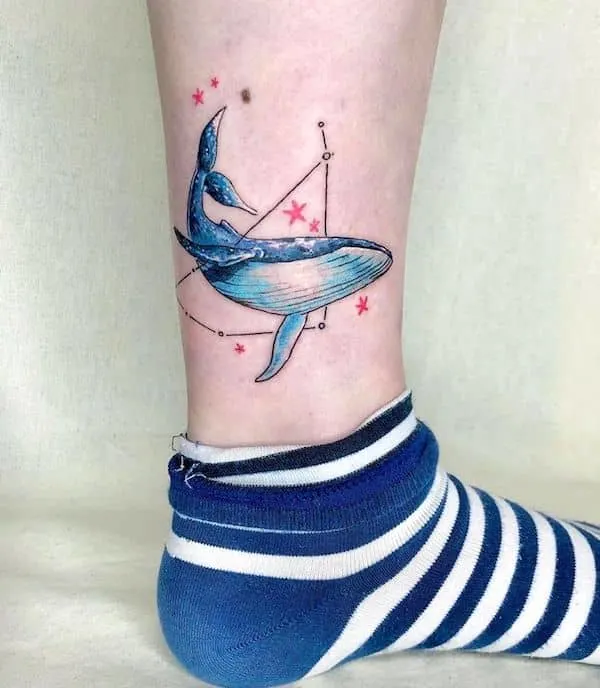 Little Prince tattoo with Capricorn constellation
This tattoo is the one that tells a story. If you are into the Little Prince and happen to be a Capricorn, this is the way to corporate the two elements together.
A starry tattoo on the back
A dotted sea-goat with Capricorn constellation
A lotus and Capricorn symbol tattoo in a tribal style
A minimalist Capricorn symbol
Via Instagram
A cute watercolor constellation tattoo
A Capricorn mandala tattoo for men
Capricorn and Saturn finger tattoos
A sleek wrist tattoo
A pansy arm tattoo
As the floral symbolism of Capricorn, the pansy flower favors cool-weather, just like the Sign itself, thrives in most circumstances. If you are not into the sea-goat symbol of Capricorn, the pansy is a great alternative.
Carnation and Ivy – Capricorn birth flower tattoo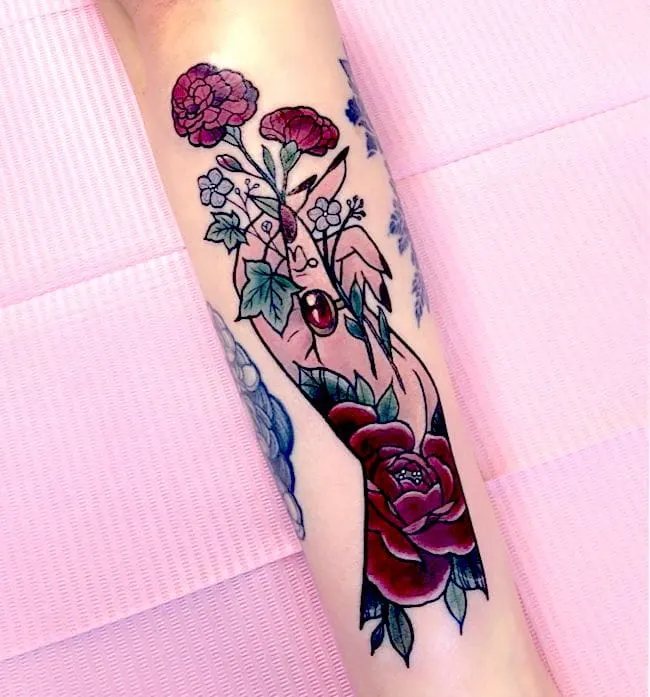 A goat and Saturn thigh tattoo
Which one of these Capricorn tattoos is your favorite?
What do you think? Leave it in the comment down below!
Read also: 447 Zodiac tattoo ideas for every Sign