From small to big, from black to colored, these non-cliché and elegant butterfly tattoos will inspire your next ink.
Butterflies are magical. They float effortlessly in the air. And the pattern on their wings is a masterpiece by Mother Nature. But, looks are not the only thing that makes them so loved. Butterflies are also a symbol of life, freedom, and rebirth. To become a butterfly, a caterpillar has to endure the pain and darkness of change. It wraps itself in a cocoon and waits patiently for the transformation to complete. Many people resonate with butterflies because they empower them to embrace change and uncertainty.
The beauty and the symbolism make butterfly tattoos widely popular. But for some people, the popularity drives them away. It's not easy to come up with something original, while many people already have butterfly tattoos.
Feel the same? We get you covered. Here is a collection of beautiful and creative butterfly tattoos that are not cliché. From small to big, from black and white to stunning colors, these butterfly tattoos will inspire your next ink.
Disclaimer: This tattoo collection is for inspiration only. Please do not copy the artwork. If you love these tattoos, follow artists and show them some support.
Beautiful and meaningful butterfly tattoos
Butterfly and sword
A samurai sword represents the soul and dignity of a samurai. In Japan, samurais treat their swords as an extension of their identity.
Butterfly has been a symbol of samurai clans in the country, like Taira clan in Heian period. That's why swords and butterflies are often seen together in tattoos, for they both represent courage and a fighter spirit. And this intricate butterfly tattoo may look simple. But the history behind it gives it weight and meaning.
Butterfly and chrysanthemum neck tattoo
If you are born in November, you may be familiar with the chrysanthemum, as it is the birth flower of the month. However, the chrysanthemum is not just a pretty flower that captures attention. It signifies life and rebirth, just like a butterfly.
Chrysanthemums in different colors have different meanings, too. For example, the red chrysanthemum in this butterfly neck tattoo is a symbol of love and passion.
Butterfly in bubble
Butterfly and morning glory flower
The beautiful flowers that make up one of the wings are morning glories. The flowers are full of life as they are easy to grow and bloom from summer to early winter.
If you have morning glories in your garden, you may often see butterflies, too, as the flower attracts butterflies. And as in this colored butterfly tattoo, the two together create a beautiful symphony of life.
Simple butterfly outline tattoo
Not all butterfly tattoos are colored. Just like this simple outline wrist tattoo, they can be black and white and still beautiful.
And one good thing about black and white tattoos is that they preserve better in the long run. So if you are worried about colors fading with time, a simple outline butterfly tattoo may be a better option for you.
Butterfly tattoo cover-up
Butterflies and flowers often show up together in tattoos for women. This shoulder tattoo is a bit different. Initially, it was a single butterfly tattoo. Then, as the patterns fade, it is redesigned into a flower and a butterfly.
The vibrant colors cover most of the old tattoo. But if you look closer, you can find the old butterfly in the center of the new one, which resembles rebirth. And that's what makes this cover-up tattoo meaningful.
Blue butterfly resting on the shoulder
Read also: 64 Beautiful Shoulder Tattoos For Women with Meaning
Oriental-style red butterfly tattoo
In China, butterflies represent the pursuit of love and freedom. A typical example is the Chinese legend The Butterfly Lover. It's a tragic love story about two young people who fell in love despite the huge difference in their upbringing. In the end, they committed suicide and became butterflies together.
This oriental tattoo captures the butterfly's beauty and represents the desire for freedom like the couple in the legend.
Colorful butterfly sleeve tattoo
Chinese knots and butterfly
Small flower butterflies arm tattoo
Flowers and butterflies are two elements adored by women. And there are many ways to put both of them in one single tattoo. This small colored tattoo shows one of the possibilities.
From afar, it may look like a regular butterfly tattoo. However, when you observe closely, you will notice that the wings of the butterflies are petals. The creativity and thoughts that go into the design make it stand out from the crowd.
Firefly to ignite your soul
Butterfly tattoos can be a million things: feminine, cute, elegant, etc. But a badass tattoo? Not so common. The butterfly is like a phoenix in nirvana. If you are going through transformations and need a tattoo for empowerment, this design may give you some ideas.
Leopard butterfly leg tattoo
One reason that makes butterfly tattoos popular is the wings. They are like a canvas where artists could go creative. And this leopard butterfly shows how possibilities are endless. Mix and match with different patterns, and you may also have a unique butterfly tattoo.
Moth and butterfly friendship tattoos
Moth and butterfly are both symbols of life and rebirth. To fly, both moths and butterflies have to wrap themselves in a cocoon and push through the transformation. They are living proof that change might be scary, but it's worth it.
These two best friend tattoos represent the dual's shared courage. When faced with challenges, they are each other's strongest support. And these matching moth and butterfly tattoos honor their unbreakable bond.
Stunning purple and blue butterfly wrist tattoo
Self-love quote tattoo on the arm
When you love yourself, you change how people love you. That's why learning to love oneself is one of the most important journeys of life. And it's consistent with the butterfly's symbolism: transformation. So this butterfly quote tattoo is not only a strong statement but also a reminder to put yourself first.
Read also: 40 Empowering Self-love tattoos and meaning
Butterflies in brick red color
3D pink butterfly shoulder tattoo
Realism tattoos are widely popular. Bu t they also put the techniques to the test. This small butterfly tattoo captures the liveness of a flying butterfly. The details of the wings and the drop shadow make the tattoo believable. Looking from afar, you might think that a real butterfly is resting on the wearer's shoulder.
Tiny blue butterflies with forget-me-not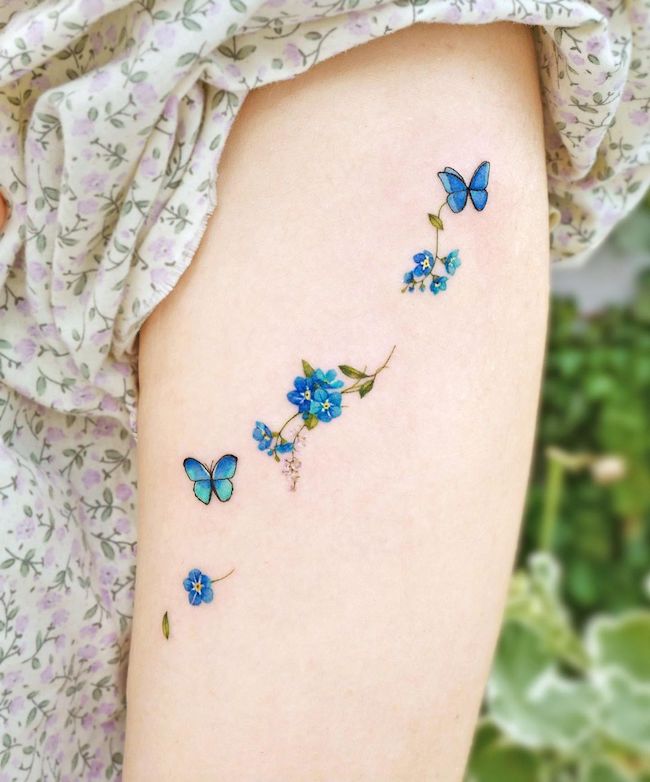 Blue butterfly shoulder tattoo
There are a few ways to add airness to a tattoo. You can either lower the saturation or reduce the size. But this tattoo artist takes a different approach by making the wings transparent. This way, the tattoo looks more like floating than inking on the skin.
Magical colored butterfly tattoo on the leg
Rose butterfly tattoo that takes your breath away
Across cultures, roses have different meanings. But they are always a symbol of beauty and romance, especially red roses like those in this butterfly tattoo.
This tattoo resembles a summer rose garden captured in a butterfly-shaped frame. But the flowers popping out from the top of the wings turn it into a 3D tattoo. Real and unreal, this butterfly tattoo manages to be both.
Small butterfly ear tattoo
There's no fixed size of a butterfly tattoo. It can be small or big and still be beautiful. That's why butterflies are perfect for ear or behind-the-ear tattoos. This tiny ink is an excellent example of how tattoos complement the shape of a body part.
Thoughts are beautiful – an abstract illustration tattoo
Life is not easy as someone who overthinks or overfeels. This tattoo is a gentle reminder to honor your thoughts, for they are where great ideas are born.
Read also: 54 Meaningful and inspiring mental health tattoos
Sword of the Queen
A simple butterfly flower tattoo
This small depicts a butterfly carrying a flower in a bubble and flying away. It creates motion in a static tattoo and makes it come alive.
Tattooist Ovenlee has created a collection of dainty and sophisticated tattoos. Check out our interview with her to know more about her work.
Snake and butterfly chest tattoo
Snakes are often seen in witchy tattoos. Butterflies, however, are symbols of light and joy. The creative combination creates suspense and turns this butterfly chest tattoo into a conversation piece.
Cute butterfly origami tattoo
Golden key and gem butterfly ankle tattoo
Fly away – mandala moon tattoo
Butterfly and Libra constellation
Those who are born under the Libra sign are elegant, calm, and collected. The symbol of Libra is the Scale, which means the sign values balance. And it also applies to their aesthetics. Thus a symmetrical and beautiful butterfly tattoo may easily win the heart of Libra. The Libra constellation acts as a great ornament to the butterfly without overpowering it.
Read also: 67 Beautiful and elegant Libra tattoos
Mysterious butterfly tattoo with moon background
Butterfly and knife tattoo for warriors
Blossoming rib cage tattoo
Broken in pieces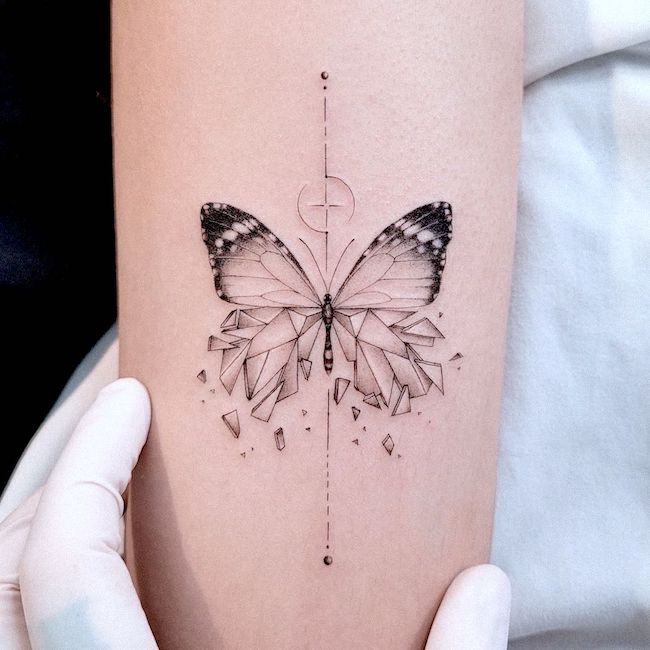 The wings of the butterfly in this black tattoo break into pieces, just like scattered glasses. It shows how fragile beauty can be. But, with that said, this isn't necessarily a sad tattoo. Instead, it reminds us to be grateful for things we have at the moment. And gratitude will save us from the fear of loss and change.
Colorful butterfly and birds sleeve tattoo
Beautiful butterfly astrology tattoo
Blue and pink butterflies on the arm
Butterfly in floral pattern
Blackwork butterfly and stars tattoo
Half-butterfly half-flower arm tattoo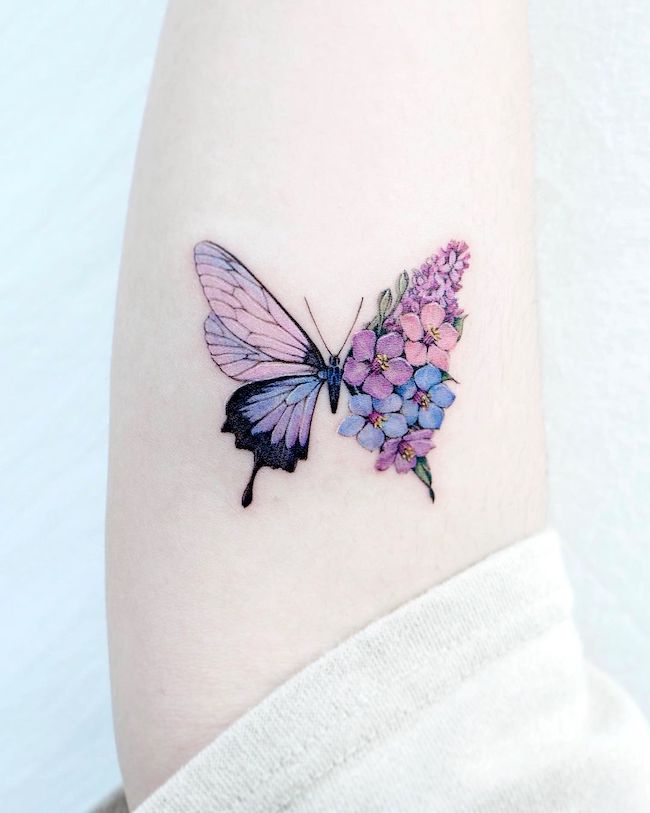 Tiny blue butterfly on the shoulder
Symmetrical lunar butterfly tattoo
Which of these butterfly tattoos is your favorite?
Do you have a butterfly tattoo or are you planning to get one? Share your thoughts in the comments!