Libra have a unique taste for tattoos. From big to small, simple to intricate, these Libra tattoos are tailor-made for the sign.
Equality, harmony, and balance are in Libra's genes. Born as peacemakers, Libras know how to work their way out of different situations.
But because Libras are always trying to figure out the best solution, they tend to go back and forth. That's why they are often considered to be indecisive.
And more so when it comes to life promises like a tattoo. And it can mess up Libra's brain. "Should I get a small one or a big one? A blackwork tattoo or a colored one? And where should I get inked?"
Sounds like you? Don't worry. We've gathered a list of Libra tattoos for both men and women that will help you to make up your mind.
Disclaimer: This collection of Libra tattoos is for inspiration only. Please don't copy the designs. And go follow these tattoo artists and give them some love:)
Libra tattoos with meaning
Table of content
Libra symbols and elements explained
Libra symbol and constellation tattoos
Unique zodiac tattoos for Libra women
Bold Libra tattoo ideas for men
Libra symbols and elements explained
Many people think of scales or the Libra symbol regarding Libra tattoos. But they are not the only options on the table. If you are looking for variations, consider these Libra elements and their meanings to figure out what works best for you.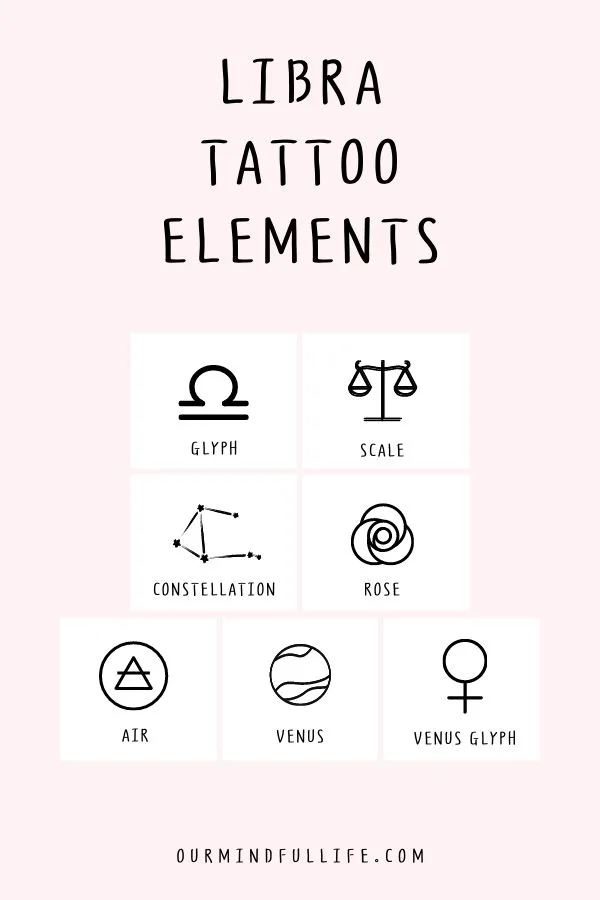 The Libra glyph, or the Libra symbol, consists of a straight line and a half-circle. It symbolizes the scale and looks like a sun rising from the horizon.
The shape of the Libra constellation looks like a scale. And the scale is also a perfect representation of Libra's value on balance and equality.
The Libra constellation
Libra element: Air
Libra is an air sign, along with Aquarius and Gemini. Air signs are known to be curious, full of imagination, and independent.
Libra birth flower: the roses
The roses represent romance and love, just like the sentimental Libra. Similar to roses, there's something about Libra that is attractive but effortless. In a crowd, they might not be the center of attention. But they impress with their elegance.
Libra ruling planet: Venus
Venus represents love and pleasure, and it's the ruling planet of Libra and Taurus. Therefore, both signs are blessed with great aesthetics and the taste of fine things in life.
Libra symbol and constellation tattoos
The Libra goddess
If you love a vibrant, popping design, this one is for you. The saturation and color choices are bold, but they capture your attention at first sight. The neon Libra symbol on the forehead not just reveals the wearer's zodiac sign. It also highlights the entire piece.
Black and grey scale on the back of the arm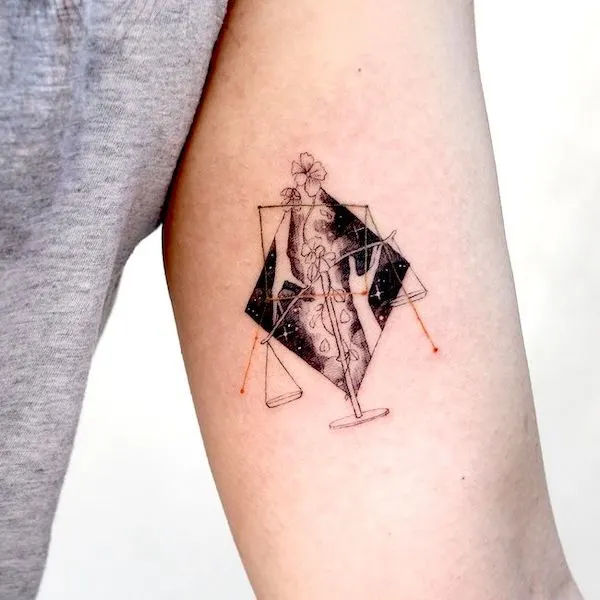 Black tattoos don't have to be boring. The red constellation adds a shade of color and fun to this minimalist tattoo.
A cute universe forearm tattoo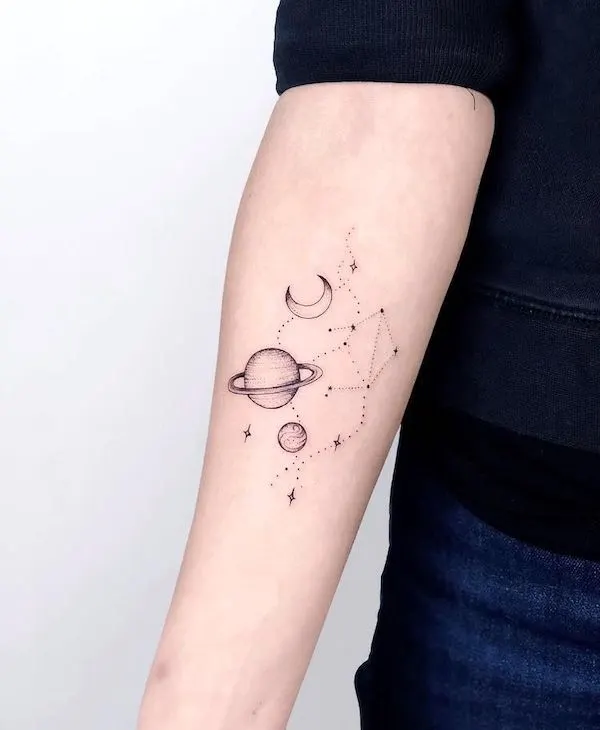 The arm has a lot of space you can play with. You can have a dainty, small tattoo as a hint of your identity. Or you can go big like this cosmo arm tattoo.
A Libra constellation tattoos between the boobs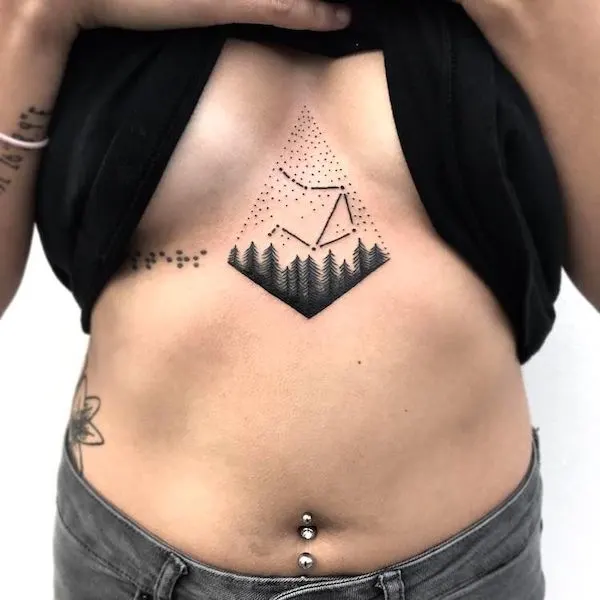 Tattoos between the boobs are not for everyone. But if you are opting for this luring placement, this geometric tattoo may give you some idea on the shape and construction.
Libra and rose arm tattoo for girls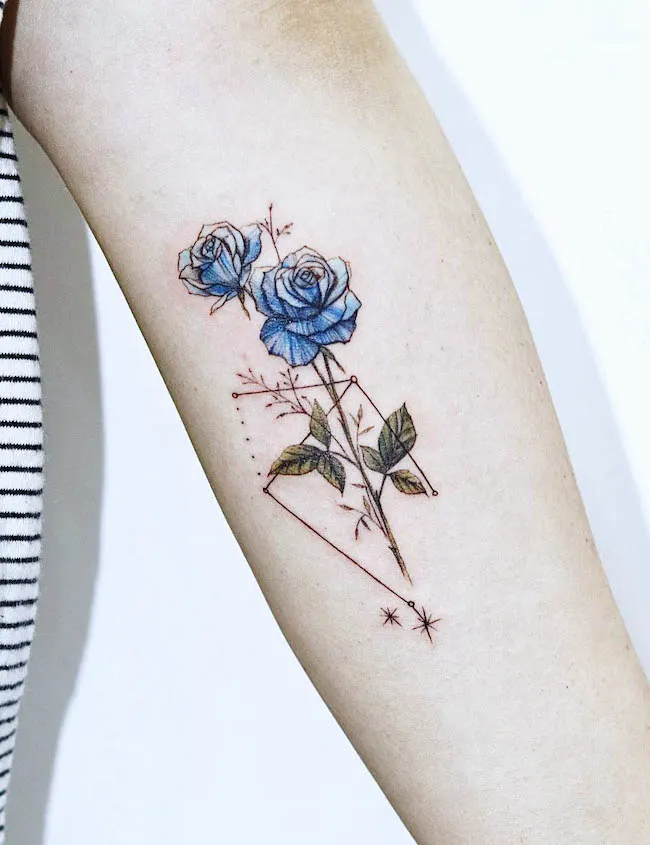 Libra sun tattoo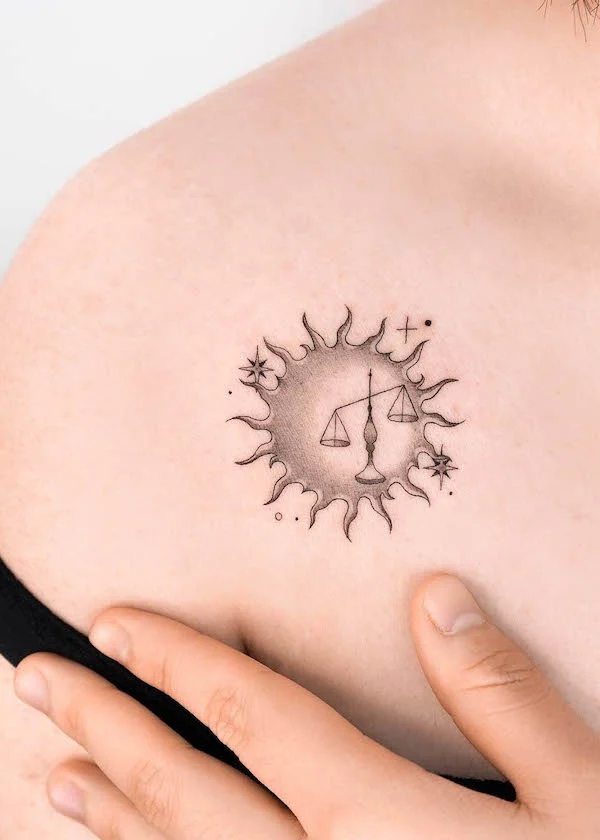 A good zodiac tattoo should not only showcases the wearer's sign but also reveal their personalities. And tattooist Choiyun manages to do both.
The scale in the center represents the Libra sign. And the sun shows that it belongs to a passionate girl who radiates energy and positivity.
Tiny Libra symbol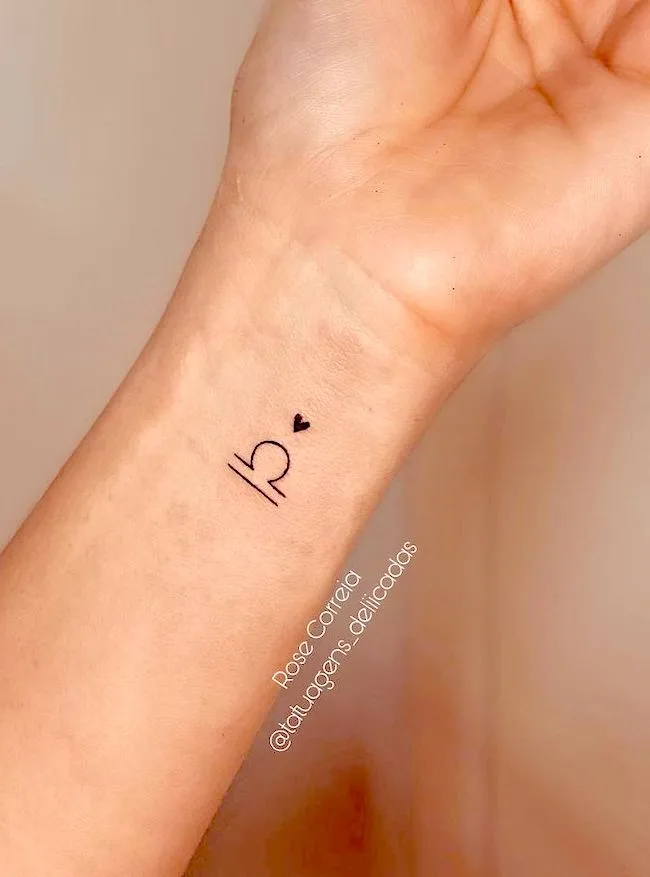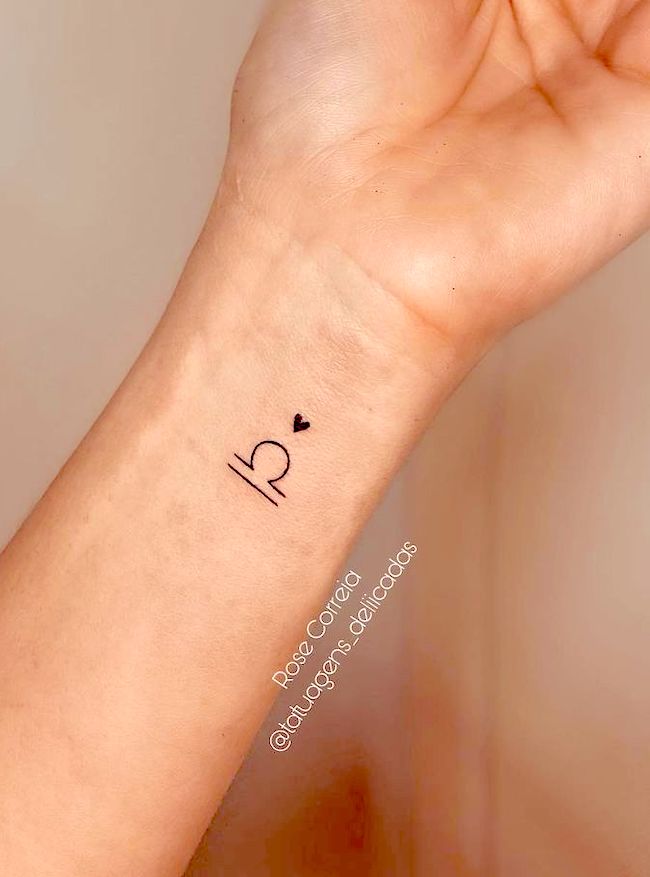 The sword scale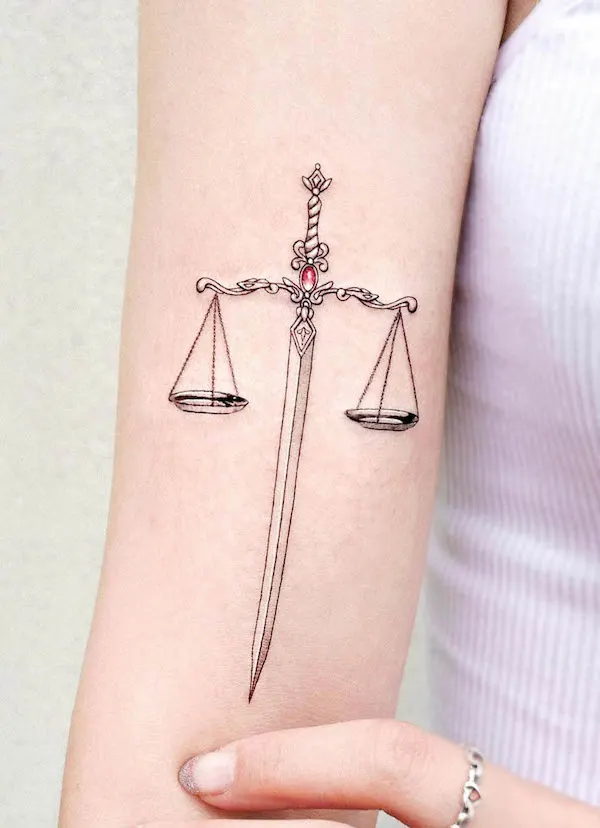 This tattoo combines a sword and a scale to create an elongated shape that fits on the arm perfectly. It's also a representation of the wearer's inner power and strength.
An ornament tattoo on the wrist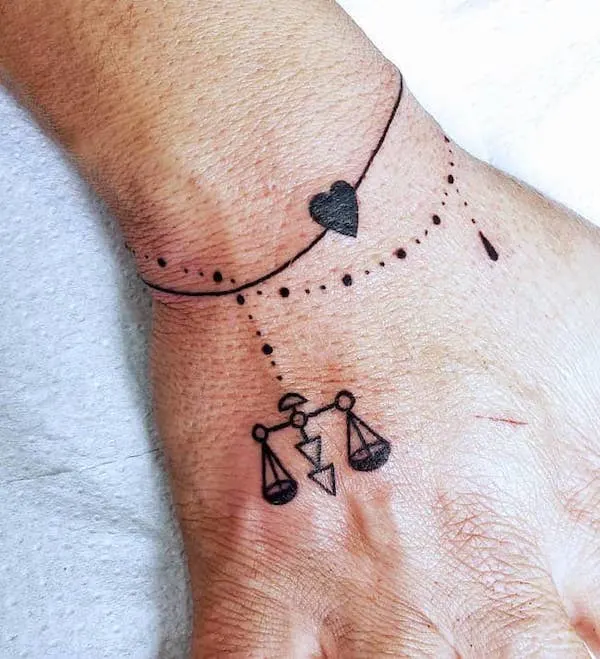 Wrist tattoos are known for their high visibility. That's why you have to consider both the meaning and the look of it. And this bracelet tattoo checks both boxes.
Minimalist botanical Libra tattoo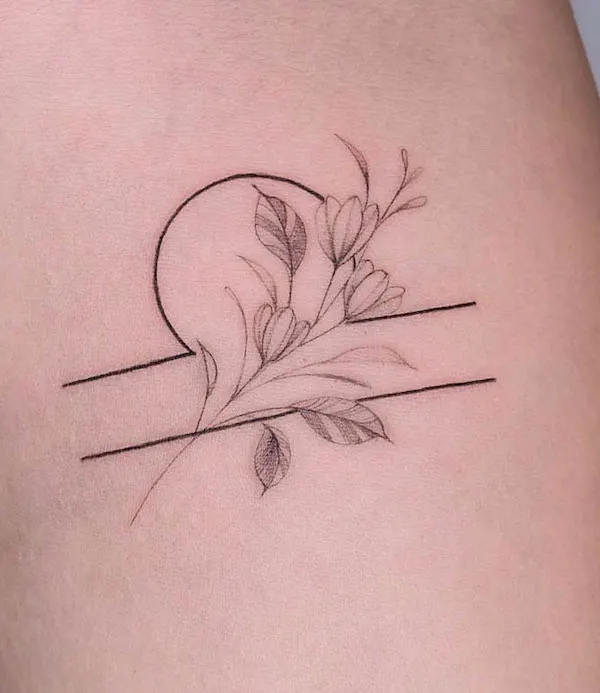 Geometric symbol for Libra men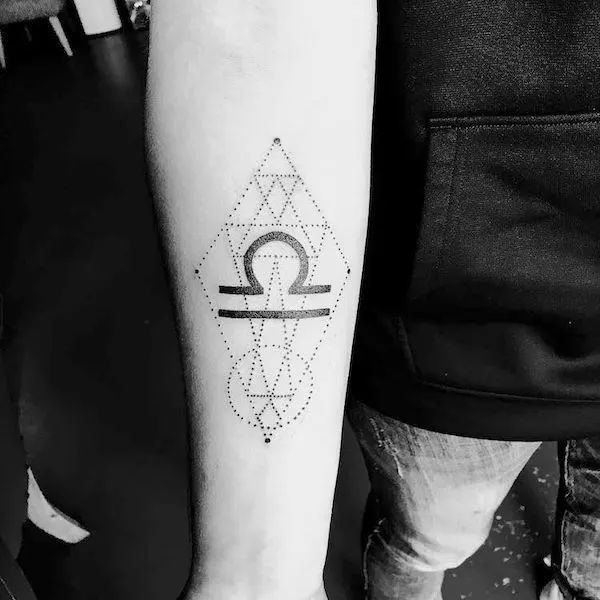 If a Libra glyph is too simple for you, adding geometric patterns as a background will make your tattoo pop.
A Libra arrow tattoo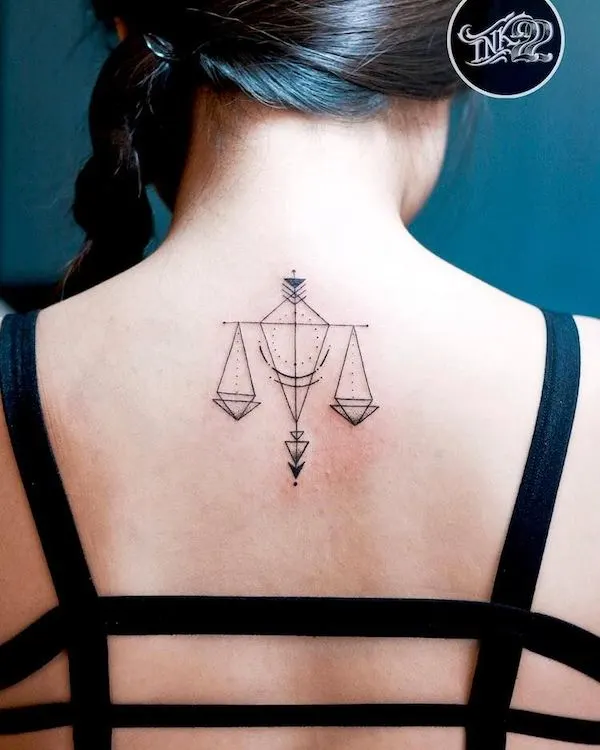 Moon phase and Libra constellation tattoo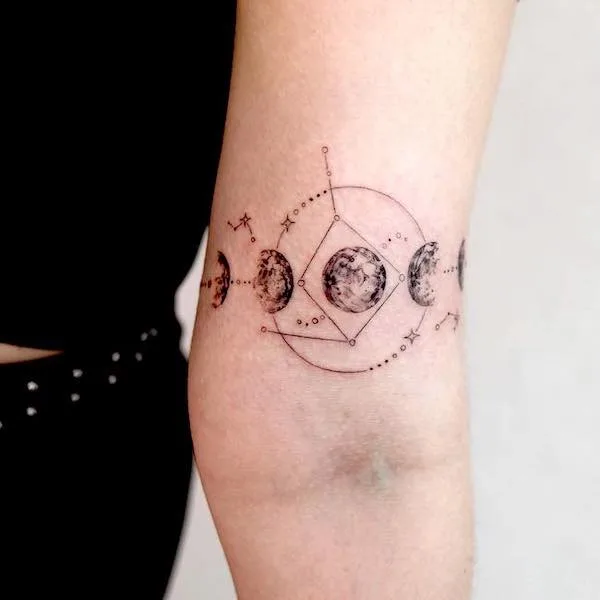 Moon tattoos symbolize femininity and the change of emotions, making them perfect for women. This moon phase tattoo places the constellation right on top of the moon, adding sophistication and details.
A delicate watercolor scale tattoo above the ankle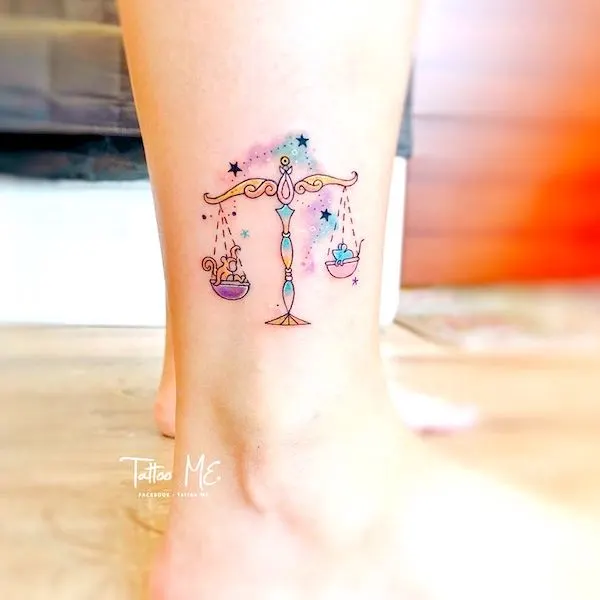 One way to add dynamics to a tattoo is by playing with watercolor. Without lines separating different colors, watercolor tattoos have a natural fluidity that will make a design look soft and whimsical.
A symbolic spine tattoo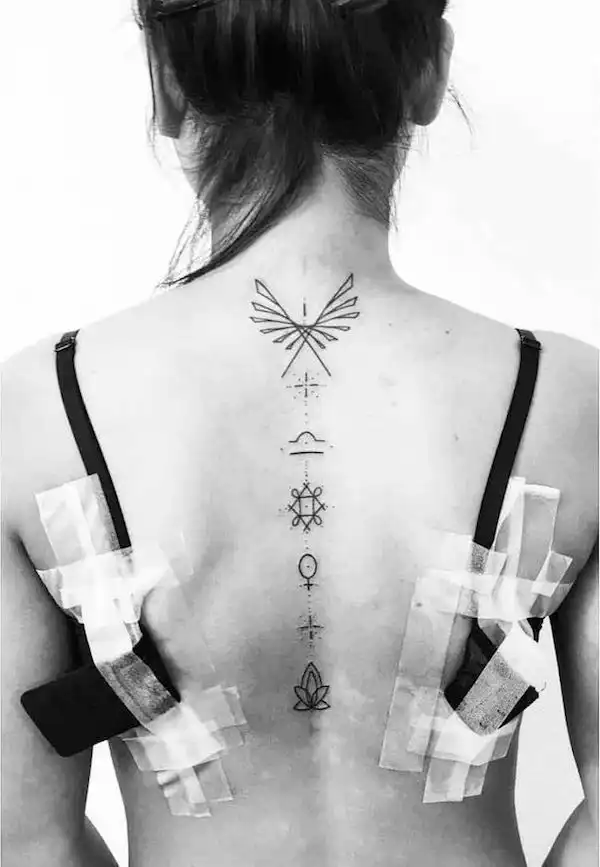 Spine tattoos usually consist of a collection of elements that align on the spine. They outline the body shape and create an elegant flow on the skin, just like this one.
An elegant floral rib tattoo
A dainty and sleek scale tattoo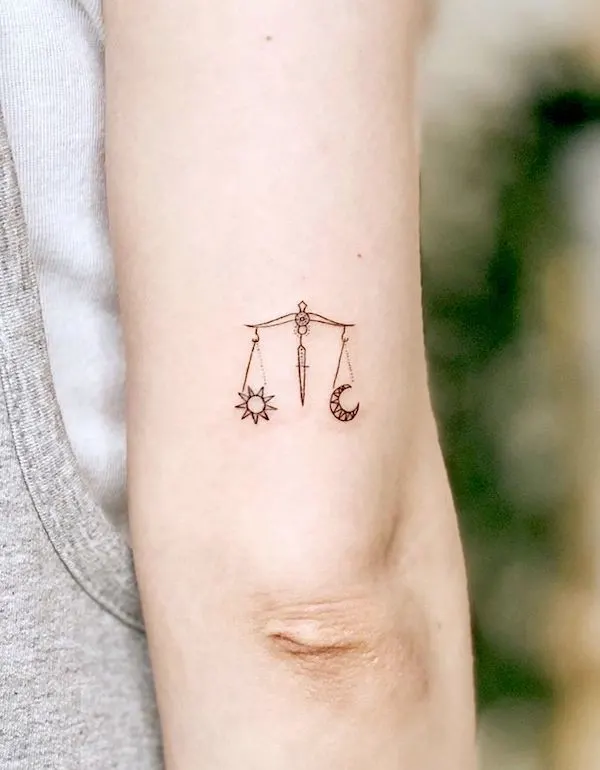 Matching couple tattoos for Libra and Taurus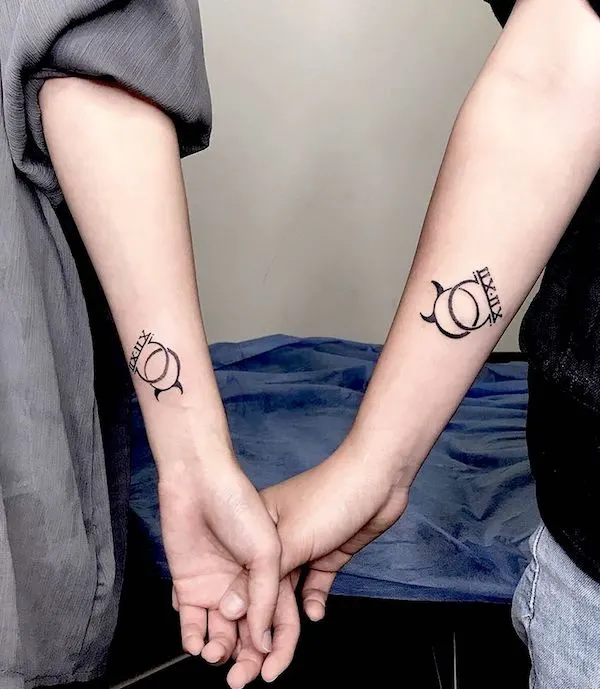 @jason_liu
If you are considering matching couple tattoos, try putting both of your zodiac symbols together to create your own design. This way, you will have something both original and personal.
Dainty scale wrist tattoo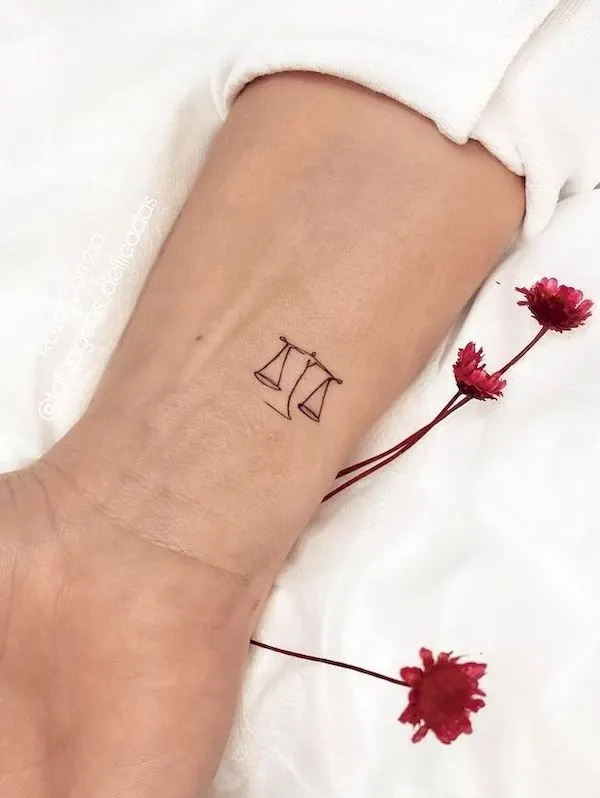 An hourglass tattoo with the Libra symbol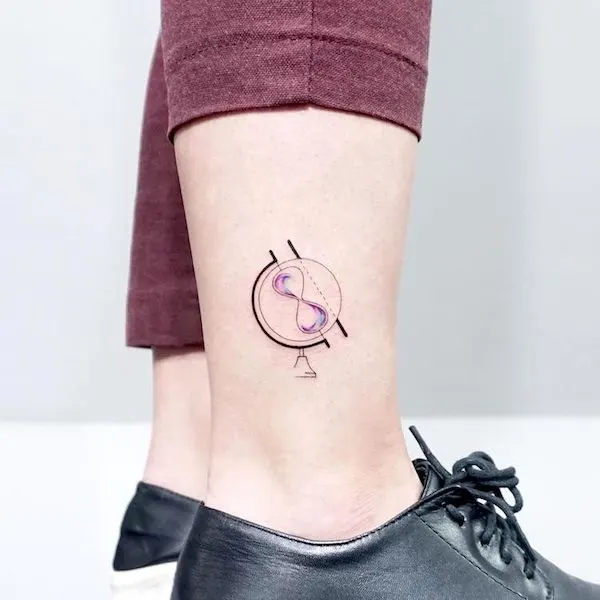 If you don't want your Libra tattoo to be too superficial or literal, try turning the symbol into something new, like this hourglass tattoo. In this case, the Libra glyph is morphed into the yoke of the hourglass, subtly making a statement.
An iceberg tattoo with Libra constellation
A sleeve tattoo twined with Scorpio, Aquarius and Libra constellation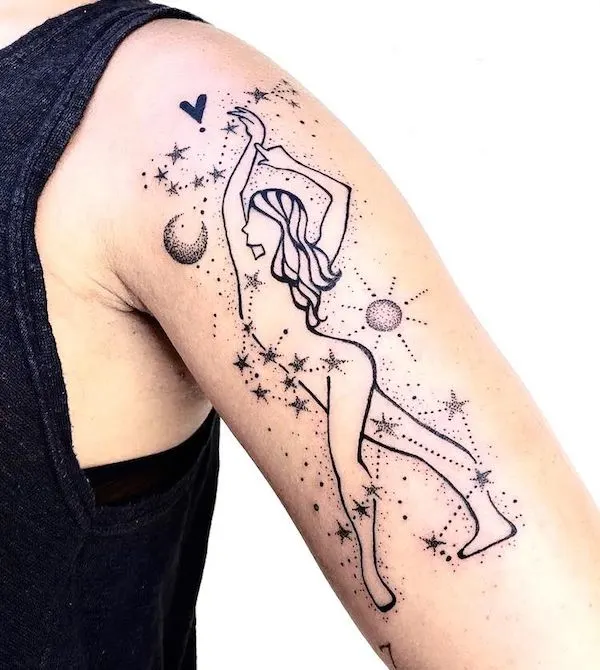 An elegant blackwork Libra rose tattoo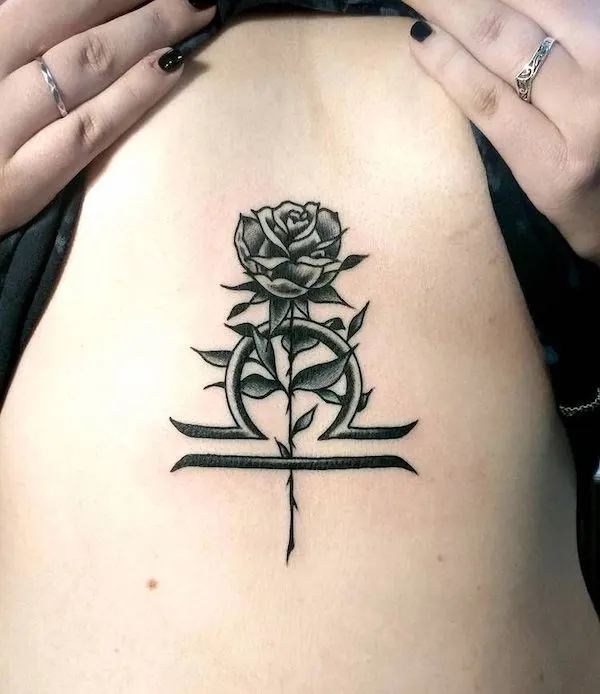 Love and freedom connected with a hidden Libra sign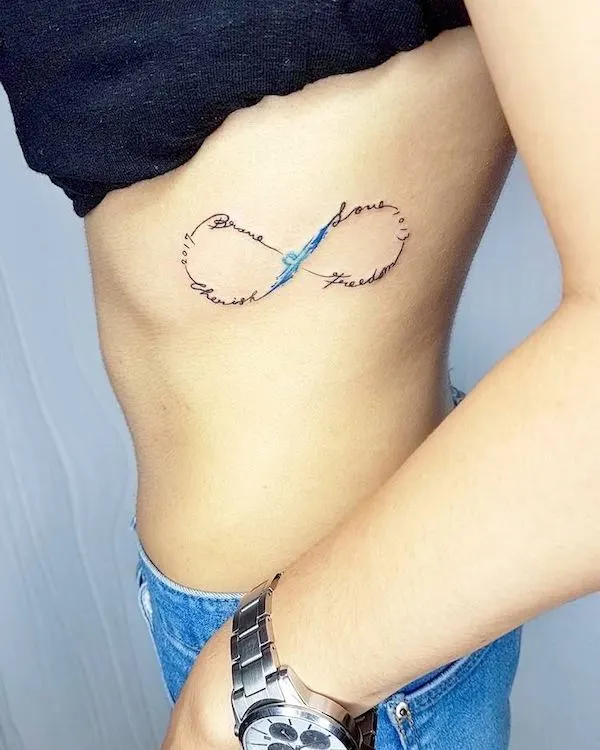 A minimalist scale tattoo to celebrate your birthday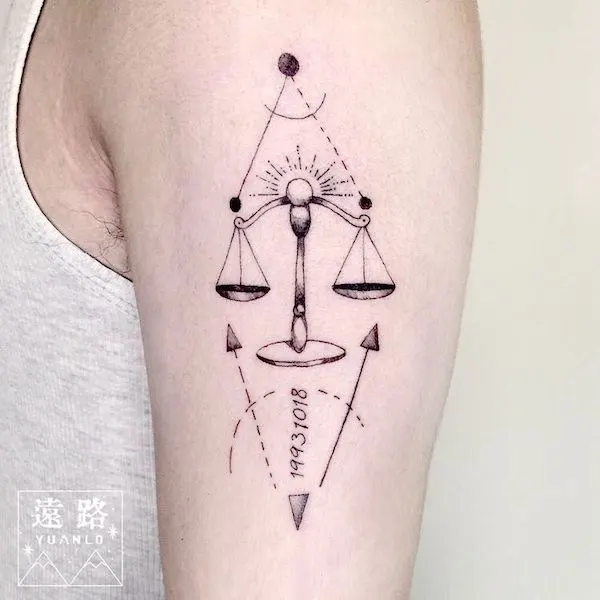 An adorable minimalist ankle tattoo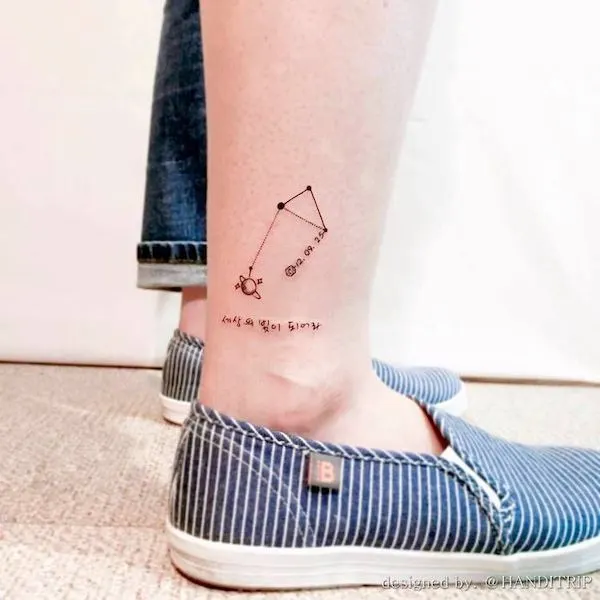 Unique zodiac tattoos for Libra women
A spiritual Libra girl tattoo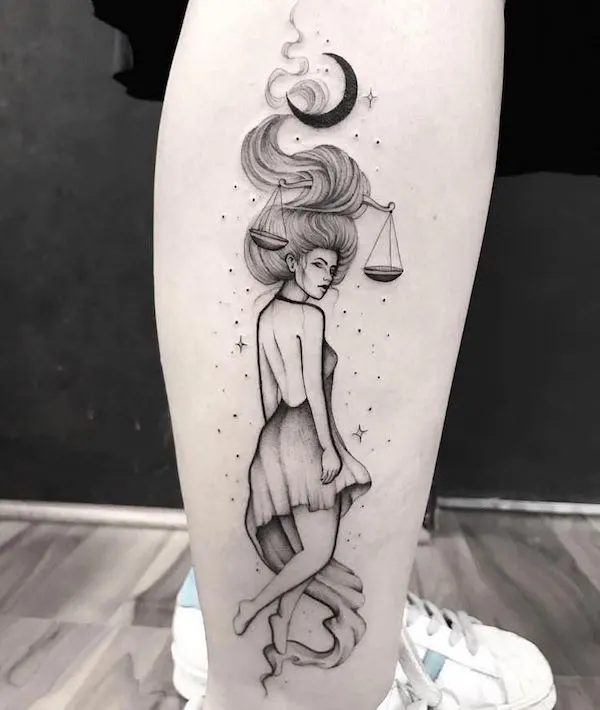 Looking from afar, this leg tattoo is purely gorgeous. The shades and highlights are well-executed, giving the entire tattoo an airy feeling. And the scale looks just like her crown, identifying the tattoo owner as a Libra without overdoing it.
Elegant peony scale for Libra women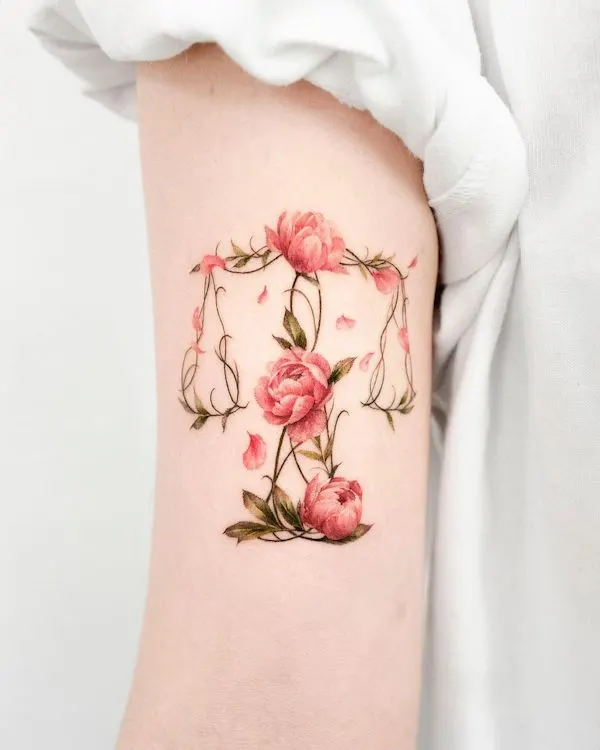 Finding balance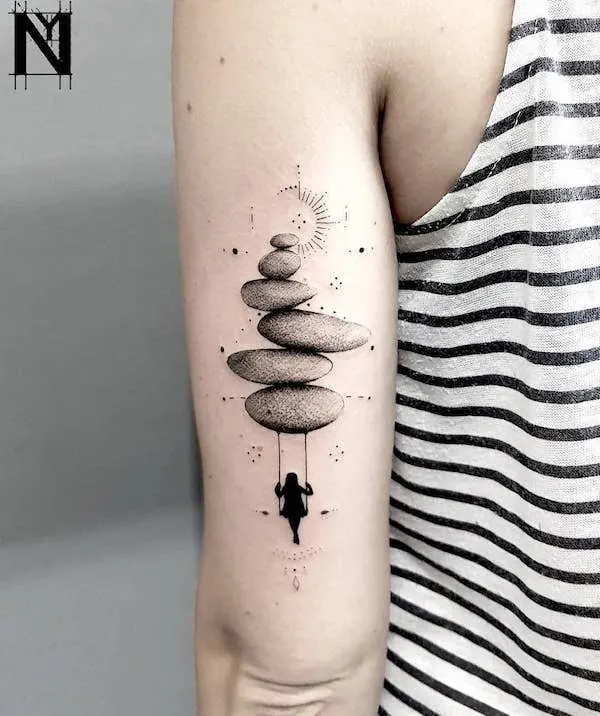 I always love tattoos with deep meanings. The rocks pile up in a slightly crooked way. And the swing reflects the chill spirit despite the instability. All the elements combined create an incredible and personal tattoo.
The floral sword
A cartwheel tattoo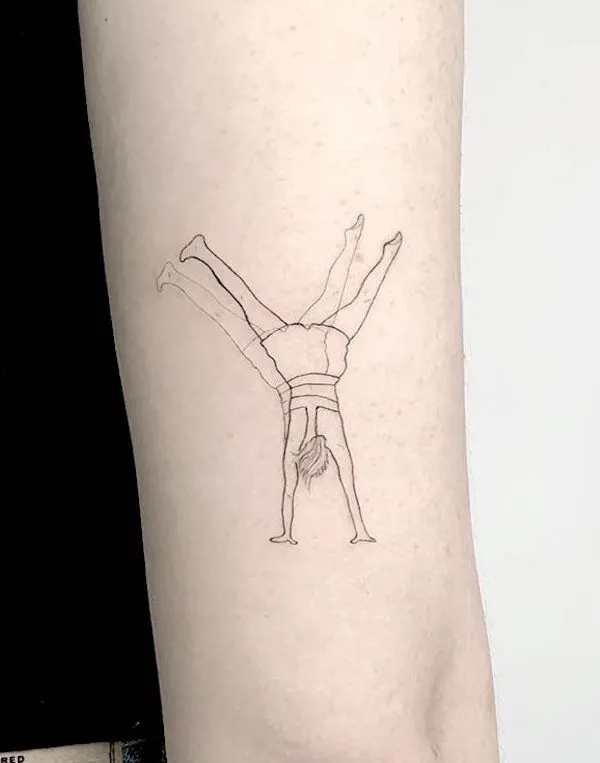 A fun approach in delivering the balance concept. The silhouette in dots creates motions, making this tattoo something beyond ordinary.
A bold Lady Justice tattoo with stunning details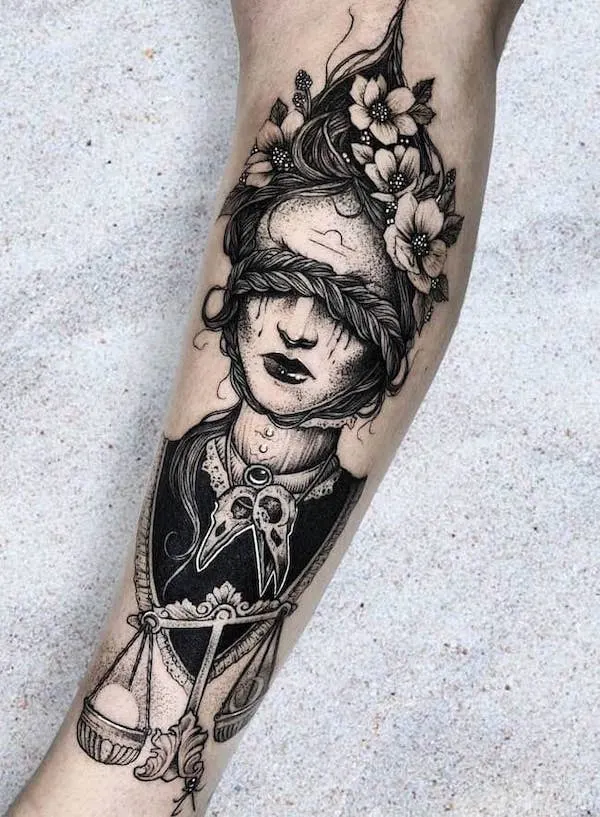 Scale and flower – a beautiful arm tattoo for Libra girls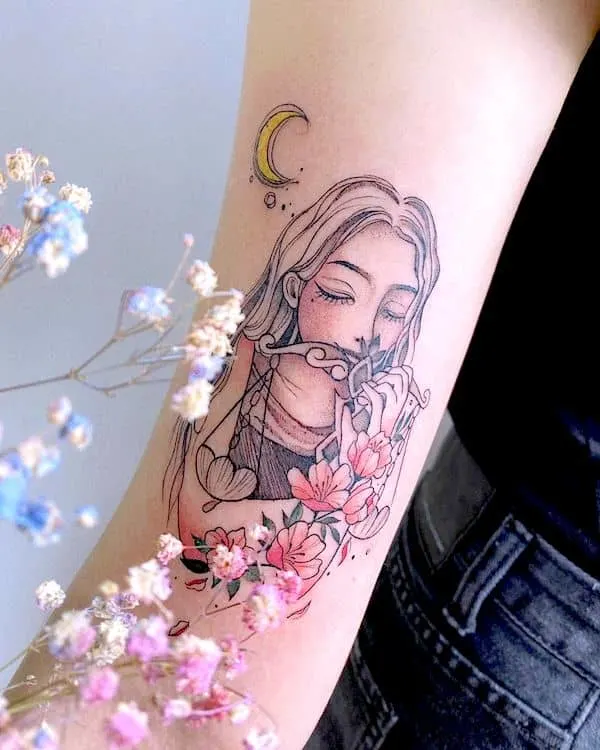 Holding your own fate – a meaningful tattoo on the back
A vintage scale chest tattoo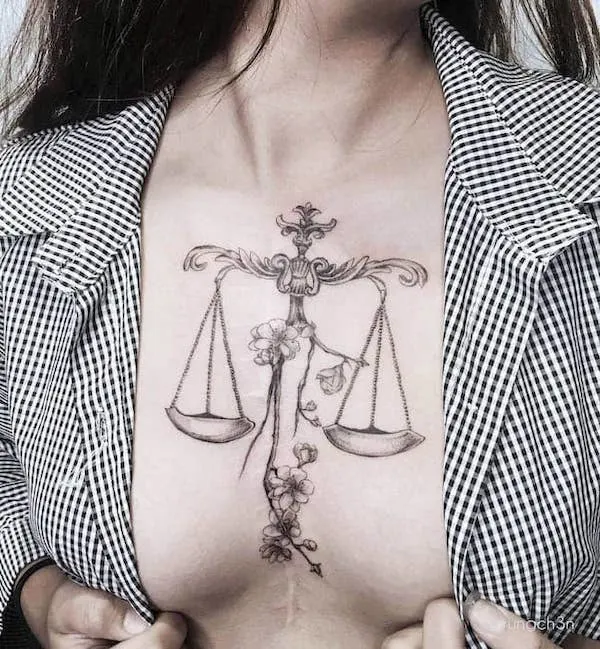 The Libra witch back tattoo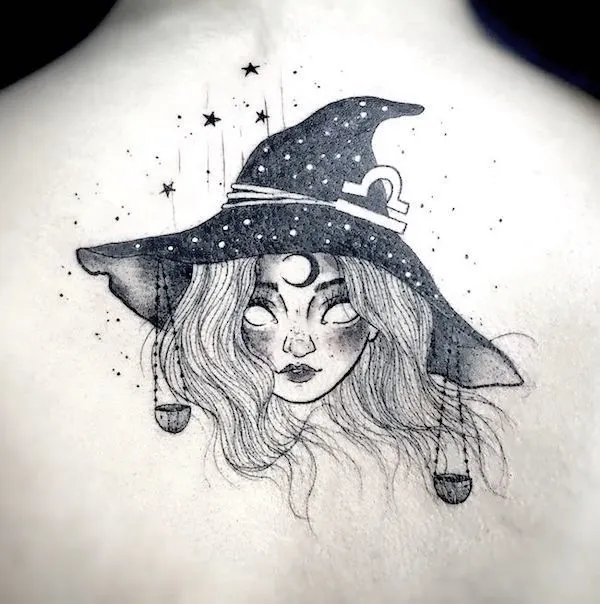 An adorable rabbit tattoo for Libra girls
Who doesn't love a cute animal tattoo? A simple and sleek cartoonist tattoo like this one can be a great first tattoo for Libra girls.
A floral scale tattoo on the arm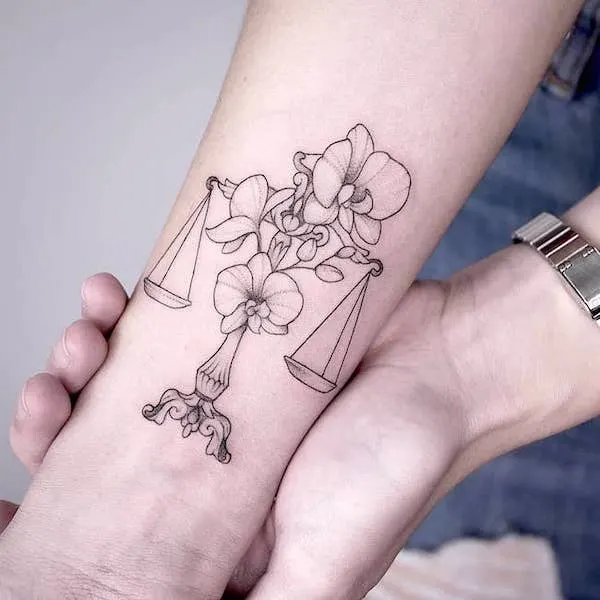 A small devil tattoo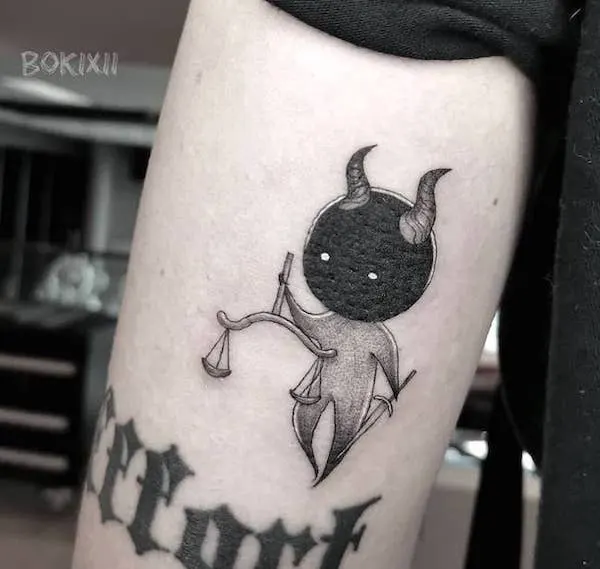 This spooky but not scary tattoo plays with the concept of balance. Justice and evilness, who gets the upper hand?
A watercolor girly tattoo for the freedom-chaser
My guest is the tattoo owner is a ballet dancer with Libra placement in the sun. And she loves to travel the world. What do you think?
The flower of balance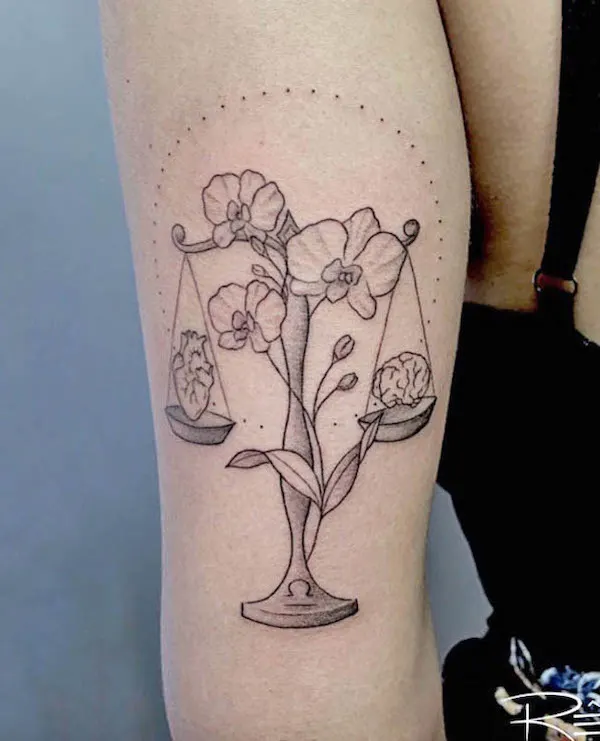 A rose shoulder tattoo with stunning details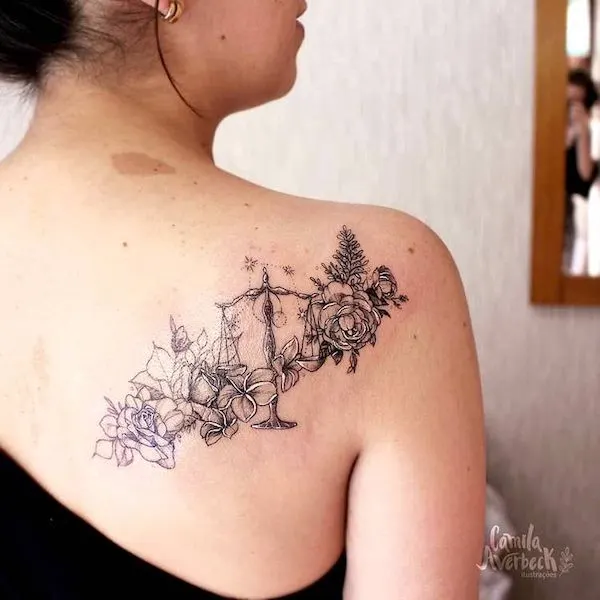 An asymmetrical wing tattoo on the back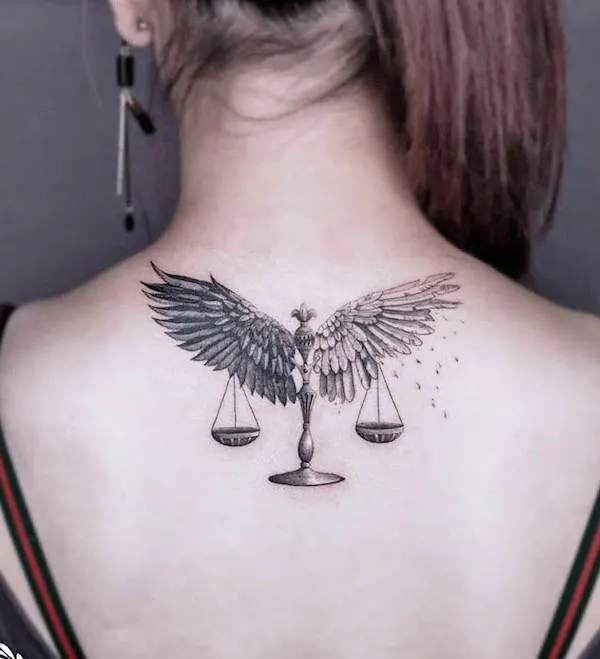 A girly Libra back tattoo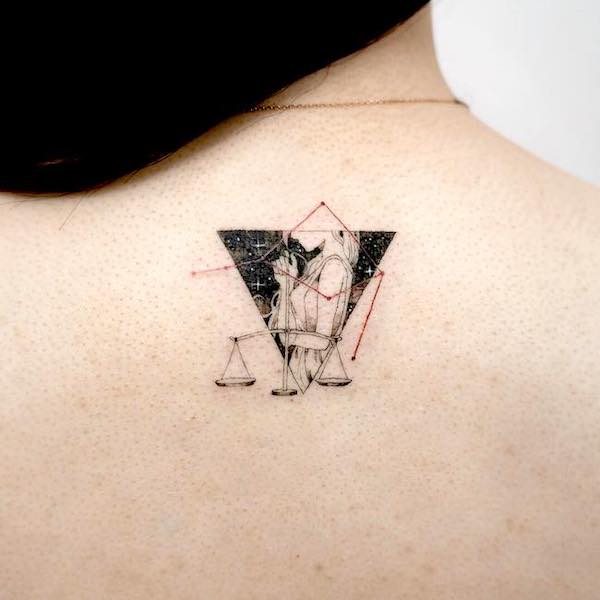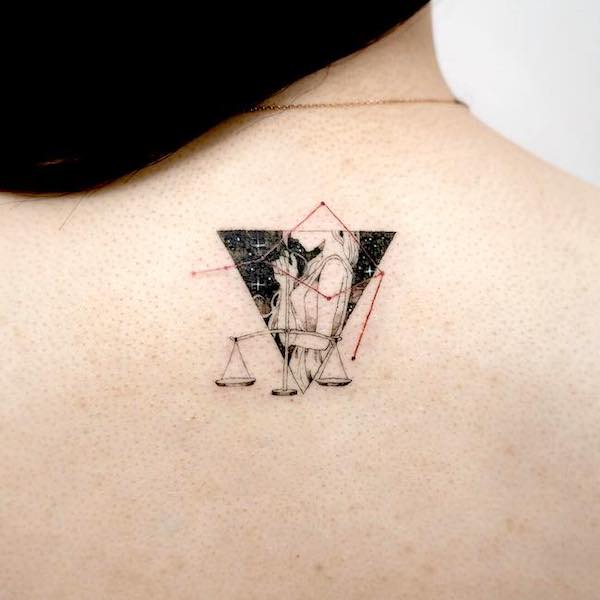 A fierce Libra warrior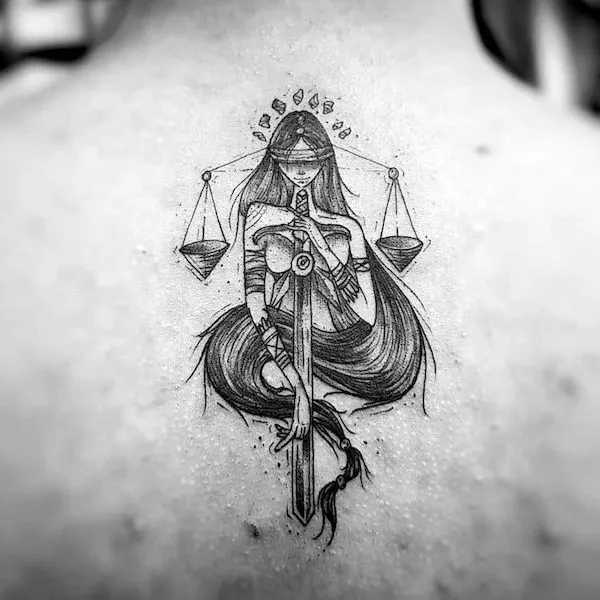 Libras are the peace-makers. But they also value justice. They are not afraid to break the silence for the mistreated. Don't get fooled by their cool. Libras are fighters inside.
A blackwork Libra girl on the sleeve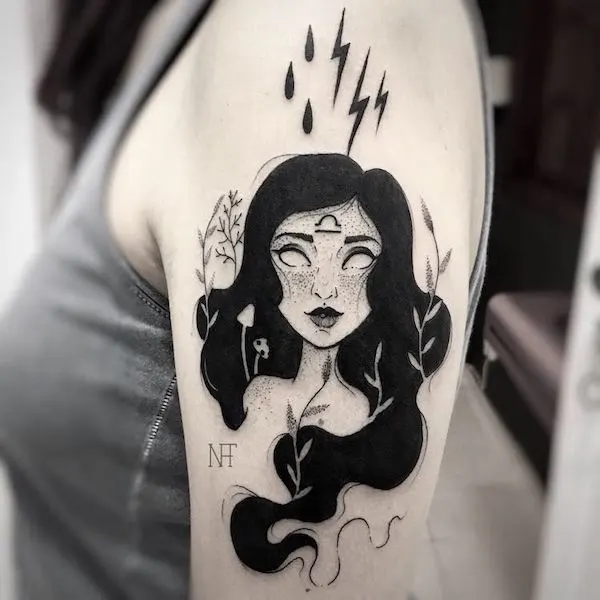 Libra spine tattoo
A geometric scale tattoo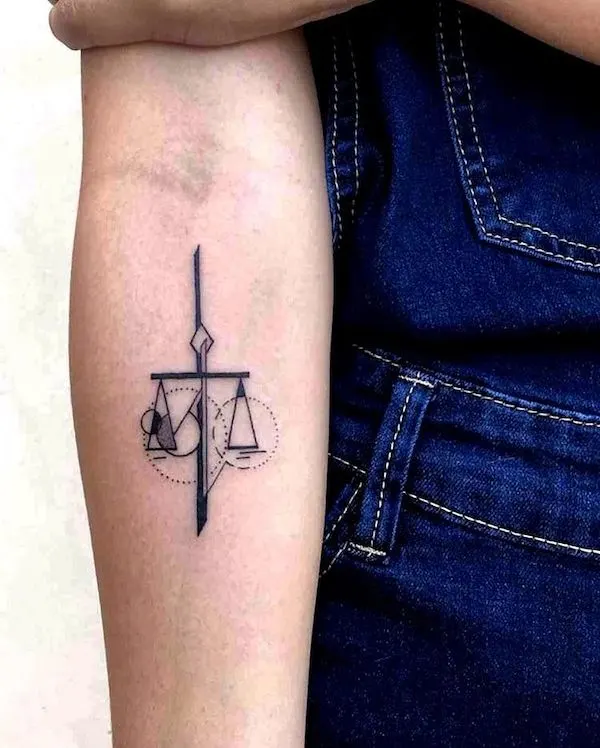 Clean and sleek, this tattoo is asymmetrical but perfectly balanced.
The mysterious energy of Libra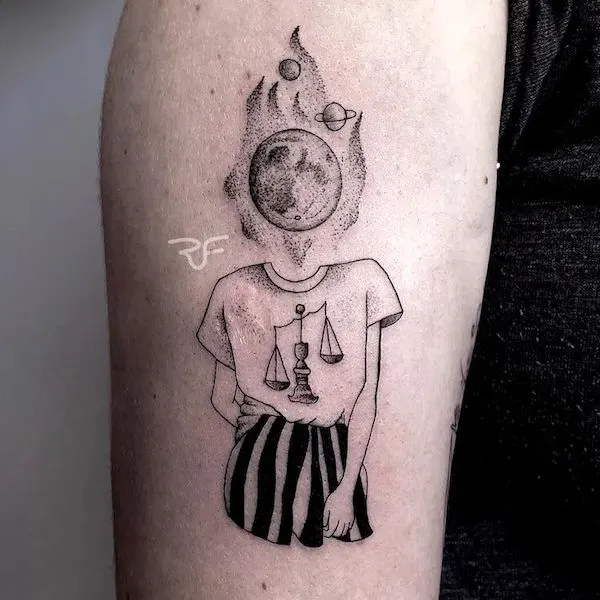 Diamond and soul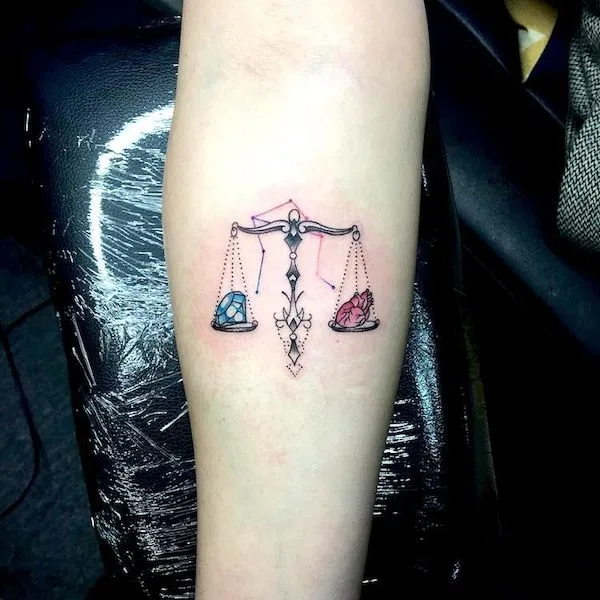 If you are a Libra, what would you put on your scale?
Bold Libra tattoo ideas for men
Balance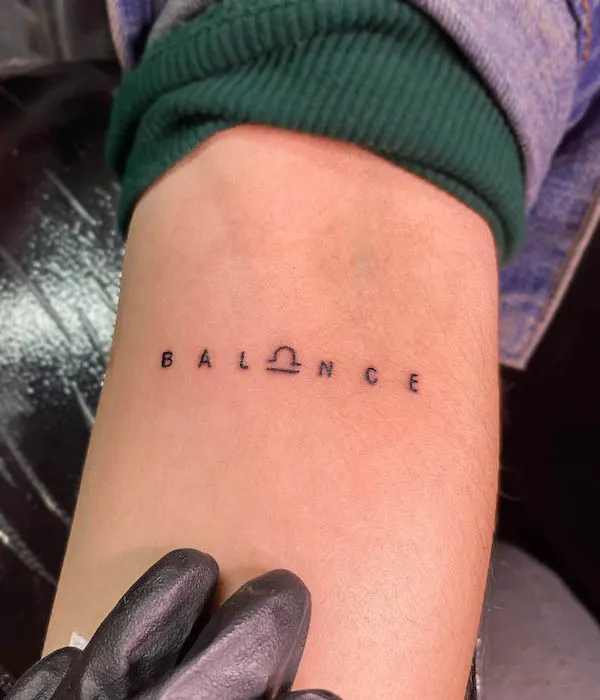 Tightrope walking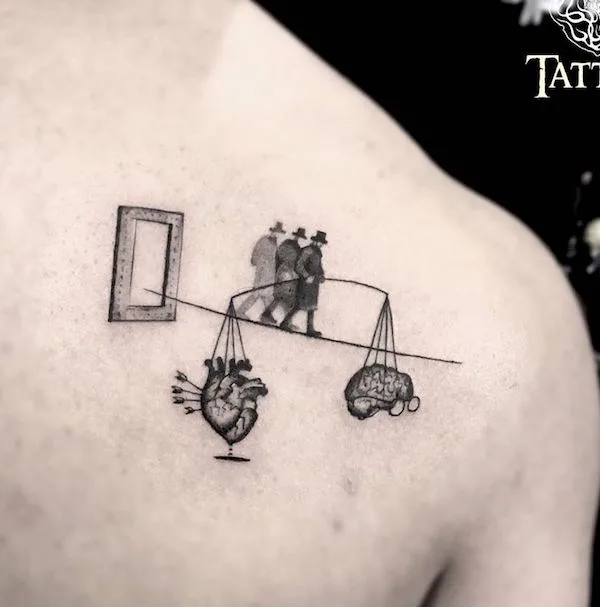 The juggling between feelings and logic reflects a Libra's struggle. I also love how the heart is bleeding out of wounds but still weighs the same as the brain.
The overlapping shadows of the man make the tattoo much more dynamic. This tattoo is something I will remember.
The goddess of Justice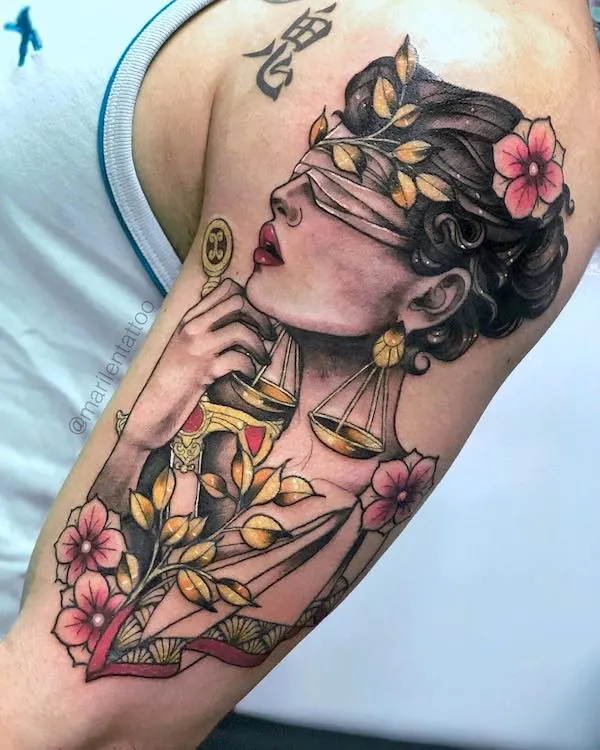 Fire and ice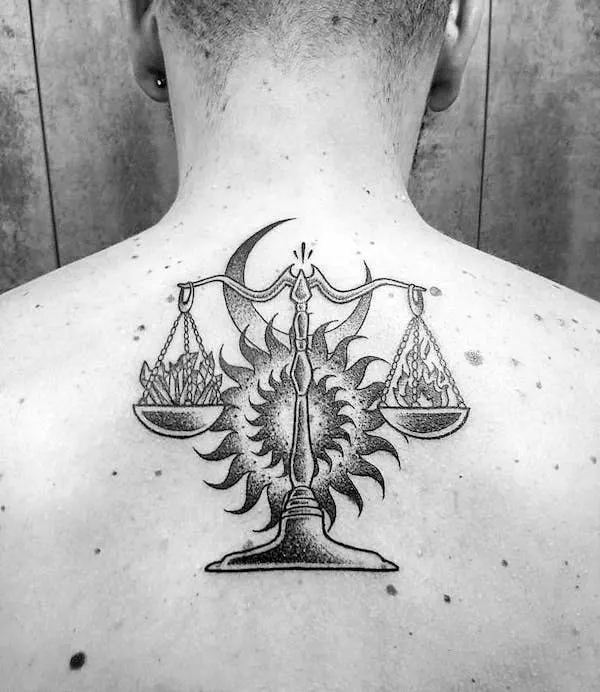 The grainy texture adds to the muscularity of this tattoo. The shading and the gradient of the black are so well executed. The scale element is not rare in Libra tattoos. But the background, color choices and the overall design are well-thought-out.
A sleek Libra tarot on the arm
An asymmetric Libra tattoo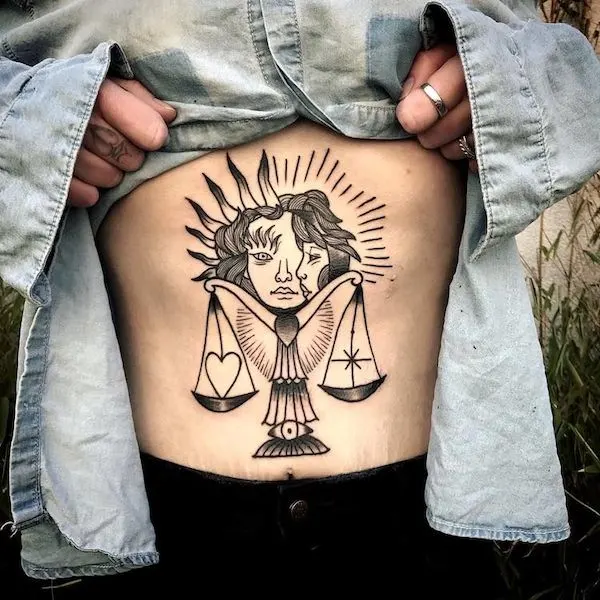 A tiny hand tattoo with a balance scale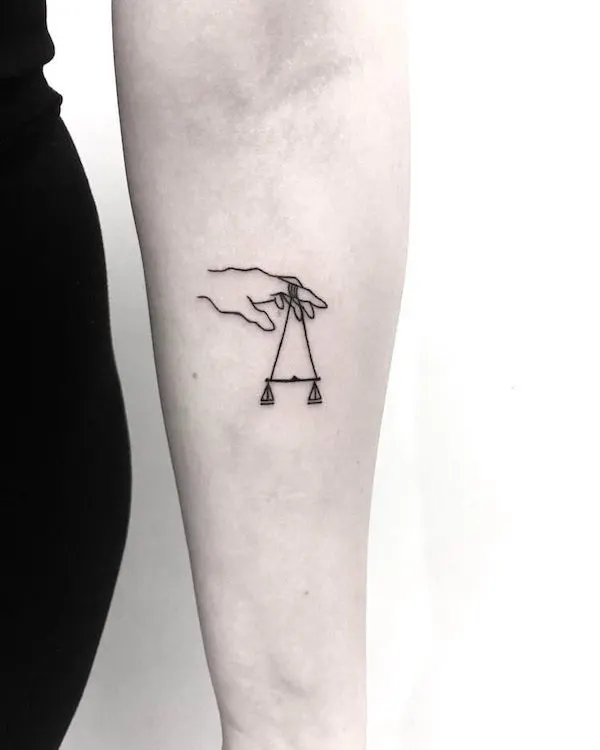 An intricate dragon tattoo for Libra men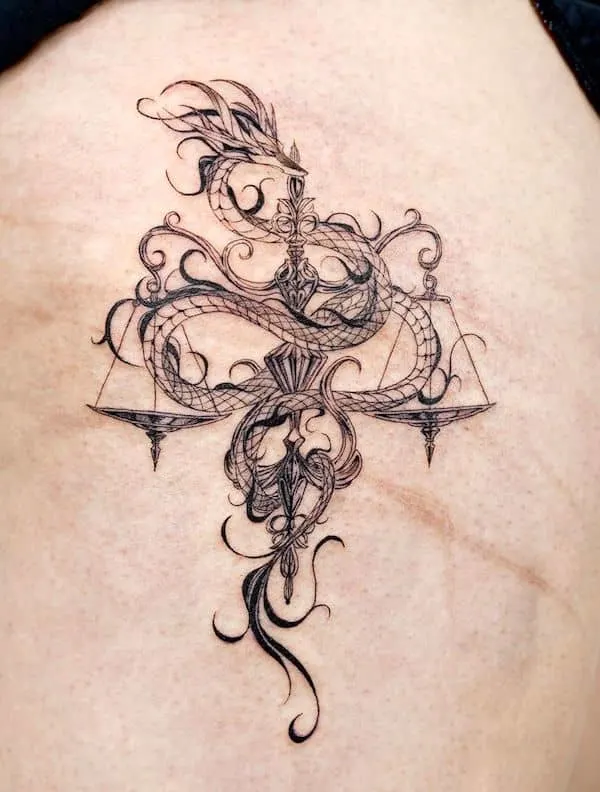 Libra and Gemini – a blackwork nape tattoo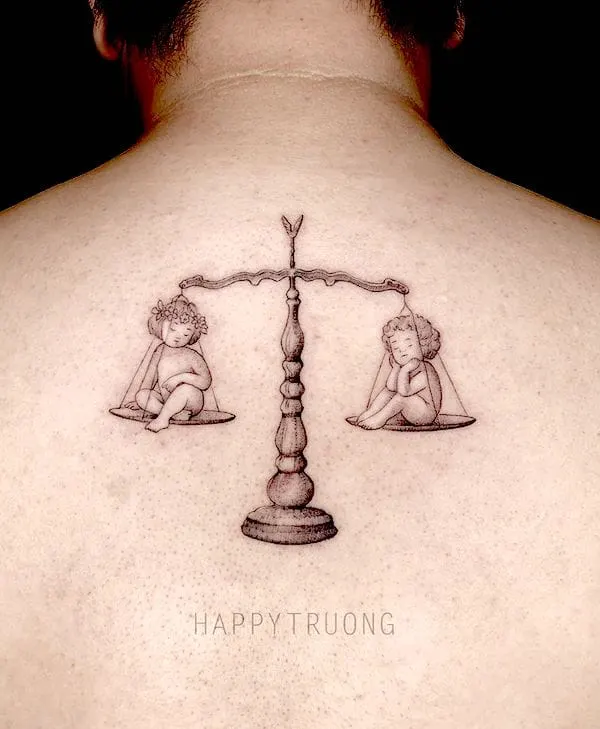 The scale in swirls – a whimsical ankle tattoo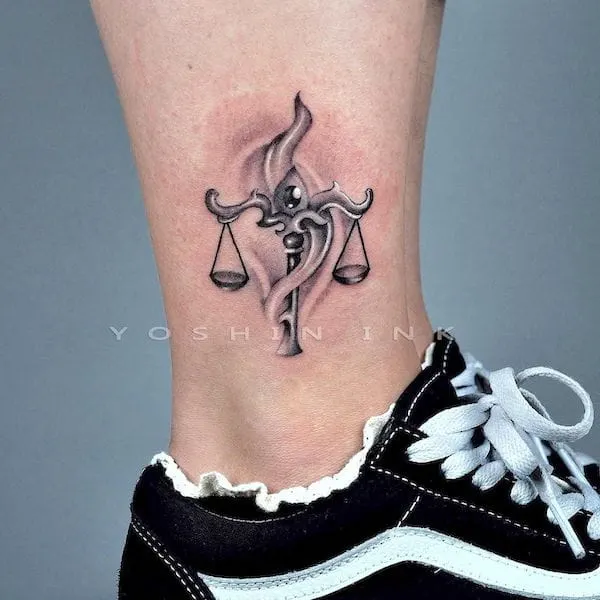 Son of the man Libra tattoo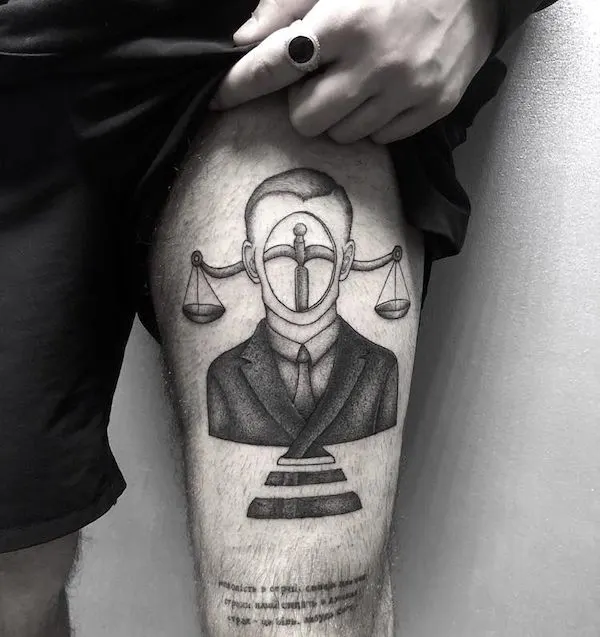 Mind matters – an abstract tattoo for Libra men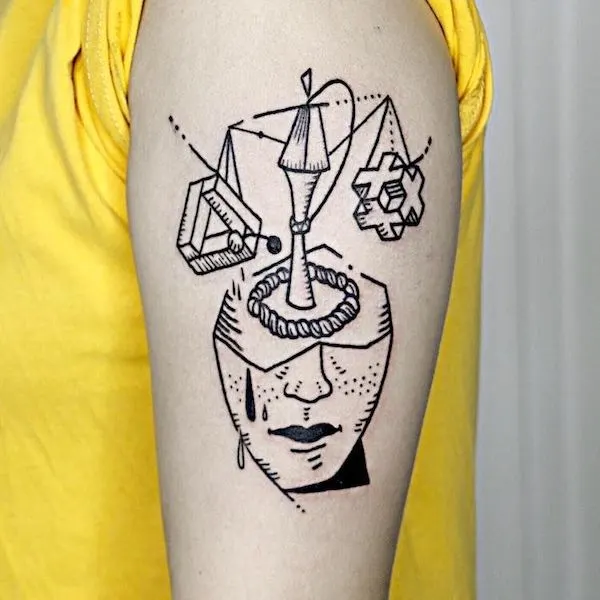 The dark side of Libra
A scary tattoo, you either love it or hate it. But the shading and contrast make the tattoo a stunning piece. My only problem is that the Libra symbol looks a bit detached from the whole design. What do you think?
Jiggling the bright and dark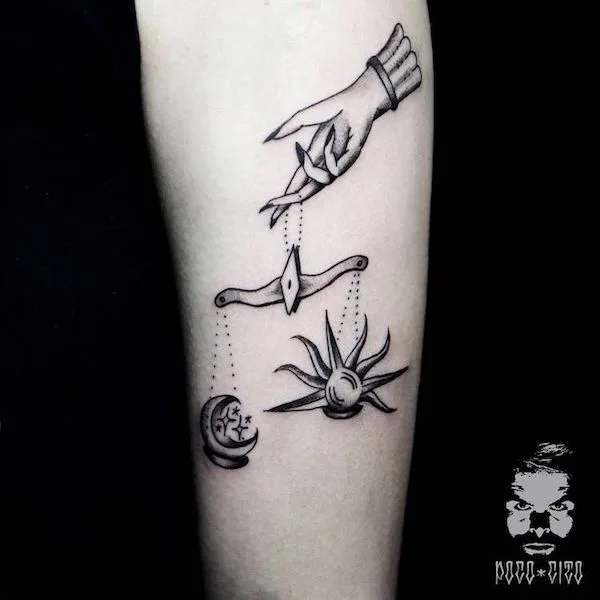 Balance of the energy chest tattoo for Libra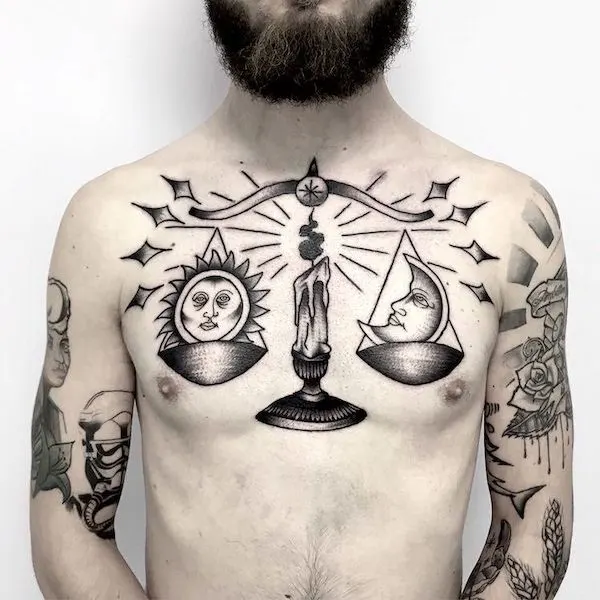 Which one of these Libra tattoos are your favorite?
If any of these Libra tattoos resonate with you, don't hesitate to tell me in the comment!
Read also: 447 Zodiac tattoos for each sign