Wrist tattoos serve as a reminder or a motto. These beautiful wrist tattoos for women carry deep meanings and will stand the test of time.
Wrist tattoos are making a strong comeback. And people love them for a reason. Unlike a sleeve tattoo or a behind-the-back tattoo, it's within your sight most of the time. That's why wrist tattoos are more like a reminder, tattoos dedicated to ourselves.
Because of the curved surface, you don't have a large area to work on the wrist like the back tattoos. That's why wrist tattoos are often small and on point. A good ink on the wrist should be meaningful, clean, and beautiful.
So here is a collection of wrist tattoos for women and girls. From small to bold, from wrap-around bracelets to minimalist symbols, you will find a design that works for you. Keep scrolling!
Disclaimer: This tattoo collection is for inspiration only. Please do not copy the artwork. If you love these tattoos, follow artists and show them some support.
Table of content
Small wrist tattoos for women
Beautiful and unique wrist tattoos
Wrap around bracelet tattoo ideas
Coverup wrist tattoos
Small wrist tattoos for women
Evil eye small wrist tattoo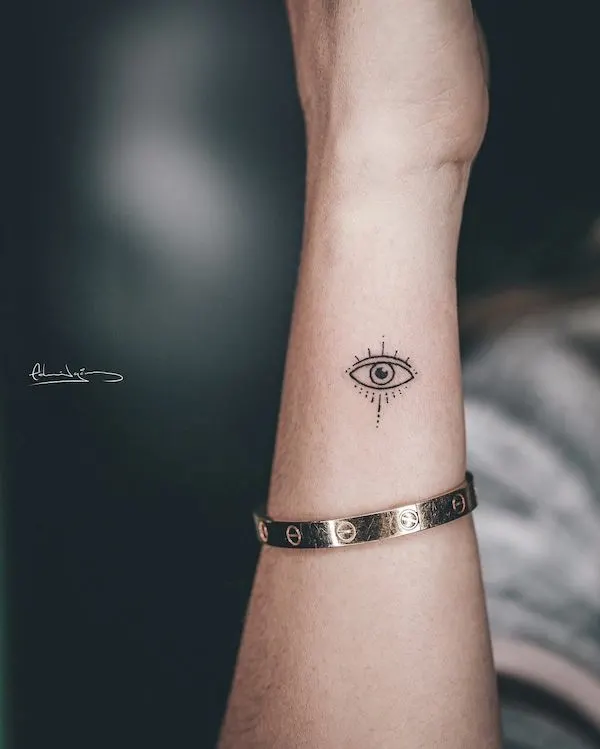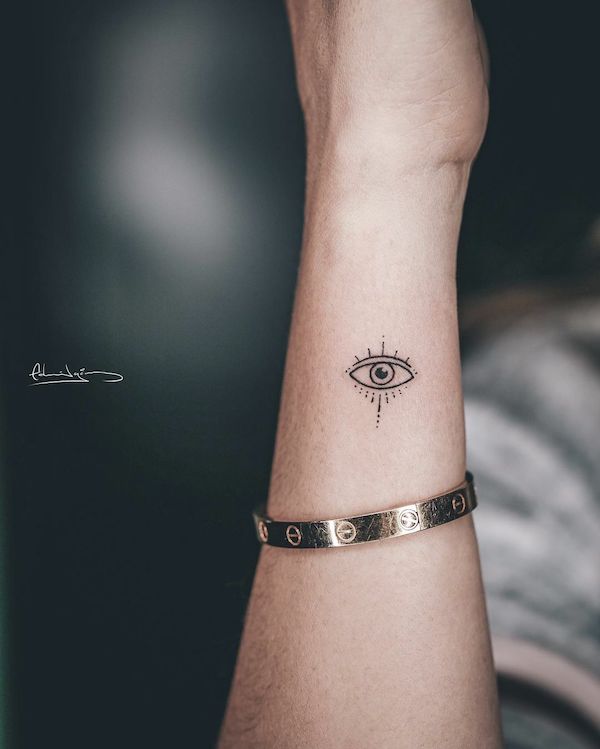 An evil eye, as the name indicates, is considered evil. But an evil eye tattoo is believed to be a talisman that protects the wearer from bad energy. Plus, it can be big or small, depending on where you want to put it. If you want a small but meaningful wrist tattoo, the evil eye may be a good idea.
Sunshine after rain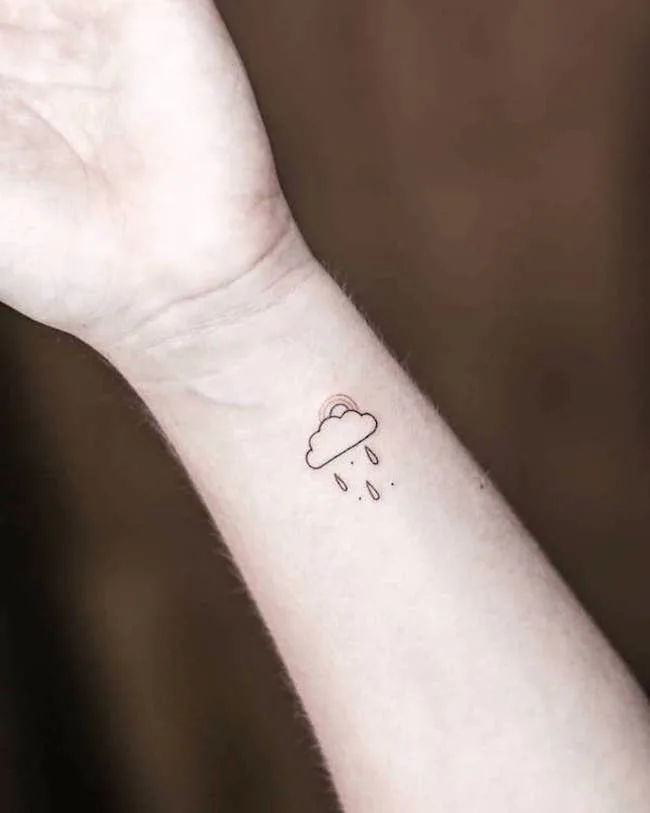 Matching infinity wrist tattoos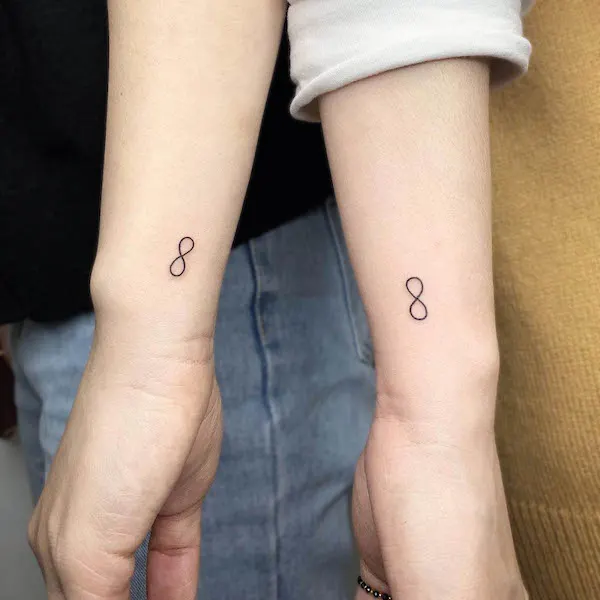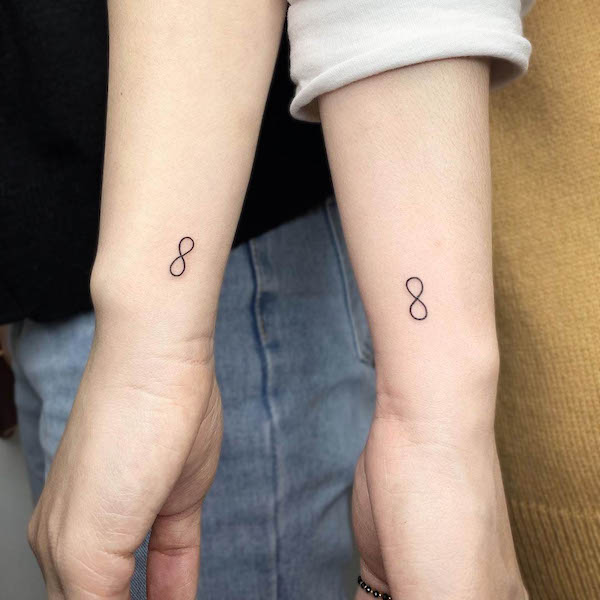 Initially, the infinity symbol stands for an infinite value in math. But it has taken on new meanings as a tattoo. With the shape of the number 8, it represents an everlasting belief or faith. A pair of infinity wrist tattoos may be a token of a never-ending friendship.
Read also: 86 Hearty best friends tattoos
Minimalist tiny leaf tattoo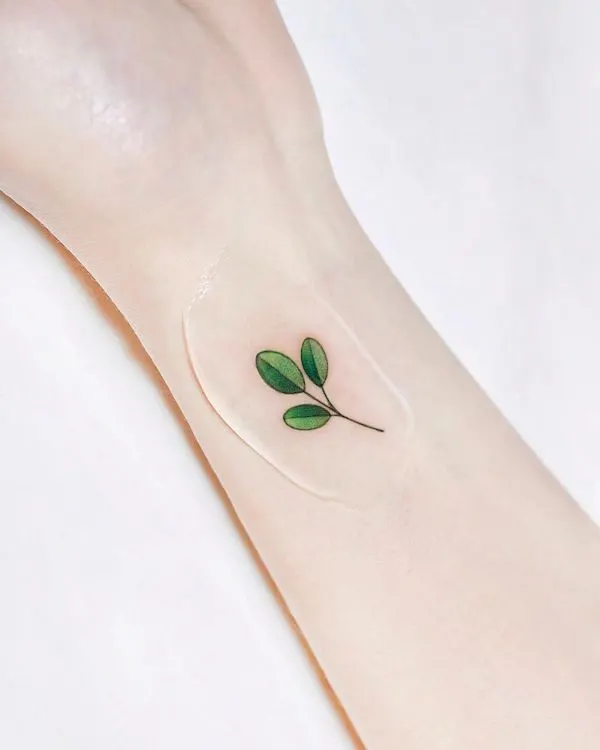 Simple abstract wave tattoo
Wave tattoos are popular because the lines give the tattoo a sense of motion. But, just like this small tattoo, its meaning stretches beyond simplicity and elegance. For many, wave and water tattoos represent their connection with Mother Nature. They also remind us that softness is power.
Matching gem tattoos for twins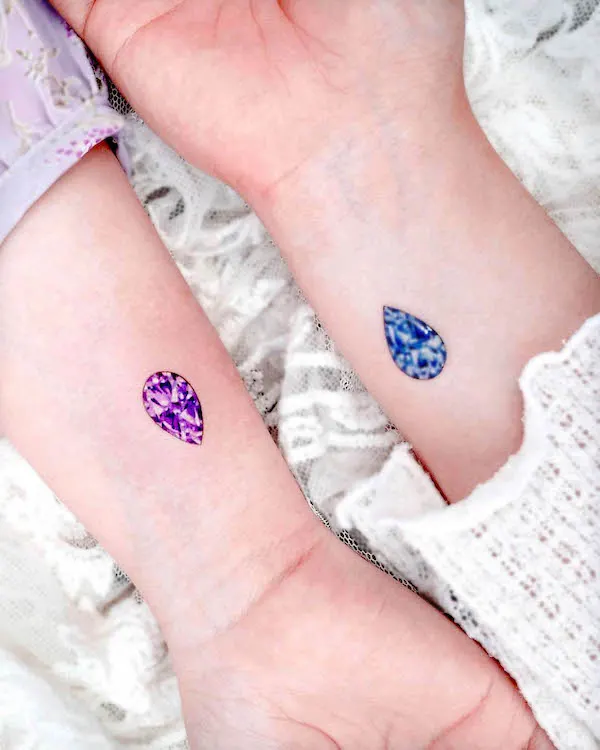 Because twins are like gems. They make look the same. But each of them shine in their own ways.
Read also: 38 Mathing twins tattoos with meaning
Music and plane small wrist tattoo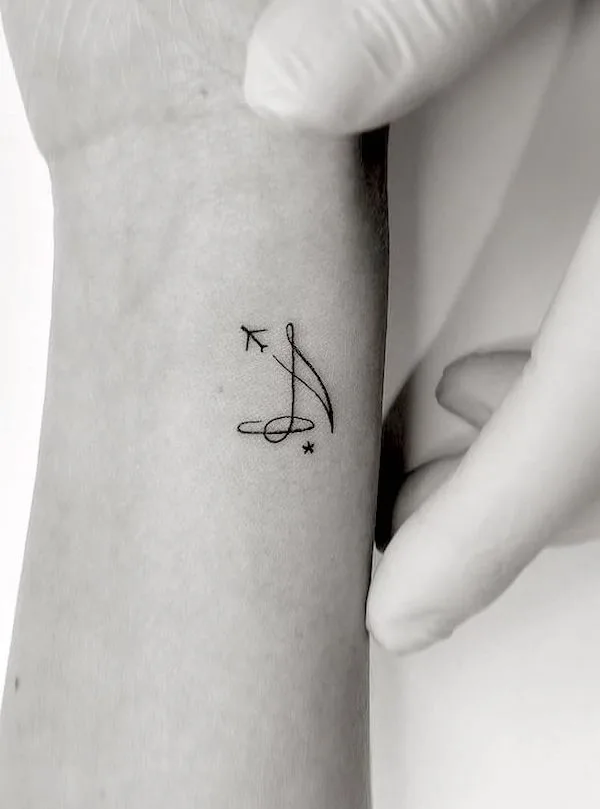 A note symbolizes the passion for music. And the plane indicates that the wearer loves to travel the world. This creative tattoo combines both elements to illustrate a life purpose- introducing music to every corner of the world.
Small girly wrist tattoo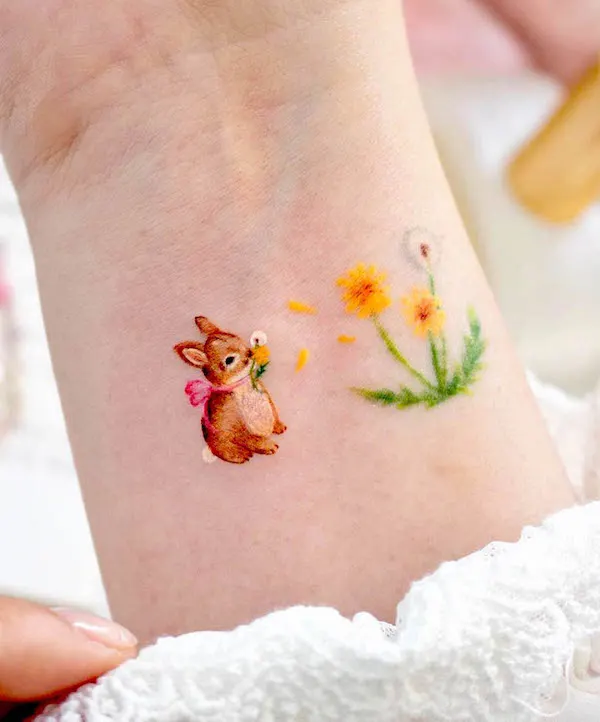 This small rabbit and flower wrist tattoo is adorable. Tattooist Ovenlee has created a collection of dainty and sophisticated tattoos. Check out our interview with her to know more about her work.
Simple cross wrist tattoo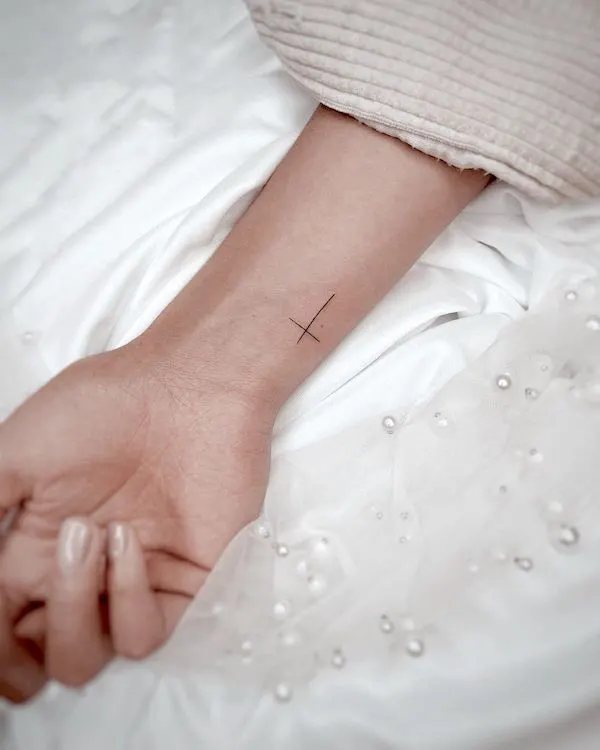 Wrist tattoos are special because you can see the tattoo by lifting your arm. Thus the wrist is a good placement for faith tattoos or motto tattoos. This simple cross on the wrist is one of them.
Cute small heart tattoos on the wrist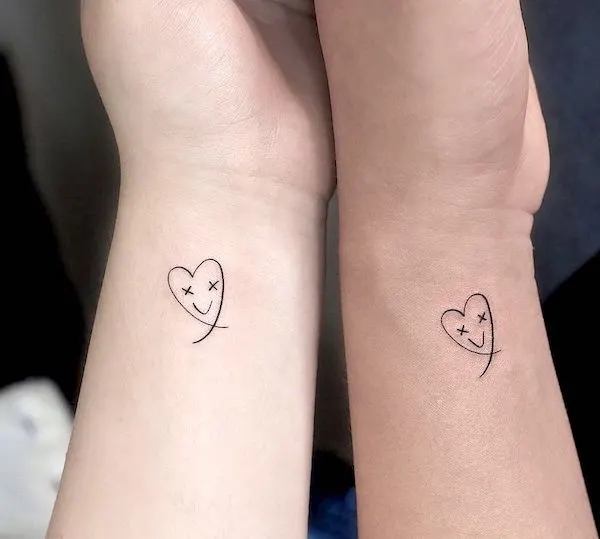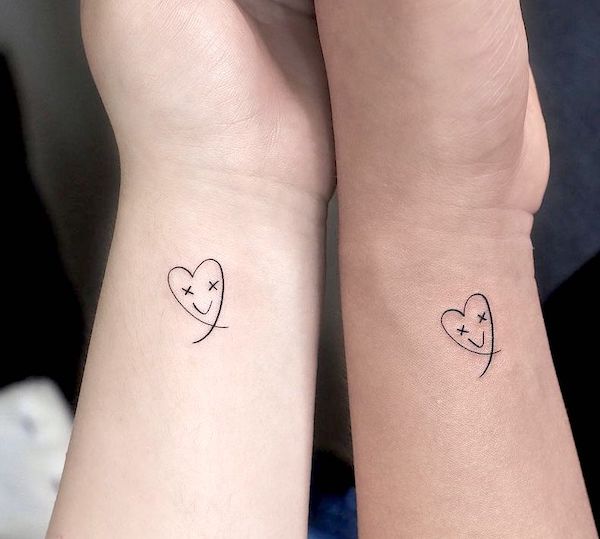 Follow your heart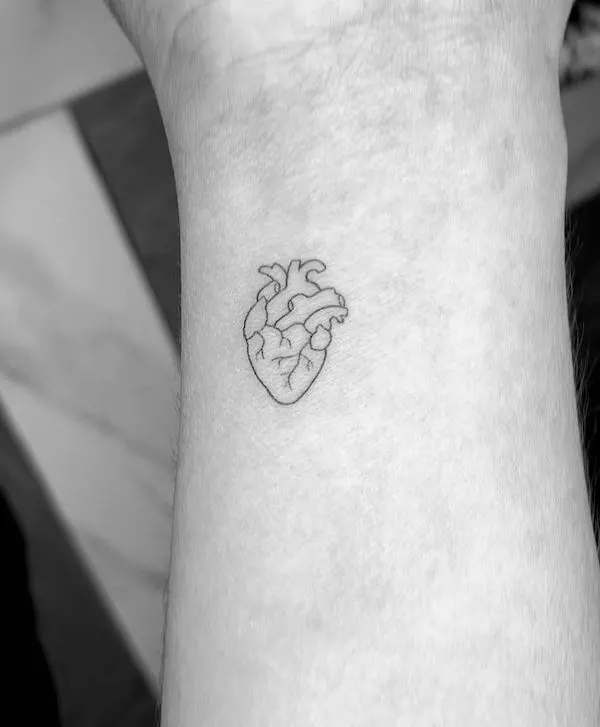 Heart tattoos symbolize passion, intuition, and love. And they are not always in heart shape. So if you want a unique and less cliché design, this tattoo may give you some inspiration.
Tiny butterfly and heart tattoo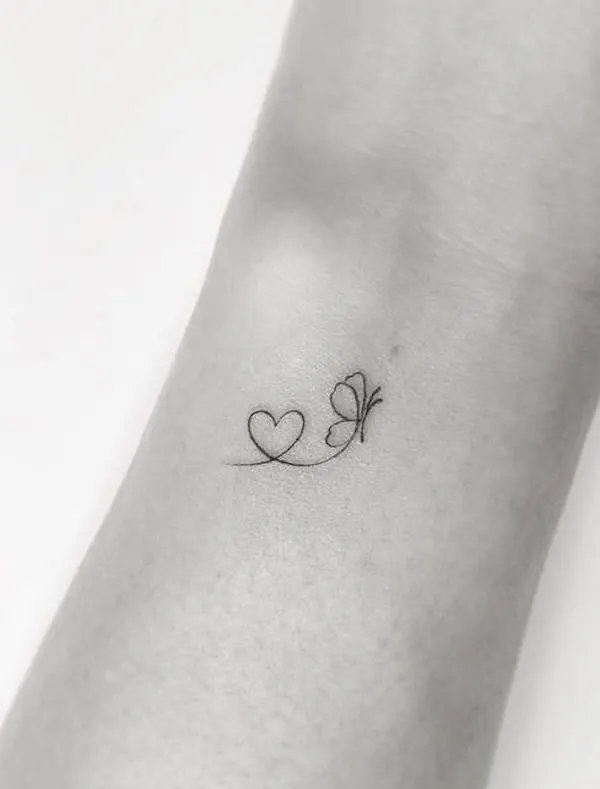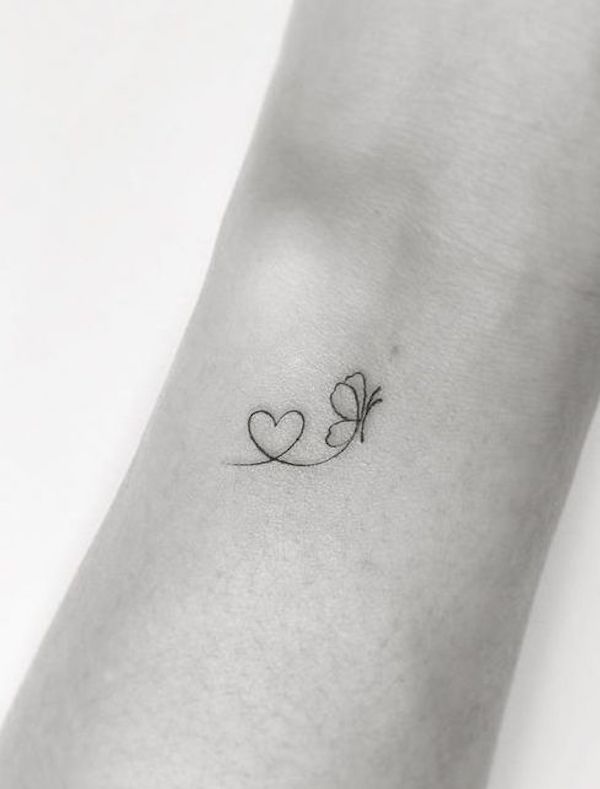 Angel wings wrist tattoos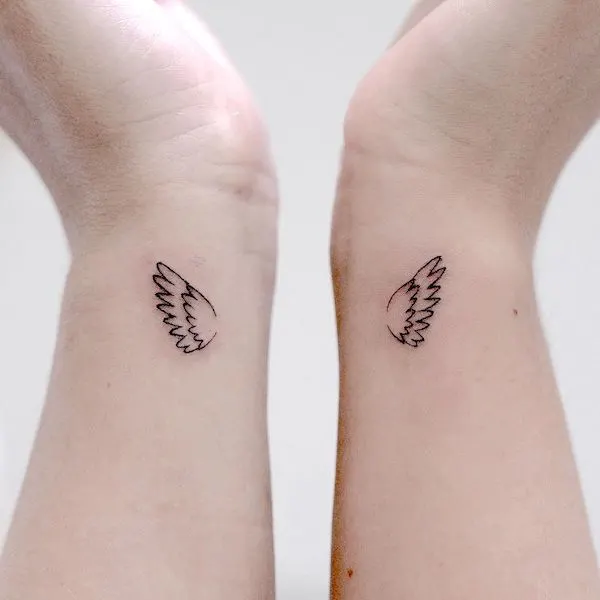 Angel wing tattoos are divine. They represent the wearer's pursuit of freedom and protection. Or they can be a tribute to their loved ones who passed away.
Memorial angel wings tattoo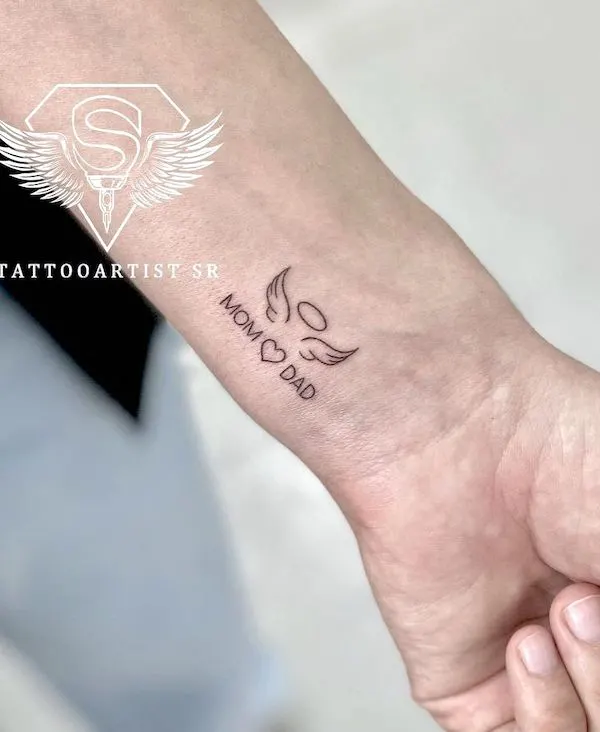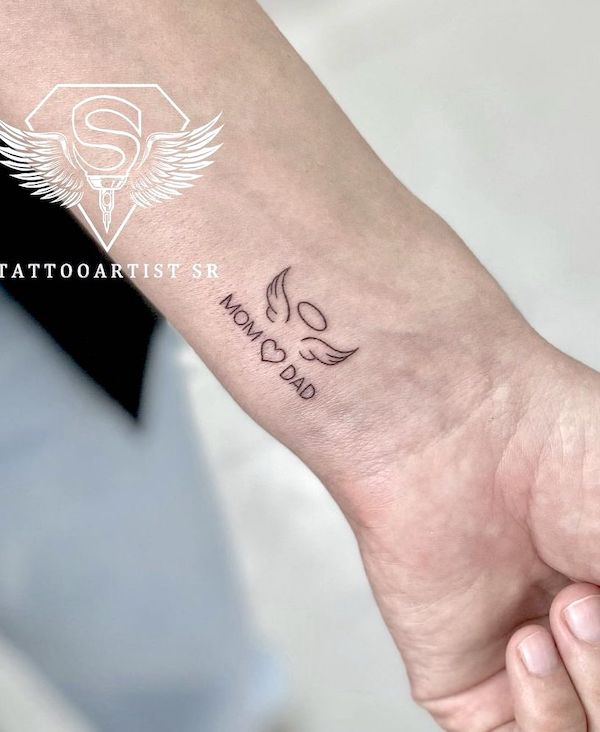 "Breathe" lettering wrist tattoo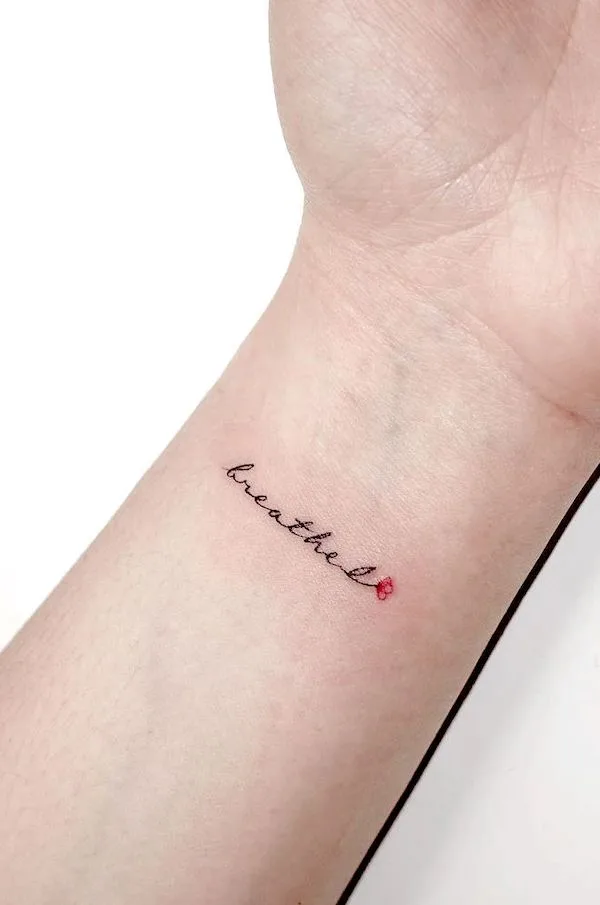 The wrist is a perfect placement for one-word tattoos. You can tattoo horizontally like this one on the inner wrist or put it vertically on the side. With well-designed calligraphy, a single word can be as beautiful as images.
Small stars tattoo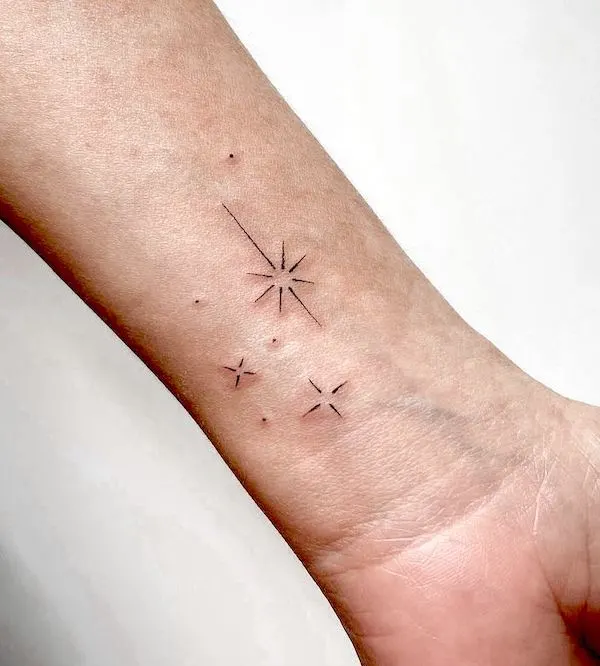 One thing that makes a star tattoo perfect for the wrist is its versatility. You can go big or small. Or you can tattoo multiple stars to create a starry sky. This tattoo above is a good example to shine and still stay simple.
Feminine moon and leaves wrist tattoo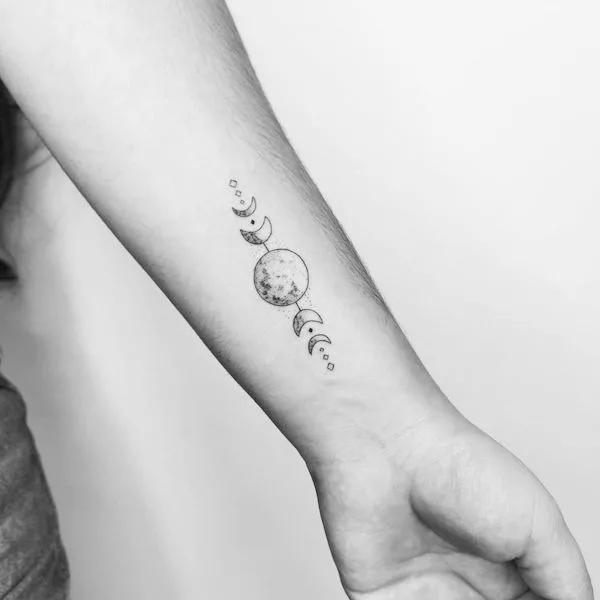 Initial wrist tattoos for family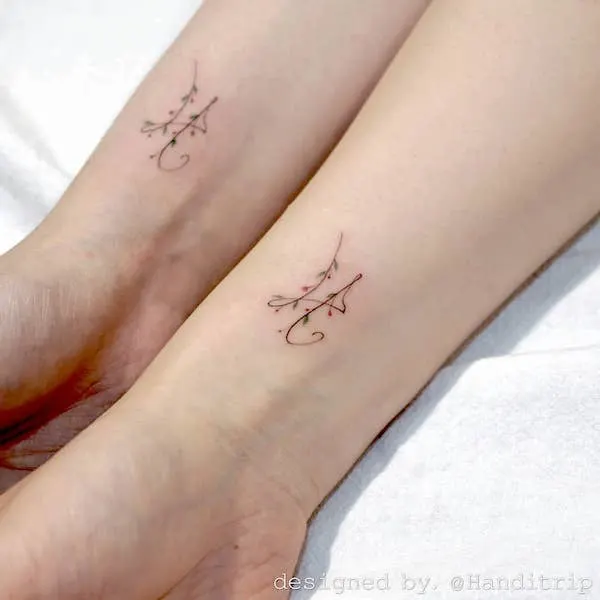 What's a better family tattoo than an initial? The simplicity makes it hard to go wrong. A small initial tattoo looks well-balanced even in a small area like the wrist.
Matching small tattoos for siblings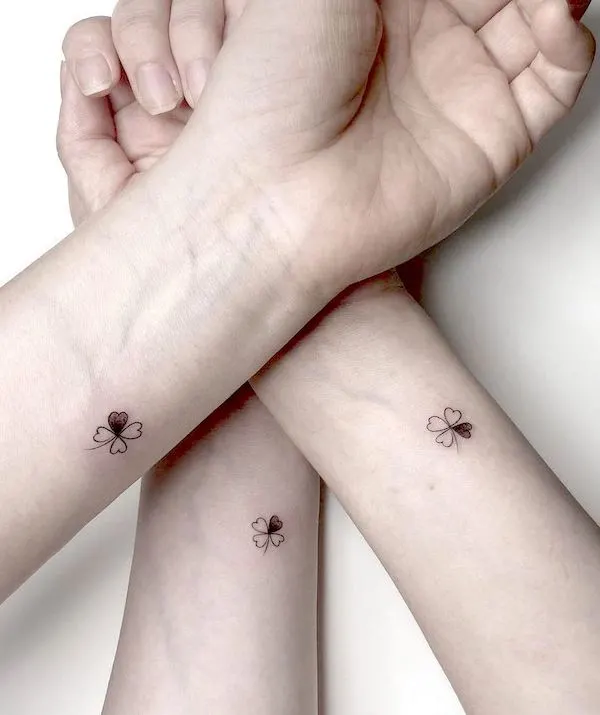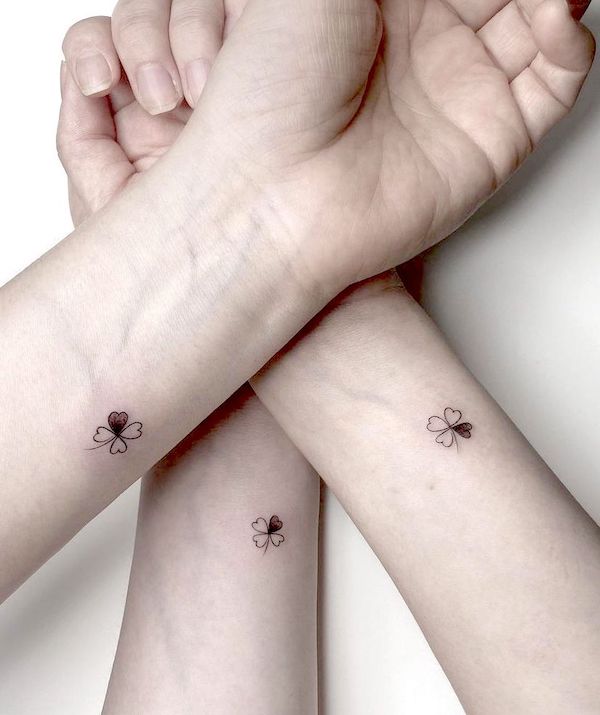 Read also: 77 Unique matching sibling tattoos to honor the unbreakable bond
Small and simple dandelion wrist tattoo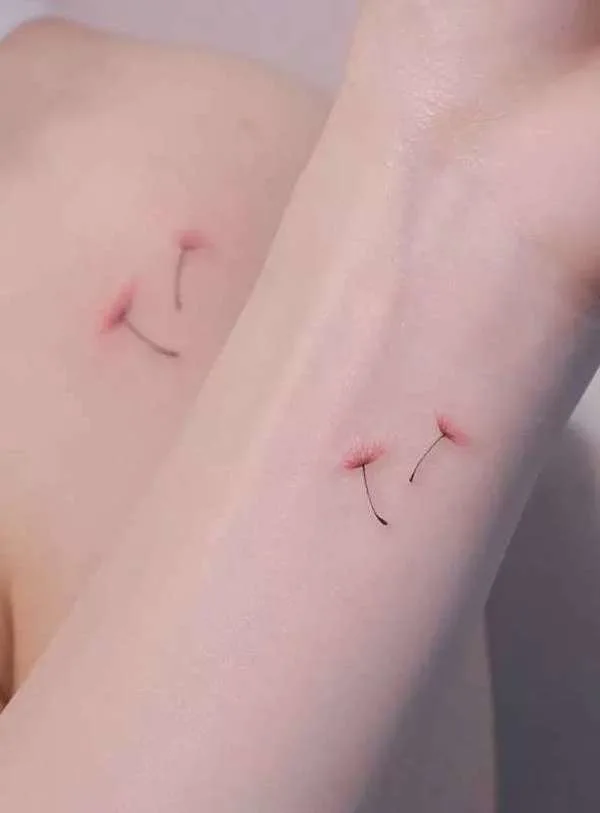 Let it go and let the healing begins – the message behind a dandelion tattoo increases its weight. Yet, simple and small, it can be meaningful for someone ready for the next chapter.
Small music tattoo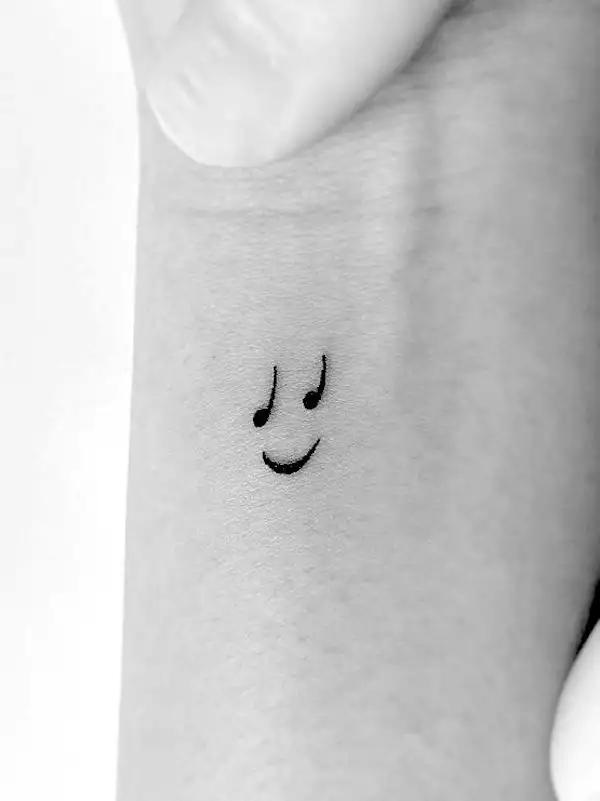 Socket and plug matching tattoos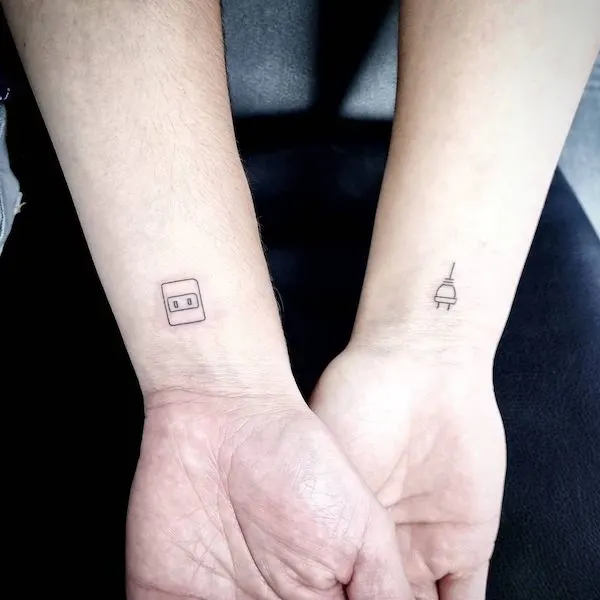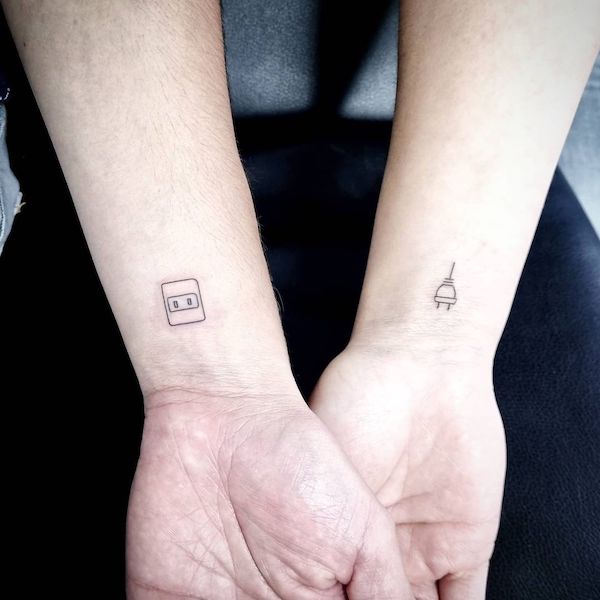 Not all couple tattoos are kings and queens or a pair of hearts. Instead, these tattoos show the world that the couple is a perfect match, but in a fun and creative way.
Beautiful and unique wrist tattoos
Black and grey rose tattoo on the side wrist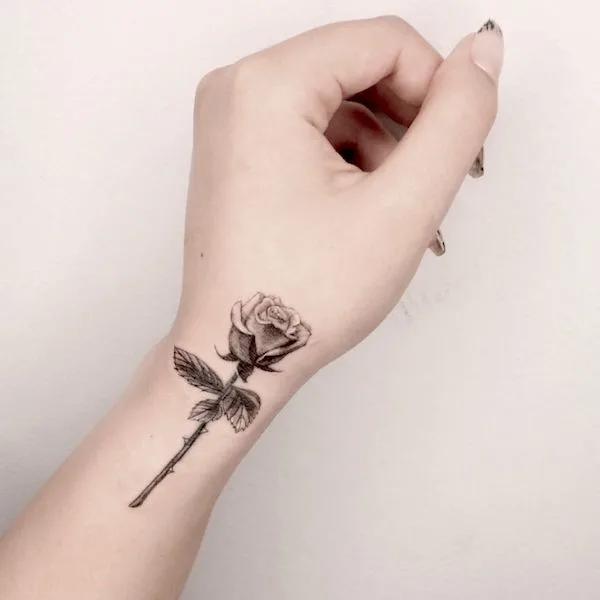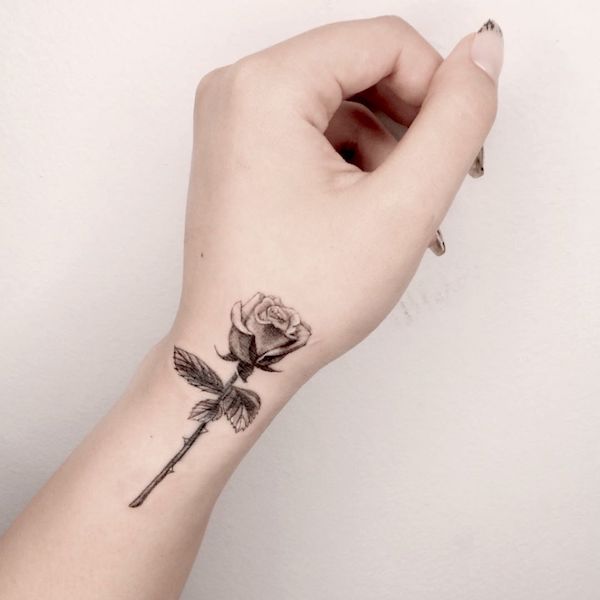 In general, roses are a symbol of love, passion, purity, and romance. Like many other flower tattoos, they may have various meanings depending on the color.
Some people love rose tattoos because they resonate with the rose flower language. Some adore its beauty. Their elongated shape makes them perfect to be placed on the wrist. Whether black and grey or in colors, they bloom on the skin, and it's hard to look away.
Elegant rose and name inner wrist tattoo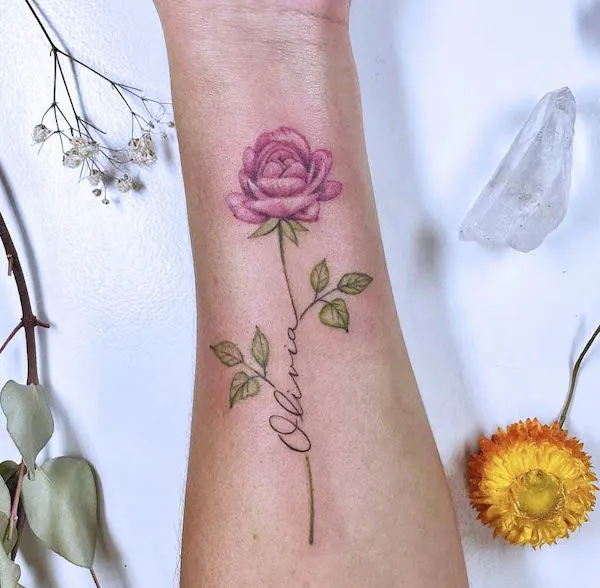 Poppy and "faith" wrist tattoo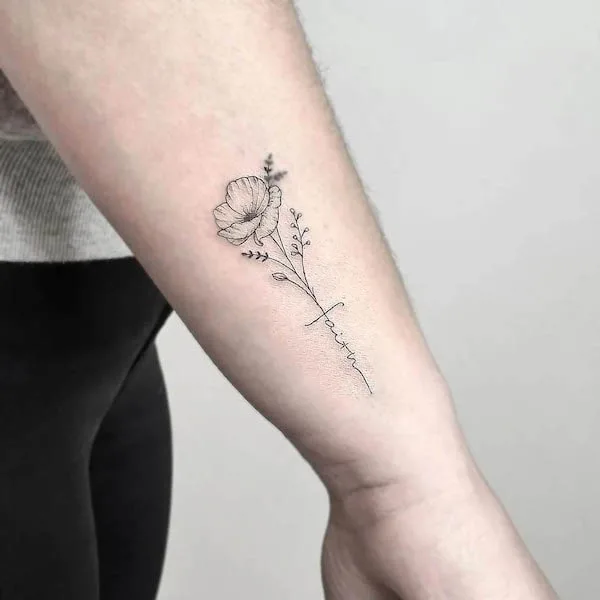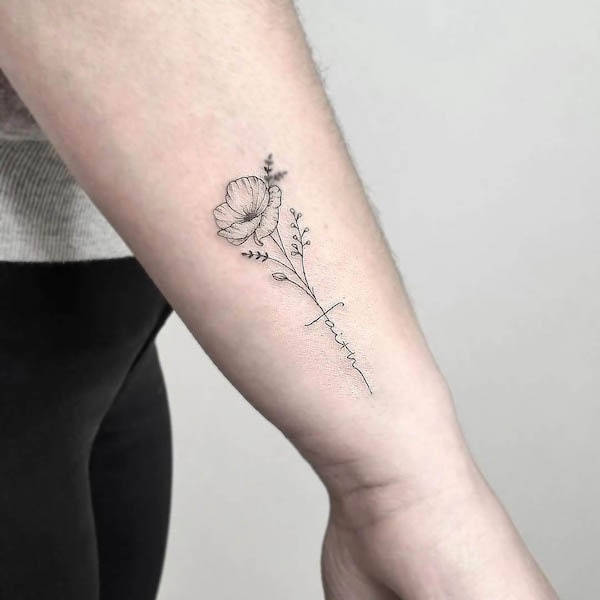 Beautiful butterfly wrist tattoo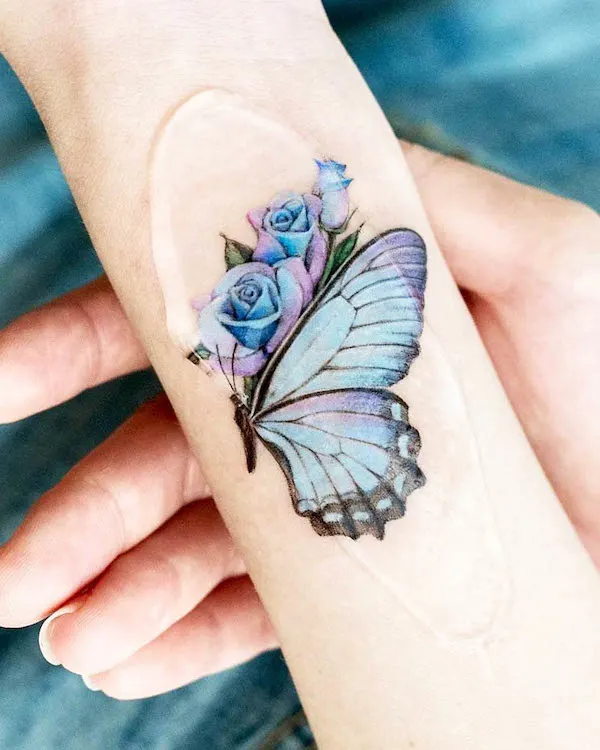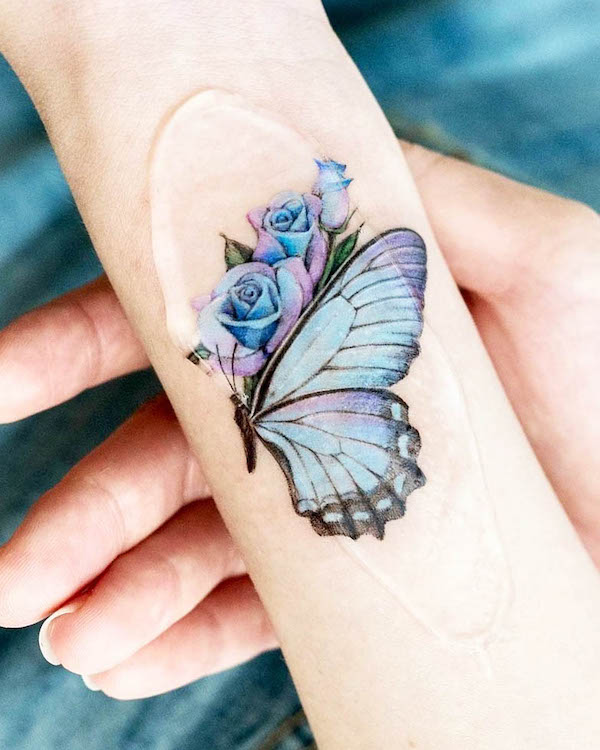 Butterflies, just like moths, have to go through a painful transformation before they can fly. Thus they symbolize rebirth and strength. If you resonate with the message, butterfly tattoos may be perfect for your next ink.
Black and grey bird tattoo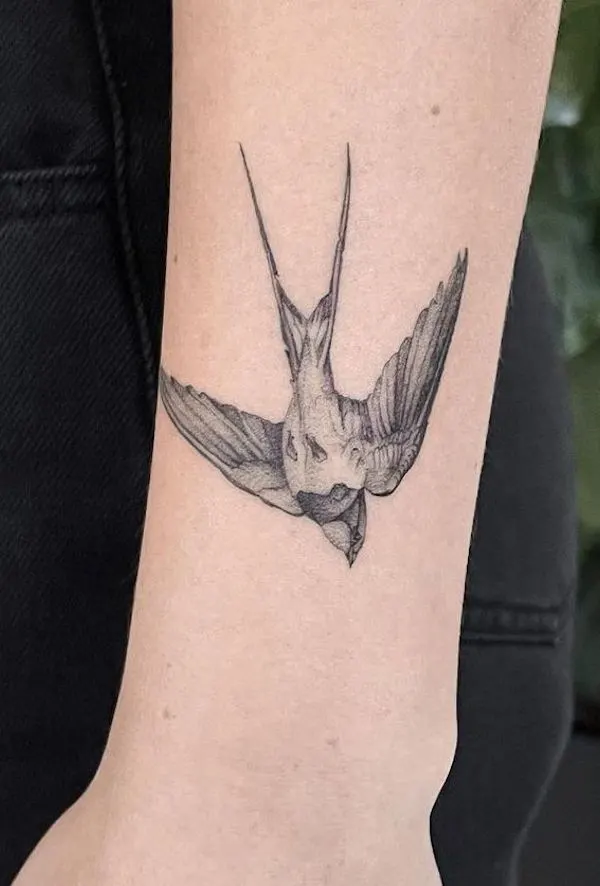 Matching bird tattoos on the side of the wrists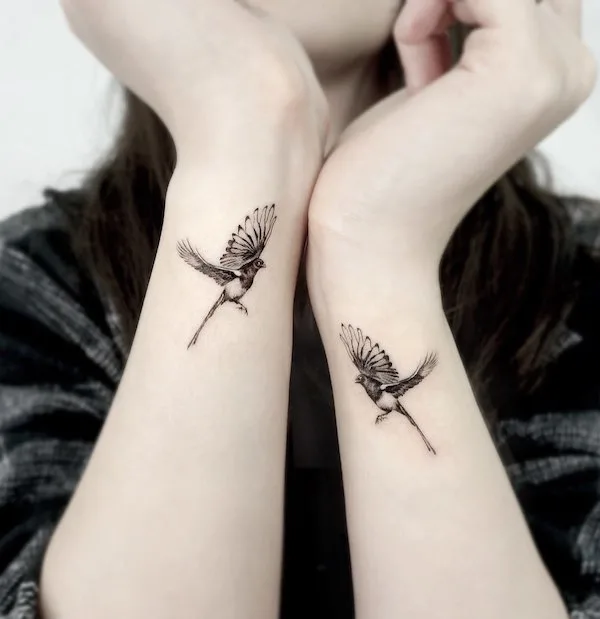 "The bird who dares to fall is the bird who learns to fly." These bird tattoos on the wrist inspire us to trust our potential and embrace our strength. So whenever you face uncertainty, look down on your wrist, and you will find your power back.
Feather wrist tattoo for women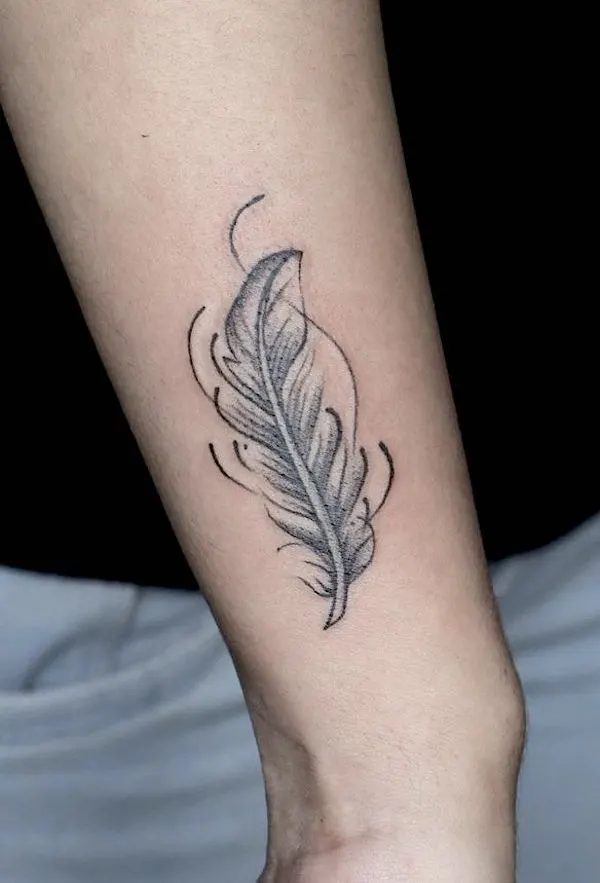 Dream-catcher side wrist tattoo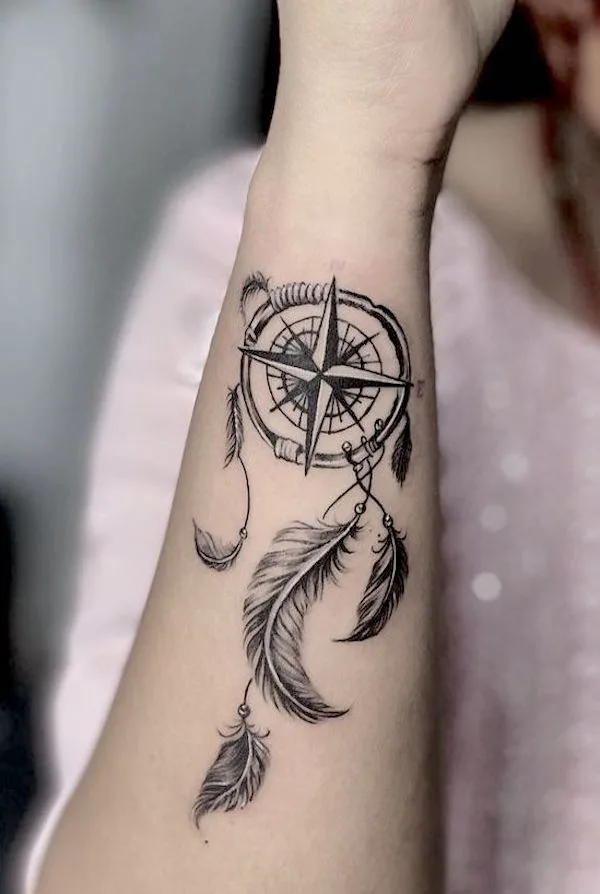 Dreamcatcher tattoos are not rare. But the tattooist turns the net into a compass and makes it unique. A compass tattoo represents intuition, direction, and home. Together, this tattoo is a reminder to trust one's gut and to follow the dreams.
Skull tattoo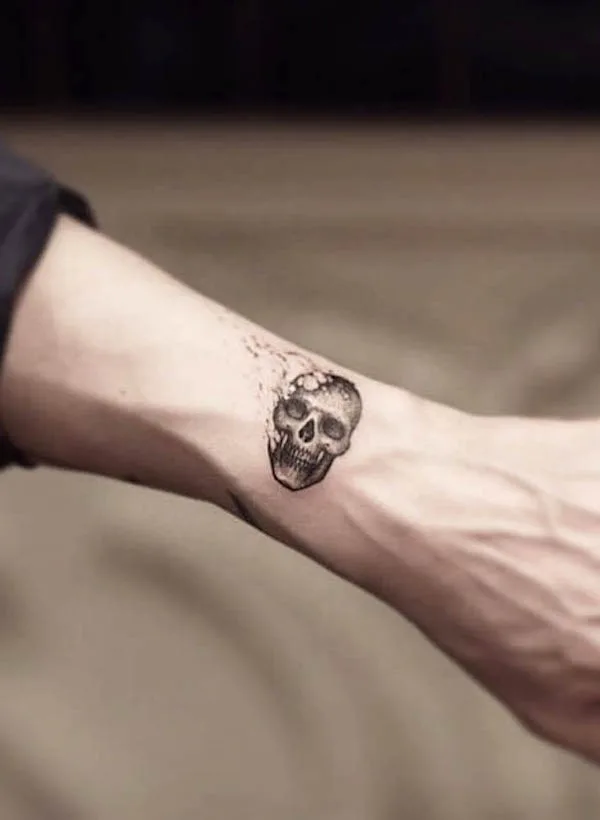 Skull tattoos are not exclusive to men. When you tattoo a skull in detail and on a small scale, it can be a subtle representation of a woman's dark aesthetics.
Golden anchor tattoo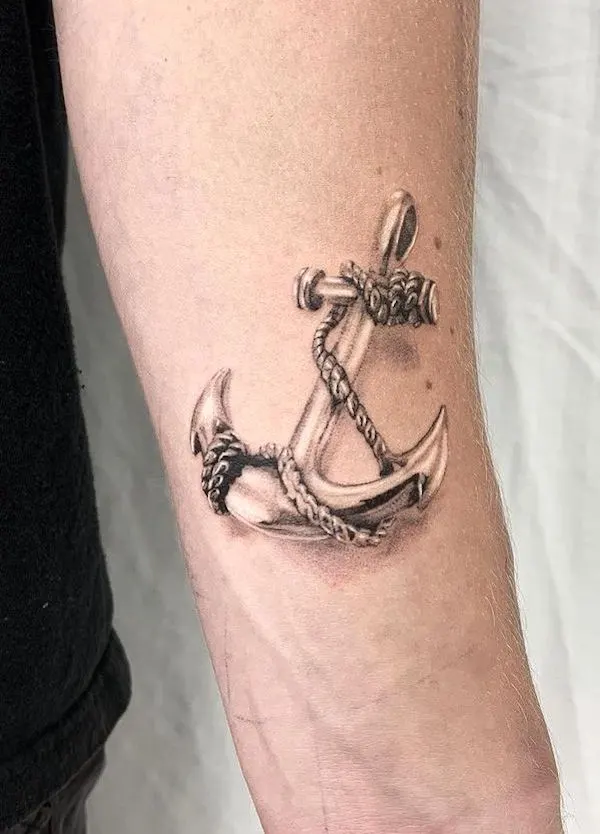 For a person who lives away from home, family is his anchor. For children, the mother is their anchors. So if you have someone in your life that keeps you grounded, this anchor tattoo will pay tribute to them.
Beautiful whale wrist tattoo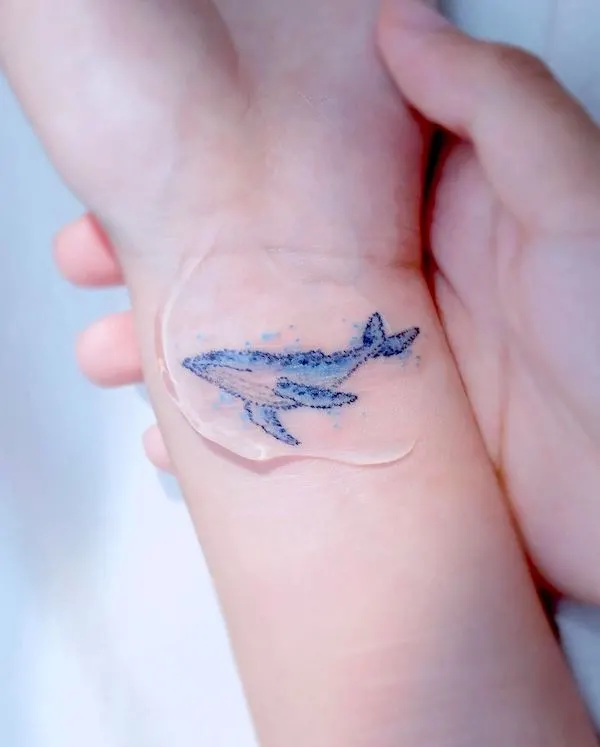 Choose joy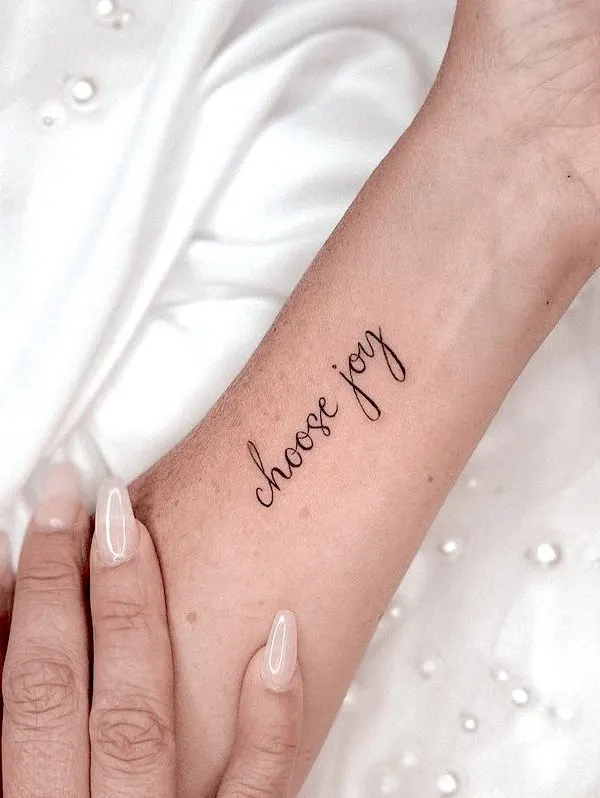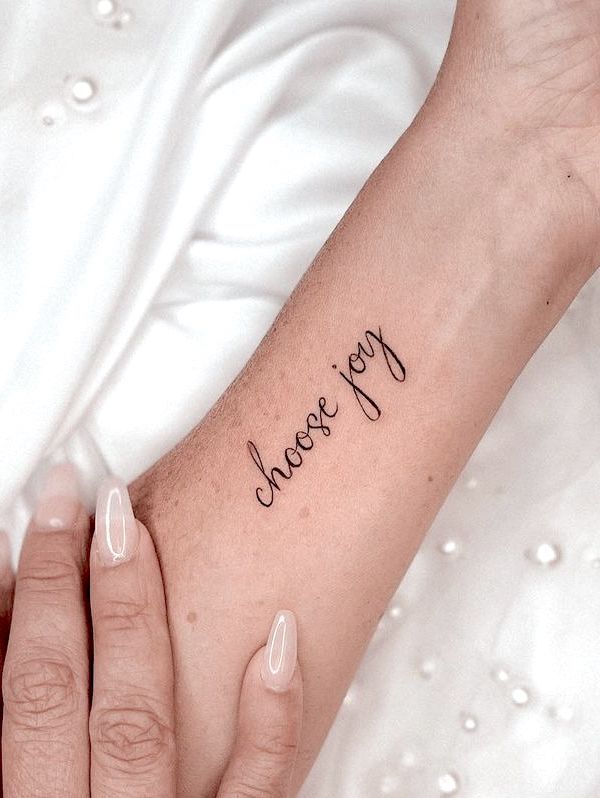 Happiness is a choice. And this quote tattoo on the wrist may lift your spirit on a bad day.
Still here – a meaningful semicolon wrist tattoo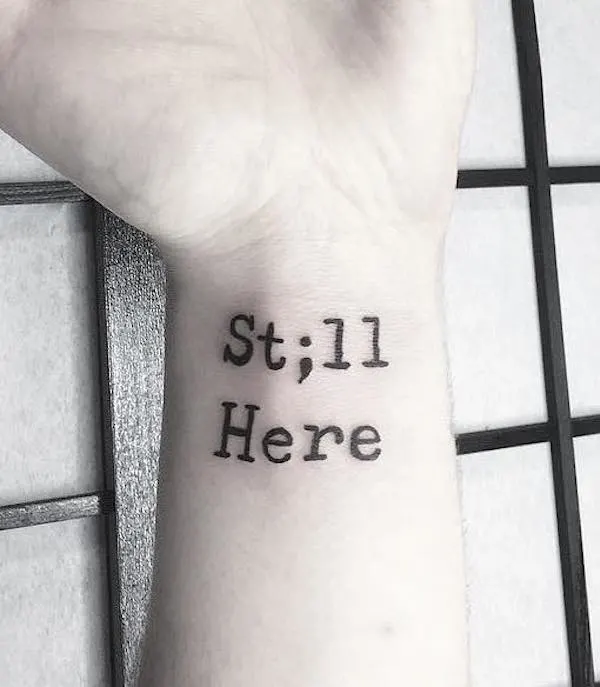 A semicolon puts a pause to a sentence – it's not over. And it has become a mental health tattoo symbol for survivors. We can only imagine what the wearer has gone through. And the weight and depth are what make a meaningful wrist tattoo.
Cute Winnie the Pooh wrist tattoo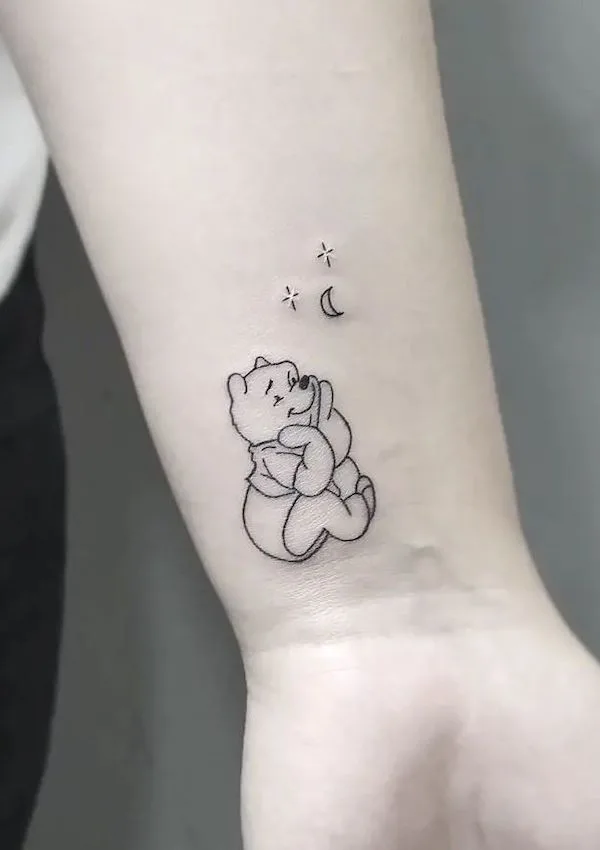 Winnie the Pooh is probably one of the most loved cartoon characters of all time. It's not just a puffy bear with the honey jar in his hand. The words of wisdom of Pooh also encourage us to rethink life and friendship.
Simple wave tattoo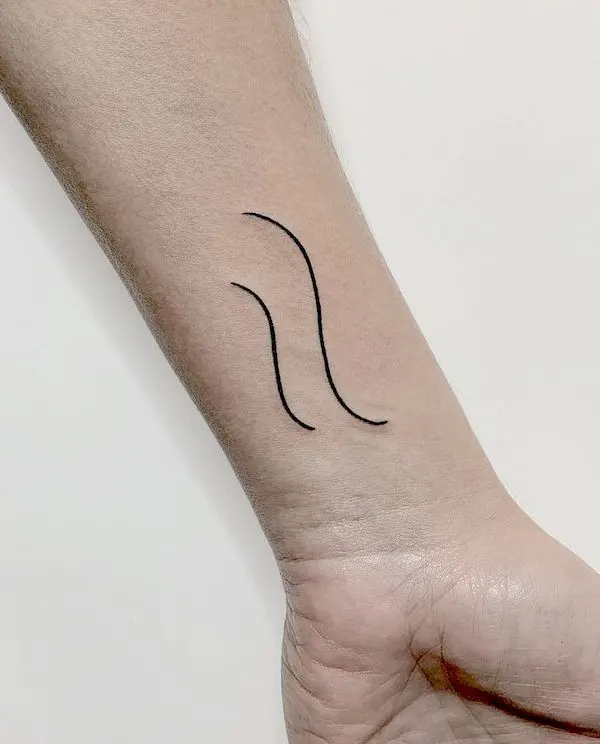 Delicate and unique moon wrist tattoo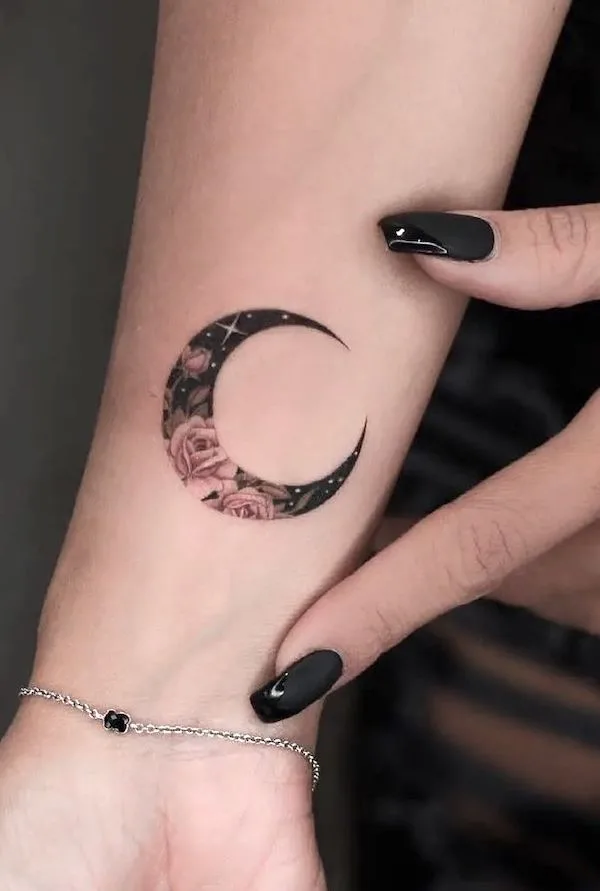 The moon has always been a favorite tattoo element for women. It represents feminine energy and birth. And also, just like this beautiful floral moon, you can change the pattern and the shape to fit your aesthetics.
Soul of a dragon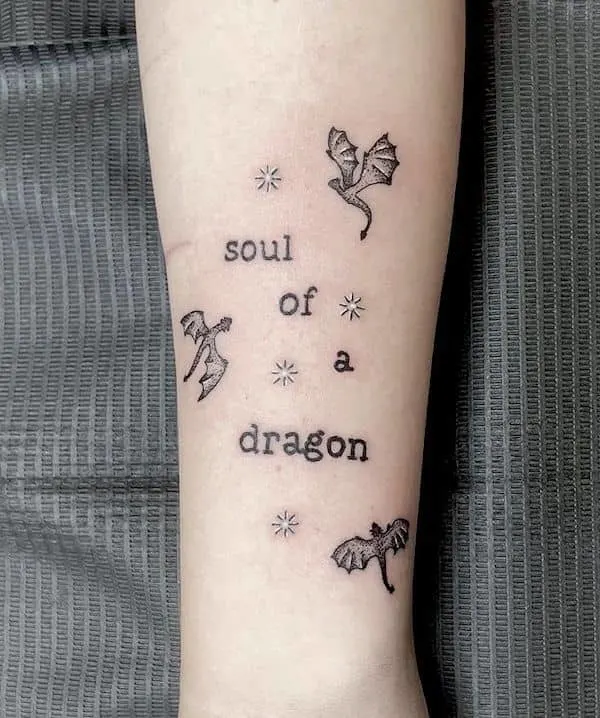 Dragon might not be a common female tattoo. But if you are a badass, then why not own it with a dragon tattoo?
Dragon wrist tattoos for couples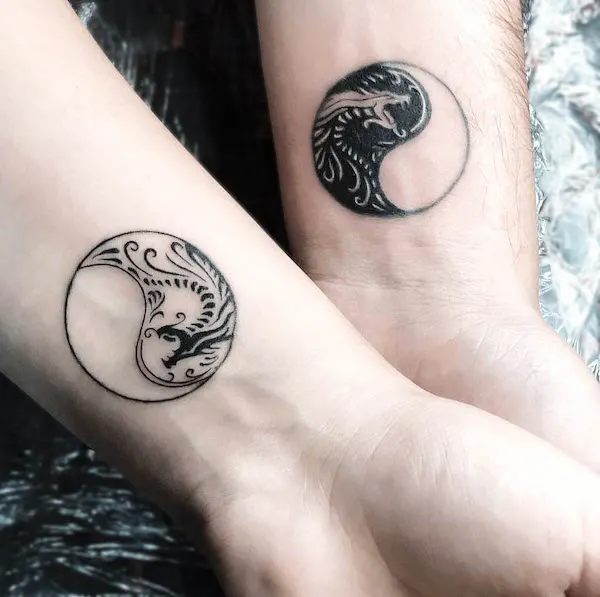 Wildflowers wrist tattoo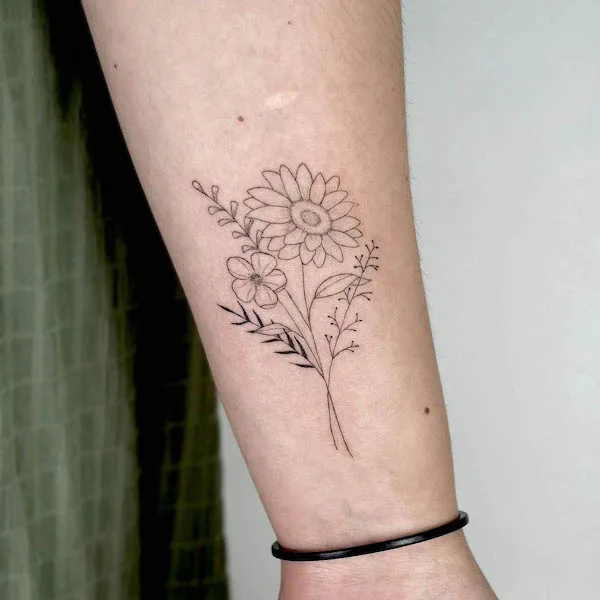 Lioness and crown wrist tattoo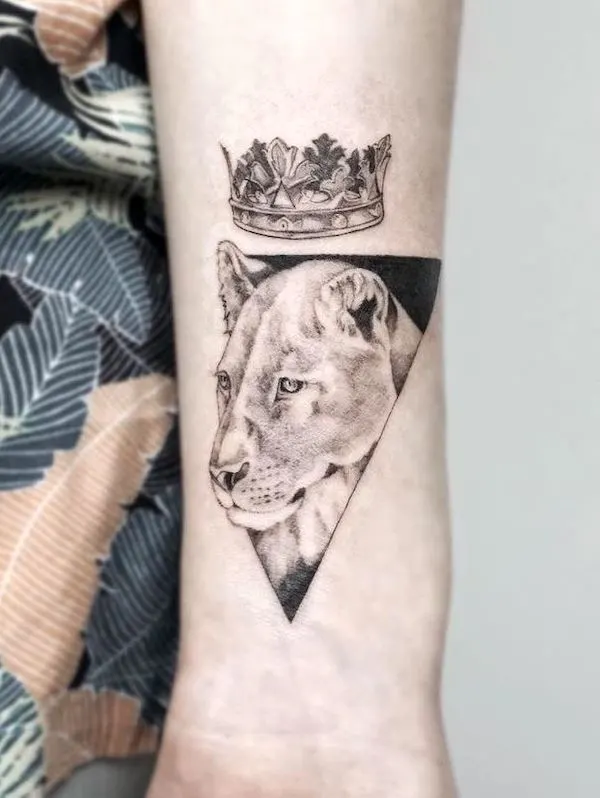 Because when you can be a queen, why be a princess? This lioness crown wrist tattoo celebrates the strength and courage of all the women out there.
Lotus wrist tattoo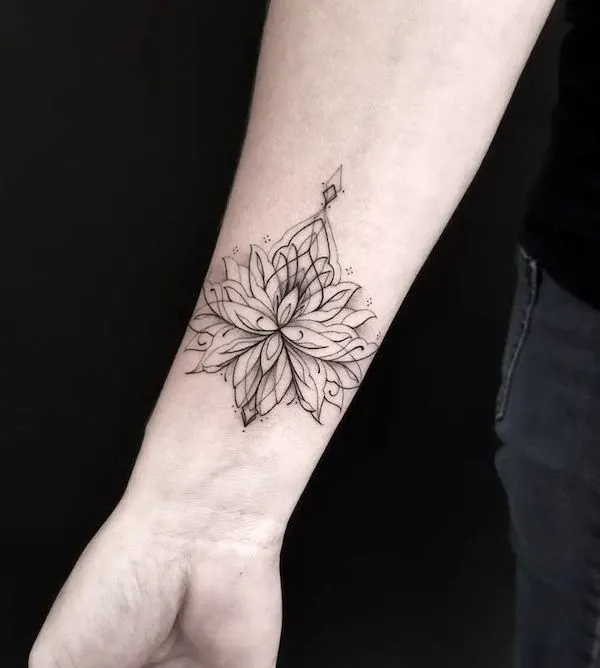 Lotus has a cultural significance in Buddhism and Hinduism. It represents a state of calmness and peace. A lotus tattoo like this one will keep you grounded and centered when the world gets overwhelming.
Name tattoo on the side of the wrist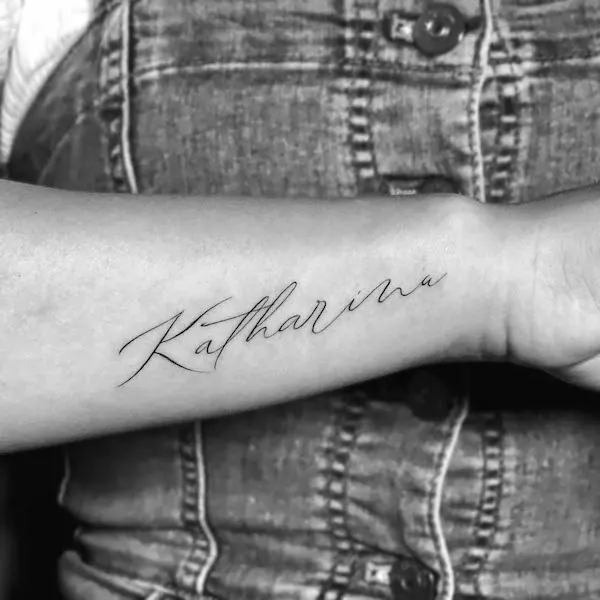 Playing with snakes side wrist tattoos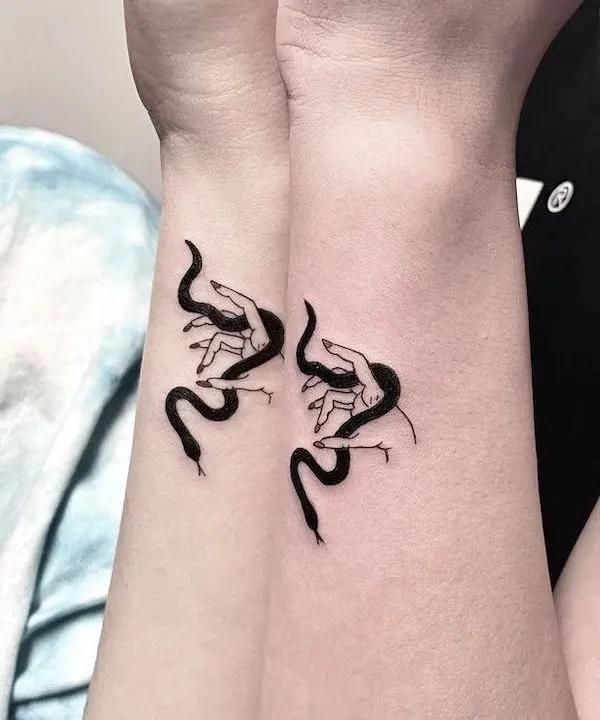 Snakes might be seen as dangerous and evil. They are also symbols of temptations. That's why if you are a badass that can play with fire, these snakes tattoos will fit your identity.
Read also: 47 Stunning badass tattoos for women
Natural symbol side wrist tattoo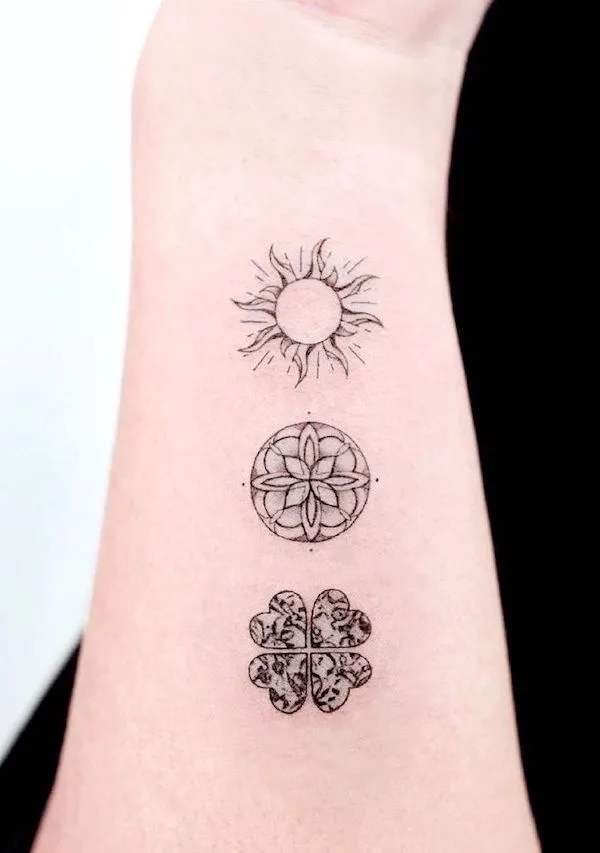 Snake wrist tattoo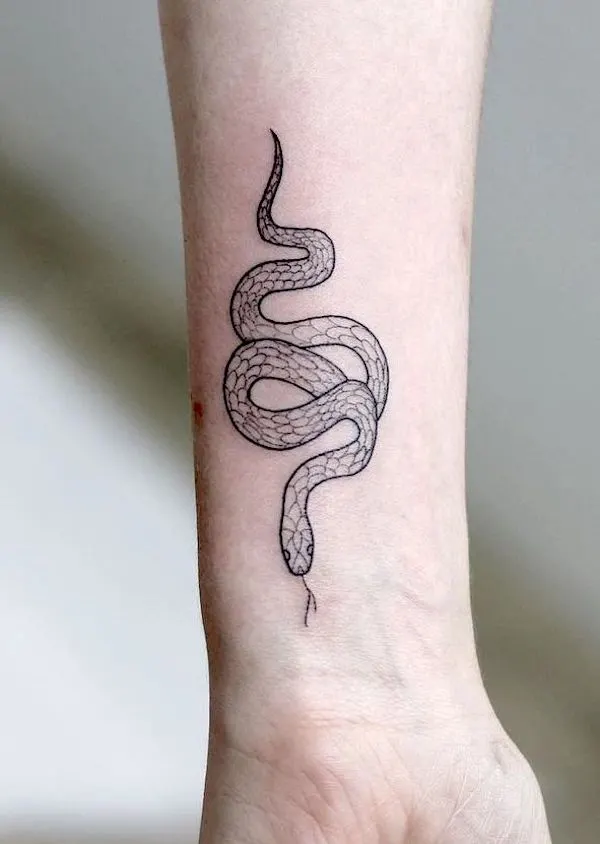 Sunflower inner wrist tattoo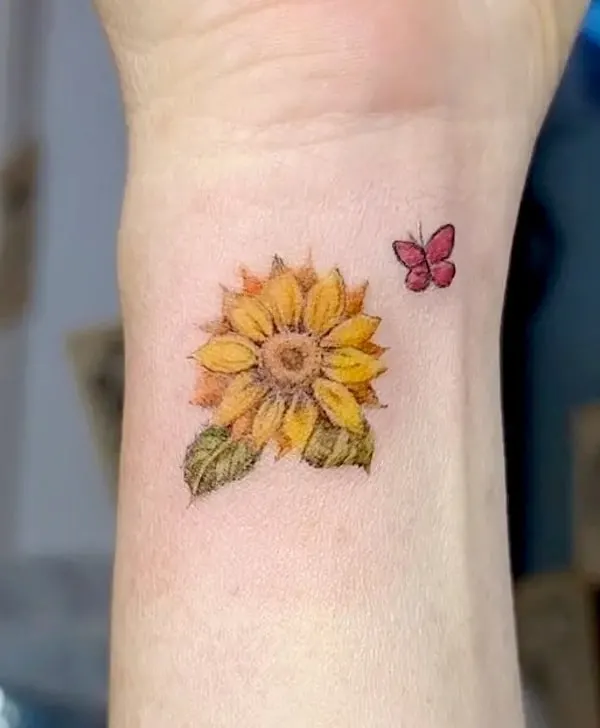 The sunflower represents hope, energy, and positivity. It's also the birth flower of the Leo sign. But it doesn't matter if you are Leo or not. A sunflower wrist tattoo will be your statement to choose light over darkness.
Tree tattoo on the side of wrist
Wrist mandala tattoo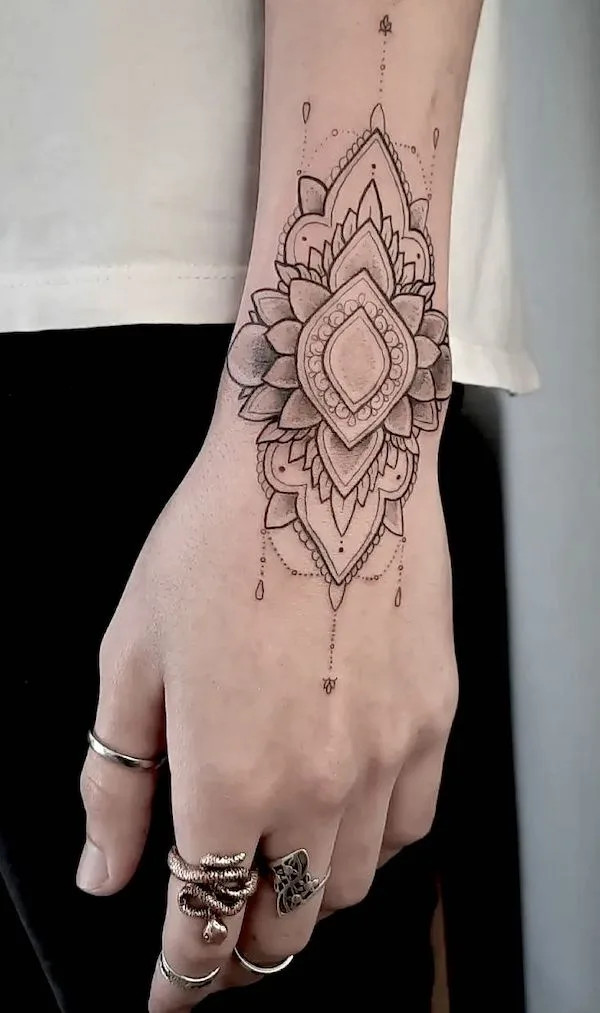 Wrap around bracelet tattoo ideas
Just like ankle tattoos, a wrap-around design is naturally perfect for wrist placement. With a well-designed bracelet tattoo, you don't need other jewelry on the wrist anymore. So here are some of the best creative wrap-around tattoo ideas to inspire.
Beautiful feather and moon bracelet tattoo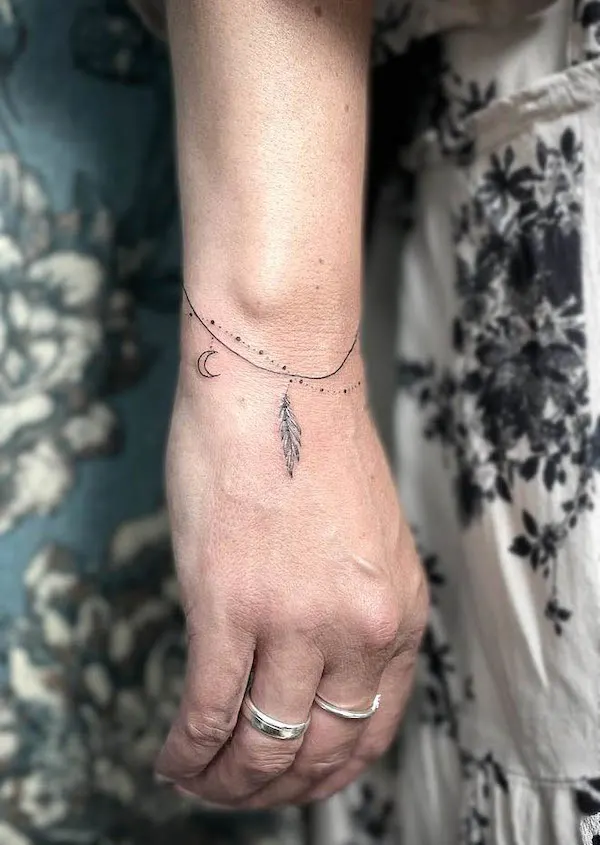 Colorful wrist band tattoos
Simple one-line wrap around bracelet
Super cool wrist tattoo that is one-of-a-kind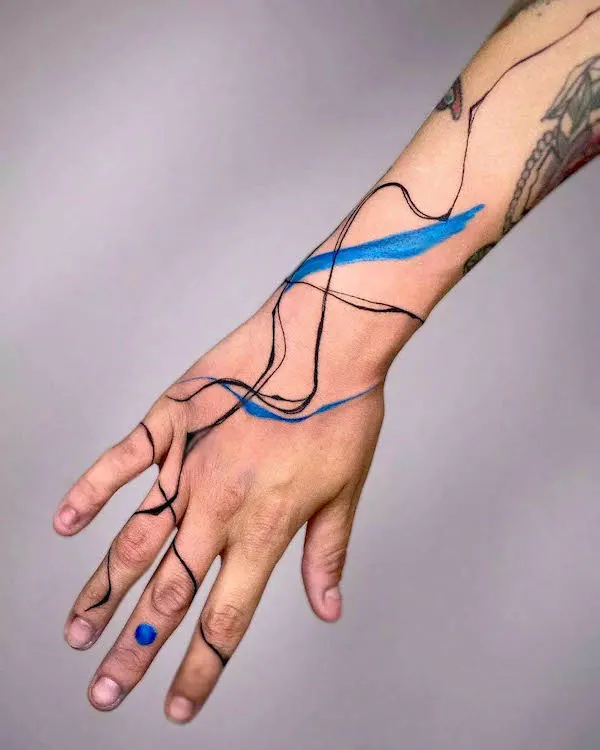 Vine tattoo around the wrist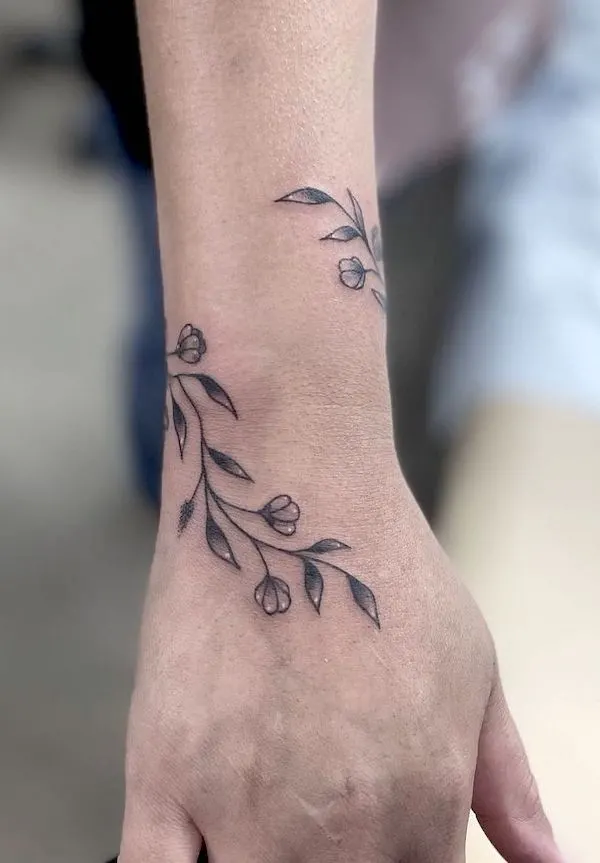 Coverup wrist tattoos
Although tattoos are meant to stay on the skin for a lifetime, nothing lasts forever. And sometimes, we evolve as a person, and an old tattoo no longer represents us.
That's when you need a coverup tattoo, especially for exposed areas like the wrist. Here are some wrist coverup ideas to give you some inspiration. And remember to discuss with the tattoo artist about your needs. The possibilities are endless, and it's up to you to find the one that fits the new you.
Coverup galaxy tattoo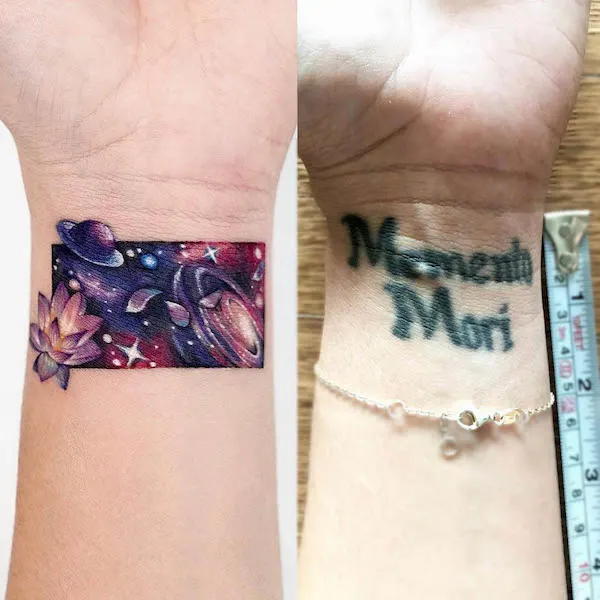 Forest coverup tattoo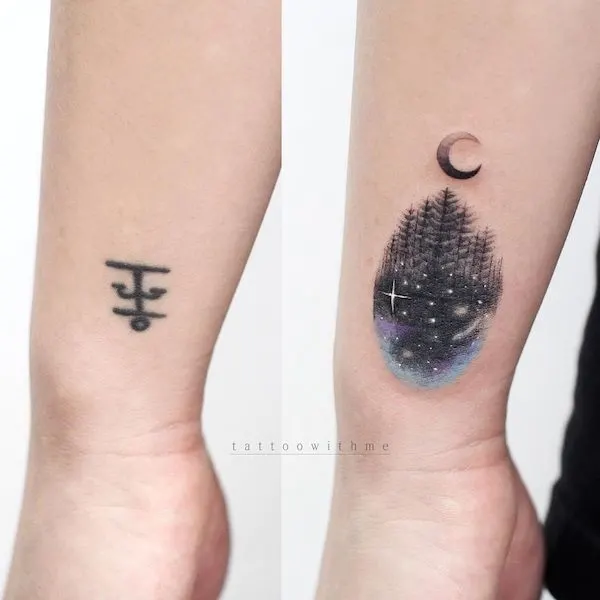 Which of these wrist tattoos for women is your favorite?
Have you found your favorite wrist tattoo? Leave a comment down below!