A simple letter can be meaningful. These unique initial tattoos will be a timeless symbol of yourself or someone you love.
Initial tattoos are universal. They have been around for a long time, and let's just say they are not going anywhere. Some may think name tattoos are too literal, too specific. The one or two-letter name tattoos, however, give ambiguity and simplicity.
No wonder initial tattoos are among the most favorable first tattoos. A tattoo of your initial reminds you of your identity and upbringing. Likewise, that of a partner is a permanent gesture of love.
You can also choose different fonts or pair the initial tattoos with different shapes to fit your aesthetics.
So if you are looking for initial tattoos, look no further. This post has some of the best initial ink for men and women on the Internet. From small, simple to unique and eye-catching, you will find your next ink in these initial tattoos.
What is an initial tattoo?
An initial refers to the first letter. It can be that of a name, a word, or a place. Initial tattoos, therefore, symbolize a word that is meaningful to you.
They are primarily single-letter tattoos. But they can also contain two or three letters that combine first and last names or the names of two people.
Why do people get initial tattoos?
It makes sense why people are getting initial tattoos. They are simple, sleek, and can be big or small. But, most importantly, they represent an identity. So, if you consider getting initial tattoos, here are a few reasons to give it a go.
Initial tattoos are personal.
For example, the initial of the last name reminds people of their family and their root. The initial of a first name makes a beautiful ornament of one's identity.
Simple tattoos stand better at the test of time. Unlike a specific pattern, letters always stay the same. They might not be considered trendy. But it's for the same reason that they last better.
Even if you do regret it later, or the tattoo fails to represent you any longer, it's easy to cover up with a new design.
Just because they are simple doesn't mean they are monotone. In fact, the combination of fonts, textures, sizes, and colors creates endless possibilities. A little bit of twist, and you can come up with a unique initial tattoo.
Disclaimer: This tattoo collection is for inspiration only. Please do not copy the artwork. If you love these tattoos, follow artists and show them some support.
Unique initial tattoos for men and women
Single-letter initial tattoos
Like one-word tattoos, even simple, one-letter initial tattoos can represent so many different things. Here are some of the most creative ink designs for common initials from A to Z.
Letter A initial tattoo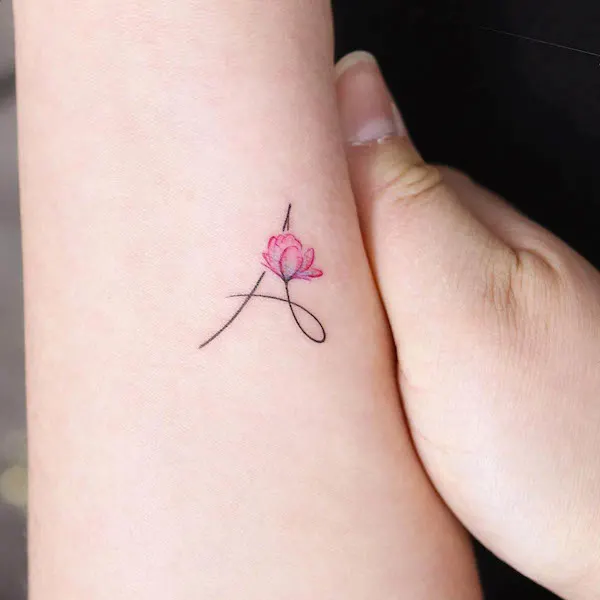 Flowers, in general, represent beauty and purity. If you want your initial tattooed, adding your favorite flower will make it unique and personal.
A small black and blue letter a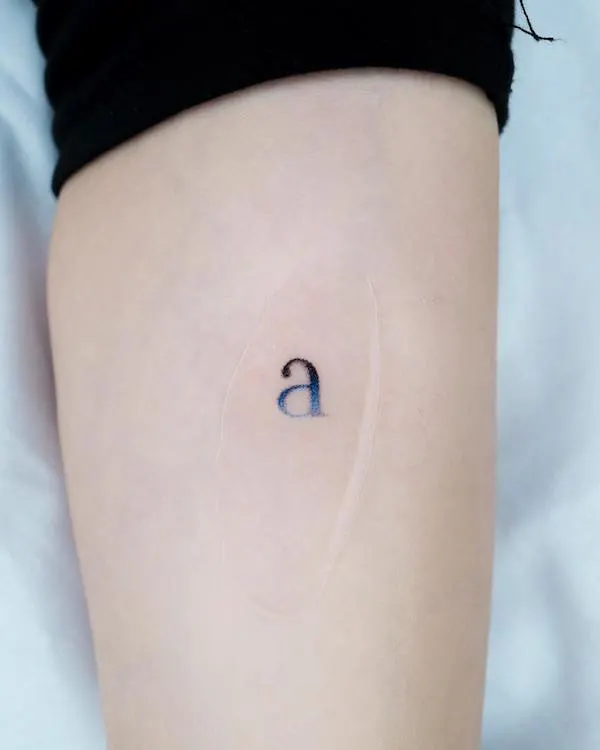 Besides names, the letter A can also stand for amazing, adventure, and abundance. With the gradient color, this lower-case letter A is both unique and meaningful.
Golden letter A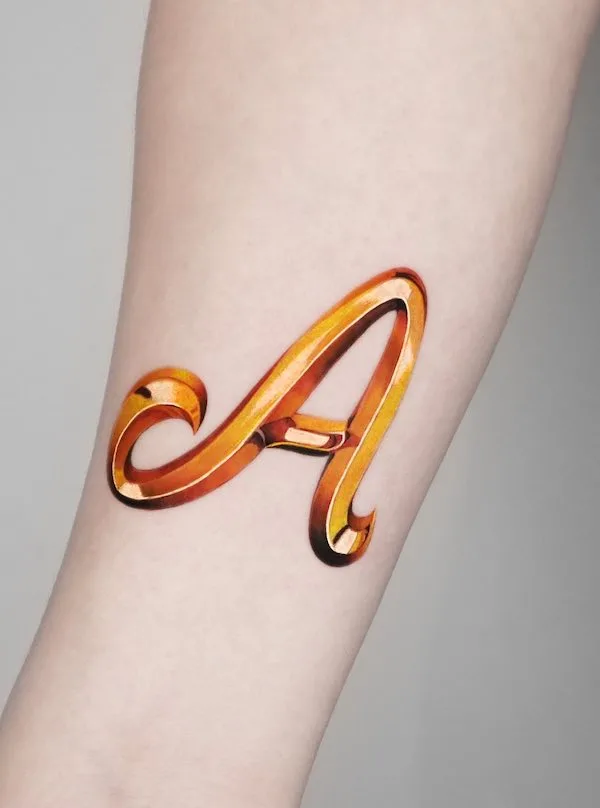 This 3-dimensional letter A in gold looks so real as if the letter is floating on the skin. Moreover, metallic colors like golden and silver fit for both men and women, making this tattoo a unisex but extraordinary piece.
Avengers-style letter A hand tattoo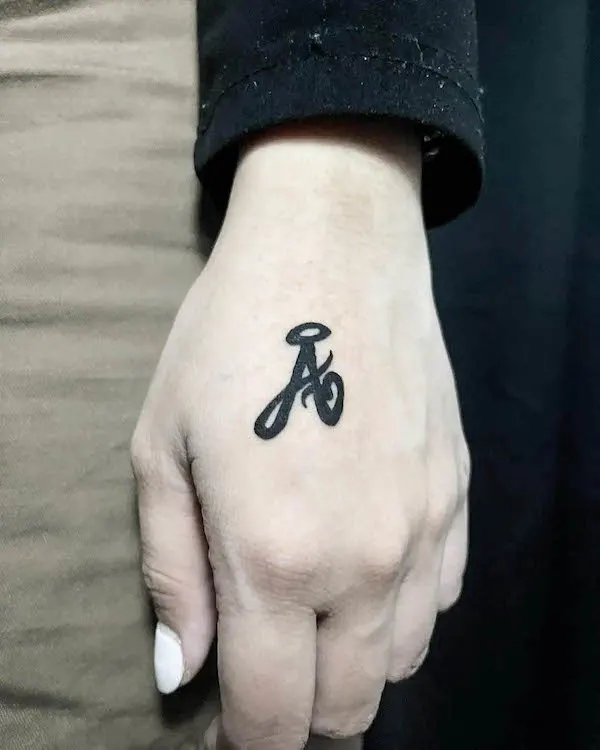 This hand tattoo sets an excellent example of personalizing a simple letter. If you want something like this, let your tattooist know about your preferences to create something exclusively for you.
Tiny letter B initial wrist tattoo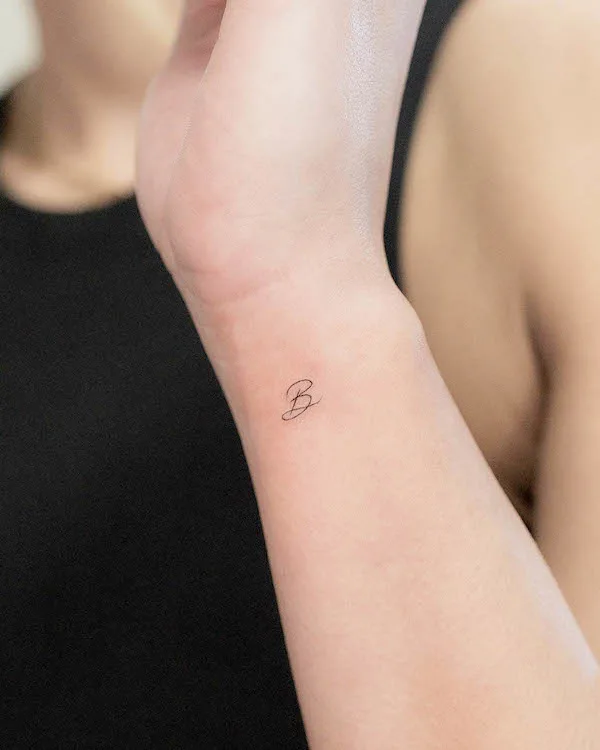 Though this wrist tattoo is tiny, you can still see the smoothness of the line. Such curvy calligraphy is elegant and perfect for women.
Small letter D behind the ear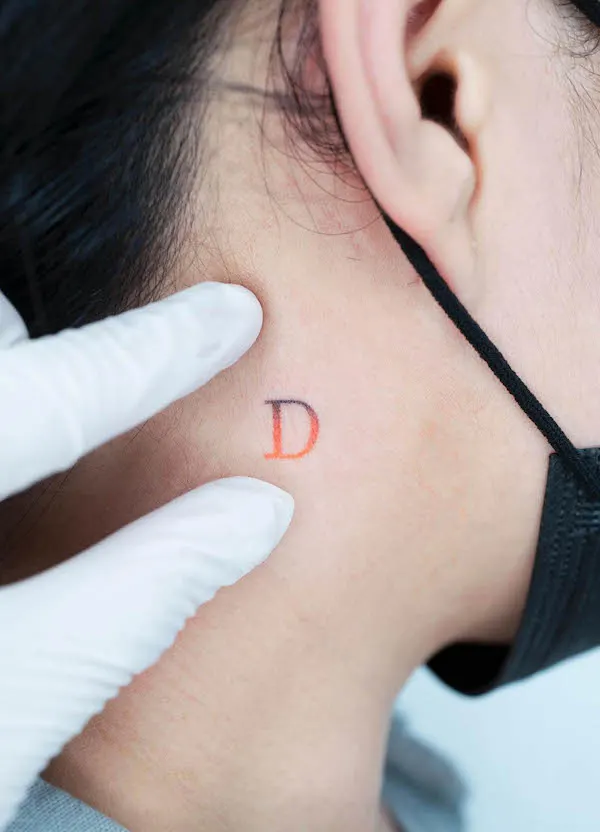 One good thing about behind-the-ear tattoos is hiding or showing them as you like. This letter D is small, but its vibrant color gives it a wow effect when you pull your hair back.
Curvy letter E and flower tattoo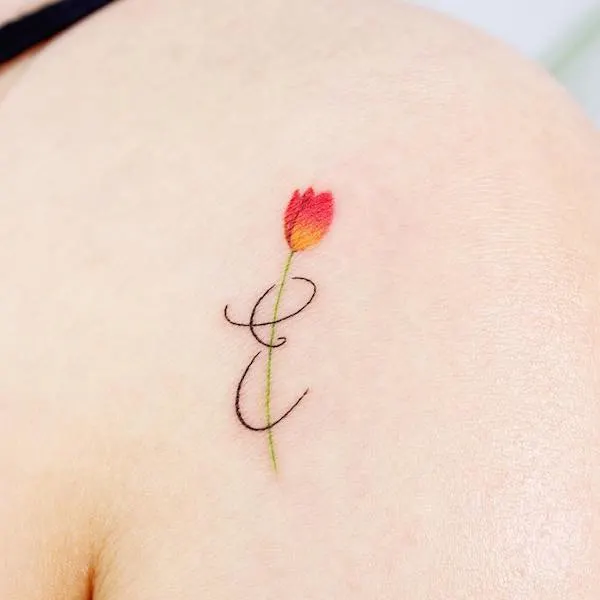 The letter E wraps around the flower like a vine in this small tattoo. The curvy lines add motion to the design and almost make the flower look like dancing.
Small E initial elbow tattoo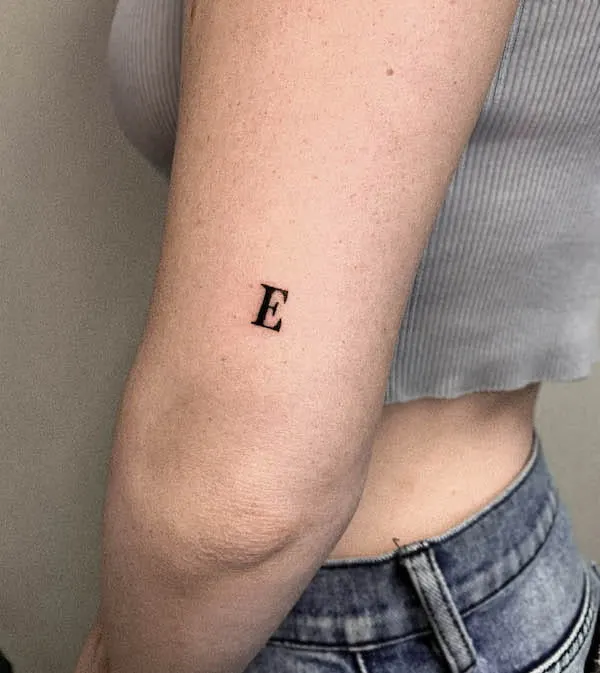 Fine line script tattoos might fade with time. That's why if you want a tattoo that lasts, a classic black letter like this one may be a better fit for you.
A tiny F finger tattoo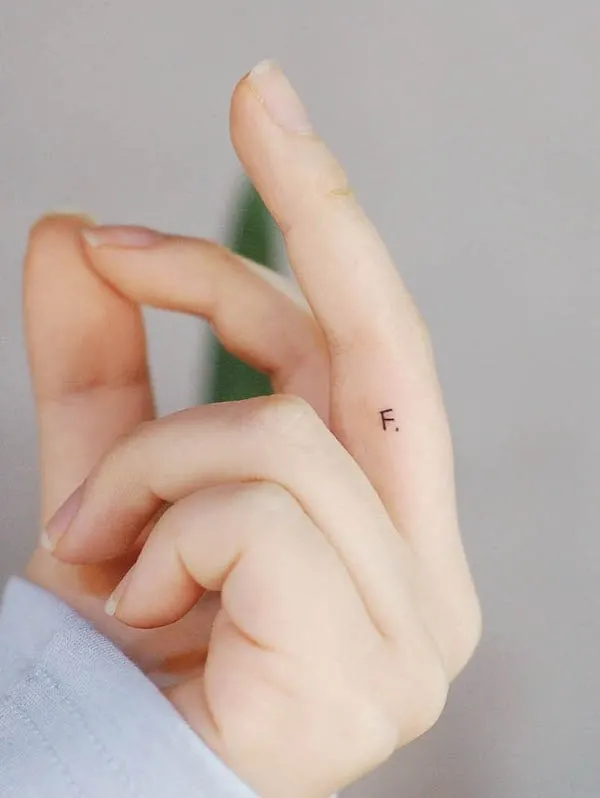 The inner side of a finger is a discreet tattoo placement. A small letter like this one will go unnoticed. It's perfect for those who prefer less visible ink on the skin.
Read also: 70 Unique finger tattoos with meaning
Small H and flower tattoo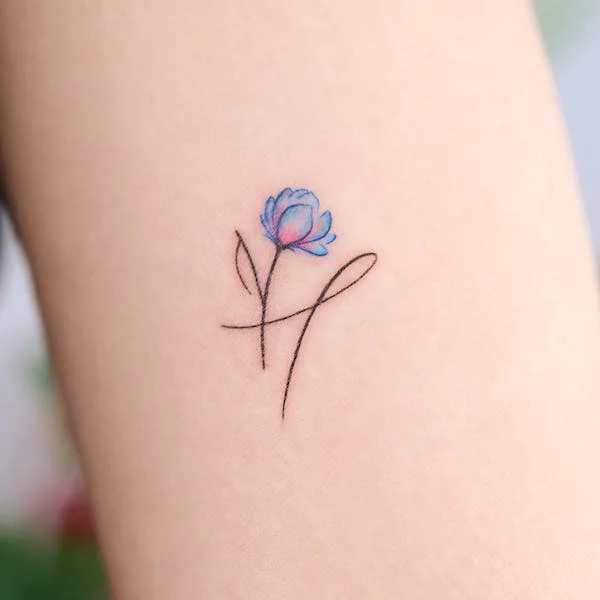 It's easy to pair letter or name tattoos with other patterns. But it's not that easy to make it natural. The tattooist adds the flower to the top of the letter H, turning it into the pedicel and leaves.
The transition is so smooth that you may not even notice it's an initial tattoo at first glance. Instead, all you see is a beautiful, flowy flower tattoo.
Small heart-shape H tattoo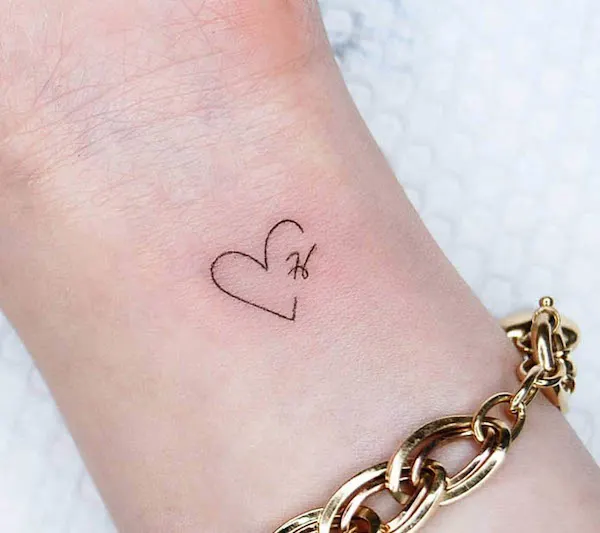 A heart-shaped tattoo might be common. Adding your initial will instantly make it personal.
H on the shoulder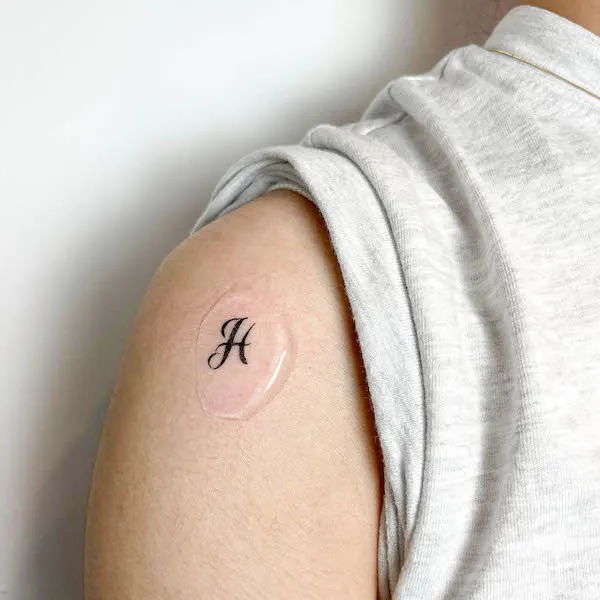 When it comes to initial tattoos, picking the right font is key. This shoulder tattoo might be small. But there are a lot of thoughts on the choice of font and the scripts. The boldness of the line also makes it perfect for men.
Initial J and flower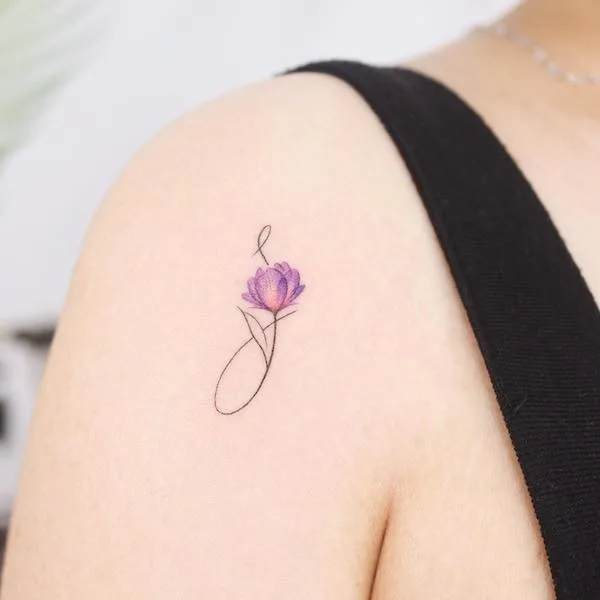 Another super cute floral initial tattoo. From afar, it looks like a flower jumping forward cheerfully. Wearing a tattoo like this will bring joy and fun to everyday life.
A gradient blue letter J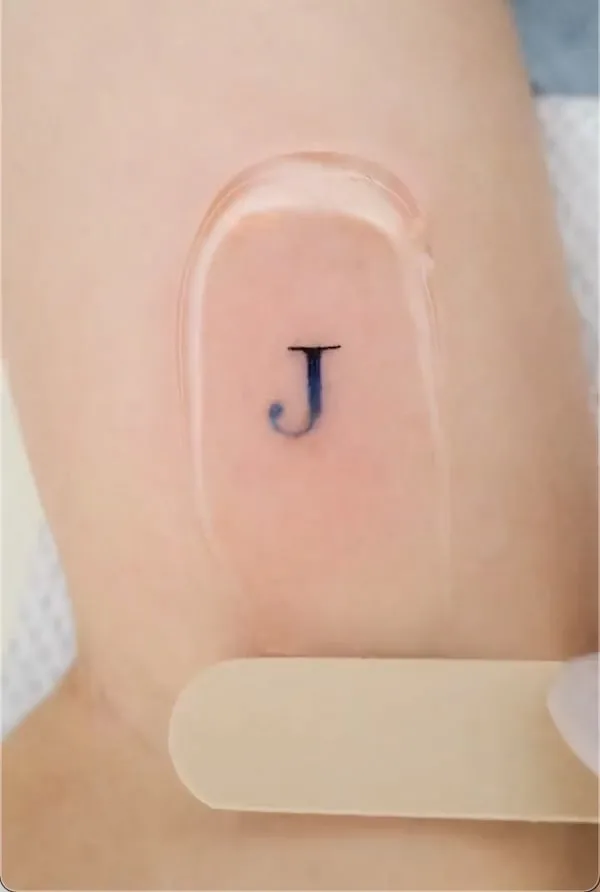 Because of the tail, you can do so much with the letter J. This tattoo, however, keeps the most symbol shape and decorates it with beautiful gradient blue.
Letter J floral tattoo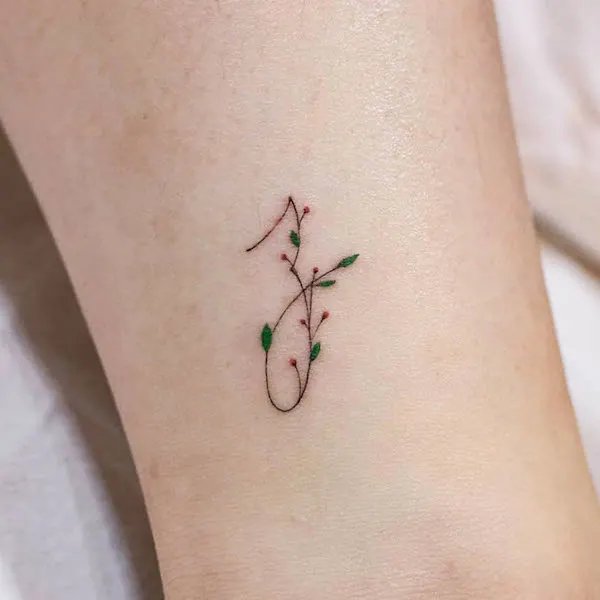 For those who love floral tattoos, this one shows how to corporate them with an initial. By adding leaves and tiny flower buds, the letter J becomes a tree full of life.
J initial and small heart tattoo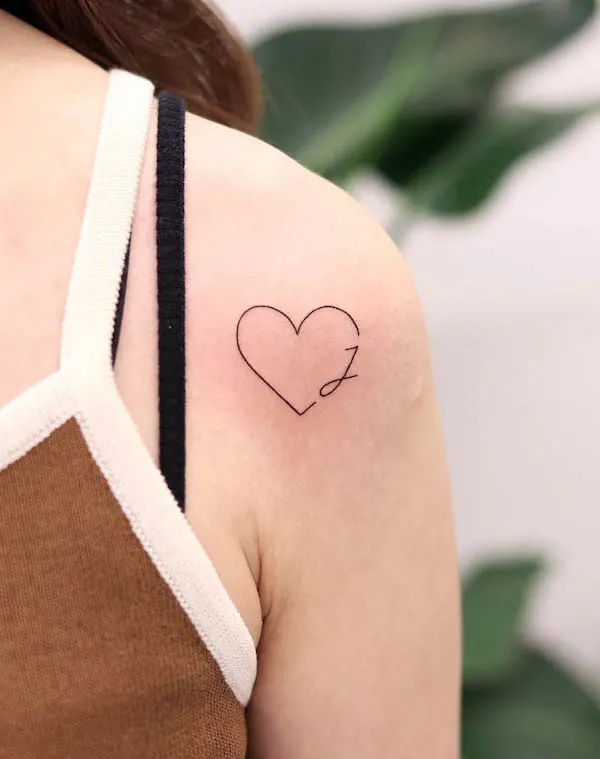 Another initial heart-shaped tattoo. If you have someone you love whose name starts with J, this tat can be a gesture of love to him.
J and branch tattoo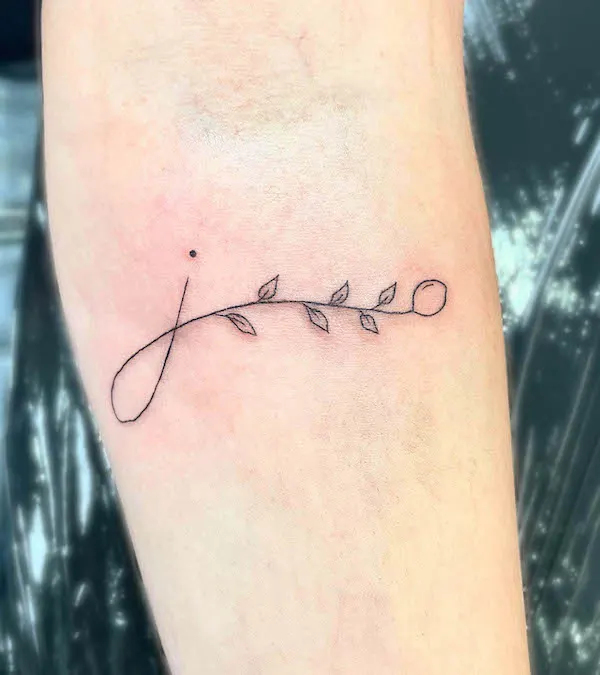 It's hard for an initial tattoo to cover more space without enlarging it. This tattoo shows that with creativity, you can expand a letter tattoo elegantly.
Small J and star nape tattoo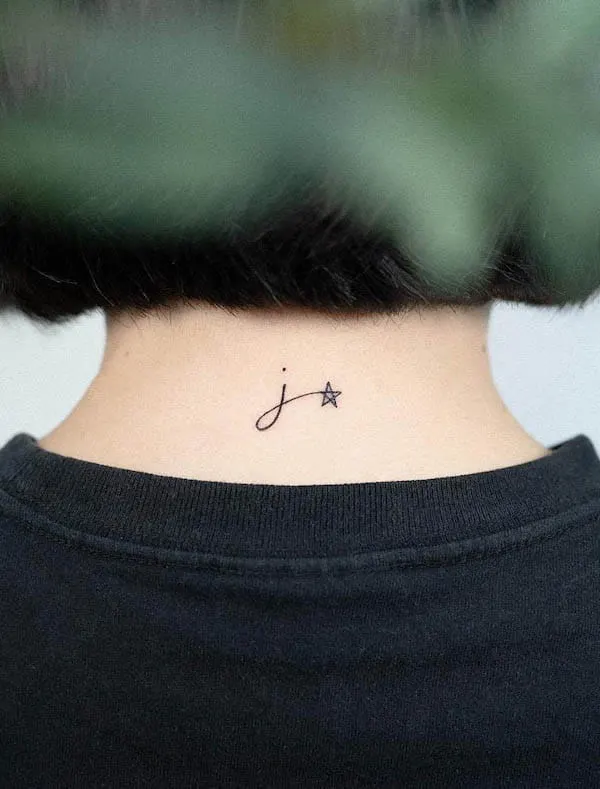 If the letter represents your name, the star will be your uniqueness. Such a small nape tattoo reminds you how special and beautiful you are. When you remember your worth, you shine from within.
K and purple sky flower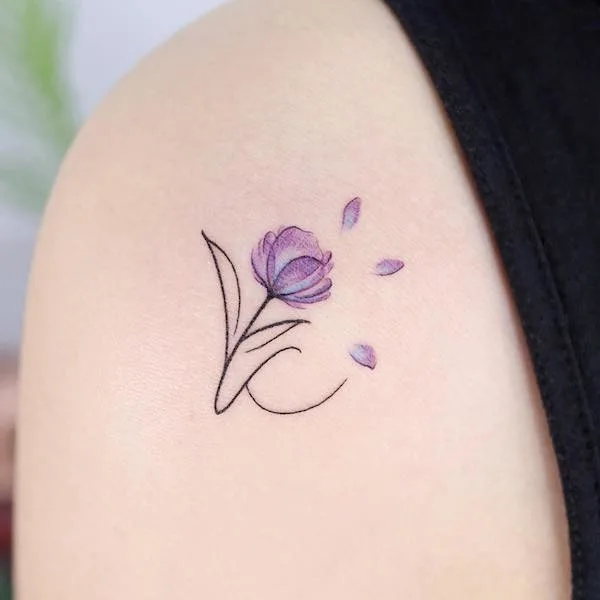 K is a beautiful letter, especially in cursive handwriting. This tattoo makes it even more feminine by adding three petals of flowers on the side as if the wind has blown them away.
Behind the ear M initial tattoo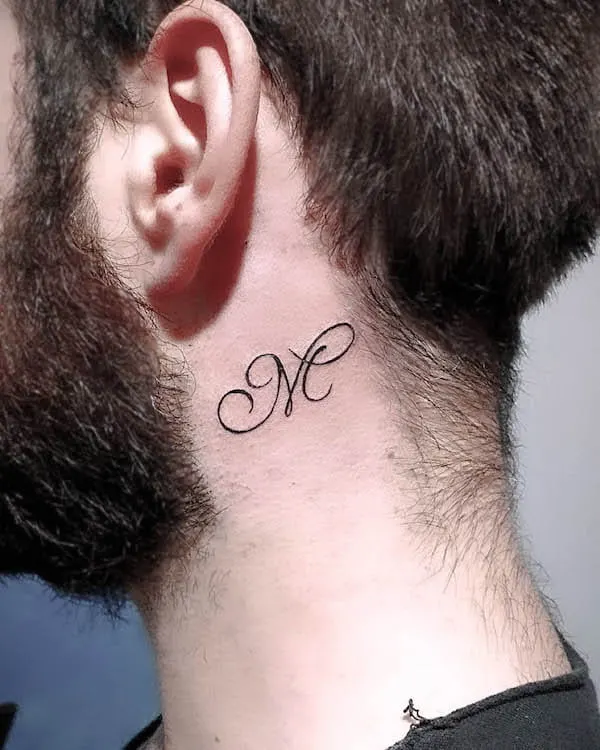 Cursive handwritten letters are not just for women. This behind-the-ear tattoo makes the initial intricate with the big curvy lines on both sides. And they also create symmetry, strengthening its visual appeal.
M and Red sky flower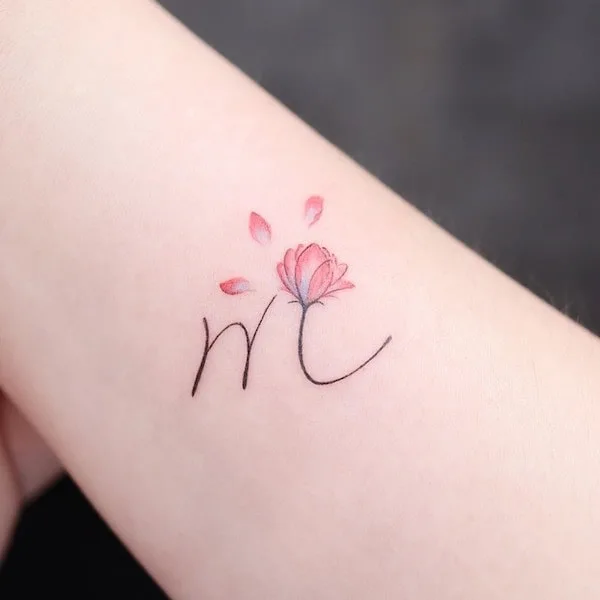 How to make an initial tattoo special? Break it apart.
This tattoo divides the letter m into two parts and adds a flower on one of them. Because of the smooth lines, you can still recognize the letter at first sight.
Floral N initial wrist tattoo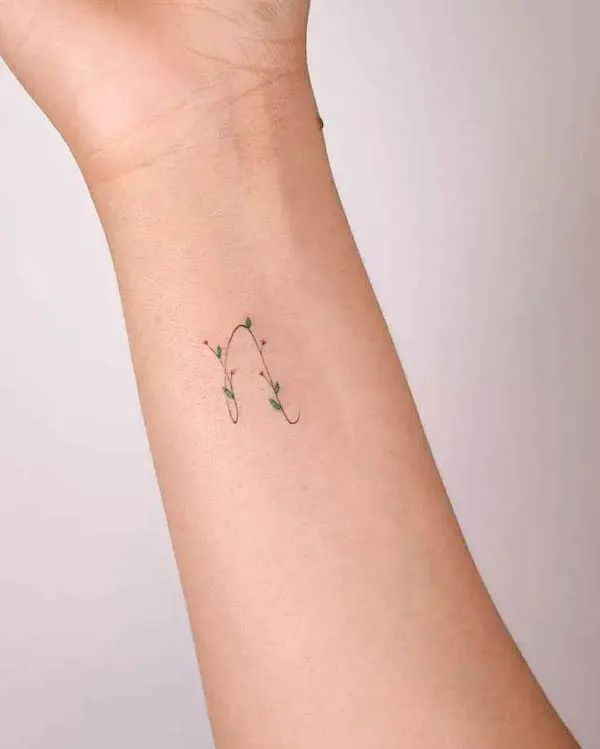 This small wrist tattoo reminds me of the fairy lights hanging on a Christmas tree. Such a festive and lively tattoo must belong to someone with a bubbly personality.
Letter N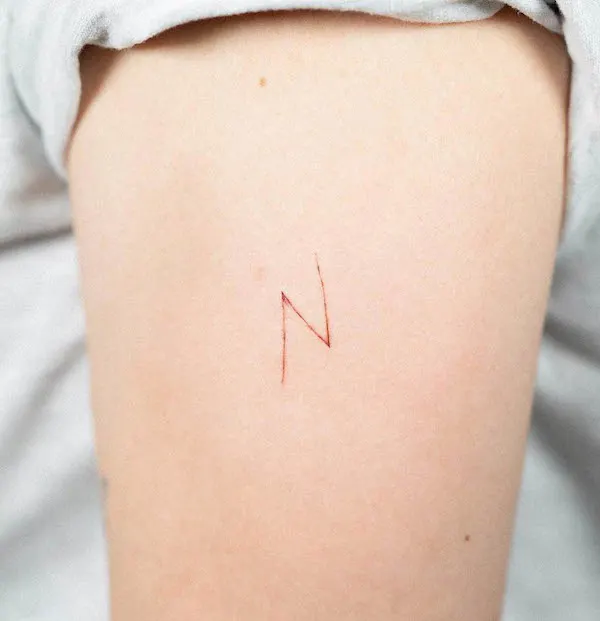 This small initial tattoo is impressive not only because of the font but also the color. Unlike most letter tattoos, the shape of the letter N is rough. With the rusty red color, it almost feels like an unhealed wound. It makes you curious about the story of the wearer.
Small hollow P
If you don't want color tattoos and blackwork feels too heavy for you, try to make your design hollow.
Red letter Q arm tattoo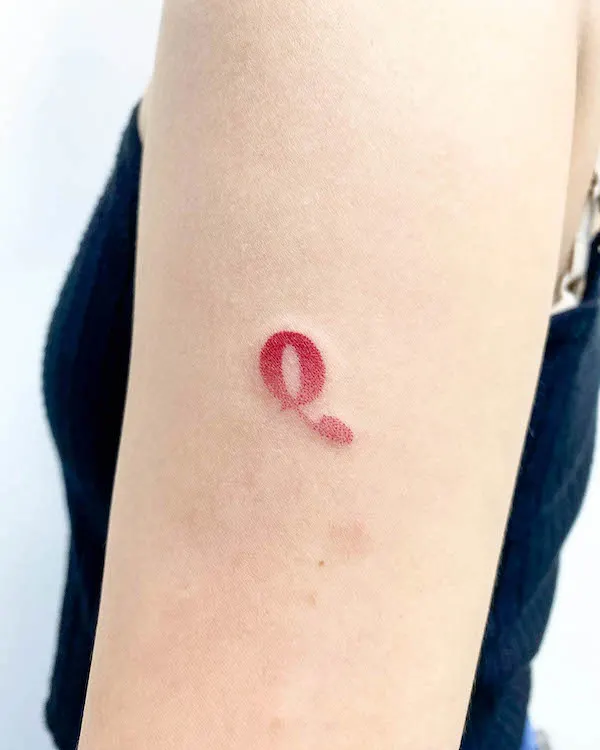 When a tattoo is red, it instantly becomes more intense. Moreover, Q can stand for queen. And this small initial tattoo may belong to a badass woman that is not to be messed with.
R and rose tattoo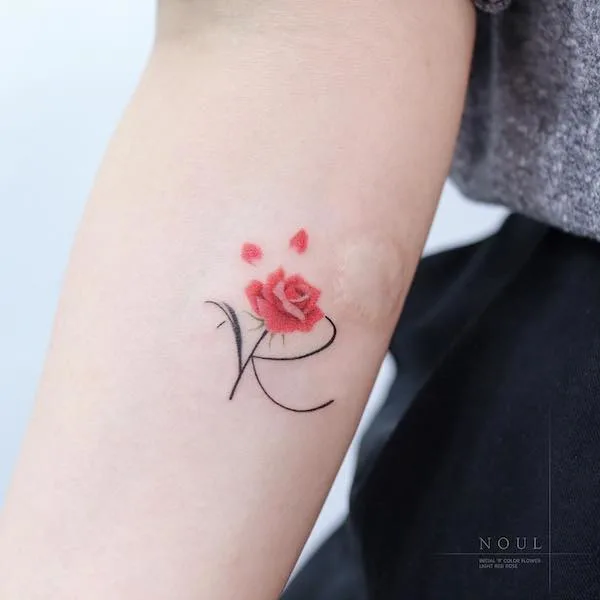 R may be short for romance or rose. This tattoo combines the letter with a rose, making it both romantic and attractive.
Beautiful letter S tattoo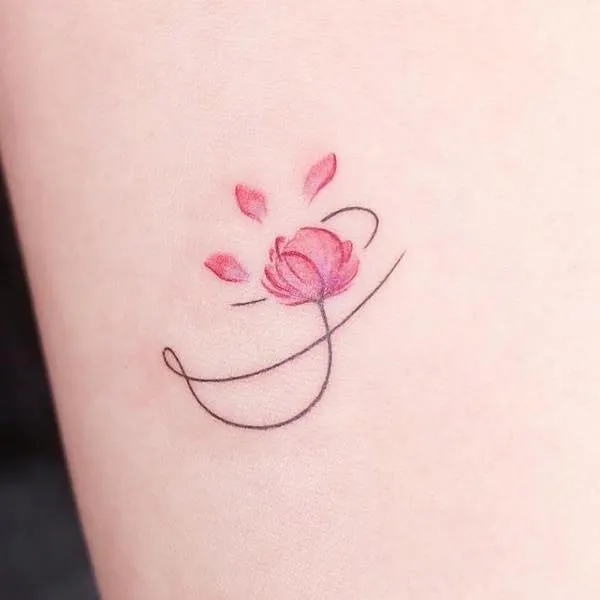 S is such a beautiful letter. This tattoo turns the S into a girl waving her dress. The petals on top may be her hat. It's so elegant and cute.
Floral letter S shoulder tattoo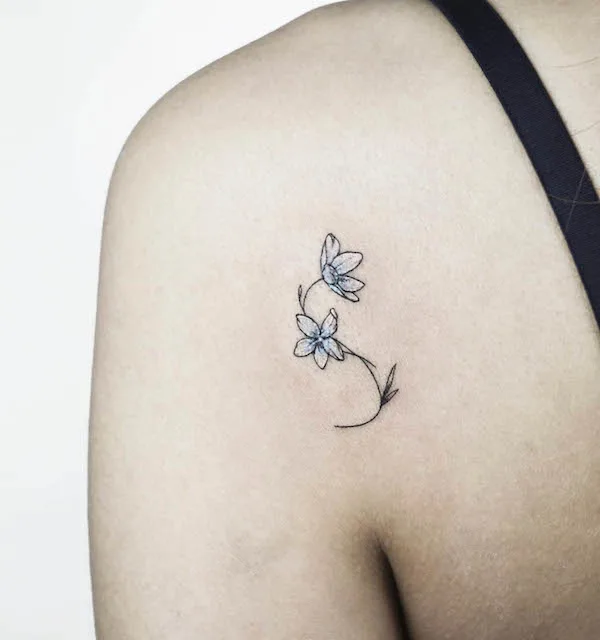 When adding flowers to a letter, the color of the petals largely decides the tone of the tattoo. This one chooses white and light blue as its base palette. Compared to vibrant colors like red or pink, it's more low-key and minimalist.
Small S on the back
Want something classic? You can not go wrong with a black letter tattoo like this one.
Small letter U behind the ear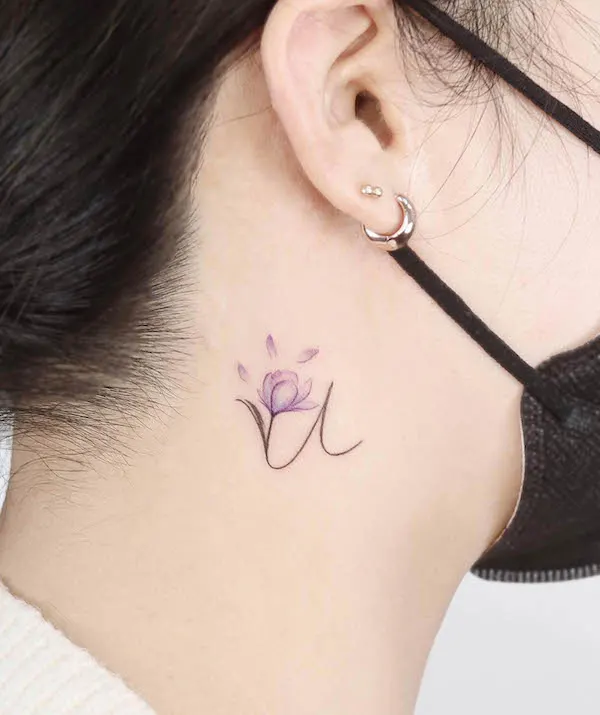 U might not necessarily be the acronym of a name. It may represent You or Unique. Such a cute behind-the-ear tattoo celebrates one's unique and authentic self.
A simple Y on the shoulder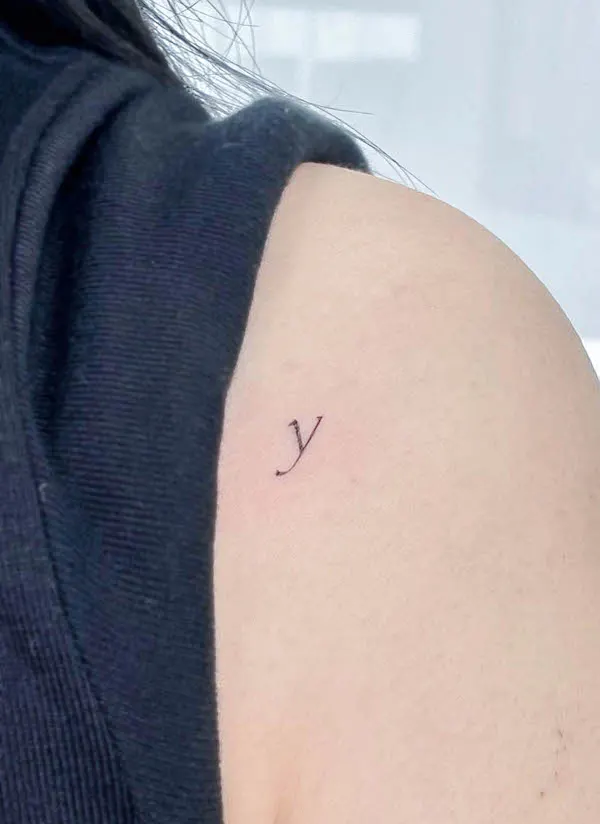 Minimalist and sleek, this small shoulder tattoo reminds us that simplicity is timeless.
Simple Y floral initial tattoo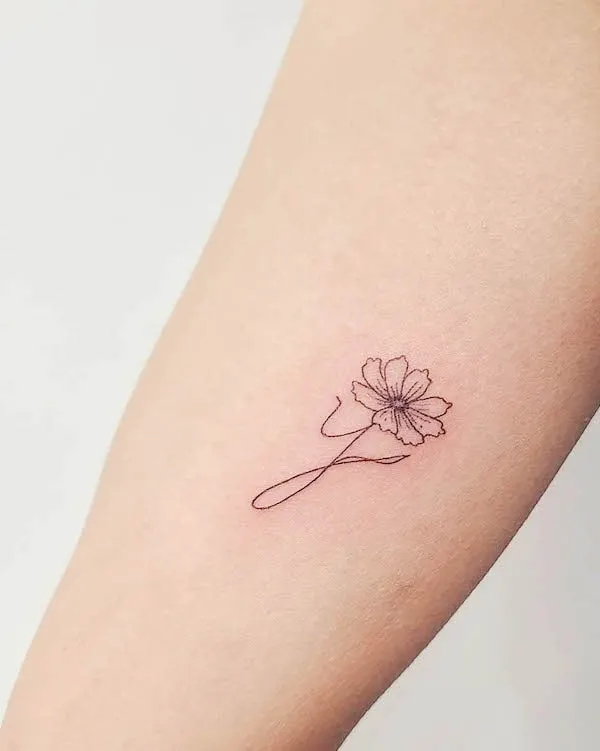 Letter Z and flower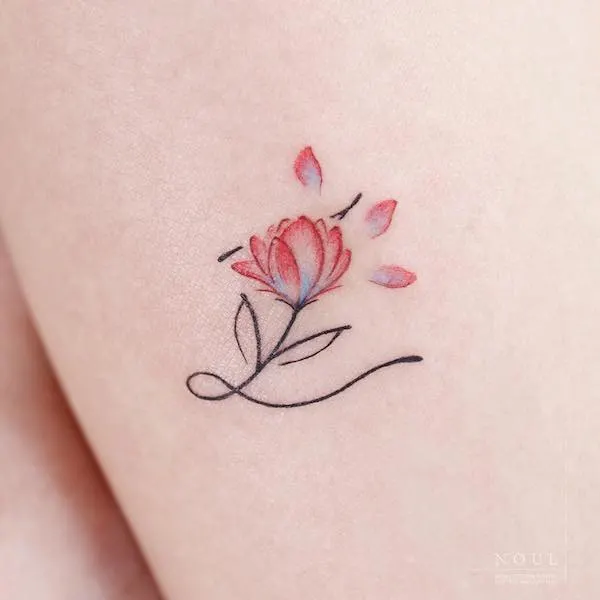 Two-letters initial tattoos
If one-letter initial mostly represent a name, two-letter ones may mean something more. They can be both initials of a couple, best friends, children, or parents. Or it can be the acronym of a full name, a place, and more. Scroll on for two-letters initial tattoo ideas.
CL in gold
S and A name tattoo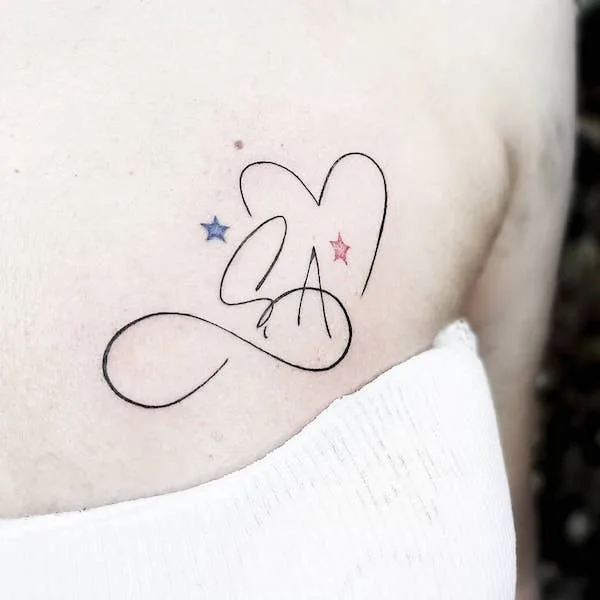 LA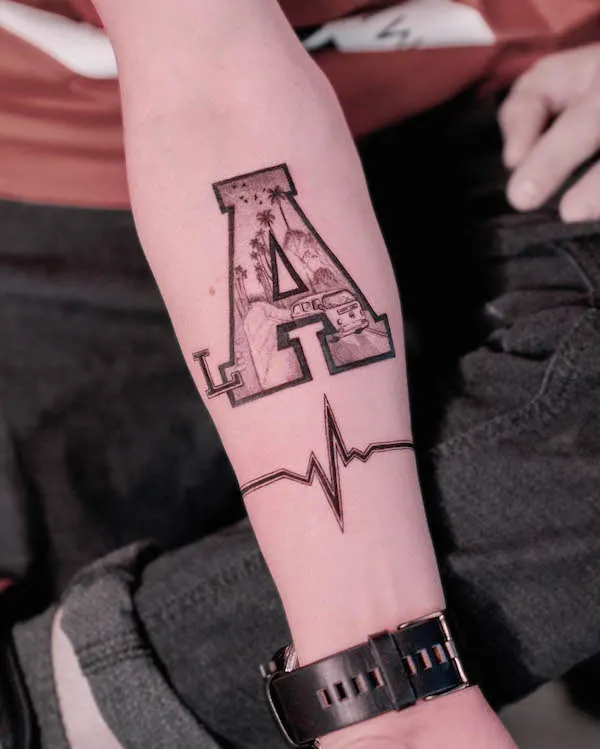 RE geometric name tattoo
Initials and crown tattoo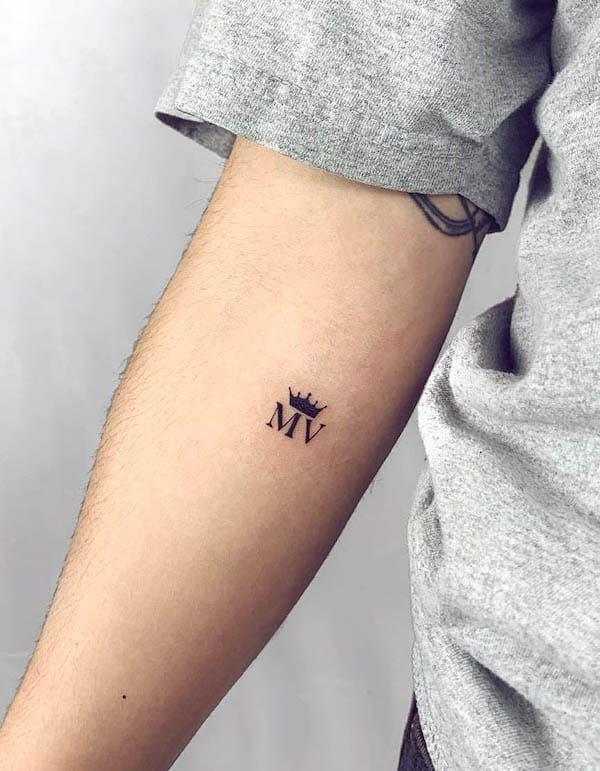 MK letters tattoo
Double letters Disney tattoo
Matching initial tattoos
Matching tattoos represent the love between couples, best friends, or family. Patterns like flowers and butterflies are great. But if you are looking for something simpler, don't miss these matching initial tattoo ideas.
A pair of J for best friends
Letter K family matching tattoos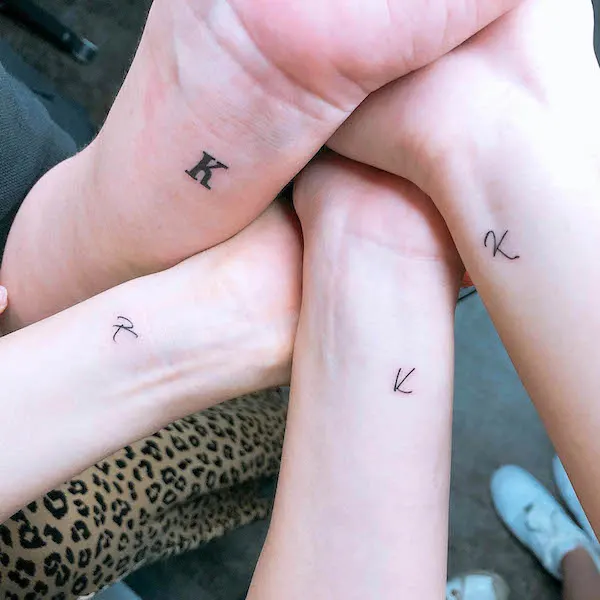 A and S matching finger tattoos
J and B
Matching best friend initial tattoos
Matching ring finger tattoos
Which of these initial tattoos is your favorite?
Or do you have a meaningful initial tattoo? Share in the comment!