A collection of badass tattoos that are basically saying "Don't mess with me"
Sometimes a tattoo can tell a lot about a person. Tattoos are like motto, reminders and permanent cheerleaders on our skin.
A powerful, badass tattoo speaks volumes. Sometimes people look at a tattoo and are instantly aware that the wearer is not to mess with. So what makes a badass tattoo?
It's more than the size. Big tattoos are by nature intimidating. But they are also more expensive and painful. Sometimes small tattoos can be just as badass as the big ones, given the message they deliver.
So here is a collection of memorable badass tattoos with meanings. From big to small, these tattoo designs prove that you don't have to be intimidating to be a badass.
Read also: 59 Bad bitch quotes to awaken your inner savage
Disclaimer: This tattoo collection is for inspiration only. Please do not copy the artwork. If you love these tattoos, follow artists and show them some support.
An invisible boss b*tch tattoo on the arm
by @nhi.ink
The deadly glare
A modern vampire tattoo for heartbreakers
A guide to please the unpleasable
Real demon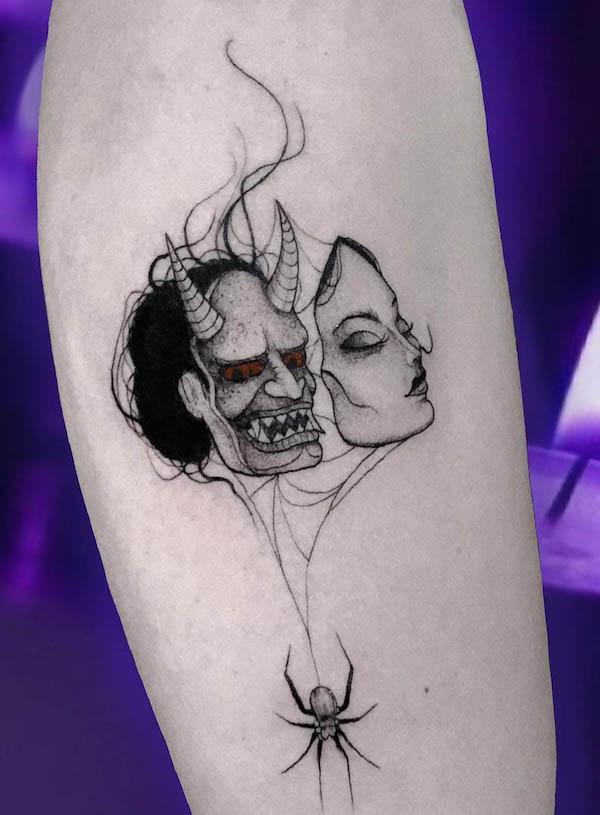 Honor your devil inside.
Middle finger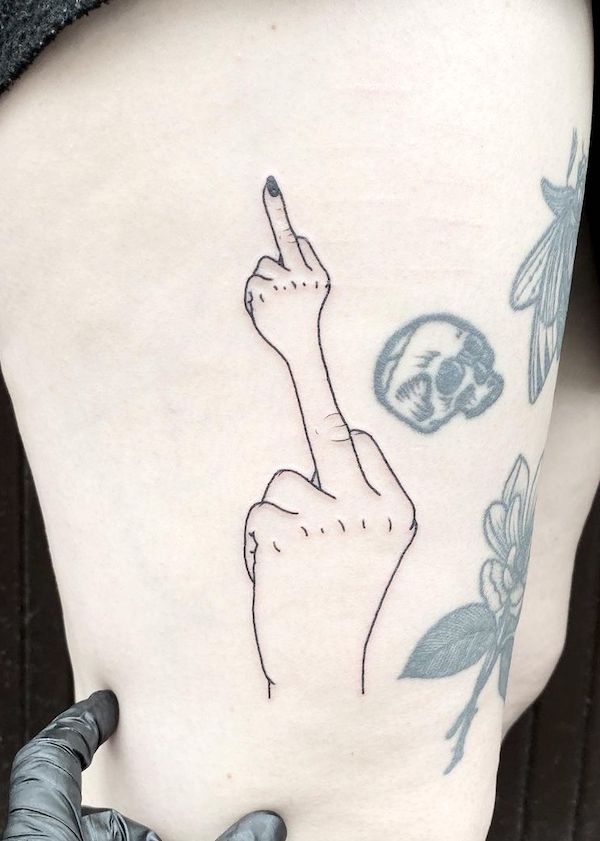 What shows one's annoyance better than a middle finger? A middle finger on a middle finger. This creative tattoo is badass, not just because it's insulting. It says a lot about the wearer's don't-give-a-damn attitude and that she's not to be messed with.
Not your babe – a fun ignorant style tattoo
An under-chin tattoo with an attitude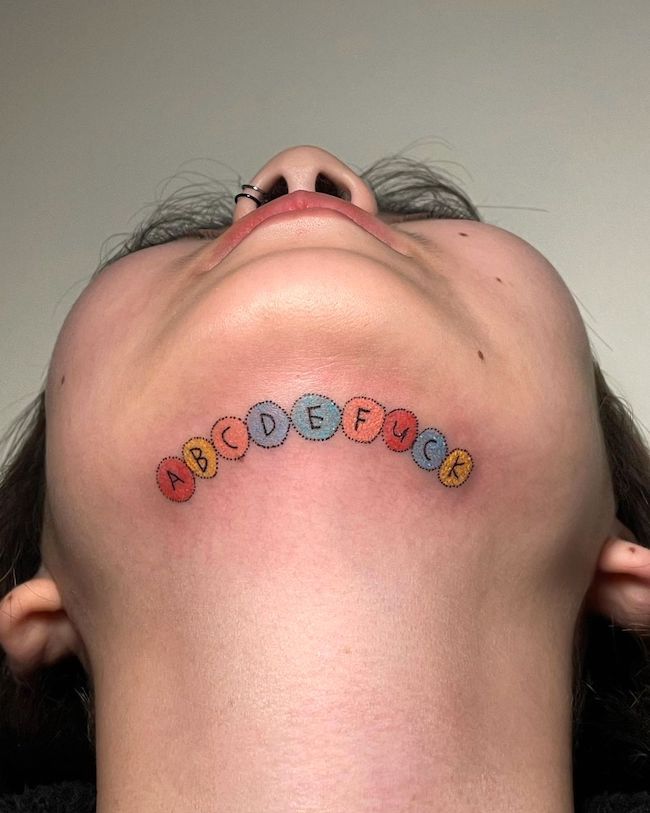 The cute Samurai – a badass comic tattoo
by @demondance
The tattoo design draws inspiration from the Harakiri School Girls, comics by Makoto Aida. Beauty and power, the small blackwork is a combination of both.
Blue flame tattoo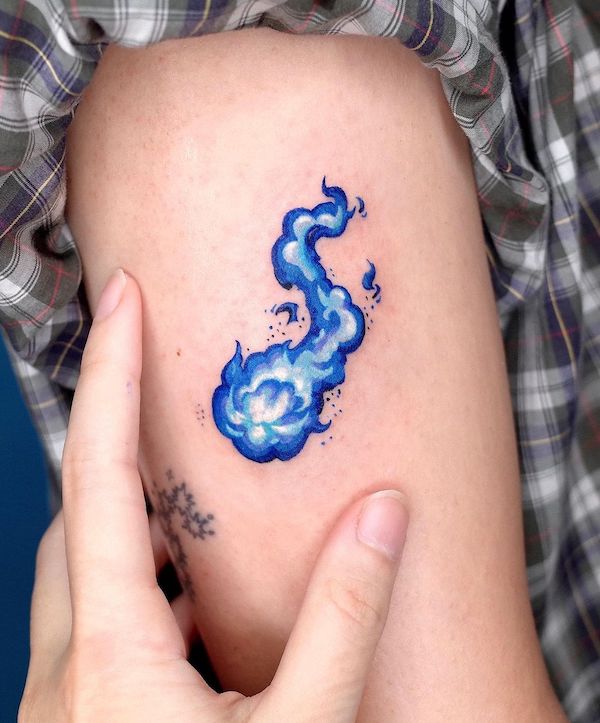 Flames are not just red. The blue flame is an indication that the fire is burning at complete combustion. And the temperature goes way higher than red or white flames – it may look cold on the outside but burning hot on the inside. So if you see someone with a blue flame tattoo like this one, you'd better not underestimate her power.
Eyes of a tiger – badass tattoo between boobs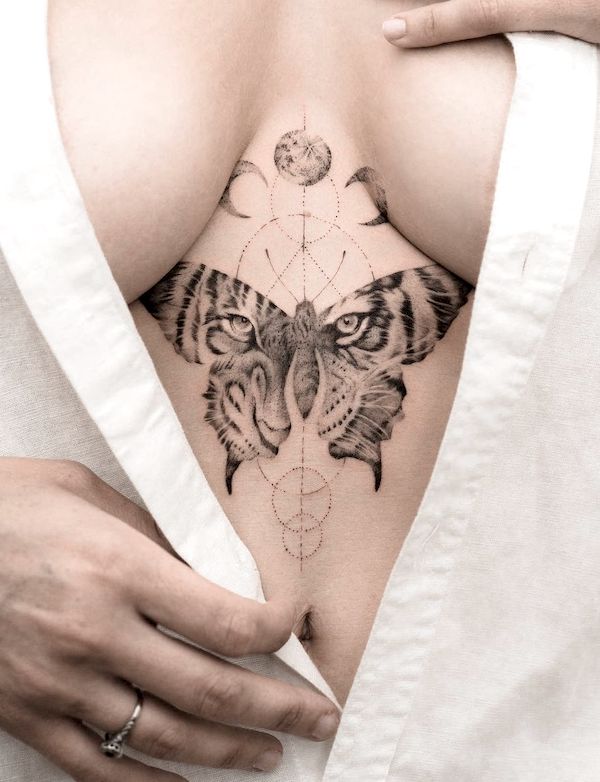 Moths are a symbol of transformation and rebirth. With the pattern of a tiger, this badass tattoo belongs to a woman who has been through tough times but comes back stronger than ever.
Hand gun inner arm tattoo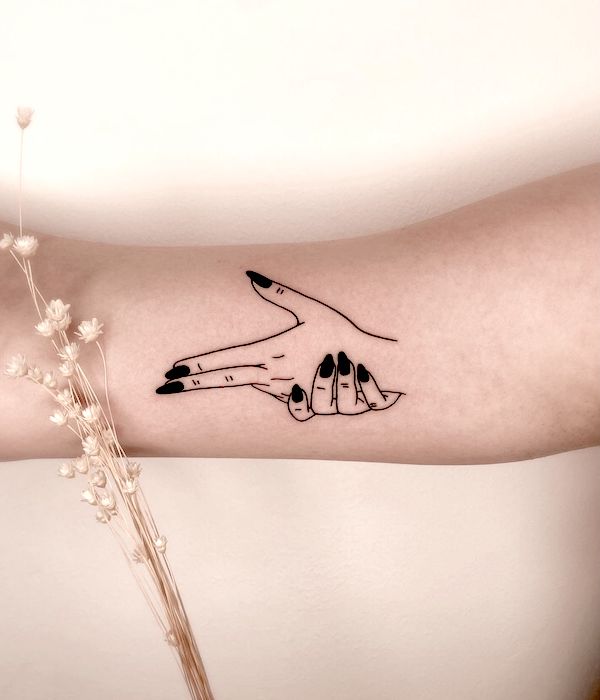 Trust your vibes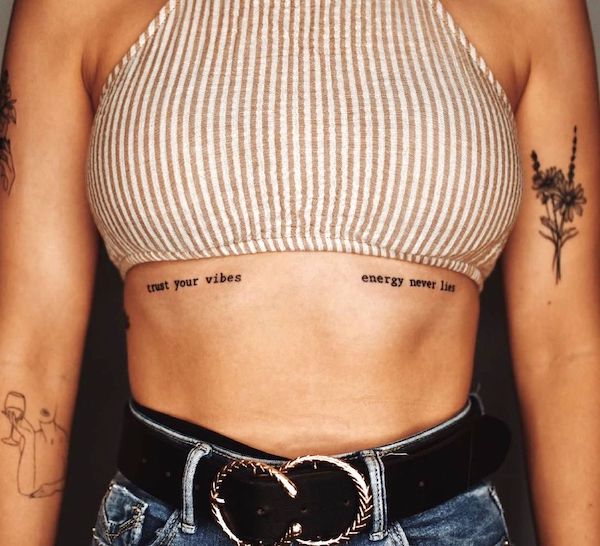 While an image says a thousand words, a quote can also make your point. If you have a one-liner that resonates with you, consider making your statement with a quote tattoo like this.
Wolves neck tattoo
Wolves are no doubt strong and wild. Because they live in packs most of the time, they become a symbol of protection and guardianship in some cultures. A wolves tattoo like this one indicates that the wearer doesn't need someone to protect her. She has the power to fight against the world.
The lethal attraction – a sleeve tattoo for women
by @demondance
Angel from hell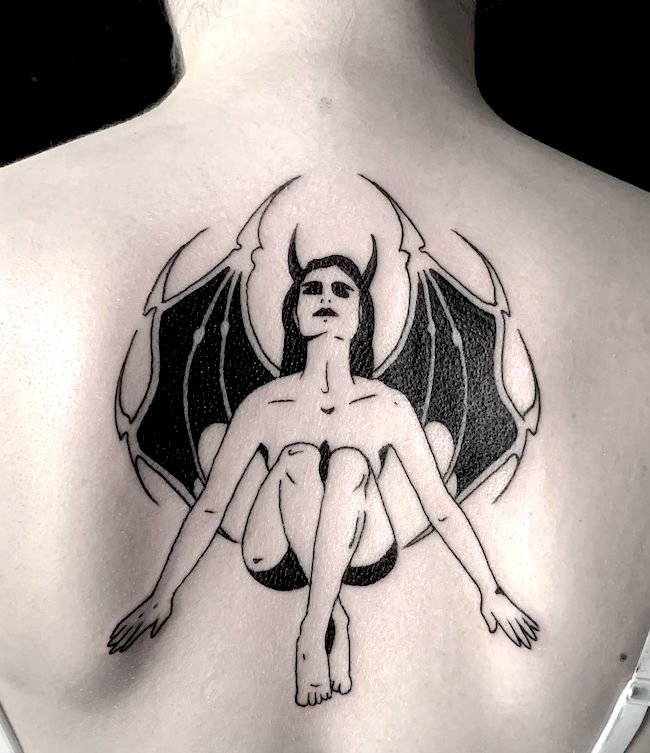 The Maleficent
by @annso_what
Who else can be more badass than Maleficent? Portrayed by Angelina Jolie, Maleficent is gorgeous, feminine yet powerful. She is a protector at heart but will seek revenge for those who betray her.
This tattoo is more than a fandom. For the wearer, it can also be the symbol of strength and determination.
The playful Mona Lisa – a painting tattoo
The playful Mona Lisa – a painting tattoo
by @edit_paints
Badass tattoos don't have to be intimidating. Being a badass is sometimes an attitude than an act. Badass women know how to not give a f*ck and prioritize their needs.
They have a sense of humor, but if you mess with them, they will cut ties without hesitation. Sounds like you? Then this funny Mona Lisa tattoo may be a great ink option.
The girl on fire – a stunning fantasy tattoo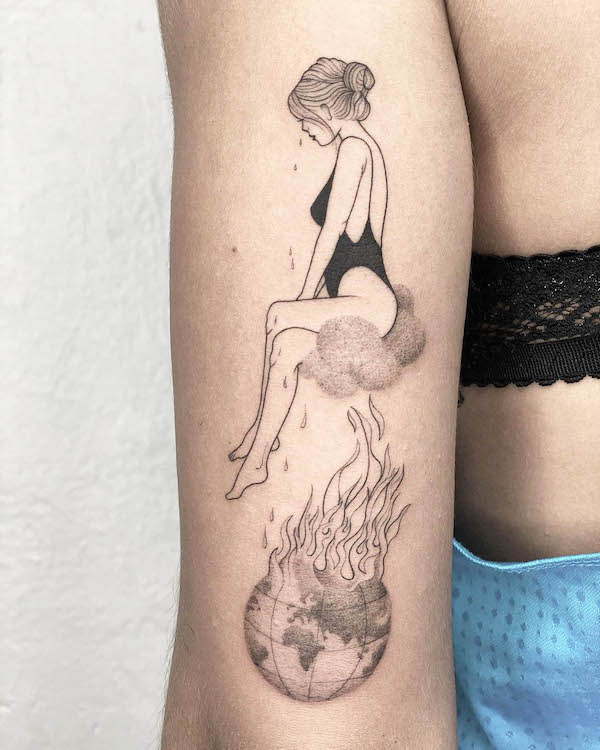 Dragon of the night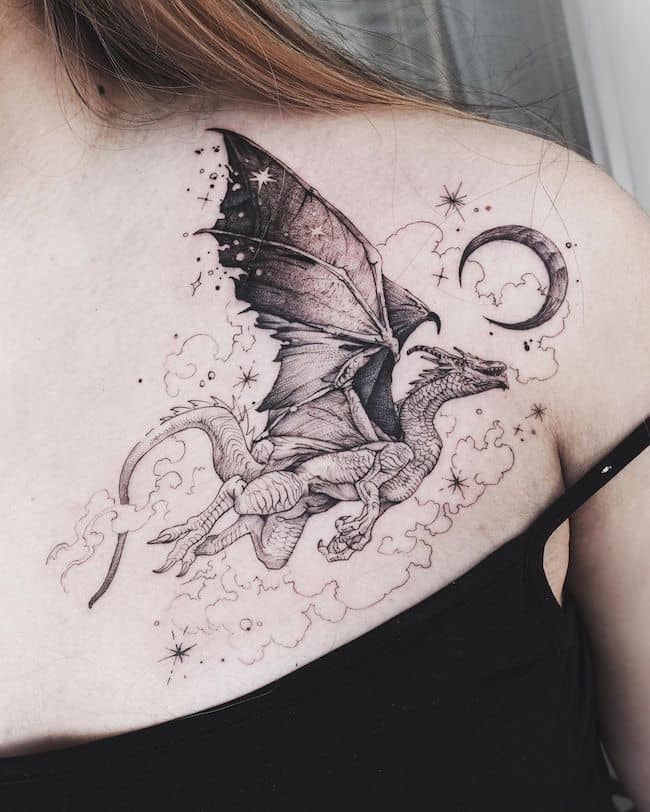 Dragons have different meanings across cultures. Some see them as evil, while others look at them as a symbol of royalty and fortune. But all dragons have one thing in common – they are powerful and intimidating.
While mostly seen on men, dragon tattoos can also be feminine, intricate, and designed to fit a woman's body. Take a look at these dragon tattoos for women for more ideas.
Nirvana – a badass blackwork sleeve tattoo
Three-eye witch tattoo on the thigh
Light it up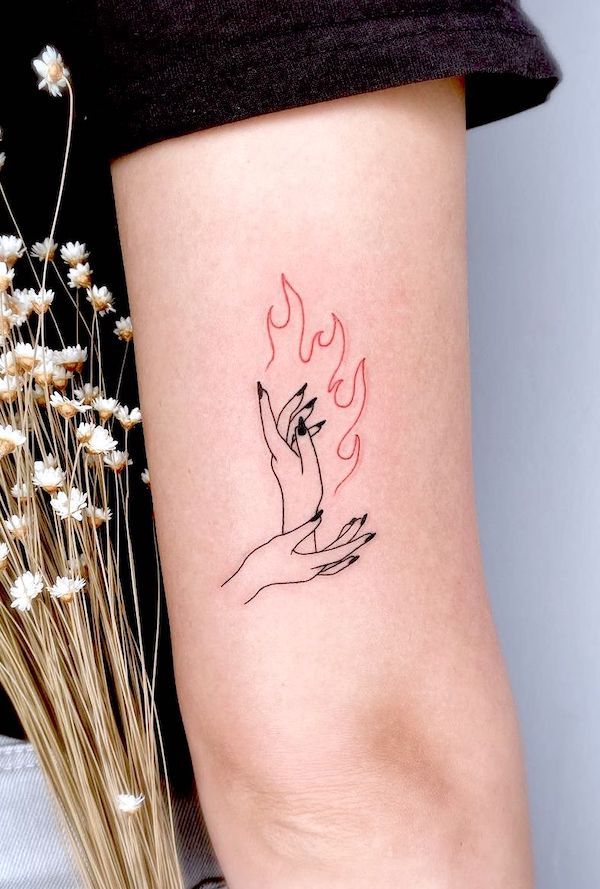 She-panther
A floral neck tattoo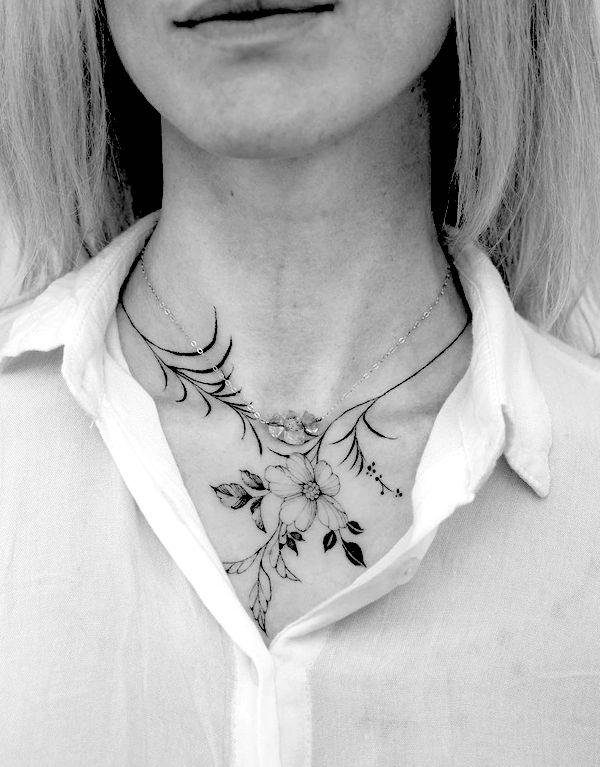 While most flower tattoos are feminine, not so much with such a bold placement. And this neck tattoo sends a message that you don't need to hide your beauty. You just bloom.
A meaningful formula tattoo to study from
by @ghinkos
Intricate Lily flower tattoo between the boobs
by @oozy_tattoo
Japanese-style comic portrait tattoo
An intricate Maleficent and Aurora tattoo
by @edit_paints
Princess or Queen, your choice.
Cherry blossoms and the samurai sword
Devil on the run – a playful skeleton tattoo
by @greemtattoo
Tomie Kawakami manga tattoo
by @ink.by.kiki
There's something special about Japanese mangas. Among them, Tomie is a classic.
Created by Junji Ito, Tomie Kawakami is a seemingly harmless Japanese girl with mysterious powers. She would lure men into extreme jealousy, usually ending in a bad way. Whatever terrible things happen to her, she keeps coming back to life. And this manga tattoo reveals the wearer's dark side that no one knows about.
The Hurricane script tattoo
Read also: 61 Empowering one-word tattoos that say a million things
Girl with a thousand faces chest tattoo
by @elena.noire
A detailed Medusa tattoo
The skating skeleton tattoo
A wishbone, a backbone and a funny bone all in one.
A stunning Kali tattoo
by @lilianraya
Kali is the Hindu goddess of destruction, death and time. She is also a symbol of feminine energy and creativity. Despite her fearsome appearance, Kali is the slayer of demons, a protector that is fueled by her motherly love.
If you are interested in Kali's legend, watch the video below to learn more.
A badass witch tattoo
Witches are powerful and mysterious. They can channel energies from nature into their witchcrafts. Want to mess with a witch? Better think twice.
I see you – a blackwork tattoo with a sense of humor
Just because she covers her eyes, it doesn't mean she doesn't know.
by @kek.tattoo
A spider nape tattoo
Want to add some wow effects to a small tattoo? The little spider on the nape will catch everyone by surprise.
by @mr.k_tattoo
The F*ck off switch
A mysterious portrait tattoo with contrasting colors
A dainty evil eye tattoo
The evil eye is a curse in many religions. People believe that the attention given to the rich and the privilege can cause them back luck. Better not to look this tattoo in the eye.
A snake tattoo
Face in the blade sleeve tattoo
It's probably too late when you see her face.
by @sync.ink
The spider witch tattoo
Witchy tattoos are by nature dark and badass. Adding that spider makes this arm tattoo spine-crawlingly intimidating.
by @sync.ink
A realistic Harley Quinn portrait tattoo
Harley Quinn is one of the most badass hero-villain characters. She is an emotional and reckless fighter. But she is also sweet and cute.
by @tattoosax
Wednesday Addams sleeve tattoo
Never underestimate someone that is quiet. You never know what they are capable of. Just like Wednesday Adams that is seemingly innocent, she is actually a skillful mastermind.
Do these badass tattoos resonate with you?
Leave in the comment and tell me what you think!