From small to big, from black and grey to colorful, these beautiful and meaningful shoulder tattoos for women will inspire your next ink.
The shoulder alone is not a lot of space. But it connects the neck, chest and arm. Thus shoulder tattoos have a big room to expand.
One good thing about shoulder tattoos is that you can choose to hide or show them. Unlike finger tattoos which are exposed most of the time, clothes with sleeves will cover them, whether big or small. On the contrary, a vest or a tank top will do the job if you feel like showing them.
That's why there are so many possibilities for shoulder tattoos, especially for women. Huge, tiny, color, black and grey, detailed or minimalist, the shoulder is a canvas for your imagination to go wild.
Depending on the design, you can also ink on the front shoulder, shoulder blade, outside the shoulder, or the top shoulder. A good design plus the right placement will compliment your body.
With so many options, it can be challenging to decide what design you want. So here is a list of shoulder tattoos for women. From small to big, from black to color, these stunning and unique tattoo ideas will inspire your next ink.
Disclaimer: This tattoo collection is for inspiration only. Please do not copy the artwork. If you love these tattoos, follow artists and show them some support.
Beautiful shoulder tattoo ideas for women
Table of content
Classy black and grey shoulder tattoos for women
Cute color shoulder tattoos for girls
Small minimalist shoulder tattoos
Classy black and grey shoulder tattoos for women
It's a myth that black and grey tattoos take less work than the color ones. But a good black and grey tattoo requires attention to the value of black, shading, and details. They might not be as vibrant as color tattoos. But they draw the focus to the pattern and the message behind it.
So if you are looking for black and grey shoulder tattoos for women, you are at the right place. These classy tattoos might not scream for attention. But they are elegant, sleek, and will stand the test of time.
Whimsical black dragon shoulder tattoo
Dragon has different meanings across cultures. While dragons might be seen as evil in the West, they represent good luck and royalty in eastern cultures.
In ancient China, only the emperor can have dragon patterns on his clothing. So if you are looking for something empowering and intimidating, dragons can be a pretty good choice.
And the length and size of dragon tattoos are perfect to be put on the shoulder, just like this bold design. With its tail winding along the arm, the tattoo fills up the shoulder blade and sleeve. And it keeps its femininity and elegance with the curves of its body and whiskers.
Sailing in the moonlight shoulder tattoo
Vine tattoo for women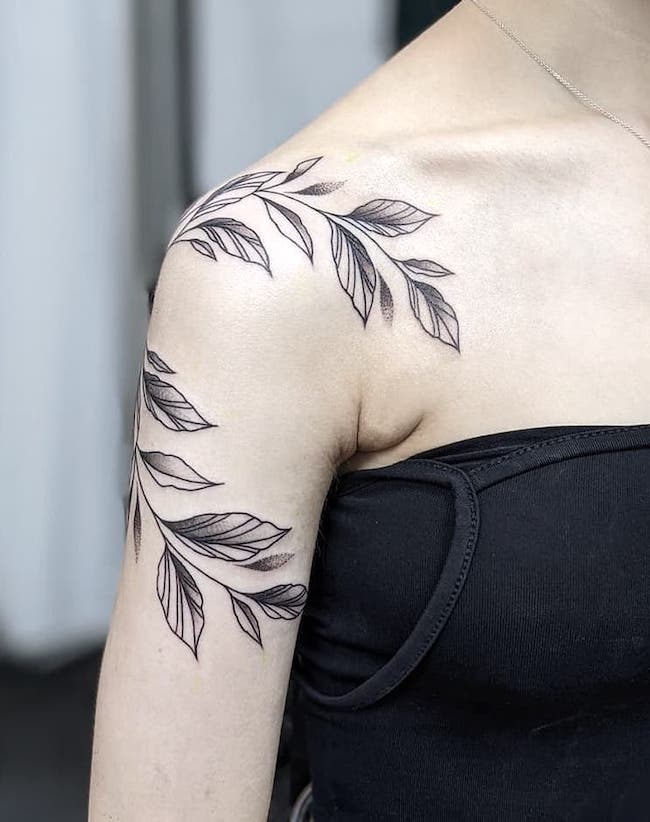 Vines are often fillers of flower tattoos. But they alone can make a beautiful and meaningful ink. Vines climb onto other plants or the wall for sunshine and water. Thus vines symbolize the fighter spirit, the desire to live and thrive.
Plus, vine tattoos like this one stretch and wrap around the body, making them perfect for shoulders, arms, and ankles. They can also connect existing small tattoos and creating a new piece of art.
Chandelier and gemstone tattoo
Stunning flowers tattoo on the shoulder
To tattooist Vanessa, each flower and color represents different emotions. Whether you are happy or sad, you will always find a flower representing you. Check out our recent interview with tattooist Vanessa to learn more about her thoughts on choosing the suitable tattoos for you.
Crane shoulder tattoo for women
Cranes have a special symbolism across cultures. The birds always stand with heads held high and never seem to lose balance. And when they spread their wings, it flies like a glider in the sky as they are about to conquer the sky.
That's why it's often seen as a symbol of elegance, calmness, and balance. So if the meaning of crane tattoos speaks to you, it will be a cool idea to put one on your shoulder.
Blooming
Tropaeolum, also known as Nasturtium, symbolizes victory and triumph. The blooming of the flower represents conquest, according to Exotic Flowers. And that's what makes this shoulder piece special.
From first sight, it is a feminine flower tattoo. But the meaning behind the flower makes the tattoo a statement of the wearer's strength and confidence.
Black and white mountain landscape tattoo
Everglow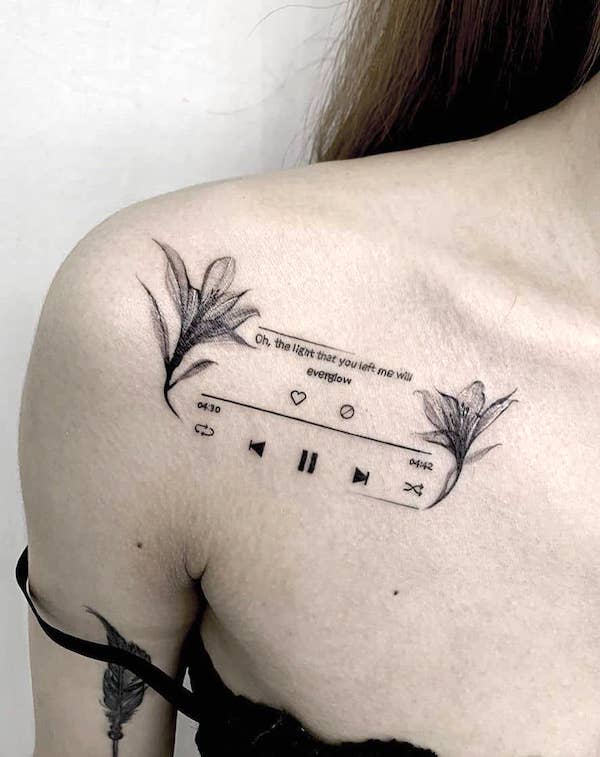 This shoulder tattoo takes a lyric from Coldplay's song Everglow and turns it into permanent ink. So if you have a song that hits home or brings you strength, player tattoos may be for you.
Simple black and white sunflower tattoo
A good tattoo is the one that resonates with us or tells our stories, just like sunflower tattoos. They are so popular not only because of their simplicity but also the meaning behind them.
Sunflower symbolizes the pursuit of happiness, positivity, and hope. And these values never fade with time. So even when a sunflower tattoo is in black, it still radiates warmth and energy. Sunflower will be perfect for women who want something meaningful and simple among all the shoulder tattoos for women.
Read also: 94 Gorgeous flower tattoos and what they mean
Floral dragon shoulder tattoo
Dragons fit perfectly into a shoulder tattoo. The curvy body and the tail can extend to the collarbone or to the back, just like this one here.
And one thing that makes this tattoo stand out is its choice of colors. Keeping the dragon black and the flowers scarlet red creates contrast in colors.
Tie the knot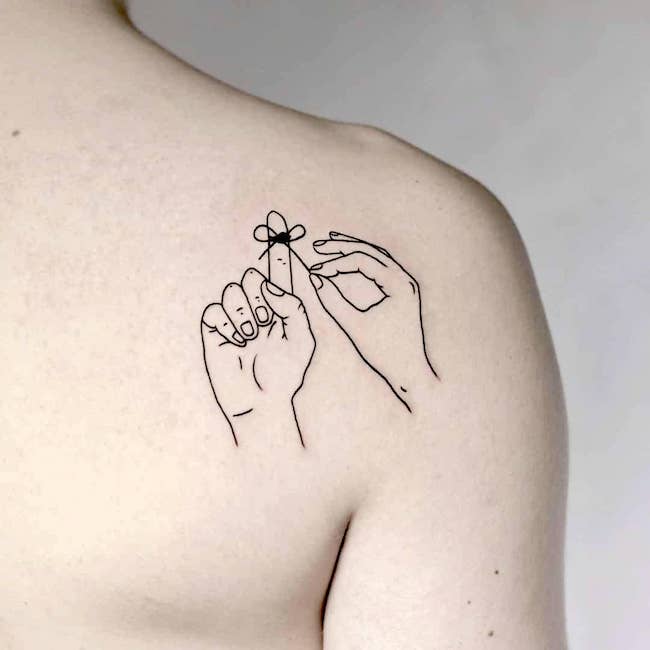 Roses and snake tattoos on both shoulders
Traditionally, roses represent love and passion. And snakes are often symbols of darkness, danger, or mystery. A snake wrapping around a rose means the love is so intense that it turns into dangerous and irresistible temptation.
Both snakes and roses are common in tattoo designs. But it's not so common to put these two elements together with a broad coverage like this one. The artist did a great job keeping the lines clean so the tattoo doesn't feel heavy in such a large size.
Bold black and white rose shoulder tattoo
Small dragons tattoos
Over my dead body shoulder quote tattoo
"Over my dead body" means that you will do everything you can to prevent a certain thing from happening. It's a stronger statement. And the bold letters in caps make it even stronger.
Not everyone identifies with the message. But it shows perfectly how quote tattoos fit the shoulder area. Besides, quotes and scripts are more standard than illustrations. So it's hard to go wrong. If you are getting your first tattoo, quotes are something to consider.
Hamsa hand shoulder tattoo
The Hamsa hand is a spiritual symbol deeply rooted in Islamic and Egyptian culture. It's a hand with an eye in the center of the palm. Unlike a real hand, the Hamsa has two symmetrical thumbs. And it's used to protect the wearer from evil, which is represented by the eye.
Despite a religious origin, the Hamsa hand tattoo has gained popularity worldwide. You can have a simple Hamsa tattoo with clean lines like this one. Or you can experiment and add details. The versatility makes it perfect for different placements, including the shoulder.
Fine line black rose shoulder tattoo
Rose tattoos represent passion, love, purity, and romance. And they can be designed to fit different parts of your shoulder.
If you want a rose tattoo to cover your entire shoulder blade or the outside of the shoulder, you can connect multiple blooming roses with vines. Or you can tattoo a single rose on the top of your shoulder like this one, making it simple and classy.
Shoulder tattoo for Scorpio women
What's a better way to show off your zodiac sign than zodiac tattoos? Scorpios are proud of their sign. And honestly, they have every reason to be.
They are mysterious, intense, passionate, and intelligent. Cross them, and they will sting. A shoulder tattoo like this one is a warning not to mess with Scorpio women.
Read also: 68 Beautiful Scorpio tattoos with meaning
Intricate rose tattoo
Realism white tiger tattoo on the back of shoulder
Tigers are not often seen on shoulder tattoos for women. But who says tigers are only for men? This white tiger tattoo shows the calm and soft side of the animal, making it perfect for females.
The artist managed to capture the depths of the tiger's eyes, the detail of the pattern, and the fur, creating a realistic masterpiece on the skin.
Swirl tribal shoulder tattoo for women
Tribal tattoos are not just patterns. They carry deep meanings for people who understand them. Just like this Tahiti tattoo, the design is based on the wearer's life and beliefs.
And it also applies to native American tattoos, Maori tattoos, etc. That's why it's important to talk to the tattoo artist and make sure you are on the same page.
Beautiful butterflies
Minimalist sun shoulder tattoo
Sparkling fairy front shoulder tattoo for women
Around the world – shoulder tattoo for adventurers
It might not be as easy as before for us to travel the world. But, if you have the adventurer spirit, a travel tattoo may tame the eagerness to hop on the next plane.
Compasses, airplanes, hot balloons, and the globe are common elements in travel tattoos. But you can also add backpacks, maps, coordinates to make it personal.
Symmetrical black and white rose shoulder tattoos
Libra constellation and butterflies
Looking at Libra tattoos, you will see that they are not always the most eye-catching ones. But they all have one thing in comment: elegant.
Libras value harmony and balance. And it reflects on their aesthetics. This shoulder tattoo consists of a Libra glyph, constellation, and small butterflies. Simple, feminine, and not overwhelming, just as the sign itself.
Koi fish shoulder tattoo for Pisces
Fish and mermaids make great shoulder tattoos for women for their curves. The tails can stretch along the collarbone or down to the arm, creating a flowing effect in motion.
Read also: 54 Stunning Pisces tattoos with meaning
Beautiful just the way you are
Cute color shoulder tattoos for girls
Colors bring a tattoo to life and give it endless possibilities. Looking for a vibrant piece of art? Don't miss these color shoulder tattoos for women.
Stunning diamond shoulder blade tattoo
Diamonds are a girl's best friend. And they certainly make great tattoos. A diamond is shiny, luxurious, and a pleasure to look at. But it's more than that.
Diamonds are rare. Being buried under pressure for hundreds of years makes them unbreakable. The stone is proof that difficulties make the strongest.
Girly ribbon shoulder tattoo for women
Want something cute and feminine? How about a ribbon tied on the skin? This vintage design shows that how versatile a ribbon tattoo can be. With some tweaks on the shape, colors, and fabric, you can create something that fits your skin tone and aesthetics.
Blue dragon fantasy tattoo
Marbling star tattoo
"Eternal" gradient script tattoo
Shark in the starry night
Love birds tattoo
Meaningful, cute and beautiful, this bird tattoo on the shoulder is everything a hopeless romantic would ask for. Love birds are permanent proof of true, pure love as an individual or a matching tattoo idea.
Beautiful purple butterflies tattoo on the front of shoulder
Across cultures, butterflies have different meanings. For example, a pair of butterflies represents love in China. And in the West, they are symbols of transformation and beauty.
Besides the meaning, butterflies are just gorgeous. If you love butterflies, check out these stunning butterfly tattoos, too!
Snake tattoo on the shoulder blade
Blooming flower tattoos
Small tattoos for creators
Small stars cosmic tattoo
The Soleil shoulder tattoo
Fine line butterfly tattoo
Self love shoulder blade tattoo
Give yourself a hug and put yourself first. You deserve the love you give others.
Read also: 40 Empowering self-love tattoos with meaning
Phoenix shoulder blade tattoo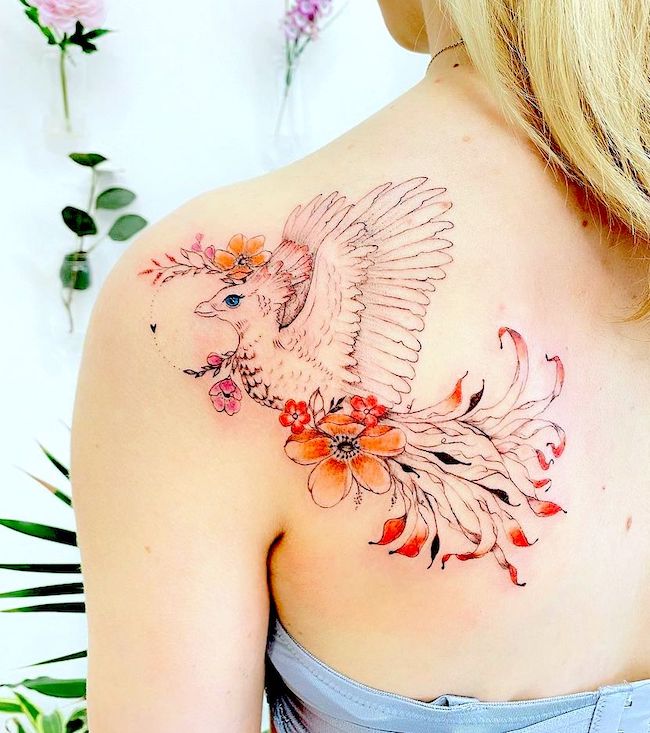 Phoenix is a mythical creature that is beautiful and powerful. Just like unicorns, mermaids, or dragons, the phoenix has its own symbolism.
In Greek mythology, the phoenix is the bird of the sun. It turns into flames when it dies and is reborn from the ashes. Thus it represents nirvana and rebirth.
In eastern countries, the phoenix used to be a symbol of the queen. So if you want a tattoo to remind you of your strength and courage, the phoenix is perfect for you.
Snowflake mandala shoulder tattoo
Adorable shoulder tattoo for cat lovers
Roll the dice
Small minimalist shoulder tattoos
While big tattoos capture attention, a small tattoo can be just as meaningful and beautiful. So if you are considering something low-key, these small shoulder tattoos might be the ones for you.
Aquarius zodiac constellation
Single line heart on the shoulder
Read also: Simple Lines, Deep Art – Interview with Victoria Rusyn
Avengers symbol tattoo
Rainbow bubbles shoulder tattoo
Peachy
Read also: 43 Cute and realistic food tattoos that will make you hungry
Plaid heart small shoulder tattoo
Tiny rainbow tattoo
Cute and small apple tattoo
Grandma's ring – a meaningful shoulder tattoo
Simple daisy shoulder tattoo
Never mind – one-word tattoo
Read also: 61 Inspiring one-word tattoos that prove precision is power
Matching water drop shoulder tattoos for friends
Blue and purple small flower tattoo
Small ocean life shoulder tattoo
Tiny smiley face tattoo
Find your purpose
Simple black moon tattoo
Read also: 51 Dreamy moon tattoos to bring serenity to the skin
Starry night puzzle tattoo for art lovers
Read also: 19 Artistic tattoos that will turn your skin into a masterpiece
Tiny plane tattoo
Which of these shoulder tattoos for women is your favorite?
Leave your thoughts at the comment down below!