Collarbone tats are discreet and sexy. From big to small, intricate to simple, these collarbone tattoos for women will bring out your charm.
The collarbone or the clavicle might be a small area between the shoulder and the chest. But there's a unique charm to it. It's not as visible as the arm or the neck. But if you wear a sleeveless or off-the-shoulder top, ink on the collarbone will give others a sneak peek of your personality.
Collarbone tattoos for women are usually dainty and alluring. They can be right on the bone, above the bone, closer to the neck, or below the bone. Because the collarbone connects the shoulder, the chest, and the neck, we often see tattoos extending on two or three of these placements.
The collarbone may be the right spot for you if you are looking for a low-key way to elevate your femininity. From small and simple to bold and intricate, these collarbone tattoos for women will inspire your next ink.
Are collarbone tattoos painful?
The pain level of getting inked depends on the wearer's sensitivity and placement. Generally speaking, the thinner the skin, the more pain it will cause to tattoo on the area.
The collarbone is no doubt a boney area with thin skin. So be mentally prepared for pain when tattooing on it. But if you are super sensitive to pain, there are two ways to make it less painful:
Tattoo above or below the collarbone instead of right on it. Theoretically, the further away from the bone, the less painful it will be.
Choose a simpler and smaller design. Opt for something simple like quote tattoos or one-word tattoos. Plus, they will take less time and thus are less expensive.
Disclaimer: This collection of collarbone tattoos for women is for inspiration only. Please do not copy the artwork. If you love these tattoos, follow artists and show them some support.
Collarbone tattoos for women with meaning
Whimsical swirl collarbone tattoo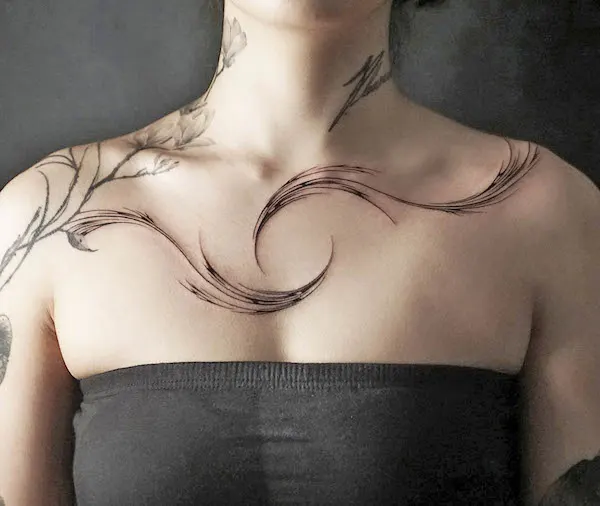 If you've been looking for a unique collarbone tattoo idea, this may be the one for you. The lines of the swirl pattern complement the shape of the collarbone. And the center alignment and sleek lines give the somehow intricate tattoo a sense of simplicity and balance.
Symmetrical vine tattoo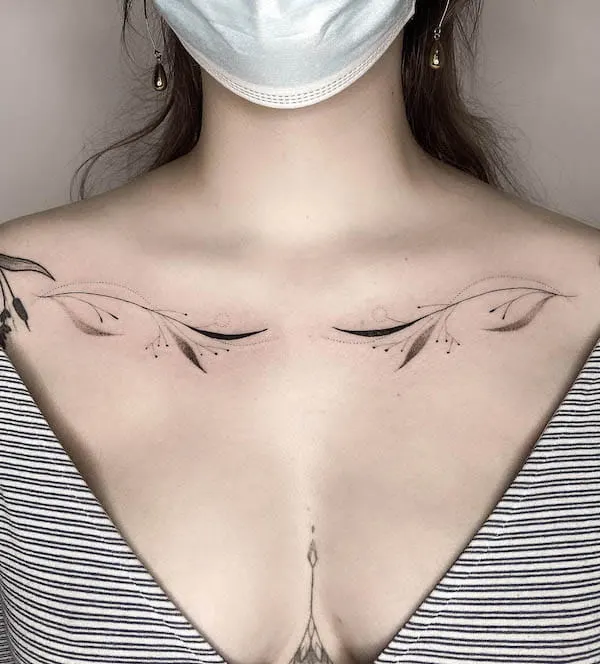 Vines, leaves, and flowers allow tattooists to be creative and flexible. They can change the sizes or tweak the position to fill the space. In addition, you can multiply or simplify by adjusting the number of motifs. And this symmetrical tattoo is a good example of keeping things simple.
Tassel and lace ornamental collarbone tattoo for women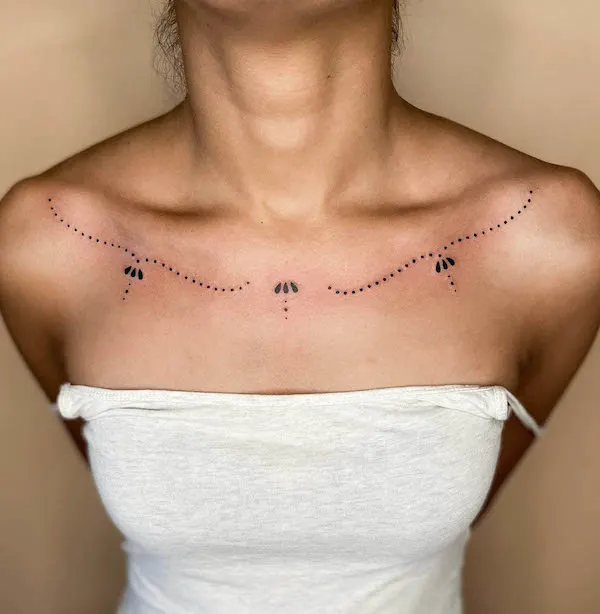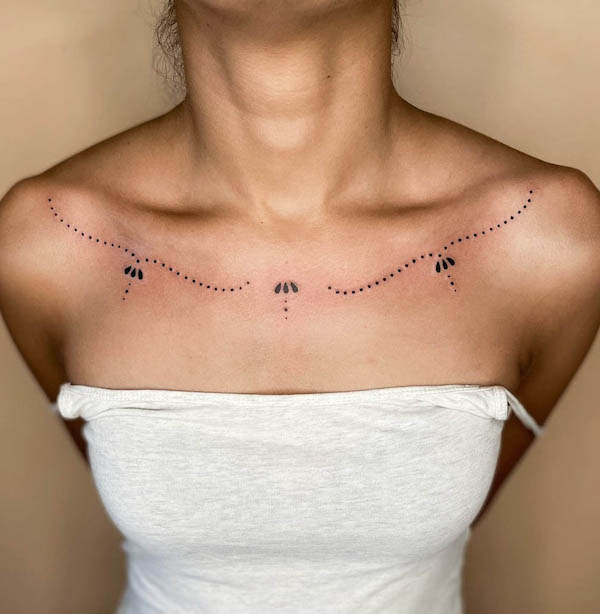 A good tattoo doesn't need to be meaningful as long as it's gorgeous. This collarbone tattoo functions like jewelry. By incorporating tassel and lace, the design instantly gets more feminine. Despite its size, the simple lines and patterns make it elegant and less overwhelming.
Wind and flower collarbone tattoo for women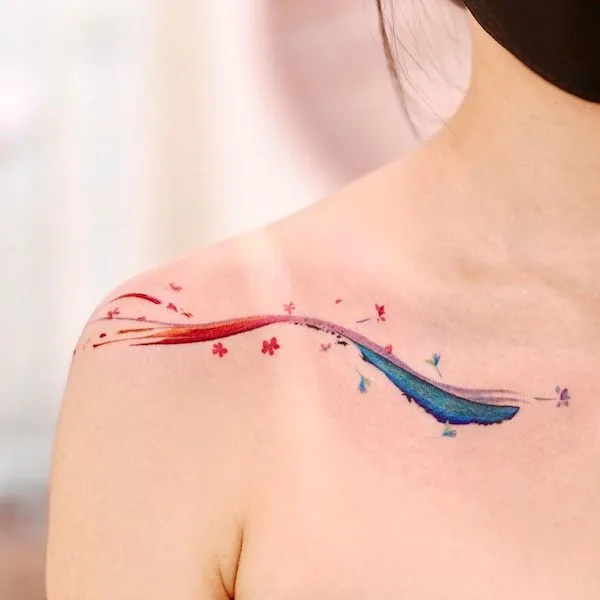 From afar, this watercolor collarbone ink might look like an abstract brush stroke. But if you look closer, you will find the flowers flowing along with the brushstroke. This is how the artist makes the invisible wind visible.
Abstract ink wash stroke tattoo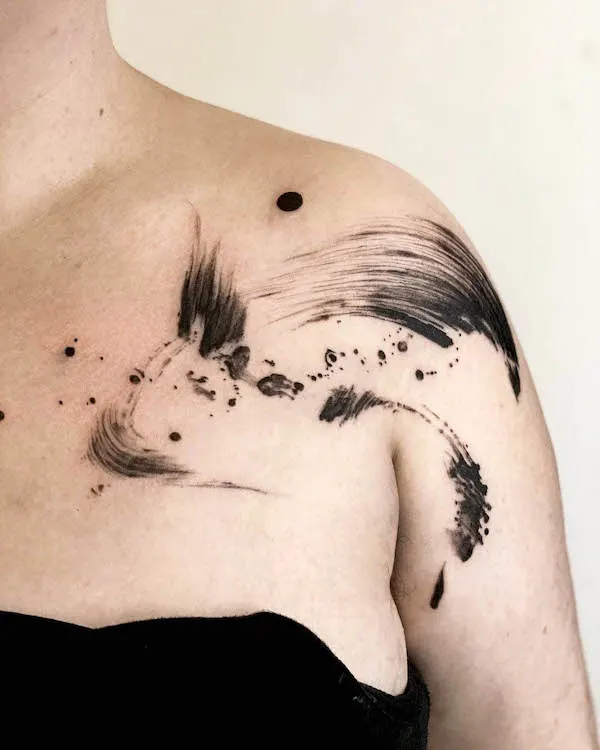 If sticking to the clavicle is not your thing, consider extending the ink to the shoulder or forearm. This abstract brush stroke tattoo does exactly that. And with the seemingly arbitrary direction and position, this tattoo would belong to a carefree and artistic soul.
Floral shoulder and collarbone tattoo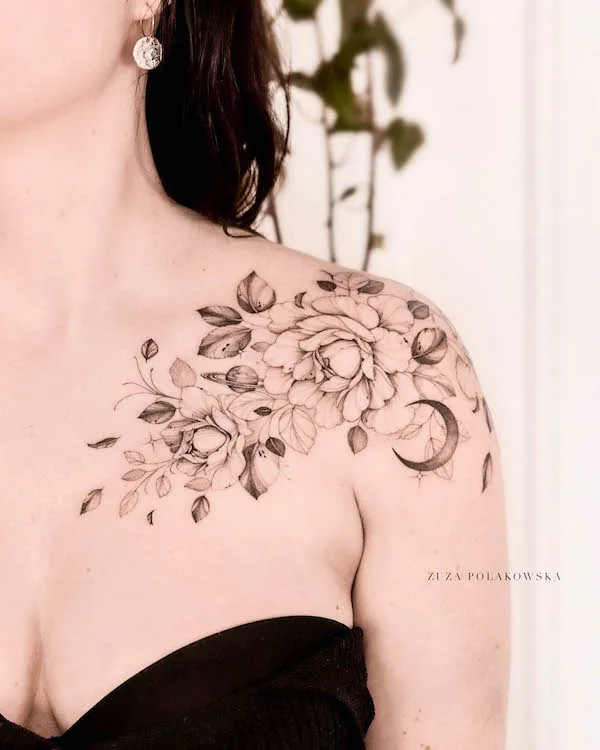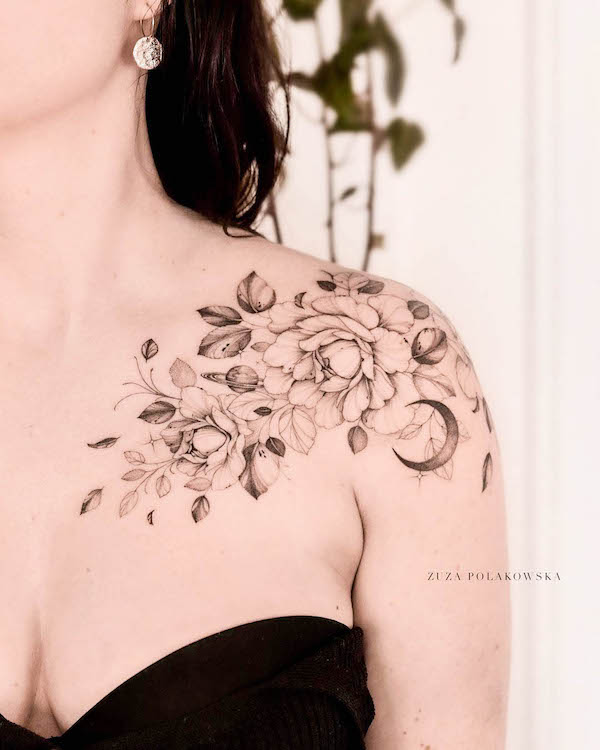 When you have ink covering the shoulder and collarbone, you don't need vibrant colors to make it stand out. Take this one, for example. The details of the flowers, moon, and leaves are so well executed that even in black and white, they catch your attention.
Stunning flower arm and collarbone tattoo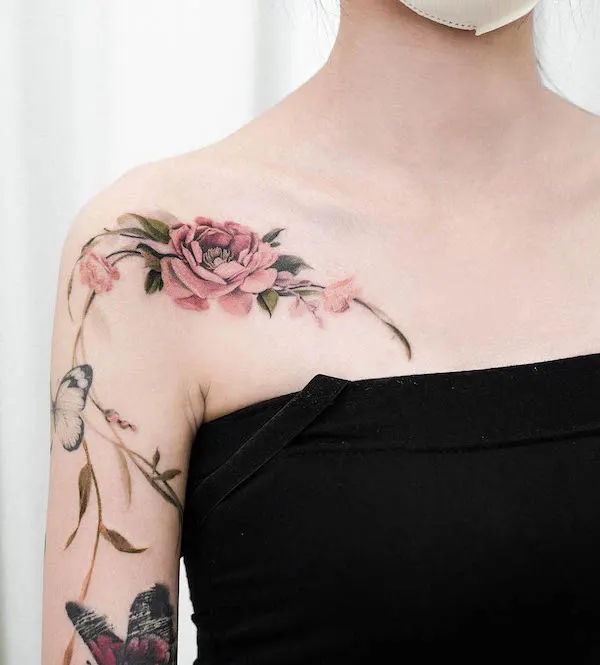 If you want a bigger tattoo on the collarbone, consider placing it below the bone. This way, you have a larger area to work on, just like this girly flower tattoo.
Black camellia flower collarbone tattoo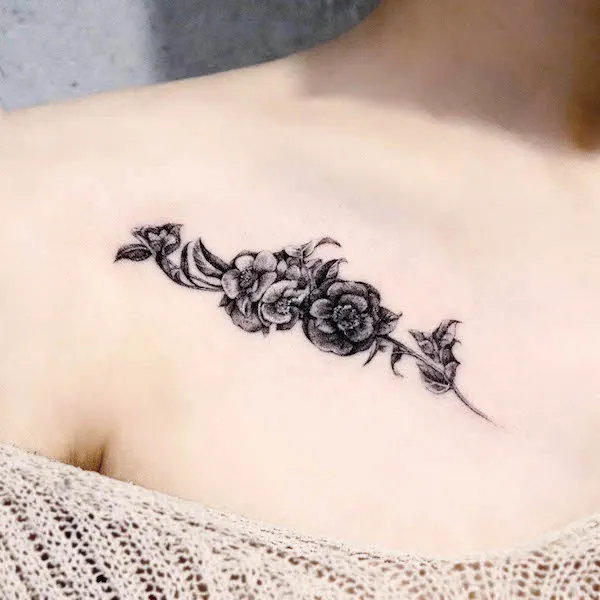 The Camellia flower is a symbol of love and affection. And it is sent as a message of love. In the US, it's also the state flower of Alabama. So this design makes a perfect self-love tattoo, reminding you how lovable you are. Or it can be a gesture of love for people from the state.
Hydrangea flower tattoo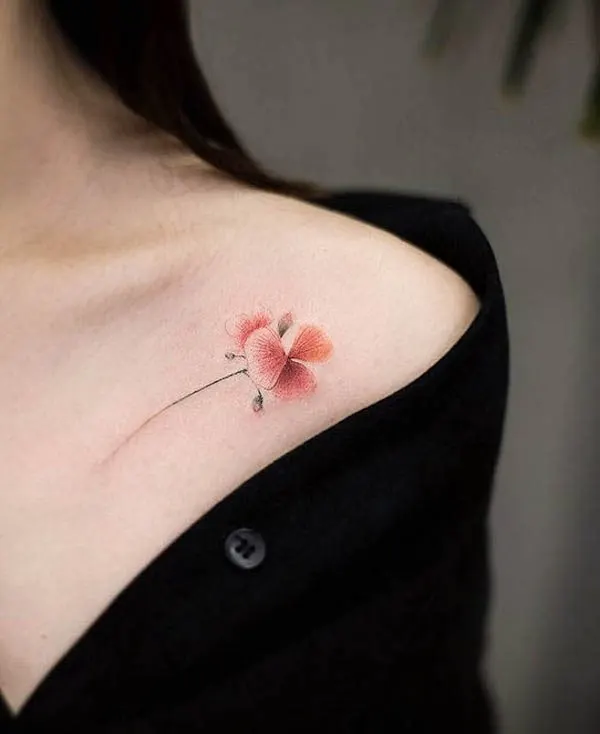 Hydrangea is known for its lavishing number of flowers in its full bloom. This collarbone tattoo, however, only has two petals. It indicates that the flower has just started to grow, symbolizing the beauty of a fresh start.
Plum flower and snake collarbone tattoo for women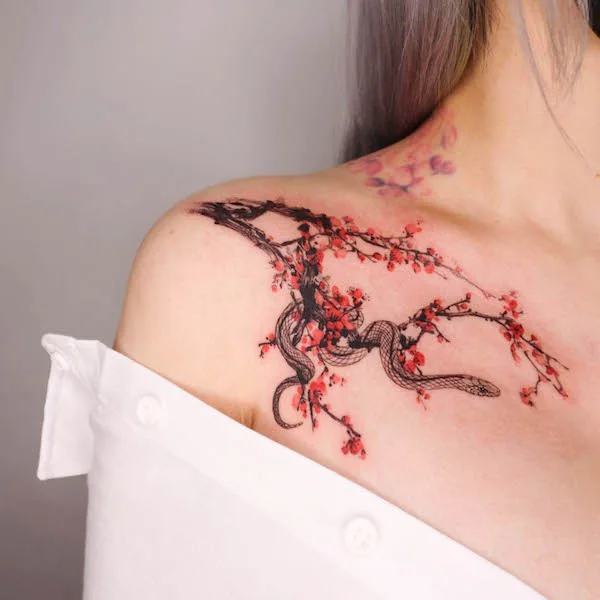 Plum flowers bloom in the winter. That's why it symbolizes perseverance and prosperity under challenging situations. On the other hand, the snake adds the feeling of femme fatale to the tattoo. It's a warning sign to never underestimate a beautiful woman.
Snake collarbone tattoo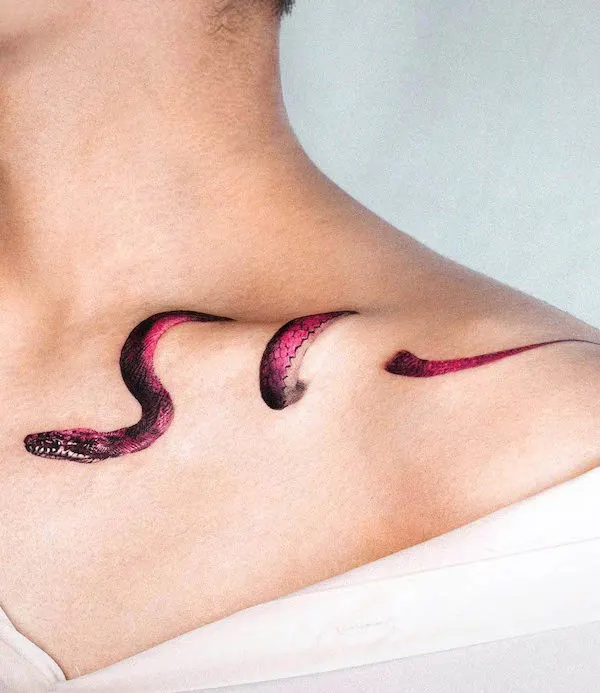 Another mesmerizing snake on the collarbone. But unlike the previous ones, this design creates a visual illusion. It makes you feel like the snake is coiling around the collarbone. It creates a visual impact that is hard to ignore.
Pomegranate collarbone tattoo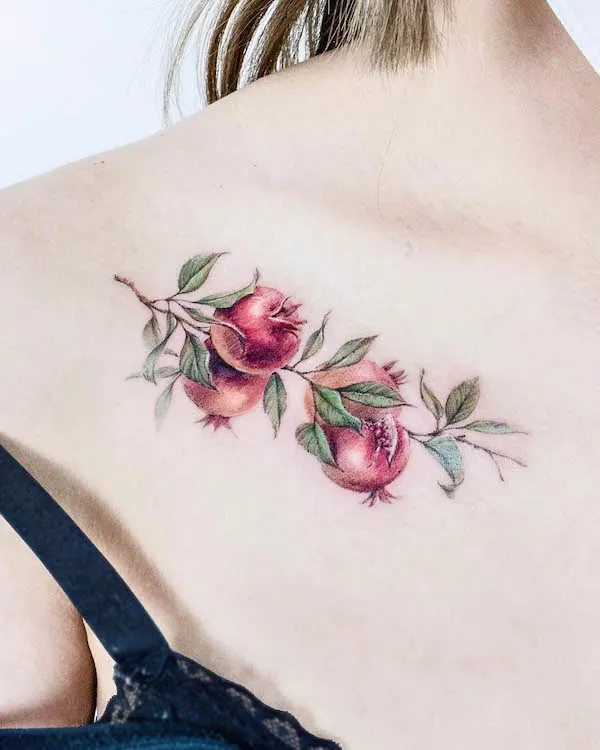 The collarbone is not a very large space for realistic tattoos. However, this pomegranate tattoo keeps the size relatively small with stunning details. Choosing fruits instead of flowers makes the tattoo delicious and stand out even more. If you love food tattoos, this cute collarbone ink might be for you.
Blueberries and flower tattoo and flower tattoo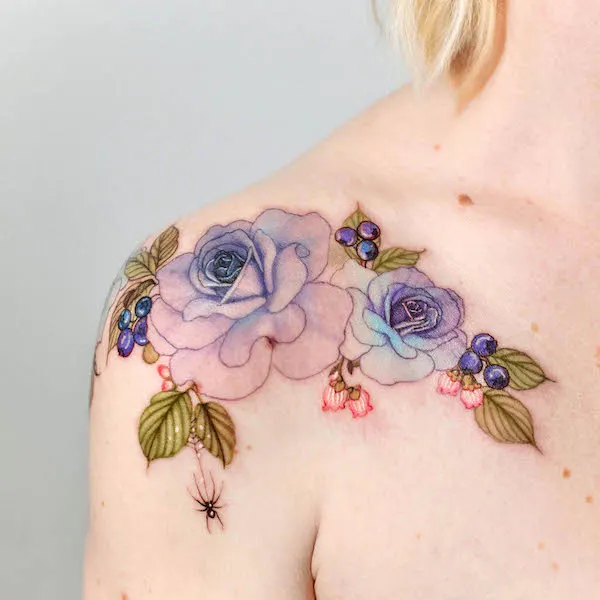 Another fruity tattoo. But unlike the previous one, the tattooist adds blueberry flowers, roses, and a spider hanging on the branch to give more fun and colors to the design.
Dandelion flower collarbone tattoo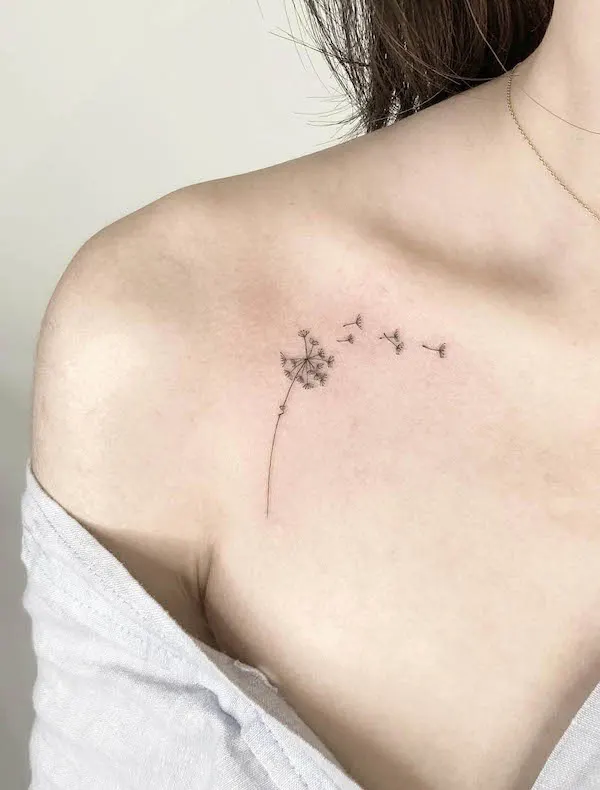 The seeds of a dandelion fly away with the wind. That's why it symbolizes letting go. If you are recovering from a loss or moving on from the past, dandelions will make a perfect meaningful collarbone tattoo for you.
Two-color flower collarbone tattoo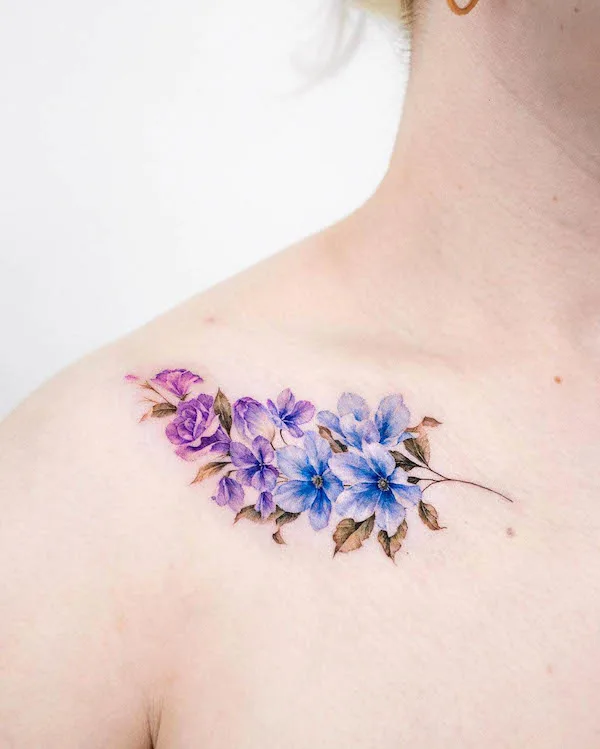 It's easy to over color a tattoo, especially for small ones. Too many colors, and you may lose focus. This tattoo is the contrary. But limiting the flowers to two colors, the tattoo remains elegant and simple.
Delicate floral swirl tattoo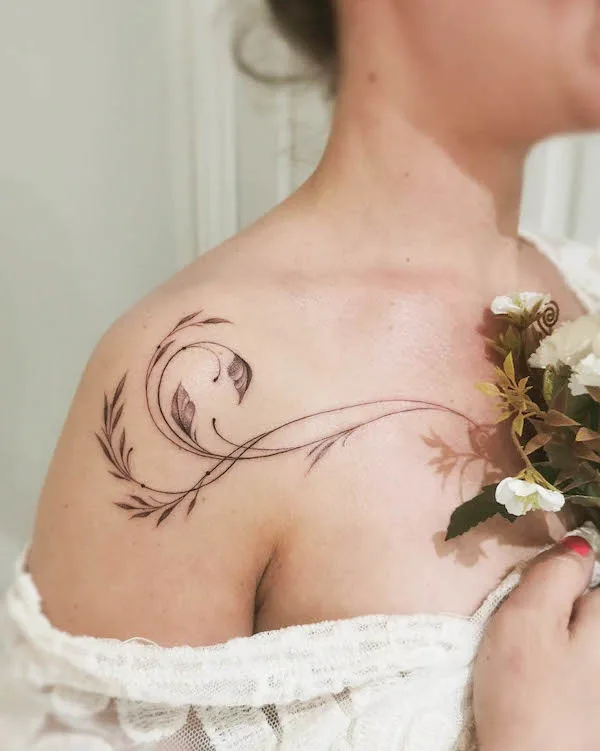 Botanical tattoos are so popular because of their flexibility. You can tweak the lines to make them flow with the bone structure. With the leaves at the branch's end, the tattoo lures the viewers to look closer.
Small cherry blossom and petals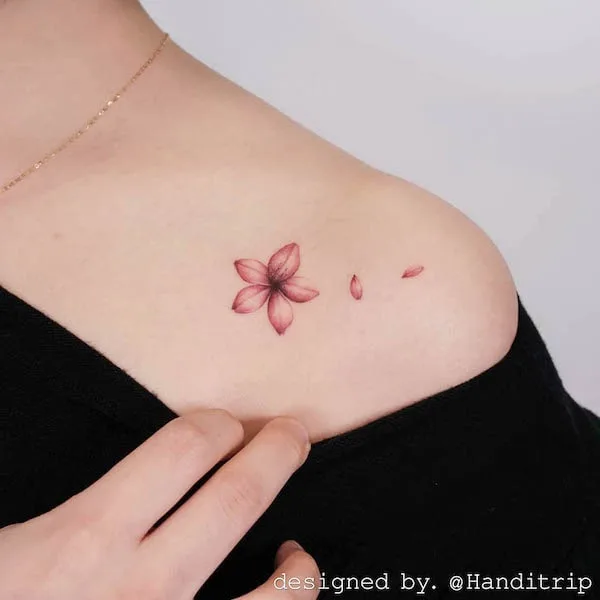 This small flower tattoo will be too simple without the petals flying away. They highlight the design and add motion to the static ink.
Blue rose collarbone tattoo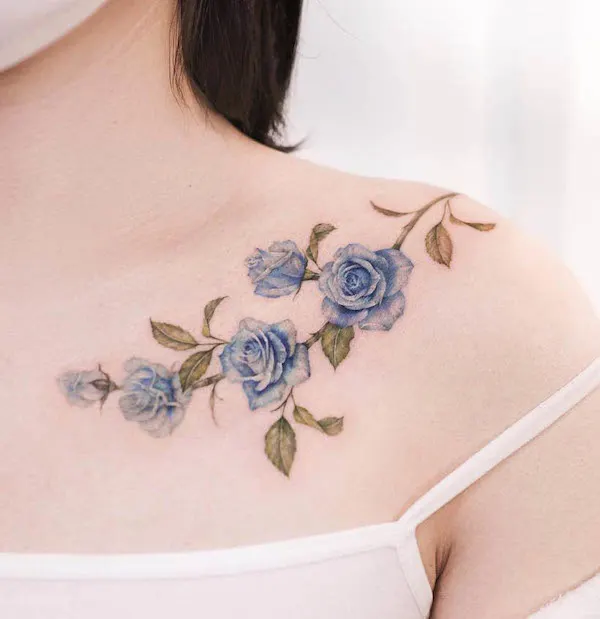 Most roses we see in daily life are pink, red, and sometimes white. Blue roses are rare. And this tattoo may be for someone as rare as the flowers.
Beautiful ornamental collarbone tattoo for women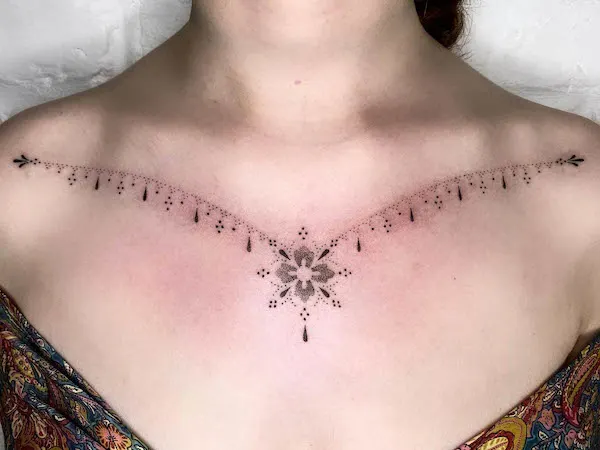 Another ornamental tattoo stretching from shoulder to shoulder. The perfect symmetry keeps a big tattoo like this one feminine. Consider a similar design if you are going big but don't want your tat to be too complicated.
Oriental landscape fan tattoo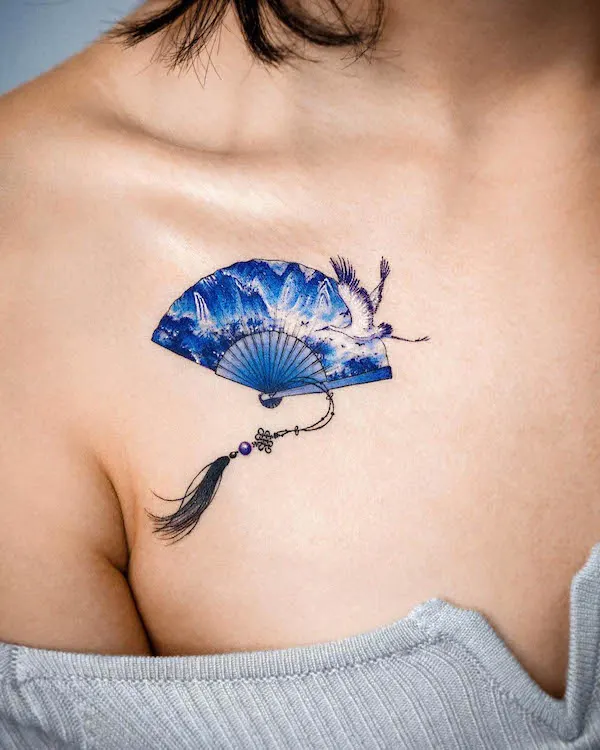 The crane and the paper fan are both motifs of oriental tattoos. The crane represents loyalty and a high moral standard. And the fan acts as a perfect canvas for the landscape tattoo. If you are from an Asian family, this small, porcelain-tone tattoo celebrates your root.
Snake and sword collarbone tattoo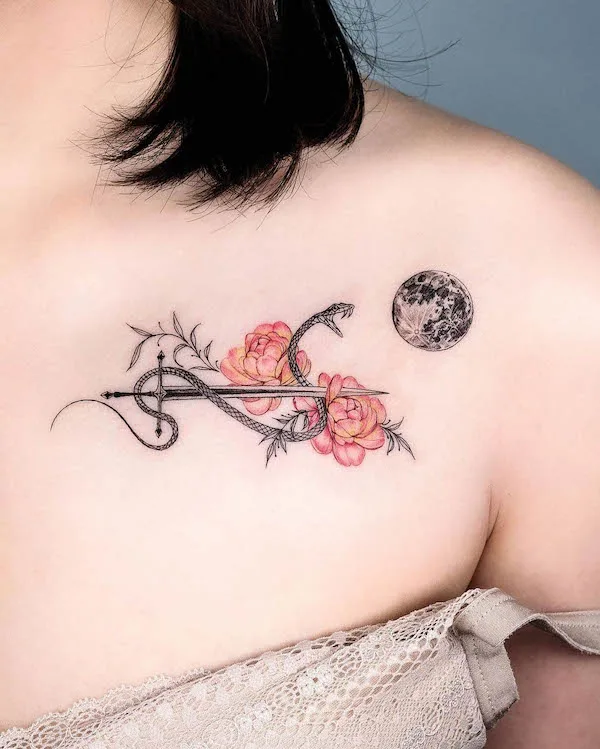 Both the sword and the striking snake are symbols of protection. Together, this tattoo functions as a talisman that keeps bad energy away. In addition, the flowers and moon make the seemingly fearsome elements softer and more feminine.
Adorable ray fish collarbone tattoo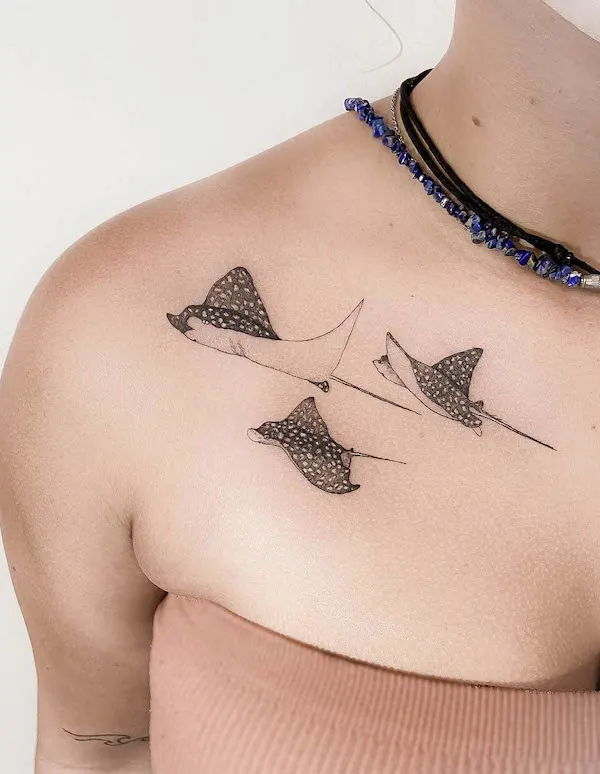 Do you love the ocean and ocean wildlife? If so, consider your favorite sea animal as your next ink. And one good thing about water creatures like fish or mermaids is their natural flow. It makes a tattoo more vivid and lively.
Phoenix collarbone tattoo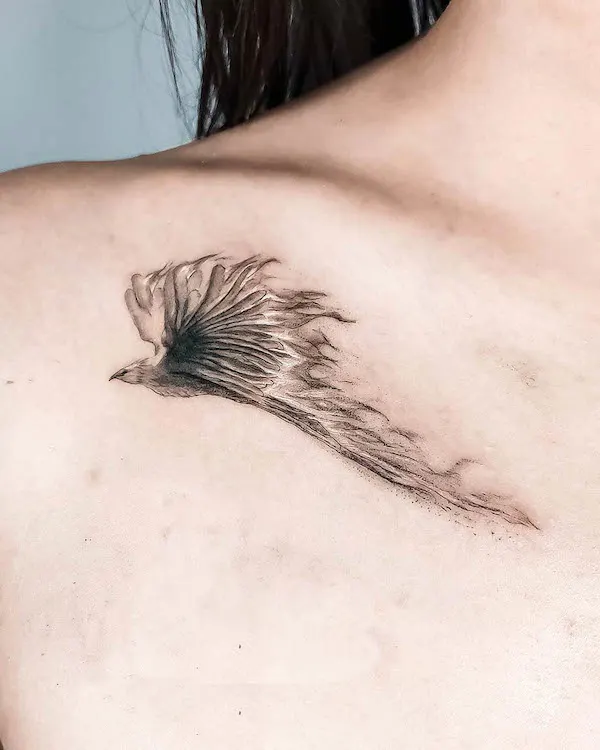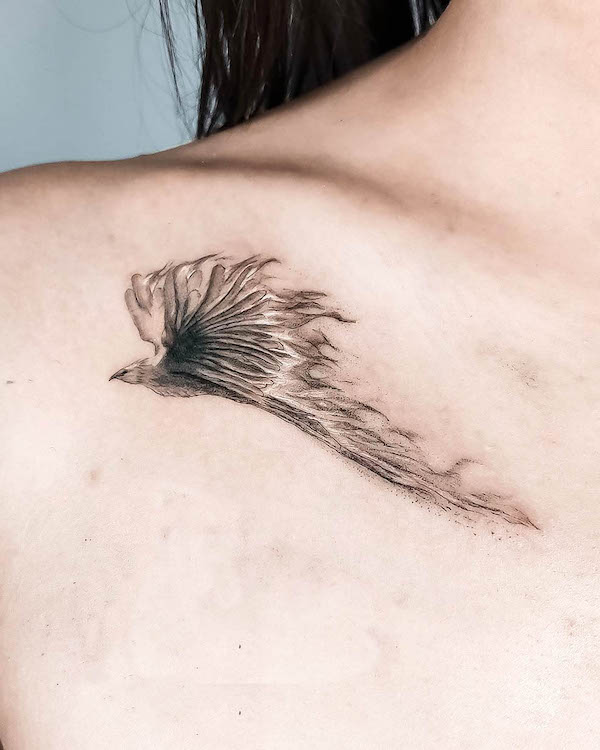 Phoenix has long been a symbol of rebirth and strength. This collarbone tattoo captures the phoenix as it's flying away. The glowing feathers are like burning flames, stunning and empowering.
Tiny dragon collarbone tattoo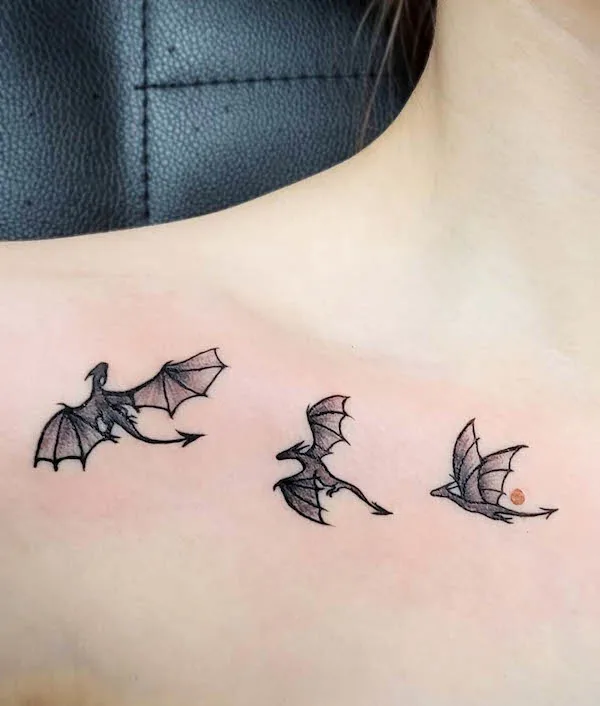 Dragon tattoos are often huge and menacing. These three tiny dragons show us an alternative – simple, small, and cute.
Flying birds collarbone tattoo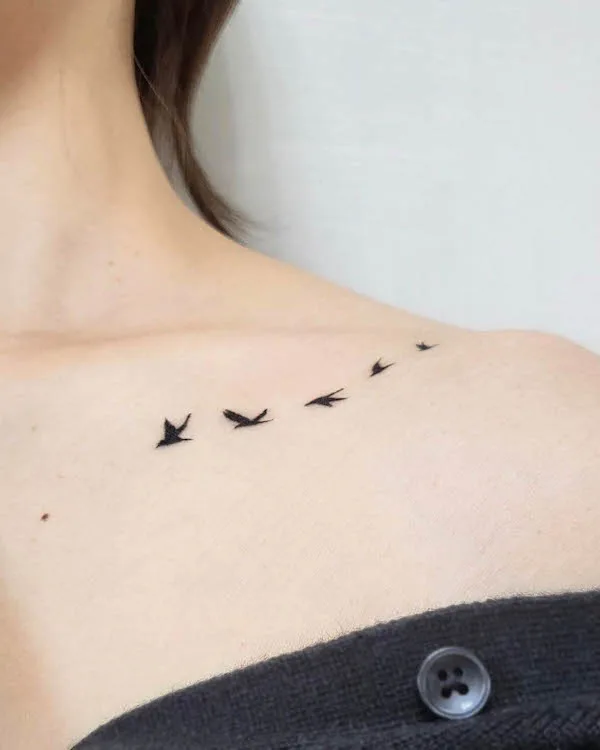 Bird tattoos fit perfectly below the collarbone, especially when tattooing a flock of birds flying away. You can easily design the path to complement the bone structure.
Small hummingbirds tattoo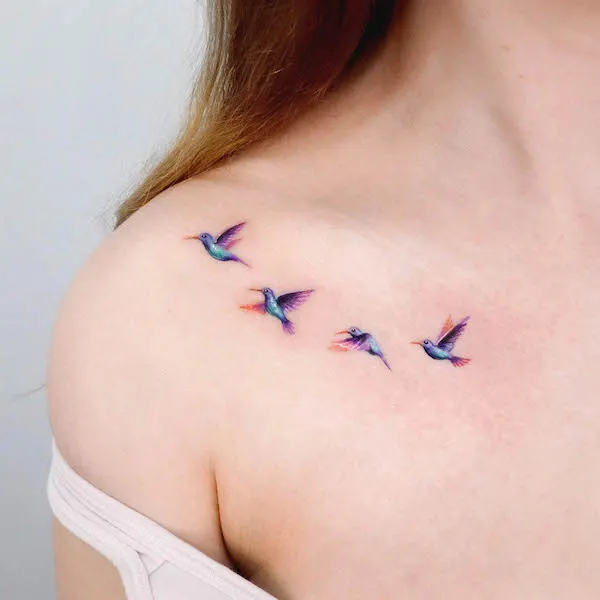 If you are going for bird tattoos on the collarbone, take time to choose a species with the symbolism you resonate with. For example, hummingbirds in this tattoo represent joy and good luck, making it meaningful and personal.
Pink birds collarbone tattoo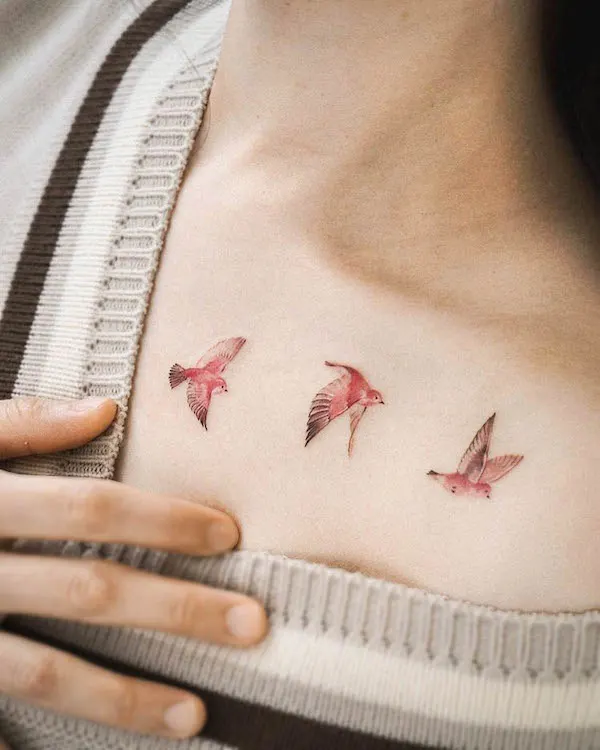 Tattooing a flock of birds doesn't mean copying the same one. Instead, the tattoo artist captures different bird postures and puts them in this small tattoo. It gives rhythm to the design and makes it more realistic.
Tiny feather tattoo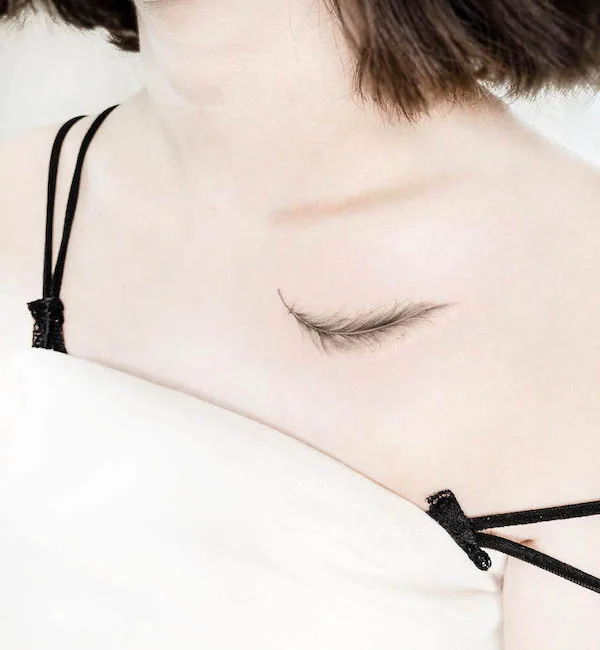 A feather might seem to be an ideal girly tattoo idea. But it's not easy to tattoo a feather well. If you have too little detail and the feather doesn't look real. Too much, and it will feel heavy.
This small feather tattoo gets it right on point. Using different shades of black makes the tattoo realistic, as if it is flowing on the skin.
Killer whale tattoo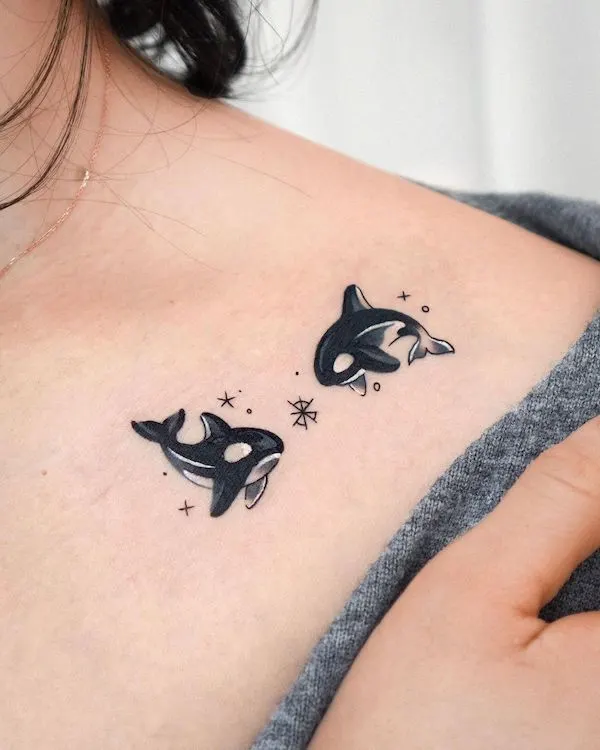 A feminine tattoo isn't always about flowers and butterflies. Killer whales, for example, are not necessarily a feminine tattoo element. But the tattooist cartoonize the whales to make them cute and girly.
Dori cartoon tattoo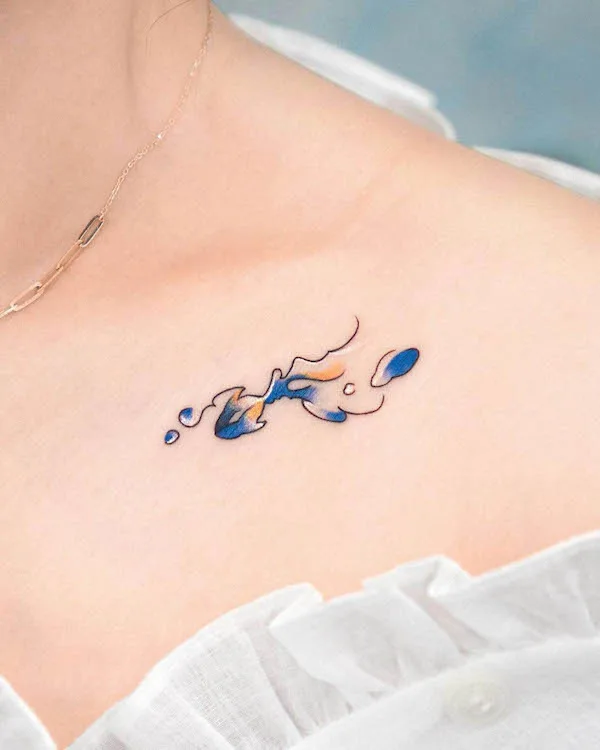 Cartoon character tattoos don't have to be exact replications. For example, this tattoo is inspired by Dory in Finding Nemo. However, instead of copying the exact look of Dory, the tattooist draws an abstract version and colors it with Dori's signature colors.
Whale and hearts collarbone tattoo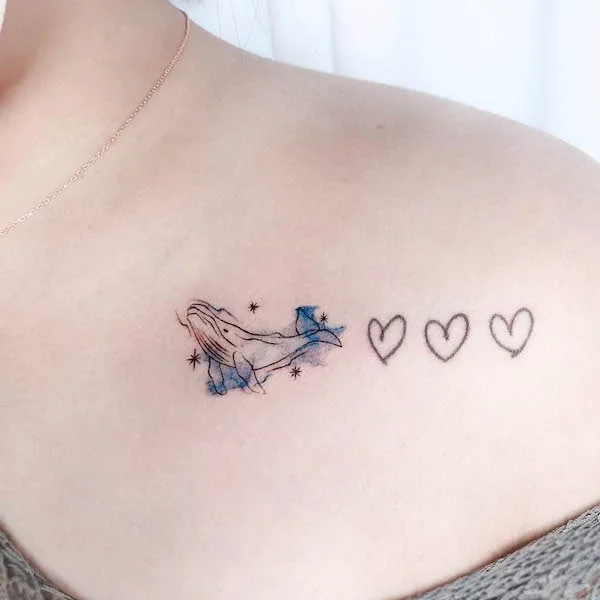 An outline tattoo is too bland for you? Why not add a watercolor background to it, just like this dainty whale tattoo?
Dainty flower and butterfly tattoo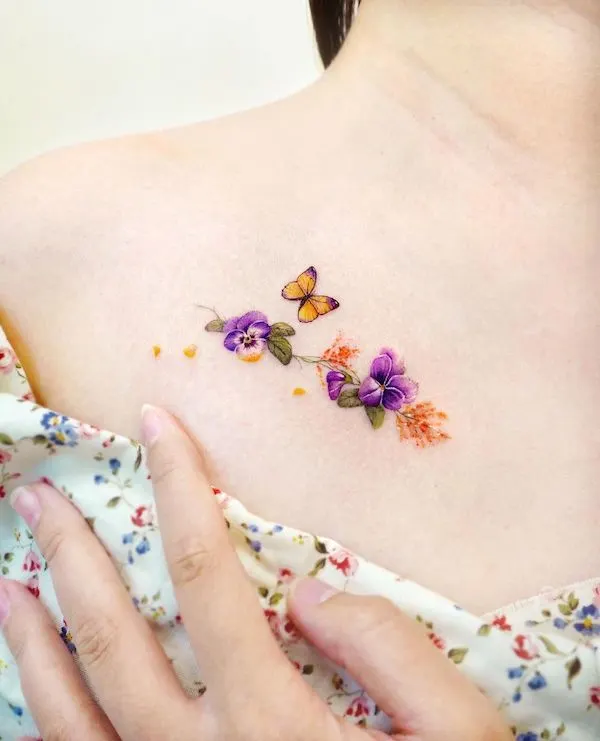 Two are better than one. While butterflies and flowers are pretty on their own, combining them gives the ink greater flexibility in colors and shapes.
Vincent Van Gogh butterfly collarbone tattoo
If you are an artistic person, consider incorporating the art of your favorite painter with a common motif. Tattooist Tilda has created lots of butterfly tattoos. But she manages to make each one unique. Check out our interview with her to learn more about her work.
Read also: 28 Artistic Vincent Van Gogh tattoos with meaning
Tiny Pisces fish tattoo
If you want to showcase your zodiac sign discreetly, the collarbone is the right place. It's not always visible. But with the proper clothing, you can make a statement effortlessly.
Read also: 55 Pisces tattoos that are insanely gorgeous
Stars tattoo on the collarbone
Stars and the moon make perfect dainty tattoos. You can place them close together to create a spotlight. Or you can scatter them around to cover a wider area, as shown here.
Small pin tattoo on the collarbone
This small tattoo is a clever one. By leaving a blank space on the pin, the tattooist creates a visual illusion that the pin goes through the skin. You can almost feel the pain just by looking at it.
Floral player collarbone tattoo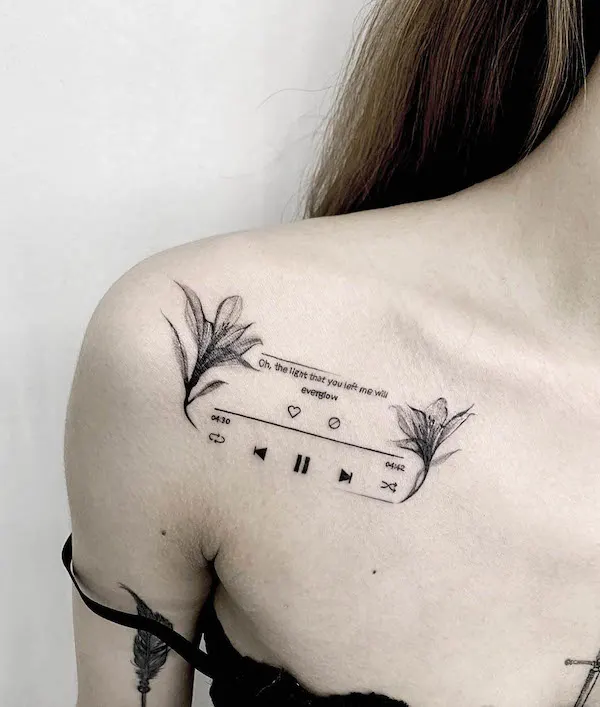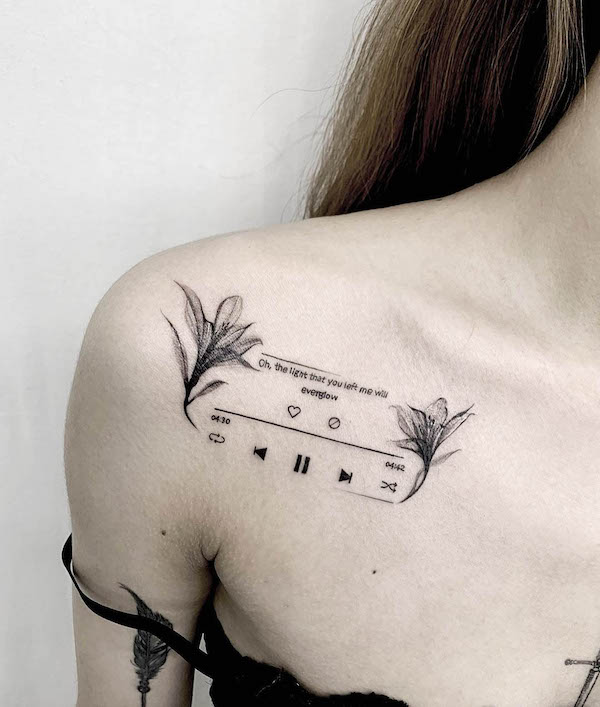 Do you have a song that reminds you of a particular time or cheers you up on a bad day? If so, a player tattoo like this will turn the melodies into permanent totems.
One-word collarbone tattoo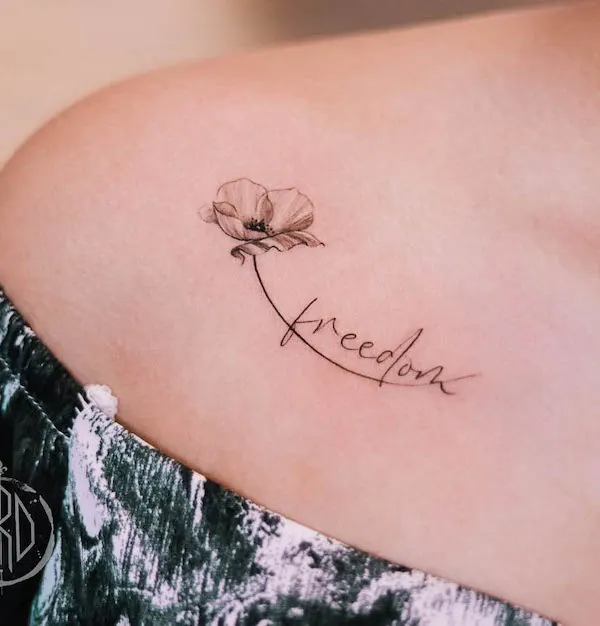 If you pick the right word, one word says a million things. It can be your motto or something that represents you. If letter tattoos are too simple for you, consider adding a flower like this.
Promise – meaningful collarbone tattoo for women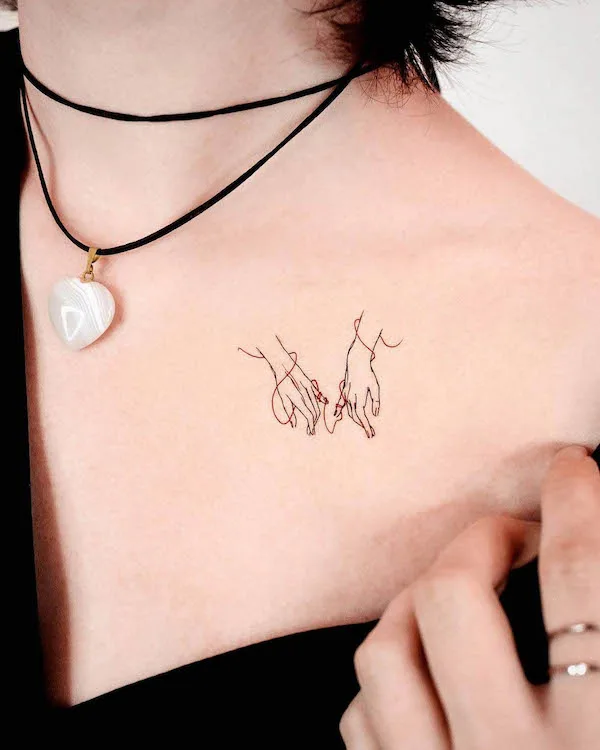 A promise may last for a lifetime, just like a tattoo. This small tattoo depicts two hands just about to make a pinky promise. In addition, the red thread symbolizes the bond between the two. This adorable tattoo will belong to a pair of good friends or soulmates.
Small wave and moon tattoo
Colors add magic. For example, this tattoo illustrates a small wave under a starry night. It's dainty and pretty. But the gradient colors really highlight it.
Mountain collarbone tattoo for women
Mountains represent the passion for exploring nature and conquering challenges. You will love this ink if you resonate with the mountain's symbolism.
Let it fly
There's beauty in letting go. When you let go of sadness and anger, you allow yourself to heal. This small meaningful collarbone tattoo sends the same message. The petals blown away by the wind become butterflies. It reminds you that when you move on, better things are ahead.
Tiny moon and plane
Did you dream of going to the moon when you were a kid? If so, this tiny tattoo may be for you.
It depicts a plane traveling around the moon, possibly heading back to Earth. It consists of simple shapes and lines. But they are enough to tell a story.
Zodiac constellation matching collarbone tattoos for women
Zodiac tattoos are all about glyphs, constellations, and symbols. These matching Leo tattoos celebrate Leo's pride with constellations. If you and your friend believe in astrology, consider getting matching best friend tattoos like this.
Cute cat tattoo
This watercolor tattoo may speak to your heart if you are a cat person and have multiple cats. It not only captures the uniqueness of each cat. The cat tattoo also shows the wearer's love for her fluffy pals.
Adorable dog and butterflies
Life is temporary. Tattoos are permanent. And when we have a tattoo of our beloved friends, we make the happy memories permanent. This way, they will always be with us.
Resting tiger on the collarbone
Tiger tattoos are not exclusively for guys. Tattooist Bium chooses a sleeping tiger and reveals the quiet side of the beast, making the tattoo more suitable for girls.
Wolf collarbone tattoo
Wolves might be wild predators. But they are also loyal to their pack and hunt with strategies. A realistic wolf tattoo represents the wearer's loyalty and wisdom.
Dragonfly shoulder and collarbone tattoo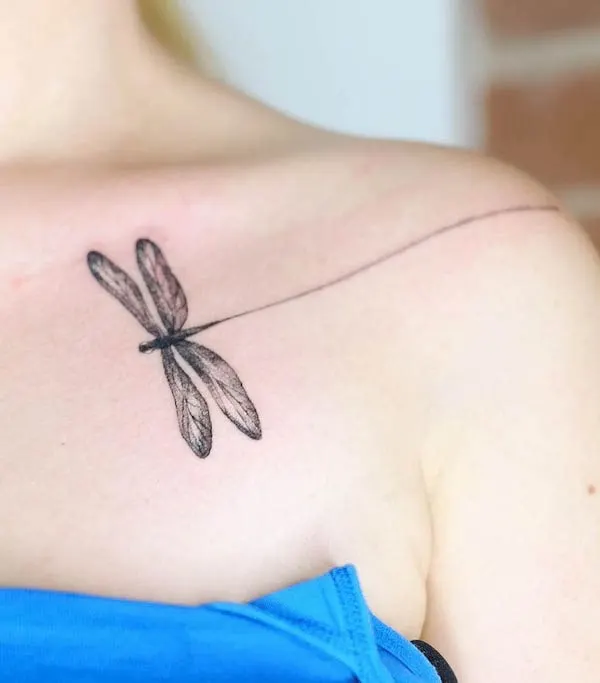 Just like other forms of art, creativity makes a difference in tattooing. The tattooist extends the dragonfly's tail and changes how they usually look. It may not be too big of a tweak. But it goes so well with the shape of the collarbone.
Floral sword
A dagger belongs to a fighter. A detailed floral dagger like this one represents the bravery and strength of a strong woman.
Balance one-word collarbone tattoo
The tattoo right on the collarbone hurts more than the ones on the surrounding area. That's why it's wise to keep the tattoo simple and on point, just like this one-word tattoo here.
Listen to your heart
Quote tattoos are not only meaningful. They can be beautiful, too. Choose a quote that resonates with you. Then customize the font, the shape, and the decorations. And you'll have an elegant and timeless reminder on the skin.
Girly name tattoo on collarbone
Don't know what to tattoo? Your name will never be wrong. With the daisy flower by the name, the tattoo instantly gets cuter.
As always I need you
One thing about collarbone tattoos is that they are usually visible to others, not to the wearers. That's why many people think of collarbone tattoos as a statement or a message for someone else. "As always, I need you." is a sweet line for a loved one. It will warm their heart every time they see it.
Small initial collarbone tattoo
You can't go simpler than an initial tattoo. Compared to a name tattoo, an initial is more abstract. It can be the first letter of a name, a place or a word. It's not only minimalist but also keeps people guessing.
Small black heart
Heart-shaped tattoos are girly and sweet. However, if a heart tattoo is too girly for you, try to balance it out with black.
Tiny line and heart collarbone tattoo for women
Simple lines and shapes are perfect for the collarbone, just like this small dainty tattoo. It is not just cute. The simplicity also makes it an excellent first tattoo.
Which of these collarbone tattoos for women is your favorite?
Leave a comment down below and share your thoughts!