Pisces have a unique taste for tattoos. From big to small, simple to intricate, these Pisces tattoos are tailor-made for the sign.
Pisces, the last one on the astrology wheel, has taken in the complex features of all other 11 signs. Being a highly sensitive water sign, the Pisces are born with strong empathy and compassion.
So how to choose a Pisces tattoo as unique as you are? We've gathered some of the best zodiac tattoo ideas for Pisces. From blackwork to watercolor, from tiny minimalist tattoo to bold statement pieces, in this post, you will find designs that represent your individuality.
Disclaimer: This tattoo collection is for inspiration only. Please do not copy the artwork. If you love these tattoos, follow artists and show them some support.
Table of content
Pisces symbols and tattoo elements explained
Pisces symbol and constellation tattoos
Fish tattoos to showcase your Pisces pride
Pisces symbols and tattoo elements explained
The Fish are not your sole option when getting a Pisces tattoo. Here are the Pisces elements to give your ink some twists.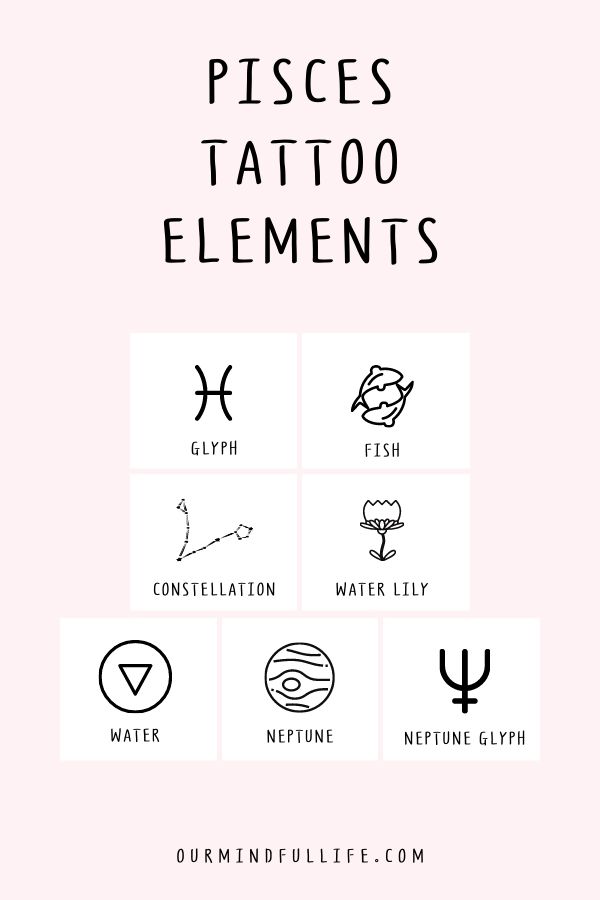 Pisces glyph
Pisces sign symbol: the Fish
The word Pisces is the translation of the Fish in Latin. The Pisces symbol is two fish swimming in opposite directions. It depicts the two gifts of Pisces: the ability to smooth difficult situations and their spiritual power. It can also represent their struggle to balance their world and the real world.
Pisces constellation
Pisces birth flower: Water lily
Water lilies are beautiful aquatic flowers. They grow and thrive in calm waters. They float above the water and root deeply in it, connecting the two worlds.
Similarly, Pisces is known to be the bridge between reality and spirituality. Being the last zodiac sign, Pisces is drawn to mysteries, after-lives, and things from the other world.
Pisces sign element: Water
Water signs are known to be intuitive and emotional. As for Pisces, their governing element gives them a powerful imagination. But they sometimes struggle to balance between things that are happening in the real world and in their head.
Pisces ruling planet: Neptune
Being the God of the sea, Neptune governs imagination and intuition. With the influence of Neptune, Pisceans are less "on the ground." They take risks and explore the possibilities.
Pisces symbol and constellation tattoos
Black and white matching constellation tattoo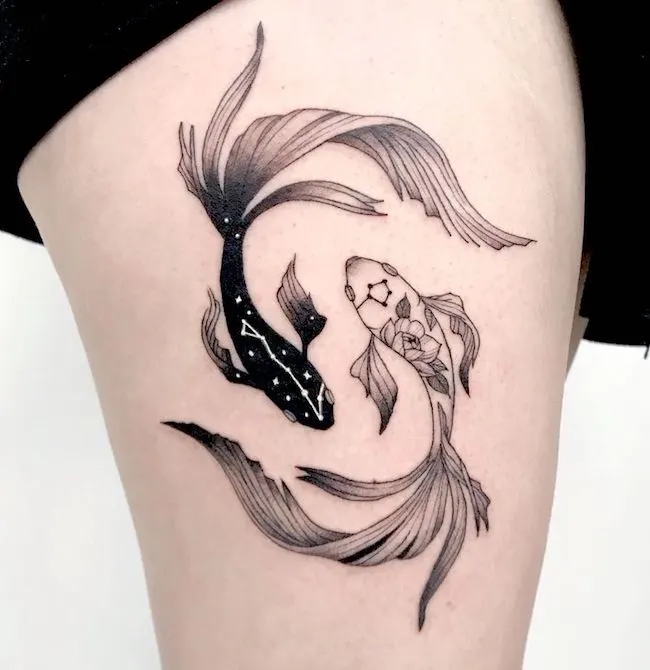 Via @kiratheoddist
A minimalist Pieces stars and moon arm tattoo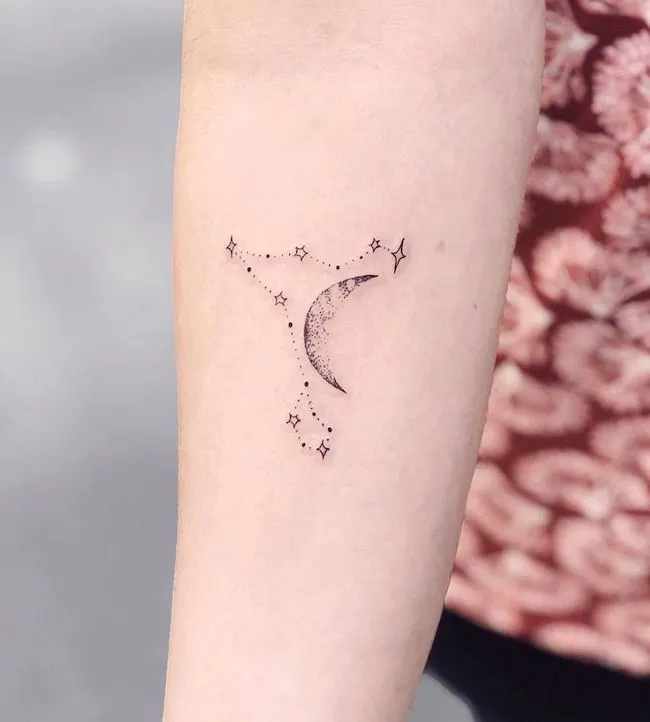 A palm tattoo of the Pisces constellation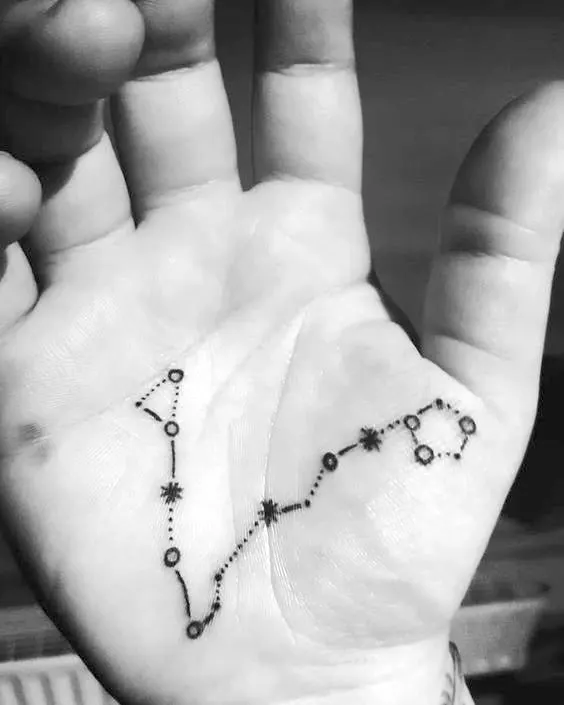 Via @destroink
A minimalist astrology symbol tattoo on the ankle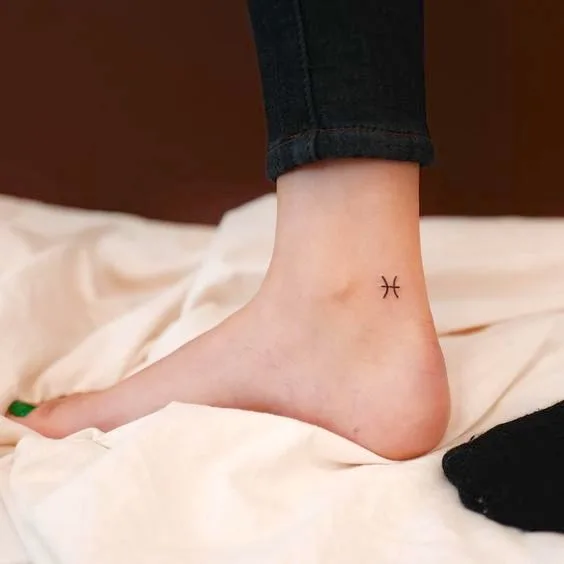 Via @hansantattoo
The Pisces glyph is like the letter H. It's perfect for those who want a minimalist and symmetrical tattoo. A small Pisces ankle tattoo like this is both low-key and straight to the point.
Matching Pisces glyph tattoos to get with your best friend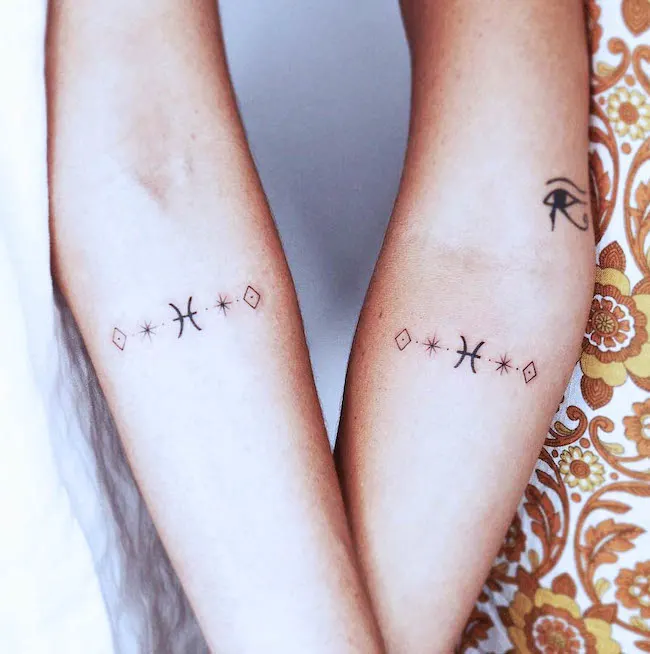 A glittering back tattoo the Pisces symbol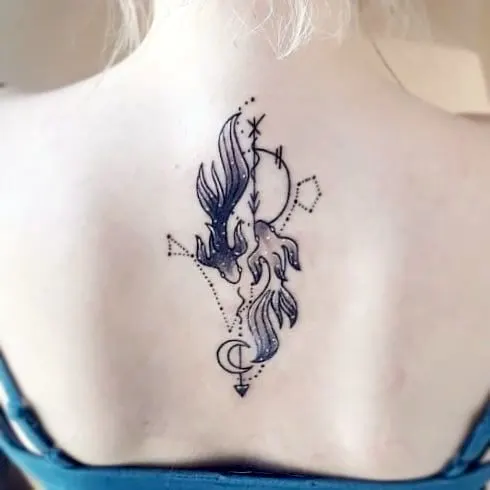 A symbolic arrow tattoo for Pisces men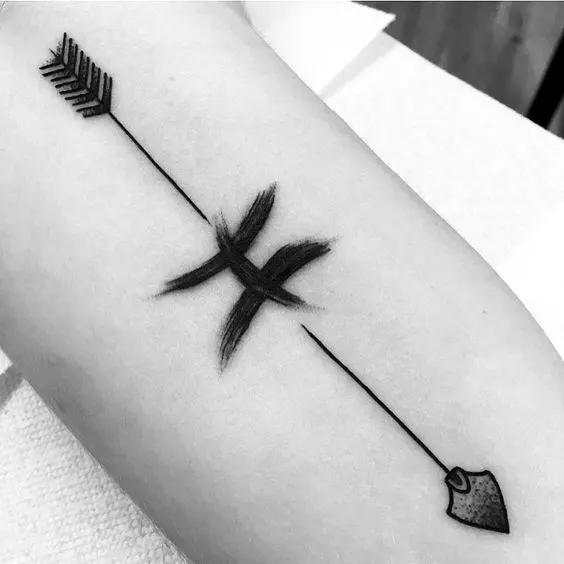 Via Instagram
A back tattoo combining Pisces and Capricorn symbols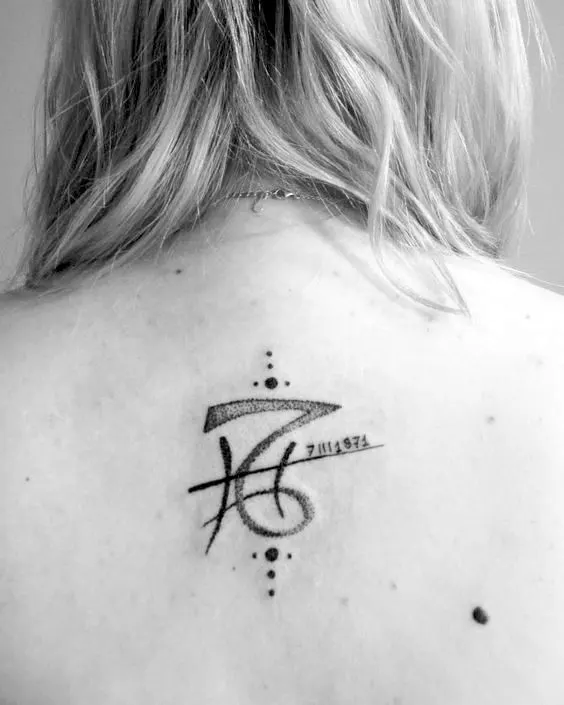 Via @ezorcyna
Related reading: 43 Stunning Capricorn Tattoos That Are Sure To Impress
Pieces glyph tattoo behind the ear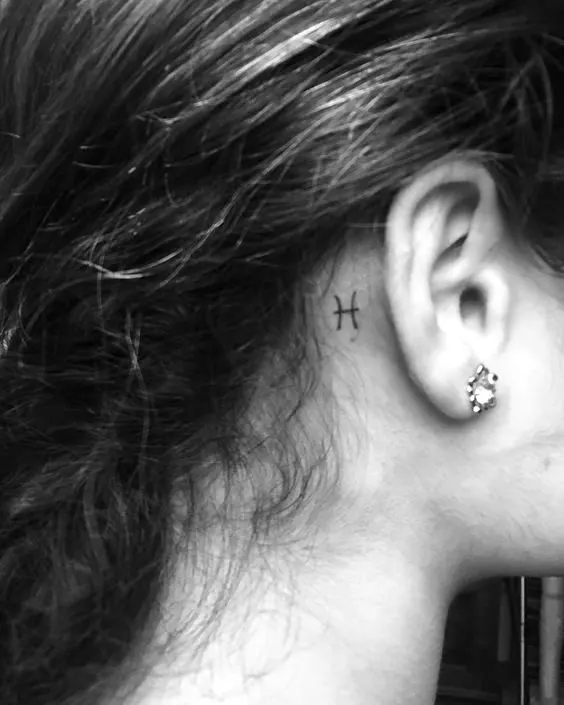 Via @verutetu
If you want your tattoo to be more personal, behind the ear is a great placement to consider. Pick a symbol (like a glyph of your sign) that relates to you. And you have full control over its visibility depending on the occasions.
Fish and water lily tattoo for Pisces
image source: Pinterest
Water lily is the birth flower of the Pisces sign. Both strongly associated with water, the flower represents the connection between two different worlds – the underwater and the one above water. Just like the flower, Pisces is the last sign of the zodiac circle. It's considered as the link between the real world and the spiritual world.
Colorful fish tattoo for Pisces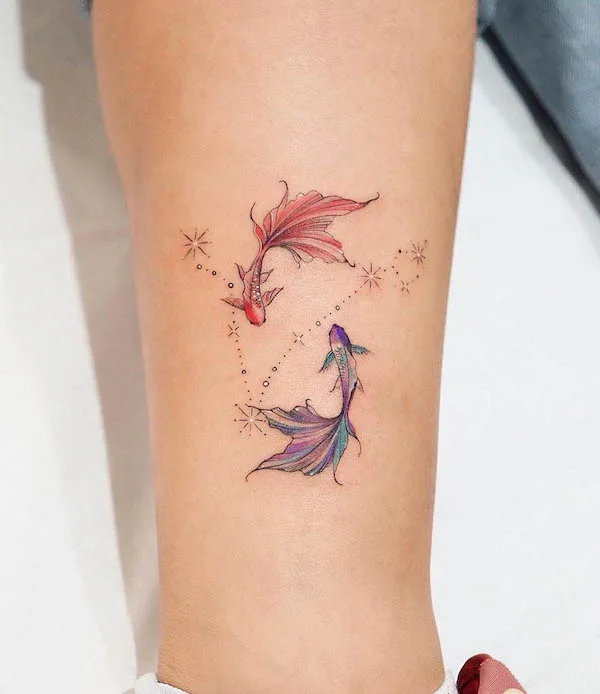 Colors make a tattoo pop, and this Pisces tattoo is living proof. For example, if you observe the tail of the purple fish closely, you will find a range of blue and purple. It represents both the technique and the aesthetics of the artist.
A floral Pisces symbol forearm tattoo
Via @urbiolatattoo
Pisces and birth flower water lily chest tattoo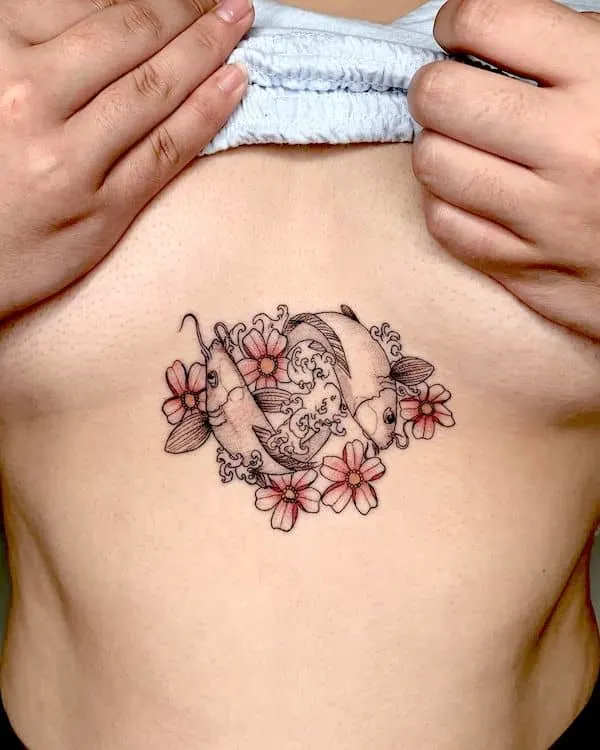 An intricate fish and water lily sleeve tattoo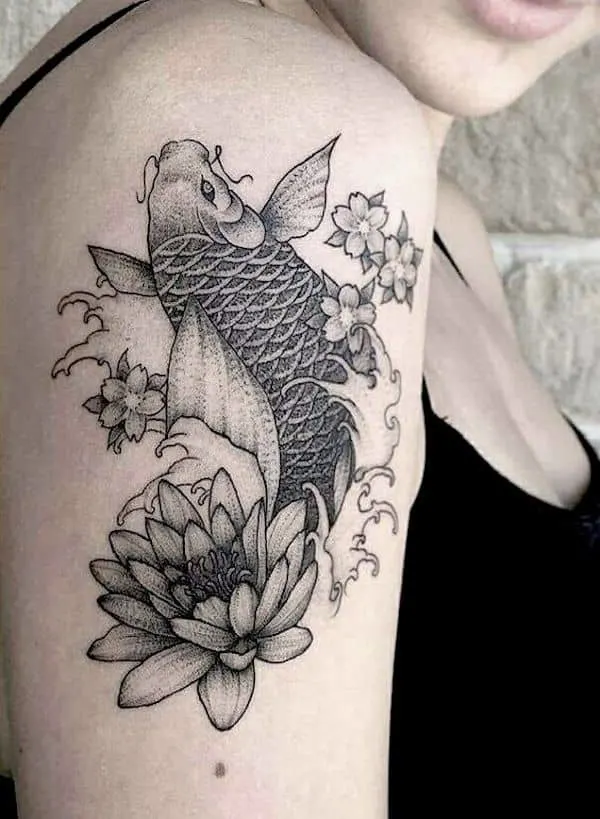 Mesmerizing scales tattoo on the calf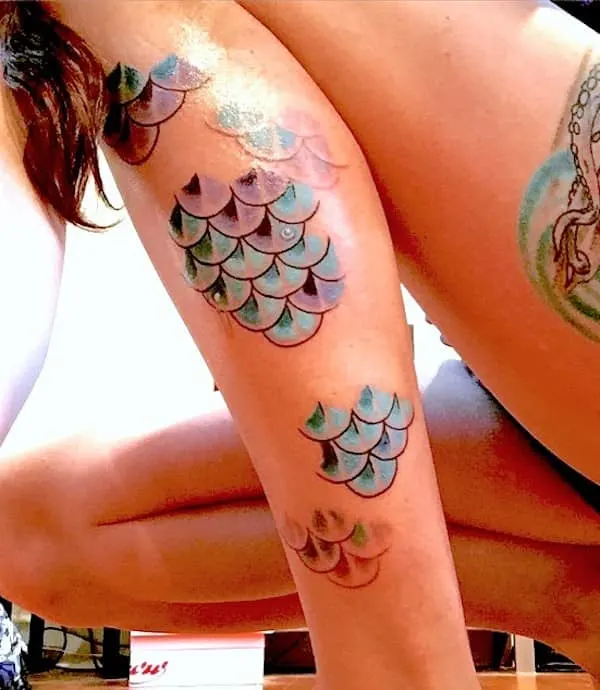 Fish is the first thing that comes to mind when we think of Pisces tattoo. But sometimes we can be a bit creative and work around the concept. This scales tattoo is a great example.
Fish tattoos to showcase your Pisces pride
A double fish ink on the back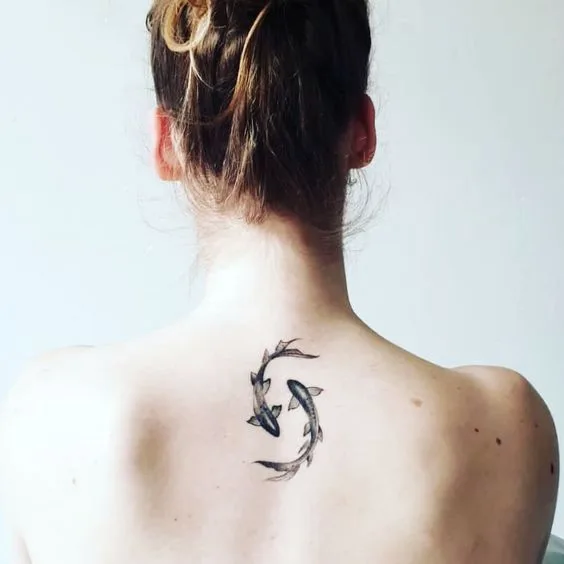 Via @oliebolletjes
A sophisticated lunar zodiac tattoo on the arm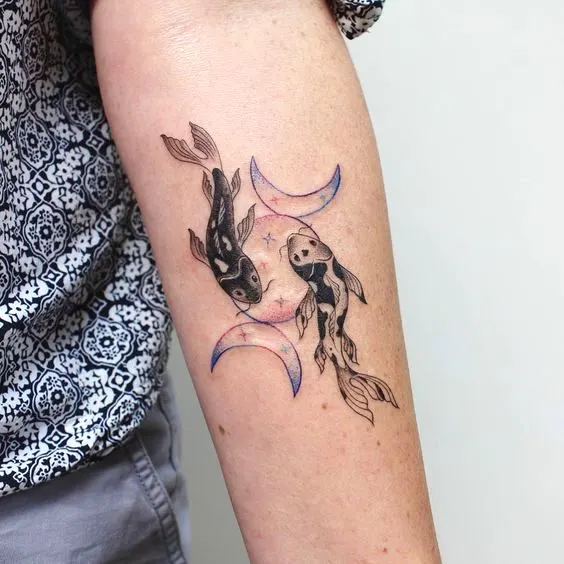 Via @zoe.tattoos
A minimalist one-line fish tattoo to show or hide
A fish tattoo that flows
Matching Pisces ankle tattoos
Read also: 109 Sentimental and romantic matching tattoos for couples
A fish hana tattoo on the hand
Bold Pisces tattoo on the chest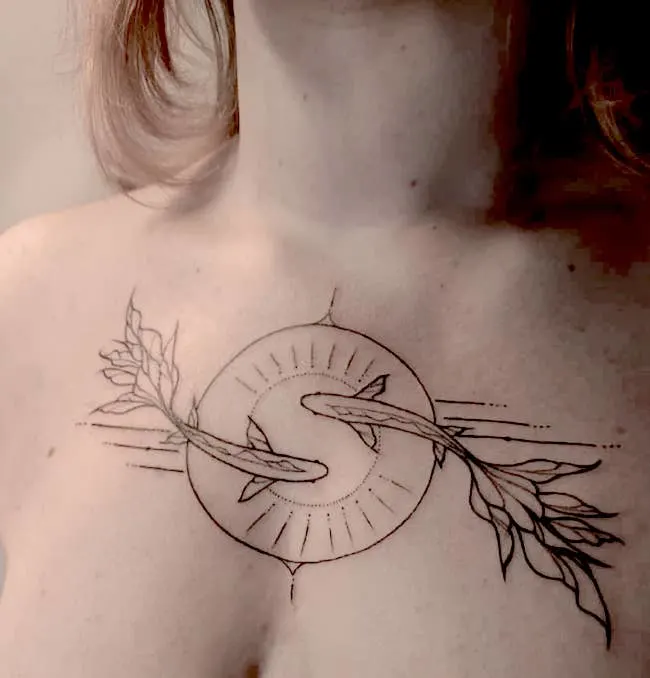 A stunning symmetrical back tattoo for Pisces men
Via @solspectra
The loner tattoo for Pisces
Hard and soft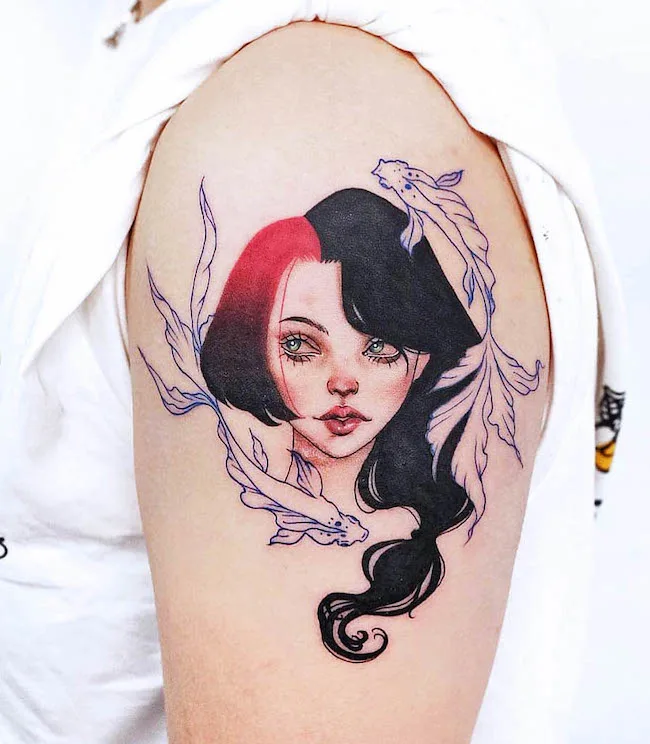 "She is water"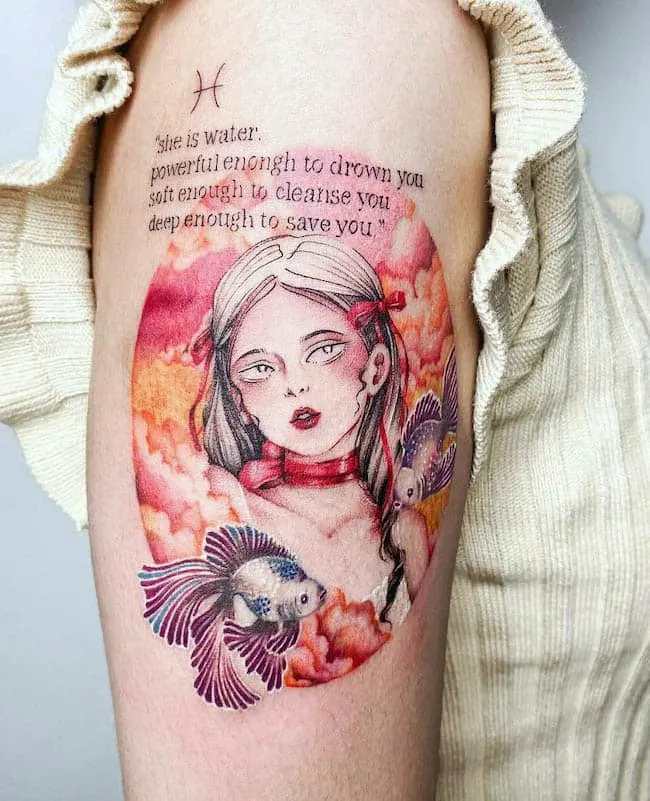 A double mermaid thigh tattoo for Pisces women
A fine line tattoo with stunning details and colors
Via @amaltheatattoos
A koi tattoo leg tattoo for Pisces men
Via @paintedsister
A watercolor double fish nape tattoo
A double sea horse tattoo
Via @sineadtattoos
A dreamy fish girl back tattoo for Pisces women
by @tattooming1
A koi tattoo with vibrant colors
Via @matthewedge
Fish is not just a symbol of Pisces. The koi fish also symbolizes fortune, luck and prosperity.
A gradient double fish calf tattoo with Pisces constellation
Via @studio_one_chemnitz_zentrum
A creative Pisces tattoo with double fishtails
Via @tattoo_szs
Geometric fish tattoos for Pisces best friends
Via @emmotattoo
If your BFF is also a Pisces, this matching best friend tattoo will be the symbol of your unbreakable bond.
A dark skeleton fish tattoo on the chest
Via @freiheitink
The water goddess shoulder tattoo
Via @ladvtattoos
A sleeve tattoo that feel like flowing
Via @gabrygontijo
Matching watercolor Pieces wrist tattoos
Via @221tattoo_0206
A thigh tattoo with a unique sense of humor
Via @lhkiosk
A sophisticated zodiac tattoo on the wrist
Via @terryemi
The world of Pisces
Via @spigatattoo
The light bulb symbolizes intelligence, ideas and imaginations. This tattoo is proof that we will never fully figure out the mind of a Pisces. Their mind can be a dangerous and twisted place.
A cute geometric Pisces shoulder blade tattoo
Via @greemtattoo
A stunning back tattoo for Pieces women
The Pisces in a distance
Via @d.olivaes
Want to know more about the Pisces zodiac sign? Check out these relatable Pisces quotes and memes!