If you are trying to meet a project deadline while your brain constantly drags you somewhere else, I get you. As a typical "tab bouncer", my worst enemy has always been living between my ears.
Sometimes I would spend a whole morning doing everything but not accomplishing anything. And it SUCKS.
That's why I made up my mind to quit multitasking. And it is one of the best decisions I've ever made. But something still bothers me.
Now I only work on one doc, browse one tab and use one app at a time. But my mind still wanders when I try to focus.
I would worry about missing my dentist appointment the next day when I am writing blog posts. I would think about doing grocery when I am still in the gym lifting weights.
The thing is, I am not actually mono-tasking. I might be working on one thing at hand. But my mind certainly has so much more to deal with at the same time. Without my brain cooperating, I am still trapped in low productivity and stress.
I need to clear whatever that is stuck in my mind, like, desperately.
So if this sounds like you, brain dump may help to untangle your mind.
What is brain dump?
According to Wikipedia, the definition of a brain dump is to "transfer a large quantity of information from one person to another or to a storage".
To put it in plain words, it's basically writing down everything that is stuck in your head. It's a process of listing, organizing, decluttering and taking actions.
After a brain dump, you should have a ready-to-roll mind for new information and knowledge.
But there's more.
If you are not a workaholic, most likely you'll have more to worry about than just your to-do-list at work or school.
I found my productivity at an all-time low when I had a huge fight with my best friend last week. I tried to get back to work after it but my brain was replaying the whole scene again and again. I was like 20% working and 80% mind-wandering. And my work deserves more than that sorry 20% of me.
So let's not forget about our mental baggage. Dig deep, like 6 feet under the ground kind of deep. Find everything that upsets you and note it down.
Unprocessed emotions get stuck within us.
– Mary Beth Janssen
When to brain dump?
The list may look a little bit different for everyone. But here are some major moments that I know I need a brain dump:
When you can't focus on what you are working on;
When you are working long hours but not getting much done;
When you are about to start a new project;
When you are moving or traveling to somewhere else;
When you experience major changes in life, like a new relationship or a new job;
When you lose something or someone important;
These are all critical moments where you may have a lot of new tasks to tackle and decisions to make. Brain dump will help to calm your nerves down and to get you in a problem-solving mode.
What to brain dump? A brain dump trigger list
This "brain dump" process will help you to live without a mental burden and stress. You will be able to break away from the strings that are holding you back. It sets you free.
However, if you just started, your brain dump worksheet may turn out to be more chaotic than your mind. It makes it difficult to figure out the biggest mental challenge you're facing.
To avoid that, my brain dump strategy is to categorize. Below are the 6 categories I have in my brain dump template for the moment. You can download the exact same brain dump worksheet at the end of this post:)
But first, let's talk about the 6 things to declutter from your mind.
Procrastinations
Write down things that you think you should do but have been pulling them off.
Decide if they are important. Delete those that are not. (Notice that I put those checks and cross marks beside each item on my "Procrastination" area?)
Fear
Things that you fear but somehow have to tackle belong to this category.
For example, you are going to do a presentation in 2 weeks and it starts to get on your nerves.
Write it down and try to write down the reason for the fear. (In this case, it may be the fear to speak to a crowd or getting yourself embarrassed. or scared to make mistakes…)
Anger
List things or people that you are mad at, those that are non-justifiable and unforgivable.
And beside each of them, write down one reason why they may irritate you.
Toxic people
I don't know if this is the right expression:)
But do you know someone that can always bring down when you are super excited about a new goal or a new project?
Yep, that's them. Write them down.
Beside each of them, write down one thing you could do to limit its negative influence on you. Maybe you can talk less to them. Maybe you can turn down one or two invitations. One thing at a time.
Incomplete goals/resolutions
Remember the resolution lists we made at the beginning of this year?
It's time to take it out and reveal it.
See how many of them are actually done and how many items are left to be finished. Write those down and if you can, put them in the order of importance.
Sorrow
This is the hard one.
When I lost 2 of my family members within 3 months, I was not handling it well.
I was too terrified to face my own emotions and I felt like being locked up in a box that sunk all the way down to the bottom of the sea.
But as soon as I wrote them down and be honest about my feelings, I felt so much better.
So if you have wounds that are not healed completely, take a deep breathe and write them down. We've all been there and I trust you. You can handle it.
Free Printable Brain Dump Template
For those who want to try, I've created a "brain dump" list template. Save the image below, print it out and start your brain dump process.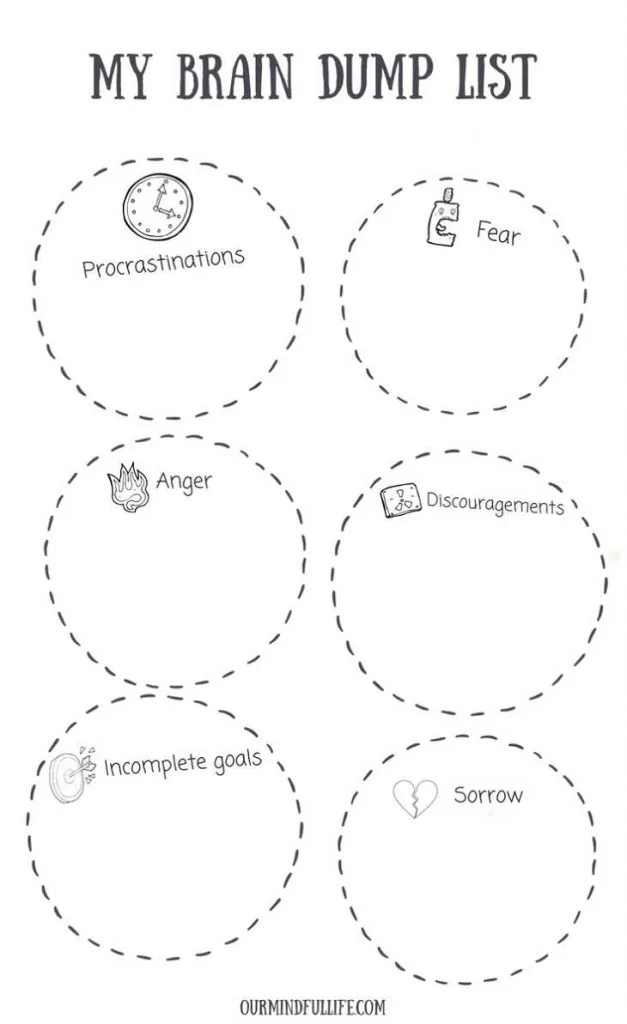 Download this printable brain dump template
What to do after a brain dump
If you have decluttered all your mental garbage, you will end up having a list of items in different categories.
So do we just leave it there and wait for the problems to solve themselves?
Hell no. They never solve themselves.
So here's what I do after filling a brain dump template:
List all the things I actually need to accomplish. Cross out those that are not important anymore.
They are most likely items in the "procrastination" and "incomplete goals" section of the brain dump template.
Add a due date for each of these to-do items.
Leave enough room for flexibility, especially big goals like "start my own business." Set it as a yearly goal instead of a specific date. Give yourself enough time.
Get help with items you can't solve by yourself.
You can't be a public speech pro in one day if your fear is "speaking to a crowd of people". So don't be afraid to ask for help.
It doesn't need to be a person. It can also be a list of motivational quotes, a book, a movie, a song or anything that makes you feel better. Make it part of your self-care routine if you wish.
Wrapping it up
So that's it. A brain dump or a mental cleanse is not done once and for all. Your mind and your space both need regular decluttering.
But once you start to make mind-declutter a habit, I promise, you will feel less stressed and are more capable of focusing on what you are trying to achieve.
And your turn! Do you have a brain dump strategy that works for you? Tell me in the comments below!