Scorpio have a unique taste for tattoos. From big to small, simple to intricate, these Scorpio tattoos are tailor-made for the sign.
Your tattoos represent your personality and identity. That's why it can be hard to decide what pattern to go for, as unique, personal, and aesthetically appealing tattoos are rare.
That's why zodiac tattoos are a popular idea for many people, especially first-timers. Each zodiac sign has more than one element, and you will always find something relatable.
And as a proud Scorpio, you are probably looking for something extraordinarily different from anyone else. You can choose a unique scorpion motif, a simple glyph, or a portrait with Scorpio elements. The possibilities are endless.
To give you some ideas, here is a list of Scorpio tattoo ideas that are gorgeous but not too much. Keep scrolling to find your next ink.
Disclaimer: This collection of Scorpio tattoos is for inspiration only. Please do not copy the artwork. If you love these tattoos, follow artists and show them some support.
Scorpio tattoos with meaning
Table of content
Scorpio symbols and tattoo elements explained
Unique Scorpio tattoos for women
Scorpio tattoos for men
Scorpio symbols and tattoo elements explained
Scorpions are not your sole option when getting a Scorpio tattoo. Here are the Scorpio elements to give your ink some twists.
The glyph of Scorpio is similar to the letter M, but with a tail of stinger pointing upward.
Scorpio sign symbol: The Scorpion
Anyone that knows the basics of astrology will stay out of Scorpio's way. Represented by the secretive Scorpion, the sign is known to be seductive and vengeful. They feel, love, and hate intensely. If you betray Scorpio's trust and loyalty, they will sting you with their poisonous tail.
Scorpio constellation
Scorpio birth flower: Chrysanthemum
Just like the sign, chrysanthemums have layers covering their stamen. They are beautiful and seductive. Similarly, only the ones that prove they deserve Scorpio's trust can see the sign's true self.
Scorpio sign element: Water
Water signs are known to be intuitive and emotional. As for Scorpio, they tend to bury their feelings underneath their armor.
Scorpio ruling planet: Pluto and Mars
Pluto is a planet of transformation. It drives Scorpio to break the chains and achieve their goals.
Mars, in Greek mythology, is the governor of war. The signs ruled by Mars are intense and powerful. That makes sense why some Scorpios are short-tempered and impulsive.
Unique Scorpio tattoos for women
Double scorpion on the back
This back tattoo is proof that Scorpio tattoos aren't always intimidating. Scorpios are dangerous creatures. But the constellation in the background softens the piece.
And this is not a large back tattoo. The fact that it has so many details in such a small area makes this tattoo exceptional.
An abstract Scorpio outline tattoo
This may look like a simple outline tattoo. But the tail of the hair hints that this tat belongs to a Scorpio woman. If you want to low-key show off your Scorpio pride, this is the design to opt for.
A Scorpio "Star-girl" tattoo on the forearm
This tattoo perfectly combines cuteness with mysteriousness. Everyone will have his own interpretation and it will keep people guessing of the real story behind it.
Scorpion lollipop
Scorpio tattoos, especially the ones with a scorpion, are often menacing. But this one is different. The scorpion sealed in a heart-shaped lollipop adds fun to this tattoo. And even girls can wear a design like this.
The lethal species
Good tattoos are visual representations of the wearer's personality. This arm tattoo is screaming, "don't cross me. I sting." Such a badass tattoo will be a proud statement of your zodiac sign.
A peony tattoo with a small Scorpio symbol
One way to combine your sign with the imagery you love is by adding a glyph. And this rose thigh tattoo is a good example.
The beating heart

An intricate floral tattoo
Minimalist lunar tattoo
A bold Scorpio tattoo between the boobs
Tattoos between the boobs are not for everyone. This is a highly discreet and intimate placement. For those who want to add to their charism, consider a bold and sexy design like this.
The heartbreaker
Scorpio blackwork tattoo between the boobs
Flower tattoo with Scorpio constellation
Do you have a favorite flower? If so, adding a zodiac star background to a flower tattoo is a good way to express your identity and aesthetics.
Mechanic scorpion
Such a big tattoo on the arm or hand is not common for women. However, the flowers and the shiny shell of the scorpion create an irresistible attraction. And it makes the tattoo one of a kind.
Sun and scorpion
The goddess of revenge
Scorpios may forgive, but they will never forget. They believe in karma and revenge and make sure people get what they deserve. And this revenge goddess is a clear statement not to cross the sign.
A Japanese red tattoo for Scorpio girls
A floral circle scorpion
A glittery tattoo for Scorpio witches
Via @breathingrooms
A sleek hand tattoo for Scorpio women
Hand tattoos are highly visible. That's why they are only for those who are not afraid of showing their tattoos. If you are a Scorpio who wants to tell the world who you are, consider a hand tattoo.
The connected planets on the back
Scorpio tattoo for cat lovers
You Scorpions are probably the most "catty" out of the 12 zodiac signs – doing only what you wanna do and not being scared of the unknown and uncertainty. If this sounds like you, consider getting a cat tattoo like this.
A small red scorpion on the chest
Via methlabor
A moody Scorpio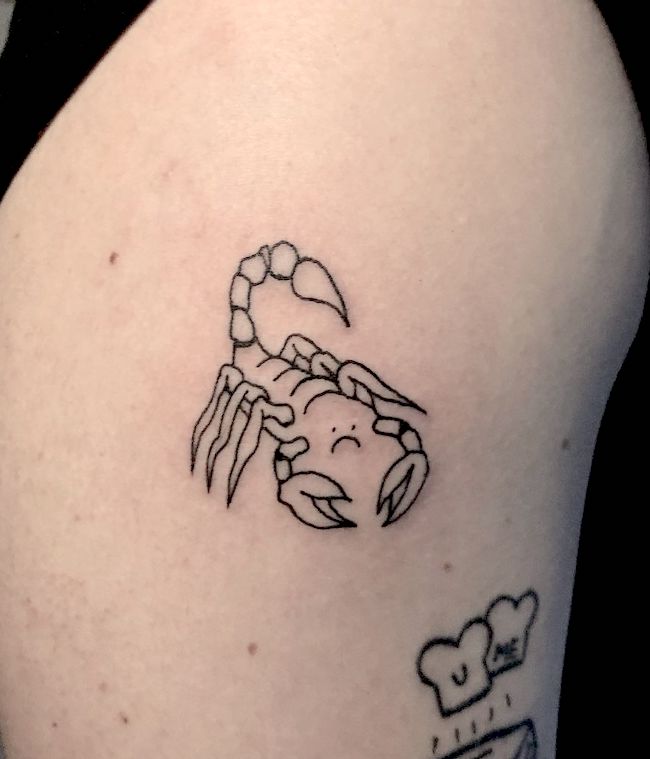 It's rare to find a tattoo that is sad but also cute. This small scorpion is one of the very few.
A floral Scorpio tattoo
A dual-colored tattoo on the ribs
Via rozalie_tetuje
Rib tattoos are so loved for a reason. They are not visible often, so you can go as big as you wish. And a good design aligning with the bones will compliment the body shape.
A creative tarot tattoo
Via izzy.blitzz
Scorpion on the chest
A realistic scorpion tattoo with geometric background
Via blxckink
An Aquarius-Scorpio watercolor tattoo
Via ladvtattoos
This tattoo has so much to love. First, the scorpion's body is in a perfect S shape, creating movement in static ink. The water adds a shade of popping color to the tattoo. It's a perfect example that Scorpios can be soft and dangerous at the same time.
Read also: 41 Scorpio quotes that will make the sign feel attacked
A Scorpio tattoo with flowers
Via el_loco_tat2
A tiny scorpion tattoo on the foot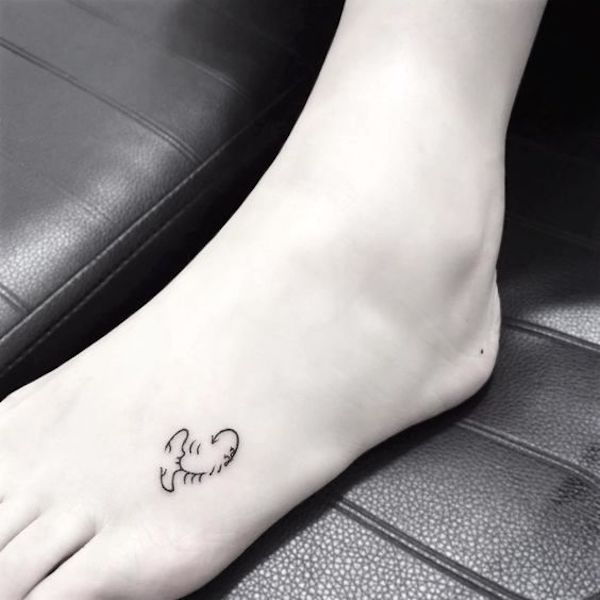 A cute constellation tattoo
Via hktattoo_tina
A small outline tattoo with a stars background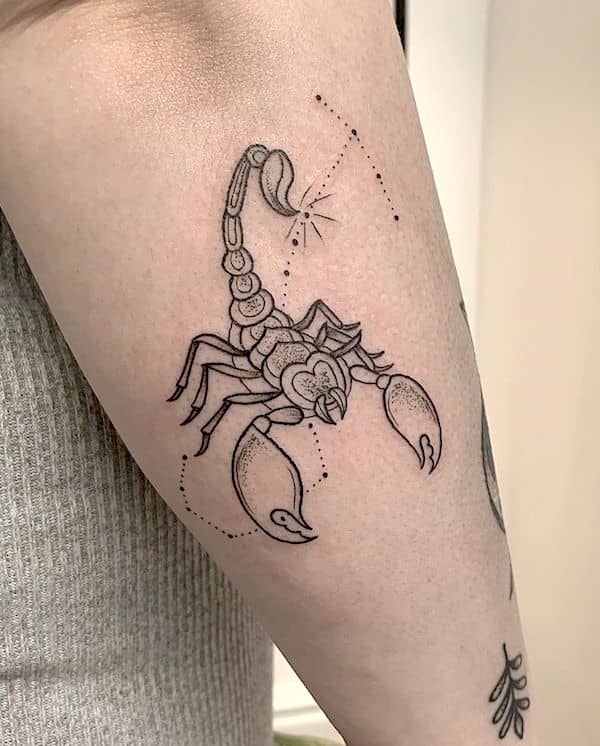 A forearm tattoo is less likely to stay hidden than a back tattoo or a thigh tattoo. I love how the artist corporates the natural skin tone with the tattoo instead of filling it with black. This way, the tattoo stays girly and soft instead of menacing.
Read also: 30 Creative and hearty gifts to spoil a Scorpio
Hummingbird compass tattoo
Via sashaink
A blackwork scorpion back tattoo
Via beticzaban
Stinger in the mirror tattoo
Via lorageapproche
Scorpio constellation in the palms tattoo
Via mattymassacre
Scorpion and apricot flower
A realistic small scorpion tattoo on the back of the forearm
A black constellation foot tattoo for Scorpio
ViaInstagram
Scorpio symbol finger tattoo
Via kinga_ink
Finger tattoos are among the top choices of discreet tattoos. And more so if you ink on the inner side of a finger.
A watercolor Scorpio arm tattoo
A watercolor Scorpio shoulder tattoo
ViaInstagram
A floral constellation rib tattoo
A girly Scorpio back tattoo
Via charleylangston
A realistic scorpion tattoo with rose
Via gianinatattooer
A blackwork neck tattoo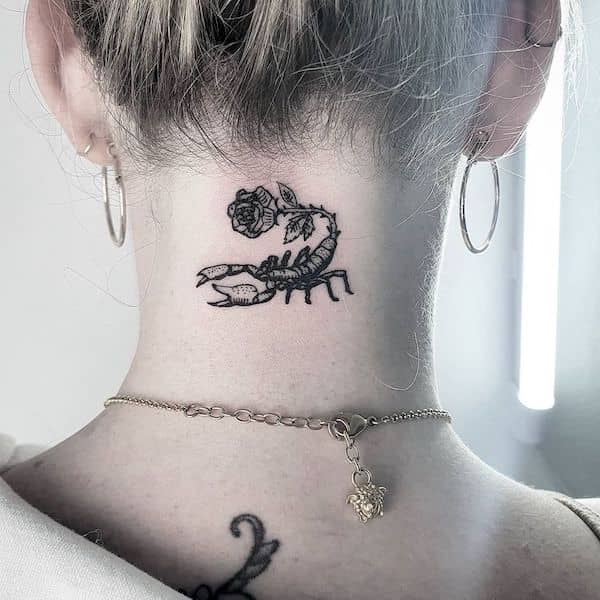 Viaitattpeople
Scorpio tattoos for men
A cute Scorpio ankle tattoo
Via @by_vas
An abstract fine line tattoo for minimalist
A tribal tattoo with constellation background
Via lexxmariearts
A tribal scorpion tattoo
Via sara.ruth.tattoo
A realistic Scorpio arm tattoo
Via makotattooxp
A black and white Scorpio arm tattoo
Scorpion in chains
Viaminibarbra18
A letter tattoo for the minimalist Scorpios
A sketch style shoulder tattoo
The snake-scorpion hybrid tattoo
A scorpio mandala chest tattoo
Via ludwigvanvittell
A traditional Scorpio tattoo
Via peterbenadik
A whimsical arm tattoo
Via rachel.welsby
A sophisticated chest tattoo
Via tatueria80026
A neo-traditional arm tattoo
A floral scorpion tattoo
Via emiliagtattoo
A sleek fineline tattoo
Via sollefe
Scorpio mandala
There are so many details in this bold blackwork tattoo. The shading is executed perfectly. And the drop shadow adds more depth to this sleeve tattoo.
A bold blackwork
Viathejp_tattoo
Which of these Scorpio tattoos is your favorite?
Leave a comment down below and tell us about it.