What are the symbols for travel and adventure? Wear your passion on the sleeve with these unique and meaningful travel tattoos.
Traveling is not just something we do for leisure. It's a way of living. Be it hiking in the Grand Canyon or snowboarding in Aspen, traveling is both educating and fun.
Saint Augustine said, "The world is a book, and those who do not travel read only one page." For many, traveling is a way to learn about the world as it is. A new language, new people, cuisines, and customs, the things we get to know on our journey stick with us for a lifetime.
And there are many symbols that travelers and adventurers relate to. For example, a compass symbolizes orientation. Back in the days when GPS was not available, a compass is a must-have for sailing and hiking.
So what are some classic symbols of travel? Check out these travel tattoos and adventure tattoos to wear your passion on the sleeve.
Disclaimer: This tattoo collection is for inspiration only. Please do not copy the artwork. If you love these tattoos, follow artists and show them some support.
Exhilarating travel tattoos and meaning
Mountain tattoo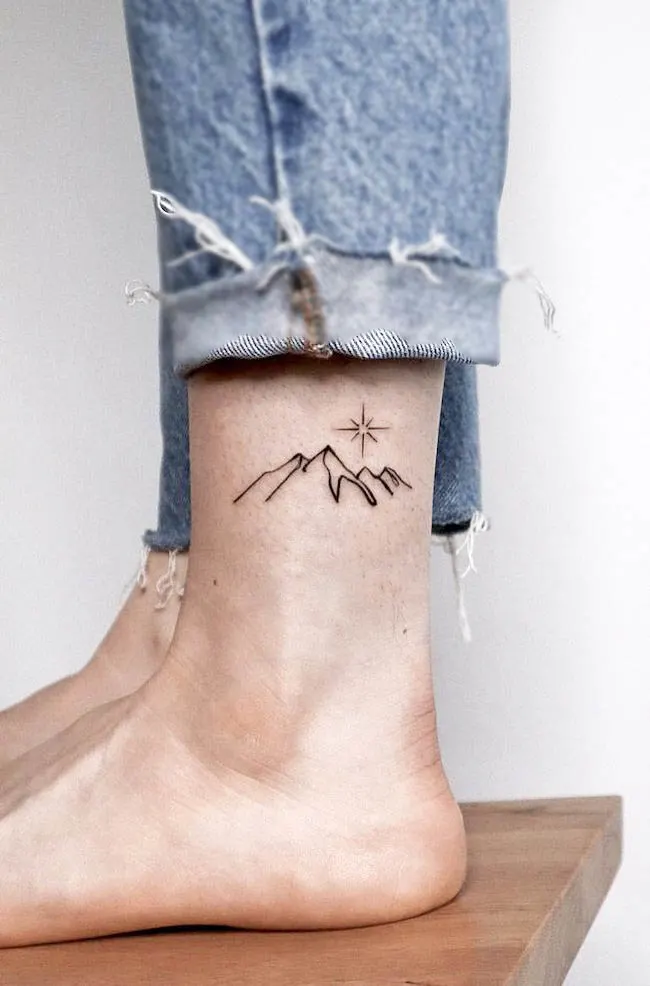 If you love nature, consider the mountains as the design of your travel tattoo. It can be an abstract landscape. Or it can be an exact illustration of your dream destination. Whichever it is, a mountain tattoo will be a motivation to continue to explore and rise.
HIghway tattoo
Start, and you are halfway there. The moment you hit the road, the best part of the adventure begins. As a symbol of travel, the highway is a reminder to enjoy every moment of the journey. The path is as beautiful as the destination.
The adventurer tattoo for women
Floral plane tattoo on the ribcage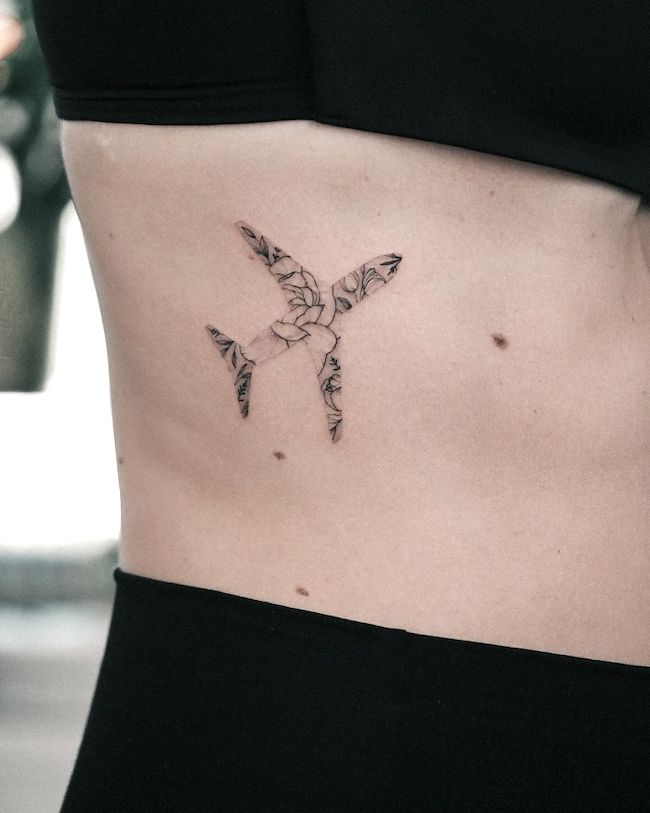 Airplanes carry us to different places in the world. To some, the plane means departure and separation. Thus it represents long-distance friendships or relationships.
But airplane tattoos can also symbolize adventures. You don't need to be a pilot to wear one. If you love traveling across the globe, plane tattoos may speak to you.
Pack your bags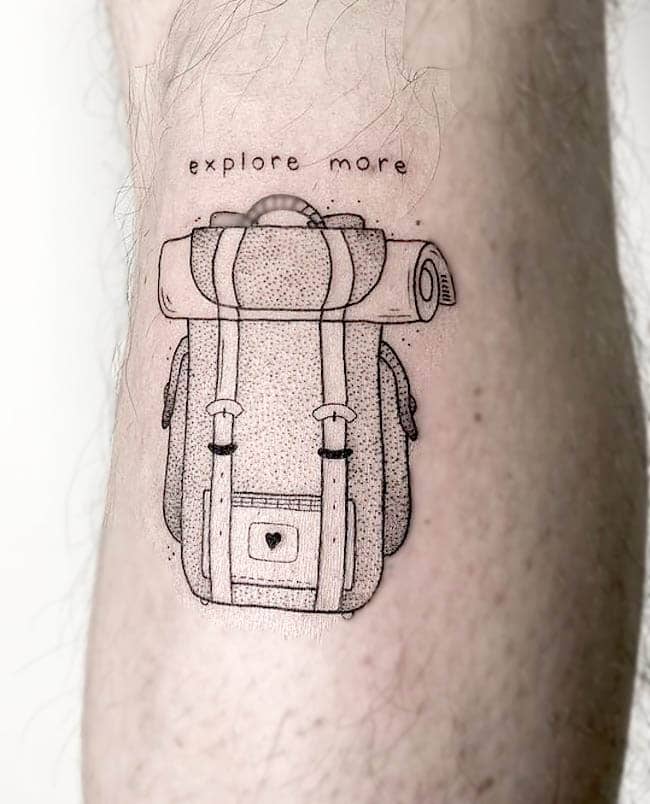 Path to unknown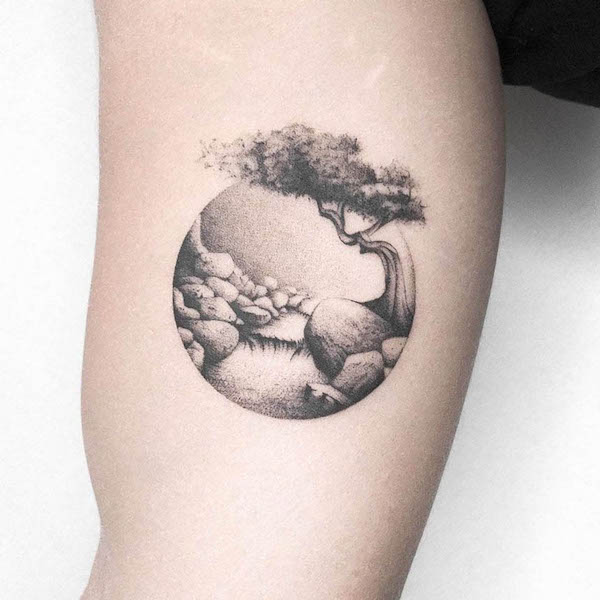 You never know what will happen on the way and where a small path will lead you to. But it's the uncertainty that makes each journey special.
The moon, the ocean and the mountains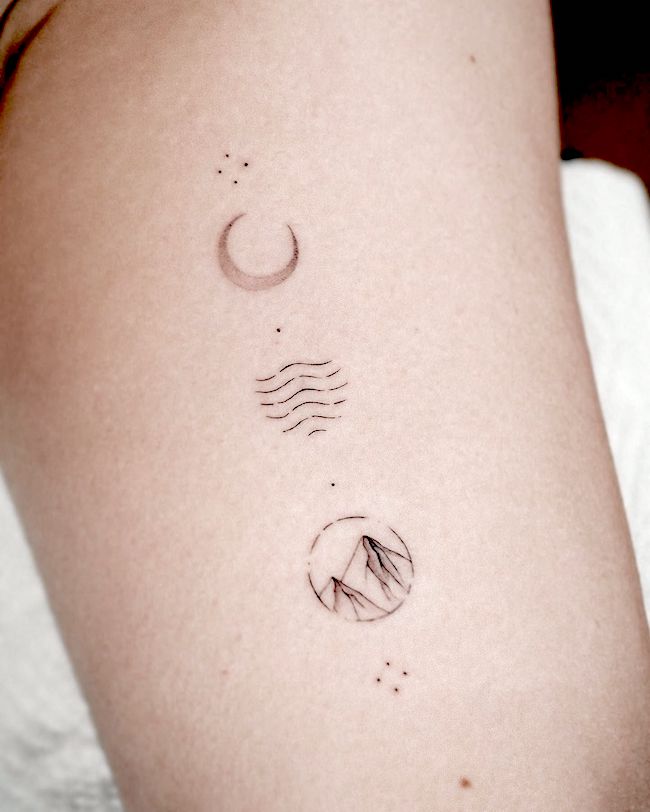 If you don't have a specific place in mind to tattoo on your skin, consider these minimalist nature symbols. You can never go wrong with these symbolic tattoos. Go big or go small; it's all up to you.
Small airplane collarbone tattoo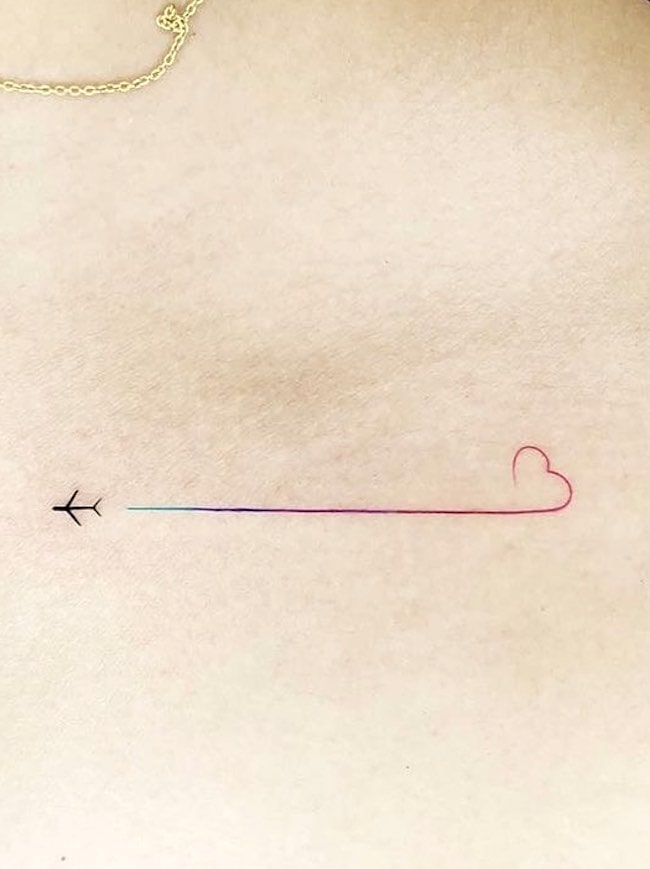 Airplane window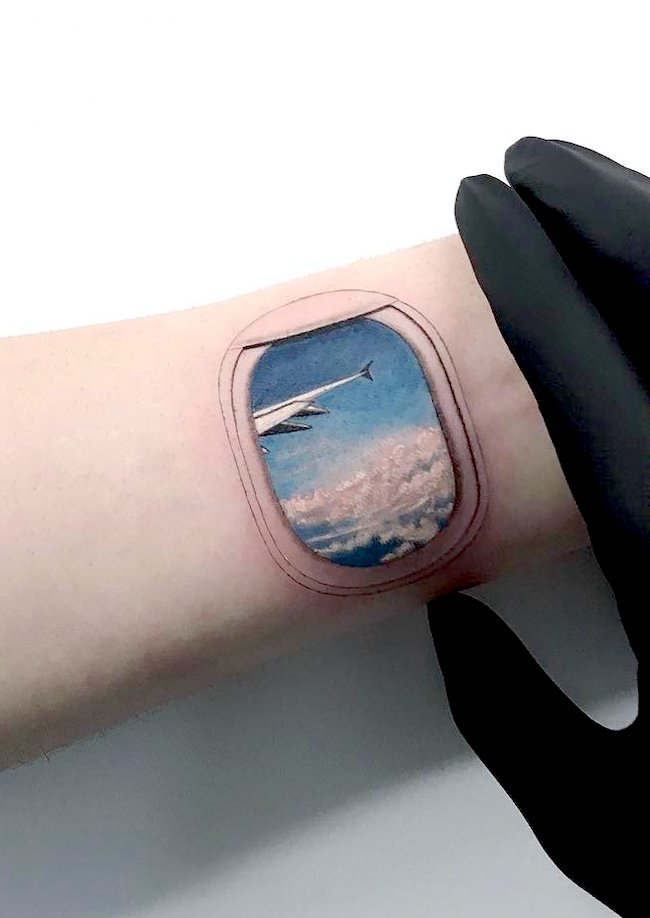 Who loves to sit by the window on a plane? I do. Gazing out from the window is both soothing and exciting. You get a birds-eye view of the world, and the experience is unforgettable. Sounds like you? Then this unique wrist tattoo may resonate with you.
Hot balloons tattoo for adventurers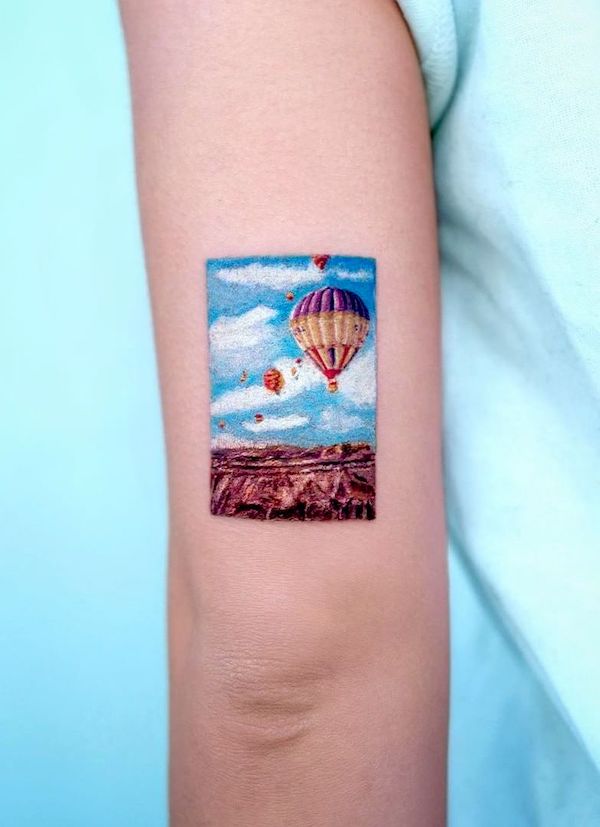 If you have been to many different cities or countries, you might not remember every one of them. But breathtaking scenery like the hot balloons in this tattoo is unforgettable. A realistic and vibrant tattoo like this one not only shows your love for traveling. It's also a conversation piece that has everyone talk about it.
Hit the road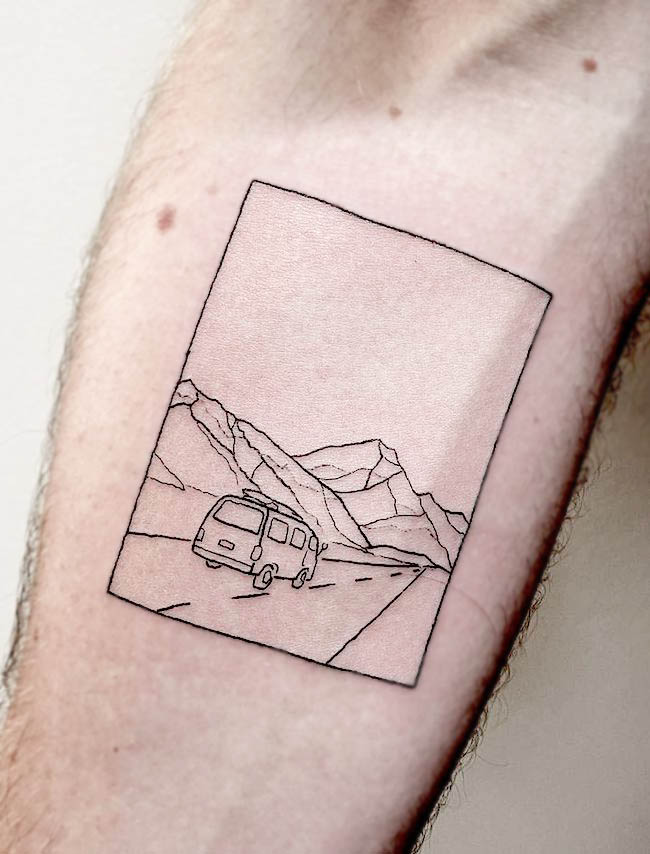 Keep flying, keep exploring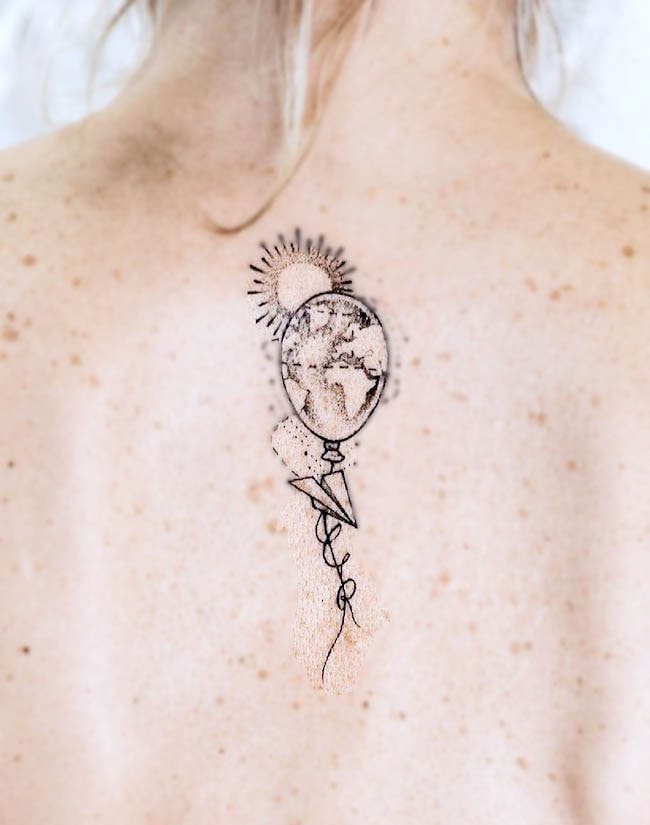 Paper planes and balloons are popular elements in travel tattoos. They represent the pursuit of freedom and adventure. This nape tattoo combines both of them and will speak to passionate explorers.
Matching campervan tattoos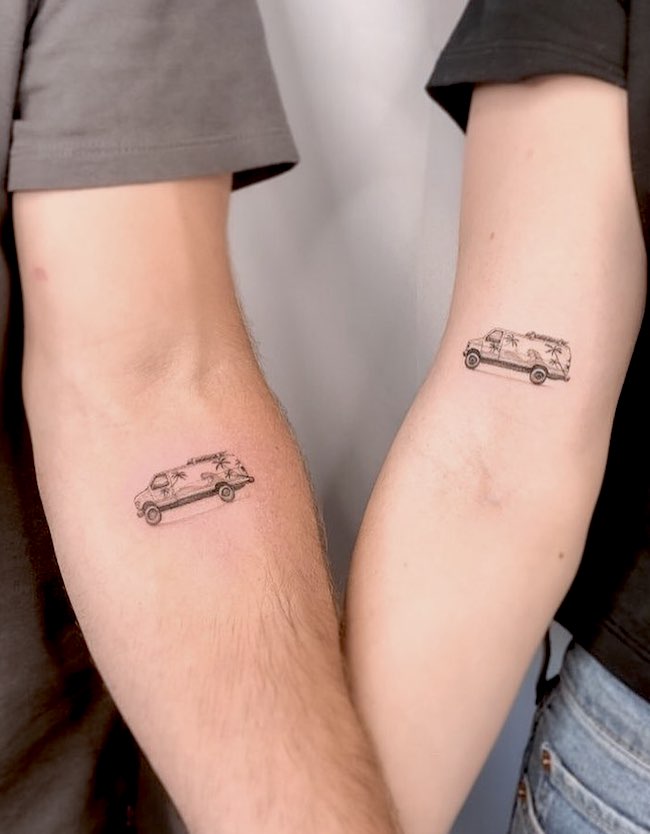 When I was a kid, it was my dream to travel in a campervan. It's like taking your home while going to different places. If you and your partner share the same enthusiasm, these matching couple tattoos will be proof of your bond and passion.
Traveler lizard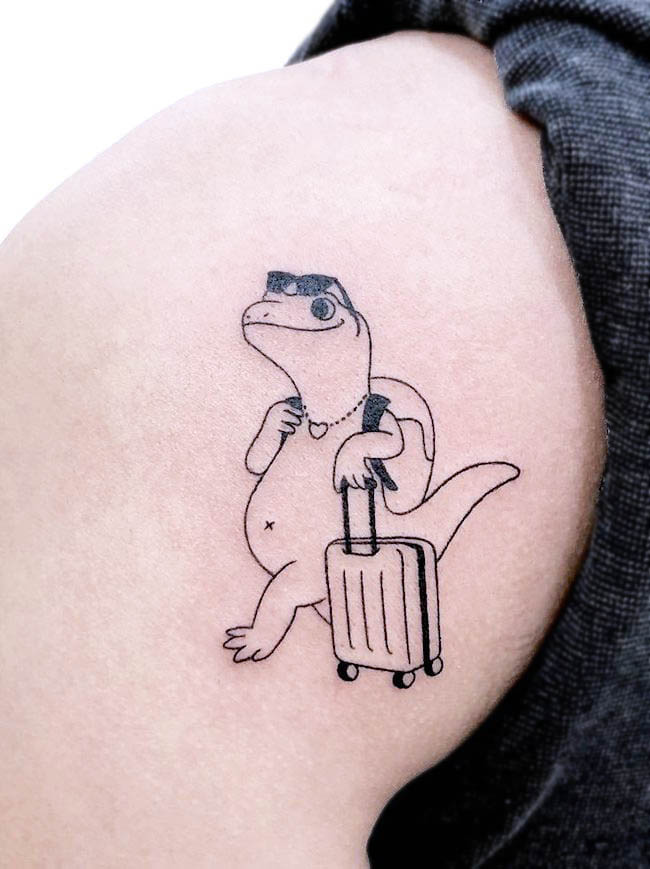 Travel tattoos aren't always about meaningful symbols or quotes. Instead, they can be light-hearted and fun, just like this one. This cute traveler lizard tattoo will be perfect for those who love spontaneous trips and enjoy the fun of going into the unknown.
Around the globe – a girly tattoo for travelers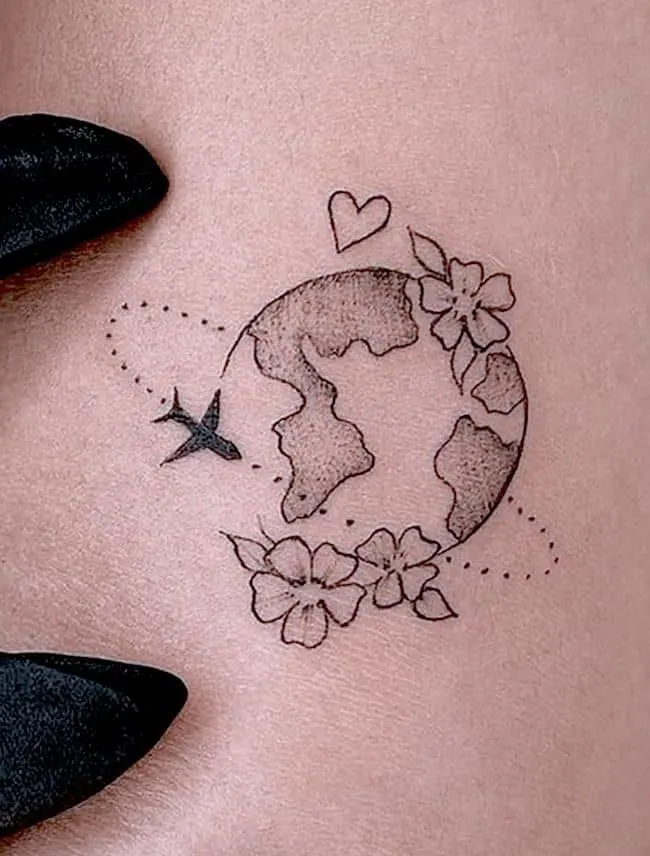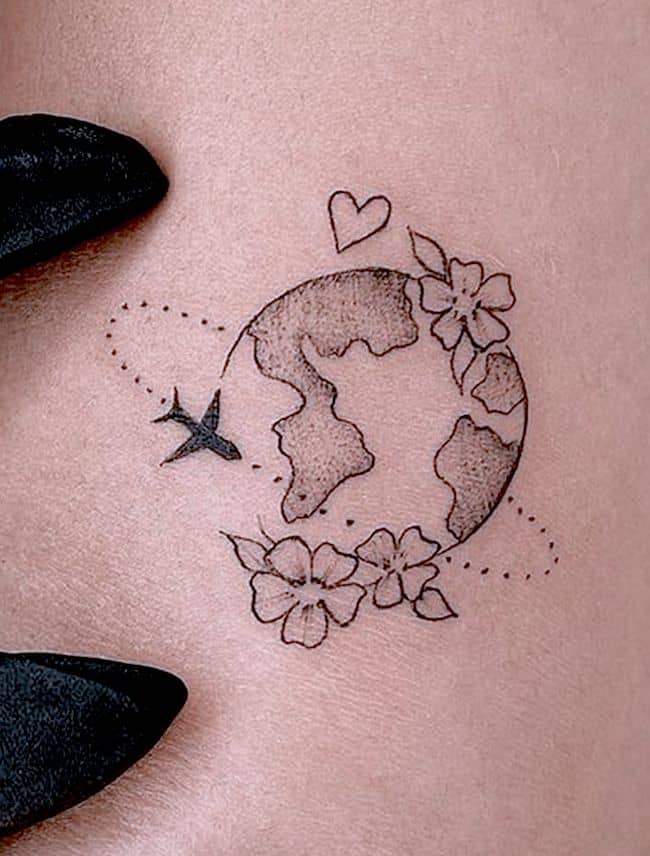 Architecture nape tattoo for travelers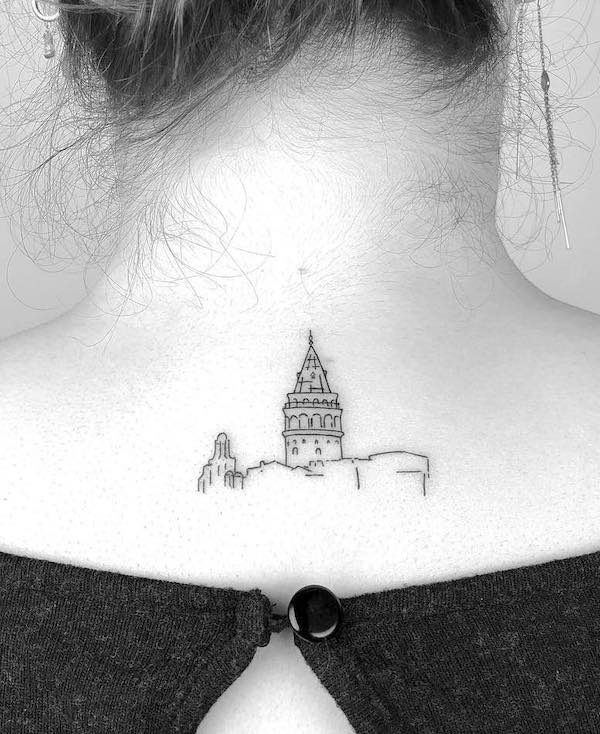 If you love traveling, chances are you have a special place at heart. It can be a city, a street, a park, or any place you've been to. If so, why not get a tattoo to honor the trip and the memories? This simple architecture tattoo sets a good example.
Camera tattoo for nature lovers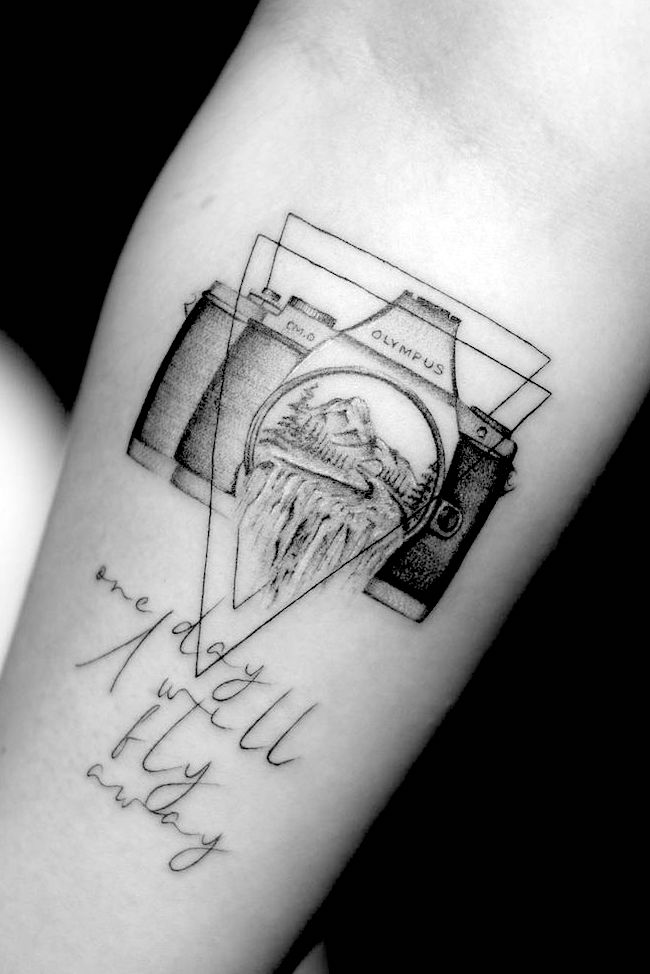 Are you a fan of snapping shots on the way? This unique blackwork tattoo combines a camera and natural landscape. It will be an expression of identity and passion for travel photographers.
Break the window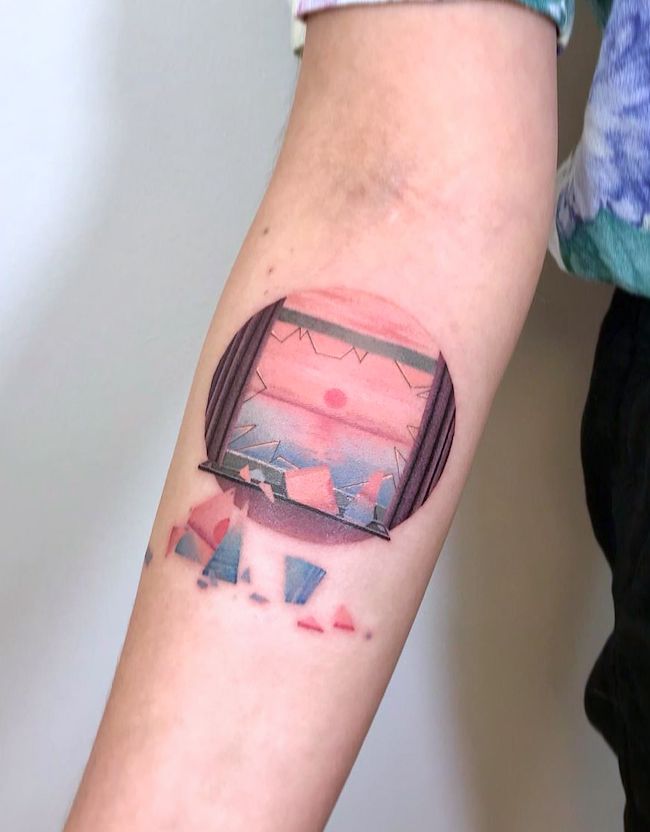 The pandemic has taken the joy of traveling away from many of us. And this dramatic tattoo expresses the desire to go outside and travel again. It also reminds us to be grateful for adventures and life.
Coordinate tattoo
Coordinates are strings of numbers that represent a location. Usually, when people get coordinate tattoos, they want to remember a special place. For example, it may be a place they have visited or where their home is located. Also, because coordinates are easier and less painful to tattoo, they can be a good fit for tattoo virgins.
Door to the new world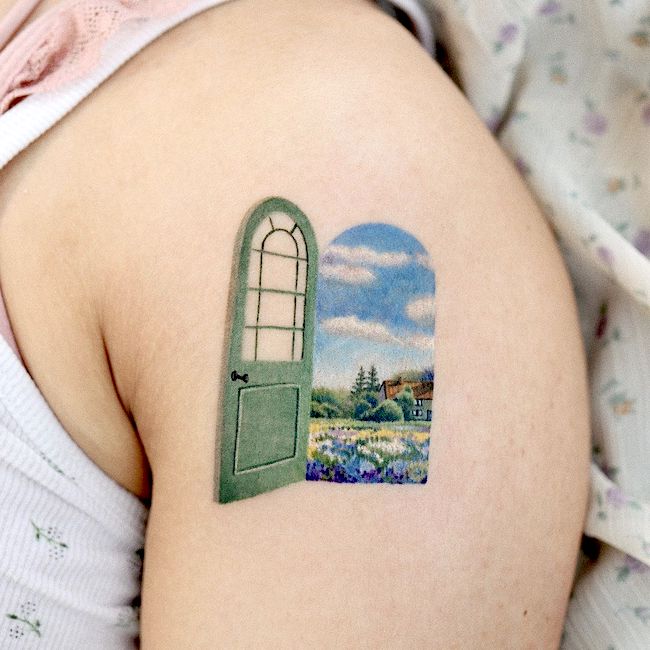 Dokodemo Door, or the Anywhere Door, is a magical gadget in the Japanese cartoon Doraemon. It's a door that leads to any place you want. Traveling is a lot like opening a Dokodemo Door. You know where you are going. What you don't know is what awaits at the other side of the door. And that uncertainty makes every trip interesting.
A forearm tattoo for travel lovers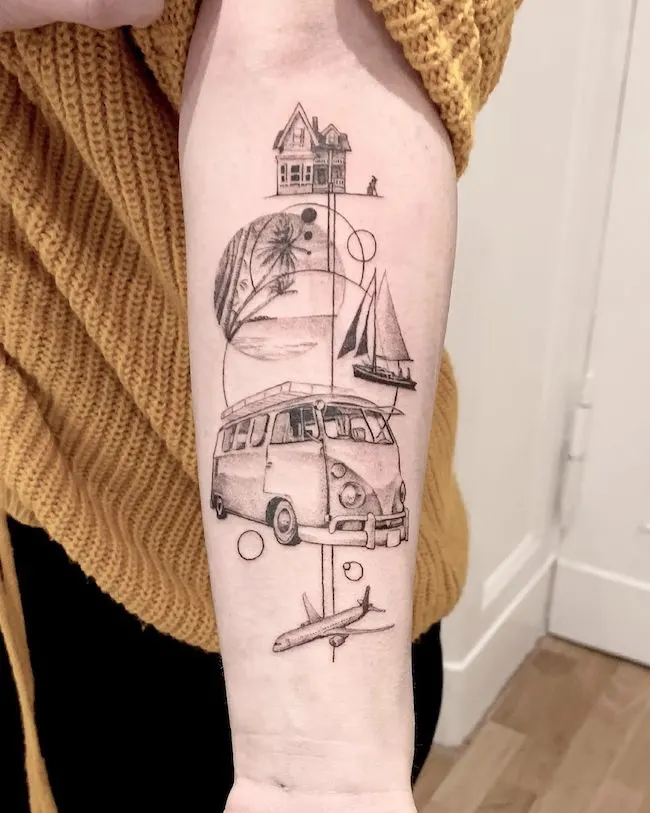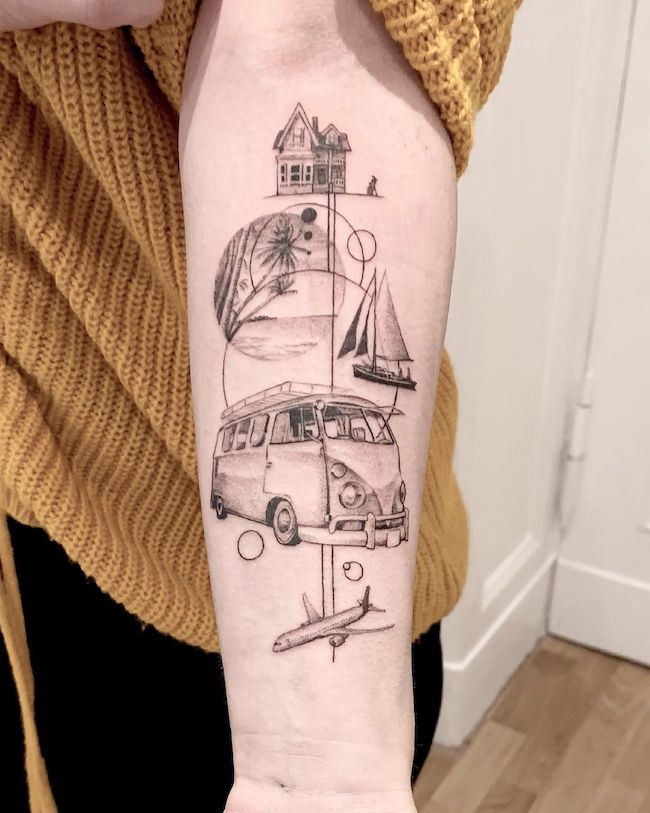 Camping tattoo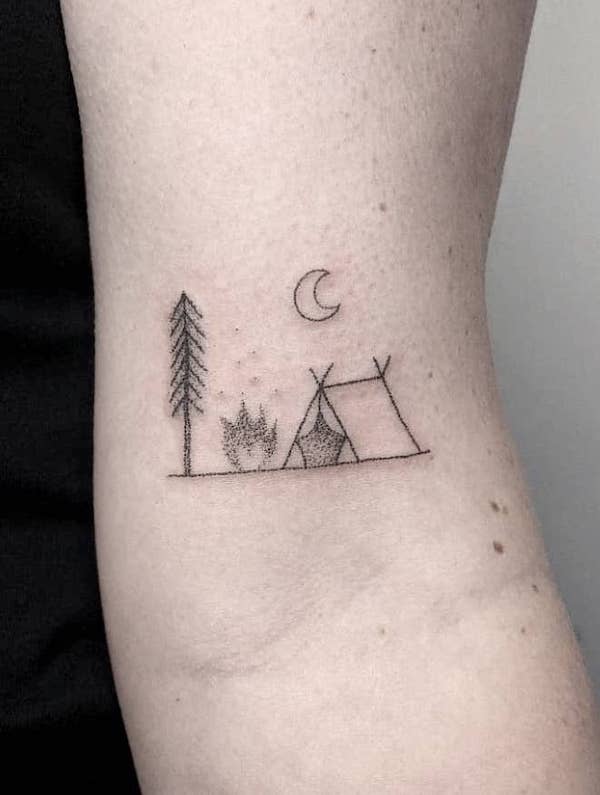 Some say camping is the real way of exploring the world. Imagine spending time outdoors, sleeping under the starry night. It's even better if you are with a loved one. So if you love spending time in nature, this small camping tattoo can be your next ink.
Wine and plane tattoo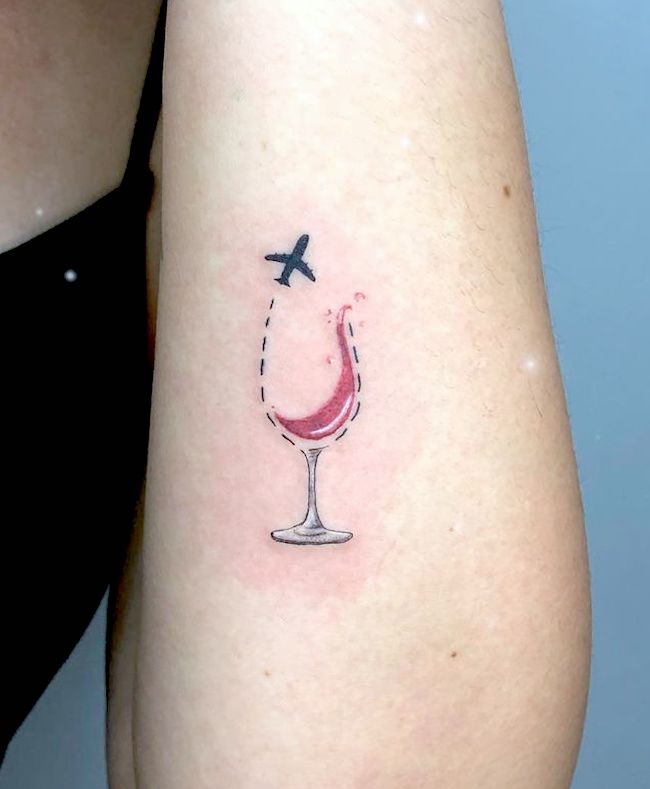 Sailboat tattoo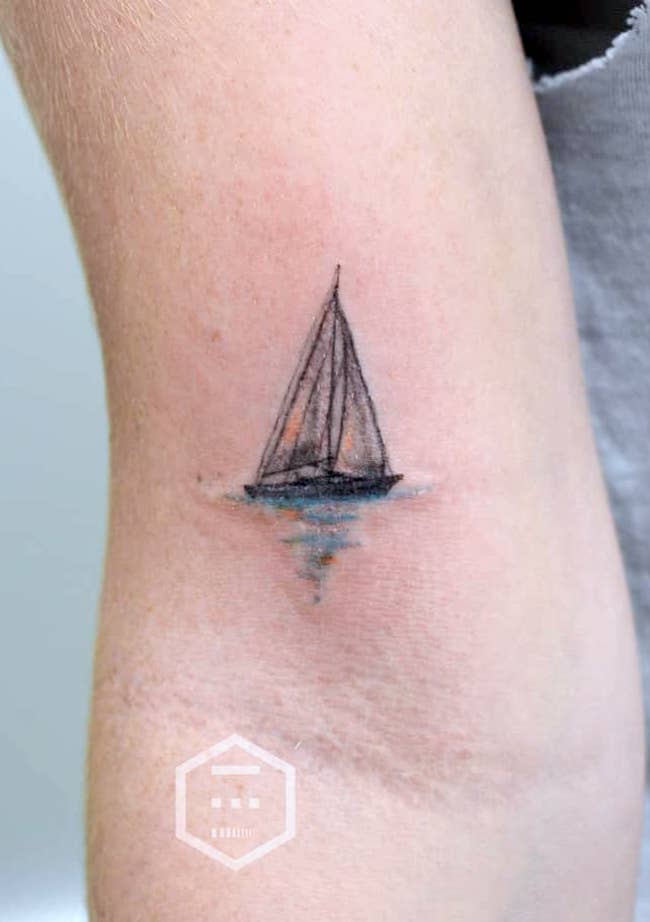 This tattoo is not only for sailors. Ships and sailboats are often associated with courage. Without those who put their lives at risk and sailed to the unknown, the world might not as connected as it is today. So if you are a free-spirit and a brave traveler, consider sailboats to be your next ink.
Rocket tattoo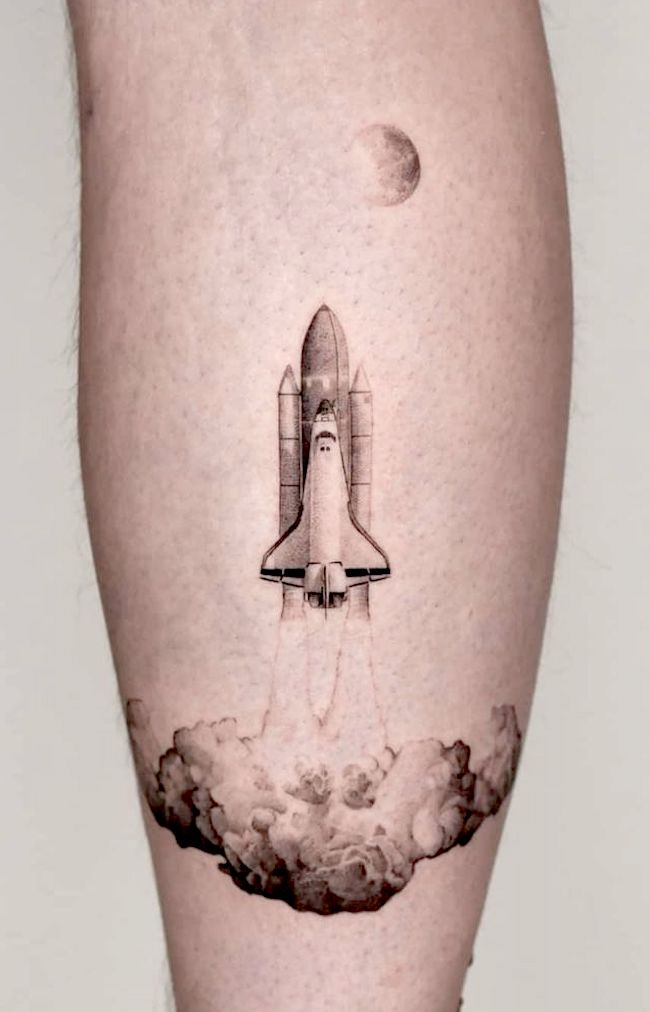 Why stay on the ground while you can soar to the moon?
Wanderlust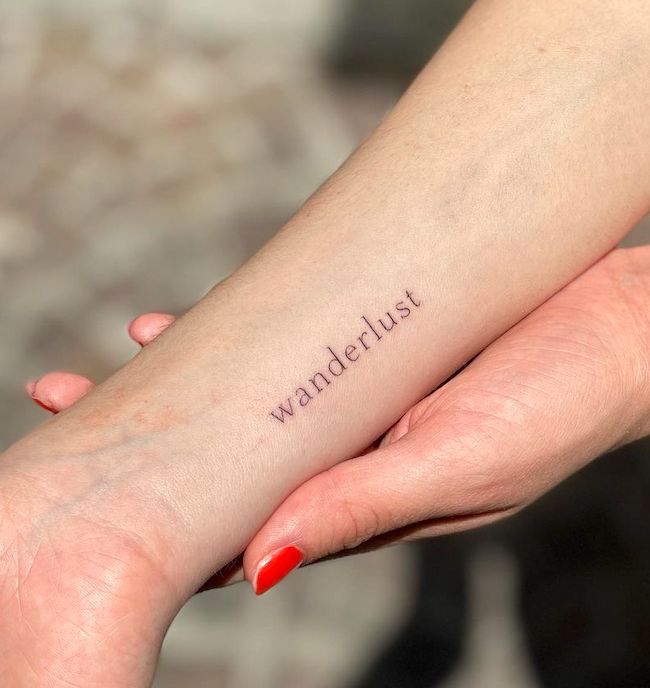 Wanderlust, by word, refers to a lust to wander. Those who have wanderlust refuse to stay put or to be stuck in a rut. They are relentless explorers. New places and adventures fuel their souls.
Read also: 60 Meaningful one-word tattoos to wear your heart on the sleeve
Matching world map tattoos for besties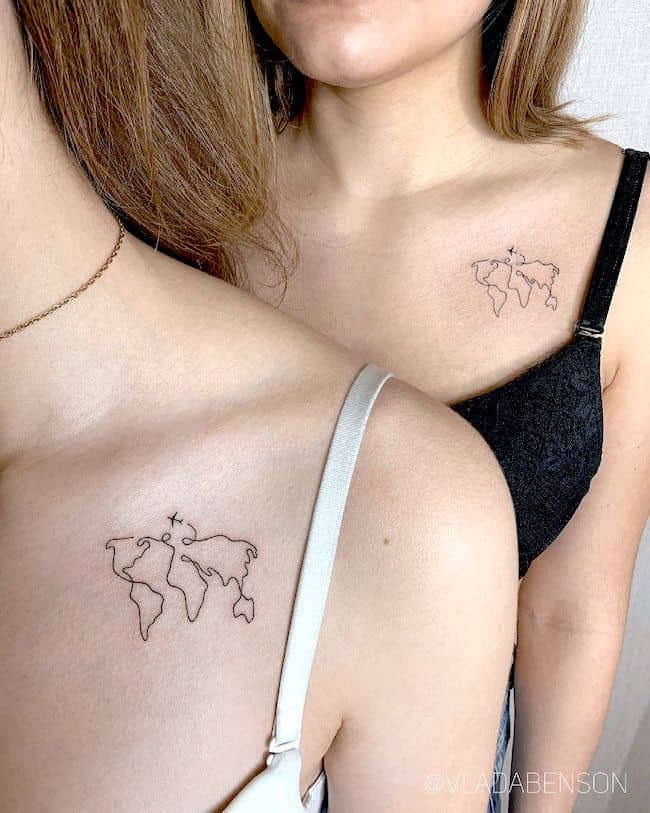 Read also: 85 Hearty matching tattoos for best friends
Minimalist boat and world tattoo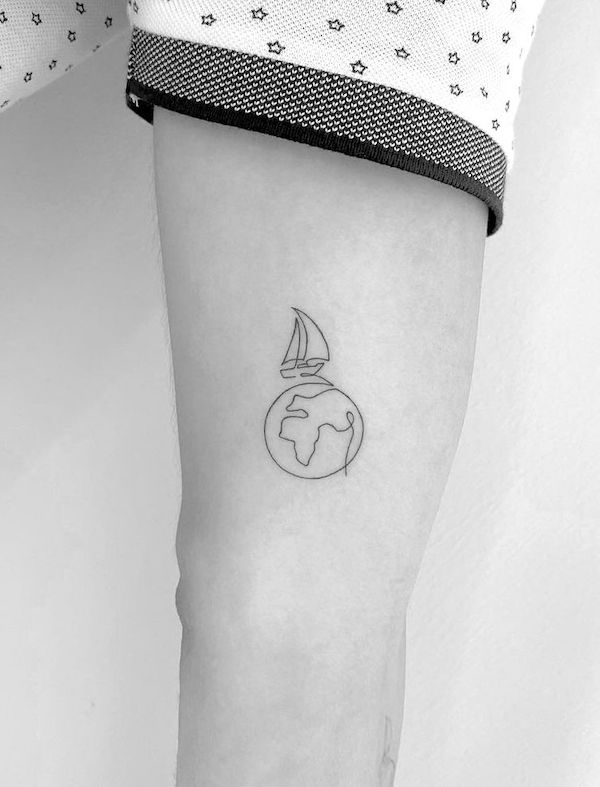 Simple shapes and lines never go out of time. And this small tattoo is a good example. The tattoo consists of a boat on the earth. What's amazing about it is that the entire tattoo is one single line. It showcases both the creativity and technique of the artist.
Yosemite landscape tattoo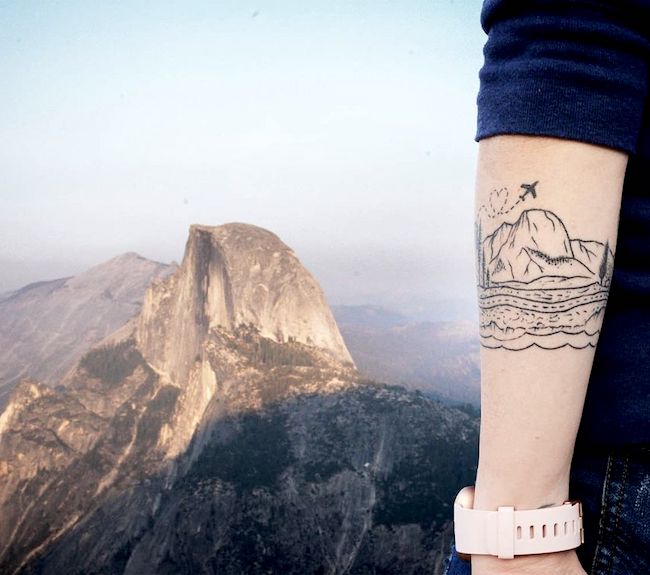 If you have spent an unforgettable time in a place, it may be a good idea to tattoo it on the skin and make the memories permanent. And this Yosemite tattoo is a good example.
Tattoo for island-hoppers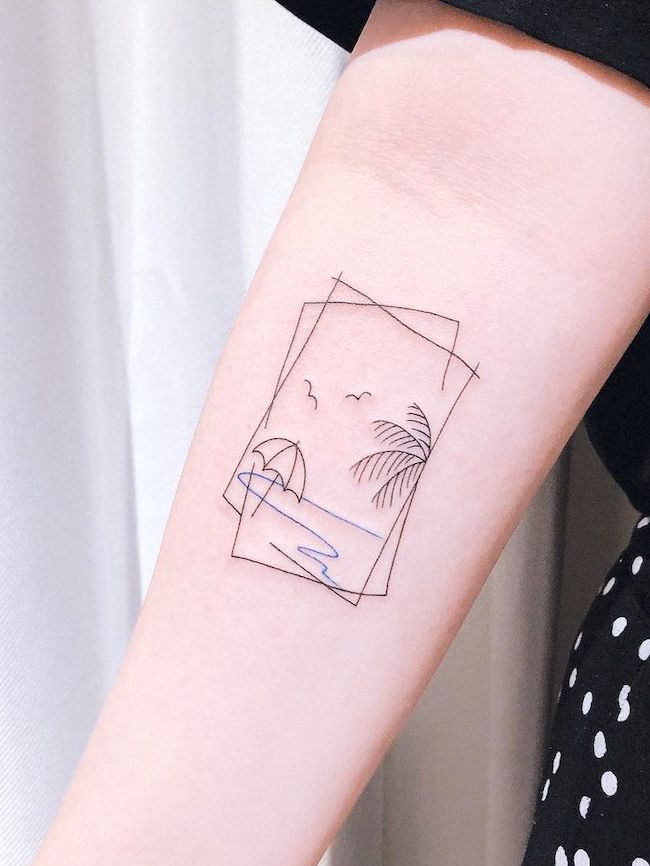 So even when you are at home, you can still relive the time sunbathing in on the beach.
Telescope tattoo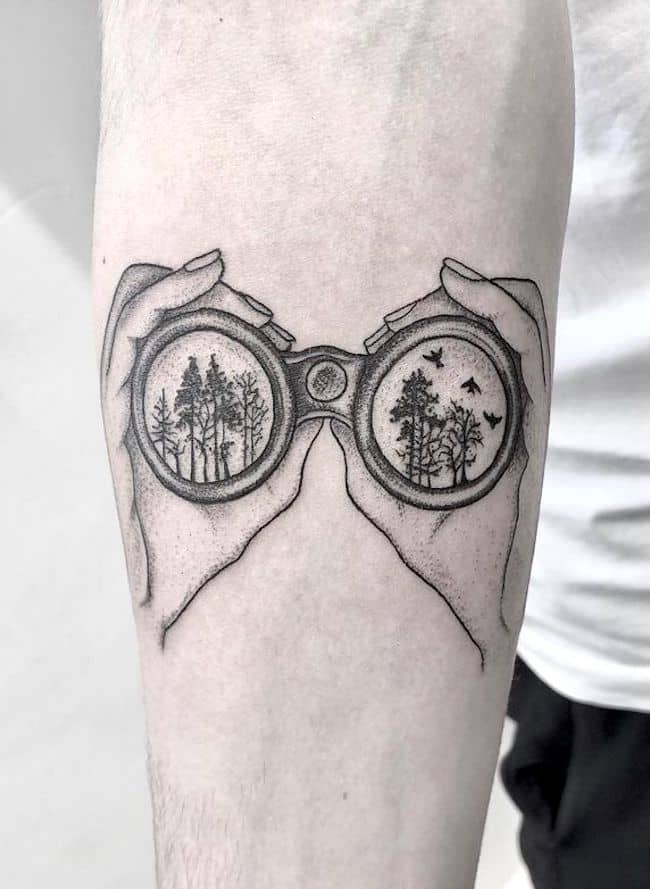 We use telescopes to observe from afar. And as a tattoo, it symbolizes curiosity and the urge to explore.
Flying around the world
To the sea
The ocean represents freedom. If you are a beach person and love staying by the sea, this simple quote tattoo may speak to you.
Road trip tattoo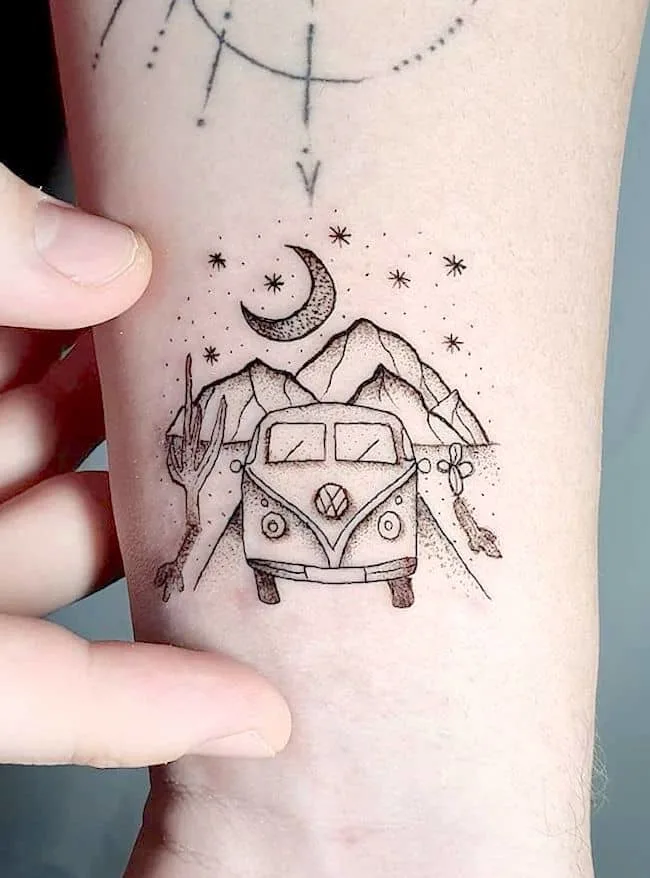 Ready to go
Sleeve tattoo for hikers
Tiny suitcase tattoos
Passport stamps tattoo
Each passport stamp tells a story about a country. And that's what makes stamps tattoos so personal. As an ink, they are a conversation piece.
Stamps tattoo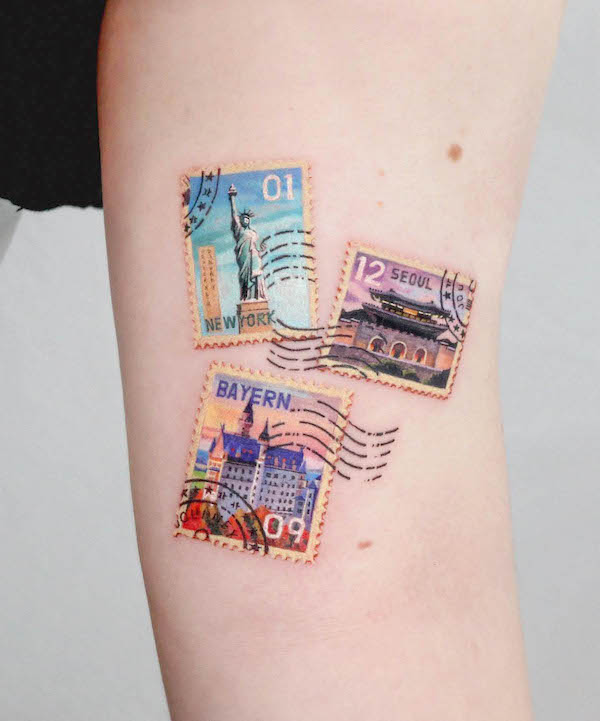 Stamps are considered to be collectibles for a reason – they represent a period, a special event, or a location. For people who relate to those elements, stamps can be a unique token of their memory.
This cute stamps tattoo is no exception. With the landmarks of different cities, the design says a lot about the wearer's journeys and passion.
Which of these travel tattoos is your favorite?
Do you have a travel tattoo? What's the story behind it? Share in the comments!