A collect of gratitude quotes that will inspire you to appreciate each moment of life and to stop being anxious or depressed.
"They miss the ordinary moments more than anything else."
This is a quote from Brené Brown in her talk on the Netflix documentary The Call To Courage. She shared her research after interviewing those who had lost someone they loved.
"Now I will kill for a text from my mom," said one of her interviewees, "I wouldn't care how many emojis were in it."
It reminded me of the times I complained about typos in my mom's messages.I am lucky and blessed to have what I have right now. And I didn't even notice it.
Read also: 49 Brené Brown quotes on vulnerability and why we all need to embrace it
What is gratitude, and why is it important?
So what does it really mean when we talk about gratitude? And how does it benefit us in life?
Yale Center for Emotional Intelligence defines gratitude as "a state of mind that arises when you affirm a good thing in your life that comes from outside yourself."
The best thing that comes with gratitude is joy. Once I start to appreciate what I have, I feel more grounded and present. I am no longer anxious about what might happen in the future. And living in the moment feels so damn good.
Professor Robert Emmons research over 1000 people aged from 8 to 80, and found that those who practice gratitude consistently are more present, happier, and more optimistic.
It isn't just about making a gratitude list on your bullet journal before sleep. Gratitude is an Attitude. And practicing gratitude is a shift in mindset – to stop taking what we have for granted, and to cherish them as a blessing.
If you are practicing gratitude, make one of these gratitude quotes in your mantra. They can the perfect reminder to be thankful for all the blessings in your life.
Gratitude Quotes To Spread Thankfulness
Make each given day a gift.
When you arise in the morning, think of what a precious privilege it is to be alive – to breathe, to think, to enjoy, to love.
– Marcus Aurelius
Life is precious, and when you've lost a lot of people, you realize each day is a gift.
– Meryl Streep
That's the gift of gratitude: to feel it, your ego has to take a backseat.
– Oprah Winfrey
The best way to show my gratitude is to accept everything, even my problems, with joy.
– Mother Teresa
We are all more blind to what we have than to what we have not.
– Audre Lorde
If everything were perfect, you would never learn and you would never grow.
– Beyoncé
"Thank you" is the best prayer that anyone could say.
– Alice Walker
Walk as if you are kissing the Earth with your feet.
– Thich Nhat Hanh
We can complain because rose bushes have thorns, or rejoice because thorns have roses.
– Alphonse Karr
True forgiveness is when you can say, "Thank you for that experience".
– Oprah Winfrey
Be grateful for what you already have while you pursue your goals.
If you aren't grateful for what you already have, what makes you think you would be happy with more.
– Roy T. Bennett
Acknowledging the good that you already have in your life is the foundation for all abundance.
– Eckhart Tolle
The highest tribute to the dead is not grief but gratitude.
– Thornton Wilder
Remember that what you now have was once among the things you only hoped for.
– Epicurus
If we never experience the chill of a dark winter, it is very unlikely that we will ever cherish the warmth of a bright summer's day.
– Anthon St. Maarten
Once you begin to take note of the things you are grateful for, you begin to lose sight of the things that you lack.
– Germany Kent
The truly rich are those who enjoy what they have.
Unknown
Things to be grateful for:
Coffee in the morning
Playlist on my phone
Friends around me
Families that love me
Soothing breeze
Sunshine and moonlight
A healthy body
A good book
A warm bed
Gratitude magnifies the pleasures you get from life.
– Robert Emmons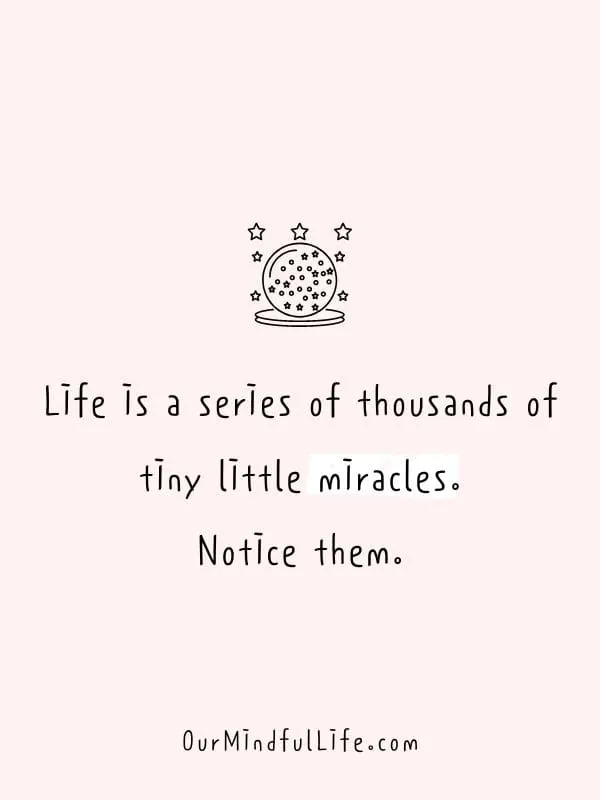 Life is a series of thousands of tiny little miracles. Notice them.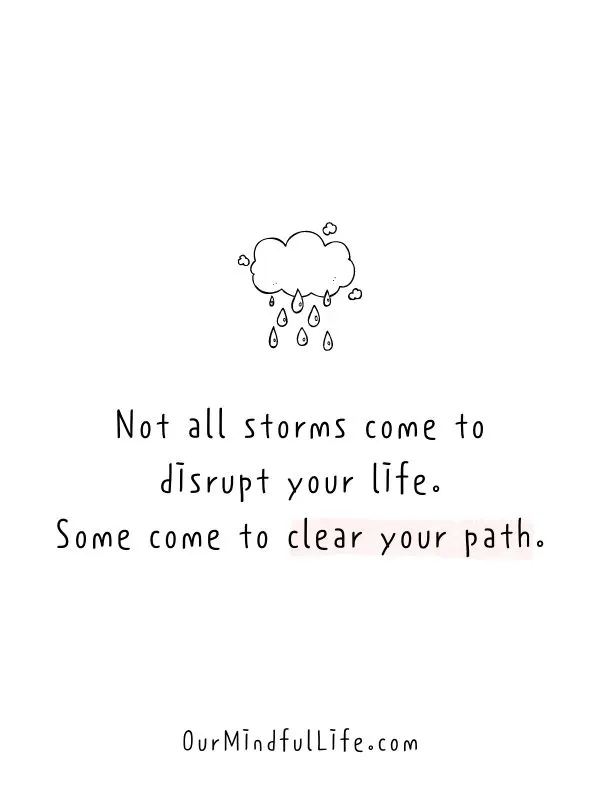 Not all storms come to disrupt your life. Some come to clear your path.
Read also: 42 Words of encouragements to cheer someone up
Life becomes easier and more beautiful when we can see the good in other people.
– Roy T. Bennett
Gratitude paints little smiley faces on everything it touches.
– Richelle E. Goodrich
Before you get mad of someone, find something he/she did for you that deserves gratitude.
– Asmaa Dokmak
Gratitude is one of the sweet shortcuts to finding peace of mind and happiness inside.
– Barry Neil Kaufman
You cannot feel envious and grateful at the same time.
– Robert Emmons, Why gratitude is good
Enjoy the little things, for one day you may look back and realize they were the big things.
– Robert Brault
There are only two ways to live your life. One is as though nothing is a miracle. The other is as though everything is a miracle.
Albert Einstein
If tragedy never entered our lives, we wouldn't appreciate the magic.
– Nikki Rowe
Losses are easier to point out and count than blessings. Blessings outnumber your losses for they are truly immeasurable.
– Suzy Kassem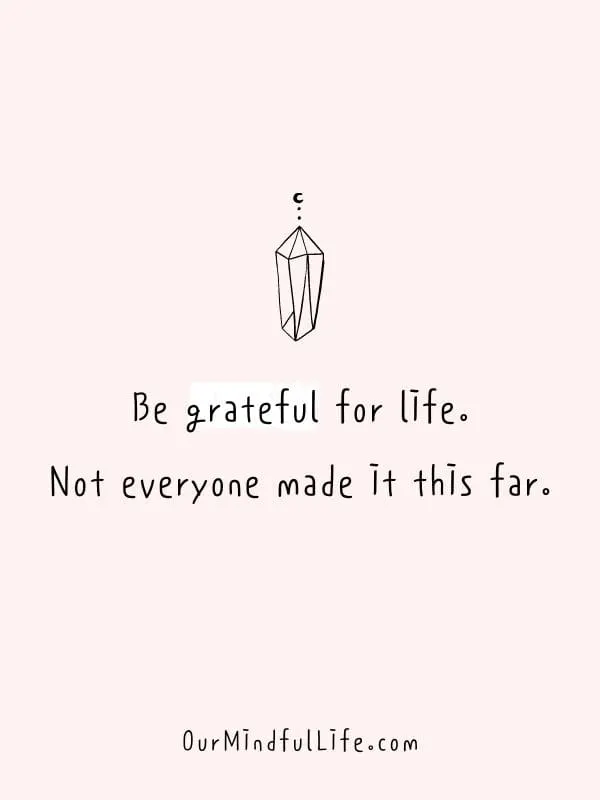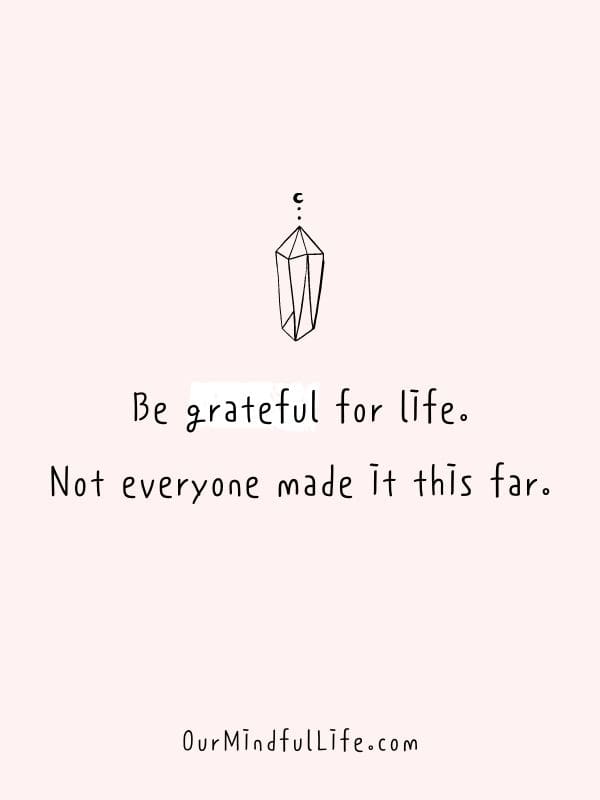 Nothing feels better than the privilege of being alive. Be grateful for life. Not everyone made it this far.
– Gift Gugu Mona
Some people are happy that they have lost one instead of both legs, whereas some are unhappy because they have each lost a toenail.
– Mokokoma Mokhonoana
The secret to having it all is knowing that you already do.

Do you enjoy these quotes on gratitude
If you do, don't forget to share this post with a friend or family who practice gratitude as well. Or do you have a quote on gratitude that inspires you? Tell me in the comment!
Read also: 30-day Gratitude Challenge with Worksheet For A Happier You