Ink can go deeper than skin and a tiny symbol may carry big message. Here's a list of small meaningful tattoos that touch souls.
I remember reading a story about a girl who lost her grandfather. She was not able to see him before he passed away, and it broke her heart. Her grandfather used to call her by her nickname, which means "look" in Pakistan. And she decided to tattoo the word on her wrist. It makes her feel like her grandfather is always there, calling her by the name. It is such stories that prove how meaningful a tattoo can be. The lines and shapes on the skin have the power to touch souls.
While all of us have our story to tell, it's not easy to do so through a small tattoo. Instead, you have to dig deep and find a word, a letter, or an object that speaks to you. Here's a list of small meaningful tattoos that are creative and thought-provoking to give you some ideas.
Disclaimer: This tattoo collection is for inspiration only. Please do not copy the artwork. If you love these tattoos, follow artists and show them some support.
Small meaningful tattoos that send a message
Fire rose tattoo for survivors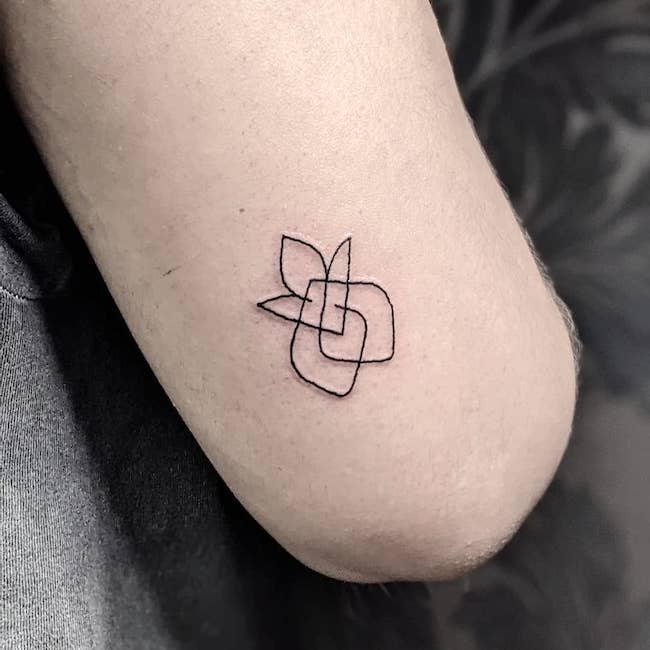 Sometimes symbols can carry deep meanings that touch souls. The fire rose tattoo is one of them. Created by Jaqueline Lin, the symbol combines the loops of DNA, the fire symbol, and Lady Gaga's favorite flower – the white rose. The singer publicly shared her experience as a sexual assault victim and inspired survivors to come forward.
The story behind the tattoo might be heavy. But it's also a symbol of strength and healing that will continue to inspire.
Tiny lightning bolt tattoo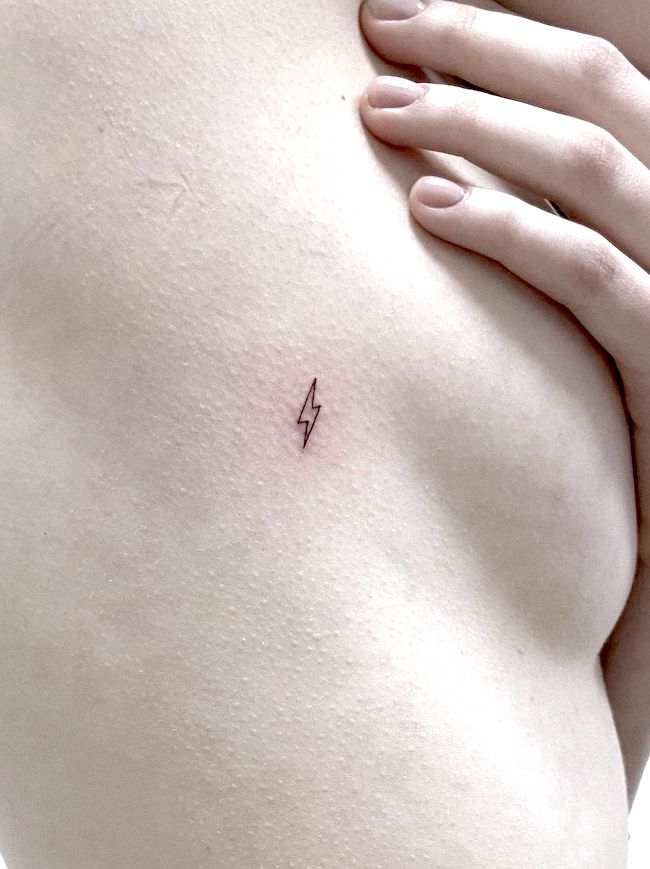 In Greek mythology, the lightning bolt is the weapon of Zeus. It represents a destructive force to reckon with. Because lightning strikes swiftly, it also symbolizes strength and determination.
Stay – a minimalist one-word tattoo
We all have a word that is closed to our hearts. This one-word tattoo can be a statement that you are here to stay, to live life to the fullest, and to make a change. Or it can be a commitment to a relationship, to stay close and loyal to the love of your life. The meaning varies as we all have different stories to tell. That's what makes it personal.
Laugh now, cry later
You may have seen another version of this meaningful tattoo: a laughing mask and a crying mask. Initially, the tattoo refers to the attitude of "laugh now, cry later." It means living to the fullest or recklessly and deal with the consequence later.
As we are more aware of mental health problems., the happy face/sad face tattoo takes up a new meaning. Now it can also suggest that the wearer is pretending to be ok while struggling inside.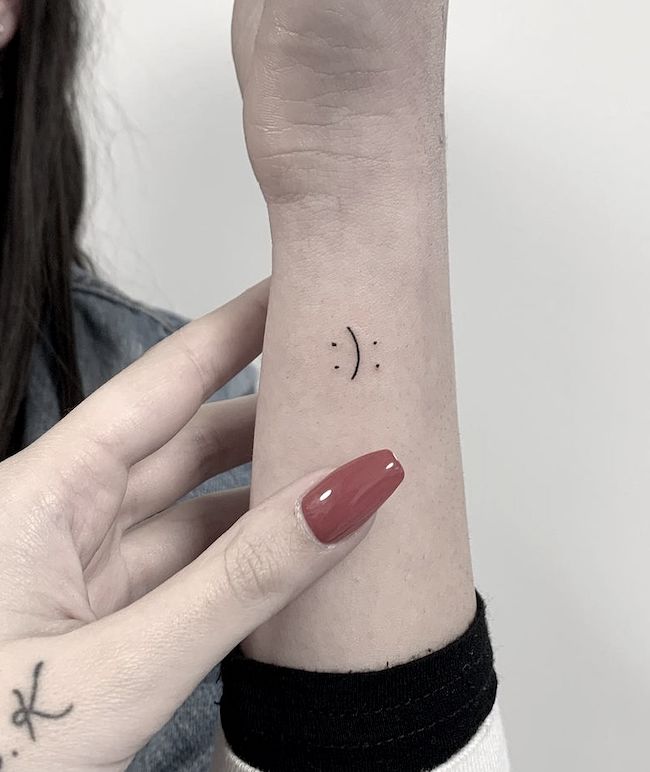 OCD awareness tattoo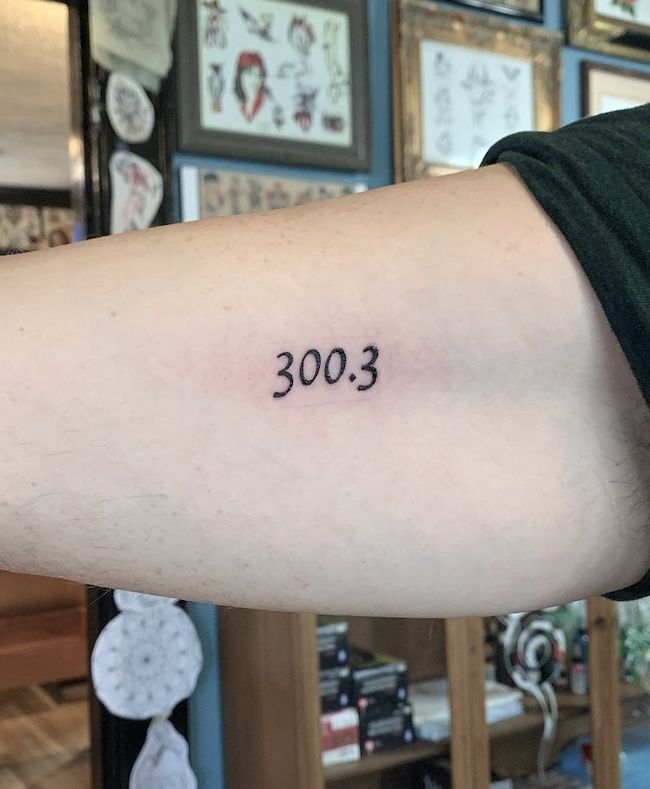 300.3 is a diagnosis code for Obsessive-compulsive disorders (OCD). As the owner of the tattoo jeherv mentioned in his post on Instagram, this tattoo is a reminder that the illness "is part of me whether I want it or not." Now that he has recovered, the tattoo marks his fight against OCD and celebrates his courage along the way.
Read also: 53 Meaningful Mental Health Tattoos With Meaning
Still I rise nape tattoo
The quote is the title of Maya Angelou's poem, the late American writer and civil rights activist. In the poem, she wrote, "You may trod me in the very dirt. But still, like dust, I'll rise."
Today, the lone has become a motivation for many people to face challenges in life and find the strength to bounce back.
A statement quote tattoo for artists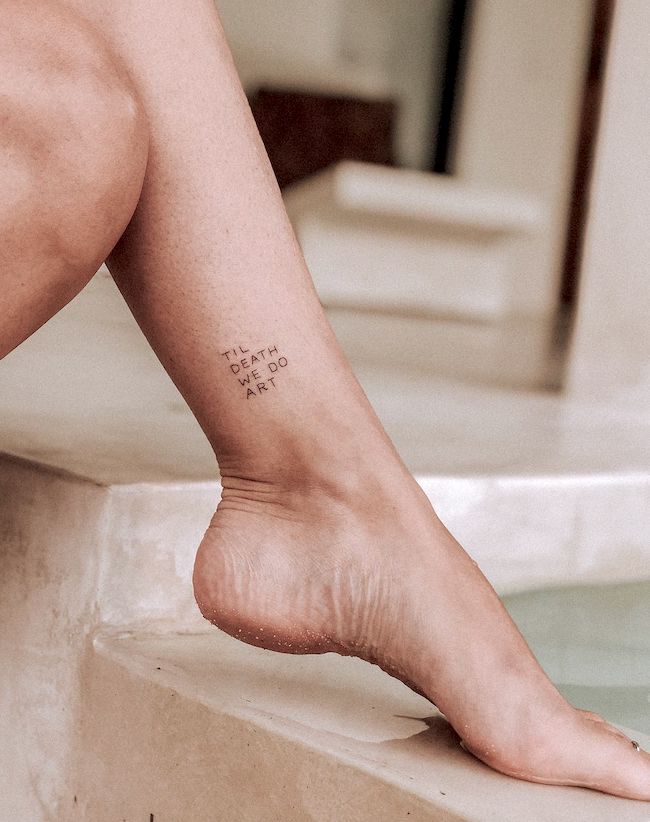 Read also: 19 Artistic tattoos to turn your skin into a canvas
The happy chemical
Serotonin is considered to be a "happy chemical." When you have a lower level of serotonin, you may experience symptoms of depression and anxiety. This small tattoo may be the supplement that brings joy and comfort.
Eye of Horus tattoo
In ancient Egyptian mythology, Horus is the God of the sky. In one battle, he lost one of his eyes. But somehow, he recovered. And the eye of Horus became a symbol of protection, healing, and health.
Snake tattoo
Across cultures, people have different thoughts on snake tattoos. Some may relate it to witches. In their point of view, snakes are dangerous, and it represents greed, seduction and even sin.
Because snakes shed their skin several times a year, a snake tattoo can also symbolize reincarnation and a new beginning. Either way, this tattoo shows a gesture of courage and power. On the hunt for a badass tattoo? This might be it.
Small meaningful Semicolon tattoo
The semicolon represents an unfinished story. It gained popularity in 2013 when Amy Bleue founded Project Semicolon, an organization that advocates for mental health. She was a survivor of abuse and rape. And she lost her father to suicide at the age of 18. She passed away in 2017, but her legacy carries on.
Today, a semicolon tattoo becomes a trophy of survivors who battle against mental health issues. Check out this post to see the stories behind semicolon tattoos.
Safety pin tattoo
A safety pin tattoo might give you the actual feeling of pain just by looking at it. But there's a deeper meaning to it.
According to Tattoo SEO, the safety pin first gained popularity among punk fans as a fashion statement. As a safety pin is used to attach pieces of fabric, it then became a symbol of uniting against abuse and discrimination.
Scars are beautiful
Sandglass tattoo to cherish every moment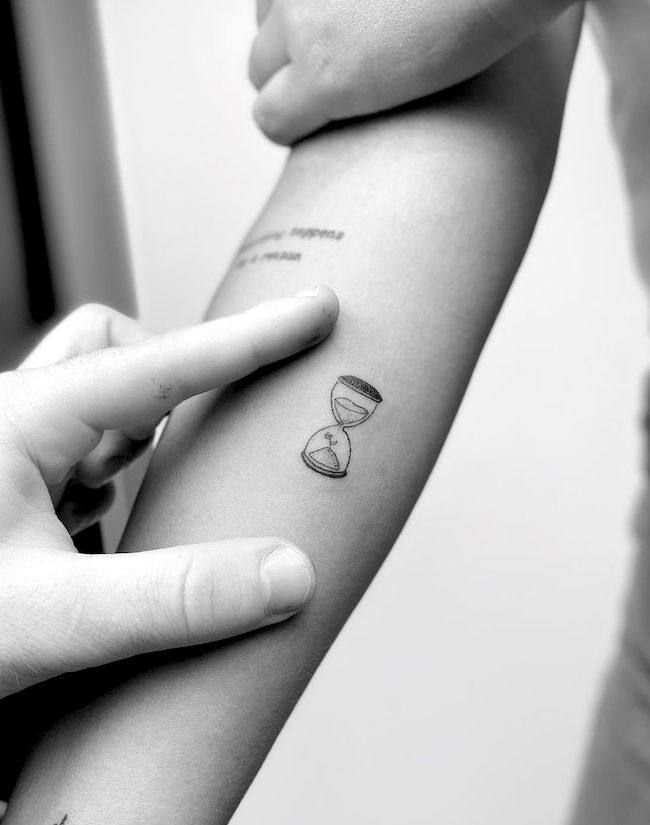 "Time is all we have and don't." – Atticus poetry
Sailing to the dreams – a meaningful wrist tattoo
Red pill, blue pill
You might remember Morpheus offered Neo a red pill and a blue pill if you have seen The Matrix. He had to choose between the two.
The red pills stand for the real world that is full of danger and unknown. On the other hand, the blue pill will lead him to a wonderland where he will never know what happens in reality.
Between real struggles and false comfort, Neo chose the first one. What would you choose?
A reminder to pursue authenticity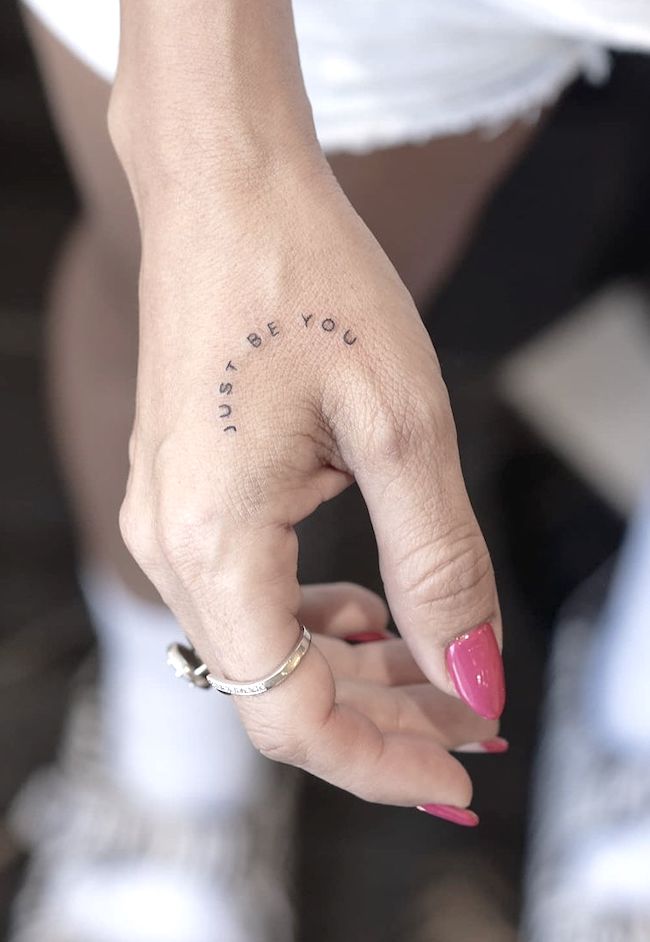 Find your anchor – a meaningful ankle tattoo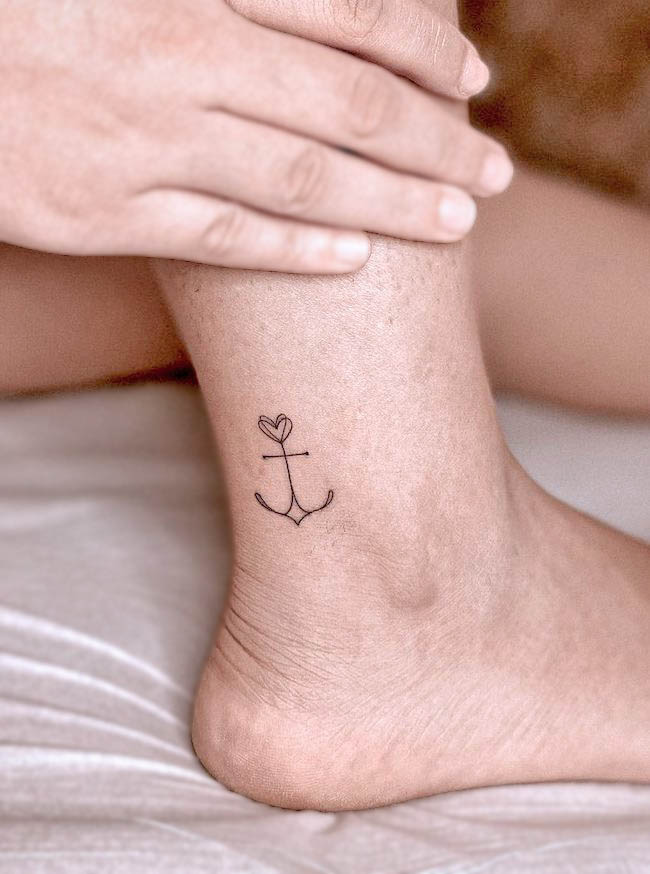 Anchor keeps a boat from drifting away. The meaning of anchor tattoos varies from person to person. It may honor the support of family and friends. Or it can be a symbol of unwavering beliefs. If you have something or someone that keeps you grounded, this may be an ideal tattoo design for you.
Read also: 85 Hearty Matching Best Friend Tattoos and Meanings
Live in the present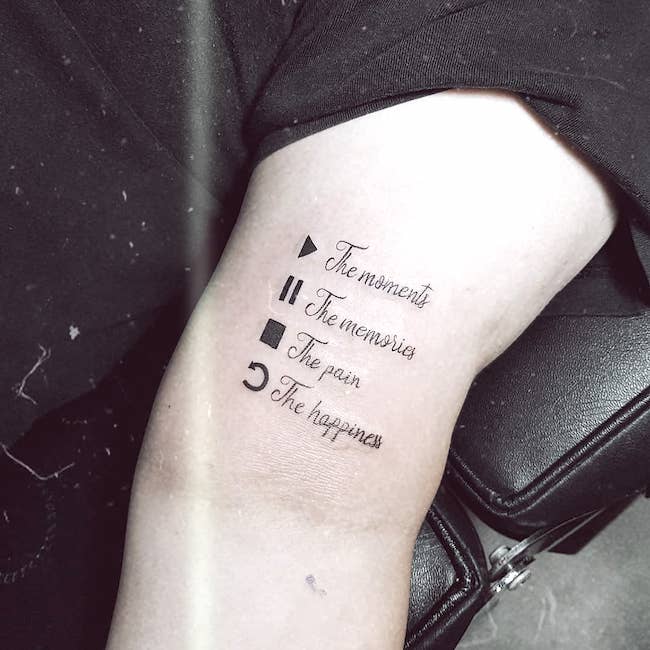 Reset
00:00, four numbers that can't be simpler. It's the moment when everything resets. New day, a new beginning.
Drown in thoughts
You can't always control your thoughts, especially when you are an overthinker. And this small nape tattoo captures the struggles of excessive thinking.
Almost circle
While circle tattoos often represent closure or wholeness, an almost circle honors the beauty of imperfection. The blank space can stand for unrealized potential or stories that are yet to be told.
Light the fire within
While fire tattoos have various meanings, the heart in the center of the flame symbolized intense love. A passion or a special someone may come into your life and light up your world.
A small dandelion wrist tattoo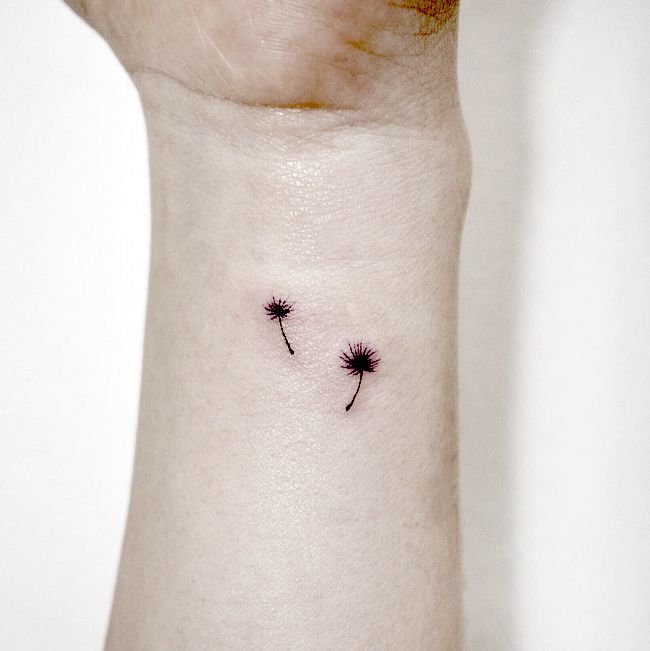 "Let it hurt, then let it go." – r.h.Sin
Key to the heart
Keys don't just open doors; they unlock memories buried so deep we don't even know they exist. And we all have a key that represents a special place in our hearts. Be it your first home or the office where you've worked, dig deep, and you'll find yours.
Honor your journey – small meaningful tattoo
Heartbeat tattoo on the ankle
A beating heart is a symbol of life. This small ankle tattoo is a reminder of hope and possibility. It encourages you to channel the strength inside you and persist when you think you can't.
Cancel the fear
Being fearless doesn't mean you don't have any fear of anything. The moment you decide not to let fear hold you back, that's when you find the real courage.
Breathe – a one-word neck tattoo
An earth tattoo behind the neck
Never stop exploring because you never know where your next journey will take you.
Wear your pride on the sleeve
"We deserve to experience love fully, equally, without shame and without compromise." This quote from Elliot Page speaks the mind of the LGBTQ community. And this pride tattoo carries a similar message: Be proud of your authentic self.
Which of these small meaningful tattoos hits you the most?
Or share your tattoo story in the comment below.