A collection of sibling tattoos for girls, guys, brothers and sisters
Siblings are connected by blood and at heart. Like motherly love, the love between siblings is unconditional.
In the same home, they provide love and support for each other. Sisters are the ones who do your braids. Brothers stand up for you at school. And you share so many inside jokes.
If you have a sibling, you are never alone. It's empowering to know that someone understands you and will always have your back.
Every sibling's love is different. And it's hard to put it in one word. If you and your brothers and sisters share an unbreakable bond, sibling tattoos may be a great way to honor it.
Here is a list of sibling tattoos that are meaningful and powerful. So even when you are not together all the time, you'll still be each other's best cheerleaders.
Disclaimer: This tattoo collection is for inspiration only. Please do not copy the artwork. If you love these tattoos, follow artists and show them some support.
Sibling tattoos as a tribute to brother and sister love
Table of content
Stunning unisex matching tattoos for siblings
Meaningful tattoos for sisters
Bold and creative tattoos for brothers
Stunning unisex matching tattoos for siblings
Matching number tattoos for 5 siblings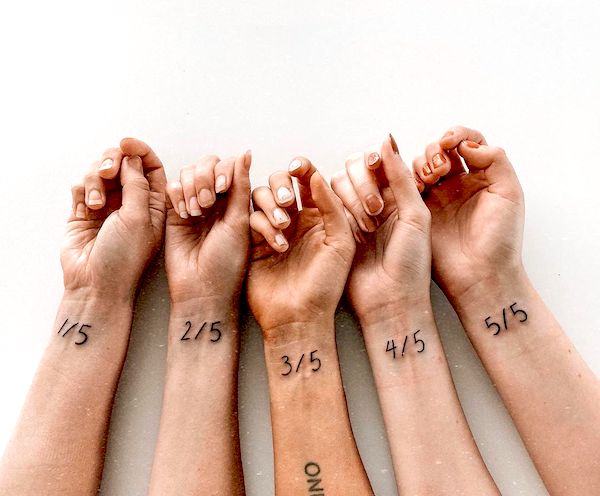 Small clover tattoos for 4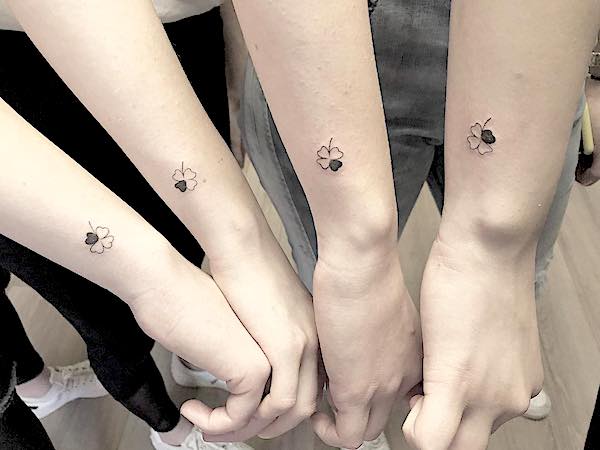 Clover is a symbol of good luck in Irish tradition. The four petals of a clover stand for faith, hope, love, and luck. These small matching clover tattoos send the best wishes for brothers and sisters.
We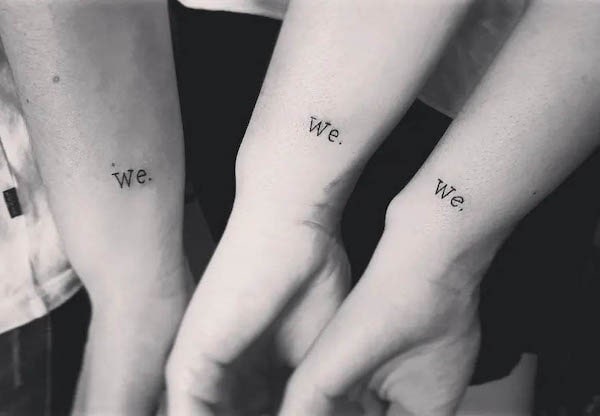 It's us against the world.
Atomic orbit symbol tattoos for 3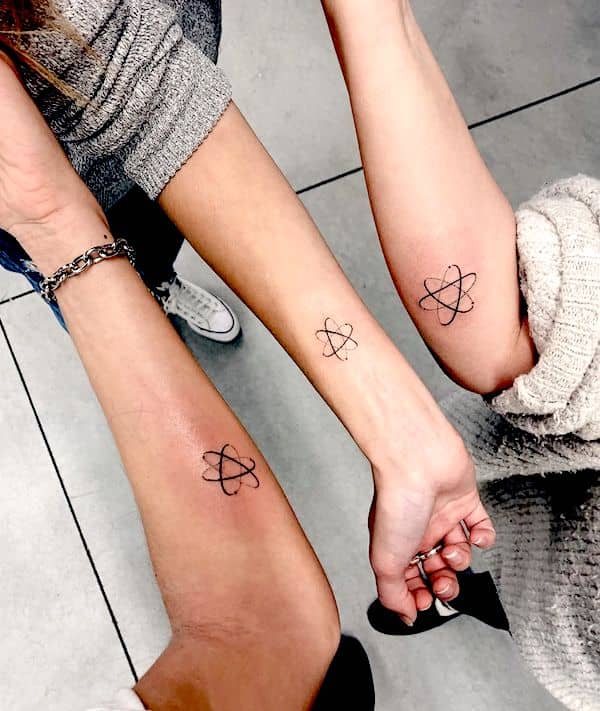 Not all sibling tattoos have to be inked in the same place. These 3-ellipse orbit tattoos are a great example. Need to hide it? Behind the ear or the ankle is ideal. If you want to show it, a wrist or a neck tattoo may be better. Pick the spot that works for you.
Year of birth family tattoos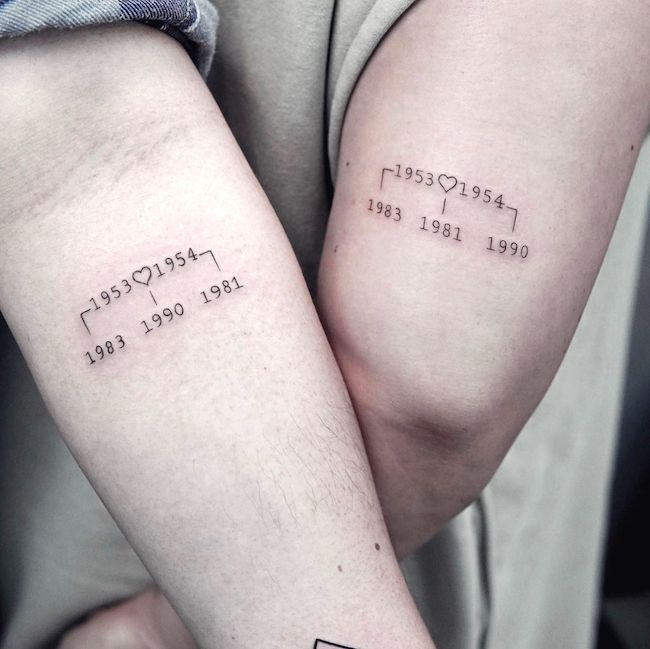 Brother and sister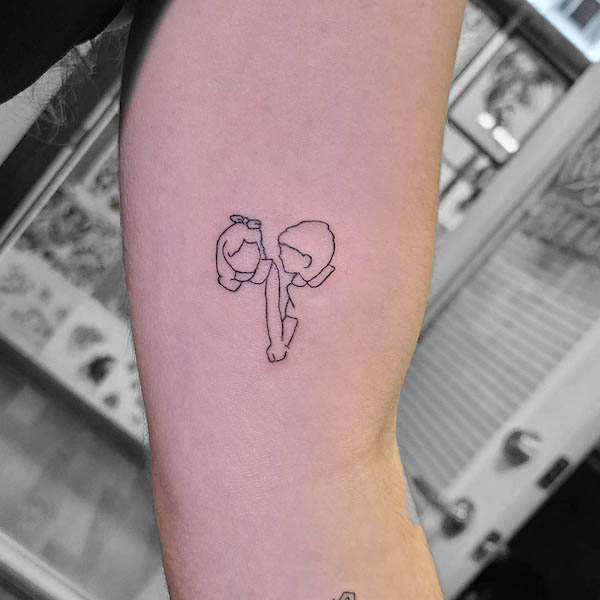 You are never alone when you have siblings. They are friends, family, and sometimes partner-in-crime. Instead of drawing the entire body, this small tattoo outlines the brother and sister and their hands holding. Simple it might be, but it shows the bond and trust between the two.
The petit heroes
Tiny number tattoos for siblings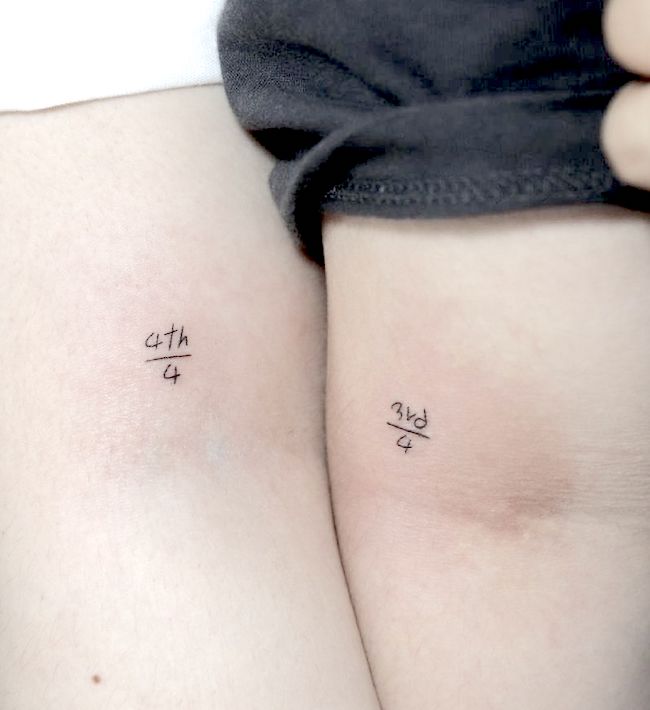 Cute matching Simpsons tattoos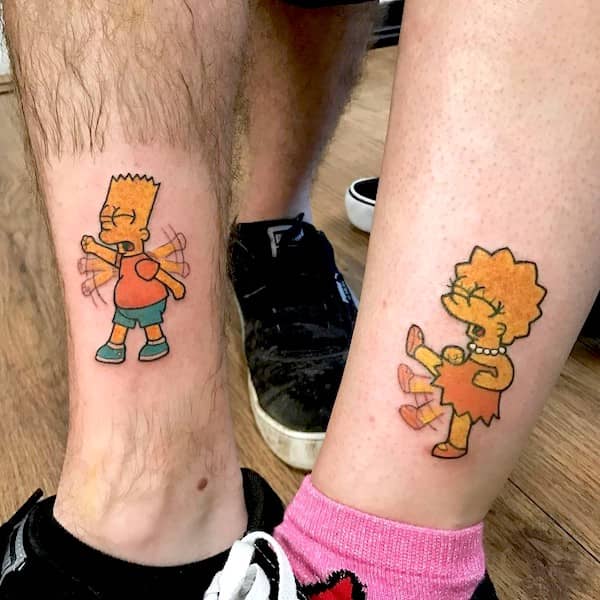 Cute raccoon and cat illustrative tattoos
Small sibling tattoos for 3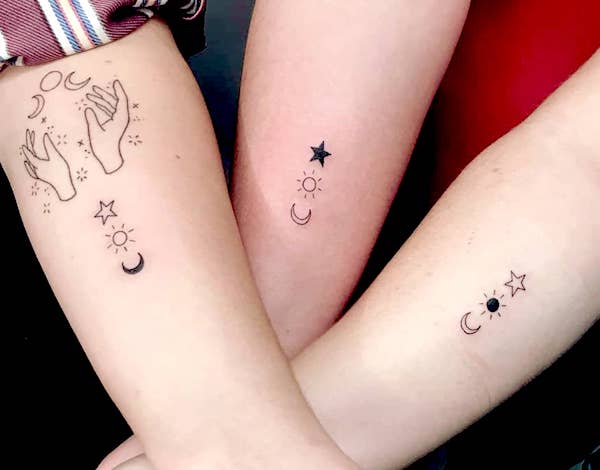 Sibling tattoos for 5
Super Mario sibling tattoos for 5
These Mario powerups are so cute. Do you and your siblings share a favorite childhood game? Probably it's a good idea for your matching tattoos.
Blackwork Pokémon tattoos
Brother and sister quote tattoos
You can never go wrong with quote tattoos.
Contrasting small celestial tattoos
by @bacalaoink
Sun and moon are evergreen themes for brother and sister tattoos, just like Yin and Yang. Seemingly contrasting, but the two sides are interconnected and inseparable. Just like siblings, you may disagree on many things. But the bond will always keep you close together.
cute portrait tattoos for brothers and sisters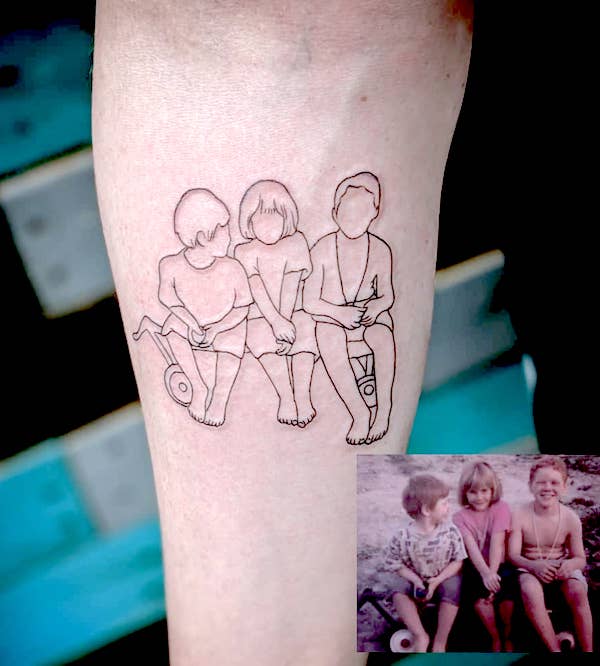 I will give you all
The permenant moment
Fingers crossed matching tattoos
by @mia.elite
Triangle sibling tattoos for 5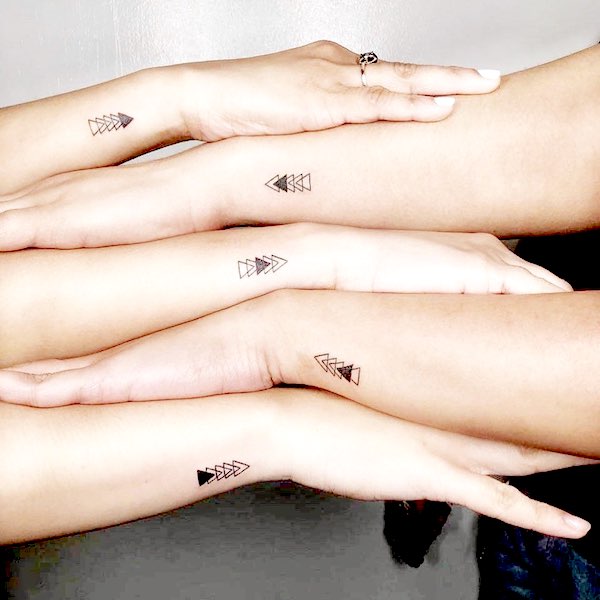 by @mariahocson
Triangles are strong and stable shapes. With three supporting spots, it's unbreakable, just like the ties between brothers and sisters.
Small sibling tattoos for 3
by @1991.ink
3 parts make a whole. If you feel like your life is not complete without your brother or sister, these tattoo for 3 siblings will speak for your mind.
Badass poison tattoos for 3
Small wrist tattoos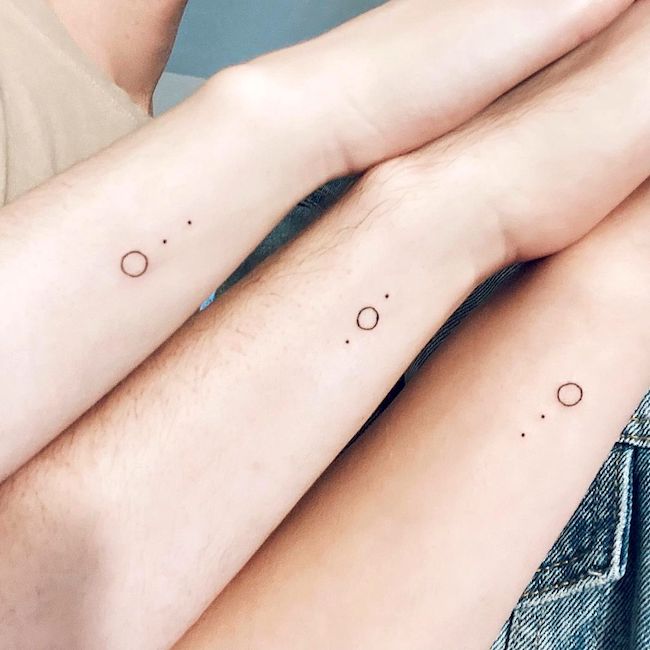 These tiny tattoos symbolize the similarity of brothers and sisters and also the unique personality of each one of them.
Intricate sun and moon arm tattoos
Matching forearm tattoos for the Book smarts
Book smart or street smart?
Matching quote forearm tattoos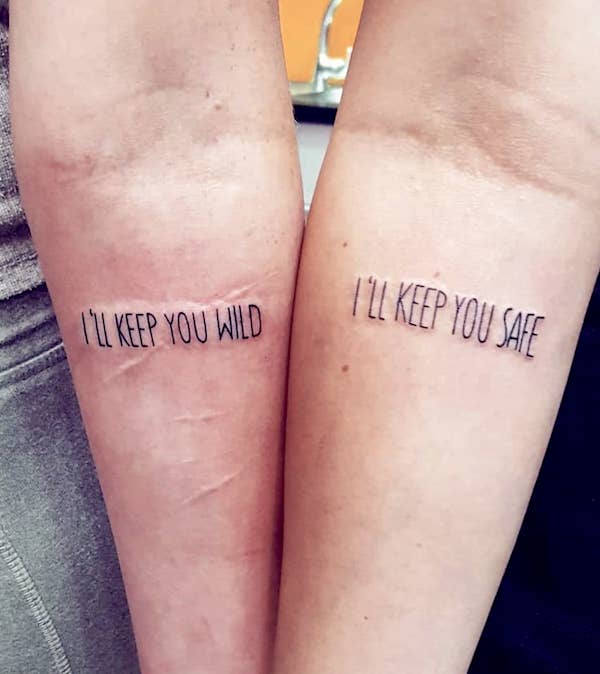 Siblings are like best friends. They understand and respect each other. You can be who you are with them. And when you need help, they will be there for you.
Read also: 69 Inspiring quote tattoos that are permanent reminders
Minimalist triangle tattoos for brothers and sisters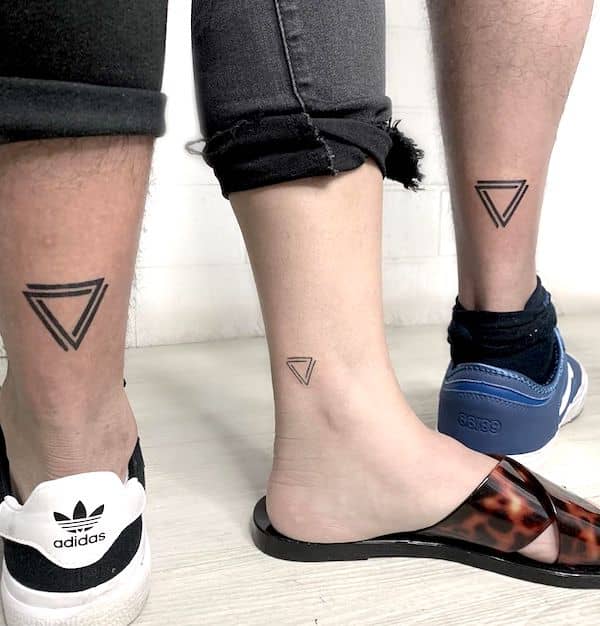 by @art.criss
Pokémon sibling tattoos for 3
Totoro family tattoos for 3 siblings
The Totoro family is from the Japanese fantasy anime movie My Neighbor Totoro. Who doesn't love these cute fluffy goofballs? Their souls are pure and their courage is beyond words.
Poker tattoos for brothers and sisters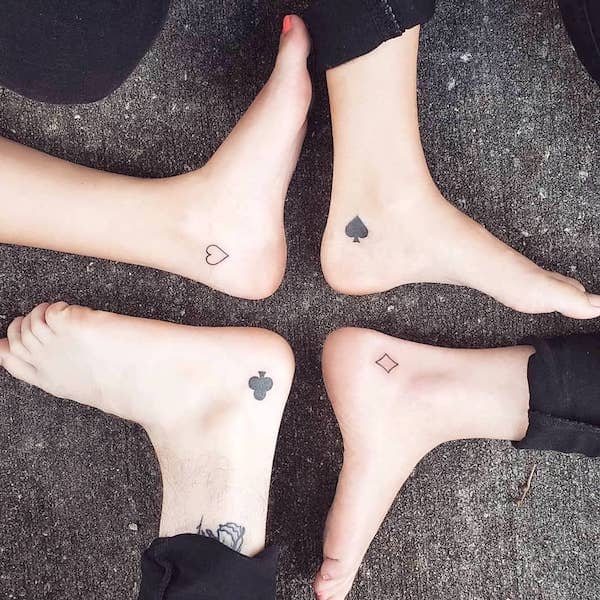 Perfect small tattoos for 4 siblings.
Pretty tribal wrist tattoos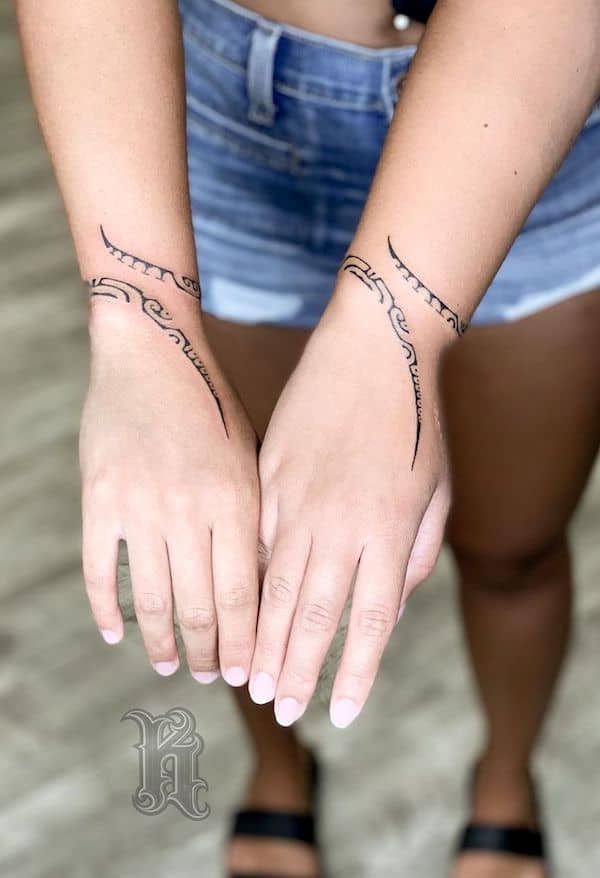 by @inkedbykuu
Rainbow color alien tattoos for weirdos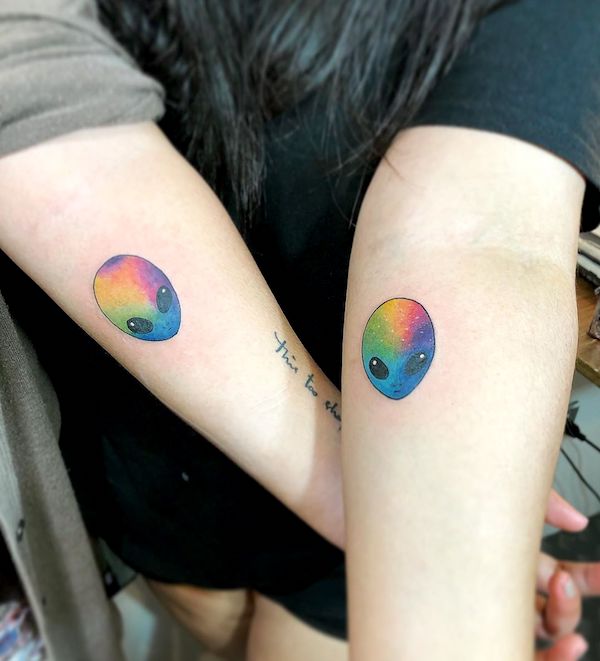 When you and your brother or sister are both weirdos, you will definitely have endless fun. The others may not understand you. But you will always get each other.
Salor Moon arm tattoos for siblings
Time to save the world and beat the evil together.
Satellite and antenna matching tattoos
Whatever you say, I always listen.
Ship and anchor matching tattoos for siblings
The anchor holds a ship in place even in waves and currents. Just like siblings' love, wherever you are, they will always get your back.
Sign of the horns tattoos with an attitude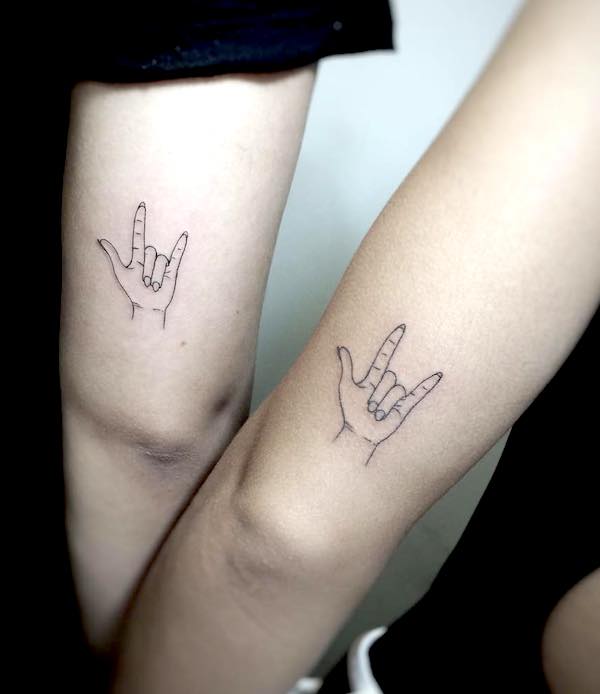 by @cafox
Simple line wrist tattoos for siblings
The universe and rocket ankle tattoos
by @lea.hritzr
The attached astronauts tattoos
by @orcnyalcn
In the middle of nowhere where we have nothing, we'll still have each other.
Wave and mountain matching tattoos
Wing tattoos for brother and sister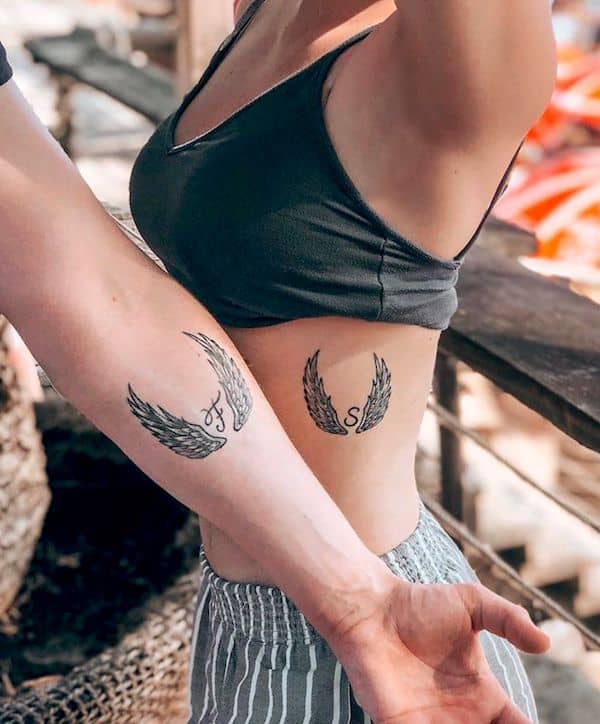 by @franzi.rdm
Meaningful tattoos for sisters
Matching celestial shoulder tattoos
by @221tattoo
Not alone
Sisters are keep you company when you feel like no one understands you. Just like what is told in this tattoo, when you want to take a break from the rest of the world, they are there to listen and bring you love.
"Better half" avocado tattoos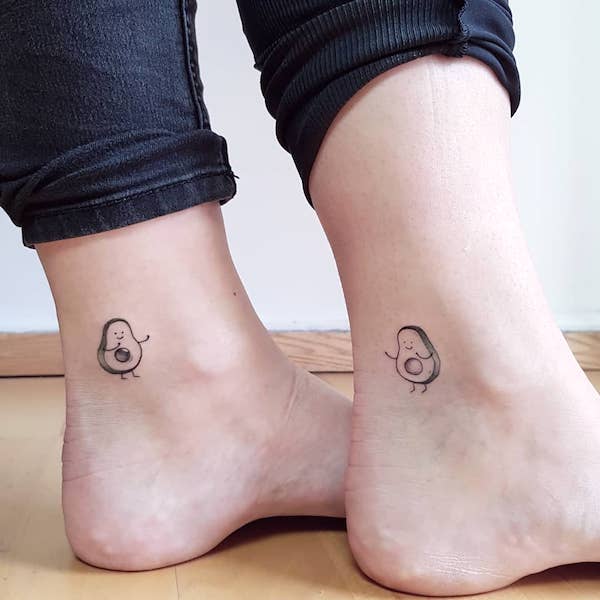 by @terez_ink
If you feel like your sister completes you and cheers you up with positive energy, you can't miss these cute avocado tattoos.
Cute sisters portrait calf tattoos
"Breathe" quote tattoos
Floral rib cage tattoos
by @d_ratajczyk
Rose sisters tattoos on the finger
Read also: 66 Small finger tattoos that are surefire to impress
Geometric symbol tattoos with different placements
by @kaisukuu
The Powerpuff Girls tattoos for 3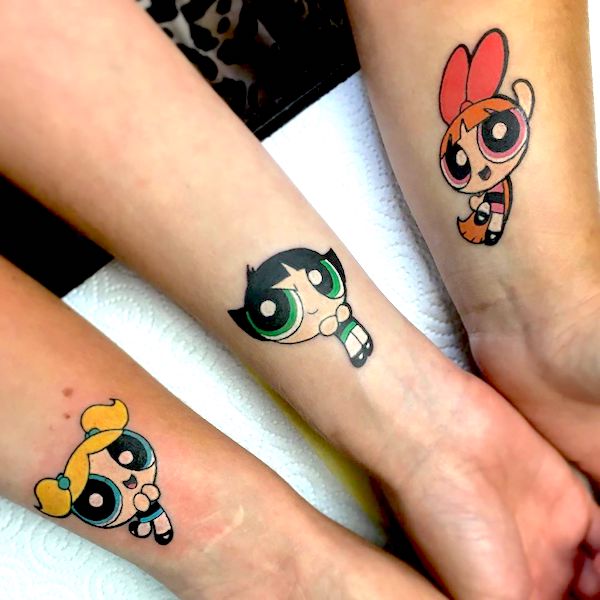 Holding hands sisters tattoos
by @neskatattoo
Beautiful butterflies tattoos for 3
Matching sun and moon quote tattoos
by @daddy.ql
"Live by the sun. Love by the moon." You don't need to choose between either side, your brain or your heart. Your intelligence and emotions together make you complete.
Intricate arm tattoos for girls
by @enna.mama
Spirit animal tattoos for sisters
Matching koi fish wrist tattoos
by @bluehash
Elegant dancer tattoos for sisters
by @sanne_vaghi
Marie from Aristocats thigh tattoos
Small sun and moon arm tattoos for 2
by @theuncannie
Astrology sisters tattoos for 3
Zodiac tattoos are evergreen, just like this Pisces, Cancer and Aries tattoo. If your sisters and you are into astrology, think about getting one.
Tree of life rib tattoos
Pinky promise matching tattoos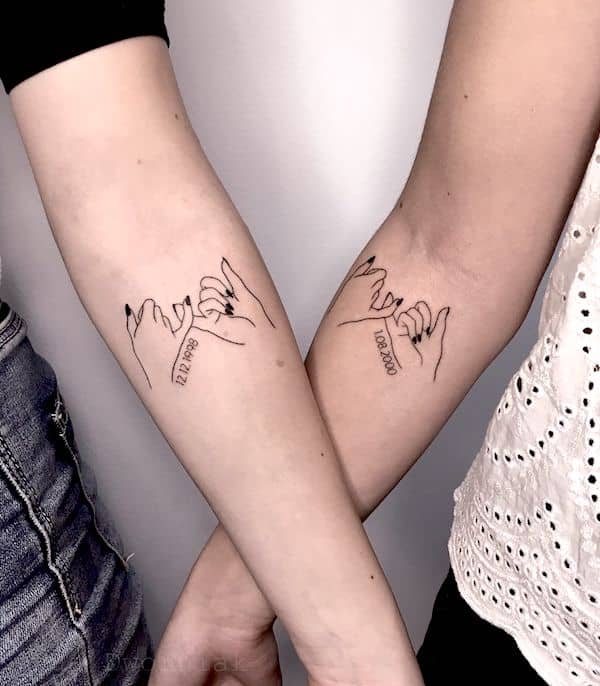 by @kinga_ink
Matching zodiac butterfly tattoos
Bold and creative tattoos for brothers
Elephant sibling tattoos for 3
Matching fantasy landscape tattoos for
by @mast_cora
Bicep tattoos for brothers
Almost the same design with a different twist on the details of the hands, these matching tattoos indicate the professions of the brothers.
Arm wrestling sleeve tattoos for brothers
Matching geometric symbol tattoos for guys
by @kike_karam
The swords and courage tattoos
Swords are symbols of strength, courage and protection. If your brothers are the ones who always keep you save, matching sword tattoos can be a tribute to your bond.
Minimalist matching triangle siblings tattoos
by @kurashuji
Matching landscape tattoos for travelers
Matching arrow forearm tattoos
Cute Pikachu tattoos
Mountain tattoos on the bicep
Badass matching skull tattoos
Black and white symbolic elbow tattoos
Player 1 and Player 2 matching ankle tattoos
by @chibstattoo
Realistic handshake forearm tattoos
Which of these sibling tattoos do you love the most?
Leave your thoughts on the comment down below and tell me about your story with your brothers or sisters!
Read also:
57 Mother-Daughter Tattoos That Melt Hearts
31 Mother-Son Tattoos To Honor The Unbreakable Bond
42 Heart-warming Family Tattoos And Meaning