A list of don't care quotes for when you feel trapped in critics and the people-pleaser mentality
Some people care too little, but some care too much. And I am one of the over-carers.
I remember being called fat when I was a kid and thus left a scar for my entire teenage. Till these days, I am still very self-aware. I rarely miss a workout, not because I don't want to, but because I don't dare. Thinking about putting extra weight after a cheat meal makes me sick to my stomach.
It's natural to care about how others think. But then I started to learn the difference between constructive criticism and pure judgments. The game changed.
The thing is, some people want you to be better. They advise so you can grow. But some others don't care. All they care about is getting their opinions out, however harsh or unconstructive they are. They don't care how you think about them. So why should you?
I am still in the process of un-care and un-hear some of the harsh comments on my body. Maybe you are in a similar situation. Or maybe people are judging your job, your relationship, and you feel frustrated to keep everyone happy.
That's why I've made this list of empowering quotes to stop caring what others think. I hope they inspire you to focus on yourself rather than the noises.
Read also: 5 Subtle ways to stop giving f*cks
Don't care quotes to untangle the people-pleaser mentality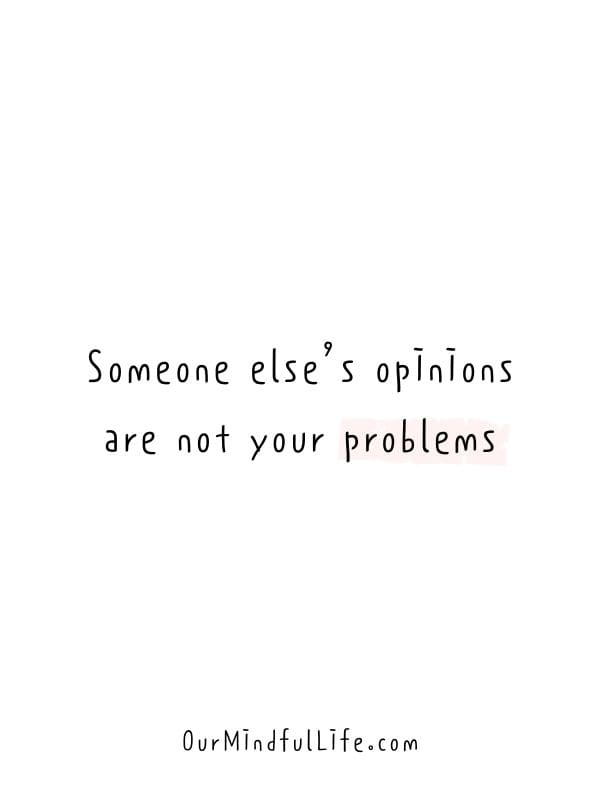 Someone else's opinions are not your problems.
Focus on what you can control. Work on yourself. Life is too short to be invested in others' judgments.
If words control you, that means everyone else can control you. Breathe and allow things to pass.
– Warren Buffett
How to be happy: Ignore people who think they know you better than you do
The fact is, nobody knows you better than yourself. You know what's working and what's not. Even when you are not sure, you are still more qualified to make your own decision. Listen to your heart.
Weak people revenge. Strong people forgive. Intelligent people ignore.
Sometimes you need to give up on people. Not because you don't care but because they don't.
The harshest judgments come from people we care about. But those who truly care about us would not belittle for no reason. It's hard. But when you learn to let people go, you make room for real friends and inner peace.
Your life isn't yours if you always care what others think.
The time is always right for you to take back control over your life.
Here's my cup of care. Look, it's empty.
It's ok to be a bad b*tch and put yourself first.
Stop worrying about things or words you can't control.
Do your best and let others think as they want.
Never stop being a good person because of a bad person.
Your kindness is priceless. Don't lose it.
Read also: 45 Inspiring kindness quotes to sprinkle love everywhere
Never apologize for being who you are.
Stop letting critics from haters put you in a box.
Don't be afraid to lose people who make you feel bad. You don't need them anyway.
Know who your real friends are and walk away from the fake ones. It's a win when you don't care about them anymore.
Sometimes people make you feel you are bad, so they don't feel guilty about how they treat you.
You can't please everyone.
So you may do what makes you feel happy. Judgmental people will not be satisfied anyway.
What makes you happy doesn't need to make sense to others.
You don't need permission to do what you want to do.
Stop apologizing or seeking approval. You have the right to make your own choice.
Stop defending your name and start building it.
A don't care quote for when you feel offended.
Are you limited by the fear of what other people think?
– tiny buddha
This is a question I ask myself a lot. If I am doing something out of passion instead of fear, I know I am on the right path.
You can't be an important and life-changing presence for some people without also being a joke and an embarrassment to others.
– Mark Manson
Be a good person, but don't waste time to prove it.
Not everyone likes me. And not everyone matters.
Never waste your time trying to explain who you are to people who are committed to misunderstanding you.
They don't worth your efforts.
Their judgment doesn't define who you are: it defines who they are.
Those who spend their time looking for others' faults make no time to correct their own.
Which of these quotes resonates with you?
Just like healing, uncaring is not done within one day, or with one single quote. It takes practice to put the focus back on yourself.
I hope these wise quotes help you in the process. Feel free to share your thoughts with me in the comment!