These breakup lessons change my perspectives for self-love and self-acceptance.
I had never been in a relationship for six years before, nor had I imagined the pain of getting out of it. The breakup wasn't ugly. But it is still heart-wrenching. Now looking back as I am healing, this relationship inspired new thoughts about self-love and self-compassion.
If you are going through the same thing, I hope these breakup lessons I learned will help you to see the bright side.
Lessons I learned from ending a six-year relationship
Breakups don't always have a reason
The worst breakup is the one that happens without reason. No cheating, no fighting, no drama, just two individuals growing apart.
My ex and I went on a 3-year long-distance relationship before breaking up. And yes, long-distance sucks. We have different plans for the future. And we are building a career separately.
We didn't cheat or fight with each other. So we don't really have a reason to hate each other. But peaceful breakups still hurt. We could stay in the relationship and talk on FaceTime two times a week for the rest of our lives. But can you actually call it a relationship?
I remember the first few days after breaking up, I couldn't help asking myself:
What if we hang on a bit longer?
What if I give up what I have here and go to him?
Why did this happen to two people that love each other?
I don't have the answers. But I do know that lingering on the what-if's and why's won't help me heal. You can spend every minute searching for a reason. Or you can accept the fact and move on. And I chose the latter.
To heal, you have to acknowledge your feelings
I am a Taurus. And I love to distract myself with work and food. But they are not helping this time.
The more I tried to bury my emotions, the stronger they become. I wasn't ready to break the news to my family and friends at that time, so I wrote down my feelings on a piece of paper.
"I am devastating." I felt relieved as soon as I wrote the first line. This is the first step I take to stop hiding and start healing.
I continue to journal my feelings for the next two weeks. And guess what happened? Every day I am getting better, bit by bit. Maybe not right away, but I know that I will reach the point that I can comfortably talk about my breakup, just like right now. If I can do it, you can do it.
Read also: How to brain dump? 6 Brain-dump triggers and printable worksheet
Isolation helps
My ex and I agreed to take a step back in each other's lives and to be friends. But we didn't shift from "babe" to "hey" in a day.
We took a couple of days off. That means no calls, no text messages and no peeking on social media.
Distancing yourself from your ex is not going to stop the pain right away. But it gives you a chance to cleanse your mind and to focus on yourself.
If you are both comfortable in making contacts again after cooling down, great. But if you don't, cut off your connections entirely.
We didn't break up and still hope to keep each other in our lives. We talked things through and decided we could still be friends. With that said, I wouldn't regret it even if we don't talk anymore.
If you are going through a breakup, know that your inner peace should always come first. And it's ok to let people go for good.
It's ok to ask for help
I am used to processing emotions on my own. But I let the words slip my mouth on a phone call with my friend. She visited me the next day, checking up on me to see if I was ok.
"I don't know how to help. But I am here if you need me." Hearing this from her makes the difficult situation less difficult.
If you are going through a tough time, know that it's ok to ask for help, maybe to a friend, a family or a therapist. Vulnerability is strength.
Read also: 24 Vulnerability quotes to live your life bravely
"You can love someone and still choose to say goodbye"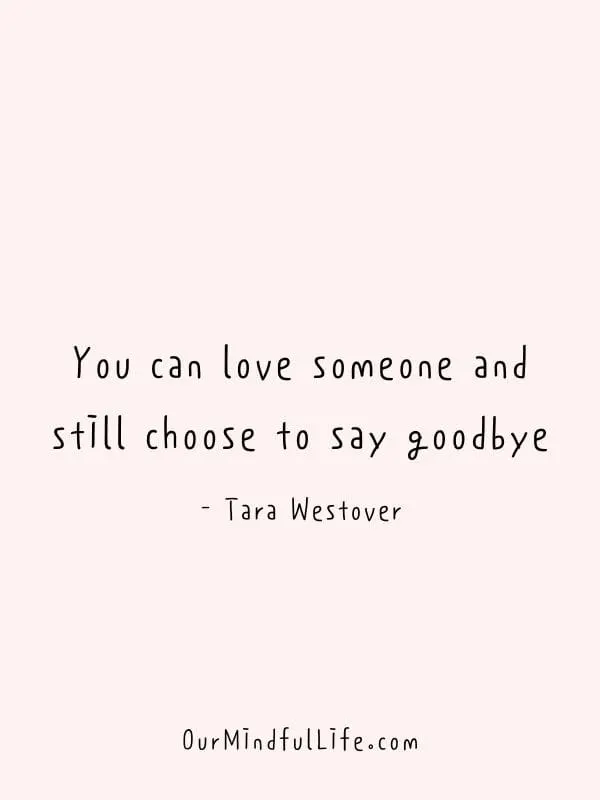 This is a quote from Tara Westover, the author of Educated. And I can relate.
I loved my ex so dearly, and I will continue to love him as a friend. But I know that I would not be happy maintaining a long-distance relationship without a due date. It puts pressure on both of us, and it would eventually end in resentment.
The same rule applies to friendships and family relationships. You can love someone and still let them go. Latching on is not always the best answer.
Read also: 15 Warning signs of a toxic relationship and why you should leave for good
Game-changer: a me-time list
The hole in your heart won't magically heal by itself. You need to fill it up with it up with something else.
And getting in a new relationship is not always the best way to recover from a breakup. Your passion, your family, your work…there are so many meaningful things that spark joy.
For me, they are long walks by the lake, new recipes and drawing cats. My breakup has led me back to the things I wanted to do for a long time.
If you are going through a breakup, list things that make you happy: music, crafts, movies…anything. And start doing them. You deserve to be loved. But love doesn't always come from the outside.
Read also: 26 Self-date ideas to treat yourself
So here are the breakup lessons I learned from this heart-wrenching experience. Breakups are difficult, but they can also be the best chance to know yourself better and to practice self-love.
If you are healing from a breakup, be patient with the process. And remember that, you are loved and you are not alone. If you are worried about being alone again, these happy single quotes may cheer you up.