The best haters quotes that show how to deal with them and turn on your beast mode.
Haters gonna hate, hate, hate.
No matter where you are in your life, there will always be people that are jealous and try to talk you down. They can be back-stabbing fake friends, or some random strangers trolling everything they see on social media.
"Why haters hate," you may ask. Even if you are a nice person, you are still going to pick up haters somewhere. Some may hate you because others love you. Or you may be living the life they want.
Whichever reason it is, it's not your fault. And most of the time, haters hate because they are not happy with themselves. Those who are highly satisfied with their life, relationship and career won't have the time and energy to hate.
The bright side is, if you have haters, you are probably doing something right. Hate comes with fame. When you are rising above, irritating those who are left behind is inevitable.
And the best way to deal with haters is to stop giving them f*cks. You can't change a hater, and it can be dangerous to take their words to heart.
To help you to cope, here are some of the best hater quotes that will turn your emotion into motivation. You are more than someone's judgments. And living your life to the fullest is the best revenge.
Quotes to turn haters into motivators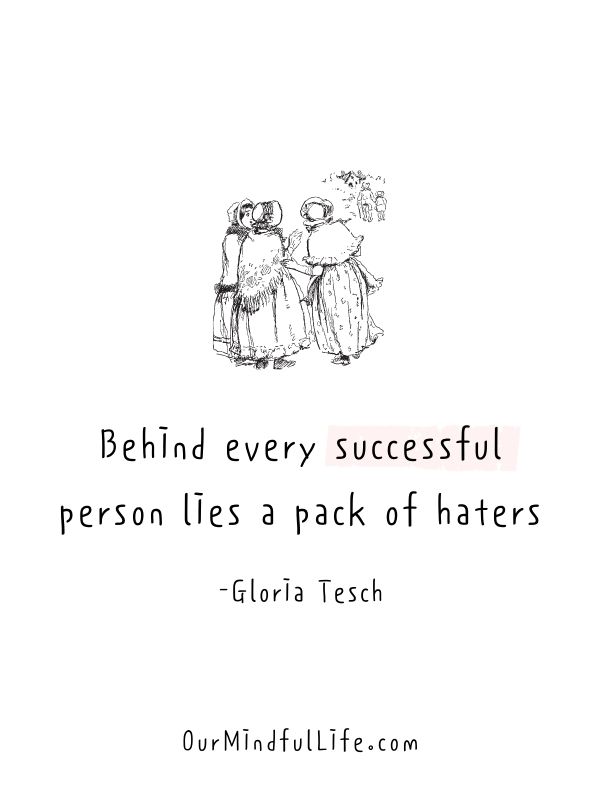 Behind every successful person lies a pack of Haters!
– Gloria Tesch
Some people hate you because of the way other people love you.
When you have haters, you're doing something right.
– Kylie Bunbury
Now my haters are very high-class people, so I feel like I've moved up.
– GloZell
The haters always scream the loudest.
– Tucker Max
Haters
(noun.)
People who secretly want to be you.
Don't try to win over the haters; you are not a jackass whisperer.
– Scott Stratten
Haters are confused admirers who can't understand why everybody else likes you.
– Paulo Coelho
Haters are my favorite. I've built an empire with the bricks they've thrown at me. Keep on hating.
– C.M. Punk
Haters don't hate you. They hate themselves because you're a reflection of what they wish to be.
– Nicki Minaj
My haters are my motivators.
– Nicki Minaj
Haters are gonna hate, but haters are also going to click on your YouTube video just to watch it.
Even if you were watching just to hate on me, and now I hold the record, so I win.
– Miley Cyrus
If you don't have haters, you're doing something wrong.
– Molly Qerim
There will be haters, there will be doubters, there will be non-believers, and then there will be you, proving them wrong.
– Karina Barton
Haters are speaking their truth, not yours.
Stop feeding haters with your attention. They don't deserve it.
Haters
H: Having
A: Anger
T: Towards
E: Everyone
R: Reaching
S: Success
Hate hurts the hater more'n the hated.
– Madeleine L'Engle
Haters will say what they want, but their hate will never stop you from chasing your dream.
– Justin Bieber
Love your haters – they're your biggest fans.
– Kanye West
I don't have time, energy, or interest in hating the haters; I'm too busy loving the lovers.
– Steve Maraboli
Do you have a hater who is doing better than you? Me neither.
A great pleasure in life is doing what people say you cannot do.
A lion doesn't lose sleep over the opinion of sheep.
Be careful who you open up to. Only a few actually care, the rest are just curious.
Don't trip over haters, step over them.
– Darrin Lowery
Don't worry about people that aren't happy for you.
They probably aren't happy for themselves.
Whoever is trying to bring you down is already below you.
Read also: 61 Sassy and savage quotes to awaken the bad b*itch in you
Haters are the people who will broadcast your failures and whisper your success.
– Will Smith
Negative people need drama like oxygen. Stay positive; it will take their breath away.
Insecure people put others down to raise themselves up.
– Habeeb Akande
Quotes for your haters
Oh I'm sorry. Did my back hurt your knife?
Thanks for making me the center of your attention.
You hate me, but you are still watching. Damn you are a fan.
Don't like me? F*ck off. Problem solved.
Your opinion is irrelevant.
Don't hate what you can't imitate.
Dear Hater, I have so much more for you to hate. Just watch.
Maybe you should try to work as hard as you hate.
Which of these hater quotes resonate with you?
If you've got one, share these sassy quotes on social media to make your statement. But most importantly, don't let them bring you down or turn you into one of their kind.
Be you, the authentic you cause you are so much more than who they think you are.