What are your goals, and how do you achieve them? This list of goal quotes will inspire you toward success.
What is your goal?
This question is asked not just in school but also in life. But how do you find goals, and how do you set the right goals that will continuously push yourself?
Goals are something you want to achieve by a certain time in life. And there are long-term and short-term goals.
If you are in high school, your short-term goal may be passing finals. And your long-term goal, on the other hand, may be entering your dream college.
There are also various types of personal goals that reflect our intentions in life, health, work, relationship, and more.
Whatever your goals are, they are essential for personal success. They are the compass. Without them, you could feel lost in uncertainty. But if you have a clear goal in mind, you know you are on the right track even if you can't see the finish line yet.
So if you are searching for your goal, or wondering how to maximize the power of your personal goals, here is a list of goal quotes for you.
From setting goals to using them as motivation, these empowering goals quotes and images will inspire you to go to the next level.
Inspiring goal quotes
Quotes on the importance of goals
If we don't consciously plant the seeds we want in the gardens of our minds, we'll end up with weeds!
– Tony Robbins
People cannot hit what they do not aim for.
– Roy Bennett
Setting goals is the first step in turning the invisible into the visible.
– Tony Robbins
It's better to be at the bottom of the ladder you want to climb than at the top of the one you don't.
– Stephen Kellogg
The trouble with not having a goal is that you can spend your life running up and down the field and never score.
– Bill Copeland
Goals are the road maps that guide you to your destination.
– Roy T. Bennett
When you set a goal, your brain opens up a task list.
– Mel Robbins
Set goals and seek challenges; Become a role model for those coming behind you.
– Charles F. Bolden
You can't have a plan for your day, 'til you have a plan for your life.
– Tony Robbins
Thought-provoking quotes about goal-setting
Aim higher in case you fall short.
– Suzanne Collins
The moment you put a deadline on your dream, it becomes a goal.
– Harsha Bhogle
Giant goals produce giant motivation.
– Tony Robbins
The process of setting goals works a lot like your eyesight. The closer you get to your destination, the greater clarity you gain, not only on the goal itself, but the details of everything around it.
– Tony Robbins
When I was growing up I always wanted to be someone. Now I realize I should have been more specific.
– Lily Tomlin
The greater danger for most of us isn't that our aim is too high and miss it, but that it is too low and we reach it.
– Michelangelo
A good goal is like a strenuous exercise — it makes you stretch.
– Mary Kay Ash
Your goal should be just out of reach, but not out of sight.
– Denis Waitley and Remi Witt
The people who are crazy enough to think they can change the world are the ones who do.
– Steve Jobs
A goal properly set is halfway reached.
– Zig Ziglar
The rules of SMART Goals
Specific: clear and well defined
Measurable: Include precise amounts to value the degree of success
Attainable: possible to achieve
Relevant: keep goals aligned with career or life
Time-Bound: have a deadline
Most people overestimate what they can do in a year, and they massively underestimate what they can accomplish in a decade or two.
– Tony Robbins
Motivational quotes on how to achieve your goals
A goal without a plan is just a wish.
– Antoine de Saint-Exupéry
It's harder to stay on top than it is to make the climb. Continue to seek new goals.
– Pat Summitt
The only thing standing between you and your goal is the bullshit story you keep telling yourself as to why you can't achieve it.
– Jordan Belfort
You can't cross the sea merely by standing and staring at the water.
– Rabindranath Tagore
No one can hit their target with their eyes closed.
– Paulo Coelho
Focus on your goals, not your fear. Focus like a laser beam on your goals.
– Roy T. Bennett
Every ceiling, when reached, becomes a floor.
– Aldous Huxley
Keep your eyes on the stars, but remember to keep your feet on the ground.
– Theodore Roosevelt
When you want something, all the universe conspires in helping you to achieve it.
– Paulo Coelho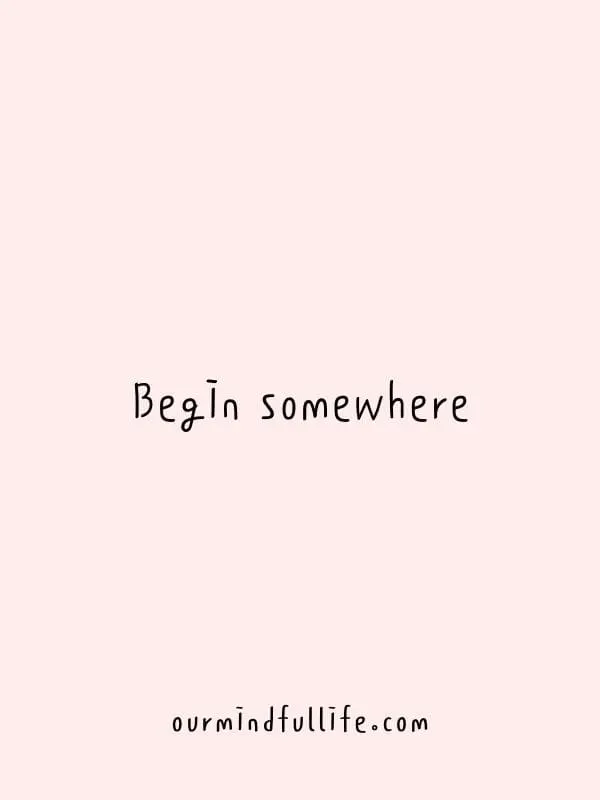 Begin somewhere. You cannot build a reputation on what you intend to do.
– Liz Smith
By recording your dreams and goals on paper, you set in motion the process of becoming the person you most want to be.
– Mark Victor Hansen
Set your mind on a definite goal and observe how quickly the world stands aside to let you pass.
– Napoleon Hill
The moment you have an instinct to act on a goal you must 5-4-3-2-1 and physically move or your brain will stop you.
– Mel Robbins
Athletes visualize scoring a goal before they go out on the field, and actors visualize receiving a standing ovation before going out on stage.
– Erica Spiegelman
Take time to deliberate, but when the time for action comes, stop thinking and go in.
– Napoleon Bonaparte
Goals quotes on overcoming adversity
If the plan doesn't work, change the plan, not the goal.
If something is important enough, even if the odds are against you, you should still do it.
– Elon Musk
Read also: 69 Quotes on success that will push you towards your goal
You measure the size of the accomplishment by the obstacles you have to overcome to reach your goals.
– Booker T. Washington
Don't be afraid to give up the good to go for the great.
– John D. Rockefeller
Decide whether or not the goal is worth the risks involved. If it is, stop worrying.
– Amelia Earhart
It does not matter how slowly you go as long as you do not stop.
– Confucius
You have to decide that your goals are more important than push notifications.
– Mel Robbins
People who fail focus on what they will have to go through; people who succeed focus on what it will feel like at the end.
– Tony Robbins
Relentlessly taking action, pursuing your goals, acting and failing and ultimately succeeding.
– Gary John Bishop
Read also: 38 Motivational quotes to take action and slay your goals NOW
Which of these goal quotes resonates with you?
If you find any of these goals quotes with images helpful, share it with a friend who may need some motivation as well. Don't forget to tell me about your favorite one in the comment!