Aquarius have a unique taste for tattoos. From big to small, simple to intricate, these Aquarius tattoos are tailor-made for the sign.
When it comes to getting a perfect ink to showcase your Aquarian pride, uniqueness is key.
While most of the zodiac tattoos are often associated with the zodiac symbol or its ruling planet, Aquarians may need a little more than that.
So here is a list of Aquarius tattoos in different categories. From sleek constellation tattoos to totally badass tribal patterns, you will find your Aquarius ink-spirations in this post.
Note: This post is for inspiration only. Please don't copy the designs.
You can find a tattoo designer locally or on Fiverr. And go follow these tattoo artists and give them some love:)
Table of content
Aquarius symbols and tattoo elements explained
Unique Aquarius tattoos with meaning
Aquarius glyph and constellation tattoos
Impressive Water Bearer tattoos for Aquarius
Aquarius symbols and tattoo elements explained
A zodiac symbol is not your sole option of Aquarius tattoos. Here are the Aquarius symbols, elements, and their meanings.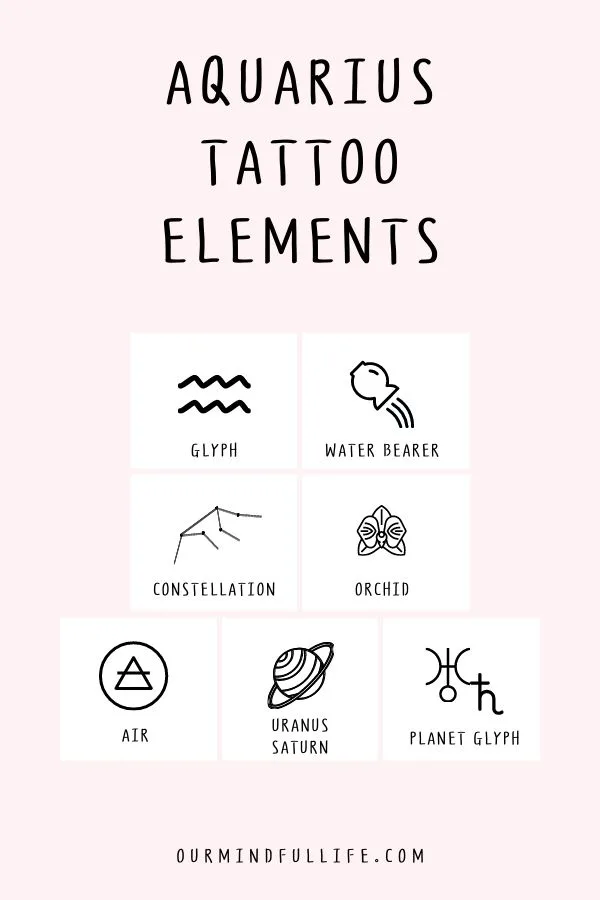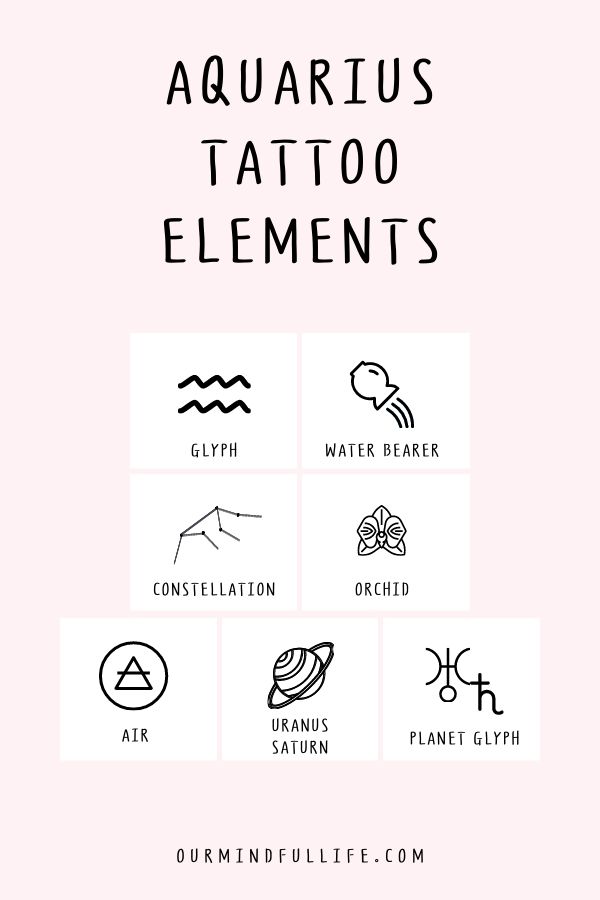 The glyph of Aquarius is a lot like waves of water. But in fact, it symbolizes the water pouring from the vessel of the Water Bearer – Aquarius symbol.
Aquarius constellation
Aquarius symbol: the Water Bearer
The Water Bearer is a man, or in some cases, a woman carrying a vessel with water pouring out.
In Ancient Egypt astronomy, the streaming coming out from the vessel flooded the Nile, and thus, the sign is considered to be destructive. But in modern astronomy, it represents Aquarian's pursuit of freedom and higher truth.
Though Aquarius has strong associations with water, it's an Air sign. Air signs are imaginative, compassionate, and full of emotions. And sometimes Aquarius gets a bad rap of being "in their head."
Orchids were rare in the Victorian age, and it became a sign of wealth and privilege.
Confucius once wrote that the orchids "let out their fragrance even if there is no one around to appreciate it." They are just like the Aquarius sign: one-of-a-kind, noble, and kind-hearted.
Ruling planet: Uranus and Saturn
Uranus is a symbol of freedom and revolution. It gives Aquarius the power to break chains in life and do the impossibles.
Saturn, on the other hand, represents structures and discipline. This may not fit into the free-spiritedness of Aquarius. But Aquarians are logical thinkers, thanks to the energy of Saturn. That's why compared to other Air signs, Aquarius are less likely to act impulsively.
Ruling planet glyph: Saturn and Uranus
Unique Aquarius tattoos with meaning
A stunning Aquarius goddess tattoo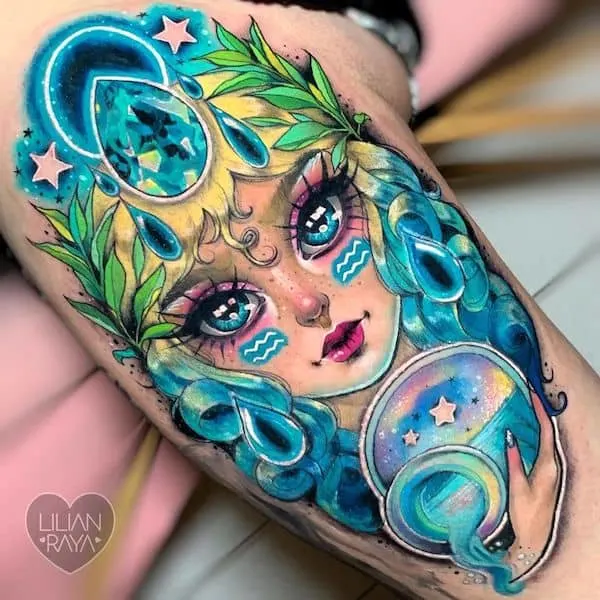 by @lilianraya
The neon-like blue of this tattoo is mesmerizing. The color combination depicts the connection between Aquarius and water.
You may also notice that the goddess is holding a vessel, just like the symbol of the sign – the Water Bearer. Look into her eyes and you'll find purity and intelligence – two of the Aquarius qualities.
A Water Bearer deer tattoo on the sleeve
by @bel_tattoo
It's always a good idea to make your spirit animal part of your tattoo. Deers are gentle but strong. They are able to overcome obstacles with calmness and grace. Just like Aquarius, they are tougher than they look, and they never lose their cool.
A back tattoo that reveals the fierce side of Aquarian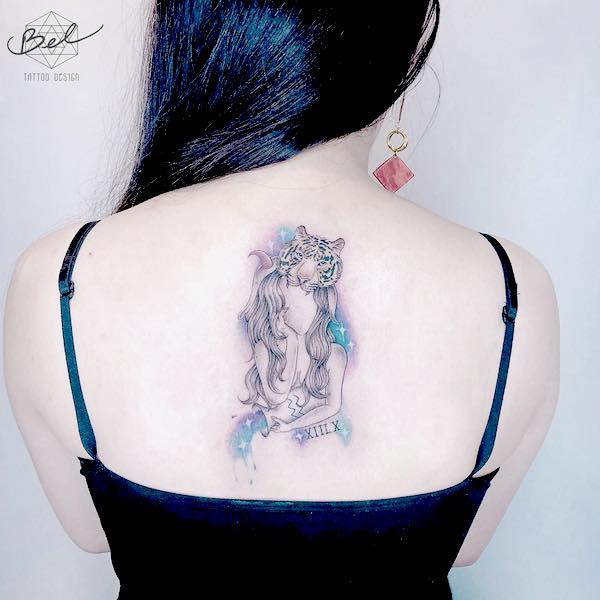 by @bel_tattoo
Hands holding water – a sleek tattoo with a story to tell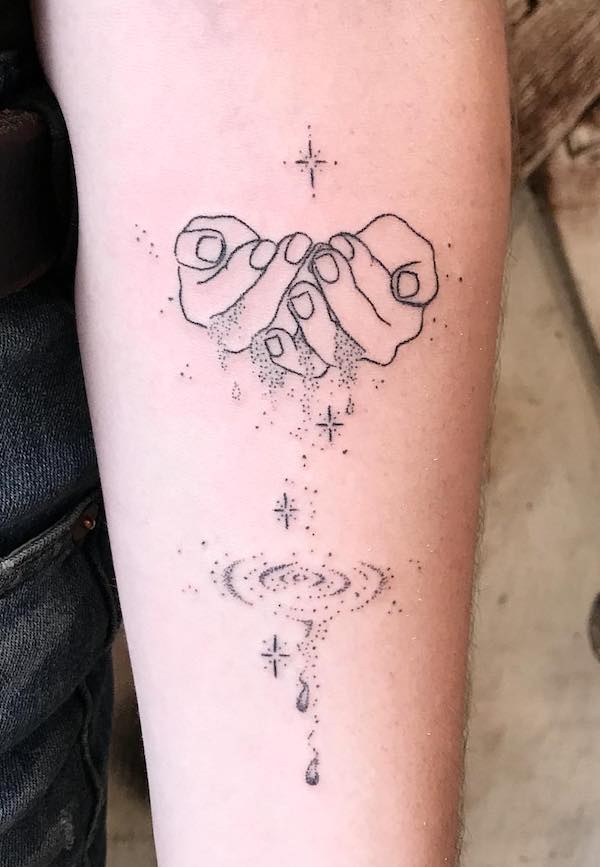 by @averykiyo
Sometimes it's ok to let go. Only by doing so can we find new sources and welcome better things in life. What's your interpretation of this abstract tattoo?
An Aquarius tattoo isn't always equal to the water vessel. This cute tattoo twists the concept of the "water carrier" into something unique and meaningful. It would be a perfect tattoo for girls that don't want to scream "I'm an Aquarian".
The Aquarius centaur shoulder blade tattoo
Centaur is a half-human half-horse creature in mythology. It symbolizes courage and strength. And an Aquarius centaur? She values freedom and will always say yes to adventures.
A gorgeous and mysterious Aquarian tattoo for women
A watercolor goddess tattoo for Aquarius women
An elegant orchid tattoo for Aquarian girls
How many Aquarius symbols can you find in this beautiful forearm tattoo?
Orchid is the birth flower of the sign. Take a closer look and you'll find the Aquarius glyph, Saturn glyph and Air element intertwined. This elegant tattoo combines Aquarius symbol, ruling planet, birth flower and element all in one.
A realistic leg portrait tattoo
Don't look back – a minimalist colored tattoo
Aquarius is strongly related to water. Water can be destructive, like the stream coming out of the Water Bearer's vessel that flooded the Nile. It can also be refreshing, like waves that washed away past traumas and sadness.
This simple silhouette tattoo can empower the wearer to move on with peace in mind.
A floral calf tattoo with Aquarius glyph
Aquarius glyph and constellation tattoos
Cute Aquarius symbol with initial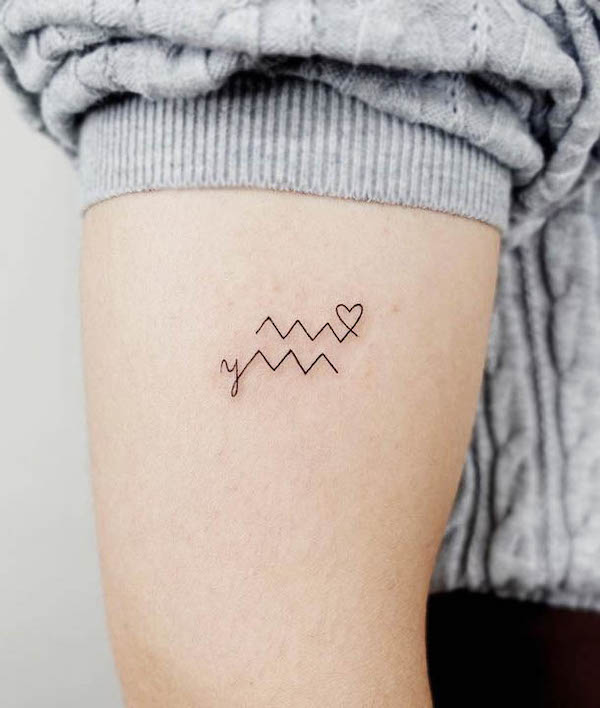 A sleek Aquarius glyph underneath the collarbone
A unique watercolor tattoo to showcase your three placements
A Saturn tattoo with Aquarius constellation on the shoulder blade
A dainty behind-the-ear tattoo that is easy to hide
by @claire_duke
A constellation bicep tattoo for Aquarius men
An abstract face tattoo with Aquarius constellation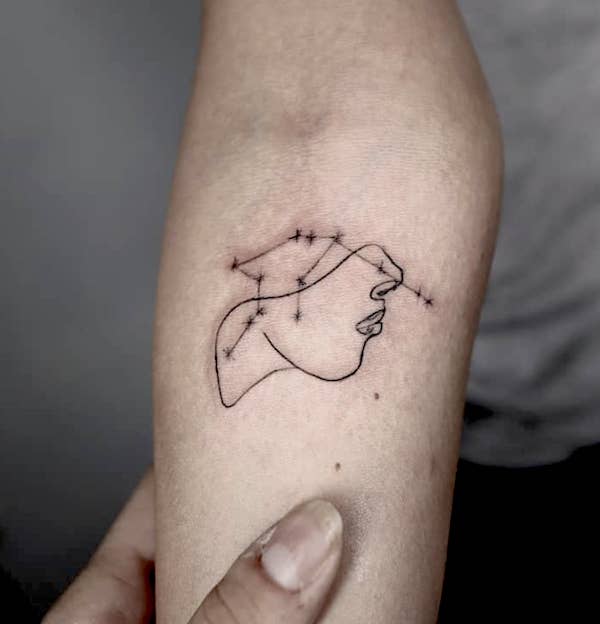 A rib tattoo of the Water Bearer symbol
by @cora_linez
Rib tattoos for best friends
Consider yourself lucky if you and your bestie are both Aquarius-born. This would also be a great tattoo idea for you and your better half.
A nape tattoo with Saturn and Aquarius constellation
by @yidan_shan
A black and white Aquarius arm tattoo
A symbol tattoo that combines Uranus, Aquarius and lotus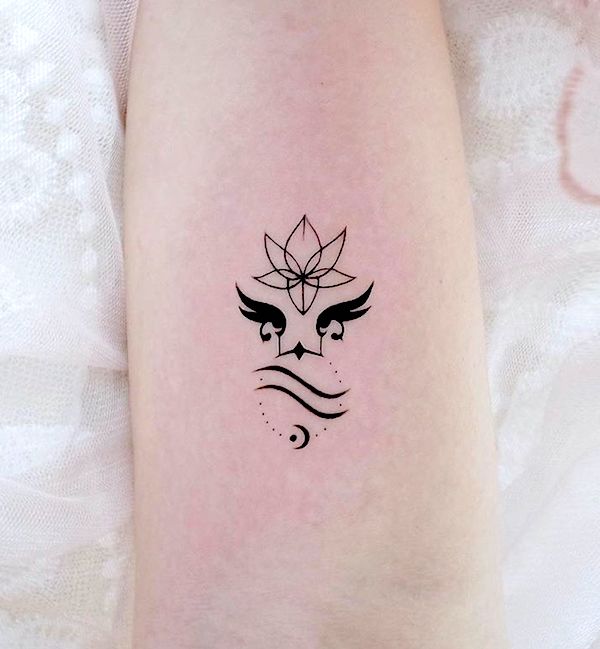 A twisted Aquarius symbol upper chest tattoo for men
A minimalist constellation tattoo on the hip
by @kaketattoos
A simple blackwork wrist tattoo for Aquarius men
A watercolor arrow tattoo on the side of the rib
A small Aquarius finger tattoo
A floral Aquarius constellation tattoo
An Aquarius glyph with a cute twist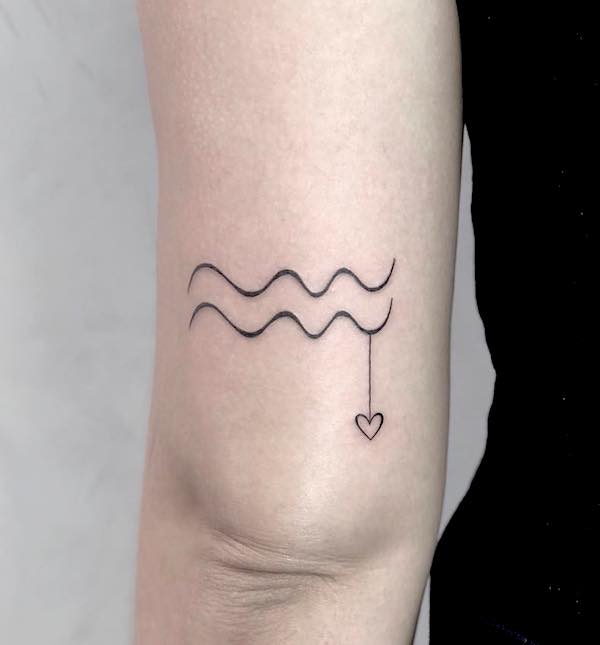 A gemstone tattoo in the shape of Aquarius constellation
An upside-down vessel tattoo on the shoulder blade
Matching Aquarius symbol finger tattoos
As the zodiac sign of friendship, what can be better than getting inked with your besties?
by @tyrallane
A low-key nape tattoo for Aquarius
by @vittatts
A minimalist wrist tattoo for Aquarius women
Impressive Water Bearer tattoos for Aquarius
Aquarius is associated with the symbolism of the Water Bearer in Greek mythology.
The water pouring out from the vessel represents a strong desire for freedom. Thus most of the Aquarians thrive when they are not restricted by strict rules or pressure.
The Water Bearer, along with the water element, is the evergreen theme of Aquarius tattoo designs. But it may be a little tricky to find the one that suits you most.
If you are opting for the Water Bearer symbol, these tattoo ideas that may help you.
A mythical water vessel tattoo
See from the heart – a meaningful sleeve tattoo
by @cajurine
An intricate Water Bearer portrait tattoo
A compass tattoo with Aquarius constellation and the vessel
A Greek tattoo for both men and women
A detailed Water Bearer tattoo that flows on the wrist
by @eck.tattoo
A cute bicep tattoo for Aquarius women
A stunning Water Bearer elf tattoo for Aquarius girls
A blackwork realism tattoo
by @freaky.ink
A fun geometric collarbone tattoo
by @greemtattoo
An Aquarius shoulder blade tattoo with stunning colors
An eye-catching forearm tattoo for Aquarius men
A tribal Water Bearer sleeve tattoo
by @mositvrv
A realistic art-inspired sleeve tattoo
A small vessel on the back
A simple vessel rib tattoo for Aquarius women
by @odd.memo
Goddess of the sea – an intricate forearm tattoo
by @ronangibney
The Water Bearer Triton forearm tattoo
by @samrulz
Triton, or Merman, is a male mermaid. In Greek mythology, Triton is a demi-god of the sea. The largest satellite of Neptune is named Triton as well.
A cute tattoo for Aquarius-born girls
by @unisa.illustration_animation
A realistic Water Bearer sleeve tattoo for Aquarius men
Which Aquarius tattoo is your favorite?
Have you found your Aquarius tattoo that matches your uniqueness? Which one is your favorite? Tell us in the comment!