Medusa symbolizes both deadly attraction and survivors. And these bold and beautiful Medusa tattoos will awaken your inner strength.
The snake-haired woman with the gaze that can turn men into stone, Medusa, is undoubtedly one of the most controversial characters in Greek mythology.
And while some see her as a villain that was eventually decapitated by Perseus, others see her as a symbol of strength, female empowerment, and revenge. So if you want something on the skin to remind you of your inner power, Medusa tattoos may be for you.
The meaning of Medusa tattoos
People have mixed emotions about Medusa, and rightfully so.
In the long history of Greek mythology, her story had been rewritten and developed many times. But what has stayed the same is her femininity, power, and badassness. Thus a Medusa tattoo inherits the same symbolism.
But Medusa tattoos have recently gained new meanings, especially on social media. People who were sexually assaulted share their Medusa ink as a statement.
Why, you may ask? And the origin dates back to the 1st century BC when Roman poet Ovid adapted Medusa's story. In it, she was this beautiful, innocent girl until the god Neptune raped her in the temple of Minerva. This makes Medusa relatable to sexual abuse survivors.
And ironically, Minerva punished the victim, Medusa, instead of Neptune, the abuser. Her hair was turned into snakes and her eye contact became lethal. If you look at modern society, the fact that Medusa is the one that suffers resonates with victim-blaming and victim-shaming. And that's why many women who survived sexual abuse see themselves in Medusa.
Medusa tattoos with meaning
This post is for you if you resonate with Medusa, the fearsome mythological character.
From small to big, simple to intricate, these Medusa tattoos can be a statement, a reminder, or a representation of your personality.
Disclaimer: This collection of medusa tattoos is for inspiration only. Please do not copy the artwork. If you love these tattoos, follow artists and show them some support.
Fierce Medusa hand tattoo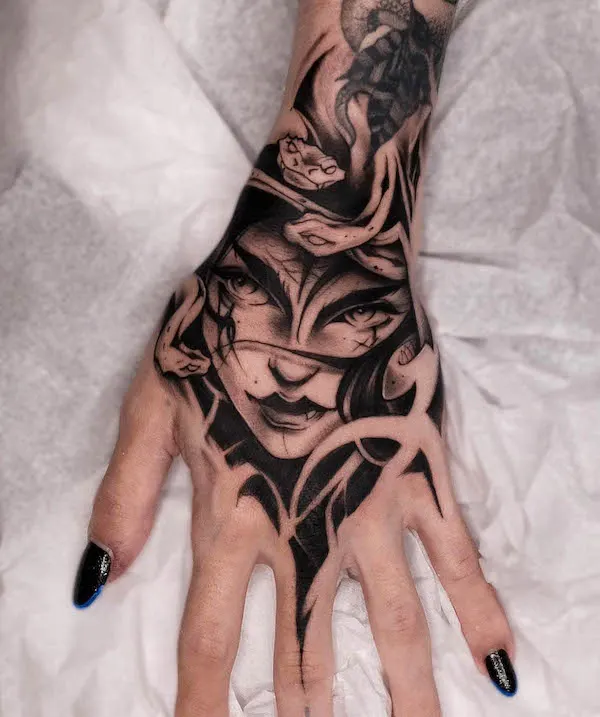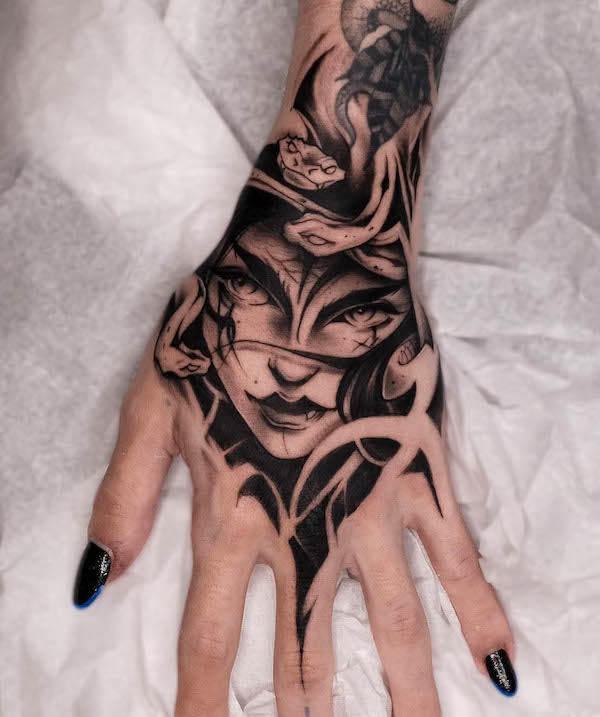 Most people who wear a Medusa tattoo are not afraid to show it. And hand tattoos will maximize its visual impact.
Because the hand is highly visible, ink on this area is meant to catch the eye and impress. And with a full hand blackwork like this, you take it to the next level.
Medusa arrow hand tattoo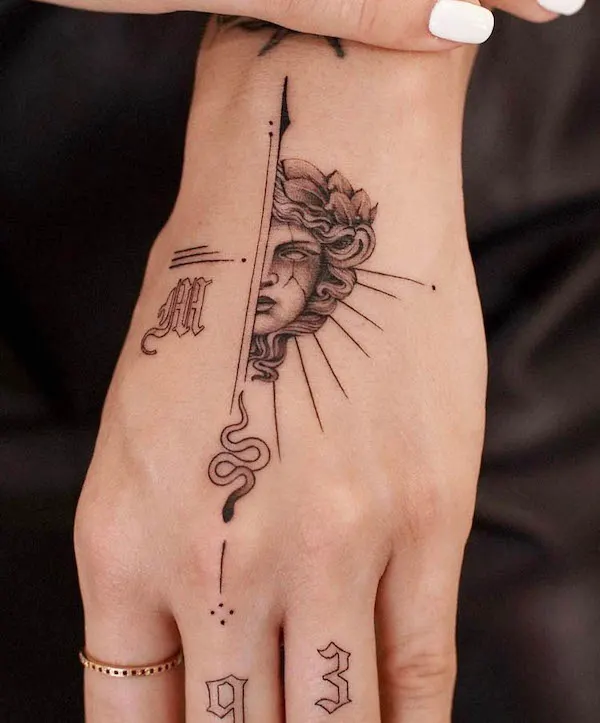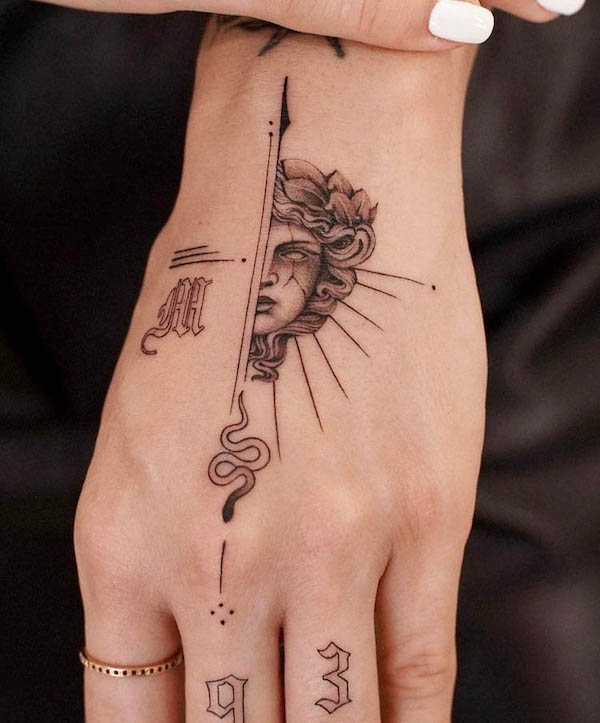 Unlike the previous hand tattoo, this one is more sophisticated and modest. The combination of arrows, rays, snakes, and Medusa creates a sense of complexity in the design.
The warrior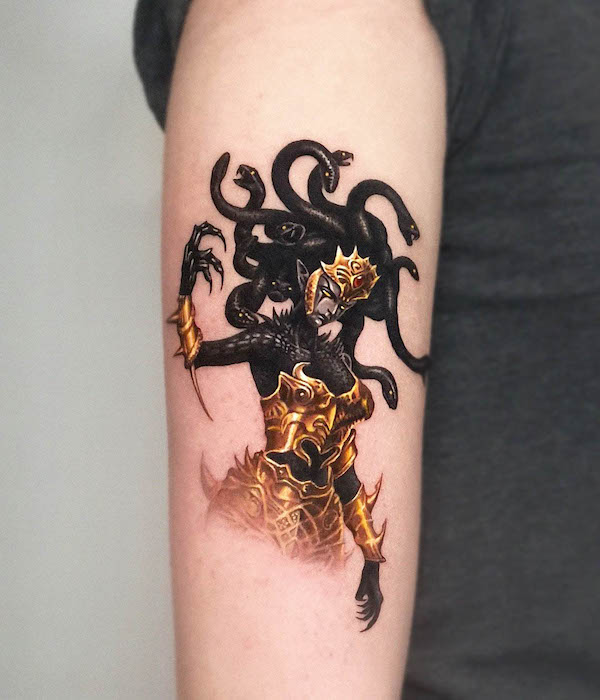 Medusa is often depicted as a terrifying villain. But in this forearm tattoo, she is a warrior wearing golden armor. Such a stunning piece not only reinvents the character but also celebrates girl power.
Artistic Medusa tattoo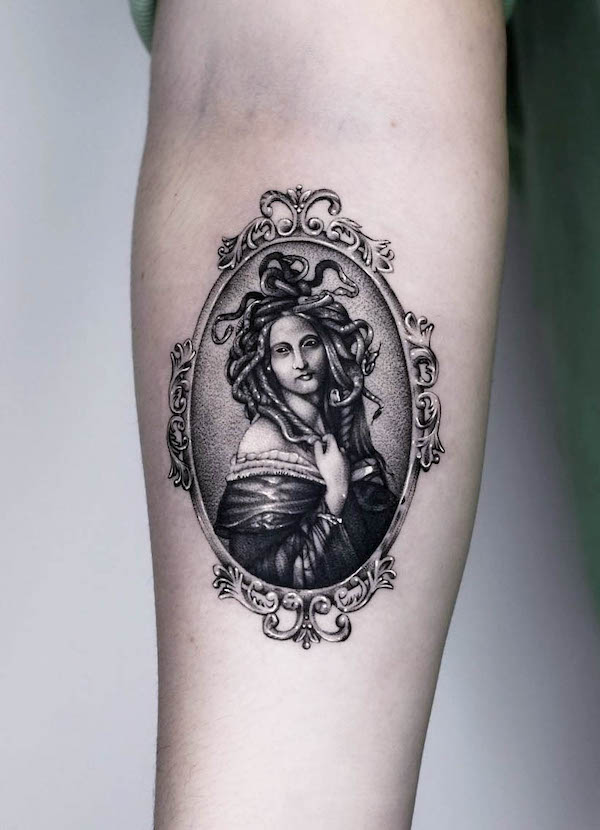 This artistic tattoo is a new take on Medusa. In it, she's no longer a threatening femme fatale but more like a woman in Renaissance paintings. But the snake hair still reminds the viewers what she can do in a split second.
Geometric Medusa tattoo
This arm tattoo perfectly showcases an essential factor of a brilliant tattoo: contrast. By putting geometry and realism together, this tattoo becomes more interesting.
Blackwork Medusa tattoo
Medusa profile tattoo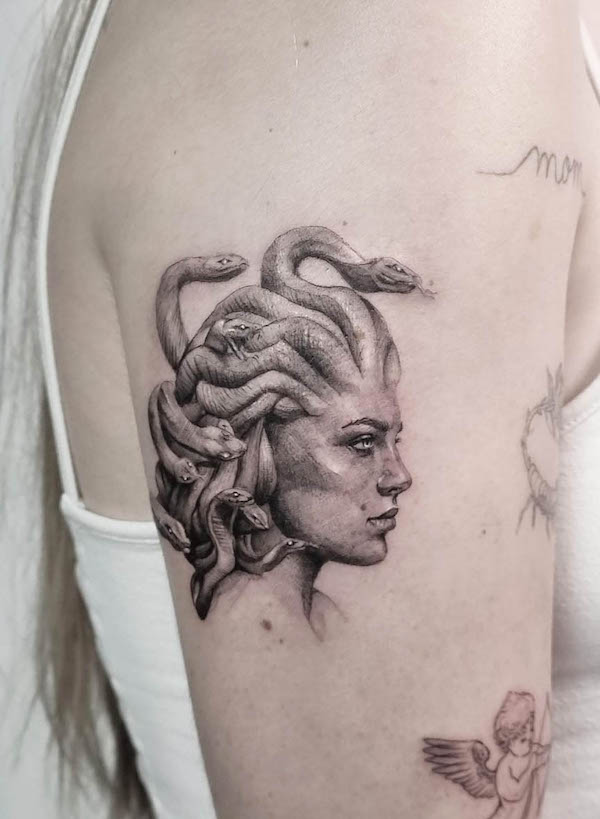 Most Medusa tattoos depict the character from a front-face angle. This sleeve tattoo, however, captures the profile instead. And the details, sleek lines, and shading all make this a piece of art.
Anime Medusa thigh tattoo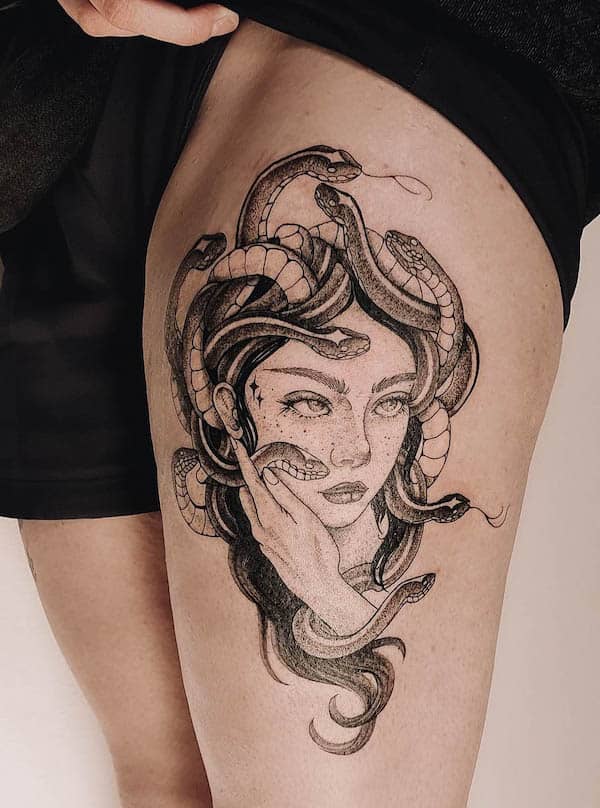 While it's true that Medusa comes from Greek mythology, it's fun to incorporate other art styles with a Medusa tattoo. And this ink on the thigh is a perfect example.
Creepy Medusa neck tattoo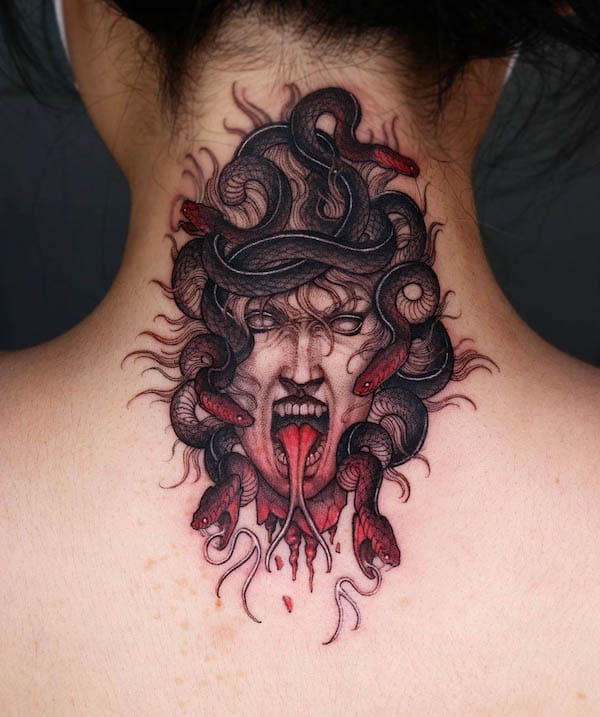 This neck tattoo is impossible to ignore. The tongue, the hair, and the facial expression can all give you visual impact as well as nightmares.
Crying blood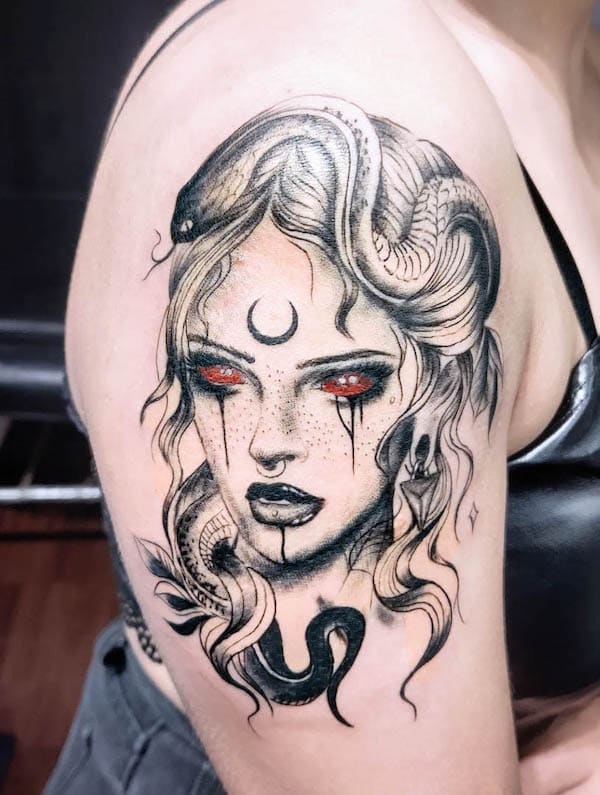 This could have been a beautiful blackwork on the sleeve. But it goes from good to great with the red eyes. Not only do they highlight the entire design. But they also turn it into a witchy tattoo that screams badass.
Black and red snakes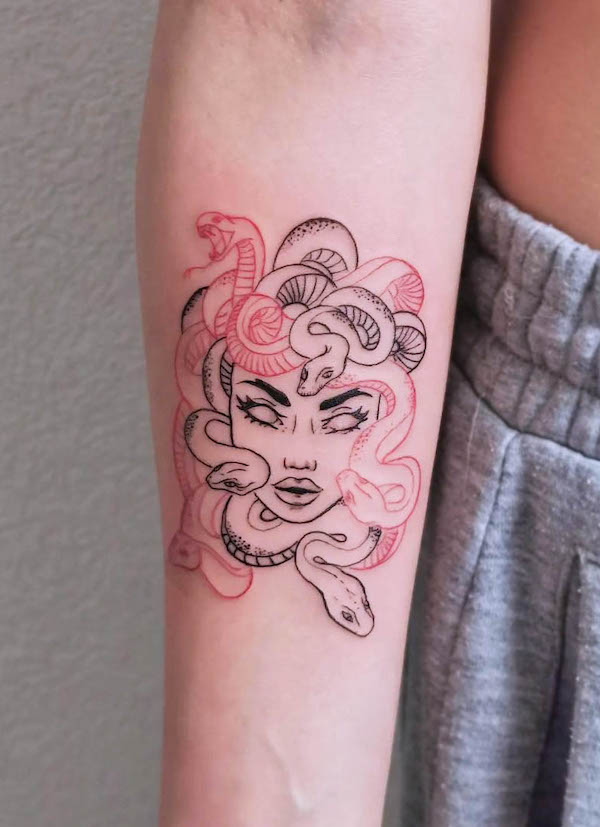 A Medusa tattoo is, by nature, complicated. With all the snakes crawling on her head and the details of her face, it's a challenge to simplify it. But this one does a good job to keep it simple.
Emerald Medusa sculpture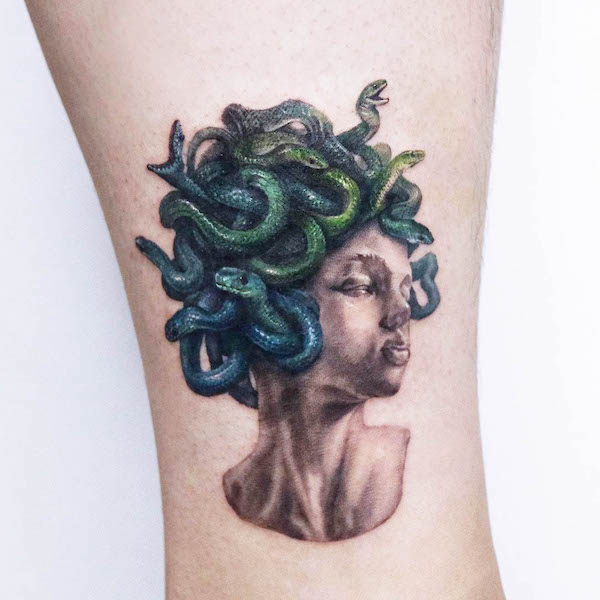 Golden Medusa calf tattoo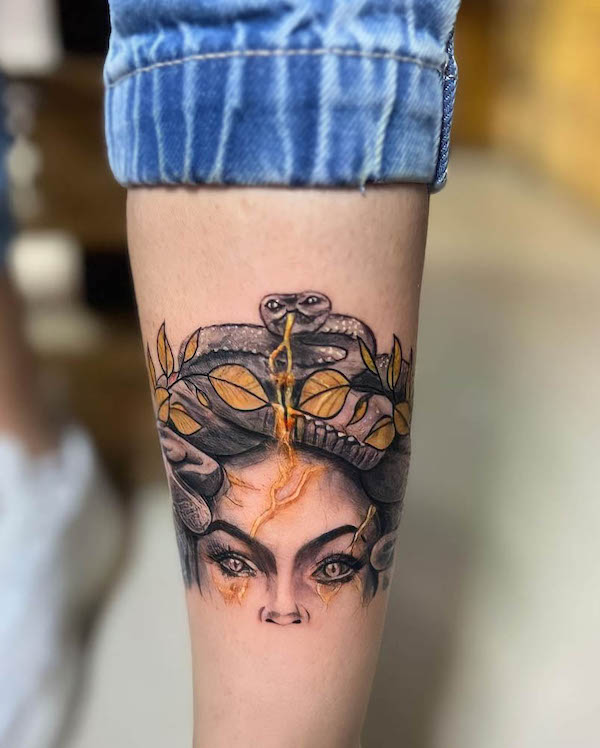 This is a stunning blackwork on its own without the color. But the gold really elevates the entire look. The golden lines on Medusa's face resemble her veins, making her look more divine and powerful.
Bold Medusa thigh tattoo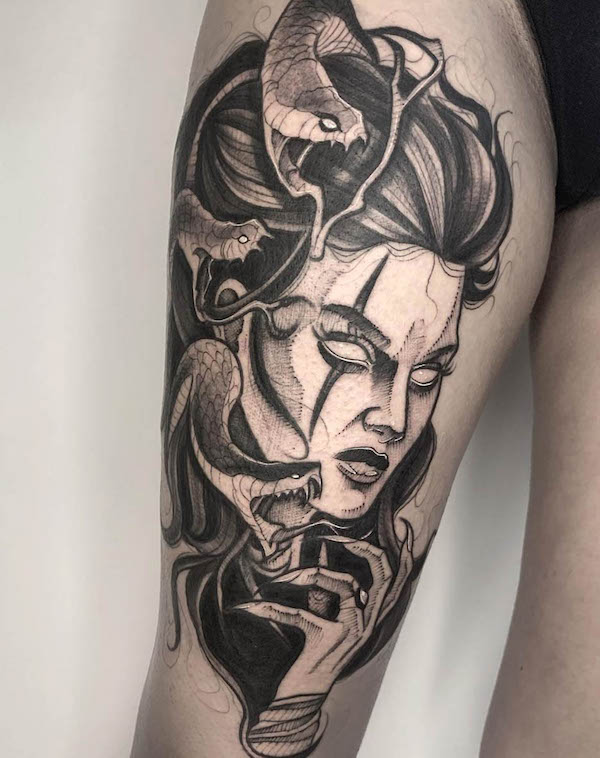 The thigh is the perfect placement for your imagination to run wild. It has enough flat space for large designs like this one. But you still got to hide it in your day-to-day.
Cracks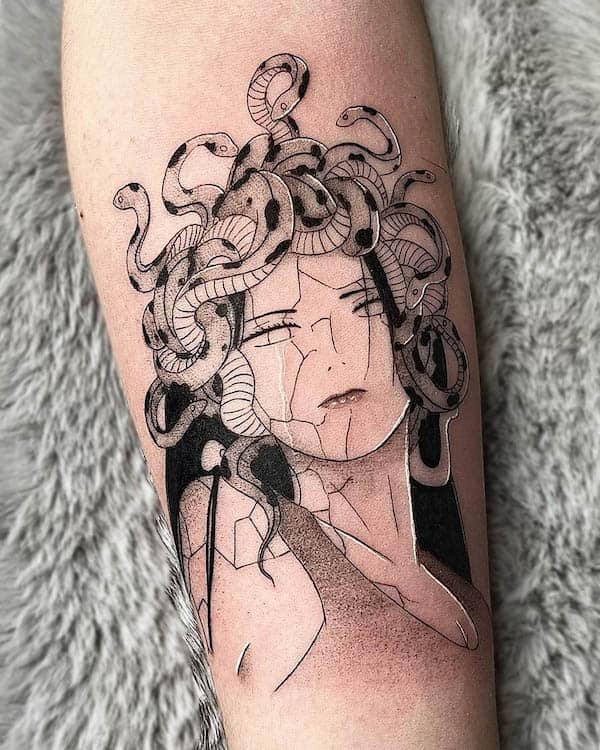 This tattooist adds personality to this piece by giving a Boa Hancock makeover to Medusa. It's unique and fun and reflects the wearer's aesthetics.
Medusa quote tattoo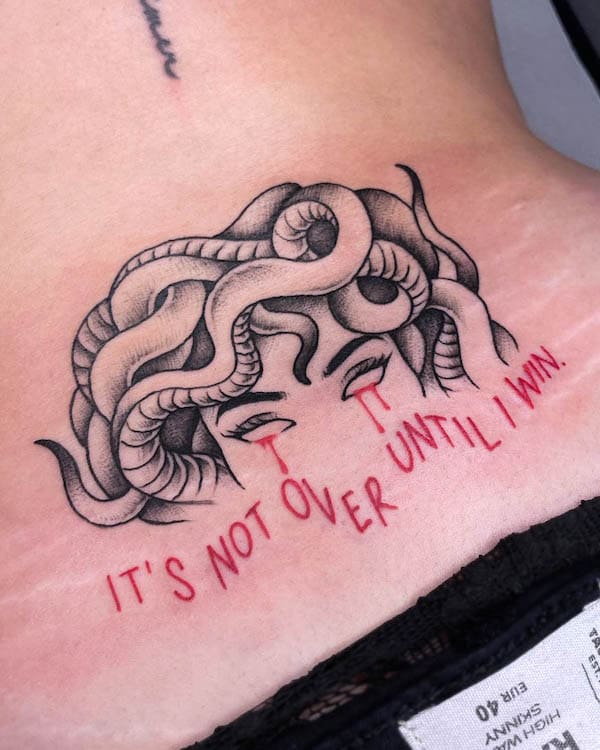 One brilliant thing about this quote tattoo is how uch the phrase screams Medusa. "It's not over until I am" sounds exactly like something Medusa would say. It's a piece of statement and, at the same time, shows tenacity.
Marilyn Monroe Medusa tattoo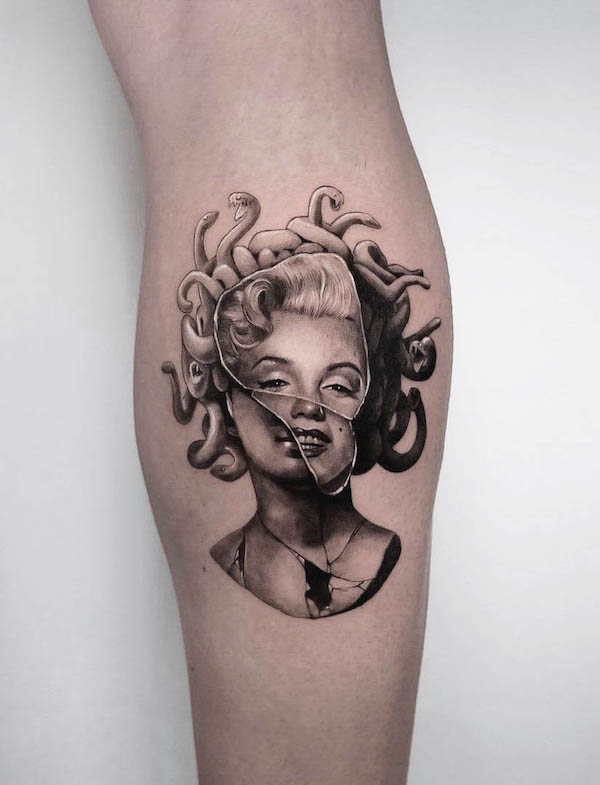 If you love an untraditional look, this tattoo is for you. By transforming the classic Marilyn Monroe portrait into a Medusa version, this work shows femininity and attitude.
Broken Medusa
This intricate calf tattoo shows the struggles of the wearer. In this tattoo, the face of Medusa is torn apart with snakes crawling out from her brain.
Such a dark and dramatic piece spikes curiosity and makes people wonder what the wearer has gone through.
The revenge of Medusa
This tattoo is inspired by Perseus with the Head of Medusa, a bronze sculpture by Benvenuto Cellini.
But instead of Perseus cutting Medusa's head off, this tattoo depicts the opposite. Thus the tattooist titles it as Medusa's revenge, reclaiming her power from her slayer.
Girly detailed Medusa forearm tattoo
When looking for tattooists, their personal styles are a deciding factor. A good tattooist will bring their styles into any look they produce.
And this piece of body art is a great example. The tattooist turns the traditionally infamous character into a girly goddess-like figure. And the result is unexpectedly beautiful.
Medusa doll
This thigh tattoo gives a creepy vibe not just because of the snakes but also the face. It resembles that of a robot doll and tells a story of AI gone rogue.
Golden Medusa foot tattoo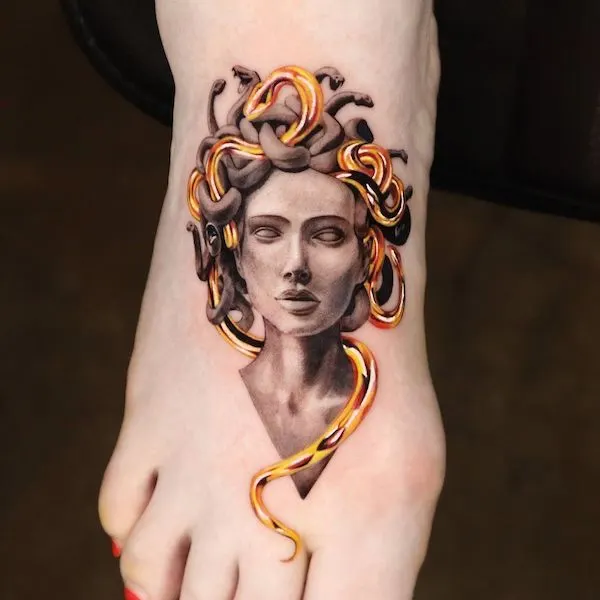 Placing such a detailed and realistic tattoo on the foot might not be common. But the placement allows the wearer to show or hide this foot tattoo as needed, giving flexibility in display.
Intricate Medusa sternum tattoo
What a bold design. The coverage, the use of black, and the symmetry all ooze confidence.
And the look on Medusa's face is not terrifying but calm like she has everything in control. This daring sternum tattoo will belong to a fierce individual who knows how to get what she wants.
Seductive black and grey Medusa
In this tattoo, Medusa is portrayed as a statue with cracks. It almost feels like she was buried for centuries and finally returned to life. And now she's ready to reclaim her power.
Hyper-detailed half Medusa
If you want to add a bit of mysteriousness to a Medusa tattoo, leaving the bottom half of the face out can be a good idea.
The clock and astrology
The way the tattooist incorporates the concept of time into a Medusa tattoo makes the design philosophical. The clock in the background also brings finesse to it.
The gaze of Medusa
In Greek mythology, those who look into Medusa's eyes will be turned into stone. This bicep tattoo perfectly captures the luring gaze of Medusa. And it naturally draws you closer.
Torn apart
This small tattoo may have simplified the imagery of Medusa. But it's not boring because it adds a twist to it. Medusa's head was split in half, with snakes crawling from within.
Because snake tattoos often symbolize evilness and greed, this one tells a story about Medusa failing to tame her inner devil. And it tears her apart from within.
Medusa sculpture forearm tattoo
Sleek but detailed, this realism Medusa sculpture really brings art to life. Despite the lack of colors, it still looks like artwork in the museum.
Medusa tarot card
One way to make a Medusa tattoo unique is to add a background, just like this tarot card tattoo. Such a badass tattoo sends a warning to not mess with the wearer.
Glitch
Although Medusa is an ancient mythic character, you can bring it to the modern era with creative twists. The glitch effect in this tattoo is one of them.
Spooky sculpture
What makes this tattoo interesting is the contrast between stagnant and movements.
The cracks and fragments of the sculpture all read historic and lifeless. But the snakes on its head are hissing and crawling, clearly alive. It makes you wonder whether the sculpture is actually Medusa or her victim.
Simple Medusa bicep tattoo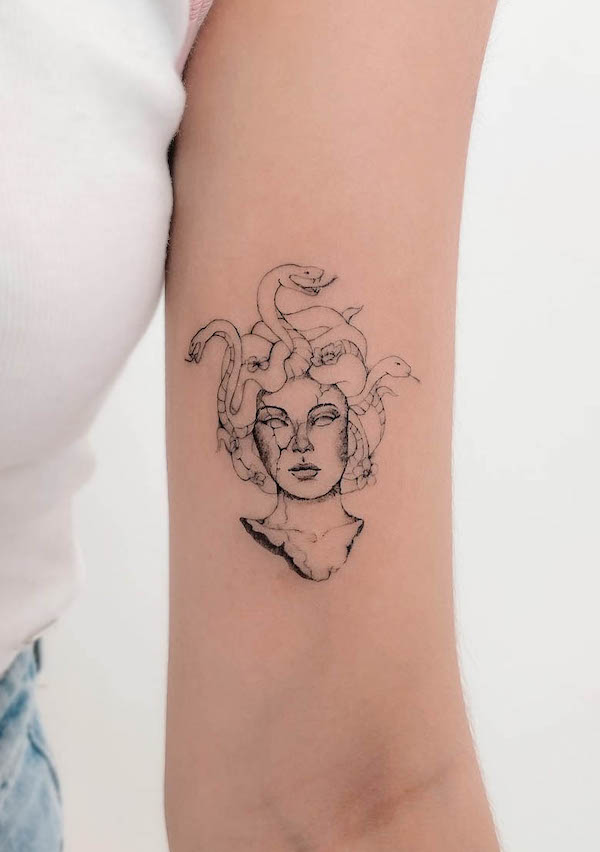 While most Medusa tattoos are meant to capture attention, you can make them low-profile by reducing the size and details. Also, replacing bold black lines with fine lines will turn down the volume.
Sleek Medusa fine line tattoo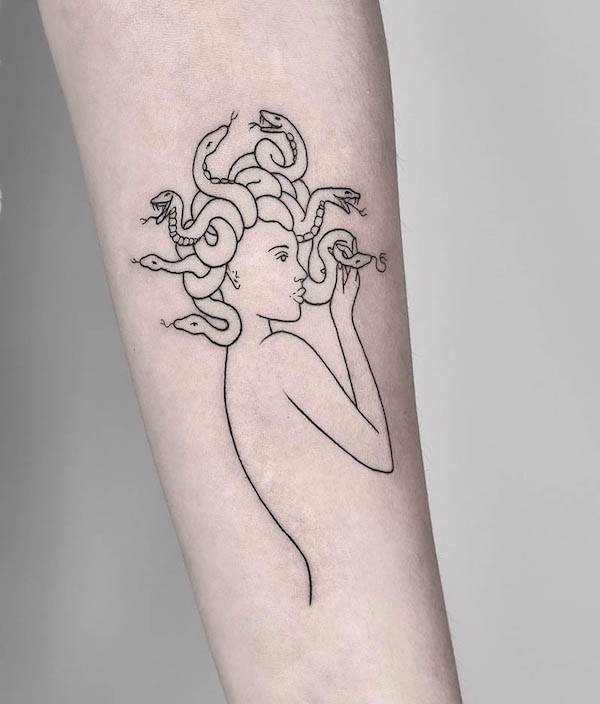 Here's another simplified Medusa tattoo. Without the shadows and shading, this tattoo keeps your focus on the snake hair, the features of Medusa.
Unique Medusa forearm tattoo
This daring Medusa tattoo turns a traditionally monstrous character into a warrior in armor. The headpiece, the choker, and the metallic shine all associate this tattoo with women's empowerment.
Snake goddess portrait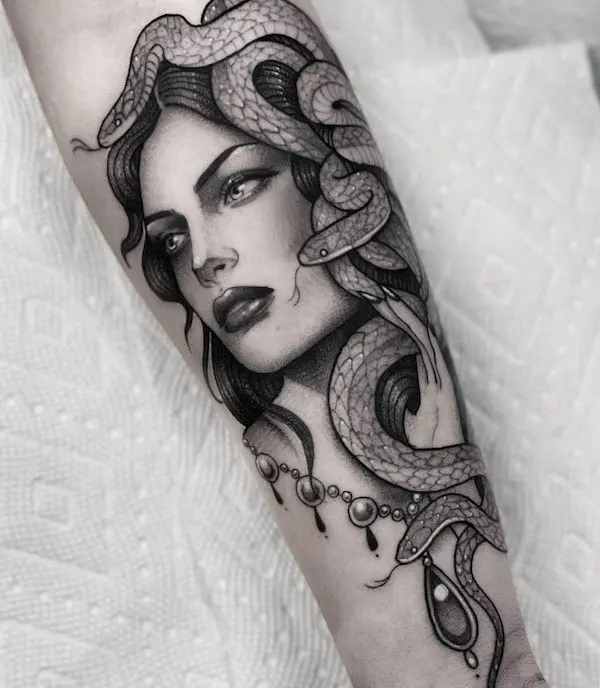 In mythology, Medusa's beauty and gaze are irresistible and deadly. This forearm tattoo focuses on portraying her features and displaying her gorgeous side.
Medusa sleeve tattoo
Traditional Medusa tattoo
There's a reason why traditional tattoos never go out of style. The bold lines, the high saturation, and the contrasting red and black all make a tattoo pop on the skin.
The lunar witch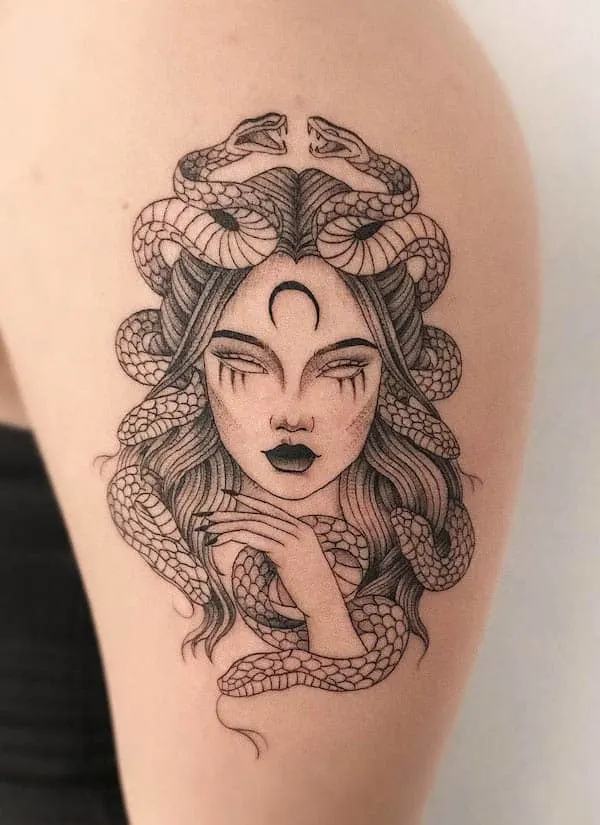 Unique small Medusa tattoo
If you draw a vertical line in the middle of this tattoo, you will spot a clear difference between the two sides. The combination of realism and abstraction, flaws and perfection, all make this tattoo unexpected. It showcases the tattooist's creativity as well as the wearer's personal style.
Witchy forearm tattoo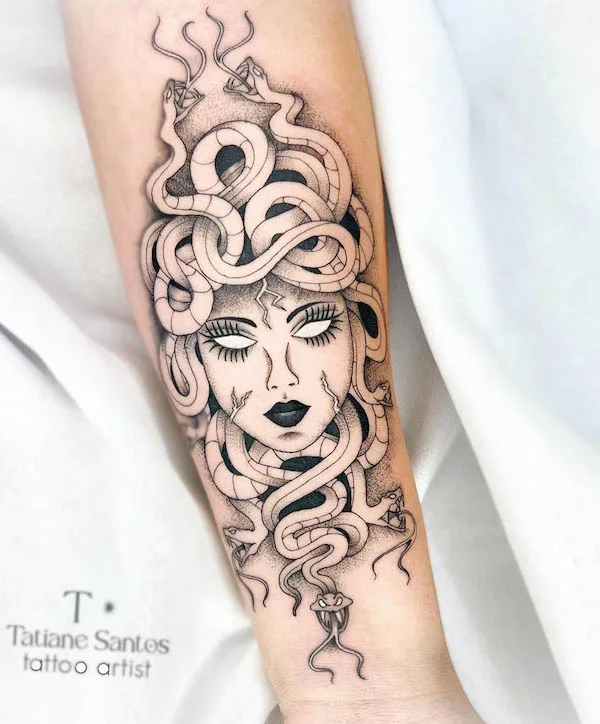 You may know that Medusa is a symbol of temptation and evilness. What you may not know is that her imagery is believed to have protective power, much like the evil eye.
Which one of these Medusa tattoo is your favorite?
Leave your thoughts in the comment below!