Elephants symbolize family, strength, and intelligence. If you love them, these impressive elephant tattoos are for you.
Unlike cats, dogs, and other house pets, elephants exist further away from us in real life. But surprisingly, they hold a special place in many people's hearts.
Some of us adore elephants because they are cute and a bit clumsy. The way they march, hug each other, and roll in the mud melts hearts.
Others connect with the animals because they symbolize family, wisdom, and strength as well as good luck and protection. And it makes sense why people have elephants tattooed on their skin to represent their personality or values.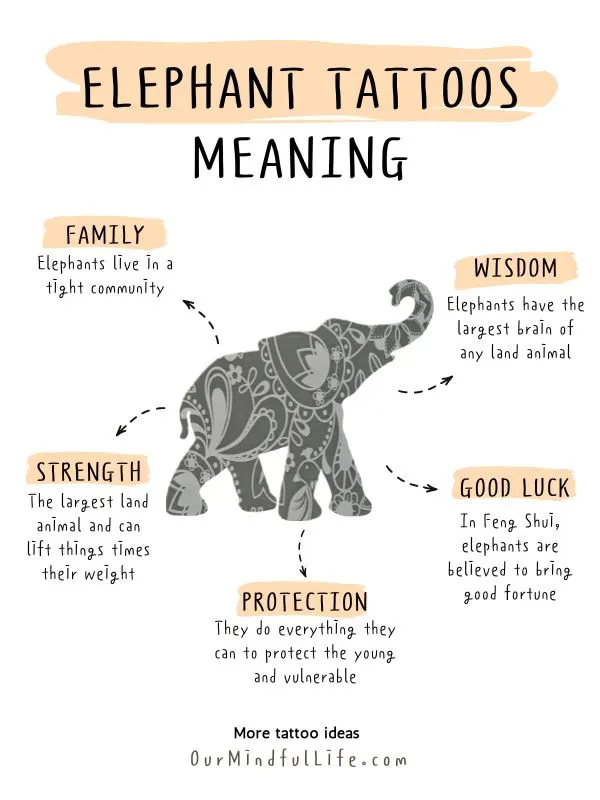 So if you are one of them, this post is for you. From simple to complex, adorable to artistic, these elephant tattoos will inspire your next ink.
Disclaimer: This collection of elephant tattoos is for inspiration only. Please do not copy the artwork. If you love these tattoos, follow artists and show them some support.
Beautiful elephant tattoos with meaning
Simple elephant tattoo ideas
Elephants may be enormous. But an elephant tattoo doesn't have to be overwhelming. In fact, a simple outline or a black and grey design will stand the test of time.
So if you are a minimalist, or searching for something simplified, here is a list of elephant tattoos to give you some ideas.
Small matching wrist tattoos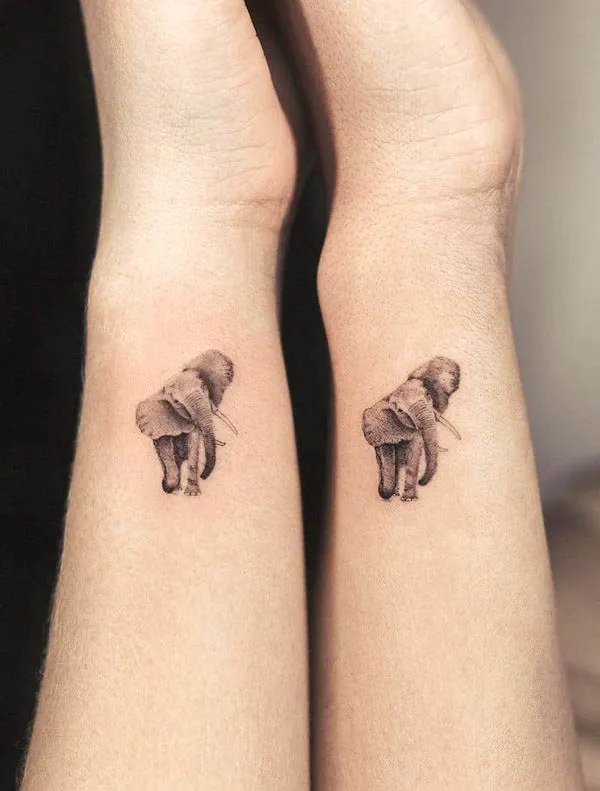 If you decide to get matching ink with your person, it's always a good idea to get something that can stand on its own.
Take these wrist tattoos as an example. Together, they make a perfect pair. But, alone, they are still personal and meaningful.
Elephant standing on the legs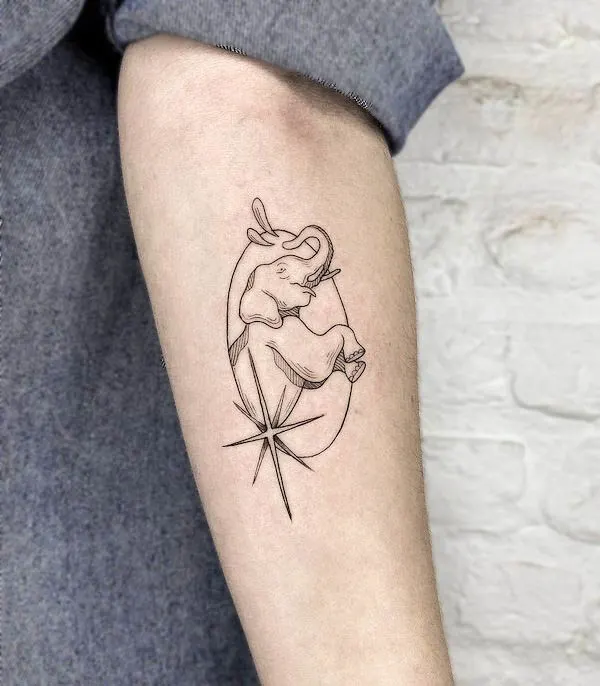 Many think of an elephant standing on its legs as a circus act. But it's a common behavior when it tries to reach fruit on trees. And the joyful spirit portrayed in this tattoo is contagious.
Small realism elephant above the heel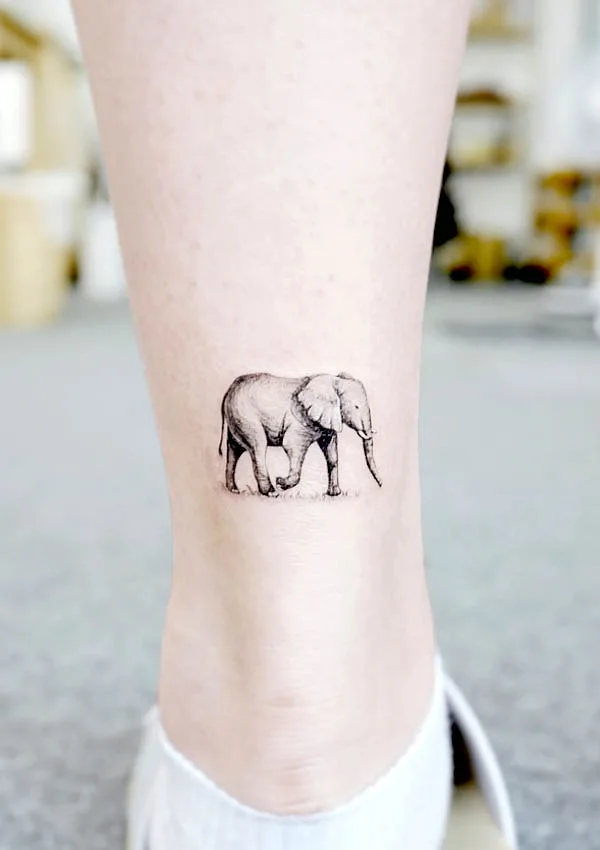 It's not easy to tattoo details on such a small scale. However, this tiny ink above the heel does it perfectly.
Abstract elephant outline tattoo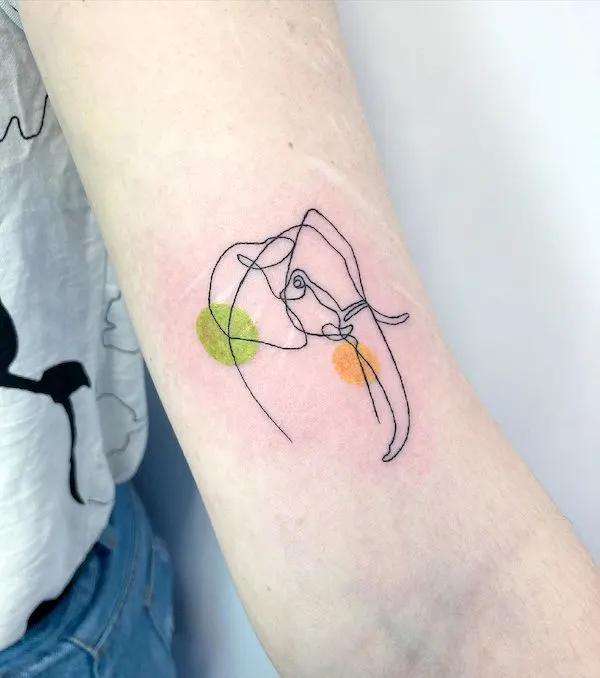 Simple doesn't mean boring. A line art tattoo like this one will represent your minimal aesthetics.
Simple elephant rib tattoo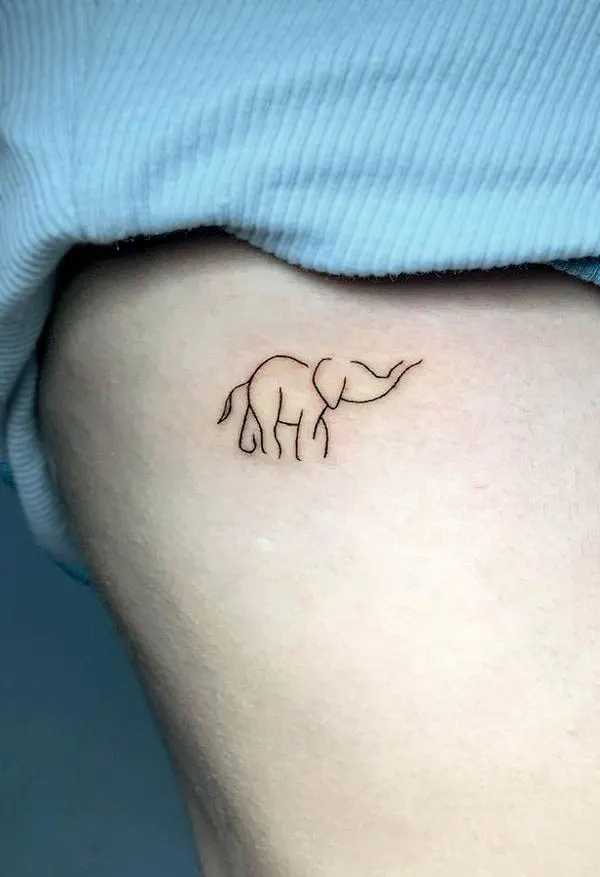 The ribcage is not a placement that is easy to work on. The area is boney and tilted, thus requiring more thought in the design and composition. If you opt for rib tattoos, starting simple is always a good idea.
We are born to be seen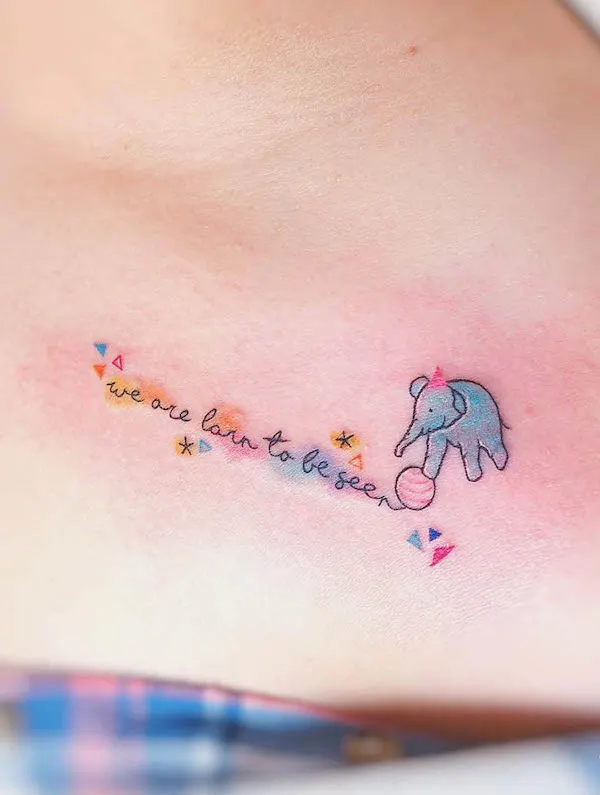 Many people see elephants as their spirit animals because they represent a gentle power. They are quiet but, at the same time, capable of protecting themselves against predators.
This quote tattoo sends a similar message: you don't need to be loud. Your strength and qualities will make you shine.
Geometric elephant tattoo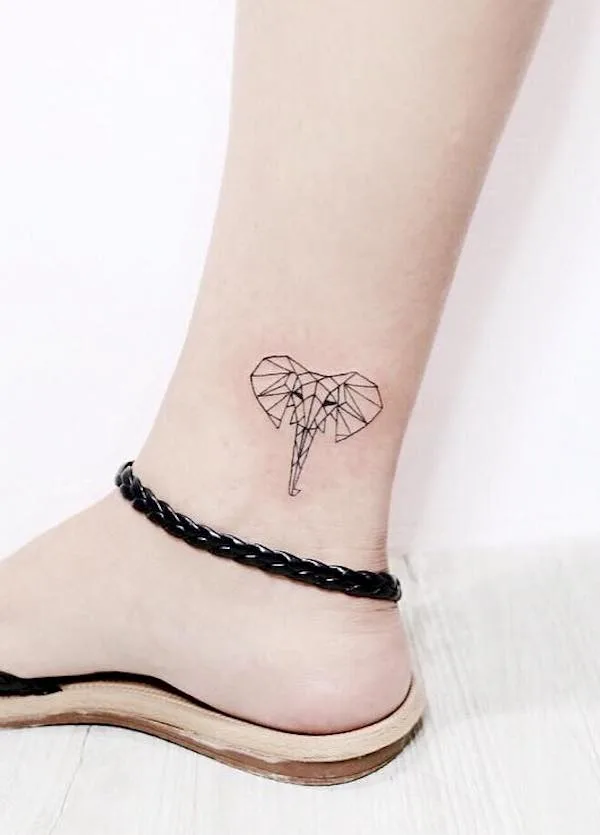 Geometric tattoos are evergreen because of how precise and abstract they are. They are constructed with lines and simple shapes. But it doesn't make them lose their form.
Geometric elephant chest tattoo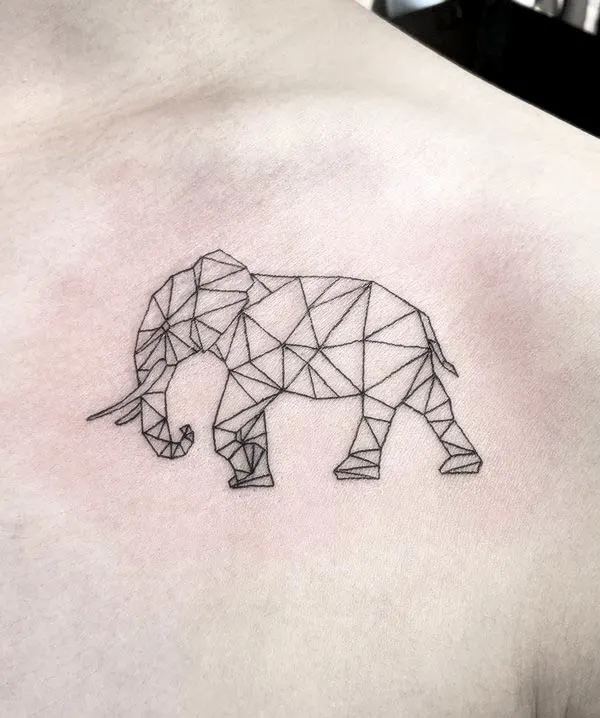 One-lined elephant tattoo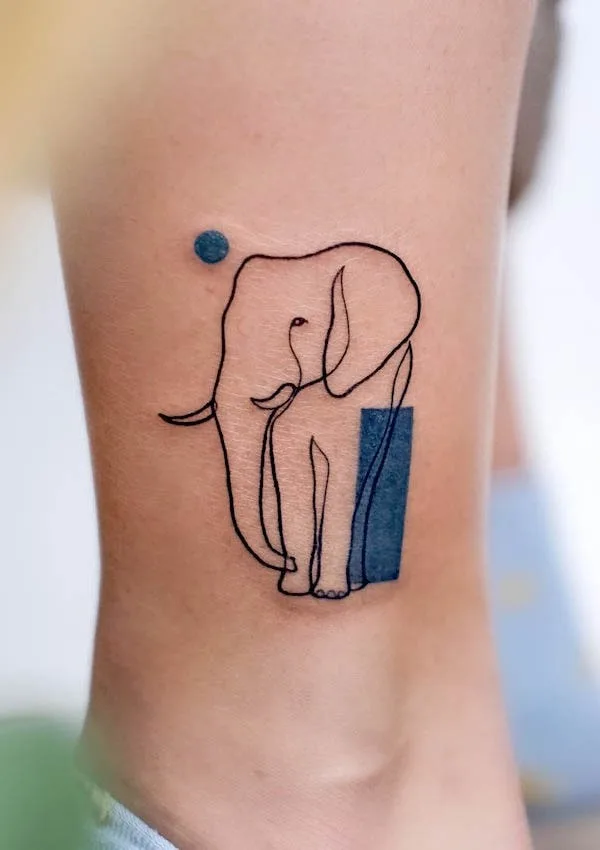 Drawing an entire elephant in only one line is quite a challenge. However, this tattooist nails the task and captures its form perfectly. In addition, the blue shapes in the background highlight the design.
Elephant family tattoos that warm hearts
Elephants live in tightly-bonded herds. They protect each other from danger and treat each other's babies as their own. And this bond helps them survive in the wild.
Therefore, elephant tattoos often represent the love for family or loyalty to one's community. These tattoos often depict two or more elephants, referring to each family member.
If you are looking for a meaningful tattoo to pay tribute to your mother, father, siblings, or your loved ones, don't miss out on the following ideas.
Mother and baby elephant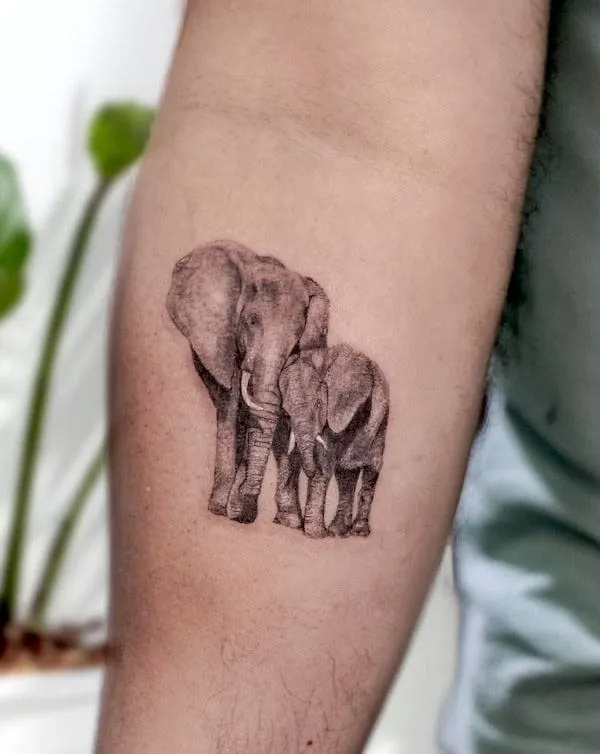 Whimsical elephant tattoo on the back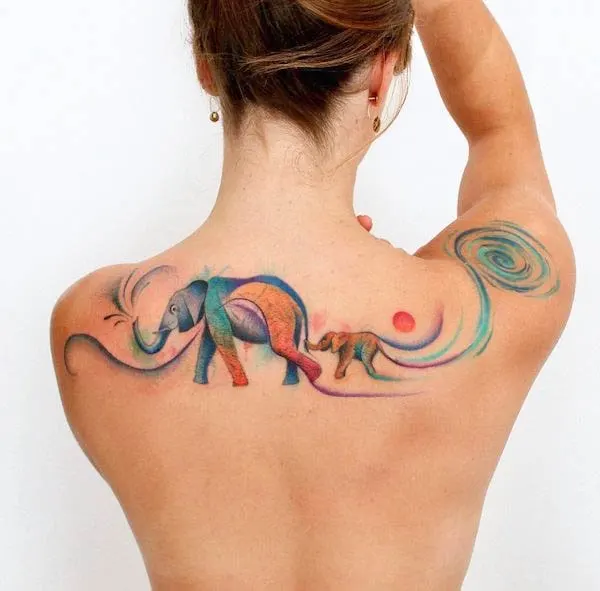 The tattooist has done a great job covering up a faded tattoo and leveling it up. The creative color palette and the swirls really make the entire back tattoo pop.
Family of four
This cute elephant arm tattoo shows the wearer's love for her family. It's a beautiful reminder to cherish your loved ones and keep them close.
Elephant thigh tattoo
If you want to go big, thigh tattoos are for you. The thigh has enough space for your imagination to run wild. It's also a perfect canvas for detailed, photogenic artwork like this one.
Cute family back tattoo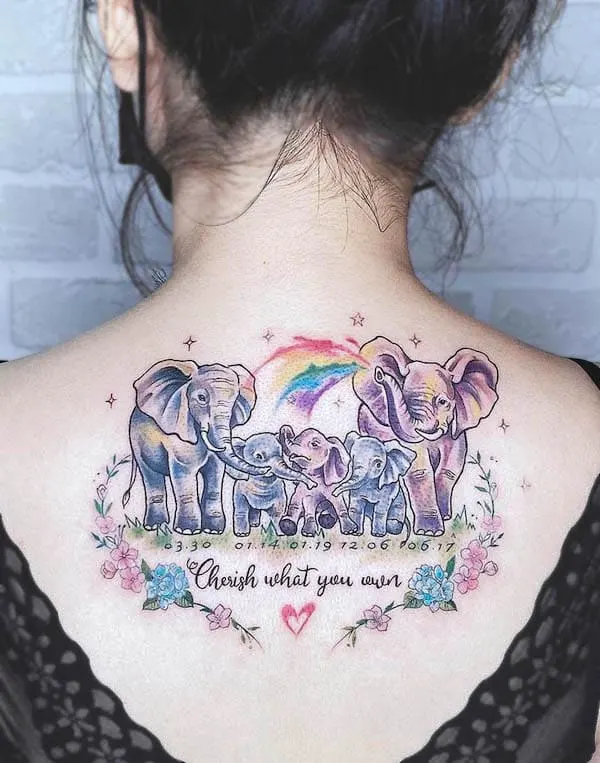 Small elephant family tattoo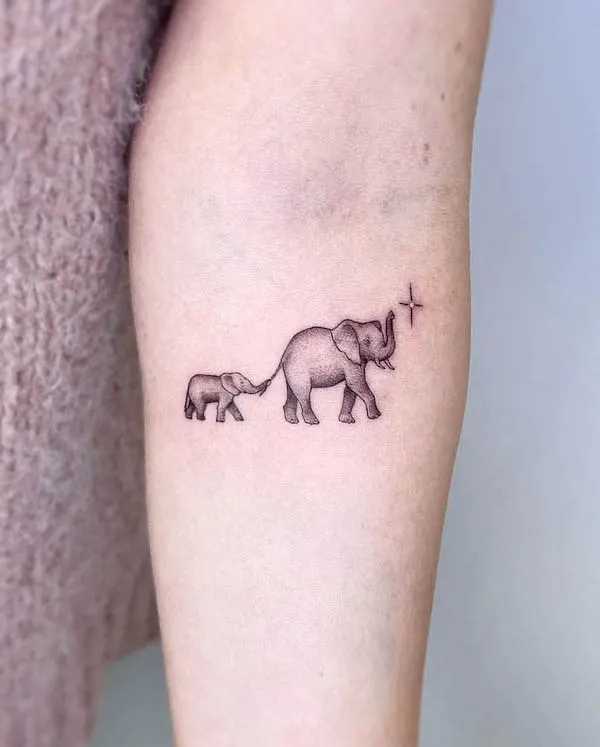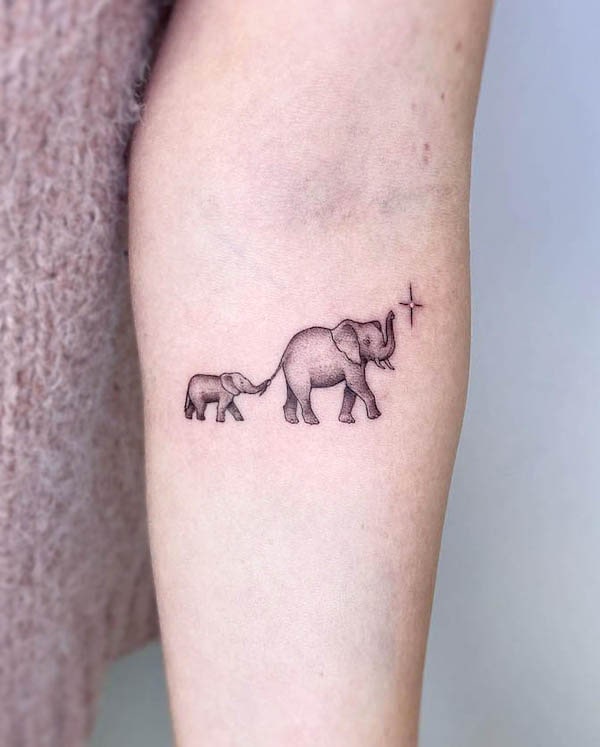 Mother-daughter tattoos pay tribute to reciprocate unconditional love. If you have a loving daughter or mother, a cute ink like this will fit both of you.
Elephant landscape tattoos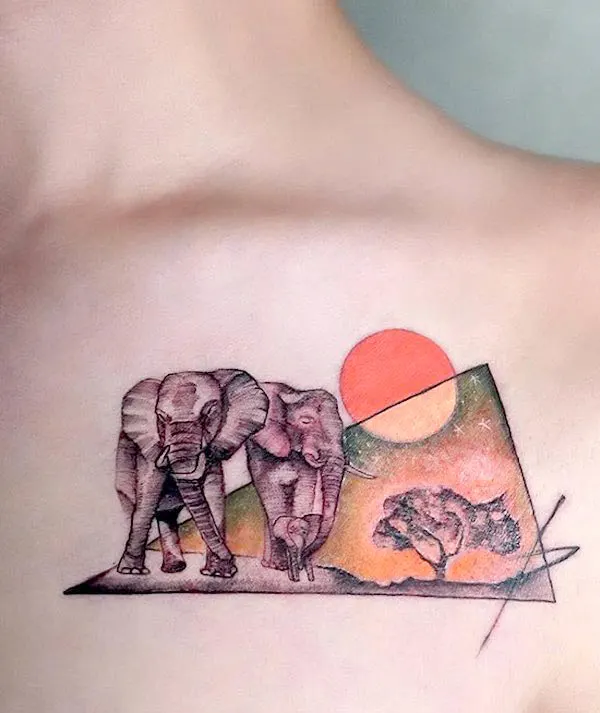 Most landscape tattoos are either horizontal or vertical. This chest tattoo, however, shapes the landscape as irregular. And it puts the elephants in the center of the spotlight.
Shiny elephants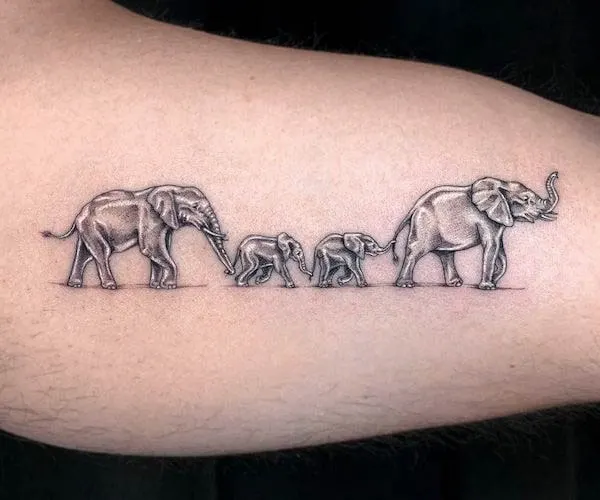 Elephant family tattoos are not rare. But what makes this one unique is the texture.
By exaggerating the reflection, the tattooist gives the elephants a glossy, almost metallic look. Such a visually capturing tattoo is made to stand out.
Bold and impressive elephant tattoo ideas
Tattoos reflect the wearers' identity and personality. And that's why statement tattoos are often big or vibrant.
If elephants are your spirit animal, or they represent you as a person, these bold elephant tattoos will announce to the world who you are.
Elephant galaxy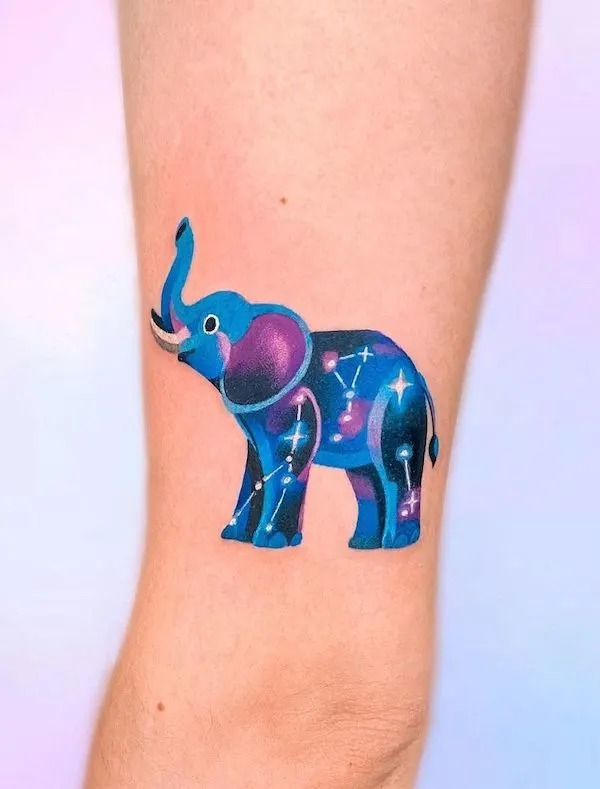 Elephants' skin is greyish, which isn't a popping color. But the tattooist turns the elephant into a galaxy. And the blue and purple make the tattoo dreamy and eye-catching.
A realism sitting elephant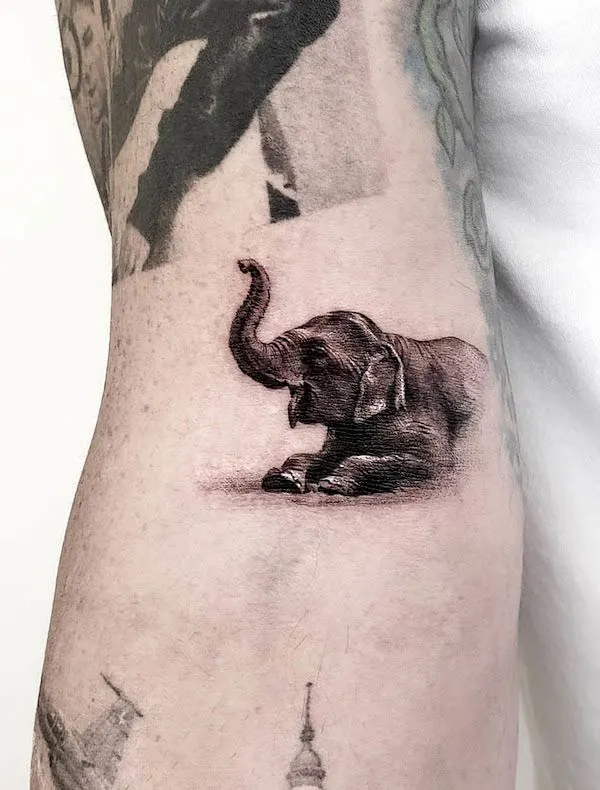 Half elephant script tattoo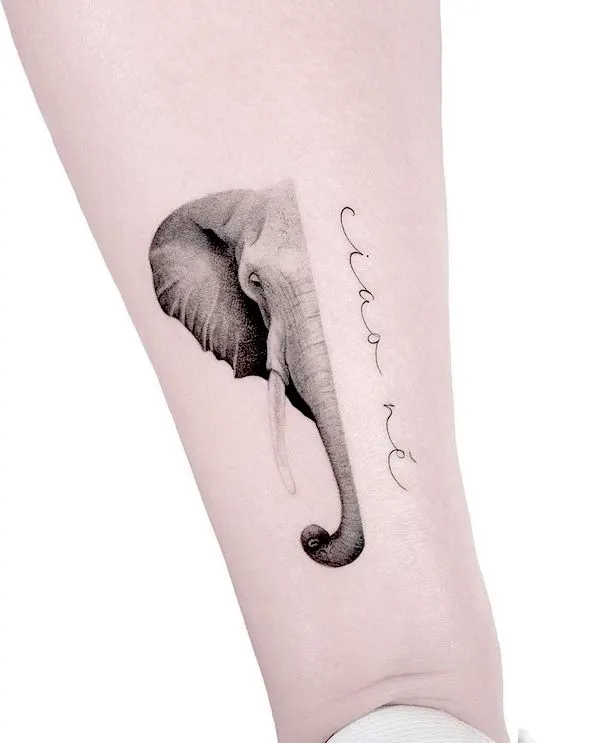 Tired of seeing elephant portraits? Why not keep a half and add a meaningful word to it? You can personalize it by putting your name there or one word that represents your beliefs.
Elephant mandala tattoo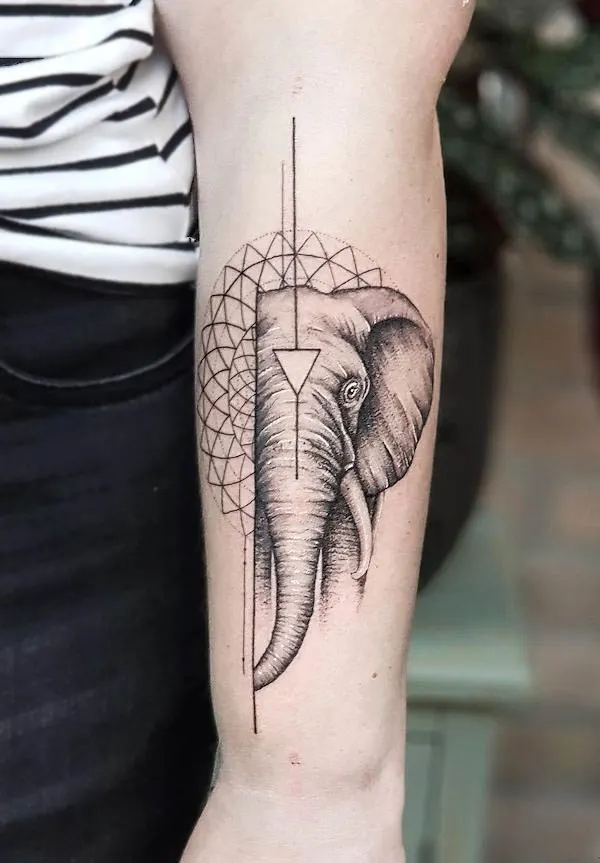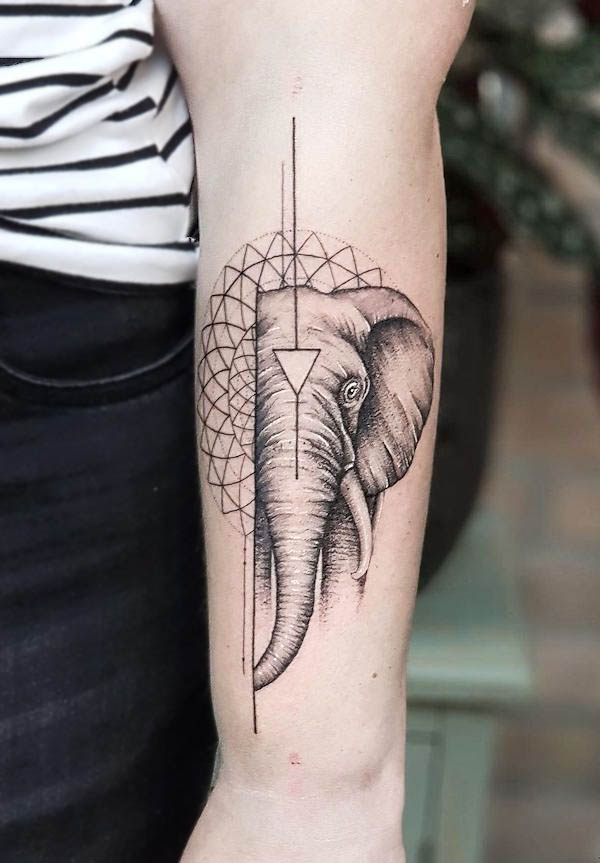 Vintage blue elephant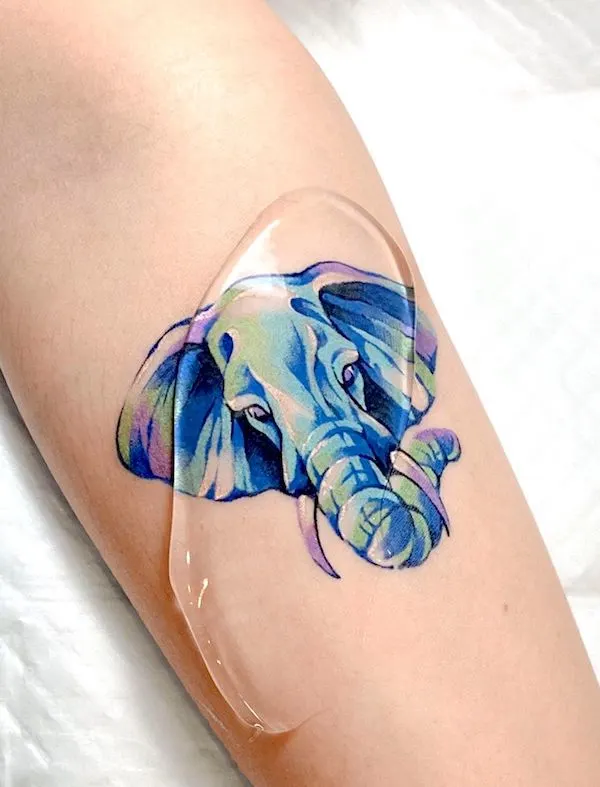 Tattooist Eden is so good at adding interesting colors to her design. This one is no exception.
The colors may not be what you will see on a real elephant. But they give a unique fantasy vibe to the tattoo.
Circles and arrow elephant tattoo
What's interesting about this tattoo is the combination of abstract and real.
The imagery in the diamond depicts a scenery in Africa. But the circles and lines give a minimal, abstract feeling in contrast. Together, these elements create a conflicting yet harmonious design.
Dandelion and elephant
In most flower tattoos, dandelion symbolizes growing up and letting go. Similarly, the elephant holds a dandelion with its trunk in this tattoo. It shows that there's power in healing and moving on.
Elephant and daisy wrist tattoo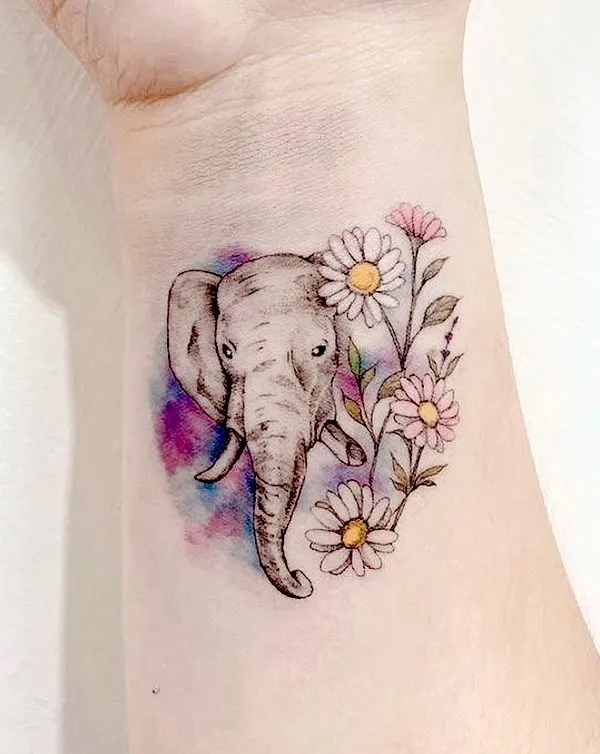 Daisies are a symbol of youth and a pure soul. This wrist tattoo decorates the baby elephant with daisy flowers to represent the wearer's inner child and purity.
Elephant in the wild
This tattoo would have been regular without the radiating dots in the background. They are not thoughtless decorations. Instead, they bring out the sacred side of this design.
Traditional elephant tattoos
With thick lines, high contrasting colors, and exaggerated silhouette, this design has all the elements of a traditional tattoo. And it will work perfectly for those who opt for a look to impress.
Man in the wild
Elephants may not be household pets. But wouldn't it be amazing to touch and hug them? This tattoo is a dream come true for elephant lovers.
Floral elephant
Bird and elephant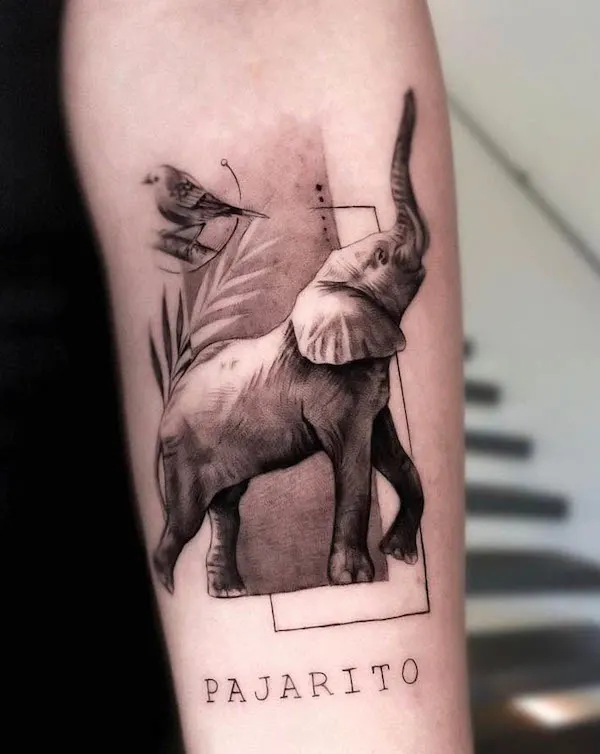 In general, bird tattoos symbolize freedom, peace, and love. This beautiful tat combines the bird and elephant imageries and shows the wearer's love for the wild, free world.
Triquetra elephant
What looks like a regular elephant tattoo on the shoulder blade actually carries a deep meaning.
The triquetra symbol on the back represents the three forces of nature: water, fire, and earth. Therefore, the wearer of this tattoo would be someone who is drawn to nature.
Intricate geometric tattoo
Elephant in the jungle
Sketch-style elephant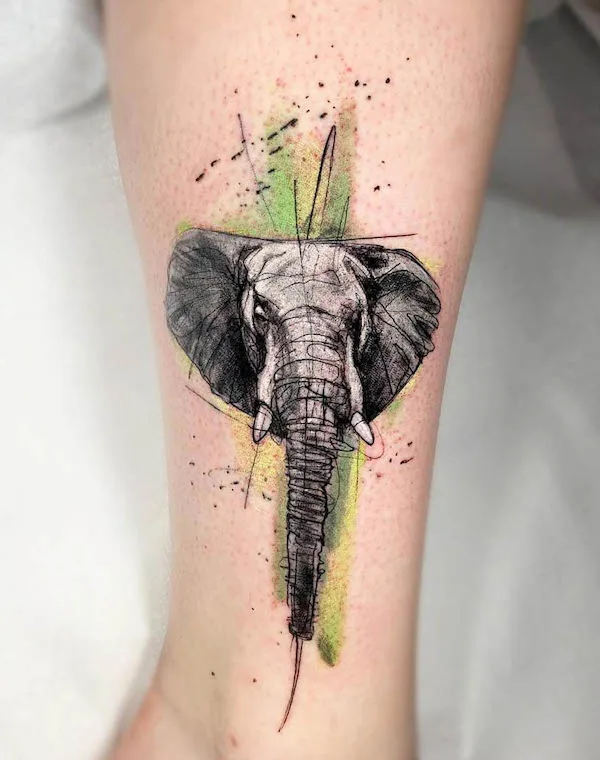 If you look closer, this tattoo has hand-drawn sketch lines underneath the coloring. Together with the watercolor background, they create an artistic tattoo that is not to forget.
Realism elephant arm tattoo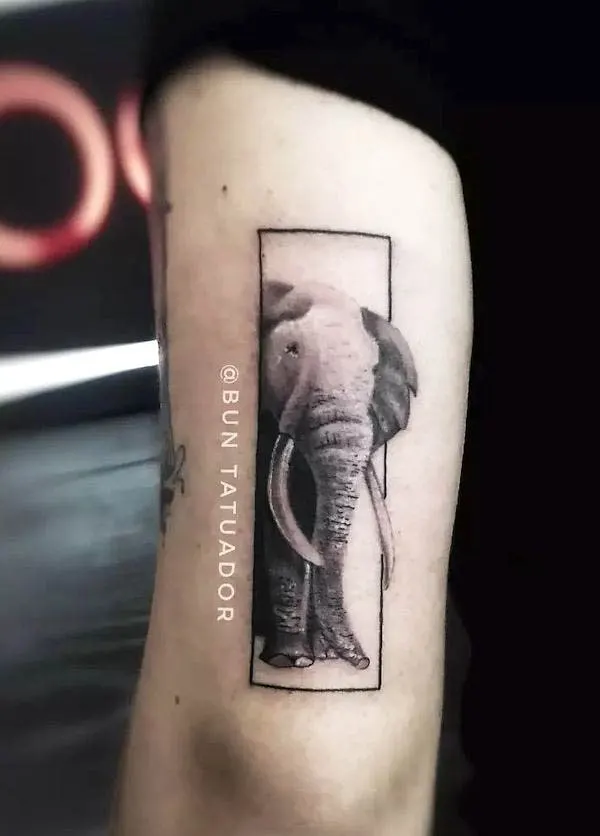 Super cute baby elephant tattoos
While elephants represent strength because of their gigantic sizes, baby elephants have simpler meanings attached to them.
Because they are so cute, they often symbolize purity, innocence, friendship, and joy. However, the meaning may vary depending on the design.
Cute baby elephant tattoo
The elephant sits on a swing with its back facing the viewers. It's simple but relatable.
Because it's alone with no one to play with, this sad tattoo may belong to someone that feels lonely or can't fit in.
Matching baby elephants shoulder tattoo for best friends
If you want a permanent reminder of a precious friendship, these matching BFF tattoos will be a good idea.
While the elephants symbolize the two friends, the earth stands for the distance. Together, these tattoos are a beautiful translation of the promise that no matter where they are, they will always have each other.
Tiny baby elephant ankle tattoo
Watercolor galaxy
Abstract heart and elephant outline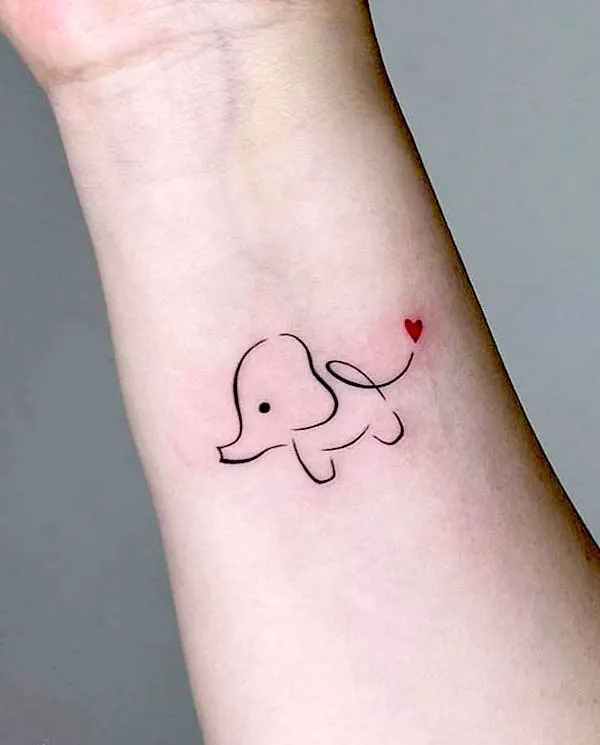 Baby elephant hip and thigh tattoo
We often see snake tattoos or dragon tattoos on the hip because of their curvy silhouettes. And an elephant in this area is less common.
However, the tattooist executes it perfectly and keeps the entire look girly and light.
Cute baby elephant and Patrick Star
Cute baby elephant and paper plane tattoo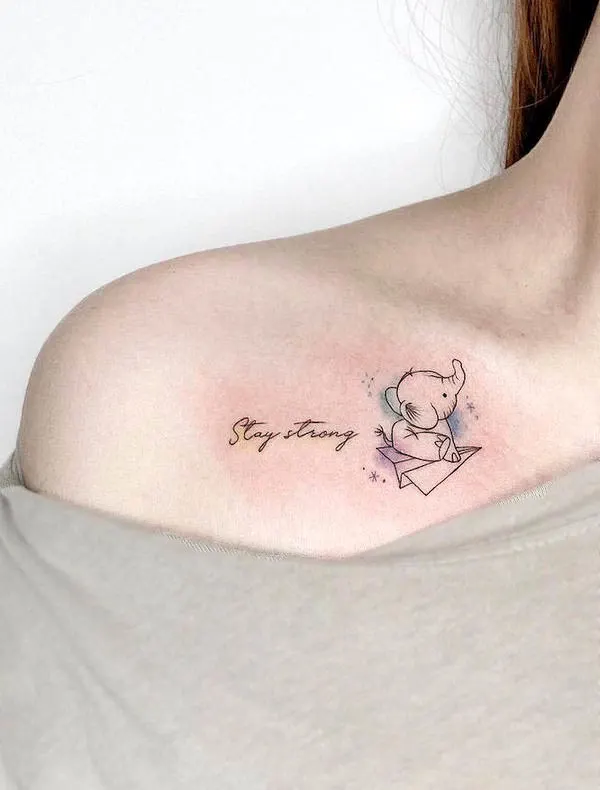 Paper plane tattoos are often a symbol of one's childhood dreams or the desire to explore the outside world.
This collarbone tattoo adds a quote, "stay strong." It's a reminder to tough through challenges one might face on the way to their wildest dreams.
Pink baby elephant for music lovers
Unique and creative elephant ink
So far, you've seen some of the best elephant tattoos on the Internet. But if you want to stand out with something different and unique, these following creative elephant tattoos are for you.
Elephant toy tattoo
While it doesn't qualify as a real elephant, this plush toy definitely charms with its unique color and cuteness.
Butterfly elephant
Would an elephant fly if it had wings? This tattooist turns fantasy into artwork. The marriage between an elephant and butterfly tattoo definitely wows us with how creative and new it is.
Colorful patchwork elephant
Love colors? This thigh tattoo may fit your aesthetics.
It is inspired by Elmer the Patchwork Elephant, a children's book series. But the mix-matching colors are so attractive, even for those who don't know about the character.
Realism dancing elephant
While there might not be much to change in the look of an elephant, a different posture will give an entirely new feeling, just like this one.
Cute origami elephant tattoo
Adorable elephant from the back
It's not common to see an elephant's back in a tattoo. But that's what makes this one refreshing and fun.
Elephant and balloons
Most geometric tattoos are constructed with solid lines and shapes. But this elephant has no line separating the color blocks, which makes it look unreal.
Dali's elephant
This tattoo replicates the famous elephants created by Salvador Dali. It's a highlight of his artworks. If you are an imaginative, this Dail tattoo will speak to you.
Simplified Dali's elephant
3D flowers and elephant tattoo
This back-of-the-arm tattoo not just showcases the skill level of the tattooist. It's also an excellent example of using shadows.
The delicate shadow creates the illusion that the elephant and flowers are stickers on the skin.
Tattoo inspired by Ashes and Snow
Leafy elephant forearm tattoo
Elephant pattern tattoo
Which of these elephant tattoos is your favorite?
Share your thoughts in the comment.