Colors bring a tattoo to life. In the interview, Korean tattooist Eden talks about what makes good color tattoos and her tattoo stories.
I first learned about Eden's work when I was researching cat tattoos. And the moment I saw her work, I got attracted by the details and colors. The tattoos done by this Korean artist are so refined. They look as if they are drawn with paintbrushes instead of a needle.
Her Instagram account has over 70k followers. If you like color tattoos, you can't miss her work. And I am so excited to talk to Eden about her journey as a tattoo artist and what does she think of color tattoos. Scroll on to know more about her.
Tattooist Eden: art, stories and color tattoos
How will you describe your tattoo style?
To summarize, I may name my style "bright, colorful mood" or "tattoos in the eternal color forest."
As an artist, I build my style through drawing. Drawing animals, flowers, and other subjects helped me to find the style I love and advance as an artist.
I see everything in colors. And when I tattoo, I turn what's in my mind into colors and leaf-based designs. And my work interprets how I see the world.
Courtesy of eden @eden_tattoo_
One good thing about using colors in tattoos is making the design look bright, vivid, and real. If the coloring is on point, it will look like a printed sticker instead of ink on the skin.
Did you start tattooing with the same style, or has it changed along the way?
My drawing skills have improved as I explored more areas in art. But I've been drawing with the same style from the beginning, just that it is more sophisticated and complete now.
When do you first get interested in art? How do you get into tattooing?
I have always been an art lover since I was a teenager. And I drew every day. So I went to a design-related high school and university and graduated from both of them.
Creating unique designs for people who love my artwork and then turning it into a permanent mark gives me inexplicable pride and joy.
And that's why from early on, I've decided to be a tattoo artist. It's a career when my talent meets my passion.
And about three years ago, I was honored to meet with a famous tattoo artist and had the opportunity to learn from her. And that's how I got into the business.
What's the first big project you've done? Can you share with us the process?
The name of my first big project is "Vincent van Gogh inside the frame."
Courtesy of eden @eden_tattoo_
Van Gogh is one of my favorite painters. How he used colors to express emotions inspires me a lot. So to make his art eternal, I put his paintings in small frames as tattoo references. And it is an honor to tattoo his paintings.
On top of the tattoo itself, the clients were a pleasure to work with. They share the same aesthetics, and the whole process was fun.
Courtesy of eden @eden_tattoo_
I did those early Van Gogh projects for free. But they are proof that I can create art as well as happy memories for my clients. That's why they meant a lot to me.
What's the most memorable story behind a tattoo you've done?
There was a client that came to mind first.
He had a dog that had been part of his family for over ten years since he was a kid. But unfortunately, his dog passed away. So he wanted a tattoo in memorial of his best friend.
In Korea, an idiom goes, "I hope you can cross the rainbow bridge and find peace." It is used to pay tribute to the dead and help their loved ones grieve. So I applied to concept to the design.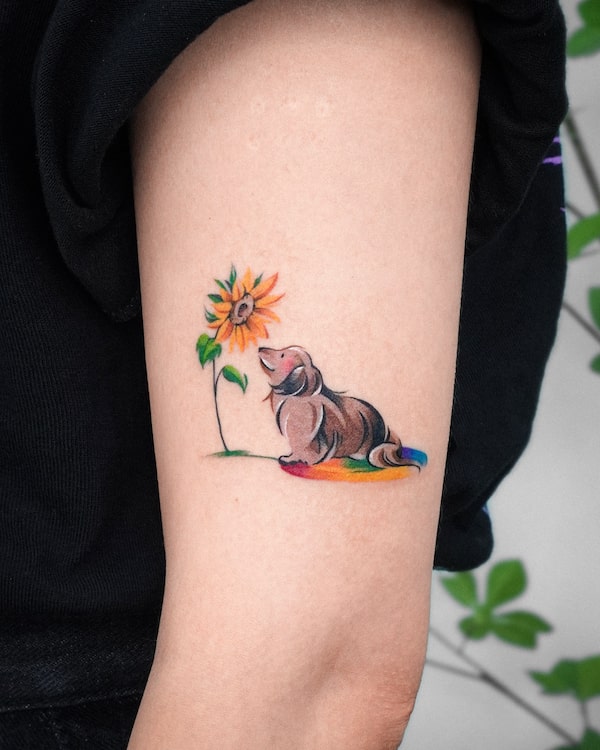 Courtesy of eden @eden_tattoo_
I used sunflowers and rainbow shadows in the tattoo. They symbolize the wish for his beloved pal to live happily ever after in heaven.
Though the story behind the tattoo might be heartbreaking, it's a reminder to the client of their time spent together. The tattoo carries such weight and meaning that I will never forget.
What do you think makes a good tattoo?
From my point of view, tattooing is really about the person wearing it. It has to be personal. And tattoo artists should make their work meaningful for their clients. That requires a lot of listening and sympathy.
And also, for color tattoos, techniques are the key to minimizing the damage to the skin while keeping the colors vibrant.
Courtesy of eden @eden_tattoo_
What tattoos will you NOT do? Why?
For now, I try not to put a limit on my tattoos. Whether the clients bring me a specific subject to tattoo or just an abstract concept, I will try my best to create something fantastic.
What are your goals as an artist?
As a tattooist, my goal is to let more people know about my brand – the tattooist Eden. But as an artist in general, I would love to explore more fields and areas with paintings that I like.
Courtesy of eden @eden_tattoo_
Besides tattooing and art, what are you passionate about?
Recently, I created my personal Youtube channel as a new hobby. I'm filming VLOGs about my daily life instead of just around tattooing. I want to take the audience through the days of tattooist Eden.
In the videos, you will see the design process, the preparations for tattooing, the coloring, and other parts of my life like eating and drawing.
Courtesy of eden @eden_tattoo_
And I hope that in the future, I will create more videos and share my knowledge about tattoos!
What is your advice for those that are getting their first tattoo?
If there is something that makes you happy whenever you think about it, I think that might be a good idea for your first tattoo.
As tattoos are permanent, it's best to choose something you like. And also, it's even better if it brings back happy memories. This way, it will not only be visually appealing but meaningful as well.
And if you like my work, contact me. I am happy to do your first tattoo.
Do you have any questions for Eden?
Leave a comment down below! And don't forget to check out her work on Instagram and her Youtube channel.