We all have days when everything feels off. So here is a list of bad day quotes t o make you feel better and cheer you up.
There are days everything is good. The coffee is warm. The sun shines brightly, and I can get things done like David Allen.
But also, there are days that nothing goes as expected. Emails pile up, and deadlines draw near. And I can't seem to get my head focused on work. All I want to do is lie in bed and call it a day.
And for you, bad days may look different. Maybe it's not getting the grades you want in school or receiving a complaint at work. But however we dislike those days, they seem to be unavoidable.
So how to turn a bad day around or simply to feel a bit better? Here's a list of bad day quotes that may help. From words of encouragement to relatable bad day reminders, you will find something in this post that feels your pain and cheers you up.
Inspiring and relatable bad day quotes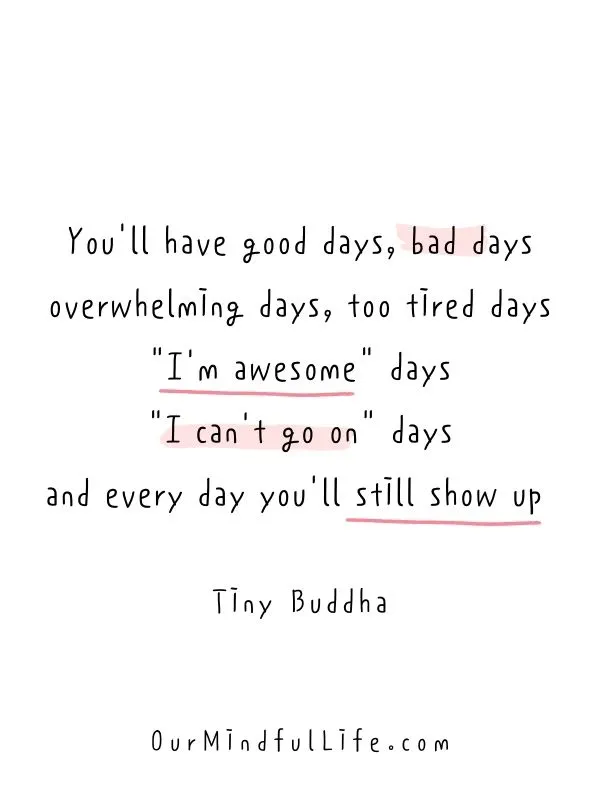 You'll have good days, bad days, overwhelming days, too tired days, "I'm awesome" days, "I can't go on" days, and every day you'll still show up.
– Tiny Buddha
Bad days are usually bad moments.
You may not have control over what happens every day. But you can decide which mindset you bring to a new day.
It's ok not to feel ok.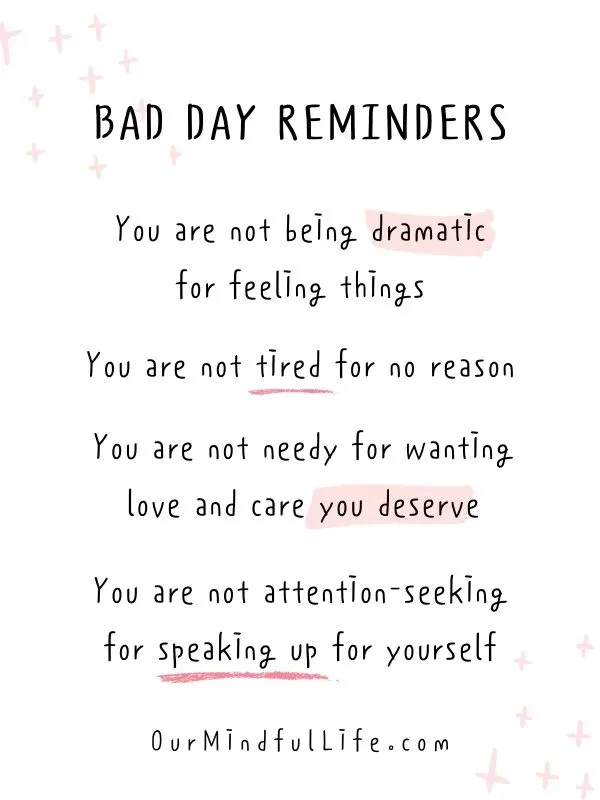 Bad day reminders
You are not being dramatic for feeling things
You are not tired for no reason
You are not needy for wanting love and care you deserve
You are not attention-seeking for speaking up for yourself
Don't be discouraged by what happened to you today. Be thankful that you have today to live and tomorrow to try again.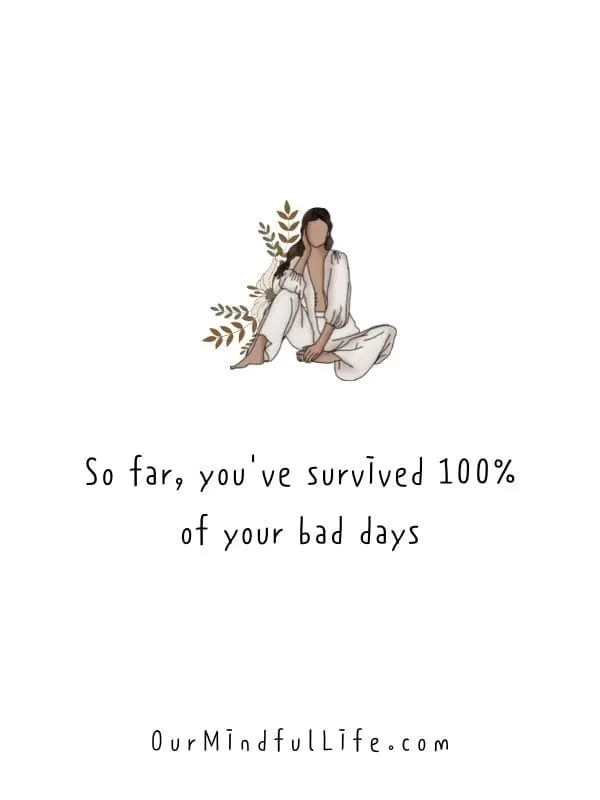 So far, you've survived 100% of your bad days.
A bad day isn't a bad life.
Even the worst days have something good in them. Maybe it's a smile from a stranger or hot coffee in the morning. When you learn to see the good in life, no matter how small they are, a normal day will become sweeter, and a bad day will be less bitter.
Life is tough, but so are you.
If you can do it back then, you can do it again. Believe in yourself.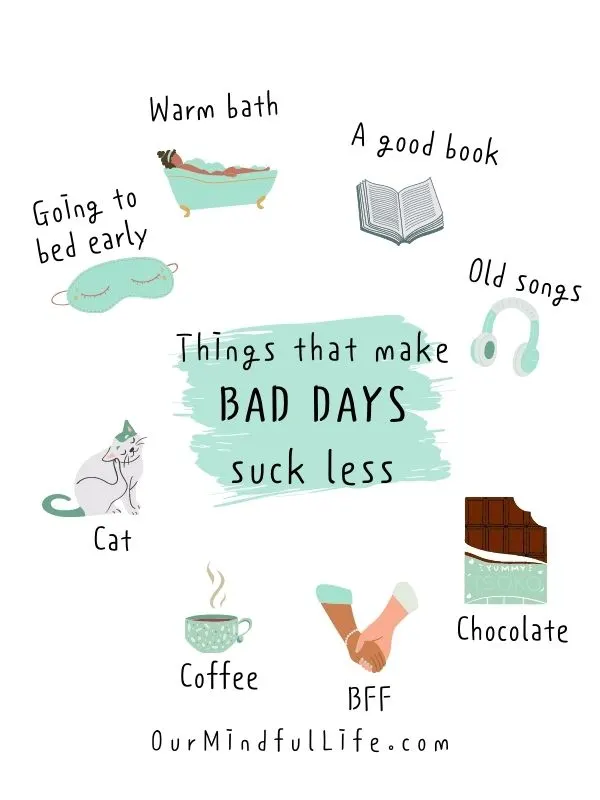 Things that make bad days suck less
Coffee
Cat
A good book
Old songs
Chocolate
BFF
Going to bed early
Warm bath
What makes you feel better on a bad day? Leave a comment down below!
Some days don't deserve 24 hours.
If you can't deal with this day anymore, it's ok to go to bed early. Know that you can always try again when the sun rises tomorrow.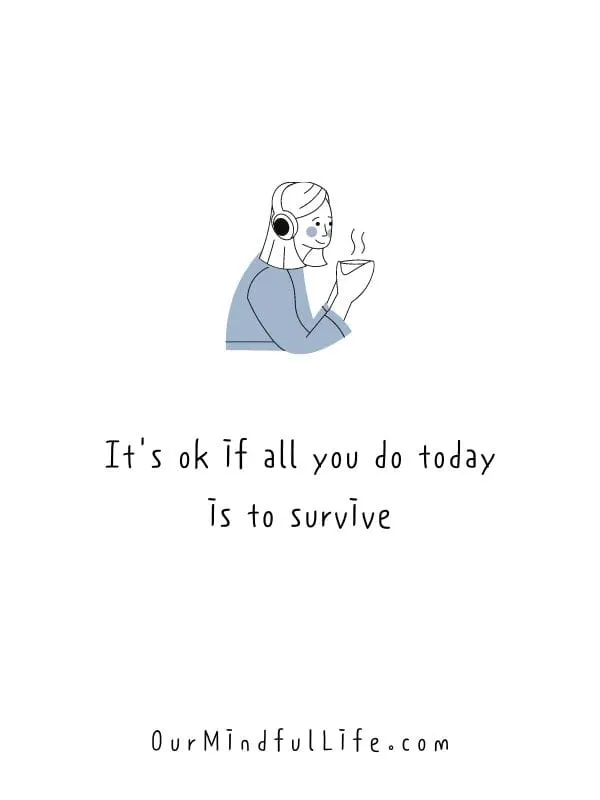 It's ok if all you do today is to survive.
We all have prime time and downtime. And you don't need to strike hard and give your 100% each day. Instead, make time for self-care during your downtime. Recharge, refuel so you can get back on the road feeling refreshed.
Tough times don't last. Tough people do.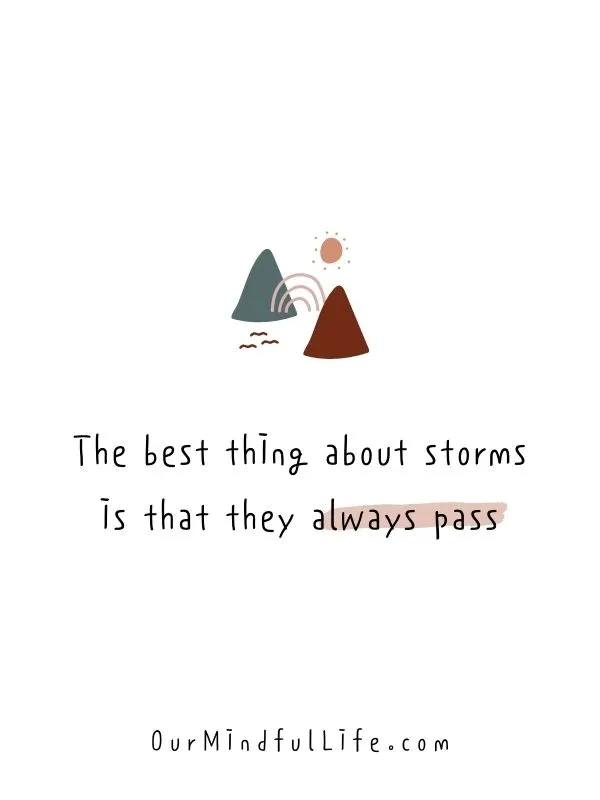 The best thing about storms is that they always pass.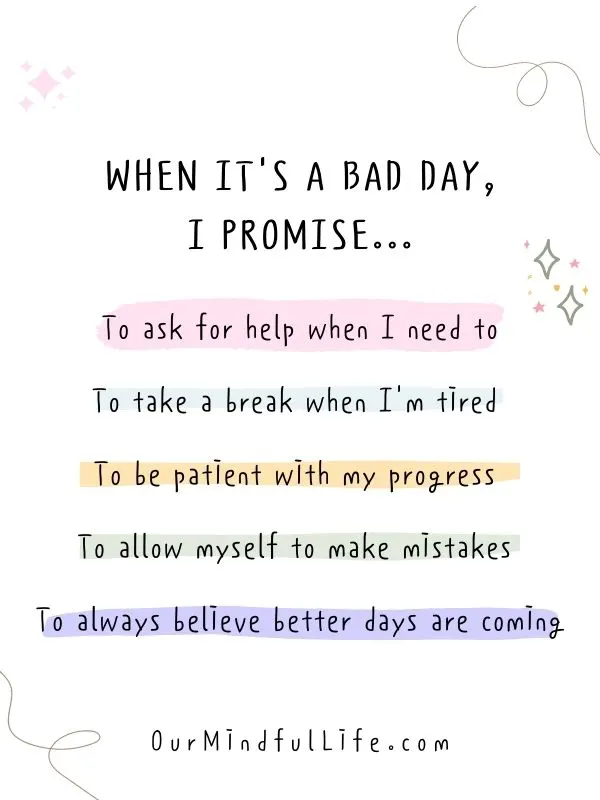 When it's a bad day, I promise…
To ask for help when I need to
To take a break when I'm tired
To be patient with my progress
To allow myself to make mistakes
To always believe better days are coming
And on top of all these, promise to treat yourself with kindness and compassion. These bad day quotes remind you that If today is tough on you, don't do the same to yourself.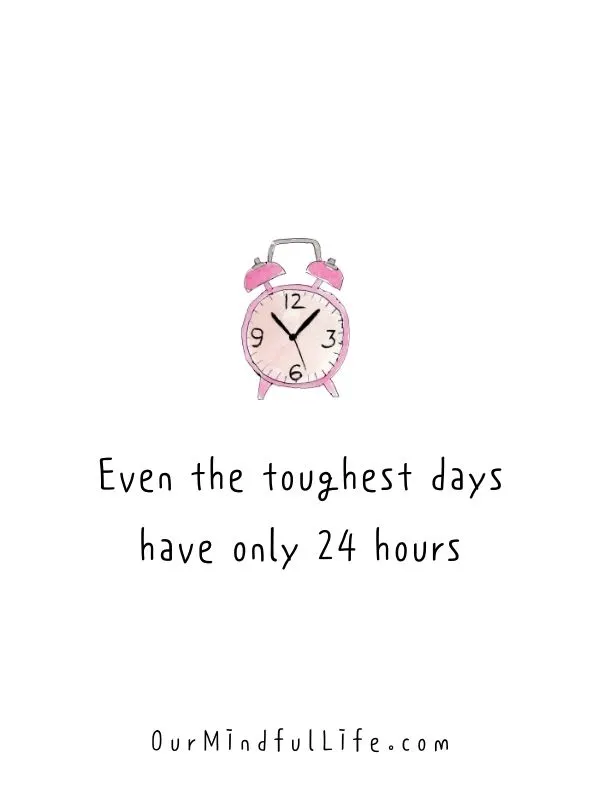 Even the toughest days have only 24 hours.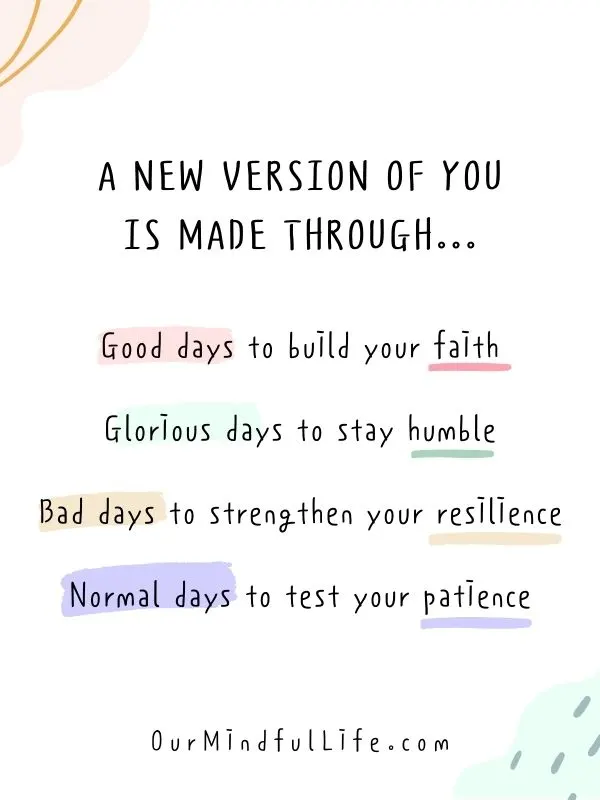 A new version of you is made through
Good days to build your faith
Glorious days to practice your modesty
Bad days to strengthen your resilience
Normal days to test your patience
You deserve a round of applause for making it through today.
If you have been brutally broken but still have the courage to be gentle to others, then you deserve a love deeper than the ocean itself.
– Nikita Gill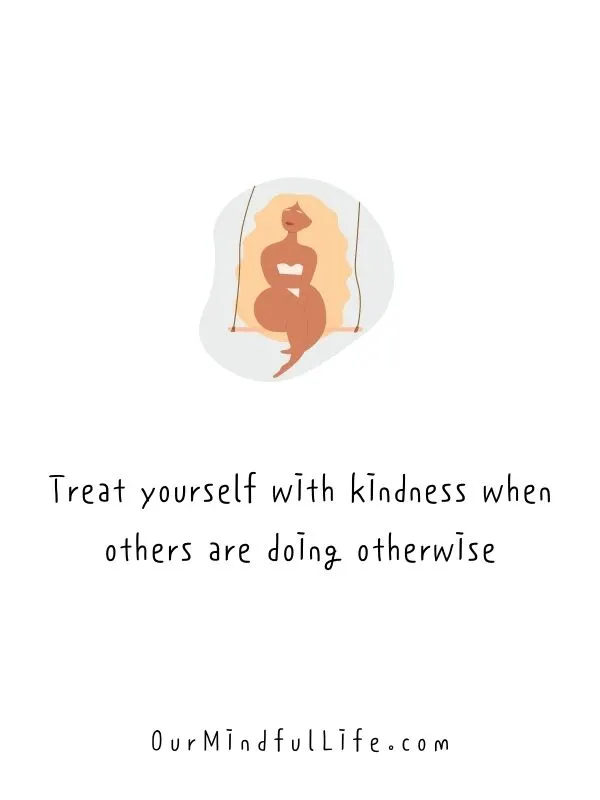 Treat yourself with kindness when others are doing otherwise.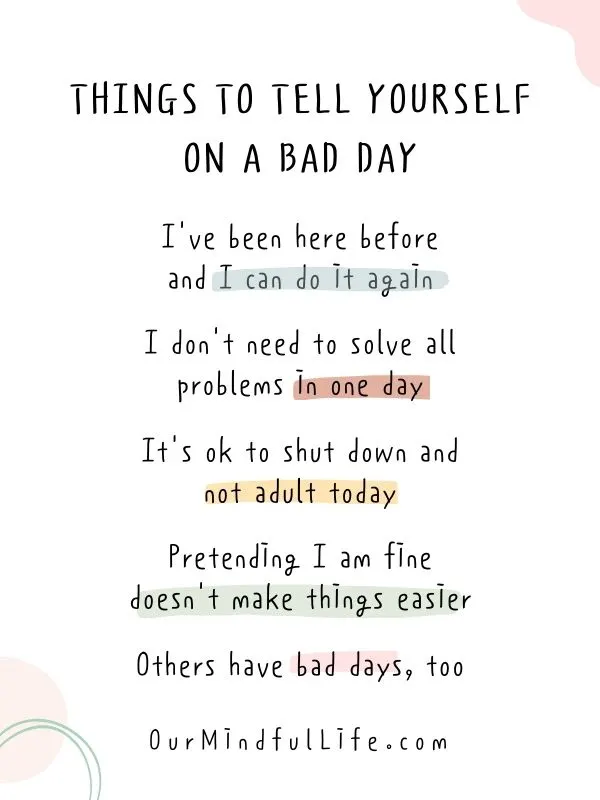 Things to tell yourself on a bad day
I've been here before, and I can make it again
Pretending I am fine doesn't make things easier
I don't need to solve all problems in one day
Others have bad days, too
It's ok to shut down and not adult today
We often get trapped in negative self-talk when things are not working in our way. So instead of calling yourself incapable, a loser, or stupid, these bad day quotes and reminders are what you need to keep in mind.
When in doubt, think about all the storms you've gone through. If you can do it back then, you can do it again.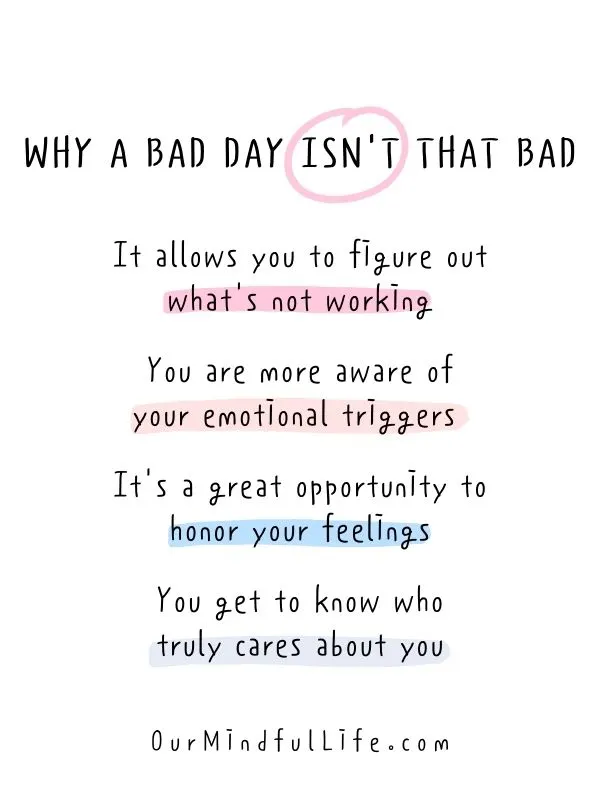 Why a bad day isn't that bad
It allows you to figure out what's not working
You are more aware of your emotional triggers
It's a great opportunity to honor your feelings
You get to know who truly cares about you
There's something good every day if you are willing to look for it.
Read also: How to tell if someone is your true friends? 9 Signs of fake friendship
Sometimes in life, we need a few bad days in order to keep the good ones in perspective.
– Colleen Hoover
If everything always goes well, we'd grow numb and take things for granted. That's what this bad day quote tells us – bad days aren't entirely bad. They remind us to be grateful and to find joy in our day-to-day.
Sometimes the hardest lessons to learn are the ones your soul needs most.
– Kelly Cutrone
Yes, this day may be stressful. It wears you out. But you can only connect the dots backward. Bad days either teach you a lesson, test your strength or show you which way doesn't work. And one day, when you look back, all the sufferings will make sense.
Some days even my lucky rocketship underpants don't help.
– Bill Watterson
In every day, in all things, no matter how dark and ugly, there are shards of beauty if I look for them.
– Anna White
We are all in the gutter, but some of us are looking at the stars.
– Oscar Wilde
Even the darkest night will end, and the sun will rise.
– Victor Hugo
We can complain because rose bushes have thorns, or rejoice because thorns have roses.
– Alphonse Karr
You'll never find a rainbow if you're looking down.
– Charlie Chaplin
Focus on your strengths, not your weaknesses.
Focus on your character, not your reputation.
Focus on your blessings, not your misfortunes.
– Roy T. Bennett
When you come out of the storm, you won't be the same person who walked in. That's what this storm's all about.
– Haruki Murakami
Nothing can disturb your peace of mind unless you allow it to.
– Roy T. Bennett
Happiness is not the absence of problems; it's the ability to deal with them.
– Steve Maraboli
And with each bad day comes the opportunity to practice your resilience. And the more you practice, the more you can find calmness in chaos. I hope in these bad day quotes, you find a way to joy again.
If you're reading this, congratulations, you're alive. If that's not something to smile about, then I don't know what is.
– Chad Sugg
The flower that blooms in adversity is the rarest and most beautiful of all.
– Mulan
This quote from Mulan tells us that there will be no strength without struggles. And without defeat, there will be no victory. So what differentiates the strong from the weak is how they keep going even when they don't want to.
You have power over your mind – not outside events. Realize this, and you will find strength.
– Marcus Aurelius
It's not the load that breaks you down. It's the way you carry it.
– Lou Holtz
Be aware of the difficulties, but don't be scared away. Honor your feelings but don't dwell in them.
They say a person needs just three things to be truly happy in this world: someone to love, something to do, and something to hope for.
– Tom Bodett
Not all bad day quotes are about struggles. Some turn your focus to what you should care about. And when you fill your day with gratitude, no day is too bad.
Life's under no obligation to give us what we expect.
– Margaret Mitchell
Only when it is dark enough can you see the stars.
– Martin Luther King, Jr.
It's amazing how a little tomorrow can make up for a whole lot of yesterday.
– John Guare
How many slams in an old screen door? Depends how loud you shut it. How many slices in a bread? Depends how thin you cut it. How much good inside a day? Depends how good you live 'em. – Shel Silverstein
If you can't do anything about it, don't worry about it.
– Jeanne Calment
Worrying means you suffer twice. Be a worrier, not a worrier.
You may encounter many defeats, but you must not be defeated.
– Maya Angelou
This empowering quote from Maya Angelou is the perfect reminder to always have faith. She herself had gone through numerous obstacles. But each of them made her stronger.
If the road is easy, you're likely going the wrong way.
– Terry Goodkind
Sometimes things have to go wrong in order to go right.
– Sherrilyn Kenyon
We could never learn to be brave and patient if there were only joy in the world.
– Helen Keller
Storms hit your weakness but unlock your true strength.
– Roy T. Bennett
If we had no winter, the spring would not be so pleasant: if we did not sometimes taste of adversity, prosperity would not be so welcome.
– Anne Bradstreet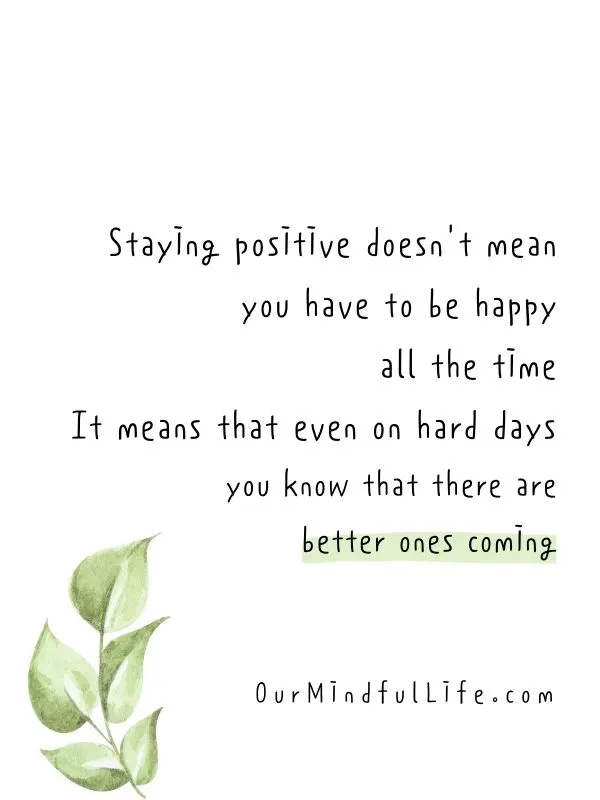 Staying positive doesn't mean you have to be happy all the time. It means that even on hard days, you know that there are better ones coming.
– Unknown
Just because today sucks doesn't mean tomorrow won't be better. Keep going.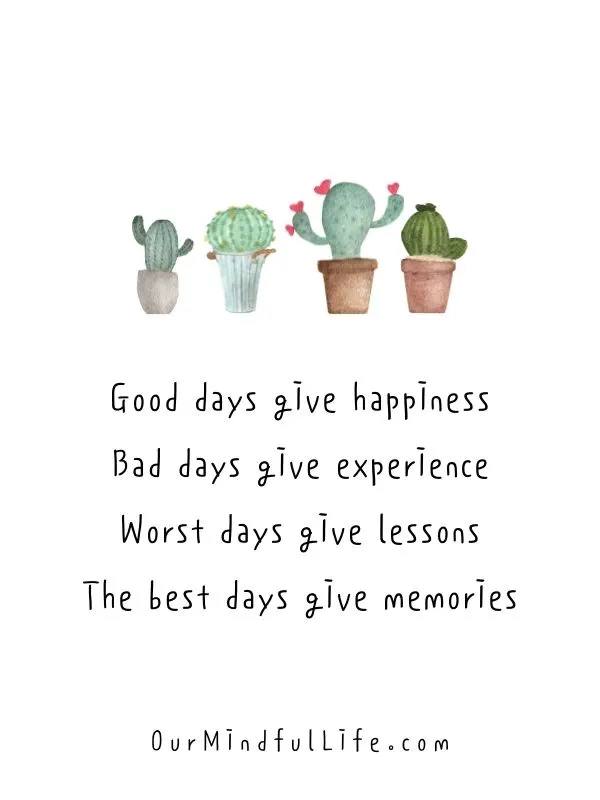 Never regret a day in your life: Good days give happiness, bad days give experience, worst days give lessons, and the best days give memories.
– Unknown
Which of these bad day quotes resonate with you?
Do you find the bad day quotes that bring you power? And how do you get through a bad day? Tell me about it in the comment or tag @_OurMindfulLife on Instagram to share.