Getting matching ink is a big commitment. But these cute mother-daughter tattoos will make you want to talk your mom into getting inked now.
It's a huge commitment to get matching tattoos with someone else. Couple tattoos may look weird once the relationship ended.
But getting mother-daughter tattoos is a different case. The bond between mother and daughter is unbreakable. No matter where you are, home is where mom is. If you are looking for something special to honor your mother-daughter bond, here is a list of meaningful mother-daughter tattoo ideas.
Disclaimer: This tattoo collection of mother-daughter tattoos for inspiration only. Please do not copy the artwork. If you love these tattoos, follow artists and show them some support.
Meaningful mother-daughter tattoos
Table of content
Common mother-daughter tattoo symbols
Small mother-daughter matching tattoos
Meaningful mother-daughter quote tattoos
Cute tattoos for mother and daughter
Common mother-daughter tattoo symbols
Listed below are the common symbols that represent the bond between mother and daughter. Keep scrolling if you want more tattoo examples.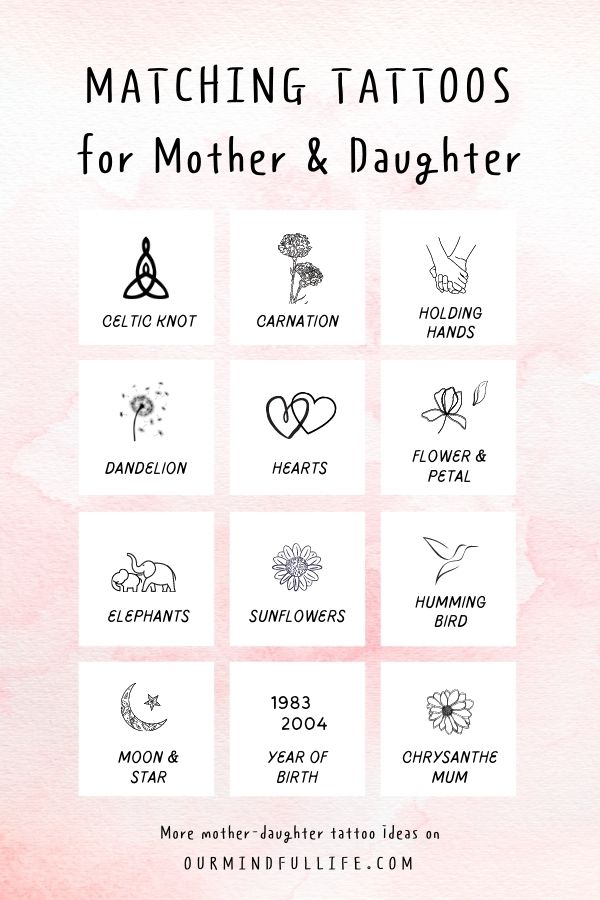 Small mother-daughter matching tattoos
A good tattoo doesn't need to be bright and bold. A small symbol can be just as meaningful. If you and your mom prefer low-key designs, don't miss these small and minimalist matching tattoos.
A piece of me – a minimalist dandelion wrist tattoo
Colors of heart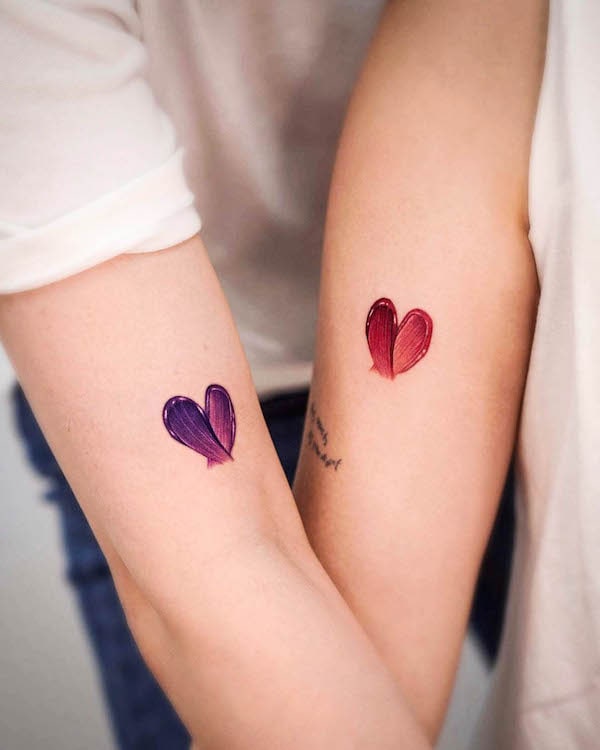 Matching tattoos for mother and daughter don't have to be identical. Instead, you can use different colors to outline their personalities. And the look will still be cohesive.
Take my hand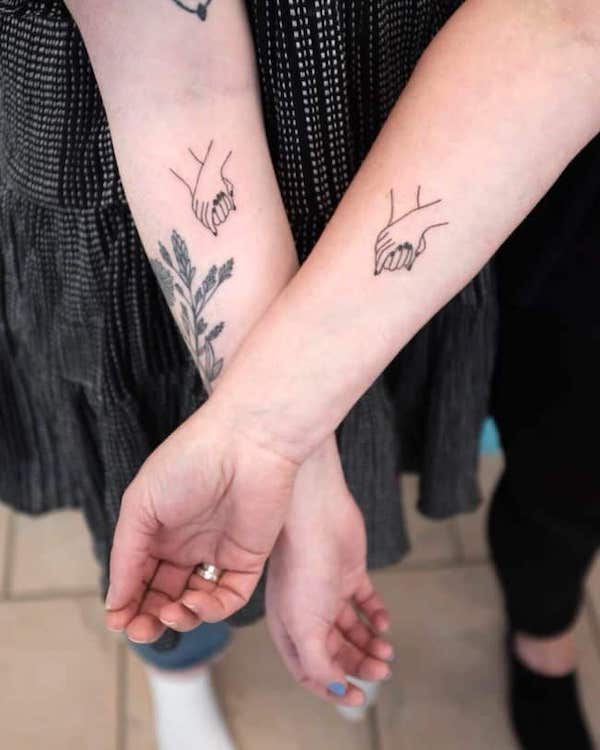 Two hands holding together symbolizes a close connection between mothers and daughters. When we are kids, we hold our parents' hands out of trust and the need for protection. When we grow up, the hands-holding is proof of trust and love.
Moon tattoos on the wrist
Matching feminine floral tattoos above the ankle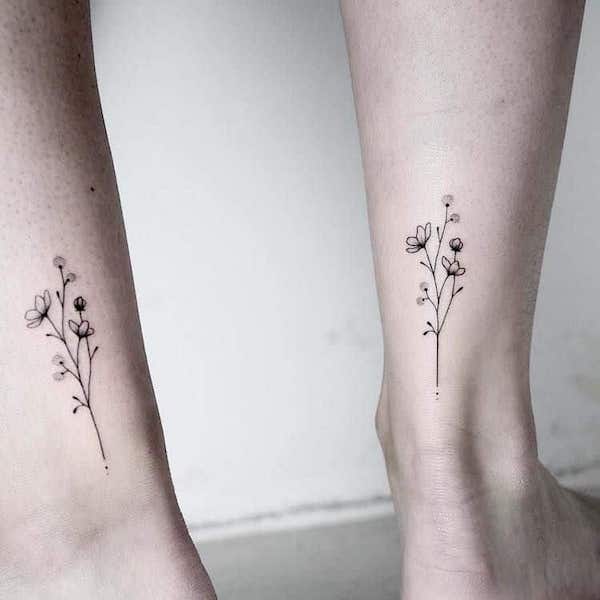 When you make each other feel alive
Muffin and cupcake
Initials tattoos
Initial tattoos are not only versatile. They can be big, small, simple, or intricate. But they also represent the wearer's identity or someone they care about. These matching initial tattoos on the wrist may be minimalist and simple. But they carry the love for the family, making them meaningful and timeless.
Mother and siblings wrist tattoos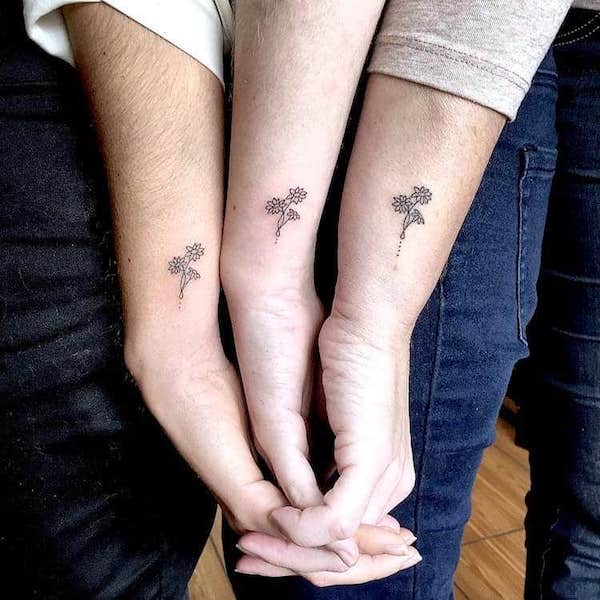 Sending love
If you are into Kpop, you may already be familiar with the cute finger heart gesture. The finger heart is crossing the thumb and index finger, creating a small heart shape. Want a cute tattoo that says I love you every day? Consider this adorable design!
Sunrise minimalist tattoos
A rising sun tattoo symbolizes the pursuit of growth and passion. The sun has almost the cleanest shape. If you are a minimalist, the timeless sun tattoo can hardly go wrong.
Sunflower and petal wrist tattoo
Because daughters will always be part of their mothers.
Sunflower and watering can
What a lovely way to thank our moms for the love and care they put in us. The moms nourish, so the daughters can flourish.
Year of birth
Almost all mothers know their daughters' birthday. But not all daughters know that of their mothers. These wrist tattoos are a great reminder to cherish our loved ones each day.
Mama bear and baby bear watercolor tattoos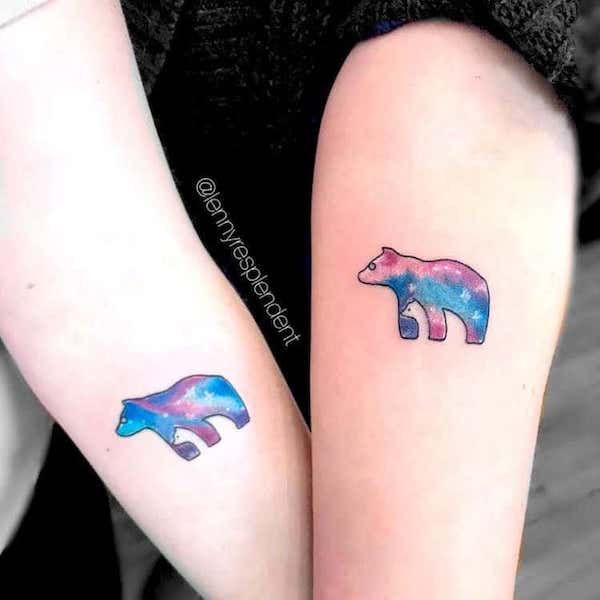 Bears are more than stuffed toys and gummy candies. In Native American culture, bears are often associated with the spiritual world and sacred rituals by the Shamans. They are also a symbol of motherly love, protection and wisdom.
Tiny heart tattoo on the shoulder
Matching crescent tattoos that embrace femininity
The evil eye tattoos
Matching sunflower tattoos
Fingerprint on the heart
The tattooist took the fingerprint of the mother and daughter and inked it as heart tattoos. What a brilliant idea to make the tattoos unique and honor the relationship.
The Forget-me-knot
Meaningful mother-daughter quote tattoos
Sometimes, a short quote tells a story better than an image. What are some good quotes for mother and daughter tattoos? Take a look at these amazing quote tattoos and be inspired.
You are my only sunshine; My only sunshine
The talented kaleigh and her mom use each other's handwritten quotes as their matching arm tattoos, making this simple tattoo design one-of-a-kind.
As is the mother. So is her daughter
A pair of matching love quotes for mom and you
"All you need is love. Love is all you need."
"She gave me life. She gave me purpose."
I love you more. I love you most
Cute matching sunflower tattoos with quotes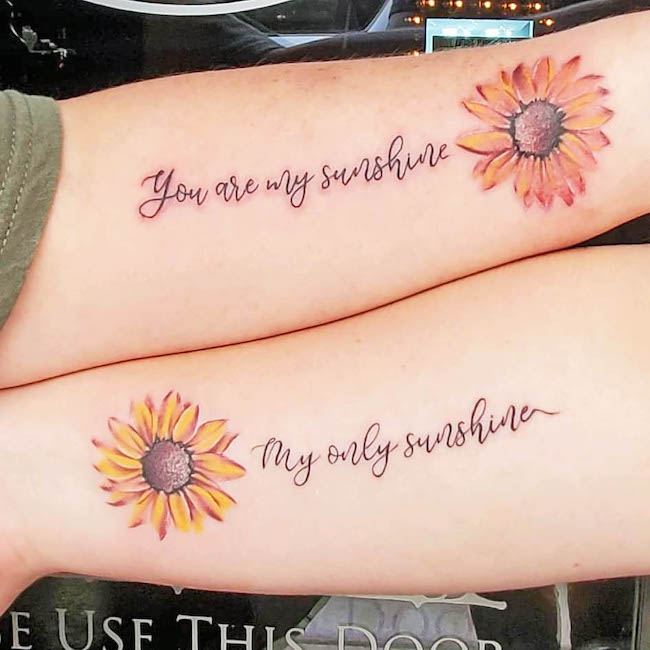 Heart-melting quote tattoos on the feet
"Because of her I will not fall." "For them I'll risk it all." These mother-daughter quotes perfectly summarize the unconditional love of a mother.
I love you more
Meaningful quote tattoos on shoulders
"Always together, never apart. Maybe in distance but not in heart." The bond is unbreakable, and the love is unwavering.
A mother-daughter quote tattoo will keep reminding us to be each other's strongest back. DO you have a quote that relates to your relationship with mom? Share in the comment!
You and me against the world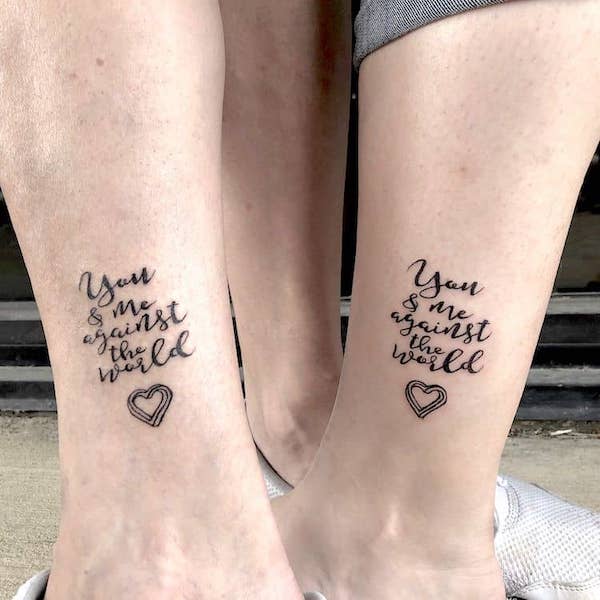 Year of birth lettering tattoos
For you are not beside but within me
You keep me safe. You keep me wild.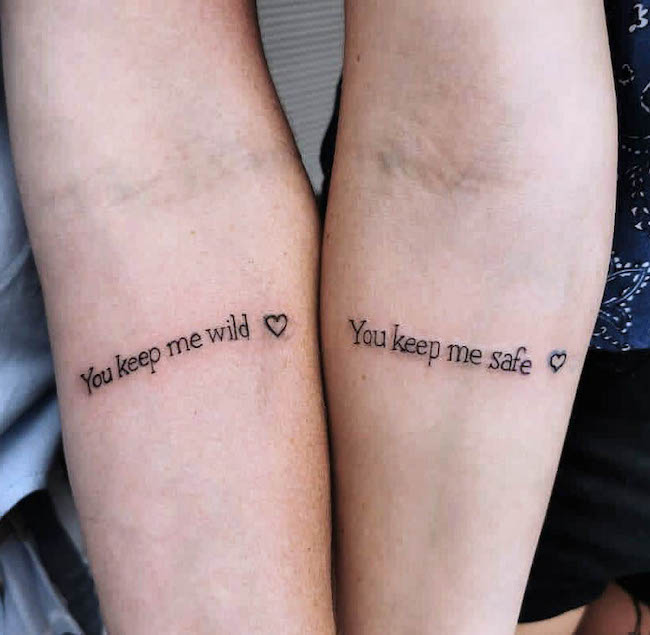 She gave me life. She gave me a reason to live.
Do you have a mother-daughter quote that speaks to you? If so, why not make it a permanent print on the skin?
"Raising greatness" and "raised by greatness" floral tattoos
Cute tattoos for mother and daughter
Good tattoos represent the wearers' beliefs, aesthetics, and personality. The following tattoo artists have added a creative twist to common tattoo elements and make them personal. Take a look, and they may inspire you to come up with your next ink.
Dancing together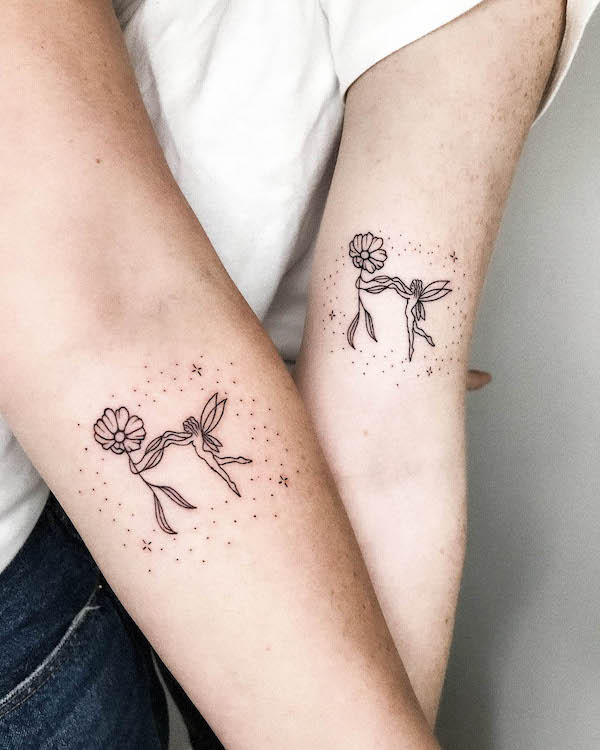 These two arm tattoos are not just cute but also meaningful. The little fairy represents the daughter, meaning that she brings magic to her mother's life.
The flower stands for the mother. The way she holds the fairy's hands shows the love between the two.
Chrysanthemum and gladioli leg tattoos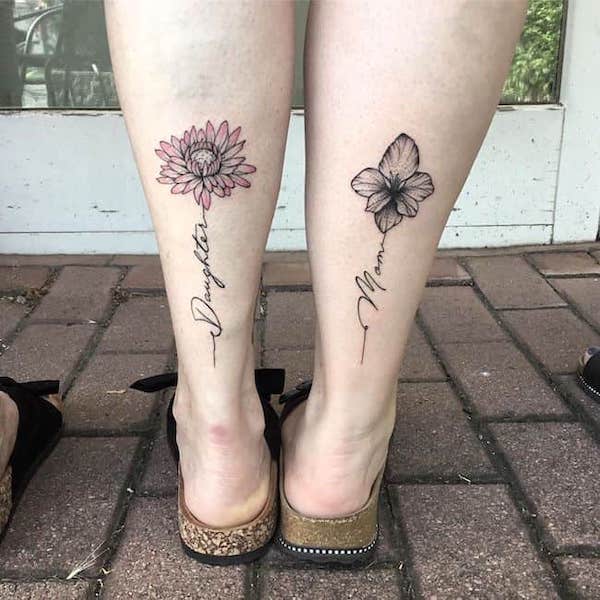 Just like other flowers, chrysanthemum and gladioli have their meanings. Chrysanthemum stands for truth, hope and selfless love. And sending red chrysanthemum, in particular, is a way of saying "I love you."
Gladiolus, on the other hand, is often considered as a symbol of honor and remembrance. If you have a special affection for gladiolus, a pink one may be more suitable for a mother-daughter tattoo, for it represents compassion and motherly love.
Read also: 94 Elegant flower tattoos with meaning
Because you are both rawesome
Read also: 64 Rawe-some dinosaur tattoos from cute to menacing
Beating hearts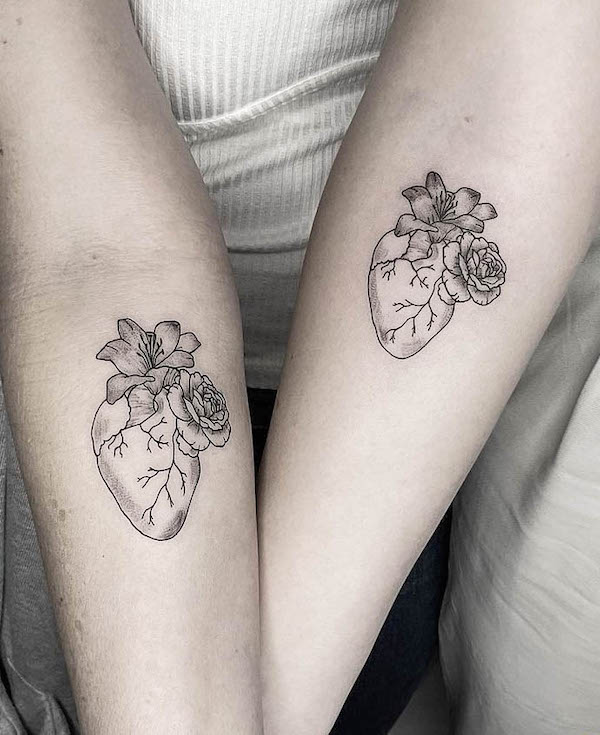 When you have someone to love and someone that loves you, your heart is filled with love. And that's what these tattoos are implying.
Horse and girl
Mother-daughter tattoos are not always literal. They can be more than imageries of a mother holding a baby. And this tattoo shows us how to create a personal and meaningful design.
The wearer is a mother who wants to be her daughter's best friend. The horse is the daughter's favorite animal, representing the mother in this tattoo. And the way they look at each other shows how much they love one another.
Keep dancing, keep going
Hummingbird matching tattoos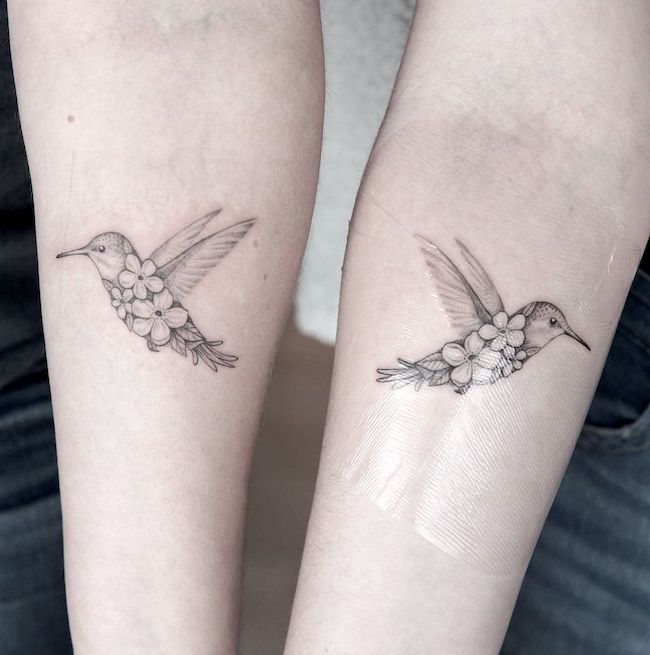 Hummingbirds are dedicated mothers. Before giving birth, a female hummingbird builds her nest by herself. She incubates the eggs and feeds the baby birds without the help of a male hummingbird. Then, before the babies grow old enough to leave the nest, the mother cares for them with her heart and soul. And these beautiful hummingbird tattoos are a dedication to all great mothers.
Hold my hand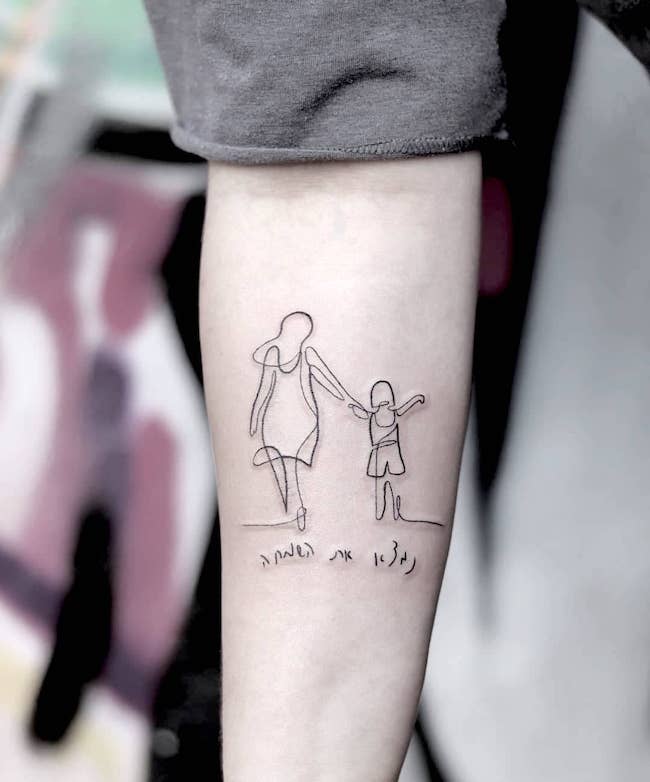 I love you matching moon tattoos
Mother and baby lion
The lion is a symbol of courage and strength, and lion tattoos are for the fearless. But this cute tattoo takes a different approach. The ones we love always bring out the soft side in us, even for the toughest women. Sounds like you and mom?
Take my hand
Tattoos are a way to express ourselves and celebrate a significant life event, like a child's birth. This tattoo does both. And because of its meaning, it will never go out of style.
Elegant wreath tattoos
Cute mother daughter cartoon tattoo
Astrology matching tattoos on the arm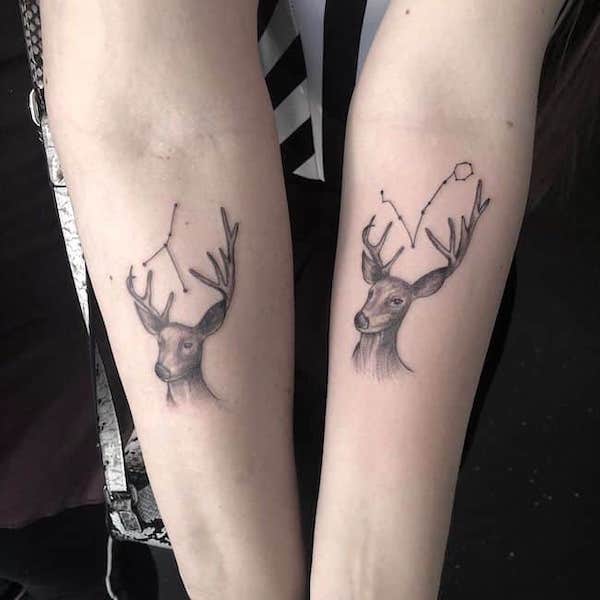 Deer have always been a symbol of grace and beauty in Greek and Roman mythology. It also represents Artemis, the ancient goddess associated with childbirth and nature. That's why deers show up a lot in mother-daughter tattoo designs.
These adorable matching tattoos take one step further by adding the constellation of their signs. If you and mom are both into astrology, this zodiac tattoo design can be a good fit for your next ink.
Adorable giraffe tattoo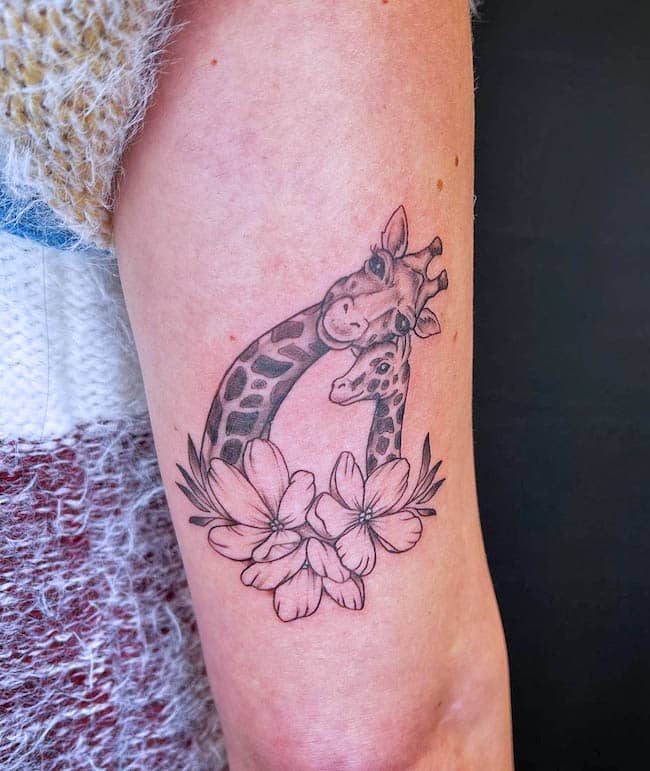 From the first day till the last
Watercolor whale tattoos for mother and daughter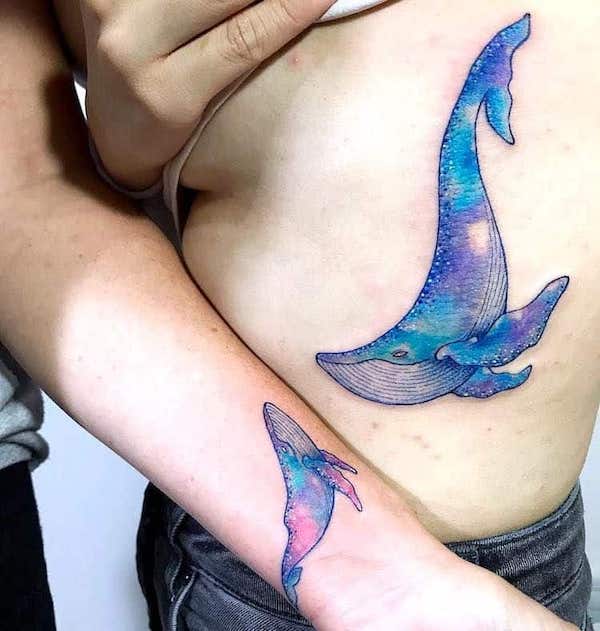 Whales might not be the most popular tattoo idea. But these giant creatures are always calm and know how to guide themselves out of the devouring sea.
A whale can also represent the desire for freedom. If you and mom are true explorers of the wild, whale tattoos are tailor-made for you.
Tree of life
The angels
Cute mother-daughter-sister tattoos
Mom and daughter lotus tattoos
Delicate floral patterns in the shape of a heart
Matching sunflower arm and bracelet tattoos
Bright, spirit-lifting, sunflowers are like the warm radiant of the sun. THere's more about it than its likable yellow petals. It is a symbol of nourishment, just like the sun providing energy for the Earth, and mothers give birth to children.
The Creation of Adam tattoos
Birth, awakening, the beginning of all, The Creation Of Adams can mean a lot of things. For a mother, a child is her proudest creation, as well as the beginning of a new life chapter.
Disney memories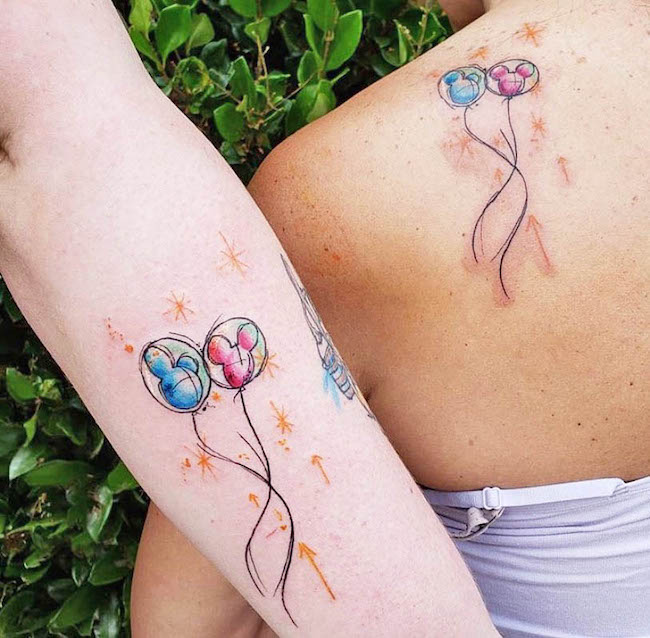 Disneyland and Disney movies have been a big part of many people's childhoods. These cute Disney tattoos will recall the happy times you had with your family and remind you to stay curious and pure.
Phases of life
From the day a child is born, a mother's life is forever changed. As a daughter grows up, the mother gets older. Though they will not be together forever, the love is real. This tattoo shares the same message and reminds us to cherish every minute with our loved ones.
Matching mother-daughter elephant tattoos
Female elephants always live and travel in herds. They are protective, selfless, and will risk their lives to save other members of their flock. That's why elephants are considered to be a symbol of family.
People who wear elegant tattoos are most likely those who value their family and will do whatever they can to protect them.
Mrs. Potts and Chip
At first glance, this Disney tattoo may seem too cute for some of us. But if you've watched Beauty and The Beast, you would not be unfamiliar with Mrs. Potts and Chip.
She is an intelligent and level-headed housekeeper, but also a gentle and nurturing mom. Sounds like your mom?
Meaningful flower tattoos on the wrists
"She gave you half of her life so you could blossom".
Matching ankle tattoos with quotes
Feather tattoos on the shoulder-blade
Because both of you are angles.
A blackwork tattoo to show your gratitude for mom
Which mother-daughter tattoo is your favorite?
Getting matching mother-daughter tattoos is all about finding the "us thing". Do you have a symbol or a quote that reminds you of your special moment together? It may be a good theme for your own tattoo.
If you enjoy these matching tattoo designs, don't forget to share with mom to see how she feels.
Read also:
38 Amazing Mother tattoos to honor the motherly love
31 Mother-Son Tattoos To Honor The Unbreakable Bond
76 Sibling Tattoos To Get With Brothers And Sisters
42 Heart-warming Family Tattoos And Meaning