Arrows symbolize strength, direction and courage. From small to bold and vibrant, these arrow tattoos will inspire your next ink.
Arrows are a weapon, a sign we use to point direction, and a symbol of guidance. They are also evergreen in tattoo designs. You may have seen them on the wrist, fingers, arm, thigh, and almost anywhere on the body. But have you ever thought about why so many people are hooked by these arrow tattoos?
Back in the day, arrows were tools used in hunting and battles. This origin gives modern arrow tattoos the symbolism of strength and focus. Today, arrow tattoos have also become a beacon of hope and personal growth. An arrow on the skin will always remind the wearer to stay on track and aligned with their goals.
So if you are related to the meaning of arrow tattoos and planning to get one, you are at the right place. In this post, we will be diving into a massive collection of arrow tattoo ideas for different styles with their meanings explained.
Whether you're into minimalistic designs or more intricate ones, you'll find the one that speaks to you both aesthetically and personally. Keep scrolling to get inspired for your next ink!
Disclaimer: This collection of arrow tattoos is for inspiration only. Please do not copy the artwork. If you love these tattoos, follow artists and show them some support.
Stunning arrow tattoos with meaning
Simple and small arrow tattoos
Just because a tattoo is minimalistic and small doesn't mean it lacks impact. Below is a list of small yet empowering arrow tattoos that will show you how even the tiniest ink can tell a big story.
Arrow and cherry blossom tattoo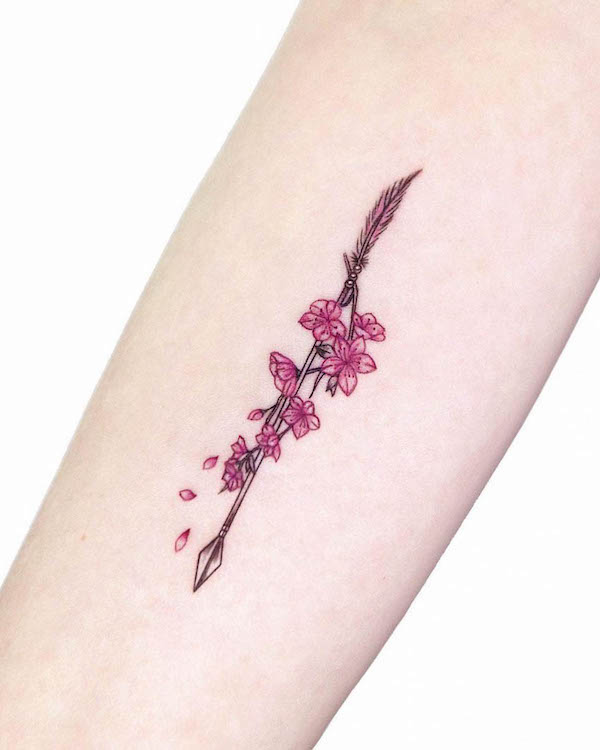 Just like the fleeting flight of an arrow, cherry blossoms have a short but exquisite lifespan. This feminine tattoo combines the two elements to capture moments that can be short and sweet.
Name and arrow ankle tattoo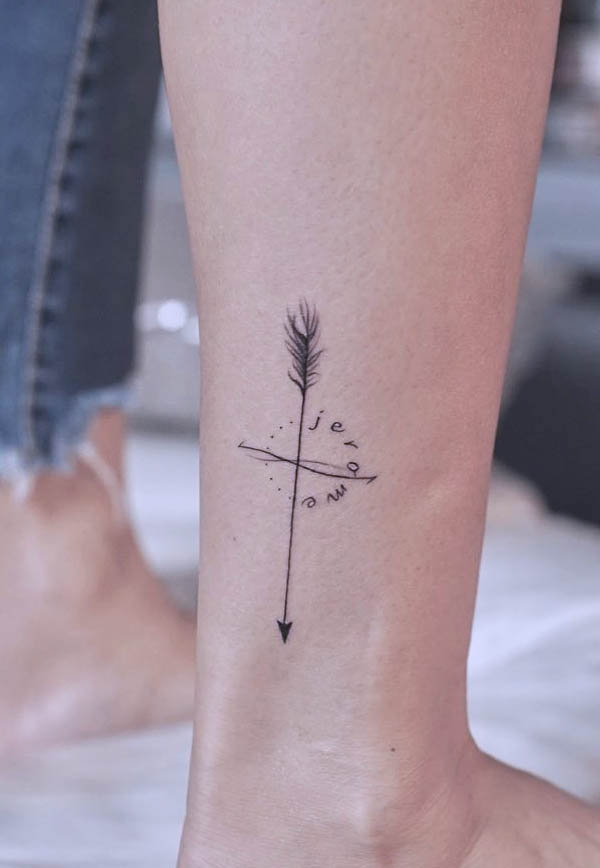 One way to create a personal and meaningful tattoo is to add an initial or a name, just like this one on the ankle. With the name of the wearer's son inked around the arrow, this ankle tattoo becomes a tribute to the mother-son bond.
Arrow finger tattoo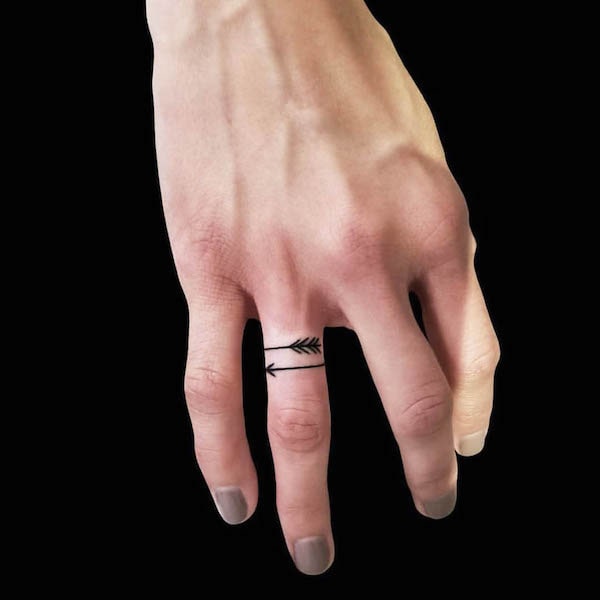 Ring finger tattoos often hold a special significance, symbolizing commitment, love, and a connection that's meant to last. This one, however, takes a unique twist on the classic concept.
Instead of wrapping the finger with a straight line, the tattooist replaces it with an arrow, representing the forward-moving journey, a continuous path filled with growth and shared experiences.
Arrow and lotus flower tattoo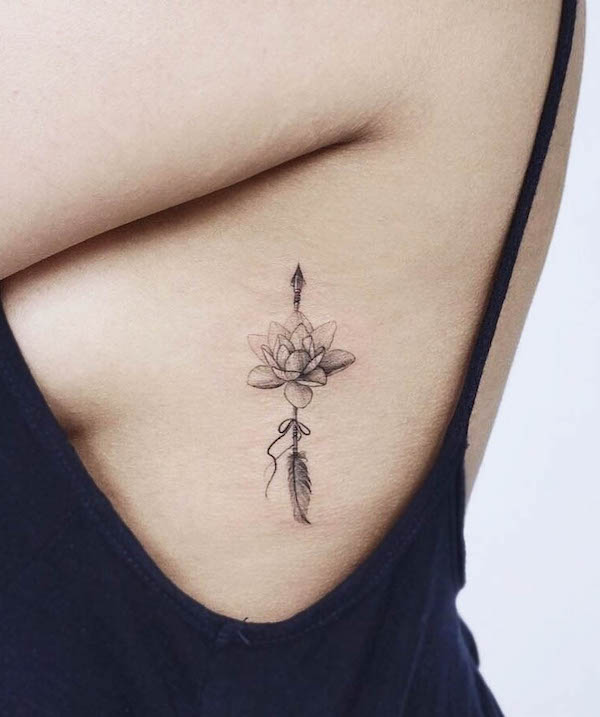 Lotus flowers hold a deep cultural significance in the East. A lotus tattoo is often associated with mindfulness and spirituality. By combining a lotus with an arrow, this rib tattoo becomes a reminder to embrace challenges with resilience and focus on one's personal growth.
Small arrow wrist tattoo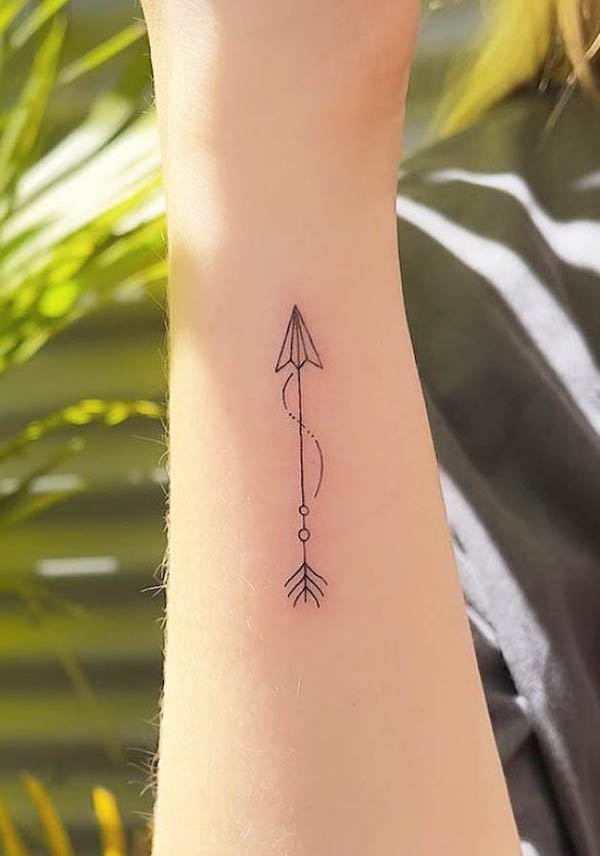 Wrist tattoos often capture attention because of the high visibility of the placement. However, a sleek fine line tattoo like this one manages to be both understated and captivating.
Hearts and arrow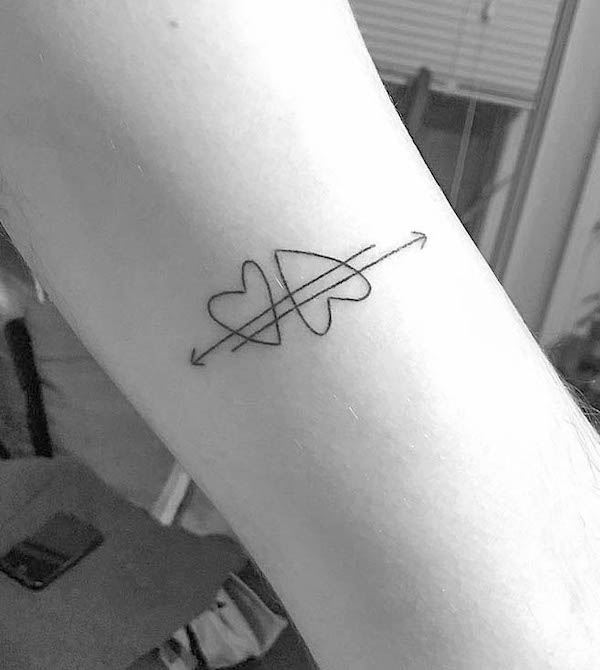 What a subtle tattoo for the romantics! With two arrows piercing straight through the hearts from opposite directions, this simple and cute tattoo celebrates a mutual and powerful connection.
Simple Sagittarius arrow tattoo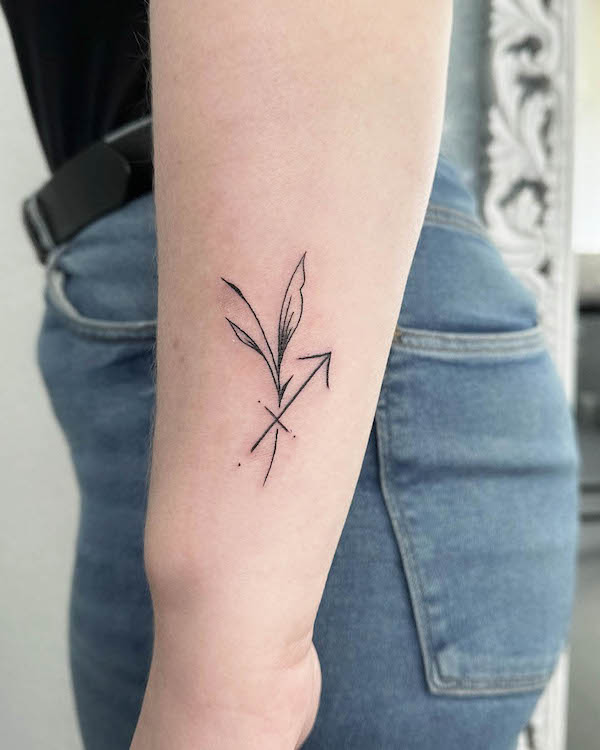 The Archer represents Sagittarius, with its glyph being a simplified bow and arrow. That's why the two elements often appear in Sagittarius tattoos. This one on the wrist combines the glyph with plants, capturing the adventurous spirit of Sagittarius but also celebrating her growth.
Matching mother-daughter arrow tattoos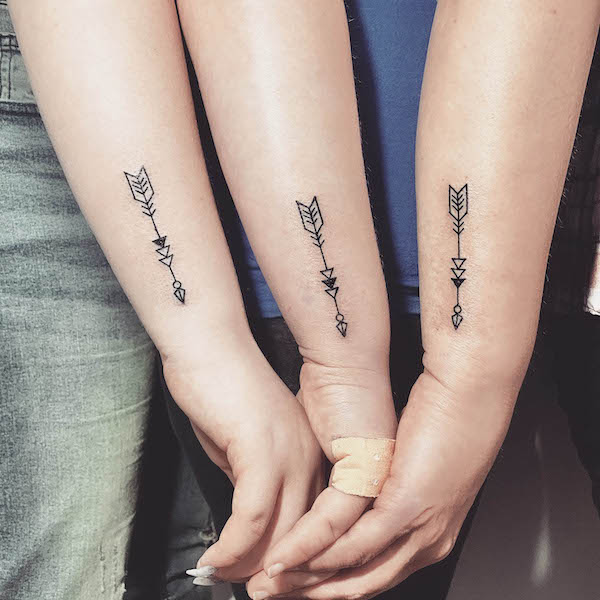 How cute are these mother-daughter tattoos? The three triangles on the shafts of the arrows represent the mother and her two beloved daughters. Together, they represent the unending love and connection that tie this family together, no matter where life's journey takes them.
Tiny arrow finger tattoos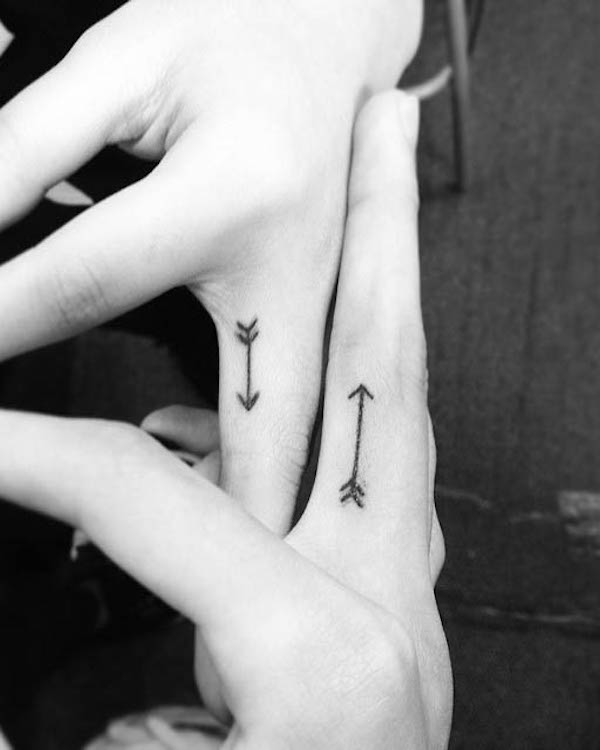 These arrows on the fingers must belong to Cupid himself! As tiny as they are, these finger tattoos not only symbolize the love between the two but also add a touch of charm and romance to the skin.
Matching bow and arrow couple tattoos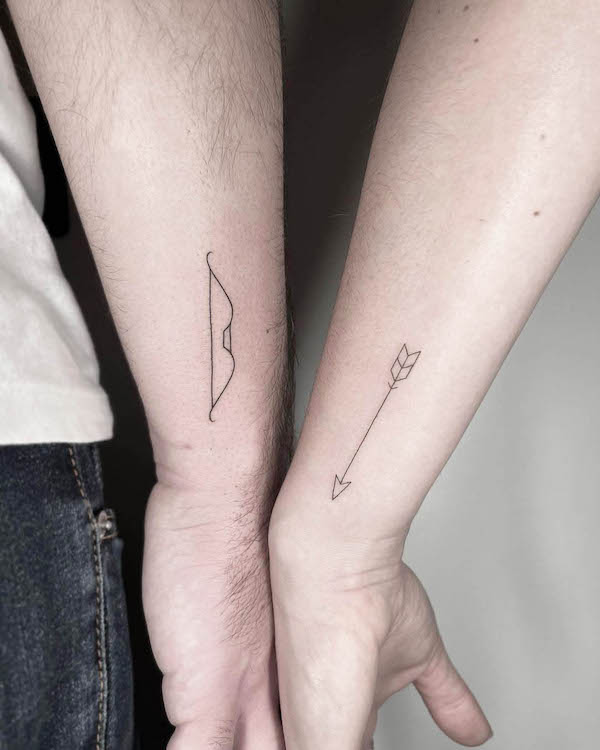 Bows and arrows are two inseparable companions, just like the hearts of a loving couple. These adorable matching tattoos capture this unique bond with a bow on one person and an arrow on the other.
Together, they form a complete set, symbolizing the idea that each person in the relationship completes the other.
Simple bow and arrow tattoo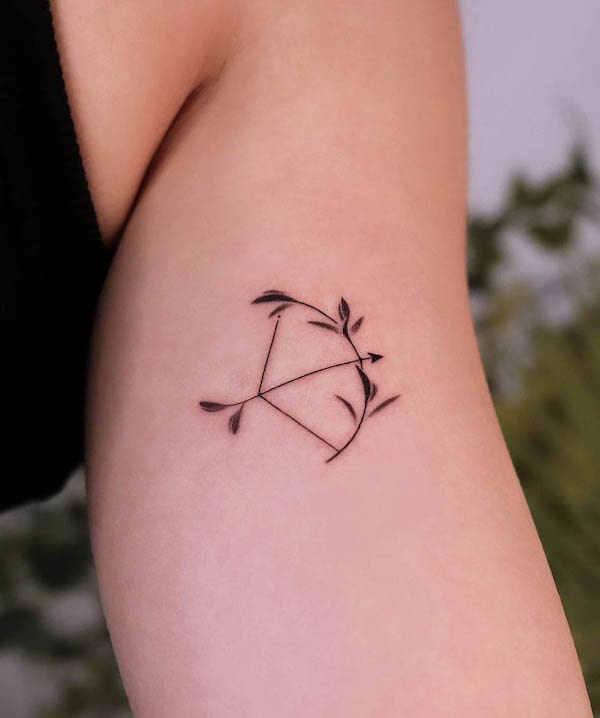 Bows and arrows might be symbols of strength and direction. But the leaves and botanical elements in this tattoo soften the whole design, adding a touch of natural beauty and balance.
Feminine bow and arrow wrist tattoo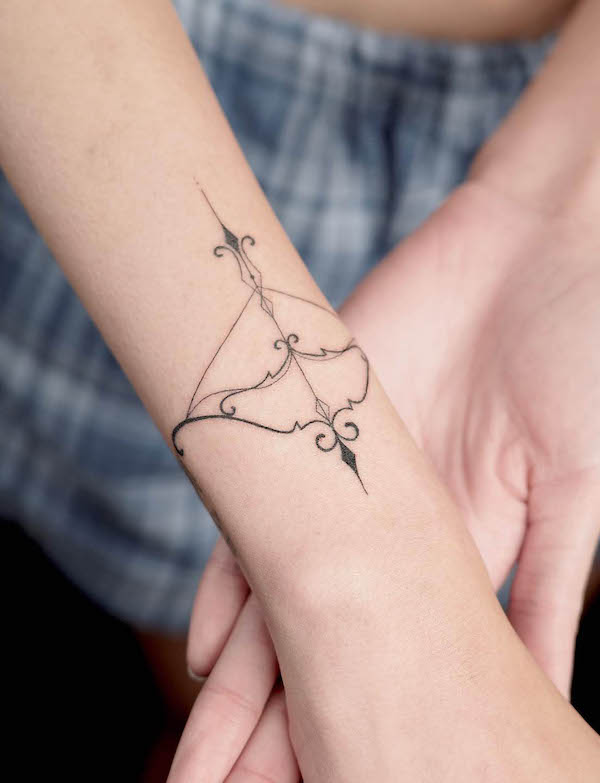 As tools for hunting and battling, bows and arrows are often depicted as masculine and powerful symbols. This one, however, presents a unique twist by beautifully blending with the wearer's femininity. With its delicate design and graceful lines, this tattoo showcases the harmony between strength and elegance.
Small bow and arrow tattoo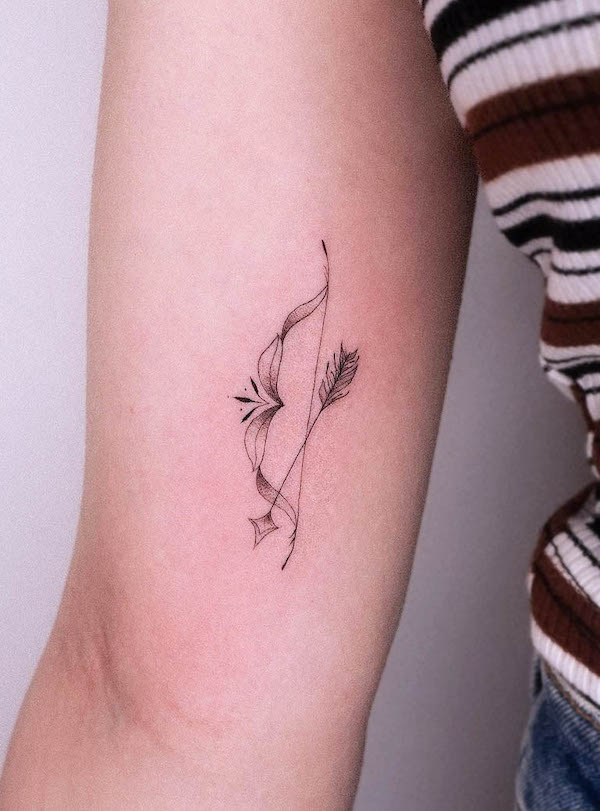 Tattooing details on such a small scale is definitely a challenge. The tattooist, however, skillfully mastered this task with attention to shading and precision.
Small broken arrow ankle tattoo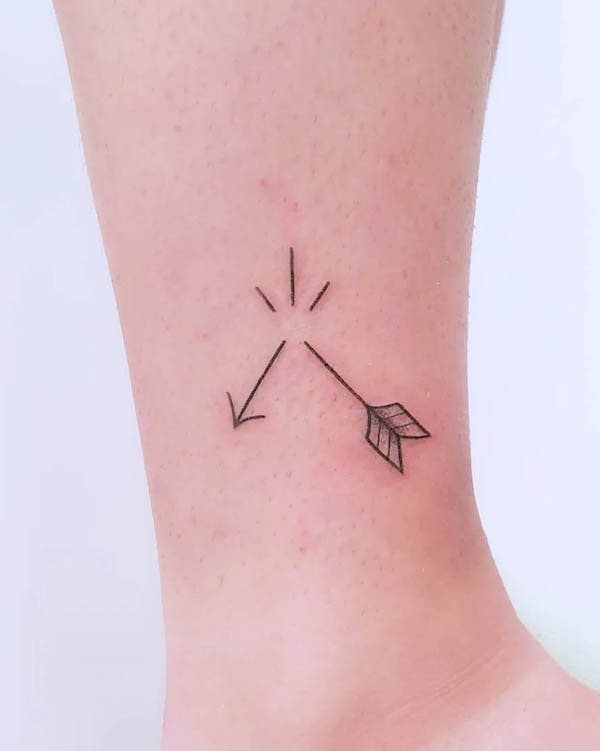 Unlike most arrow tattoos representing strength, direction, and determination, a broken arrow tattoo often carries a different meaning.
Instead of a straight path, a broken arrow tattoo can represent vulnerability, setbacks, and personal struggles. It's a reminder that hardships are unavoidable. But even when things don't go as planned, there's still room for growth and healing.
Coordinates and arrow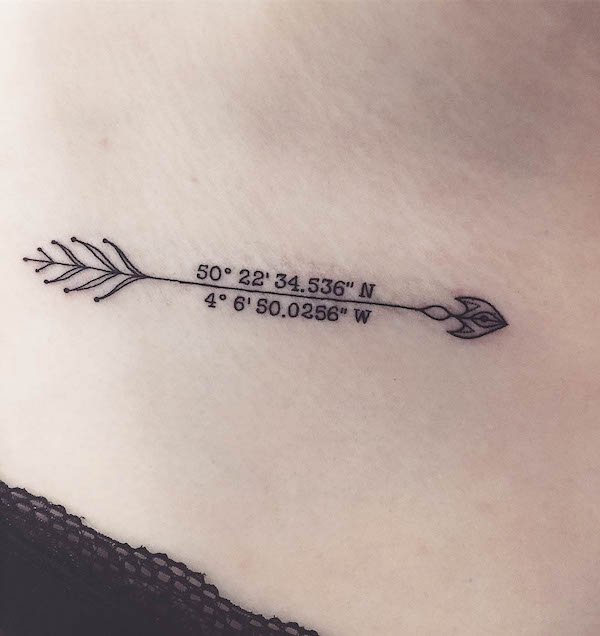 Coordinates are used to pinpoint a spot on the map. In tattoos, they often represent a meaningful location, such as one's hometown or an unforgettable destination. With the coordinates inked on the shaft, this arrow tattoo becomes a compass, guiding the wearer toward cherished memories.
Semicolon arrow tattoo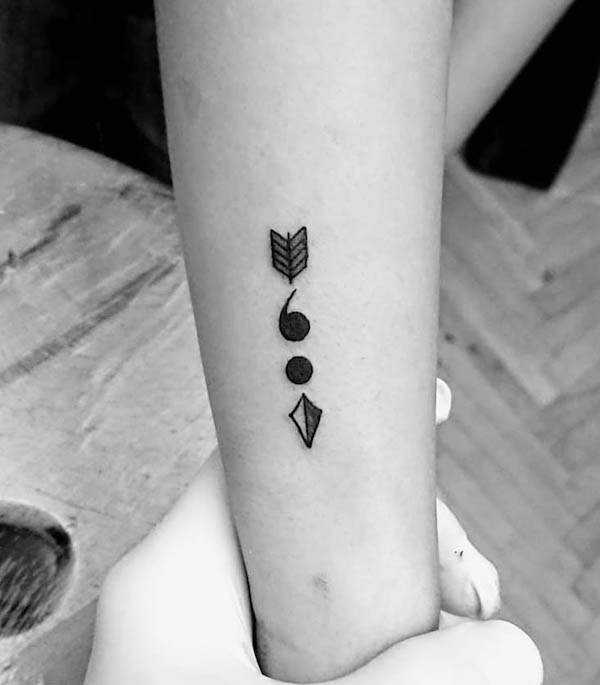 A semicolon might once be purely grammatical. But it has now become a symbol of hope for mental health illness survivors. Rather than an end, a semicolon tattoo represents the wearer's choice to continue. This tattoo incorporates an arrow with a semicolon, showcasing her determination to move forward with strength and purpose.
Three arrows tattoo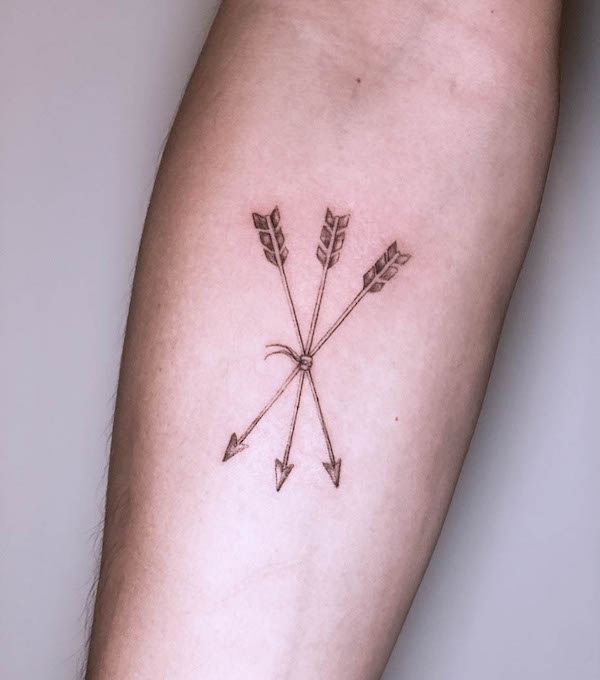 What looks like a sleek arrow tattoo for men is actually a sentimental family tattoo. The three arrows represent the wearer and his two brothers, reminding him of their unbreakable connection and support for each other.
Minimalist arrow tattoo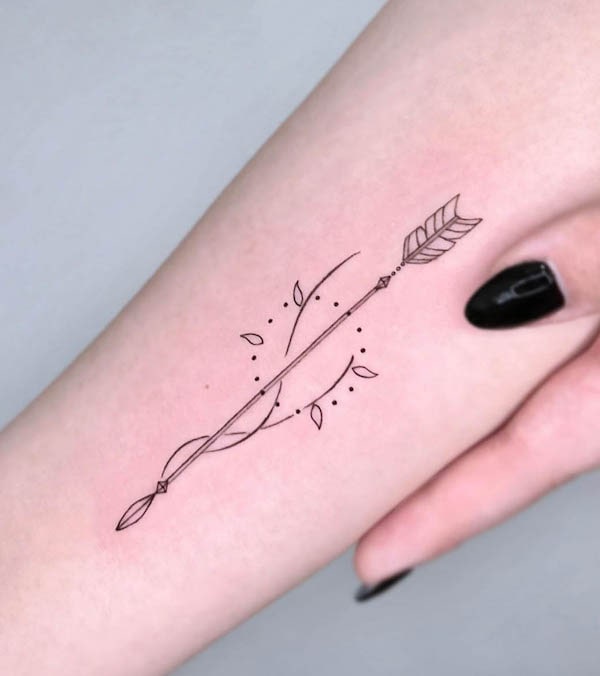 If an arrow tattoo is too simple for you, consider adding curves and dots to create a unique design like this one. These additional elements can transform a basic arrow into a piece of art that carries both style and symbolism.
Double arrows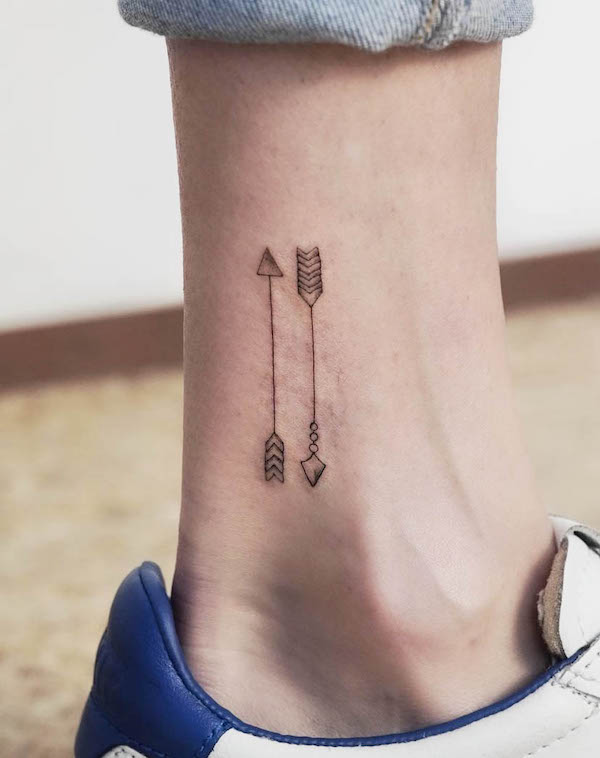 With the two arrows facing opposite directions, this ankle tattoo conveys that the past and the future are equally significant. It emphasizes the balance between reflection and progress, reminding us to honor our journey while moving into new chapters.
Arrow to the heart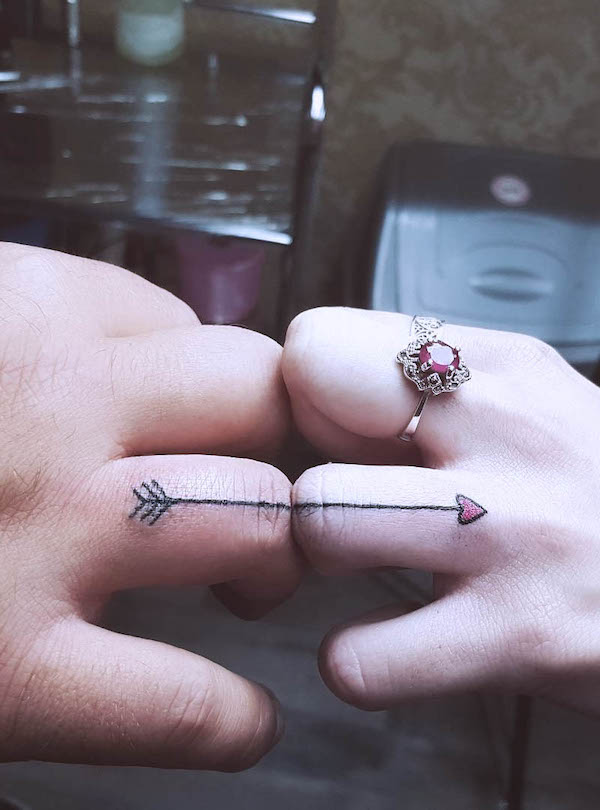 Tattoos can be a personal reminder and a lifetime promise. These connected arrow tattoos on the fingers are the latter. Linked together, they symbolize an unbreakable bond and an eternal commitment.
Arrow through the heart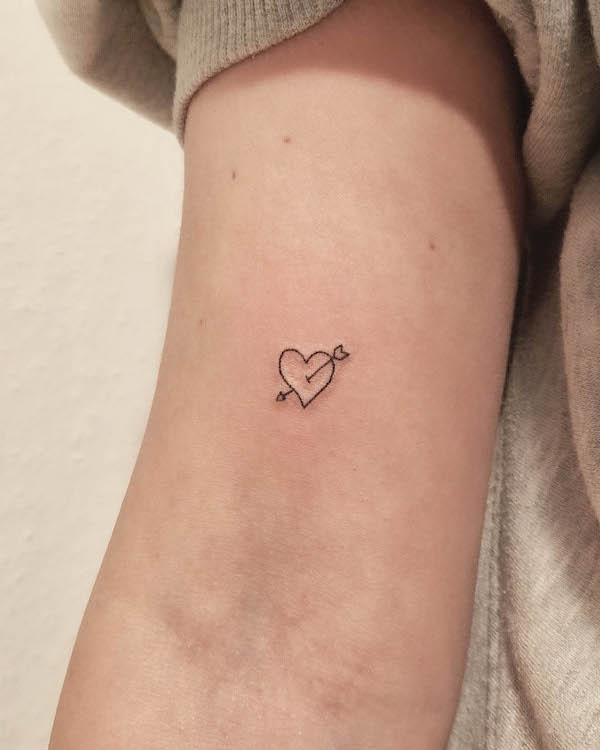 How cute is this tiny heart tattoo? As small as it is, it captures the feeling of falling in love in a subtle way. It becomes a secret symbol of love and a reminder of those fluttering emotions.
Cute small infinity arrow tattoo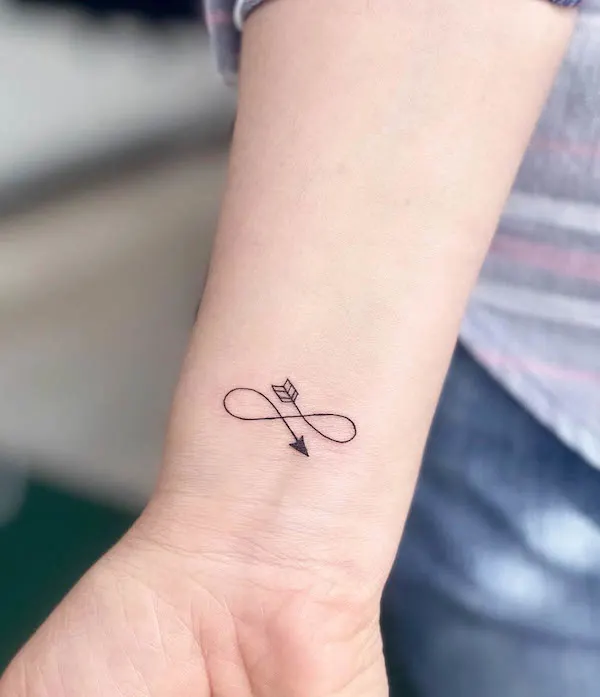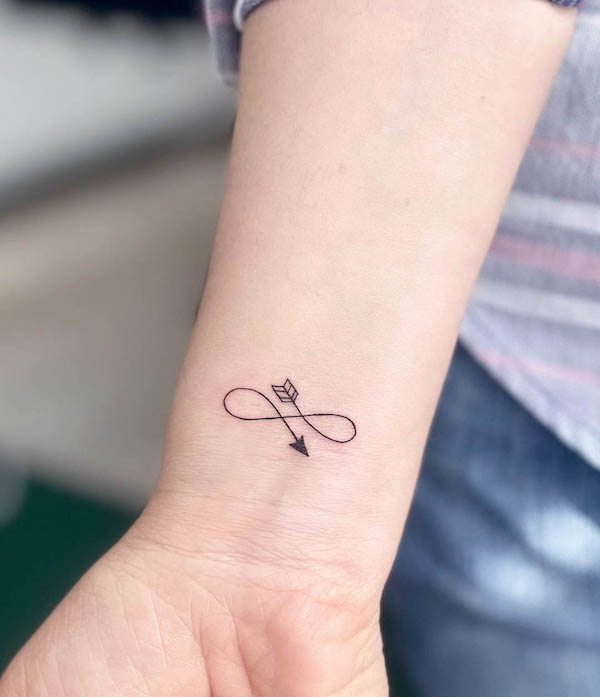 Arrow tattoos represent direction, intuition, and determination. Combining the arrow with the infinity symbol, this tattoo will be a reminder always to follow one's heart.
Infinity arrows for three sisters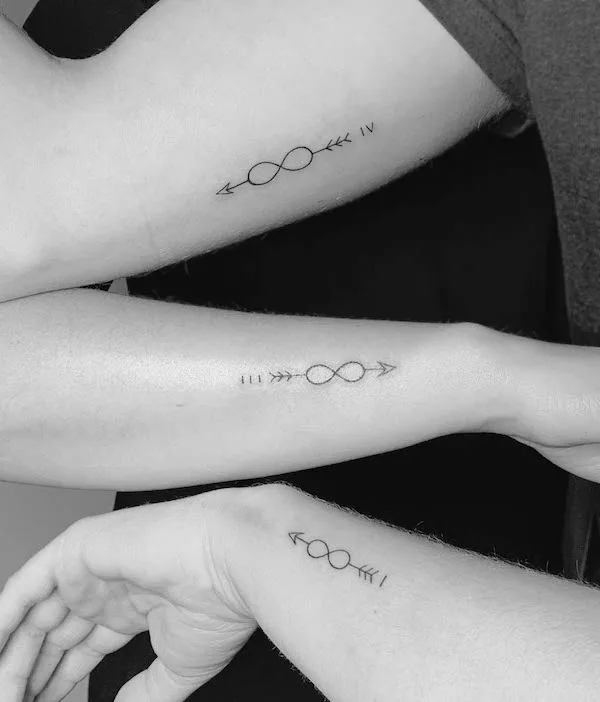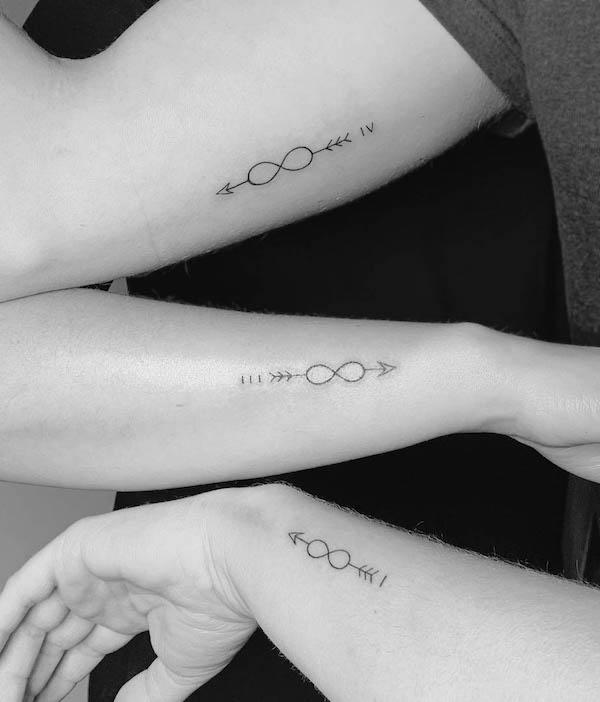 These matching sibling tattoos stand out because of the meaning behind their simplistic designs. The three fletchings represent the three sisters. And the infinity symbol adds a creative twist, signifying the unbreakable connection and their eternal love for each other.
Abstract arrow and compass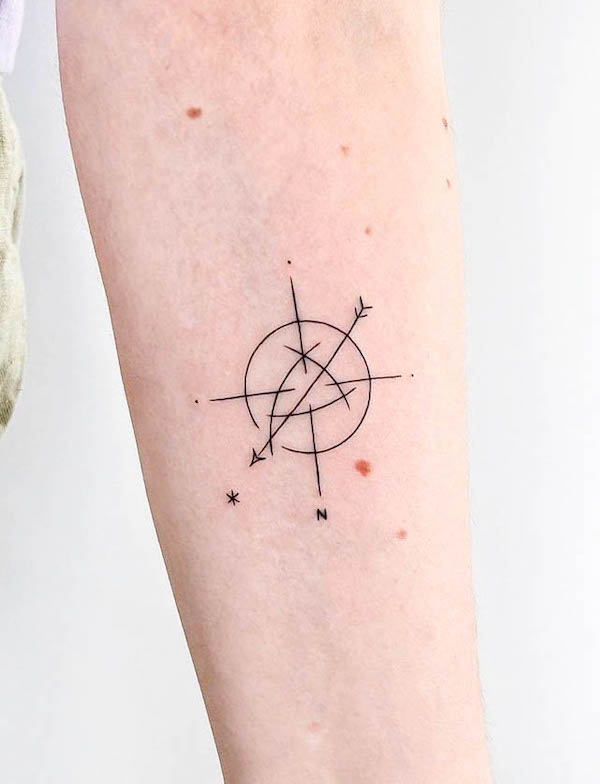 Compass tattoos often symbolize guidance and direction. This simplified version of a compass and arrow holds a unique meaning. With the arrow pointing to a star, this tattoo carries a powerful message of aiming high and staying focused on one's goals.
Unique and bold arrow tattoos
Are you ready to wear your courage and determination on the skin? Then these bold and captivating arrow tattoos are for you. From impactful colored designs to expressive blackwork, these tattoos will be an empowering testament to your strength and faith.
Feather and arrow tattoo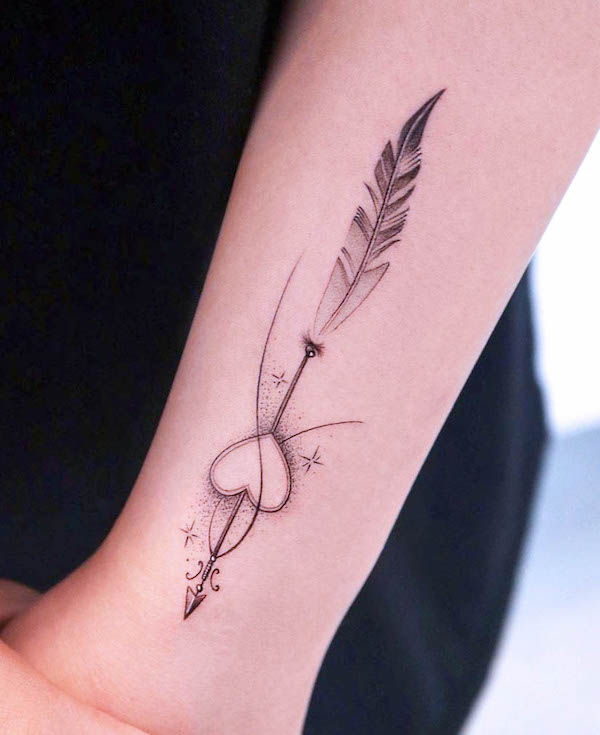 This forearm tattoo proves that black and grey tattoos can also be stunning. The detailed portrayal, the expert shading, and the use of varying shades of black all come together to create a visually captivating masterpiece.
Four seasons arrow compass tattoo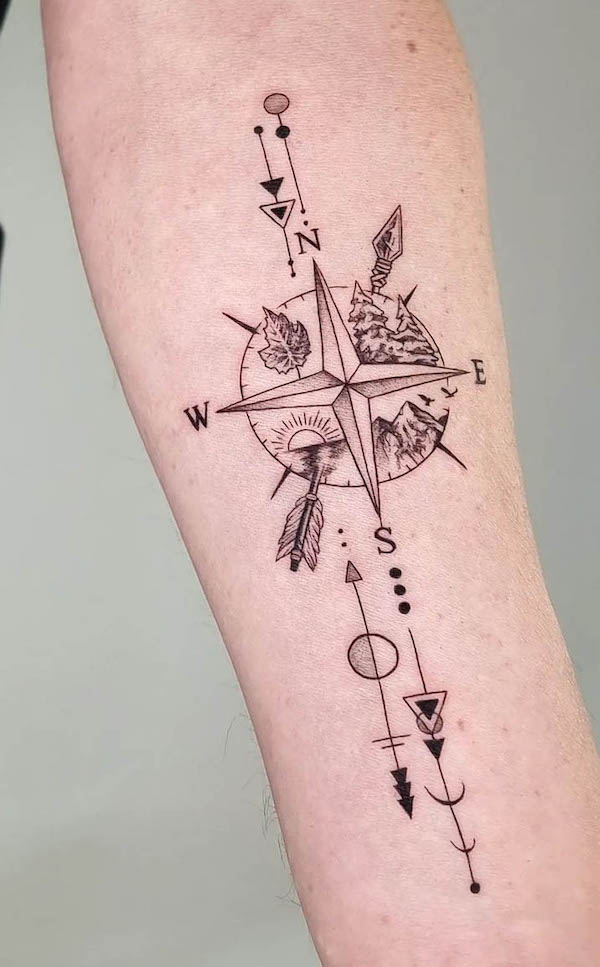 What makes this compass and arrow tattoo so unique is the addition of motifs on the compass. Each element represents a season. Together, they create a symbolic journey through the passage of time.
Symbolic compass and arrow tattoo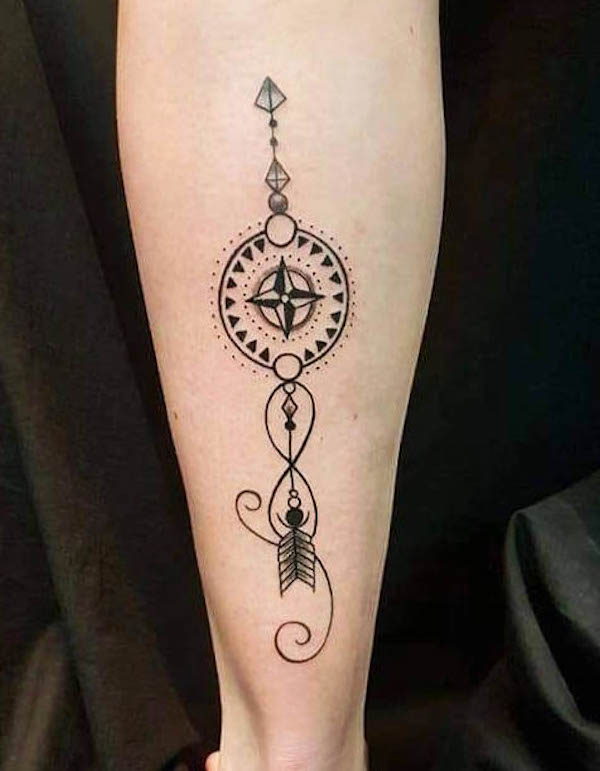 Arrowhead traditional tattoo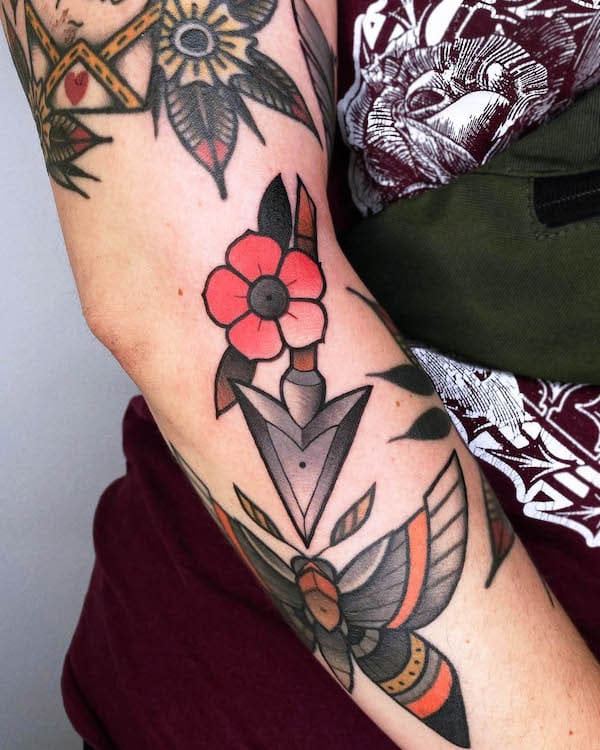 Historically, arrowheads were used as weapons, signifying power and precision. This traditional arrowhead tattoo embodies the toughness of the motif with its contrasting vibrant colors, reflecting the wearer's dynamic personality and bold spirit.
Realism snake and arrow tattoo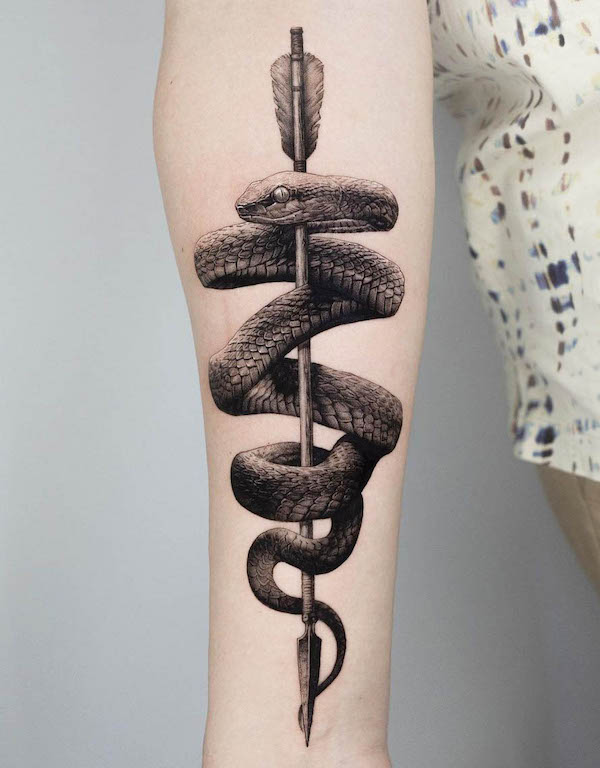 Snakes are often seen as a symbol of mystery, danger, and greed in the West. But it can also be a powerful token of transformation. With it coiling around the arrow, this stunning snake tattoo further pushes the idea. It will be a permanent reminder to keep evolving and embracing changes.
Scorpio arrow tattoo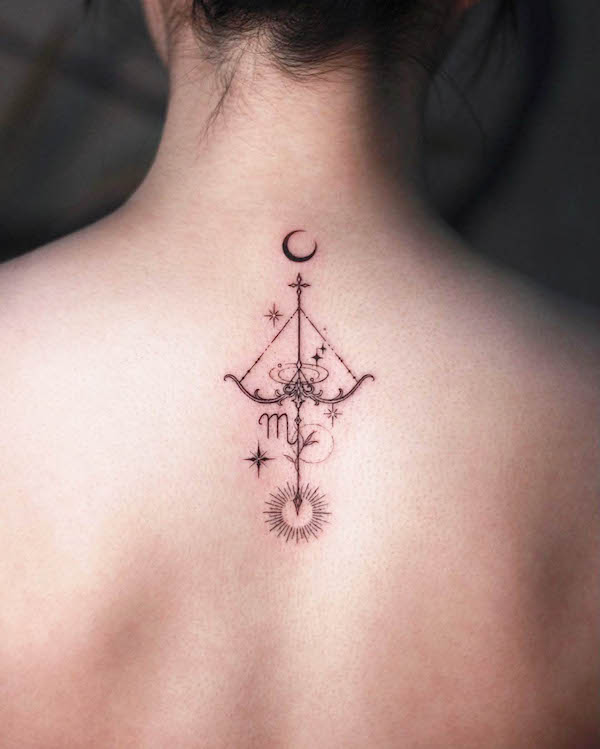 A bow and arrow are not exclusive to Sagittarius tattoos. As shown above, they can also hold significance for other signs, such as Scorpio.
The arrow, a symbol of direction and purpose, takes on a unique meaning when paired with different zodiac signs. In the case of Scorpio, known for intensity and determination, the arrow can represent the laser focus of the sign when they lock their eyes on a goal.
Geometric realism arrow tattoo
Angel wing and arrow tattoo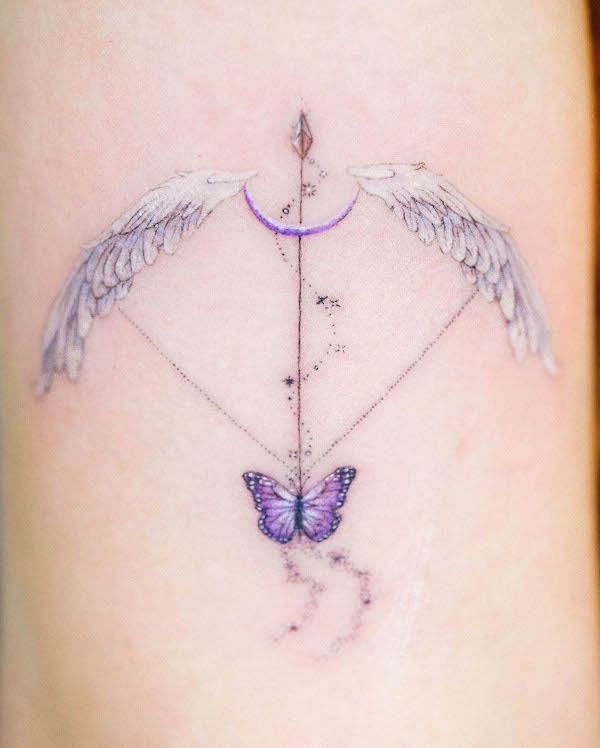 Like angel tattoos, angel wings are a symbol of guidance and purity. This intricate bow and arrow tattoo with a butterfly and a pair of angel wings weaves together the symbolisms of the elements. It will encourage the wearer to chase her dreams with an unwavering will and build resilience.
The archer Sagittarius tattoo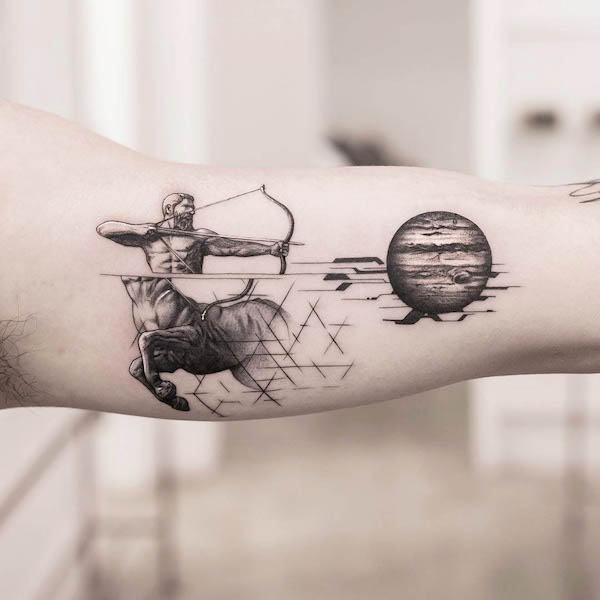 The Archer is the symbol of the Sagittarius sign, and Jupiter is its ruling planet. This bicep tattoo combines them both to create a vivid scene. With the archer shooting an arrow at Jupiter, the design captures the sign's adventurous nature and courage with ink.
Wolf and arrow tattoo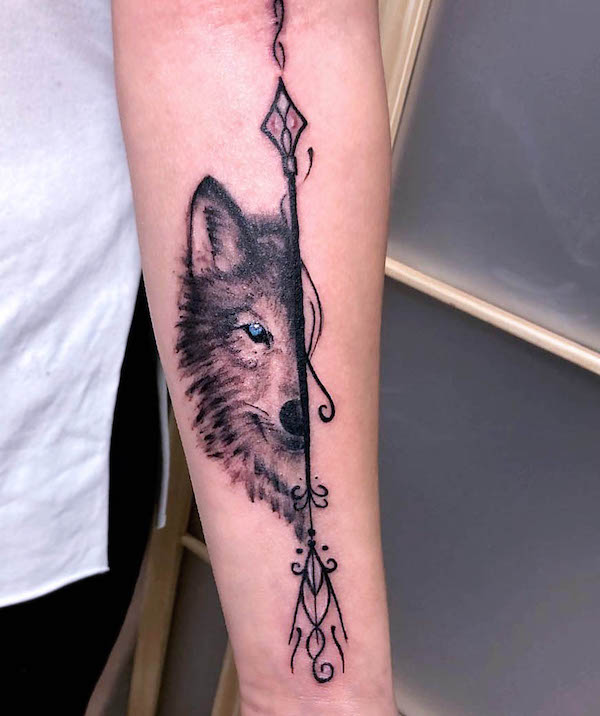 Wolves are a wild force to reckon with. This gorgeous wolf tattoo incorporates the wolf with the arrow. It not only showcases the beauty of these two elements but will also inspire the wearer to channel his inner strength.
Love yourself arrow quote tattoo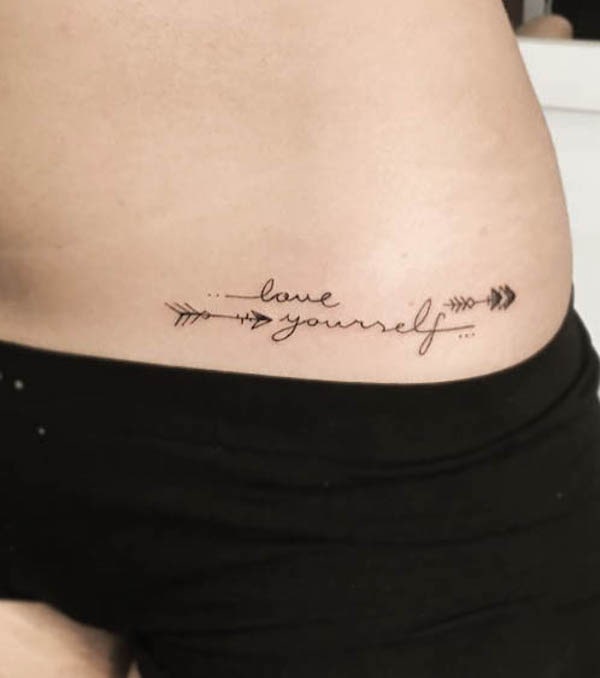 Self-love is the first and best love one can have. This inspiring self-love tattoo with two arrows expressively interprets this idea with ink. With such an intimate placement, the tattoo serves as a personal reminder of the importance of accepting and prioritizing oneself.
Geometric arrow tattoo
Geometric tattoos are so loved because of their structured aesthetics. This arrow tattoo with a geometric backdrop is no exception. The clean lines and precise shapes not only enhance the arrow's symbolism of direction and focus but also add a modern and artistic touch.
Tulip arrow tattoo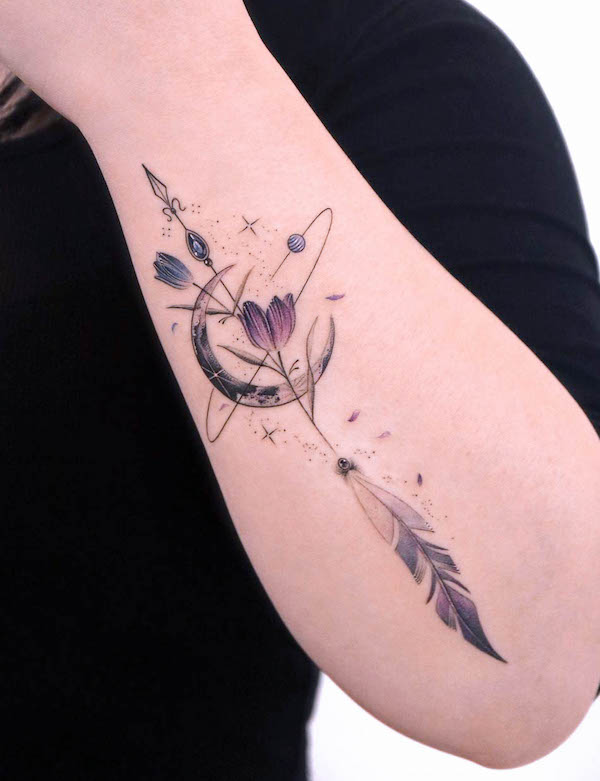 As the birth flower of April, tulips represent renewal and a fresh start. The moon symbolizes changes and life cycles, and the arrow signifies the courage to move forward.
Together, these elements send a powerful message of embracing new beginnings, staying in tune with natural rhythms, and carrying on despite challenges.
Cancer zodiac sign arrow tattoo
The sun and the moon might seem like two celestial bodies that are never seen together. However, this geometric fine-line tattoo brings them into harmony, representing opposing forces in unity. The Cancer glyph on the sun adds a personal touch, unveiling a connection to the wearer's astrological sign.
Sword and arrow tattoo
With creativity and a little imagination, a tattoo can go beyond the realm of ink and become a scene from a fantasy. This ink on the forearm is a good example. The open book of mantras, the arrow, and the dragon flying around the sword all transport the viewers to a world of witchcraft and magic.
Antique arrow tattoo
From afar, this tattoo looks like a piece of jewelry rather than just an arrow. Despite the absence of colors, the gemstones still radiate a captivating shine and add a touch of elegance to the design.
Geometric arrow thigh tattoo
Unlike most arrow tattoos, where all elements are connected with the shaft, this thigh tattoo plays with separation. The arrowhead, shaft, and fletchings are all aligned and in different shapes and colors, creating a sophisticated and intriguing composition.
Matching lion arrow tattoos
Lion and lioness, a power couple. These matching lion tattoos are not just a symbol of strength but also a representation of a deep bond.
Broken arrow traditional tattoo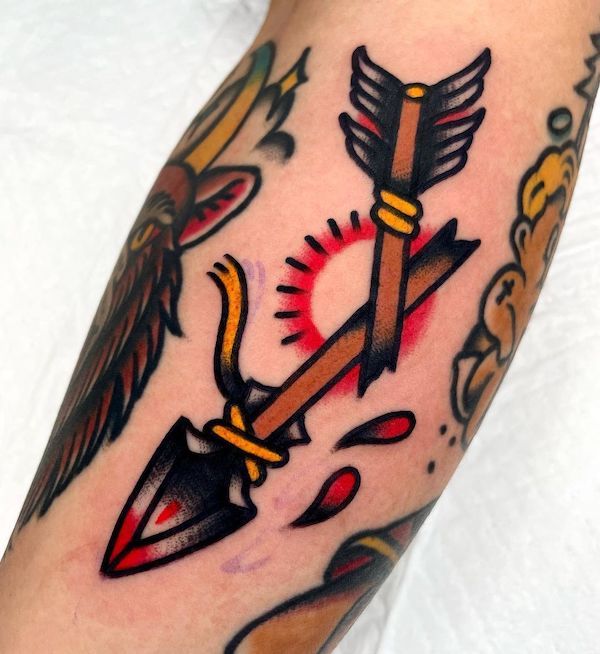 Simple crossed arrow tattoo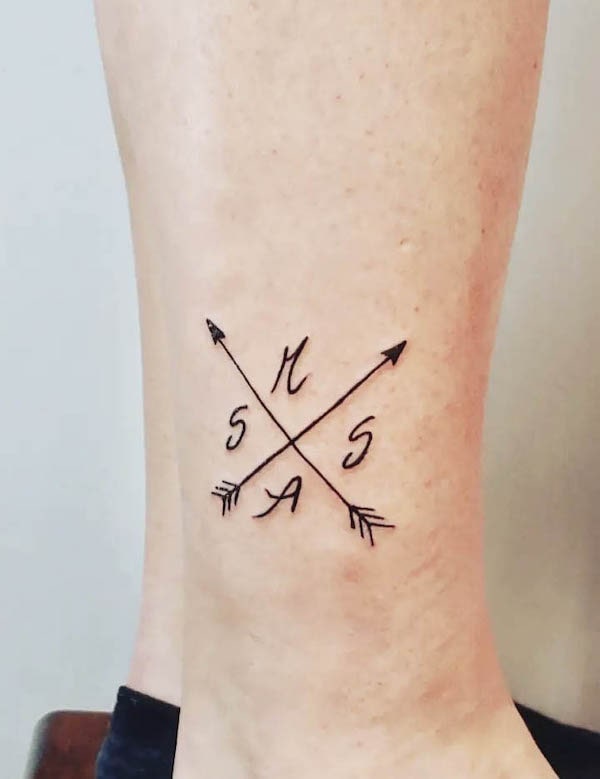 What a creative way to express love for one's family with an arrow symbol. By placing the initials of every family member around the arrow, this tattoo becomes a unique and heartfelt tribute to the bond of the family.
Whimsical watercolor arrow tattoo
Is this a tree or an arrow? The tattooist creates a beautiful illusion by adding blooming flowers to the nock, which merges the concepts of growth and direction and captures the viewers' attention at first sight.
Three arrow arm tattoo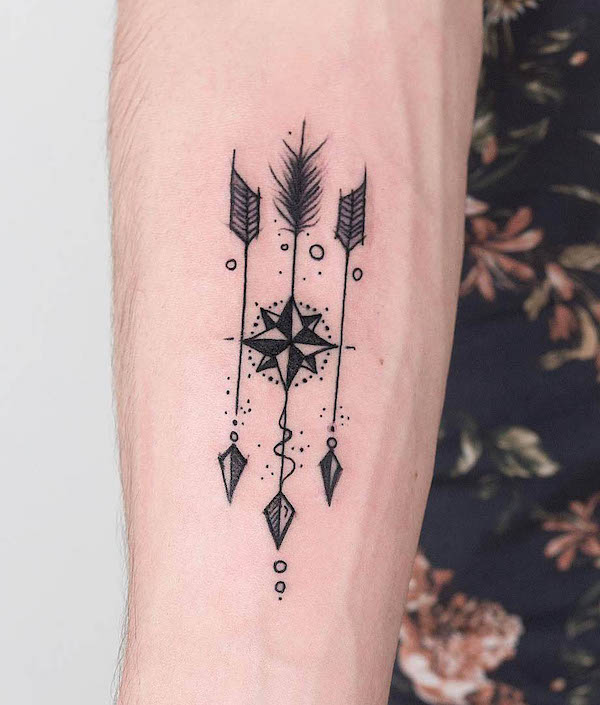 Arrow moon and star tattoo
Stars represent our dreams and goals. Thus star tattoos are often a visual encouragement to aim high and dream big. The moon and the arrow, on the other hand, signify intuition and determination. Together, this captivating tattoo will inspire the wearer to pursue her dreams and trust her instincts.
Medusa arrow hand tattoo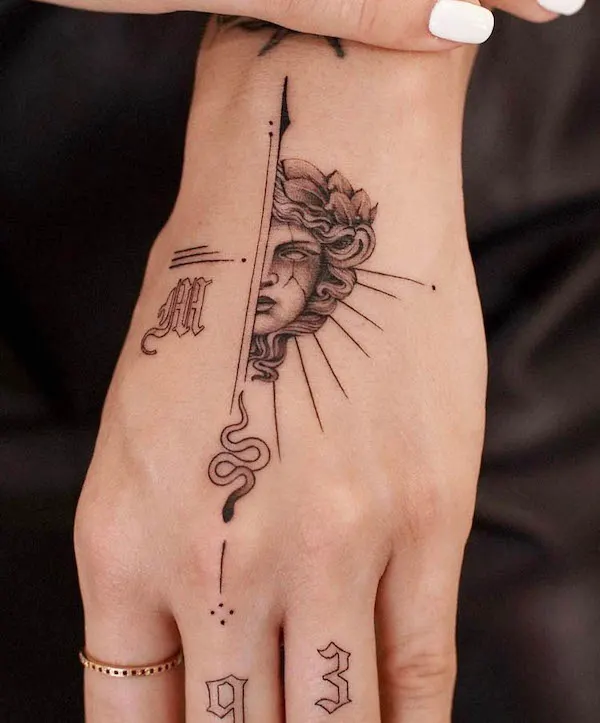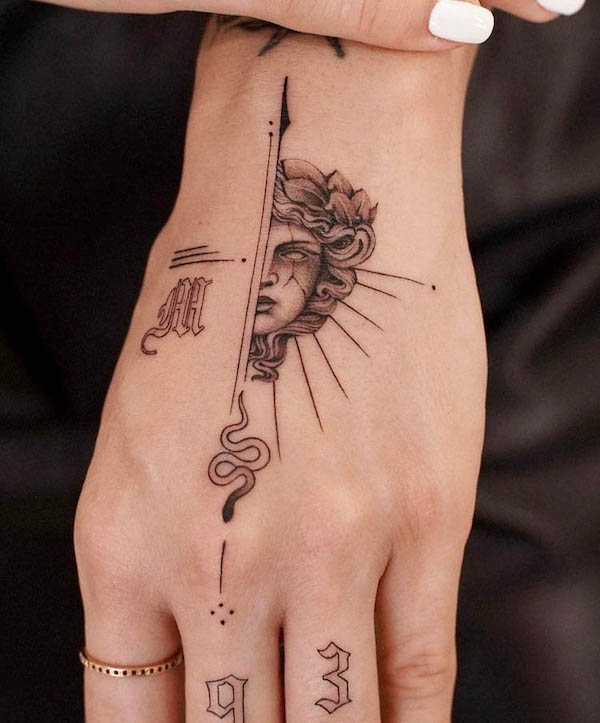 Medusa is one of, if not the most recognized femme fatale in mythologies. This Medusa tattoo on the hand features a Medusa statue, an arrow, and a snake, creating an alluring yet dangerous narrative.
With an intricate hand tattoo like this, the wearer will carry a piece of lethal attraction and complexity wherever she goes.
Creative arrow tattoo ideas
So far, we've explored some of the finest arrow tattoos online. However, if you're seeking something distinct, original, and impactful, the following list is tailored for you. These tattoos offer a creative twist that sets them apart.
Whether it's through innovative composition or a fresh perspective on traditional imagery, these tattoos are bound to impress.
Butterfly arrow rib tattoo
If you're seeking sophisticated and feminine designs, this one is tailored for you. By elegantly adorning the bow and arrow with butterflies, leaves, and flowers, this tattoo creates a harmonious blend of strength and grace.
Water and arrow tattoo
Water and arrows might seem to be two irrelevant elements. But with the flowing water intertwined with the arrow, this creative tattoo elegantly conveys a message of resilience and strength.
Just as water finds its way around obstacles, the arrow seeks its path toward its target. This water tattoo serves as a reminder to navigate life's challenges with flexibility and determination.
Arrow and shark
This shark tattoo takes us back to the original purpose of an arrow as a weapon. By depicting the shark being shot by multiple arrows, this tattoo demonstrates the cruelty of human impact on the natural world. The arrows can also represent the personal struggles the wearer has gone through in his life.
Cat arrow lunar tattoo
What makes this cat tattoo unique is not just the watercolors and the stars. The tattooist brilliantly transforms the crescent moon into the shape of a bow, making it a subtle representation of femininity and goal-driven personality.
Ouroboros arrow tattoo
Ouroboros tattoos, or those featuring a snake biting its tail, are often associated with cycles, eternity, and the interconnectedness of life. By ingeniously combining the arrow and the ouroboros motif, this tattoo reminds us that we are always connected to our roots, even when moving forward.
Bold blackwork arrow tattoo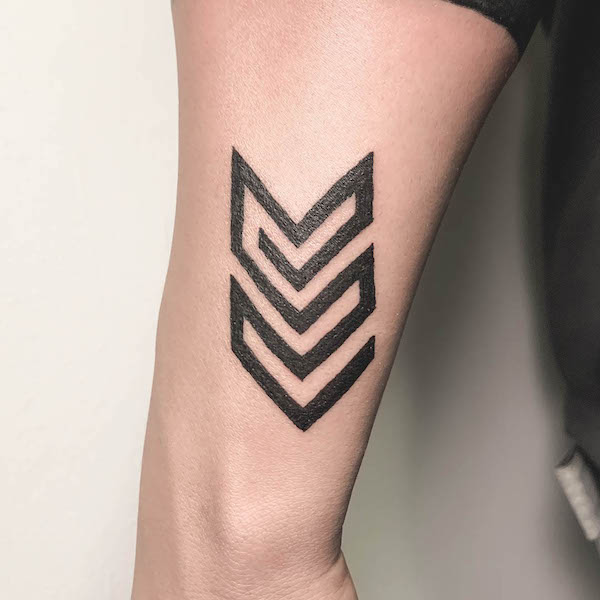 This symbolic arrowhead tattoo might not be everyone's choice. Its strong black lines and size make it a noticeable and bold design, reflecting the wearer's strength and purpose.
Yin and yang arrow tattoo
Yin and yang is a philosophical idea originating in the East. It stands for the balance between opposite forces, like light and dark, and feminine and masculine energies. With the addition of an arrow, this yin and yang tattoo sheds light on the importance of finding balance in pursuing one's goals.
Broken masks arrow tattoo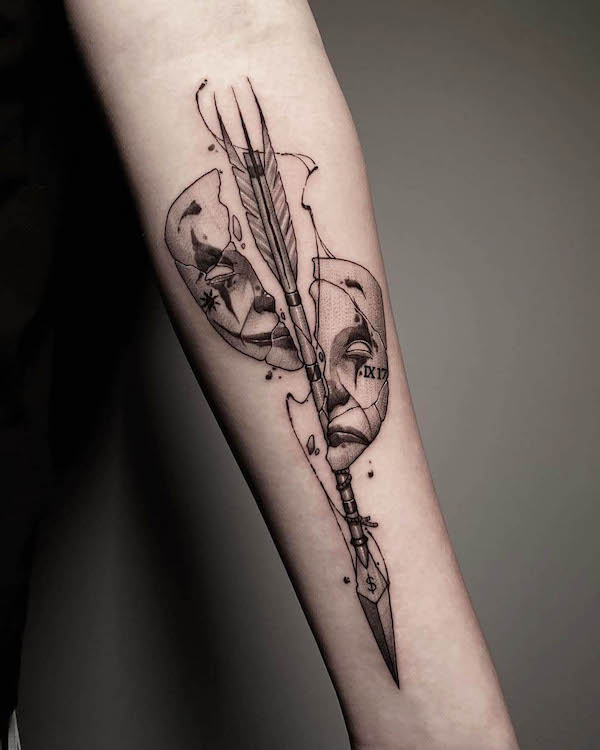 If the masks represent the fake personas people put on, the arrow that pierces through the masks will symbolize authenticity and truth. As a metaphor for honesty, the arrow in this tattoo cuts through the facades and allows the real identity to shine.
Bear and arrow tattoo
Want to incorporate your spirit animal in your ink? This bear tattoo may give you some idea. Bears are symbols of strength and protection. These qualities make bears relatable to many. The three arrows in this tattoo represent the wearer's family, adding a personal significance to the design.
Sun and arrow tattoo
In Chinese mythology, there were originally nine suns in the sky, scorching the land. It was not until Hou Yi, Lord Archer, shot down eight of them that the people were saved from drought. This tattoo revives the mythology. By depicting an arrow piercing through the sun, it symbolizes the heroic act of Hou Yi and encapsulates a tale of sacrifice.
Small arrow heartbeat tattoo
What looks like a simple design is actually a small meaningful tattoo. Instead of using a straight line as the shaft, the tattooist adds the isoelectric lines of an ECG, resembling a heart's rhythm. This subtle addition transforms the arrow into a symbol of life, adding a deeper significance to the design.
Blue arrow stroke tattoo
While most arrows in a tattoo are depicted with straight lines, this free-hand tattoo brings a distinctive and organic beauty to the design. It goes beyond the rigid precision of traditional arrow tattoos, exuding dynamic energy and a sense of power.
Floral arrow tattoo for women
This one isn't just a bow and arrow; it's also a dose of positivity. The bow is adorned with exquisite flowers, and amidst them, the vibrant sunflowers shine.
Sunflowers are known to symbolize joy, optimism, and positivity. By combining them with the arrow, this tattoo radiates positive and cheery energy.
Arrow and motorcycle engine
What an intricate tattoo that captures one's passion and determination perfectly. The motorcycle engine symbolizes a deep passion for the open road. The arrows, on the other hand, represent the drive and focus. Together, this arrow tattoo for men forms a powerful statement about the unwavering will to pursue one's passions.
Arrow through the heart
Compared to a heart shape, the anatomical heart has more details, revealing the intricate structure. With the arrow piercing through the anatomical heart, this tattoo reminds us that a traumatized soul can heal and grow stronger.
Fibonacci arrow tattoo
Fibonacci, also known as the Golden Ratio, often represents balance and harmony in nature. This watercolor tattoo artfully combines an arrow with the Fibonacci spiral, creating a harmonious yet unique masterpiece.
Arrow to the heart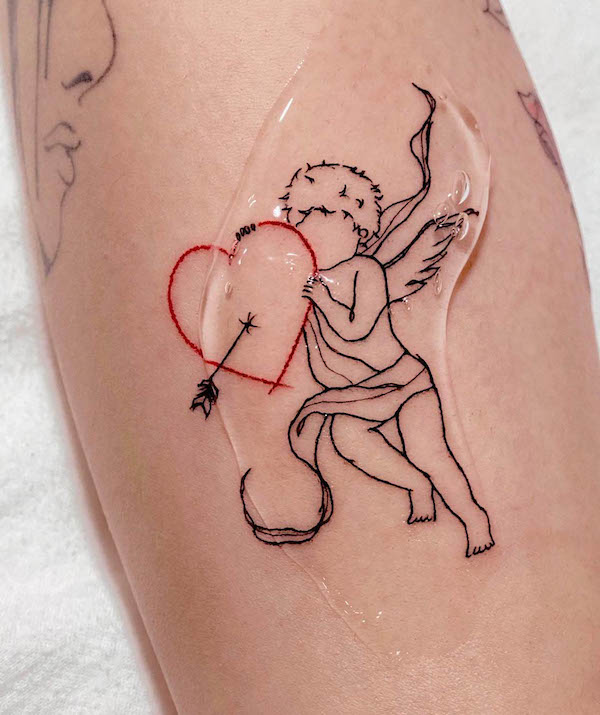 What a cute twist to a Cupid tattoo. Instead of shooting arrows, Cupid is holding a heart with an arrow to it, revealing the playful side of the wearer's personality.
Name and arrow feather tattoo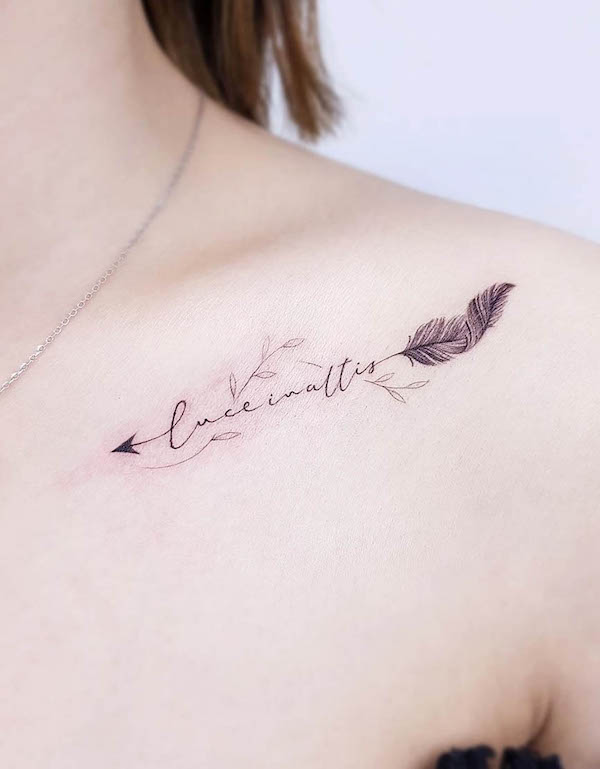 Arrow tattoos represent strength and direction. By incorporating the wearer's name with the arrow, this collarbone tattoo takes on a personal meaning and reminds the wearer of her purpose.
Tree and arrow neck tattoo for women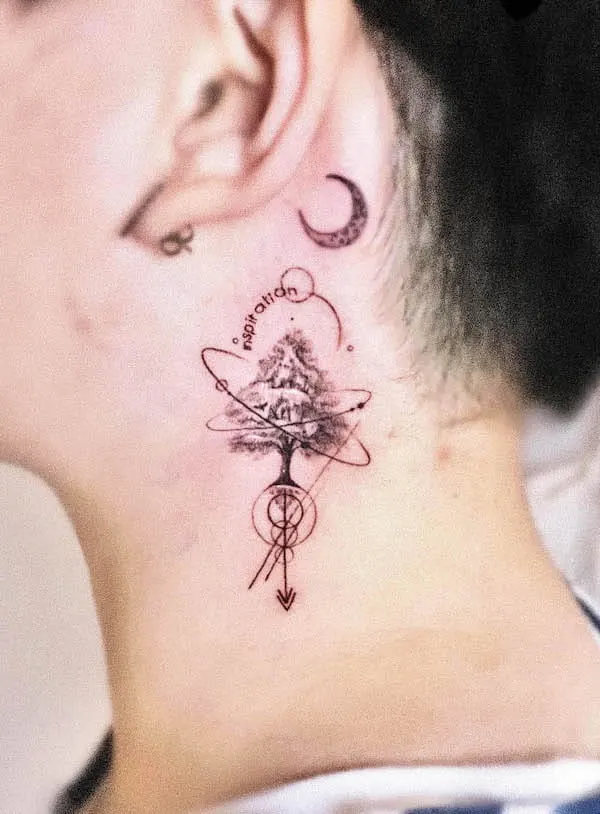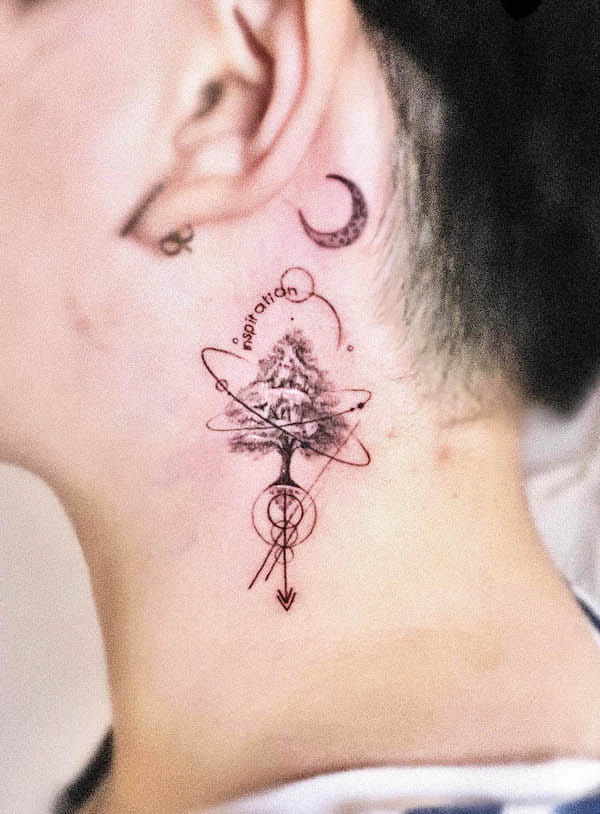 It's always risky to tattoo something as intricate as this one on a small scale. It requires a high level of execution. But this behind-the-ear tattoo is worth the effort.
Chihiro and Haku sleeve tattoo
From afar, this Spirited Away tattoo might look symmetrical. But indeed, it's the elements' position that gives it balance.
Dragon with an arrow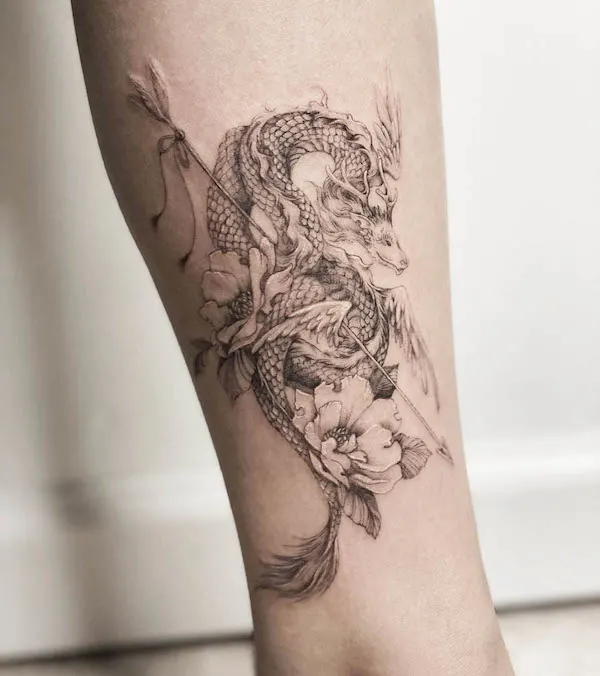 Do you have a spirit animal? With the dragon holding an arrow, this dragon tattoo sets an excellent example of combining your favorite animal with your zodiac sign.
Which of these arrow tattoos is your favorite?
Leave your thoughts in the comment down below!