The ankle is a subtle placement to complement one's femininity. And these ankle tattoos for women will inspire your next ink.
Ankle tattoos have been trending recently. And the love for them only grows with time. And it does for a reason.
Unlike wrist or neck tattoos, ankle tattoos are more subtle. Because the ankle is below eye level, they are not as noticeable as tattoos on other placements.
But subtle doesn't mean discreet. The ankle is not often covered like the thigh, giving it medium exposure. So if you want something delicate, intimate, and low-key to show off your aesthetics, the ankle is a perfect area to tattoo.
While you can be as bold as you wish with tattoos, ankle tattoos for women are often more elegant and intricate than those for men. Whichever style it is, these tattoos accentuate the feminine and beautiful side of women.
So whether you want a bold statement piece or a delicate decoration, these ankle tattoos for women will help you decide on your next ink. From small to bold, simple to intricate, you will find something elegant and stunning in this post.
Disclaimer: This collection of ankle tattoos for women is for inspiration only. Please do not copy the artwork. If you love these tattoos, follow artists and show them some support.
Disclaimer: This collection of ankle tattoos for women is for inspiration only. Please do not copy the artwork. If you love these tattoos, follow artists and show them some support.
Gorgeous ankle tattoos for women
Small simple ankle tattoos for women
Ink on the ankle is not as eye-catching as tattoos on the hand or other placements. So if you want to keep a low profile, the ankle gives you the limited exposure you need.
On top of that, you can choose something minimalistic and small to make it even more subtle. But that doesn't mean your ink will be monotoned. Below is a list of simple ankle tattoos for women that take both the look and meaning into consideration.
Small cherry blossom ankle tattoo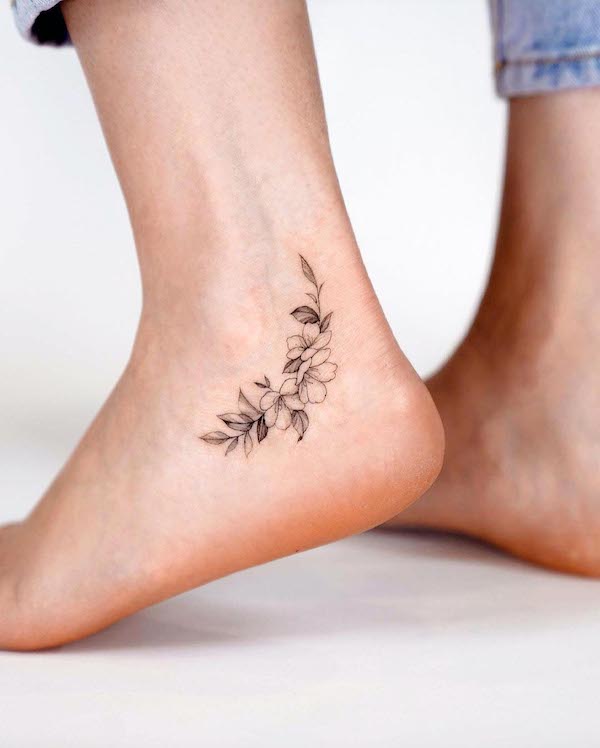 Like the flowers, each kind of flower tattoos has a different meaning. Cherry blossom tattoos, just like this one on the ankle, are often reminders to cherish every second of life. Although the flowers are short-lived, such a dainty simple tattoo will never go out of style.
Golden waves
Waves are often seen in tattoos about rebirth and new beginnings. They constantly hit the shore, giving the coastline its new shape.
What makes these best friend tattoos on the ankle stand out is the golden edges. They add fantasy and make them perfect for the imaginatives.
Small semicolon ankle tattoo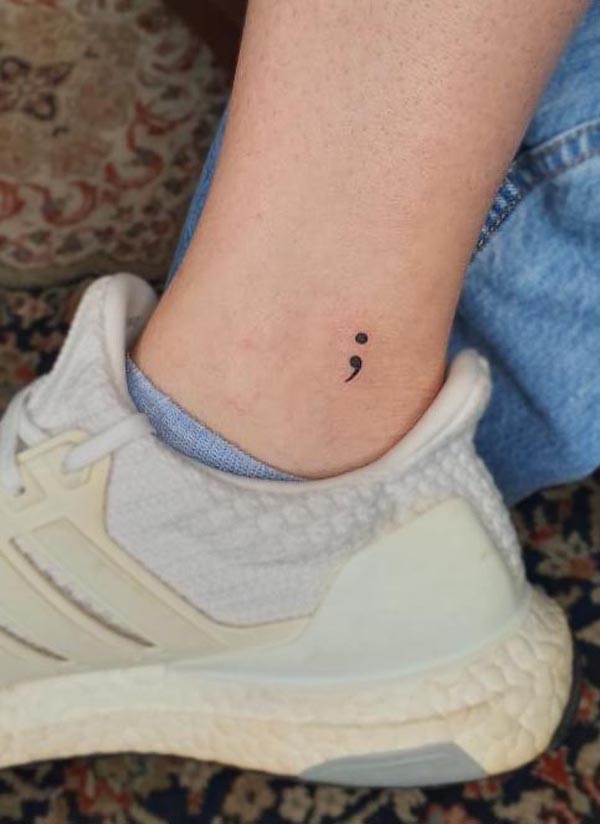 A semicolon is a punctuation mark connecting two parts of a sentence. And semicolon tattoos symbolize a life to be continued. They represent the strength to move forward, raising awareness of mental health problems. Although this tattoo is small, the message it sends is empowering.
Cut animal tattoos at the back of ankles
A pair of animal tattoos like these are a cute addition to the skin. You can also change them into a simplified version of your pets and make them more personal.
Minimalist stars ankle tattoo
This ankle tattoo for women is a great example of minimalistic designs that shine. It's also perfect for first-timers as it takes less time to complete and is thus more affordable.
Double fish ankle tattoo
Double fish often appear as a major motif in Pisces tattoos. But this tattoo created by tattooist Eunyu actually represents day and night. It would belong to someone who values the yin and yang balance in life.
Floral mother-daughter tattoos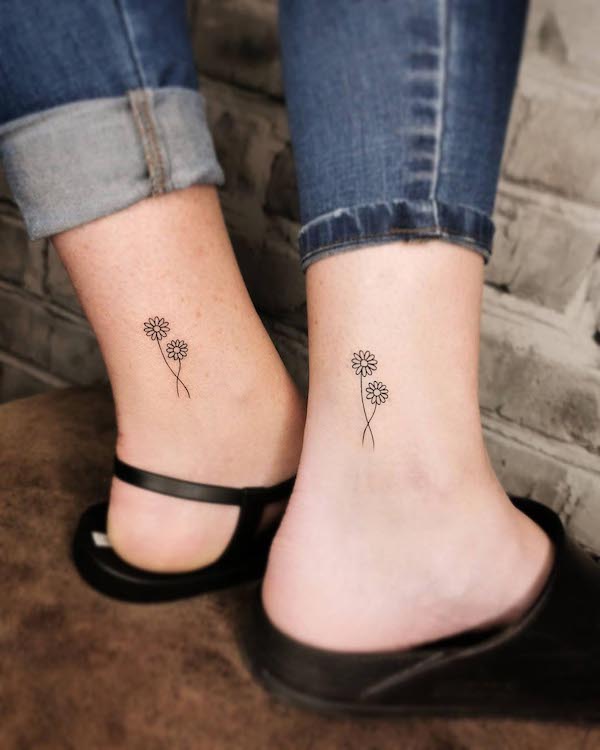 Instead of matching initials, these cute ankle tattoos pay tribute to motherly love in a subtle way. The two flowers refer to the mother and daughter. And the way they intertwine shows how close they are.
Read also: 67 heart-warming mother-daughter tattoos
Simple lotus ankle tattoo
A good tattoo brings energy to the wearer. For example, the lotus flower symbolizes zen and calmness in Buddhism. And with such a simple, elegant design, the tattoo will help the wearer stay grounded in life.
You decide
This quote tattoo is a simple one with deep meaning. It has a sad face and a smiley face connected. It reminds us that everything has two sides, and happiness is a choice.
Read also: 32 Heart-wrenching sad tattoos
A pair of paws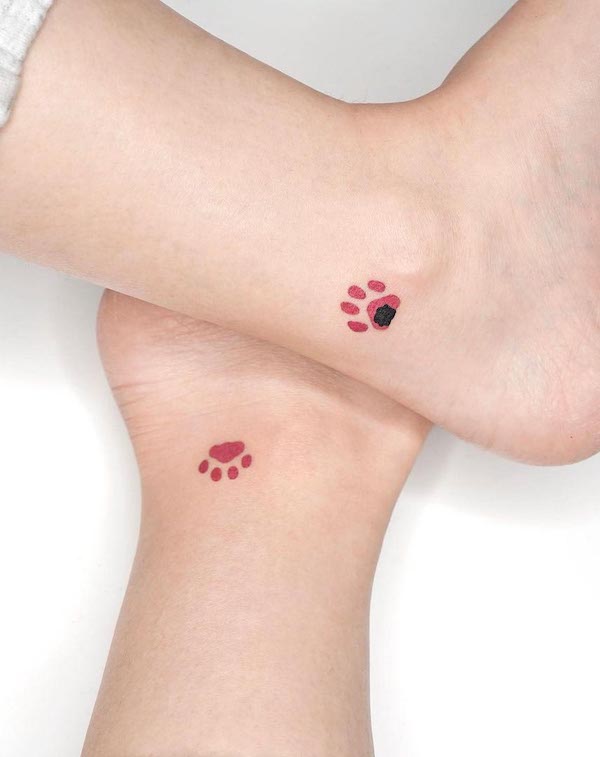 Dogs are part of the family. Such cute paws will make perfect family tattoos, representing the shared love for their family member.
Small mountain tattoo on the ankle
Mountains represent nature, an adventurous spirit, and the determination to conquer the summit. If you love to challenge yourself or are always on the way to your next destination, this travel tattoo is for you.
Tiny No Face
No Face is a character in the Japanese anime Spirited Away. In the manga, No Face is a seemingly terrifying role but with a gentle heart. This contradiction makes him one of the most loved cartoon characters.
Small paper boat
Have you folded a paper boat and sent it away on water? Just like paper planes, the paper boat is a motif that recalls our childhood memories. It is also a positive tattoo because it symbolizes a beautiful journey into the unknown.
Simple moon and flower ankle tattoo
We have a glimpse of someone's personality through her tattoos. And this small, sleek one will belong to a girl with a soft heart who values simplicity.
Simple small bird tattoo
In general, bird tattoos reflect the wearers' pursuit of freedom. But besides the symbolism, they are also loved because of the natural movements, just like this.
Small jellyfish ankle tattoo
Jellyfish may be tiny. But they play a huge role in the ocean biosystem. A jellyfish tattoo like this one inspires us to see our value and discover our bright spots.
Cute small rainbow flower
This cute rainbow flower not only reflects the tattoo owner's girly aesthetics. But, like many rainbow tattoos out there, the color palette also shows her value of equality and inclusivity.
Small moon and ocean ankle tattoo
Simple designs are timeless. And this is one of the ankle tattoos for women that are so elegant you want to show them to the world.
Small symbolic tattoo on the ankle
Not many ankle tattoos are placed on the front of the ankle. However, when the tattoo directly faces forward, it becomes a bold announcement. And this beautiful boho-styled tattoo will belong to someone who takes every step with confidence.
Small spiral ankle tattoo
When we see spirals, we may think of an endless cycle that takes us nowhere. But a spiral can also represent the turning points in life. The truth is, you'll never know which path works out if you don't try. That's what makes such a small tattoo meaningful.
Tiny Libra constellation on the ankle
Zodiac tattoos are evergreen because our zodiac signs represent who we are as a person to some extent. And for those who relate to their signs, a small Libra tattoo like this is not only cute. It's also a statement of your identity.
Why not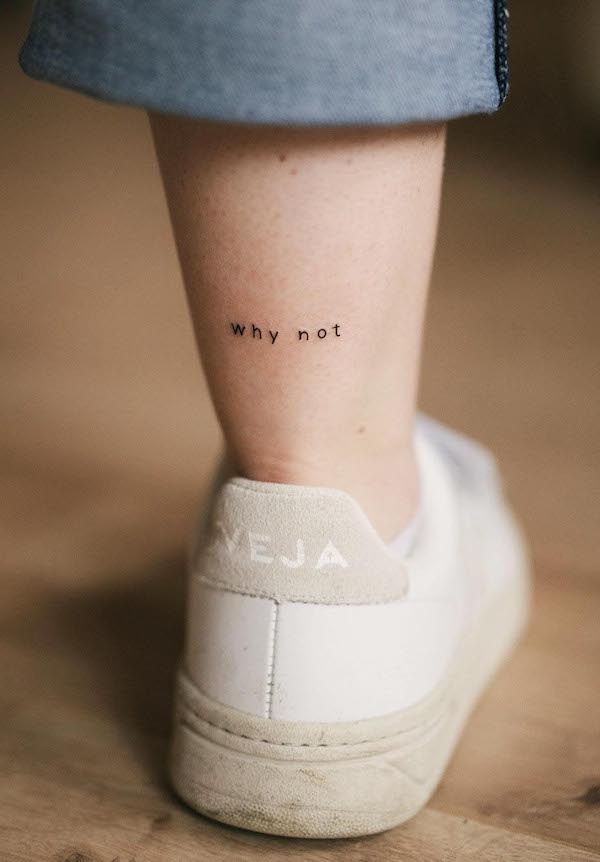 Two words can send a powerful message. This simple quote tattoo reflects the wearer's openness toward new adventures. And she is ready to take her life to the next level.
Small feather ankle tattoo
Bold and beautiful ankle tattoos for women
The ankle might not be a body part that captures much attention. But that gives the tattooist the freedom to go big.
A bold tattoo on the ankle will still be less overwhelming than that on the wrist or arm. So if you want something outstanding but not that "in your face," the following beautiful ankle tattoos for women may be what you are looking for.
Beautiful bouquet ankle tattoo
This piece of ink by tattooist Tilda has a natural uplifting spirit embedded. The flowers bloom in different colors and shapes. They tell the truth that beauty has more than one standard and remind us to always be our authentic selves.
Beautiful leaves tattoo
Botanical tattoos have a unique charm. They are simple yet display vitality and movements. If you want something less vibrant than flowers but still beautiful, a leaves tattoo like this may be what you are looking for.
Abstract dragon tattoo
Unlike those for men, dragon tattoos for women often focus on the beautiful curves of dragons rather than their fearsome side. This one is no exception. By creating an abstract brushstroke version, this tattoo combines femininity and power.
Beautiful floral anklet
When executed to perfection, a tattoo can become a permanent piece of jewelry. This stunning anklet tattoo is a good example.
Mandala ornament anklet tattoo
Black moth ankle tattoo
Many people see the moth as a symbol of bad luck and death. But there's more to it. I love how Crystal Clear puts it that a moth reminds you that the light you seek is within you, not outside of you. It inspires us to focus on ourselves and not get distracted by the outside world.
Intricate ornamental ankle tattoo
According to the artist, this ankle tattoo belongs to a new mom. It's a tribute to her transformation and motherhood. The symbols in this tattoo represent the joy of new life, the grief of her father's passing, and her journey of becoming a mother.
There are many elements in this tattoo. But the composition is so organized that it doesn't feel chaotic. Instead, the meaning and precision make it a true piece of art.
Fish anklet tattoo
Eyes of tiger
Tiger tattoos might not be typical for women. But if you are ultra-focused and ambitious, why not wear your heart on the sleeve?
Porcelain snake
People see snake tattoos differently depending on their cultural background. For example, in the west, snakes symbolize greed and temptation. Thus they can be considered evil.
However, they are believed to bring rain and harvest in the east. Whichever interpretation you lean towards, snakes are a beautiful motif in tattooing. Their curvy elongated body shapes create movement and liveliness.
Cardinal bird ankle tattoo
Red is a symbol of passion and fire. This cardinal tattoo is no exception.
The bird itself has a contagious and uplifting energy. It also carries the wish for a happier afterlife, recalling our best memories with our lost loved ones.
Small ornamental phoenix on the ankle
Mixing multiple styles together adds fun to a design. Take this ankle tattoo as an example. The body and wings are sleek and have no excessive shading. But the tattooist draws the tails in detail, creating a visual contrast.
Fish and moon phase ankle tattoo
This moon tattoo depicts the moon in different phases. On the other hand, the koi fish is often a symbol of the life cycle and changes. Together, it represents the wearer's adaptivity to different environments, flexibility, and perseverance.
Floral butterfly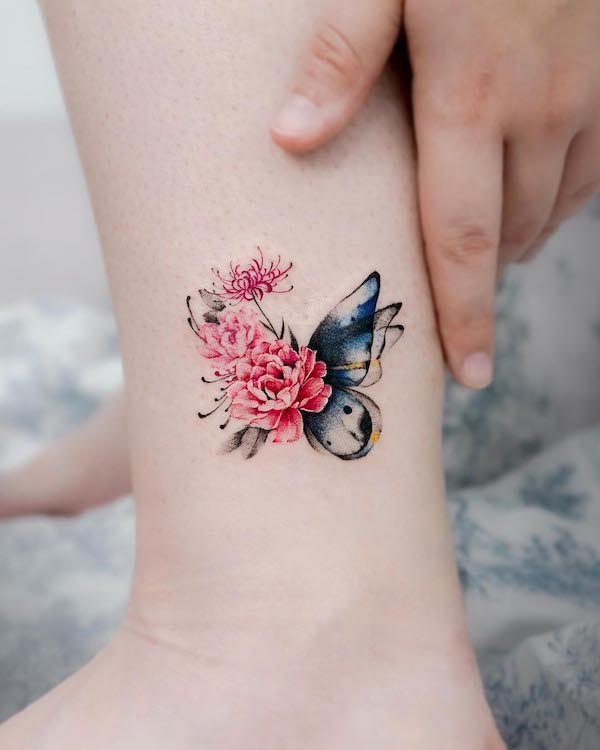 Flowers and butterflies are both common tattoo motifs for women. By putting the two together, the tattooist creates an original imagery that flatters the body.
Red spider lily and birds
Unlike most flowers with beautiful symbolisms, the meaning of the red spider lily leans towards the negative side.
It's often seen as the flower of death and reincarnation. The birds, on the other hand, represent freedom. Together, this tattoo will belong to someone with a darker aesthetic and is not afraid to show it.
Antique heart
The heart shapes are regular in symbolic love tattoos. This tattooist, however, incorporates gold, gemstone, and intricate patterns to elevate the tattoo and make it look more expensive.
Cute sea turtle ankle tattoo
Because turtles symbolize wisdom and calmness, sea turtle tattoos are often seen on people who are gentle and witty. They are comfortable in their own skin and grow at their own pace.
Realism sunflower ankle tattoo
Sunflowers are always a positive symbol. Whenever you see their bright yellow petals facing the sun, you feel the cheerful vibes flowing into your body. So if you are someone who radiates sunshine, you will look amazing with a sunflower tattoo like this.
The knot of happiness
What seems like a knot tattoo is actually the Celtic symbol of happiness. If you want something to celebrate your root and bring you positive energy, this one is simple yet meaningful option.
Creative ankle tattoo ideas
While the ankle is not huge, some tattooists display limitless creativity in this area. Don't miss out on these creative ankle tattoo ideas if you want something different and unique.
Brushstroke ankle tattoo
Want to showcase your artistry with an artistic tattoo? You don't always need to have a famous painting on the skin. A simple yet stunning brushstroke like this will be a perfect match for minimalists.
Planet anklet
Anklet tattoos, just like armband tattoos or bracelet tattoos, refer to those that wrap around the ankle. These matching anklets show how you can put the same elements (planets) into different designs. The results are cohesive and beautiful.
Scales ankle tattoo
In tattoos, scales are often the simplified version of a fish or a mermaid, symbolizing freedom and attraction. This scale tattoo above the ankle from Tattooist Pokhy blends with the natural skin tone perfectly. And it creates an illusion that the wearer could be a mermaid. And the scales offer a sneak peek into her true identity.
Tiny chocolate bar
This cute food tattoo is not just for chocolate lovers. Whether you are a foodie or not, this tiny tat will put a smile on your face because who can say no to chocolate?
The Glass Slipper
Some people get Disney tattoos or, to be more specific, Disney princess tattoos to revisit their childhood memories. But if you don't want your tattoo to be too literal or too cartoonish, choosing a signature object is a great alternative.
Cute purple dragon
What's the first word that comes to your mind when you think of dragons? Disastrous? Fearsome? Well, think again. This cute purple dragon provides a new approach to dragon tattoos. And it demonstrates the girly side of the wearer's personality.
Matching zodiac tattoos
If you and your best friends all believe in astrology, why not get matching zodiac tattoos like these four? Two are constellations of the signs, and the other two are the zodiac glyphs. Simple, personal, and on point.
A place called home
Family tattoos don't have to be initials or portraits. A house is a cute motif that symbolizes the wearer's love for her family.
A pair of giraffes above the ankle
The baby giraffe looking up to the adult giraffe is like every girl looking up to her dad. If you want a cute tattoo to pay tribute to your father, these father-daughter tattoos may inspire you.
Pearl
These black outline tattoos may be simple. But they are reminders that you are as rare and precious as a pearl. And you should treat yourself as a gem.
An initial anklet
By making the initial ornament on the anklet, this tattoo not only works as beautiful jewelry. It also carries the wearer's personality.
Cute footprint tattoos for parents
Tattoos turn a precious moment into permanent memory. And these meaningful parent tattoos are a good example.
Black butterfly ankle tattoo
Butterfly tattoos are not uncommon. What makes this one stand out is the use of shadows. It makes the butterfly look like a real one resting on the skin. And it will fly away any second.
Cute friendship ankle tattoos for women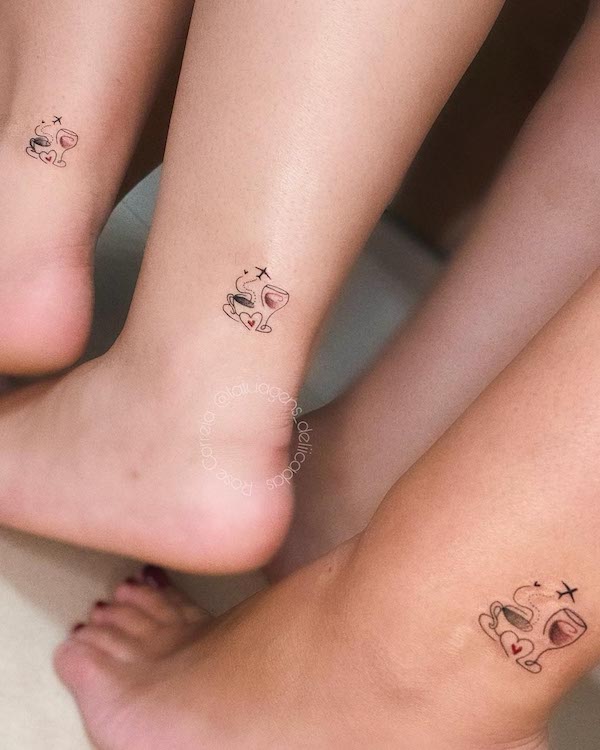 If you can't find one motif to represent you and your friends, why not combine all the things you love and create something new?
These tattoos show that the shared love for travel, wine, and coffee is what keeps the friends together.
Floral initial and butterfly
An initial tattoo doesn't have to be a regular letter. The tattooist turns the initial into a dainty flower and makes it perfect for girls.
The glass bird
Tattooist Non Lee is known for using unconventional color palettes in her work. And the result is unique and gorgeous.
Which of these ankle tattoos for women is your favorite?
Leave a comment down below and share your thoughts!