Calling all the coffee lovers! These captivating coffee tattoos will be your ever-lasting source of energy and inspiration.
If you need a cup of coffee to wake you up each day, you are not alone. This magical elixir transforms us from groggy zombies to energetic superheroes. But they are not just loved because of their refreshing power. This liquid goodness is essential both for the body and the soul.
A cup of coffee is like a hug that brings warmth to your throat all the way to the entire body. Its unique aroma wraps you like a cozy blanket, bringing comfort and a good mood to deal with whatever throws your way. And let's not forget the fact that coffee brings people together. Whether you are catching up with an old friend or going on a date, coffee is the best background music that fills in the gaps of silence.
It's no secret that coffee holds a special place in many people's hearts, so why not wear that love proudly on your skin? Coffee tattoos are a celebration not only of this empowering beverage but also of each morning and a brand new day. And for many, coffee evokes memories and nostalgia. Coffee tattoos, in this way, allow them to carry those precious moments with them.
So whether you are a coffee enthusiast or have a story related to the magical brew, this post is for you. From simple, small designs to creative coffee tattoos featuring beans, cups, and even coffee makers, the following ink ideas will bring energy and caffeinated charm to your life.
Disclaimer: This collection of coffee tattoos is for inspiration only. Please do not copy the artwork. If you love these tattoos, follow artists and show them some support.
Beautiful coffee tattoos with meaning
Cute and small coffee tattoos
If you want a design to express your love for coffee but keep a low profile, this collection is for you. Whether it's a tiny coffee cup or a glass of iced coffee, these designs will be a personal keepsake to carry your passion for coffee wherever you go.
Beautiful porcelain coffee cup tattoo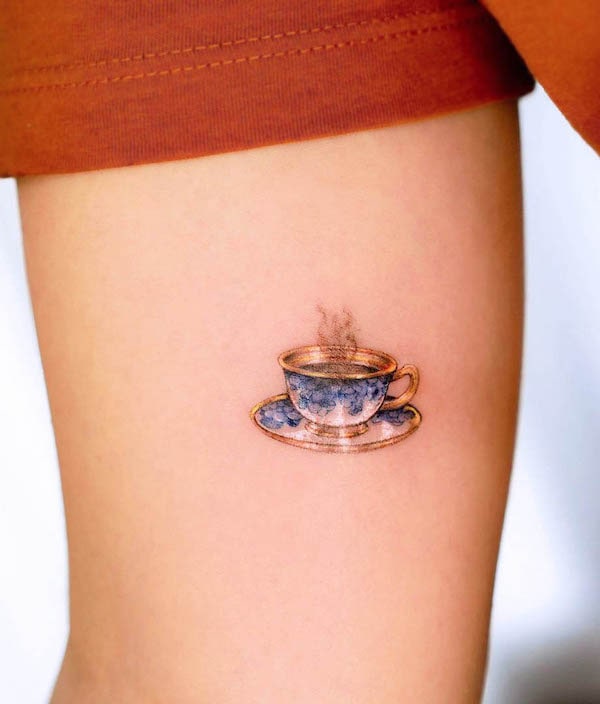 A gorgeous cup always makes good coffee better. This coffee tattoo featuring an elegant porcelain cup takes the brew to a whole new level of sophistication. It's a reminder that every sip is both an experience and an art.
Cute realism coffee tattoo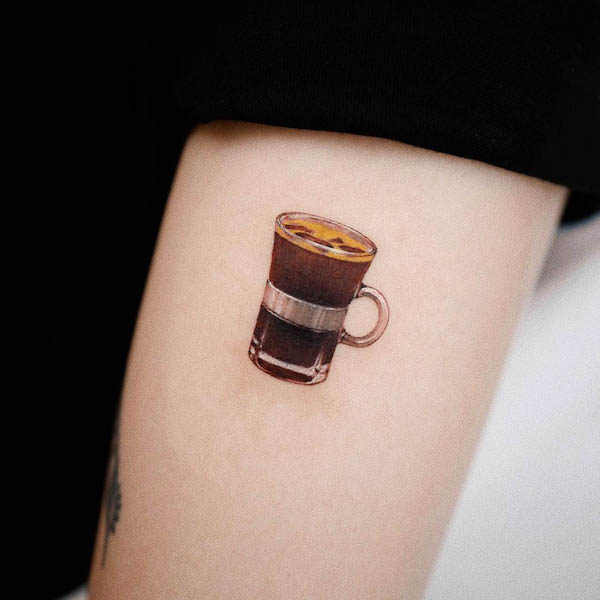 Cute cartoon squirrel and coffee tattoo
What a cute squirrel with his tiny cup of coffee! The detailed portrayal and the warm color tones bring this adorable tattoo to life while showing the wearer's uplifting spirit.
Coffee and cinnamon roll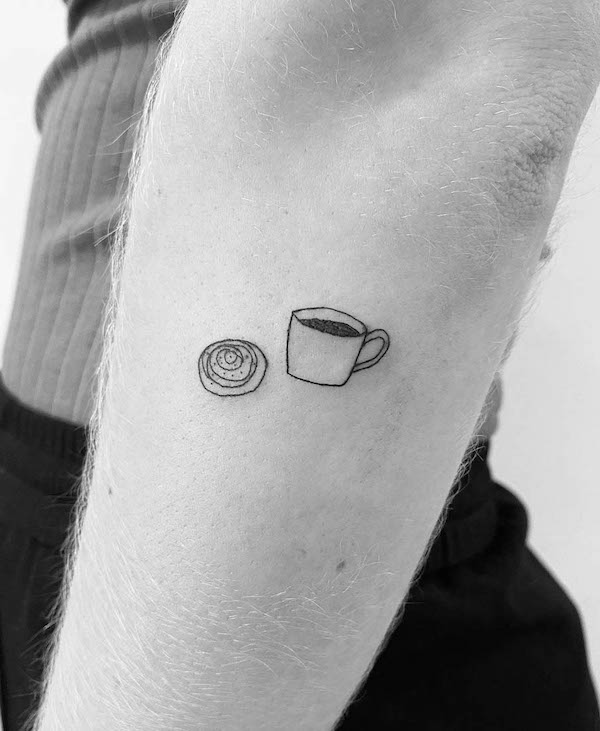 Who can say no to a brunch with warm coffee and freshly baked cinnamon rolls? As simple and small as this tattoo may seem, it transports you to a world of sweet indulgence and aromatic bliss.
Small coffee tattoo
"Today's good mood is sponsored by coffee" – if you're someone who can't live without your morning brew, this cute small tattoo is the perfect way to show your love for coffee. It will also give you an energy boost to start the day strong.
Coffee addicted dinosaur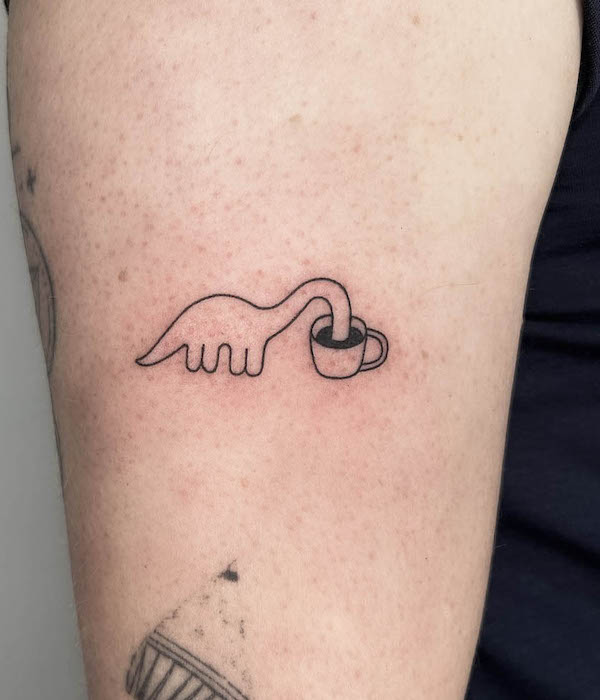 This is not your traditional menacing dinosaur tattoo. Instead, with its head dipped in the coffee cup, this tattoo combines two unexpected elements to create a playful and unique design. If you are not you before having your cup of coffee, this ink will resonate with you.
Tiny coffee cup tattoo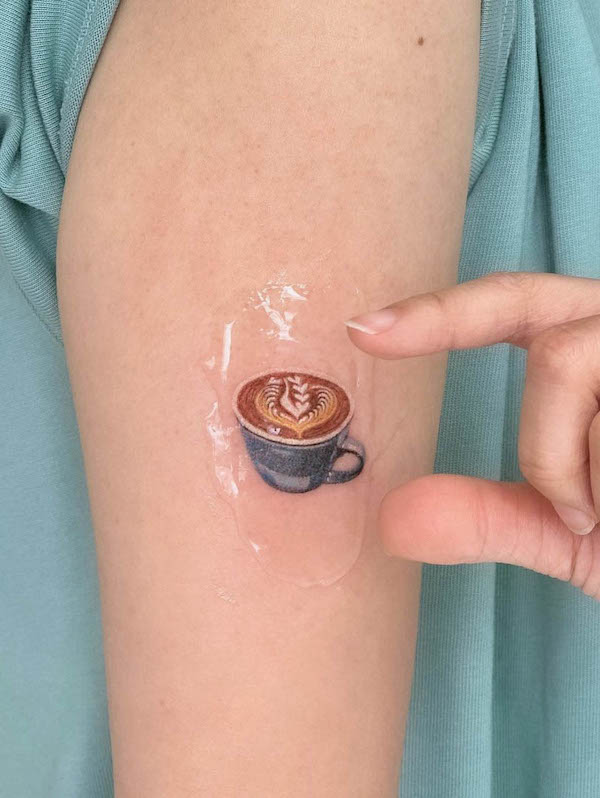 Love for coffee script tattoo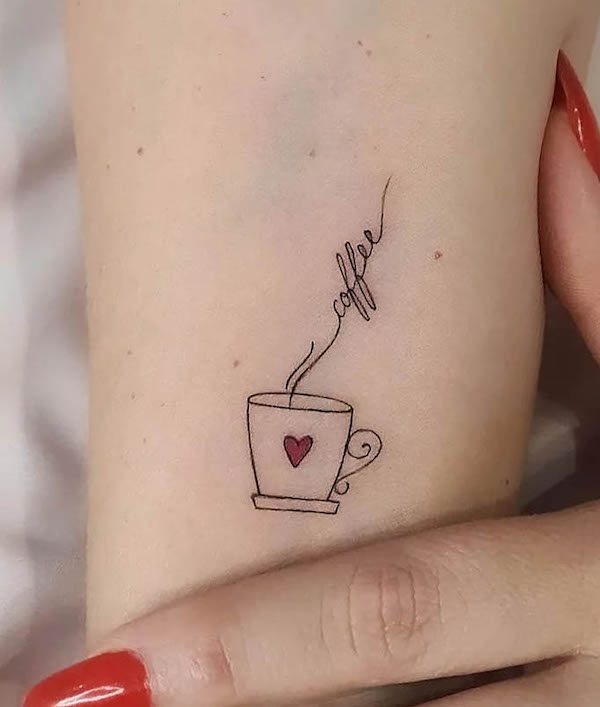 This coffee tattoo stands out for its creative twist. The steam of the coffee is turned into the script that says "coffee," adding a touch of artistic flair to the design. It's a clever one-word tattoo that showcases the love for coffee, combining visual elements with text.
Teddy bear and coffee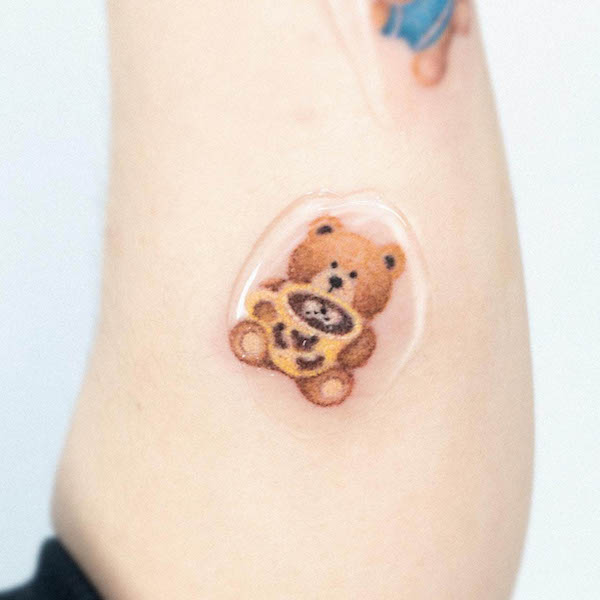 This tattoo is undeniable proof that coffee holds a special place not just for people but for everything, even teddy bears! This adorable ink showcases a cuddly teddy bear enjoying a cup of coffee, emphasizing the universal appeal and warmth that coffee brings.
Cute friendship ankle tattoos for women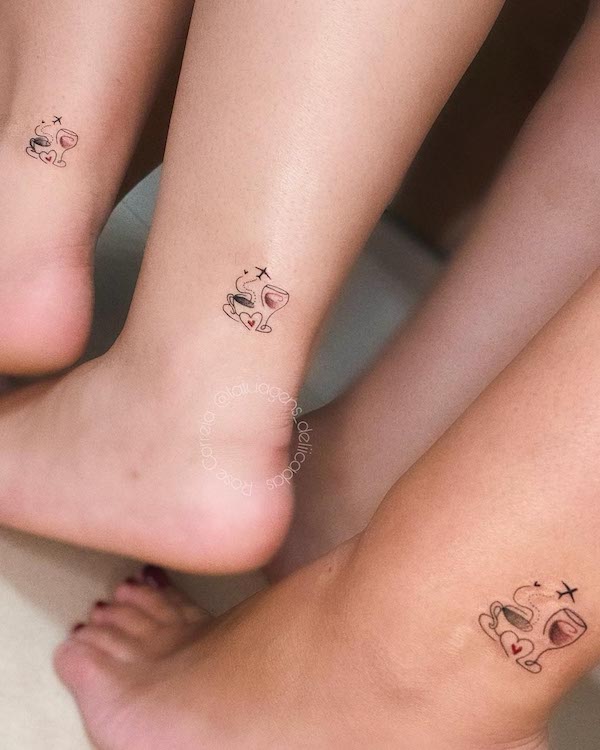 If you can't find one motif to represent you and your friends, why not combine all the things you love and create something new? These best friend tattoos show that the shared love for travel, wine, and coffee is what keeps a friendship strong.
Ignorant-styled coffee tattoo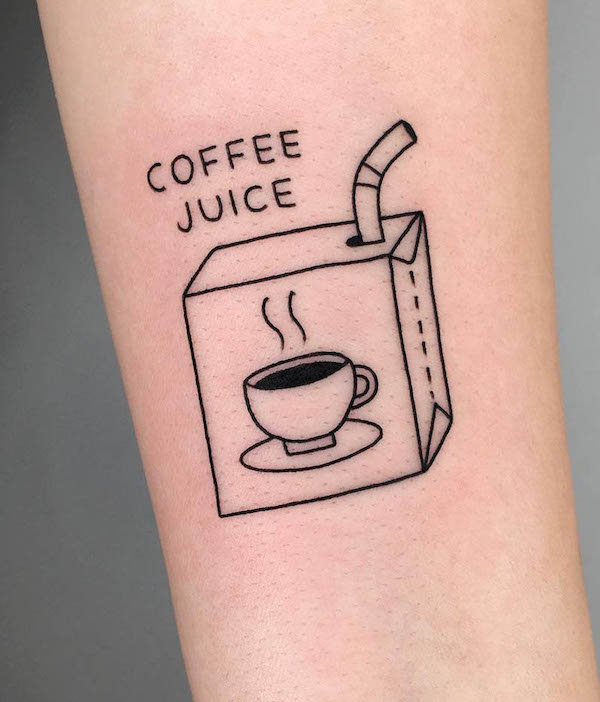 What a cute ignorant-styled coffee tattoo! Ignorant tattoos focus on capturing an object with simplicity and a playful, childlike aesthetic. And this coffee juice tattoo is no exception.
Tiny iced coffee tattoo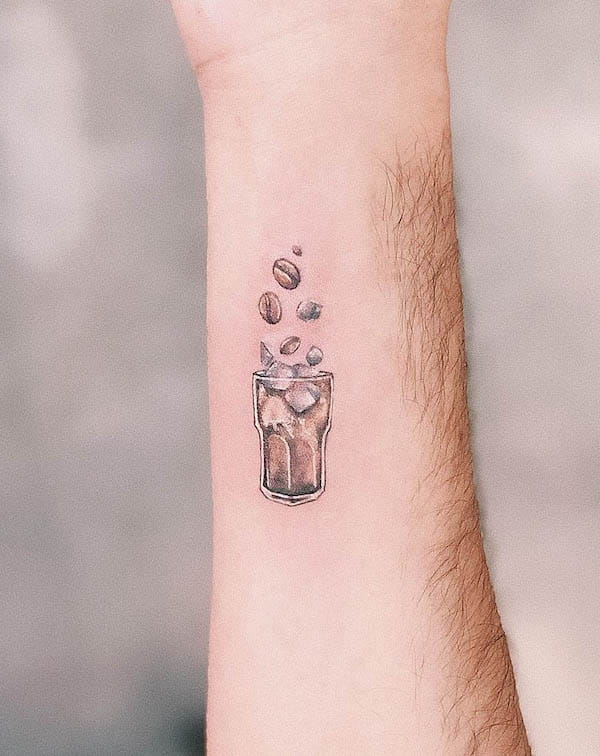 Do you love your coffee hot or cold? If you're a fan of iced coffee, this tattoo is for you! With the ice cubes and beans falling into the glass, this tattoo will bring a breeze and coolness on a hot summer day.
Minimalist coffee tattoo
Without intricate patterns and decorative elements, this coffee tattoo is the perfect example of the power of simplicity. With its black and white background, it focuses on the essence of coffee itself. The minimalist design allows the coffee to take center stage, maximizing its flavorful charm.
Simple hand-poked coffee tattoo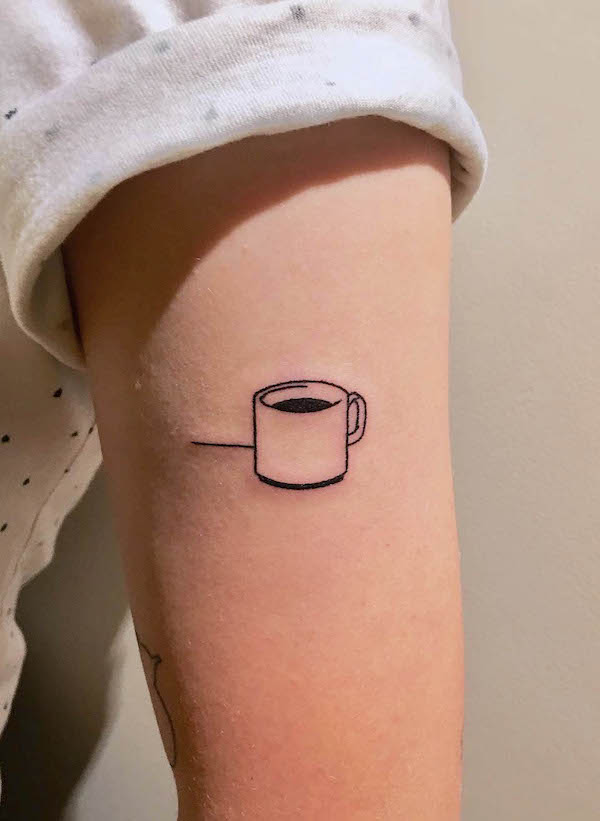 Croissant and coffee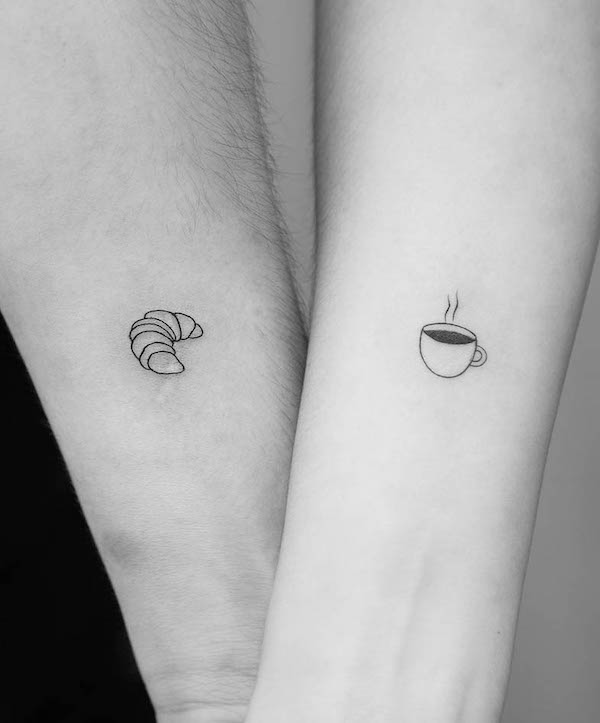 Croissants + coffee = the perfect brunch. If you and your bae are a match just like these two, these cute and playful couple tattoos are for you.
Simple coffee ankle tattoo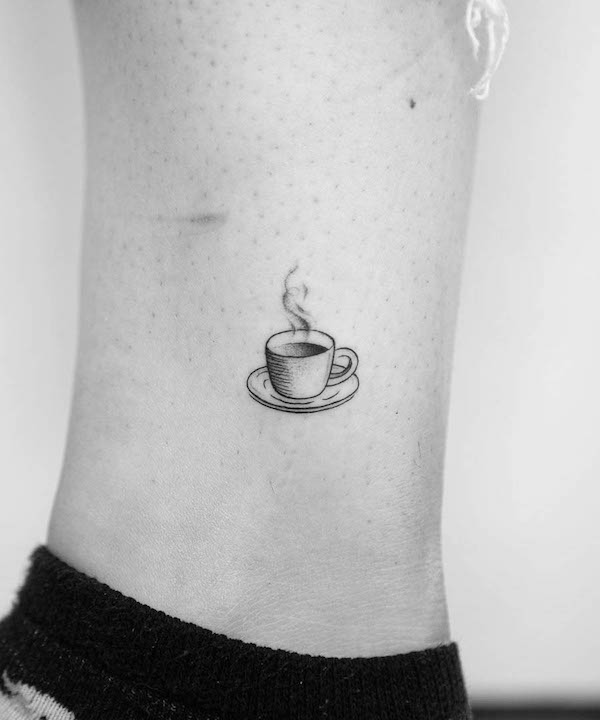 Ankle tattoos are loved by many because of their medium exposure. Whether it's a small coffee cup like this or something bigger and bolder, ankle tattoos allow you to showcase your passion in a subtle yet stylish way.
Small coffee elbow tattoo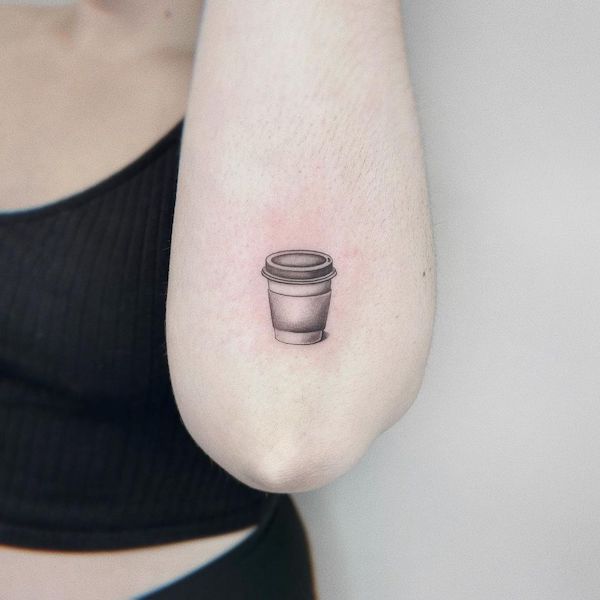 Elbow tattoos can be tricky due to the darker and wrinkly skin, but it's hard to go wrong with a small coffee tattoo like this. This coffee-inspired design embraces the contours of the elbow, blending with the natural skin tone. It's subtle yet unique and adds personality to the skin.
Tiny fine line coffee tattoo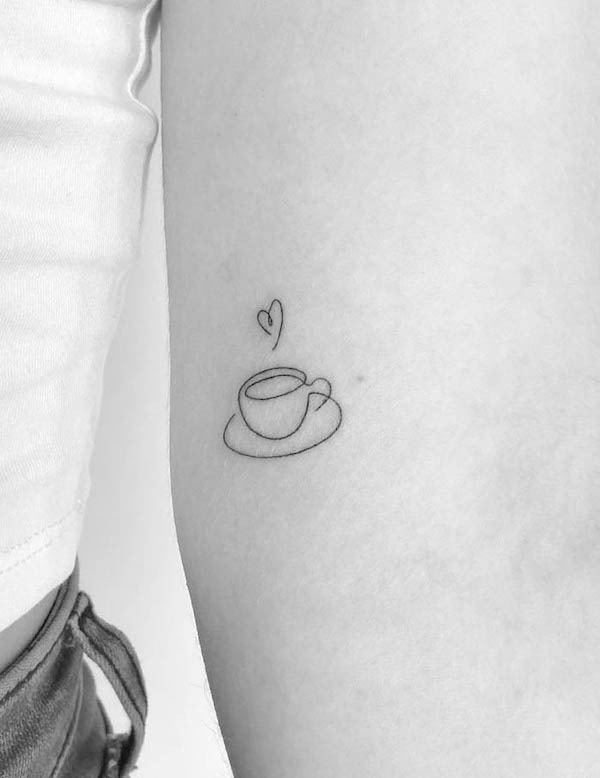 Abstract single-line coffee tattoo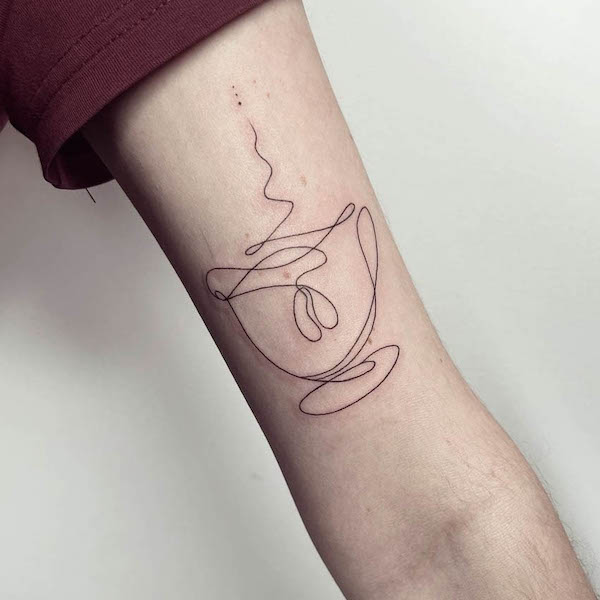 This single-lined coffee cup tattoo may seem huge. But the use of one smooth outline brings a sense of simplicity and elegance to the design, capturing the charm of coffee in its purest form.
The fleeing coffee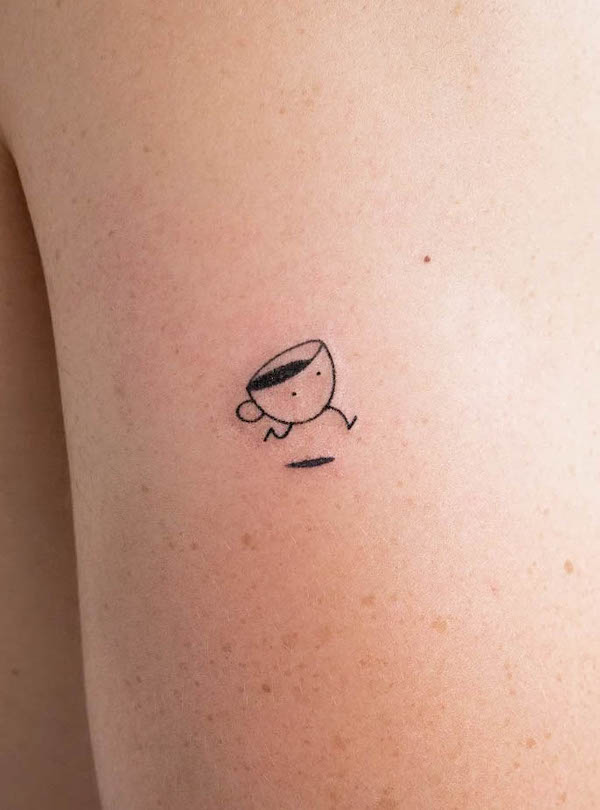 How cute is this small coffee tattoo! By depicting the coffee as if it's running away, this playful and whimsical design adds a touch of lightheartedness to your love for that magical brew.
Beer and coffee matching tattoos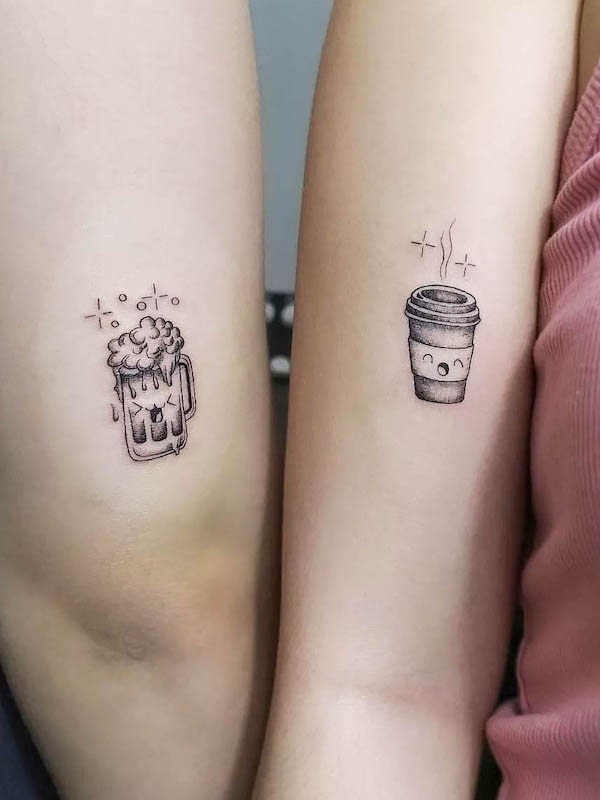 Our favorite drinks are a reflection of who we are as a person. Beers may represent the attitude to enjoy life to the maximum, while coffee may be for the motivated go-getters. These matching beer and coffee tattoos are perfect for couples that want to celebrate their individualities and a strong connection.
Coffee and cigarette tattoo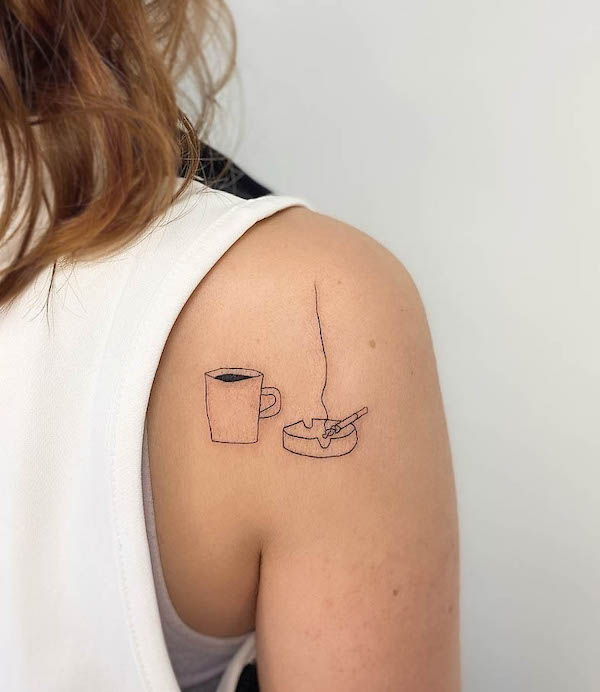 For some people, coffee and cigarettes are the strongest pair of energy boosters. This tattoo features both elements in the simplest form possible, embracing the raw, unapologetic, and rebellious spirit.
Coffee in the making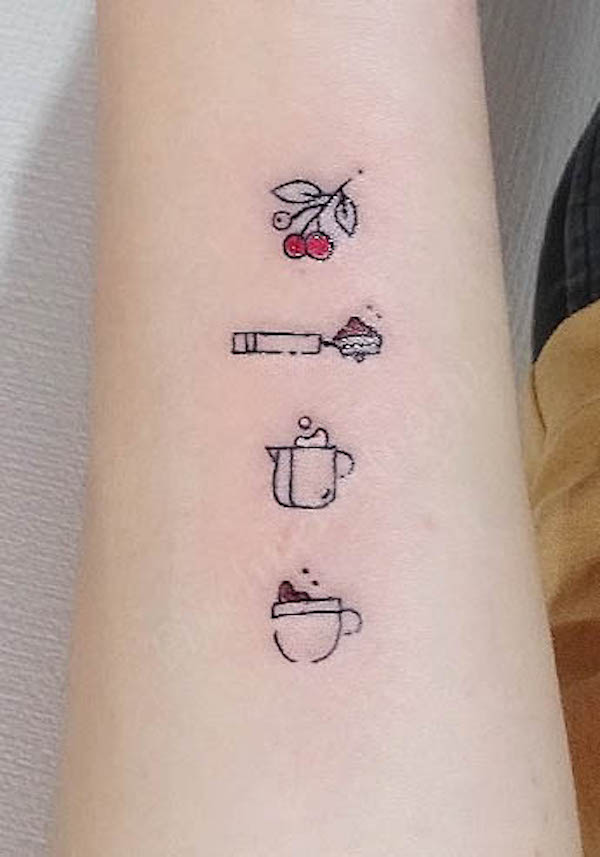 From seeds to cup, the process it takes to make coffee is often behind-the-scene. This tattoo beautifully captures the journey of coffee, reminding us of the unseen efforts that go into the simplest blessings in life.
Takeaway coffee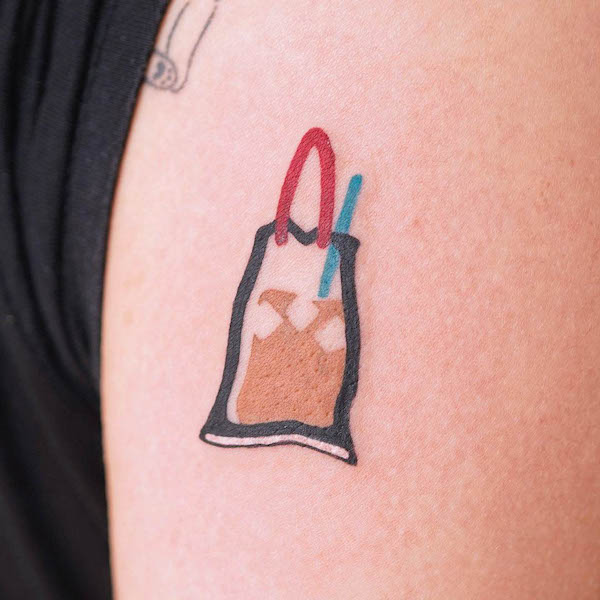 Coffee in a plastic bag might not be a thing in the West. But it's a staple in Southeast Asian countries like Singapore. This cute tattoo features the unique takeaway coffee in a minimalistic fashion. With vibrant colors and bold outlines, it captures the essence of the experience and brings a touch of nostalgia.
Frog in a coffee cup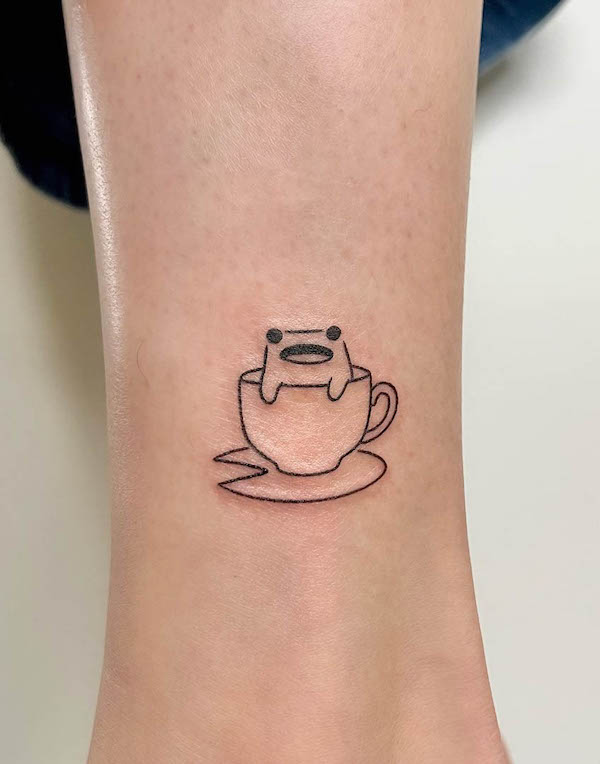 Creative and beautiful coffee tattoos
Though coffee is mostly in brownish colors, coffee tattoos can be vibrant and expressive. The following bold and unique coffee tattoos incorporate creative designs and unexpected colors, allowing the wearers to infuse their personality while making a statement of passion.
Books and coffee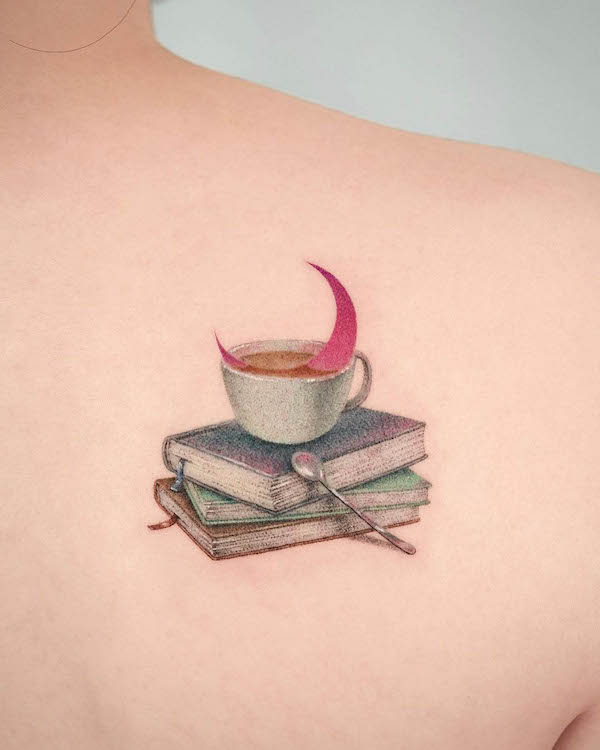 A cup of coffee plus good books make the perfect pastime. This tattoo features a cup of coffee with a crescent moon on top of a stack of books, capturing the moments of hygge and tranquility spent with literature and a warm brew.
Bath in coffee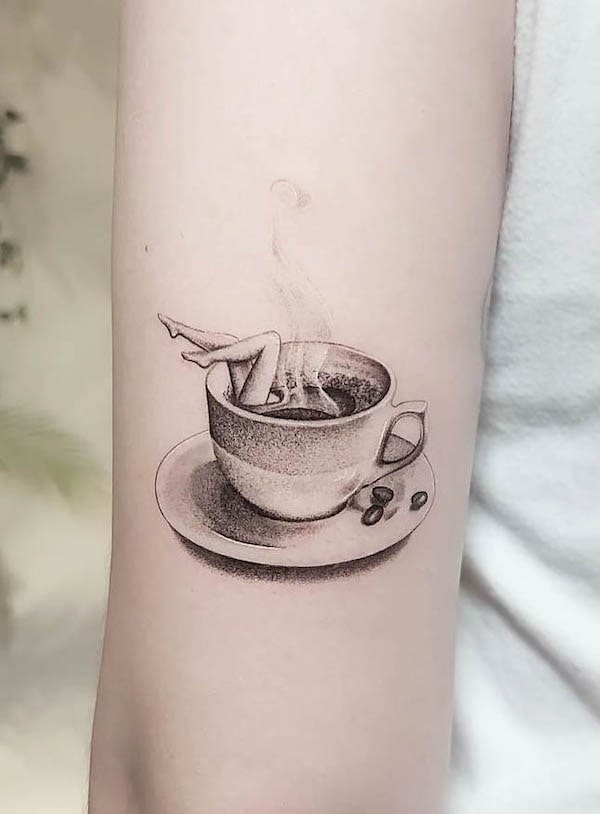 This conceptual tattoo depicts a woman bathing in a cup of coffee with her legs stretching out, evoking a sense of deep relaxation. It invites us to immerse ourselves in the warmth of coffee, finding moments of tranquility and bliss amidst the hustle and bustle of daily life.
Beverage tattoo
How cute are these beverages? Each of us can find our favorite in this small arm tattoo. Whether you're a coffee addict or a beer enthusiast, these adorable ink designs are a stylish way to add some personality to the skin.
Abstract coffee tattoo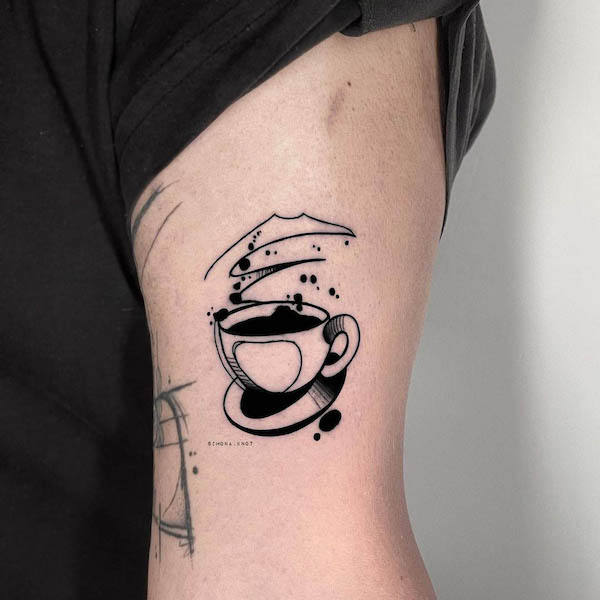 This coffee-in-a-cup tattoo may not be for everyone. But those bold strokes are like a shot of espresso for your skin. They bring an abstract essence that oozes strength and adds a touch of raw masculinity to the design.
Perfect breakfast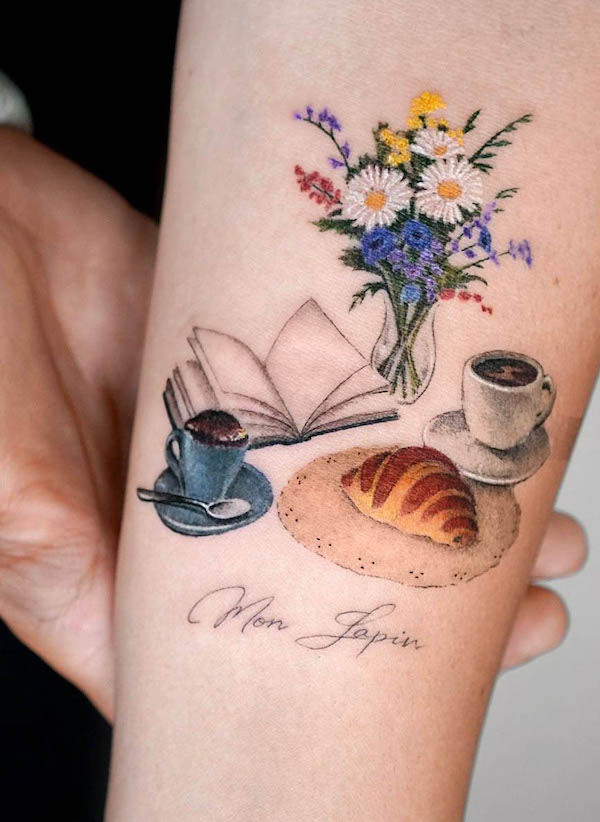 Croissants, coffee, a book, and flowers are the breakfast of dreams. This food tattoo combines the four elements to depict a perfect morning ritual filled with indulgence and tranquility.
Pixelated coffee portafilter tattoo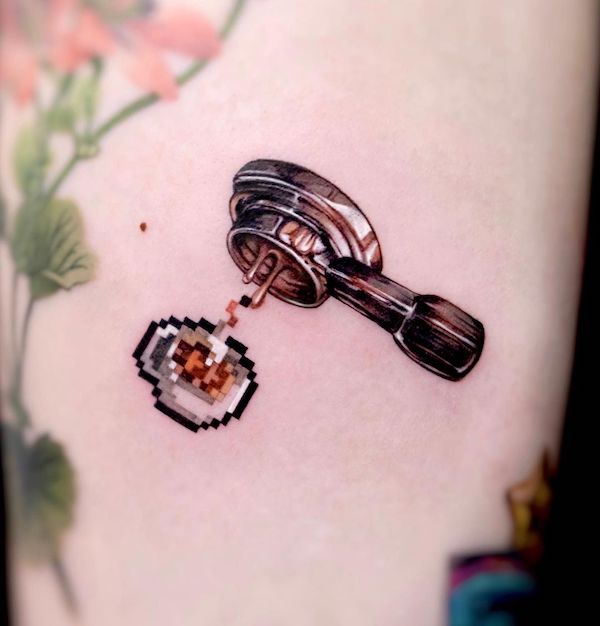 What makes this tattoo one-of-a-kind is the combination of two completely different styles. The contrast between the micro realism portafilter and the pixelated coffee mug creates a visually captivating design. This harmonious fusion of styles reflects the wearer's playful aesthetics and the courage of bold artistic expression.
Falling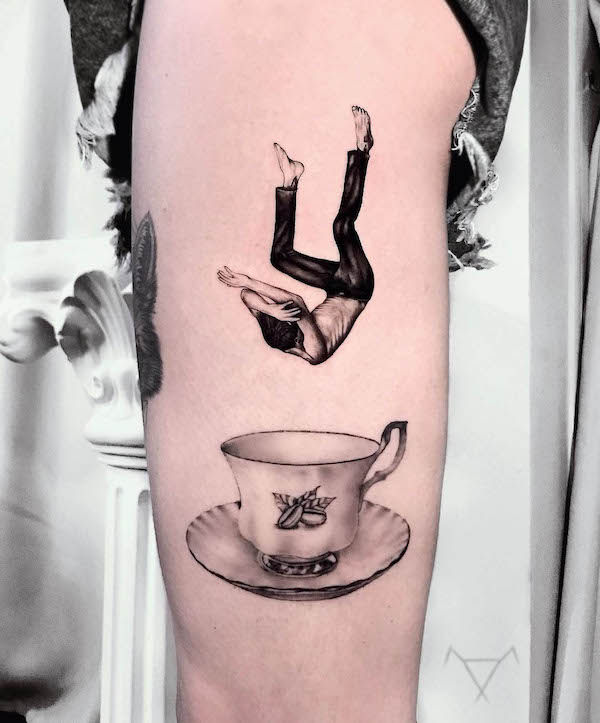 Another inspiring coffee tattoo. By depicting a man falling from the sky into a coffee cup, this tattoo captures the exhilarating feeling and the rush of energy that comes with a sip of coffee.
Abstract coffee tattoos
Coffee brings people together. And these father-daughter tattoos are the perfect examples. The two may be bonded by blood. But it's the love for each other and the shared passion for coffee that deepens the connection.
Coffee encyclopedia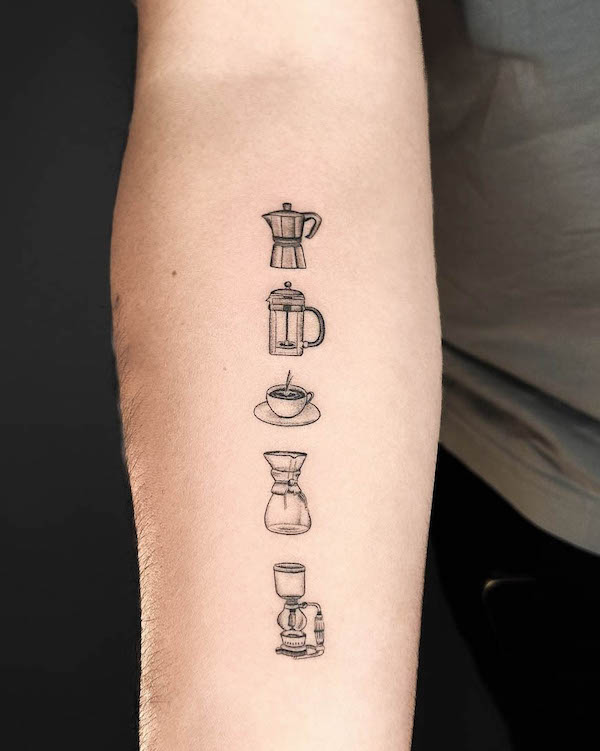 Coffee can be made in all sorts of ways with different equipment. This forearm tattoo takes this idea and interprets it on the skin. By putting together all the pots for brewing coffee, this tattoo screams coffee love to the core.
Pouring coffee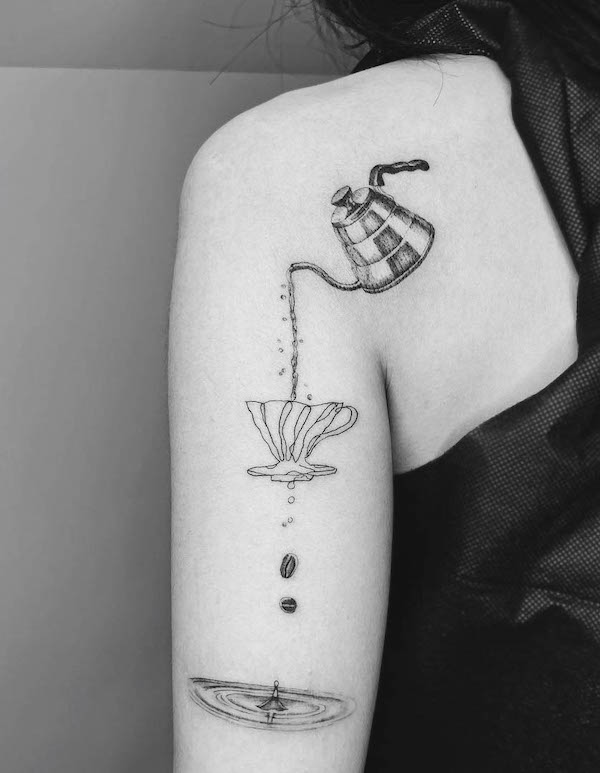 Another coffee tattoo that infuses different artistic styles. The pot, the beans, and the water are carefully inked with details in mind. The coffee cup, on the other hand, consists of abstract, hand-drawn lines. The combination symbolizes the balance between structure and creativity found in the world of coffee.
Contemporary coffee tattoo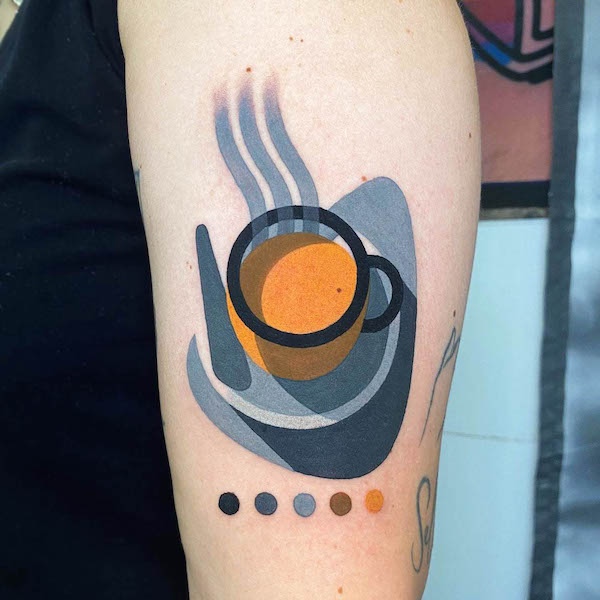 This stylized coffee tattoo shows us the endless design possibilities in body art. The harmonious color palette, the contrasting blocks of different hues, and the clean illustrative style combine to create a captivating and modern masterpiece.
Fine line barista tattoo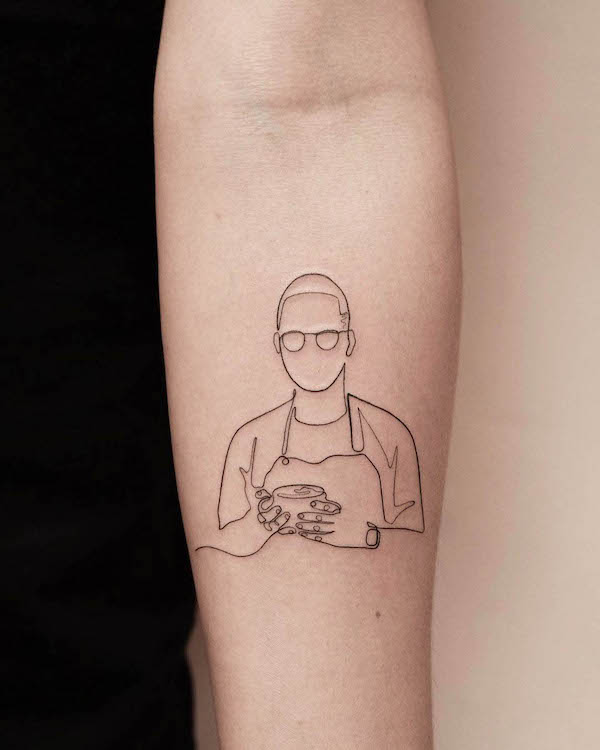 Some people consider baristas to be the best job. And rightfully so! They got to immerse themselves in the smell of brewed coffee every day while crafting a delightful experience for coffee lovers. This fine-line barista tattoo not only celebrates the love for coffee. It also shows the dedication to the profession.
Cute rabbit and coffee tattoo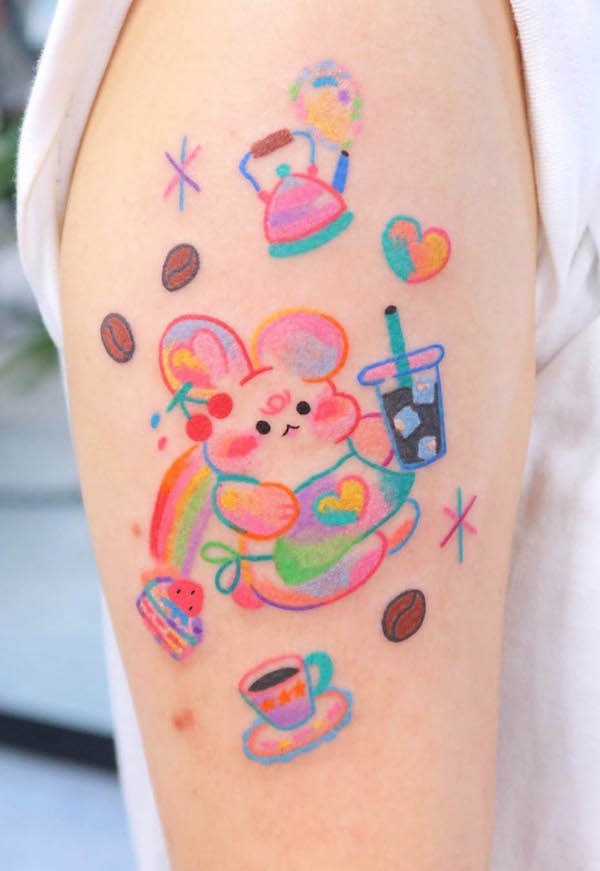 What a burst of colors! This cute rabbit is holding its coffee in this tattoo. With a rainbow in the background and coffee beans scattered around, this whimsical and vibrant design radiates joy and positivity.
Geometric coffee tools tattoo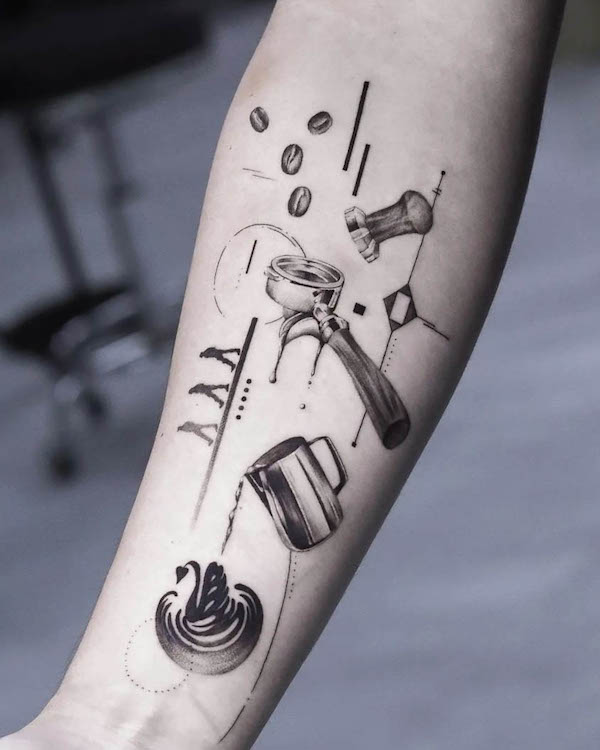 This deconstructed coffee tattoo is a visual display of how coffee is made. The lines and shapes in the background create a captivating geometric tattoo that highlights the complexity and precision of the coffee-making process.
Sunset and coffee painting tattoo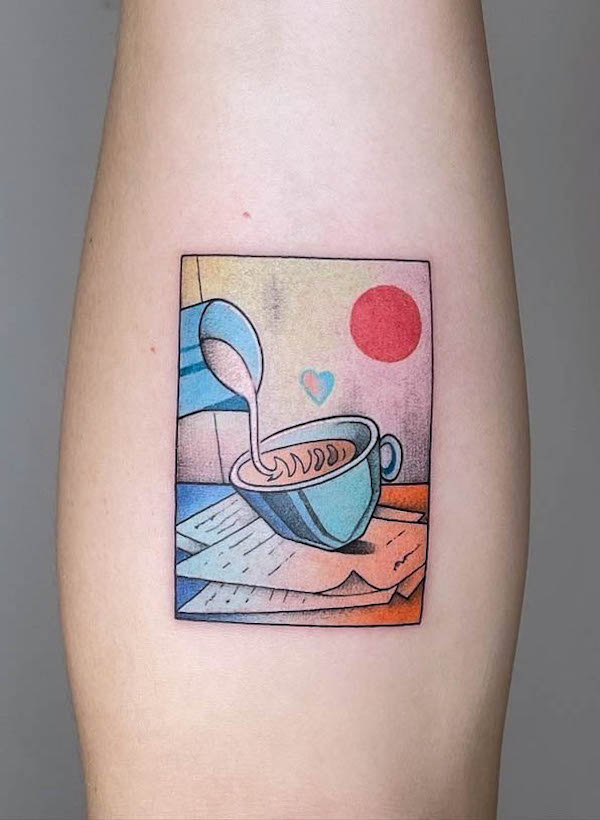 This tattoo featuring coffee and sunset will transport you to the time trying to catch up with a deadline. It brings back the feeling of working tirelessly towards a goal while enjoying a moment of relaxation.
Realism coffee tattoo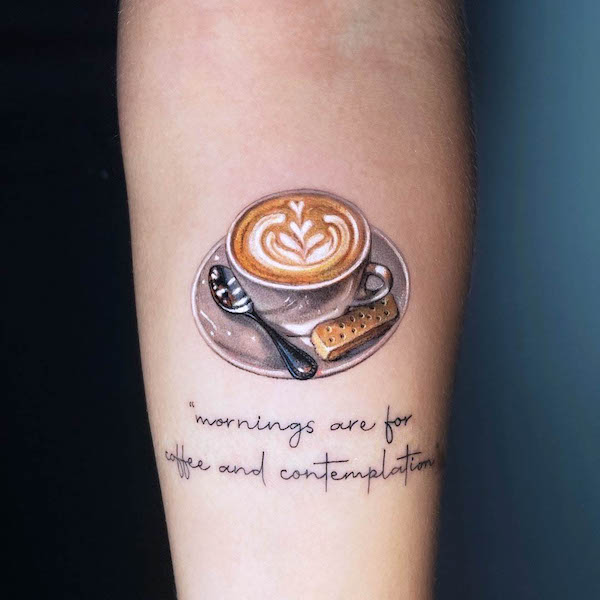 "Mornings are for coffee and contemplation." If this coffee quote resonates with you, a relatable quote tattoo like this is the perfect way to embody that sentiment.
Magical brew coffee mug tattoo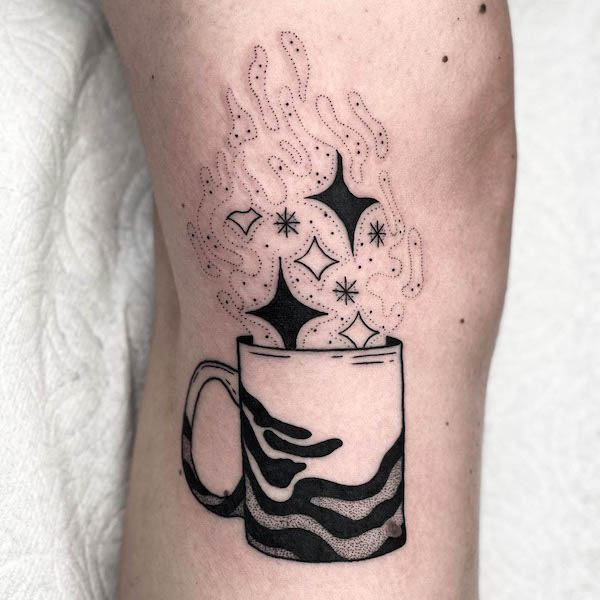 The stars in the steam and the wavy pattern on the mug create a mesmerizing tattoo that dazzles even from a distance. It will undoubtedly be a conversation piece and capture attention at first sight.
Coffee beans and plant tattoo ideas
For those who want a different design to showcase their love for coffee, coffee bean, and plant tattoos can be an awesome choice.
Besides representing the craze for coffee, they also symbolize growth, vitality, and the journey from seed to cup while bringing an earthy vibe to the skin.
Cute scattered coffee beans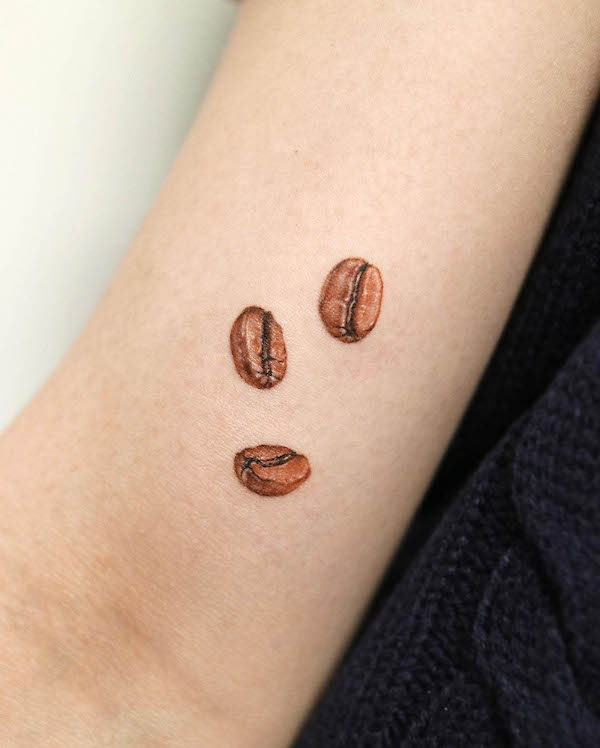 Stunning coffee plant tattoo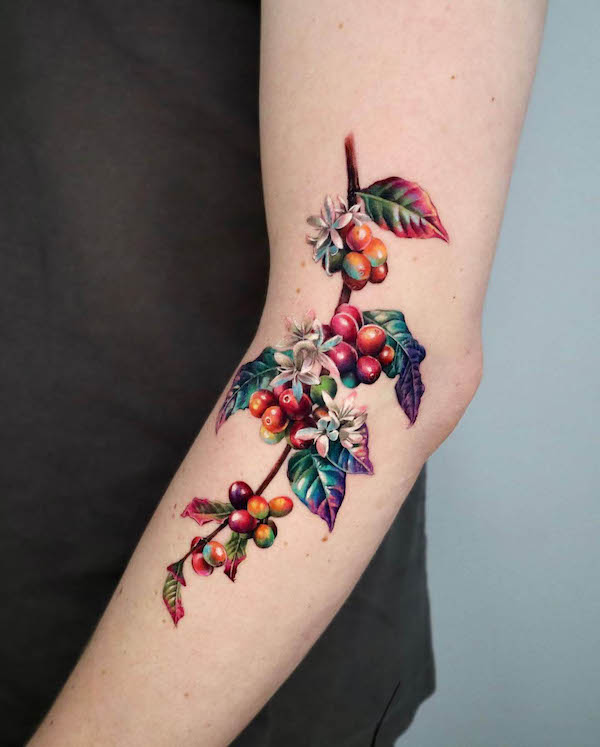 This stunning coffee plant tattoo from Tattooist Nonlee is the perfect demonstration of colors and details. With rainbow-ly colors and a metallic shine, the tattoo captures the natural beauty of the plant while adding depth and dimension.
Coffee and plant tattoo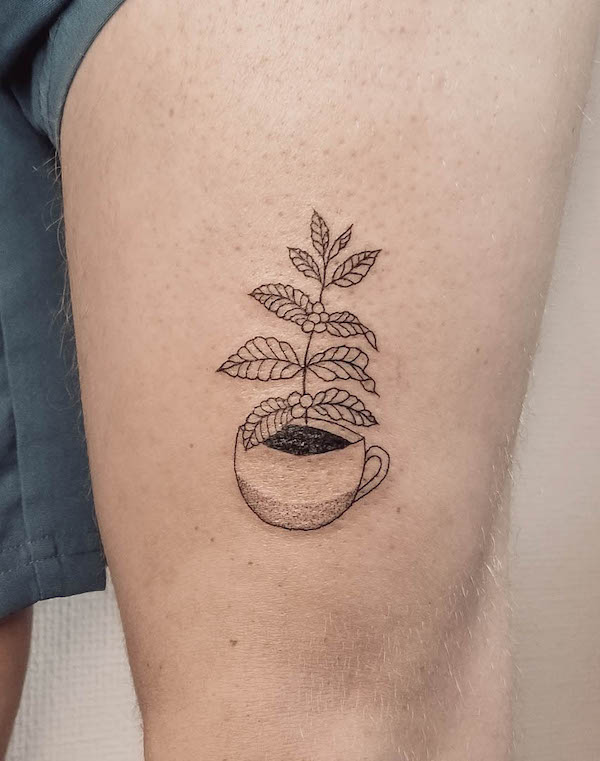 Cute coffee beans anklet tattoo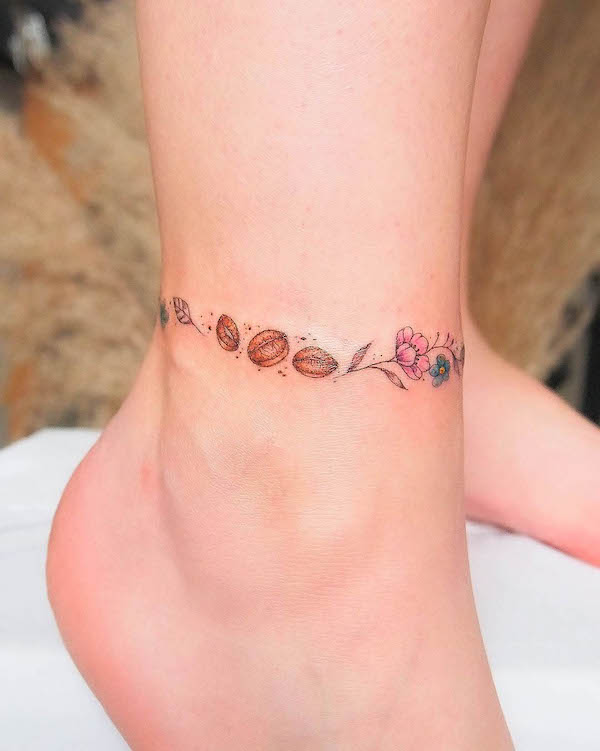 Just like bracelet tattoos, most anklet tattoos consist of leaves and flowers. But this one adds a unique twist by incorporating coffee beans into the design. It's a creative and unexpected touch that celebrates our love for both nature and the energizing power of coffee.
Small coffee beans tattoo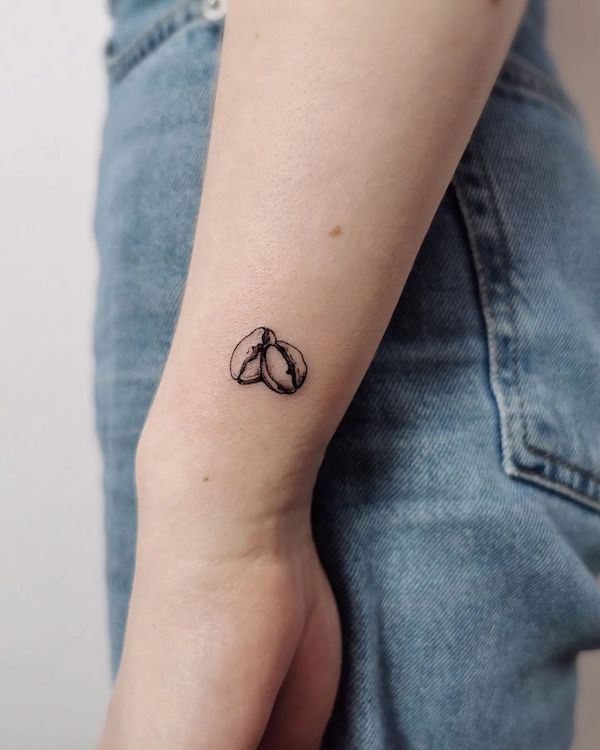 Beautiful coffee plant tattoo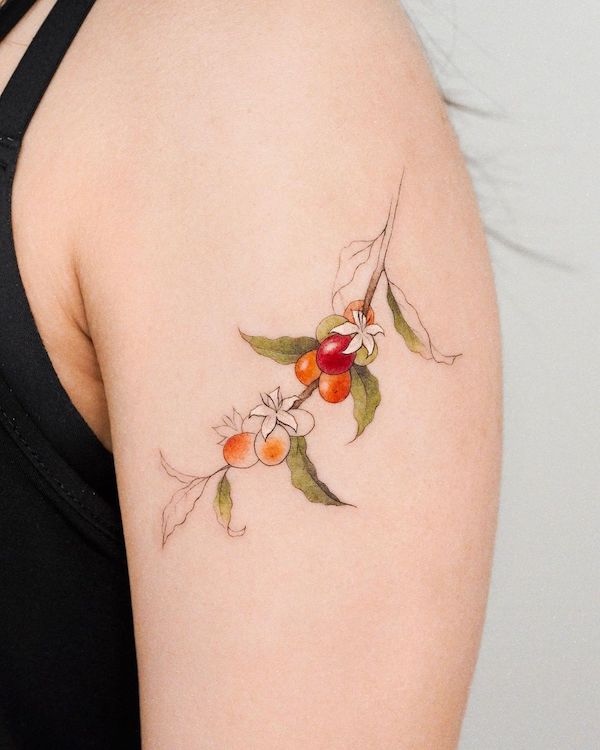 Small black and grey realism coffee tattoo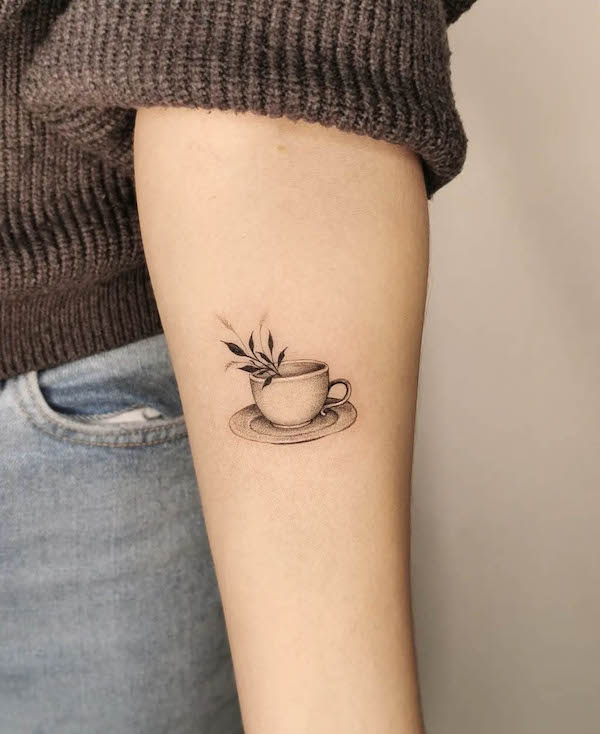 Moxa pot tattoos for coffee lovers
For some people, their love for coffee doesn't stay at the level of consumption. The making of coffee is both a craft and a pleasure for them.
That's why moxa pot tattoos have won the hearts of coffee enthusiasts. These ink are designed to pay homage to the artistry and satisfaction that comes with brewing a perfect cup.
Am Pm coffee and wine tattoo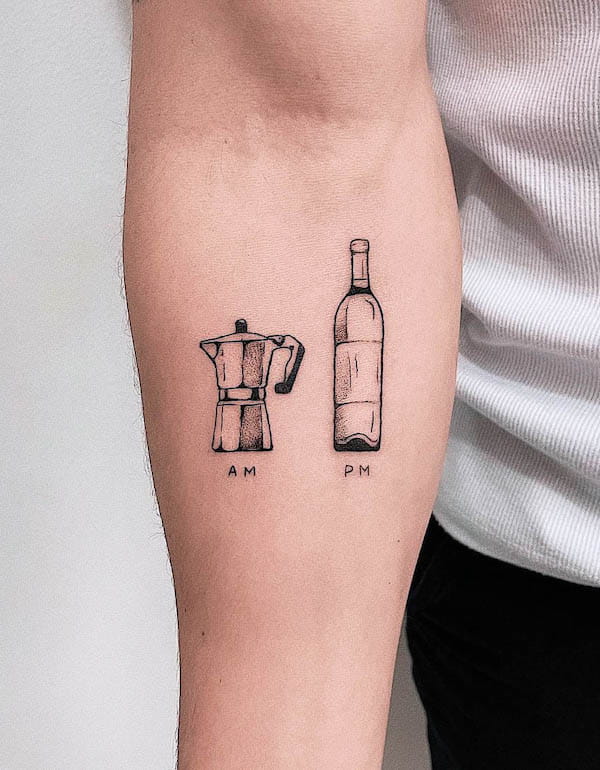 This AM PM tattoo shows two different sides of life. The coffee represents the hustle and energy of the day. And the wine, of course, is our ticket to the night's pleasures. This cute tattoo is a switch between work and fun, reminding us that life is all about balance and enjoying the best of both worlds.
Black moxa pot coffee tattoo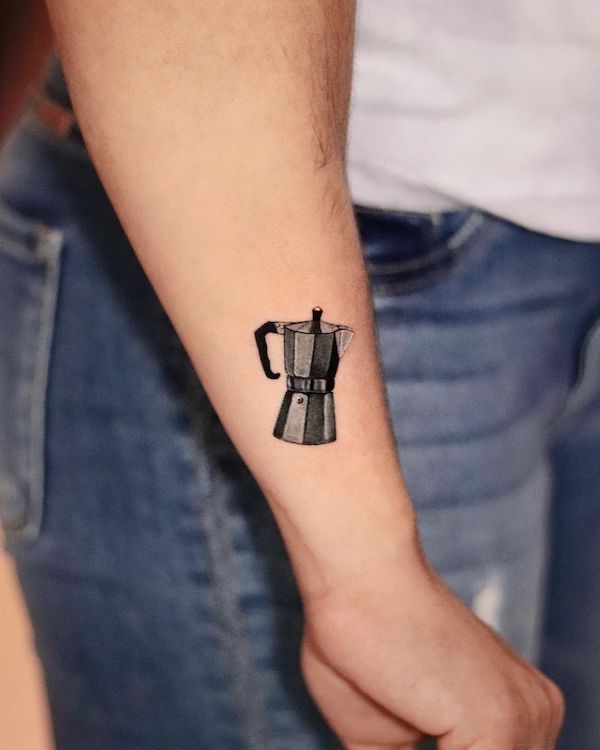 Moxa pot with flower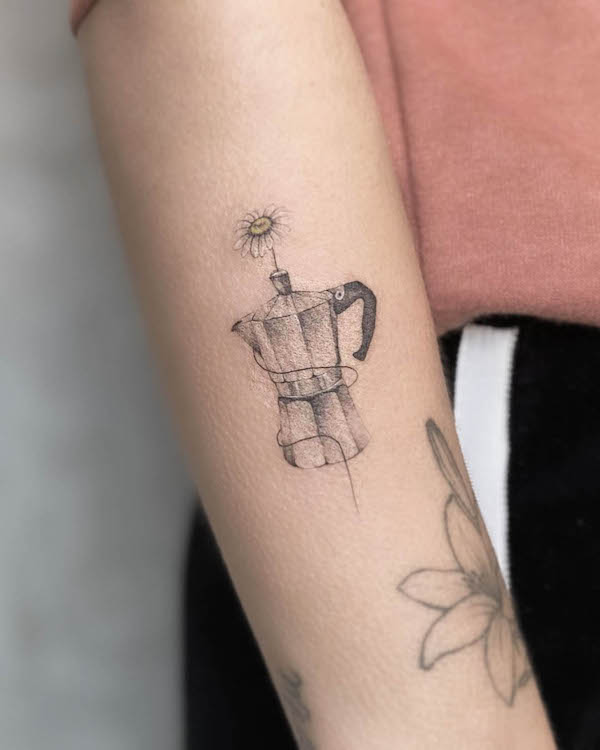 Pop-inspired moxa pot tattoo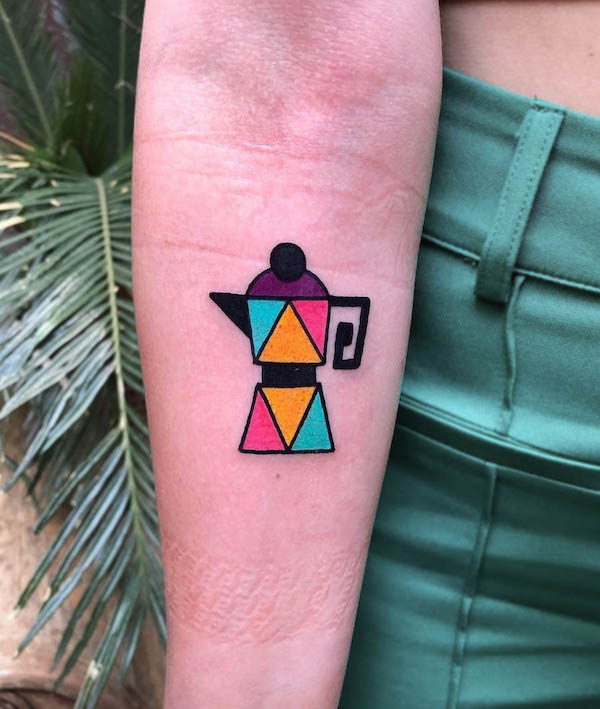 Cute Starbucks tattoos
Starbucks is a global coffee brand that has become synonymous with the coffee culture around the world. It may not be your local café around the corner, but it conquers hearts with its accessibility and endless coffee options. The following Starbucks tattoos not just represent the brand and coffee but also a lifestyle.
Iced Americano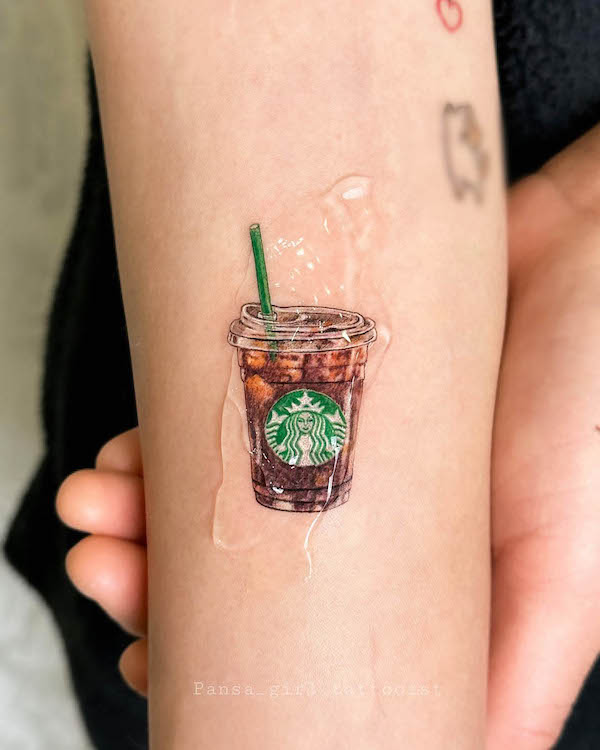 Iced Starbucks tattoo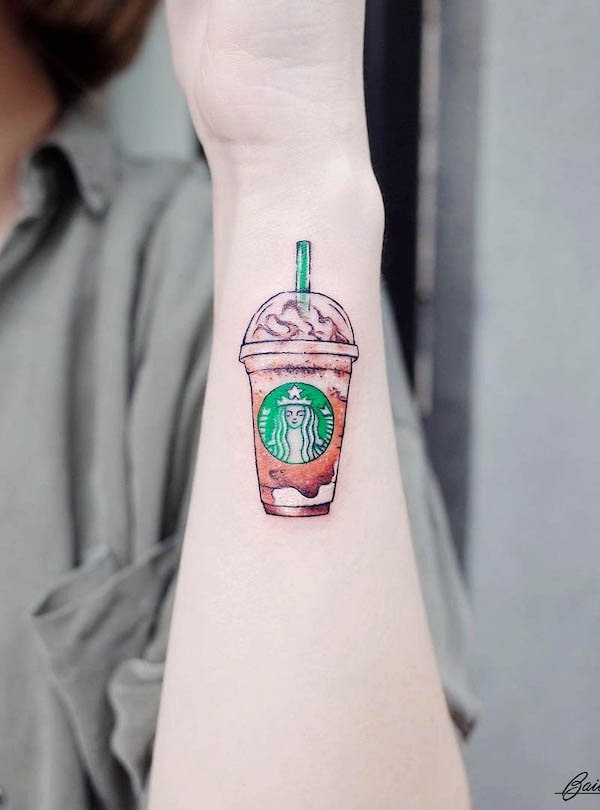 Starbucks sticker tattoo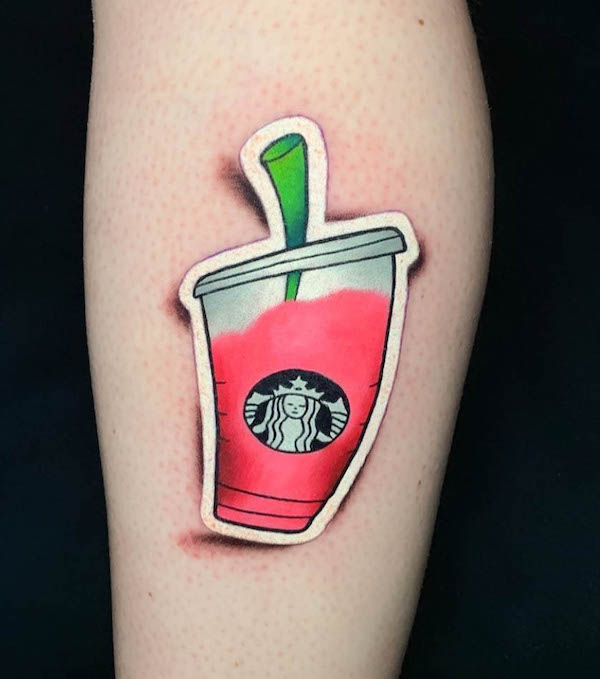 Which of these coffee tattoos is your favorite?
Leave your thoughts in the comment down below!