The rainbow is a beautiful symbol of new beginnings and diversity. And these rainbow tattoos will represent your pride and authentic self.
Rainbow tattoos have so many different meanings. They can represent a fresh start and hope. Or for the LGBTQ community, rainbow tattoos are a proud statement.
Regardless of the meanings, rainbows are naturally a good element to tattoo. They can be big or small. And the combination of different colors makes them stand out on the skin.
Rainbow tattoos have taken so many different shapes of forms. Tattooists worldwide have been exploring possibilities to make them unique and relatable. So here is a collection of rainbow tattoos that are gorgeous in their own way.
If rainbows represent you as a person, you will love these tattoo ideas. But first, let's look at the meaning and why are people getting them.
What is a rainbow tattoo?
A rainbow tattoo refers to a tattoo design with a rainbow on it. A rainbow, as in nature, is a spectrum of colors of visible light. It usually has 6 colors in the shape of an arc – red, orange, yellow, green, blue, indigo, and violet. But some other versions may have 8 or 12 colors.
It's worth noting that rainbow tattoos don't always have to be only about rainbows. It can be any symbol in rainbow colors. Or the rainbow can be the background or one of the elements in the design. So there's a lot of room to be creative.
Why do people get rainbow tattoos?
Rainbow tattoos have been around for a long time. And they appear to be more on the feminine side. But as the rainbow flag becomes a symbol of the LGBTQ community, its popularity has grown significantly. Now, you can see people wearing these multi-color tats everywhere for several reasons.
Rainbow tattoos are beautiful.
Nothing beats a tattoo with stunning colors. And rainbow tattoos are eyecatching and stunning. The colors of a rainbow are engineered by nature that transit smoothly.
A rainbow usually shows up after the rain when water and sunlight meet in the air. That's why rainbow tattoos often represent hope, faith, and a fresh start. For those who seek meaning and beauty in one tat, the rainbow is a good fit.
The different colors of a rainbow represent diversity. And the notion was first popularized by American artist Gilbert Baker and has been a symbol of gay pride ever since.
If you love to have colorful ink, take a look at the following rainbow tattoos. And you may find something that inspires you.
Disclaimer: This tattoo collection is for inspiration only. Please do not copy the artwork. If you love these tattoos, follow artists and show them some support.
Unique rainbow tattoos with meaning
Memorial dog tattoo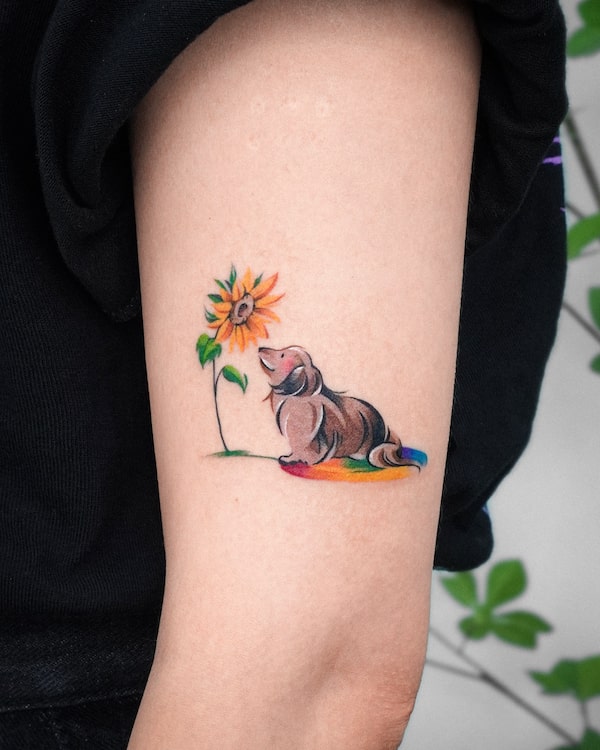 @eden_tattoo
Rainbow bridge is often used in memorial tattoos for pets. It's believed that the rainbow bridge connects the world and heaven. And by crossing it, our pals are in a better world.
Tattooist Eden combines the concept with sunflower in the tattoo, which represents the best wishes of the dog's owner. Though the story behind this tattoo is heartbreaking, it helps the owner find closure.
Moon and stars rainbow dot tattoo
Rainbow tattoos aren't always in arcs. This small minimalist dot tattoo is perfect for minimalists who want to low-key express their pride.
Rainbow heart pride tattoo
Paint stroke tattoos are perfect for art lovers. This small tat consists of two strokes in the shape of a heart. The colors are so vibrant that you can't miss it.
Conceptional rainbow pool
When rainbow colors are paired with black and grey, they stand out even more. This above the ankle tattoo not only plays with the color contrast. Putting a ladder between the two blocks also creates a three-dimensional space on the skin.
Rainbow emojis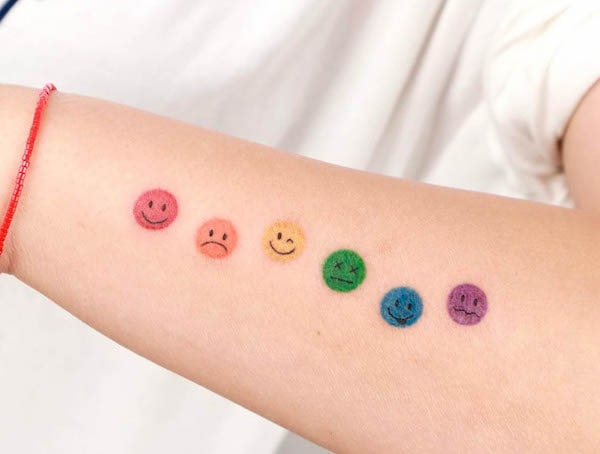 The colors of a rainbow represent diversity. And they can also symbolize different moods. These small emojis can be a mental health tattoo that remind to honor your feelings, whether they are good or bad.
Matching rainbow strokes for best friends
These two matching paint stroke tattoos might seem arbitrary. However, as best friend tattoos, it's the bond between the two individuals that makes these matching ink meaningful.
Black and white rainbow arm tattoo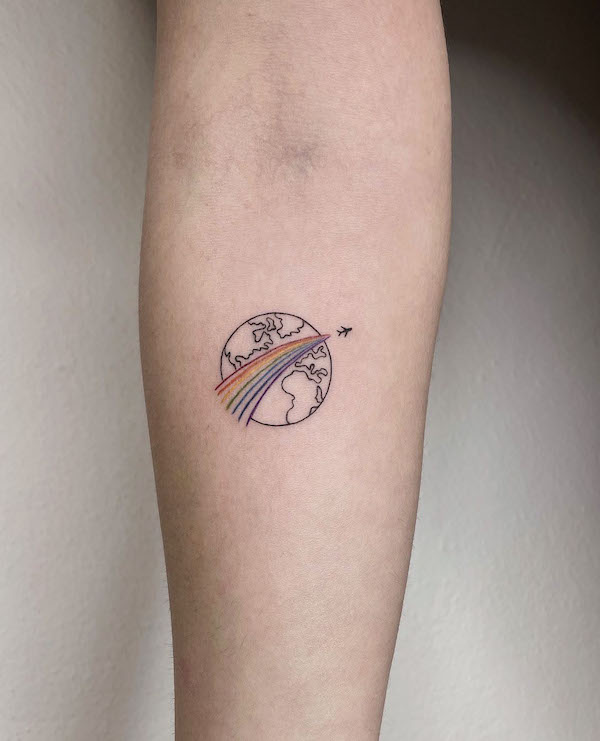 Planes and the earth are often seen in travel tattoos. With a rainbow representing hope and a new beginning, this small tattoo symbolizes the wearer's passion for exploring the world.
Hand drawn rainbow tattoo on elbow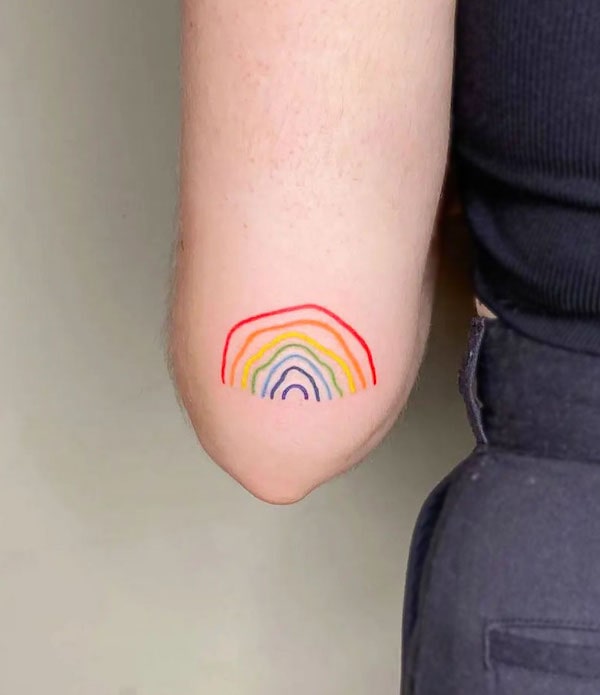 Less than perfect is a new form of perfection. At first sight, this elbow tattoo might look like a doodle. But the scribbly lines make it ideal for a carefree soul, which is really the essence of the design.
Adorable rainbow tattoo for cat lovers
Each cat is one of its kind. Such a cute cat tattoo not only shows the owner's aesthetics. It also expresses the pride of being a cat owner.
Cute UFO tattoo
Have you ever imagined what life is like out of this planet? If so, this small UFO tattoo may represent your curiosity and imagination.
Rainbow bridge tattoo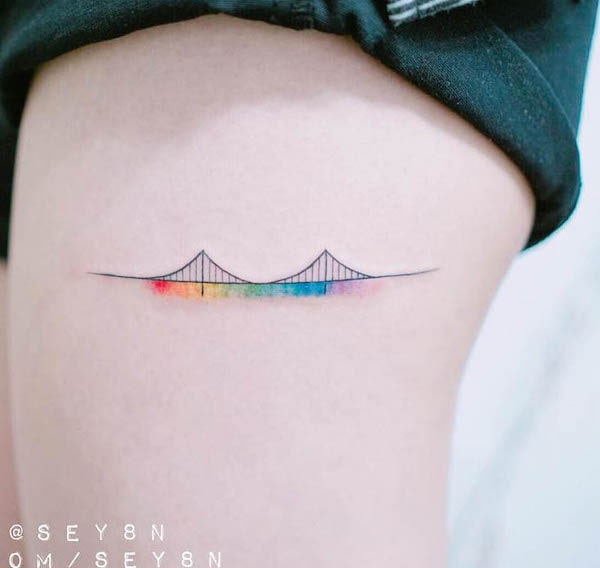 This is another rainbow bridge tattoo with an actual bridge in it. The bridge, however, can represent the way to one's next destination. In addition, the design is sleek, making it perfect for both men and women.
Rainbow butterfly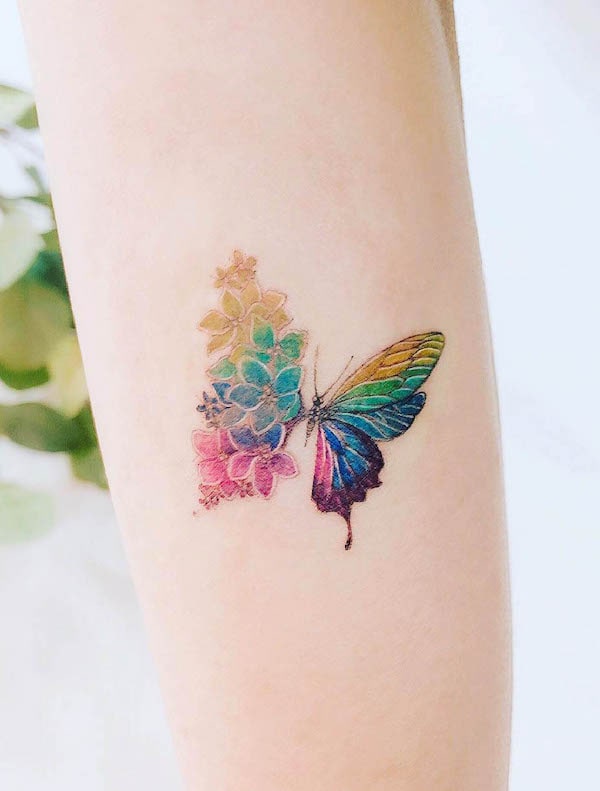 Butterflies often symbolize beauty and the pursuit of freedom. When a butterfly takes on rainbow colors, it does not only look more stunning. It is also a statement of authenticity.
Minimalist rainbow dinosaur
Dinosaur tattoos are often dark, like black, grey, and brown. This one, however, is outlined in rainbow colors. As a result, it captures the viewers' attention and, at the same time, keeps the design sleek and simple.
Realism rainbow paint stroke waist tattoo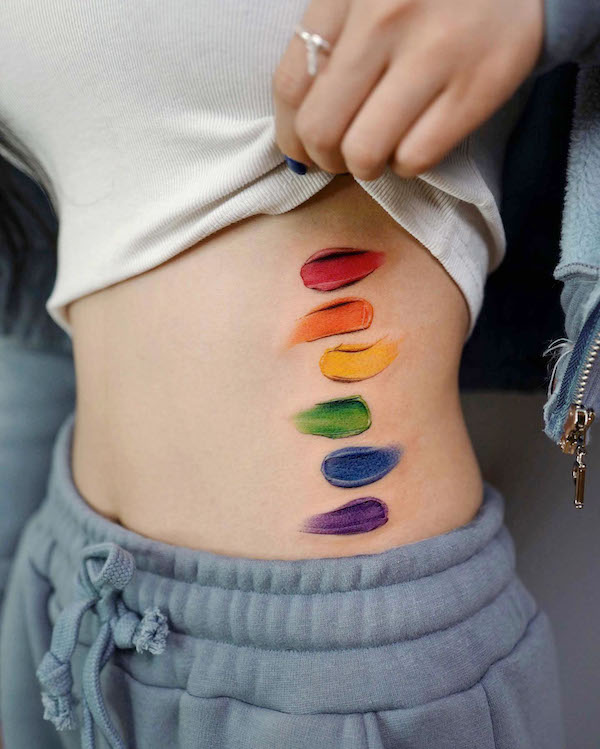 The waist is not a placement that is exposed often. You can consider bold designs for waist tattoos, like the rainbow paint strokes that stretch vertically.
Rainbow film roll
If you are a Gen Z, you probably have never seen a camera film roll. This small colorful tattoo really brings the viewers back to the good old days.
Small rainbow lines ear tattoo
Small rainbow on the waist
Fearless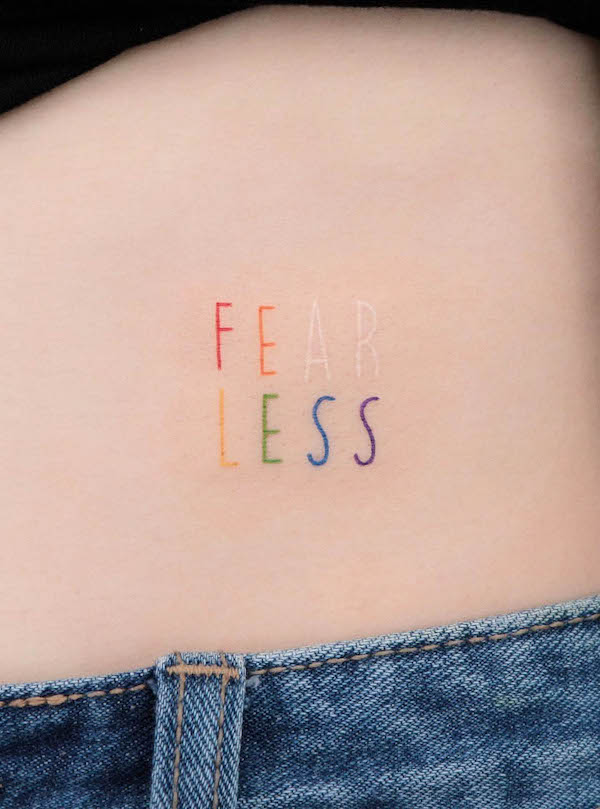 One-word tattoos can be empowering because of how precise they are. The letters of the word Fearless are in rainbow colors, which makes the message even stronger.
Gorgeous rainbow fern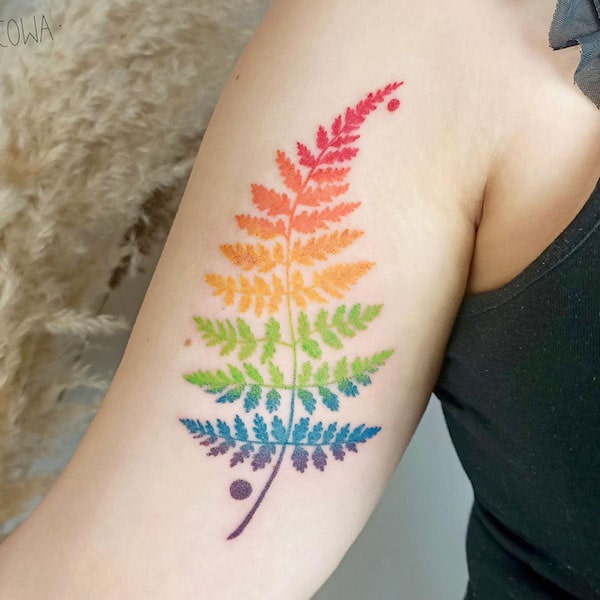 Ferns have different symbolisms across cultures. In New Zealand, silver ferns stand for strength and endurance, and they are the symbol of its national sports teams.
In Japan, the fern represents hope and family. So depending on where you are, the plant may mean different things to you. And adding rainbow colors is a good way to twist it to your aesthetics.
Happy one-word tattoo
Happiness is a choice. A small word tattoo like this one will remind you to always choose happiness and see the bright side.
Small rainbow blanket
Cute rainbow over the cloud
Over The Rainbow is a song we all know. And this small cute tattoo rings its melody by your ear, making it perfect for music lovers.
Rainbow paint tattoo
Rainbow tulip tattoo
Just like the flower, most tulip tattoos symbolize perfect love – the love that happens once in a lifetime. If you connect with this beautiful flower emotionally, this tulip flower tattoo may be perfect for you.
Wildflowers with rainbow petals
Rainbow flower
Small rainbow cherries
Rainbow slinky walking spring
Tattoos either express or remind. This one is the latter. The rainbow slinky is perfect for those who have played with them in their childhood. It will be a reminder to maintain innocence and fun as an adult.
Rainbow flower elbow tattoo
Sometimes tattoos cheer you up on bad days. This simple positivity tattoo with a smiley face is one of them.
Rainbow hearts
Rainbow gemstone tattoo
Rainbow heartbeats
The EGC is often seen in nurse tattoos. When there are waves, the heart is still beating. It symbolizes life. And the vibrant colors make it stand out from the ordinary.
Rainbow hearts
Tiny rainbow
Small dots in rainbow colors
Behind-the-ear tattoos are perfect for those who want a discreet placement, like these rainbow dots. They are so small that they fit perfectly into the small area. Yet the vibrant colors make them noticeable when shown.
Rainbow infinity symbol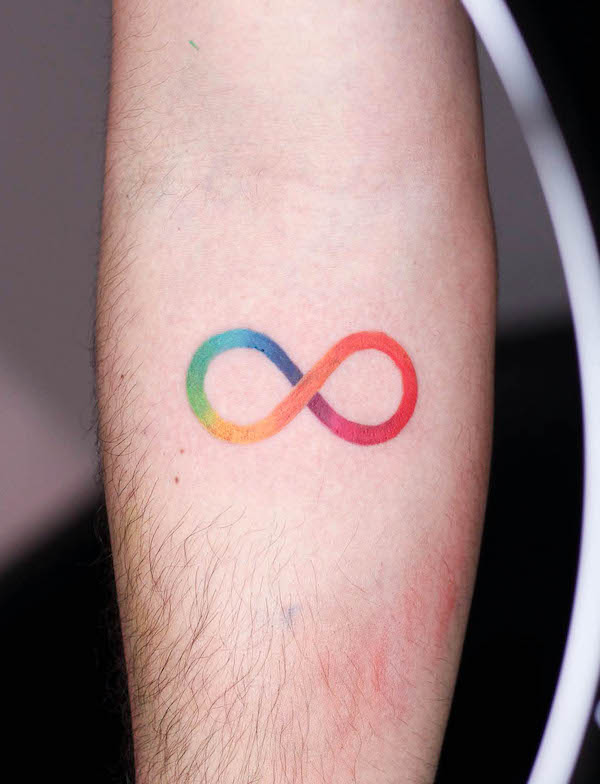 The infinity symbol resembles a figure 8 lying down. It's a mathematical symbol that represents infinity. In tattoos, it means endless possibilities. This rainbow infinity tattoo shows how life is abundant and full of opportunities.
Rainbow lightning bolts
Rainbow line armband tattoo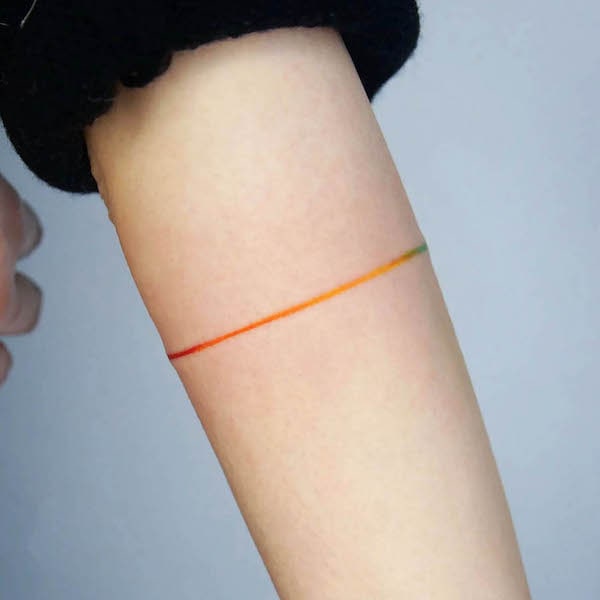 Rainbow lines wrist tattoo
Read also: 56 Stunning wrist tattoos for women
No Face Spirited Away tattoo
No-Face is a character in Spirited Away. The tattooist brings the character closer to us by putting him in a daily setting. Adding the rainbow is a clever move because it makes the tattoo pop out on the skin.
Shooting star behind the ear
Rainbow river ankle tattoo
Rainbow line on the ear
Rainbow triangles wrist tattoo
Rainbow diamond shoulder tattoo
Small bear brush tattoo
Rainbow piano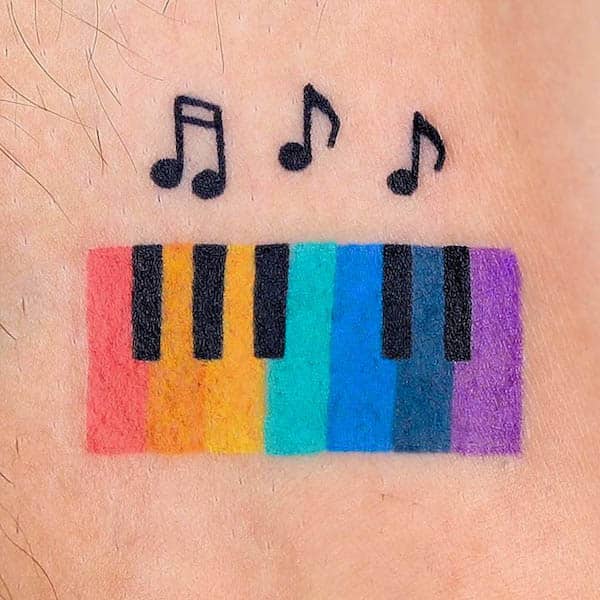 Small rainbow on the inner arm
Small rainbow sun tattoo
Tiny rainbow finger tattoo
Watercolor circle tattoo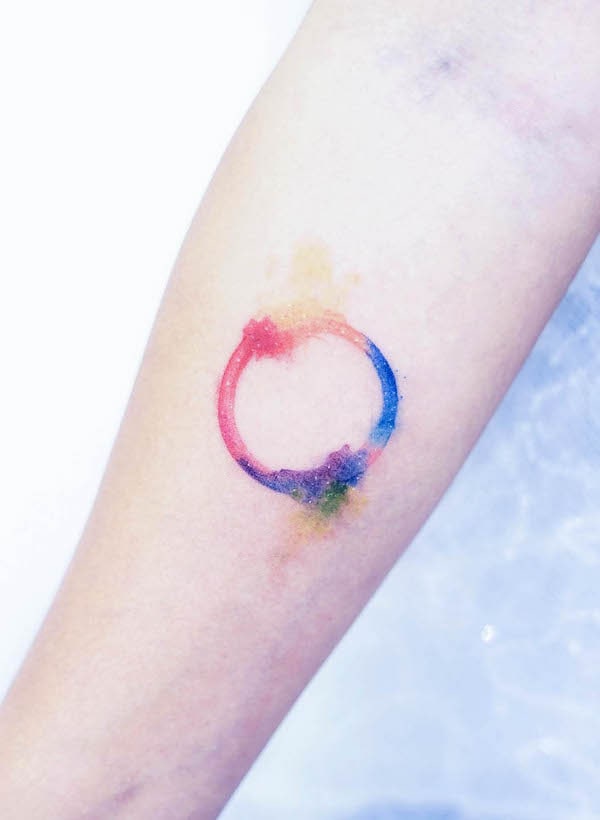 Rainbow bubbles shoulder tattoo
Which of these rainbow tattoos is your favorite?
Leave a comment down below and share your thoughts!