Armband tattoos are an elegant statement. From small to big, simple to elaborate, these armband tattoos for women will inspire your next ink.
Armband tattoos are all the rage these days. They are the perfect way to wear your favorite quote or pattern on the skin. And this trend is becoming more and more popular with the younger generation of women for good reasons.
Unlike arm tattoos, where you can basically have anything you want on them, an armband tattoo requires thoughts and design. A cohesive combination of patterns will make more sense than random elements piling up.
Armband tattoos are also highly decorative, as they work like a bracelet around the arm. But that doesn't mean they don't hold significance to the owner. An armband tattoo can have various deep meanings depending on the design, color, and style.
For these reasons, armband tattoos have become a way to show one's personality or make a statement. Plus, you can control its visibility by placing it on different parts of the arm. The closer to the shoulder, the more discreet it gets. A striking ink around the forearm, on the other hand, will be a bold representation of your style.
So if you are looking for armband tattoos for women, whether elegant, bold, or minimalist, you will find something for you in this post.
Disclaimer: This collection of armband tattoos for women is for inspiration only. Please do not copy the artwork. If you love these tattoos, follow artists and show them some support.
Stunning armband tattoos for women
Simple armband tattoo ideas
There are many reasons why you should get an armband tattoo. First, they are permanent jewelry that allows you to make a statement. And at the same time, they can be delicate and easy to hide.
While a tribal armband captures attention, many other armband tattoo ideas for women express your identity or style more subtly. So keep scrolling, and you will not regret these minimalist, elegant, yet timeless designs.
Lily bracelet armband tattoo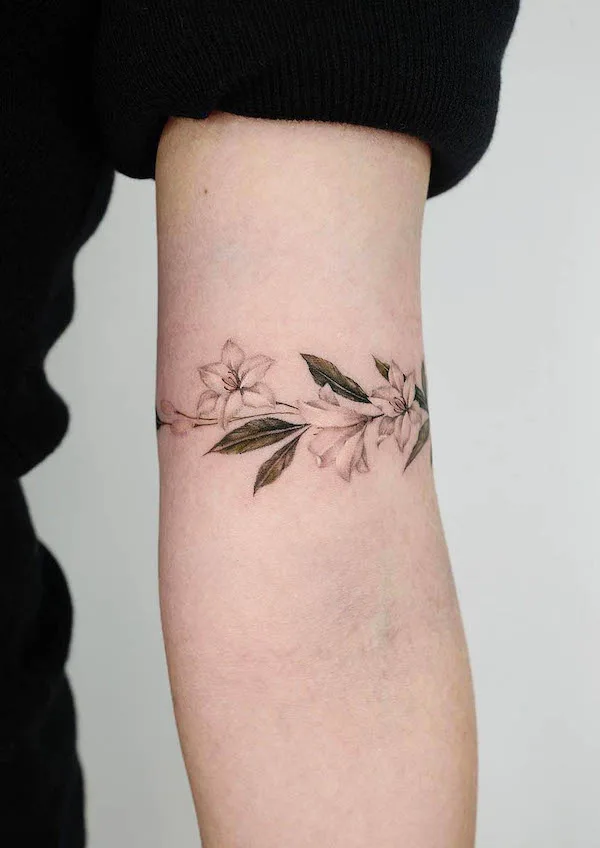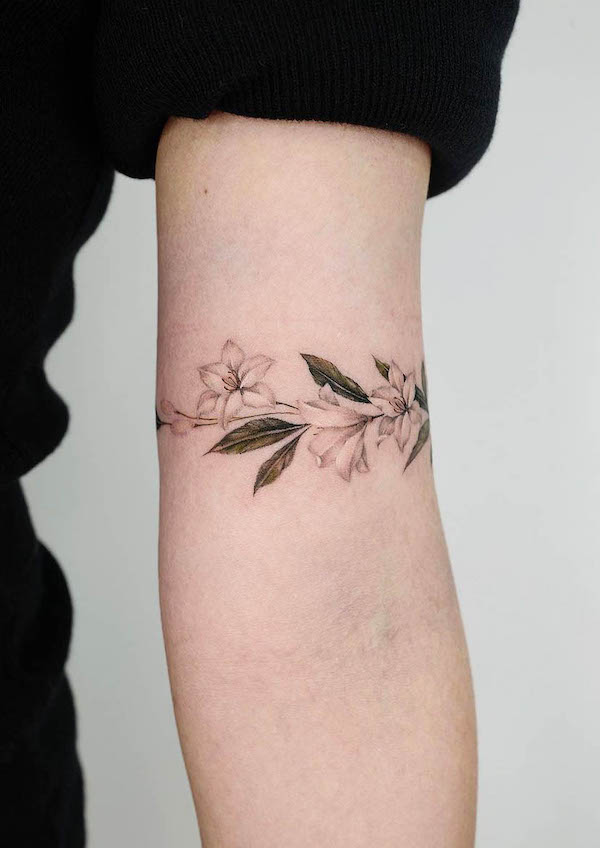 Flowers are evergreen tattoo objects. As an armband tattoo, the flowers resemble a floral wreath wrapping around the arm, adding a sense of freshness to the skin.
The sun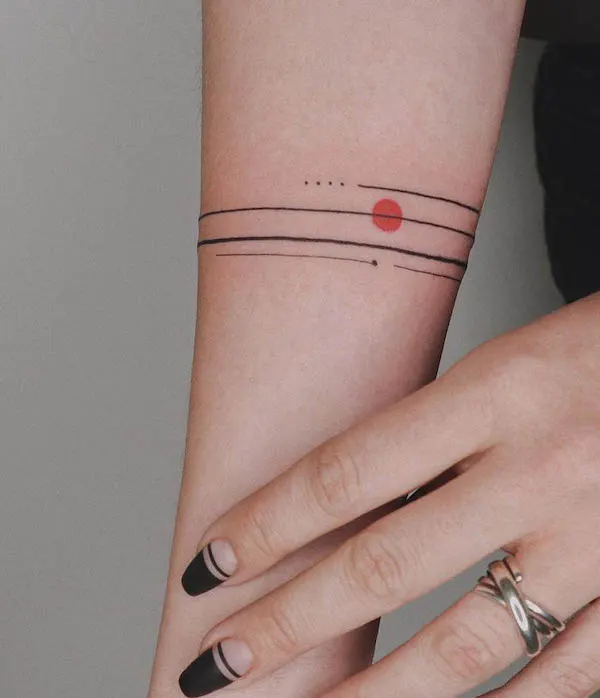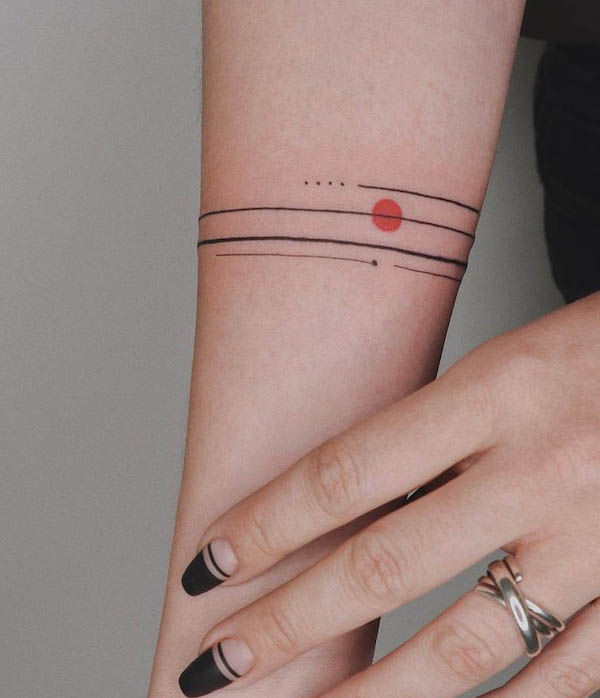 There's nothing simpler than straight-line tattoos. But in some cultures, a solid black line armband can be seen as a memorial tattoo for the death. Adding other elements like the sun can brighten up the ink and attach new meaning to it.
Leaves wrapping around the arm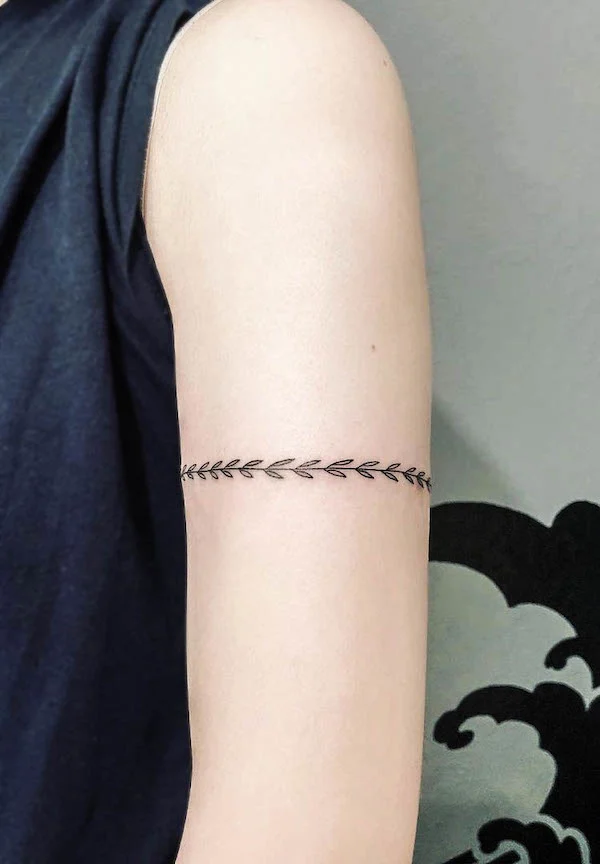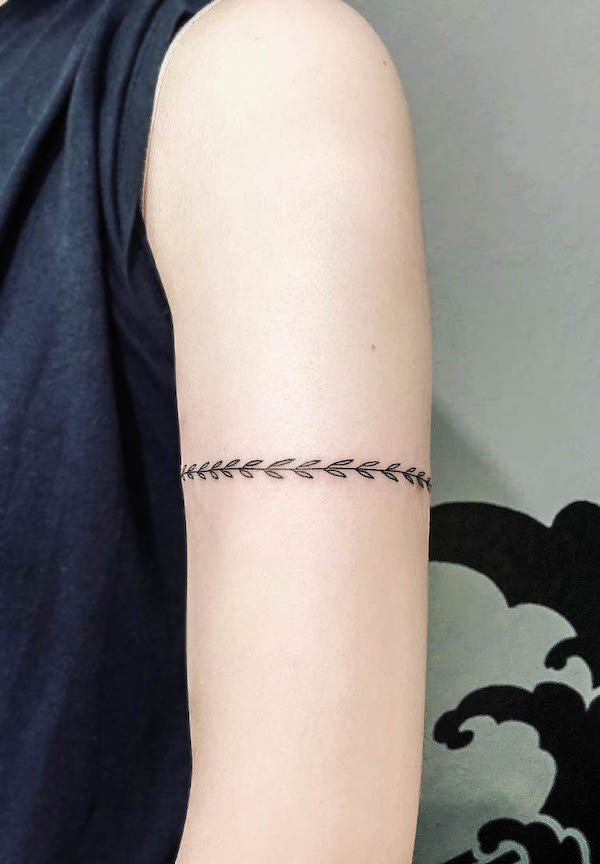 Similar to flower tattoos, botanical tattoos are loved for various reasons.
First, they look good both in small and big sizes. You can scale up or down or position the leaves in different shapes.
Second, leaves symbolize life and energy. They can also be a tribute to a new beginning. If you want something simple and meaningful, consider these cute leafy tattoos.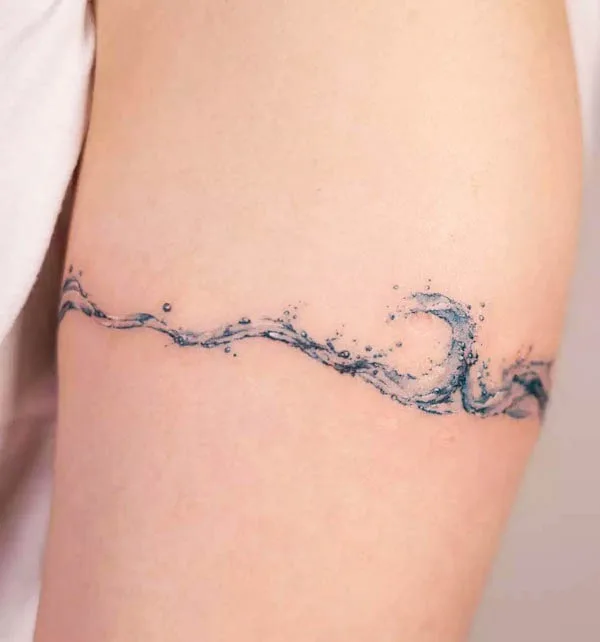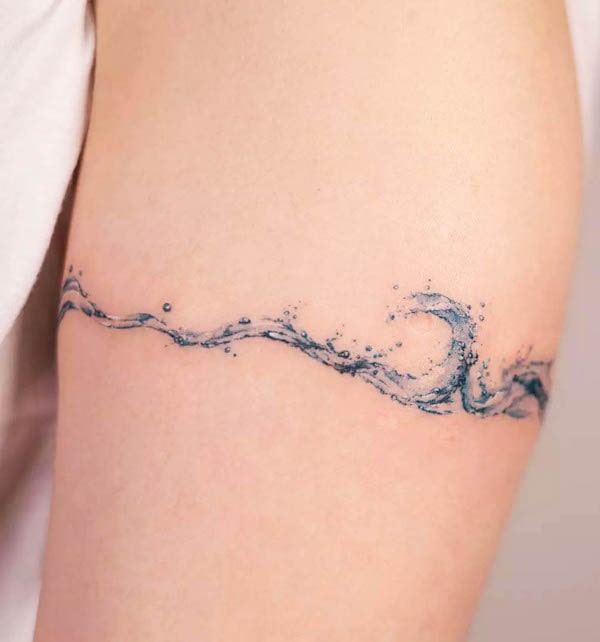 Waves make great armband tattoos because of the movement they bring to a static design. Plus, they are also common imagery for new beginning tattoos, symbolizing the endless loop of life.
Simple boat armband tattoo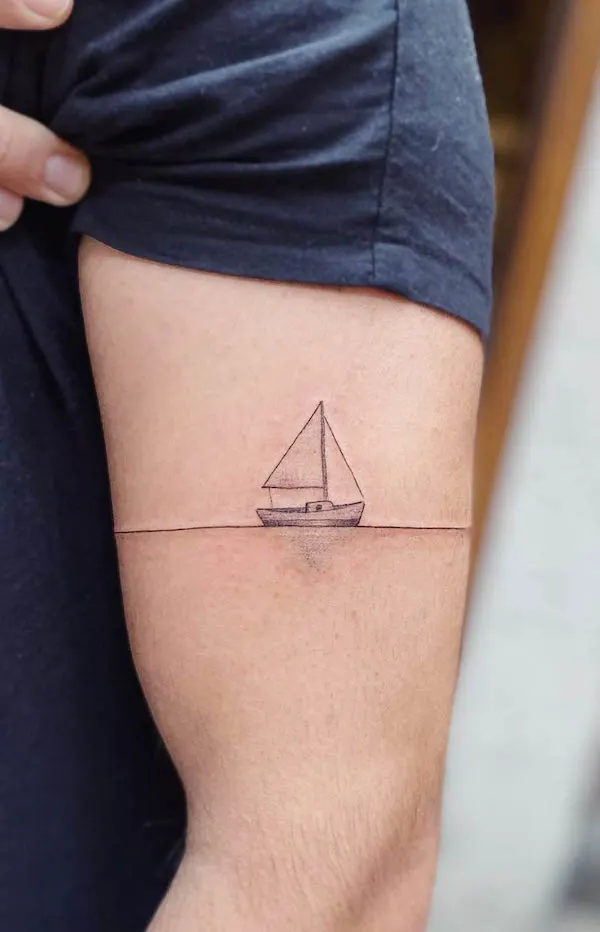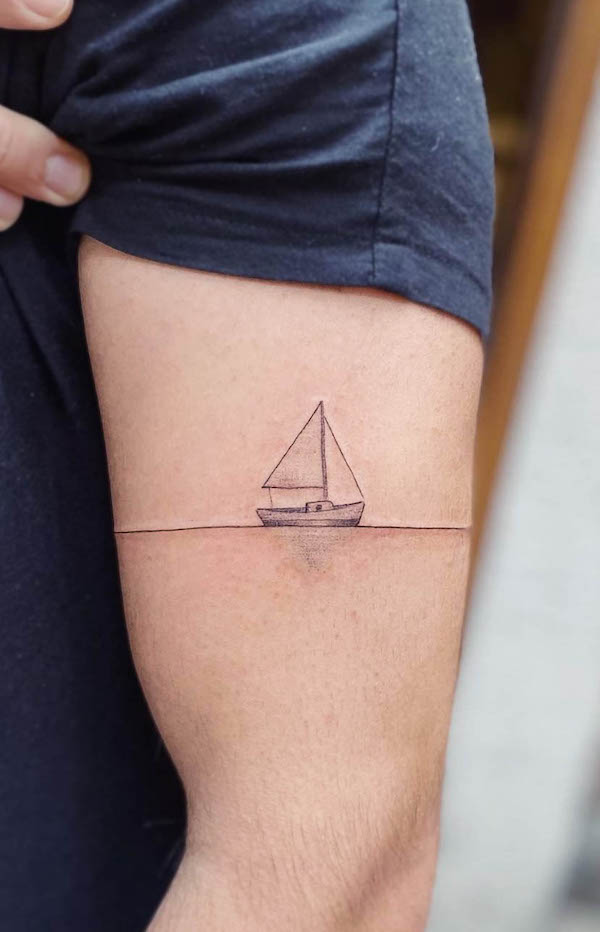 A boat can be a symbol of a real-life journey or a spiritual one. A simple boat armband tattoo like this one will remind you to push boundaries. It reveals the truth that one can't grow by remaining where they are.
Leafy armband for girls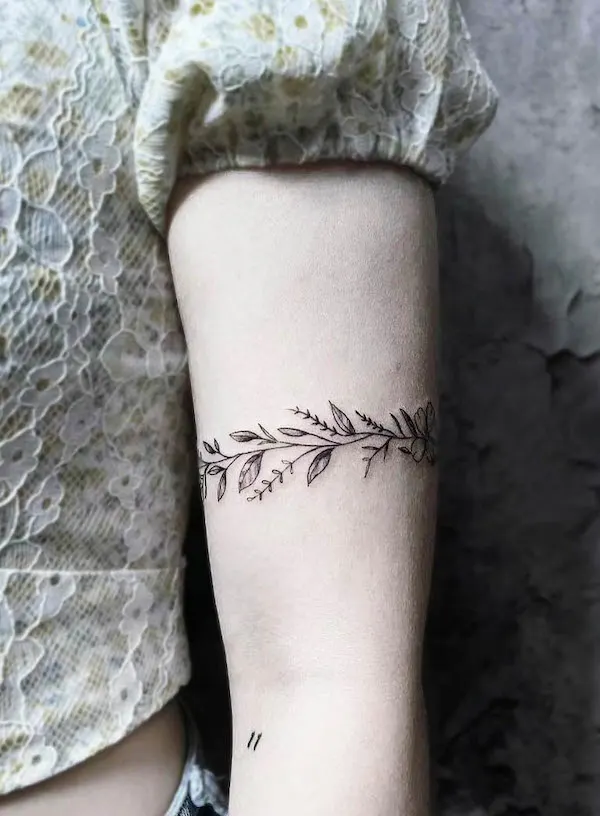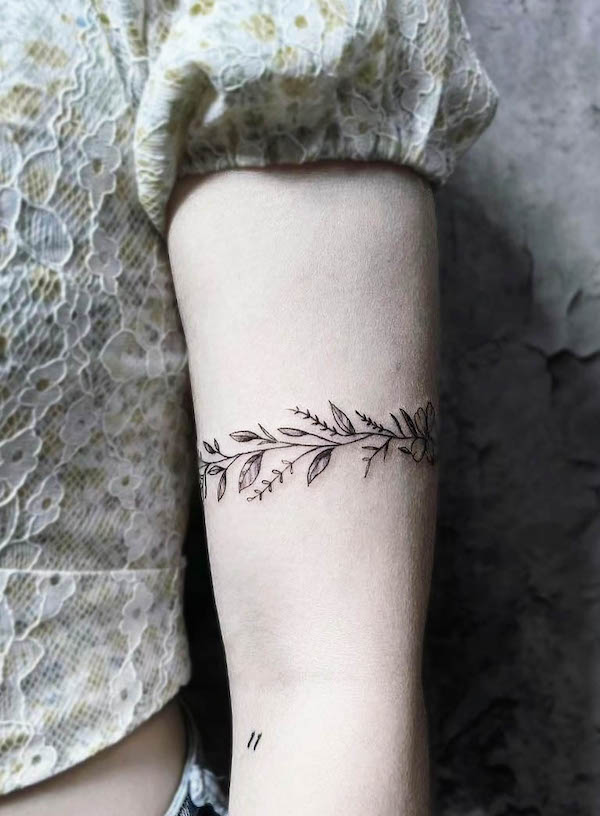 Another leafy armband tattoo. But unlike the previous one made up of repetitive patterns, this tattoo incorporates leaves in different shapes, adding diversity to the design.
Ocean and night sky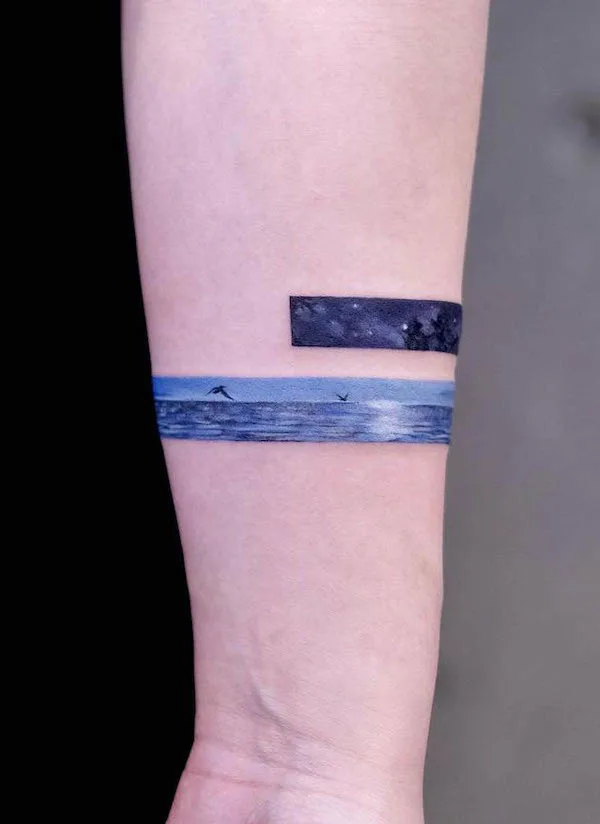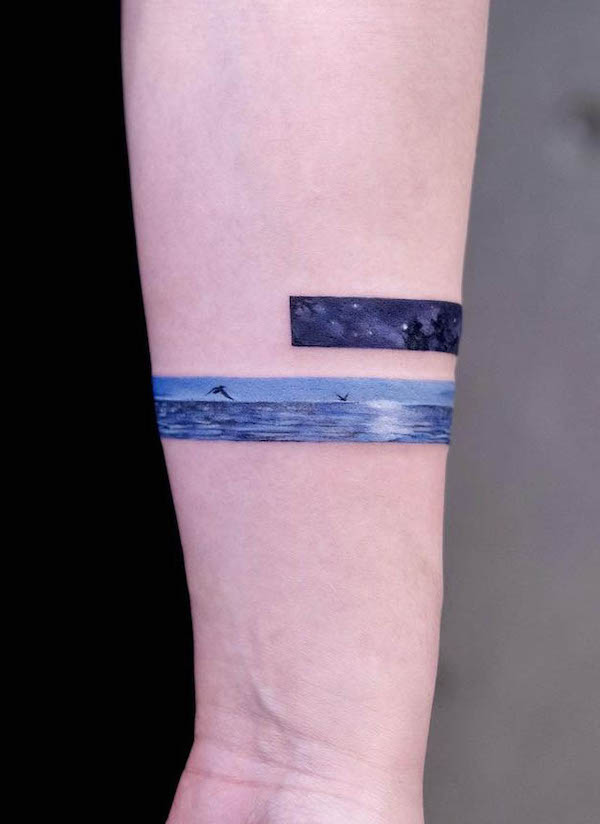 Want an untraditional landscape tattoo to showcase your connection with Mother Nature? The tattooist has offered a creative way to do it – wrap it around your arm and wear your heart on the sleeve.
Minimalist leaves armband around the elbow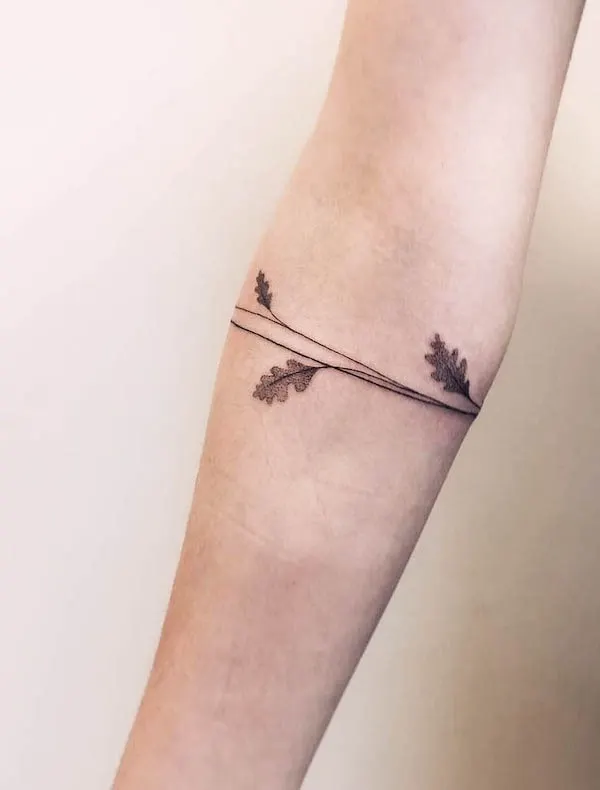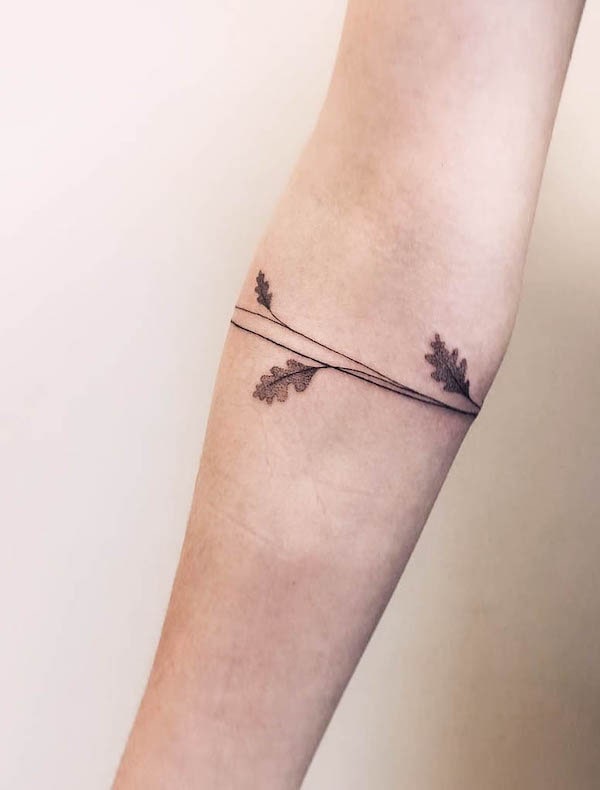 Floral ornamental armband for women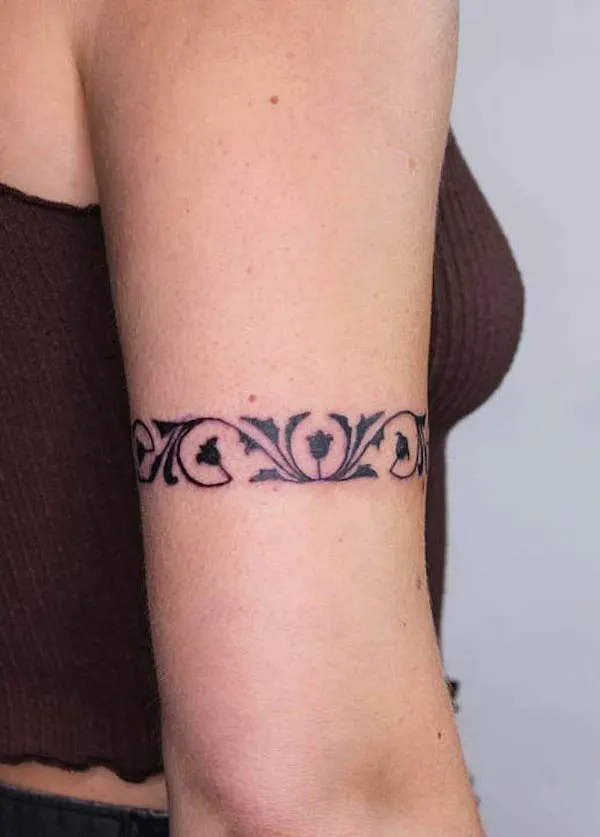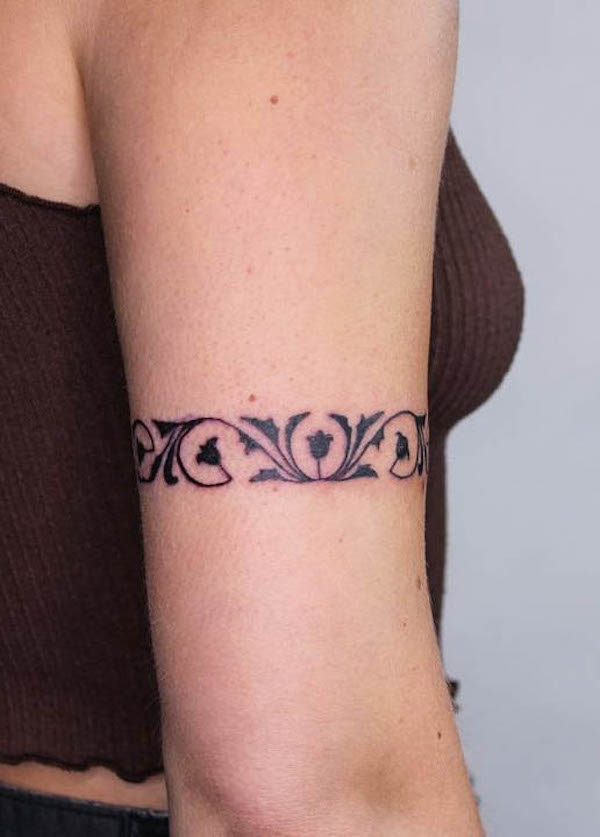 Minimalist landscape armband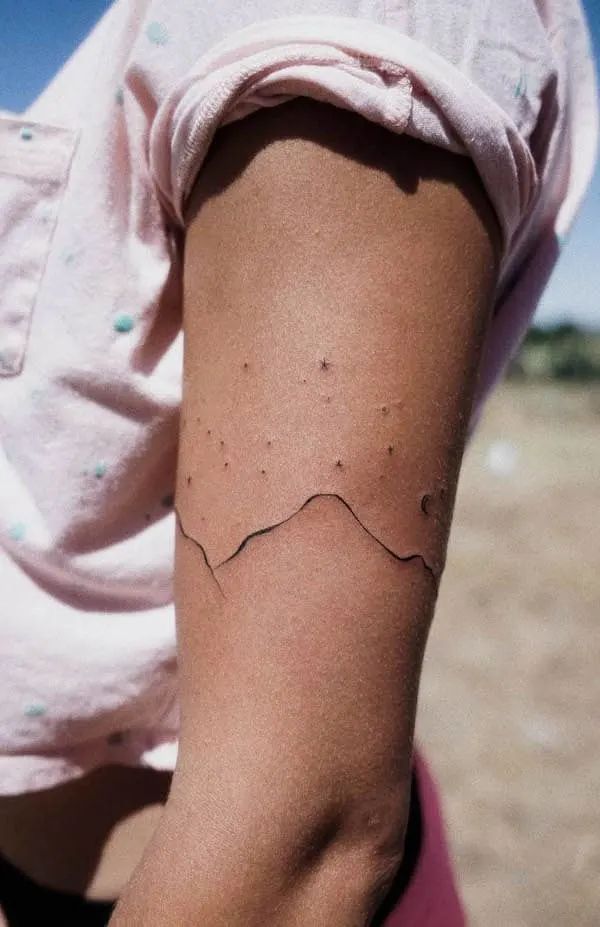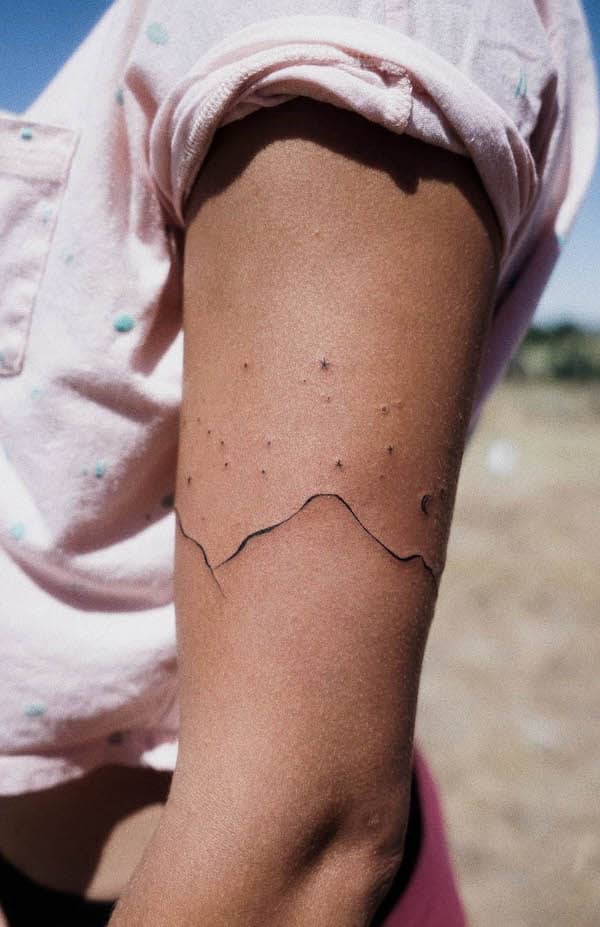 Most landscape tattoos have a solid background to make the scenery stand out. This tattoo, however, breaks the rule by removing the frame. The skin itself is a boundless canvas.
Sun and moon symbol tattoo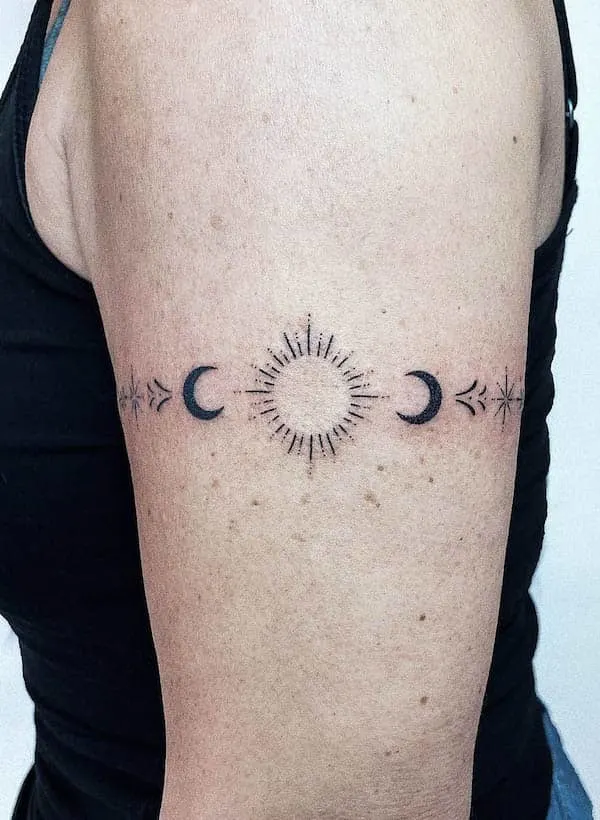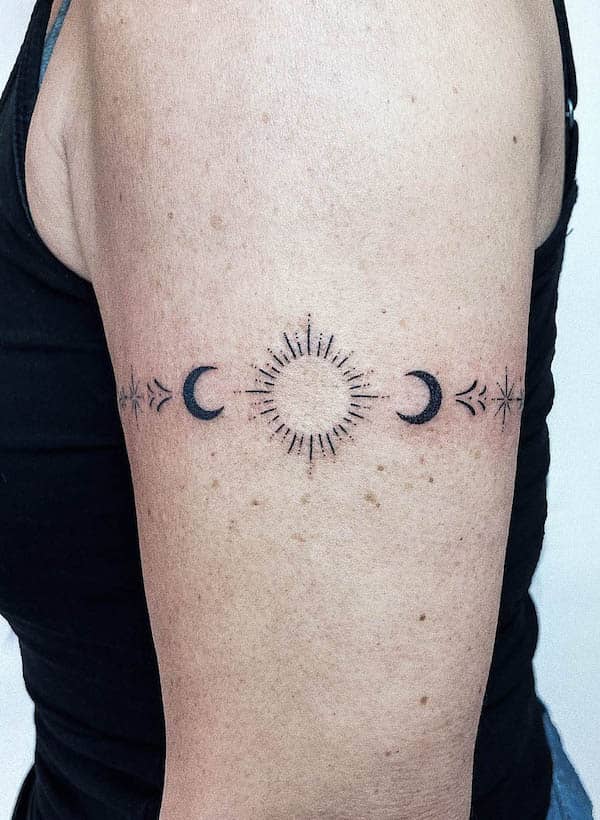 Minimalist leafy tattoo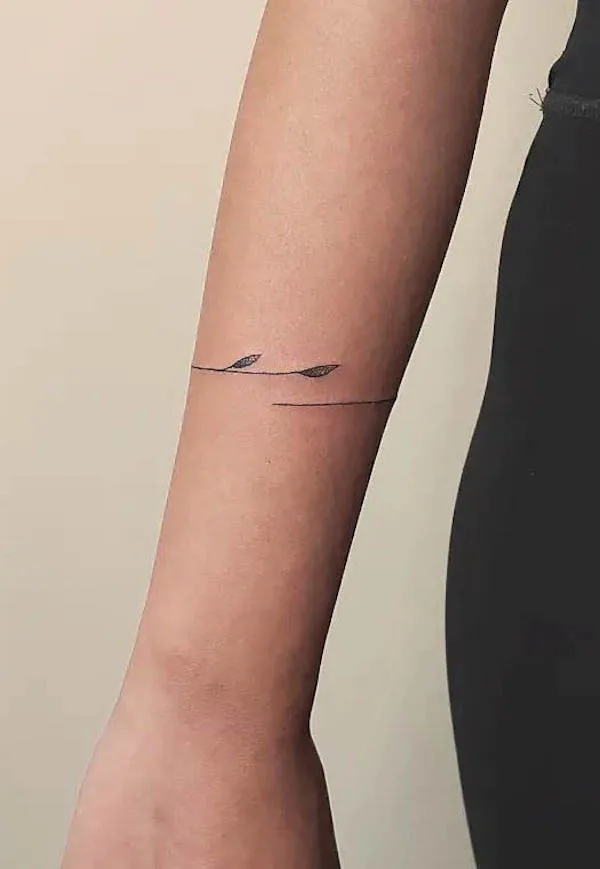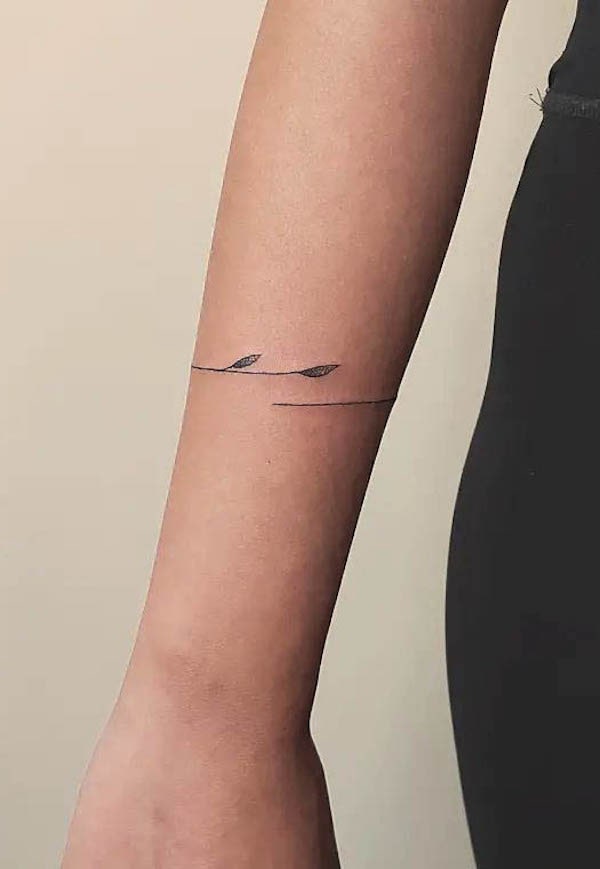 Whale and waves armband tattoo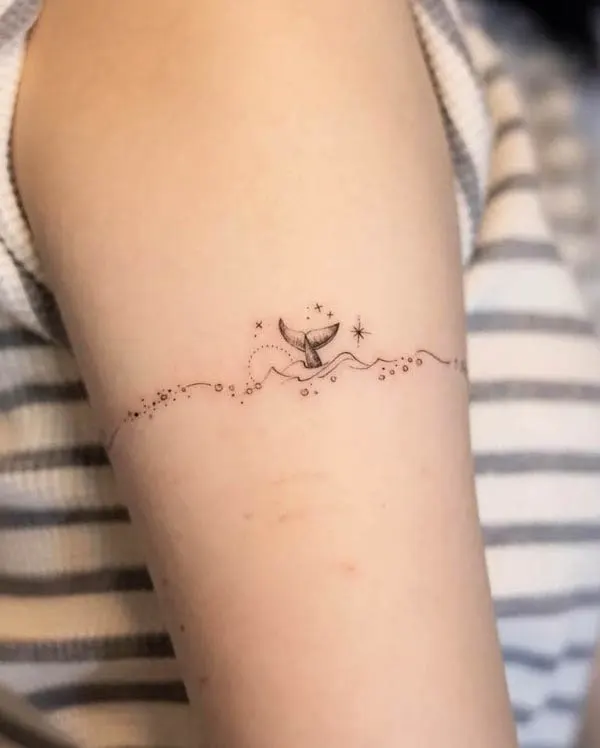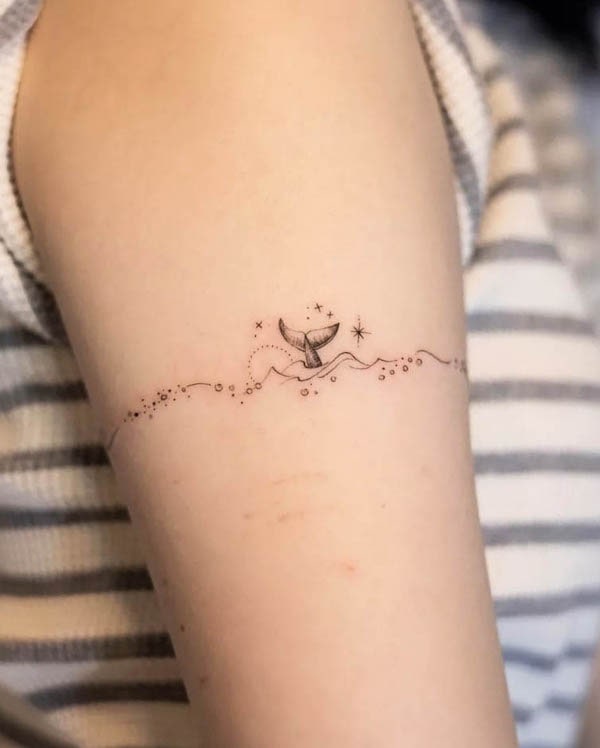 Rainbow line armband tattoo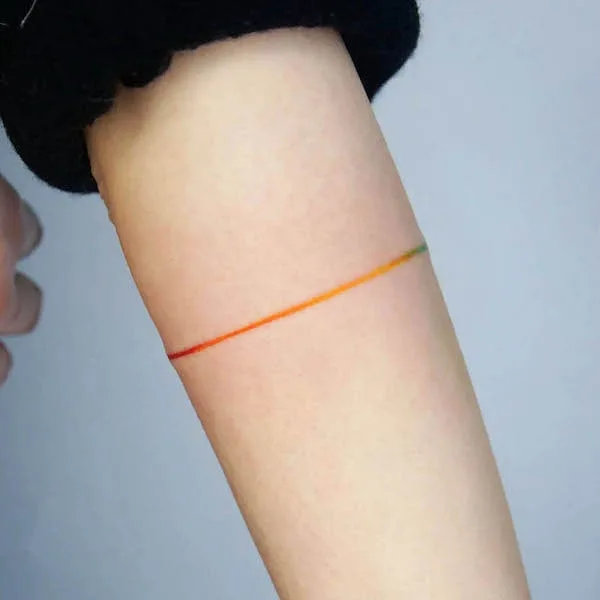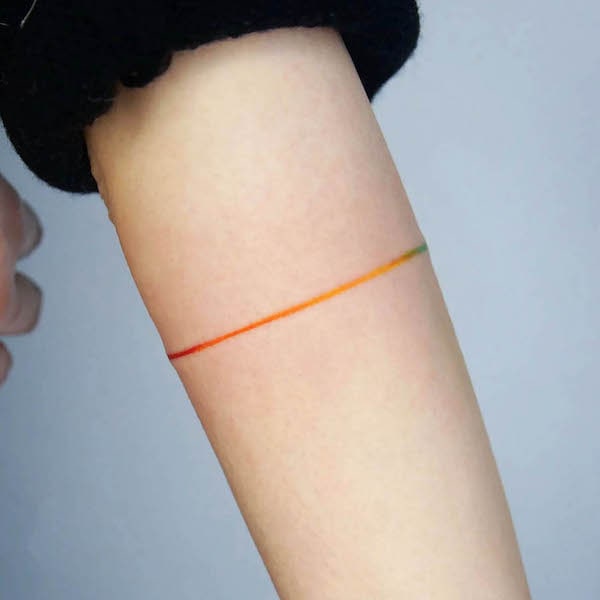 Sometimes a simple tattoo can send a strong message, just like this single-line rainbow armband tattoo.
They are great for those that want to show their support for the LGBTQ community. At the same time, a rainbow tattoo also indicates the wearer's positive perspective toward life and challenges.
Stunning and bold armband tattoos for women
Tattoos are a form of self-expression. If you stand behind your aesthetics and what you believe in, why not make them bold, beautiful, and noticeable?
With stunning color combos and high-level execution, the following armband tattoos will surely turn heads.
Beautiful Chinese peonies armband tattoo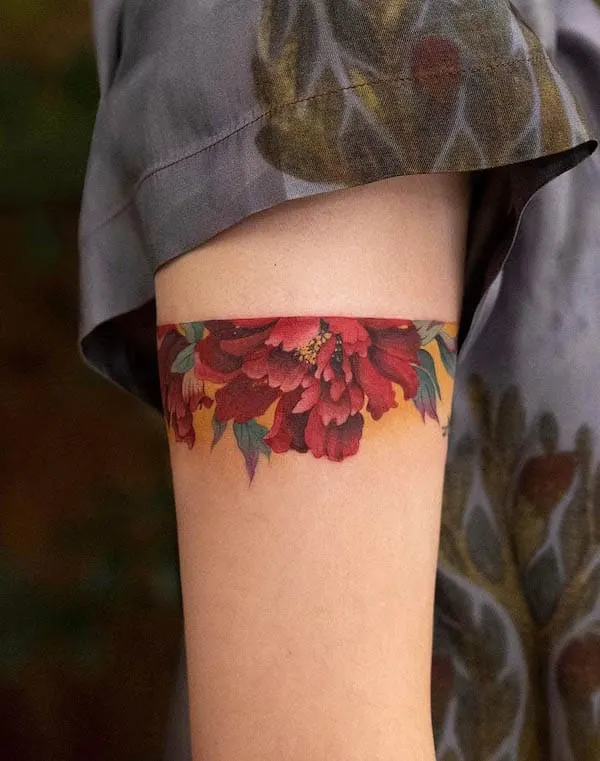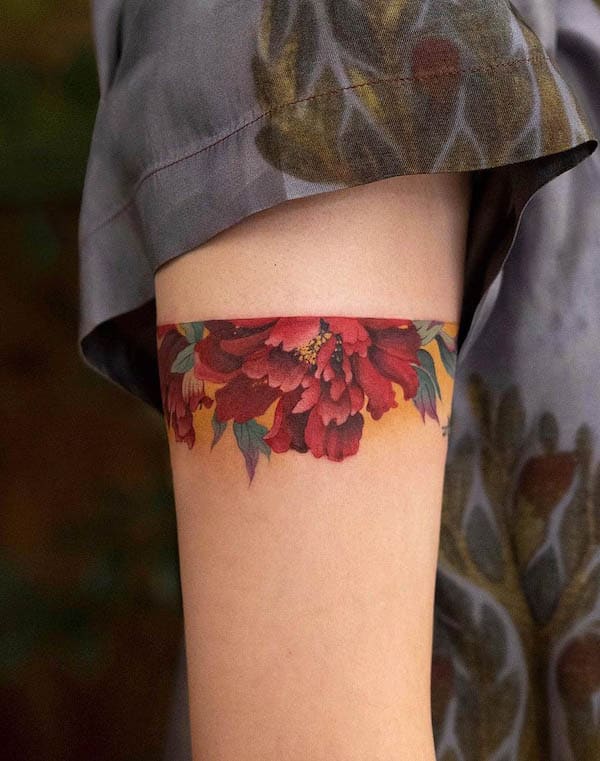 If you are looking for ink that accentuates your feminine side, consider flowers in vibrant colors like this one.
As the national flower of China, the peony symbolizes wealth and prosperity. With most of them in red and pink, the vibrant colors will be a glimpse of the cheerful, radiating energy of the owner.
Thorns armband tattoo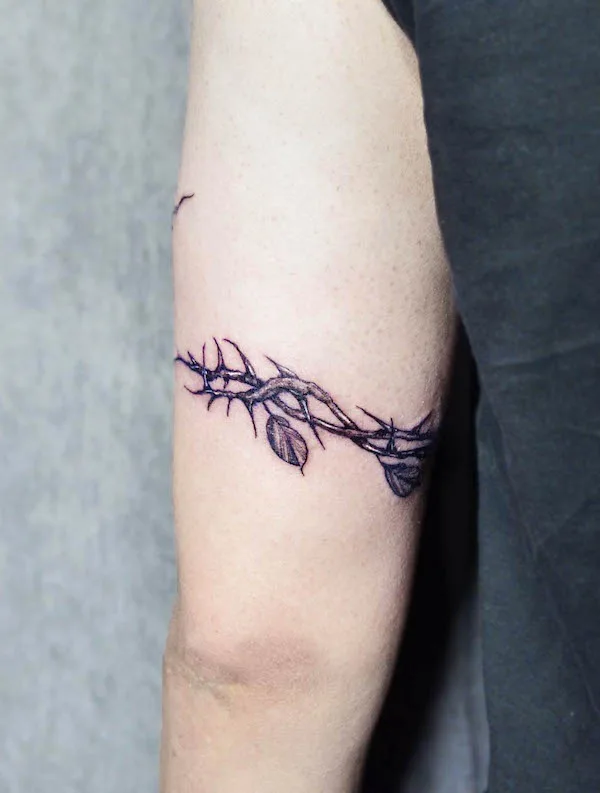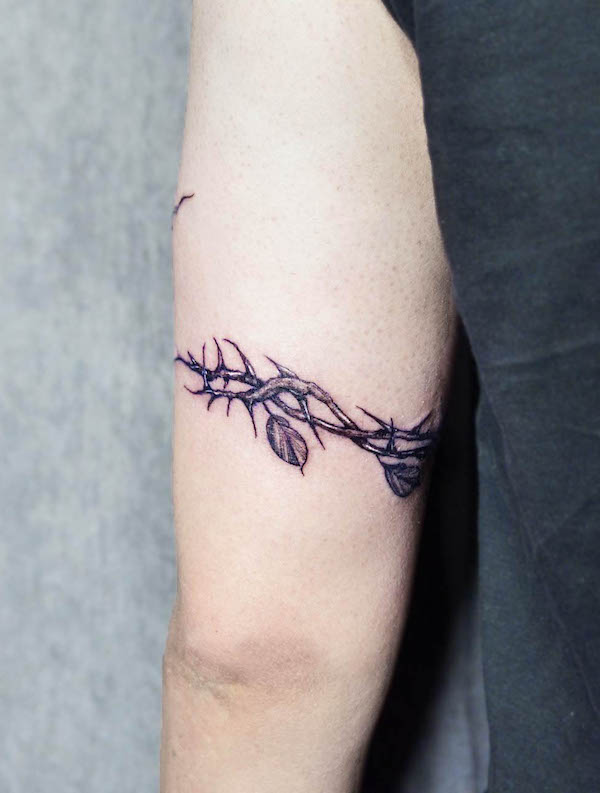 Armband tattoos are not always as feminine as delicate flowers and leaves. If you want to add a bit of edge and demonstrate your badass side, this thorn tattoo is perfect for you.
Beautiful forearm mandala tattoo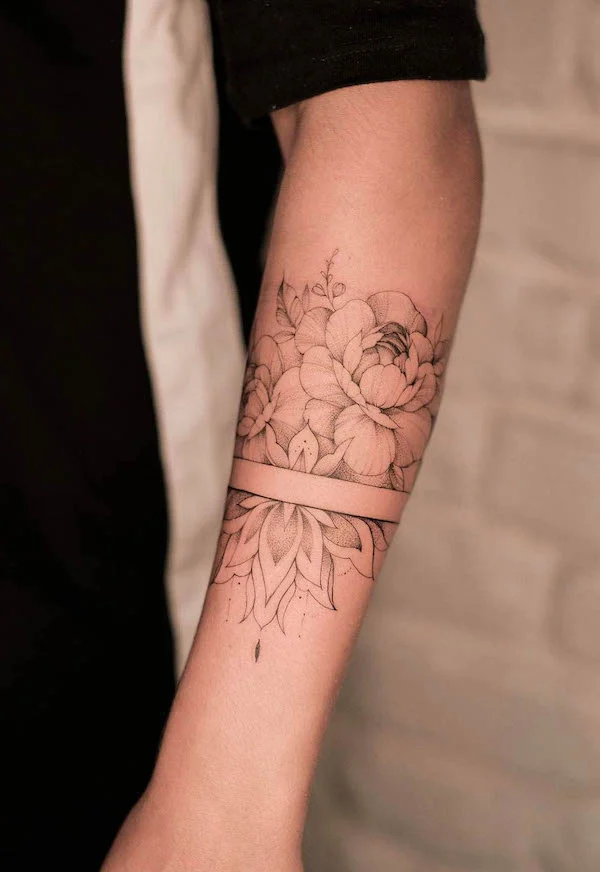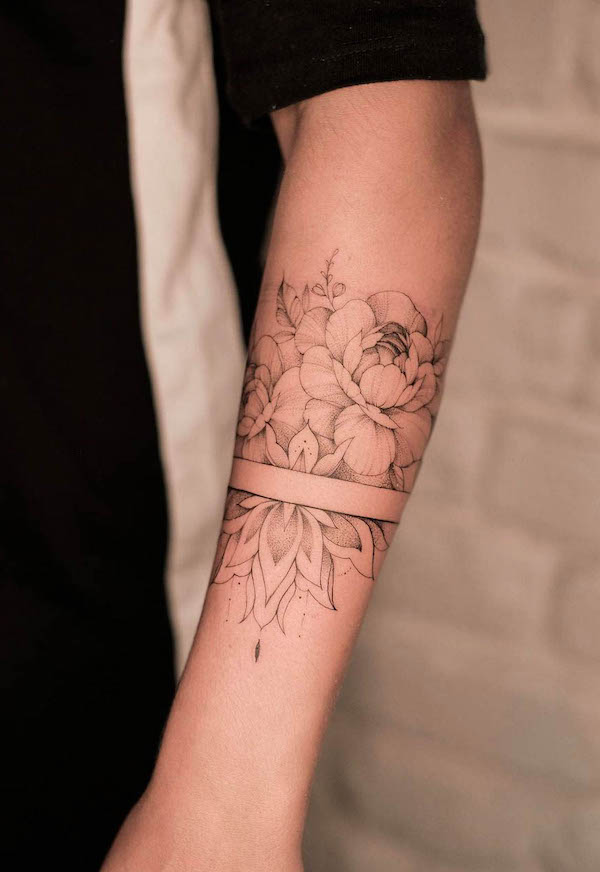 From afar, this forearm tattoo may look like another floral ink. But look closer and you will find a delicate mandala underneath the band, giving the tattoo a sense of structure and meaning.
The blank space in the center is also clever, as it provides contrast and captures attention.
A blue dragon around the arm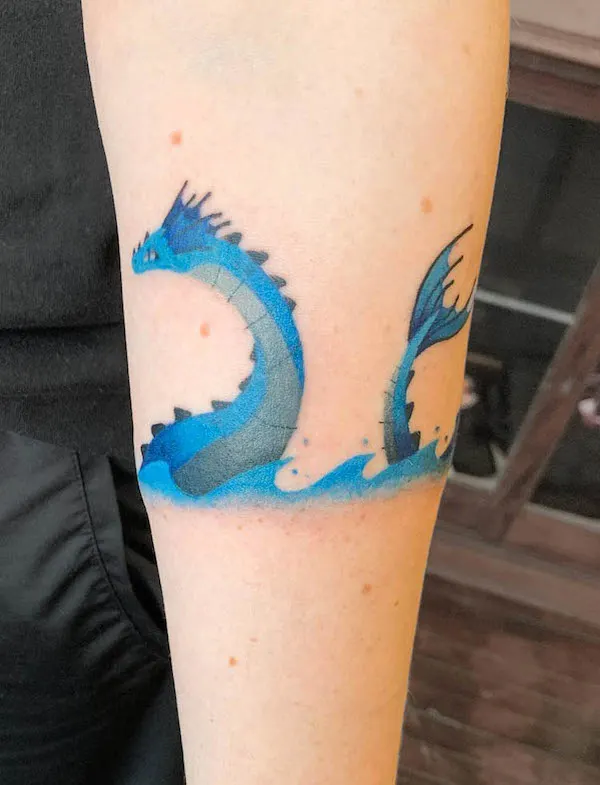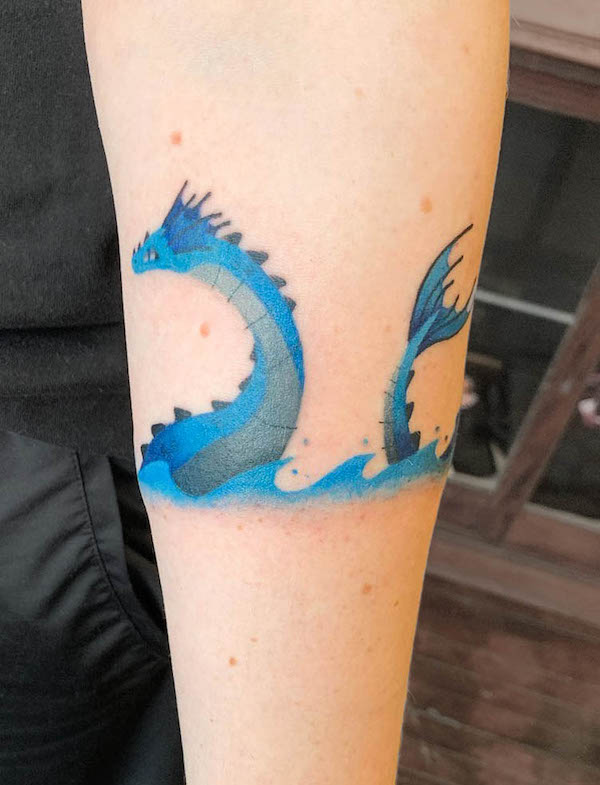 Bee and butterfly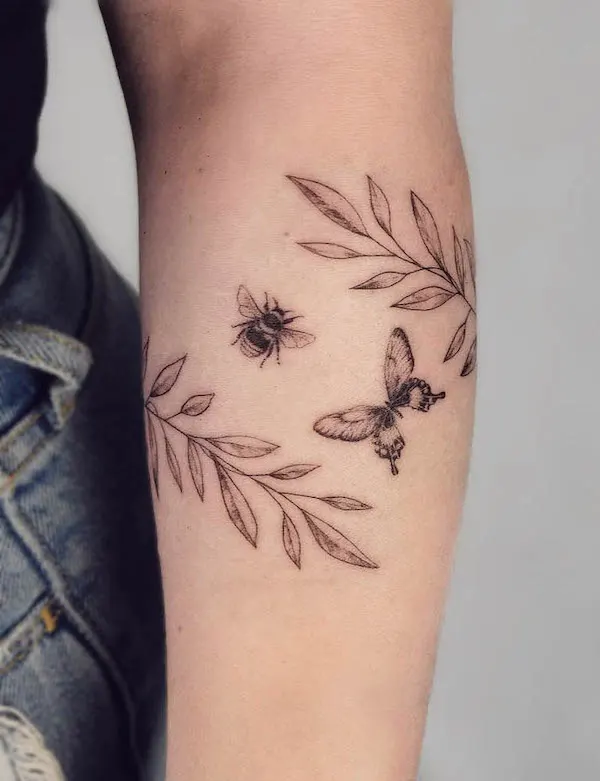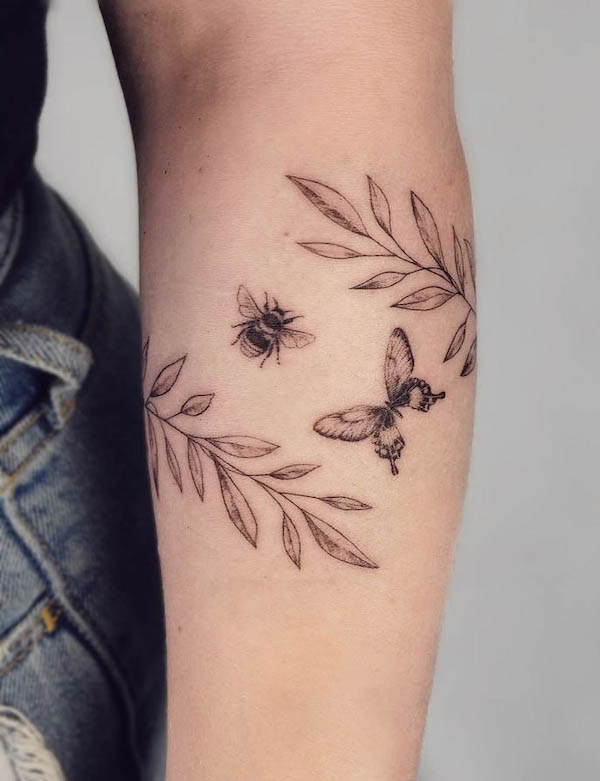 Looking for an uncommon flower tattoo? Consider adding bees and butterflies to it.
Bees symbolize family, loyalty, and selflessness. And butterfly tattoos represent transformations in life. As decoration of a tattoo, both of them add their symbolism and a sense of movement.
Oriental landscape painting armband tattoo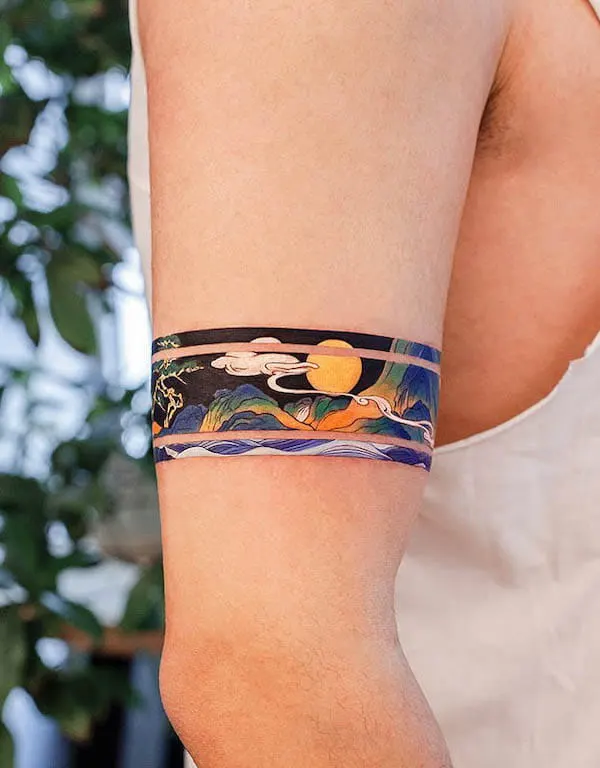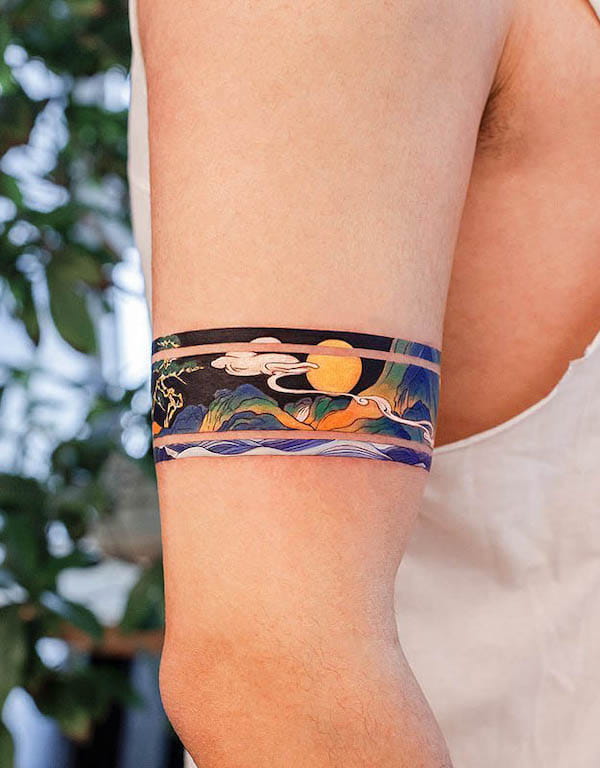 Sleek floral armband tattoo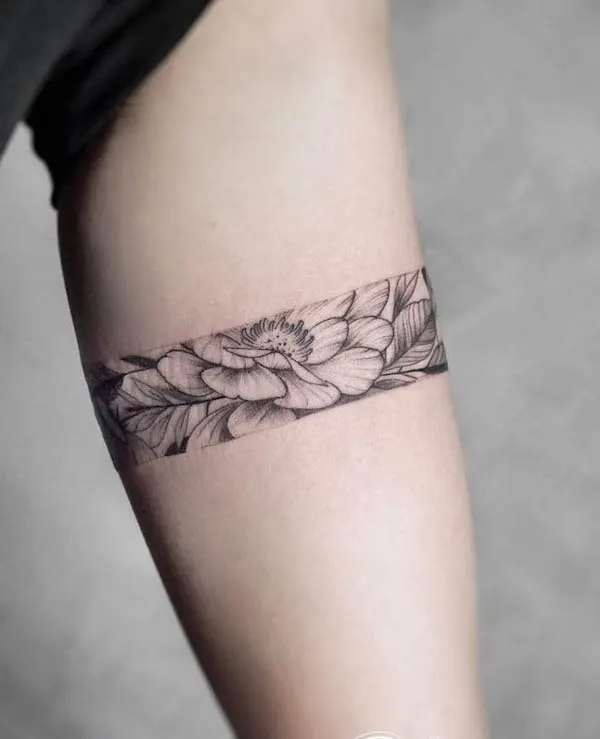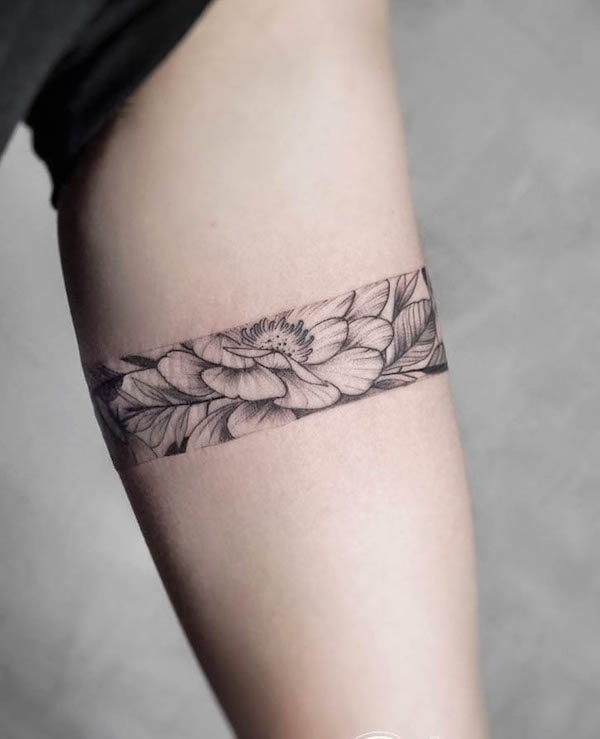 Lotus ornamental armband tattoo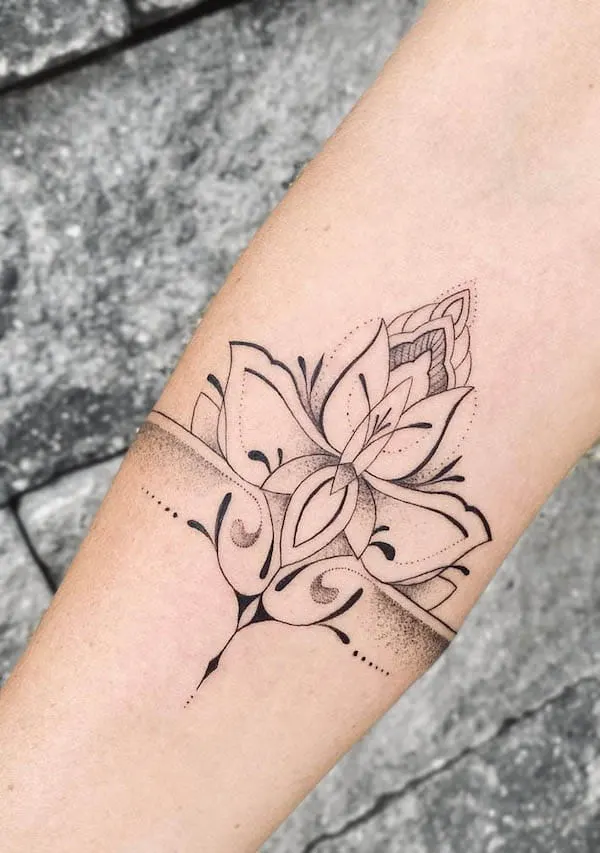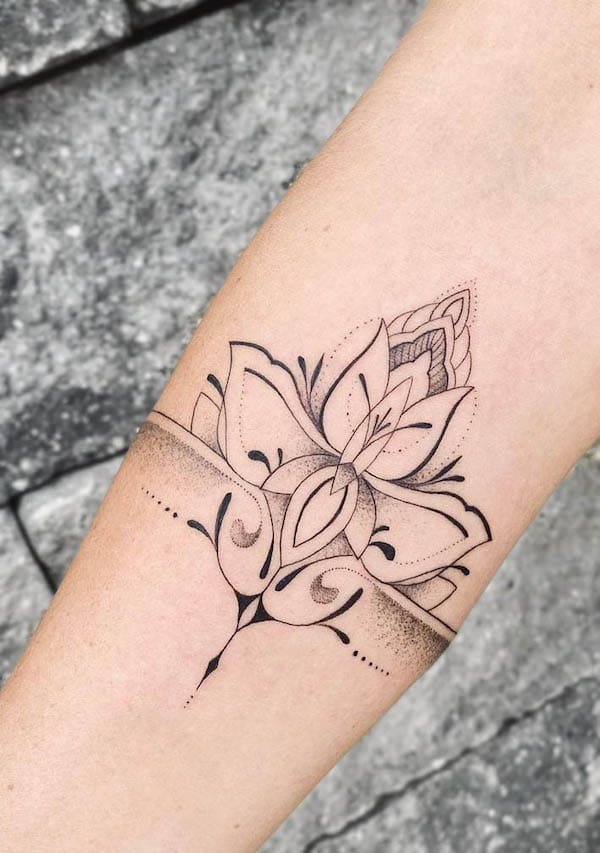 If you've been digging into yoga tattoos or zen tattoo ideas, you are no stranger to the lotus. The flower has a symbolic significance in Buddhism and Hinduism, representing purity and peace of mind.
Such a soulful lotus tattoo on the arm will be a constant reminder to never lose yourself amid the ups and downs in life.
Tribal armband tattoo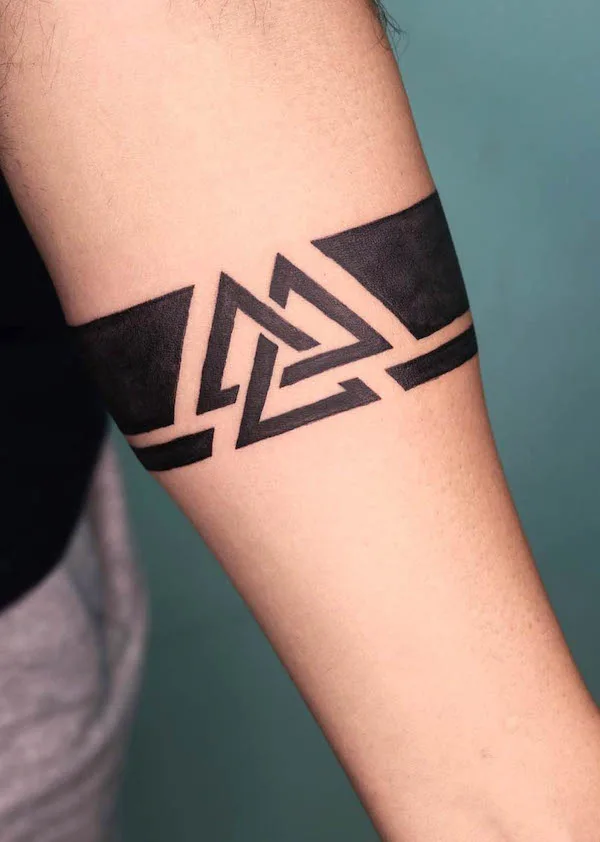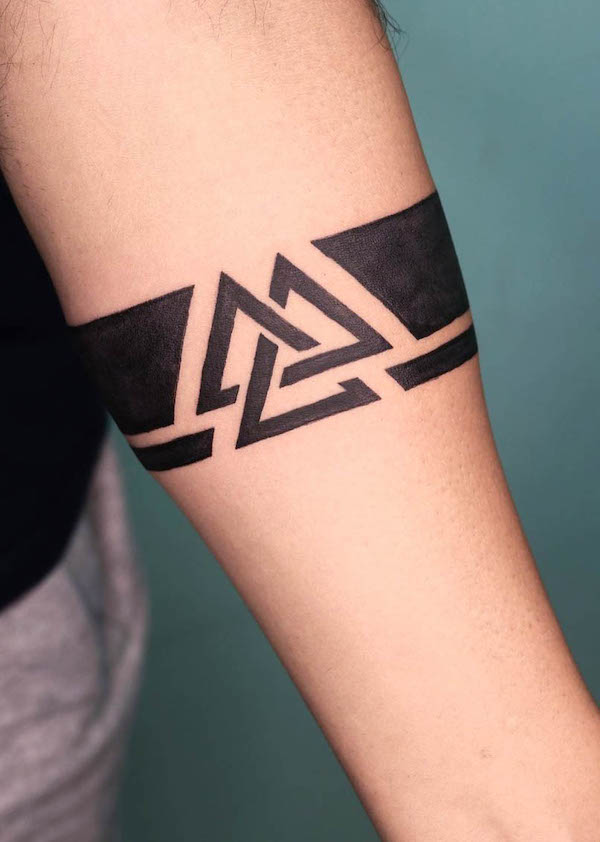 Black baccara roses armband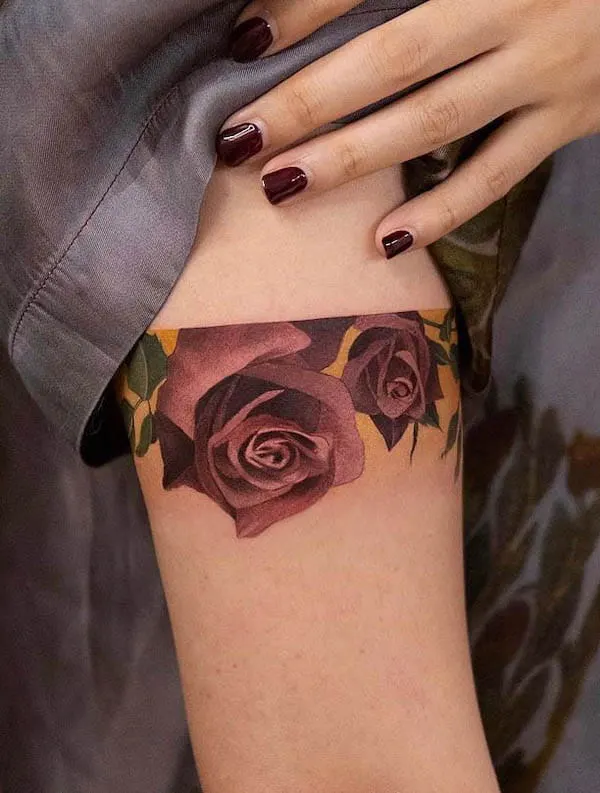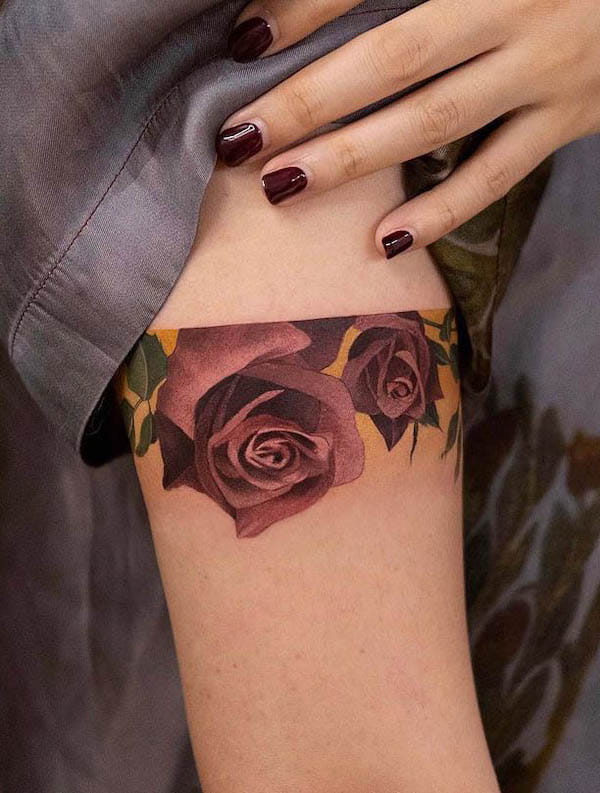 One reason flower tattoos are so popular is that everyone can find a flower reflecting their personality.
While a red rose may reveal the owner's passion and flamboyant character, a rose in a darker shade, like the black baccara, shows the mature and mysterious side of a woman.
Gemstone pendant sleeve armband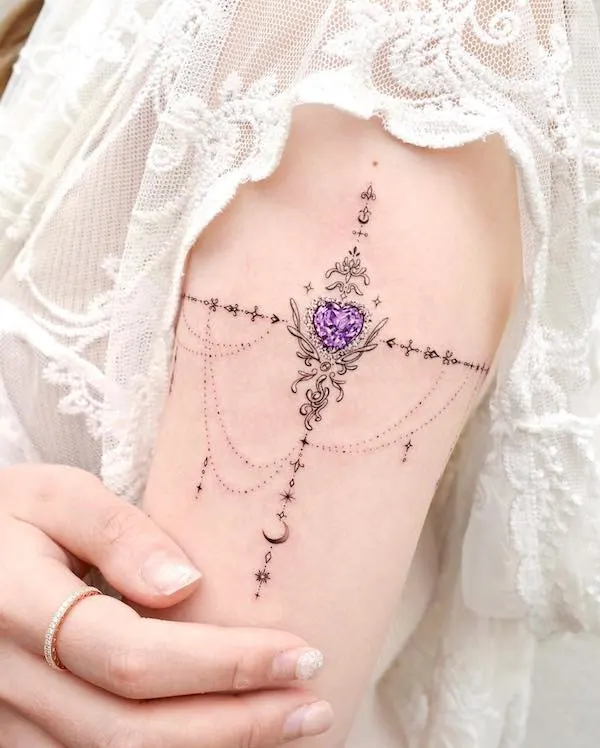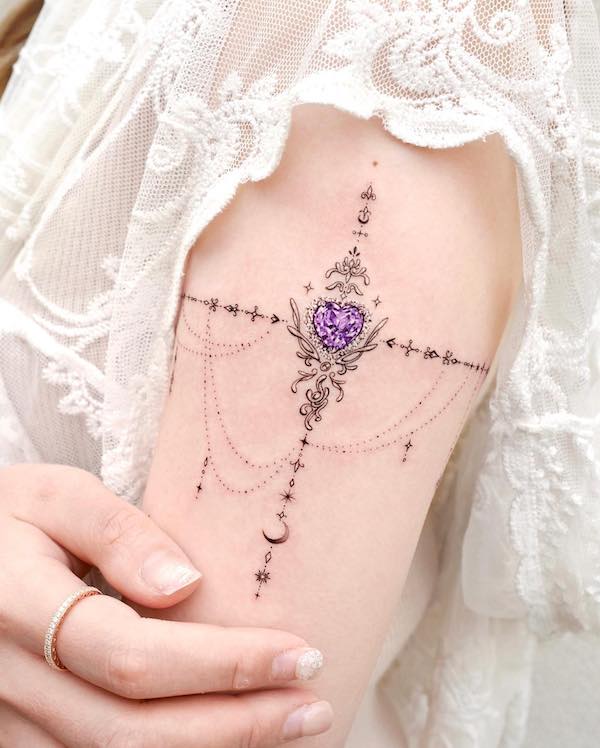 Watercolor armband tattoo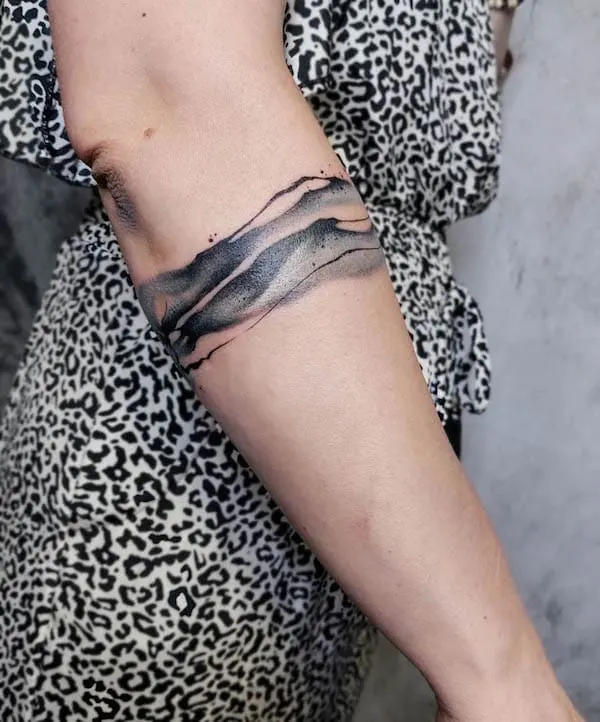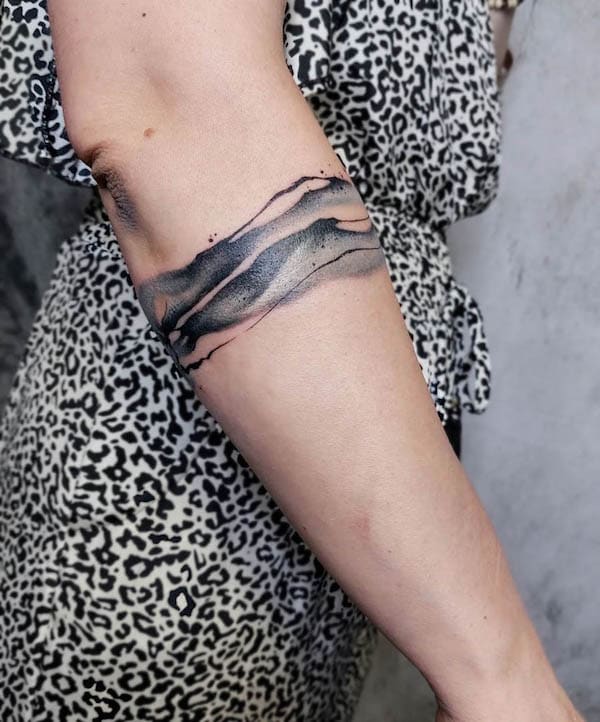 Creative wrap-around-the-arm tattoo ideas
While most armband tattoos for women entail flowers, leaves, and ornamental patterns, some artists take a different approach.
They incorporate unconventional elements and experiment with shapes and colors to create an original design.
So if you want something outside the box, here is a list of creative armband tattoos you need to see.
Bird and leaves armband tattoo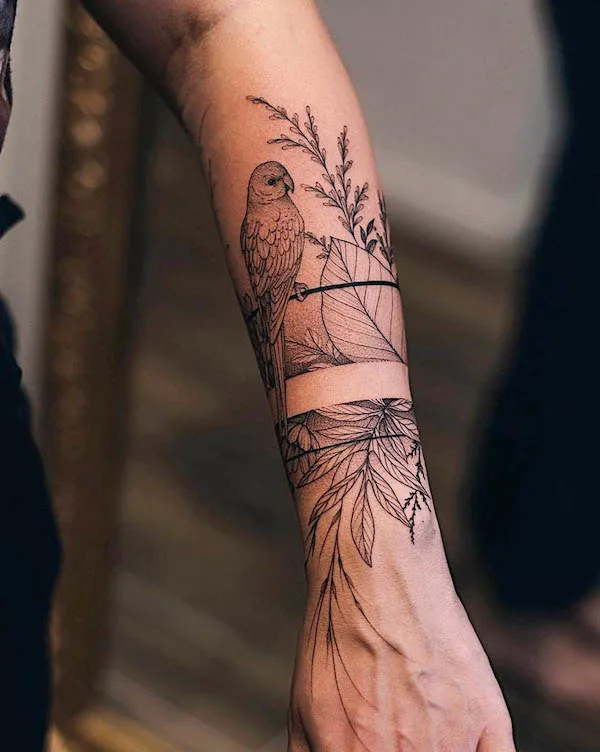 Bird tattoos have various meanings depending on the species. But in general, they symbolize physical and mental freedom. So if you are a free spirit, you will rock this look.
Abstract wrap-around-the-arm tattoo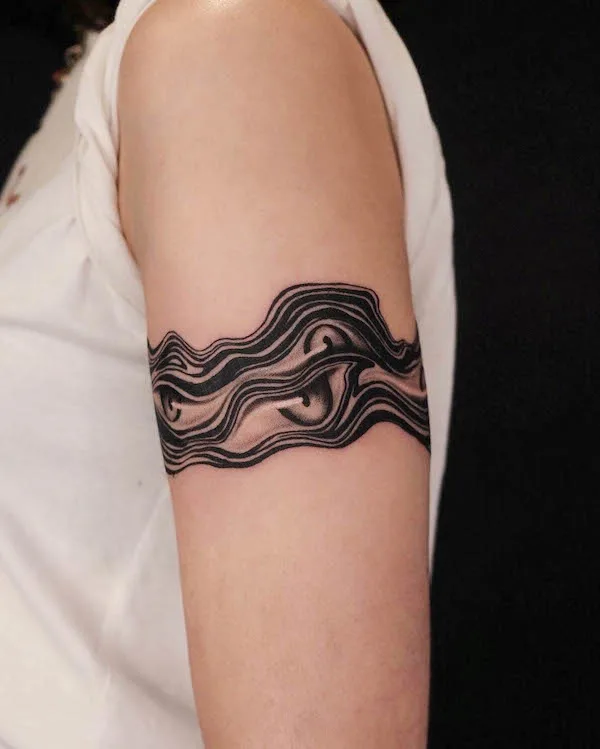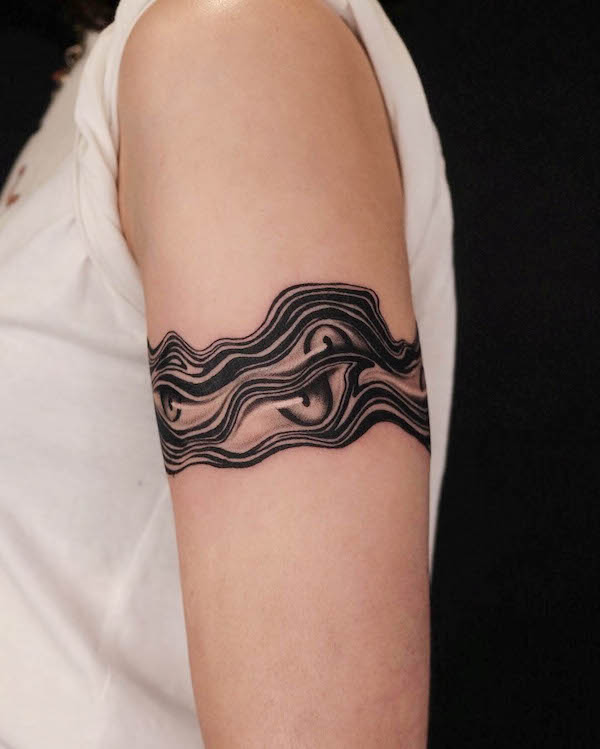 Snake armband tattoo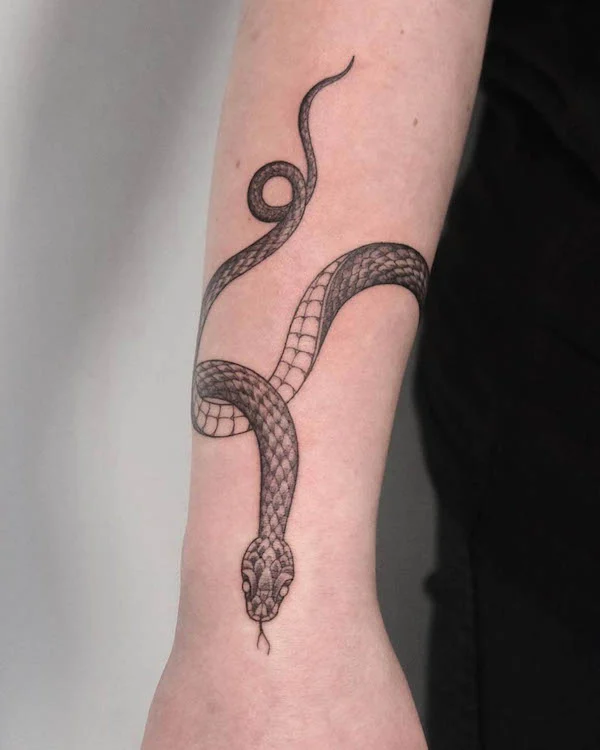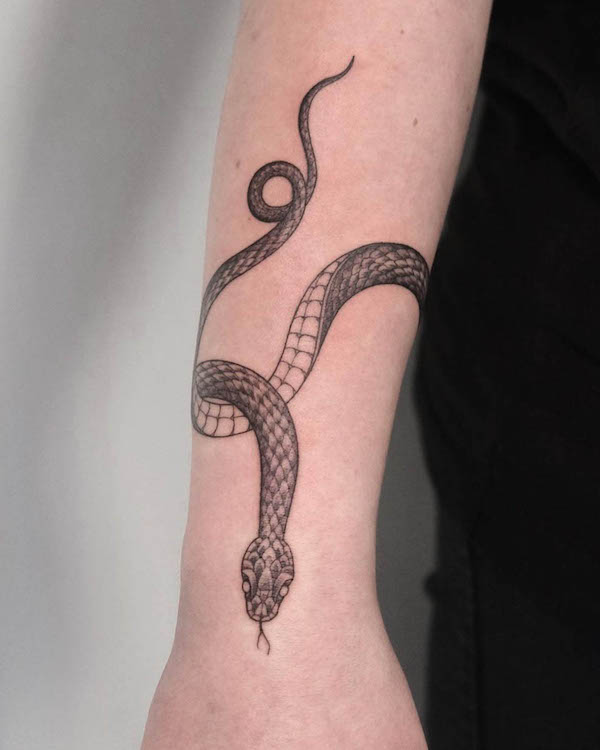 Snakes are deemed evil in the west, representing greed and temptation. But in the east, it's a symbol of protection and fertility.
Either way, snake tattoos are a powerful statement of one's inner strength. And their curvy shape makes them a natural fit as a bracelet or armband tattoo.
Intricate dragon tattoos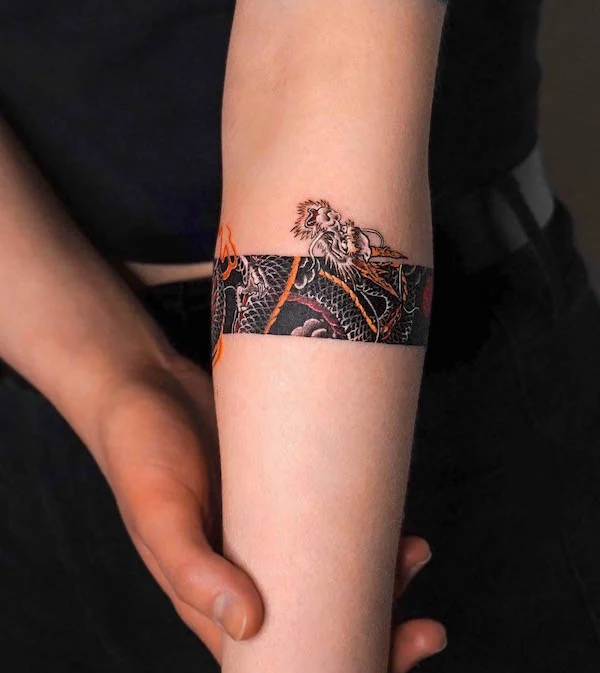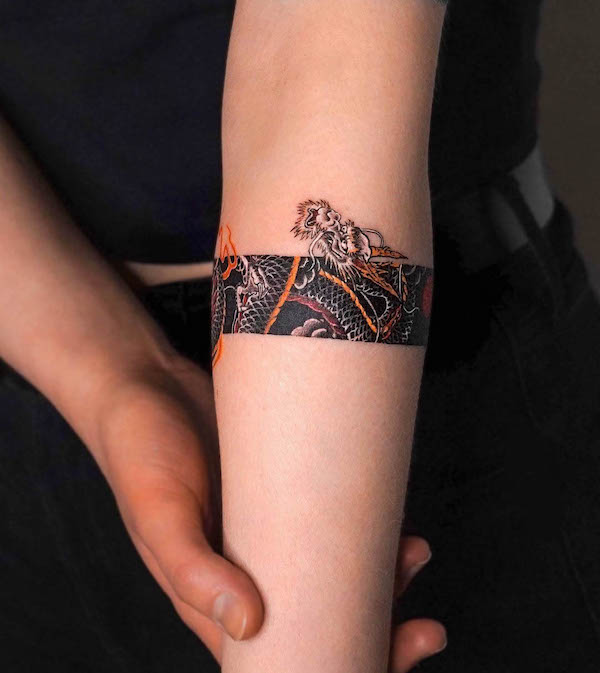 Similar to the snakes, the elongated and curvy body shape makes dragons a perfect motif for armband tattoos.
Plus, dragon tattoos are versatile as you can tattoo in detail like this one. Or you can keep its basic form for a simplified version.
Saffron and butterfly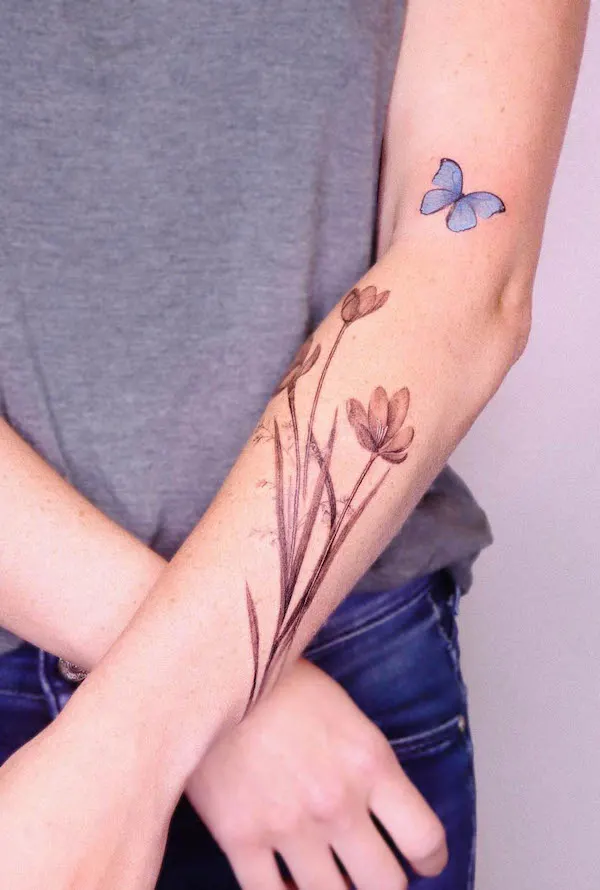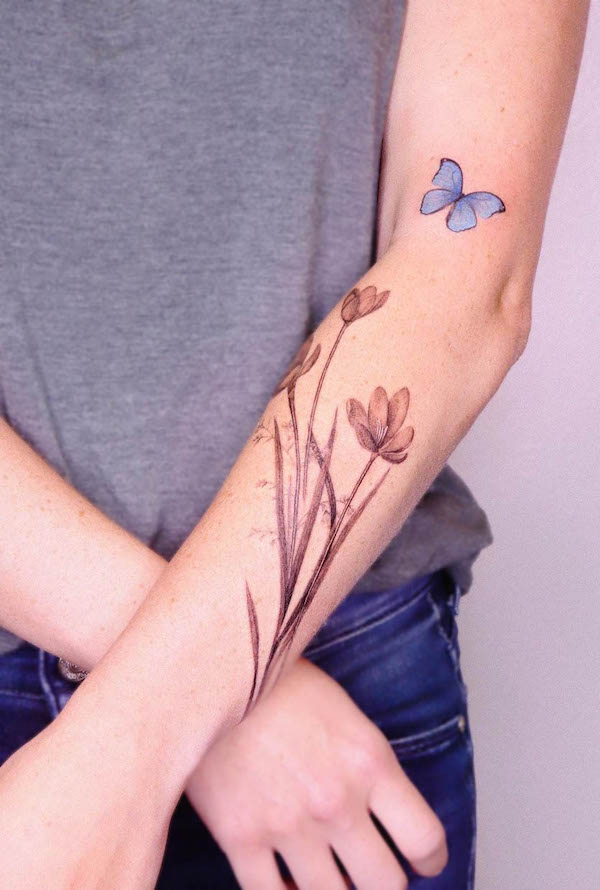 While most armband tattoos stretch horizontally, wrapping the arm like a stripe, this one shows another possibility.
The flowers are mainly on the front of the forearm. But some leaves and stems extend to the back, creating a subtle circle.
Cute cat tattoo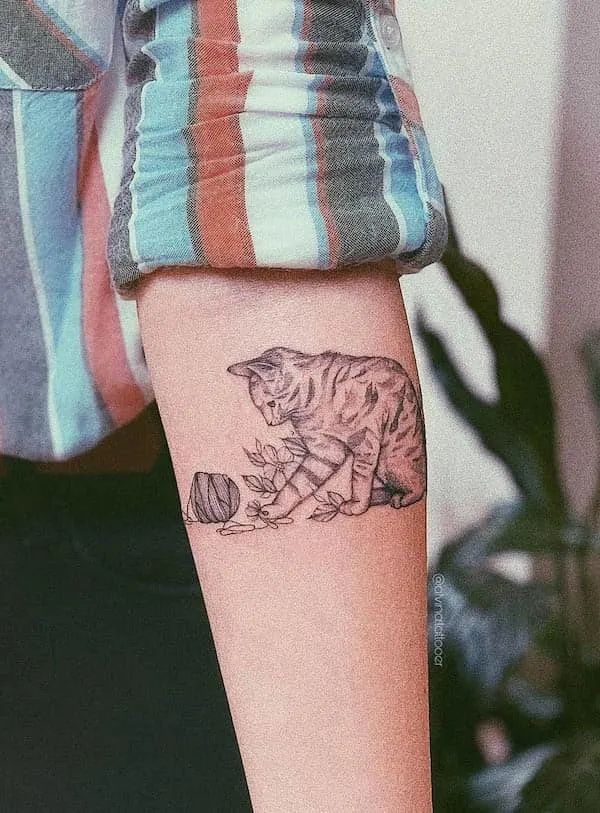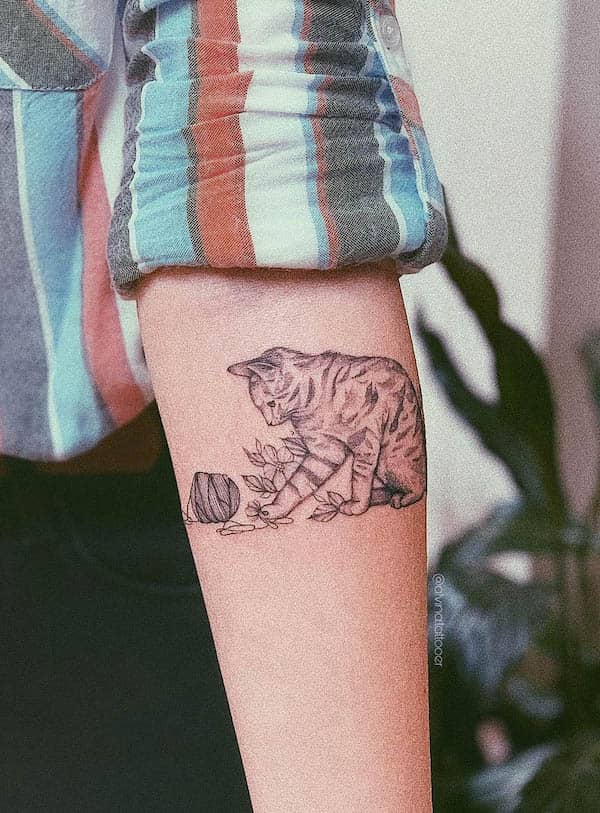 We don't usually see cats in armband tattoos. But you can add elements like toys and strings to create a scene that wraps around the arm. And this tattoo above makes a perfect example.
Rose and leaves armband tattoo
Stunning ornamental armband tattoo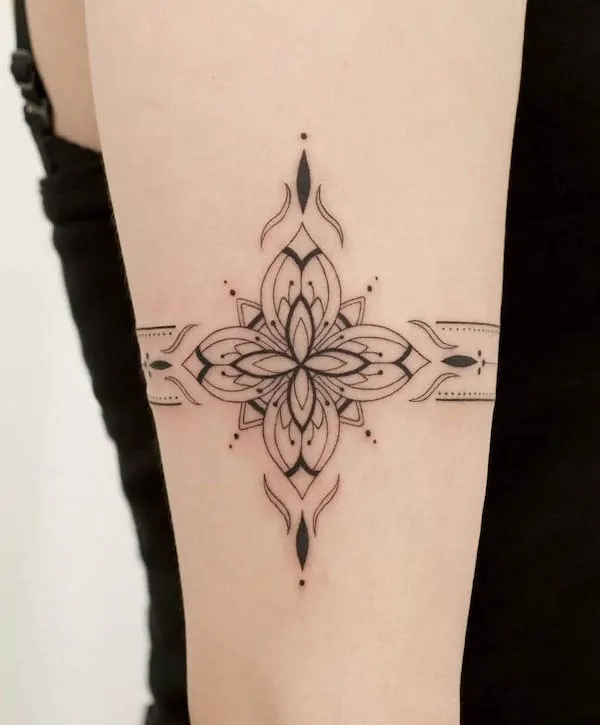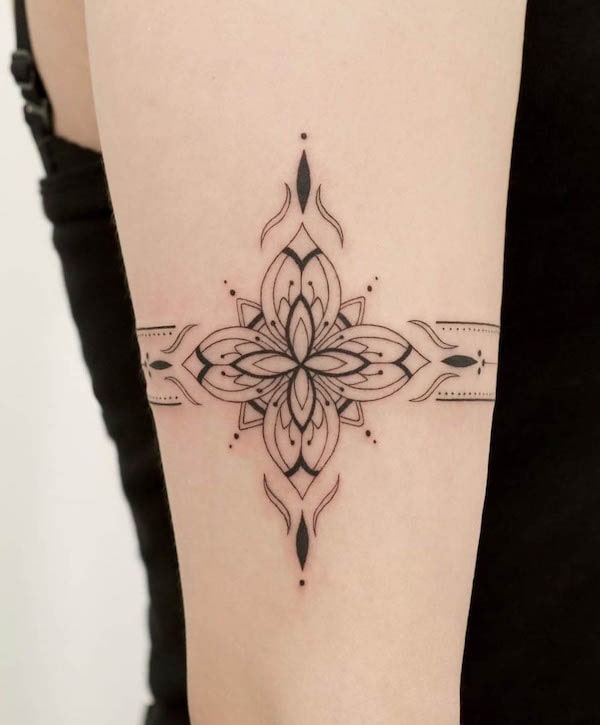 Abstract water tattoo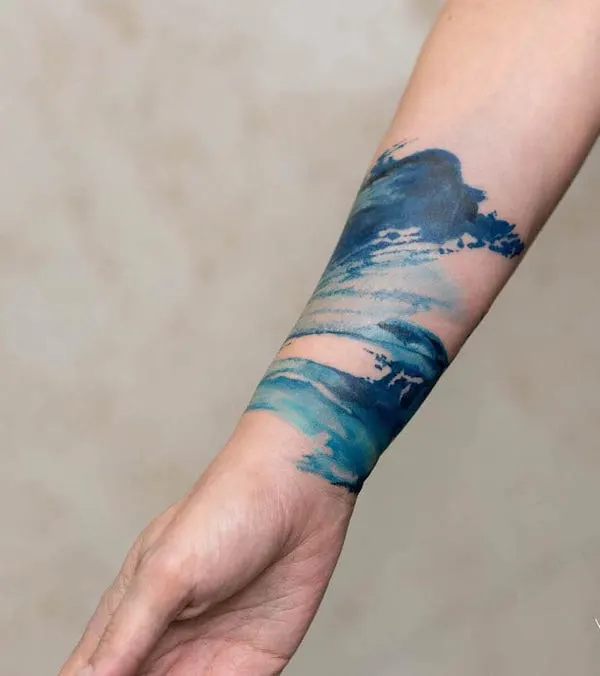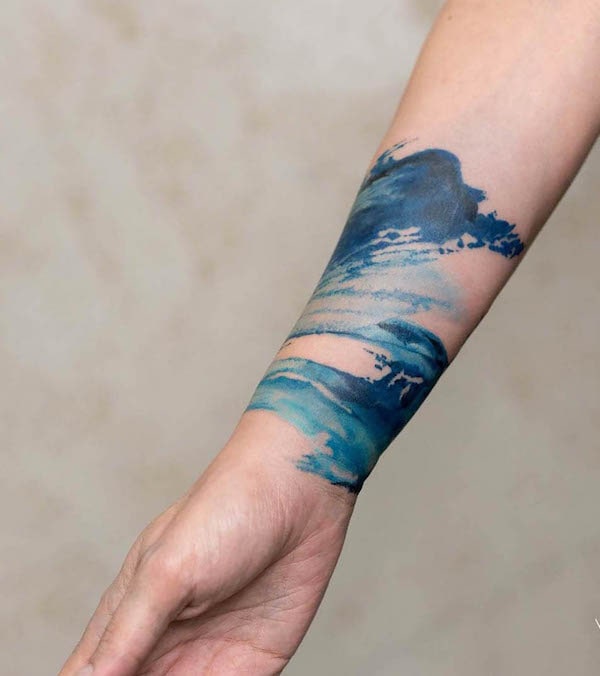 Taurus floral armband tattoo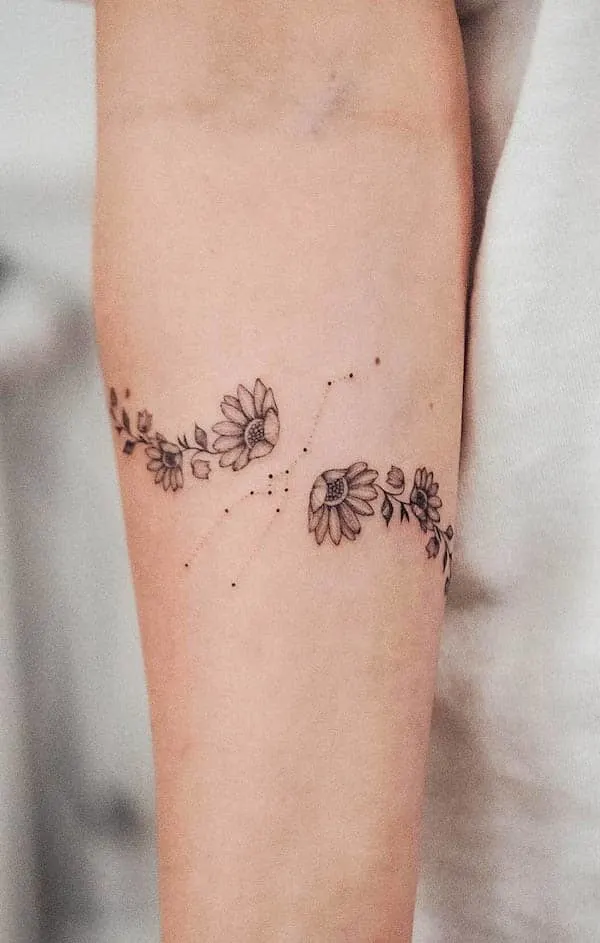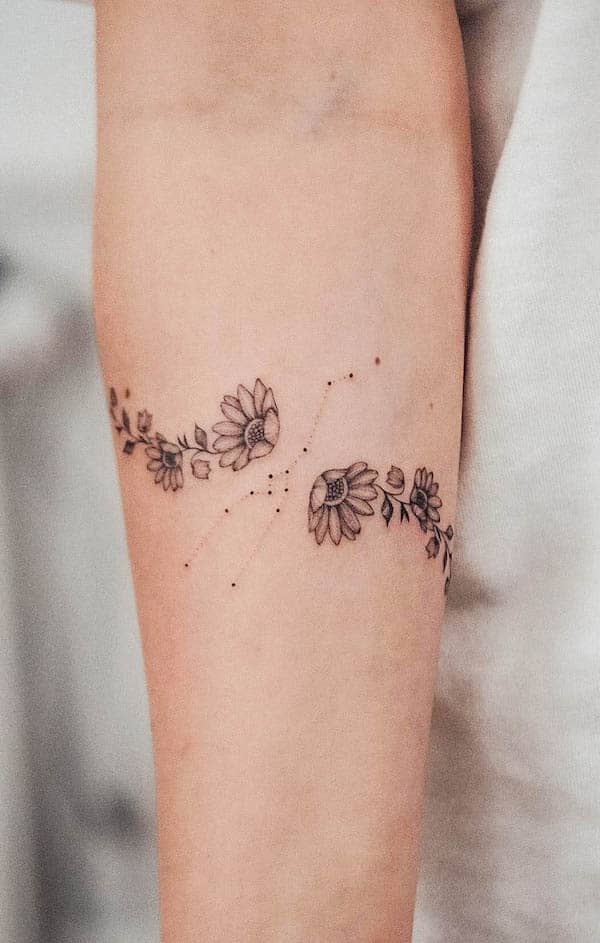 One way to personalize a tattoo is by adding your zodiac sign. Take this floral tattoo as an example. The tattooist adds a constellation in the middle of the armband to make it a Taurus tattoo. It perfectly showcases the owner's pride as a Taurus, oozing elegance and uniqueness.
Berlin landscape armband tattoo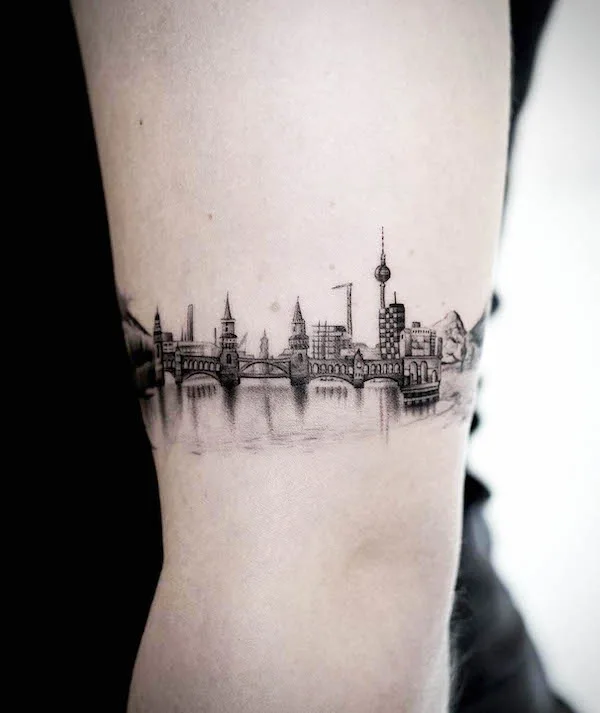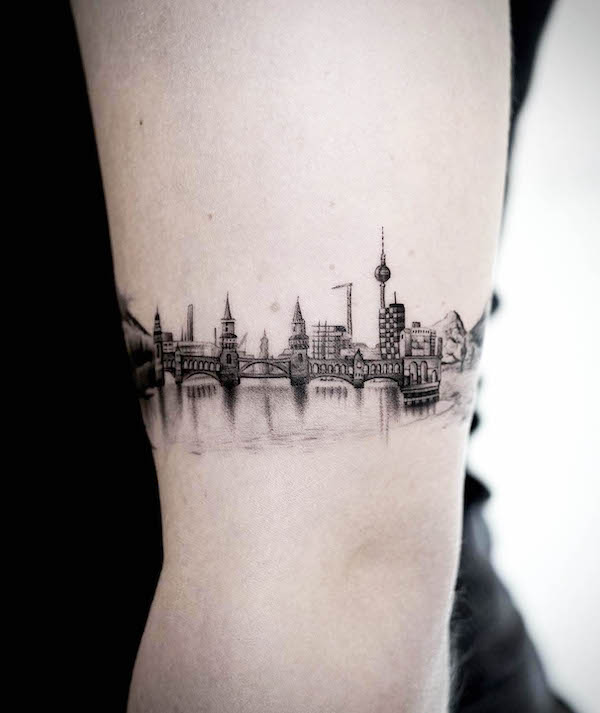 This black and grey ink is a perfect example of a meaningful and beautiful tattoo. It depicts the cityscape of Berlin, wrapping around the arm without a frame. And it shows how much the wearer loves the city and cherishes the memories there.
Which of these armband tattoos for women is your favorite?
Leave a comment down below and share your thoughts!