Looking for a sweet design with personality? From simple to elaborate and creative, these cute tattoos will inspire your next ink.
While some people tattoo their bodies with meaningful symbols, quotes, and imagery, others see their tattoos as an expression of their style and personality.
That's why cute tattoos are undoubtedly popular for those who want to showcase their fun and playful side. But what makes a tattoo cute? Is it about the size, the design, or the colors?
While it's true that many cute tattoos are relatively small, size isn't the only deciding factor. You can have a medium or even big tattoo and still make it adorable if it captures your personality.
Whether it's a tiny heart shape on the finger or an adorable cat on the ankle, cute tattoos can add a splash of joy and fun to any outfit and remind us of the positive side of life.
So if you are looking for ink to represent your bubbly personality, you are in the right place. From simple to intricate, black and grey to full of colors, these cute tattoos will inspire your next ink.
Disclaimer: This collection of cute tattoos is for inspiration only. Please do not copy the artwork. If you love these tattoos, follow artists and show them some support.
Super cute tattoos with meaning
Small cute tattoos
Many small tattoos are adorable because of how dainty and discreet they are. They often feature symbols that subtly represent the wearer's aesthetics or personality.
Although they may be unnoticeable at first glance, they offer a sneak peek into the wearer's identity. Below is a list of dainty and cute small tattoos that can be placed on any part of your body.
Colorful butterfly wrist tattoo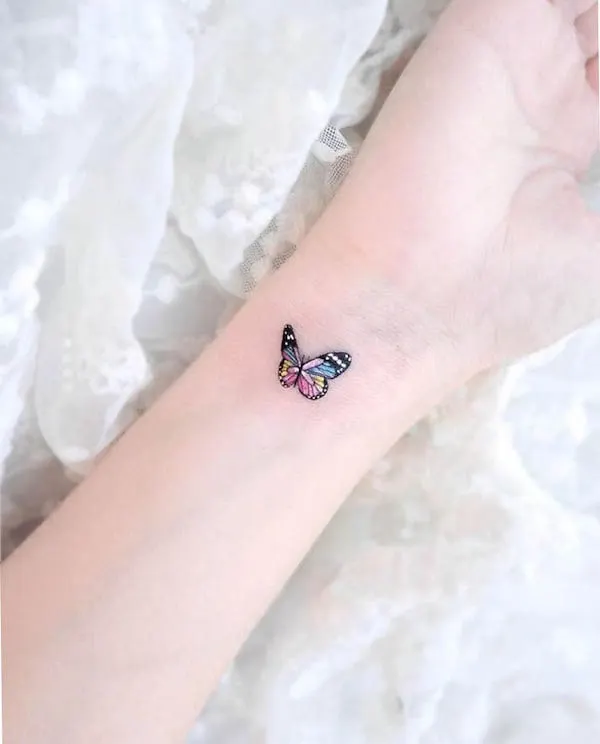 Beautiful, delicate, and feminine, butterfly tattoos offer everything a girl could want. They also represent freedom and transformation, adding to the meaningfulness of the ink. This wrist tattoo is a perfect example of a small tattoo done right. Despite its small size, all the details are captured perfectly.
Cute ribbon arm tattoo
Ribbons are not just accessories; they can also make sweet tattoo ideas, as demonstrated by this arm tattoo. Moreover, the gradient colors and shine on the ribbon add to its visual appeal.
Tiny smiley face chest tattoo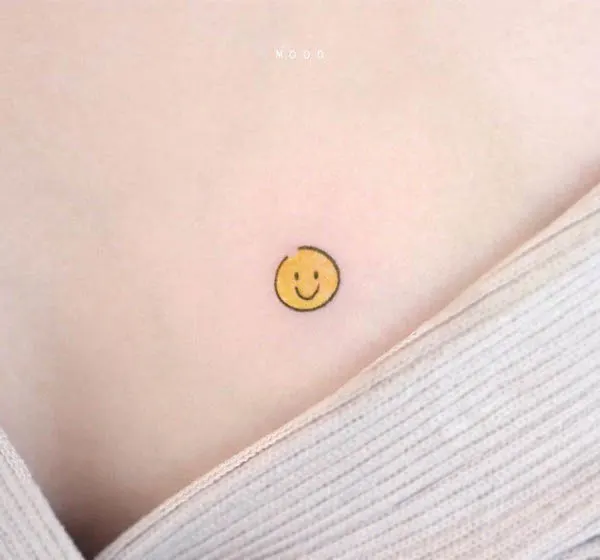 This small chest tattoo proves that a good design doesn't need to take up a large space. It stands out not only for its vibrant color but also as a reminder to stay positive amidst life's challenges, reflecting the wearer's bubbly personality.
Black hearts forearm tattoo
Heart tattoos are commonly associated with love and romance, but the meaning of a black heart tattoo can be completely different.
It can symbolize grief, sadness, or strength in the face of adversity. Black heart tattoos can also represent a person who appears sweet and loving on the outside but rebellious and untamable on the inside.
Peach upper arm tattoo
This peach tattoo is so realistically portrayed that it makes you want to take a bite. The delicious and fresh design would be perfect for someone who wants to showcase their soft and sweet side.
Matching hearts for best friends
Anatomical heart tattoos have more intricate details than simple heart shapes, making them impressive and visually striking.
On their own, they can represent the wearer's passion and emotions. But when they come in pairs, like these matching sibling tattoos, they become a symbol of the special bond between loved ones, serving as a reminder of the people who hold a special place in the wearer's heart.
Kirby
In the Pokemon universe, Kirby is known for its adorable appearance and courage in defending its trainer and friends. This Minecraft makeover adds a fun and nerdy twist to the classic Pokemon tattoo design.
Small coffee tattoo
"Today's good mood is sponsored by coffee" – if you're someone who can't live without your morning brew, this cute small coffee tattoo is the perfect way to show your love for it. It will also give you an energy boost to start the day strong.
Tiny heart tattoo
Small cute lotus tattoo
Lotus tattoos, big or small, are often associated with a sense of calmness due to the flower's symbolism.
In this particular tattoo, the lotus is depicted in purple, a color that is commonly associated with spirituality and intelligence. This adds depth to the lotus tattoo's meaning, making it even more meaningful for the wearer.
Tiny chestnut tattoo
A small paintbrush
A painting tattoo is not the only option if you want to showcase your love for art through ink. Art supplies tattoos, like this small paintbrush, can also make a cute and artistic addition to your skin.
Cute paper windmill tattoo
Although a windmill typically symbolizes energy and power, a paper windmill like this one can also evoke memories of childhood innocence and joy.
If you're looking for a meaningful tattoo that represents your inner strength and reminds you to protect the purity of your soul, this cute and nostalgic design may be just what you need.
Ice cream tattoo
While a real ice cream cone will inevitably melt, a small sweet tattoo like this one will bring you the feeling of summer vibes for a lifetime.
Tiny pink scarf
Cute small lavender tattoo
Lavender is known for its relaxing properties for better sleep. This makes a lavender tattoo perfect for anyone seeking to feel grounded when the world gets overwhelming.
The soothing nature of the lavender design can help the wearer find peace and tranquility amidst the chaos of everyday life.
Diamond heart and pearl
Diamonds and pearls are both rare and precious, so combining these elements in one tattoo can represent the wearer's good and unique qualities, such as kindness and authenticity.
This meaningful tattoo can serve as a constant reminder of the wearer's worth and value, both inside and out.
Abstract heart and leaf forearm tattoo
Small sunflower tattoo
Sunflowers always face the sun, making them a popular motif for positivity tattoos. They can also represent hope, a fresh start, gratitude, and energy, bringing a dose of motivation to the wearer.
Rocket and planet ankle tattoo
The ankle is a perfect placement for small and dainty tattoos due to its limited exposure, just like this tiny space-themed ankle tattoo.
This low-key design represents the wearer's curiosity and desire to explore the unknown, serving as a subtle reminder to keep pushing boundaries and seeking new experiences.
Tiny red flower wrist tattoo
Soot Sprite tattoo
Soot Sprites, also known as Susuwatari, are characters in movies produced by Studio Ghibil, an award-winning Japanese production studio. They first appeared in Spirited Away and quickly captured hearts with their adorable personalities and kindness.
Strawberry shoulder tattoo
A tiny planet on the forearm
Unique and cute tattoos
Many people believe that a tattoo has to be small to be cute, but the key to creating an adorable tattoo really lies in the design.
Below is a collection of cute tattoo ideas that showcase the beauty of color, creativity, and uniqueness. So if you are searching for something one-of-a-kind, don't miss out on these inspiring designs.
Adorable Christmas tree tattoo
Though Christmas trees are a staple of the holiday season, they can be an evergreen tattoo that brings unlimited festive vibes. This micro-realism tattoo, for example, will remind us of the excitement of unpacking gifts on Boxing Day and bring back the best memories.
Cute pony balloon tattoo
From afar, this tattoo on the sleeve may look like a cute balloon pony. But look closer; you'll spot the semicolon tattoo hidden in the design. As an emblem of mental illness survivors, the semicolon stands for the courage to keep going despite pain and struggles, raising awareness of mental health issues.
Kiss
This tiny colored tattoo is proof that a cute design can also be seductive. The bright red lips are alluring, drawing attention to the wearer's sensual and feminine side.
Butterfly stamp
Stamp tattoos are a great canvas for motifs that resonate with the wearers, and the butterfly and flowers in this tattoo are a perfect example. In addition, the butterfly's wing beyond the border of the stamp creates a unique and eye-catching 3D effect, adding to the beauty of the overall design.
Gun and rose thigh tattoo
Thigh tattoos are perfect if you want large enough space for creative designs. This gun and rose tattoo is a good example.
Instead of shooting out bullets, a rose comes out of the gun. The unexpectedness adds fun and femininity to the design.
Cute pattern
Black and grey lollipop
Lollipop tattoos are increasingly popular because of the playfulness and carefree attitude embedded. To make a lollipop tattoo more whimsical, the tattooist applies a pattern to the surface which resembles the moon, adding just the right amount of mysteriousness to the design.
Smile cry emoji
Smile cry emoji can have opposite meanings, including intense happiness that brings one to tears and trying to fake a smile with the pain inside.
In this design, the figure pinches the fat on its stomach, which could imply the wearer's struggle with body image. But it can also be a sarcastic statement to care less about weight and focus more on your inner beauty.
Cherry and gemstone
Beautiful bird
Hummingbirds represent joy and positive energies. This design from Tattooist Tilda pushes the idea with its vibrant colors. They bring a cheery vibe that will put a smile on your face.
Golden apple tattoo
Vincent Van Gogh brushstroke tattoo
Do you have a favorite artist? If so, transferring their artwork into a tattoo can be a cool way to express your love for art.
This brushstroke tattoo, for example, is inspired by Vincent Van Gogh's Starry Night. It inherits the intense emotions and wild imagination from the painting, evoking a sense of romance on the skin.
Whimsical diamond and moon
This cute small shoulder tattoo depicts a moon sealed in a glass pendant, showcasing the wearer's imagination and creativity. The swirls and details add to the charm of the design, making it hard to look away.
Small flower tattoo
Infinity heart and crown
A heart symbolizes love and affection. When combined with a crown, this tattoo can represent a special and meaningful relationship. The addition of an infinity symbol suggests that this love will remain strong and enduring over time.
The Moon Stick
The Moon Stick is one of the primary weapons of Sailor Moon, the superheroine of a well-known Japanese manga Sailor Moon. It symbolizes beauty, magic, and courage, perfect as a cute and meaningful tattoo for girls.
Mom and dad tattoo
The king and queen motif is not just for couples. This design by Tattooist Eden honors the wearer's mom and dad, making it a sweet and heartwarming family tattoo.
Flying house
Some people get inked for aesthetic reasons, while others look to tell a story or communicate an idea. This concept tattoo falls into the second category.
According to the tattooist, the house, the earth underneath, and the balloon represent family, personal reflection, and success. It shows that both our support system and self-awareness play a key role in our growth.
Super fun disco ball
Inspiring quote forearm tattoo
This quote tattoo melts hearts not just for the design but also for the sweet message it carries. Whoever sees this tattoo will feel the warm fuzzies in their hearts.
A glass of wine
Simple flowers on the arm
Each flower tattoo has its own meaning, depending on the colors and species of the flowers. For example, this simple color block tattoo depicts three tulips, representing pure love, which can be a creative way to honor one's family.
Small pendant between the boobs
Tattoos between the boobs can be challenging for tattooists because of the limited space. This pendant tattoo, however, is dainty enough to fit in the area and shiny enough to stand out.
Adorable animal tattoos
Animal tattoos are often the first ones that come to mind when we think of cute tattoo ideas. From playful kittens and cuddly teddy bears to legendary creatures such as mermaids and dragons, animals have a special place in our hearts and the tattoo industry.
So if you're searching for an adorable design of your spirit animal or looking to add some fun and life to your skin, the following cute animal tattoos are perfect for you.
Black and red dragon tattoos
Dragon tattoos typically convey a sense of power and dominance, but this cute design is an exception.
The tattoo depicts a dragon breathing fire and chasing another, leaving the viewer wondering which of them is good and evil and who will ultimately come out victorious.
Cute alpaca arm tattoo
Alpacas are considered a symbol of good luck and prosperity in some cultures. But, regardless of whether you believe in the symbolism, this smiling alpaca will surely bring a smile to your face.
Three cats forearm tattoo
Cat tattoos are not uncommon. But what sets this design apart is that it perfectly captures the unique features and postures of cats. The tattoo gives the impression that the cats are trying to squeeze their way out of the frame, bringing this static ink to life.
Cute bears ankle tattoo
Cute cat tattoo
Baby panda
Pandas are definitely a favorite for many people, especially those from the east. This cute baby panda rolling on the floor will make anyone "aww" for its realistic and detailed design. In addition, it serves as a bridge connecting the wearer with her roots.
Small bird on the branch
Bird tattoos symbolize freedom and joy. This tiny bird on a branch exudes a cheery vibe and represents the wearer's free-spirited soul.
Koi fish anklet tattoo
While most anklet tattoos wrap around the ankle seamlessly like a bracelet, this koi fish tattoo takes a slightly different approach. It features the fish diving into the water with gaps between the water's surface and the fish, adding a breath of fresh air to the design.
Cute elephant arm tattoo
Elephant tattoos are timeless due to their endless possibilities in design and symbolism. They can be intricate, like an elephant mandala, or as simple as this outline tattoo.
Elephants also represent strength, community, and family, making them a perfect representation of one's quiet power and value for their loved ones.
New Hairstyle
How cute is this cartoon frog! It is carrying a plant on its head as his new hairstyle, so creative and fun that you can't ignore it.
Paws
For those who desire a more subtle representation of their pets, tattooing their paws can be a great option instead of inking an entire cat or dog.
Tiny mouse
Realism plush toy rabbit
Although this pink plush rabbit isn't a real animal, its intricate details and uplifting color make it both cute and impressive.
Cute piggy wrist tattoo
Porcelain rabbit
This rabbit tattoo incorporates the Japanese art of Kintsugi, in which pieces of porcelain are glued together with gold. This technique encourages individuals to embrace their flaws and imperfections, adding depth and meaning to this adorable design.
Sea turtle shoulder tattoo
Turtle tattoos are often associated with protection and wisdom because they are one of the longest-living animals on the planet. This small black turtle tattoo from Tattooist Choiyun offers a sneak peek into the wearer's deep inner world.
Small whale tattoo
Toy elephant
Super cute Jerry tattoo
Jerry, one of the most beloved cartoon characters, is a household name that brings back memories of the best moments from childhood. This timeless design will surely appeal to the wearer's inner child and bring them joy.
Teddy bear with his toy
The dancing rabbit
Simple cute tattoo ideas for minimalists
While elaborate tattoo designs can certainly be impressive, there's something undeniably captivating about a simple tattoo. Whether it's a tiny heart, a minimalist flower, or a single word, a simple tattoo can be just as adorable as more complicated designs.
If you are a minimalist looking for a low-key representation of your values or identity, the following simple and cute tattoo ideas will speak to you.
Matching wrist tattoos
These matching tattoos depict a girl and her dog in a simple, dainty, and cute way. They are perfect as tattoos for sisters, honoring the memories they share and the love for their fluffy pal.
Tiny cute chilly
Fun and fiery, a spicy girl knows what she wants, says what she means, and stands behind what she believes. Sound like you? Then this simple, cute tattoo on the wrist will tell the world who you are.
Love mom
If you love your mom, why not show her how much you care with a straightforward design like this? This wrist tattoo will not only express your gratitude but also remind you to cherish the love and support from your mother.
Cute zodiac constellation
Constellation tattoos are a subtle way to represent one's zodiac sign. By replacing the stars with animal icons and hearts, this tattoo becomes even cuter and more approachable.
Arrow through the heart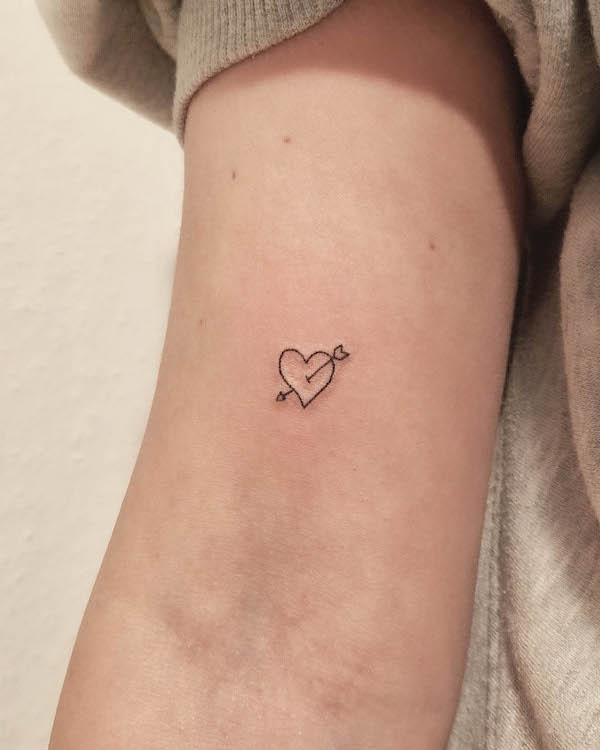 Finger heart matching tattoos
The finger heart is a hand gesture that expresses love and affection. As matching tattoos for best friends, they are a token of the strong bond between the wearers.
Black spade tattoo
On fire
Do you feel strongly, act swiftly, and love deeply? If so, this flame tattoo will represent your fiery personality.
Tiny crown
While a realistic crown tattoo with engraved gemstones can look great and regal, a simple outline design like this offers a different aesthetic. The tilted position and the addition of a tiny star give the tattoo a fun and lighthearted feel.
Small floral initial tattoo
Compared to name tattoos, initial tattoos are a more abstract and subtle representation of one's identity. To make an initial more meaningful, consider adding your birth flower to the design as a personal touch.
A simple smile on the wrist
Wrist tattoos are highly visible, making them perfect visual reminders of your life mottos or core values. This one, for example, will inspire the wearer always to choose happiness.
Cute armband tattoo
Ginkgo
Small stamp of home
This stamp tattoo may not have that many details or colors. But the simplicity of design puts the focus on the house, showing the wearer's love for her family.
Sunrise tattoo
With the sun rising above the horizon, a new day begins. That's why a sun tattoo often represents new beginnings and hope. It will be a boost of confidence in making progress each day.
Love you
Floral heart chest tattoo
Simple moon tattoo
With endless possibilities in design, everyone can find a moon tattoo that fits their aesthetics. This floral moon collarbone tattoo perfectly showcases the wearer's elegance and minimalist style.
The moon also symbolizes femininity and transformation, making it a meaningful and timeless design.
Small Libra neck tattoo
Libras are drawn to elegant, balanced, and sleek designs. This small glyph behind the neck is something that most Libras would want as a tattoo. The leaves add just enough details for it to be simple but unique.
Which of these cute tattoos is your favorite?
Leave your thoughts in the comment down below!