Neck tattoos are proud statements. From small to big, simple to intricate, you will find neck tattoos for women that fit your aesthetics.
Ask anyone who wants to get a tattoo; the neck would probably not be their first option.
Compared to the arm and the back, the neck is more exposed. Thus choosing a tattoo for the neck requires more thought and careful execution. Also, because the skin is pretty thin on the neck, neck tattoos could cause more pain than arm or leg tattoos.
But many people still get neck tattoos. Why?
Exposure might not be ideal for people who want a discreet ink. But for those who want to broadcast their values to the world, the neck is the perfect placement. Also, if you ink on the back of the neck, you can still hide it with a turtle neck or your hair put down.
Most importantly, the elongated area makes a perfect canvas for tattoos that stretch vertically. And the tattoo highlights the neckline as well.
So if you are looking for gorgeous neck tattoos for women, you are in the right place. From big to small, from black to colored, these feminine neck tattoos will blow your mind.
Disclaimer: This collection of neck tattoos for women is for inspiration only. Please do not copy the artwork. If you love these tattoos, follow artists and show them some support.
Stunning neck tattoos for women with meaning
Small and simple neck tattoos for women
The neck is not a big area. But neck tattoos are a huge commitment because of the exposure. So it's always a good idea to start simple and small. But simple doesn't mean monotone.
And a small tattoo gives you maximum flexibility to hide or show it. So below is a list of gorgeous and small neck tattoos for women that may be the right fit for you.
Vintage ornamental neck tattoo
While some people prefer meaningful tattoos, some get tattoos for aesthetic reasons. And this is one of them. Classy and elegant, this small tattoo gives you the freedom to hide it with different hairdos.
Simple small leaves neck tattoo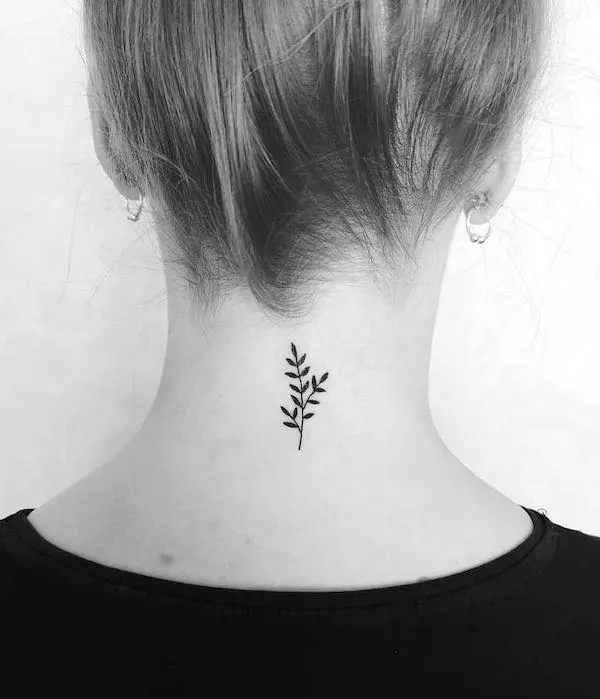 It makes sense why botanical tattoos are widely popular among women. They are simple but, at the same time, bring a fresh vibe to the skin. For example, a small, dainty leaf tattoo behind the neck resembles an accessory made by nature.
Sleek constellation tattoo on the neck
If you are proud of your zodiac sign, the nape is the place to show it. But there is more than one symbol that represents your sign.
The animal symbol is perfect if you want something illustrative. Want something minimalist? Consider a glyph. But if you want something in the middle, a constellation like this one has just enough details to shine.
Small lotus back of the neck tattoo for women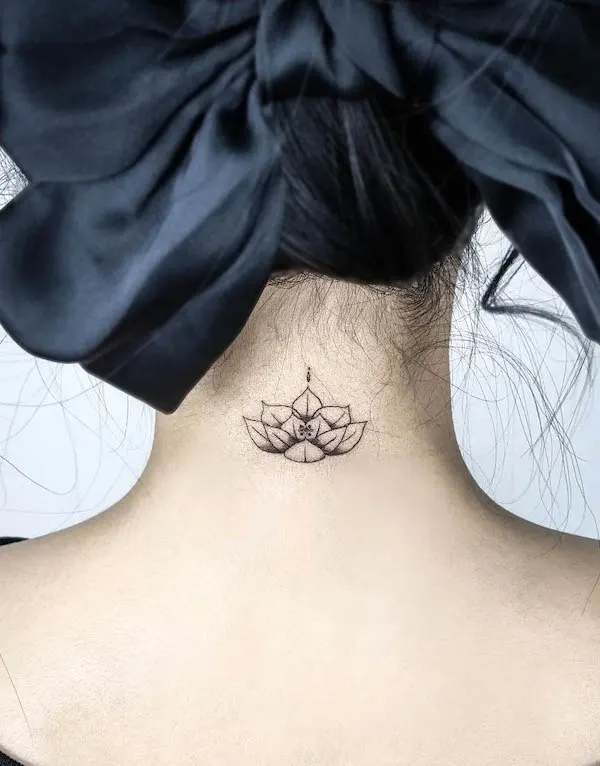 The lotus flower is often seen in tattoos for women, representing calmness and zen in Buddhism. A lotus tattoo is believed to guard the wearer's inner peace.
So if you value peace of mind, a small lotus flower tattoo, such as this one, may be what you are looking for. Plus, because it's placed close to the hairline, you can choose to hide or show it by changing your hairdo, giving you maximum flexibility.
Rose and cross on the back of the neck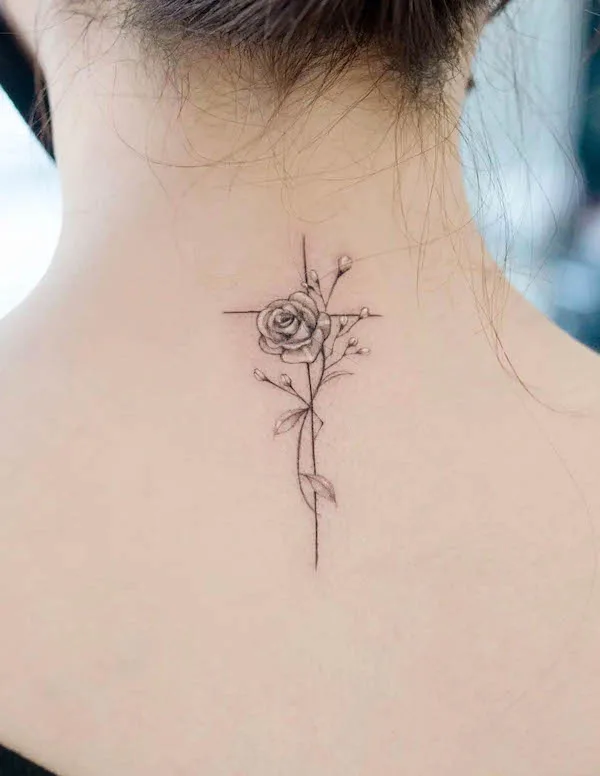 The cross is a religious symbol that signifies one's faith. But a cross tattoo is more than that. Because it's permanent, it brings everlasting strength to the wearer. And adding the rose makes it more elegant and feminine.
Forever young quote tattoo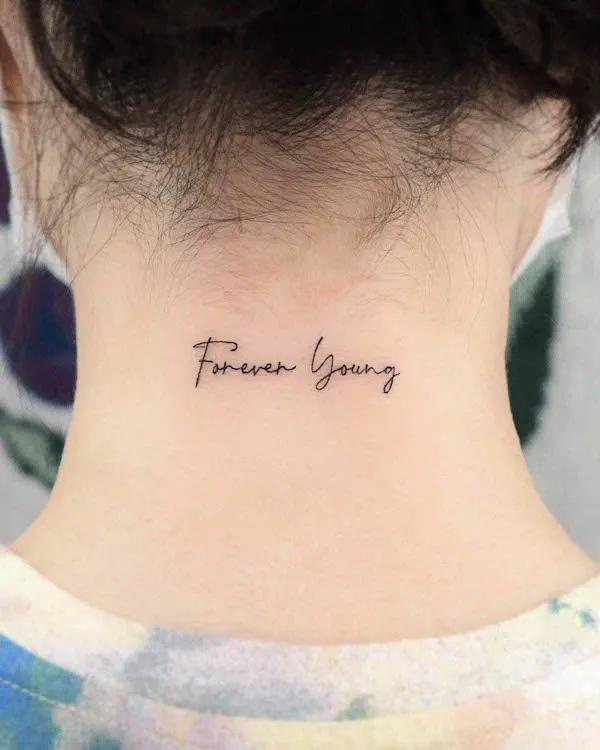 A tattoo reveals the personality and beliefs of the wearer. And nothing speaks louder than a quote tattoo. In this back-of-the-neck tattoo, for example, the words "forever young" reveals the wearer's passion and enthusiasm. This is someone that believes a passionate heart doesn't age.
Oriental landscape nape tattoo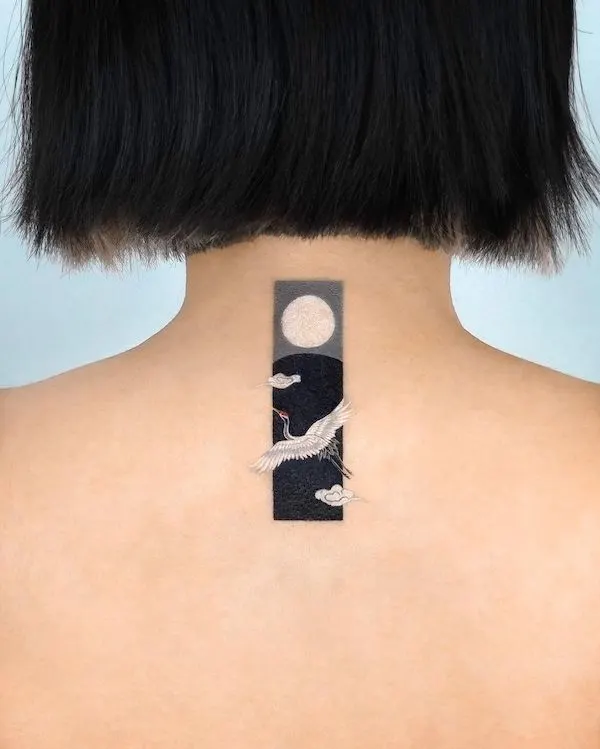 Landscape tattoos are usually wide. This nape tattoo, however, takes out part of a landscape and puts it into a slim stripe to fit the shape of the neck. The crane flying out of the frame adds liveliness to the design.
Tiny Pisces back of the neck tattoo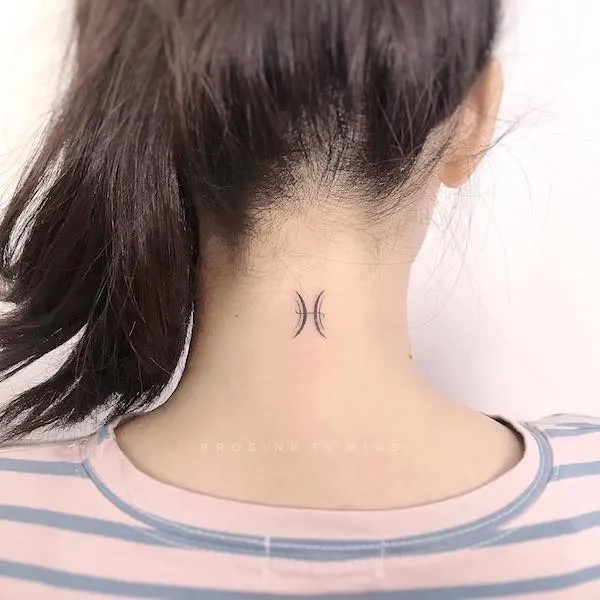 Have you ever checked the description of your sign and thought to yourself, "well, that explains everything." If so, a zodiac glyph tattoo may be for you.
Every sign has its own glyph, usually a symbol consisting of simple lines and shapes. If you want to show the world who you are, the glyph is on point.
And because it can be tattooed as small as you wish, it also makes perfect first tattoos. Check out more zodiac sign tattoo ideas.
Realism eye tattoo behind the neck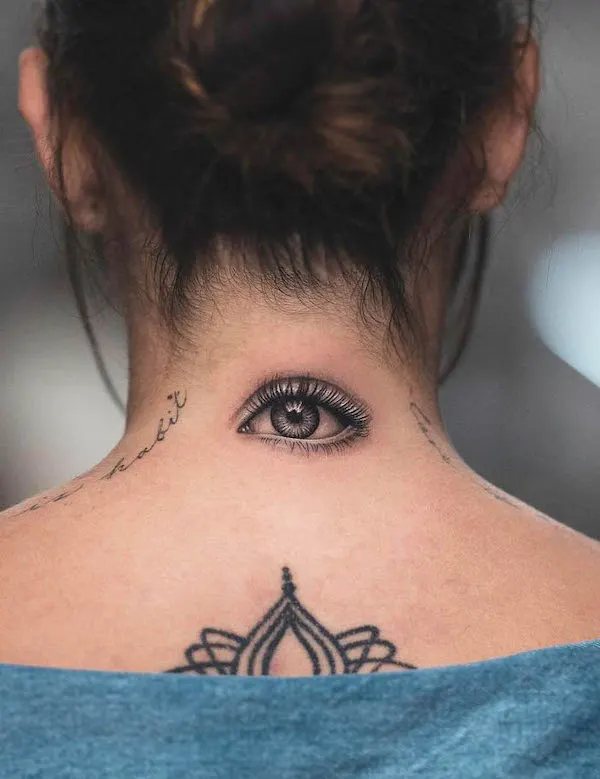 Eyes are a common motif in tattoos. The Eye of Horus and the evil eye both feature the eye as a symbol of protection against bad energy. However, the eye itself can represent clarity and the wisdom to see the truth.
Black Scorpio neck tattoo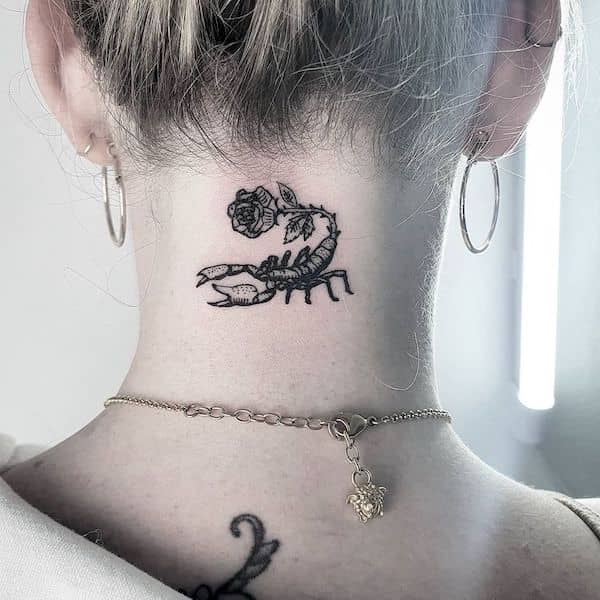 As the symbol of the Scorpio sign, scorpions are seen as exclusive to Scorpios. But more and more people are getting scorpion tattoos for other reasons.
Scorpions' stings can be deadly. And because of that, they resonate with badass people. Adding a rose is a good idea to make a Scorpio tattoo feminine like this one. It suggests that the wearer may be attractive. But she is also someone you don't want to mess with.
Infinity symbol on the back of neck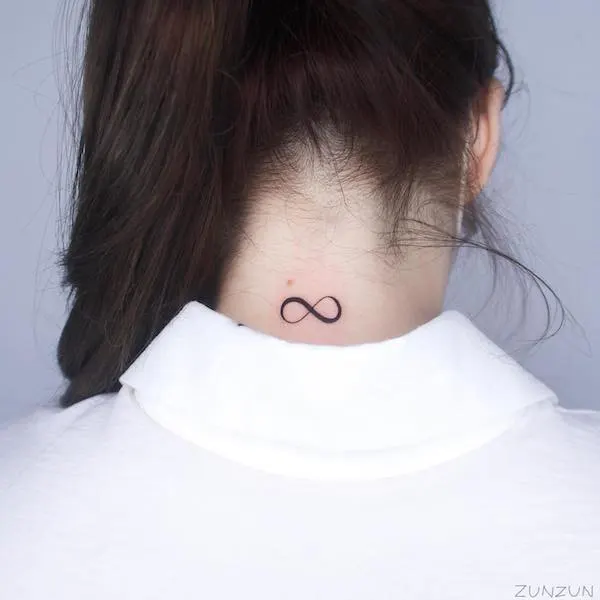 The infinity symbol resembles a figure 8 lying down, meaning infinity in mathematics. As a tattoo, it represents endless possibilities and potential. That's why such a small symbol can be an empowering tattoo about strength.
Abstract circle back of the neck tattoo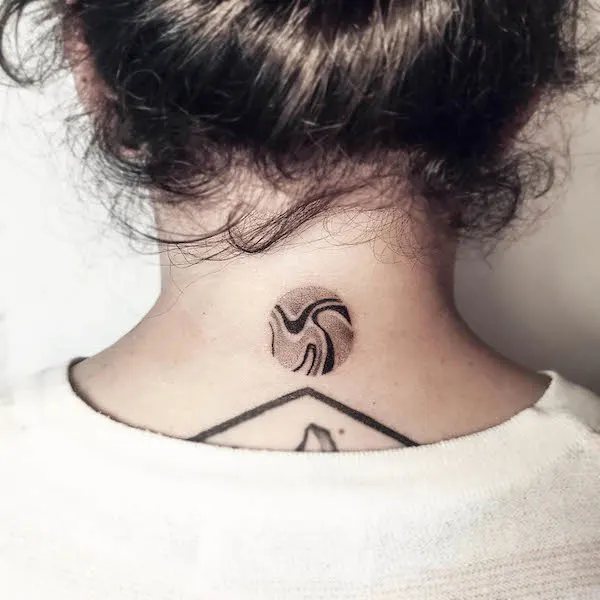 Have you ever seen a tattoo and wondered what it is? This is the beauty of abstract tattoos – they keep you guessing. This small back-of-the-neck tattoo, for example, has patterns that look like those of a planet. But it can be a circle of swirls, too. The attraction of an abstract tattoo lies in the mystery.
Tiny fine line evil eye neck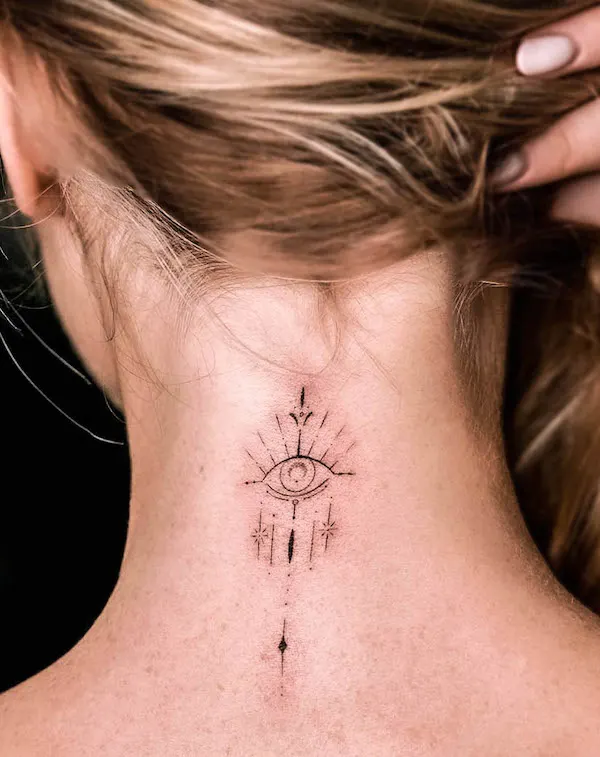 It makes sense why many people are getting eye tattoos. They are naturally eye-catching. And depending on the culture, they may have various symbolisms.
For example, an eye tattoo in Eastern countries may symbolize wisdom. But in Greek mythology, the eye was considered to be evil.
Small unalome symbol tattoo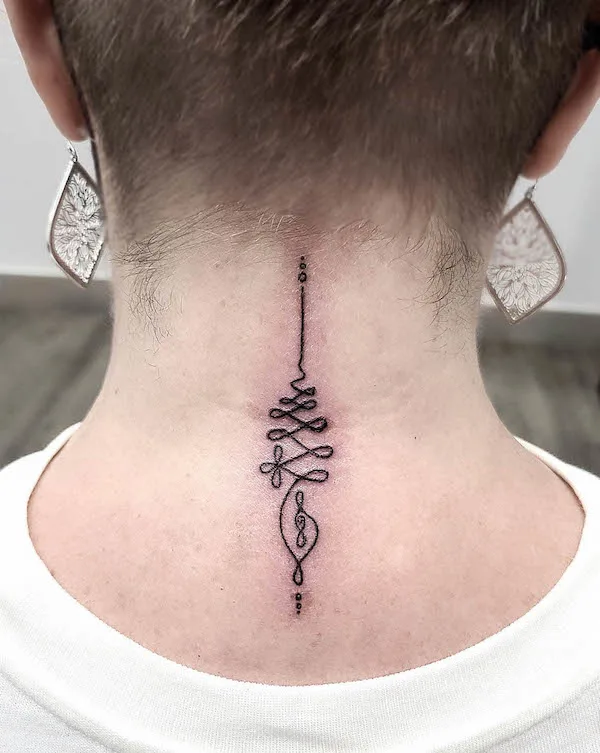 The Unalome, as shown in this neck tattoo, is a spiritual emblem in Theravada Buddhism. The straight line and the following twists and turns represent the life path. It's also considered to represent the road to enlightenment.
If you practice yoga, this symbol will not come as strange to you. It's on yoga mats, yoga outfits, and many props. If you are a yogi and looking for something symbolic, the unalome can be a yoga tattoo for you.
Small cute constellation neck tattoo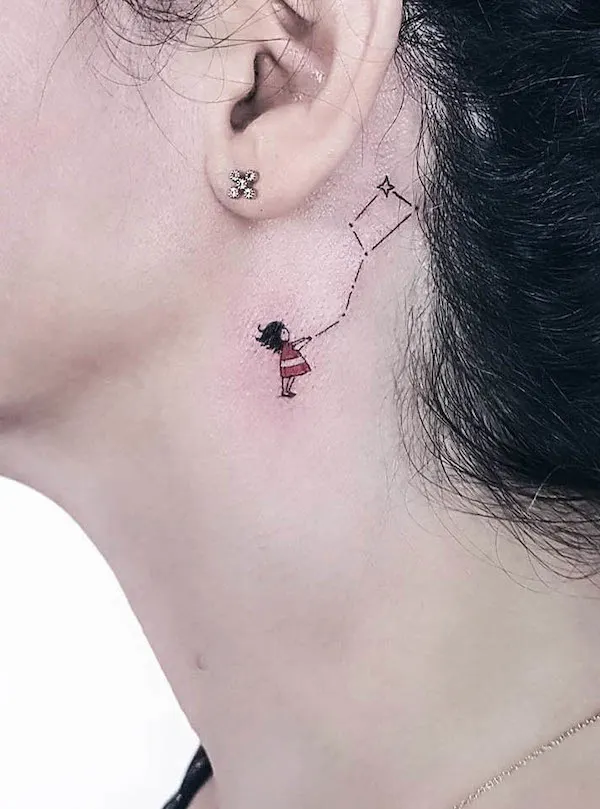 Without the little girl, this behind-the-ear tattoo would be another zodiac tattoo. But the tattooist creatively adds a little girl pulling the constellations and makes the tattoo instantly more fun and unique.
Monet Waterlilies neck tattoo
@eunyutattoo
Like many tattooists worldwide, Korean tattooist Eunyu is inspired by the artworks of the masters. But it's not as easy as it seems to replicate Monet's paintings onto the skin.
This small waterlily tattoo, however, does it successfully. The colors and the reflection of the water are captured perfectly. If you love art, such artistic tattoos may be a good fit.
Small symbol ornament neck tattoo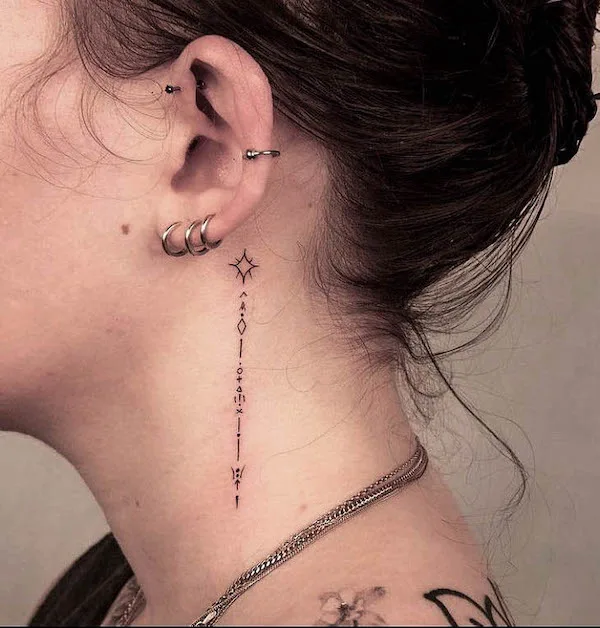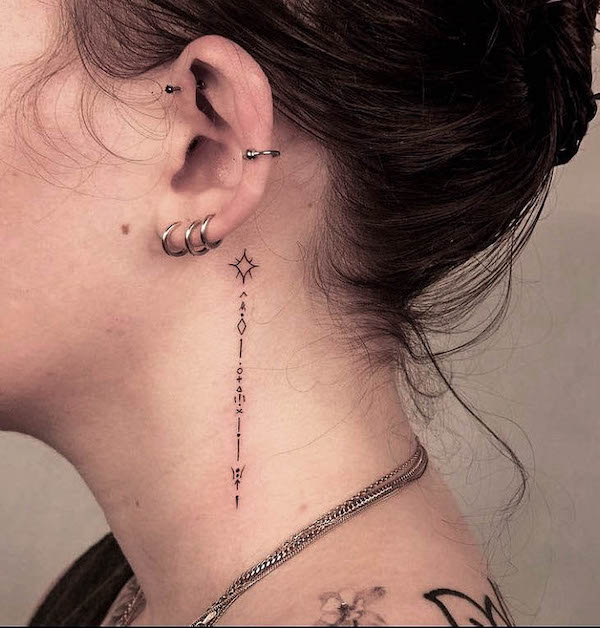 Consider symbolic tattoos if you are getting a first tattoo or are opting for something minimalist. They usually consist of simple shapes and lines. But they carry different meanings, making them personal and meaningful. And also, they usually take less time, thus making them perfect for sensitive areas like the neck.
Black rose tattoo on the side of neck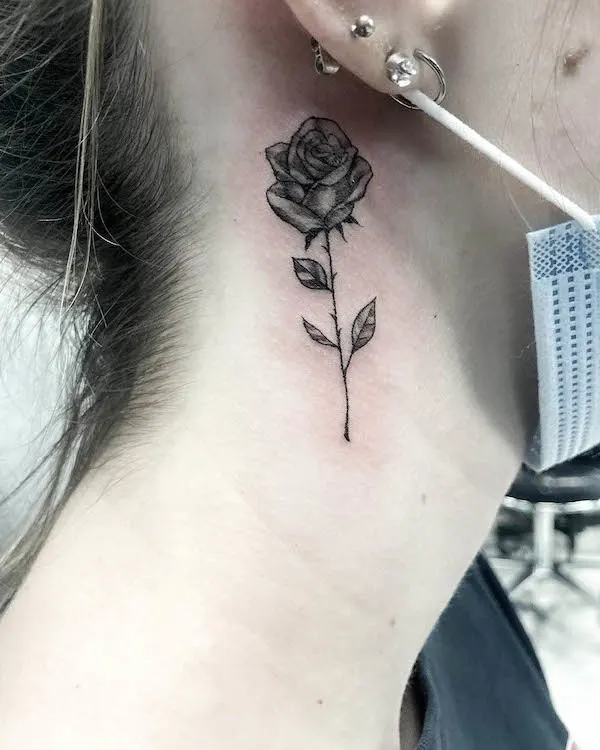 Roses have long been among the top choices of feminine tattoos. They are beautiful no matter where you place them. But adding the stem is a good idea if you want a rose tattoo on elongated areas like the neck and arm. You can also change the stem into a script to make it personal.
Small daisy on the side of the neck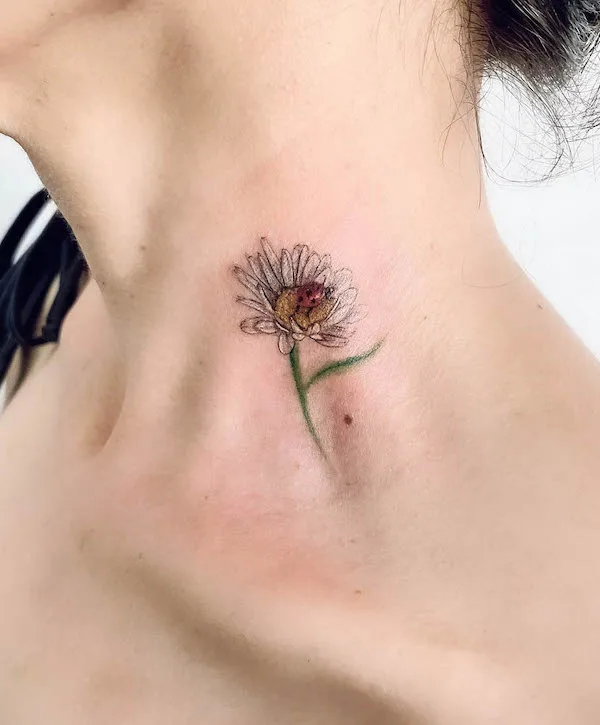 Every flower has its own symbolism. As for daisies, they represent youth, purity, and the passion of a young soul. Their white and yellow colors also make them perfect for teenage girls.
Be strong motto tattoo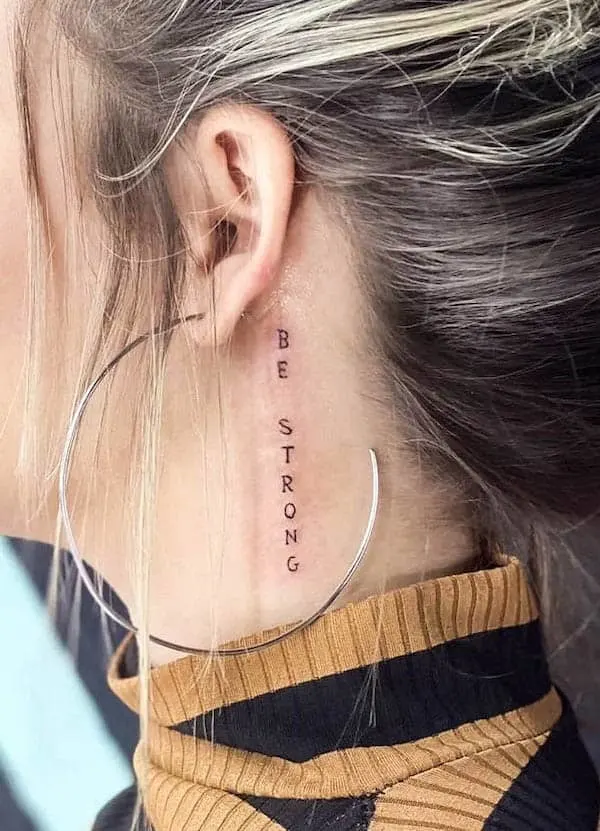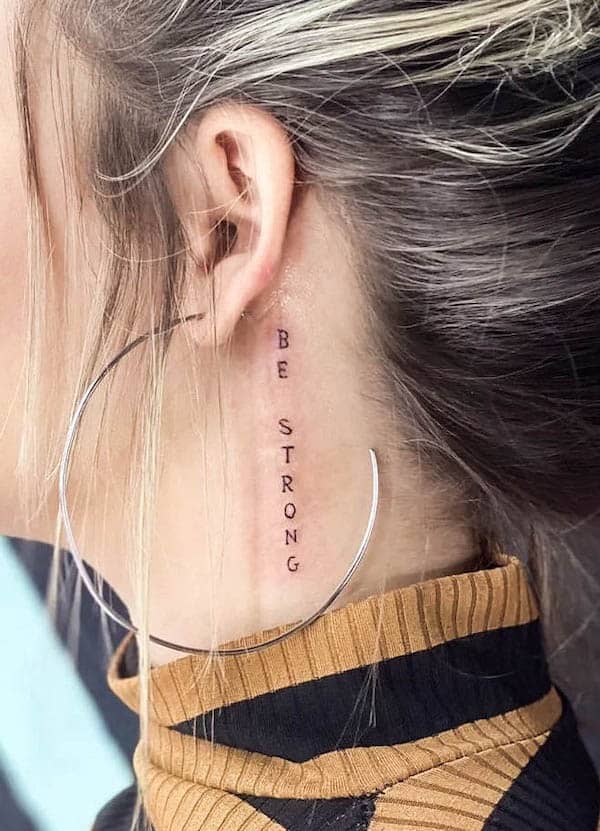 Tattoos are not just a way to showcase your style or express yourself. They can also be empowering reminders. If you have a motto that keeps your head up on a bad day, just like this "be strong" script tattoo, consider it your next ink.
"Clarity" one-word tattoo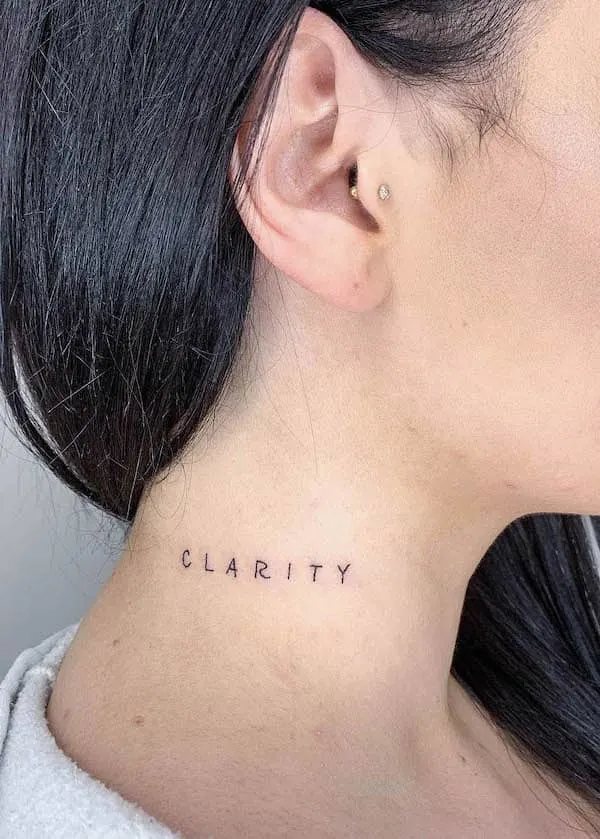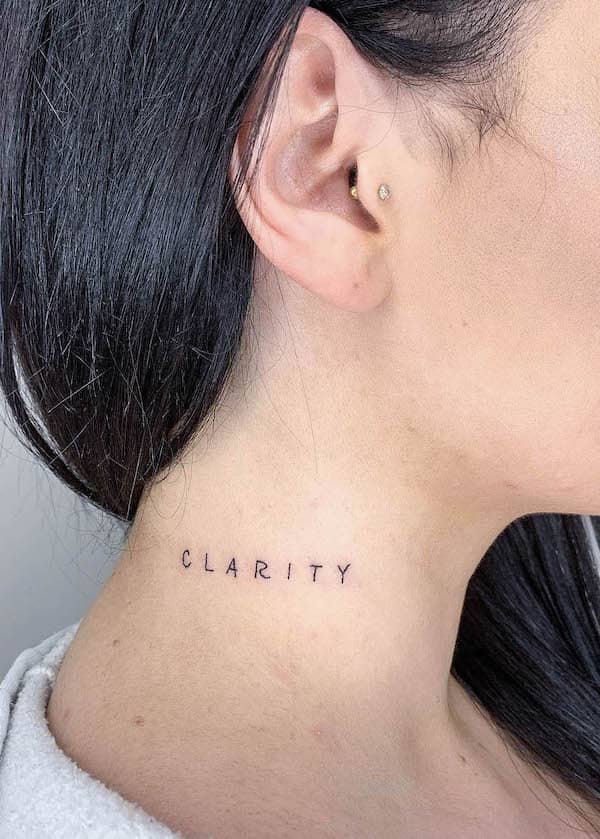 One word can say a million things if you pick the right one. For example, this one-word tattoo says "clarity", which may refer to a clear view of life. And it tells a lot about the wearer's mindfulness and inner peace value.
Pleasure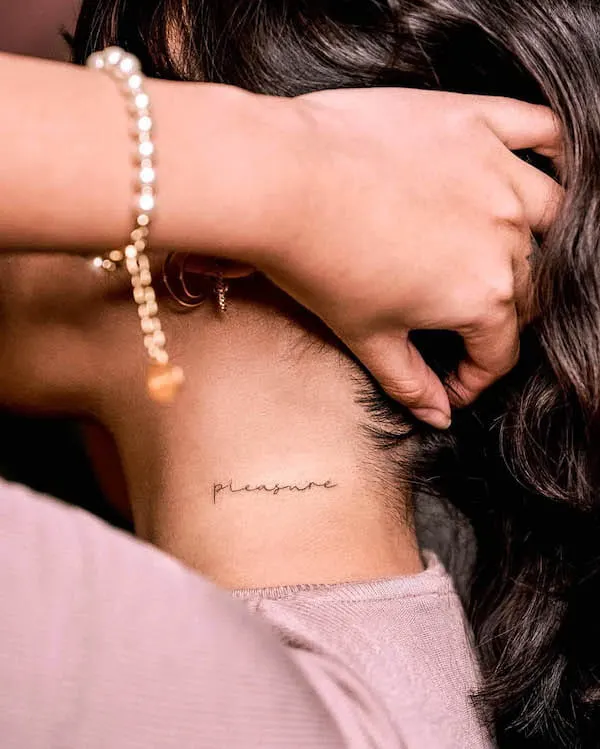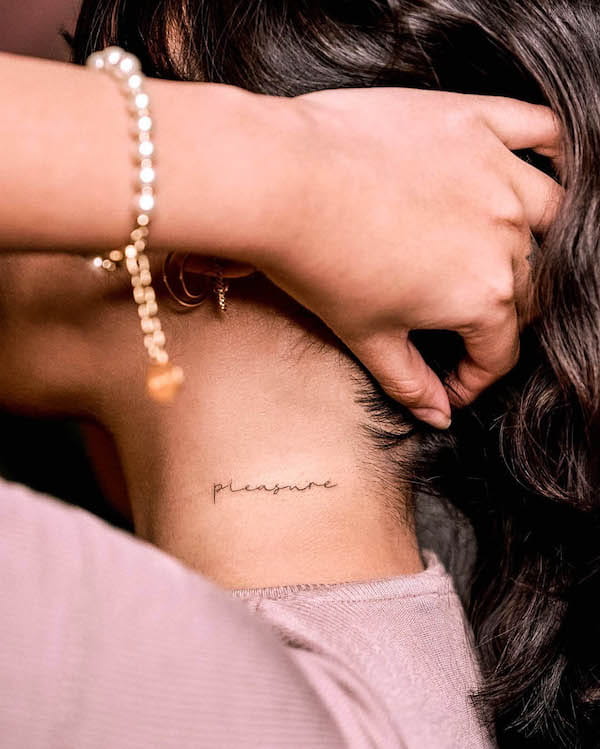 Many people glamorize sufferings as an essential component of success. This neck tattoo, however, sees it in another way. It reminds us that life can be joyous, and pleasure is also important.
Number tattoo on the side of neck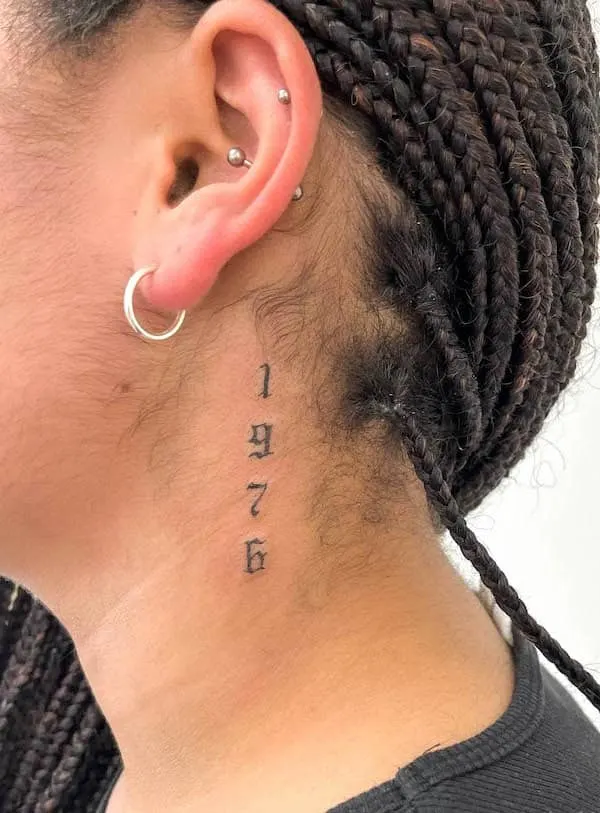 Numbers can represent different things: date of birth, a special place, phone number, etc. If you want a sleek and meaningful tattoo, pick a number that speaks to you.
Believe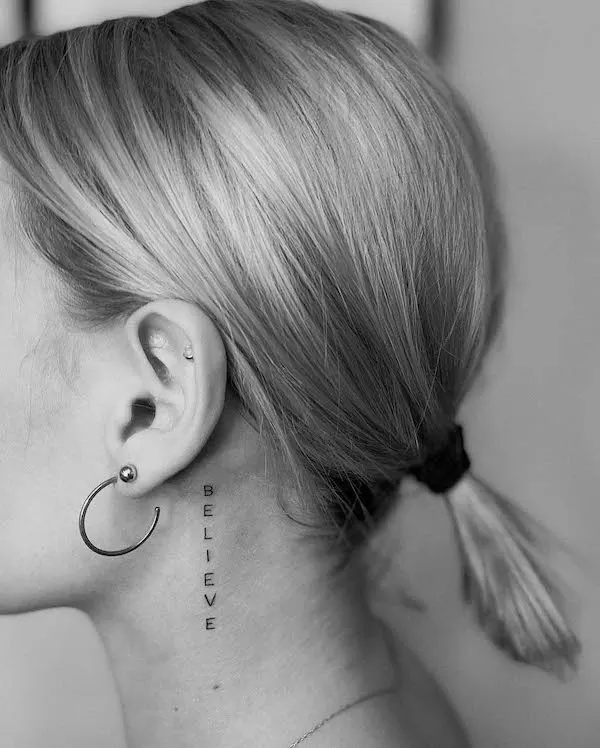 If you can believe in anyone, believe in yourself first.
Bold and feminine neck tattoos
The neck is a tattoo placement with medium exposure. You can wear a turtle neck or put your hair down to cover it. Or you can proudly show it to the world. If you are the latter, you may have considered going big.
But big doesn't mean overwhelming. It can still be elegant. Below is a collection of neck tattoos for women that are gorgeous and bold. Keep scrolling to find your next ink.
Seven chakras tattoos on the back of neck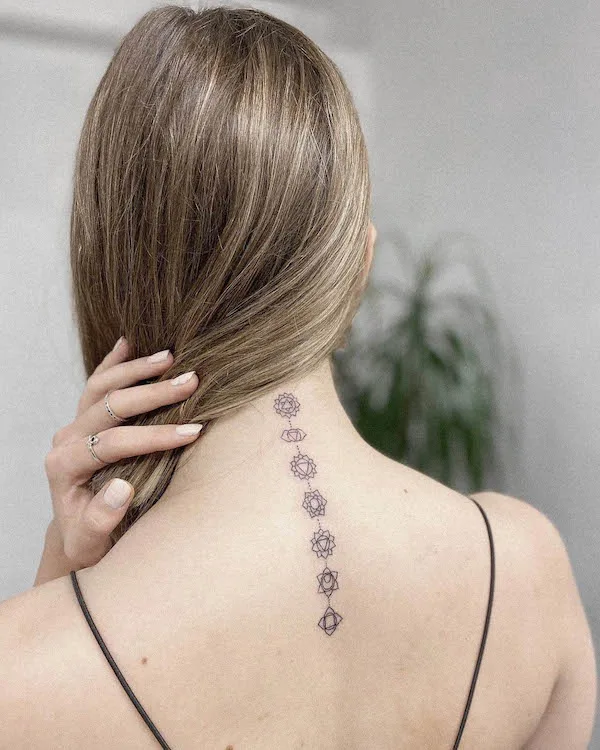 Chakra means wheels in Sanskrit. The human body has seven major chakras: crown, third-eye, throat, heart, solar plexus, sacral, and root chakra; each represents an energy point.
It's believed that when energy flows fluently between chakras, a person will be healthy, joyful, and energetic. And yoga is said to be able to remove the blockage of chakras.
And because most chakra tattoos consist of seven aligned symbols, they are perfect for the spine, sleeve, and nape, just like this.
Fly away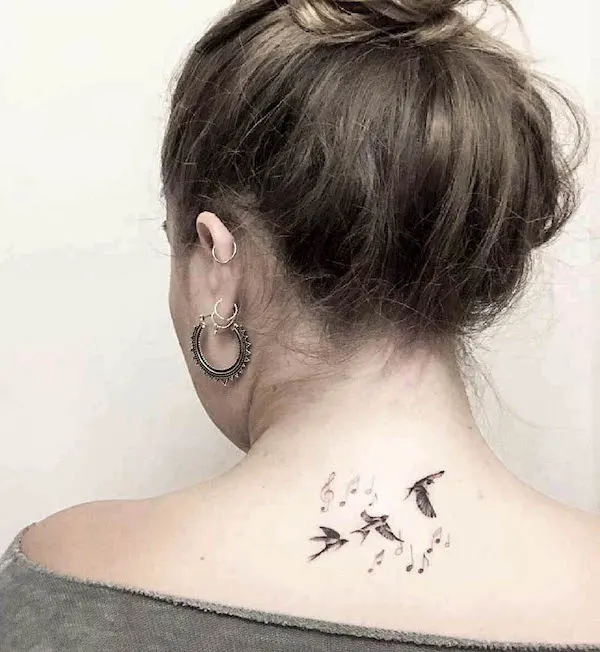 Want a neck tattoo that feels alive? Birds are a good option. Because of their postures, they are naturally "in motion." As a result, such a design will never be dull.
Small fairies on the back of neck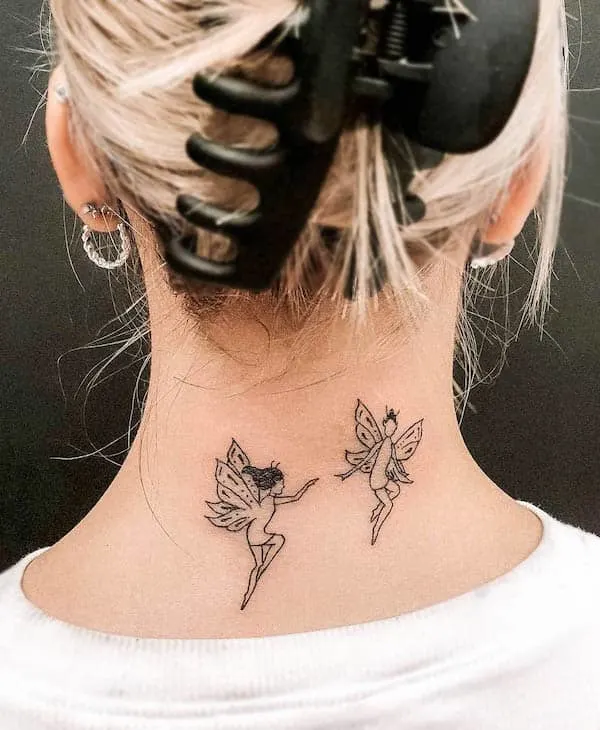 Want to add magic to the skin? These cute little fairies may be what you are looking for.
Eye tattoo on the back of neck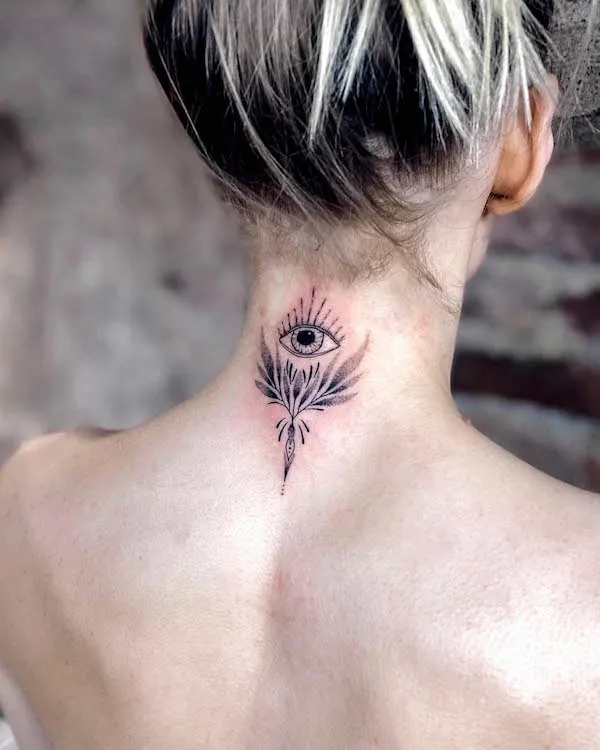 Many cultures see the eye symbol as evil. That's why it gets the name "the evil eye." But as a tattoo, it becomes a protective talisman for the wearer. It's believed that it will help ward off evil energies.
Moon phase tattoo on the back of neck
Many people believe that the moon influences our moods and energies when it is in different places. That makes the moon phase a perfect tattoo element for women symbolizing feminine energy and fertility.
Stunning gem on the back of neck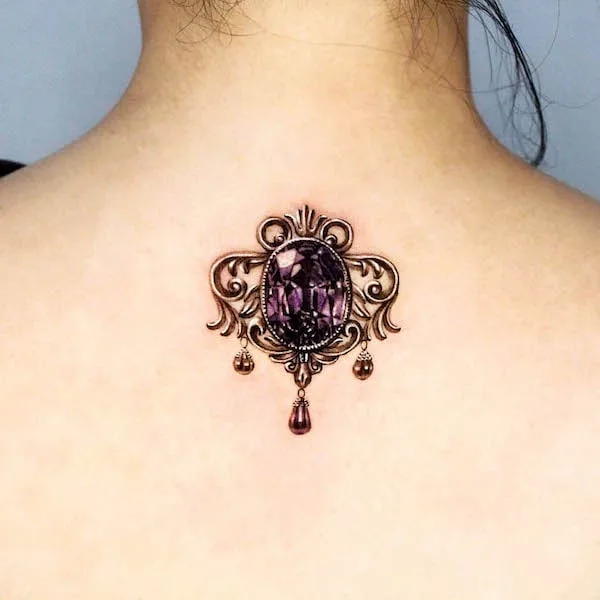 A gemstone tattoo on the back of the neck is an excellent idea because you can pink your birthstone to represent you. It's also super elegant and should belong to something as rare as the gem.
Snake and moon neck tattoo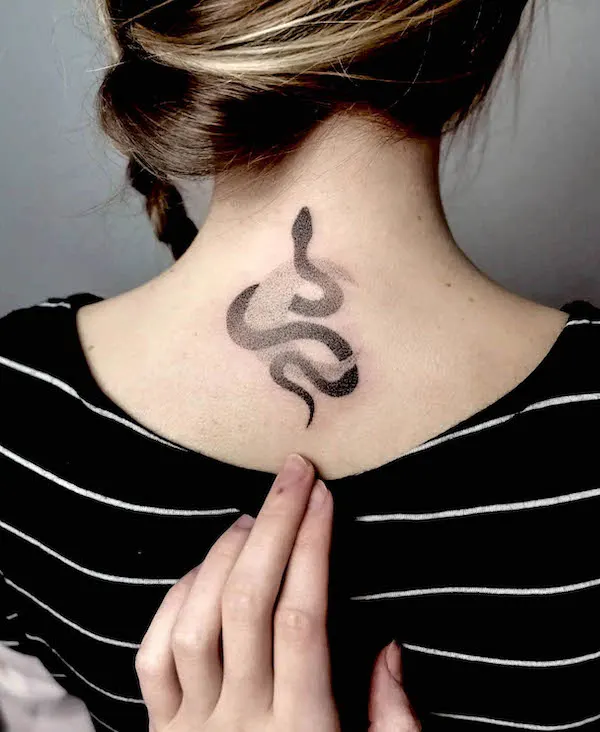 The snake is naturally a good fit for neck placement because of its elongated, curvy body shape. And you don't need an intricate one to make a statement. Something in a medium size with minimum details like this one is enough to catch all the attention.
Jellyfish back of the neck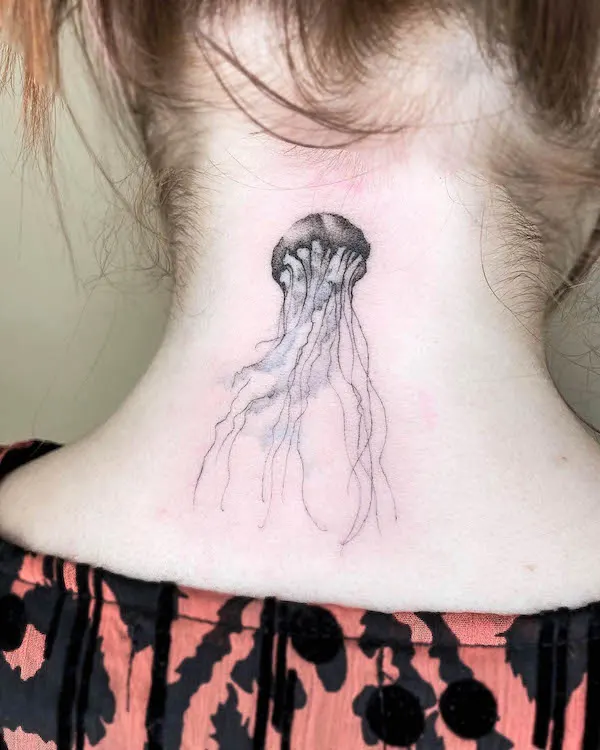 Hands up if you love observing jellyfish through the glass in aquariums. These adorable little creatures swim like a parachute in the water, so free and light. As a tattoo, they also bring that lightness and carefree attitude to the skin.
Spider-Man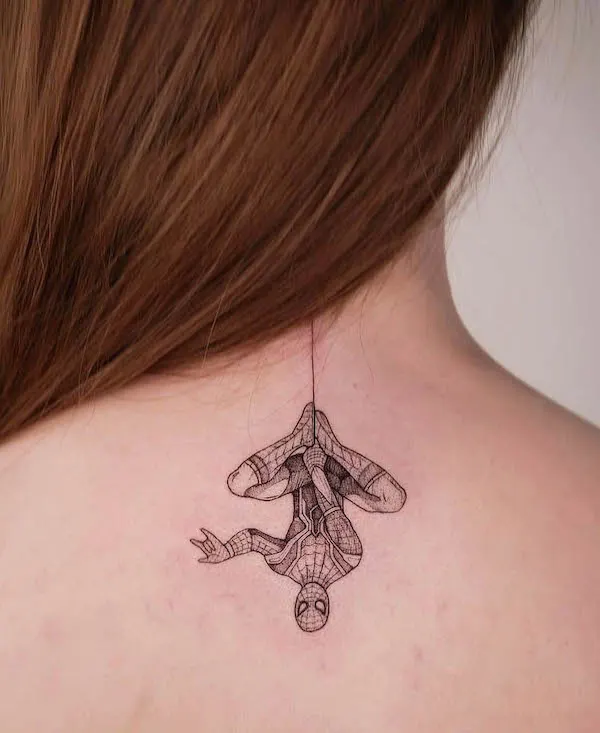 Who says a Spider-Man tattoo is exclusive to men? This creative tattoo plays with the placement and announces the wearer's superhero to the world.
Fine line love tattoo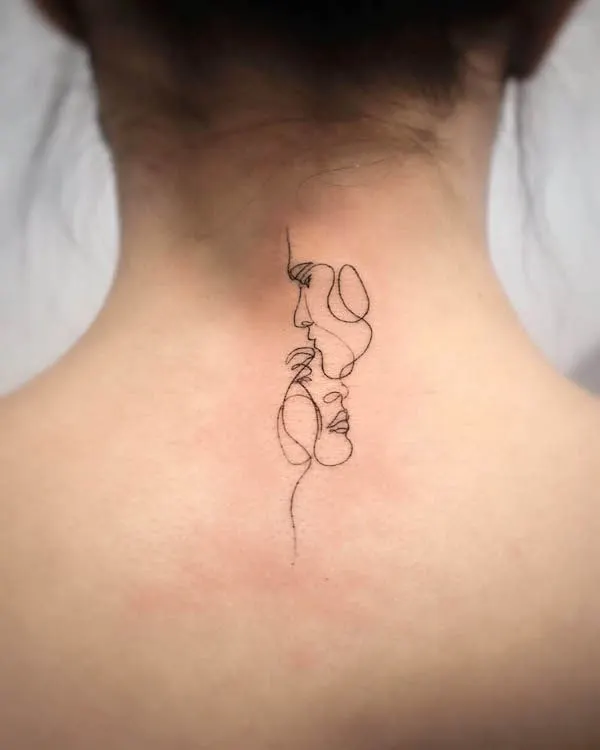 Fine line tattoos are beautiful in their own way. The beauty really lies in the meaning instead of the form. And it's incredible how a few simple lines can create a story-telling piece of art.
Feminine moon tattoo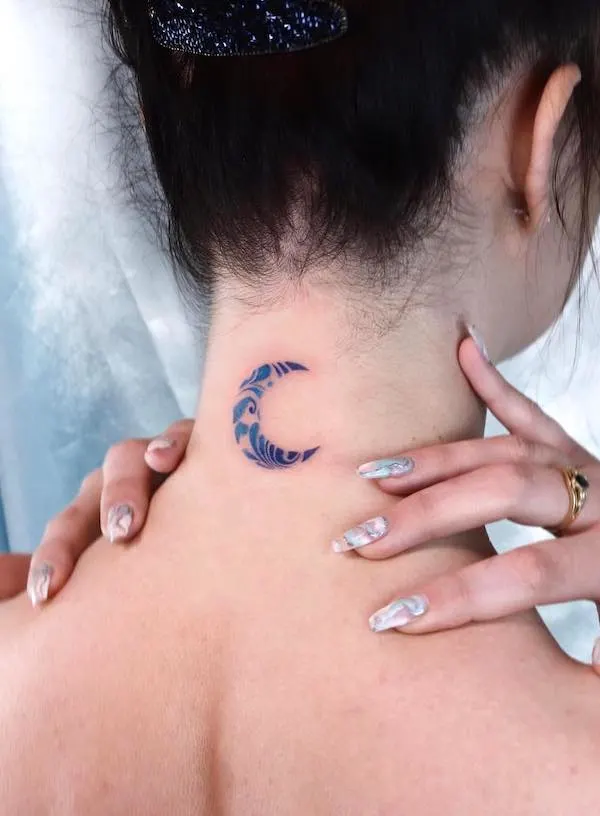 The moon represents femininity. But they are not one of the most loved female tattoo elements for this reason.
First, moon tattoos can be big or small and still look elegant. And you can have a full moon or crescent moon like this one. With different patterns and colors, the possibilities are endless. Every woman can find a moon tattoo that fits into their aesthetics.
Rihanna's stars tattoo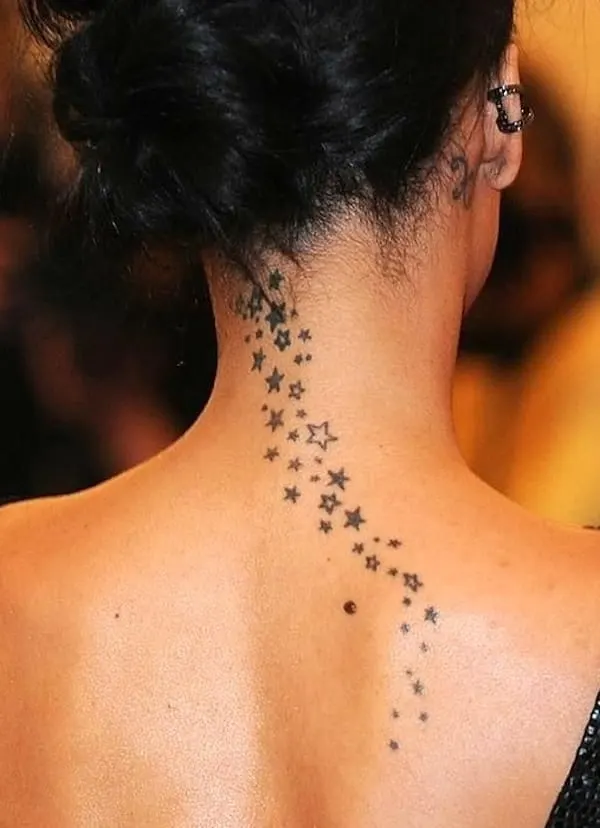 Rihanna has some gorgeous ink to die for, and this star tattoo is one of them. It's not complicated, just small stars forming a Milky Way on the neck. But it's a great example of multiplying a simple element to create a vast, stunning piece.
If you want something unique, consider a small, basic element like a star and make it a beautiful piece with well-thought-out compositions.
Climbing the ladder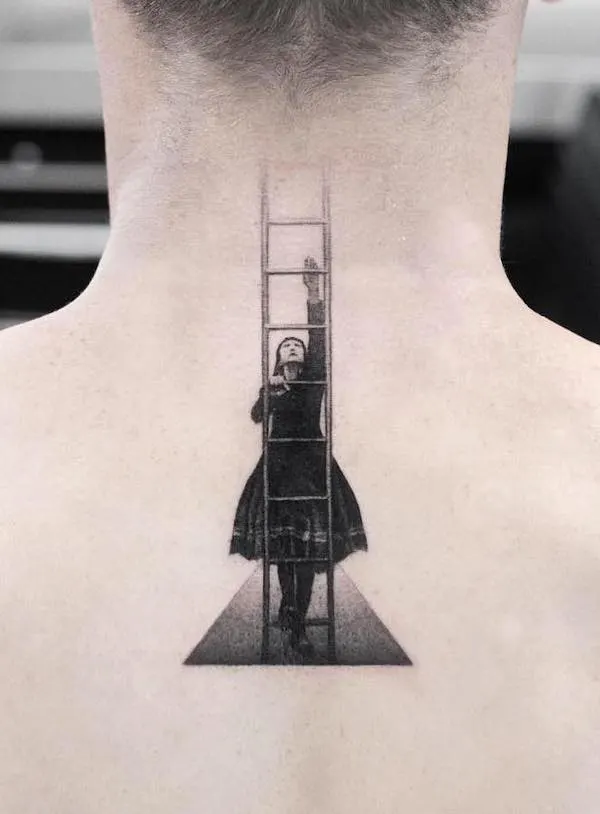 It's amazing how the tattooist plays with the neck placement. The ladder fades towards the hairline, making you wonder where it heads to.
Abstract landscape back of the neck tattoo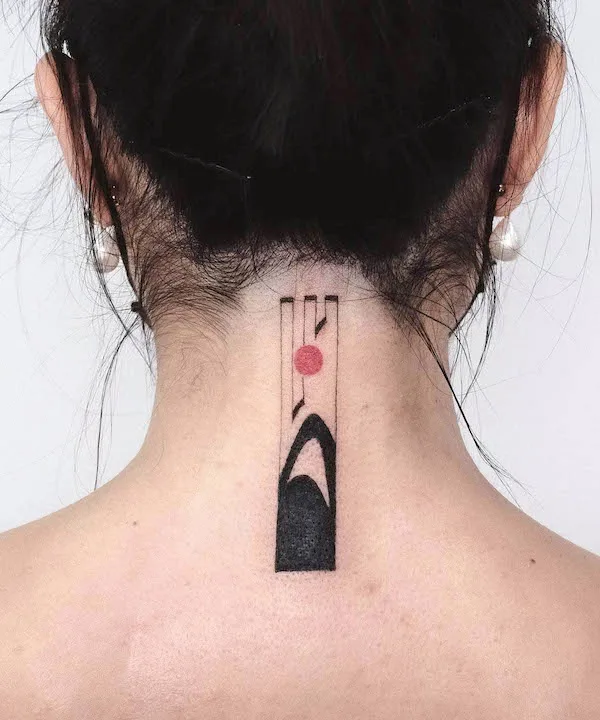 Most landscape tattoos depict the exact landscape. This one, however, is an exception. The lines and shapes create an abstract feeling and make it perfect for those who value simplicity.
Intricate dragon neck tattoo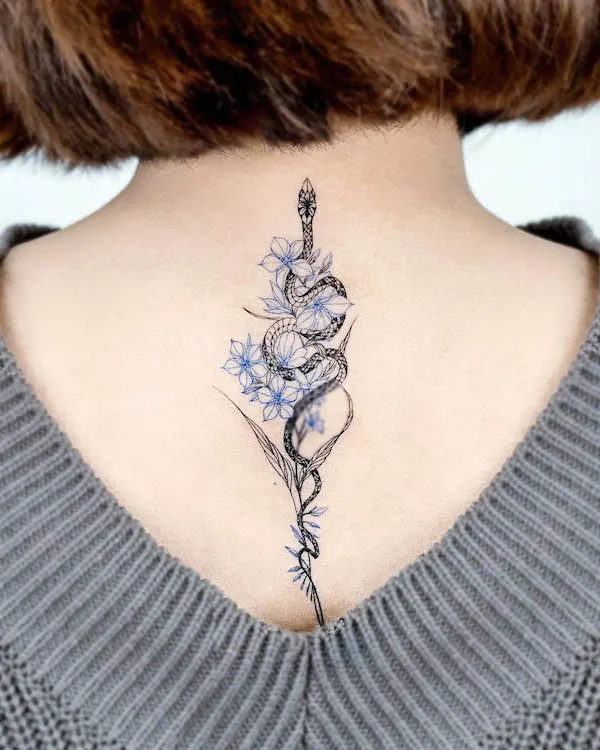 One good thing about dragon and snake tattoos is that you can manipulate the shape and make them fit in most body parts. And this neck tattoo for women is a perfect example of a well-balanced and badass design.
Tree of life cover-up tattoo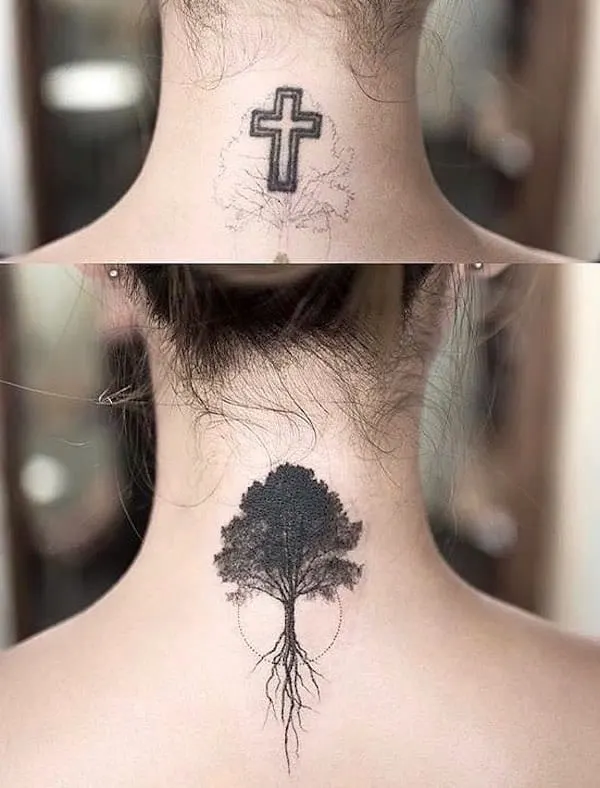 The back of the neck is exposed unless you have your hair down. That's why you want a tattoo you absolutely love. But it's not the end of the world if your neck tattoo fails to represent you anymore. A cover-up tattoo like this one will bring new meaning and add new life to it.
Stunning flower cover-up tattoo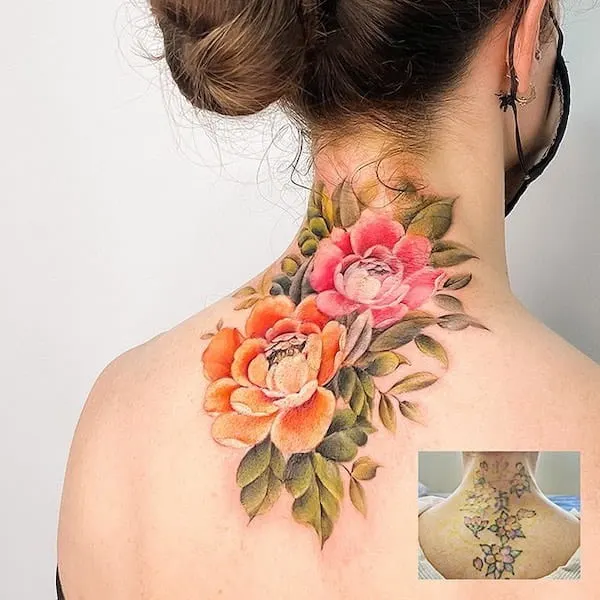 This is another gorgeous cover-up tattoo on the neck. It extends all the way down the upper back. And it proves that with creativity and excellent execution, you can transform old ink into new art.
Symmetrical abstract black ink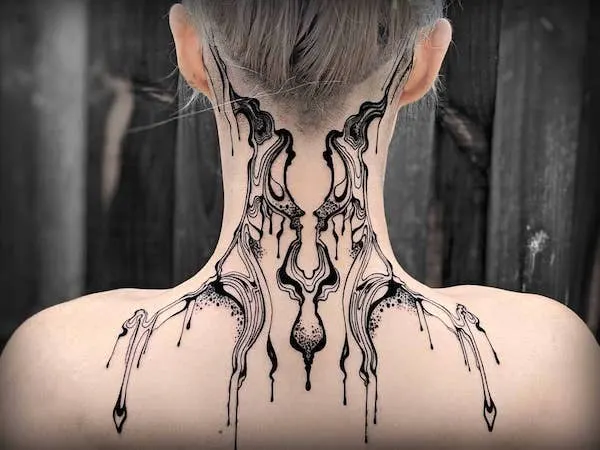 Some tattoos are only for the courageous, and this is one of them. The entire design looks like ink splattered on the skin and draping down the neck.
But if you observe closely, the ink forms the silhouette of a face, leaving room for imagination. A bold neck tattoo like this one will not only catch eyeballs but also spark conversations.
Black ornament nape and back tattoo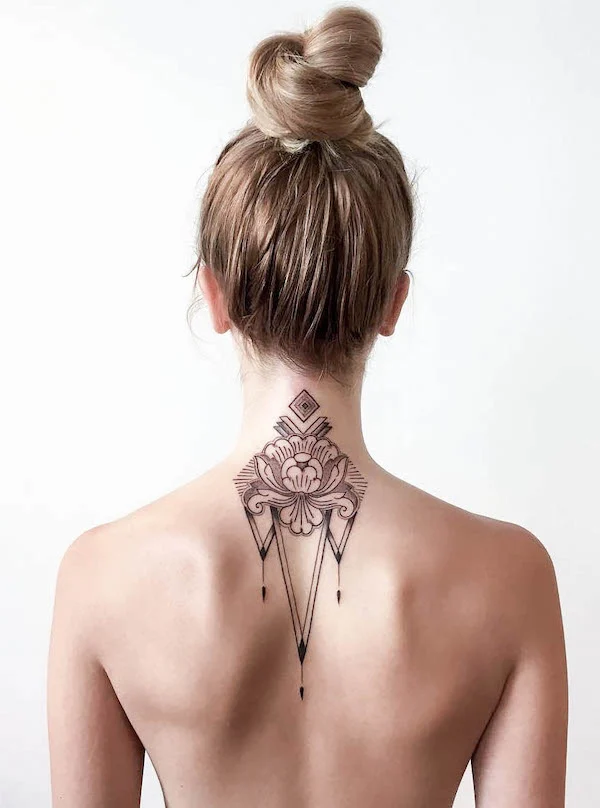 Our eyes love symmetry. That's why many large tattoos are perfectly symmetrical, just like this one. It gives a sense of balance and keeps a giant tattoo elegant.
Simple single line necklace tattoo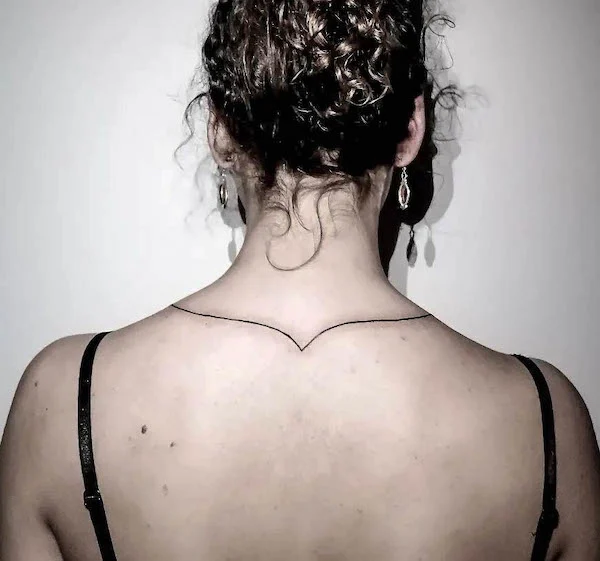 You can't go simpler than a straight line. This one wraps around the back of the neck, resembling a necklace. And it makes you wonder what's in the front.
Black stunning leaves tattoo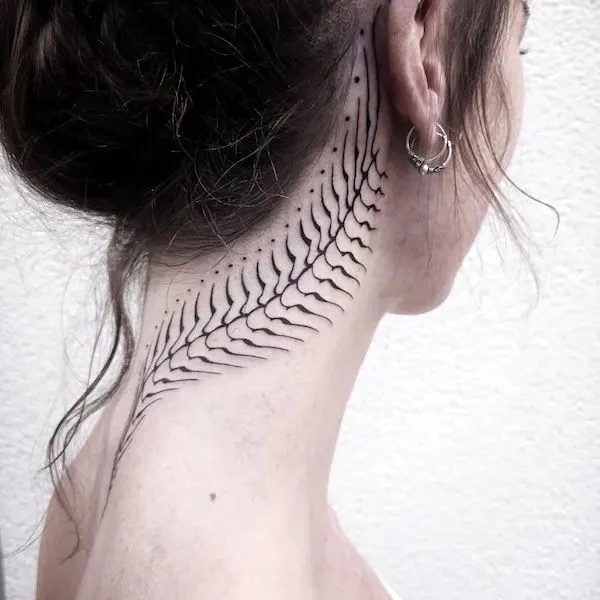 Some tattoos are meaningful; some are purely ornamental, just like this one.
The tattooist picks the perfect spot for a bold design. Starting from the back of the ear, the leaf tattoo stretches all the way to the upper back. The clever placement helps lengthen the neckline and complement the body.
Red flowers and snake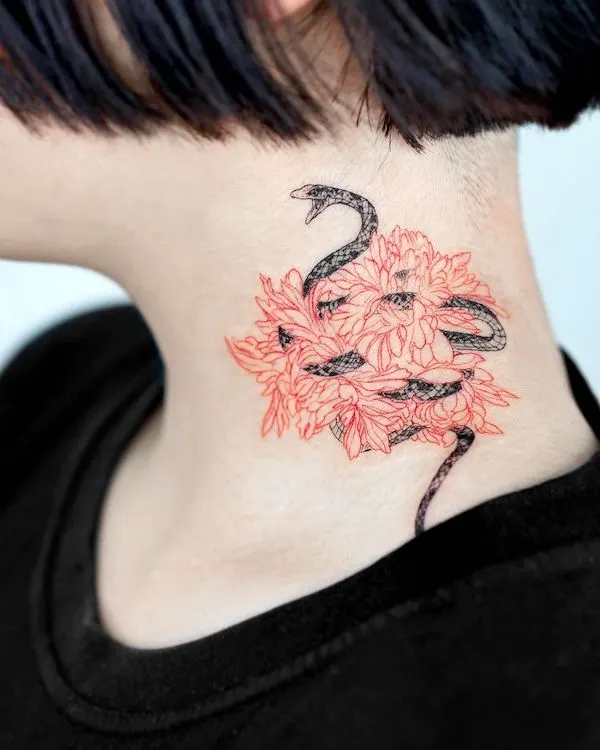 Snakes can be poisonous and aggressive. It's for the same reason they are seen as protective in some cultures. A snake tattoo on the side of the neck can be a protection emblem for the wearer. And the red flowers create color contrast and balance out the snake's aggressiveness.
Dragons and dagger tattoo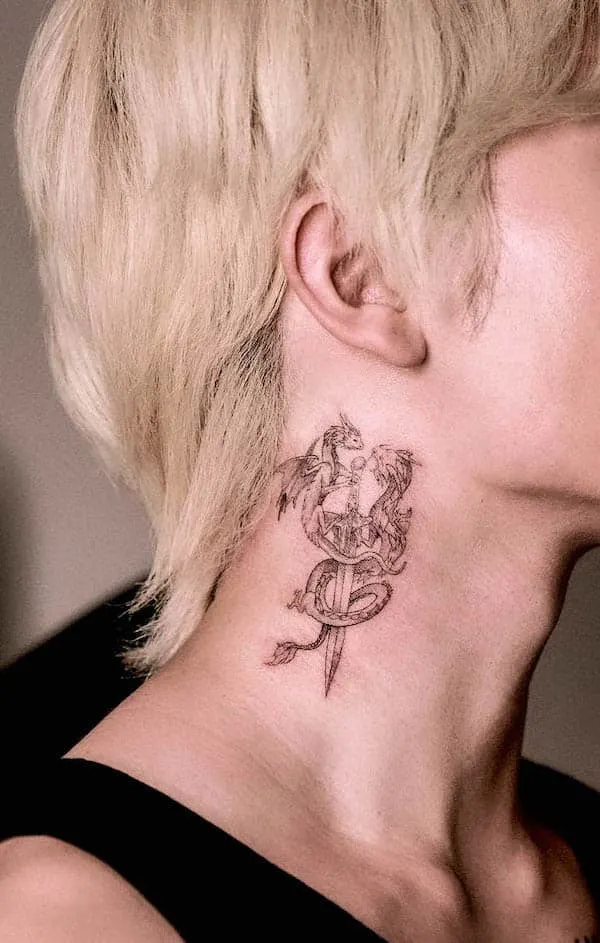 Both dragons and daggers are symbols of power and strength. However, it's not easy to tattoo such details in a small area like the side of the neck. Nevertheless, this tattooist nails it, and the precision makes the tattoo even more empowering.
Fine line rose neck tattoo for women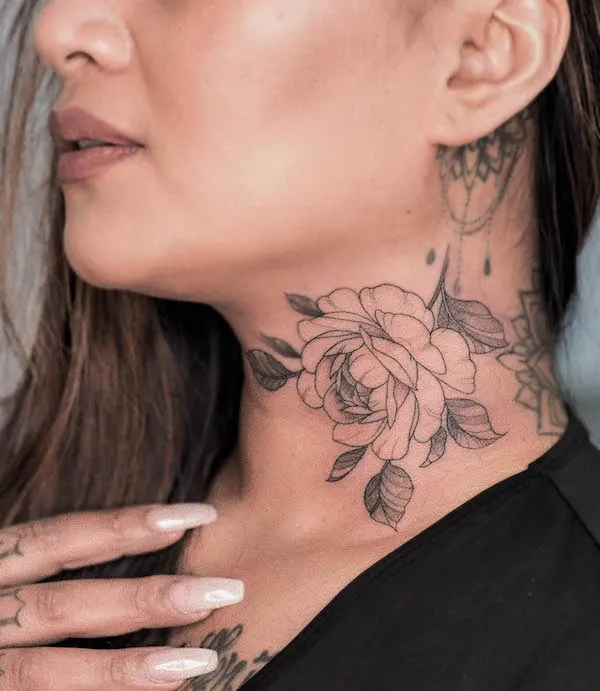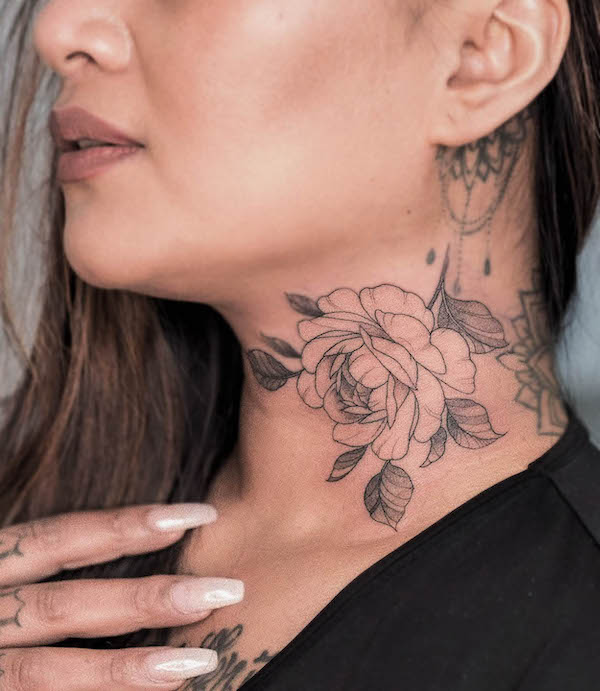 Roses can be put on any part of the body. However, it becomes a highly visible symbol of beauty and purity once you place it on the neck.
Simple black leaves side of the neck tattoo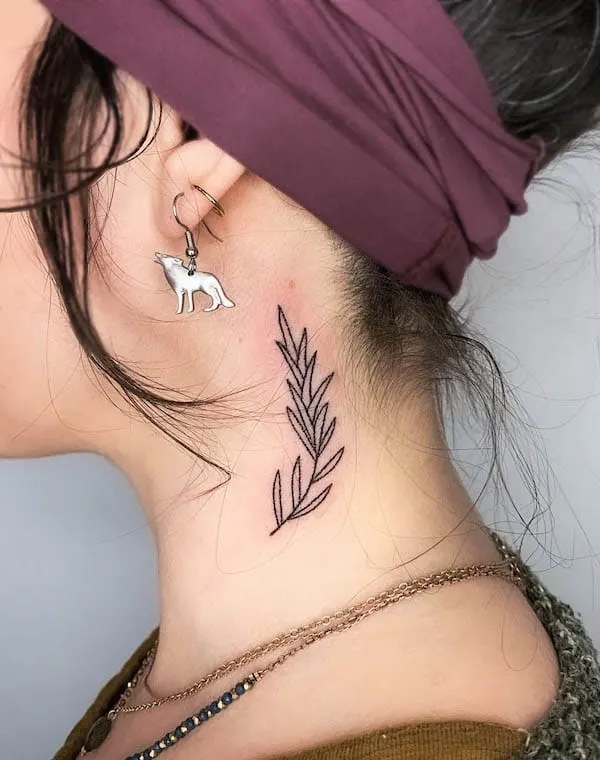 Sometimes less is more. If you want a medium-sized neck tattoo but want to keep it simple, consider an outline tattoo. Compared to solid blackwork, an outline tattoo keeps the lightness, so it doesn't feel overwhelming.
Butterfly and chrysanthemum neck tattoo for women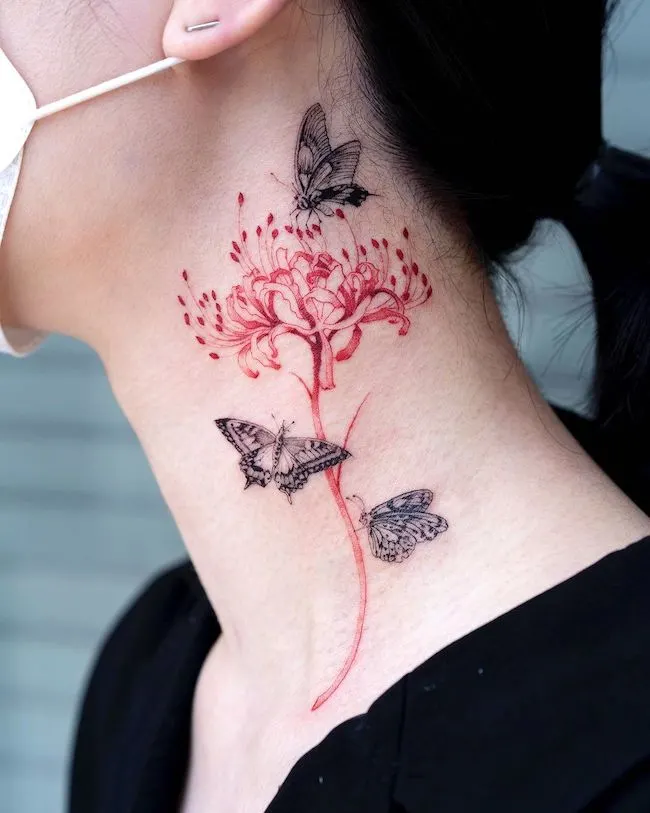 If you are born in November, you may be familiar with the chrysanthemum, as it is the month's birth flower. However, the chrysanthemum is not just a pretty flower. It also signifies life and rebirth, just like a butterfly.
Chrysanthemums in different colors have different meanings, too. For example, the red chrysanthemum in this butterfly neck tattoo symbolizes love and passion.
Sketch-style red heart
A tiny heart is great. But if you are feeling confident, why not choose something more fun and adventurous like this sketchy heart on the side of the neck?
Beach landscape tattoo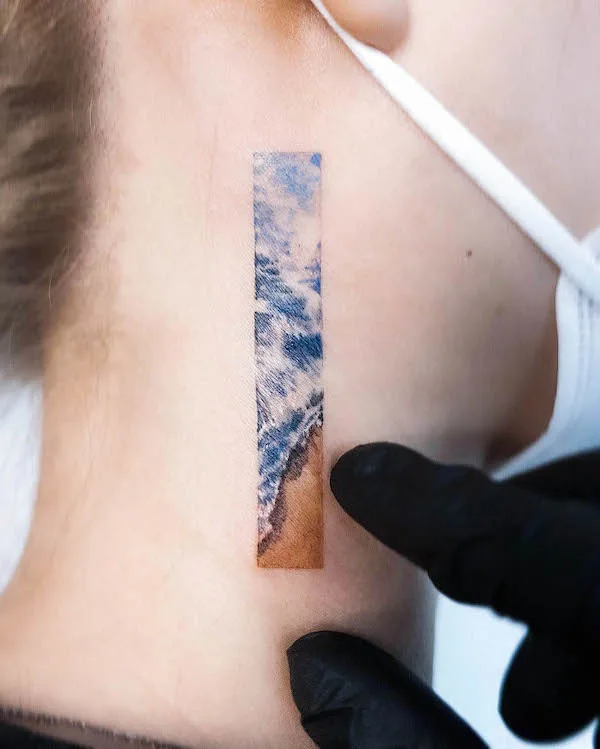 If you love the beach, the forest, or nature in general, you have probably thought of putting scenery on the skin. But images of nature are usually wide. So one way to make it fit the neck is to crop out a stripe, like this beach tattoo here.
Black butterfly on the side of the neck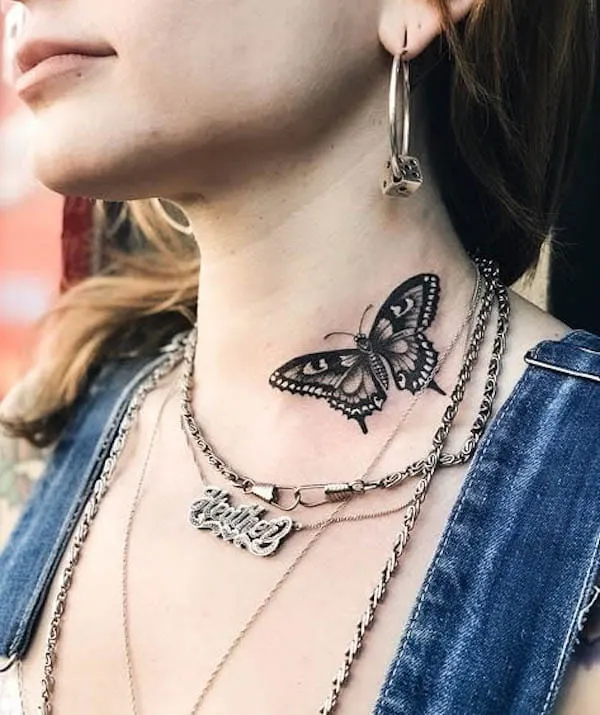 Butterflies represent transformations as they must go through metamorphosis before spreading their wings. If you are someone who embraces changes and welcomes the pain of growth, a butterfly tattoo may speak to you.
Tree and arrow neck tattoo for women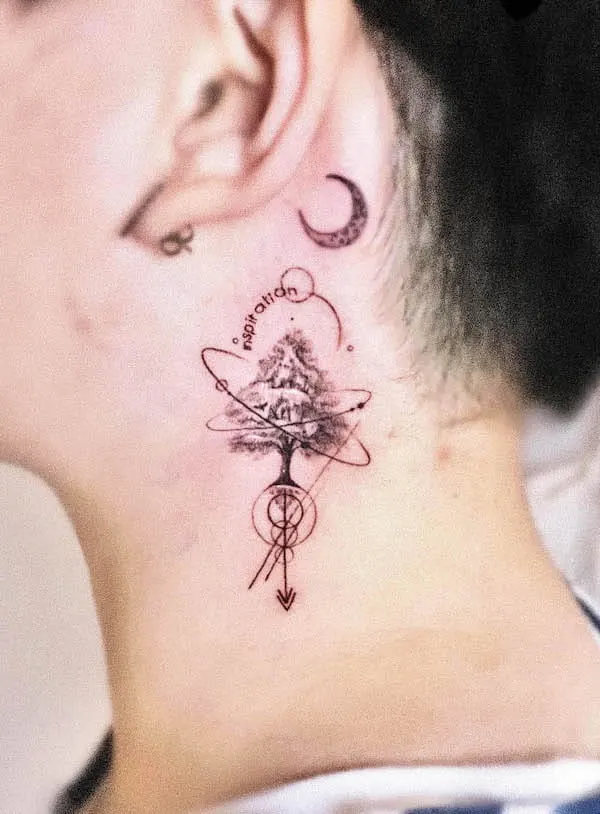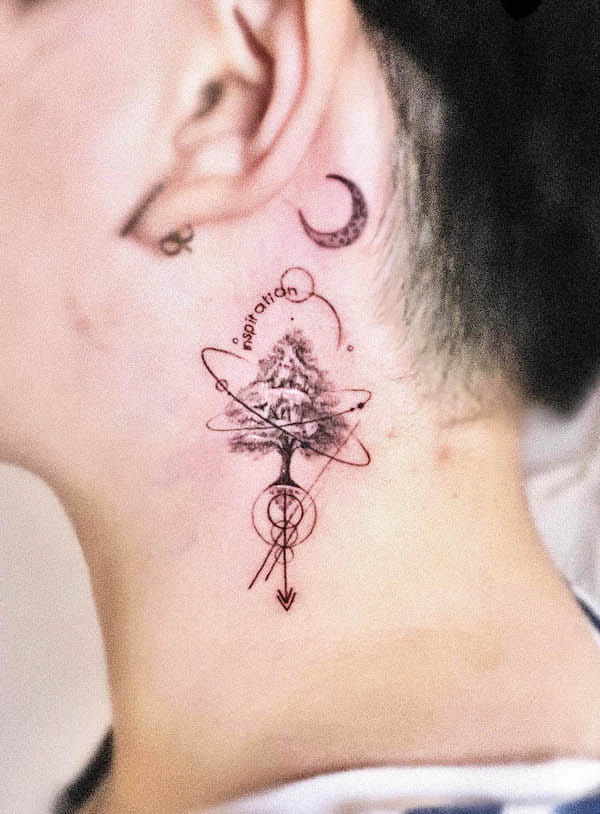 It's always risky to tattoo something as intricate as this one on a small scale. It requires a high level of execution. But this one is worth the effort.
Floral sleeve and neck tattoo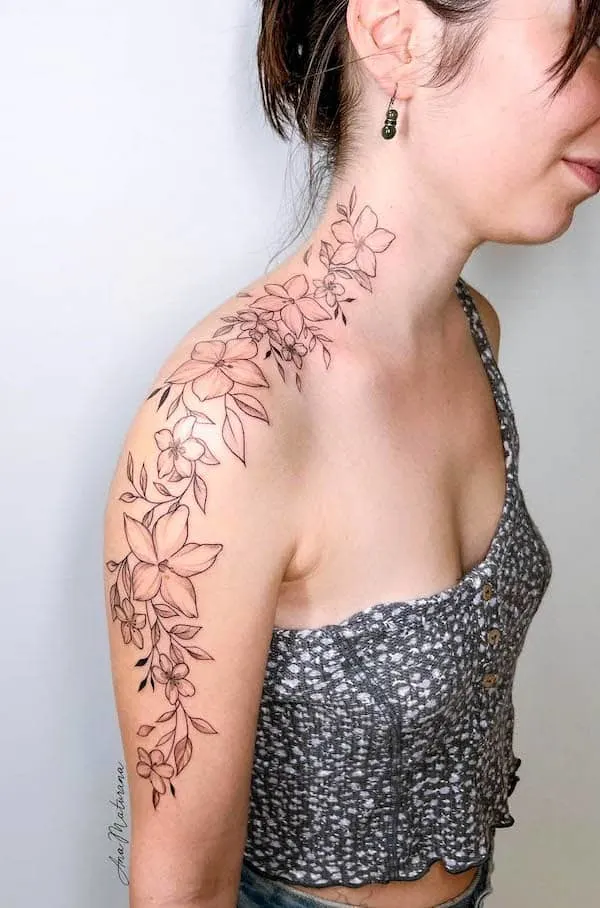 If you want a tattoo on the upper body, why not think outside the box? For example, instead of a single placement, you can have a tattoo that covers two or more areas, just like this floral tattoo that extends from the neck to the elbow.
Throat and necklace neck tattoos for women
Not many women go for something as visible as a throat or a necklace tattoo. But why not if you are feeling bold? Check out these beautiful and eye-catching neck tattoos for women. And you may find your next ink.
Plants symbol throat tattoo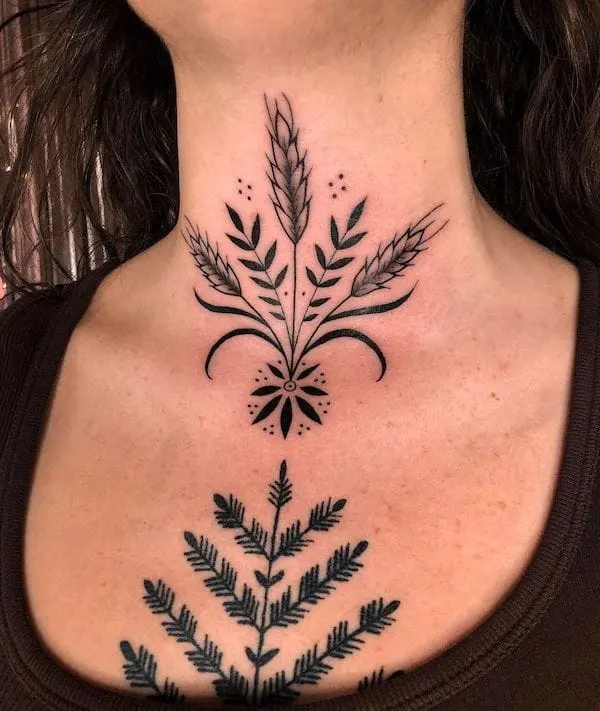 The throat is a particular placement. No matter how simple or small a tattoo is, it's always visible when you put it on the throat. That's why you want something gorgeous, balanced, and represents who you are.
Small cherry blossom neck tattoo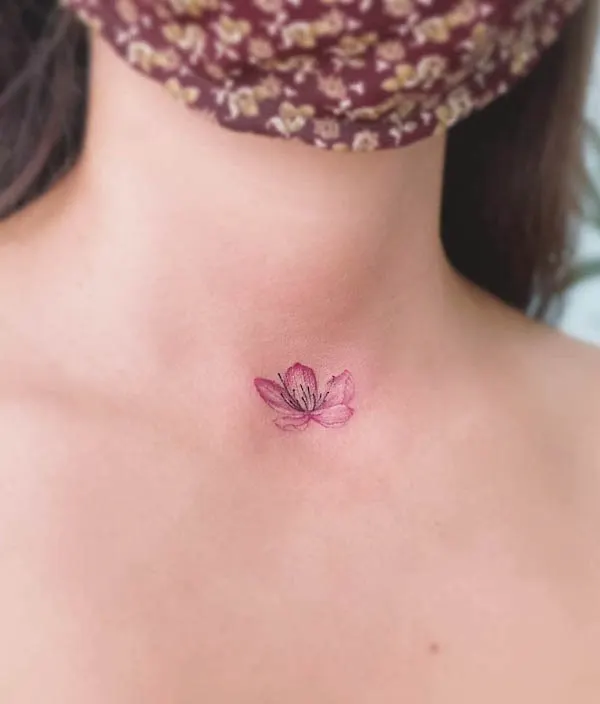 Cherry blossoms are often associated with beauty, femininity, and the passing of time, as they bloom for a short period before withering away.
However, in Japanese culture, cherry blossoms are also a symbol of renewal and new beginnings. Therefore, getting a cherry blossom tattoo on the throat may be an expression of the wearer's philosophy to live each moment to the fullest and her desire for a fresh start.
Minimalist single line throat tattoo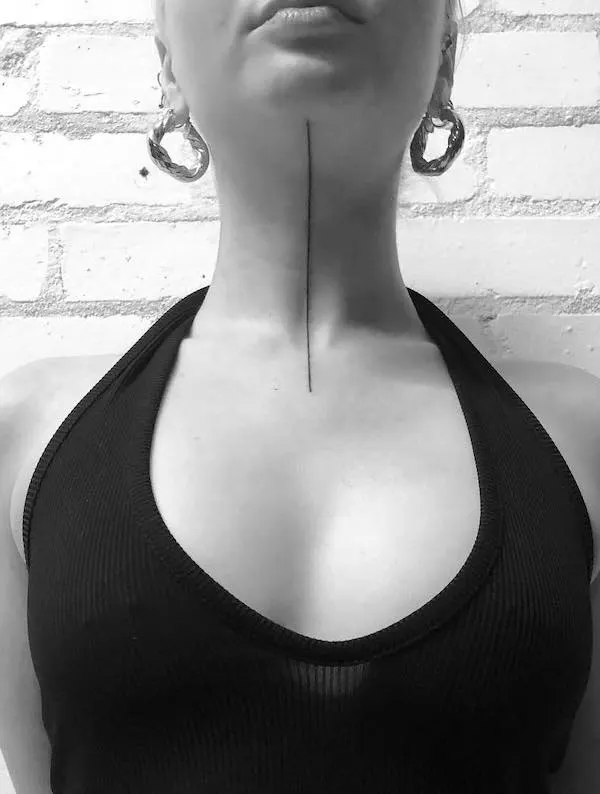 If you are a minimalist and are proud to announce it to the world, a single line on the throat will do all the talking for you.
Tiny red heart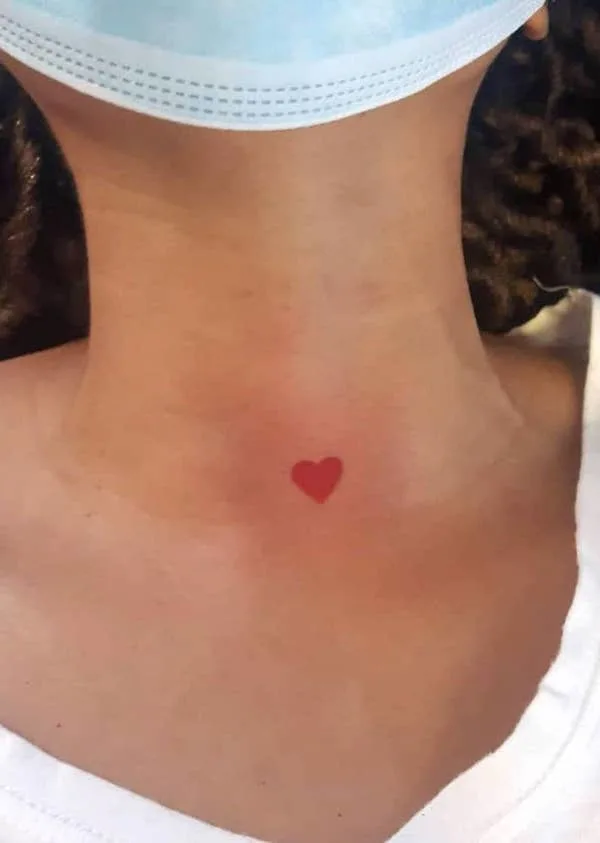 The heart is a common and girly motif for tattoos. But when it is placed on the throat, it instantly magnifies its visual impact.
Ouroboros neck tattoo for women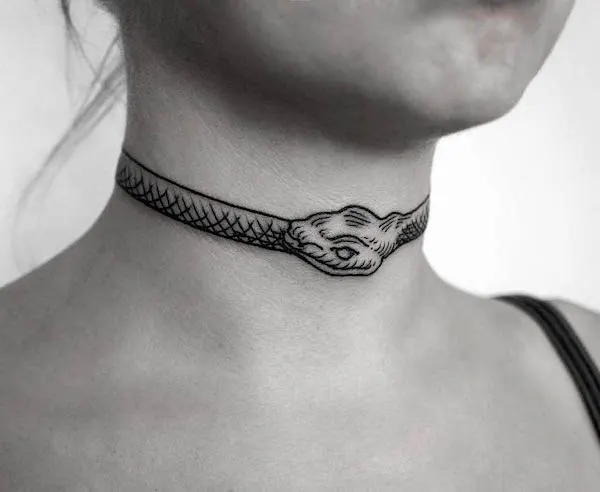 Ouroboros depicts a snake or dragon swallowing its tail, forming a closed circle. So the Ouroboros symbolizes wholeness and infinity. And it makes perfect tattoos that wrap around the wrist, arm, or neck.
Ornamental mandala throat tattoo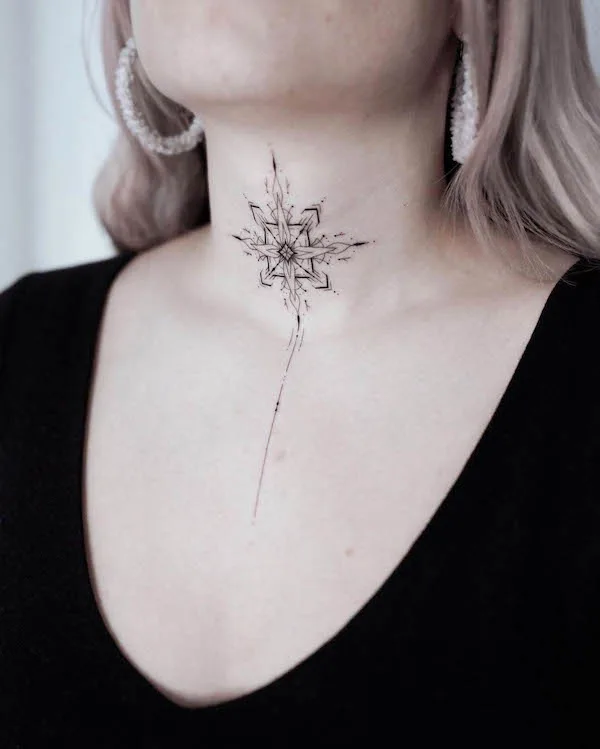 What seems like a purely decorative tattoo actually carries a profound meaning. A mandala represents the universe, with its circles representing wholeness and endless life cycles.
In spirituality, the throat symbolizes communication, self-expression, and finding one's voice. So, a small mandala tattoo on the throat like this can reflect the wearer's eagerness to communicate her values and perspectives with the world.
Devil doesn't sleep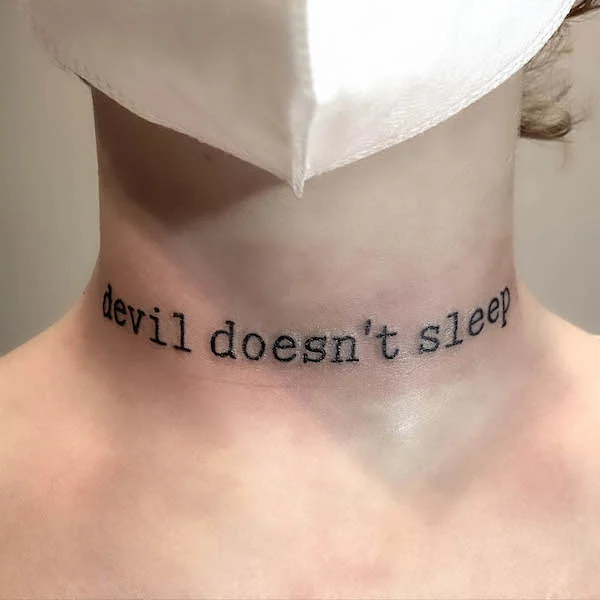 Quote tattoos are empowering. Even more when you put it on areas as visible as the throat.
Nostalgia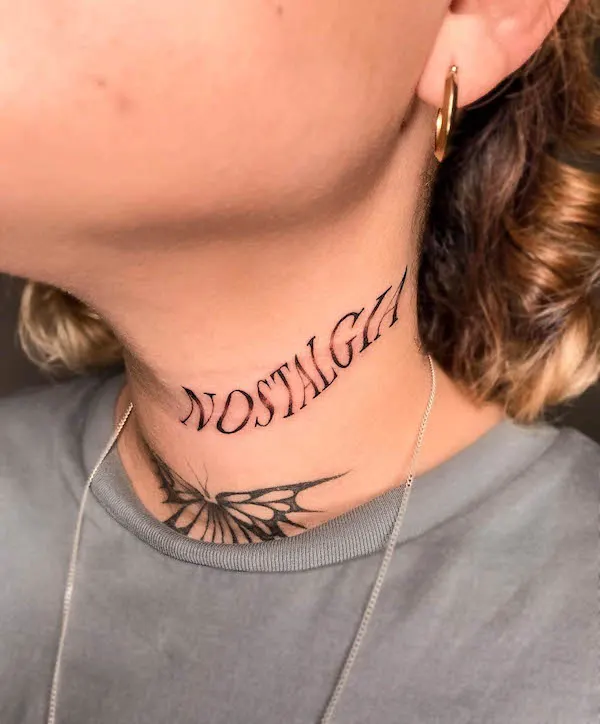 Have you ever felt joyous thinking about the past and sad because you are no longer there? Nostalgia is such a mixed feeling.
Symbolic ornament throat tattoo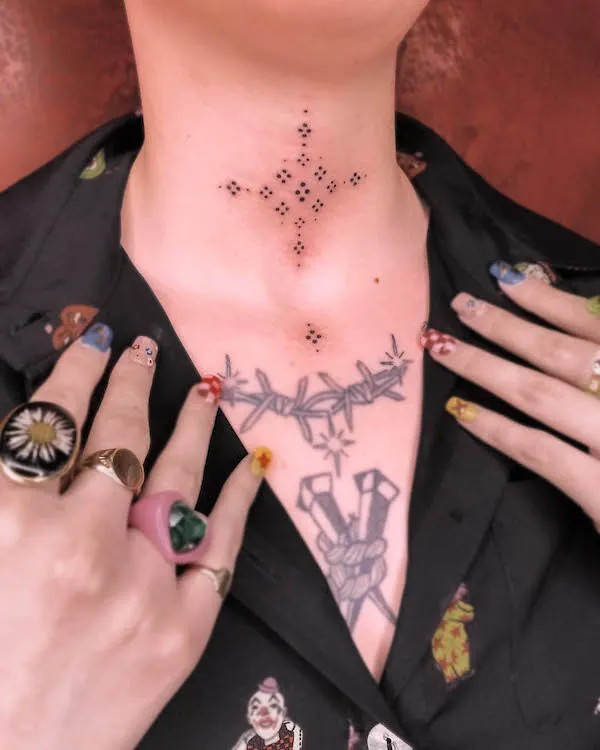 Throat tattoos are not common. And when you see someone wearing similar neck tattoos for women, it will instantly draw your attention. And this one is the perfect example.
Straight line on the throat and chin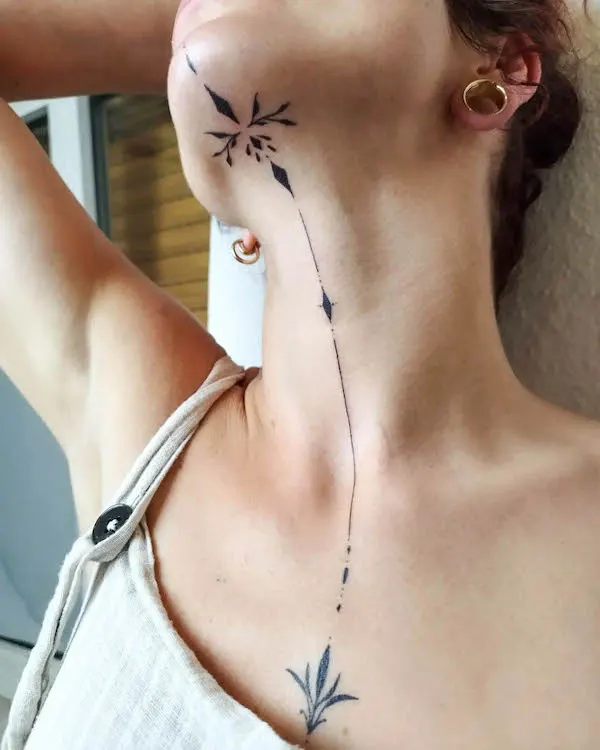 Another straight-line throat tattoo. But what makes this one unique is the pattern on the chin. It's a little surprise that is not always visible unless you see it from a lower angle. Such a bold design is not for everyone. And that's what makes it stand out from the crowd.
Botanical necklace tattoo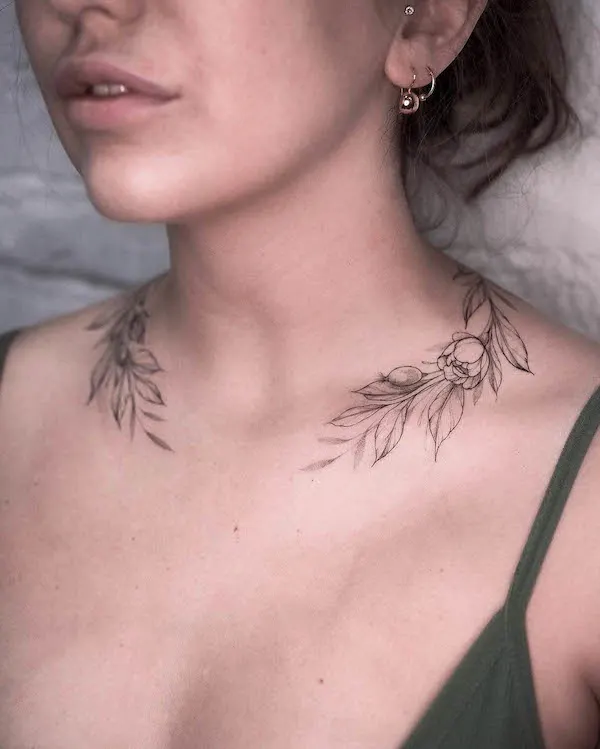 This blackblack and grey floral tattoo resemble a wreath on the neck. It's not only girly but also festive.
Stunning side neck tattoo for women
Some tattoos require explanation, while others speak for themselves. This bold blackwork is the latter. It's hard to ignore it with the sheer size and solid blackness. And there's no doubt that it would belong to a badass woman.
Small symbols necklace tattoo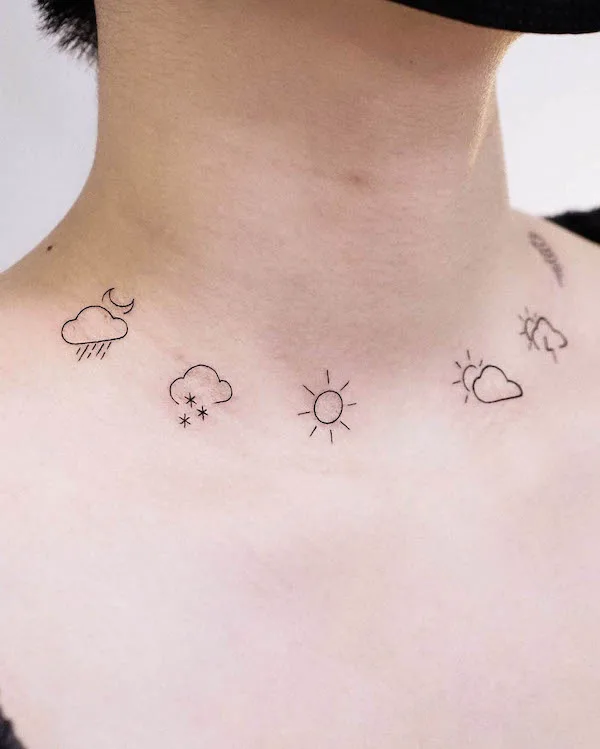 What looks like a necklace made of fine-line symbols actually carries a deep meaning. The symbols depict all kinds of weather. And together, this tattoo reminds us that storms and rain are temporary. And when they pass comes sunshine.
Floral necklace tattoo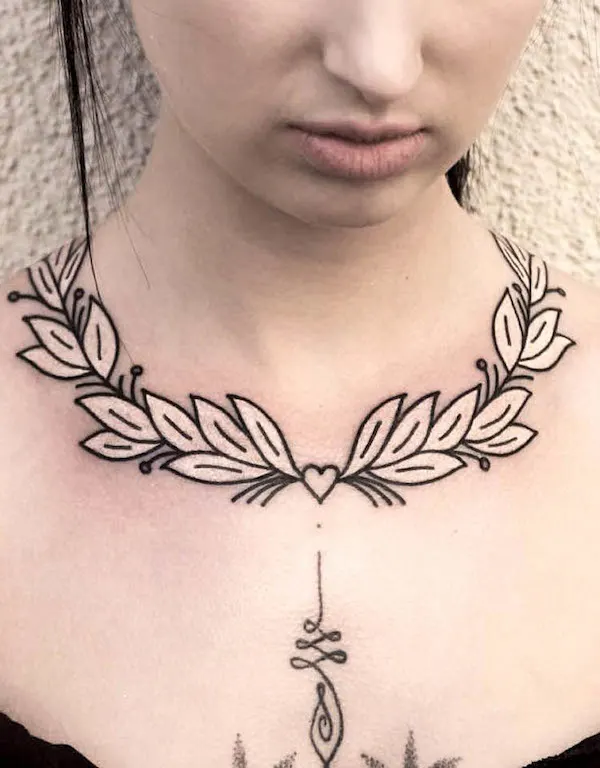 This girly tattoo may seem like a beautiful necklace. But it's more than that. The leaves are connected by a small heart shape in the middle, just above the heart chakra. And the unalome below it symbolize the wearer's belief in finding light in her life journey.
Which of these neck tattoos for women is your favorite?
Leave a comment down below and share your thoughts!