Mandalas represent wholeness and healing. From small to bold, black to color, these mandala tattoos will bring you calming energies.
Starting from a central point and prospering into a fascinating pattern, mandalas have a unique charm and calming energy that are irresistible.
As a cultural symbol in Hinduism and Buddhism, it represents the Universe as a whole and the endless cycle of everything on earth: life, death, journey, love, etc.
That's why while many people fall for the look of these mesmerizing patterns, others connect with them spiritually. And getting mandala tattoos is a way to channel their healing energy permanently.
So if you opt for something beautiful and spiritual, you've come to the right place. From small to big, black to colored, these stunning mandala tattoos will inspire your next ink.
Disclaimer: This collection of mandala tattoos is for inspiration only. Please do not copy the artwork. If you love these tattoos, follow artists and show them some support.
The meaning of mandala tattoos
The word "mandala" means "circle" in Sanskrit. That's why theoretically, mandalas refer to rounds and circles, giving them the meaning of wholeness and completeness.
Therefore, the mandala has become a reminder to stay true to oneself while embracing changes and transformations.
However, today the pattern is interpreted in different ways. All mandalas start with a central point, which can be seen as one's personality and core values. The layers of patterns surrounding the core symbolize one's journey and evolution.
Therefore, mandala tattoos can inspire you to listen to look within because, ultimately, you hold the key to your life.
Inspiring mandala tattoos with meaning
Gorgeous mandala tattoo ideas
With all the dots, curves, and patterns, mandala tattoos are meant to capture attention. But because most of them are symmetrical and follow a certain pattern, they don't look chaotic even on a big scale.
If you are looking for something stunning and intricate but neat at the same time, the following mandala tattoos are for you.
Bold mandala rib tattoo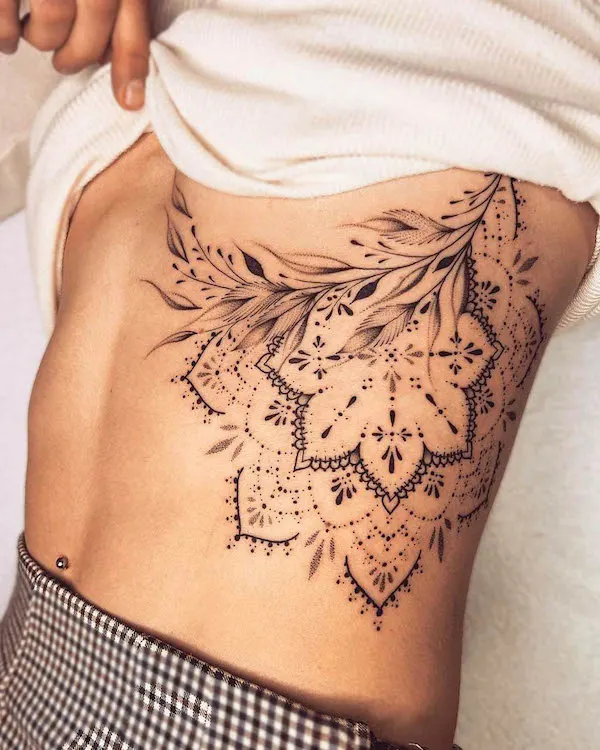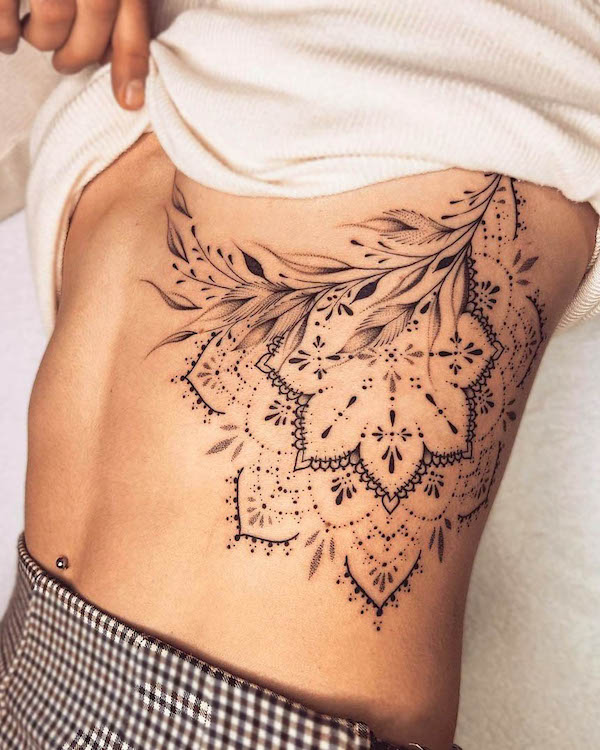 This mandala rib tattoo keeps a balance between complexity and simplicity. While the dots and floral patterns take up the most part, the blank space in between gives a breather. And the way it outlines the boob also makes it flattering for the body.
Color mandala back tattoo
Most mandala tattoos are made of solid black lines. But they take on a whole new look when colors are added to them. And this mandala back tattoo is a good example.
Intricate mandala wrist tattoo
Flowers are among the most common elements in tattoos for women. To create a feminine mandala tattoo, the artist uses the flower as the center and adds layers of petals. And with the elongated design, it fits like a glove on the wrist.
Butterfly mandala tattoo
Butterflies symbolize changes and transformation, similar to the meaning of mandala tattoos.
But instead of simply putting these two elements together, the tattooist turns the mandala into the pattern on the butterfly's wings. And the result is beautiful.
Gemstones and mandala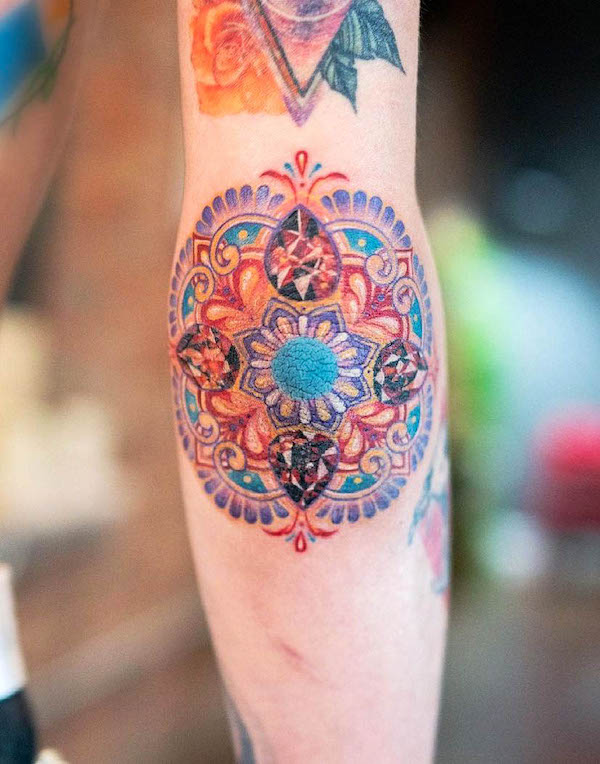 If you want to add visual appeal to a mandala tattoo, filling it with contrasting colors is a good idea. And the gemstones in this calf tattoo glow up the entire design.
Geometric mandala tattoo
Although most mandala tattoos are complicated and dazzling, you can simplify them by reducing the details, just like this geometric mandala.
Fine line mandala back tattoo
While most mandalas are in a close circular shape, removing the frame will give a mandala tattoo a fresh look. This dainty back tattoo does exactly that. And even in such large coverage, it still feels light and dainty.
Mandala back tattoo
Fine line keeps a design sleek, while bold black lines turn it into a statement piece. And this mandala back tattoo falls into the second category. Which style do you like better? Share in the comments.
Intricate dragon and mandala tattoo
Hip tattoos will work for you if you opt for something big. With a large canvas like this, you can add as many details as you want or be as creative as you want with your design.
Girly mandala spine tattoo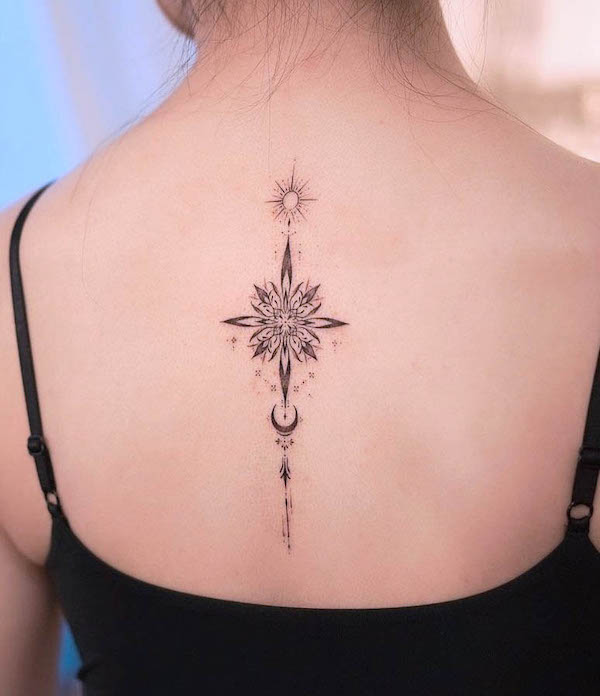 Not only as an individual tattoo, but a mandala can also be a great addition to other elements. If you have multiple symbols that feel personal to you, this spine tattoo shows you how to combine them together elegantly.
Half mandala thigh tattoo
When getting a mandala tattoo, it's important to keep the shape of the placement in mind.
Take this thigh tattoo, for example. Because the mandala is placed on the top of the thigh, the tattooist crops the pattern to fit in the area, so it complements the body better.
Fine line mandala tattoo
If you want to cover more space on the arm, consider lengthening your mandala tattoo by adding symbols to the top and bottom.
Floral mandala
Ornamental mandala shoulder tattoo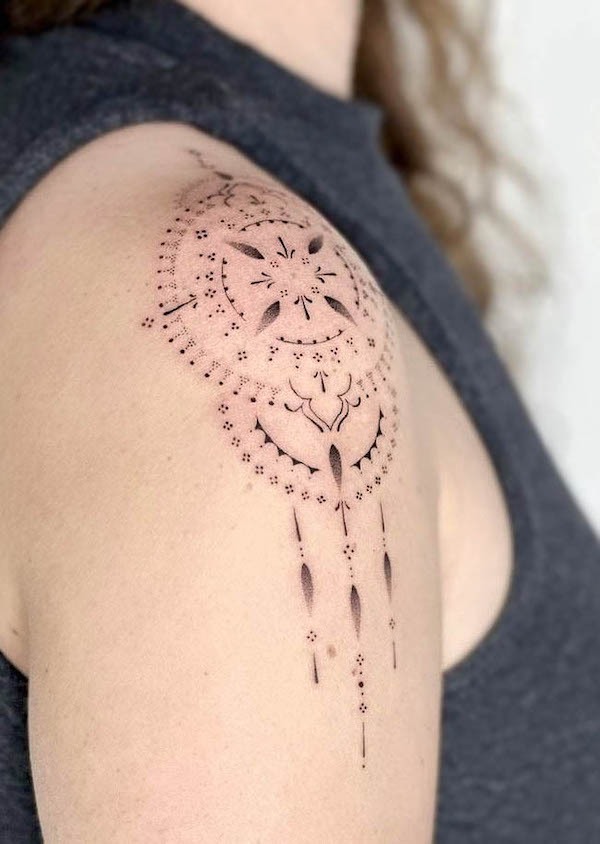 Flowers and mandala forearm tattoo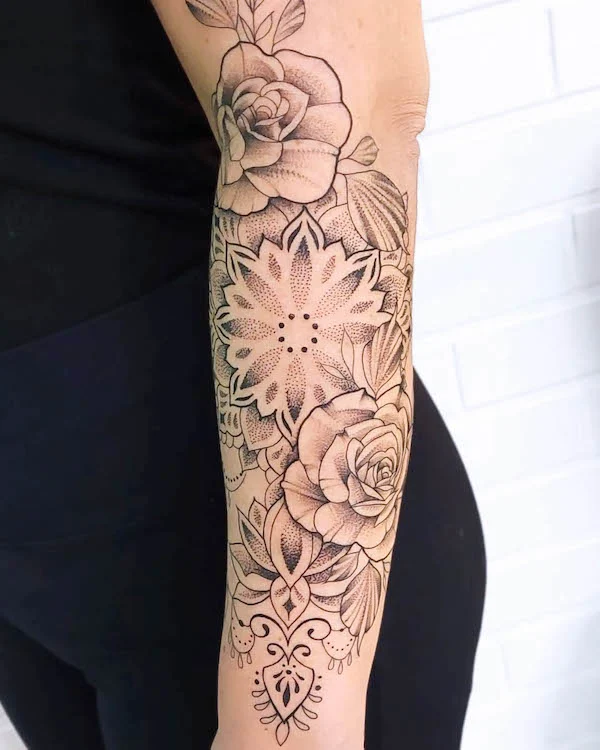 Full-forearm tattoos are not for everyone because of the attention they capture. But if you are someone who wears your heart on the sleeve, such a stunning piece will be not only an ornament but also a conversation piece.
Mandala and flowers hip tattoo
If you have more than one element in a tattoo, the last thing you want is for them to overpower each other. To avoid it, the tattooist leaves out part of the mandala, so it fits nicely in between the flowers.
Sophisticated mandala back tattoo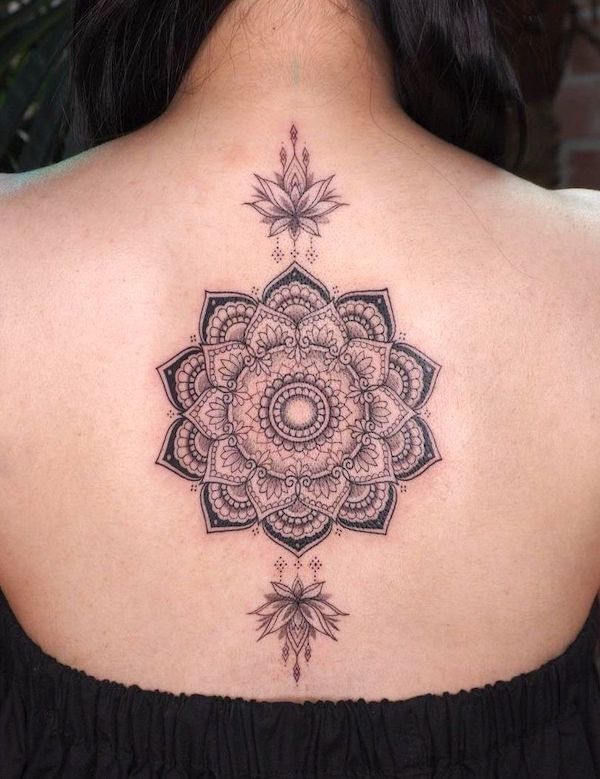 Lotus flower tattoos represent zen and grounding energy in Buddhism and Hinduism. Adding lotus to a mandala tattoo not only elevates the look but also makes it richer in meaning.
Symbolic tattoo on the back of the arm
Mandala shoulder tattoo
Snake and mandala sternum tattoo
Love a reveal? This stunning sternum snake tattoo will make everyone wow with its details.
Ornamental mandala wrist tattoo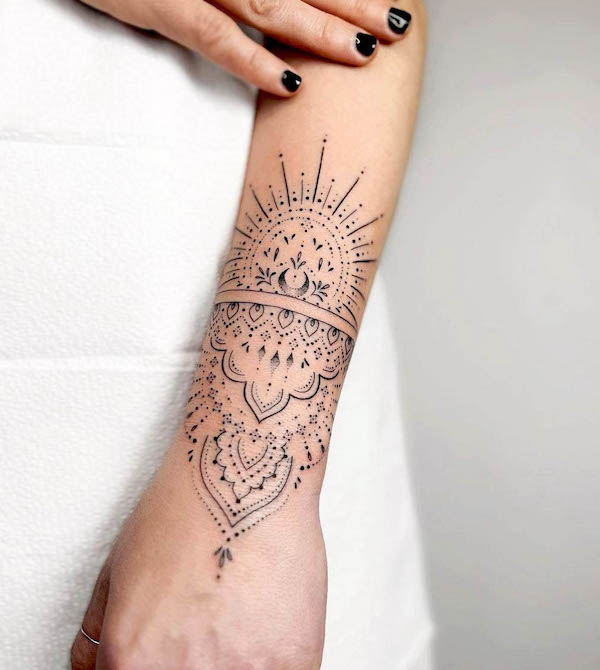 Mandalas make the best ornamental tattoos. Like in this wrist tattoo, they transform a regular shape into a sophisticated look.
Mandala hand tattoo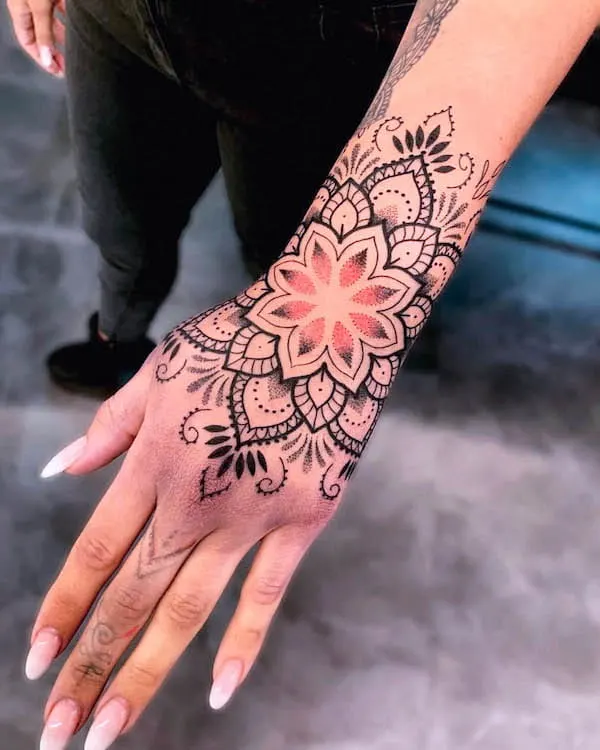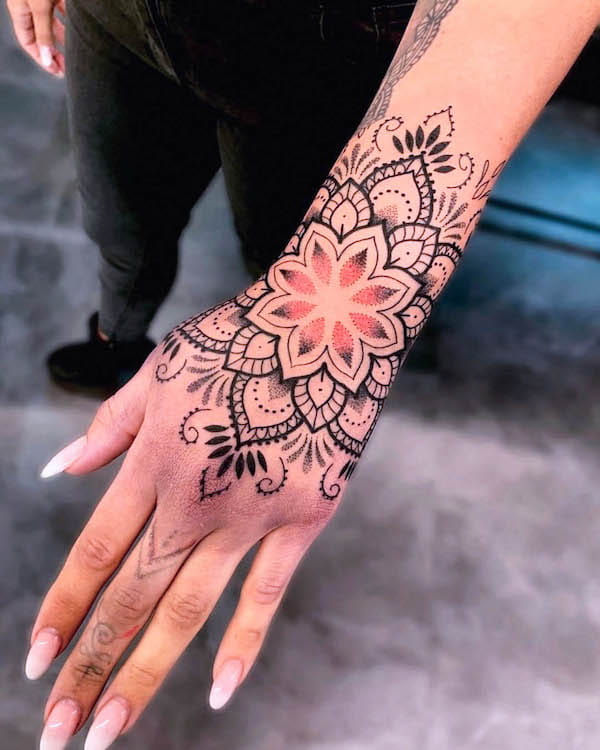 Bold and stunning color mandala on the elbow
If you love an intricate mandala elbow tattoo, this one is on another level. With the bold contrasting color combos, you will not be able to look elsewhere.
Mandala rose compass tattoo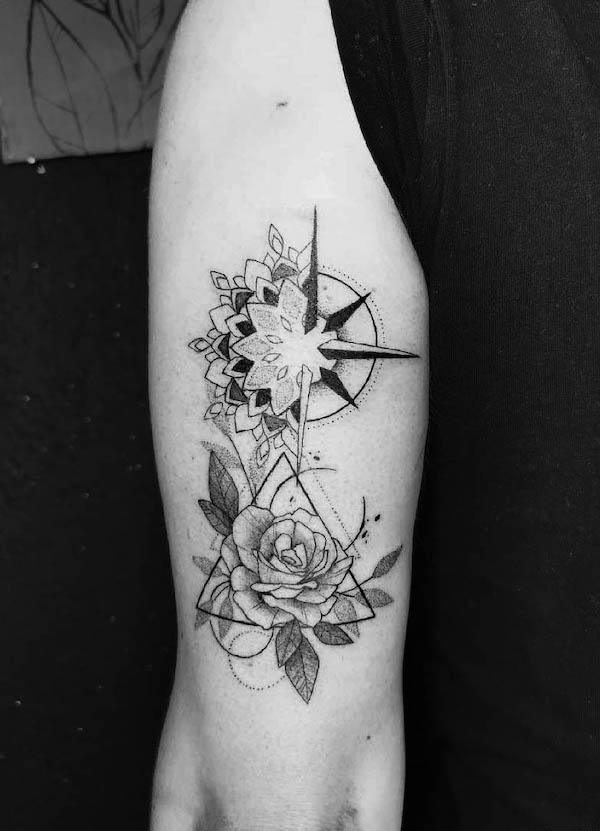 Intricate Buddha and mandala yoga tattoo
Yoga was born from Buddhism and Hinduism. And many of the Buddhist beliefs are shared by yogis around the world. With the mandala pattern and the lotus around the figure, this yoga tattoo will bring calming energy to the wearer.
Small mandala tattoos
While an intricate pattern like a mandala may take up a large space on the skin, mandala tattoos are not necessarily huge. If you opt for more discreet looks, keep scrolling for these small mandala tattoos.
Dainty half mandala ear tattoo
Not as hidden as those behind the ear, tattoos in front of the ear are more like a statement, just like this one. But it still remains elegant and subtle for how small it is.
Simple snowflake mandala hand tattoo
Looking like a snowflake, this small mandala hand tattoo is a perfect combination of nature and spirituality.
Small mandala hand tattoo
Lotus mandala ankle tattoo
The lotus flower holds a special meaning in Buddhism and Hinduism, just like the mandala. Putting these two elements together and creating a lotus mandala tattoo is the wearer's way of honoring her belief in mindfulness and inner peace.
Small blue mandala tattoo
By reducing the layers of the mandala, the artist wants the viewers to concentrate on that pop of blue, which gives this mandala tattoo its character.
Small fox mandala wrist tattoo
The center of the mandala is also its starting point. Therefore, it's a good idea to put something representative on the spot. And your spirit animal can be a good idea, just like this wrist tattoo.
Matching mandala wrist tattoos
Here's another simplified version of mandalas. These wrist tattoos depict this petal-like shapes instead of layers of intricate patterns. But the bold black outlines still make it captivating.
Tiny simplified mandala
Looking for something hidden and small? This symmetrical ankle tattoo mimics the shape of a mandala without being too literal. It will be perfect for those who want to stay low-profile.
Dreamcatcher mandala tattoo behind the ear
Most behind-the-ear tattoos are discreet for a purpose. This one, however, is meant to catch the eye. The tattooist adds dreamcatcher elements to the mandala, which elevates the look and gives it a bohemian vibe.
Small square mandala
Maybe not in a typical circle like most mandala tattoos, but this tiny square on the hand has the same level of intricacy and symmetry that makes it unique and timeless.
Small botanical mandala arm tattoo
Unique mandala tattoos to impress
While there are endless mandala designs, some tattooists go the extra mile by creating something unexpected and creative. If you are not afraid to stand out, the following unique and innovative mandala tattoos will represent your attitude.
Mandala finger tattoo
Most mandala tattoos are in the shape of a circle, which is not the best fit for finger tattoos. This one, however, will give you some idea of customizing them without losing the charm.
Simple black and grey mandala
This mandala tattoo might not have as many details as the others. But the gradient black creates a radiating effect and captures attention.
Dark dragon and mandala
Not a typical dragon, but the wearer's dark aesthetics are fully translated in this full-back tattoo. If you want something cool, and badass but still have a feeling of zen, this dragon tattoo may inspire you.
Mandala elephant tattoo
Spiritually, elephants represent wisdom, calmness, and prosperity. Applying mandala patterns on elephant tattoos further pushes this idea. The kaleidoscopic style also makes it look sacred.
Butterfly goddess portrait tattoo
Portrait tattoos don't always have to be the exact replica of a person. If you have a concept in mind, it will be cool to create your own character and tell your story.
Mandala butterfly arm tattoo
Spiky mandala blackwork
Compared to those for women, mandala tattoos for men might not have as many details or fine lines. Instead, the bold lines and shapes with clean edges help accentuate the masculinity of the design. This tribal-style mandala tattoo is a good example.
Snake mandala tattoo
When combined with other motifs, the mandala usually acts as a background. But tattooist Ira integrates the mandala pattern onto the body and tail of the snake, adding fun and creativity to this tattoo.
Small mandala patchworks
If a single mandala is not vibrant enough, how about putting multiple different mandalas together? These gorgeous ankle tattoos will belong to someone who thinks outside the box.
Leafy mandala sleeve tattoo
The shape of a mandala can be found in nature, like the sun, snowflakes, and spiderwebs. That's why it makes sense to gather natural motifs to form a mandala, just like this colorful leave tattoo.
Watercolor mandala back tattoo
If you opt for a more artistic tattoo, consider adding watercolor as a background or filling the mandala with watercolors. The transition between colors is so natural because there's no line in between. It also creates a whimsical feeling for the design.
Lotus mandala thigh tattoo
Just because the thigh is perfect for huge tattoos doesn't mean they can't be elegant and subtle. By adding beads and a mandala pattern to the lotus, the artist showcases the feminine side of the wearer.
Color mandala tattoo
Love the highly saturated colors in a traditional tattoo? Why not incorporate the style with a more modern look?
Mandala shoulder tattoo
Elephant mandala tattoo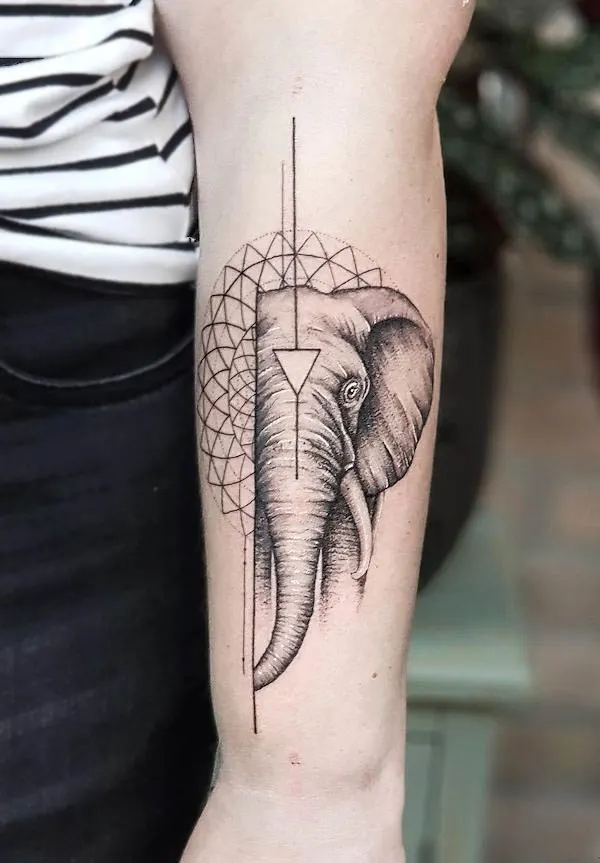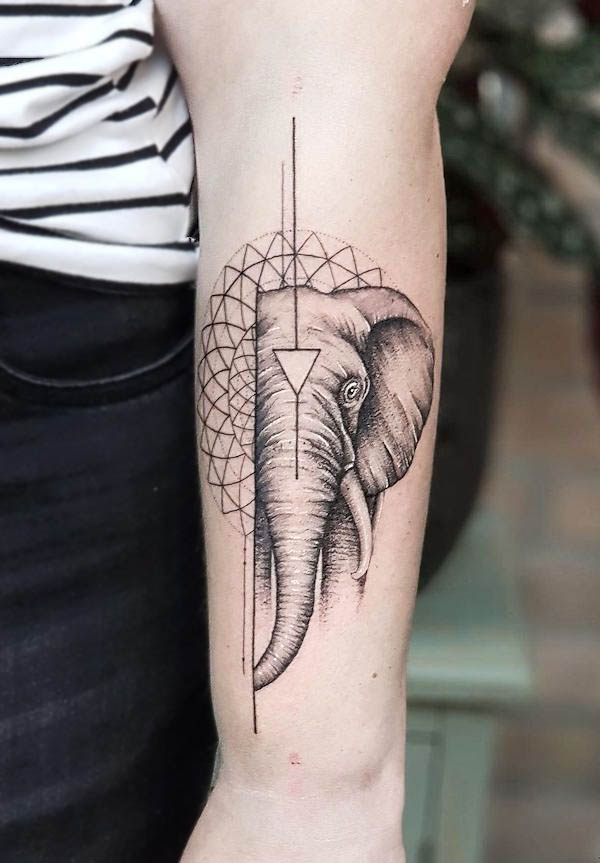 Owl mandala forearm tattoo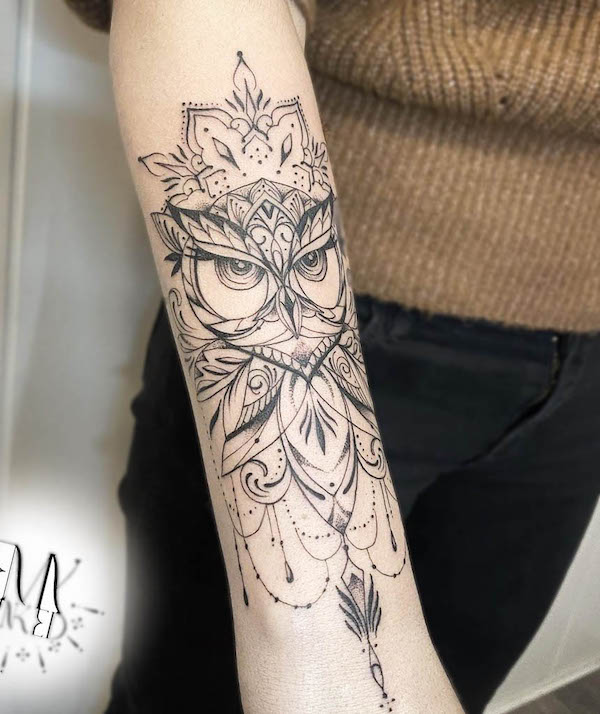 Owl tattoos represent wisdom and determination. With the mandala pattern, it becomes an inspiration to keep calm and focused on one's goal.
Phoenix mandala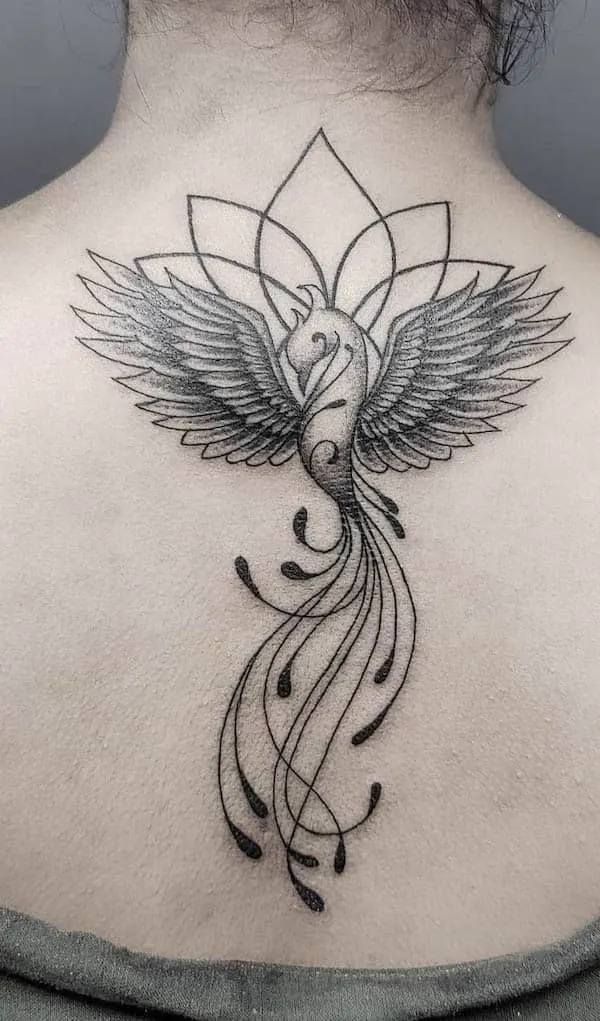 The mandala is a classic tattoo in many different traditions with various meanings, such as wholeness and stability.
Phoenix tattoos, on the other hand, represent rebirth and freedom. The two together create visual contrast and make the tattoo more interesting.
Sun and moon tattoos for cat lovers
These matching cat tattoos show a lot of thoughts and creativity. From the colors to the postures of the cats, they are two opposites. And the mandalas in the background connect them as a whole, making them perfect as best friend tattoos or sister tattoos.
Wolf and mandala forearm tattoo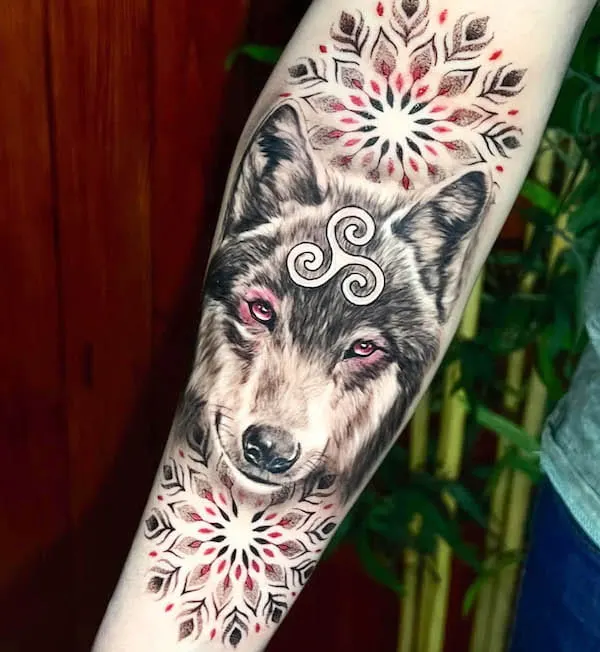 In Sanskrit, mandala means circle. It symbolizes balance and eternity. Adding mandalas to a wolf tattoo makes it more elegant and meaningful.
Lotus and mandala tree of life
Tree of life tattoos symbolizes the endless cycle of life, just like mandalas. Combining these two motifs is an elegant way to celebrate life and to live every moment to the fullest.
Lion mandala thigh tattoo
Mandalas have a unique charm because of their intricate radiating patterns and precise constructions. In this lion tattoo, the mandala in the background magnifies its visual impact, giving it the wow factor.
Which of these mandala tattoos is your favorite?
Leave your thoughts in the comment down below!