Time is our most valuable resource. These time quotes will make you rethink time and inspire you to use time wisely.
"Time is all we have and don't."
I first came across this quote by Atticus Poetry about three years ago. But it wasn't until 2020 that these words hit me and kept hitting me hard.
Time is all we have. Time is what we use to learn new skills, gain knowledge, and build relationships. Thus if you consider you have nothing, time is your most valuable source.
But we don't own time. The minutes that are gone are gone forever. And we don't always feel the clock ticking when things are smooth. But the year 2020 has changed the scenario. Seeing people losing their jobs, homes, and loved ones made me realize how precious time has always been.
And how we feel about time is not always consistent. Sometimes we dread it when we are bored. Sometimes we rush it trying to catch up with how it flies. But what doesn't change is that it's part of our lives from our first day to our last. Time itself is life.
So here is a list of inspiring and deep quotes about time. They may encourage you to take action. Or they may remind you to live in the moment. So keep scrolling, and you may find words of wisdom that will change how you spend your days.
Read also: Beautiful Atticus Poems For Each Astrology Sign
Thought provoking time quotes and sayings
Best short quotes about time
Time you enjoy wasting is not wasted time.
– Marthe Troly-Curtin
You may hesitate to develop a new hobby because you may quit later. Or a new career terrifies you because you fear you may fail. And failure means a waste of time. If that sounds like you, this short time quote may help to overcome your doubts.
What the quote implies is that investing time in your passion is always rewarding. It may build you a new skill, connect you with new people or teach you life lessons. As Martin Luther King Jr. said, "I never lose. I either win or learn." Take action now. And if you enjoy the process, the time is well spent.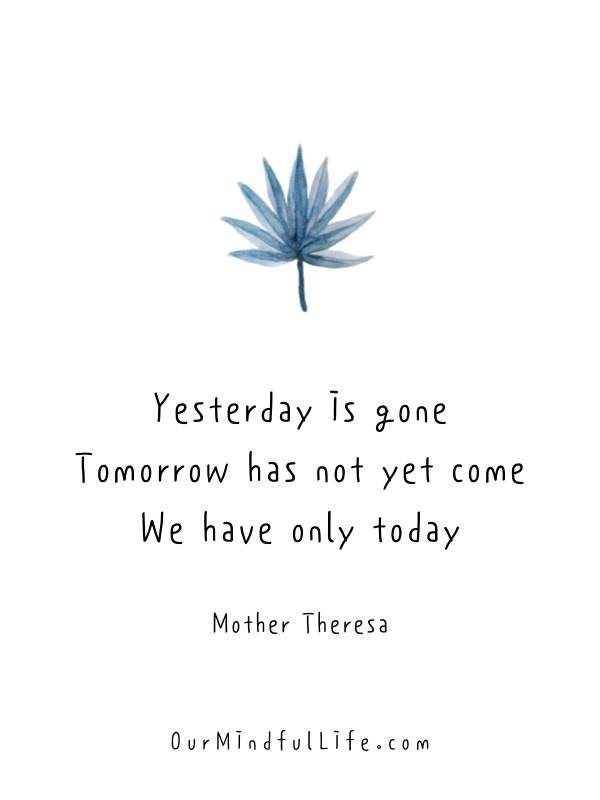 Yesterday is gone. Tomorrow has not yet come. We have only today.
– Mother Theresa
Our past will always affect how we feel. But it doesn't mean we have to live in it. The uncertainty of the future might scare us. But it doesn't mean we should be stopped by it.
This quote about time by Mother Theresa tells the fact that we can only control our present. And it's all we have and all we need to build the future we aspire.
You may delay, but time will not.
– Benjamin Franklin
It's the nature of time to be constantly going forward. And there's nothing we can do to stop the process. And this quote will be a wake-up call for those who procrastinate to take action.
However, it doesn't mean we should keep going without any rest. Instead, it reminds us to be mindful of how we spend our time. And those decisions will ultimately shape our lives.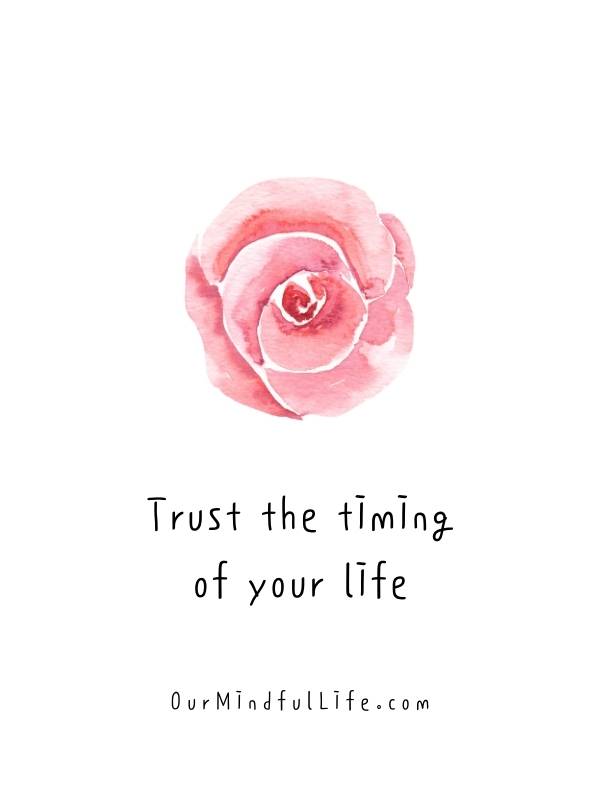 Trust the timing of your life.
Time is fair. You and I both have 24 hours in a day. No more, no less. But it doesn't mean every one of us has the same time clock of life. We grow at a different pace. Opportunities come at different times. And they all add to the unpredictability of life.
So instead of regretting what should have happened, or worrying about what might happen, trust the timing of life. Learn the lessons along the way. Know that you can be doing something completely different from others at 30, 40, or 50. And if it doesn't make sense now, it will, eventually.
The future starts today, not tomorrow.
– Pope John Paul II
You don't need to wait till New Year, a new week, or even tomorrow to begin. Every moment is the best time to start.
Just like how Amy Poehler puts it, "Great people do things before they're ready." But it doesn't necessarily mean that you should jump head over toes into something you are not so sure about.
Instead, you can start small. Baby steps like writing the first line or running for 10 minutes build momentum. And it will take you further than you may have expected.
Stop rushing things that need time to grow.
– Unknown
Often, we overestimate what we can do in 10 days and underestimate what we will achieve in 10 years. Skills, knowledge, expertise, and relationships all take time to cultivate. You can't write a great book without writing the chapters. Be patient with the process and trust the time.
The right thing at the wrong time is the wrong thing.
– Joshua Harris
Timing plays an important part in both our personal lives and relationships. It may sound harsh, but love alone is not enough to make relationships work.
Romance may be what it takes to fall in love. But to make a relationship last, two people should be talking about problems, making plans, and learning to live with each other's imperfections.
So it's ok to meet the right person a little later in life. By then, you will know how to love yourself and how to love others. And so will they.
Miracles take longer than settling does.
– Maryam Hasma
It's better to wait for a few years for the right person than spending the next decades in a relationship that drags you down. Don't attach a timeline to love or your life. Instead, focus on yourself and let life unfold.
Times flies quotes to live every minute to the fullest
Time is irreversible. These inspiring quotes shed light on how time flies. And they will make you cherish every second you have.
Don't waste your time in anger, regrets, worries, and grudges. Life is too short to be unhappy.
– Roy T. Bennett
A man who dares to waste one hour of time has not discovered the value of life.
– Charles Darwin
All we have to decide is what to do with the time that is given us.
– J.R.R. Tolkien
The past increases, the future recedes. Possibilities decreasing, regrets mounting.
– Haruki Murakami
Until you value yourself, you won't value your time. Until you value your time, you will not do anything with it.
– M. Scott Peck
We can gain experience from the past, but we can't relive it. And we can hope for the future, but we don't know if there is one.
– George Harrison
No matter how much time you've wasted in the past, you still have an entire tomorrow.
– Denis Waitley
Time takes it all, whether you want it to or not.
– Stephen King
Time is what we want most, but what we use worst.
– William Penn
There are moments when I wish I could roll back the clock and take all the sadness away, but I have the feeling that if I did, the joy would be gone as well.
– Nicholas Sparks
The future is something which everyone reaches at the rate of sixty minutes an hour, whatever he does, whoever he is.
– C.S. Lewis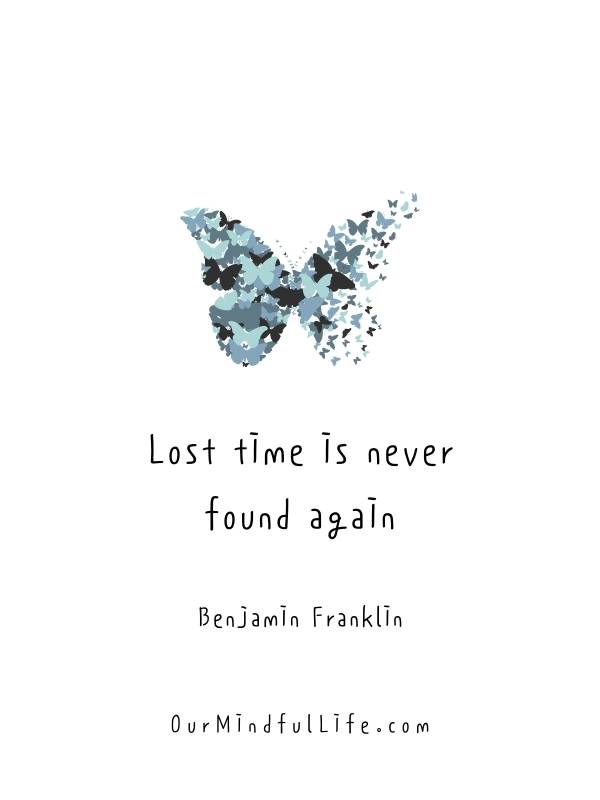 Lost time is never found again.
– Benjamin Franklin
If you keep waiting for the right time, it may never happen. Sometimes you have to make the most of the time you have.
– Priya Ardis
Timing quotes that prove timing is everything
The right things are those that happen at the right place at the right time. The following timing quotes are reminders to stop rushing and be patient with yourself.
You can have it all. Just not all at once.
– Oprah Winfrey
There is more to life than simply increasing its speed.
– Mahatma Gandhi
Trust the timing of your life. Celebrate small steps. And enjoy the process.
The early bird gets the worm, but the second mouse gets the cheese.
– Willie Nelson
Life is too short to wonder what could have been.
– Zig Ziglar
Trust the timing. The best is yet to come.
One day when you look back, you will understand that everything happens for a reason. What is meant for you will be yours at the right place and right time.
You can't connect the dots looking forward; you can only connect them looking backward. So you have to trust that the dots will somehow connect in your future.
– Steve Jobs
Sometimes what didn't work out for you really worked out for you.
– Unknown
Trust the timing of everything. Just because it's not happening right now doesn't mean it never will.
– Unknown
You can start a new career at 30, get a degree at 35 and start a family at 40. Time unfolds differently for each of us.
Timing is everything. The things you are praying for will show up when you are ready for them.
– Mandy Hale
Success is always a matter of some luck and timing.
– Kathleen Kennedy
So much of life is not about whether you're good or bad, or right or wrong, or can afford or not afford – it's just about timing.
– A. A. Gill
If you've tried everything possible to get an outcome, and it just hasn't worked out as planned, stop trying so hard. Relax. Maybe while one door seems to be closing, another is opening.
– Robin S. Sharma
Quotes about time, love, and friendship
It is the time you have wasted for your rose that makes your rose so important.
– Antoine de Saint-Exupéry
Don't spend time beating on a wall, hoping to transform it into a door.
– Coco Chanel
Time is the longest distance between two places.
– Tennessee Williams
Being with you and not being with you is the only way I have to measure time.
– Jorge Luis Borges
You can be 100% perfect and still not good enough for someone who isn't ready for you.
One day spent with someone you love can change everything.
– Mitch Albom
Time doesn't take away from friendship, nor does separation.
– Tennessee Williams
You don't fall in love with someone because it's convenient.
– Harriet Evans
The most inefficient and self-harming thing a person can do is go out looking for love. Let it find you when the time is right, and you're out doing what you love to do.
– A.J. Darkholme
Knowing someone isn't coming back doesn't mean you ever stop waiting.
– Toby Barlow
Sometimes being a friend means mastering the art of timing. There is a time for silence. A time to let go and allow people to hurl themselves into their own destiny. And a time to prepare to pick up the pieces when it's all over.
– Octavia E. Butler
Which of these time quotes resonate with you?
Leave your thoughts in the comment or tag @_OurMindfulLife on Instagram to share your story.