September marks the beginning of fall. These September quotes will inspire you to start the season strong.
As August passes, the temperature finally starts to cool off. And here comes September with crisp air and pumpkin spice latte. Take a deep breath, and you can smell the freshly baked goodies coming out of the oven. For many people, fall is a wonderful season. And September marks the beginning of it.
However, I had mixed feelings about September when I was a kid. Like many of my peers, I hated going back to school. And September was the time to say goodbye to my cozy home and return to the classroom. But as I grew up, September means something different to me now.
As the first month of a new season, it sets the tone for months to come. That's why it's perfect to set new goals, put plans in place, and start new adventures.
It's also the month to chill and refuel before the holiday season arrives. With year-end deadlines, traveling, and holiday shopping, the last quarter of the year can be stressful. So you will want to take advantage of September to get yourself physically and mentally prepared.
In a word, September has a lot to offer and a lot to love about. So here is a list of September quotes to indulge its charm. Scroll on and let me know which of these September quotes resonates with you the most. But first, let's take a look at the holidays and special occasions in September.
Holidays, special occasions, and fun facts of September
September is Self-improvement Month, World Alzheimer's Month, and National Suicide Prevention Month.
First Monday of September: National Labor Day (the US)
September 11: 911 Remembrance
September 13: Positive Thinking Day
September 18: National Cheeseburger Day (the US)
September 21: World Gratitude Day
Fourth Friday of September: Native American Day
The birth flower of September: Aster and Morning Glory
September birthstone: Sapphire
Inspiring September quotes to welcome the month
September is when summer fades away, and fall comes into the place. Also, it's time the heat cools down and nature turns golden. These September quotes reveal the beauty of the month and will make you love September even more.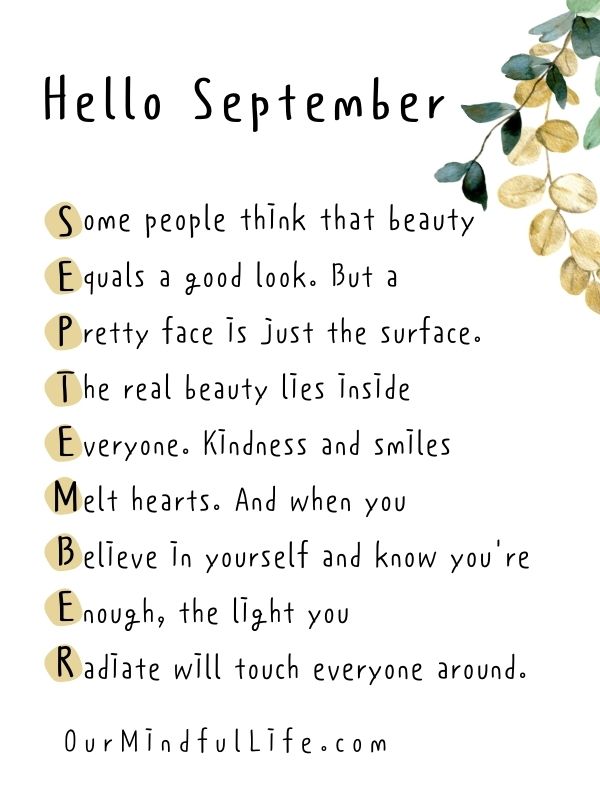 Hello September!
Some people think that beauty
Equals a good look. But a
Pretty face is just the surface.
The real beauty lies inside
Everyone. Kindness and smiles
Melt hearts. And when you
Believe in yourself and know you're
Enough, the light you
Radiate will touch everyone around.
Beauty is more than the look. Your personality, qualities, and talent matter. Learn to see your inner beauty, and you will glow from within.
Wine is the divine juice of September.
– Voltaire
September tries its best to have us forget summer.
– Bernard Williams
September reminders
A new journey begins with a new mindset
The best time to start is now
You have what you need within you
Surround yourself with good people
You can work hard and still take care of yourself
September is when summer transits into fall. It's neither too hot or too cold. And the perfect weather reminds us to maintain a life balance. Motivation will get you started, but a well nourished soul and body will keep you going.
Read also: 45 Feel-good self-care ideas for fall
We know that in September, we will wander through the warm winds of summer's wreckage. We will welcome summer's ghost.
– Henry Rollins
What I want for September
Simplicity September
Smile September
Self-love September
Sympathy September
Serenity September
Start-fresh September
What is your September theme? Share in the comment!
Come September, children return to school, grownups to work, and the brain to the head.
– Roger Rosenblatt
Small things to love about September
Pumpkin spice latte
Crisp air
Smell of cinnamon
Cuddle weather
Cozy pajama
Candle-lit bubble bath
September is when we start to leave the beach and enjoy the cozy indoors. I love wrapping myself in a weighted blanket and rewatching my favorite shows on my sofa. So, if you are a homebody like me, this list of boredom-killer things to do at home is for you.
September is the month of maturity; the heaped basket and the garnered sheaf. It is the month of climax and completion.
– Patience Strong
How to love yourself
*September edition*
Write yourself a love letter: talk to yourself like a friend and celebrate your growth and achievements. Writing a letter to yourself is the best time to reflect on how far you've come and rediscover how lovable you are.
Pick up a childhood hobby: Whether it's drawing, crafting, or playing swings in the park, call out your inner child and have fun!
Take yourself out to dinner: Who says you can't dine alone? Treat yourself like your favorite person because you deserve your love.
Explore a new place: A new place inspires new perspectives. If you feel stuck at your work or studies, a short trip to the unknown may bring you new insights.
Say "I am enough" 3 times each day: Affirmations works with repetition. When you reaffirm your enoughness every day, the belief sinks in and strengthens your confidence.
Create a gratitude list: List 3 things you are grateful for each day. This list will remind you of the seemingly ordinary stuff that is actually a blessing.
By all these lovely tokens September days are here, With summer's best of weather And autumn's best of cheer.
– Helen Hunt Jackson
A Cozy To-do List for September
Rewatch your favorite movie
Organize your fall wardrobe
Have a cup of pumpkin spice latte
Capture the fall foliage
Cuddle with a loved one
Curate a fall nostalgia playlist
What is your must-do of the month? Share in the comment.
You don't need to
Be available to everyone
Be perfect all the time
Say yes to every request
Do everything by yourself
Have a jam-packed schedule
Deny your feelings
Sometimes you sacrifice your well-being for acceptance and approval. And you burn yourself out to feel worthy and valued. But for those who care about you, you are enough already. And for those who don't see your worth, you may not change their minds no matter what you do. So put yourself first and focus on your growth. Then, when you shine brightly, people will see it.
May your September be filled with love, blessing, and healing.
All the months are crude experiments out of which the perfect September is made.
– Virginia Woolf
September is different from all other months. It is more magical. I feel the strange chemical change in the earth which produces mushrooms is the cause, too, of the extra "life" in the air – a resilience, a sparkle.
– Katherine Mansfield
I used to love September, but now it just rhymes with remember.
– Dominic Riccitello
Rest your eyes well before September because with all its colours autumn is coming to visit them!
– Mehmet Murat Ildan
Fall quotes to celebrate the season
In the Northern Hemisphere, September marks the beginning of fall. So if you love the season as much as I do, you will love these fall quotes.
I hope this fall brings you
The courage to start fresh
Resilience to fight against the odds
Kindness that warms people's hearts
Wisdom to find the right direction
Strength to keep moving forward
As long as autumn lasts, I shall not have hands, canvas and colors enough to paint the beautiful things I see.
– Vincent Van Gogh
No spring nor summer beauty hath such grace as I have seen in one autumnal face.
– John Donne
I notice that autumn is more the season of the soul than of nature.
– Friedrich Nietzsche
Every leaf speaks bliss to me, fluttering from the autumn tree.
– Emily Bronte
Autumn, the year's last, loveliest smile.
– William C. Bryant
The most beautiful carpet is the carpet made of autumn leaves!
– Mehmet Murat Ildan
Life is a dream, and autumn is a dream within dream!
– Mehmet Murat Ildan
When you are reluctant to change, think of the beauty of autumn.
– V V Brown
Nature gives to every time and season some beauties of its own.
– Charles Dickens
Autumn is a second spring when every leaf is a flower.
– Albert Camus
Love the trees until their leaves fall off, then encourage them to try again next year.
– Chad Sugg
Life starts all over again when it gets crisp in the fall.
– F. Scott Fitzgerald
And all at once, summer collapsed into fall.
– Oscar Wilde
Which of these September quotes resonates with you?
Tell me about it in the comment or tag @_OurMindfulLife on Instagram to share.