Watercolor brings out the charm of a tattoo. From simple to elaborate, you will find your next ink in these watercolor tattoos.
Watercolor tattoos have always been a popular style. And it's not hard to see why. Most watercolor tattoos have two or more colors combined. Unlike traditional tattoos, they don't have clean lines separating two colors. Instead, the tattooists apply gradation as a transition. The results are often gorgeous and natural.
If you are thinking about getting a watercolor tattoo, you are at the right place. In this post, you will find both simple and elaborate watercolor tattoos with flowers, animals, and more. Keep scrolling to get ideas for your next ink.
What is watercolor and watercolor tattoo?
Watercolor, water color or aquarelle, is an ancient painting method widely used across cultures. When painting with watercolor, you first draw a layer of water on the paper, followed by another layer of wet ink.
The paint will then dissolve, and this way, you have less control over how it will turn out when dried. But that's the beauty of watercolor – each stroke creates something unique.
On the other hand, watercolor tattoos refer to a coloring technique that mimics the watercolor effect. To do so, the tattooist usually starts with a layer of diluted colored paint and adds layers of colors on top. The ink in different colors will blend underneath the skin. And as a result, there will be no solid distinction between colors but a gorgeous gradation.
Gorgeous watercolor tattoos
Watercolor flower tattoos
Watercolor flowers are an obvious choice if you opt for something feminine and beautiful. The varieties of flower tattoos allow creative expression of colors and shadings. And without a clear line between different colors, watercolor palettes give flowers a unique, whimsical feeling.
Libra flower tattoo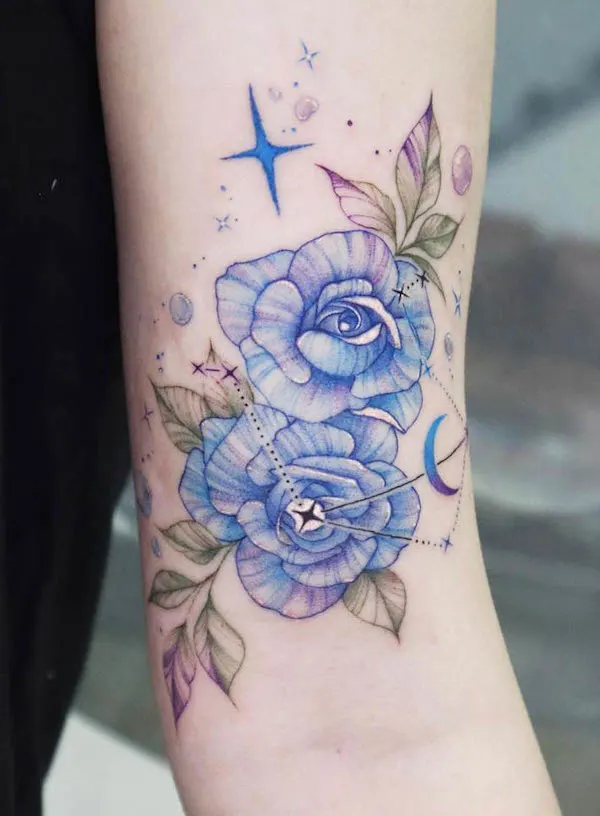 This is not just a regular watercolor flower tattoo. Instead, with the dainty constellation on top of the flower, it becomes a unique Libra tattoo, showing the wearer's pride in her identity. The stars and bubbles, on the other hand, add a layer of glam to the design.
Tiny rose arm tattoo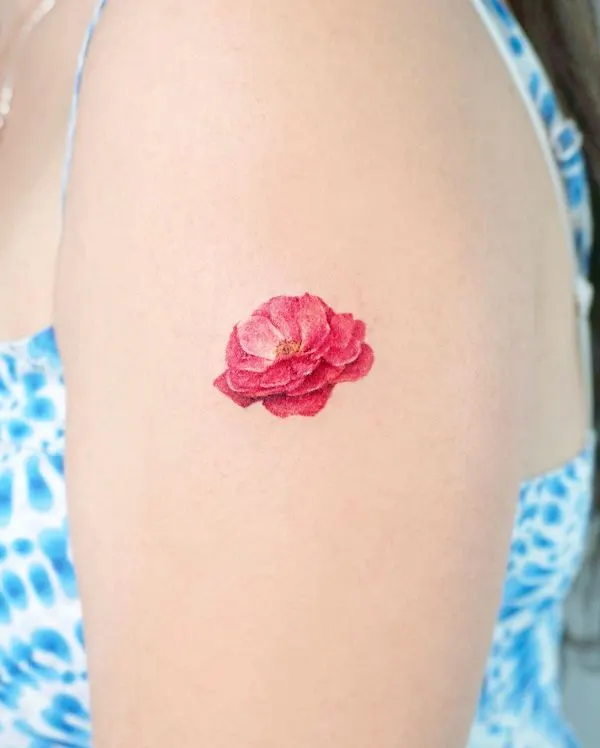 Roses are often seen as a symbol of love and passion. Their vibrant colors make them stand out. That's why you don't need a huge rose tattoo to capture attention. Instead, tattooist Tilda has created an elegant but stunning tiny rose that is hard to ignore.
Watercolor lotus back tattoo
Lotus holds cultural significance in many different countries. For example, in Buddhism and Hinduism, people believe that lotus will bring peace and calm to their minds. Having a lotus tattoo on the back is a reminder to always seek inner peace, even when the surroundings are chaotic.
Blue and purple roses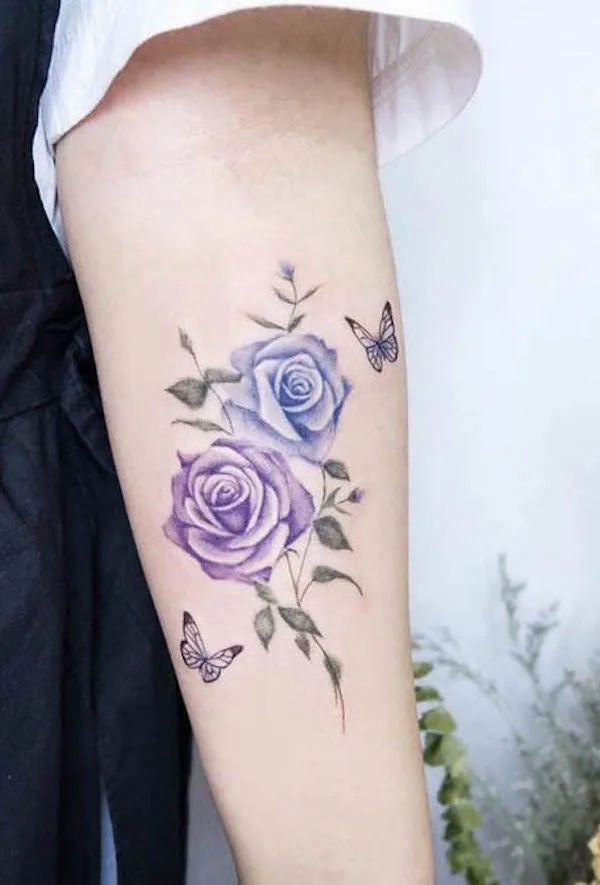 Oftentimes, we see splashes of mixed colors in watercolor tattoos. But this one is different. The tattooist uses various shades of the same color to express light and shadow. And the butterflies add an excellent finishing touch as they bring movements to the ink.
Aquarius watercolor flower tattoo
Aquarius is an air sign. And it makes sense why many Aquarius tattoos feel light and airy. Without solid outlines, the color palettes and the designs look cohesive and, at the same time, add a dreamy feeling.
Simple watercolor flower tattoo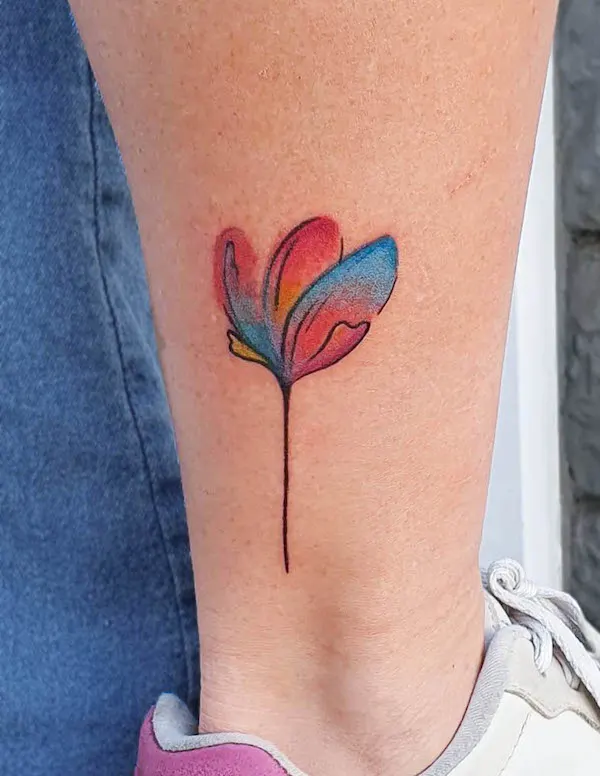 Flower tattoos don't have to be elaborate and detailed as the ones we've seen above. You can also choose something simpler like this above-the-ankle tattoo. But because of the contrasting colors, the tattoo still stands out effortlessly.
Waterlily and fish
Waterlilies grow in muddy and wet places like ponds. They symbolize purity and innocence because their petals are not contaminated by the mud around them. Instead, they flow elegantly above the water, not bothered by their environment.
You don't always need multiple colors to create a watercolor effect. One single color can be gorgeous, too. And this one is a good example. The vibrant red on both the fruit and the flower reveals the fiery and passionate side of one's personality.
Pomegranate and flower
You don't always need multiple colors to create a watercolor effect. One single color can be gorgeous, too. And this one is a good example. The vibrant red on both the fruit and the flower reveals the fiery and passionate side of one's personality.
Watercolor dandelion tattoo
Technically, dandelions are not flowers. But their symbolism makes them one of the most loved tattoo motifs. Their fluffy white seeds flying away mirrors the concept of letting go of a relationship or growing up. But, of course, depending on your current life, dandelion tattoos may hold different meanings for you.
Watercolor rose shoulder tattoo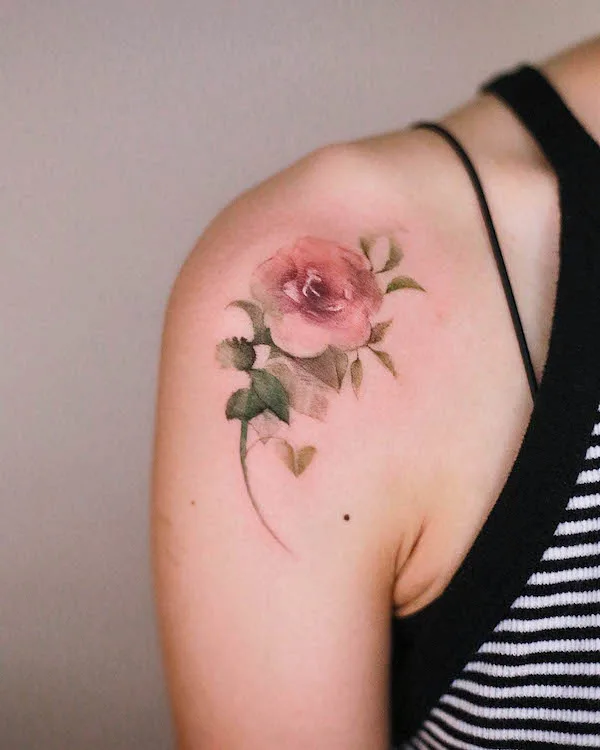 One thing about blush pink watercolor tattoos is that from afar, they may look like bruises. That's why adding a different color element is a good idea to make it stand out a bit more, such as leaves or stems.
Watercolor sea turtle tattoos
Sea turtles might not have cursive body shapes like mermaids or snakes. But their long life span makes them a symbol of wisdom, patience, and luck.
And they can be stunning when you apply watercolor to the design. You can also add flowers, small symbols, or ink splashes to make them pop even more.
Beautiful turtle sleeve tattoo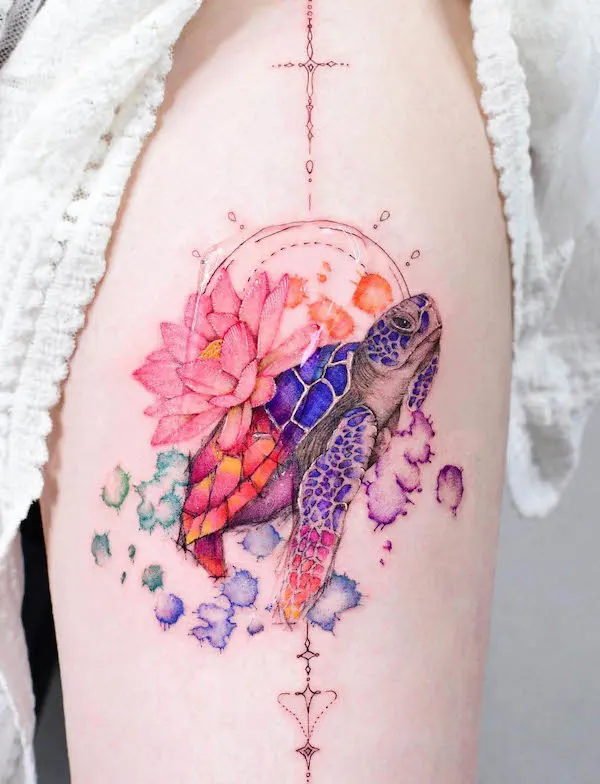 Abstract sea turtle watercolor tattoo
Simple watercolor heart tattoo ideas
Hearts are simple shapes. But when you see them as a canvas, there are actually more ways to make them shine. Painting hearts in watercolor is one of them. Experiment with different color palette and you will have a one-of-a-kind heart tattoo.
Fish and heart watercolor tattoo
Purple hearts
Stunning watercolor dragon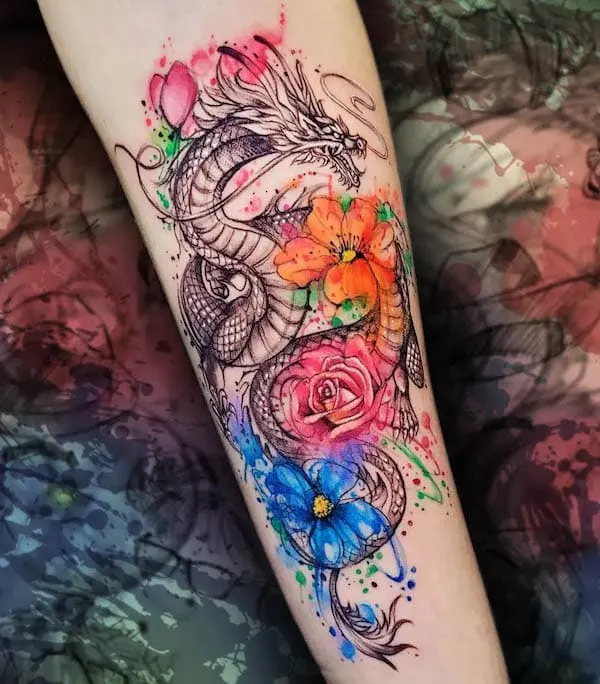 Dragons are deemed evil in the west. But in eastern cultures, they represent the power of nature and are seen as a divine symbol.
The long and curvy body shape gives many possibilities in terms of design and coloring. If you want a dragon tattoo to be less menacing and more gorgeous, consider adding watercolor to it.
Small watercolor phoenix on the shoulder blade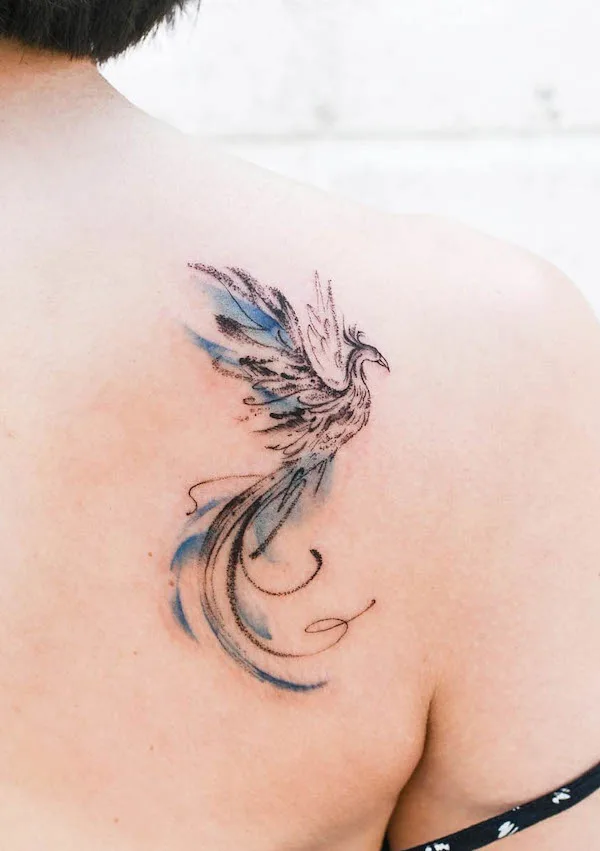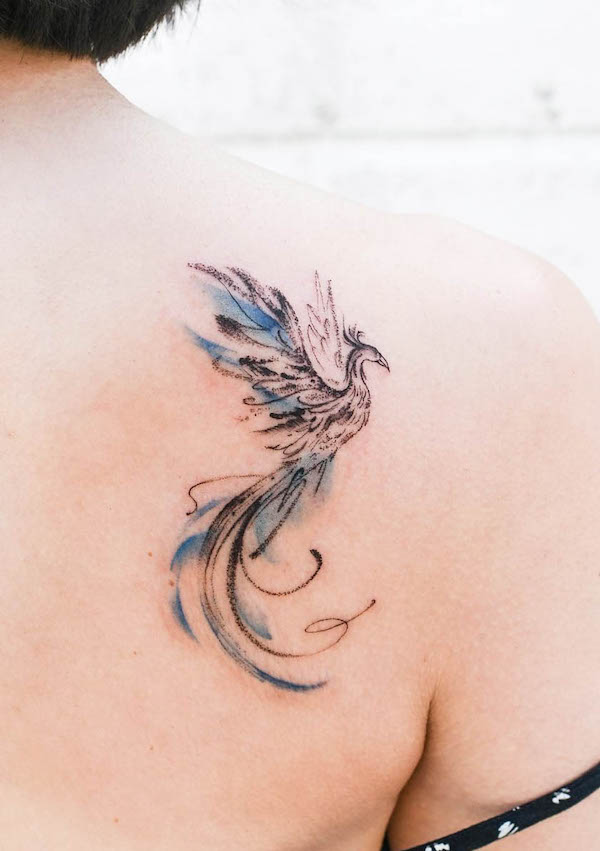 Phoenix represents rebirth and nirvana. They are reborn from ashes, making them a poetic and empowering symbol. While flaming colors like red and orange naturally fit the concept, adding a shade of blue oozes elegance and personality.
Watercolor small dinosaur tattoo
Crescent moon and mermaid watercolor tattoo
The crescent moon and the mermaid are both feminine symbols, but they also create a calming vibe on the skin. By adding feathers, this dreamcatcher moon tattoo can be a reminder to be patient with yourself and your growth.
]Sea-Goat sleeve tattoo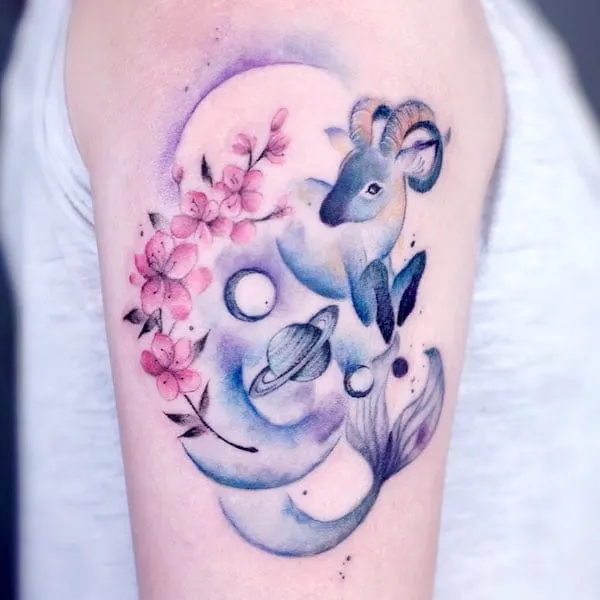 The sea goat represents the Capricorn zodiac sign. The tattooist also adds its ruling planet – Saturn, to further indicate the wearer's identity. While Capricorn girls can be tough on the outside, this watercolor tattoo reveals the soft side of the sign.
Watercolor butterfly tattoo ideas
Butterfly tattoos come in different colors and shapes. As beautiful as they are, they also hold deep meaning. Alone, they symbolize rebirth and change. When in pairs, butterflies may represent pure, eternal love.
There is more than one way to add watercolor to a butterfly tattoo. As shown below, you can tattoo the butterfly in watercolor. Or you can add a watercolor background or other ornamental elements. Depending on your style, a watercolor butterfly can be as bold or low-key as you wish.
Flower and butterfly wrist tattoo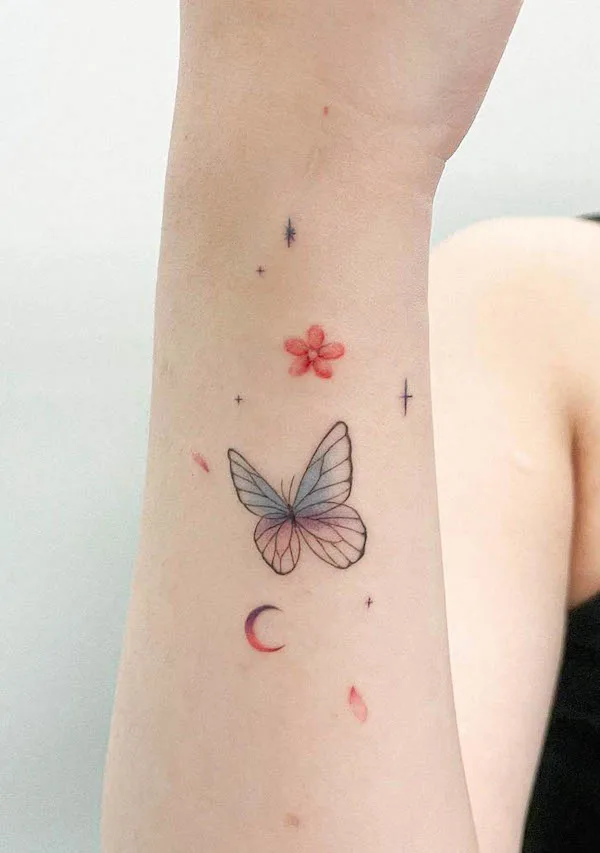 Butterfly with watercolor sky background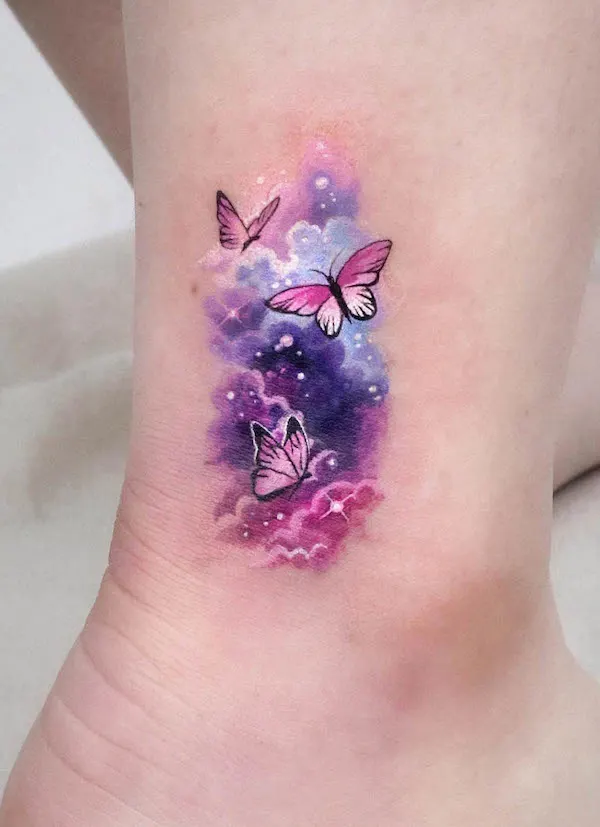 Ocean in a butterfly concept tattoo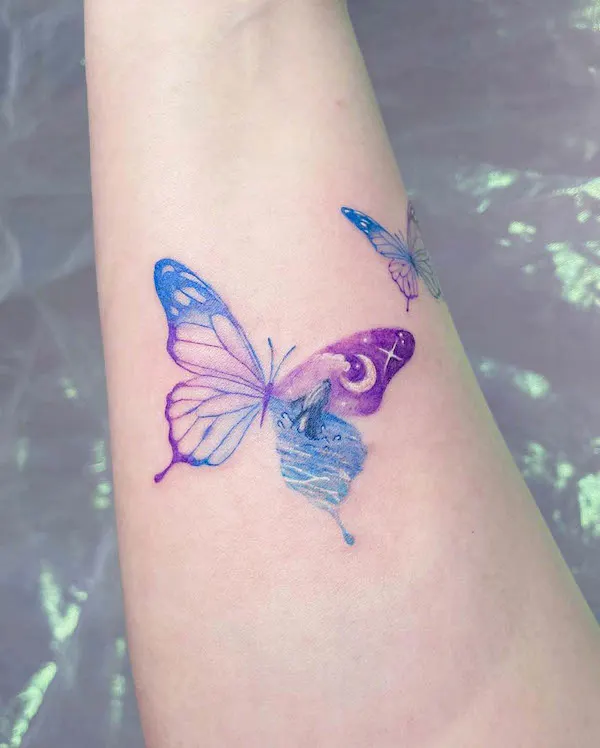 Watercolor fish and ocean life tattoos
Fish, dolphins, whales, and other sea animals represent freedom and flexibility. They are often tattooed as swimming in the water, giving a carefree feeling.
Depending on the species, a water animal tattoo may mean different things. If you love the ocean and its wildlife, pick one that resonates with you, and color them to your aesthetics.
Watercolor Pisces tattoo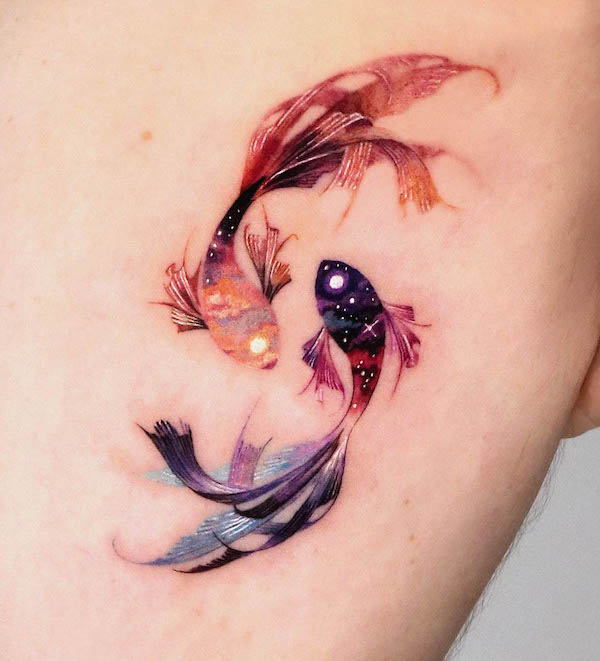 Van Gogh whale tattoo
This tattoo proves that with creativity, you can turn simple imagery into an artistic tattoo. Whales often symbolize solitude, as they swim alone in the depths of the ocean most of the time. The tattooist further pushes this idea by tattooing the whale in Vincent Van Gogh's Starry Night pattern, adding serenity and slight sadness to the tattoo.
Whale and penguin watercolor tattoo
Killer whale watercolor thigh tattoo
Large ocean creatures like whales are perfect for flat placements like the back and the thigh. In addition, these areas are covered most of the time so you can go as big as you wish.
Simple watercolor dolphin tattoo
Watercolor jellyfish tattoo
Watercolor bird and feather tattoos
In general, birds symbolize freedom. But each species has its own meaning.
For example, a dove is seen as a symbol of peace and joy. The crows, on the contrary, are associated with death. Moreover, birds have various looks, giving endless possibilities of colors and shapes. Scroll on to see how watercolor adds charism to these gorgeous bird tattoos.
Black-naped oriole and orange daylily
The daylily is a flower representing a mother's love since the Tang Dynasty in China. Oriole, on the other hand, is seen as a messenger of joy and positivity.
In this tattoo, the flower represents the mother, while the bird represents the daughter. It tells a story of how the mother's love prepares the bird to fly on its own, making it a heart-warming mother-daughter tattoo.
Tiny watercolor hummingbird tattoo
Watercolor spider lily and dreamcatcher tattoo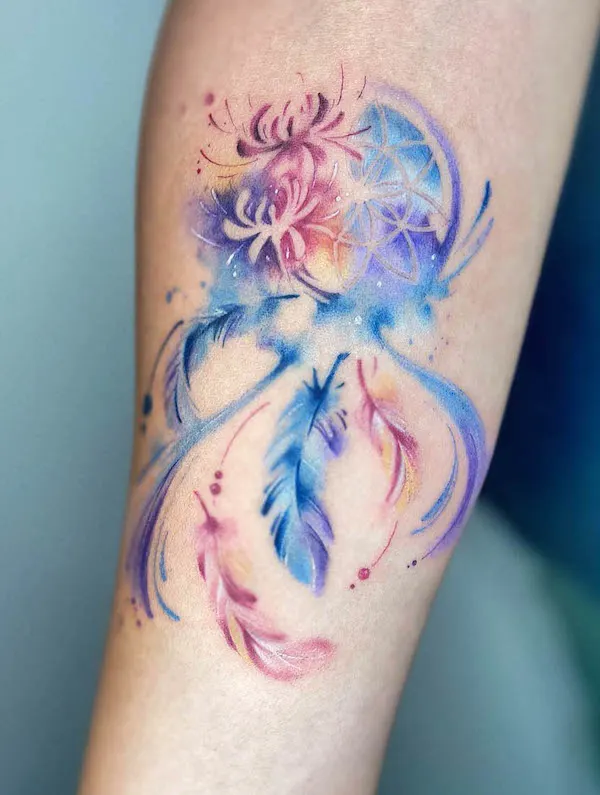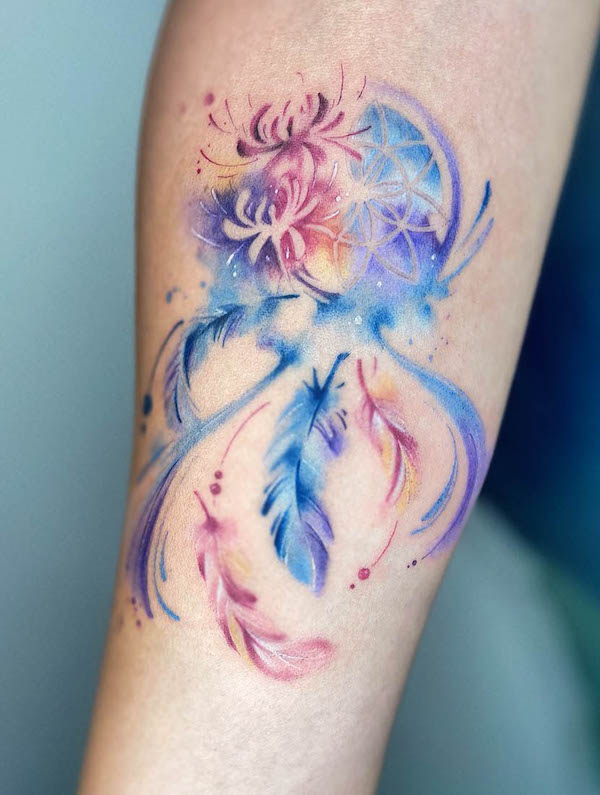 If you love birds but want something different, consider feather tattoos or tattoos with the feather element. Because feathers are light enough to fly with the wind, they often represent the connection with a higher self.
Watercolor feather tattoo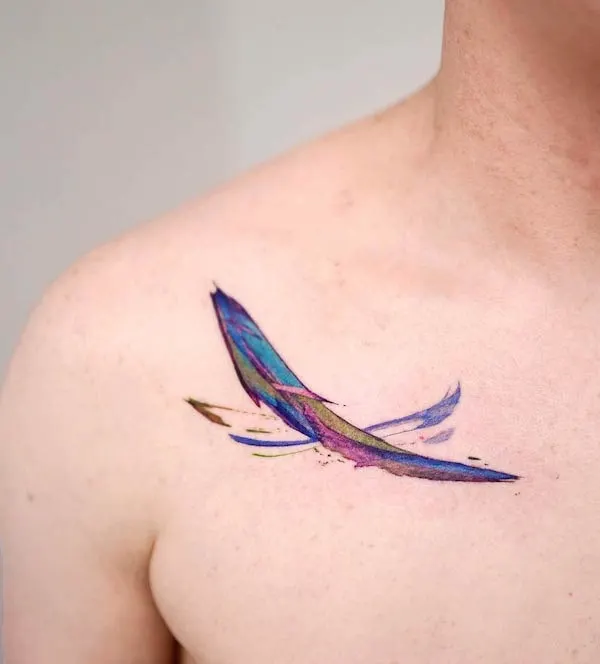 This is another feather tattoo with a different meaning. The tattooist takes a photo of the wearer's hometown and applies the color scheme to the feather tattoo. It reminds us of where we come from and to never forget our roots.
Watercolor landscape penguin tattoo
Landscape tattoos don't always have to be about mountains. This overlaid penguin shows how you can combine your favorite scenery and animal together.
Abstract watercolor tattoo designs
Watercolors have a natural fluid-like feeling because there are no clear lines between colors. Therefore, they are often used to express an emotion or a rather abstract concept.
Below is a list of tattoos that take this idea to the next level. If you prefer less concrete tattoos, don't miss out.
Conceptional water tattoo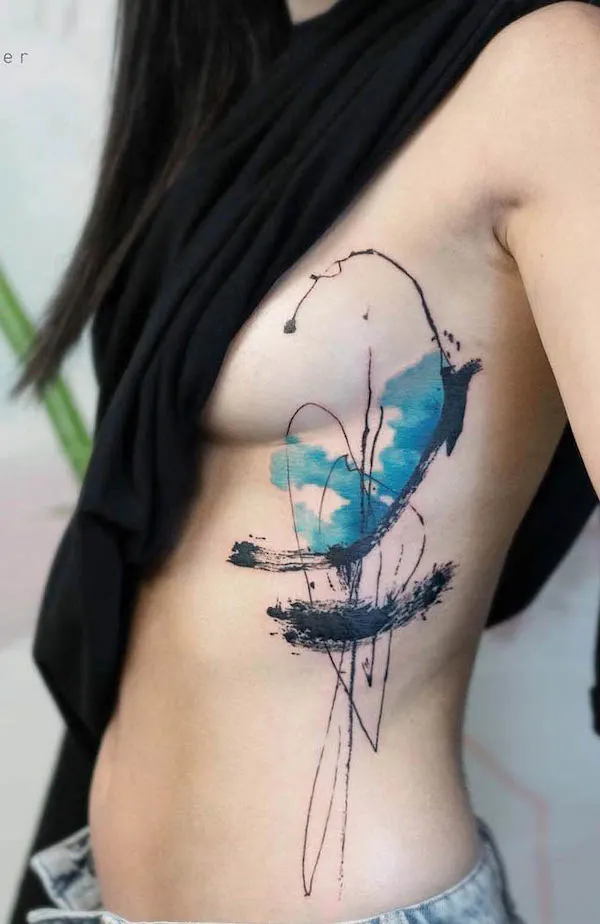 Rib tattoos can hurt more than regular tattoos because the skin is thin. Therefore, you should go for something you will not regret later in life to avoid covering it up.
Unlike a specific object, abstract lines or shapes can continue to represent you for a long time if the style is something you like. So they may make great tattoos that stand the test of time.
Wind and flower collarbone tattoo for women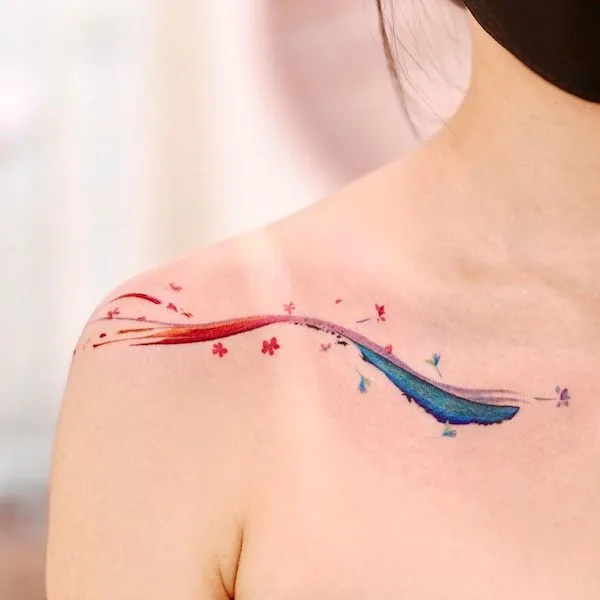 From afar, this watercolor collarbone tattoo might look like an abstract brush stroke. But if you look closer, you will find the flowers flowing along with the brushstroke. This is how the artist makes the invisible wind visible.
Watercolor circle tattoo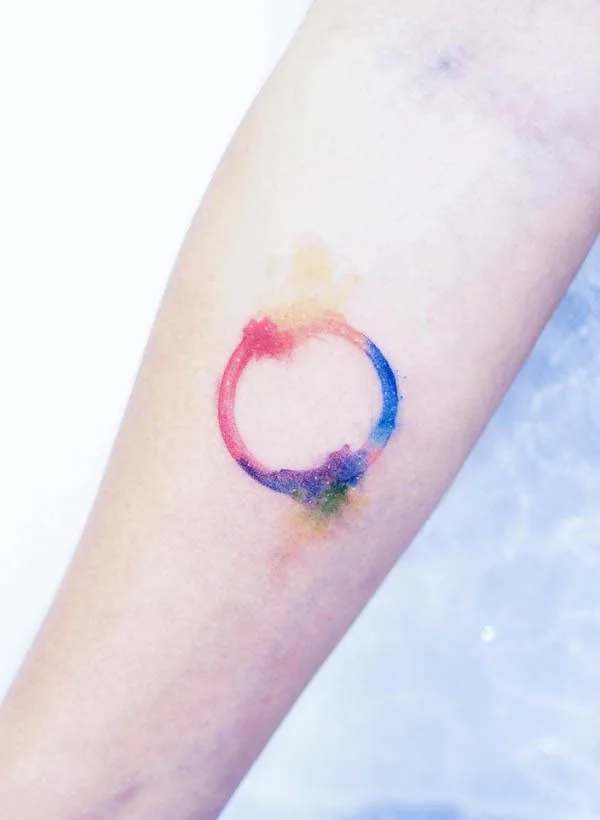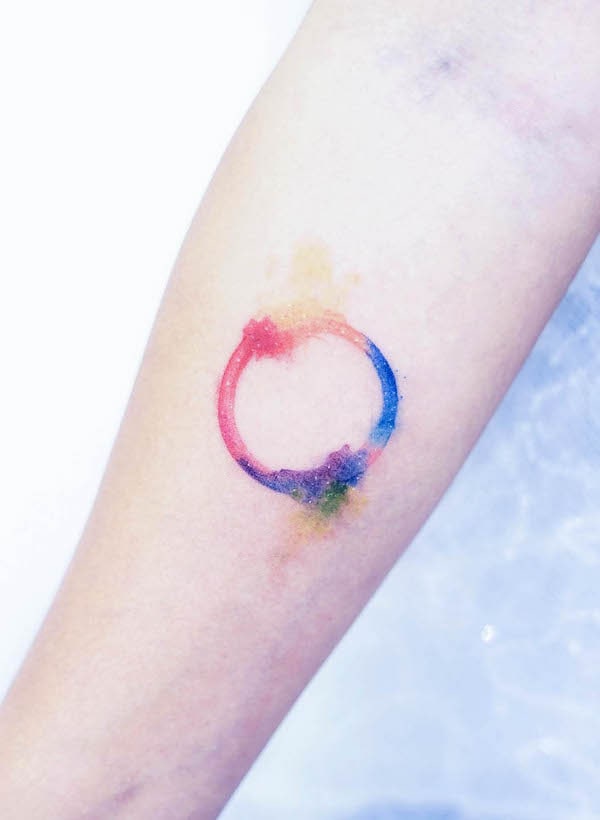 Abstract orbit watercolor tattoo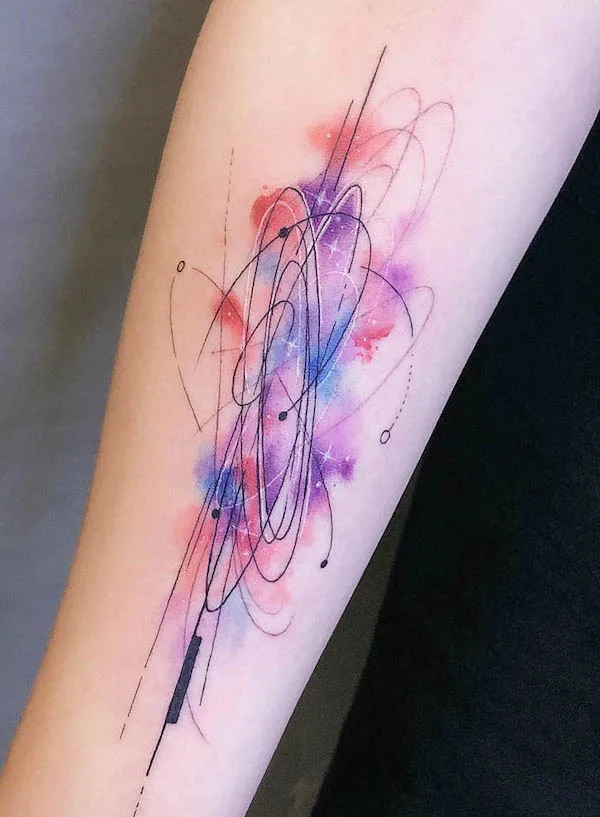 Camel and dessert tattoo
Splash of paint
Two-color geometric arm tattoo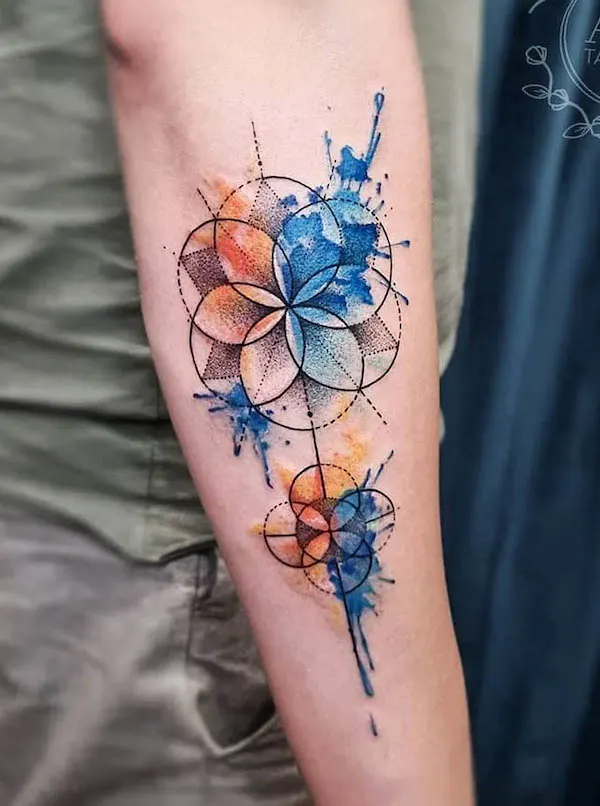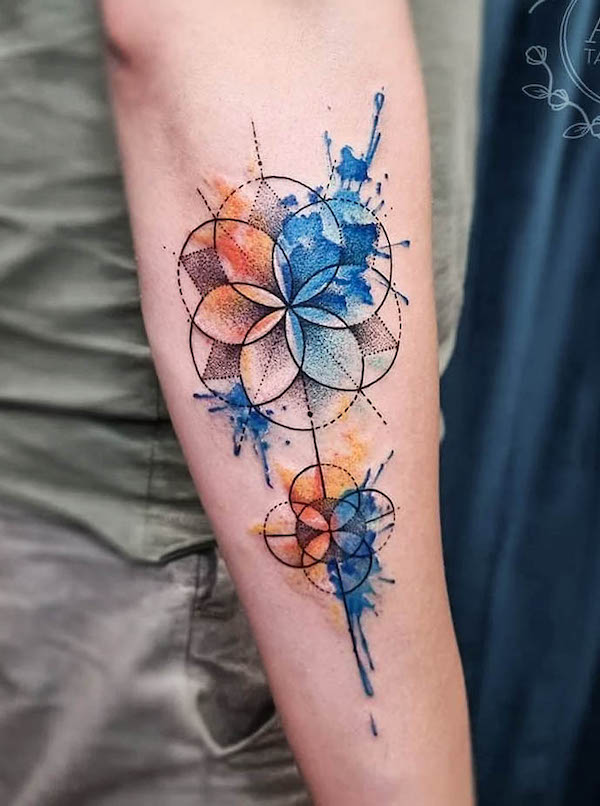 Flames on the hand
Fire tattoos don't always have to be red or orange. This hand tattoo shows how you can create something unique with watercolor.
Watercolor armband tattoo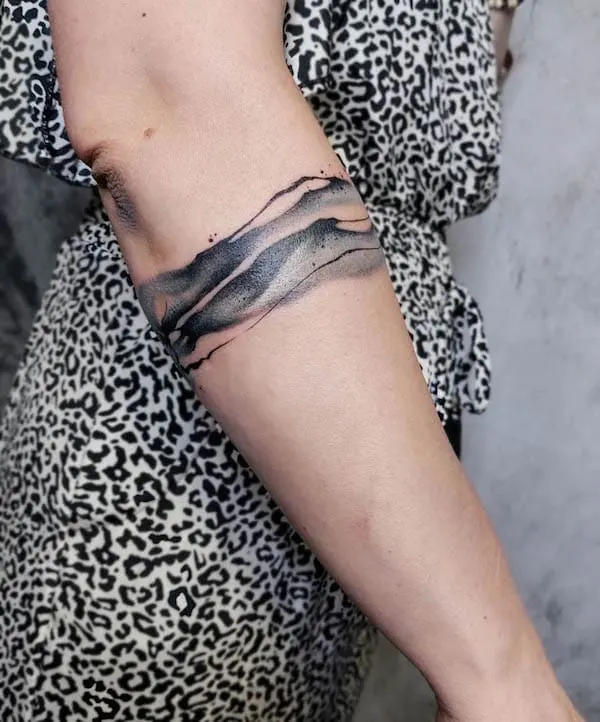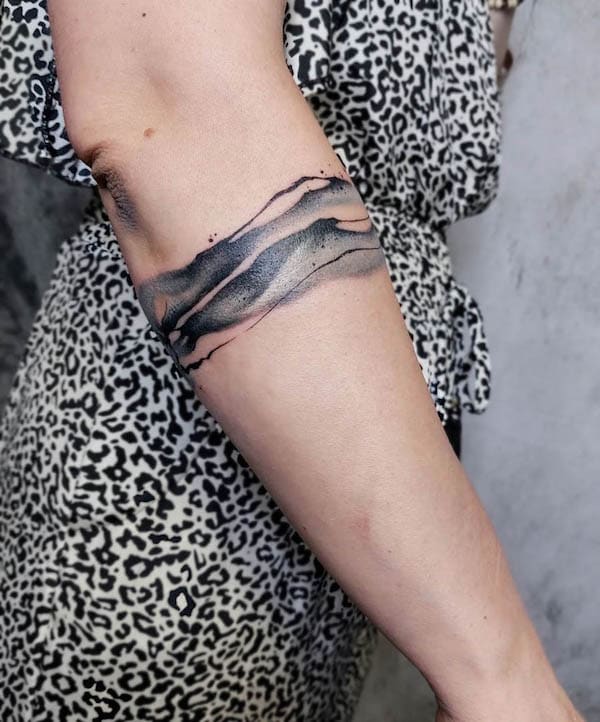 Read also: 37 Stunning Armband Tattoos For Women
Horse tattoo with watercolor background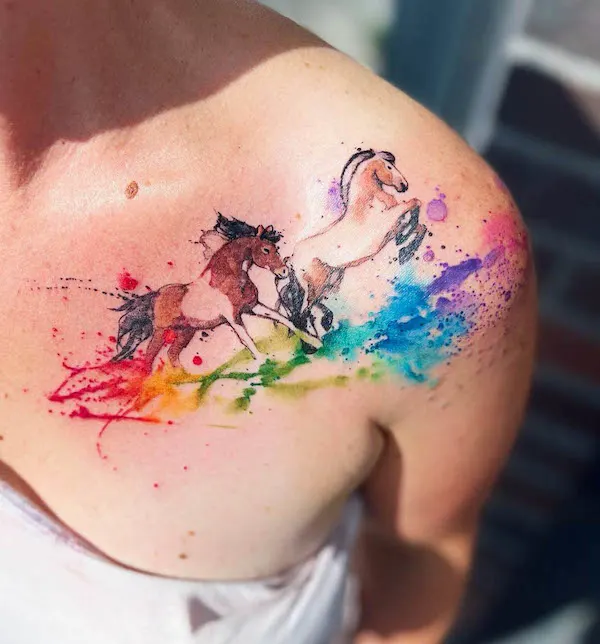 Horses symbolize courage and freedom. The idea is also translated as watercolor paint splashes on the shoulder.
This tattoo might not be for everyone because of the coverage and the vibrant colors. But if you are a free-spirited person with the urge to explore the unknown, you will rock this look.
Diving
Moon tattoos are not rare. But the tattooist paints different moon phases in various watercolor and creates a whimsical and mysterious feeling.
Watercolor plane tattoo
Plane tattoos hold various meanings in different circumstances. For example, they may represent a long-distance relationship or the love for someone far away. Or they can be a tattoo for adventurers, symbolizing the passion for exploration.
Sometimes you may see plane tattoos with clouds and the sun in the background. This one, however, replaces the objects with abstract watercolor splashes. The red and orange resemble the sunset, and the blue refers to the sky, creating a harmony of warm and cold color tones.
Watercolor galaxy tattoo
Watercolor animal tattoos
It's fair to say each of us has an animal we love. Some may even call it our spirit animal as it represents our personality or is deeply connected to our personal story.
Whatever your spirit animal is, watercolor can add wonders to it as a tattoo. It can be the filling color, or it can stay in the background, giving extra visual impact.
Stardust cat tattoo
Cat tattoos can be ultra-realistic or as simple as this one. It reduces the imagery to its basic form. But the watercolor star dusk highlights the tattoo, so it's not too monotone.
Watercolor cat tattoo
Lion and flowers
Cute fox shoulder blade tattoo
Beautiful nature tattoos
Watercolors are often used to depict elements in nature, such as the sun, the moon, and waves. These objects don't have a clear outline, perfectly demonstrated with watercolor. Moreover, the gradation and the blurred silhouettes will extend the viewers' imagination.
Watercolor sunrise
Wave tattoo on the arm
Waves and pearl
Mountain and seascape
Simple mountain quote tattoo
Alluring watercolor snake tattoos
Similar to dragons, snakes are seen as an evil symbol of greed in the west. But they are a sacred representation of protection and fertility in the east.
While a snake's long, stretched body might be hard to fill with watercolors, you can always apply it to the background or other decorative elements.
Flower and snake watercolor tattoo
Snake and orchid
Watercolor dragonfly arm tattoo
In some cultures, it's believed that if you see a dragonfly, make a wish, and it will come true. Therefore, dragonfly tattoos are seen as a good omen. They also represent changes and prosperity.
If you want to wear a lucky charm every day or are in a new life chapter, a watercolor dragonfly may be what you are looking for.
Harry Porter's golden snitch tattoo
Little Mermaid watercolor back tattoo
Ariel in The Little Mermaid is one of the most popular motifs for mermaid tattoos. This simple, attractive tattoo keeps only the outline of Ariel. But with the classic red, blue, and green color combo, we have no problem recognizing the cartoon character. It also shows how you can demonstrate a specific object or person with colors.
Watercolor cityscape tattoo
We all have a special place in our hearts. For the wearer of this tattoo, the place is Hong Kong. But unlike most landscape tattoos drawn with solid outlines and details, this one uses watercolor to depict a city by the sea, giving a dream-like feeling.
Watercolor leaves tattoo
Lighthouse arm tattoo
A lighthouse to a boat is the northern light. It guides the boat home in the roaring sea. That's why lighthouse and compass tattoos often represent family and passion. They are what give us direction amid confusion and struggles.
Which of these watercolor tattoos is your favorite?
Share your thoughts in the comment down below!s