Hip tattoos are beautiful and sexy. From small to big, simple to elaborate, these hip tattoos for women will magnify your femininity.
The hip is one of the best tattoo placements to accentuate your femininity. It might not be a common area to show off a tattoo, but people love hip tattoos for good reasons.
First, they are discreet and intimate. The hip is covered with clothing most of the time, and hip tattoos can only be seen with bikinis or lingerie, just like between-the-boob tattoos.
Also, unlike arm or wrist tattoos, hip tattoos function more as a glimpse of the owner's personality and aesthetics. And they are more than the looks. A good hip tattoo can carry deep meaning for the wearer.
For example, a butterfly on the hip indicates the wearer's determination to transform and start fresh. On the other hand, a dragon tattoo may awaken the wearer's inner strength.
That's why choosing a good design is so essential. This way, you combine meaning with aesthetics. And when you have both, a tattoo will become timeless.
So to give you some ideas, we've gathered some of the best hip tattoos for women on the Internet. Whichever style you are into, minimalist, elaborate, tiny, or huge, you will find a design that fits your aesthetics.
Disclaimer: This collection of hip tattoos for women is for inspiration only. Please do not copy the artwork. If you love these tattoos, follow artists and show them some support.
Stunning hip tattoos for women
Beautiful flower hip tattoos
The hip is no doubt a luring part of the body. That makes it perfect for flower tattoos. And there are various reasons why people love tattooing flowers on the hip.
One is the versatility in meaning and designs. Each flower has its unique flower language. The symbolism may vary from love and passion to protection and strength.
Plus, each type of flower looks slightly different from the others. With all the colors to choose from, everyone can find a flower tattoo they relate to.
If you want a feminine tattoo to complement your silhouette, and express yourself, these flower hip tattoos are for you.
Ranunculus and peony flower hip tattoo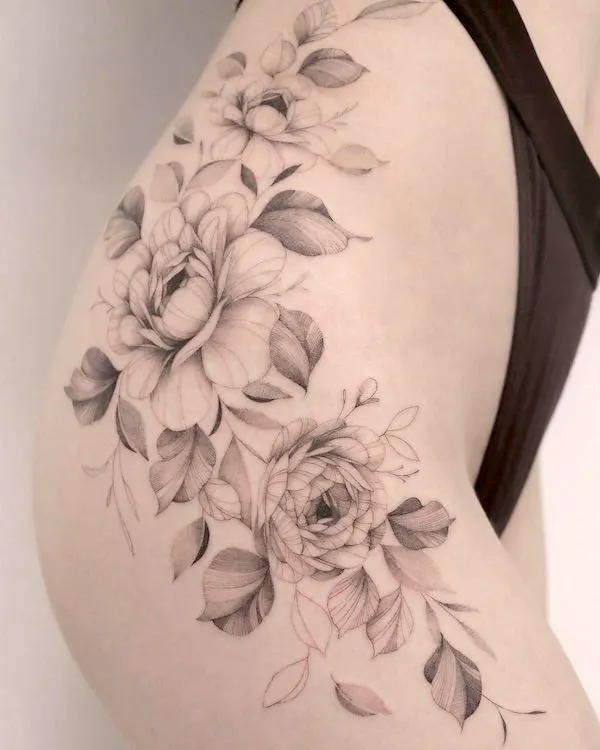 Red anemones hip tattoo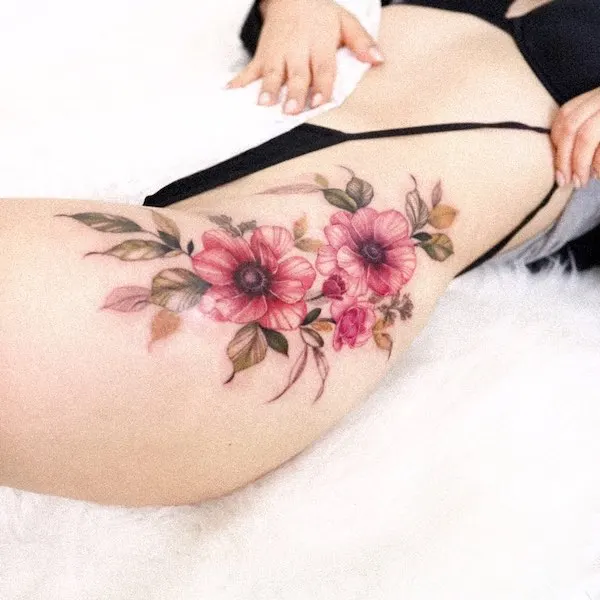 Small flower hip tattoo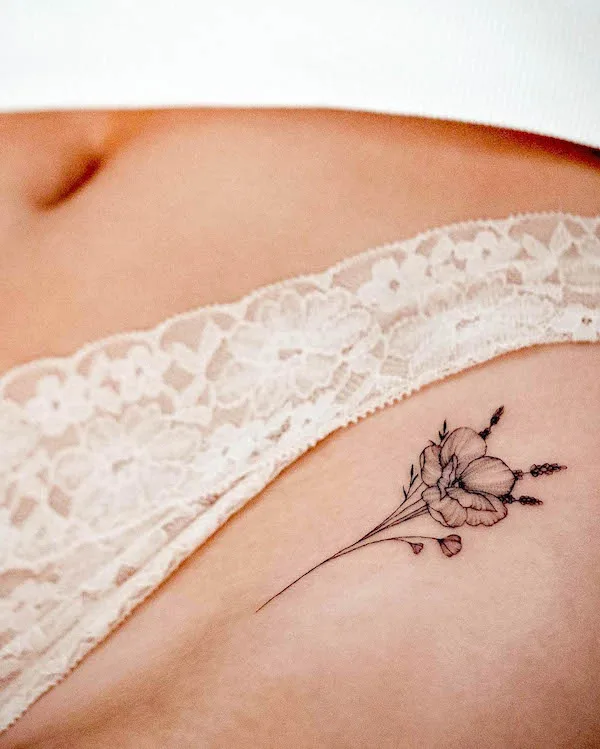 Watercolor flowers hip tattoo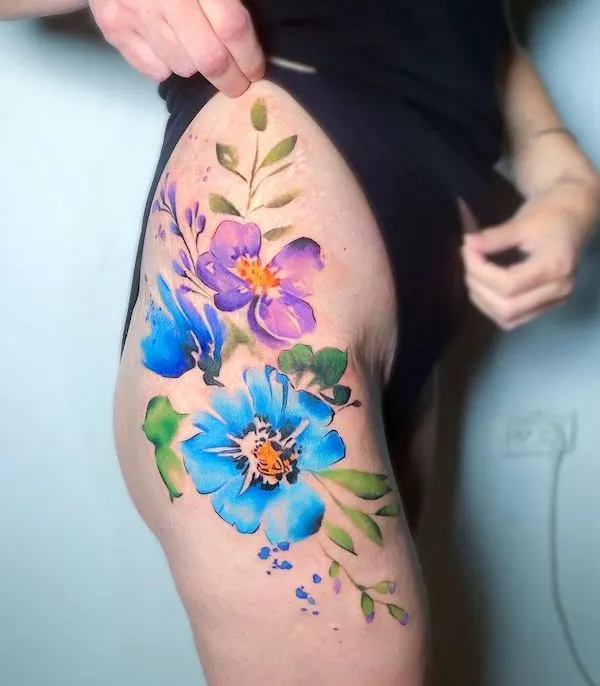 Small flower bouquet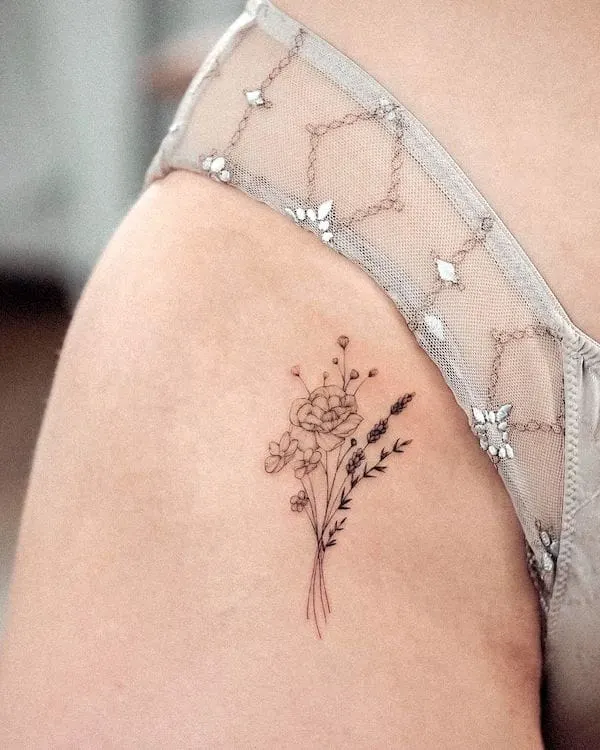 Elegant butterfly hip tattoos
A butterfly tattoo has various meanings.
As a butterfly has to go through metamorphoses throughout its life, butterfly tattoos often symbolize transformation and rebirth. They also represent pure, undying love when in pairs.
The hip placement adds extra femininity and mystery to a butterfly tattoo, making it a permanent, gorgeous ornament. Yet, at the same time, they may be a tribute to the life-changing transformations the wearers have experienced.
A pair of butterfly best friend tattoos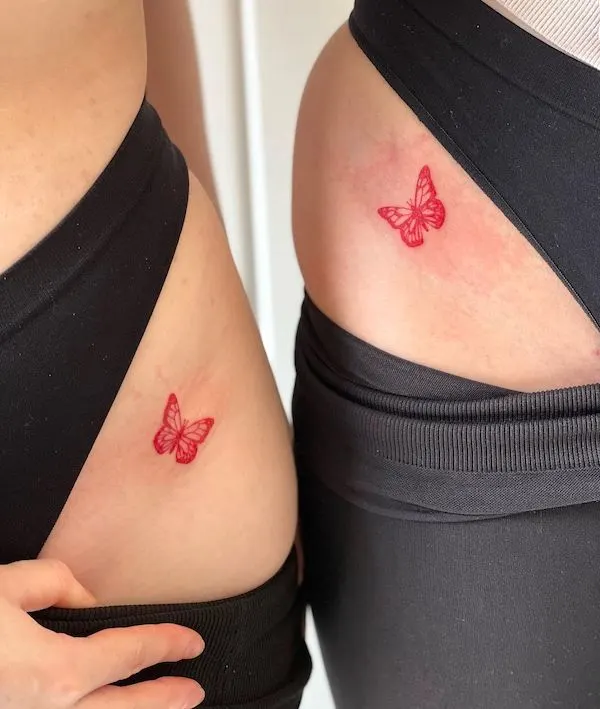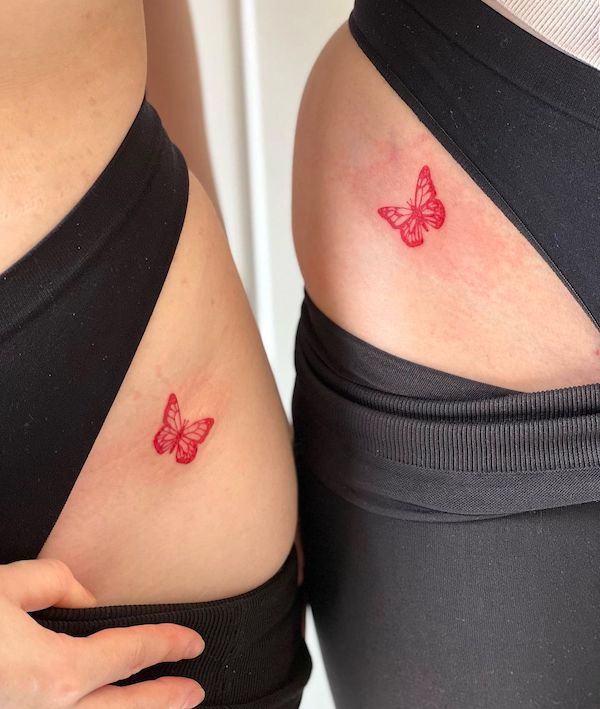 Getting matching tattoos can be risky, as changes in relationships can be unpredictable. That's why when you consider getting a matching tattoo with your best friend, siblings, or partner, it's always a better idea to get something meaningful on its own.
Take these matching red tattoos as an example. Together, they remind the wearers of their unbreakable bond. Alone, these butterflies carry the connotation of courage to change.
Small butterfly hip tattoo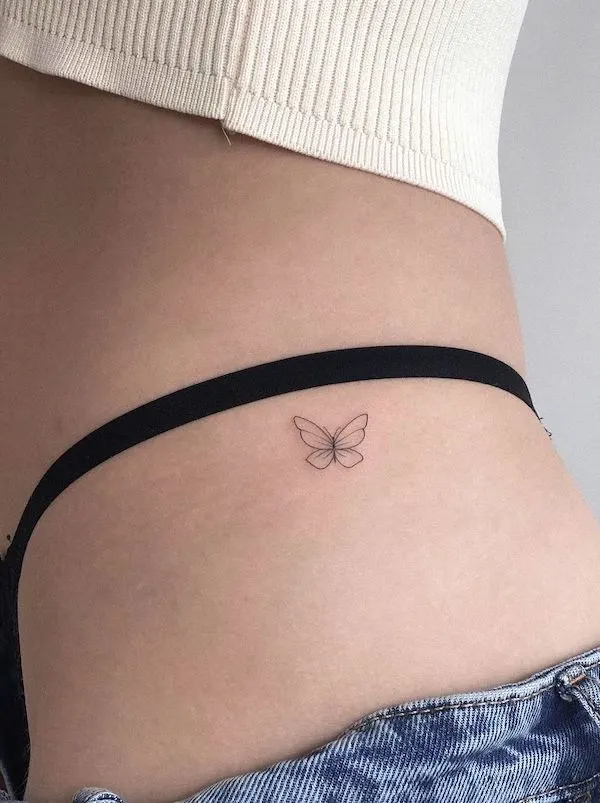 Black butterfly hip tattoo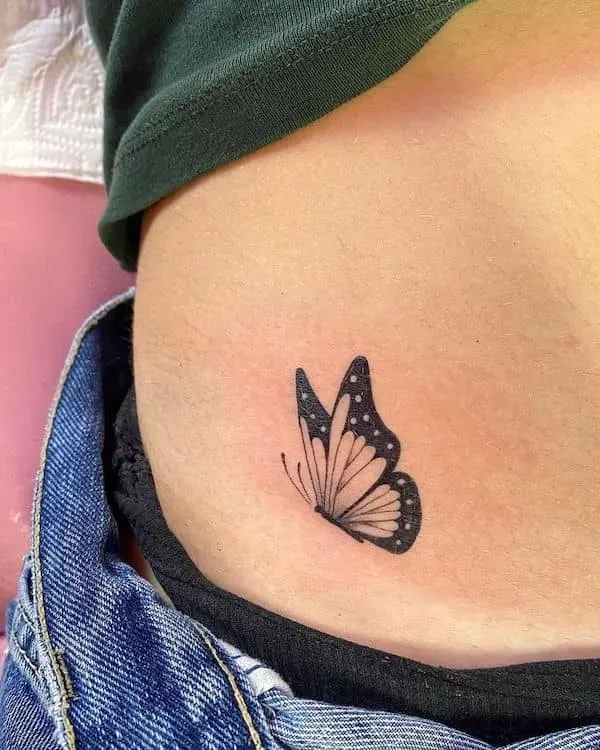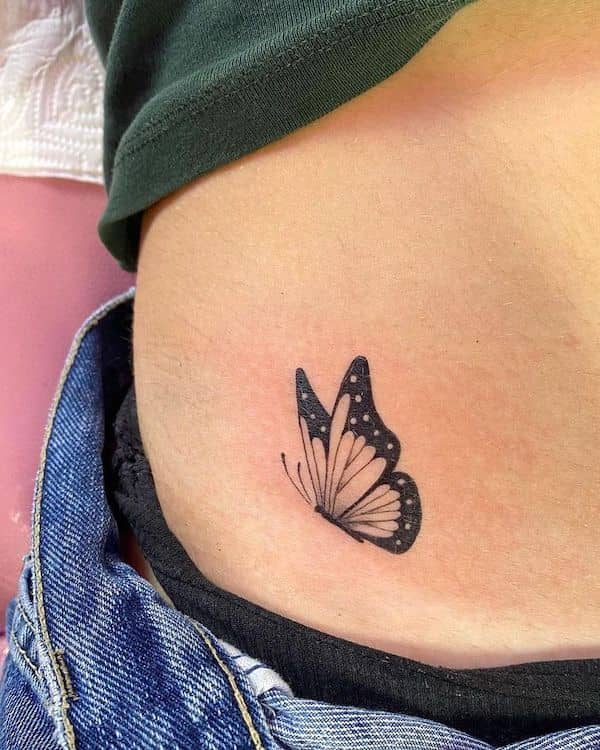 Snake hip tattoos for women
Snakes are a natural fit for elongated placements such as the arm, thighs, or as armband tattoos. But they can also fit on the hip as they bring movements and liveliness to a tattoo.
But people don't just tattoo snakes on their bodies for aesthetic reasons.
In western culture, snakes symbolize greed and temptation. But they are also skilled predators. Therefore, for someone who wants to low-key show off their badass-ness, a snake tattoo on the hip is a perfect option.
Small black snake hip tattoo
Tiny hip and thigh snake tattoo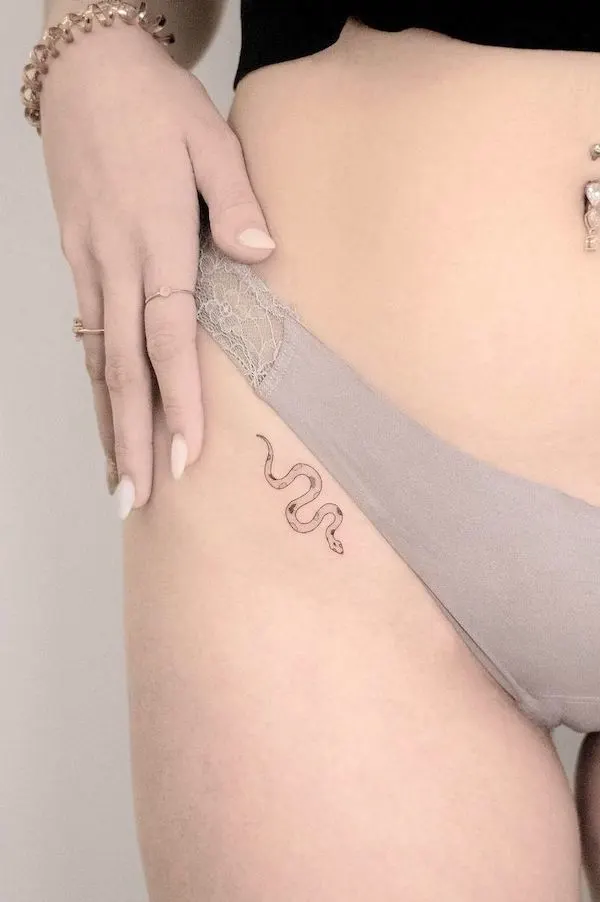 Fierce dragon tattoos on the hip
The dragon might be a menacing creature. But dragon tattoos are not limited to men. Instead, their flowy, curvy body shape allows for feminine expression.
And when you place it on the hip, it accentuates the silhouette and captures attention.
Below are examples of well-designed dragon tattoos that flatter the body's curves. If you want something beautiful to represent your strength, these dragon tattoos are for you.
Fantasy dragon hip and thigh tattoo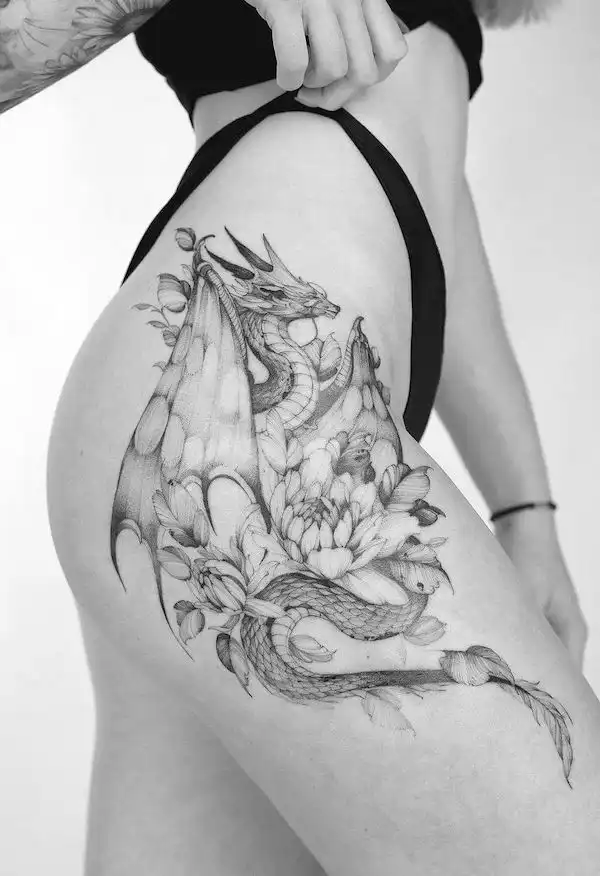 Intricate dragon and lily flower hip tattoo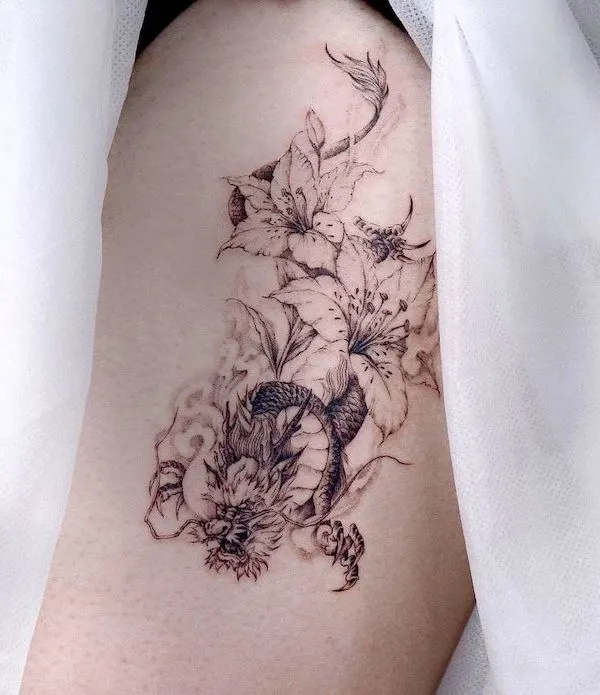 Badass tiger hip tattoos for women
One of the most common meanings of tiger tattoos is strength and power. Women who wear tiger tattoos are showing that they have both of those. It reminds you that you can take on the world and fight for what you believe in.
The hip is a great area for a tiger tattoo. It is a discreet placement so you can make your statement to the selected few. Or you can extend it to the thigh and make it bold. This way, when you wear shorts or a bikini, the tiger tattoo will become an announcement of your ambition.
Badass tiger hip tattoo
Full hip and thigh tiger tattoo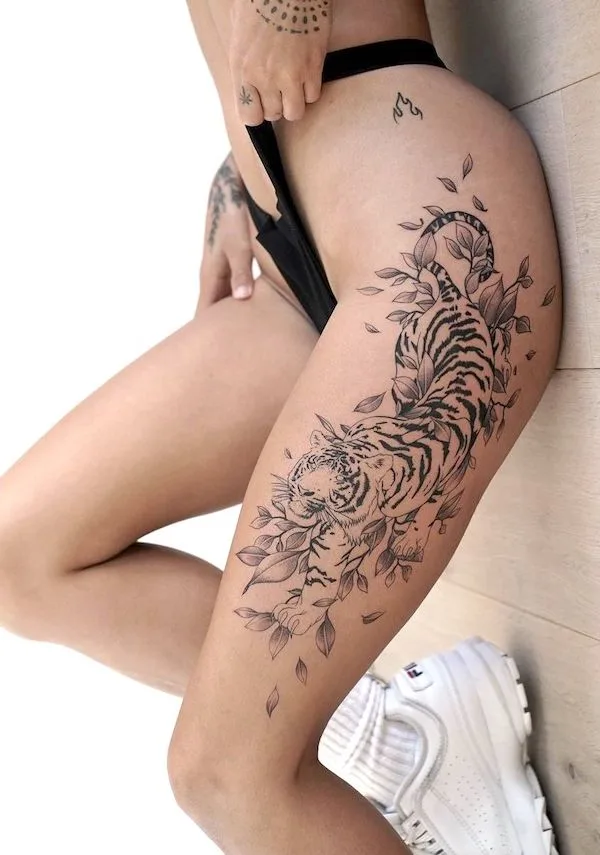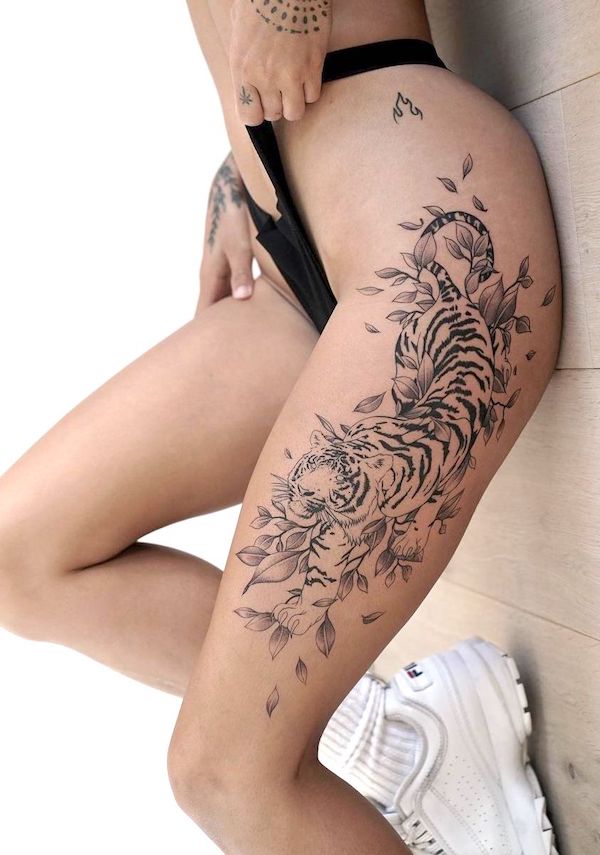 Quote and word tattoos on the hip
Though the hip is not as visible as the wrist or arm, it's still a great placement option for quote and word tattoos.
The hip has a large enough flat space for a tattoo, which means you can easily fit in a longer quote or mantra.
So if you have an inspirational quote or word in mind and are opting for a low-key placement for it, consider hip tattoos. Below is a list of meaningful word or quote tattoos to narrow your search.
Close your eyes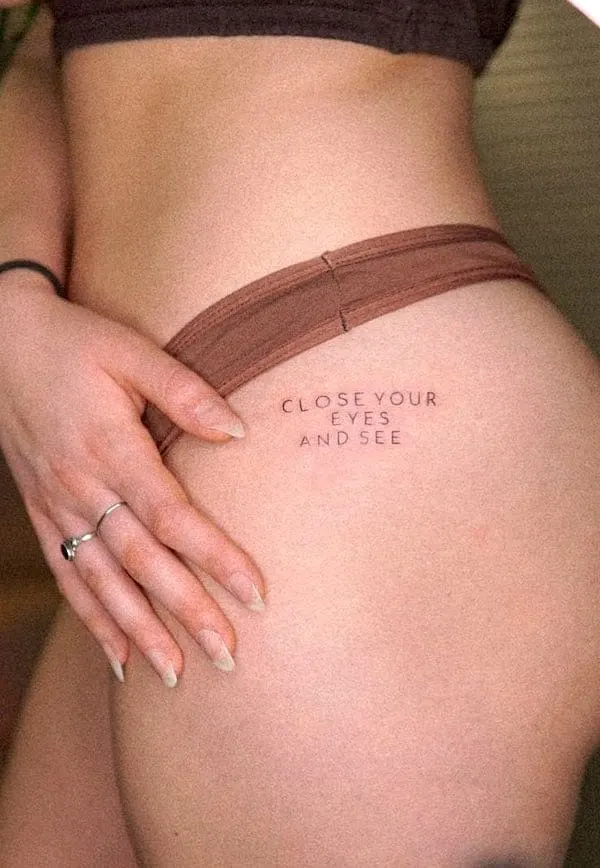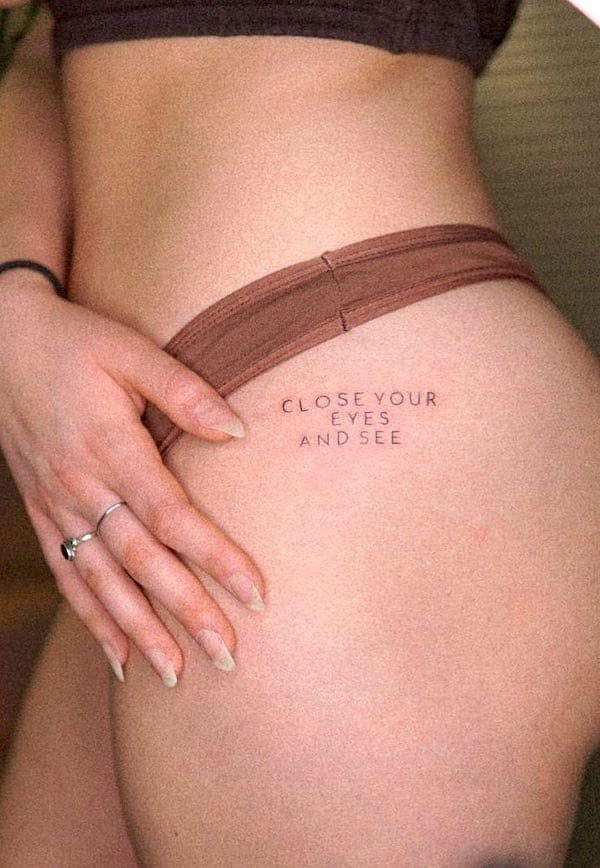 My body, my art
This quote summarizes the wearer's attitude towards tattooing. She considers it a form of self-expression that shouldn't be judged by anyone else but herself. It's also a powerful self-love tattoo, showing the radical acceptance and love for her body.
Always
Wild
Many people think of script tattoos as long sentences with cursive letters. But it can be as simple as one single word. And when you get it right, a word can say a million things. This one-word tattoo, for example, reveals the wearer's personality and makes a powerful statement.
Brave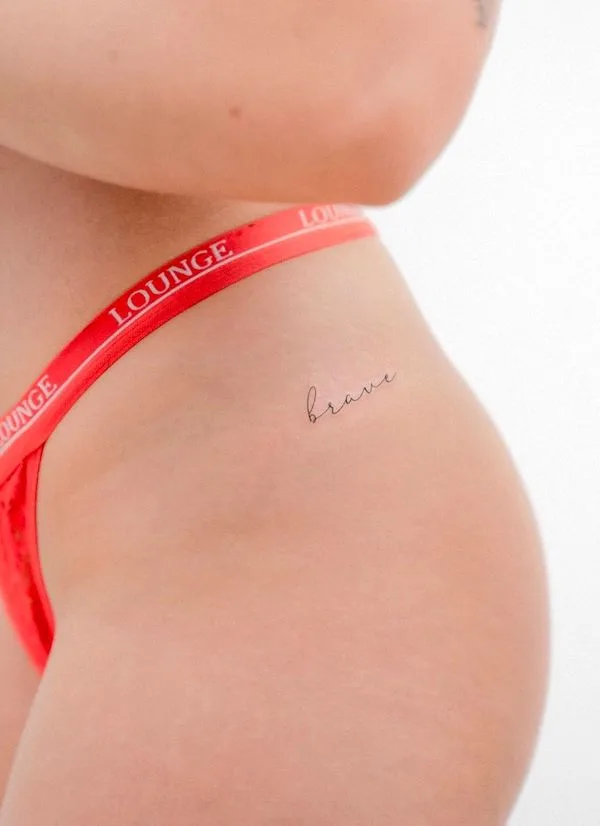 Small and cute hip tattoo ideas for women
The hip is no doubt a large area to tattoo on. But it doesn't mean you must fill all the blank space with an extensive and intricate tattoo. When you shrink a tattoo to the size of inches, you have a cuter version of ink.
Also, a small hip tattoo gives you the flexibility of placement. You can put it on the side of the hip or front and back. As long as the pattern is meaningful to you, a small tattoo will shine just like the big ones.
Tiny heart hip tattoo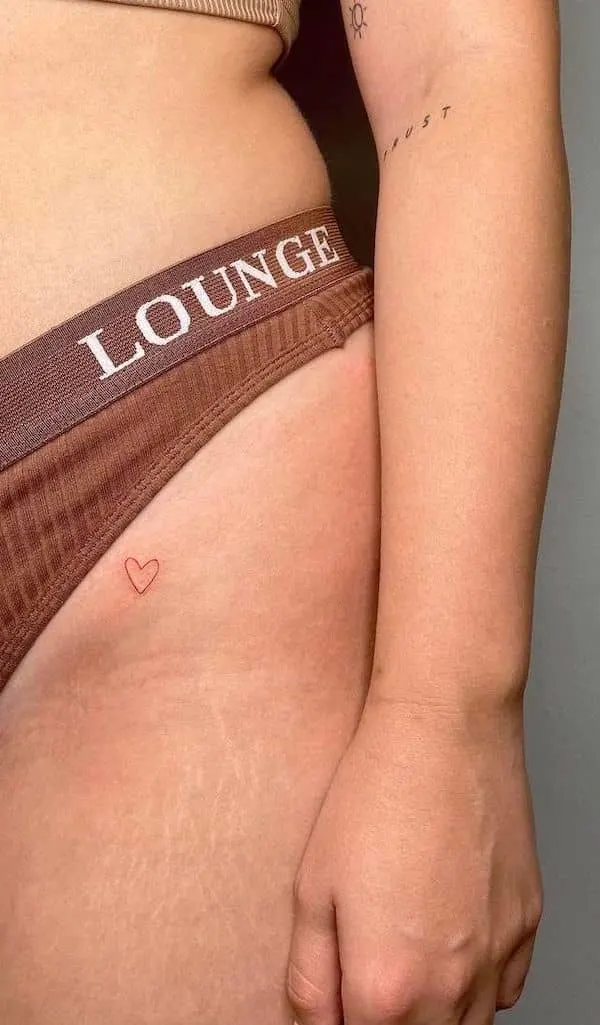 Matching chilies thigh tattoo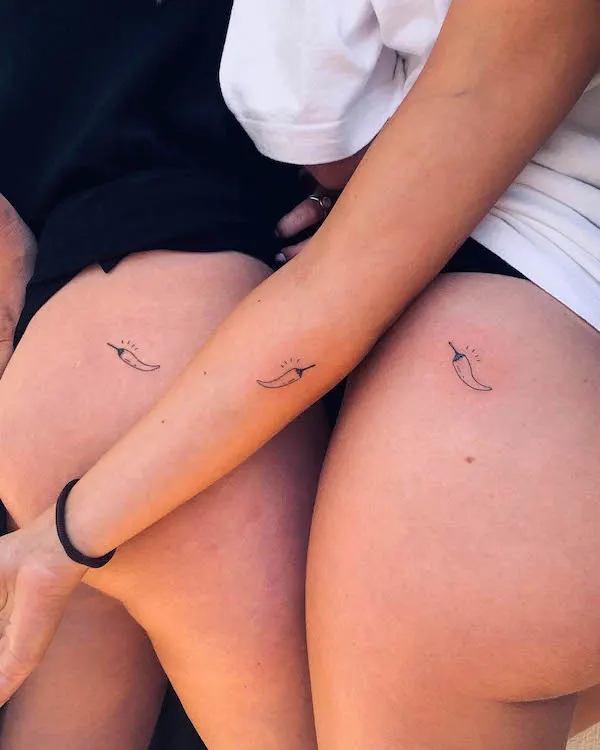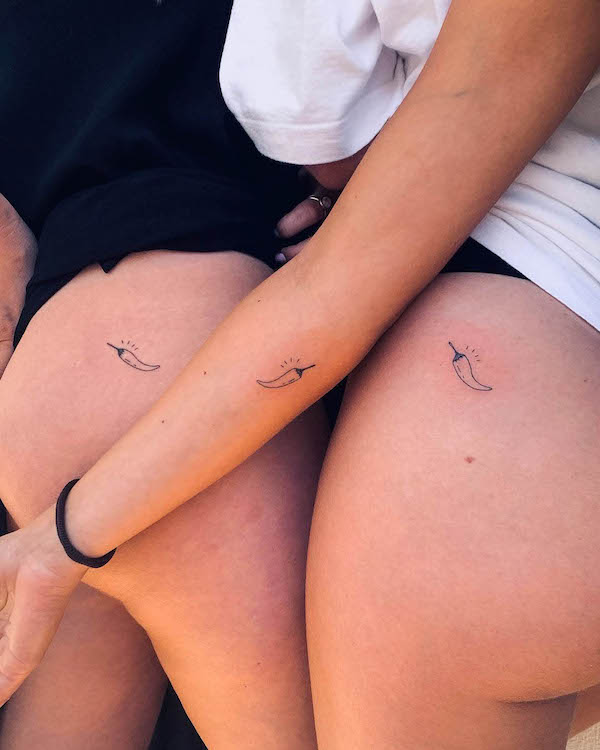 Hot and cute, these sibling tattoos not only pay tribute to the bond between sisters. They also add personality to the skin.
Tiny crown hip tattoo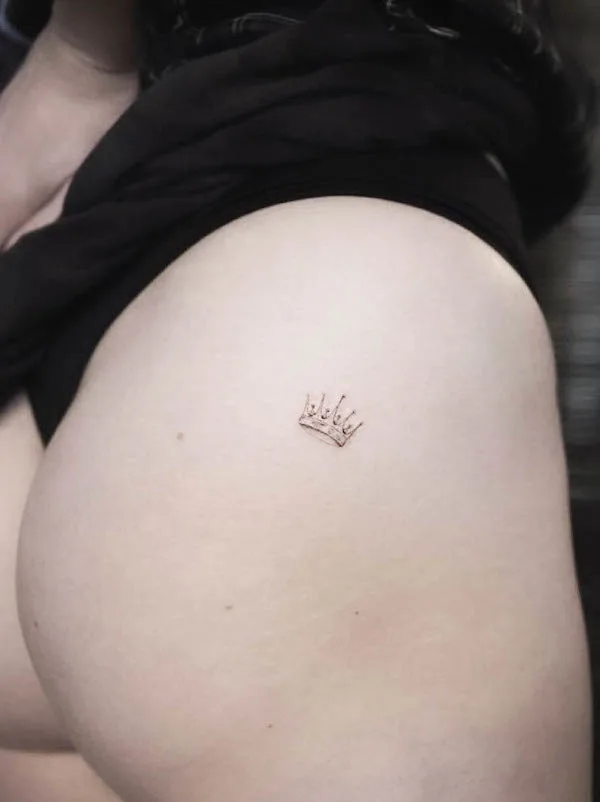 Finger gun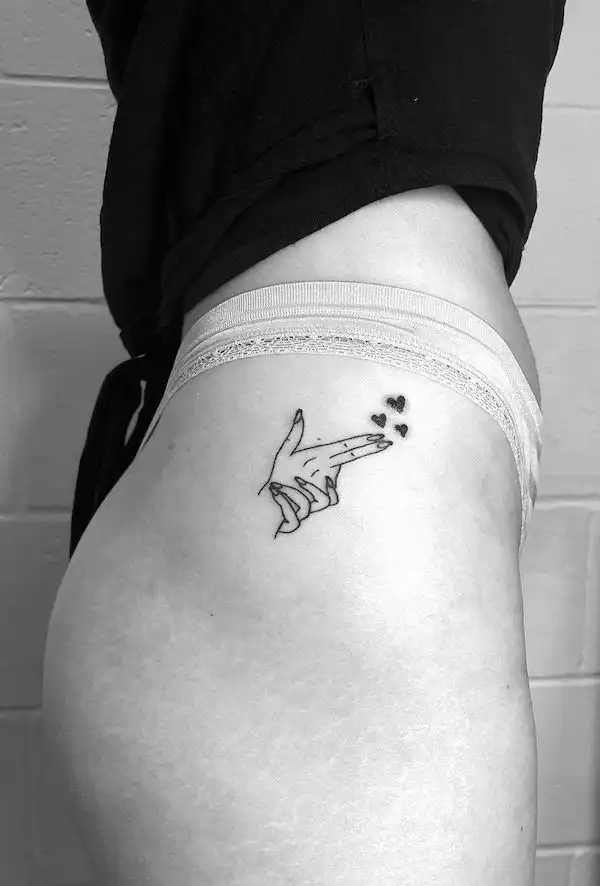 A finger gun is when you mimic the shape of a gun with your fingers. It's not only cute. But it also shows the wearer's light-hearted attitude towards life.
The Creation of Adam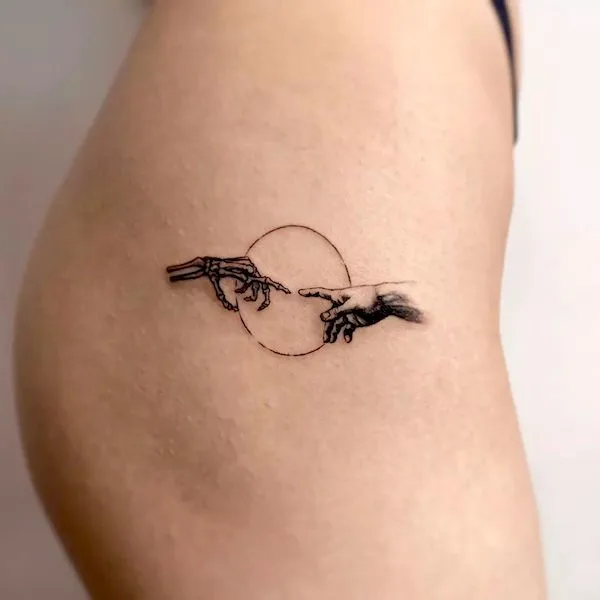 Initially, The Creation of Adam describes how God creates humans. This tattoo, however, replaces the human hand with a skeleton hand. It reveals the connection between life and death, forming a never-ending cycle, and making it a meaningful artistic tattoo.
Minimalist leafy hip tattoo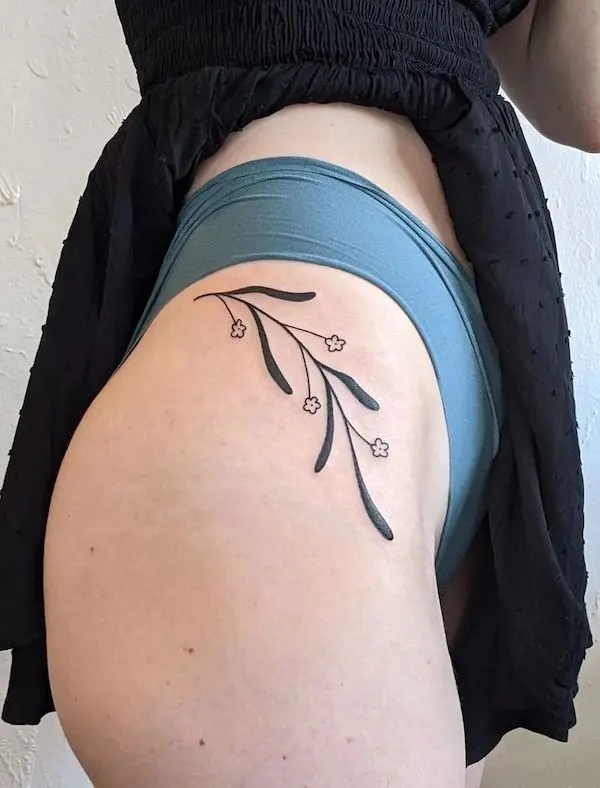 Small lemon hip tattoo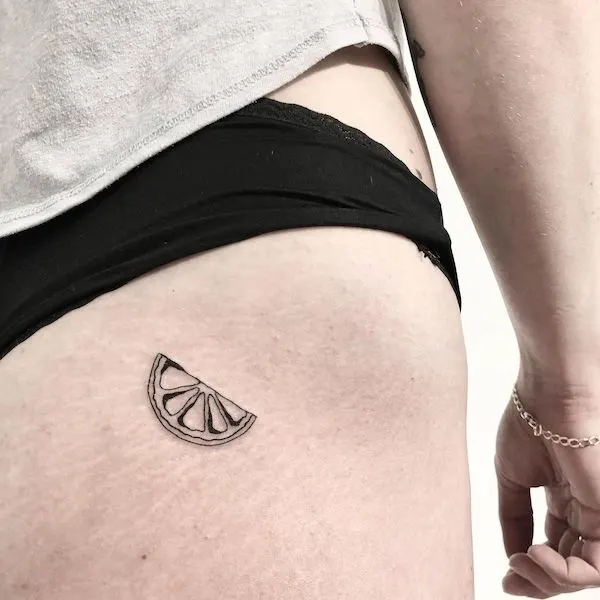 Rock and roll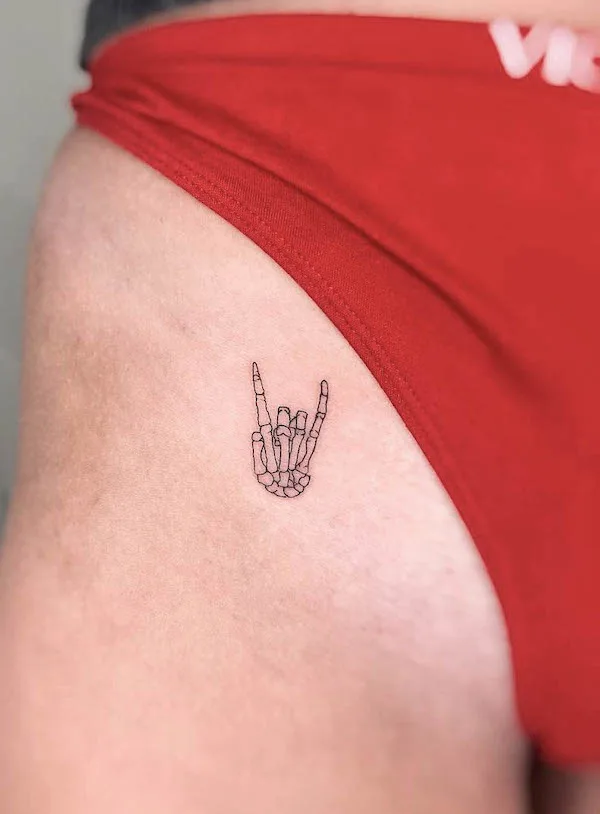 Devil's heart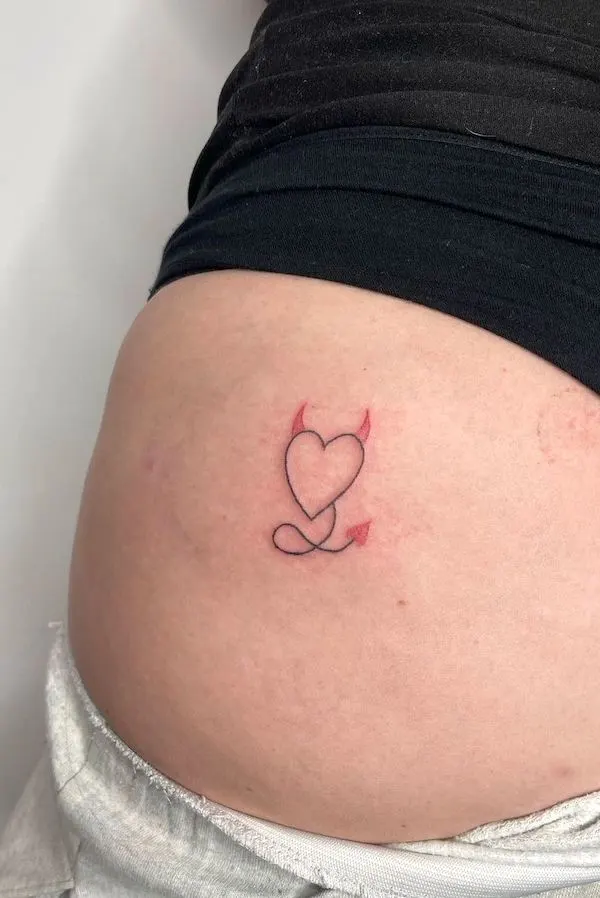 What a cute twist to a traditional heart-shaped tattoo! If you are loving and passionate but also devilish, you will rock this look.
Sun and moon symbolic tattoo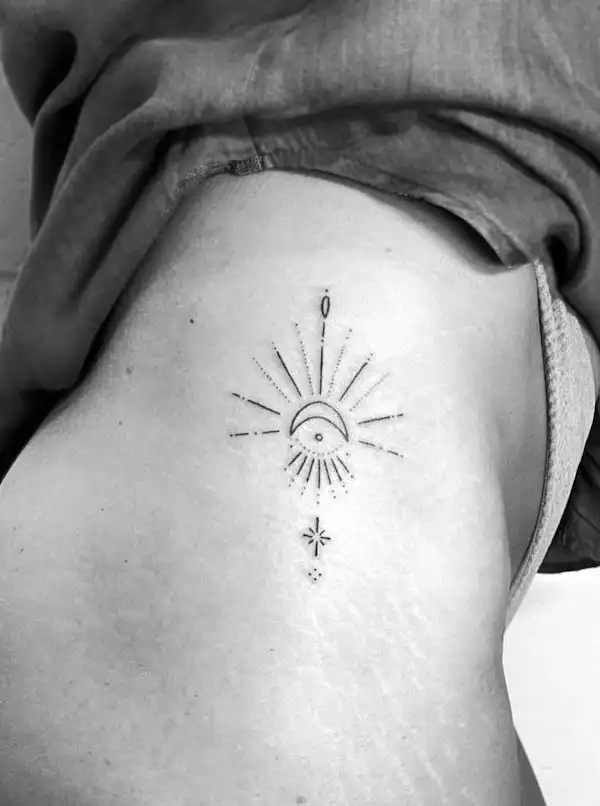 Simple small rose hip tattoo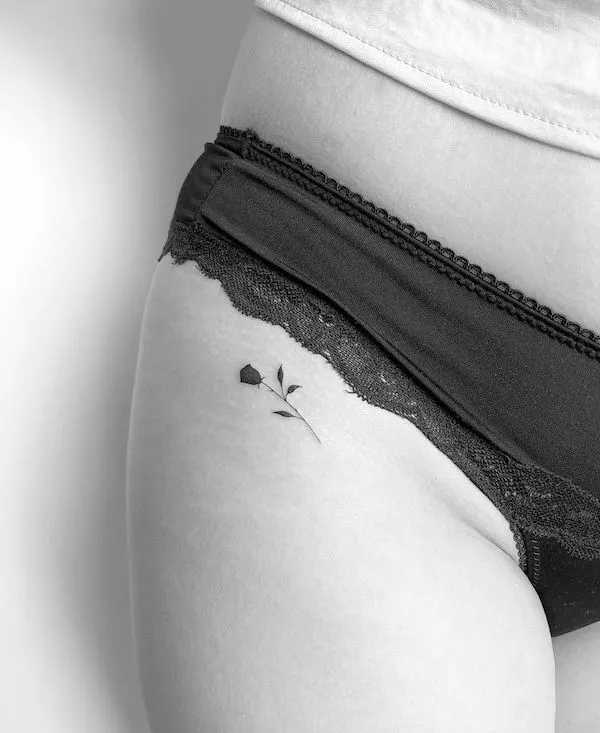 Feather hip tattoo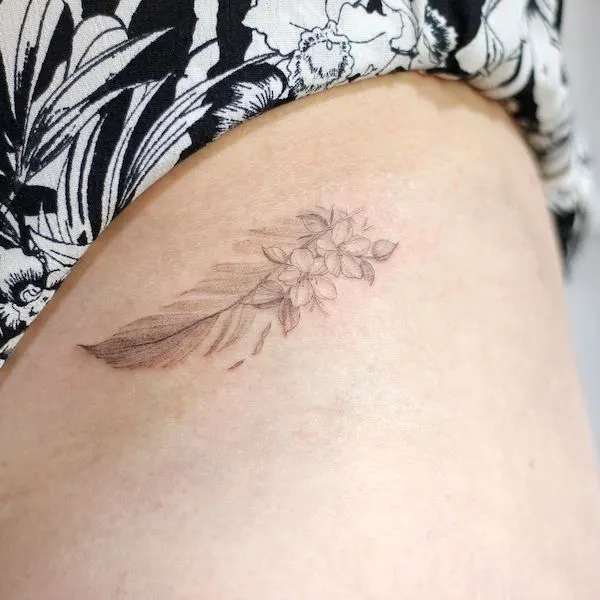 Tiny bee hip tattoo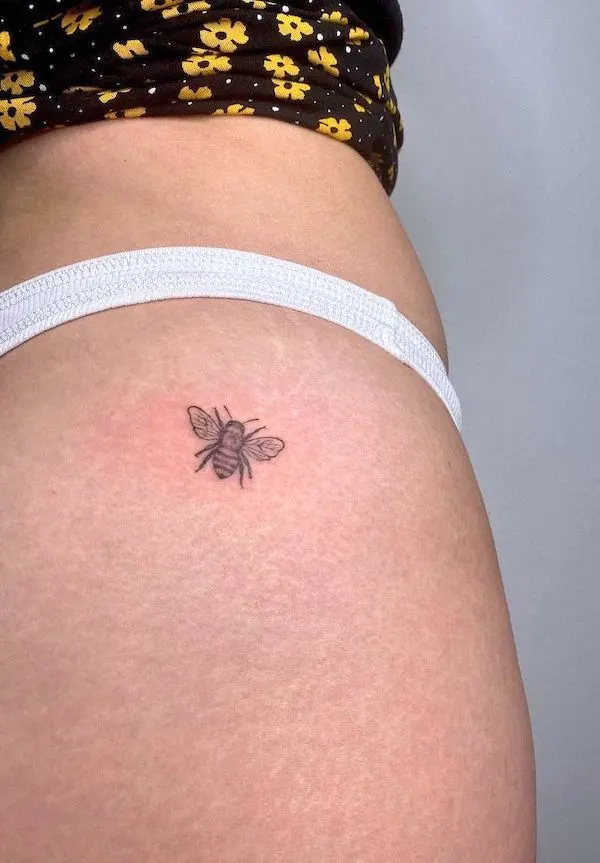 Most bee tattoos are small, making them a good fit for girls. But it's their symbolic meanings that make these small tat so loved and popular.
Bees live in a community, and they value structure and loyalty. Thus a bee tattoo can be seen as a tribute to one's family. Or it can also show the wearer's core values such as diligence and self-discipline.
On fire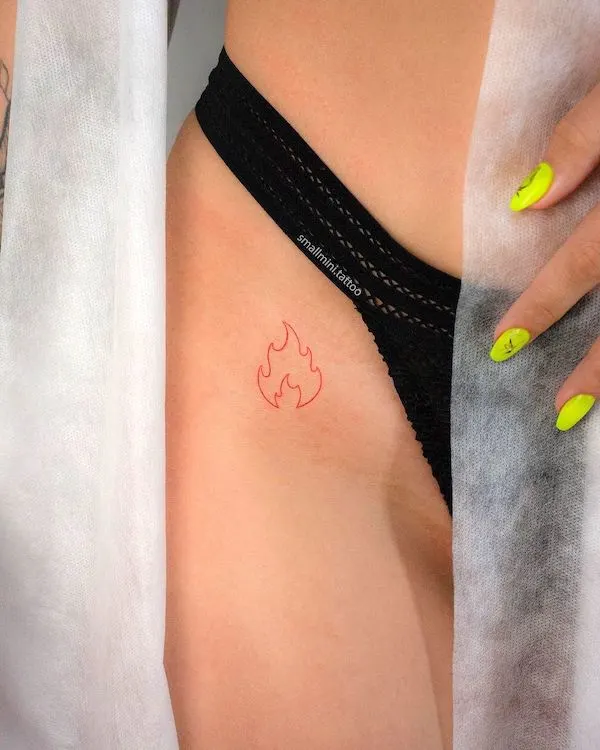 Simple leaves hip tattoo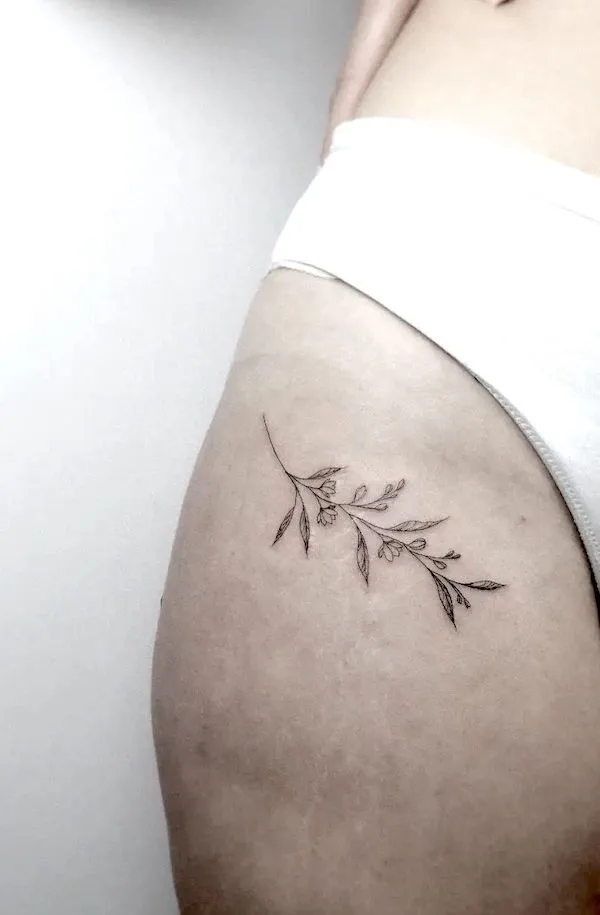 Girl power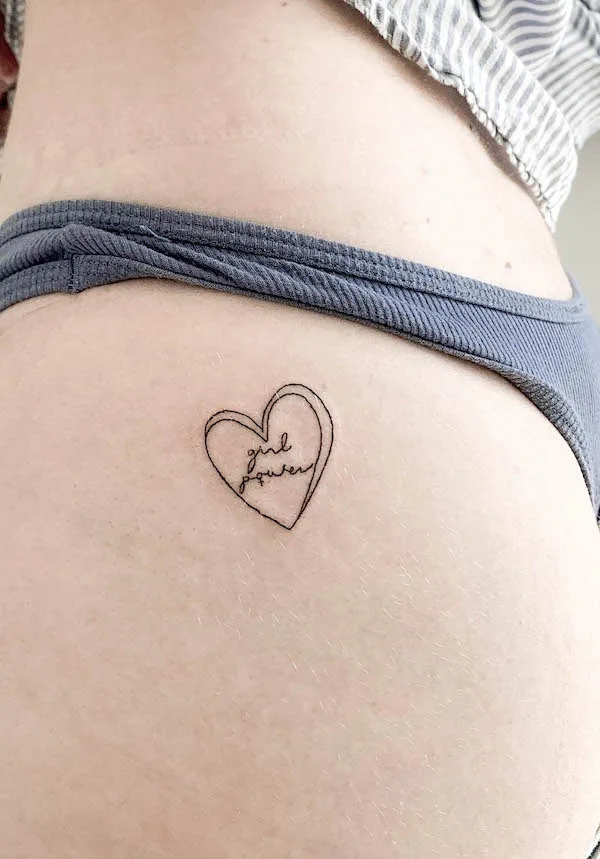 Bold and sexy hip tattoos to stand out
The hip is a large enough area for any creative tattoo ideas. Be it a phoenix reborn from flames, or a giant painting tattoo, if you want to go big, the hip is the placement for you.
Giant phoenix hip and thigh tattoo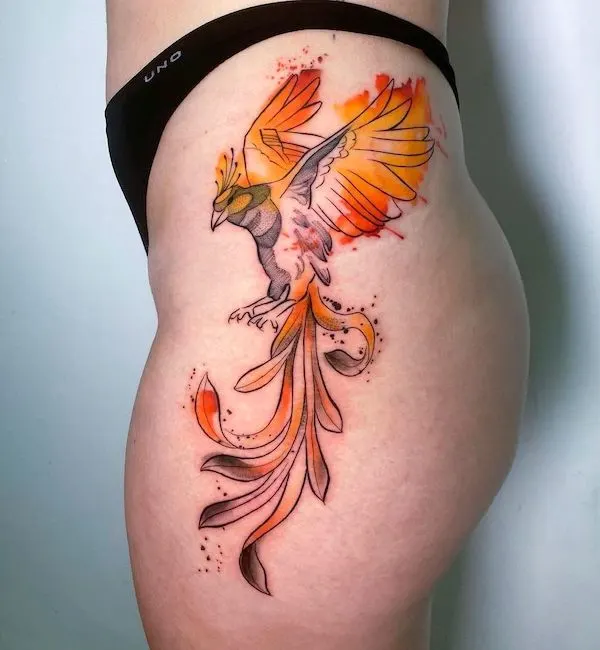 The phoenix is another common element in tattoos signifying new beginnings. Like a butterfly, a phoenix must go through burning flames before its rebirth.
Thus a phoenix tattoo not only represents nirvana and a fresh start. It also honors one's courage and the pain endured for the transformation.
Feminine portrait hip tattoo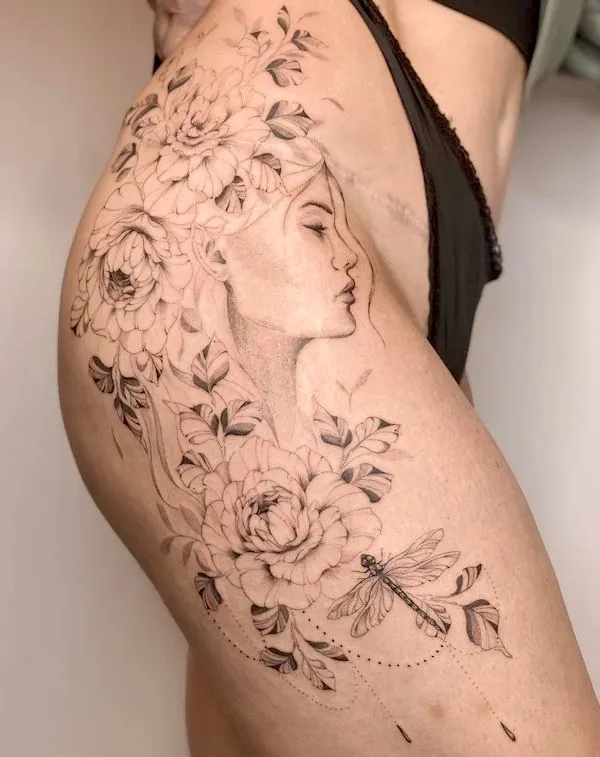 Hip and thigh botanical tattoo
Scorpio red ink
Scorpions are often seen as a symbol for the Scorpio zodiac sign. As a Scorpio tattoo, it shows the sign's mysterious and dangerous side.
This tattoo, however, takes one step further by using red ink. It magnifies the visual appeal of the tattoo.
But it's worth noting that red ink poses a greater risk of infection and allergy. So if you are considering a red ink tattoo, consult a dermatologist first and make sure you are aware of the risks.
Bird and flowers hip tattoo
Like most bird tattoos, hummingbird tattoos have their own symbolism.
The hummingbird is a representation of happiness and hope. Thus hummingbird tattoos are naturally cheerful and joy-sparking. So if you want a tattoo as a reminder of the good things in life, a hummingbird on the hip may be for you.
Wolf hip tattoo
Wolf tattoos are a symbol of strength, power, and protection. It is a totem that reminds you of your strength to overcome obstacles and change your life.
The flowers, on the other hand, represent the feminine side of the wearer. Together, they create a balance between masculinity and femininity.
This empowering and beautiful tattoo will belong to a strong woman determined to create her empire.
Lightning hip tattoo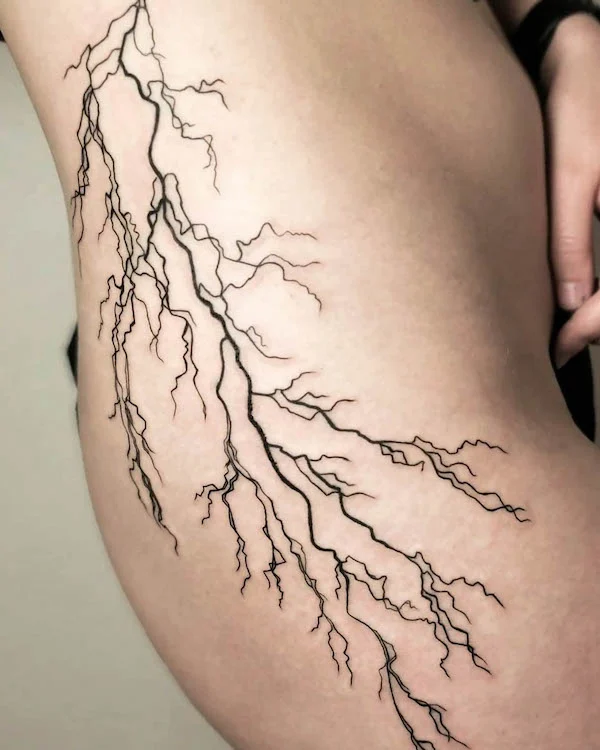 Watercolor jellyfish hip tattoo
Watercolor tattoos are so loved because they are different from regular color tattoos. Without a border between colors, watercolor tattoos embed a natural fluidity, as if the colors are flowing and combining into each other.
Floral mandala hip tattoo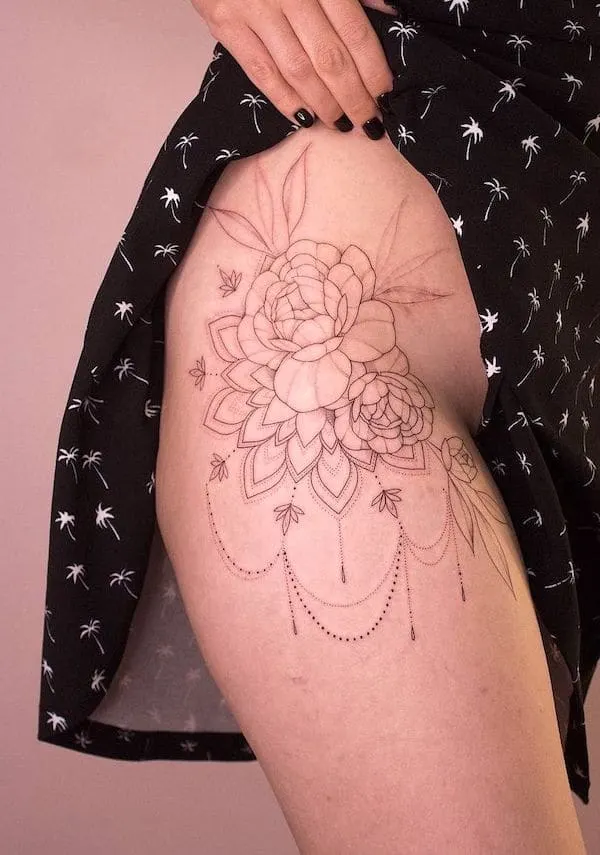 Abstract blackwork hip tattoo
Which of these hip tattoos for women is your favorite?
Share your thoughts in the comment down below!