Sun and moon are symbols of yin and yang. From small to bold, black to color, these sun and moon tattoos will inspire your next ink.
The sun and moon are similar to yin and yang. They represent two opposite energies. But together, they keep the world in balance.
It makes sense why sun and moon tattoos are evergreen, especially among the young. First, they have multiple meanings. They symbolize balance and energy. But if placed on two individuals, they can be a tribute to a relationship that complements each other.
Second, versatility. The sun and moon symbols are easy to scale up and down. You can keep the basic shape of the motifs to reflect your minimalist aesthetics. Or you can add patterns or decorations to make them more complex.
If you are looking for a sun and moon tattoo, don't miss out on the following ideas. From small to bold, black to color, this collection is surefire to impress.
Disclaimer: This collection of sun and moon tattoos is for inspiration only. Please do not copy the artwork. If you love these tattoos, follow artists and show them some support.
Meaningful sun and moon tattoos
Small and simple sun and moon tattoo
In your hand conceptual tattoo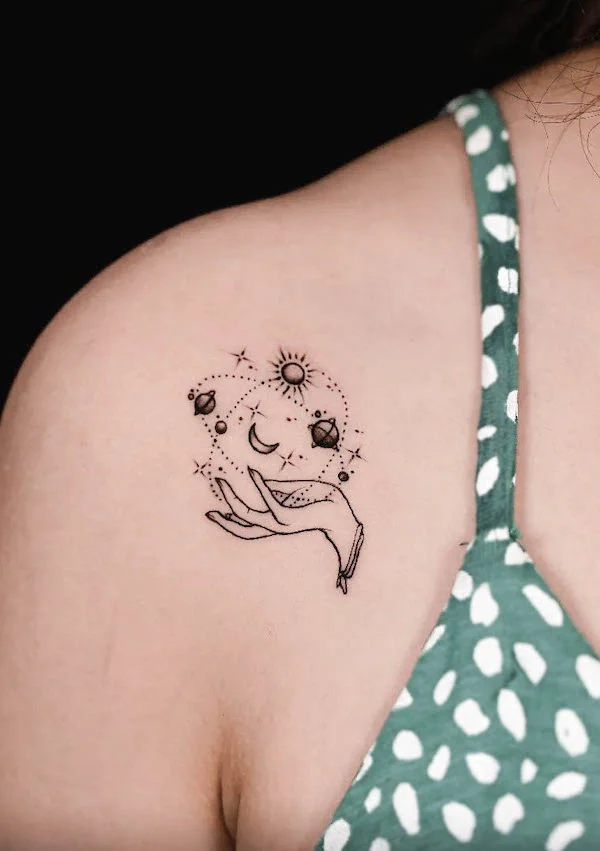 If you are into cosmic tattoos, this one will speak to you. The extra planets and stars give additional charm to the design and make it look more abundant. It also shows the wearer's inner strength as she has her universe in her hand.
The sun and moon collarbone tattoo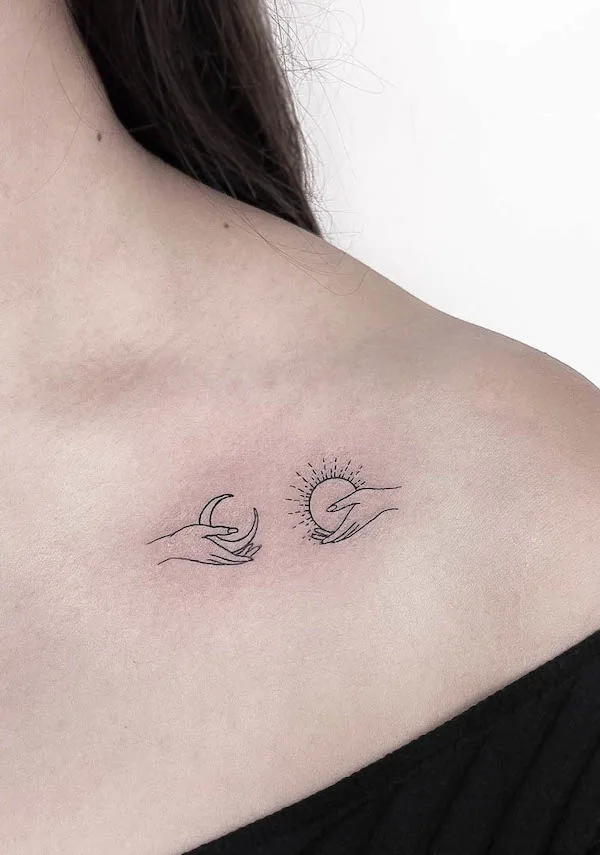 This one below the collarbone makes a meaningful self-love tattoo. The sun and moon here refer to the essentials of life. Be it love or attention, she is giving herself what she needs because she knows her worth.
Simple merging sun and moon chest tattoo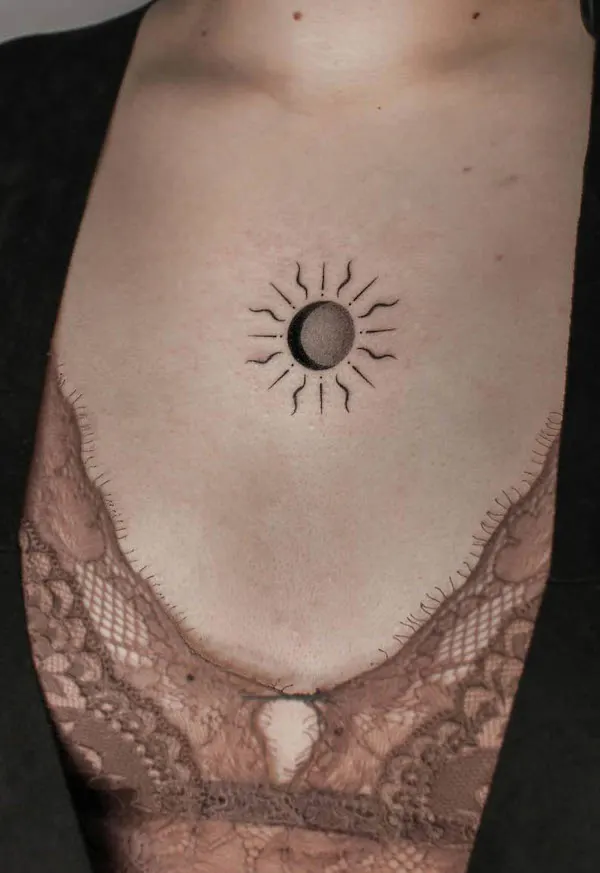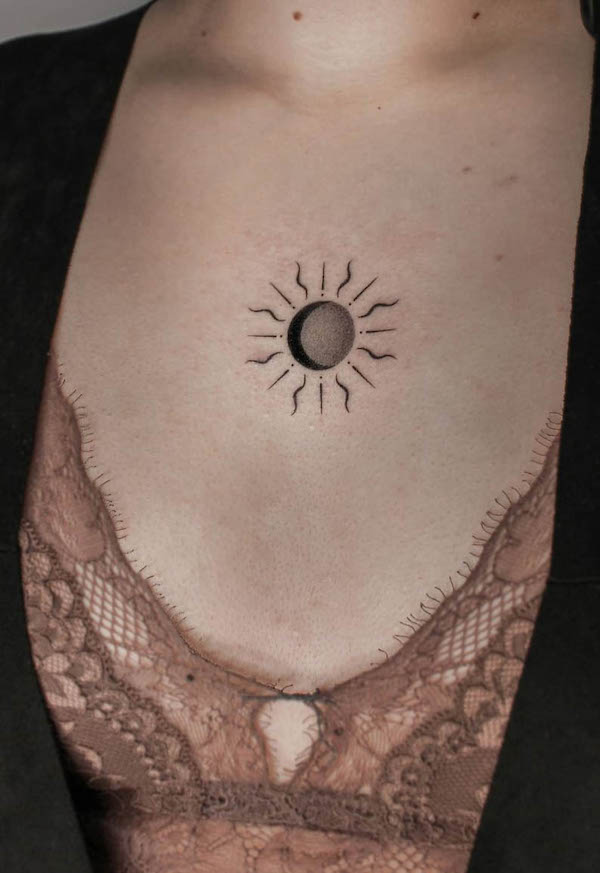 The chest is an intimate tattoo placement. But it's also close to the heart chakra. Therefore, a tattoo on the chest can be an honest statement that reflects the wearer's life attitude.
Transformation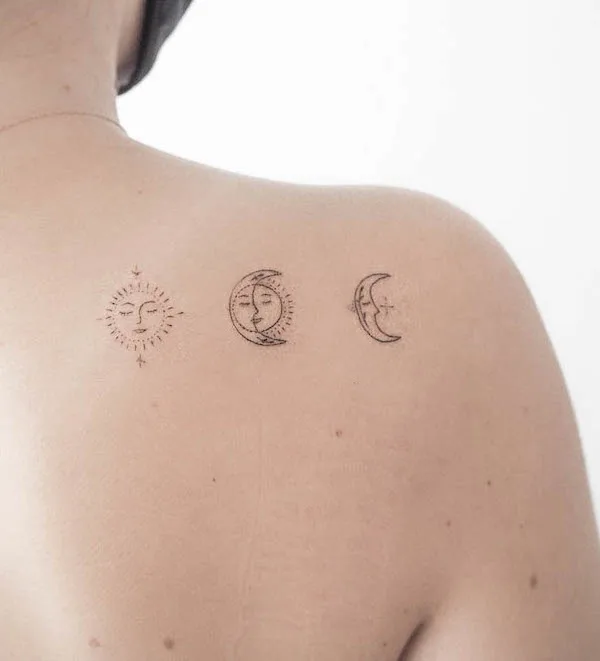 Unlike other sun and moon tattoos, this shoulder blade tattoo combines the two elements with a merging one. It demonstrates the transformation from day to night, showing the complex personalities of the owner.
Live by the sun, love by the moon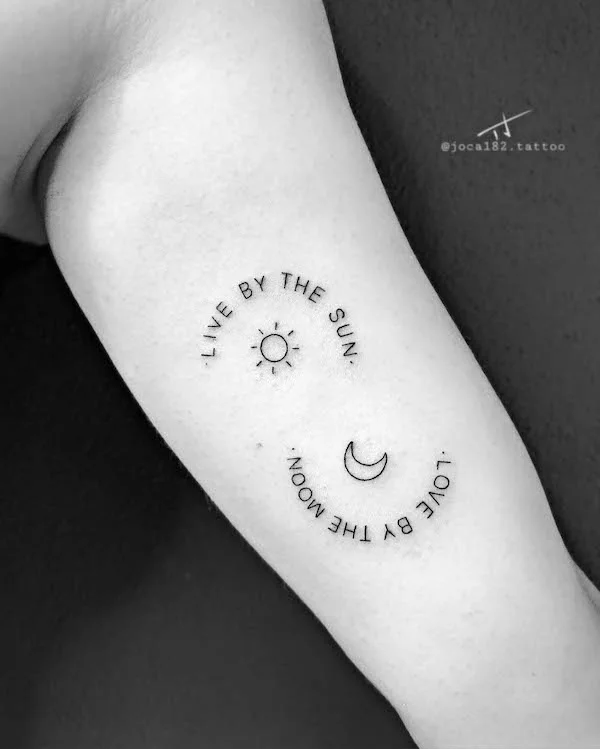 Matching sun and moon thumb tattoos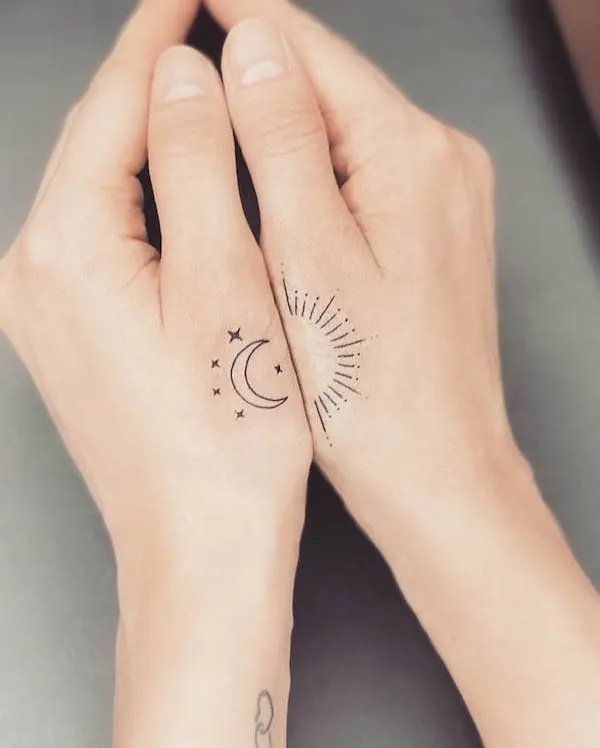 Finger tattoos, even the smallest ones, are meant to stand out because of the high exposure. That's why it's always a good idea to choose simpler designs. And these matching ink are a good example.
Sun, moon and stars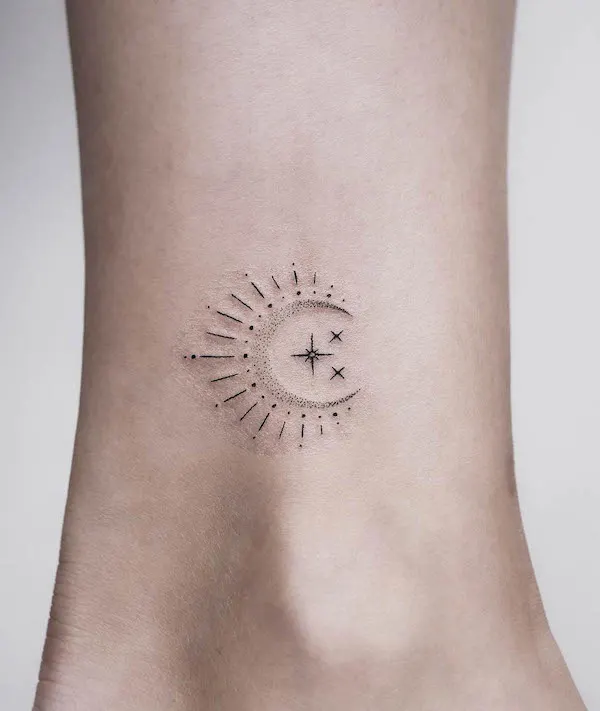 Simple sun and moon forearm tattoo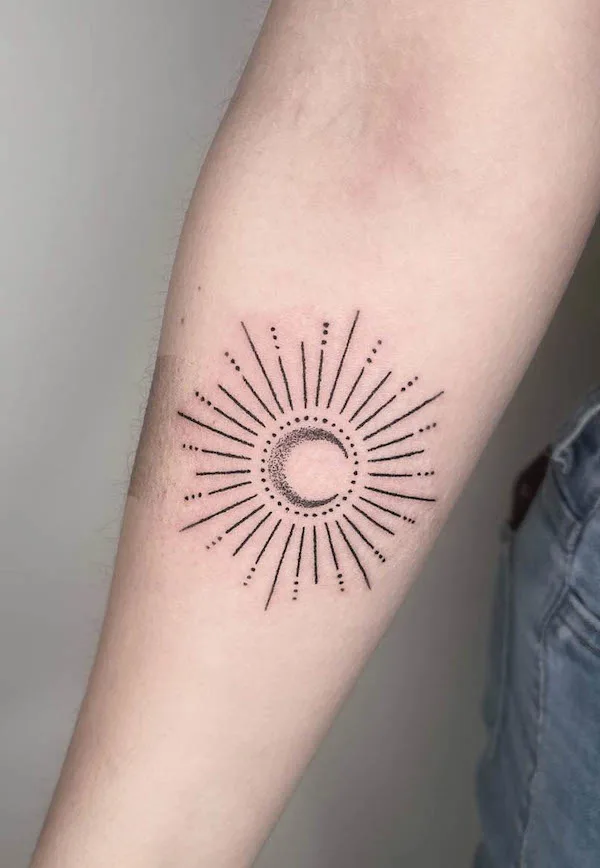 Small matching wrist tattoos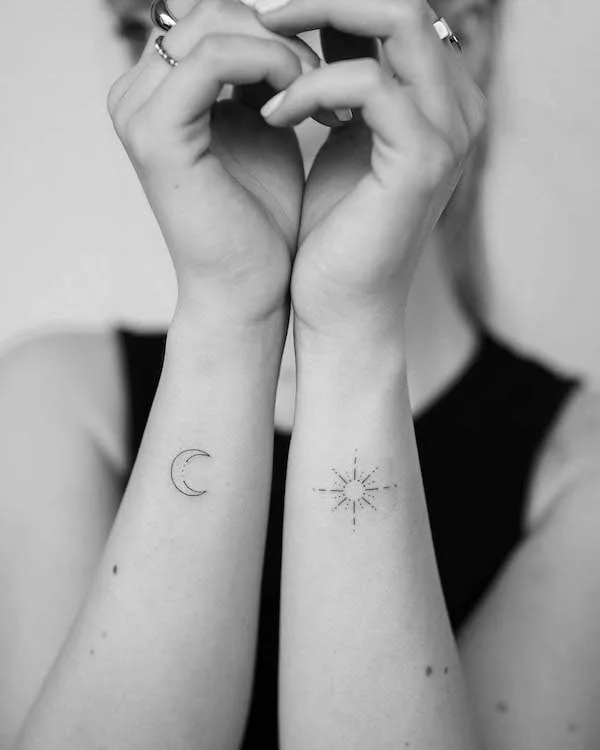 Matching tattoos can be put on couples, friends, and siblings. Or you can wear them on both wrists, just like these simple yet beautiful ones.
Moon and sun on the ocean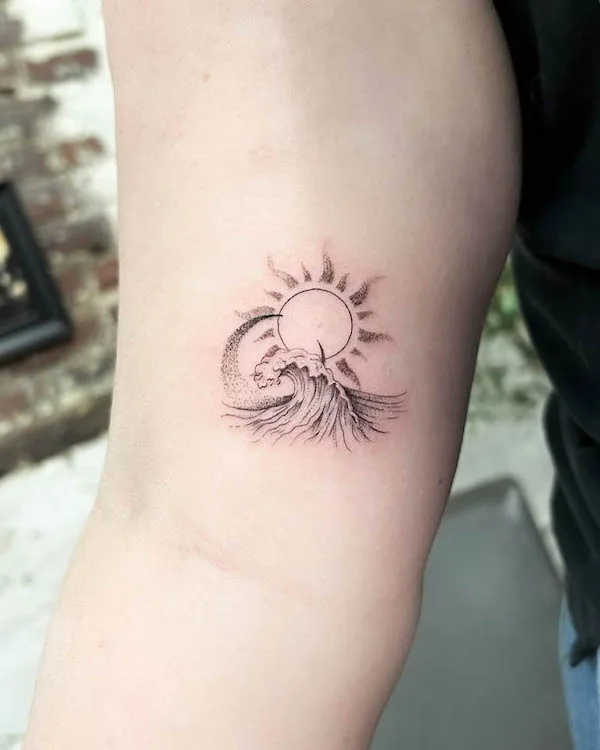 When different elements in a tattoo are placed close to each other, it creates density and tension. This one makes a good example and demonstrates the power of nature.
Half-sun half-moon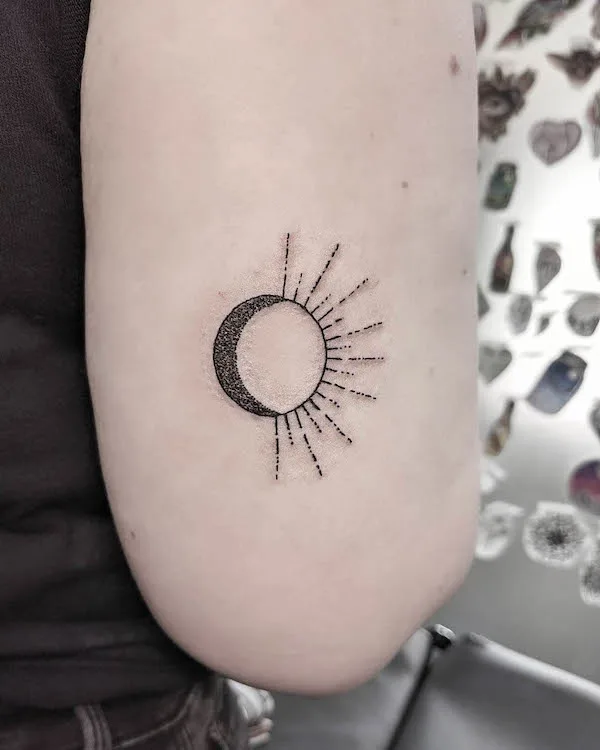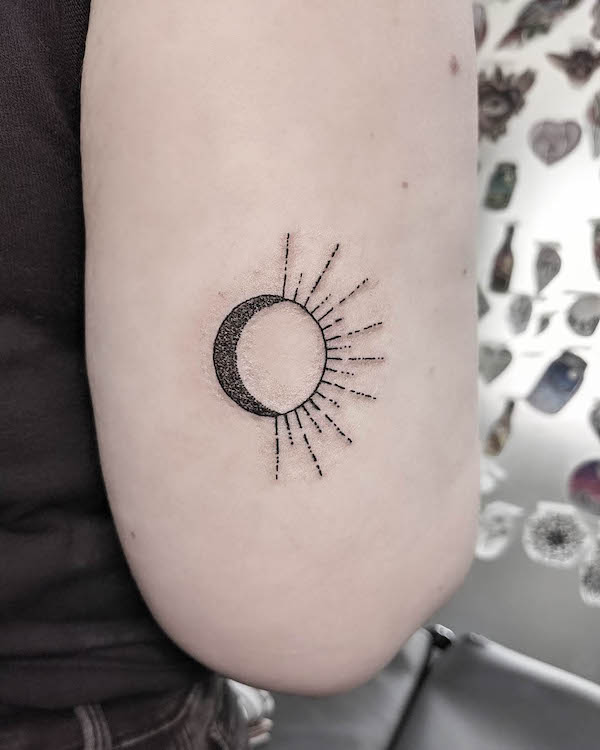 Beautiful sun and moon shoulder tattoo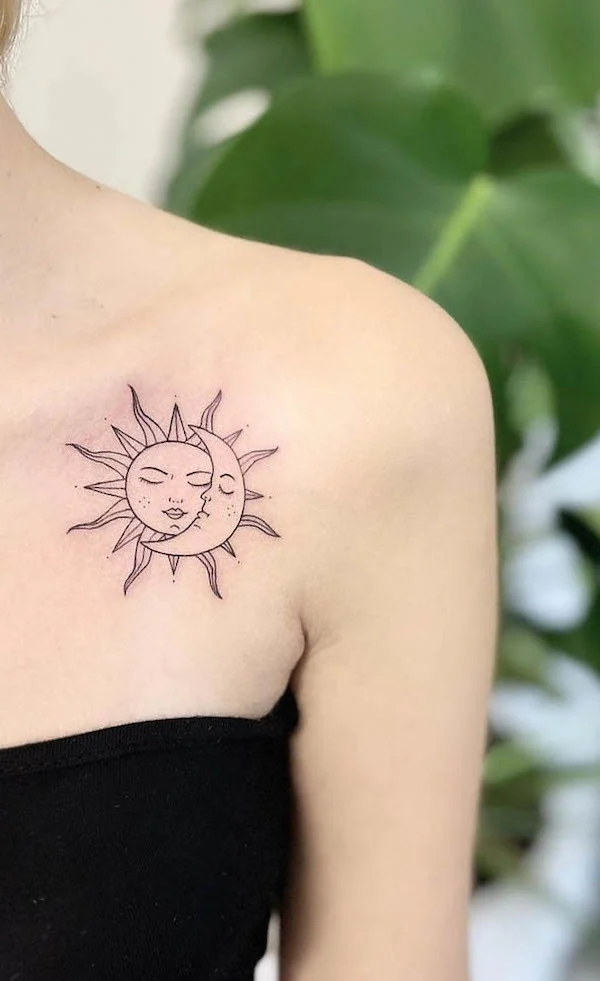 While most sun and moon tattoos are vibrant, this one depicts the two elements with their eyes closed. It shows the grounded side of the wearer's personality. Or it can be a reminder to keep calm when you don't know what to do next.
Simple ornamental forearm tattoo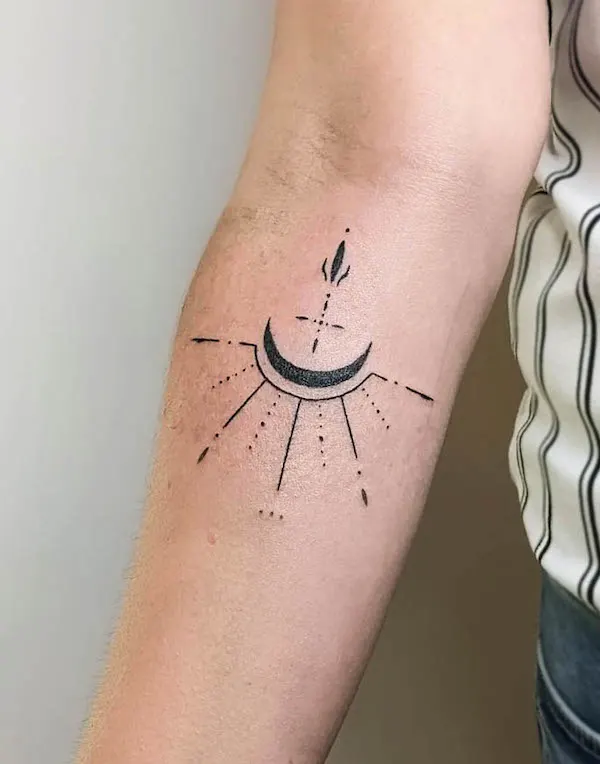 Holding the sun and the moon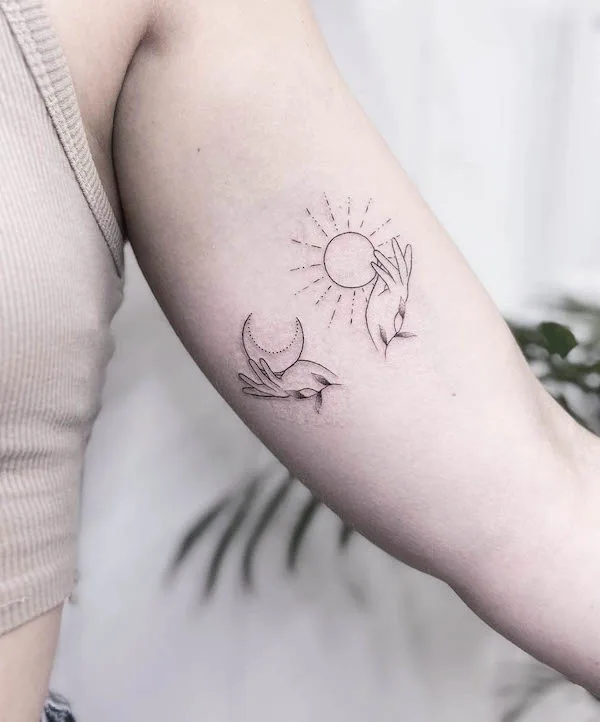 Simple vintage sun and moon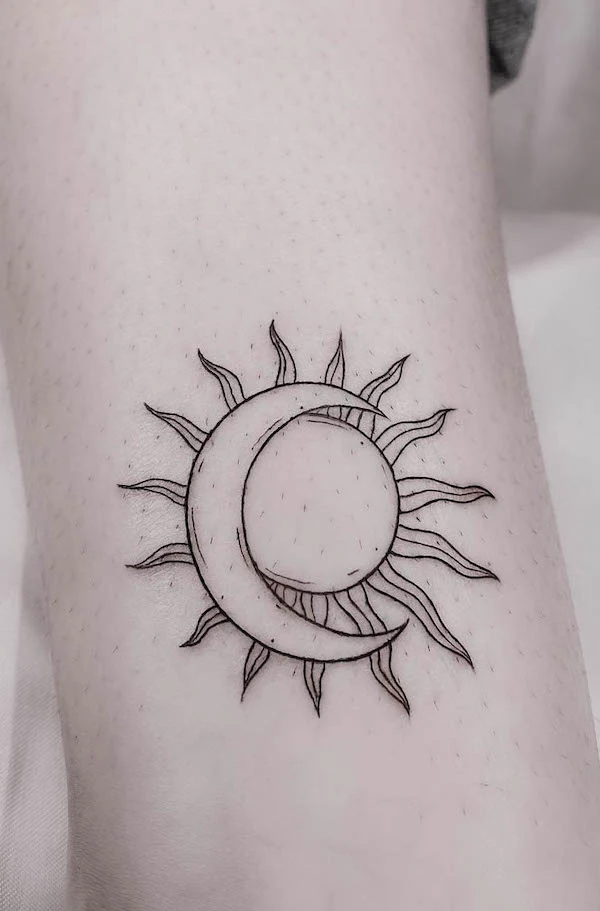 Tiny sun and moon tattoo with cute patterns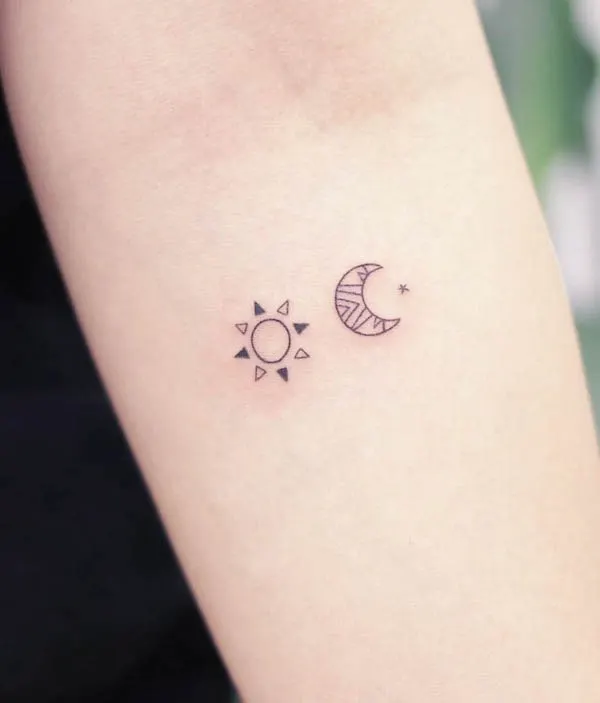 Three crescent moons with rays of the sun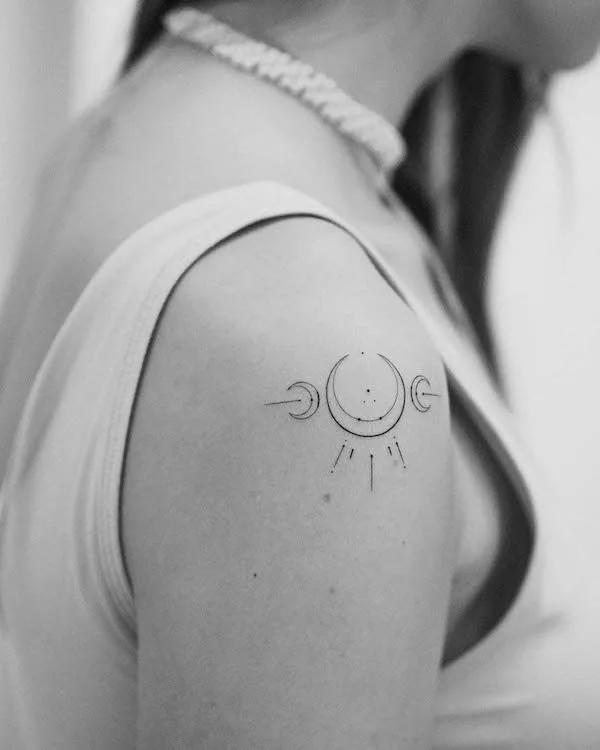 Matching sun and moon tattoo ideas
The sun and moon represent day and night, yin and yang. That's why couples, friends, and siblings love using these motifs to symbolize their differences and connection. If you are one of them, the following matching sun and moon tattoos will help narrow your search.
Sun, moon and star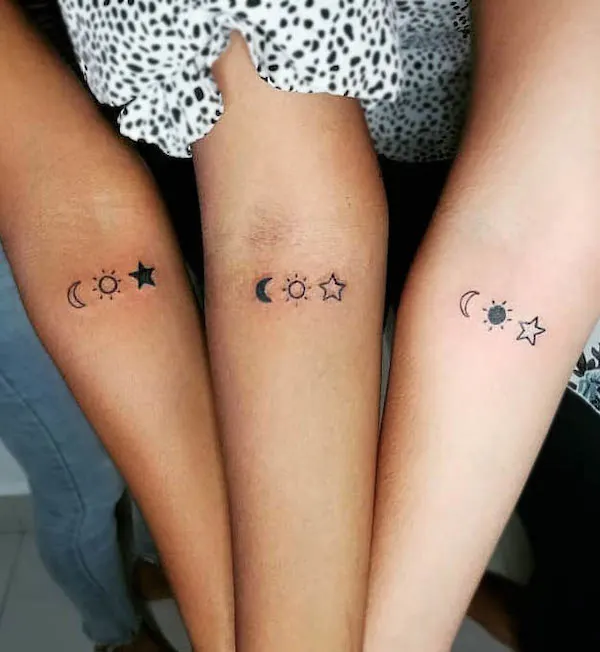 Sun and moon tattoos are often seen in pairs of two. But you can add a star to create sibling tattoos for three. All three elements have simple shapes, which makes them perfect for first-timers or minimalists.
Gemstone sun and moon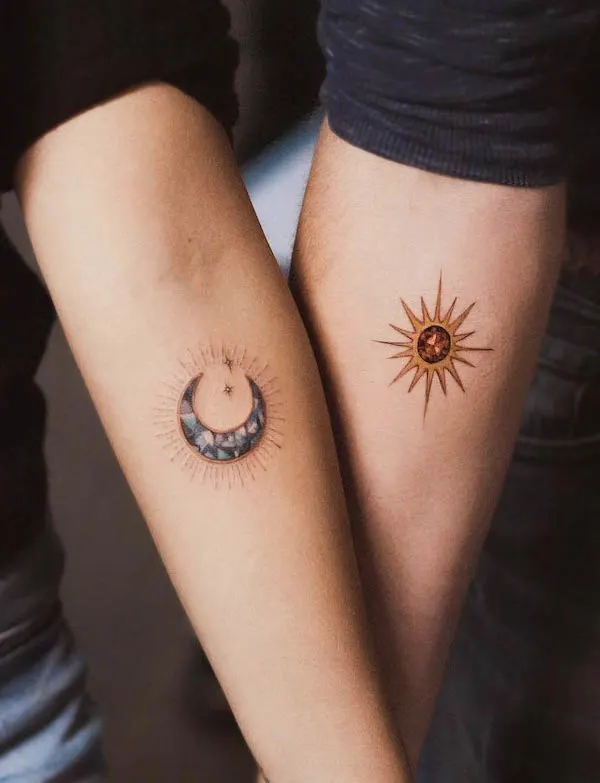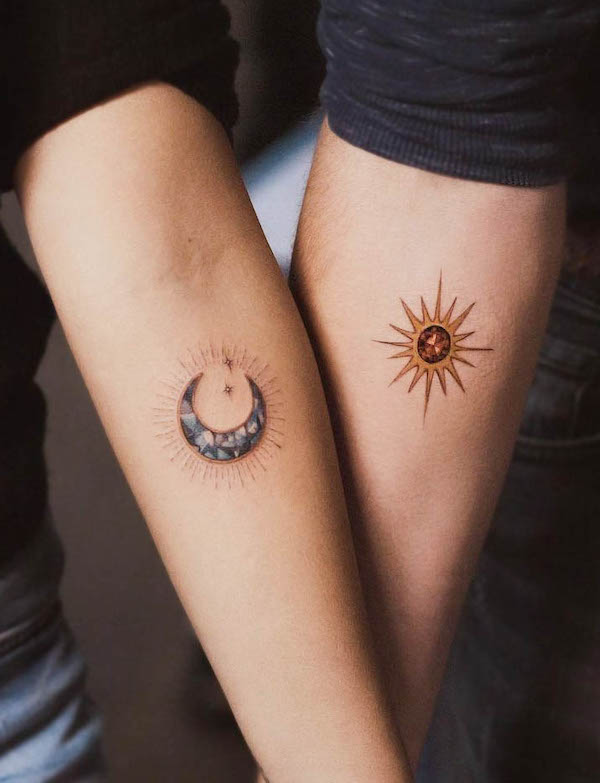 What makes these matching sun and moon couple tattoos stand out is the gemstones embedded in the symbols. In addition, the blue and red perfectly represent two opposite personalities that complement each other.
Sun and moon on the ocean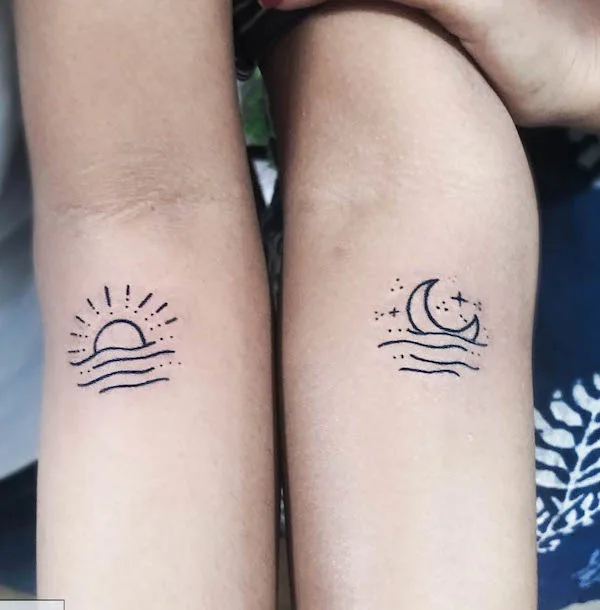 The sun rising above the horizon is often seen in new beginning tattoos. These pair of sun and moon tattoos are not only cohesive in style but also bring hope and zen.
Matching sun and moon arm tattoos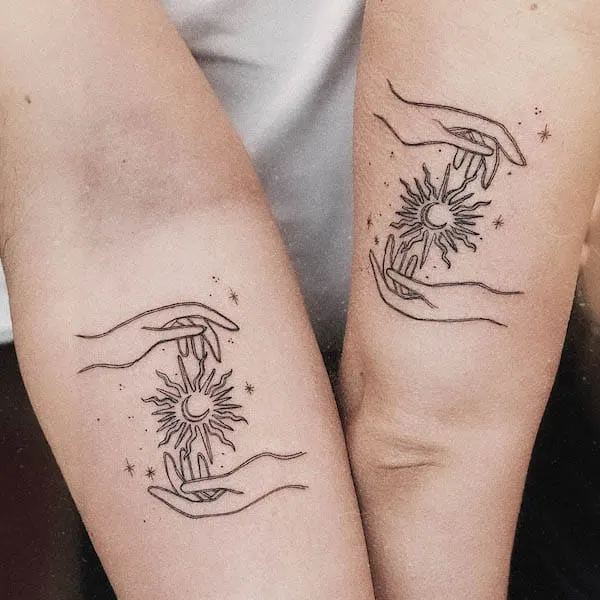 These matching tattoos have a unique witchy vibe. The sun and moon in between the hands show power and confidence. For that, they will belong to a couple who believe their fates are in their hands.
Matching sun and moon shoulder tattoos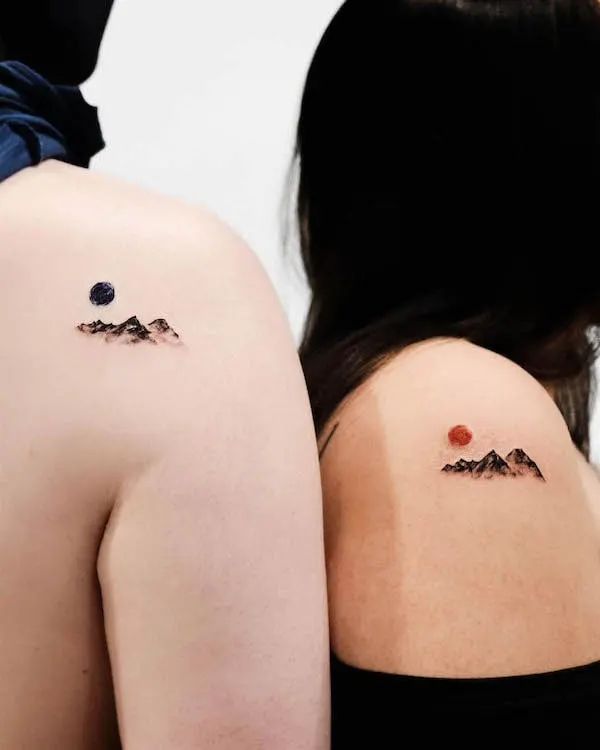 Landscape tattoos can be as simple as these matching ink on the shoulder. If you and your person are both adventurers, why not announce your passion with these tattoos?
Leaf tattoos for couples
If the sun and moon are too simple for you, consider adding leaves or flowers to make the tattoos more elegant and natural.
Tiny sun and moon matching tattoos
The sun and moon represent day and night, forming a whole day together. That's why the two symbols make the perfect minimalist matching tattoos.
If you want to stay low-profile and at the same time, pay tribute to a precious relationship, consider a similar design like this one.
Day and night
Day and night, yin and yang might be two opposites. But they are only whole when together. These matching tattoos push the idea by adding scripts to them. Such meaningful quote tattoos will pay homage to an unbreakable bond.
Sun and moon as one
These BFF tattoos for three are so interesting because they have a sun, a moon, and a merging sun and moon symbol. They show that the trio may have different personalities, but they also make each other complete.
Ornamental sun and moon tattoo above the ankle
If you want medium-exposure ink, consider ankle tattoos. A pair of tattoos like these are not only subtle. But you can choose when to show them by changing the length of your bottoms.
Minimalist sun and moon forearm tattoos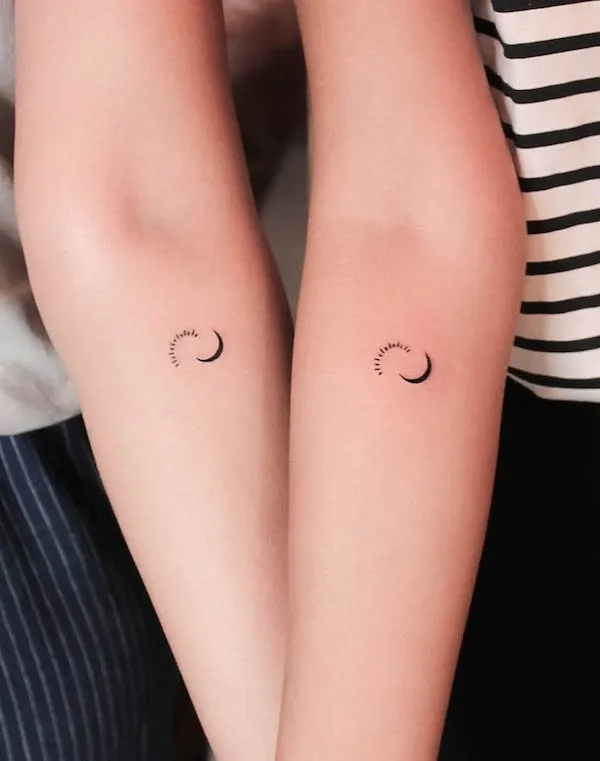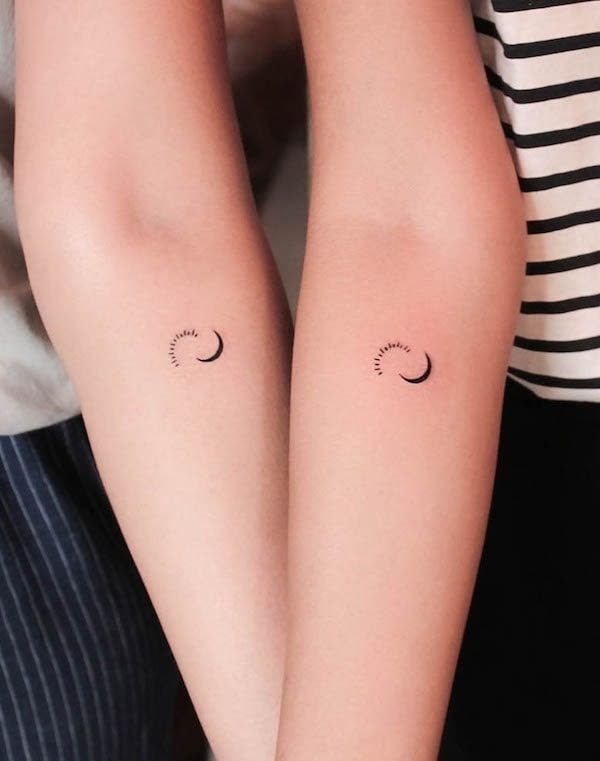 Not sure how to make the sun and moon symbols even simpler? These two matching tattoos may give you some ideas.
Black sun and moon tattoos for couples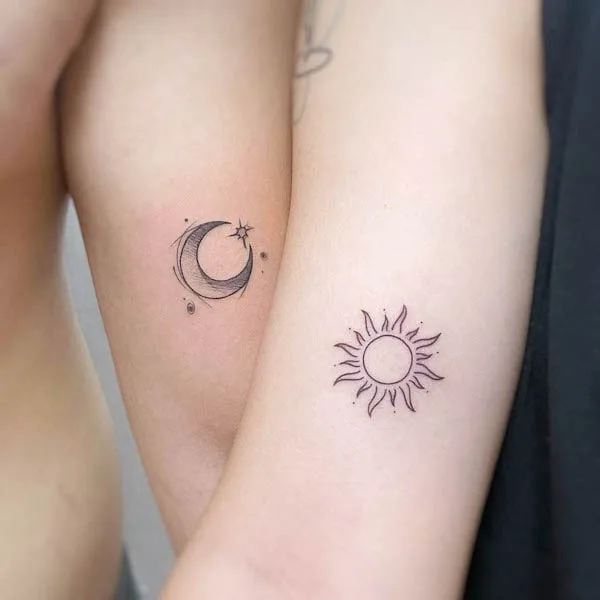 Sun and moon blackwork on the wrist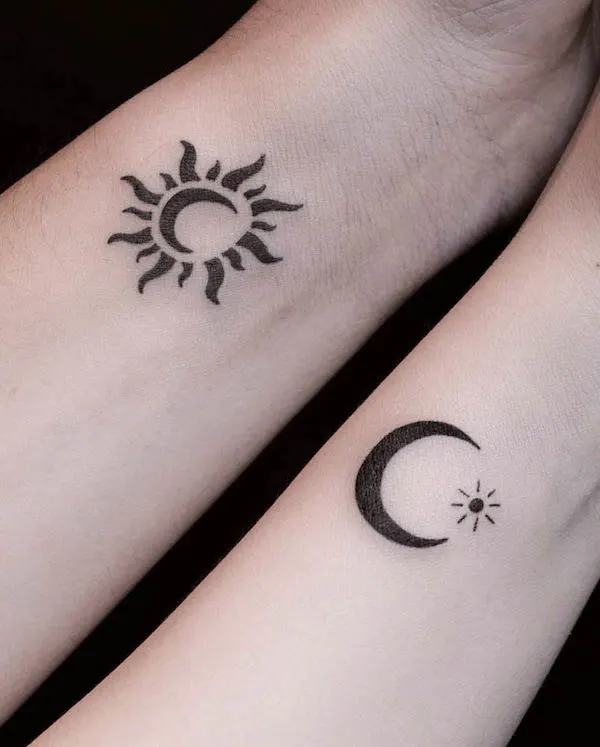 With high visibility, like wrist tattoos, you don't need a complicated design to catch the eye. Instead, simple blackwork like these is enough to make a statement.
Bold and beautiful sun and moon tattoos
Why blend in when you can stand out? If you resonate with the sun and moon symbolisms, the following bold tattoo ideas are for you.
Conceptual moon and sun tattoo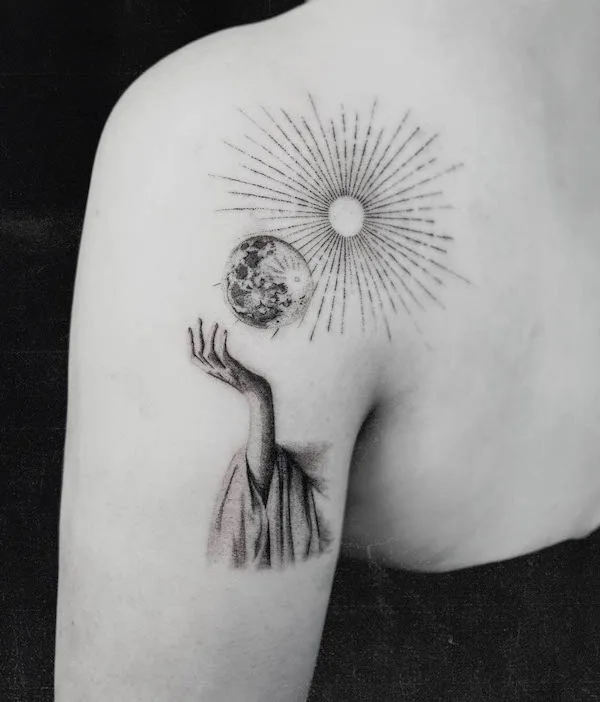 The moon and the sun together can represent the universe. Therefore, this conceptual tattoo with the moon and sun above the hand will belong to someone connected with nature and her higher self.
Geometric sun and moon phase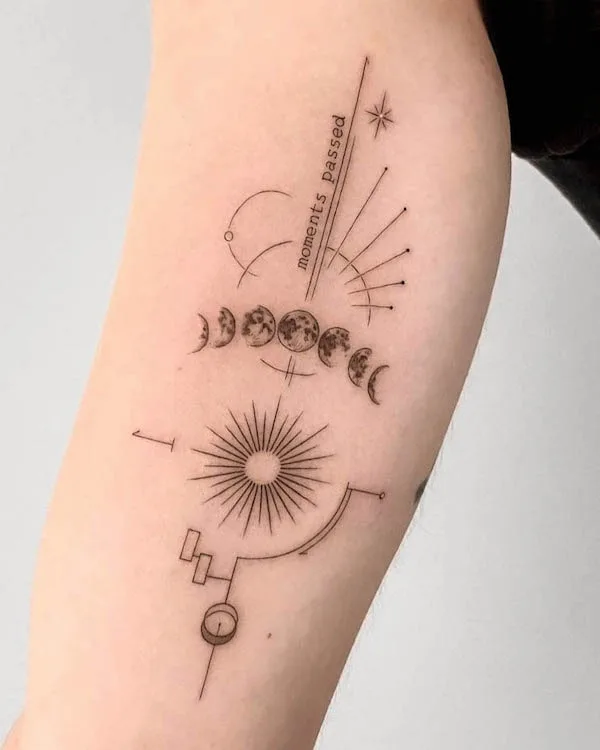 The sun and moon blend perfectly in geometric tattoos because they are also made of simple shapes and lines.
This tattoo replaces the moon with the moon phase, echoing the quote, "moments passed." Together, this tattoo reminds us of the pass of time and to live every moment to the fullest.
Sun and moon waves tattoo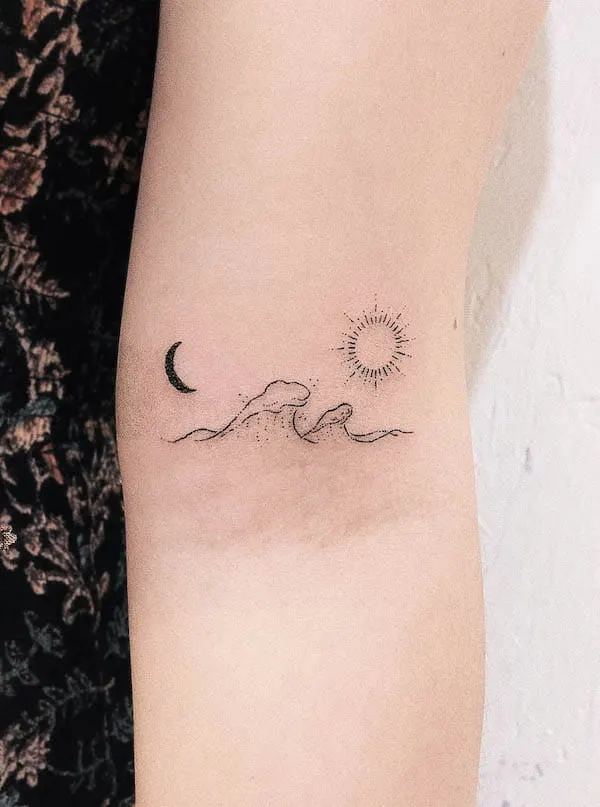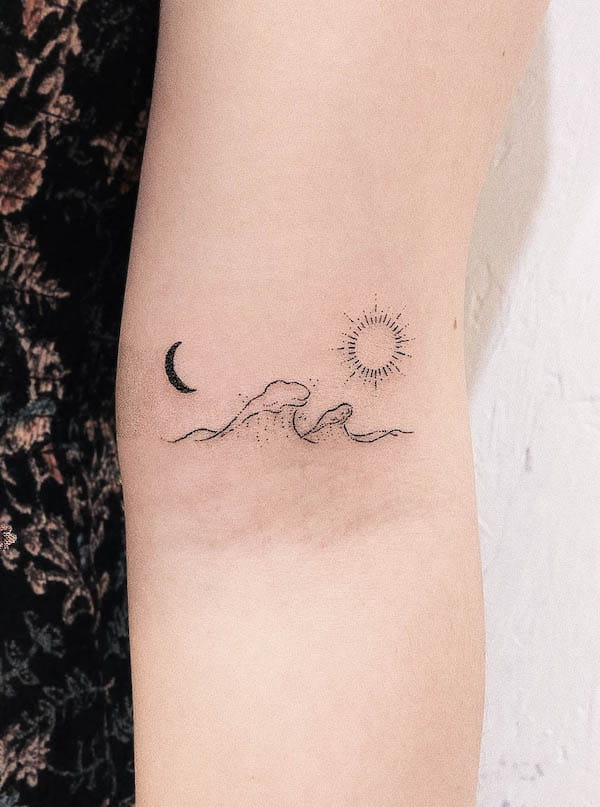 Sun and moon back tattoo
What makes this back tattoo fascinating is the cohesiveness between the sun and the moon. The tattooist transforms the sun into a crescent, similar to the moon. And the water dripping down the moon onto the sun further connects the two elements.
Half sun and moon
Rainbow color sun and moon
Rainbow tattoos don't have to be arches of colors. When applied to the sun and moon tattoos, the colors make these regular motifs stand out.
Sun and moon mid-back tattoo
This beautiful vintage sun and moon tattoo fills up the space elegantly. It reflects the wearer's classy aesthetics and charms even without color.
Greek gods of sun and moon
In Greek mythology, the sun and the moon were controlled by Helios and Selene, two gods that were brother and sister. With the antique illustration, this tattoo looks like a scene from Greek mythologies, adding divineness to the skin.
Between-the-boobs sun and moon tattoo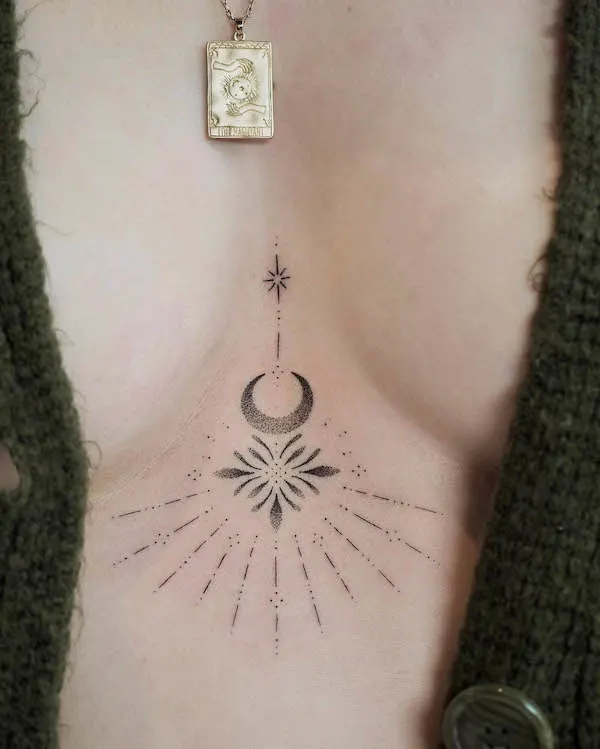 Finding the perfect between-the-boobs tattoos is difficult as the space is limited. This one, however, fits perfectly in the placement. And the radiating lines capture the viewers' attention.
Color sun and moon shoulder tattoo
Sun and moon tattoos for cat lovers
These matching cat tattoos show a lot of thoughts and creativity. From the colors to the postures of the cats, they are two opposites. And the mandalas in the background connect them as a whole.
A cute hanger tattoo
Sun and moon rib tattoo
Rib tattoos are delicate and sexy. The rib might not be a common tattoo placement. But if you find the right design, it allows you to show and hide as you want.
Abstract sun and moon arm tattoo
Intricate sun and moon foot tattoos
These matching foot tattoos are a stunning representation of harmony in life. One foot features the sun, and the other bears the imagery of a moon, symbolizing the balance between yin and yang.
Also, the intricate lines, dots, and leaves surrounding the elements create a sense of movement, energy, and a touch of organic beauty to the piece.
A stunning blackwork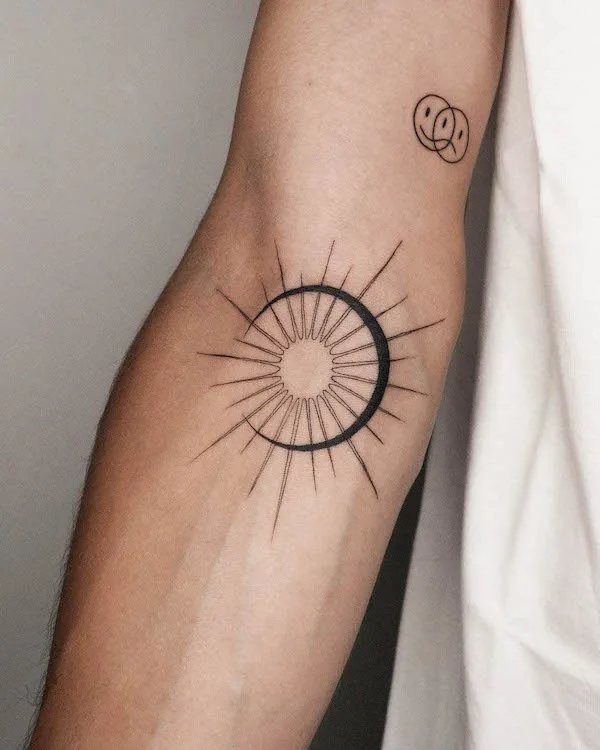 Radiating lines are a smart way to add drama to a tattoo, like this one on the forearm. The entire tattoo is in black. But with the rays glowing, this tattoo is not to be ignored.
Bold black sun and moon shoulder tattoo
The untraditional shoulder tattoo replaces the sun's rays with flowing leaves, adding movement to the design. The tattoo is also constructed in a ring, fitting perfectly on the top of the shoulder.
Yin and yang landscape tattoo
The sun and the moon often symbolize femininity and masculinity. This tattoo takes the idea by placing the two elements in a yin and yang circle.
Single-needle sun and moon
Despite the large scale of this tattoo, it's still discreet because of the single-needle tattooing technique. For someone who wants to stay low-key, these tattoos may fit their aesthetics.
Unique eye tattoo above the elbow
Elbow tattoos are not as popular as other arm tattoos because the skin on the area is wrinkly and darker. That's why if you want to avoid the problems, tattooing a few inches above will be a good alternative.
The kissing sun and moon
The sun and moon mandala
Vintage sun and moon chest tattoo
Which of these sun and moon tattoos is your favorite?
Leave a comment down below and share your thoughts!