Sleeves are the perfect canvas to tell a story. Bold and unapologetically stunning, these sleeve tattoos for women will inspire your next ink.
There are tattoos, and there are sleeve tattoos. These tattoos are not your average small, discreet ink. Instead, they are like a huge canvas from the shoulder to the wrist adorned with stunning patterns, florals, quotes, and all kinds of tattoo motifs. They are not just eye-catching body art but also an authentic and bold statement.
For those who want to wear their hearts on the sleeve, this kind of ink checks all the boxes. Because of its large coverage, you can let your imagination run wild and add as many imageries as you wish. It's like a walking gallery where you showcase your personal style and tell a story.
Before, sleeve tattoos seemed to be a thing only for men. But now, more and more feminine sleeve designs have wowed their audiences. If you are looking for something bold and visually striking but, at the same time, elegant, this post is for you.
From expressive full sleeve designs to delicate half sleeve tattoos for women, you'll find something that represents your style and celebrates your uniqueness.
Disclaimer: This collection of sleeve tattoos for women is for inspiration only. Please do not copy the artwork. If you love these tattoos, follow artists and show them some support.
Gorgeous sleeve tattoos for women
Stunning full sleeve tattoos for women
While the ink on the sleeve has become more popular and accepted for both genders, full sleeve tattoos for women are still uncommon. They require a lot of time and effort. And because of the exposure, the bar is high.
But if you're ready to go big and have your mind set on making a lasting artistic statement, the following full sleeve ink ideas are for you. Whether it's flowers, mystical creatures, nature-inspired designs, or even a fusion of all these elements, these captivating tattoos will allow you to wear your passions in the most vibrant way possible.
Moth and flowers full sleeve tattoo
When we think about full sleeve tattoos, what often comes to mind is the designs that cover the entire arm. This one, however, takes a different approach. With the flowers and vines intertwining gracefully on the arm, this tattoo is a living garden etched in ink. Plus, the negative space gives a sense of balance, allowing the design to breathe.
Full sleeve snake tattoo
Snakes are often seen as dangerous, mysterious, and evil. This full sleeve tattoo, however, showcases the beauty of the serpent. With it coiling around the entire arm, the snake tattoo becomes a tattoo about rebirth and transformation, shedding old identities and embracing new ones.
Badass full sleeve tattoo for women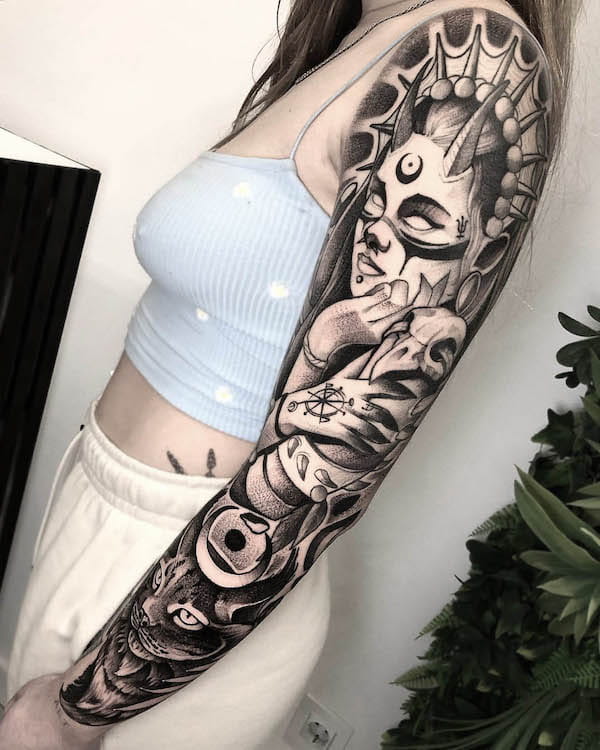 Blackwork holds a special charm because it keeps the focus on the essence of the design. This full sleeve badass tattoo brilliantly captures that allure. It portrays a devilish character with her equally enigmatic feline companion. The use of black ink adds an air of mystery, while the intricate details bring the characters to life.
Blackout full sleeve tattoo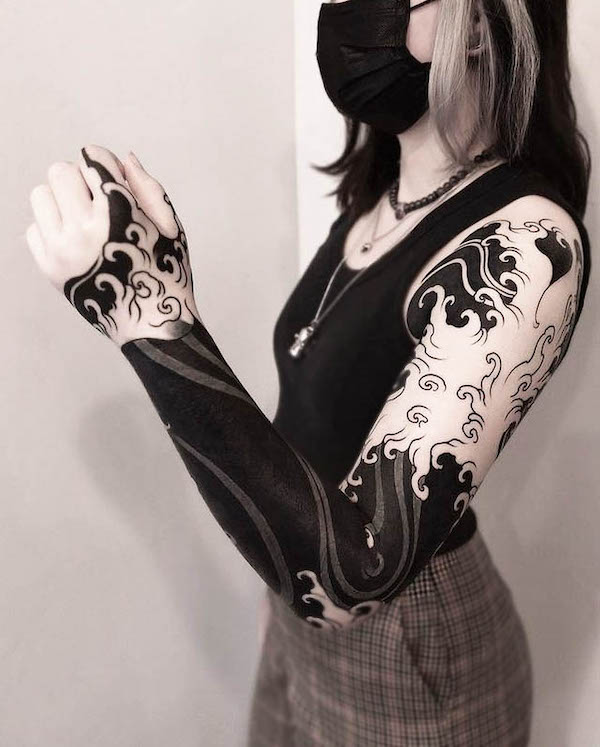 Blackout tattoos refer to solid black designs that cover large areas of the skin. They play with the contrast where negative space and other elements interact in a mesmerizing way.
To level up the design and add a bit of Japanese charm, the tattooist incorporates waves, bringing movement and dynamics to the design. While this may not be the ink you'll see every day, it is surely ready to wow.
Koi fish full sleeve tattoo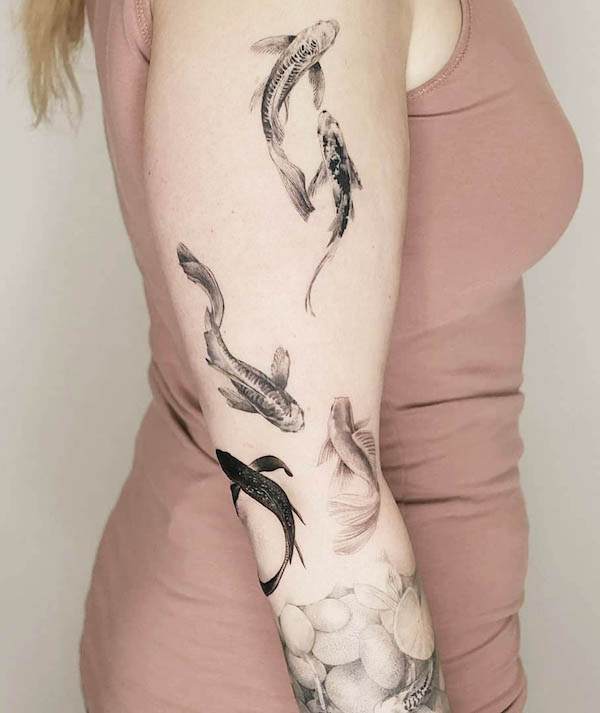 Koi fish often appear in traditional Japanese tattoos as a symbol of prosperity and good luck. But this koi fish tattoo embraces a more delicate and feminine style.
The blooms on the forearm create a mesmerizing tapestry of beauty. And the blank spaces in the upper arm give the design room to breathe and invite the eye to wander.
Japanese full sleeve tattoo for women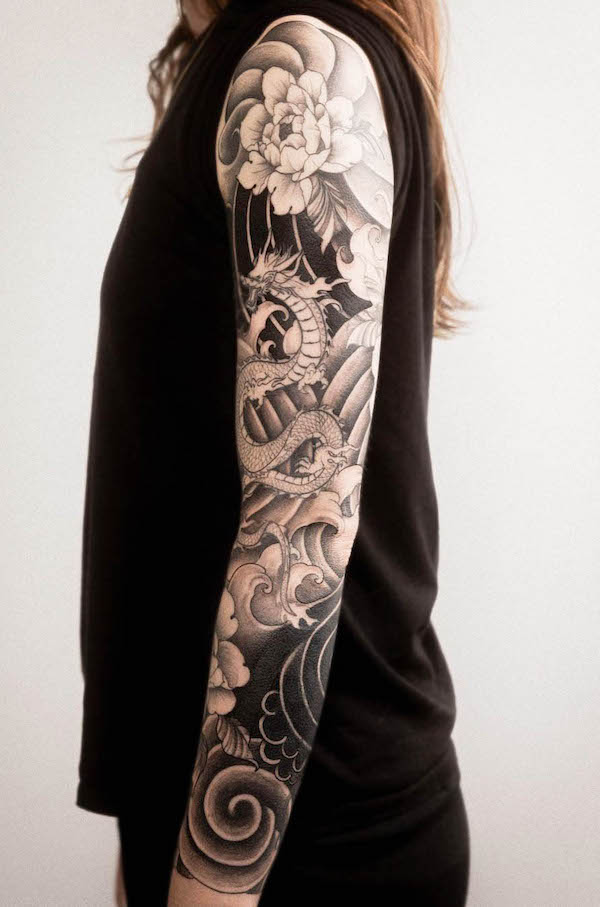 This is more than a Japanese full sleeve. With the waves crashing against the skin and the fierce dragon dominating the sky, this tattoo doesn't just decorate the arm; it transports viewers to a realm of mystique and adventure.
Lily of the valley full sleeve tattoo
As the birth flower of May, the lily of the valley represents purity, happiness, and sweetness. With the flowers scattered randomly on the arm, this unique flower tattoo accentuates the wearer's femininity while celebrating nature's beauty.
Beautiful tiles on the skin
It's a challenge to keep a full sleeve tattoo sleek and cohesive. But the tattooist of the design above nails the task. The perfectly aligned elements and repetitive patterns create a harmonious visual rhythm that's both captivating and balanced.
Portrait and wolf full sleeve tattoo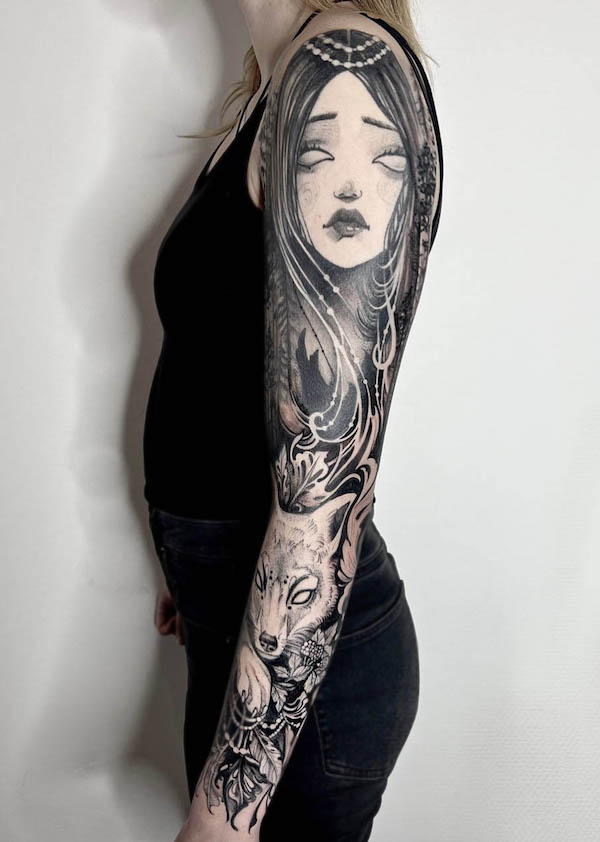 Another masterpiece that combines a portrait with one's spirit animal. Unlike what we have seen above, the tattooist captures the sorrow of the character, creating a contrast with the fierce gaze of the wolf. It invites you to explore the mystic world and the story behind it.
Water dragon full sleeve matching tattoos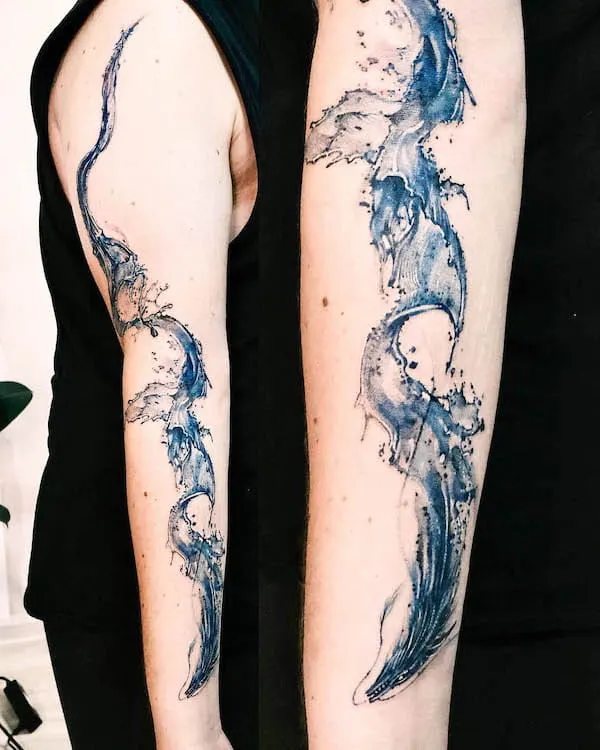 Unlike flowers which lean toward the feminine side, water and dragons are more gender-neutral. These matching couple tattoos perfectly blend the two elements, creating a harmonious balance that suits any dynamic duo.
Full sleeve ink wash style phoenix tattoo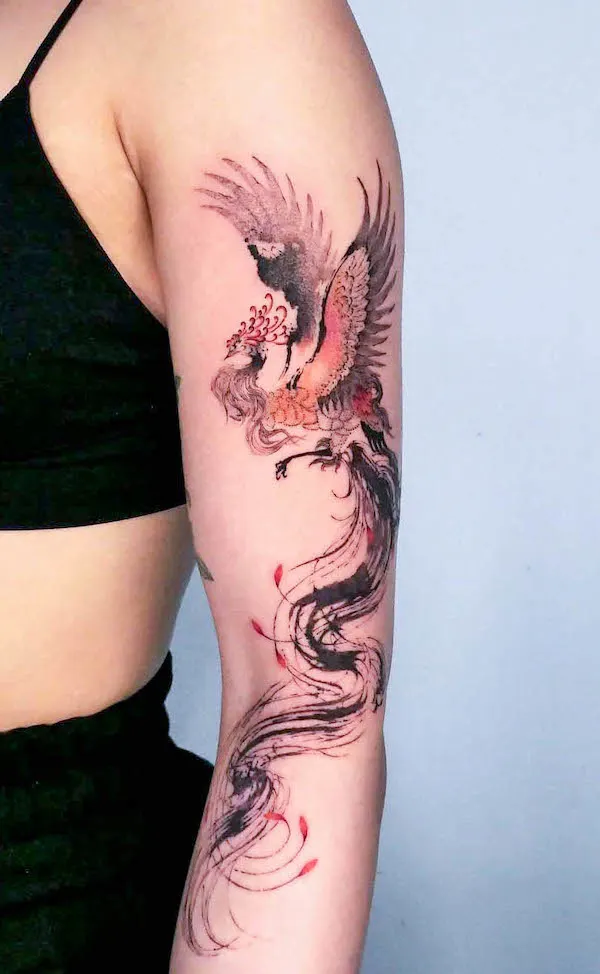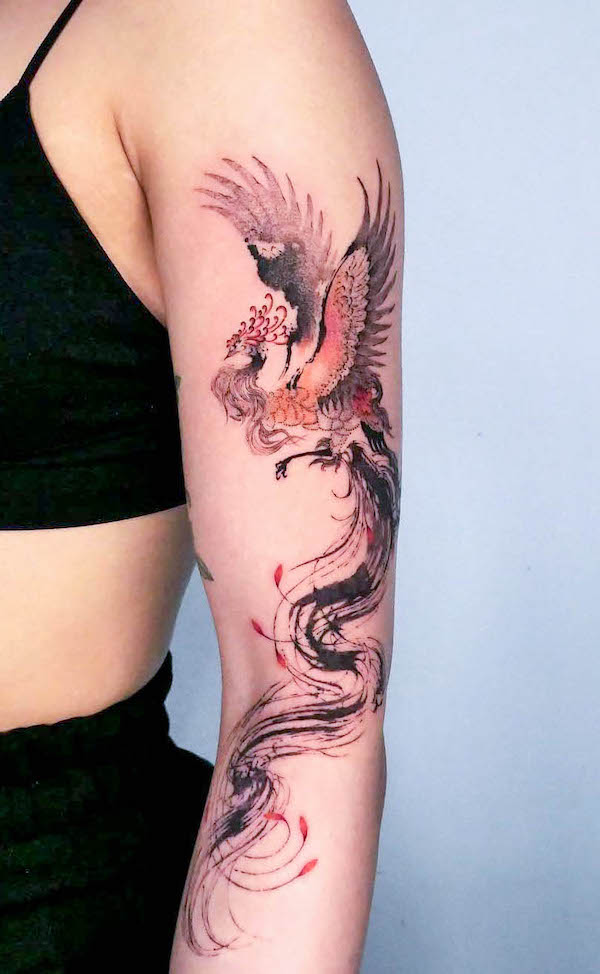 Phoenix tattoos are like a fiery tribute to rebirth and resilience. Often seen as a symbol of renewal and transformation, the majestic bird rising from its own ashes resonates with those who've faced challenges and emerged stronger.
By blending the intricate Chinese ink wash style with the breathtaking beauty of the phoenix, this gorgeous oriental tattoo captures the essence of traditional art and the fierce aura of the mythical creature.
Stunning phoenix tattoo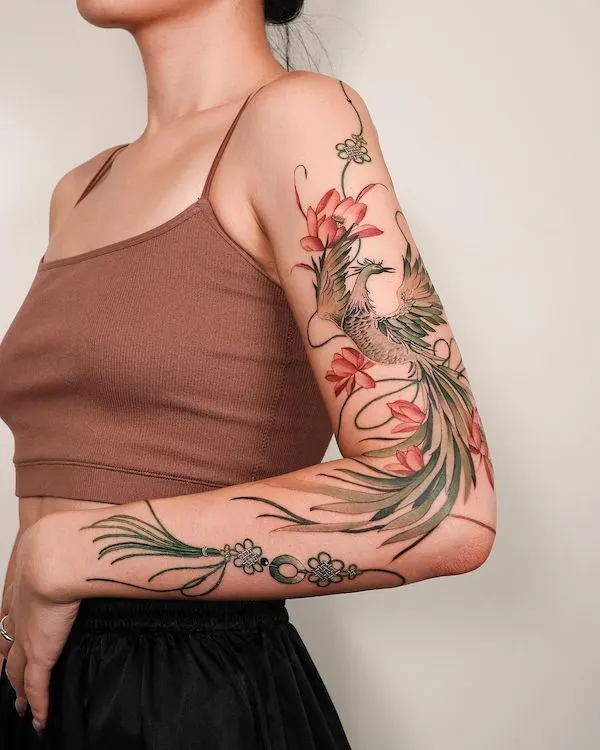 Another stunning full sleeve phoenix design. But with the addition of lotus flowers, this tattoo embodies a sense of serenity, achieving a balance between strength and tranquility.
Fantasy dark clouds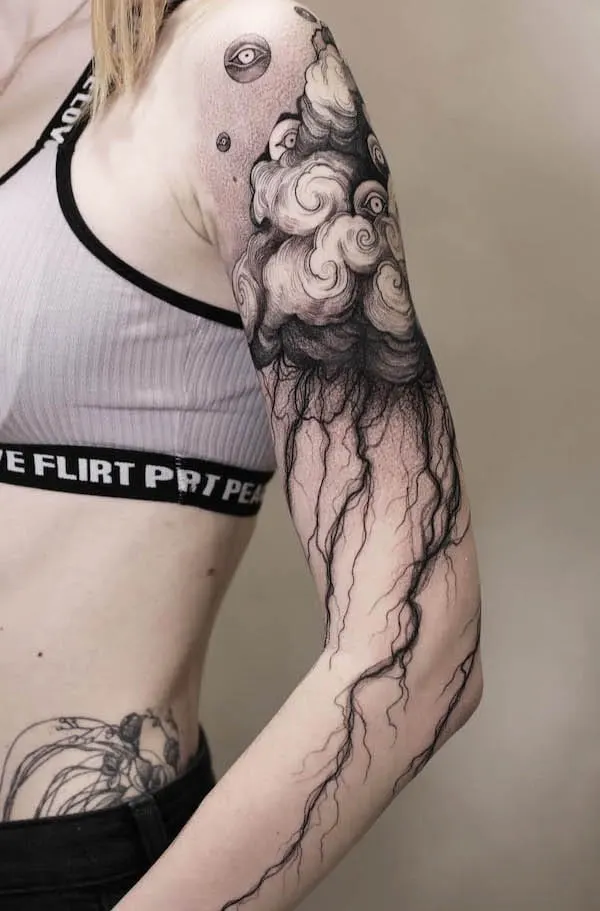 This dark fantasy tattoo is impossible to forget. With the dark clouds swirling ominously and the lightning stretching all the way to the forearm like roots, this tattoo is a scene straight out of a mythical saga.
A full sleeve lion tattoo
Lion tattoos are, by nature, a roaring symbol of strength and courage. They also appear in Leo tattoos as a proud statement. Its intense gaze and flame-like manes bring out the lion's character – the bravery in its eyes and the wisdom in its stance.
Badass full sleeve portrait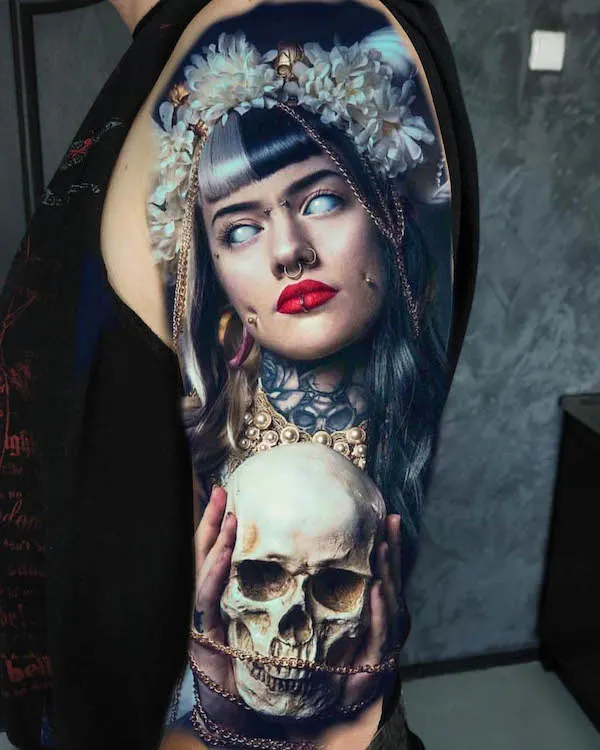 Sometimes a tattoo ends up looking different from what we had in mind. This one, however, turns out even better. With the perfect blend of creativity and artistry, this photogenic Cruella de Vil portrait tattoo with a skull is an absolute masterpiece.
Beautiful and feminine half sleeve tattoos
If you want a more understated tattoo than a full sleeve, consider limiting your ink to your upper arm or forearm. These spots offer a perfect canvas for expressing yourself without going all out, giving you the flexibility to flaunt your art or keep it hidden when needed.
Below is a list of gorgeous half sleeve tattoos for women. Whether you're up for a mini masterpiece or just dipping your toes into the tattoo pool, these designs will let you express yourself in a more contained way.
Morning glory flower sleeve tattoo
Sleeve tattoos aren't always overwhelming. And this one is proof. The morning glory flowers are beautifully portrayed with highly saturated colors in a thoughtful composition, creating an illusion that the flowers are blooming on the skin.
Snake and flowers half sleeve tattoo
While snakes can be an intimidating element in tattoos, the blooming flowers soften the overall design. Together, the two elements compose a captivating narrative about beauty and lure, inviting the viewers to observe with full attention.
Flying birds half sleeve tattoo
Tattooist Nonlee is known for the use of mesmerizing colors in her work. This bird tattoo is no exception. The base color scheme, a rich dark blue, sets the mood. And the vibrant red adds a delightful burst of contrast and energy.
Corpse Bride sleeve tattoo
If you love a cartoon character tattoo with a dark aesthetic, Corpse Bride may be the one for you. Such a cute but eerie half sleeve tattoo will be a tribute to your love for the movie and your unique taste.
Intricate cat and flowers half sleeve tattoo
Oh, what a cutie! As he cozily nestled among the flowers, this cat tattoo captures the charm of our feline friends and the beauty of nature.
Wolf and mountain half sleeve tattoo
Wolves and mountains make the perfect match in representing one's wild side and inner strength. This upper arm tattoo embraces the concept by portraying a roaring wolf against the backdrop of majestic mountains. The result is impressive and impossible to ignore.
Witch sleeve tattoo
You don't have to master witchcraft to rock a witchy tattoo. There's an infectious and relatable charm to this kind of ink. It represents the magic within us and inspires us to embrace our power.
Fine line botanical sleeve tattoo
Despite the less coverage than regular sleeve tattoos for women, this design exudes elegance and vitality. The cornflower stretches from the elbow all the way to the shoulder, symbolizing the wearer's personal growth and her life journey.
Strip landscape sleeve tattoo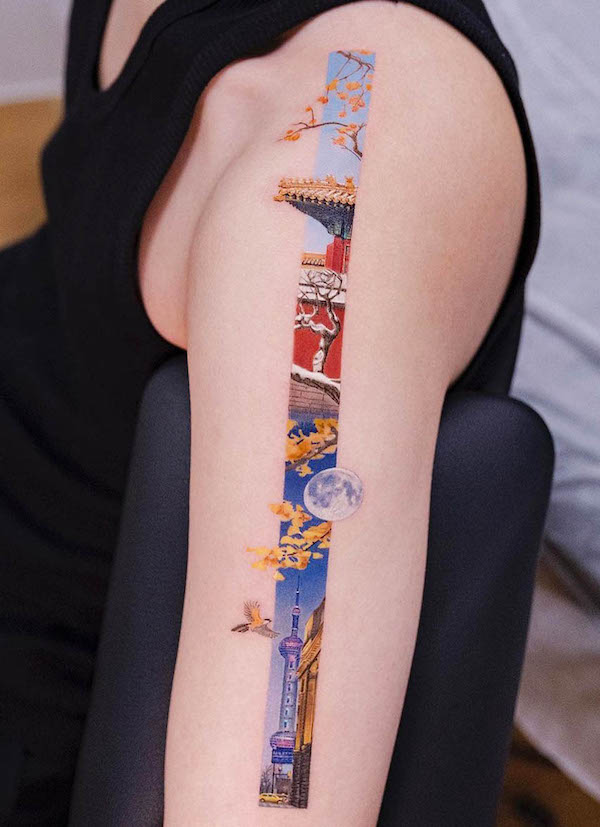 While most landscape tattoos stretch horizontally, this one is structured in a slim stripe. In a single frame, the tattooist skillfully combines the iconic cityscapes of Beijing and Shanghai. It becomes a visual reminder of the times spent there and will keep bringing precious memories back.
Moon and spikes sleeve tattoo
Tattoos are created both by the tattooists and the wearers. This one is a beautiful result of their combined efforts. The wearer comes with a personal story about alignment, dreaming about working in the music industry and finally realizing it.
The elements aligned on the skin represent her goals becoming a reality. With the sun symbolizing her family, this tattoo is both meaningful and inspiring.
Watercolor bird and flower half sleeve tattoo
Watercolor tattoos are so mesmerizing because of the fluid transition between colors. It creates a natural and dreamy effect that elevates the designs. This bird and flower tattoo, portrayed with watercolor, finds the perfect balance between realism and fantasy. With the bird spreading its wings and flowers blooming, it embodies a sense of liveliness and energy.
Oriental bamboo half sleeve tattoo
In traditional Chinese paintings, bamboo is considered a symbol of integrity and resilience. This half sleeve tattoo captures the essence of the plant in a traditional ink wash artistic style, paying tribute to the wearer's cultural heritage while representing her qualities.
Feminine angel sleeve tattoo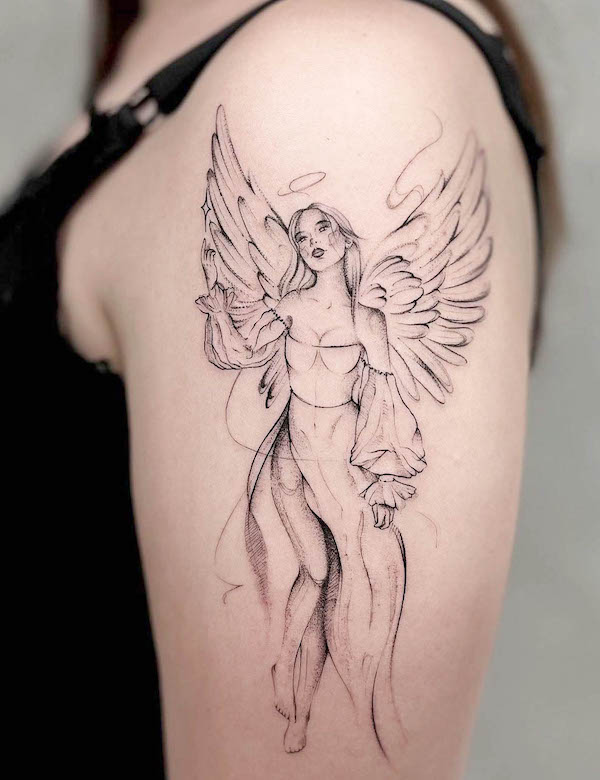 Angels represent purity, guidance, and faith. This half sleeve angel tattoo perfectly captures the divinity of an angel. From the posture to the costume, every detail screams elegance.
Stunning full sleeve Virgo tattoo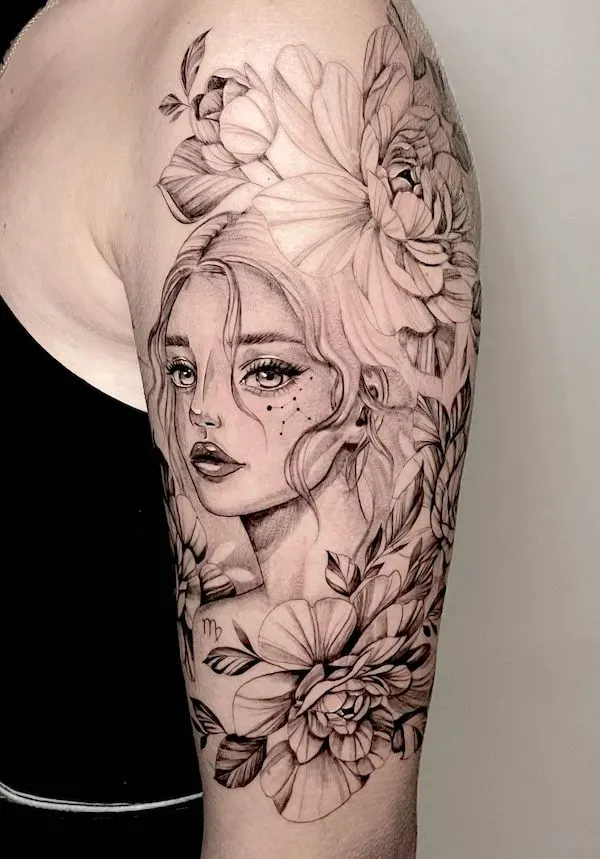 What a stunning Virgo tattoo. With the flowers in full bloom, every petal is like an ode to nature's beauty. The tattooist manages to depict the gorgeous Virgo girl with sleek lines, keeping the overall design earthy and wholesome.
Butterflies and rose sleeve tattoo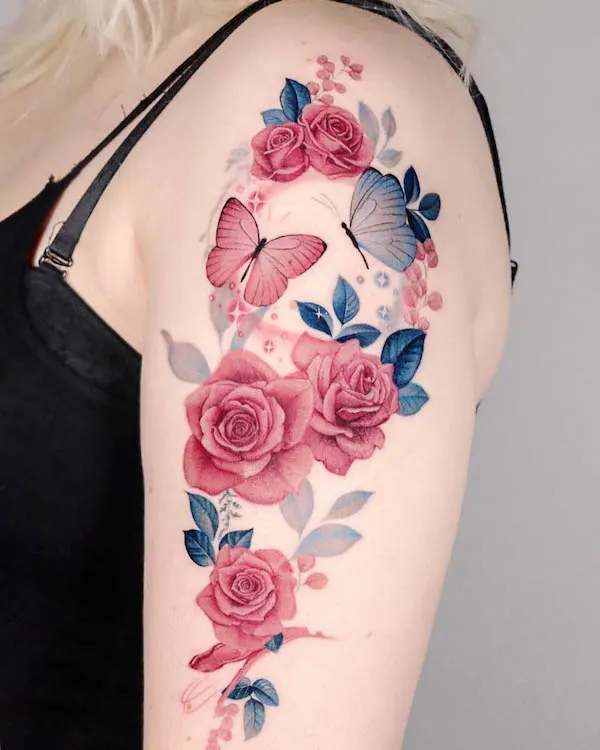 Sleeve tattoos can be overwhelming. However, by using pastel hues and the watercolor technique, this butterfly tattoo becomes a captivating and feminine masterpiece.
Phoenix quote tattoo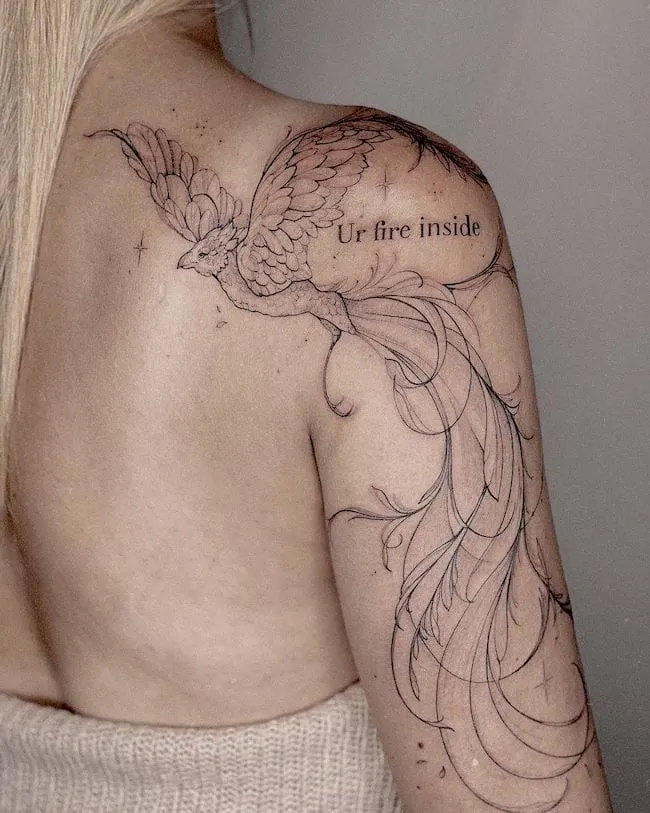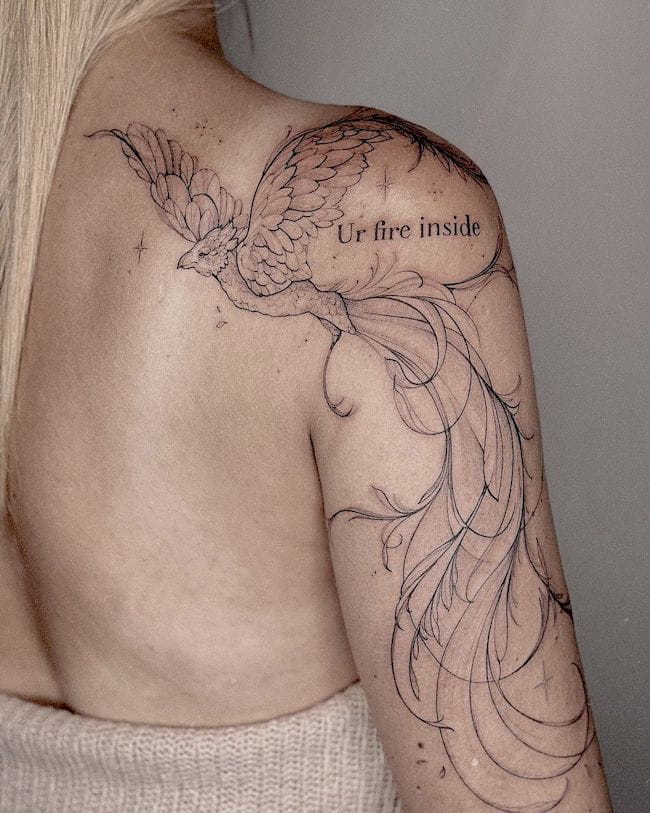 Another gorgeous yet sleek phoenix tattoo. This one proves that blackwork and fine line tattoos can still be breathtaking. And with the quote "ur fire inside," this half-sleeve tattoo will be a reminder of one's inner strength and resilience.
Moon and Dali sleeve tattoo
Art breeds art. The tattooist pays tribute to Salvador Dali, the renowned surrealistic artist, in this Dali-inspired tattoo. It keeps the iconic long-legged animals in his work and incorporates a moon phase above them, adding a sense of femininity to the design.
The crying Frida Kahlo sleeve tattoo
Another tattoo that honors a great painter. This Frida Kahlo tattoo interprets the vulnerable side of the artist. By adorning her image with flowers and birds, the ink captures her strength in overcoming struggles with resilience and hope.
Gorgeous owl full sleeve tattoo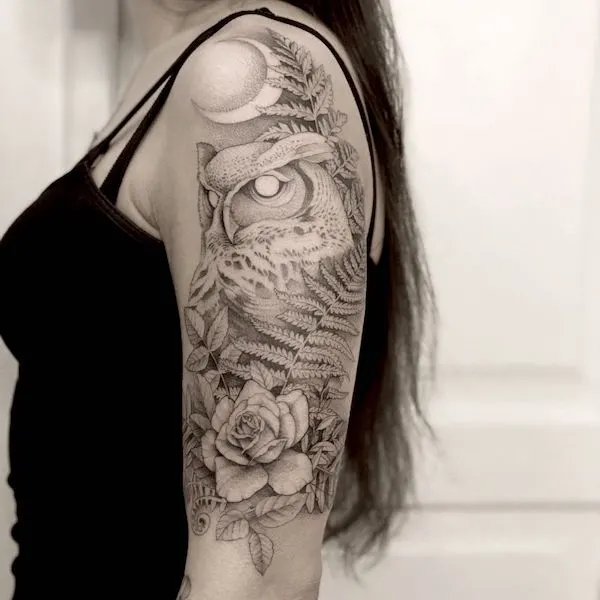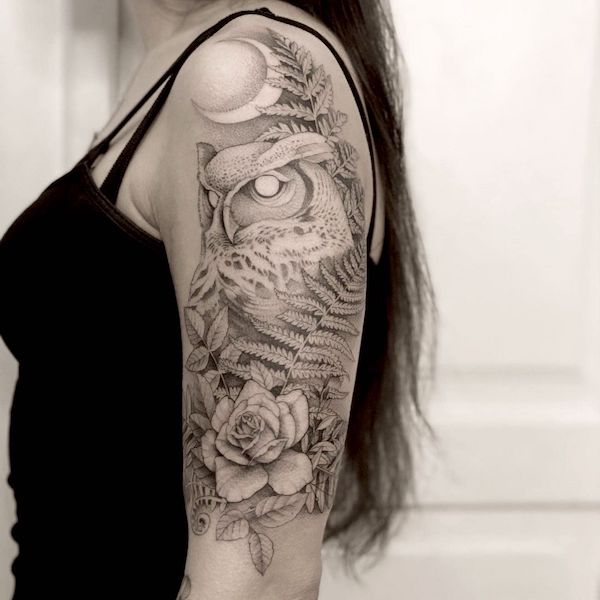 Owls are a symbol of wisdom and calmness. These qualities of the skillful hunters make owls a relatable tattoo motif.
While most owls have yellow eyes, this owl tattoo takes a creative twist by portraying the owl with white eyes, giving it an almost divine appearance.
Neon color Gemini tattoo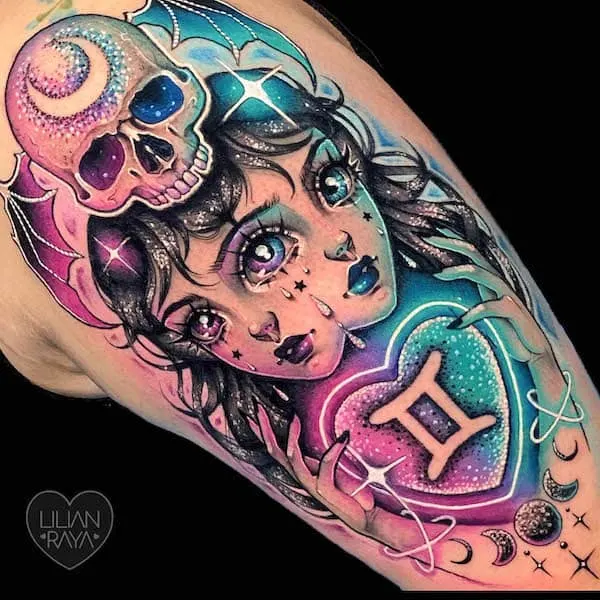 Coloring a tattoo this big isn't a walk in the park. Yet, the palette of this Gemini tattoo is spot on. The tattooist's choice of warm and cool color tones skillfully captures the sign's duality. And the glow just adds a beautiful finishing touch.
Black and grey sparrow and sunflower sleeve tattoo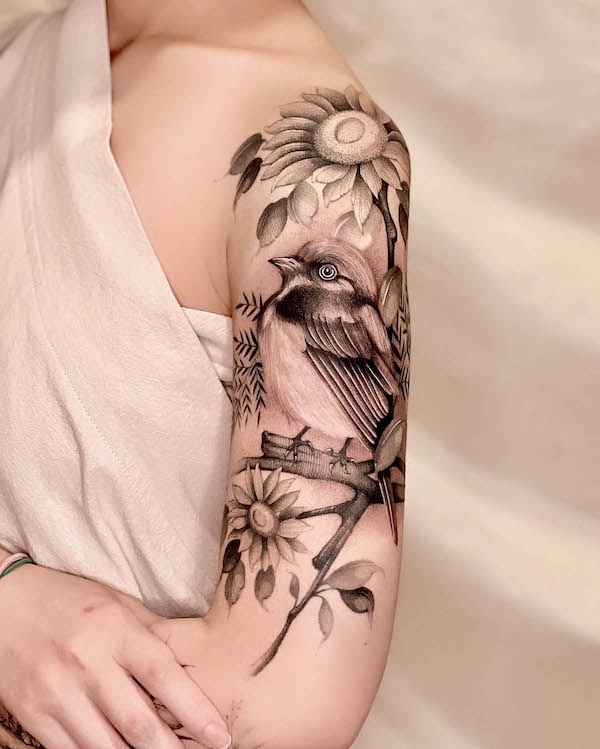 Just like flowers, the meaning of bird tattoos varies by species. The sparrow in this full-sleeve tattoo symbolizes freedom, love, and resilience. Paired with the sunflowers, it creates a striking visual narrative of hope and optimism.
Spongebob full sleeve tattoo
With SpongeBob in the spotlight and an array of cheerful elements around it, this vibrant tattoo radiates pure happiness. If you are a fan of the beloved character and his world, this tattoo will be a joyful addition to your skin.
A big unicorn cat sleeve tattoo
Every cat is a one-of-a-kind in the eyes of its humans. This unicorn tattoo celebrates the uniqueness and individuality of our feline friends by turning a cat into a unicorn. Such a creative twist not only takes the concept to a magical level but also honors the bond between humans and their pets.
Stunning peacock feather cover-up tattoo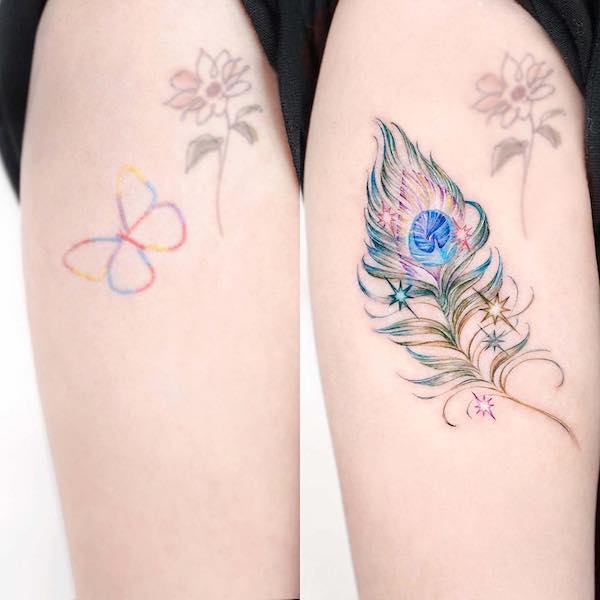 This sleeve tattoo proves that not all cover-up tattoos must be dark and large. By brilliantly tweaking the shape, the new feather tattoo perfectly covers the original butterfly and brings it new life.
Dragon, plum flowers and koi fish
This oriental sleeve tattoo depicts the magical metamorphosis of a koi fish into a majestic dragon. With bold strokes and the plum flowers blooming around, this dragon tattoo shows the limitless potential within each individual.
Intricate planets and stars sleeve tattoo
This delicate half sleeve tattoo captures the vastness of the entire solar system on the skin. All the planets are aligned vertically, creating a stunning representation of the universe. If you are into astrology signs and space, this one will represent your style and passion.
Kintsugi porcelain flowers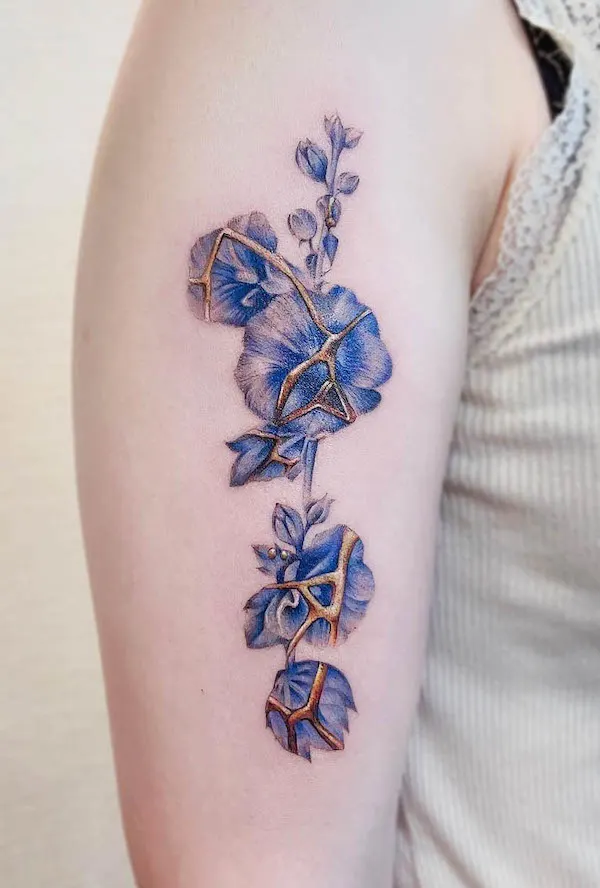 Flower tattoos are not rare. What sets this design apart is the profound symbolism it carries. The golden cracks on the blue flowers mirror the Japanese crafting technique known as Kintsugi. It refers to the art of repairing broken porcelain with gold, which later becomes a metaphor for beauty found in imperfection.
With such a delicate Kintsugi tattoo, the wearer will always carry the courage to heal and embrace her authentic self.
Turtle and lotus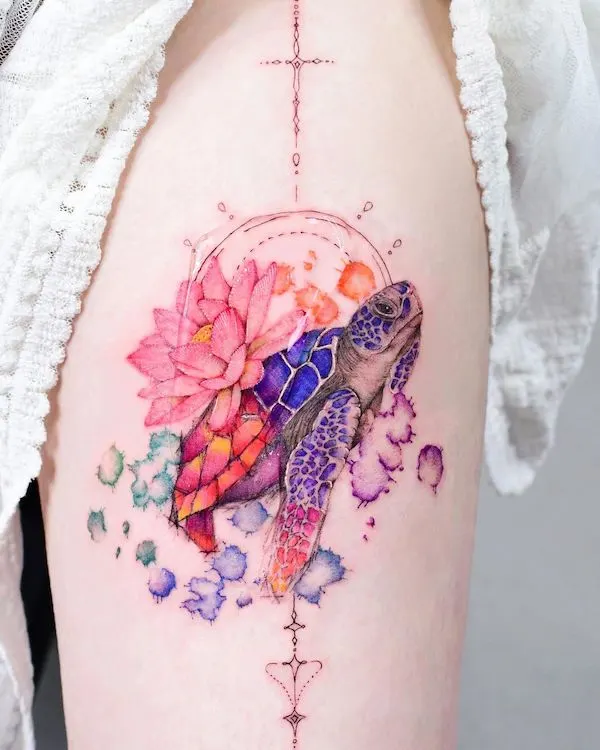 Turtle tattoos are often a symbol of wisdom and protection. With the lotus on its back, this gorgeous sleeve tattoo will channel the wearer's intuition and keep her grounded.
Artistic lotus sleeve tattoo
What a stunning lotus tattoo, radiating power with every stroke. The clever use of bold black brushstrokes adds an intense depth to the design, creating a captivating contrast against the delicate petals.
Butterfly sword sleeve tattoo
Like arrow tattoos, sword tattoos are often associated with strength and courage. To infuse a touch of femininity, the tattooist adds a delicate butterfly atop the sword, encapsulating the balance between power and beauty.
Which of these sleeve tattoos for women is your favorite?
Leave your thoughts in the comment down below!