Eyes like tiger and wings like eagles, owls are loved by many. If you are one of them, these owl tattoos are perfect for your next ink.
In Chinese, owls are named "Mao Tou Ying," meaning eagles with the head of a cat. It might explain why owls hold a special place in people's hearts.
They have huge eyes and flat faces similar to babies and cats. And the way they stare at you from the treetops make them feel like they are as intelligent as human beings.
If you have seen the video of a bunch of baby owls looking at you together, your heart will melt instantly. But people are getting owl tattoos not just for how cute they look.
The meaning of owl tattoos
In Greek mythology, Athena, the Goddess of wisdom, owned a small owl. It was considered the source of Athena's knowledge. Therefore in western cultures, owl tattoos represent wisdom, knowledge, and intuition.
Owls are also independent hunters. They observe from afar with patience. But once they spot the chance, they dash from the treetops and go straight at their targets. That's why owls symbolize patience, accuracy, and independence.
And the Harry Potter movies make owls even more popular. After all, who doesn't love Hedwig the Owl, right? And since then, we have seen more and more owls in witchy tattoos. They have become a symbol of mysterious power and magic.
Disclaimer: This tattoo collection is for inspiration only. Please do not copy the artwork. If you love these tattoos, follow artists and show them some support.
Awe-inspiring owl tattoos with meaning
Beautiful owl tattoos for women
Animal tattoos are often primitive, making them perfect for men. But they can be elegant and intricate, too. The following owl tattoos for women are not only creative but also gorgeous.
Stunning realism owl and flowers tattoo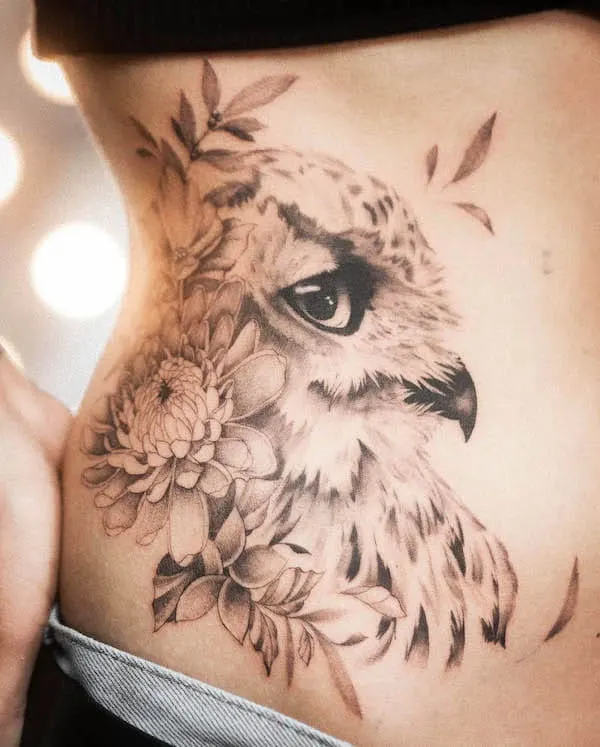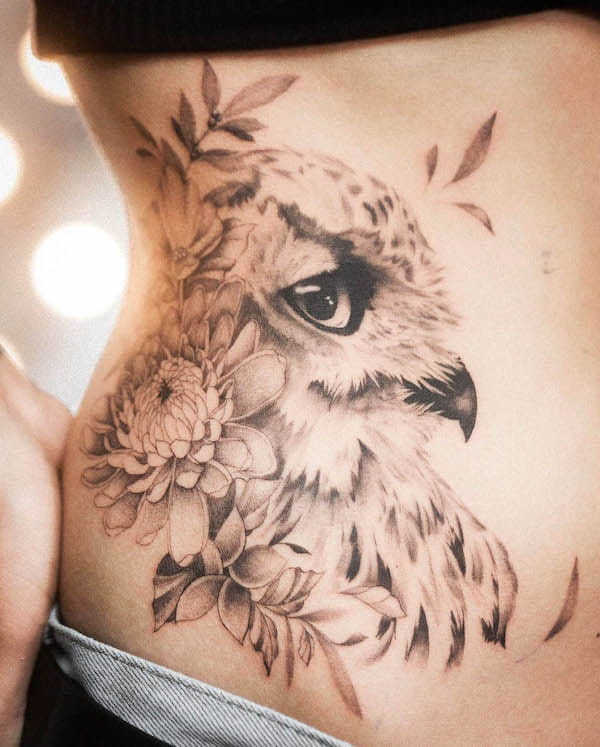 Owl tattoos are not uncommon. So if you are getting one, you want it to be either creative or stunning.
This owl waist tattoo hits both targets. Unlike most tattoo ideas for women, this owl tattoo covers a large part of the waist. And instead of showing the entire owl, it shows only a side of its face, making the eye the center of attention. With the shading perfectly on point, this tattoo is a piece of art.
Beautiful Barn owl thigh tattoo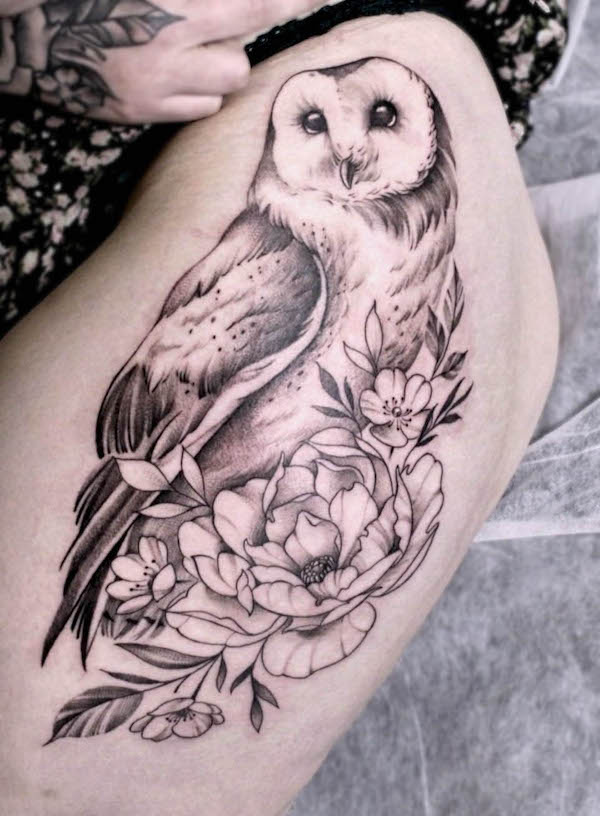 Among all owls, barn owls are loved for a reason. Their white faces in a heart shape make them look adorable, as if they are smiling.
This thigh tattoo captures the cuteness of barn owls. And with the flowers in the background, this tattoo makes a stunning statement for owl lovers.
Black and grey flowers and owl tattoo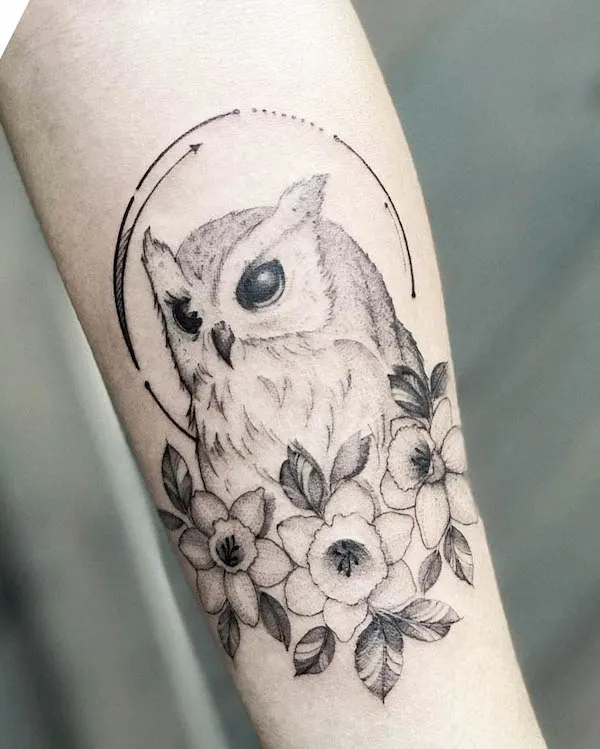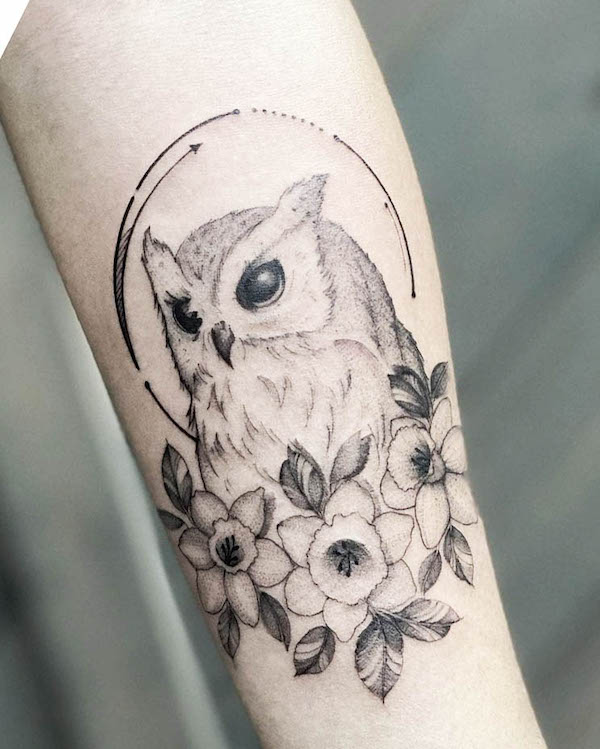 Owls and flowers go so well together. As a symbol of beauty and purity, flowers compliment owls in the design.
But both elements require great attention to detail. This tattoo artist did such a great job in keeping the lines clean. So even the tattoo is big, it still looks elegant enough for women.
Lotus and owl floral sleeve tattoo
Lotus represents calmness and zen in Buddhism as well as in tattoos. Owls, however, stay alert most of the time. This tattoo puts them together and shows that one can be both alert and calm.
Calmness comes from the confidence in coping with uncertainty. And the more we are at ease, the better we can deal with everyday challenges.
Gorgeous owl full sleeve tattoo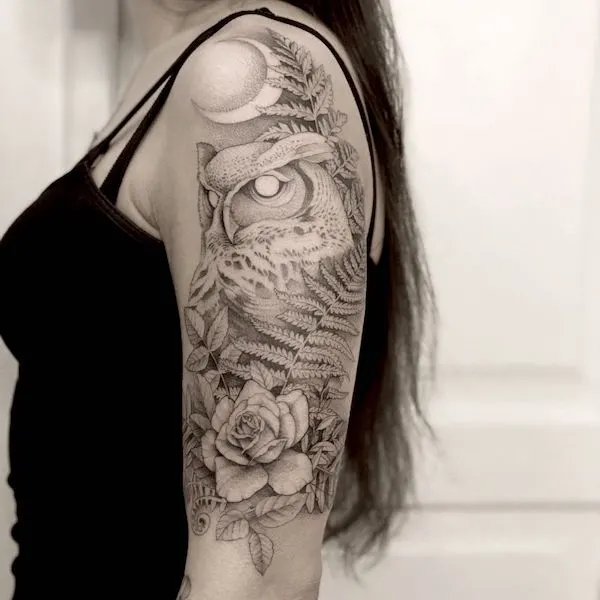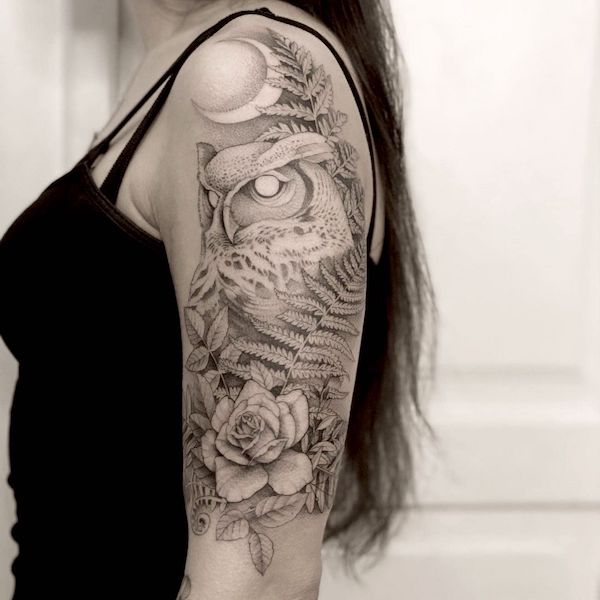 Most owls have yellow eyes. Some rare species may have blue or red eyes. This tattoo paints the eyes of the owl white, making it look divine. With the moon and flowers in the background, this sleeve tattoo is not just stunning but also witchy enough for badass women.
Barn owl under the stars
The owls are considered the hunters of the night. This is because they see better in the dark. And that's why owls, moon, and stars go so well together, just like in this tattoo. The fact that it is purely black and grey makes it even more mysterious and beautiful.
Detailed Eurasian eagle-owl tattoo
Realism tattoos are sometimes more challenging to do than creative tattoos. The details, shading, and illustration are equally important. Without any of them, the tattoo won't look as real as it should be. And this owl tattoo nailed it.
The tattoo emphasizes the eyes by highlighting the feathers around them. One glance, and you won't look away.
Stunning owl and moon tattoo on the back
Another cute barn owl and moon tattoo. The gradient color of the moon makes the owl pop out on the skin.
Besides that, the shape also makes the tattoo unique. The owl, the moon, and the leaves together form a heart shape, making it perfect for the sentimental and romantics.
Owl in heart shape sleeve tattoo
Heart tattoos can be cliché. But this one is an exception.
Instead of drawing a simple heart on the sleeve, the artist transformed the owl into a heart shape. This abstract approach left out a lot of details and focused on the eyes. The thick lines also made this tattoo last longer.
Symmetrical moon phase and owl tattoo
The Moon phase represents growth, life transitions, and femininity. This tattoo features an owl in between two moon phases. It sends a message that one should always listen to his intuition despite life changes.
Flowers and owl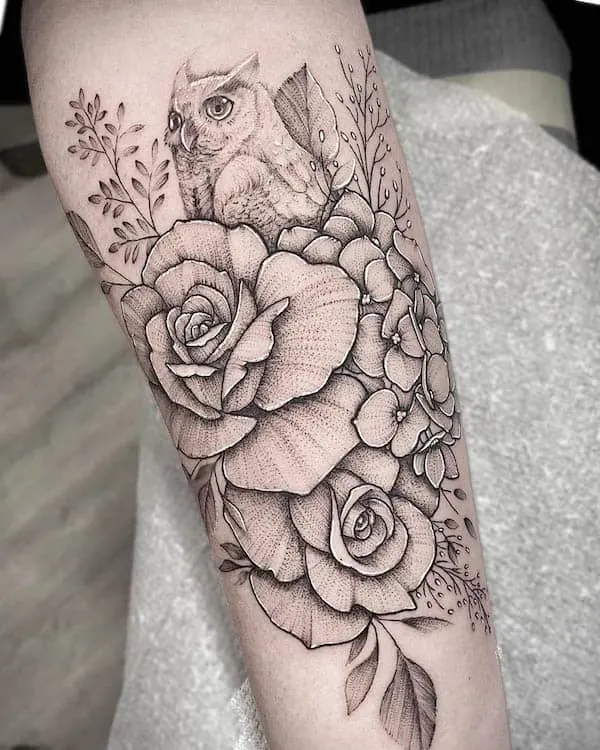 One way to make a masculine tattoo more feminine is to add flowers. Like dragons and wolves, owls tend to be more for men. So this gorgeous tattoo dedicated a big area to flowers, making it more girly and dreamy.
Owl mandala forearm tattoo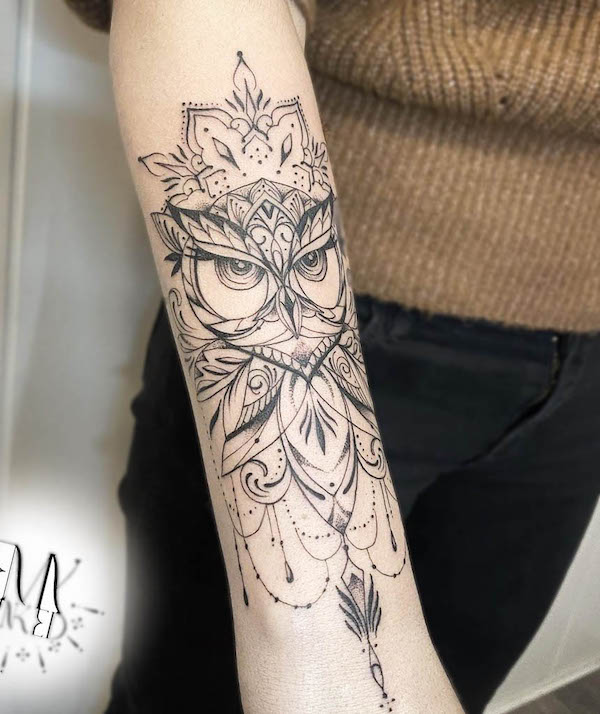 Mandala tattoos consist of a series of shapes and patterns. This forearm ink corporates the owl into the mandala.
At first glance, it might seem intricate with all the curves and patterns. But it leaves enough blank space around the eyes, drawing our attention to the owl straightaway.
Spreading the wings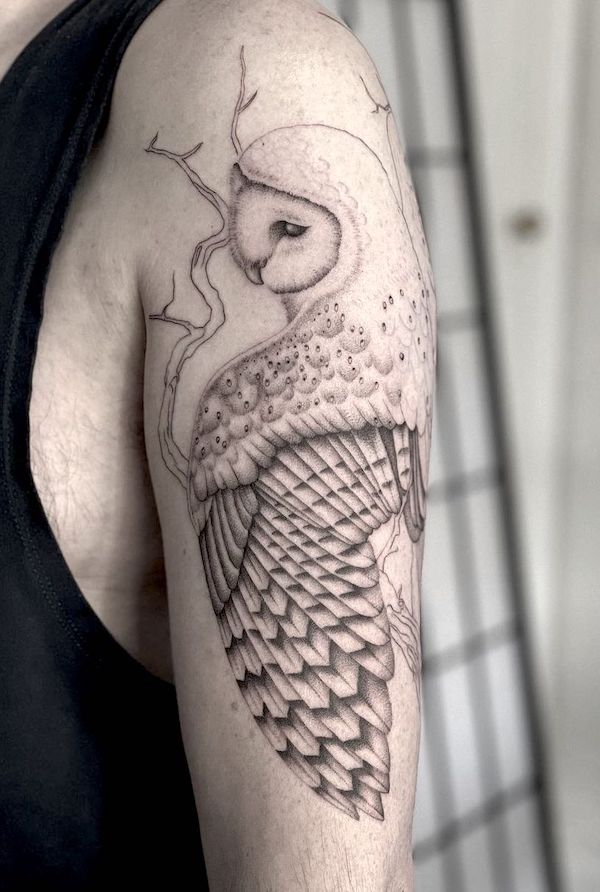 Another barn owl tattoo. But instead of staring forward, the owl turns its face to the side. The angle change makes the owl look timid and gentle instead of fierce.
Cook and doctor
Owls look like cartoon characters by nature with big eyes and a round head. This owl tattoo is a combination of techniques and creativity.
The stethoscope on the owl's neck indicates that she's a doctor. And the hat tells us that she's also a home cook. Together, the tattoo is a dedication to someone who's both. And it sets an excellent example of how professions and passions can come together in one tattoo perfectly.
Big, bold owl tattoos for men
Owls represent intelligence and intuition. If you have a special connection with these hunters by night, the following owl tattoos for men are perfect for you.
Eastern screech-owl calf tattoo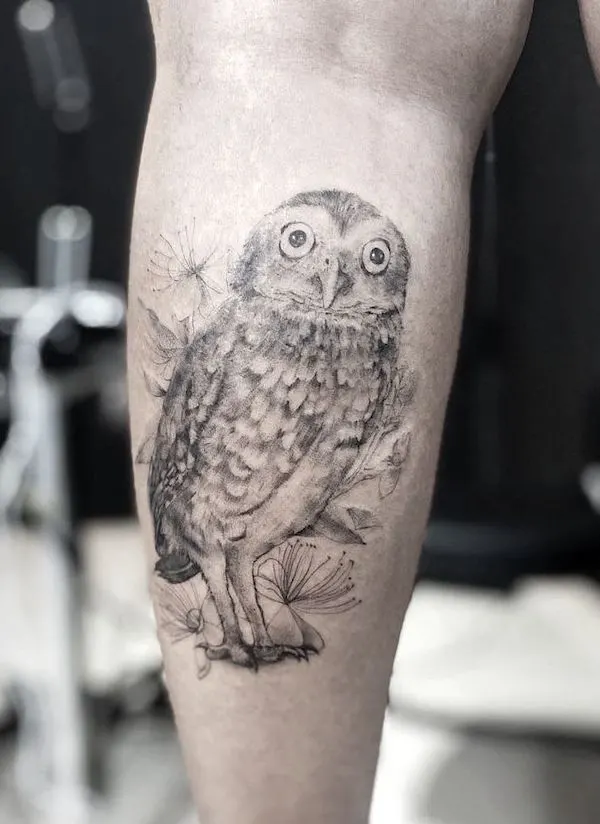 Those who love owls will want to tattoo them exactly how they look. For that reason, realism owl tattoos are gaining wider popularity.
This tattoo not only executes the details perfectly. It also highlights the key feature of the screech owl – the eyes. The round pupils and the reflections in the eyes make it so real that it will capture everyone's attention.
Creative geometric owl and portrait on the sleeve
If you want a portrait tattoo and an owl tattoo, why not put them together? This tattoo did such an excellent job at combining both elements.
The transition tells the story of a woman who can turn into an owl. The triangle and clean lines make it look even sharper and more futuristic.
Realism owls tattoo
An artist has to have incredible skills to turn a photo into a tattoo and not ruin it. This ink sets an excellent example of how a photogenic tattoo should be done.
Eyes of a tiger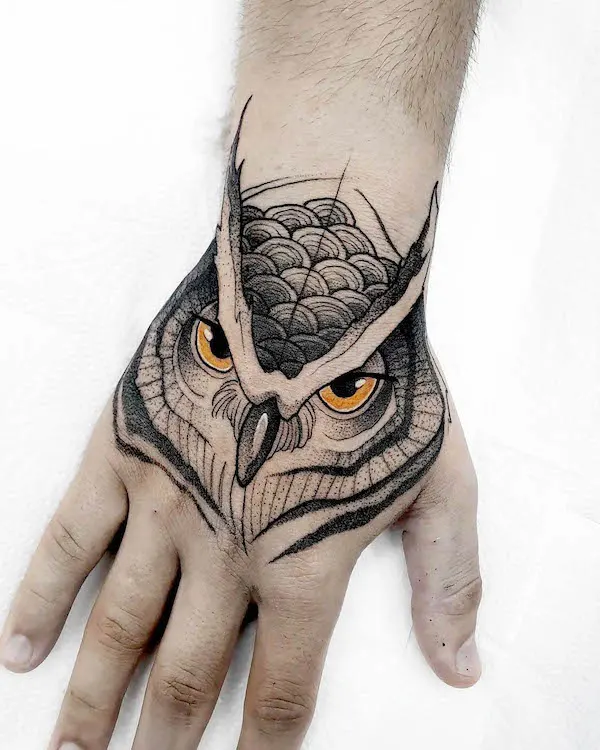 Hand tattoos are not uncommon. But we don't see animals tattooed on the hand very often. And this one just nailed it.
It fully corporates the owl's shape with the hand. The feathers look like the edge of a glove. And our attention is drawn to the center where the eyes are. And the color choice of the eyes- yellow, makes the tattoo even more mesmerizing.
Artistic barn owl and architecture tattoo
Owls are explorers by nature. They can fly long distances. And that's why it makes sense to tattoo owls to express one's desire for adventure.
The tattoo shows how much the wearer wants to visit the place with the building in the background, making it both meaningful and artistic.
Read also: 32 Wanderlust travel tattoos for adventurers
Tribal style owl tattoo
Tribal tattoos are made of bold lines and patterns. This tattoo integrates the owl with the tribal elements. The contrast of intricate details and thick lines make the tattoo stand out even more.
Let it burn
There are many tattoos. But not all can be called art. This tattoo stands out for a lot of reasons.
The lines and shading were done perfectly. You can even see the lines of the abs from a distance. Though the tattoo is still, but the burning flames and the slightly spread wings make it look in motion.
Eye and feather
Not every owl tattoo has to be intricate. This thigh tattoo keeps minimal details and draws all the attention to the eye. And the result is stunning.
Vivid flying barn owl tattoo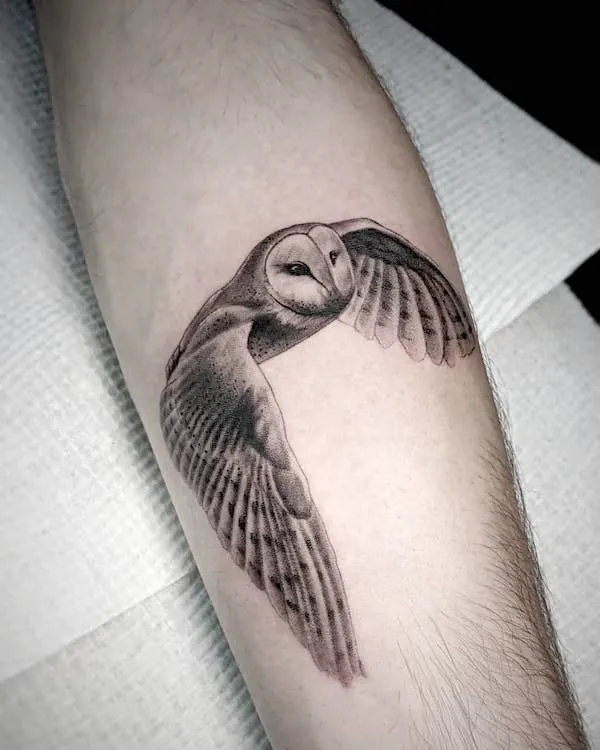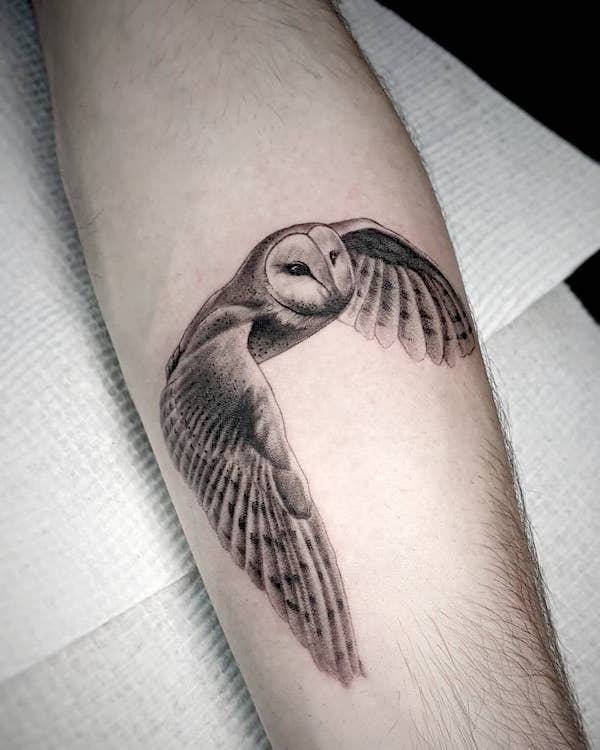 It's not easy for tattoos to capture the motions of owls, especially when they are flying. However, this tattoo paid close attention to the perspectives of feathers. And because of that, the design looks convincing and visually impressive.
Eurasian eagle-owl tattoo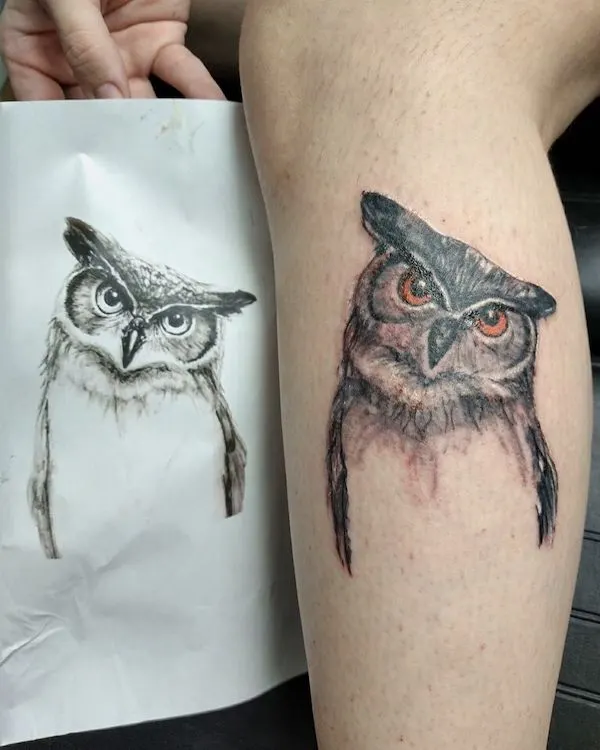 Owls are hunters. But not many see them as dangerous because they are just too cute. The eagle-owl in this tattoo, for example, tilted its head slightly. It seems like it's paying attention to you, listening to what you say. And that's probably why so many people love owls.
Creative triangle owl tattoo
You never know how tattoos can be more creative until you see one. This forest-theme ink is one of them.
Instead of tattooing an owl, the artist transformed it into a triangle and added details like trees and light. But you can still tell it's an owl with facial features. So for those who want an owl tattoo but don't want to be cliché, this design may give you some ideas.
Steal the time
Hourglasses stand for time. This tattoo paints a picture of an owl picking up an hourglass and flying away. If you believe in time travel, this stunning tattoo can be a statement of your wildest dreams.
The owl keeper
One has to have a fun tattoo. And this is one of them. Though the illustration looks a bit arbitrary, it's clearly unique and personal.
Small owl tattoos for minimalists
There's a lot of details in owl tattoos: the eyes, the feathers, etc. And it's not easy to fit all the details into a small area. However, these small owl tattoos manage to do so and still capture the charm of the animal.
Small round-shaped owl tattoo
Tiny geometric owl wrist tattoo
Black and red owl tattoo
Abstract owl on the forearm
Small owl and dandelion tattoo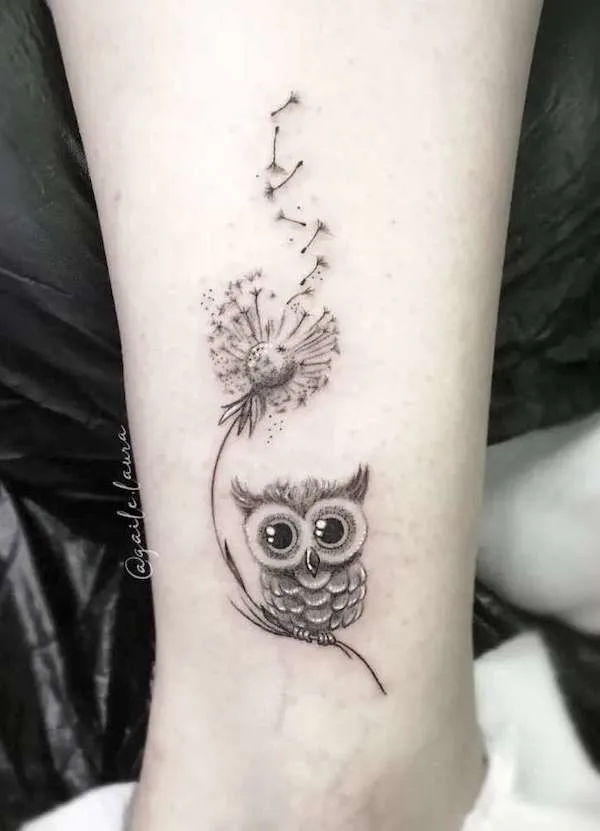 City of stars
Symmetrical owl and star tattoo above the ankle
Super cute baby owl wrist tattoo
Tiny minimalist owl tattoo
Minimalist small owl hand tattoo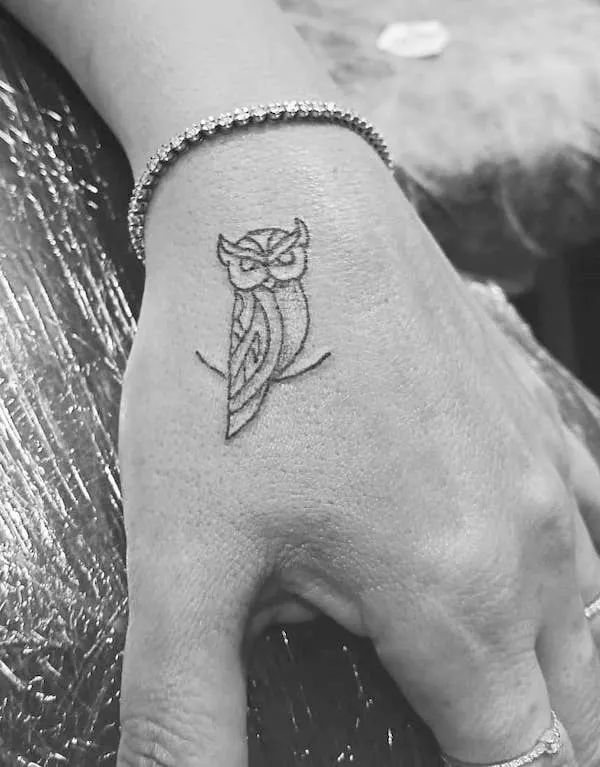 Adorable owl ankle tattoo
Which of these owl tattoos is your favorite?
Or do you wear your favorite animal on the skin? Share in the comment!