Gemini have a unique taste for tattoos. From big to small, simple to intricate, these Gemini tattoos are tailor-made for the sign.
Gemini act fast, talk fast and think fast. They have two souls in one body, and they are working non-stop. That's why people find Gemini so charismatic, fun, and witty – they have two engines powering their brains.
But Gemini have their own struggles. Their mood is everchanging. And they have to deal with multiple personalities constantly. That gets them a bad rap of being inconsistent and two-faced.
These toxic traits of Gemini influence their choice of tattoos as well. Sometimes they want a simple tat. But they may change their mind an hour later and go for a full sleeve intricate design.
If it sounds like you, we got you covered. From big to small, simple to complicated, this post has a large collection of Gemini tattoos in different styles. Scroll on, and you will find the right one for you.
Disclaimer: This collection of Gemini tattoos is for inspiration only. Please do not copy the artwork. If you love these tattoos, follow artists and show them some support.
Gemini tattoo elements explained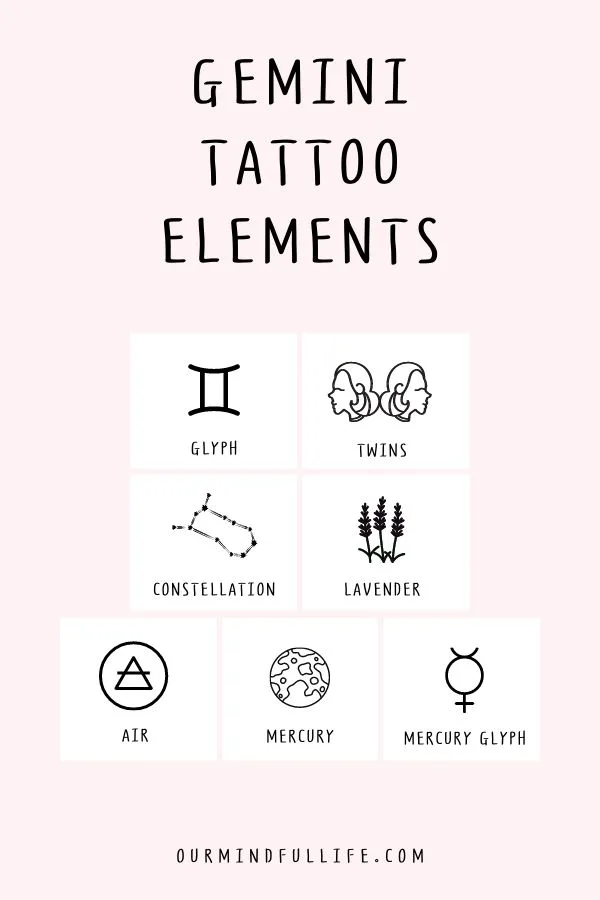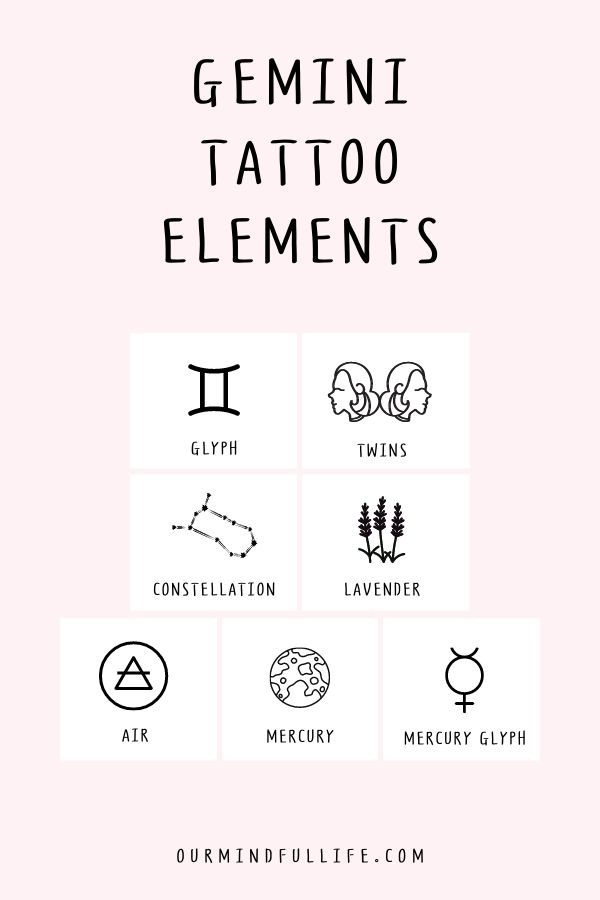 The Twins are not your sole option when getting a Gemini tattoo. Here are the Gemini elements to give your ink some twists.
The Gemini glyph consists of two straight lines connected by two vertical strokes, symbolizing the Twins.
Gemini sign symbol: the Twins
Geminis are two souls in one body. And the word Gemini means Twins in Latin. Their dual personalities give them the strength to adapt to changes. It's almost impossible to figure out Geminis. They will only show you the side they wish you to see.
Gemini constellation
Gemini birth flower: Lavender
Lavenders have multiple florets on one stem. They grow in different directions and spread their beauty. Similarly, Geminis are blessed with creativity and productivity. But they can also get "all over the place" just like the flower.
Air is mutable. It can change into a storm or a breeze in a second. Geminis are no different. They have a good side and a bad side. And you may never know which side you are at.
Gemini ruling planet: Mercury
In astrology, Mercury is the planet of analysis and communication. It rules Gemini and Virgo. These two signs may seem different in characteristics. But they are all able to categorize and make decisions logically. Both signs are good at getting their points across in a systematic way.
Unique Gemini tattoos for men and women
Small and simple Gemini tattoo ideas
Simple doesn't mean boring. If you want to low-key showcase your Gemini pride, or if you are a minimalist, these small Gemini tattoos are for you.
Small hearts and Gemini symbol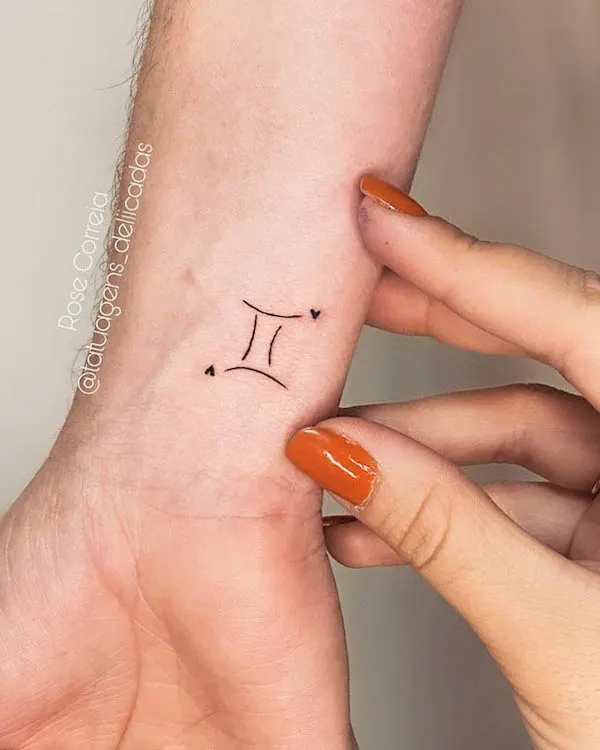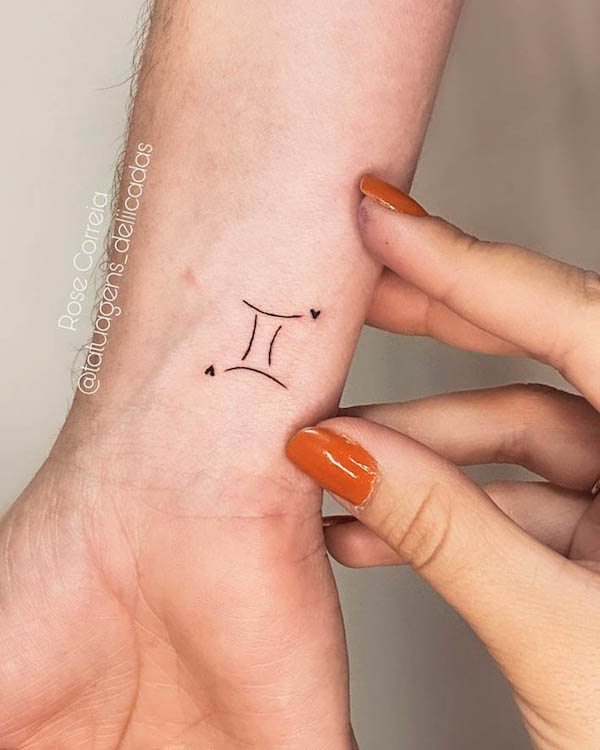 If you want something more than a Gemini glyph, consider adding small decorations like these tiny heart shapes. The slight twist will add personality to a common tattoo element.
Dainty Gemini script tattoo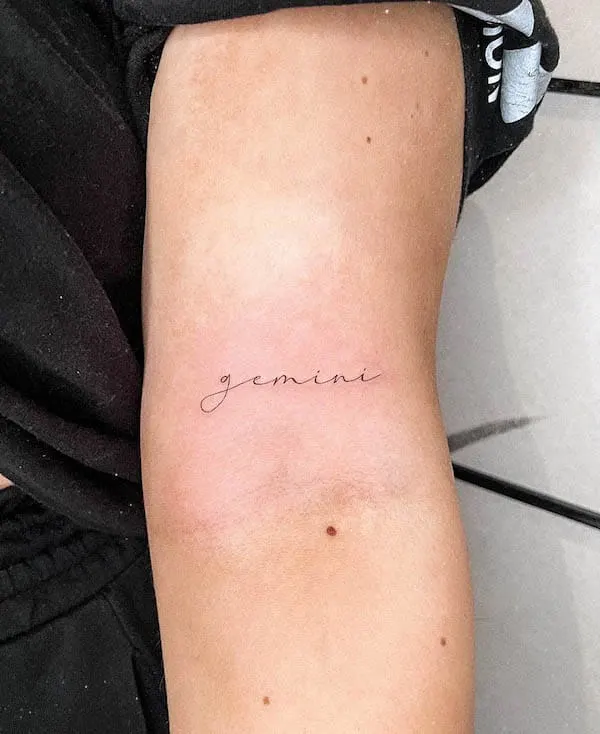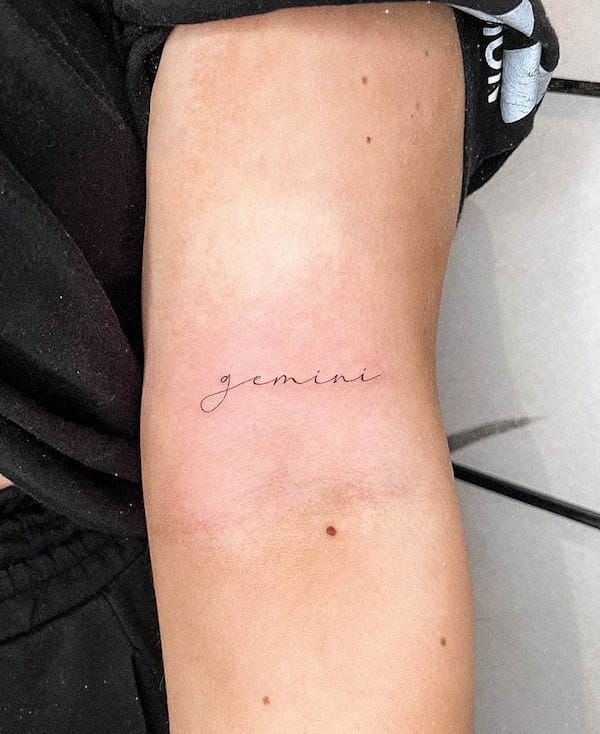 Words tattoos are versatile because you can style it with different fonts and boldness. And such a minimalist script tattoo would be perfect for first-timers too.
The good and evil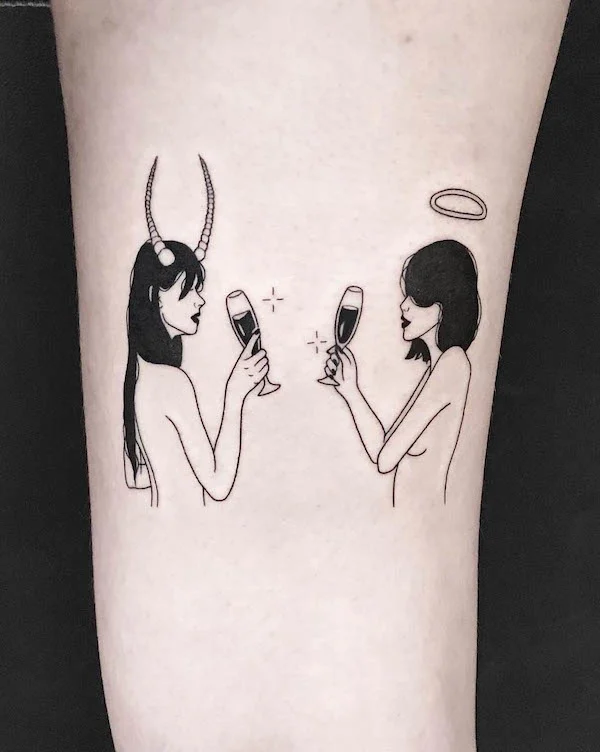 As a Gemini, you may feel like you have two personalities fighting all the time – the good and the bad side, so to speak. If so, this tattoo will resonate with you.
Cute bear Gemini tattoo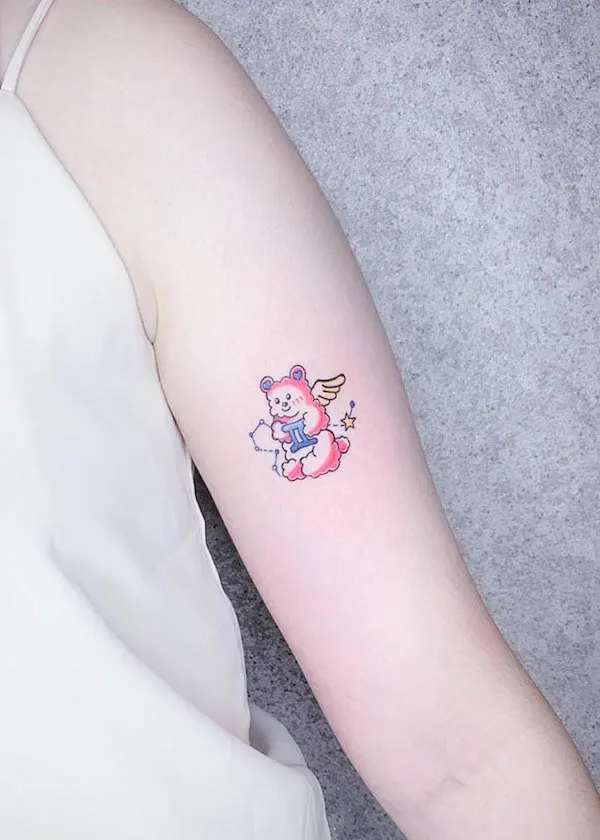 A good tattoo represents your style. Such a lovely ink would belong to girls with bubbly personalities.
Star and Gemini symbol wrist tattoo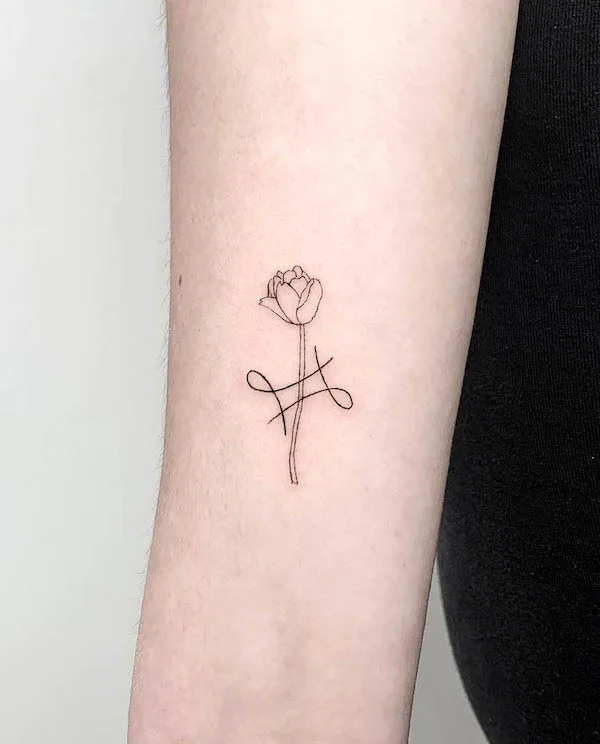 Adding flowers will be a good idea if you want to emphasize your feminine side. Even better if it's your birth flower or a flower that is meaningful to you.
Gemini glyph rib tattoo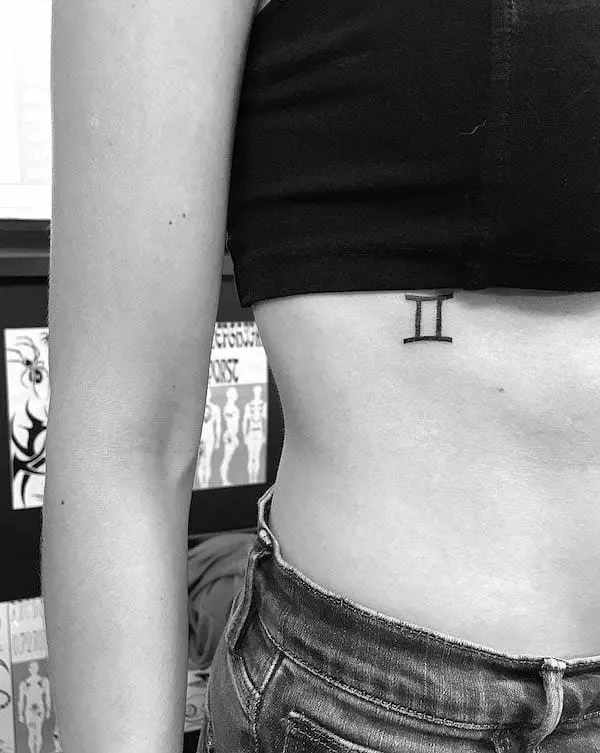 The rib cage has thinner skin compared to the arm or the thigh. Therefore, a simple tattoo like a glyph makes a better rib tattoo for you if you are sensitive to pain.
Simple stars tattoo for Gemini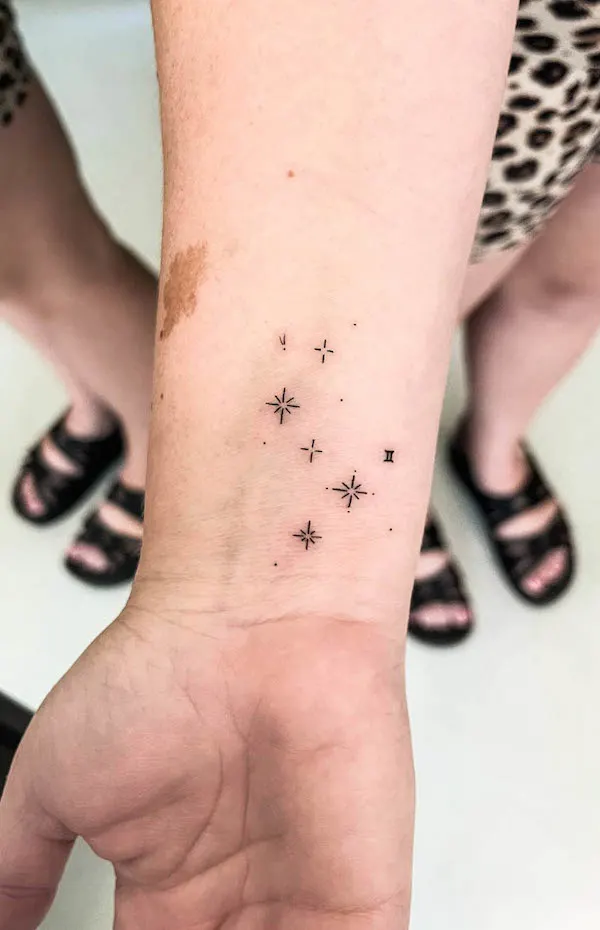 This wrist tattoo shows how you can have more with less. By removing the lines of the constellation, the stars become the center of attention.
Gemini symbol behind the ear tattoo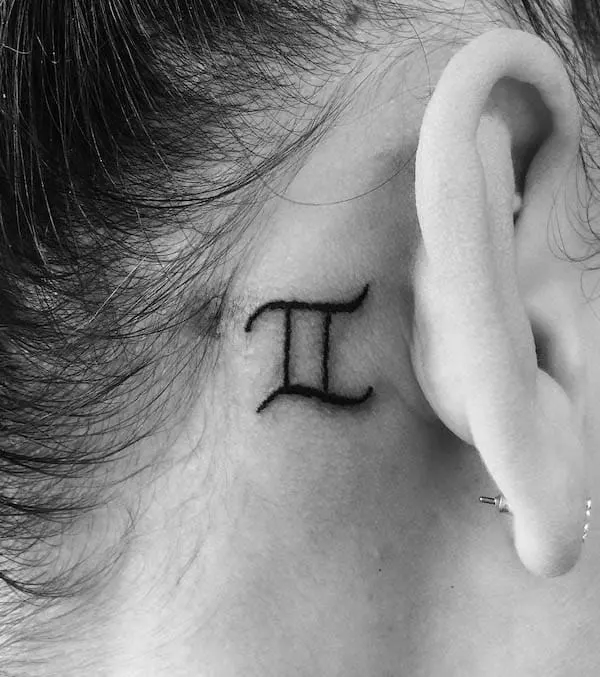 If you want a discreet tattoo, the back of the ear is ideal. You can hide or show it with different hairdos. And a small glyph will fit in this area.
Minimalist flower and Gemini star tattoo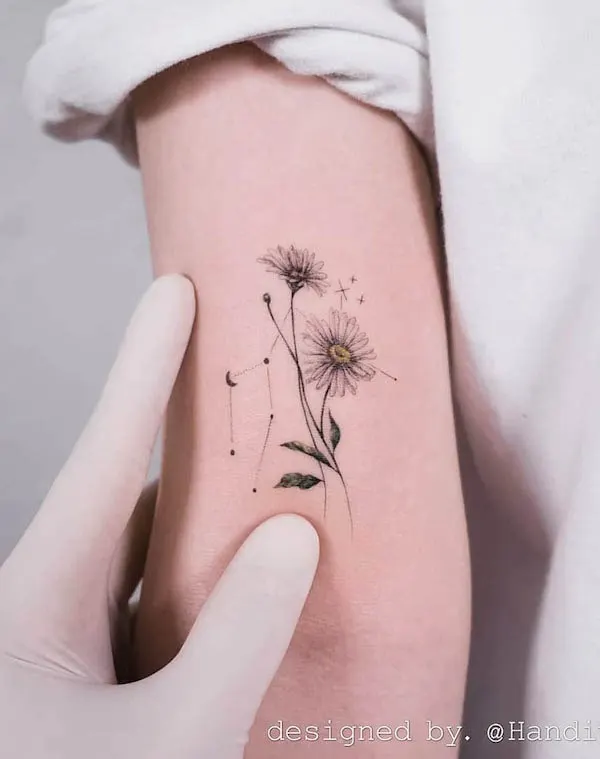 The constellation is a relatively simple pattern. And it makes a perfect background for the photorealism flowers in this star tattoo. The combination of real and unreal gives contrast and surprise.
Cute emoji tattoo for Gemini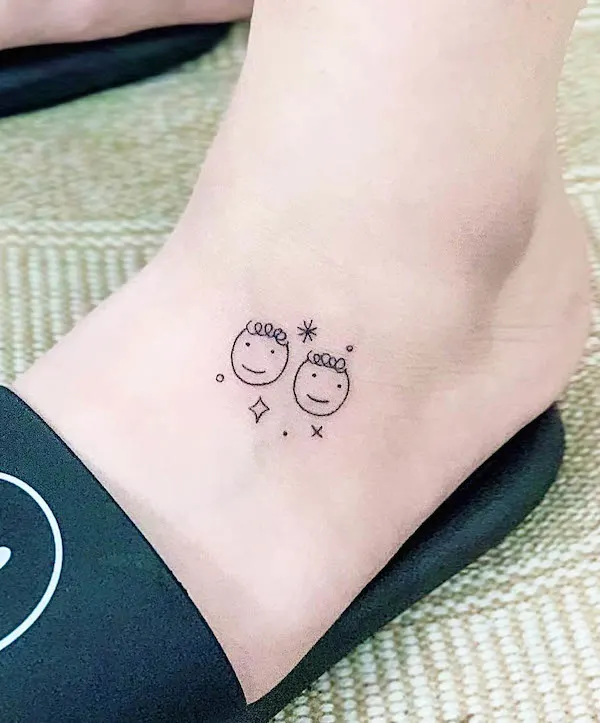 To personalize a Gemini tattoo, consider symbols or patterns you already like. For example, if you find a smiley face adorable, duplicate it, and you will have a one-of-a-kind Gemini tat.
Gemstone Gemini tattoo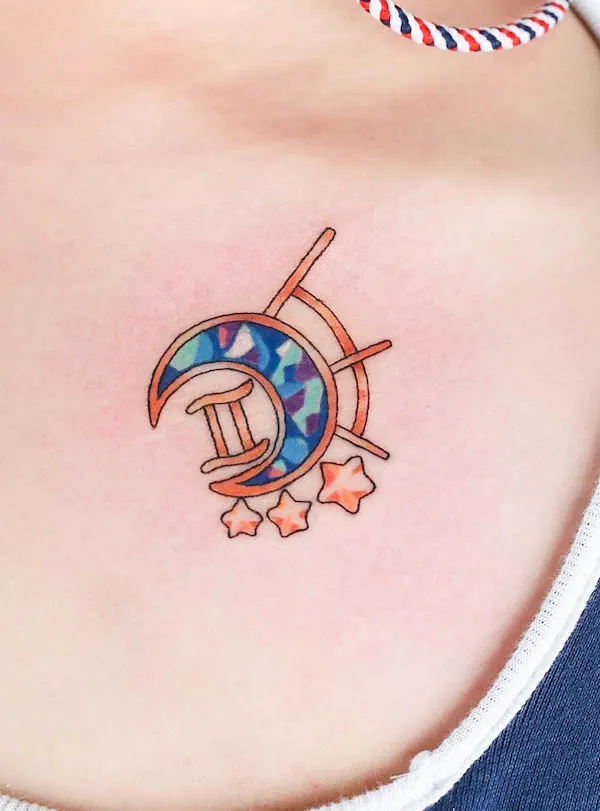 Want a tattoo that shines? This gemstone tattoo may give you some ideas.
Abstract Gemini symbol waist tattoo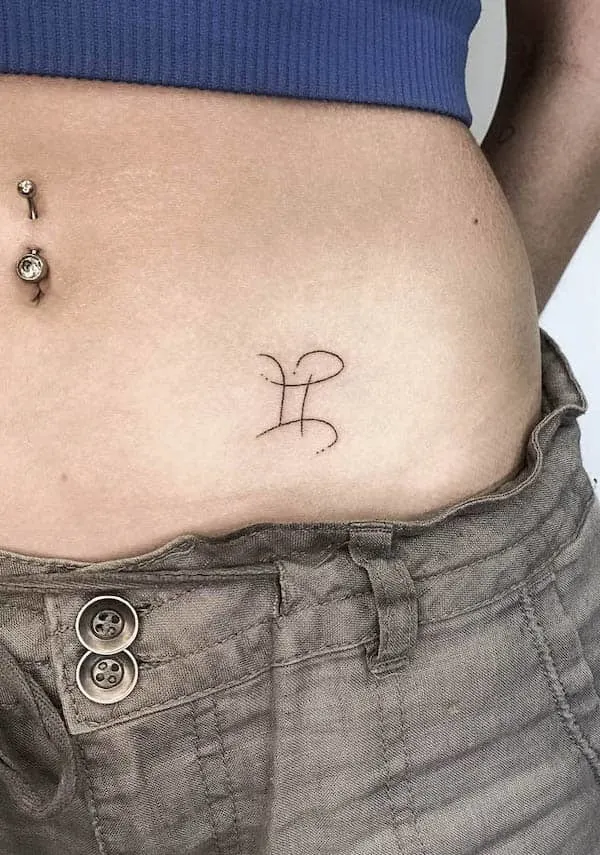 There might be only one Gemini glyph, but that doesn't mean you have to share the same tattoo with millions of other people. Instead, you can create a unique one by curving or extending the lines. The possibilities are endless.
Matching Gemini glyph tattoos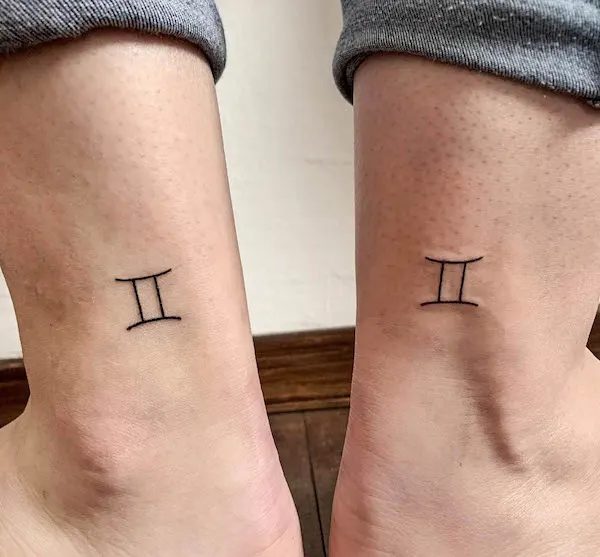 Do you have a loved one, a friend, or a sibling who is also Gemini? If so, matching tattoos would be a great way to honor the bond.
Zodiac symbols ankle tattoo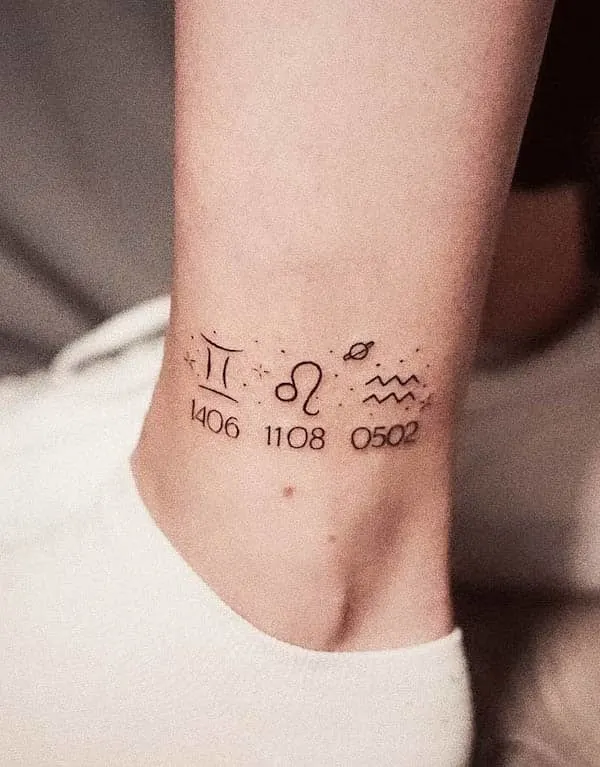 Sometimes the simplest tattoos carry the deepest meaning. This tattoo consists of three zodiac glyphs. Each of them has a number below it, representing the birthdays of three siblings. This family tattoo represents their love for each other and will forever warm their hearts.
Gorgeous and bold Gemini tattoos
Gemini people are not the ones who want to hide their real personalities. Whether you like it or not, Gemini do what they want to do. If it sounds like you, why not wear your pride on the sleeve with these impressive and bold Gemini tattoos?
Neon color Gemini tattoo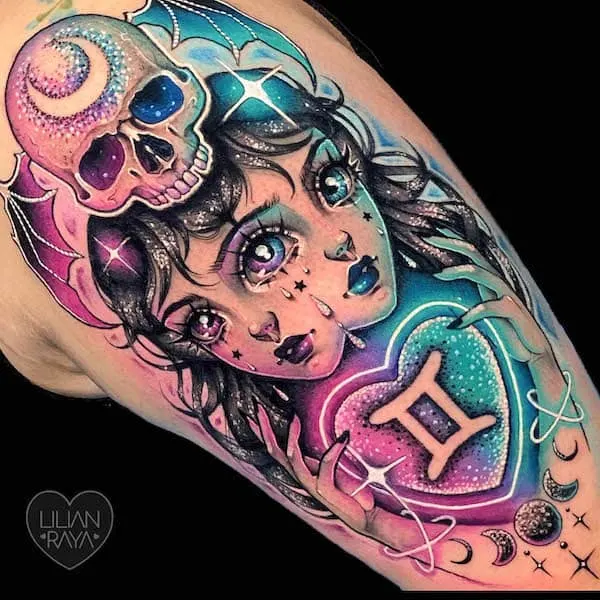 It's not easy to color a large tattoo. The coloring of this tattoo, however, is right on point. The tattooist uses warm and cold color tones to represent different sides of Gemini. And it looks like it's glowing on the skin.
Abstract twins back tattoo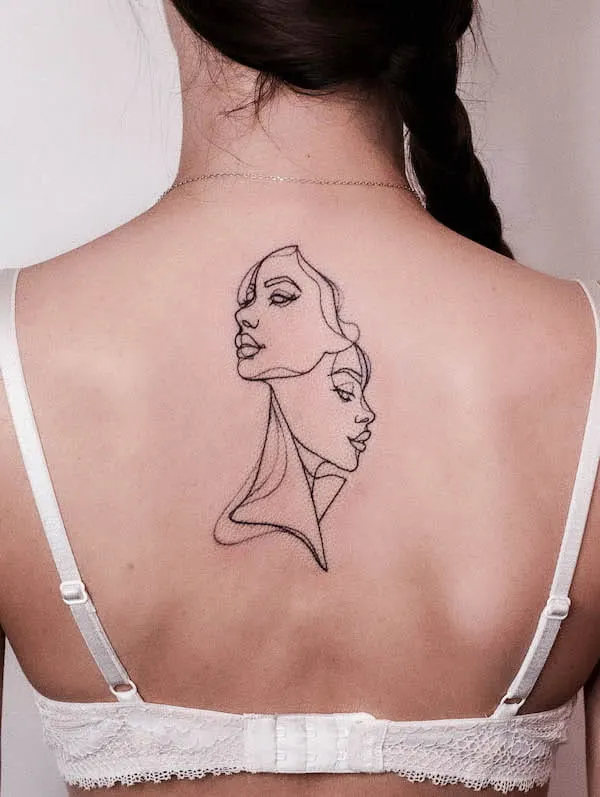 Fine line tattoos have a unique charm. Even in a large size, they are still simple and elegant.
Adorable Gemini sleeve tattoo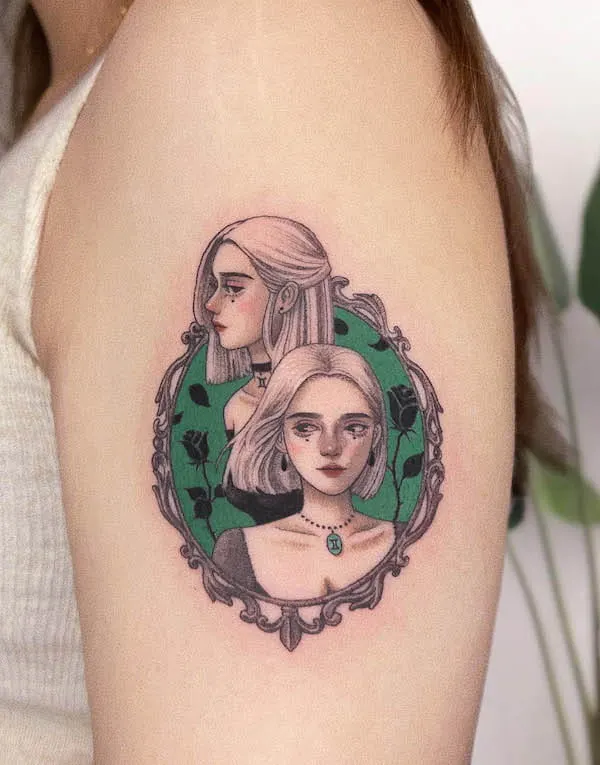 A Gemini is two souls in one body. Some call it two-faced. But that's what makes Gemini unique. If you relate to this Gemini trait, this anime tattoo will speak your mind.
Whale and Gemini constellation tattoo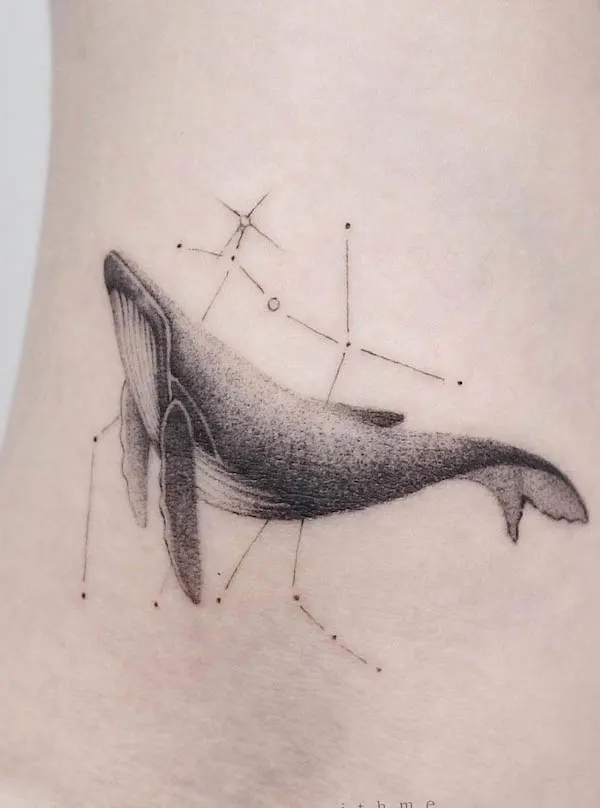 The whale is the largest mammal on the planet. It also symbolizes strength and calmness. If you want an empowering and meaningful tattoo, adding your spirit animal may be a good idea.
Read also: 43 Meaningful tattoos about strength
Twins tattoo for Gemini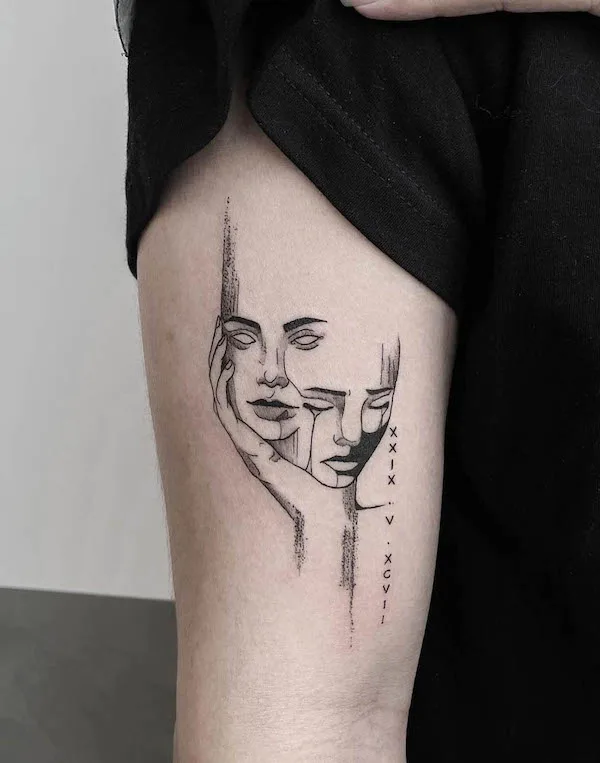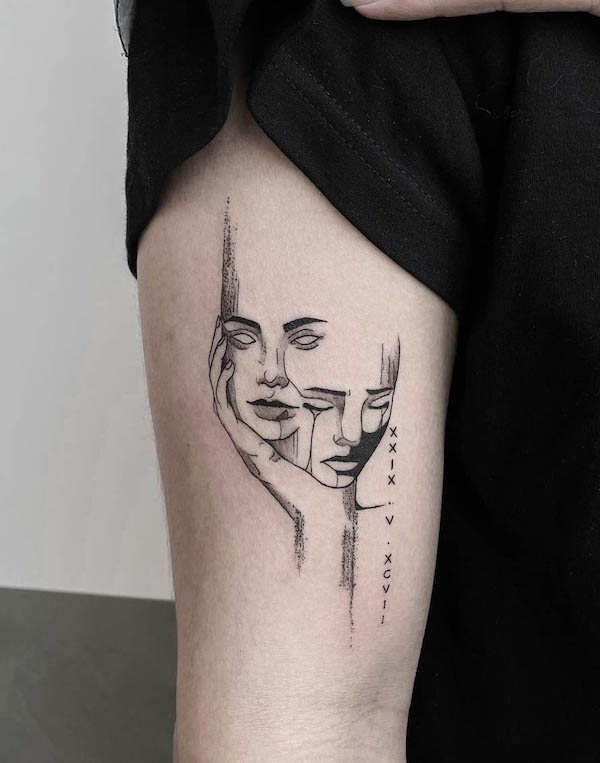 Gemini not only have to deal with multiple personalities. Mood swings are one of their many struggles. This blackwork tattoo captures two different emotions of the same person, revealing what Gemini go through on a daily basis.
Realism Gemini girls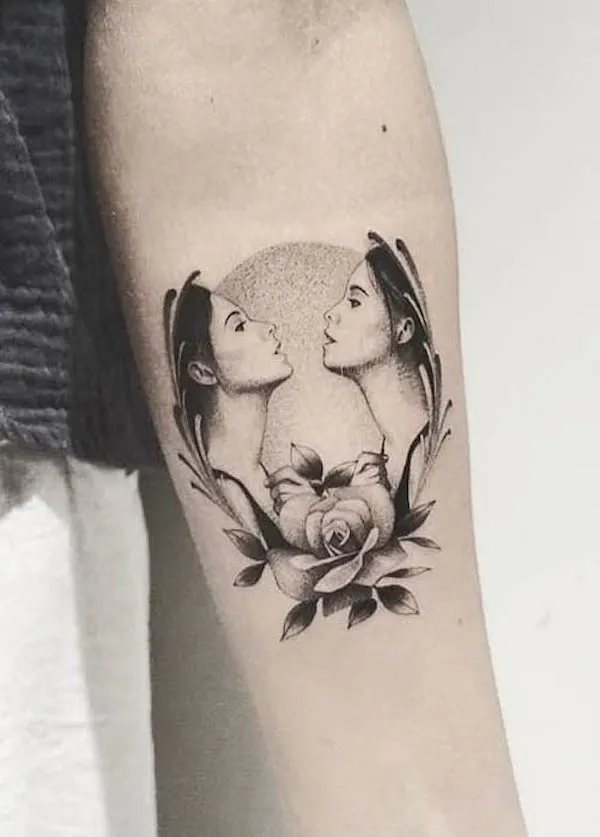 It's not easy to tattoo a portrait in detail. However, this realistic forearm tattoo nails it with perfect shading, lines, and lighting.
Bouquet and Gemini stars tattoo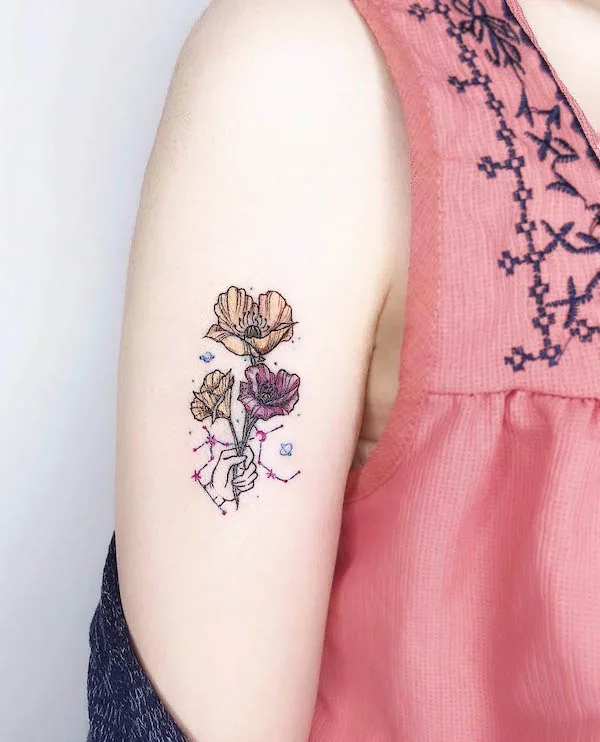 This would be an ordinary flower tattoo without the hand grabbing the bouquet. This small twist adds fun to the tattoo.
Adorable back tattoo for Gemini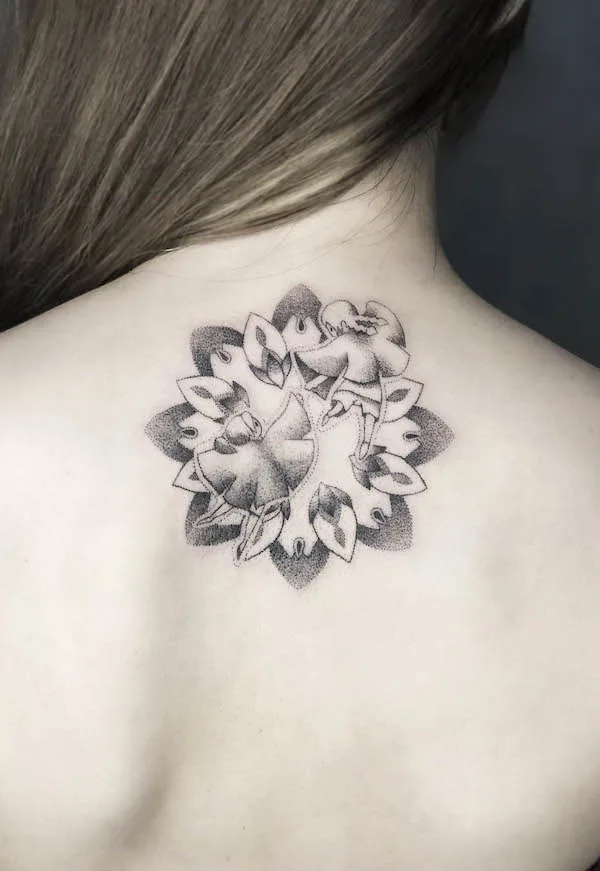 From afar, this back of the neck tattoo looks like a floral mandala. But look closer, and you will find the two little girls chasing one another, adding surprise to the design.
Gemini goddess tattoo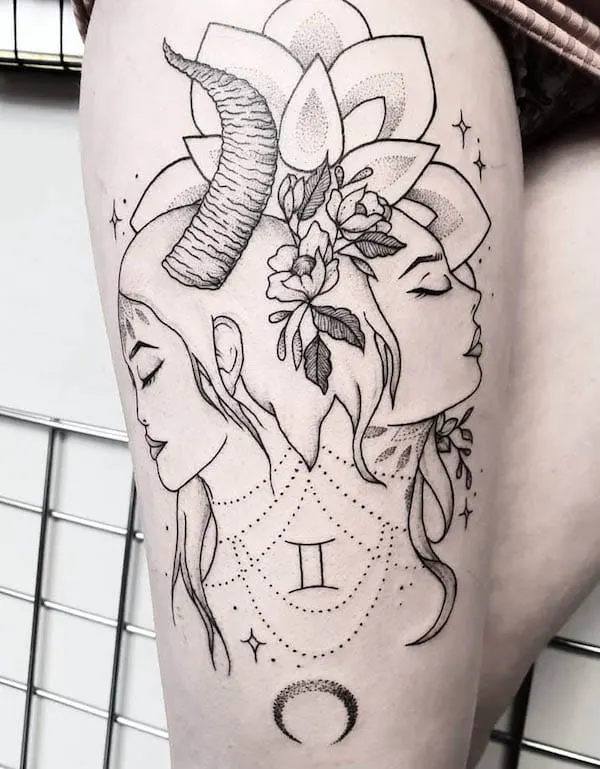 Portrait tattoos give you the freedom to add to your identity. Take this thigh piece, for example. The figure on the left has a horn, representing Aries. With the Gemini symbol in the middle, this tattoo would represent a Gemini with Aries elements in her birth chart.
Beautiful twins tattoo on the shoulder blade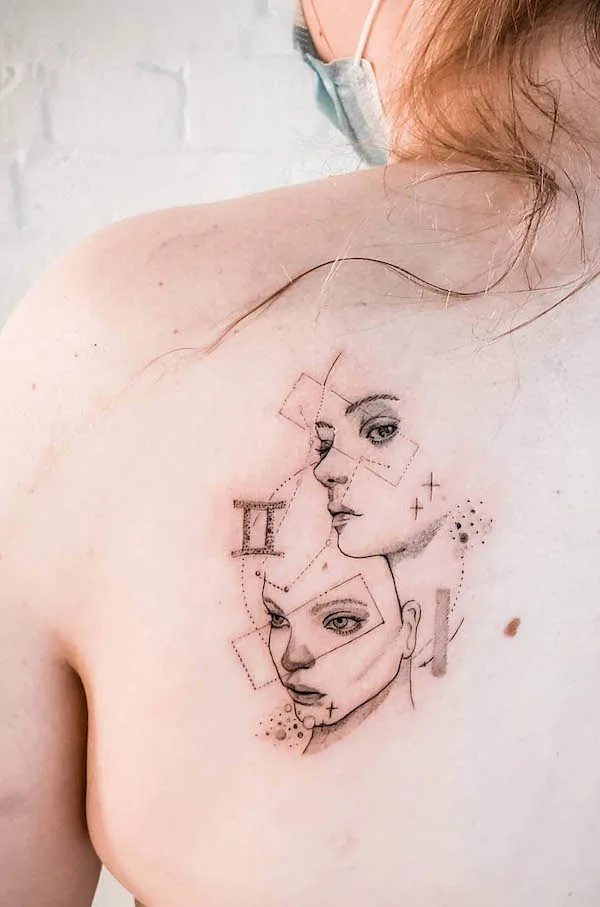 What a stylish tattoo with clean lines and amazing details. The tattooist captures the face structures perfectly. Adding the lines and stars give the look a futuristic taste.
Black and white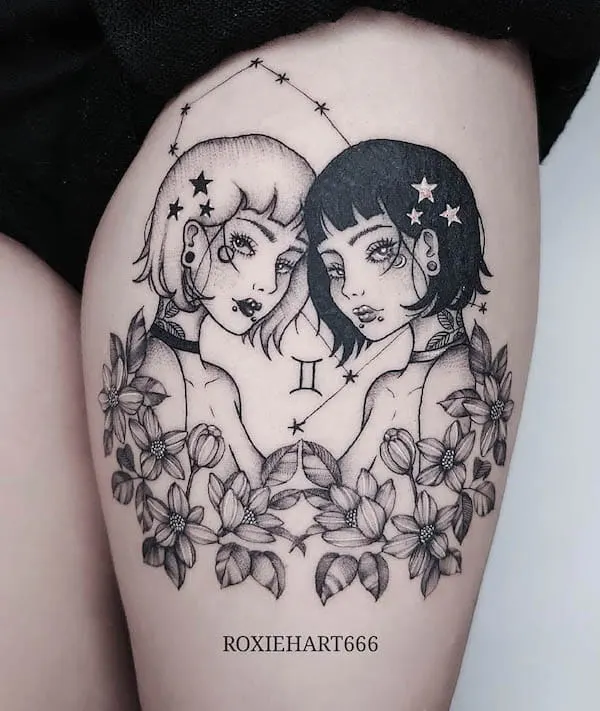 Many Gemini have two contrasting personalities inside of them. The tattooist translates the idea by painting the hair black and white, which makes the tattoo even more eye-catching.
Double moon tattoo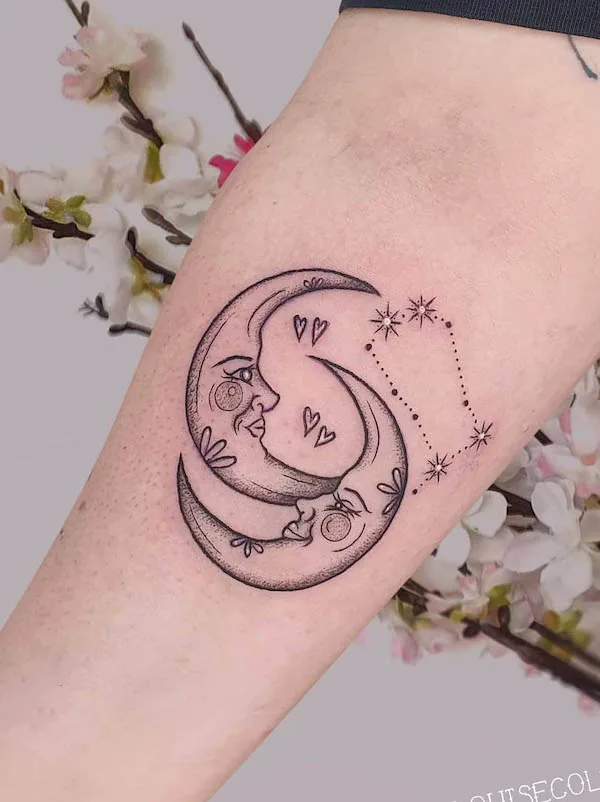 The moon often represents women. So if you want ink to emphasize your femininity, this moon tattoo might be for you.
Double trouble thigh tattoo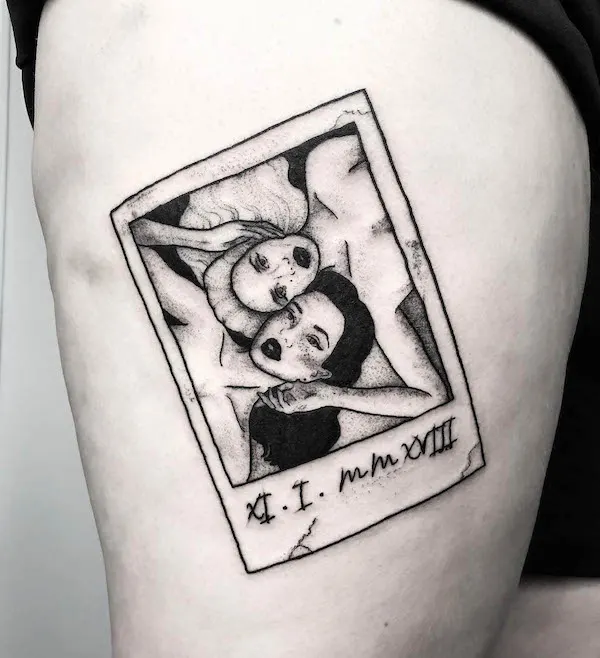 Numbers can mean birth, special occasions, or a special place. A polaroid tattoo like this one combines imagery with a number, giving the tattoo more meaning.
Gemini goddess tattoo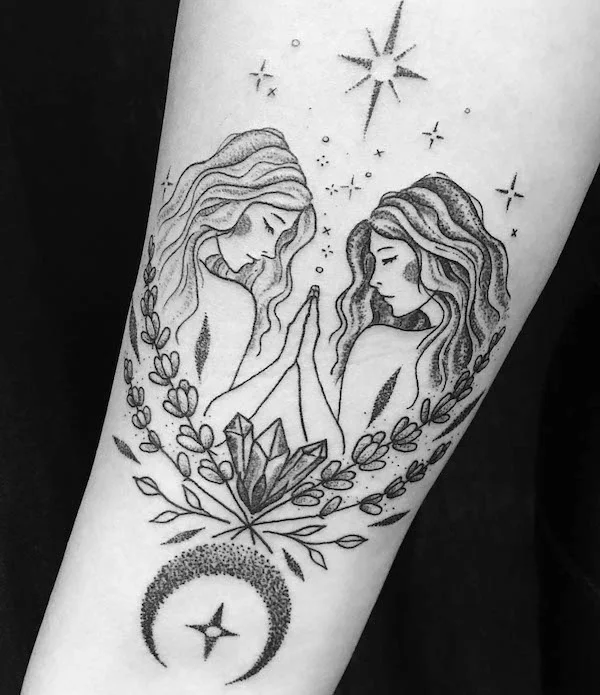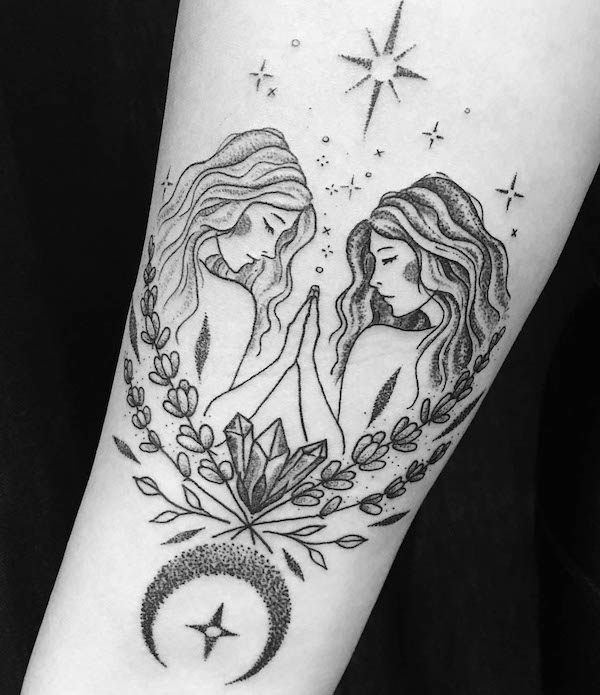 If you want a big, bold tattoo with details, the arm is an ideal placement. It provides plenty of blank space for your imagination to run wild.
Gemini witches tattoo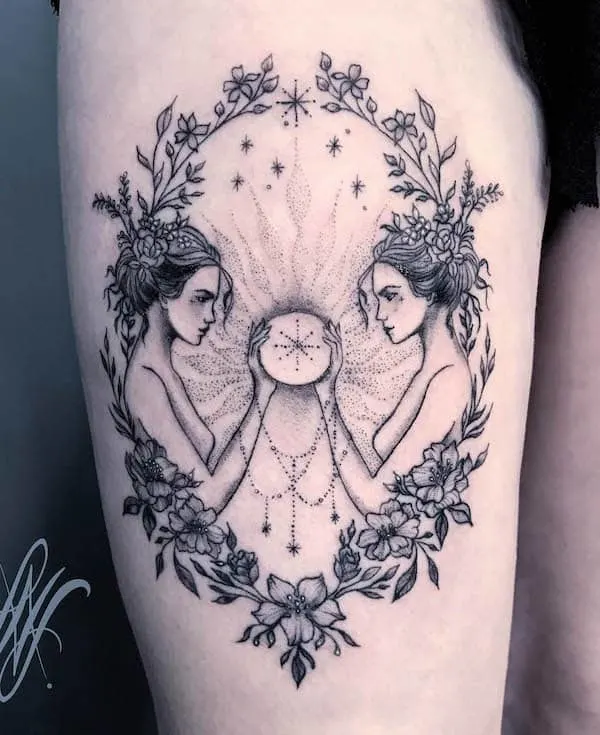 Our eyes adore symmetry. This witchy tattoo might have a lot going on: the figures, the crystal ball, the lights, and the floral flame. But the symmetry gives the entire look structure and balance.
Pink and green Gemini portrait tattoo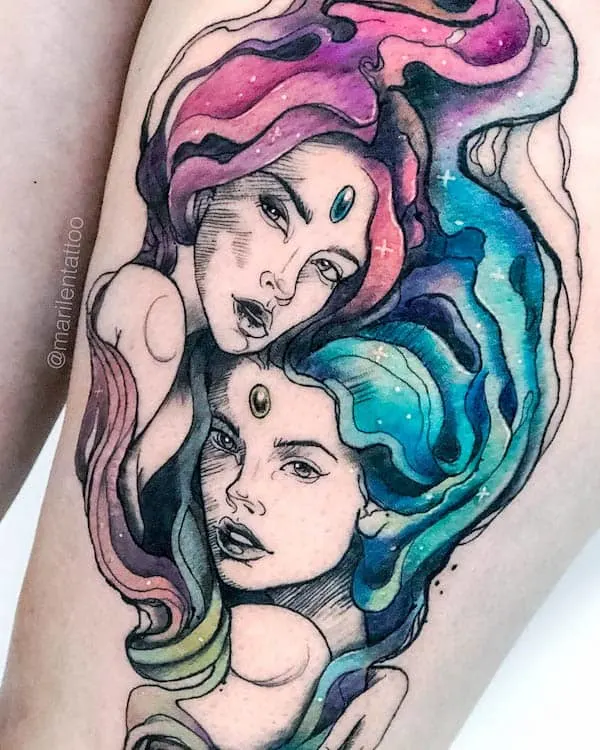 Colors add personality to a tattoo. This gorgeous tattoo would belong to Gemini with polar-opposite personalities.
Creative and unique Gemini ink
Not all Gemini tattoos are glyphs, symbols, and twin figures. The following Gemini tattoo ideas push the boundaries. If you want something creative and unique, scroll on.
Gemini chest tattoo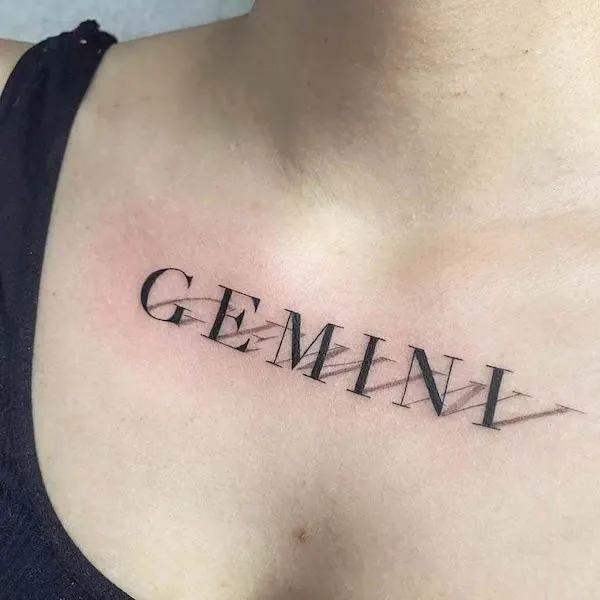 A tattoo that spells "Gemini" may seem cliché. But the shadow of the characters gives a 3D effect to the one-word tattoo.
Gemini girl back tattoo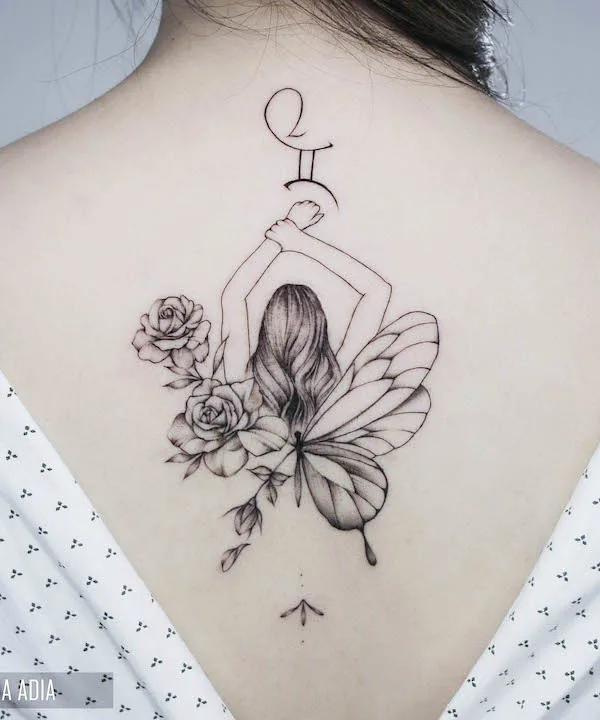 Rose, butterflies and a girl figure, this back tattoo shows you how to combine all these elements seamlessly.
Double lavender tattoo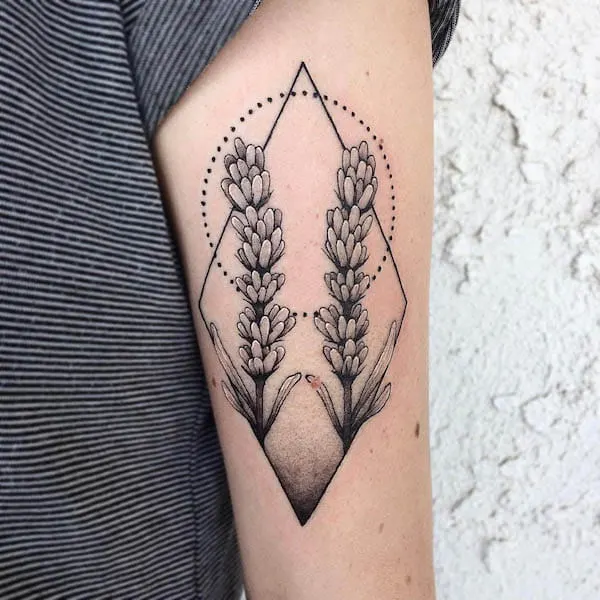 Lavender is the birth flower of the Gemini sign. It represents purity, grace, and calmness. If you resonate with its flower language, why not have lavender as your next ink?
Symbolic upper arm tattoo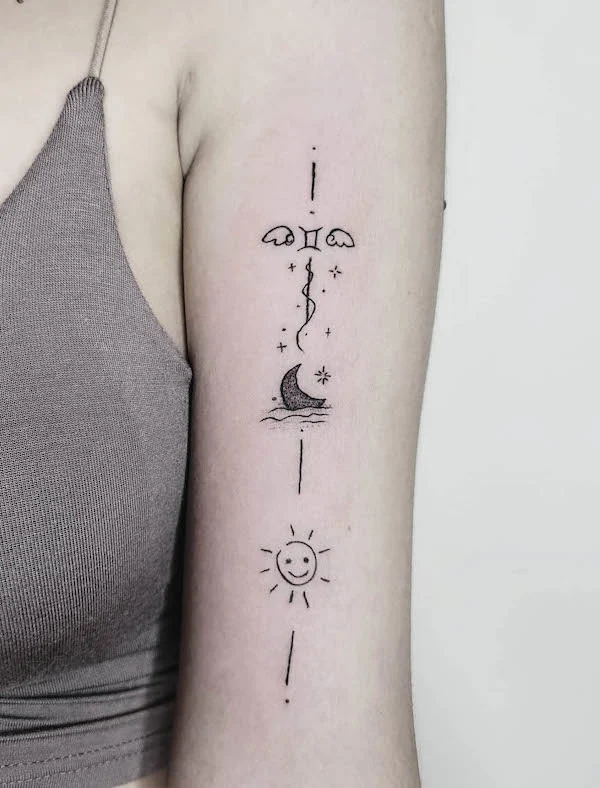 The beauty of symbol tattoos is that you can mix, match, and personalize. For example, the moon may represent the calm side of the wearer while the sun shows her passion. Altogether the tattoo reveals her multi-facet personality.
Alexander Milov tattoo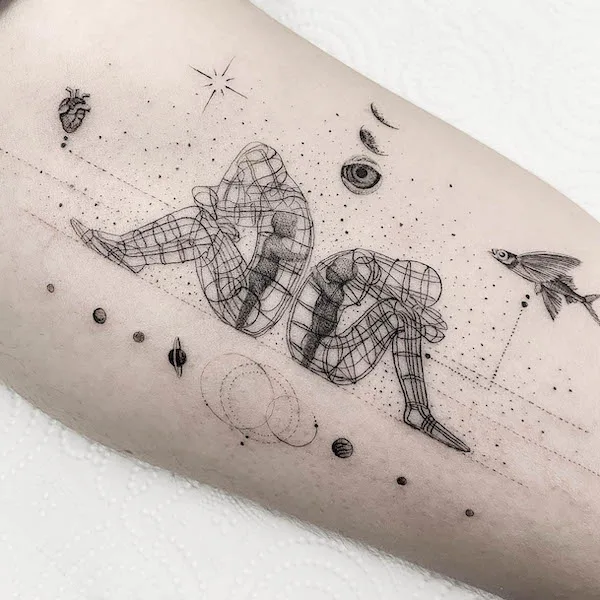 The tattooist drew inspiration from the sculpture of Alexander Milov. The sculpture and the tattoo are perfect proof of the inner child in every Gemini.
Fine line abstract forearm tattoo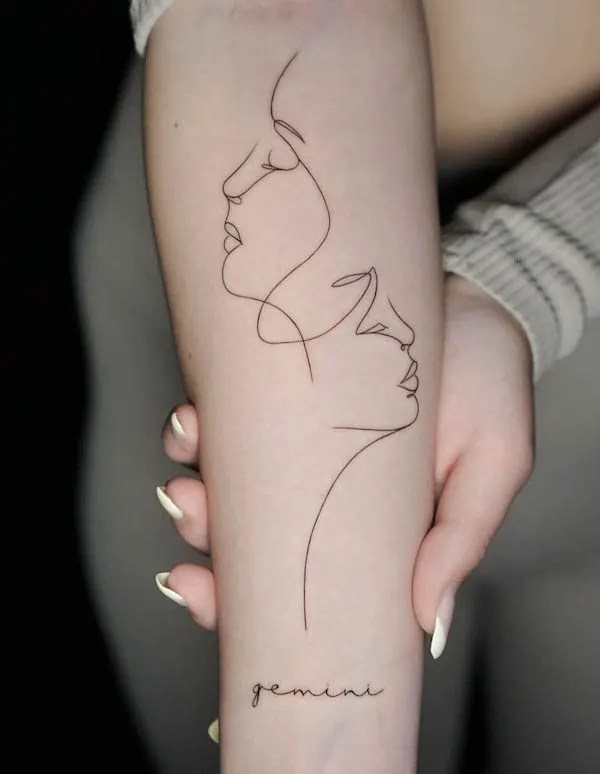 It's hard to go wrong with simple line art. It's clean, graceful, and timeless. Even the ink as big as this one is still elegant.
Angle and devil tattoo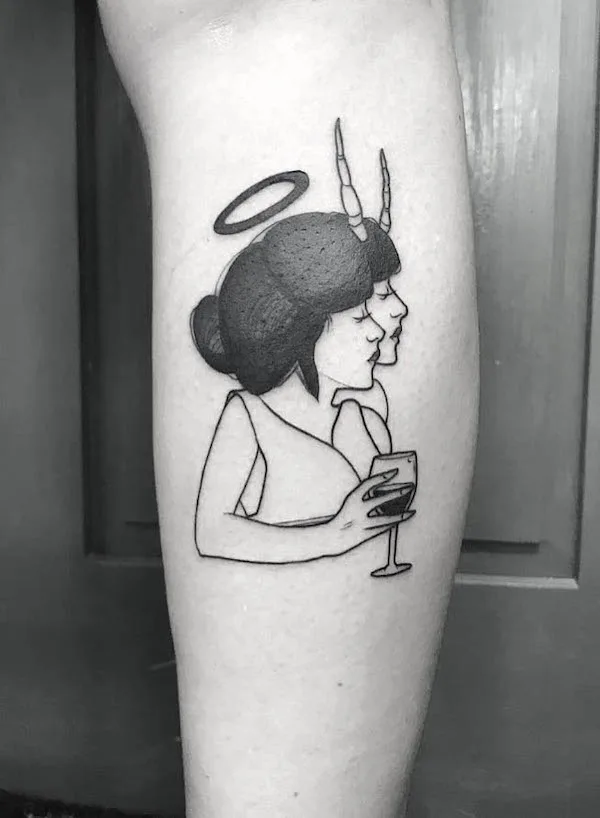 The angel-demon imagery is not rare in Gemini tattoos. But the tattooist makes it more personal by adding a glass of wine. Who doesn't need it after a day of adulting, right?
Butterfly tattoo for Gemini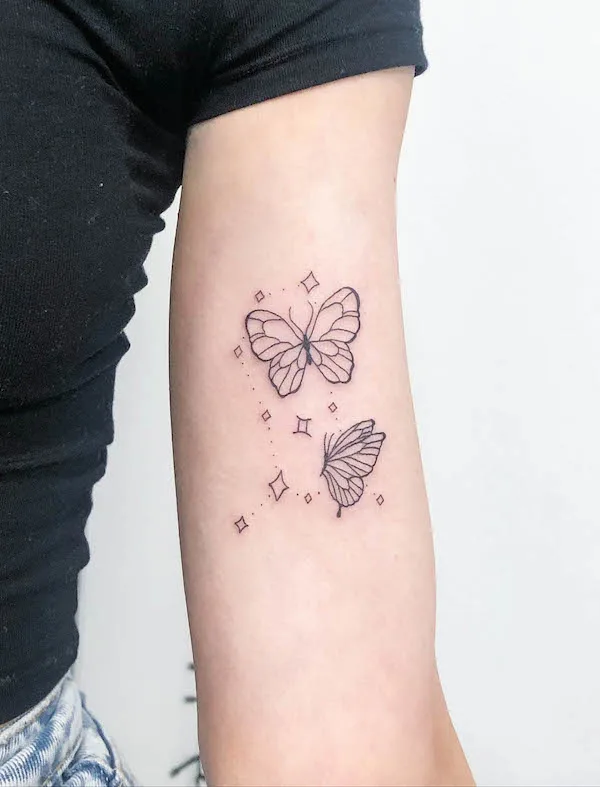 The two butterflies tattoo mirror the twin's concept, subtly revealing the wearer's sign. And the star in the center is actually a Gemini glyph, another hint at her identity.
Stroke of color tattoo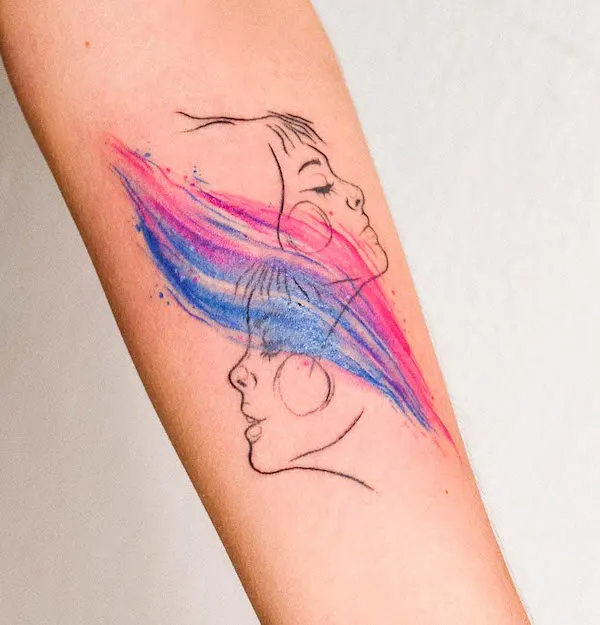 If you opt for the twin figures, you can add contrasting colors to the hair, the accessories, or the garment. Or you can simplify it with a two-color paint stroke, making a powerful statement.
The evil twin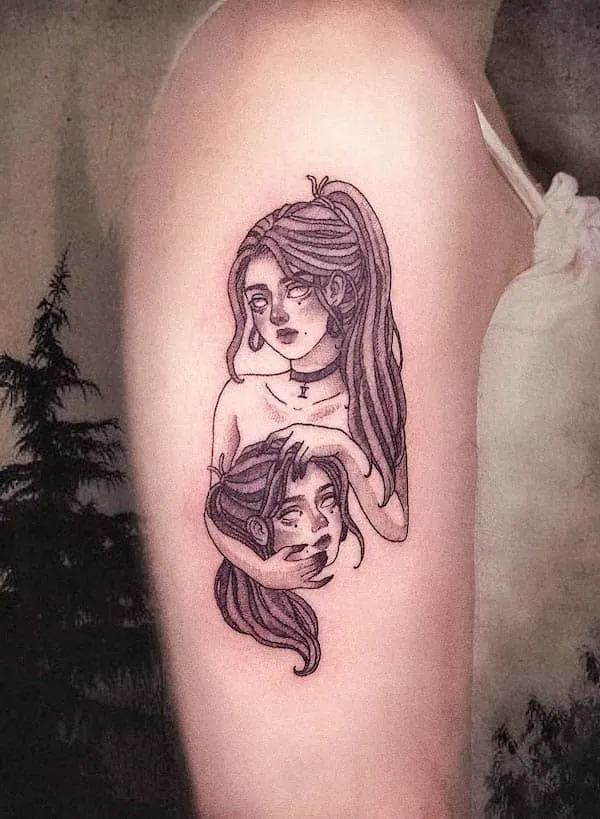 Have a dark aesthetic? This sleeve tattoo is for you.
Lucky cats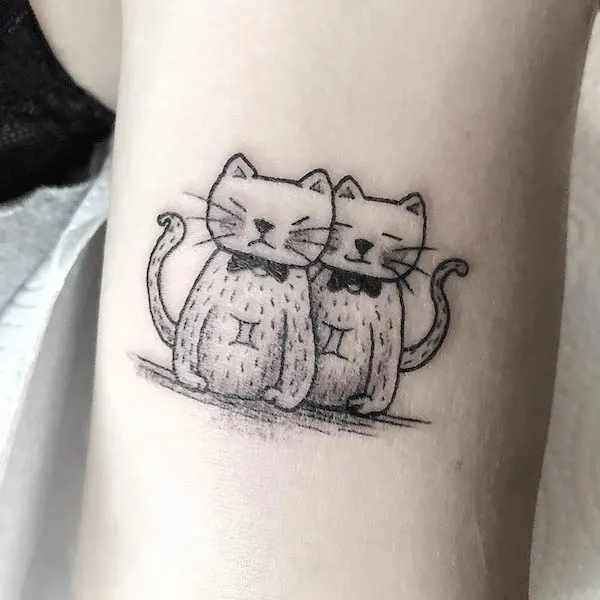 Lucky cat figurines are associated with fortune in eastern countries. Many people place them in their homes to bring wealth and good luck. A double lucky cat tattoo carries the same hope for the future.
Double snakes tattoo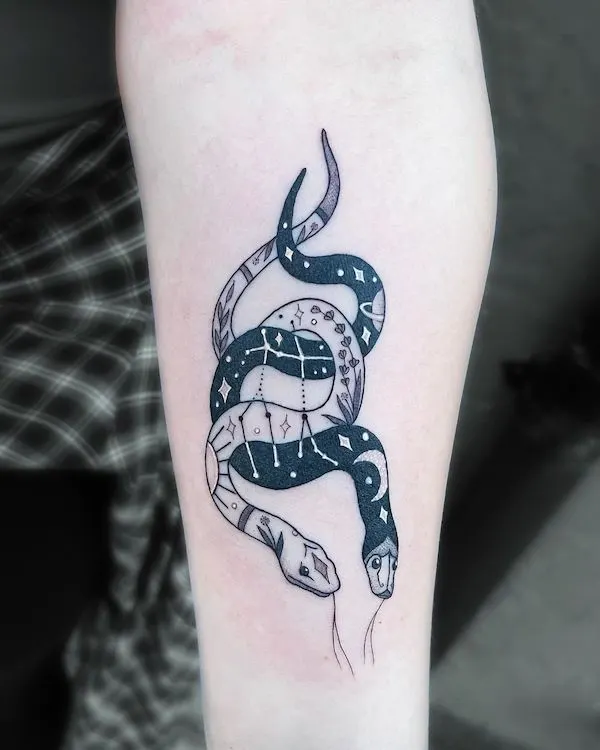 If one snake makes a badass tattoo, two snakes will be double trouble.
Two sides of the earth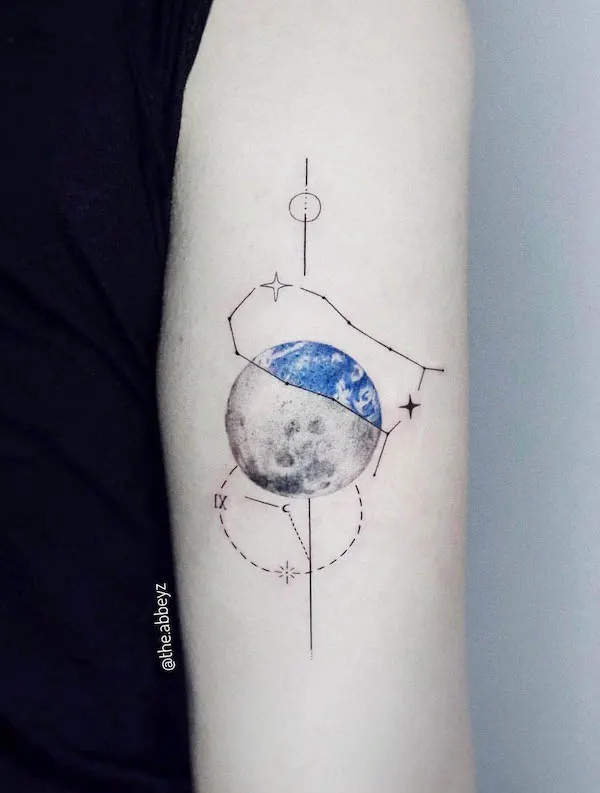 You may have seen a lot of cosmic theme zodiac tattoos. What makes this one stand out is the combination of real and unreal. The Gemini constellation draws the line, separating the two sides. And it makes you wonder which world is the reality.
Japanese fox mask tattoo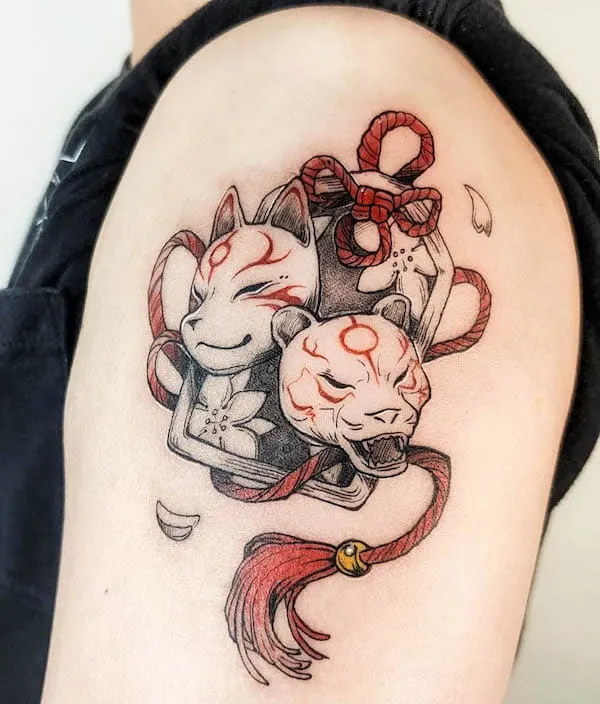 In Japanese folklore, foxes were seen with the ability to transform into different shapes. The fox mask has become more popular because of Japanese animes like Naruto and Hotarubi no Mori e. If you connect with Japanese cultures, a double fox tattoo may be for you.
Small G initial tattoo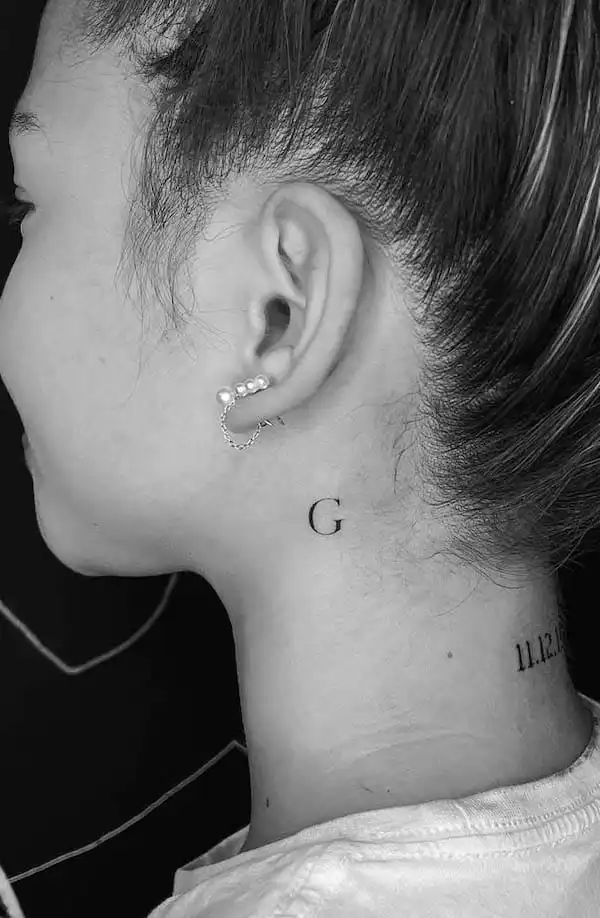 Not every Gemini tattoo screams out "Gemini." This small initial tattoo provides another possibility.
Sunflower Gemini tattoo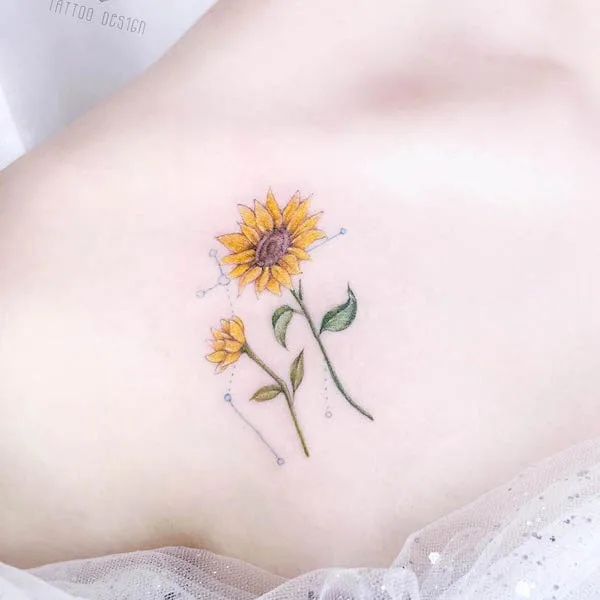 Each flower has its symbolism. The sunflower, for example, symbolizes passion and hope. And to make a sunflower more "Gemini," the tattooist adds a smaller sunflower by its side. It may give you some idea to create your own flower zodiac tattoo.
Gemini glyph and constellation tattoo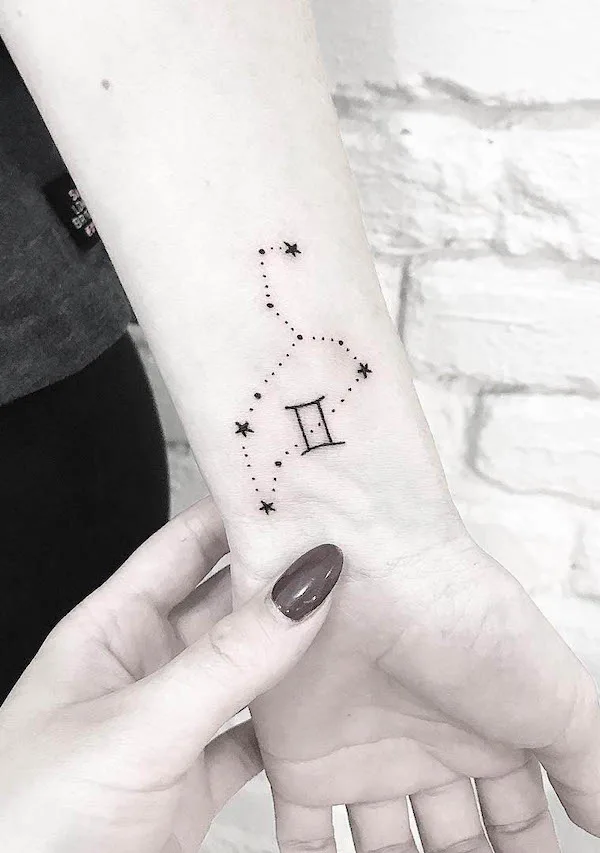 The constellation and the zodiac glyph can be a tattoo individually. However, it could be too common. Combining them gives a tattoo just the right amount of details to stand out.
Matching Gemini upper arm tattoo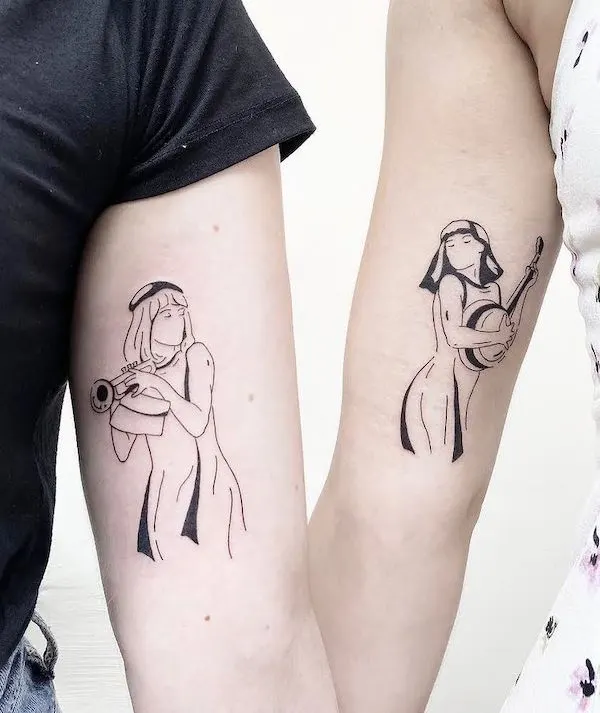 If you share the same sign with a BFF or a sibling, matching tattoos like these two is another option.
The Gemini twins tattoo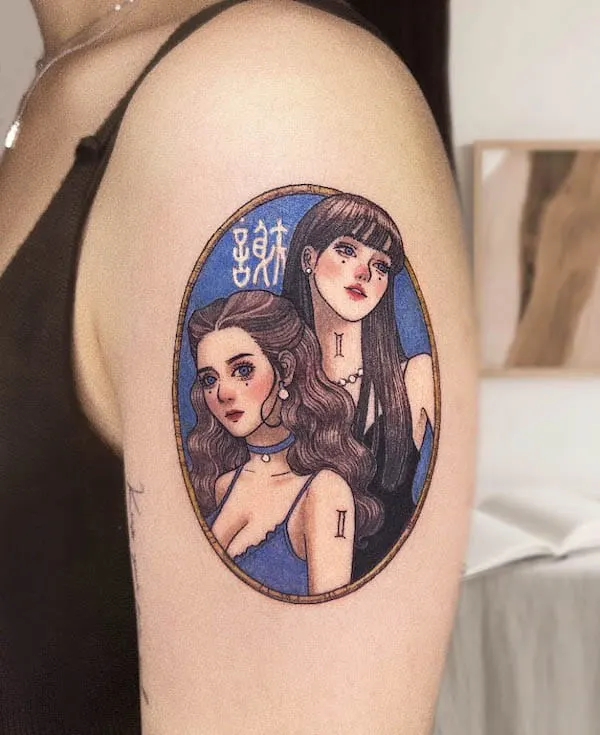 The two girls are gorgeous in different ways. They have different hairstyles, different makeups, and dress in different colors. But the Gemini symbols on their bodies connect the two together.
Twin cupids tattoo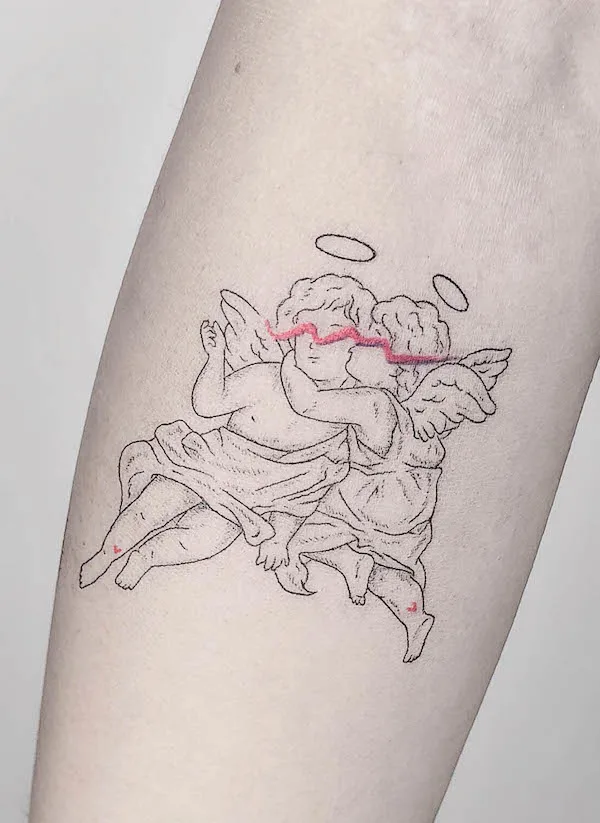 Cupids are adorable. But adding the red line creates a visual impact that highlights the tattoo.
Whimsical snake tattoo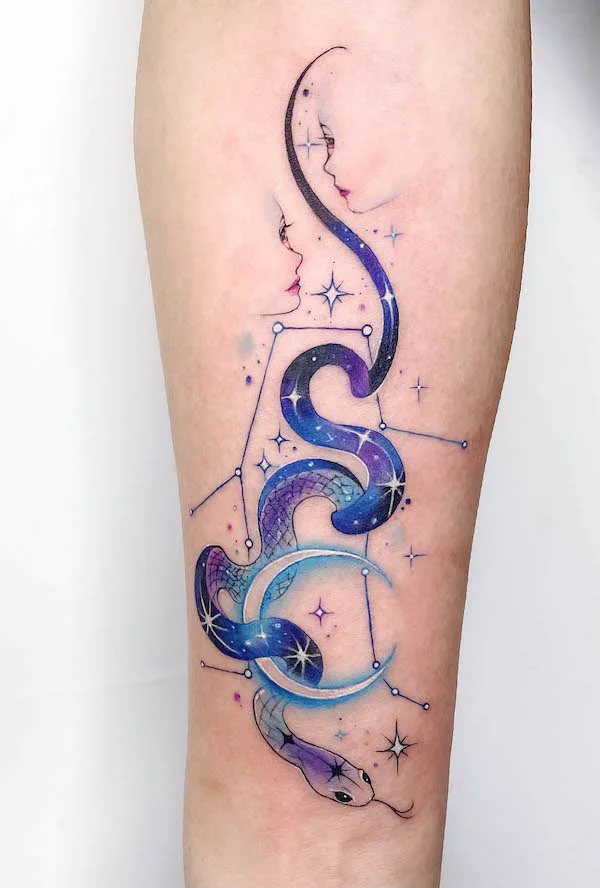 Snakes and constellations might not be the most obvious Gemini symbols. That's why the tattooist adds two faces to the tattoo, making it more relatable.
Yin Yang cherry tattoo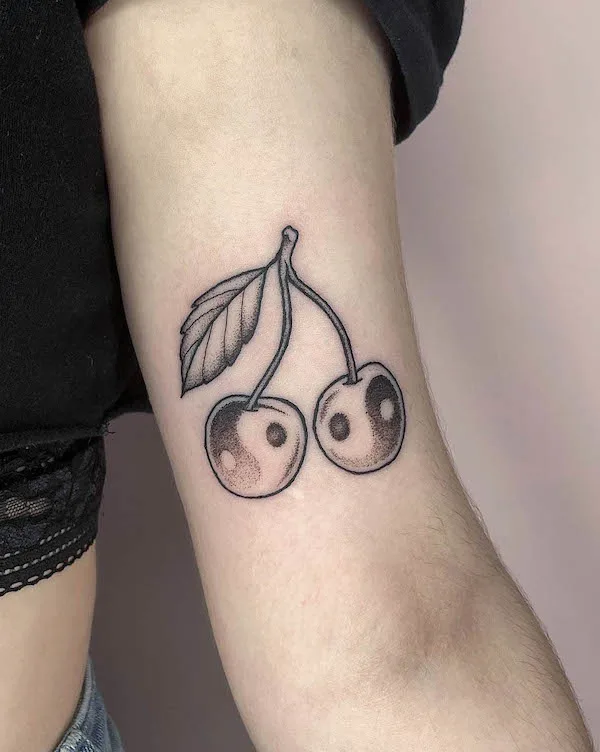 A yin and yang tattoo doesn't have to be in a rigid circle. This cute cherry tattoo is for those who value balance in life but want something different.
Which of these Gemini tattoos is your favorite?
Share in the comments below!