Gemini have a unique taste for tattoos. From big to small, simple to intricate, these Gemini tattoos are tailor-made for the sign.
Gemini might seem a little bit crazy and a little bit all over the place. But it is hands down the most interesting sign out of the 12 zodiacs.
One thing that makes Gemini so lovable is their sense of humor. Fun, witty, Geminis never fail to make people laugh. They don't take themselves too seriously and are just a pleasure to be around with.
If you are one of the lucky Gemini, here are some of the most amazing zodiac tattoos to check out.
Disclaimer: This tattoo collection is for inspiration only. Please do not copy the artwork. If you love these tattoos, follow artists and show them some support.
Ink-worthy Gemini tattoos
Table of content
Gemini symbols and tattoo elements explained
Gorgeous Gemini tattoos for women
Unique and bold tattoos for Gemini men
Gemini symbol and constellation tattoos
Gemini symbols and tattoo elements explained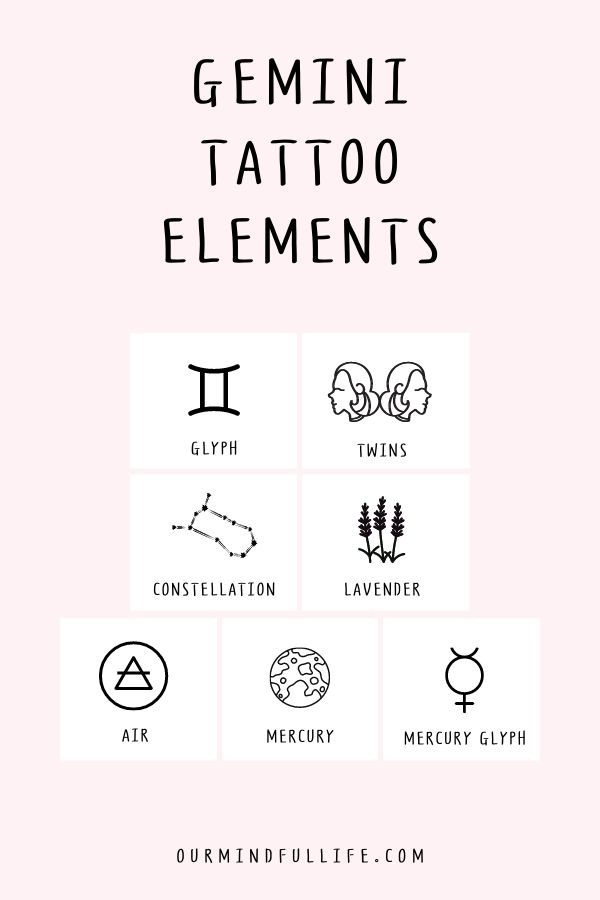 The Twins are not your sole option when getting a Gemini tattoo. Here are the Gemini elements to give your ink some twists.
The Gemini glyph consists of two straight lines connected by two vertical strokes, symbolizing the Twins.
Gemini sign symbol: the Twins
Geminis are two souls in one body. And the word Gemini means Twins in Latin. Their dual personalities give them the strength to adapt to changes. It's almost impossible to figure out Geminis. They will only show you the side they wish you to see.
Gemini constellation
Gemini birth flower: Lavender
Lavenders have multiple florets on one stem. They grow in different directions and spread their beauty. Similarly, Geminis are blessed with creativity and productivity. But they can also get "all over the place" just like the flower.
Air is mutable. It can change into a storm or a breeze in a second. Geminis are no different. They have a good side and a bad side. And you may never know which side you are at.
Gemini ruling planet: Mercury
In astrology, Mercury is the planet of analysis and communication. It rules Gemini and Virgo. These two signs may seem different in characteristics. But they are all able to categorize and make decisions logically. Both signs are good at getting their points across in a systematic way.
Gorgeous Gemini tattoos for women
A stunning polaroid tattoo
The mermaid twins arm tattoo
A behind-the-ear tattoo for Gemini
A half-skull tattoo with breath-taking details
The twin goddess arm tattoo
A stunning full sleeve astrology tattoo for Gemini
The Twins back tattoo
A symmetric twin goddess tattoo
An abstract butterfly tattoo
Double snakes for the badass Gemini
Read also: 47 Badass and gorgeous tattoos for women
An abstract Gemini twin tattoo
A blackwork doppelgänger tattoo
The wild imagination
The angel and demon
A minimalist Gemini letter tattoo
Love is blind – twin Cupid tattoo
Angel and devil tattoo
Most Gemini has a dual personality. They can be all sweet and approachable today, and turn into a completely evil person tomorrow. They don't mean to confuse you, they just can't help it.
If you are a Gemini with two souls captivated in one body, this gorgeous tattoo may be able to represent your kind-of-crazy personality. Angel or devil, you'll never know who gets the upper hand. But that's what makes the sign unpredictably interesting.
A twin goddess tattoo
A hand-poked Mercury twin
A realistic floral arm tattoo
The creepy twins
The Nebula tattoo
Matching thigh tattoos
A cute twins tattoo for Gemini girls
Gemini in nirvana
The Lucky Cats tattoo
A sophisticated tattoo for Gemini girls
A stunning twin witch tattoo
A twin cupid tattoo
@o.go.tattoos
A blackwork tattoo of the Gemini goddess and sakura
A detailed Gemini forearm tattoo
Tarot-inspired Gemini tattoo
A dreamy twin-goddess tattoo on the thigh
Unique and bold tattoos for Gemini men
The Cupids
An abstract twin tattoo on the shoulder-blade
The Gemini tarot card
Fine line geometric galaxy tattoo
An abstract fine line tattoo for the minimalists
Castor and Pollux tattoo
The duo-thinkers
The tattooist drew inspiration from the sculpture of Alexander Milov. Both the sculpture and the tattoo are perfect proof of the inner child in every Gemini.
Blackwork double-faced beatle sleeve tattoo
Twin heart blackwork tattoo
An abstract linework tattoo
A fine line twin lavender tattoo
A complex tribal tattoo
A simple Gemini tattoo with deep meanings
Gemini always gets people guessing. They can change from happy to sad in just one second just like this tattoo. Two very different individuals merging into one, does it sound like you?
Gemini symbol and constellation tattoos
A girly tattoo with daisy and Gemini constellation
A geometric Gemini symbol on the back
The sign of Gemini is ruled by the air element, presented as the circle in this minimalist tattoo. The double triangles represent the two sides of a Gemini.
An under-the-boob zodiac tattoo
Dainty Gemini wrist tattoo
A crystal Gemini glyph on the chest
Symmetric Gemini symbol wrist tattoo
A small Gemini sign
A lavender Sign for Gemini
A sleek Gemini symbol on the ankle
A Gemini constellation tattoo
A tiny Gemini sign on the wrist
A clean-lined constellation tattoo on the neck
A poppy tattoo with the Gemini constellation
A wrist tattoo of Gemini constellation
A line tattoo with Gemini symbol
A Gemini & Leo tattoo
A Gemini symbol behind the ear
A floral wreath tattoo on the shoulder
A star constellation tattoo on the back
A Gemini symbol on the back of neck
Have you found the Gemini tattoos you love?
Which of these zodiac tattoos is your favorite? Or do you have one of your own? Share it in the comment!